One of the most sought after reservations in the Magic Kingdom is the Be Our Guest restaurant.
Having been there multiple times, in this Be Our Guest restaurant lunch review, we're going to take you through everything you need to know about this classic dining experience, including the Be Our Guest lunch menu, theming in the Be Our Guest dining rooms, and how to make reservations for Be Our Guest lunch.
Hey, sidenote! If you want more of my secret tips for Disney World and to be a part of the best Disney resource around, join the Ultimate Guide to Disney World Facebook group where you can ask questions, get advice, or just look at pretty pictures of the Happiest Place on Earth.

Just click here to request to join and I'll add you!
Where is Disney World's Be Our Guest Restaurant?
Be Our Guest is in Belle's castle at the Magic Kingdom in New Fantasyland, which is quite far back in the park so leave yourself some time to get there if you have reservations!
Also keep in mind that getting to the Magic Kingdom itself is always more of a trek due to needing to usually take a monorail from the Transportation and Ticket center unless you're taking a bus directly from the resorts or walking from the Contemporary.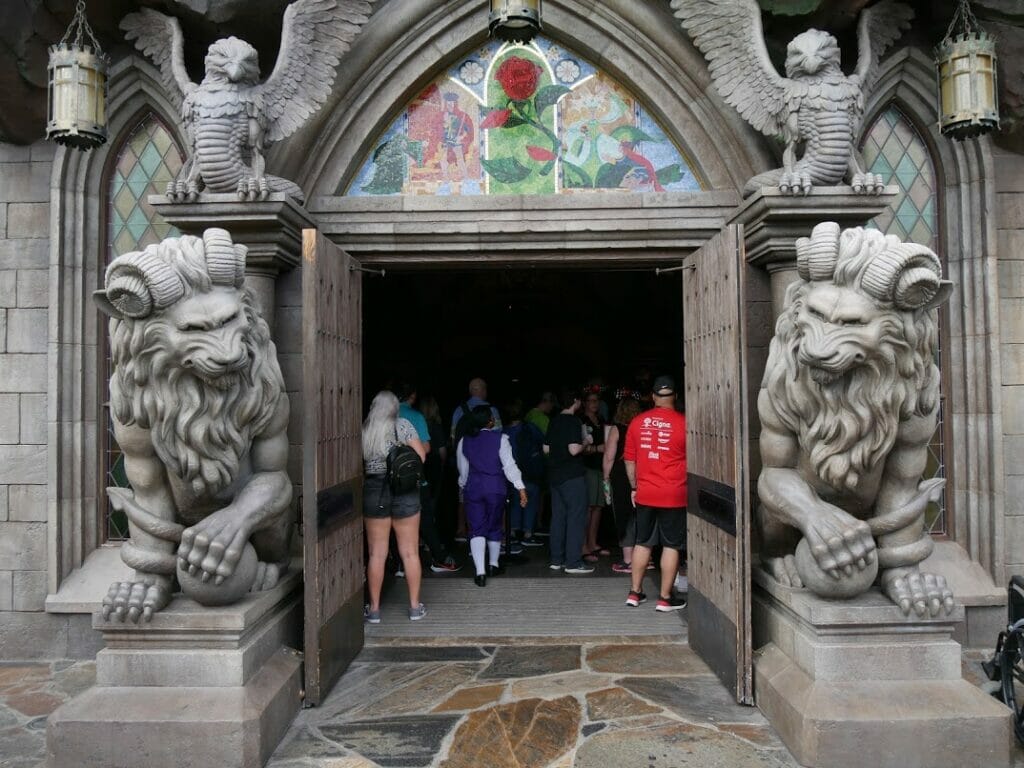 You'll want to book your lunch around your favorite rides at Magic Kingdom, as it works in time slots so you don't want to be stuck in line somewhere.
How Does Quick Service Lunch work at Be Our Guest Restaurant?
Be Our Guest Restaurant serves breakfast, lunch, and dinner.
For breakfast and lunch, the meals are quick service, while at dinner, they are full table service.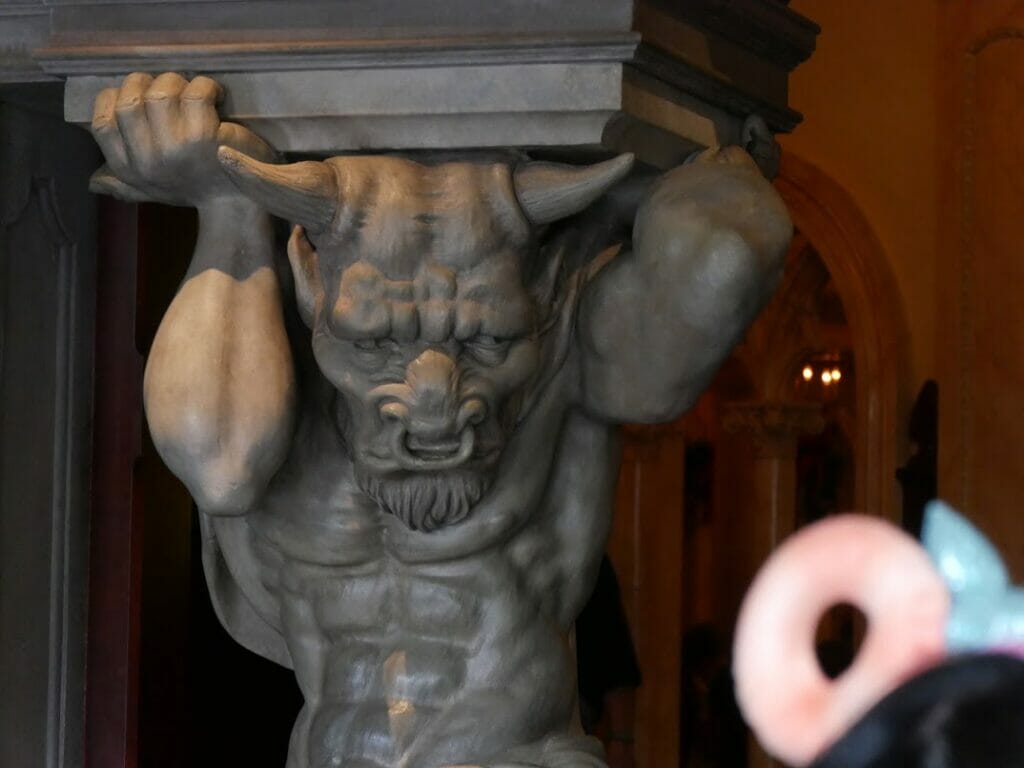 For Be Our Guest lunch, this means that first, you order from a kiosk with a cast member, or you order online, and then you seat yourself wherever you can find a spot.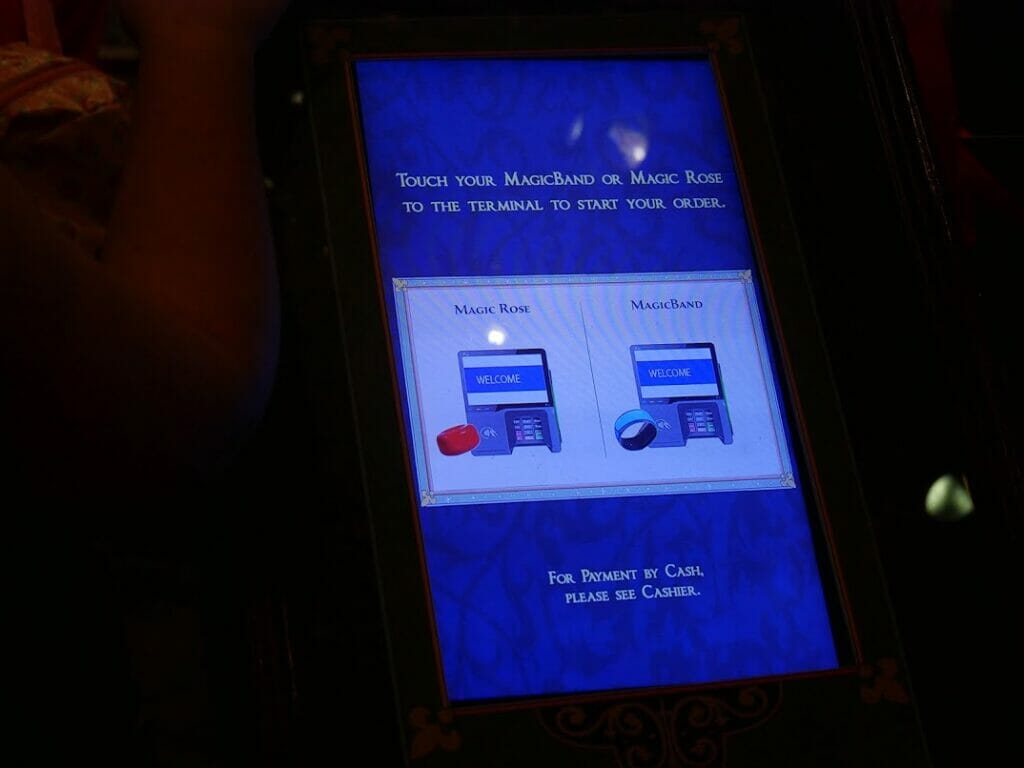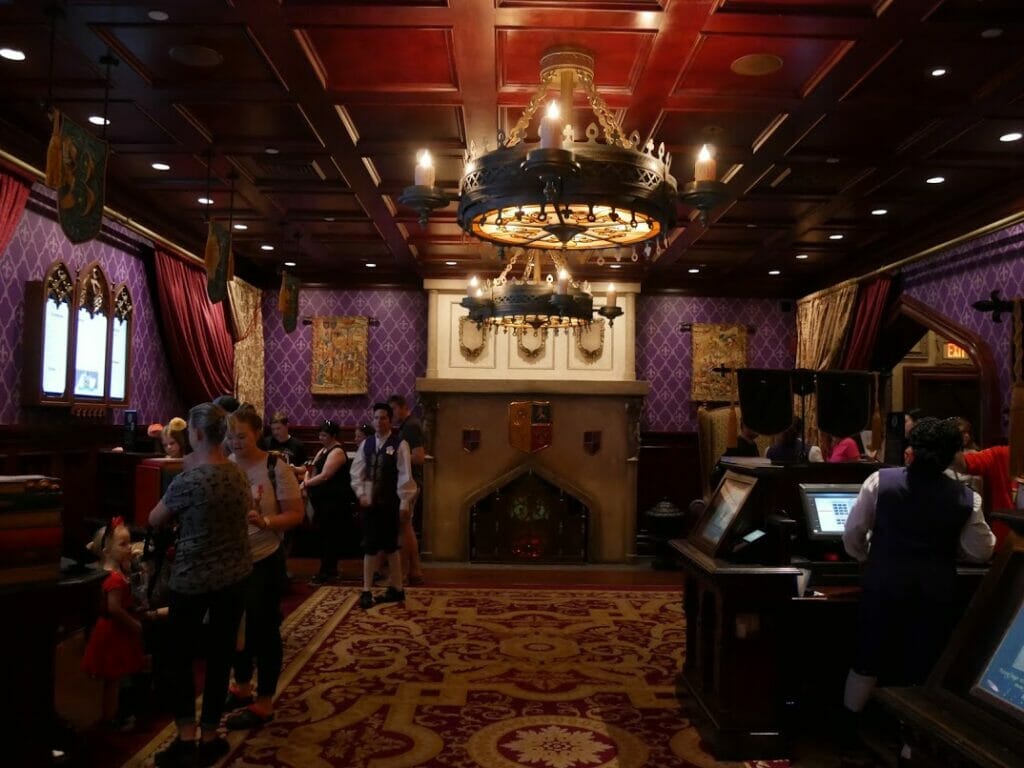 After you seat yourself, in this quick service restaurant, your food will be brought to you.
This is unlike in other quick service restaurants where you wait for your food at the counter and then bring it back with you, but the magic here is that you either use your MagicBand or are given a magic rose to you to put on your table so the cast members know to find you.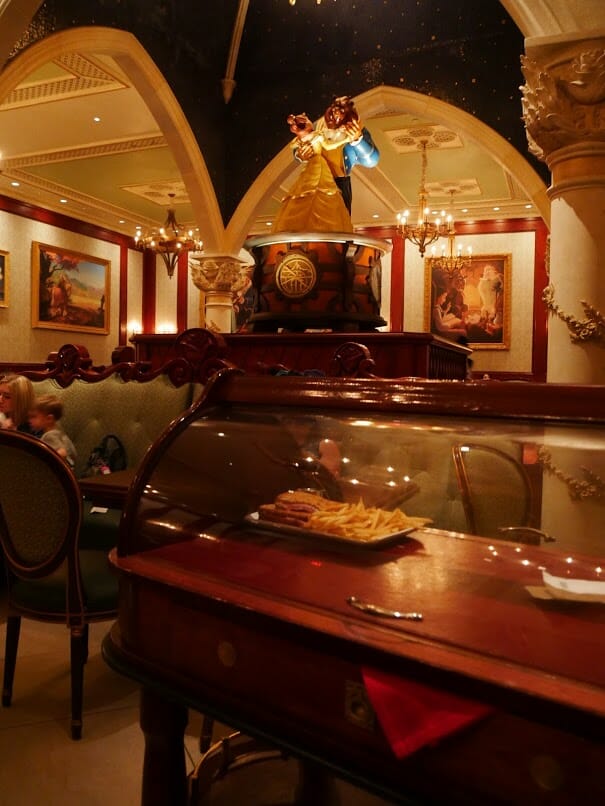 I like this venue for a Disney solo trip as you can choose somewhere off to the side and people watch.
Your food is then delivered in adorable serving carts.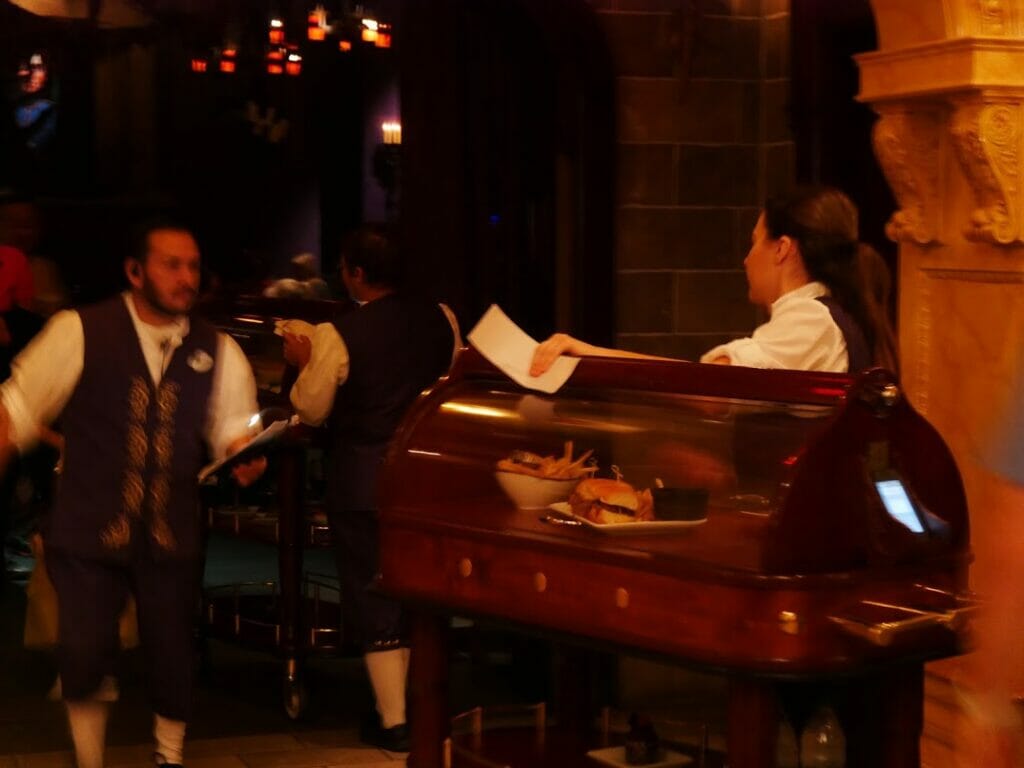 This prevents you having to wait in line again to get your food, and instead you can get situated and enjoy the atmosphere of the restaurant.
When it comes to getting utensils and napkins, however, that is on you.
There are stations set up around the restaurant for you to grab whatever you need, and you'll also be responsible for refilling your own drink from the drink stations when you're ready.
Occasionally, you may have a cast member come around and ask you if you need anything, but this is by no means a guarantee like it would be at a table service restaurant, so be prepared to take a bit more control of your dining experience.
One thing to keep in mind about the entire experience is that you first need to check-in at the reservation desk, then wait in line to be let into the restaurant, then wait in line to order, and then find a table and wait for your food.
When it comes to timing, you'll want to leave more time in your schedule for a Be Our Guest lunch than you would at another Disney World quick service restaurant like Cosmic Ray's.
Top Tip: if you're looking for an easy way to book a Disney vacation, I recommend using the free travel planning service The Vacationeer who will take care of all of your plans, bookings, and did I mention it's free?

Click here to submit your free booking form and let a Disney expert help you at no cost.
Theming at Be Our Guest Restaurant Lunch
The main reason we come to lunch at Be Our Guest is because of the theming of this restaurant.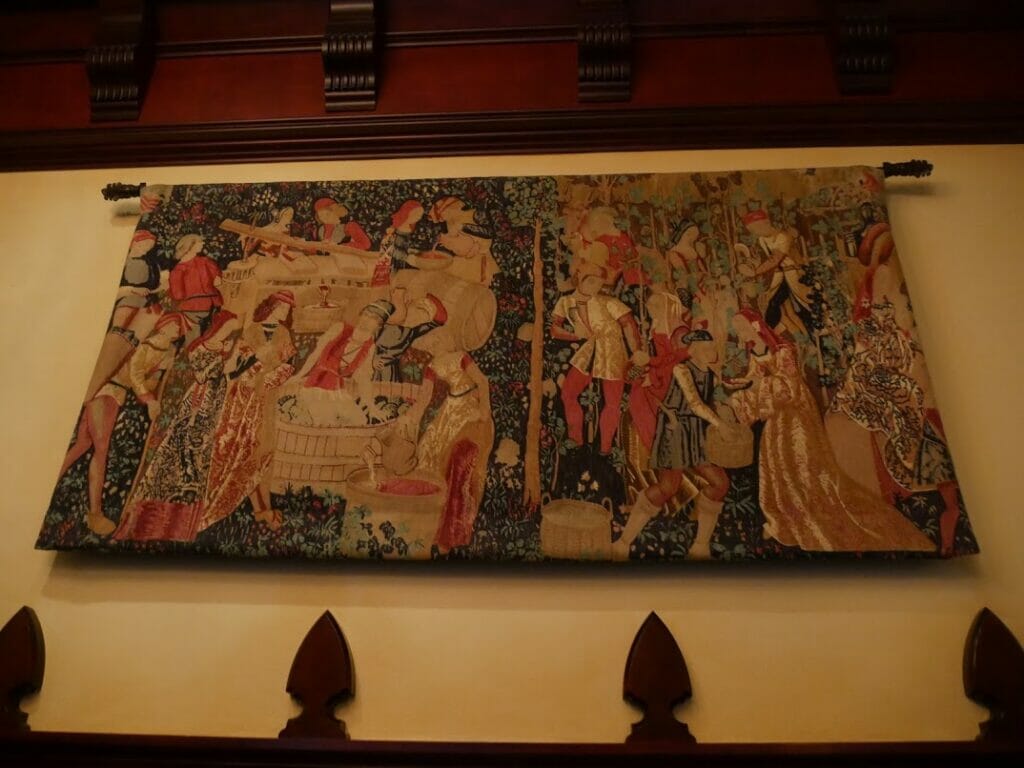 From the entrance with its gargoyles to the wonderful mosaic near the bathrooms to the opulent reds and purples in the ordering area, you are fully immersed in Beauty and the Beast theming.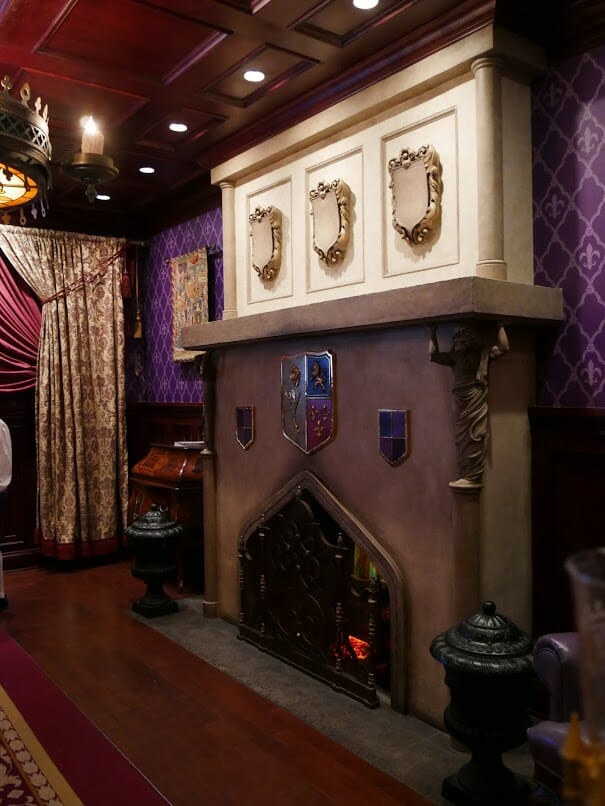 I'll talk about the dining rooms at Be Our Guest in a minute, but enjoy these photos of the theming that can be found around the entire restaurant and the outside bridge.
You must have a reservation to make it onto the bridge and into the area – you can't just go in to have a look around.
This makes it extra hard and extra important to get reservations if you want to check out what it looks like inside.
You should also note that there are no character interactions as part of either Be Our Guest Lunch or Breakfast.
The Beast meets and greets at dinner, but not for lunch.
Be Our Guest Lunch Menu
So technically, despite the theming, this is a restaurant and we should all be most concerned about how the food tastes, right?
Well, not quite.
The food here is some of the best quick service park food, but it's not going to win any awards anytime soon.
People do come here for the theming and not for the food, though it's very possible you'll find something great to enjoy.
On the lunch menu, you've got French classics like a croque monsieur (grilled cheese), coq au vin (a chicken based dish), and some tuna and vegetarian salads.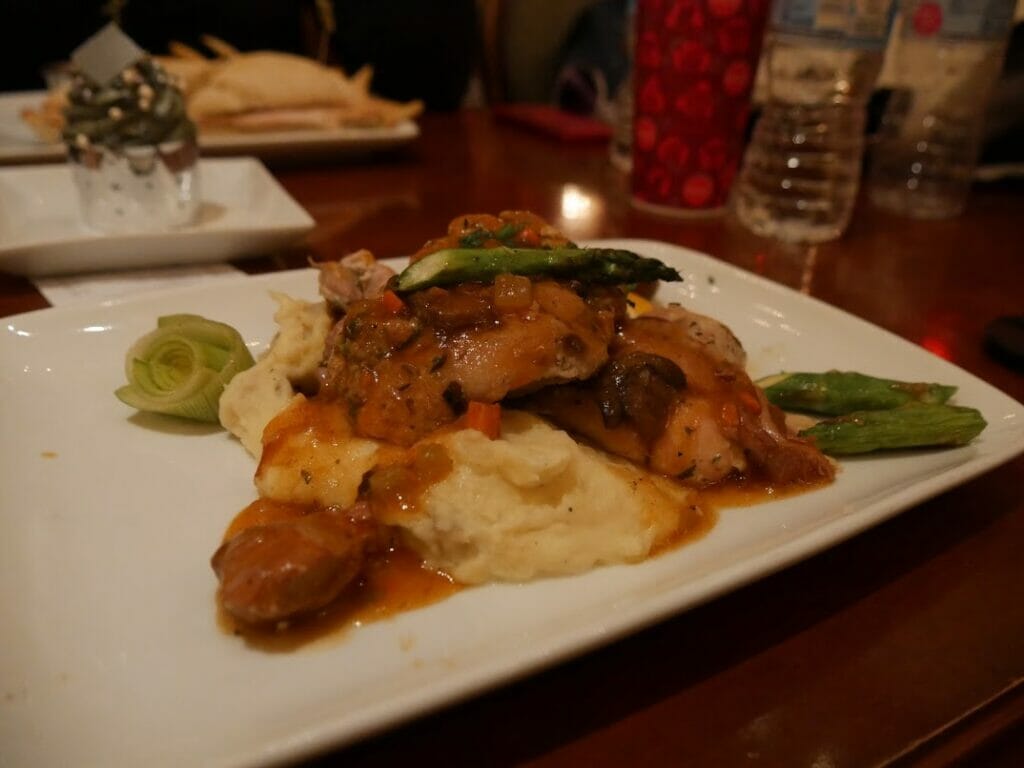 We had the coq au vin, which was two thumbs up.
For theme park quick service food, it was pretty amazing and tasted authentically French.
We also had the carved turkey sandwich, which was less French, but there were French fries so it counts!
This is my favorite item on the menu that I get over and over again – the turkey is thick cut instead of deli meat, and the baguette it's served on plus the seasonings are delicious.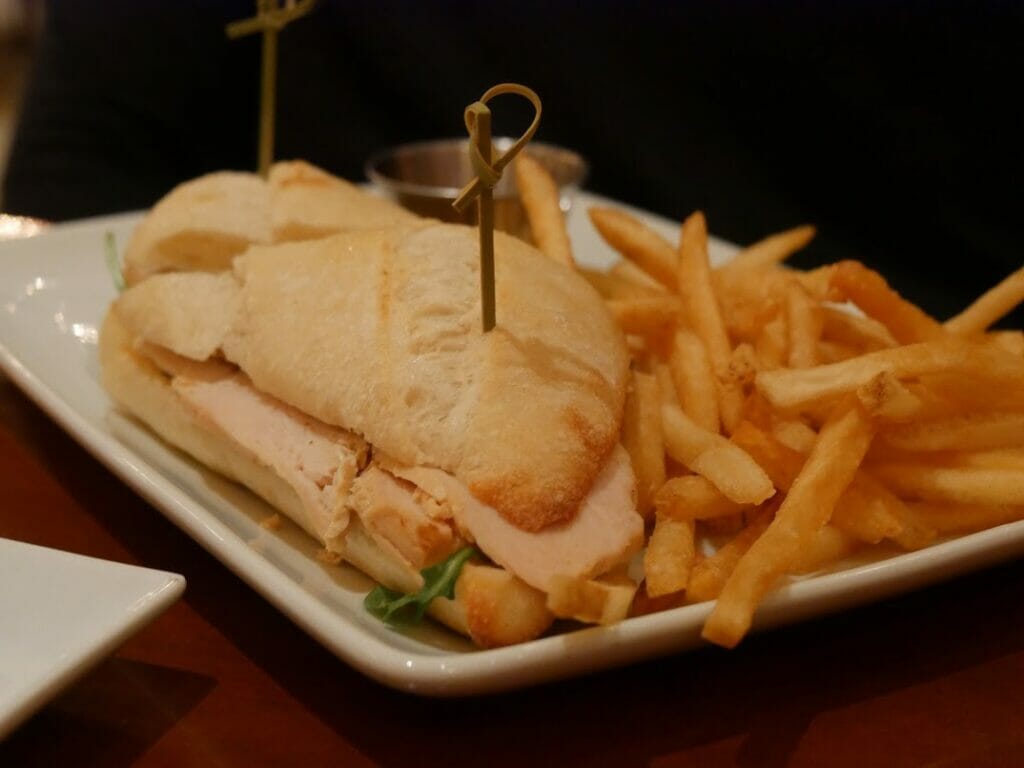 You can also order desserts like the Master's Cupcake or the Triple Chocolate-Cupcake or the Lemon-Raspberry Cupcake.
They are smaller than what you might expect for the price, but delicious.
We had the Master's Cupcake which has "the grey stuff" (oreo flavored) and the triple chocolate cupcake and thoroughly enjoyed both.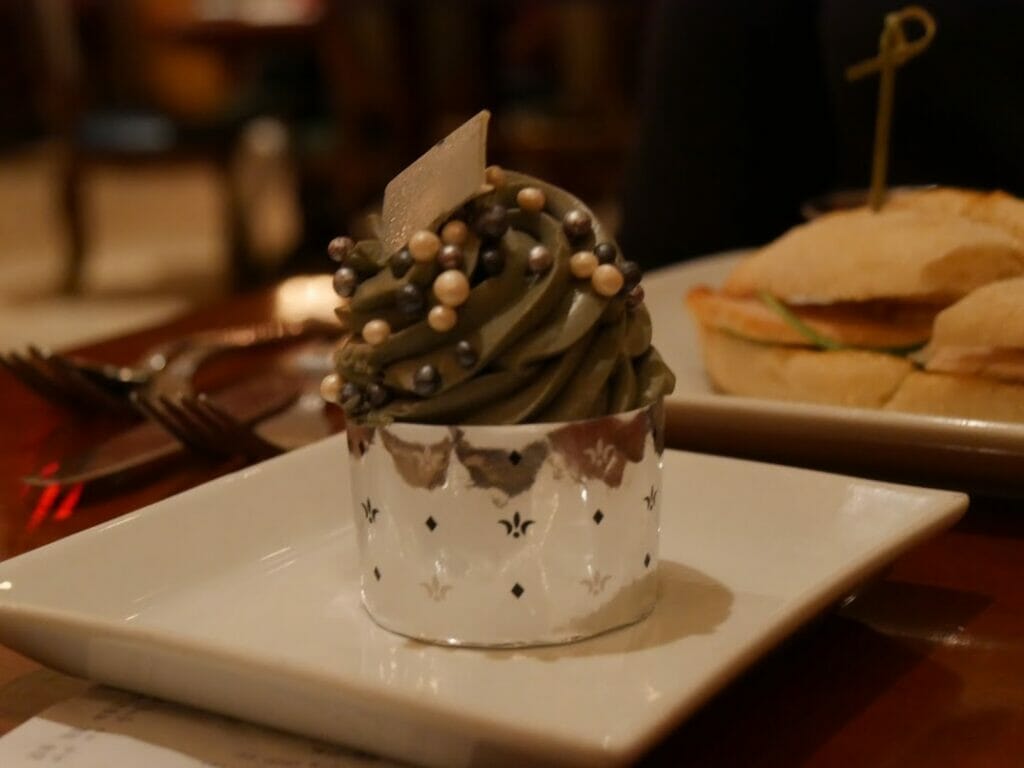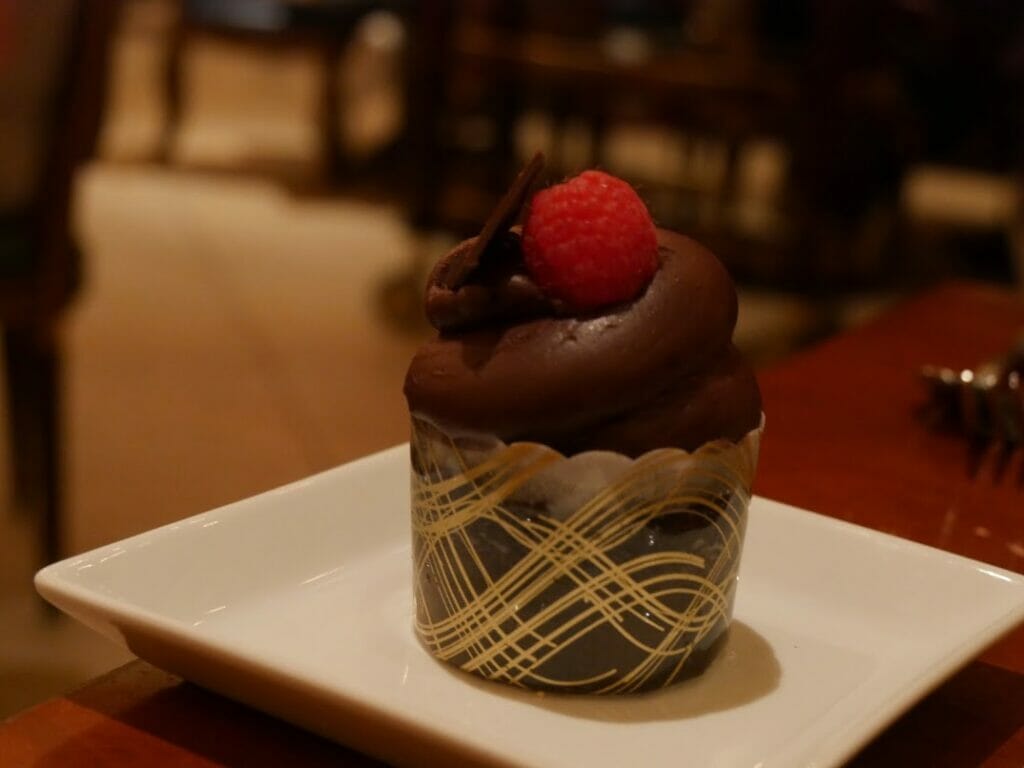 For kids, there's a special menu that has a bit more kid-friendly options like macaroni and cheese and a grilled cheese sandwich, but they also have things like shrimp salad and slow-cooked chicken for the more adventurous eaters.
Keep in mind that if your kid is one of those "only Disney chicken nuggets" type, you won't find normal Disney fare here so you will need to plan ahead.
Of course, one of the biggest questions people often ask who need a little bit of help to get through a busy day at the Magic Kingdom is, "Does Be Our Guest serve alcohol for lunch?" and the answer is that they do!
You can order quite a few different alcoholic drinks to enjoy with lunch if you're 21 or over.
Be Our Guest Dining Rooms
Be Our Guest Restaurant really shines when it comes to the dining rooms.
You've got the main one, the ballroom, which has some lovely snowfall scenes out the windows and lots of space to move around.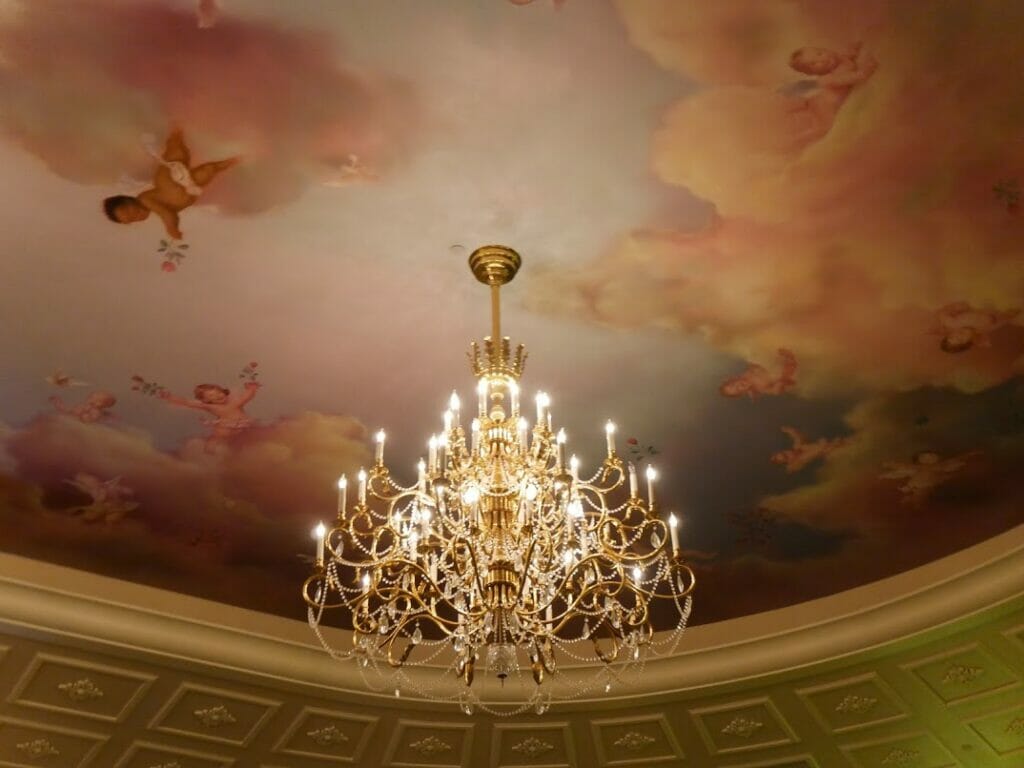 This tends to be the loudest and most crowded, as all guests must filter through it to get to where they're going.
It's very grand, however, and many people enjoy sitting here because it feels in the center of the atmosphere.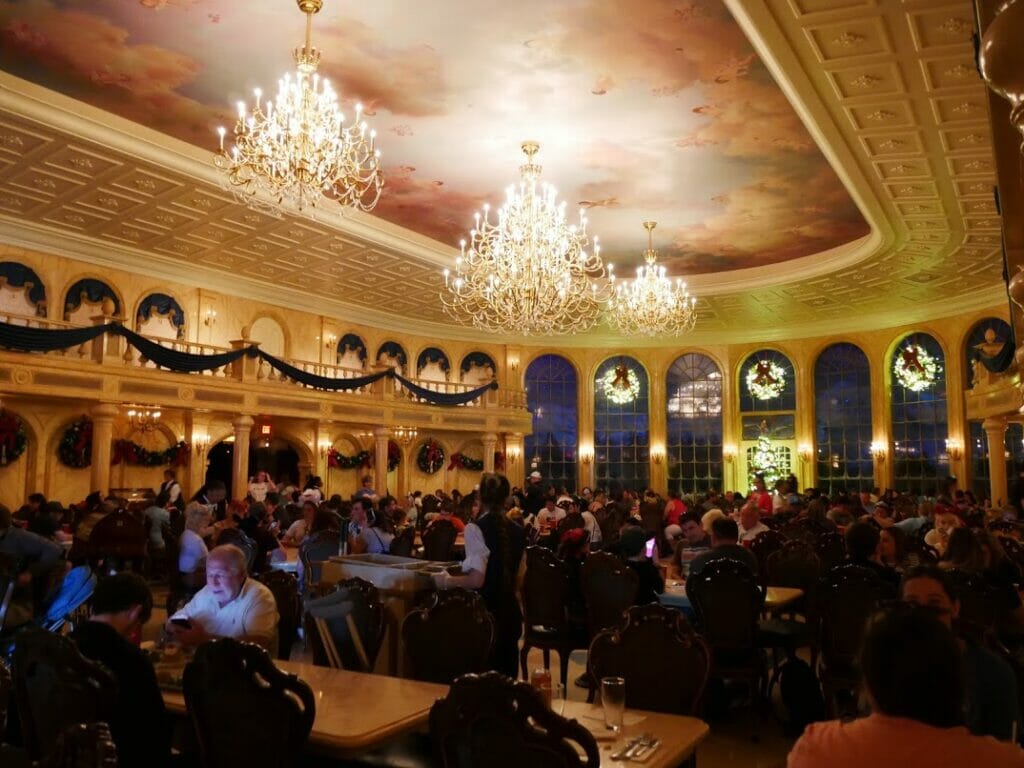 Then you've got the library, which is a quieter area with some lovely portraits and a beautiful figurine of Belle and the Beast.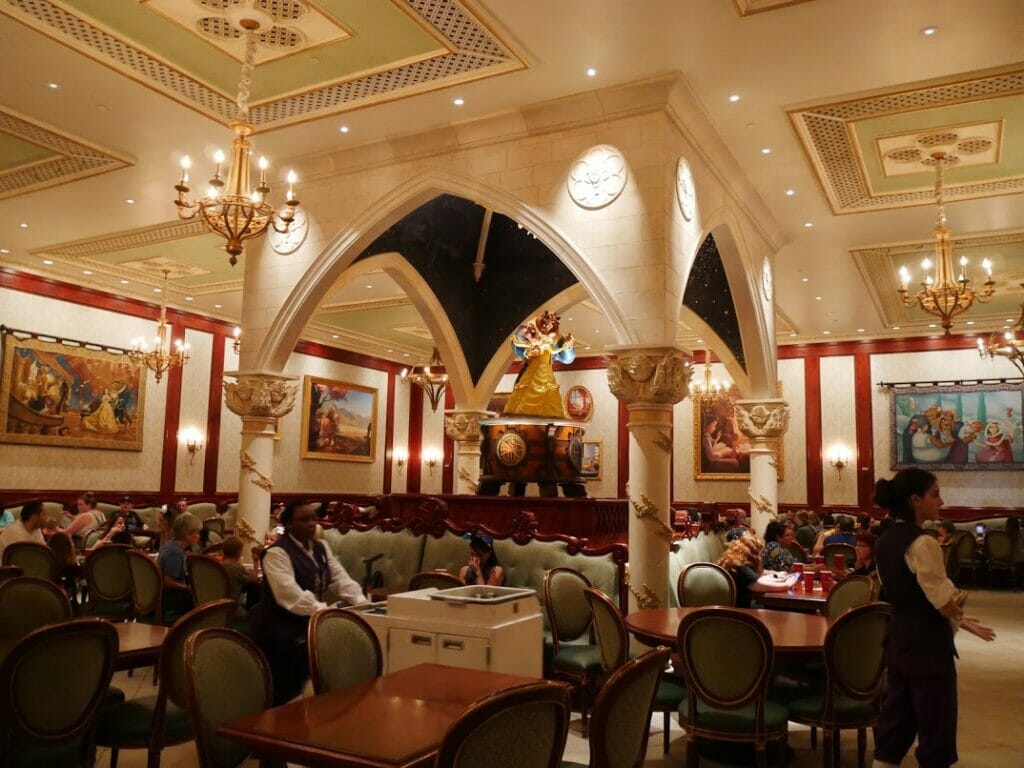 This is a great option if you want to be more out of the way.
I also find it the brightest of the dining rooms.
Finally, the most well-themed dining room at Be Our Guest restaurant is the West Wing. It's a small room, but once you walk in, you'll see why people can't wait to eat in it.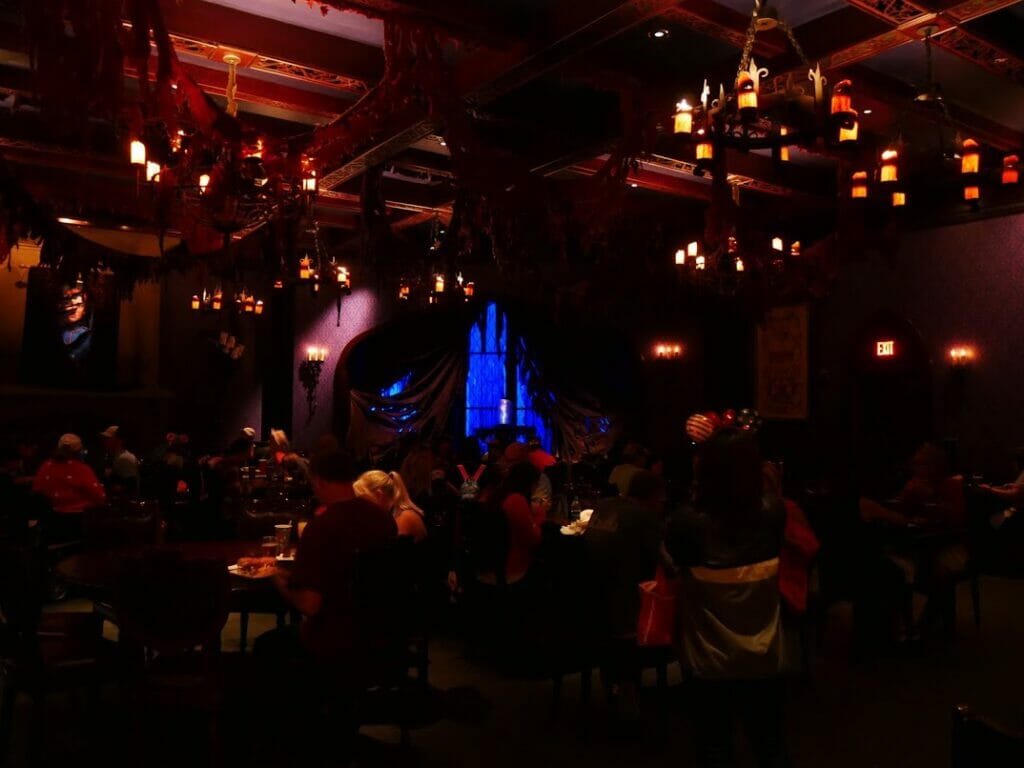 This is, of course, the Beast's area, and you've got the enchanted rose with its petals falling that you can take a picture with, as well as intermittent storms that dim the lights even further.
As you look around the room, you'll see where the beast has ripped up some of the fabric with his claws.
It's harder to find a spot here as there aren't that many tables and many people want to eat in here, but if you book a reservation either first thing or last thing for their lunch hours, you may have more luck.
You can also send someone to basically stake out at the entrance and keep their eyes peeled for people getting up if it's really important to you to sit in here.
Just don't be disappointed if you don't find a spot, as the rest of the restaurant is also well-themed.
You are welcome to walk around any of the dining rooms and take pictures, so you can also experience it without eating there.
How to Get Reservations to Be Our Guest Lunch?
Though Be Our Guest lunch is a quick service dining experience, you do need reservations. You can make reservation through the My Disney Experience app.
Often, the restaurant will be so booked that they do not take walk-ups, which makes reservations very important here.
Luckily, we've had great luck finding last-minute reservations when we search either the day before or on the day if you're willing to keep refreshing the app to see what comes up.
You can also use a free Disney travel agent like The Vacationeer who will book your vacation and make all of your reservations at no cost to you!
Be Our Guest restaurant is definitely one of the most popular places to eat at Magic Kingdom, though it has been open long enough that it is an "impossible to get a reservation" kind of place.
Can I Use the Dining Plan at Be Our Guest Lunch?
Yes, you can use a quick service credit for a Be Our Guest lunch, which tends to be a good value use of the credit.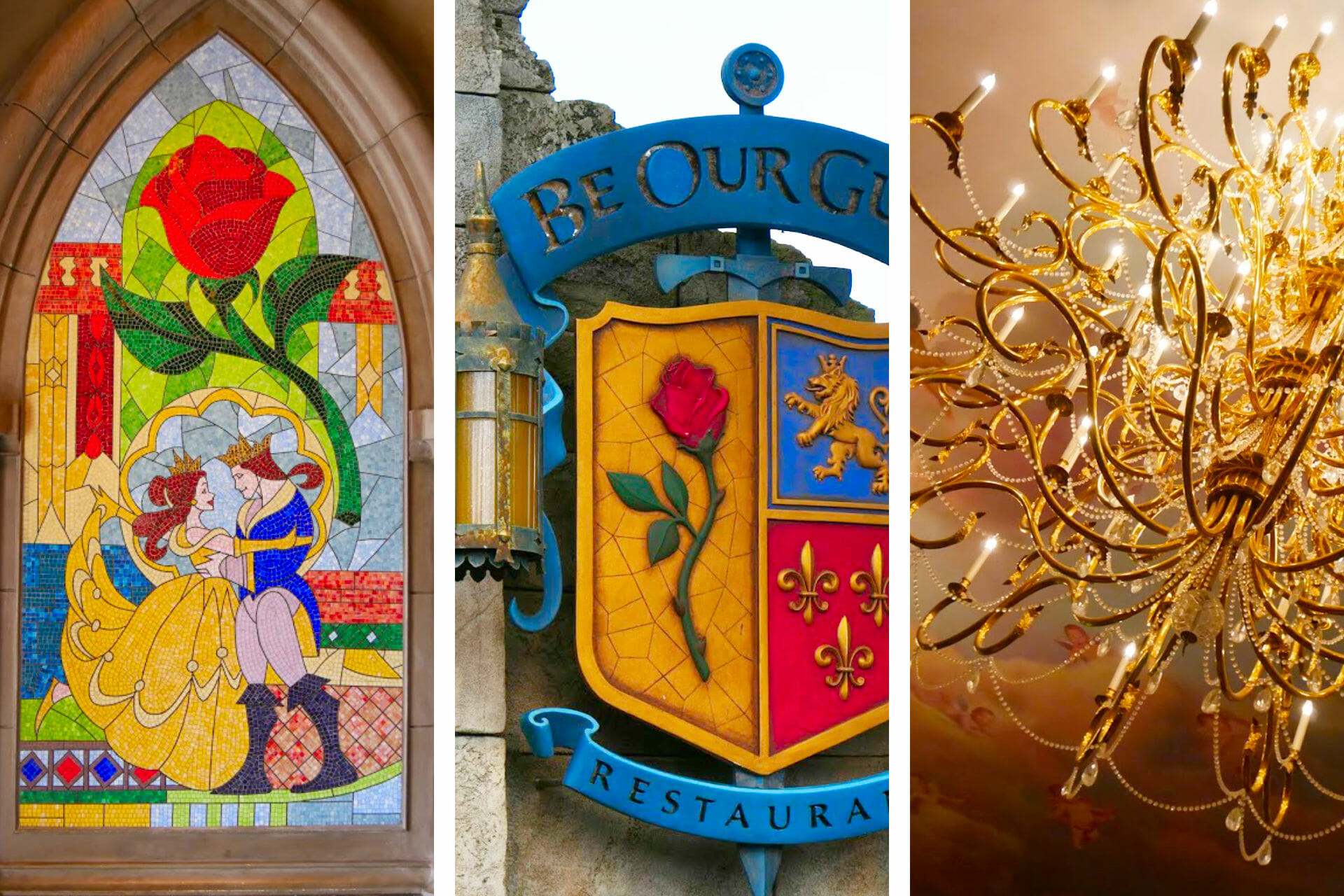 Enjoyed this? Share it!