Note: Disney Vacation Club has moved to an Open House concept, as opposed to a sit-down, hour and a half long tour/talk. The below write-up is from the old Vacation Club Tour, but a fun piece of DVC history if you're interested.
If you haven't heard of the Disney Vacation Club, then it's likely you've never been to Disney.
Once you get to Walt Disney World, there are signs up almost everywhere in the park pointing you to kiosks to talk to a representative about the Vacation Club, as well as Vacation Club reps across the resorts including Animal Kingdom Lodge, Wilderness Lodge, the Beach Club, and other incredible Disney Deluxe resorts.
In essence, Disney Vacation Club is a timeshare where you can buy a contract for a certain amount of points to use at DVC properties per year.
We don't own DVC (though a girl can dream), but we've rented DVC points and seen enough information over the year that we were curious and wanted to learn a bit more than you can by flipping through the brochures while taking a Disney Vacation Club tour.
Want insider Disney tips from an expert?
Join 4,000 others in weekly guides to Disney's hidden secrets, gems, and money-saving tips!
Which brings me to…how we got $100 in Disney gift cards and 3 fastpasses by going on a Disney Vacation Club meeting!
It all started when we talked to the DVC rep at Wilderness Lodge.
She told us a bit more about how it worked, and then asked if we wanted to take a tour at Saratoga Springs DVC center.
She said she would give us $50 each in giftcards and 3 Fastpasses good for the next 4 days, but it ended up that there were no more spots left for that afternoon.
She then upped her offer and said if we went the next morning, we'd get $100 each in Disney giftcards and 3 Fastpasses.
So we very quickly said yes because, hello, $100 in Disney giftcards, yes please.
Also, I lowkey want this DVC shirt to wear around the parks.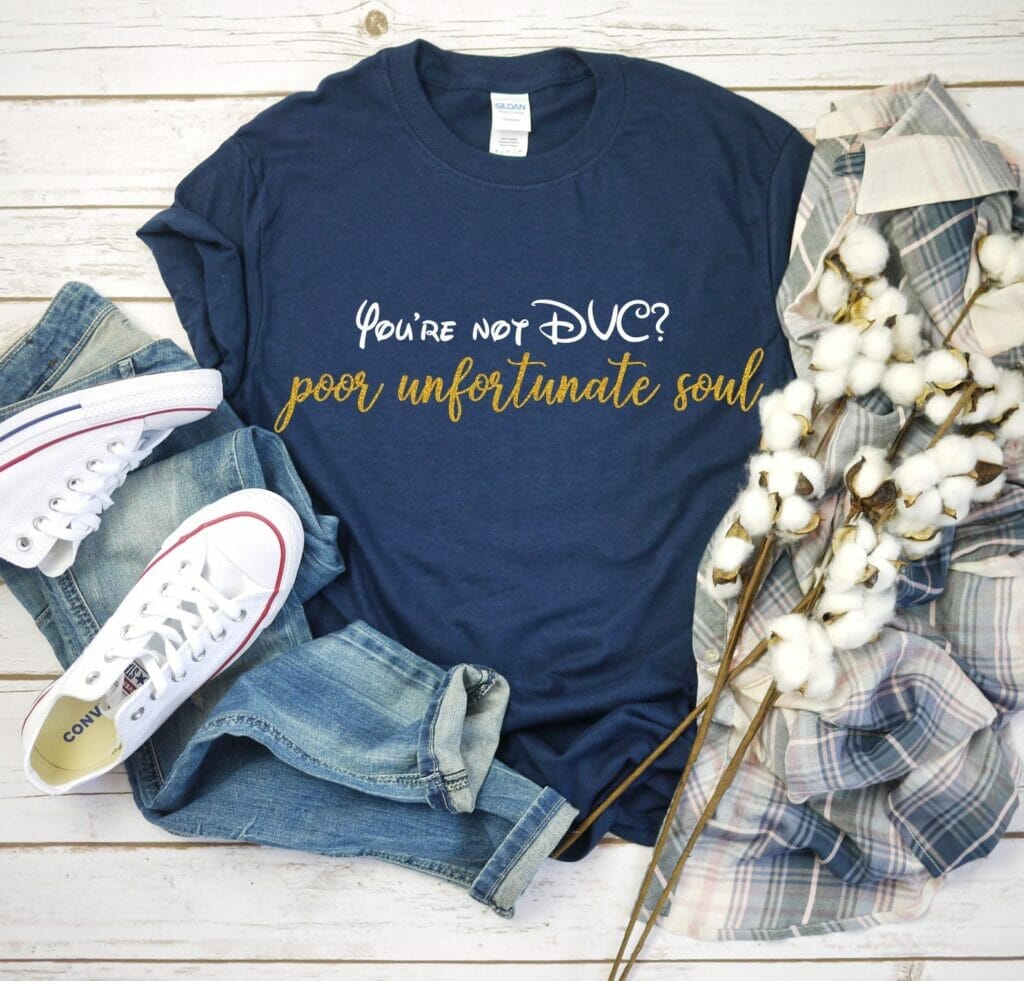 How to Book a Disney Vacation Club (DVC) Tour
You can book DVC tours online ahead of your visit to Disney, but for the best chance of the best offer, I'd recommend waiting until you get there.
Sometimes there will be a flyer underneath your door at your resort with an offer, otherwise if you go to any DVC kiosk, they can tell you what they can give you in exchange for your time.
The reason they do this is because it does take a chunk out of your Disney vacation – ours took about 2-3 hours in the end and we didn't end up buying DVC at the end.
They can arrange transportation in their DVC vans to get you to and from any Disney resort or Disney park, so if you don't have your own car on site, that's not a problem.
Disney Vacation Club Tour at Saratoga Springs Experience
The main DVC center is at Saratoga Springs, which was the original DVC resort.
There are two separate buildings – the welcome center with the waiting area and offices, and the showroom building.
When we first got there, we were met by a friendly salesman outside who got our names and then took us in the building, introducing us to the front desk people like we were royalty.
Like, I see your sales tactics there, sir, but I approve.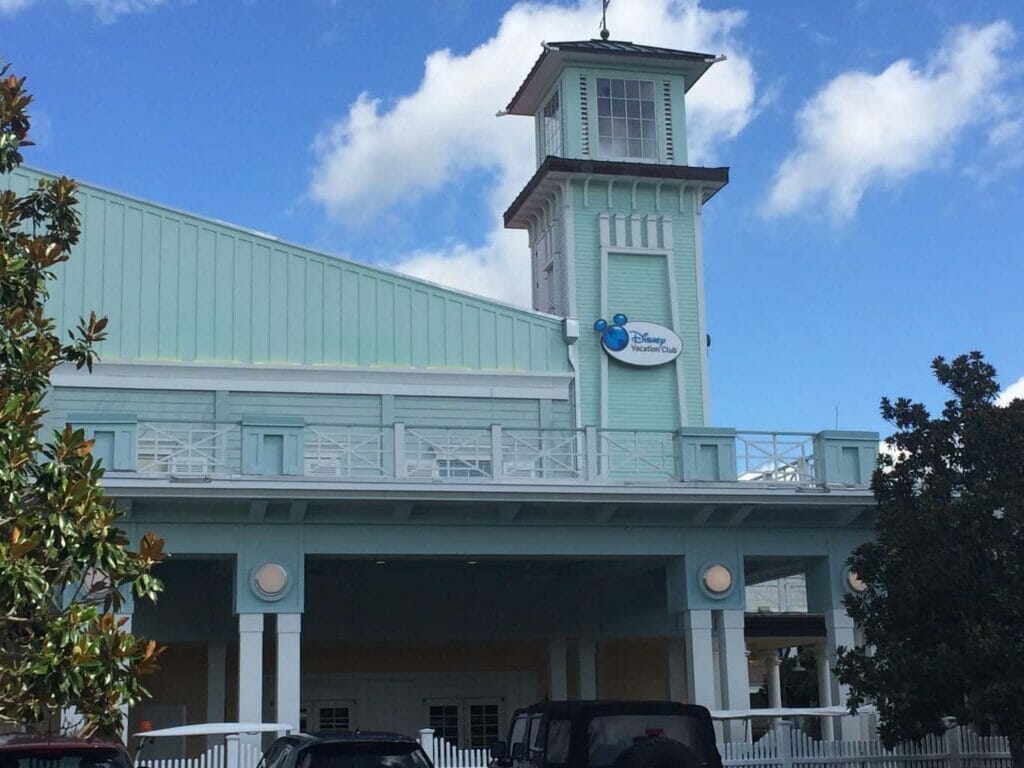 Then we got checked in by the front desk and marveled at the beautiful lobby.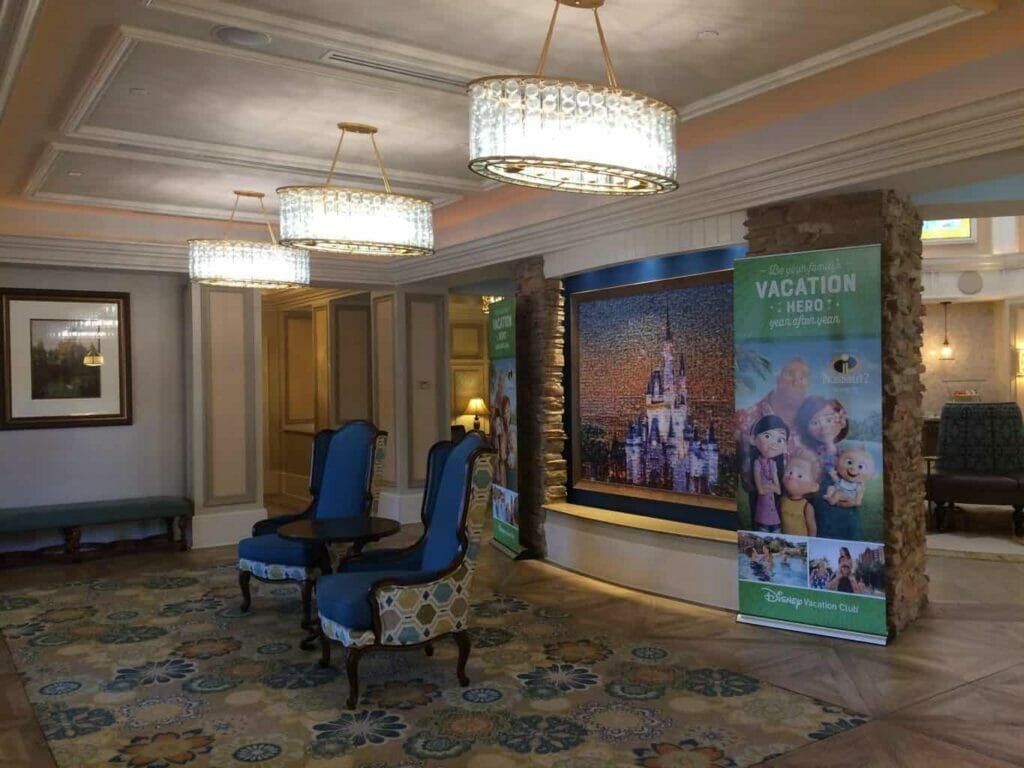 While you wait, depending on the time of day, there are continental breakfast items or afternoon pastries (and cupcakes).
There are also different kinds of juices and water.
So far, we hadn't even gotten into the presentation yet and I was having an amazing time.
Next, we were brought with one other family into a movie room where we watched a short video about DVC.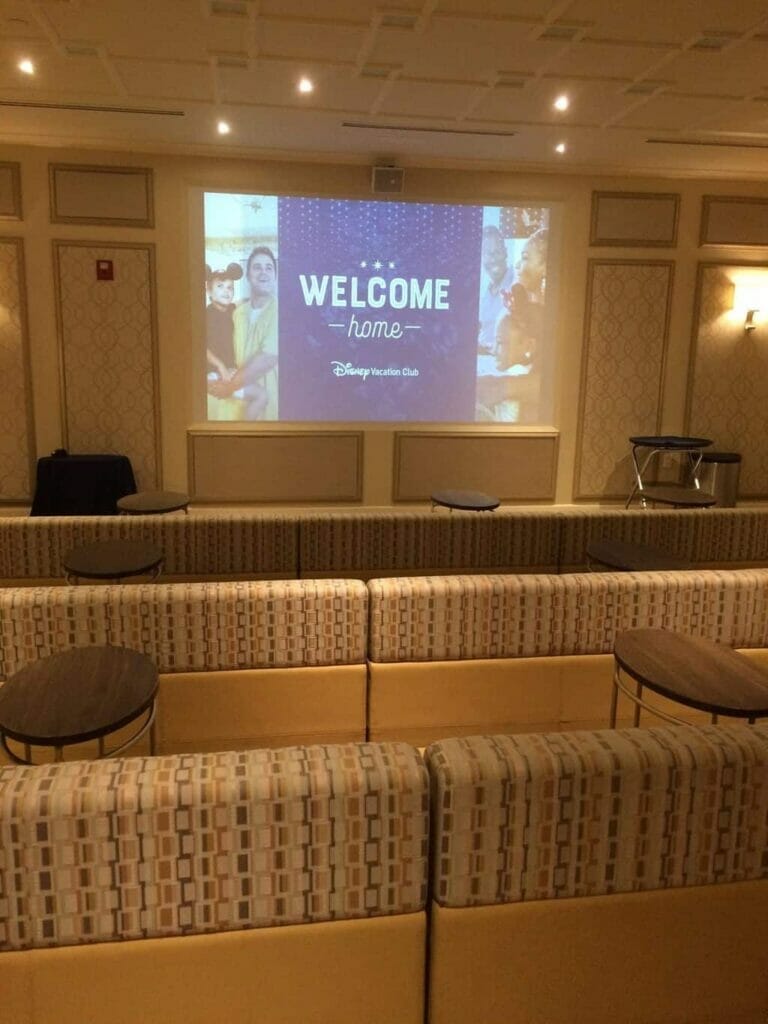 From there, they had our salesperson (they didn't call them that, but that's what they were) meet us and take us into a smaller room with a table, chairs, and a screen.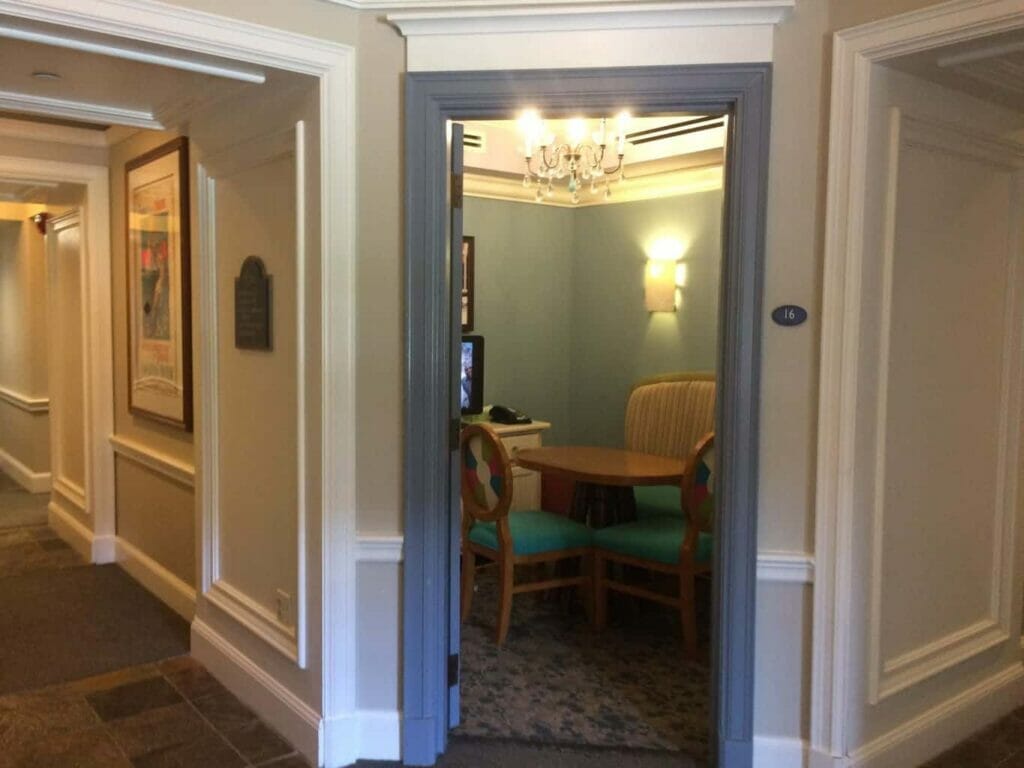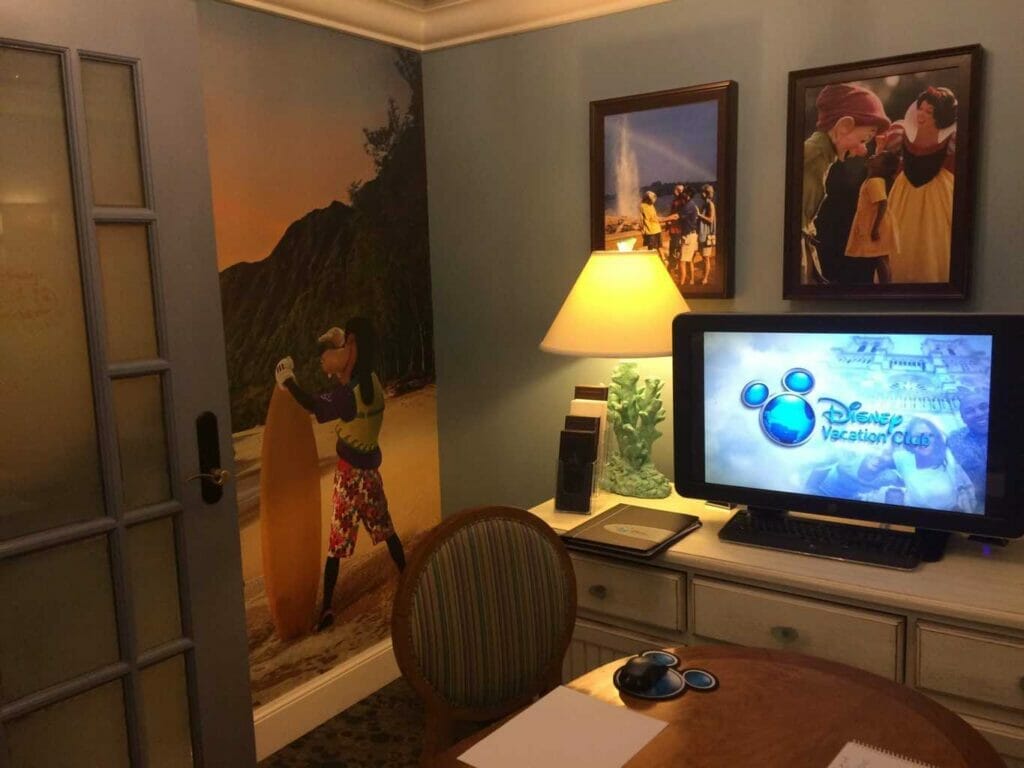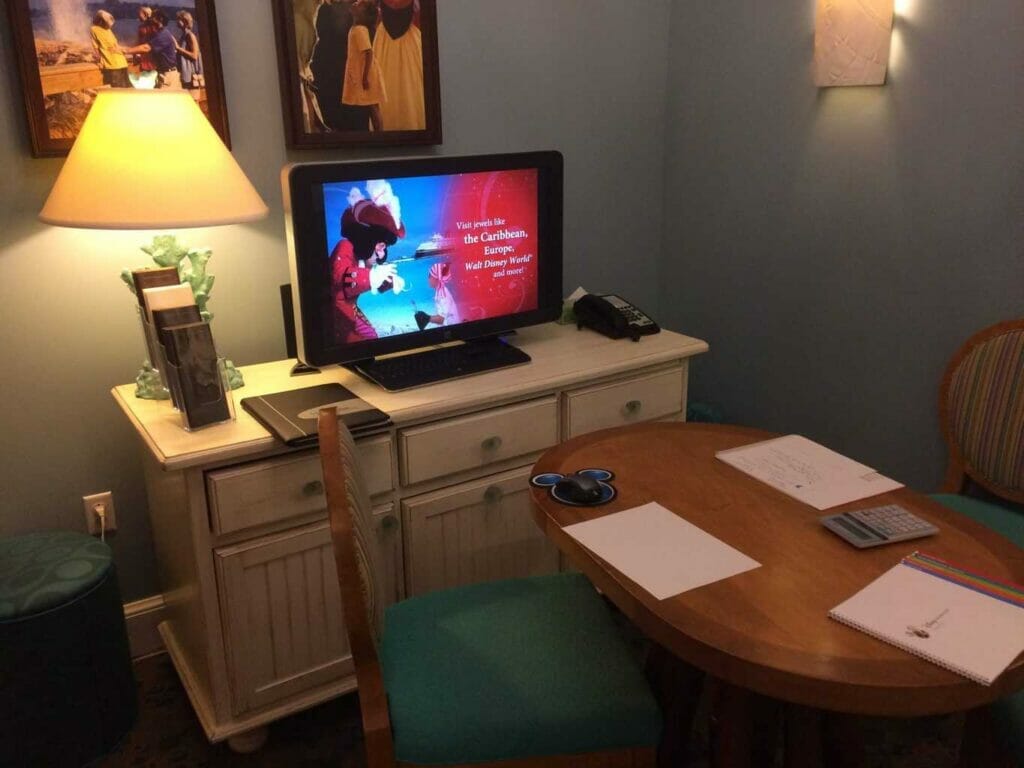 He basically asked us questions about why we were there in terms of what level of information we wanted to get out of it and where we were in the buying process.
They tell you that the meeting is "low pressure," so they're not going to be chasing you on your way out yelling at you to buy.
We found this mostly to be the case.
It was way lower pressure than other timeshares, though of course he did sneak in a few "When you become a member today…" anecdotes.
But overall it was just a conversation and he gave us a lot of paperwork and brochures and explanations about how it all works.
Once we had talked for a while, he took us into the showroom building, which is where all my dreams came true and I got to step foot in rooms that I could probably never afford.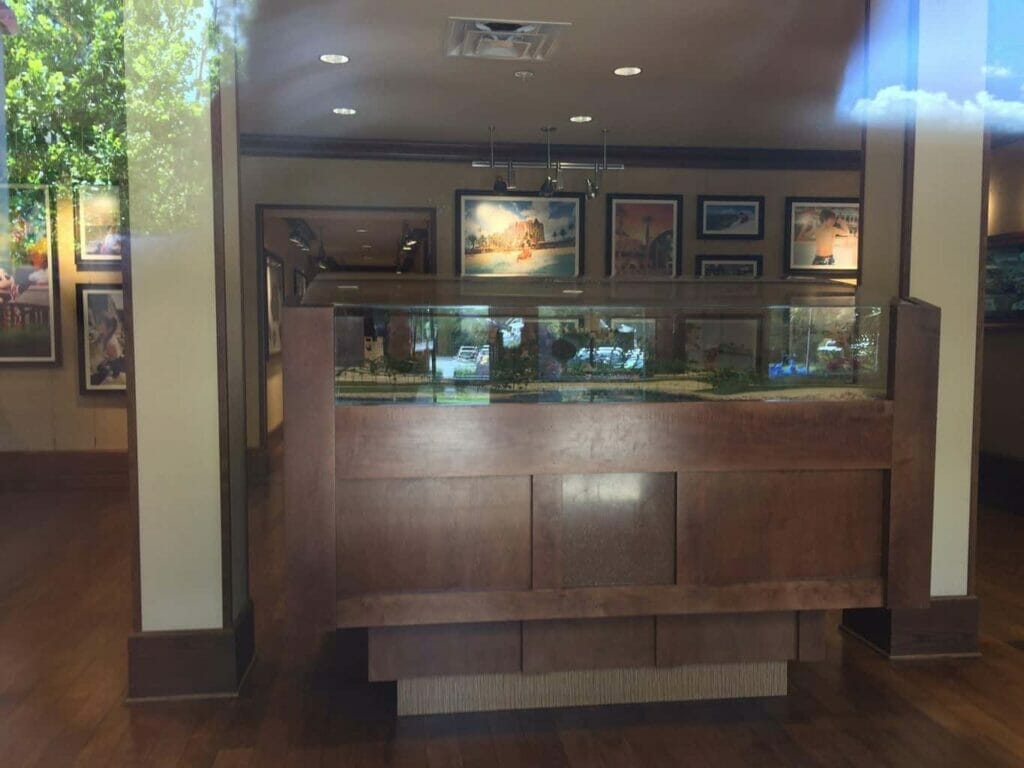 These are duplicate rooms, so they are exactly the same as the ones in the resorts.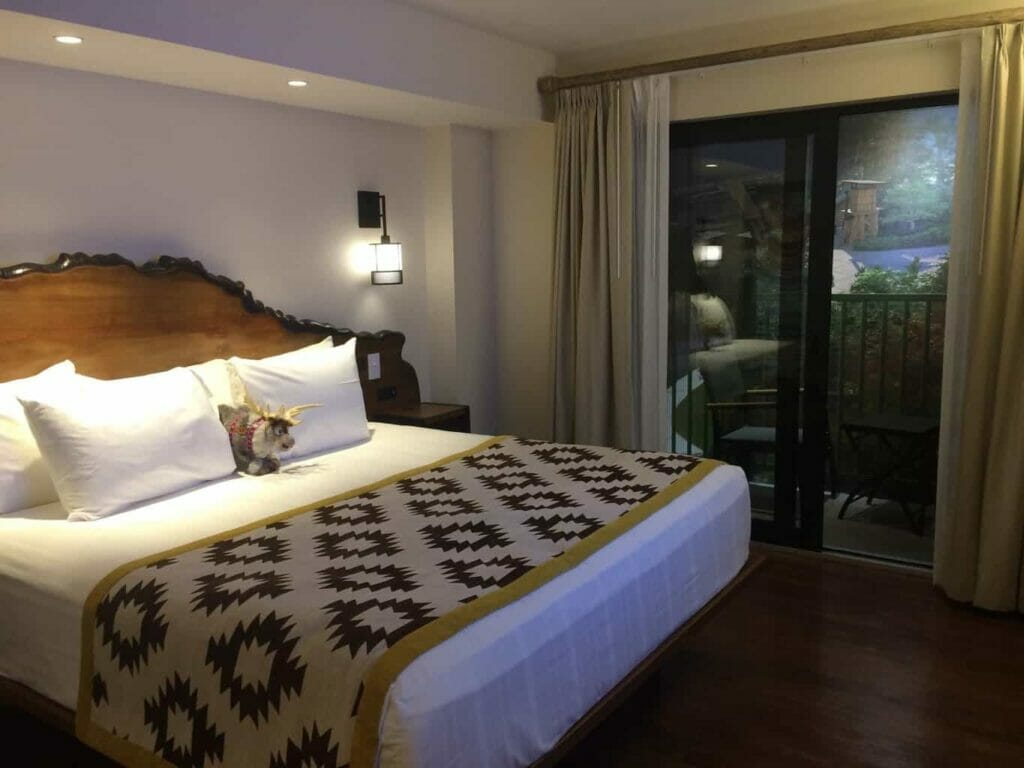 There was a Copper Creek studio, a Copper Creek one bedroom, a Polynesian studio, and a one-bedroom room from Aulani, Disney's Hawaii resort.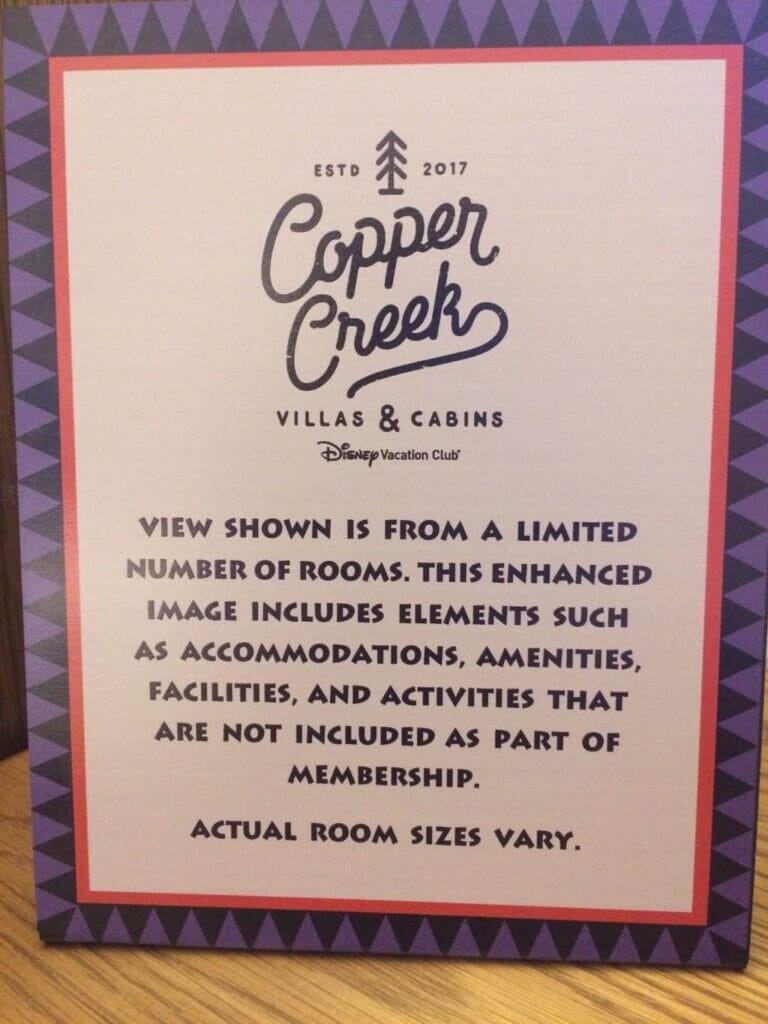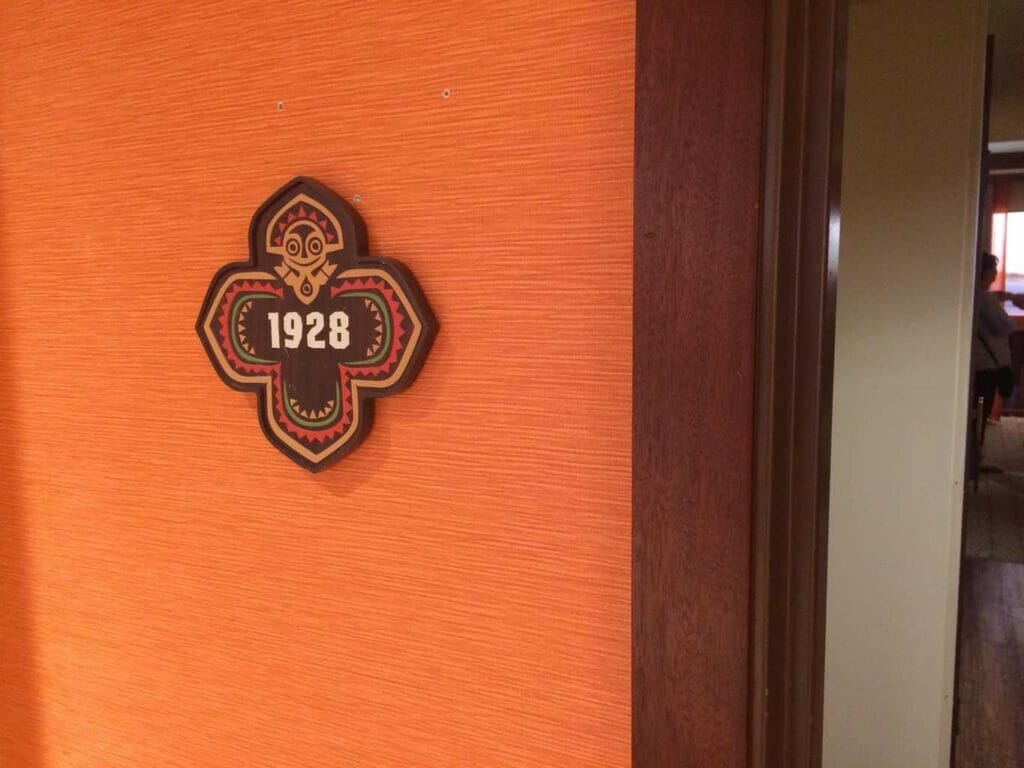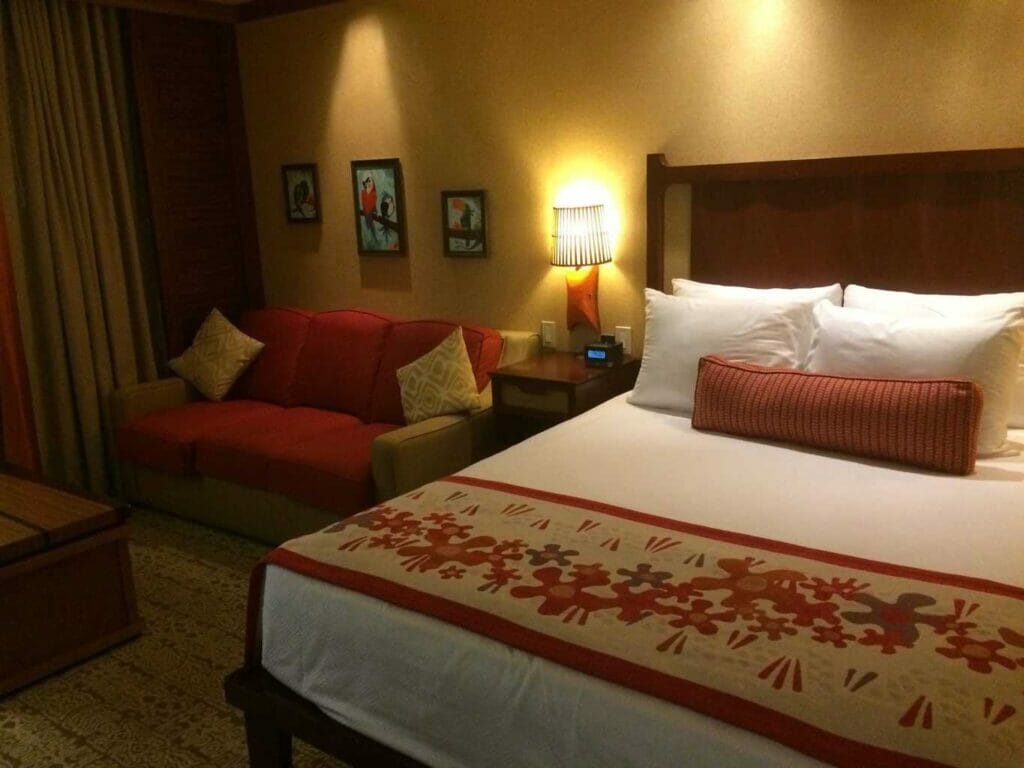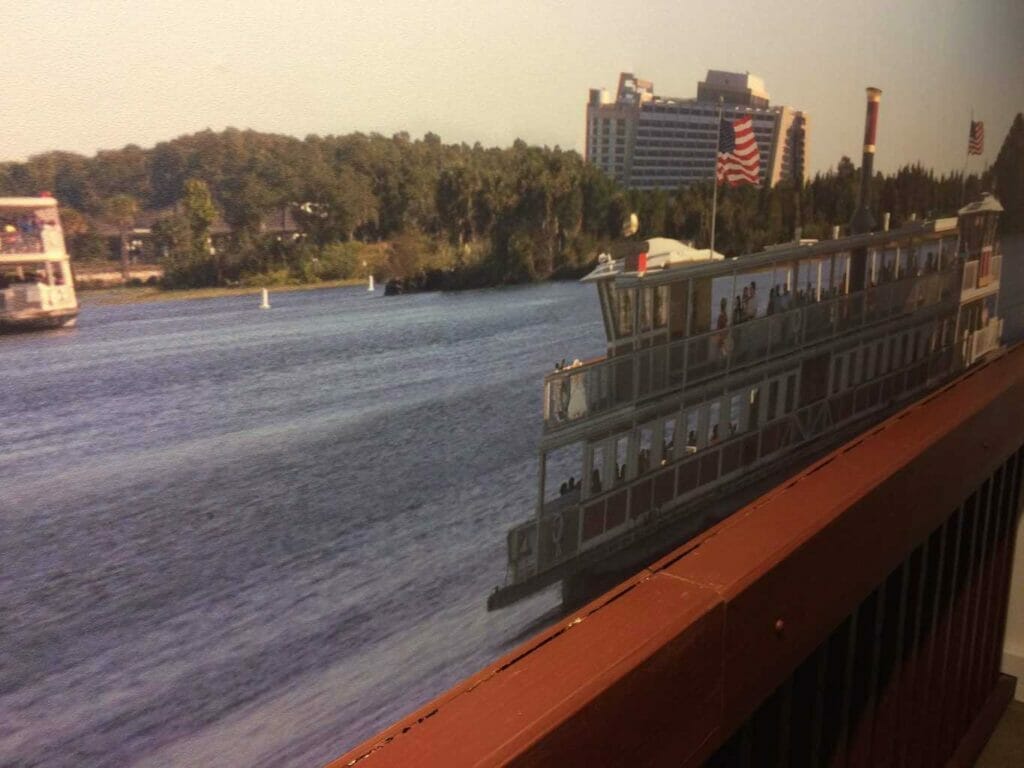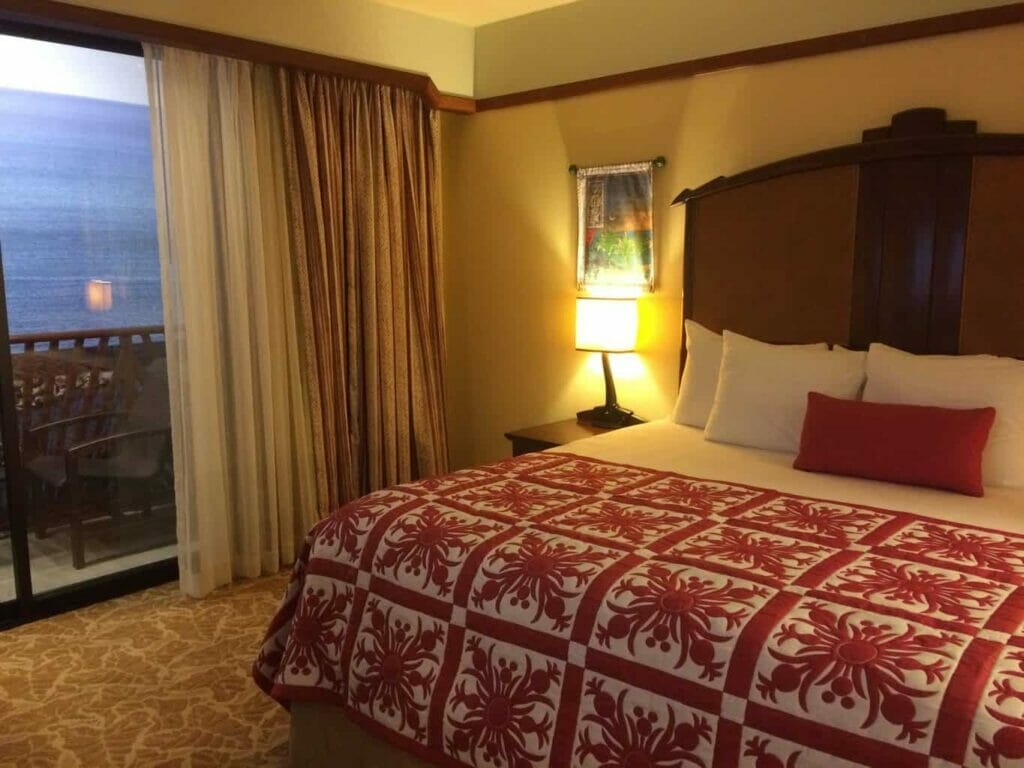 After we had finished roaming through there, we went back to the original room and talked a bit more.
He offered us more drinks and I eyed up a cupcake but unfortunately wasn't bold enough to grab one.
It was about 2 or 2 and a half hours from starting the experience that we finished up.
We were clear from the beginning that we weren't buying that day and needed a lot more information.
When we didn't have anymore questions, he brought us to the exit of the building which puts you in an ice cream parlor!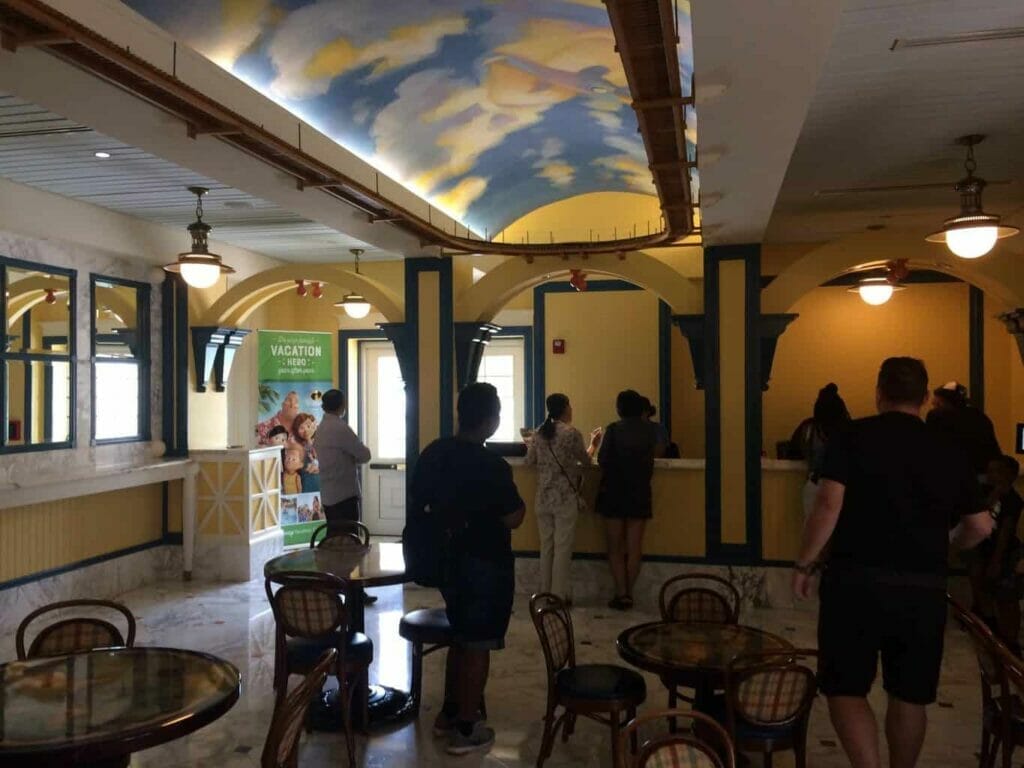 First he took us up to the check out desk where they arranged for us to have our gift cards e-mailed to us.
We couldn't use Fastpasses as we were leaving that day, but if you can use them, they can put them on your account.
The Fastpasses have a couple restrictions in that they can't be used at the couple most popular rides across the parks (so I believe these wouldn't have worked at Frozen After Ever, Mine Train, and either of the Avatar Rides), but they can be used on anything else at any time.
Then we said goodbye to our salesperson and choose our flavors of ice cream and toppings while talking about everything we had heard.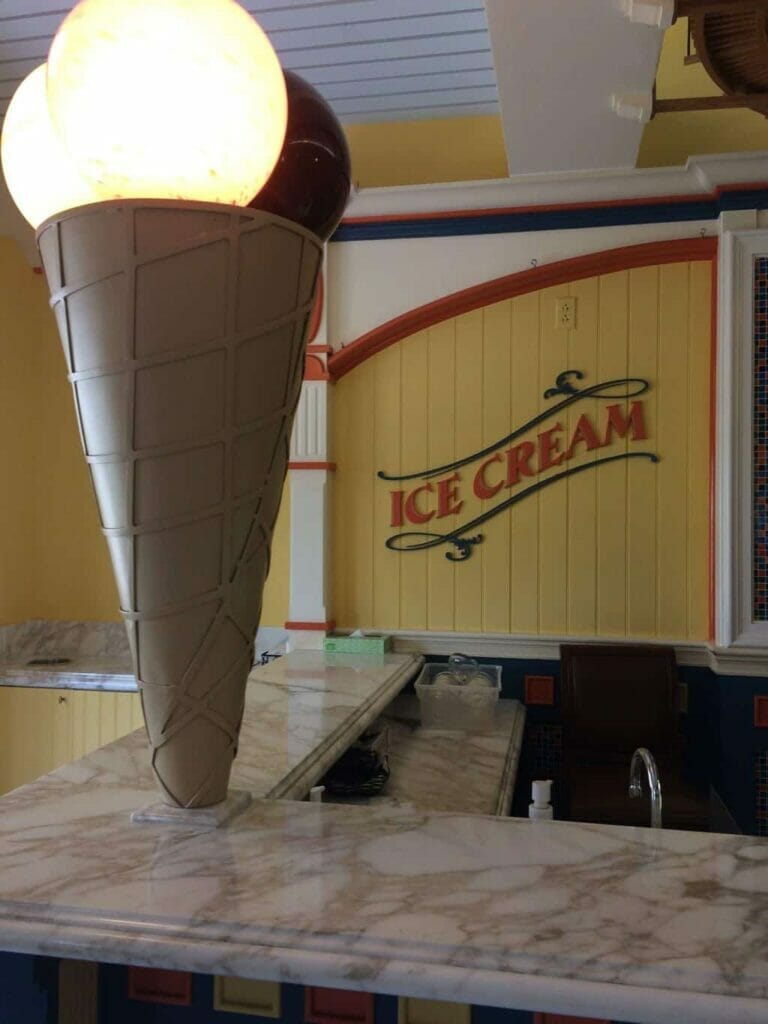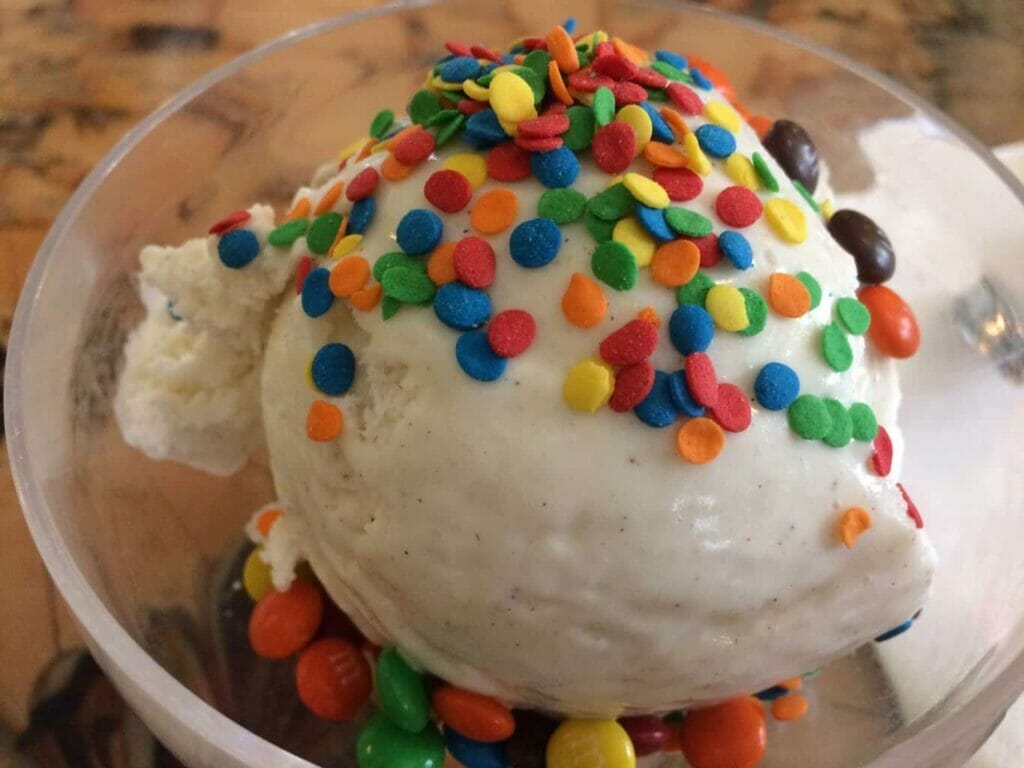 If you're going to do the DVC tour, I would highly recommend to do it at Saratoga Springs because the set-up they have here is just bigger and better than across the other Deluxe resorts.
If there was anywhere I was going to "buy into the Magic," it would have been there.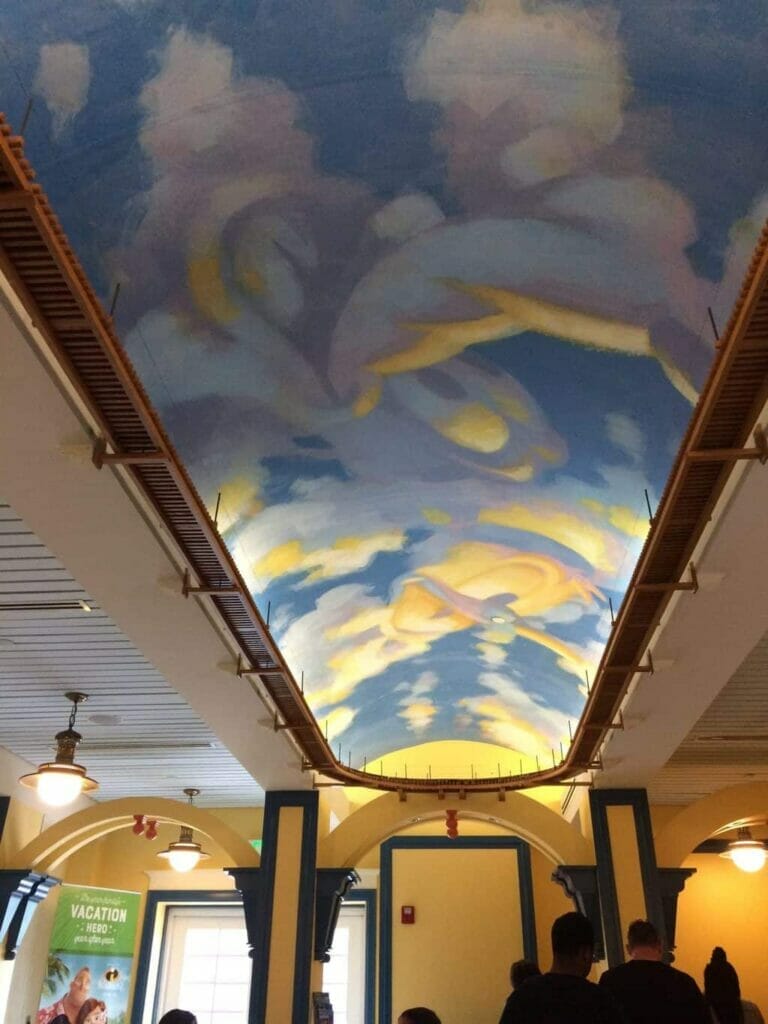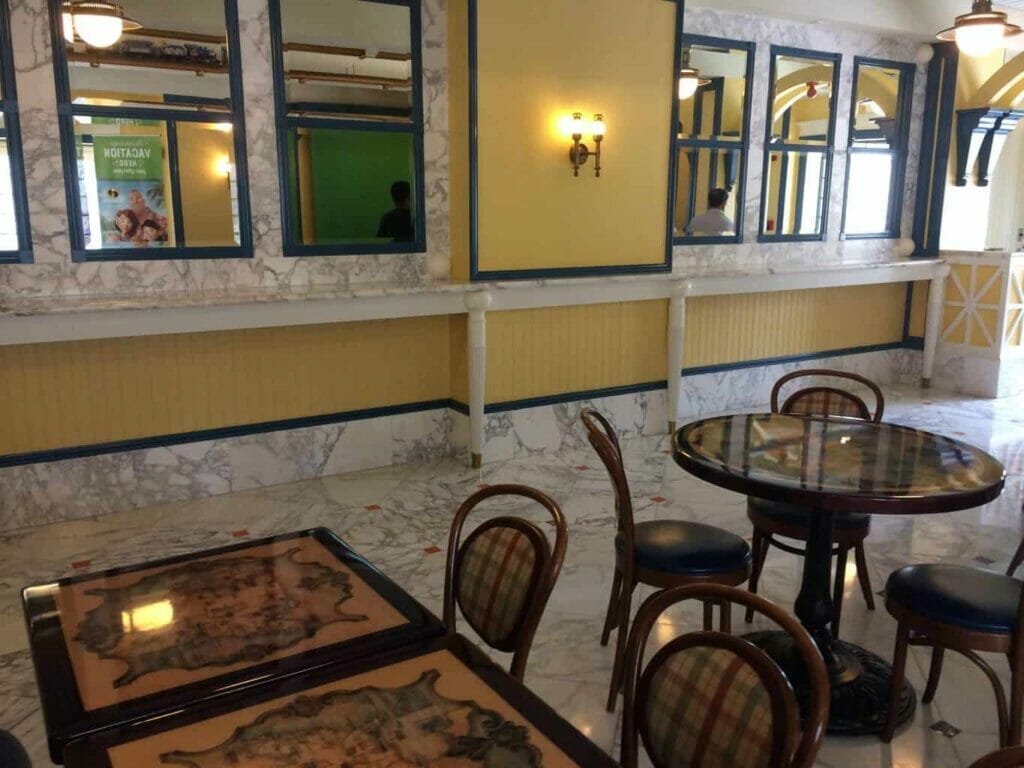 Get the All-American Travel Secrets!
Don't miss out on America's hidden gems!