Whether you're a first time visitor to the Magic Kingdom or an annual passholder who can recite the Carousel of Progress lines in your sleep, there's one thing I think we can all agree on: waiting for the fireworks (known as Happily Ever After) is downright insane.
If you've never been and you're planning a Disney trip, let's just say that, for the best view, you'll be getting intimately close to fellow sweaty guests in places you never thought possible.
It gets tight, it gets hot, it gets hectic, and I've seen full blown territory wars break out between families.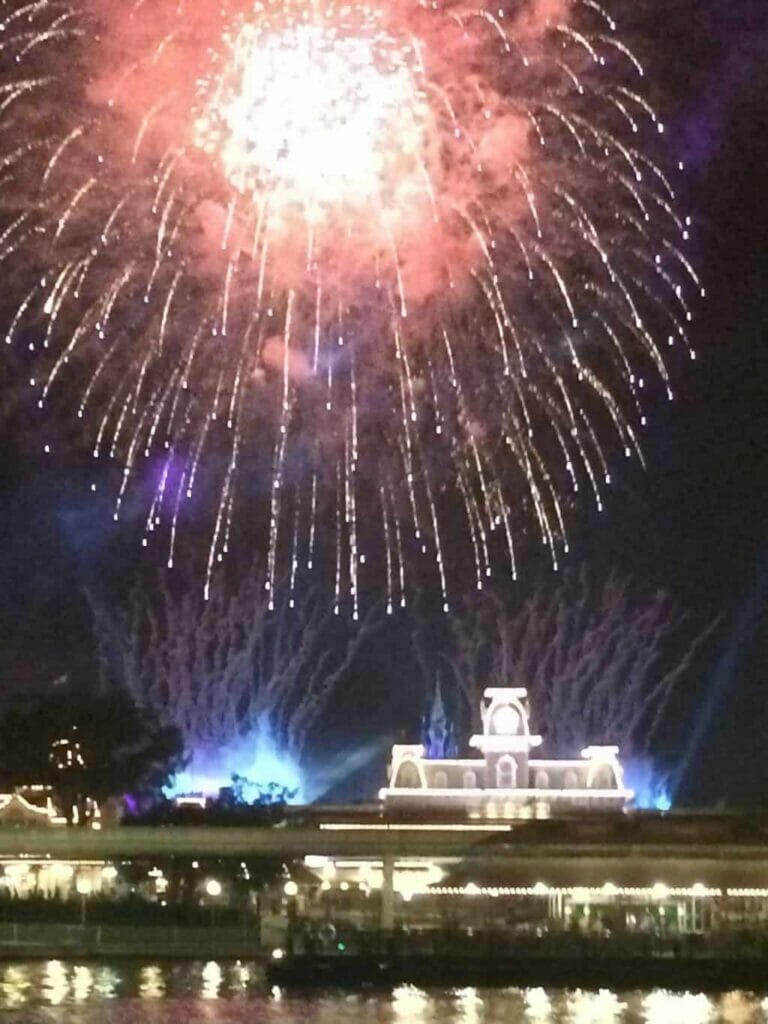 Want insider Disney tips from an expert?
Join 4,000 others in weekly guides to Disney's hidden secrets, gems, and money-saving tips!
You'll need to be carrying a lot of provisions (here's a full run down in my guide on what NOT to forget to bring to Disney).
It's worth doing at least once to be able to say that you survived, but I'm always on the hunt now for places to watch the fireworks outside of the crush on Main Street.
I do need to note that Happily Ever After is primarily made up of on-castle projections, so the following method won't allow you to see those.
However, if you're looking for a relaxing way to watch the fireworks portion of the show away from the crowds, the following way is highly recommended.
PS, for maximum fun, wear your Disney fireworks shirts!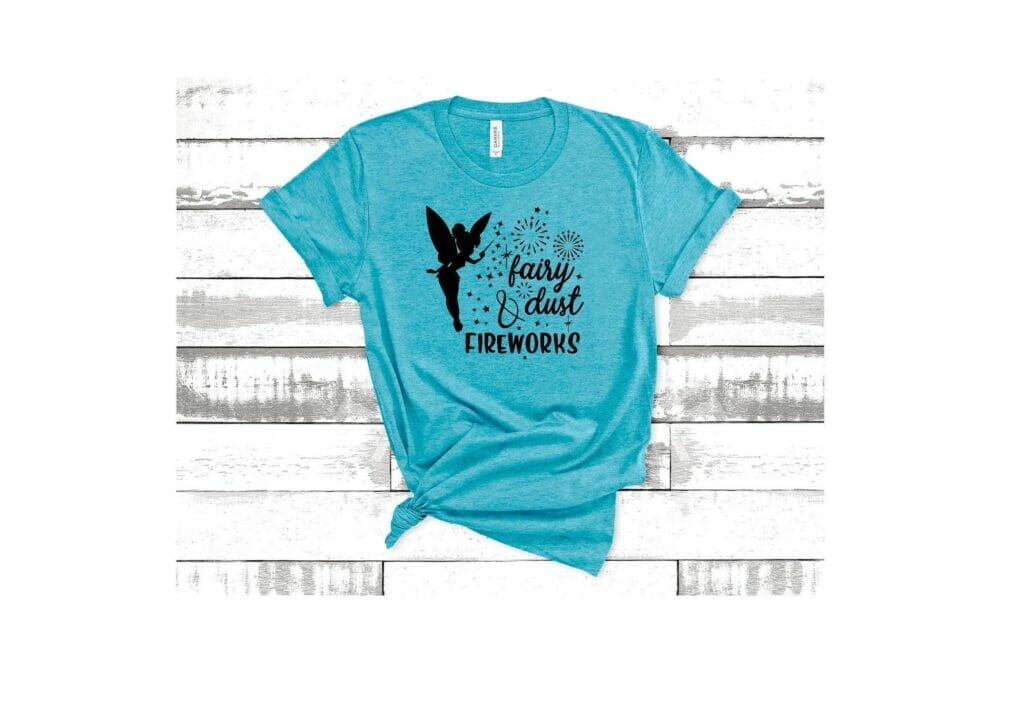 I have tried a lot of different fireworks viewing spots in Disney World over the years, but my favorite is by far from the boat between the Wilderness Lodge and the Magic Kingdom.
We discovered it on accident, really.
We were staying at the Wilderness Lodge (check out what I thought of the resort in my Wilderness Lodge review), and I had heard that you could see the Electric Water Pageant from the Wilderness Lodge dock each evening.
We wandered down to stake out a spot, but had almost half an hour to kill.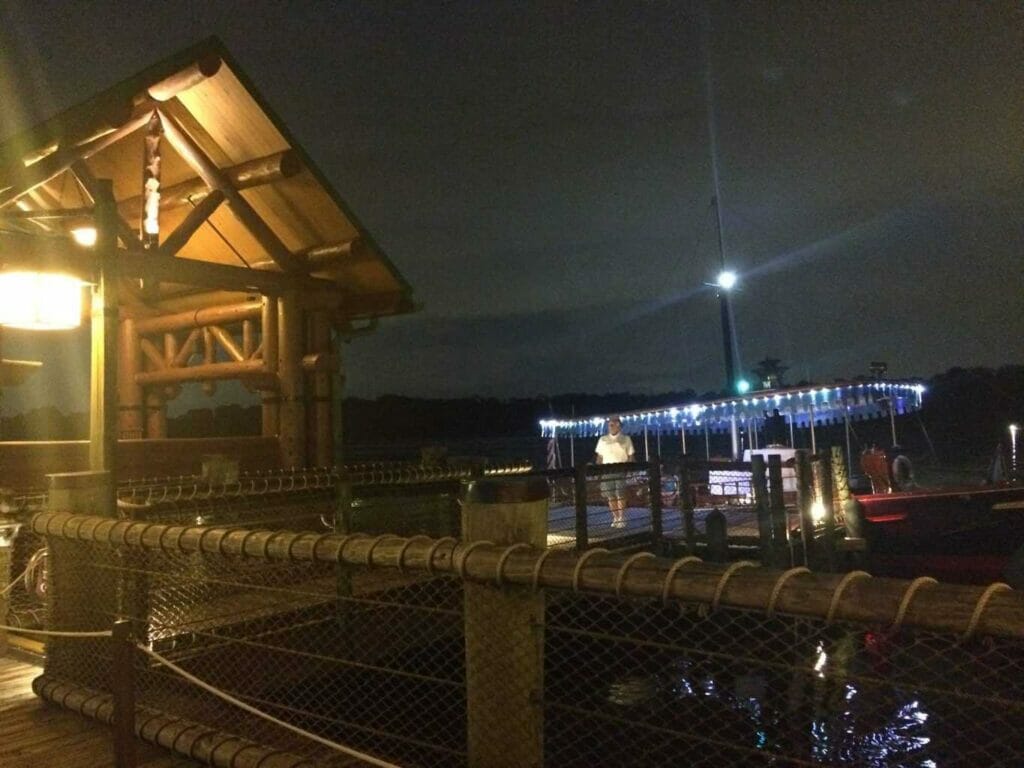 The boat to the Magic Kingdom had just pulled up, and we decided to take a nighttime ride to the Magic Kingdom and back before the parade started.
At this point, we had no idea what was in store.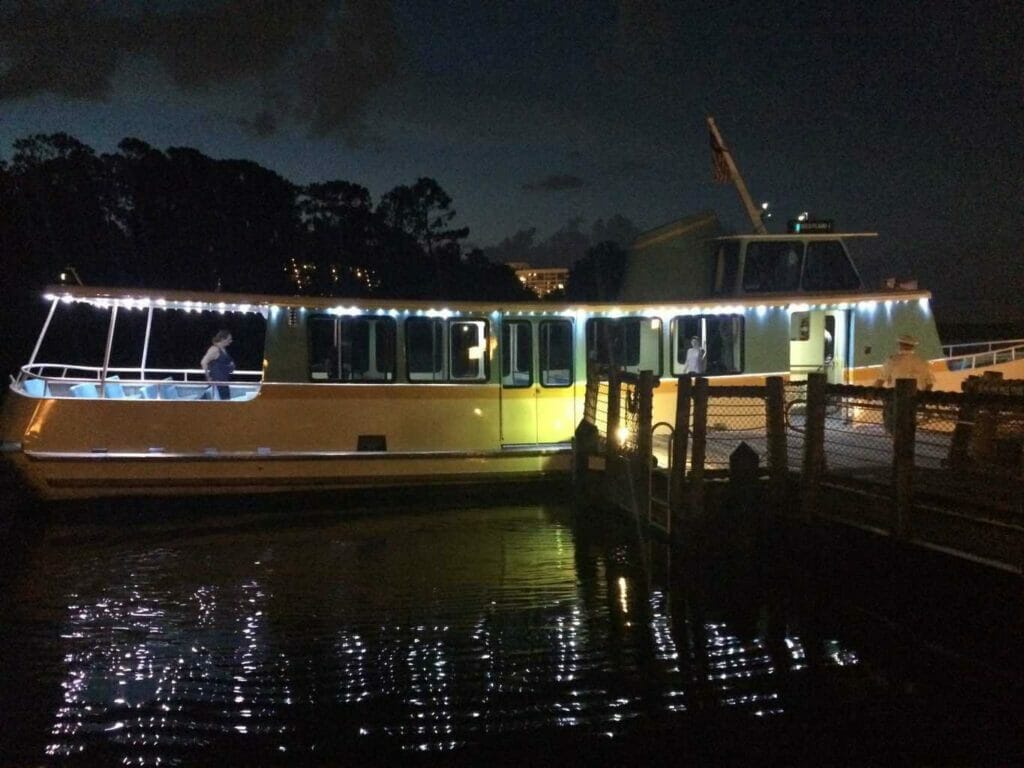 At this point, the fireworks were at 9:15pm for the Magic Kingdom, and it was maybe 9:05.
The boat waited for more people for awhile, and we chose our spots in front of the boat (that no one else wanted – we had it all to ourselves!)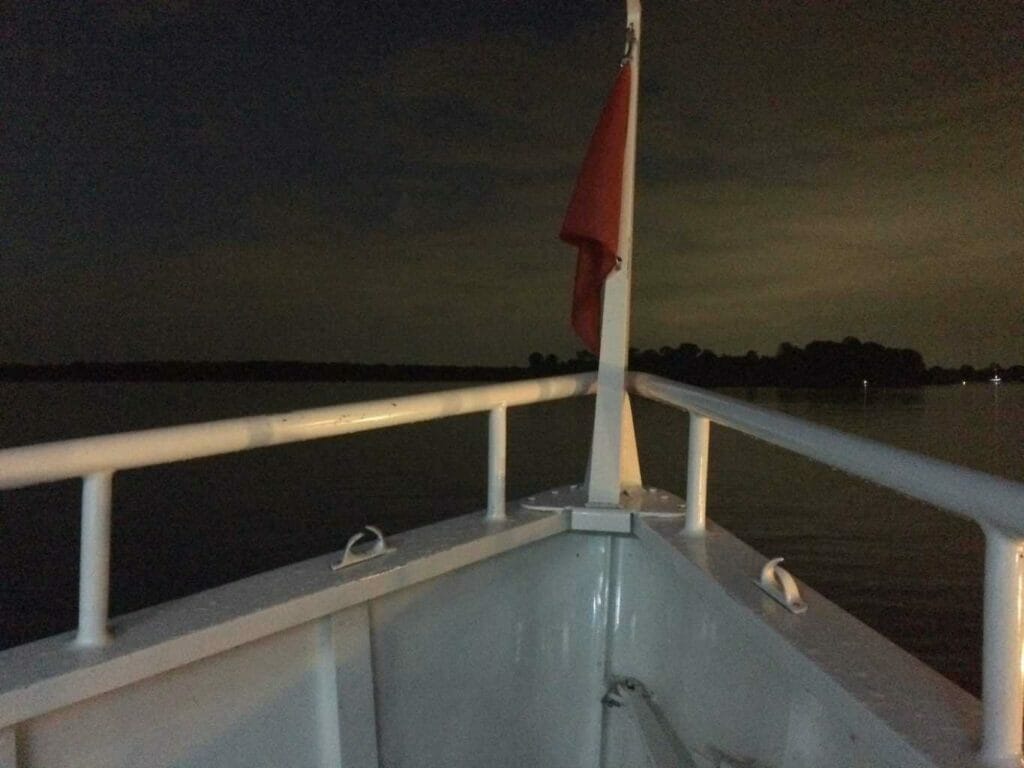 At around 9:10, we started moving, and our captain proclaimed that we were going to have the best view of the fireworks on all of Disney property.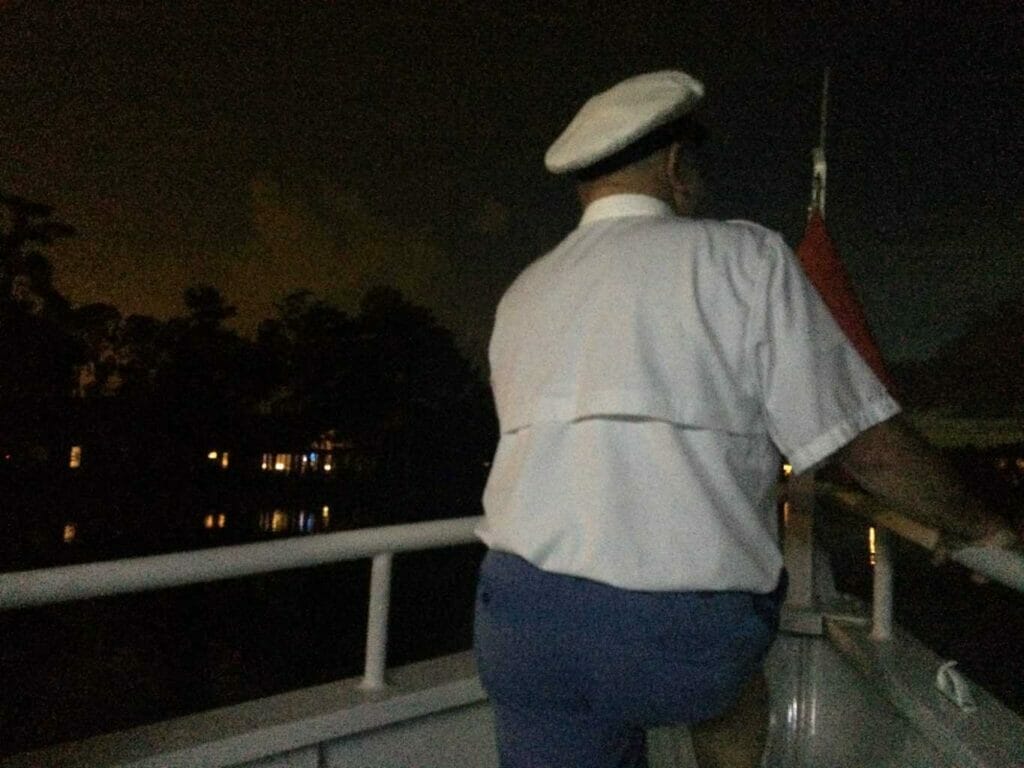 By the time we got around towards the Magic Kingdom, it was almost time for them to begin.
They stopped the boat for a moment so we could get the best view, and then it started.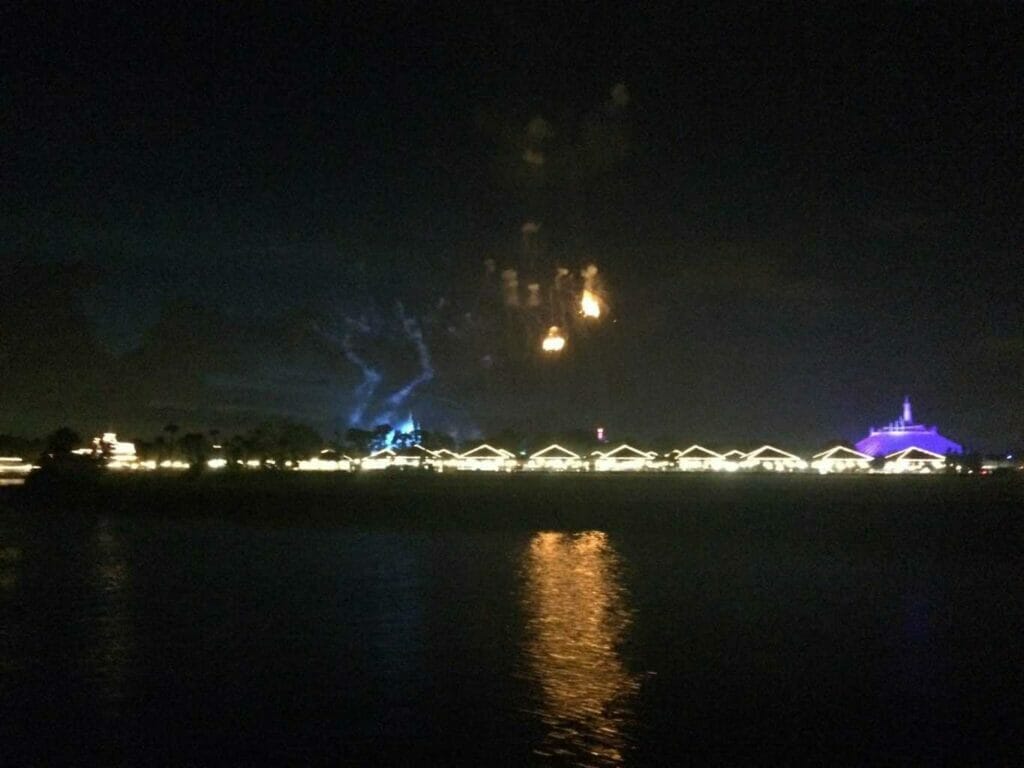 The closer we got, the more we could hear the music carrying over the water.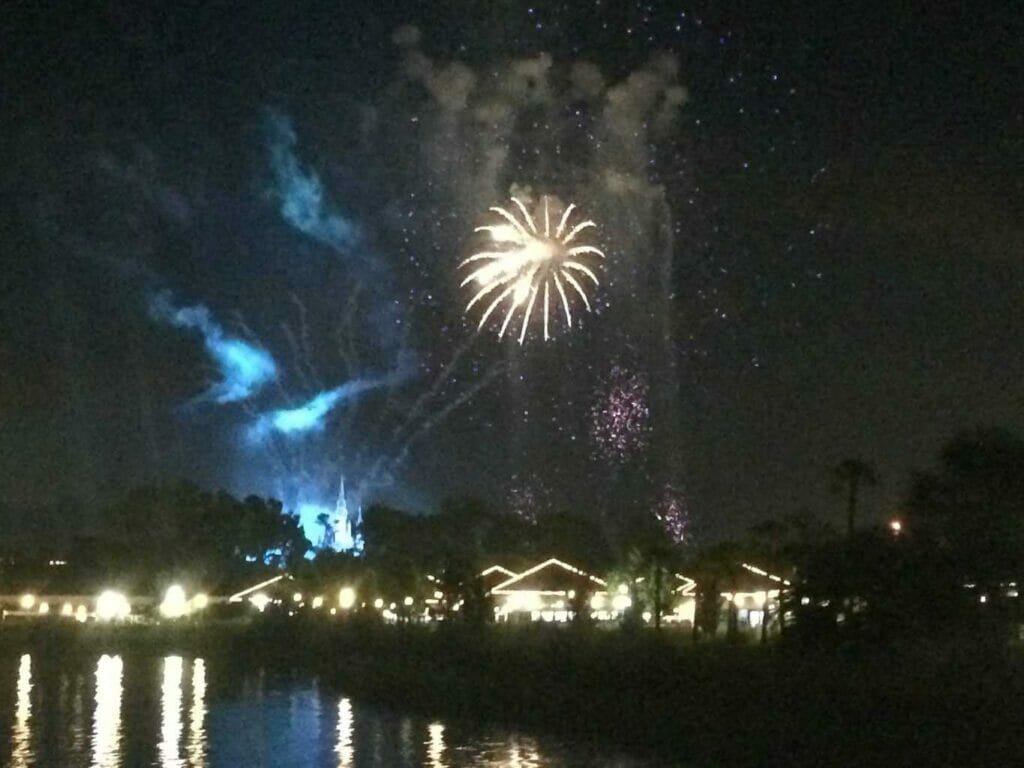 This was a view of the fireworks I had never experienced, and we were actually passing in front of Fireworks Cruises of people who had paid hundreds of dollars for the view.
Keep in mind that they also get the music properly piped in, though.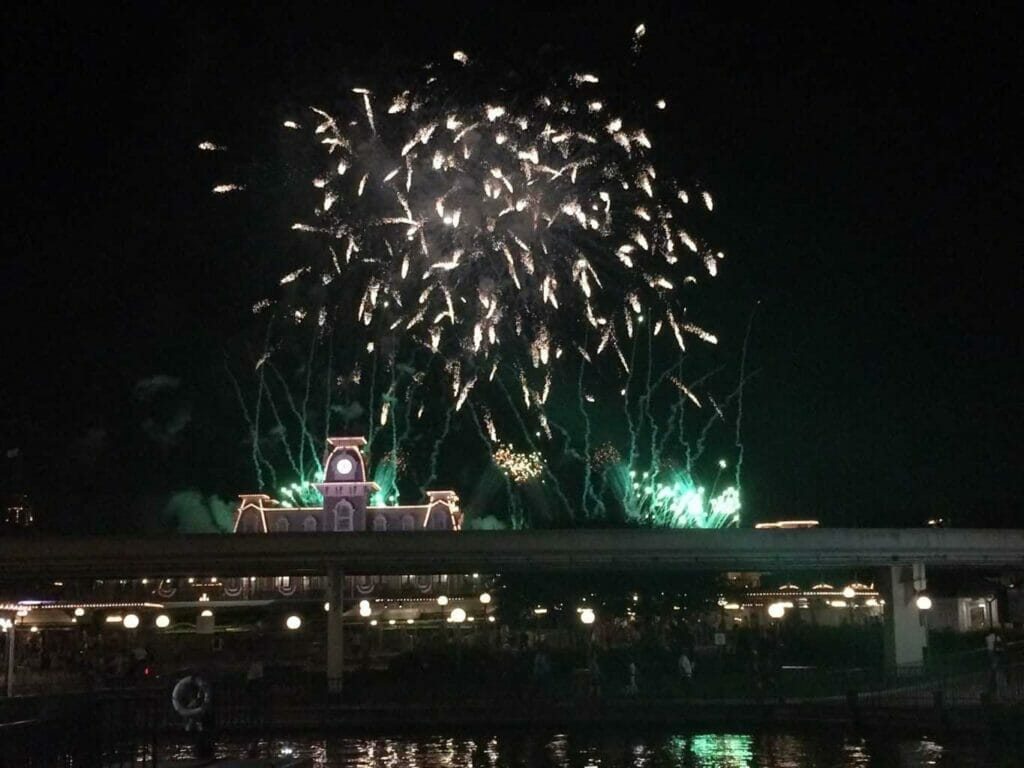 Eventually, we were almost smack dab in front of the castle, with fireworks shooting off over the castle and monorails speeding by, and I was in Disney heaven.
Sometimes it can be hard to find new experiences when you go to the parks often and get stuck in your "I do it this way" rut, but it was a really nice moment.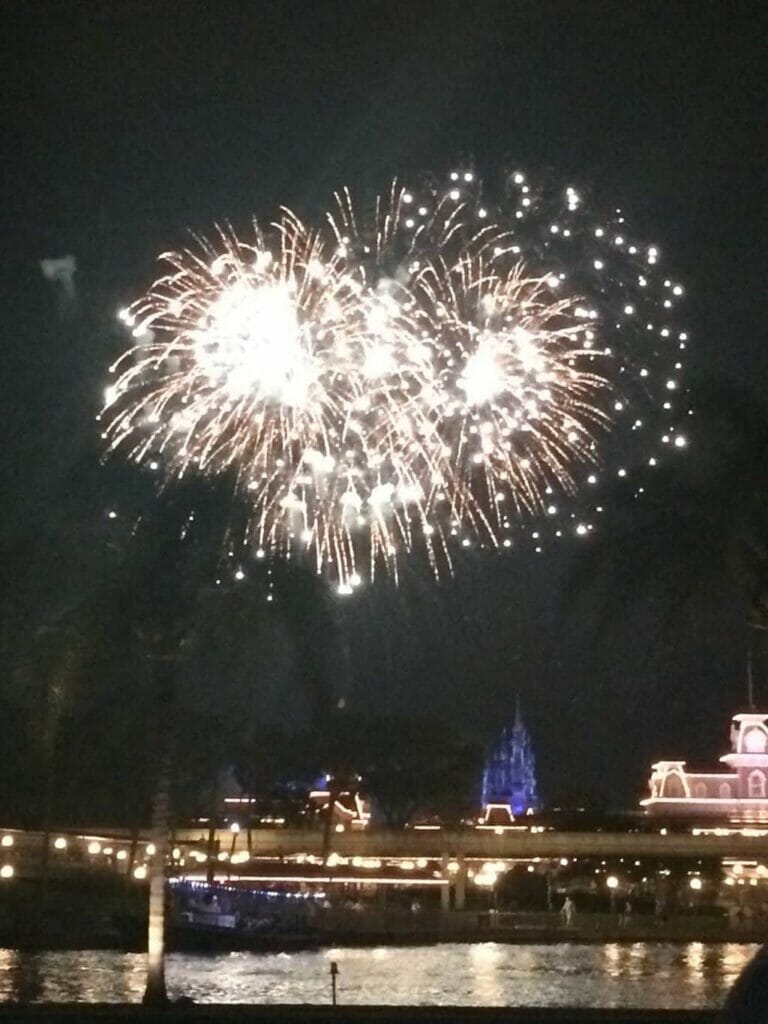 We docked at the Magic Kingdom and waited for a few people to get on – there weren't many there yet, as the fireworks were still going.
After a few minutes, we took off again back towards Wilderness Lodge, still enjoying the show.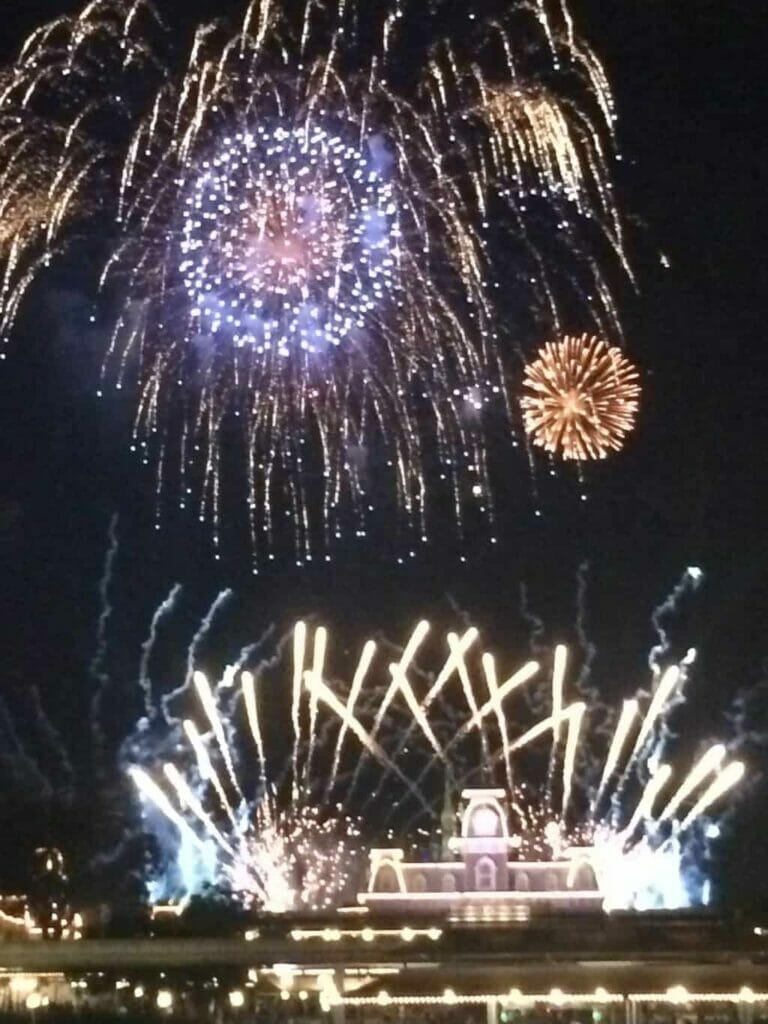 By the time we arrived back to the lodge, the fireworks had just finished and we were right on time to see the Electric Water Pageant passing by.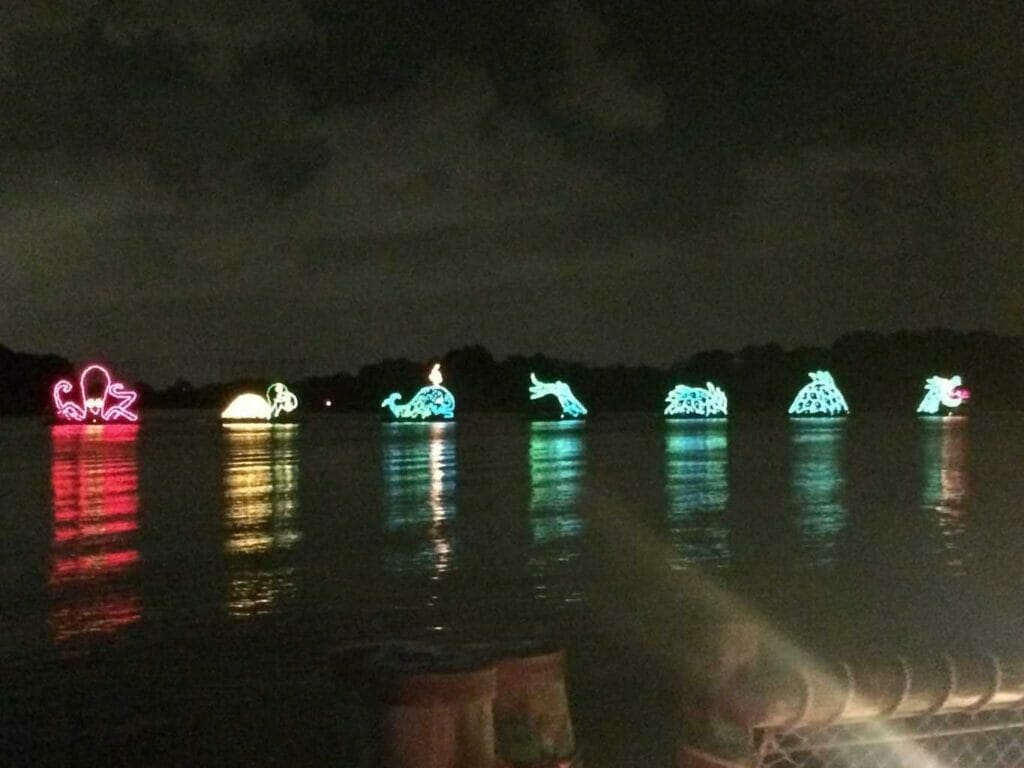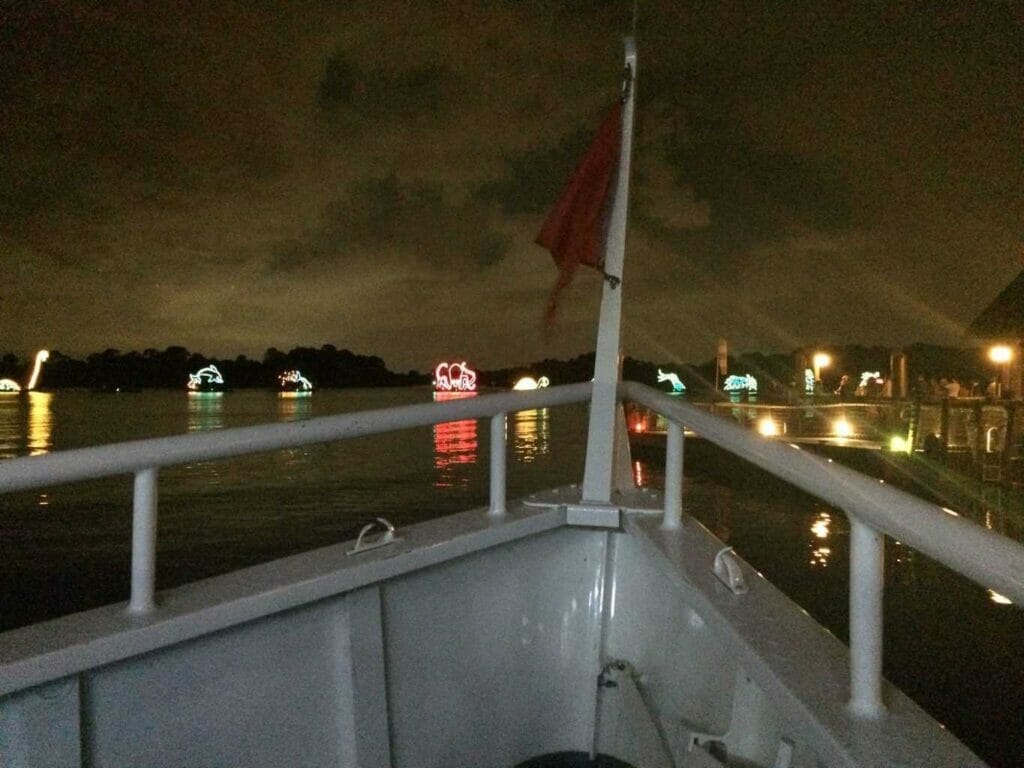 If you haven't seen this yet, it's worth trying to see, if only to say that you've done it.
It's been going on since the opening of the parks back in the 70s, and it's a nice piece of Disney history that has continued.
If you're staying at the Wilderness Lodge, then seeing the fireworks this way is a no brainer and self-explanatory – it goes to and from where you need to be!
However, if you're not staying there, you're still allowed to take advantage of the boats and the atmosphere of Wilderness Lodge.
If you're driving, you can park at the Wilderness Lodge as a short term guest for up to 3 hours.
For those of you with cars who take this option, I would suggest dinner at Geyser Point overlooking the lake, then head over to the dock maybe half an hour before the fireworks are meant to go off that night to make sure you're in plenty of time for the correct boat (they go in loops, so even if you get on one too early, you can stay on).
If you don't have a car, it's still easy.
Either take a bus from one of the other parks or Disney Springs to the Wilderness Lodge, or hop on the boat from the Magic Kingdom to the Wilderness Lodge a bit before fireworks time and then stay on it for the round trip.
I do want to clarify a few things, namely that this is not a "take advantage of Disney" or "sneak yourself in free" hack.
The boats from Wilderness Lodge to Magic Kingdom are free and open to the public – you do not need to provide any sort of confirmation that you're staying at the Lodge, as the Lodge is open for day guests to come eat, shop, and enjoy the recreational facilities.
It's really one of the best free things to do at Disney World.
Similarly, none of the boats we were on were packed or not able to hold all of the people who wanted to get on.
The boat we rode in the evening was much bigger than the boat we had taken during the day, as Disney changes the boats to ensure they'll be able to carry the correct load.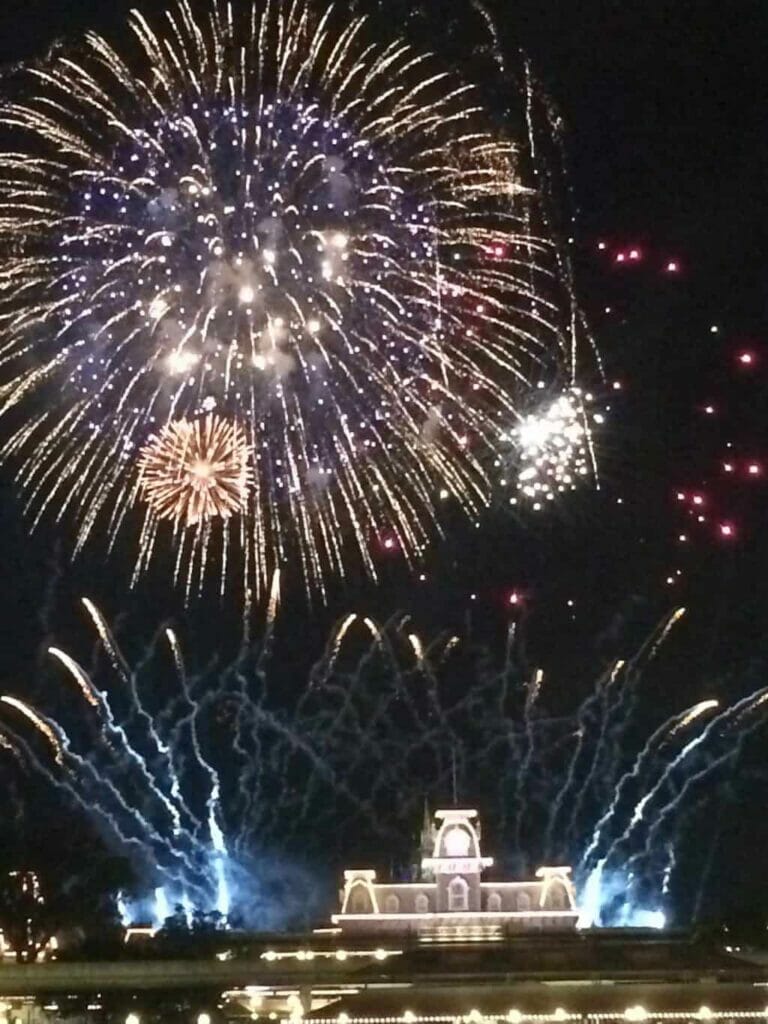 As for staying on the boat as it goes round trip, we spoke to the Captain to ensure this was allowed – we didn't duck and hide as he was coming around to kick us off or anything.
He had no problem with it and gave us an enthusiastic "yes!"
If this is your first and only time to the Magic Kingdom, I would recommend buying passes to the Fireworks Dessert Parties or enduring the crowds to see the spectacular projection part of Happily Ever After, but if you've done it before and are looking for a much more calm way to enjoy the fireworks, this is it!
Get the All-American Travel Secrets!
Don't miss out on America's hidden gems!