From haunted theaters to brothels with a spooky story to tell, these Memphis ghost tours are one of the best ways to get to know the city and its sordid history.
Ghost tours in Memphis promise both chilling stories and interesting history, whether you're going on a Memphis ghost walk or taking other transportation.
As someone who has traveled around Memphis extensively, I know for a fact that haunted tours in Memphis are one of the most popular things to do in the city at night and finding the best Memphis ghost tour is a must-do for many visitors who want a bit of the macabre along with the main sights.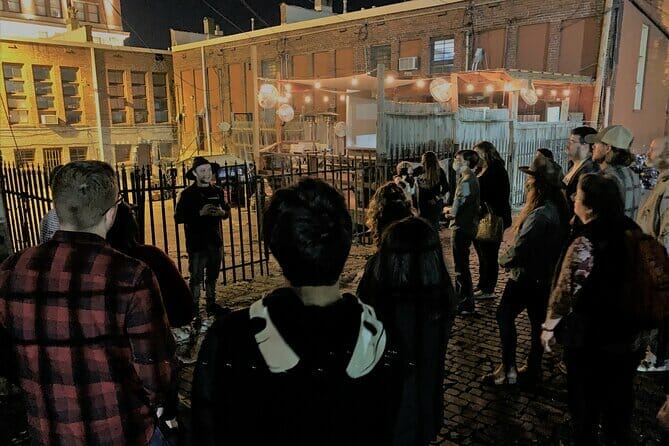 Enjoy this guide – I've already vetted the best ghost city tours in Memphis for you – to make sure that you're making the right choice, whether you want something more family-friendly or one of the Memphis haunted tours that are so bone-chilling, you won't sleep for the rest of your trip.
Let's get started so you can book!
PS – I highly recommend booking these in advance, as they tend to fill up fast.
Easy Guide: Best Memphis Ghost Tours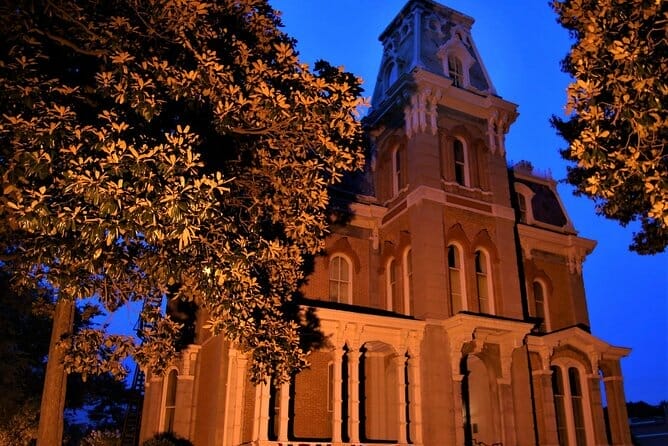 ⭐️ RATING: 4.5 out of 5 Stars, 610+ reviews | ⏳ TOUR LENGTH: 2 hours | ✔️ BOOK NOW
Take a journey to the heart of Memphis with this Ghost Walking Tour.
Starting on the legendary Beale Street, known for its vibrant music scene, you'll soon venture into the city's darker side.
Led by a seasoned storyteller guide, you'll uncover the eerie past that lurks beyond the neon lights.
Step inside Earnestine and Hazel's, a former brothel notorious for being one of Memphis' most haunted buildings.
"We had a great time! totally recommend we wished we had done this on our first night in Memphis instead of our last night, the guide was very knowledgeable."
You'll also explore iconic landmarks like the historic Orpheum Theatre, all while immersing yourself in the rich history of the city's supernatural folklore.
This tour offers a unique perspective on Memphis, delving into its haunting heritage and taking you to hidden corners steeped in ghostly legends.
As you stroll through the streets, you'll encounter sites like the John Alexander Austin House, where a beautiful yet haunted love story unfolds.
Need-to-knows about this tour:
Maximum participants: 24
About 2 miles is covered on this walk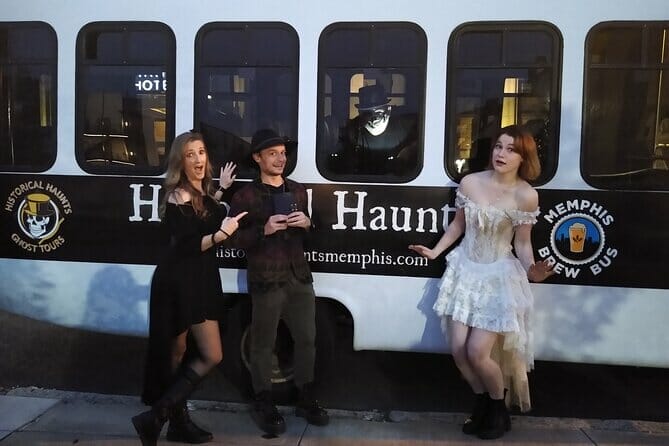 ⭐️ RATING: 4.5 out of 5 Stars, 118+ reviews | ⏳ TOUR LENGTH: 1 hour 30 minutes | ✔️ BOOK NOW
Unearth the hidden mysteries of Memphis on this Haunted Memphis Bus Tour, an exploration of the city's enigmatic past that will leave you captivated.
Unlike traditional walking tours, this bus tour allows you to cover more ground as you journey through the streets, guided by chilling stories of ghosts, murders, and local legends that will send shivers down your back.
With stops at iconic landmarks like the Woodruff-Fontaine House and the Mallory-Neely House, you'll have the unique opportunity to get up close and personal with these historic mansions.
This tour also includes two intriguing stops—one at the haunting Court Square, where you'll hear about a tragic accident linked to a beautiful fountain, and another at the Chickasaw Heritage Park, where tales of indigenous tribal mounds and the ancient cultures that once inhabited the area will send a chill down your spine.
"Loved learning about the history of Memphis song with some spooky good stories. Minimal walking for those who need more stationary but still interactive tour making it very doable for our family."
Need-to-knows about this tour:
Maximum participants: 22
No children under 10 allowed due to the nature of the stories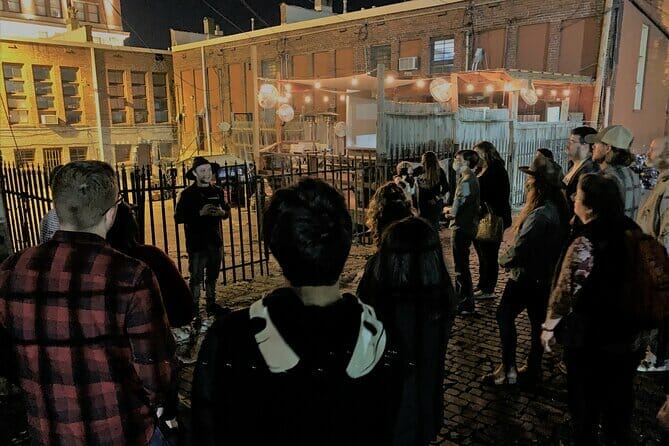 ⭐️ RATING: 4.5 out of 5 Stars, 14+ reviews | ⏳ TOUR LENGTH: 1 hour 30 minutes | ✔️ BOOK NOW
Discover the eerie and haunted past of Memphis on this enlightening guided walking tour.
Your knowledgeable guide will regale you with tales of renowned hauntings and sites notorious for their paranormal activity, including Earnestine and Hazel's, the Arcade Restaurant, the Green Beetle, and the Orpheum Theater.
As you meander through the city's streets, you'll have the opportunity to pause for photographs, allowing you to immerse yourself fully in the city's shadowy history.
This walking tour, led by a local expert, offers an intimate experience with small groups to ensure personalized service as you learn about Memphis's intriguing past.
"Damon was very knowledgeable and it was great to learn more about Memphis history. The weather was great! And we ended at a bar and had a drink with the tour guide!."
Need-to-knows about this tour:
Maximum participants: 20
Operates in all weather conditions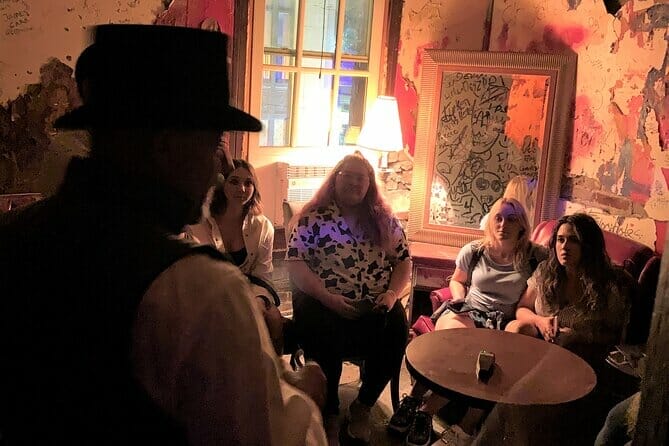 ⭐️ RATING: 4.5 out of 5 Stars, 9+ reviews | ⏳ TOUR LENGTH: 2 hours 30 minutes | ✔️ BOOK NOW
Navigating Memphis' pub scene can be a bit challenging for newcomers.
Why not let an experienced guide assist you on this eerie pub crawl adventure?
They'll lead you to at least three of the city's most renowned bars, all while weaving in spine-tingling tales of ghosts, local legends, and lore.
"My friends and I live in Memphis, but did the haunted pub crawl just for fun. The tour guide was super cool and knowledgeable, and the places we visited were neat. Would recommend if you're looking for something to do on a Friday night in downtown Memphis."
What makes this experience even more captivating is that your guide is an authentic paranormal investigator, ready to field your questions and share their seasoned perspective.
And don't worry, there's ample time built into the tour for you to indulge in some refreshing drinks.
Need-to-knows about this tour:
Maximum participants: 16
Must be 21+ to participate
⏳ TOUR LENGTH: 1 hour | ✔️ BOOK NOW
Embark on a spine-tingling journey through Memphis, where sinister saloons and terrifying theaters await your exploration.
Beneath the city's iconic barbecue and blues scene, a hidden world teems with hoodoo mysteries and lingering spirits.
As you tread the haunted path, you'll even encounter Bluff City's very own phantom of the opera.
This one-hour walking tour isn't just about ghostly encounters; it's a deep dive into Memphis' haunting history.
"Who knew Memphis was haunted? We didn't. We have been having such a good time on our travels and have been impressed with what US Ghost Adventures has had to offer on their tours we decided to give Memphis a try too. Such a good decision."
Need-to-knows about this tour:
Maximum participants: 15
Near public transportation
Get the All-American Travel Secrets!
Don't miss out on America's hidden gems!