From haunted cemeteries in Greenwich to the hidden alleys in the East Village, these New York City ghost tours are one of the best ways to get to know the city and its spooky history.
Ghost tours in New York City promise both chilling stories and interesting history, whether you're going on an NYC ghost walk or taking other transportation.
As someone who has traveled around NYC extensively, I know for a fact that haunted tours in NYC are one of the most popular things to do in the city at night and finding the best New York City ghost tour is a must-do for many visitors who want a bit of the macabre along with the main sights.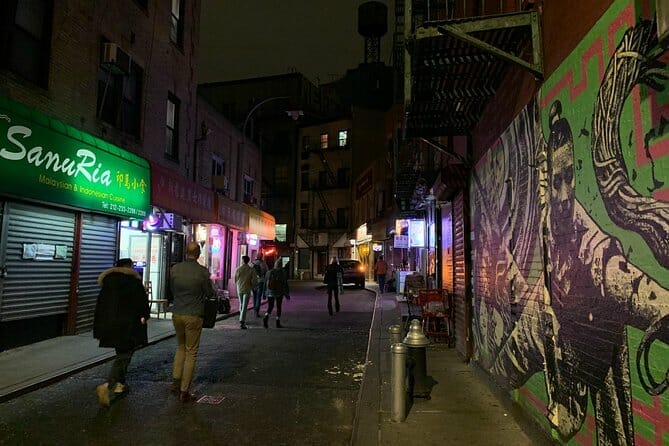 Enjoy this guide – I've already vetted the best ghost city tours in NYC for you – to make sure that you're making the right choice, whether you want something more family-friendly or one of the New York City haunted tours that are so bone-chilling, you won't sleep for the rest of your trip.
Let's get started so you can book!
PS – I highly recommend booking these in advance, as they tend to fill up fast.
Easy Guide: Best NYC Ghost Tours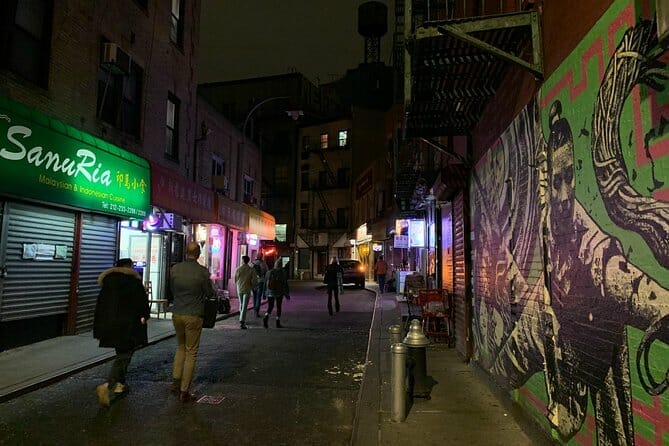 ⭐️ RATING: 4.5 out of 5 Stars, 330+ reviews | ⏳ TOUR LENGTH: 2 hours | ✔️ BOOK NOW
Uncover the fascinating history of New York City through an intriguing gangsters and ghosts walking tour.
Join your expert guide for a history excursion with a unique twist, as you delve into the city's criminal past, mobsters, covert deals, and haunted structures.
"It was fun experience. Thanks to our guide, Seth, we learned more about New York. He was very theatrical in his presentation. Highly recommend."
Wander through multiple downtown neighborhoods, including Little Italy, Chinatown, and the West Village, while your guide regales you with chilling ghostly narratives and gripping mobster legends.
This tour is your chance to explore the heart of downtown Manhattan while immersing yourself in captivating stories that have shaped its history.
Need-to-knows about this tour:
Maximum participants: 15
Near public transportation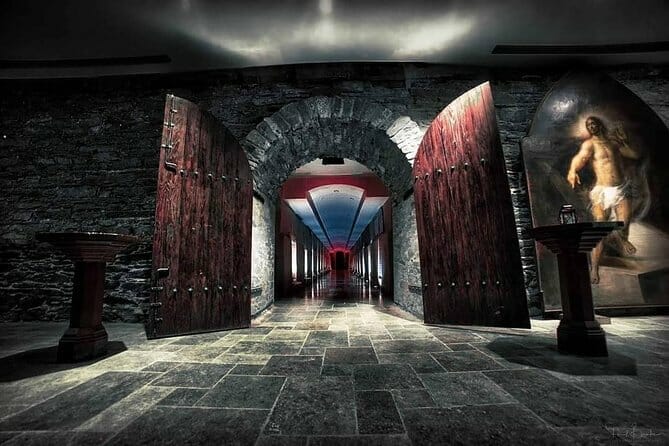 ⭐️ RATING: 4.5 out of 5 Stars, 2,300+ reviews | ⏳ TOUR LENGTH: 1 hour 30 minutes | ✔️ BOOK NOW
Embark on a spooky adventure behind the scenes at the Basilica of St. Patrick's Old Cathedral with a special catacombs tour.
This tour lets you explore parts of the church that regular visitors don't get to see.
Start your journey by meeting your friendly guide in Lower Manhattan, making it easy for you to join.
Together, you'll enter the church and discover its incredible history, including the resting place of famous New Yorkers from the past.
They'll also regale you with tales of hauntings, supernatural experiences, and lots of interesting stories.
Note: this is especially a great tour for history buffs, as this is more of a historic tour combined with the darkness and spookiness of the catacombs.
"My wife and I a wonderful time. Our tour guide was very informative. He knew so many details. Exploring the catacombs was super interesting as well as the cathedral."
Need-to-knows about this tour:
Maximum participants: 30
Wheelchair accessible if notified in advance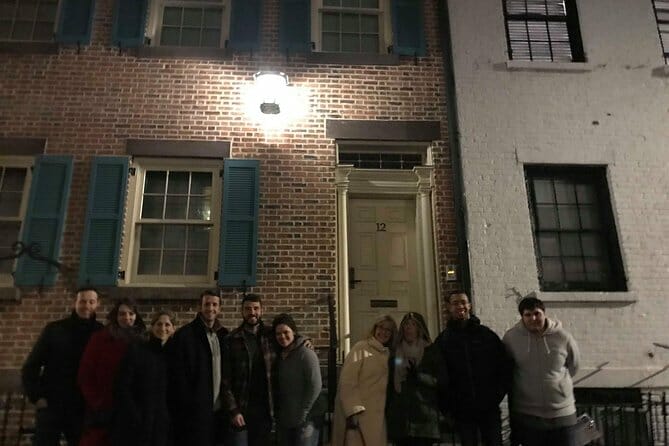 ⭐️ RATING: 4.5 out of 5 Stars, 300+ reviews | ⏳ TOUR LENGTH: 2 hours | ✔️ BOOK NOW
Prepare to be captivated by the enchanting and eerie secrets of Greenwich Village, one of New York City's most enchanting and haunted neighborhoods.
While simply wandering its charming streets might offer a glimpse of its beauty, embarking on this Greenwich Village ghost tour will unveil a hidden world of spine-tingling historical tales.
"Luke was a FANTASTIC tour guide. Even my friend that I was with enjoyed the tour and she doesn't like ghosts. Honestly, Luke was the best tour guide I've ever had. The neighborhood was interesting and I got hear a bunch of history and see a lot of cool places."
As you stroll through iconic locations like Washington Square Park, the New York University campus, and West 10th Street, prepare to be spellbound by tales of celebrity ghosts, lost children, and enigmatic phantoms that haunt these historic grounds.
Need-to-knows about this tour:
Maximum participants: 25
Please arrive 15 minutes prior to the start time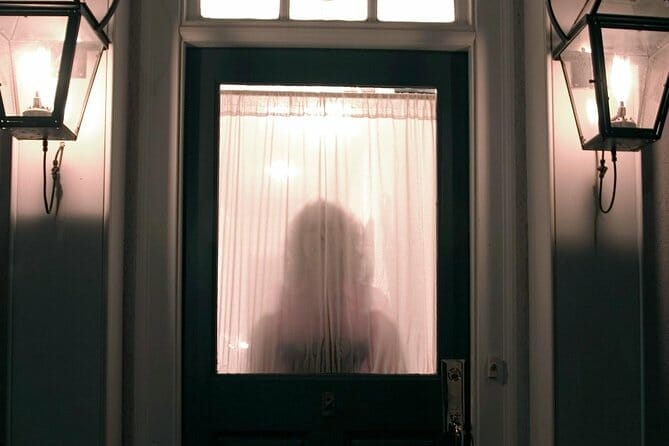 ⭐️ RATING: 5 out of 5 Stars, 130+ reviews | ⏳ TOUR LENGTH: 2 hours | ✔️ BOOK NOW
Unearth the enigmatic and eerie side of Manhattan during this exclusive 2-hour private evening walking tour in the heart of Greenwich Village – an enclave notorious for its supernatural mysteries.
Accompanied by your private guide, delve into the eerie recesses of this neighborhood, uncovering spine-tingling stories as you visit some of its most haunting locations, including the Brown Building at New York University and the enigmatic Washington Square Park.
With the intimacy of a private tour, you're assured the undivided attention of your guide, ensuring an immersive and personalized experience.
"Fabulous way to spend an evening in NYC. Gabby was fantastic and made everything very relaxed. She was extremely knowledgeable and we both had a great time. Thanks for the other none tourist tips too. Did the private tour and highly recommend the extra cost to do that felt much more personal."
Need-to-knows about this tour:
Maximum participants: 25
Accessible for wheelchairs, strollers, etc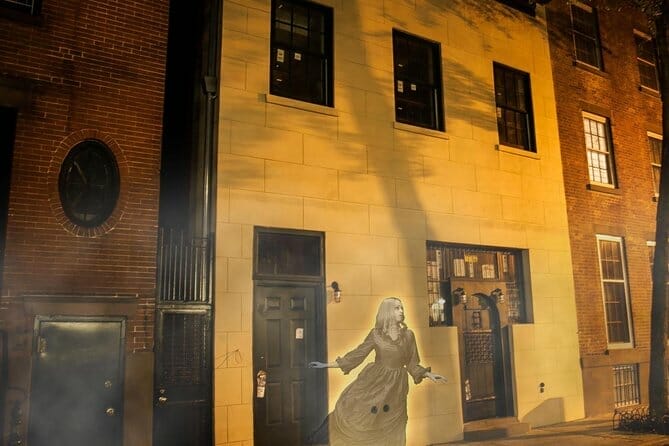 ⭐️ RATING: 4.5 out of 5 Stars, 100+ reviews | ⏳ TOUR LENGTH: 1 hour | ✔️ BOOK NOW
Step into the shadowy annals of New York City's history with a haunting ghost tour through the storied streets of Greenwich Village, one of the city's oldest neighborhoods.
The tour's highlights encompass chilling stops at iconic locations such as Washington Square Park, Hangman's Elm, and the Emma Lazarus House.
As you delve into the eerie side of Greenwich Village, you'll simultaneously gain a deeper understanding of the neighborhood's rich history, thanks to your guide's captivating narratives.
"We arrived a few minuets early and John our guide was already waiting for us, carrying an old lamp he was very easy to spot. The tour was really fun, John was great. He had great knowledge or NYCs dark and supernatural past, always happy to chat and take questions as we went along."
Prepare to visit eight distinct locations, each shrouded in their own eerie legends, including a glimpse of where bodies rest beneath the historic Waverly Place.
With a small group tour, limited to no more than 20 guests, you won't find yourself lost in a crowd, ensuring a more personal and immersive experience.
Need-to-knows about this tour:
Maximum participants: 20
Should have a moderate level of physical ability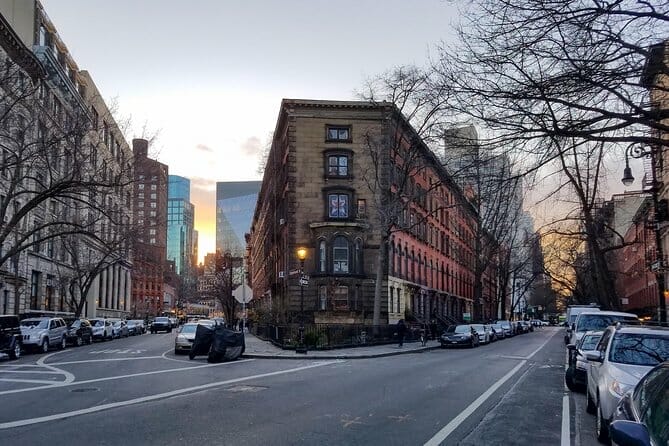 ⭐️ RATING: 5 out of 5 Stars, 68+ reviews | ⏳ TOUR LENGTH: 1 hour 40 minutes | ✔️ BOOK NOW
Take a journey through New York City's East Village, and experience the eerie enchantment of the night as you delve into the stories of famous former residents and those who may have never truly departed.
Led by a seasoned New Yorker bartender guide, this hair-raising journey will take you to 13 haunted sites, ranging from historic pubs to the renowned Public Theater, and even a subway stop notorious for its "ghost train."
Discover the haunted history that lingers within the cobblestone streets of one of New York City's most ancient neighborhoods.
"Our tour guide Frankie was absolutely Phenomenal. The tour was filled with scary stories and some great historical facts. My daughter (14 yrs) and cousin (13 yrs old) really enjoyed the tour too. I definitely will recommend to my NYC friends ☺."
Your knowledgeable guide is not only well-versed in the city's nocturnal secrets but also knows the best routes for navigating it safely at night.
With a small, intimate group of no more than 13 people, you'll share an atmosphere that enhances the eerie ambiance of the tour.
Need-to-knows about this tour:
Maximum participants: 13
Need to be able to walk comfortably for 90 minutes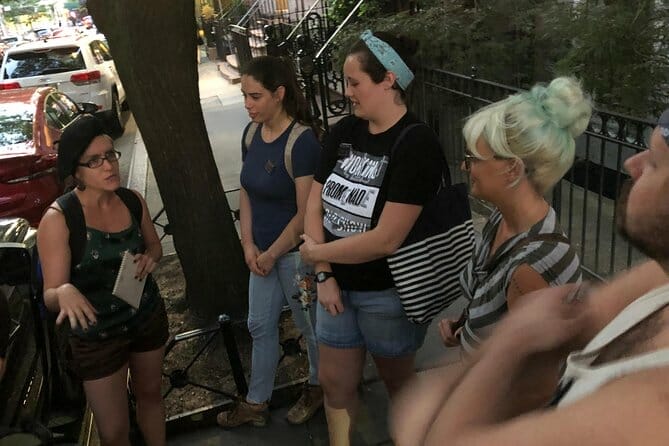 ⭐️ RATING: 5 out of 5 Stars, 13+ reviews | ⏳ TOUR LENGTH: 1 hour 40 minutes | ✔️ BOOK NOW
Explore the eccentric and artistic atmosphere of New York City's West Village through an unconventional tour that unveils its spectral mysteries.
Guided by a local poet, delve into a ghostly journey through this neighborhood's past, from a former speakeasy to literary haunts associated with sightings of legendary figures like Edgar Allan Poe and Dylan Walsh.
Embrace the eerie side of history as you:
Uncover the haunted tales of New York's West Village
Visit historic bars and other structures infamous for paranormal phenomena
Follow the passionate guidance of a local poet steeped in the area's spectral lore
Experience a one-of-a-kind perspective on this richly historic neighborhood in the city
"John was a fantastic guide. Great storyteller, and kept good pace of the tour. Sites visited were varied and interesting."
Need-to-knows about this tour:
⭐️ RATING: 4 out of 5 Stars, 4+ reviews | ⏳ TOUR LENGTH: 2 hours | ✔️ BOOK NOW
Step into the shadows of Broadway's storied theaters on a thrilling 2-hour walking tour that delves into the ghouls and spirits in the city.
Led by a seasoned theater insider, this excursion offers an exclusive peek behind the curtains of the Great White Way.
Unearth tales of both the living legends and the ghostly inhabitants who still tread the hallowed boards of iconic venues.
As you traverse the vibrant heart of New York's theater district, you'll even have the chance to sing spine-tingling anthems from dark Broadway musicals and partake in a chillingly fun stage number.
And, for those seeking a glimpse into what destiny may hold, cap off your adventure with an optional session with a talented tarot and palm reader.
"I had a lovely tour with Amada. She is very knowledgeable, friendly and punctual person. I would highly recommend this tour."
Need-to-knows about this tour:
Maximum participants: 25
Minimum of 2 people required for tour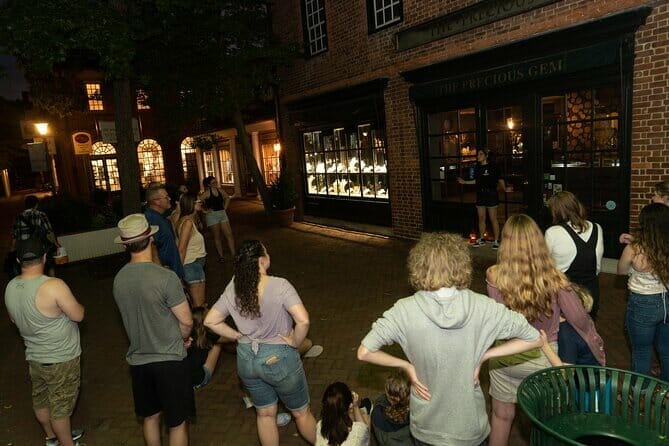 ⏳ TOUR LENGTH: 2 hours | ✔️ BOOK NOW
Experience this Haunted Pub Crawl, brought to you by US Ghost
Adventures! On select nights, sip on local spirits while uncovering the stories of New York City's resident ghosts who roam its eerie streets.
"We really enjoyed this tour. It was a great way to learn about cool bars while getting a history lesson. It was cold, but our guide Rose kept a good pace and the stories were really interesting."
Join this exciting Boos and Booze Haunted Pub Crawl to explore the city's ancient haunts and spooky pubs, all nestled within the famous Greenwich Village.
You'll get to enjoy two kinds of spirits – the paranormal tales and a drink or two (please note that alcoholic beverages are not included in the tour price).
It's a chilling and tipsy adventure you won't want to miss!
Need-to-knows about this tour:
Maximum participants: 20
Must be 21+ years old
Get the All-American Travel Secrets!
Don't miss out on America's hidden gems!