Ready to book the best Moab Jeep tours?
You're in the right place because the top 7 Moab Jeep tours are all featured here.
How do I know?
I've traveled to Moab to visit friends throughout the years, and have always found that a Jeep tour of Moab is one of the best ways to explore this area – which, by the way, is seriously jaw dropping if you haven't been.
Moab is actually one of the most famous things Utah is known for!
There are some other ways to see Moab, like hiking tours or electric bike tours, but there's something about the ruggedness of a Jeep that really makes you feel like you're having a true Moab adventure.
If you're like, just cut to the chase already, don't worry: the best Moab Jeep tour is this Off-Road Private Jeep Adventure in Moab Utah.
It has a 5 star rating with 90+ reviews, so you can't go wrong.
But if you want to see what your other options are for Jeep tours in Moab, these are the best ones and what I love about each, including Moab guided Jeep tours, Moab self drive jeep tours, and Moab off-road tours.
PS – booking in advance is always highly recommended so you don't miss out.
Easy Guide: Best Jeep Tours of Moab
⭐️ RATING: 5 out of 5 Stars, 90+ reviews | ⏳ TOUR LENGTH: 2-3 hours | ✔️ BOOK NOW
Embark on an exhilarating journey unlike any other with this private off-road Jeep tour through the captivating landscapes of Utah's red rocks and rugged terrain.
As you step aboard your air-conditioned vehicle, you'll sense the excitement building.
Your expedition takes you to the edges of the iconic Arches National Park and offers breathtaking glimpses of the mighty Colorado River from a jaw-dropping vantage point 1,000 feet above.
"Jason was a pleasure to be around! He was professional, funny, and easy to talk to! He made the otherwise "scary", intimidating experience a pleasure! Would recommend to anyone who wants an adventure and fun memories 😁"
Marvel at the astonishing backside views of the park's natural wonders, an exclusive perspective reserved for the privileged few.
This is not just a tour; it's an opportunity to immerse yourself in the very essence of Utah's remarkable wilderness.
Refresh yourself with complimentary bottled water as you absorb the raw beauty that surrounds you.
Feel the rush of adventure as you forge a deep connection with Moab and its awe-inspiring surroundings.
This isn't just sightseeing – it's a captivating narrative of nature, history, and thrill.
Need-to-knows about this tour:
bottled water included
you can request pick-up or meet at the meeting point
this is a private tour – only your group will participate
⭐️ RATING: 5 out of 5 Stars, 300+ reviews | ⏳ TOUR LENGTH: 3 hours | ✔️ BOOK NOW
Daring adventurers seeking an adrenaline-fueled escapade will find their ultimate thrill in this three-hour, high-octane expedition.
Buckle up for an unforgettable ride as you navigate the untamed trails of the Moab Desert astride a rugged ATV equipped with a robust roll cage, secure five-point harnesses, and comfortable bucket seats.
"Garrett was AWESOME!!! We highly recommend this tour if you really want to get the full experience! We normally rent ATVs when exploring, but we are so glad we let the professional show us around!"
Embark on an intimate journey within a small-group setting, where personalized attention is guaranteed.
Relax in the capable hands of our seasoned, professional driver, whose expertise ensures both a thrilling experience and a secure one.
Unlike conventional tours, this expedition unveils the hidden gems of the desert that often escape the gaze of regular tourists, like Hell's Revenge, including the iconic "Mickeys Hot Tub," "Car Wash Hot Tub" and "Hells Gate."
It's open to travelers of all ages, so what are you waiting for?
Need-to-knows about this tour:
six traveler maximum
bottled water included
proper safety equipment and professional guide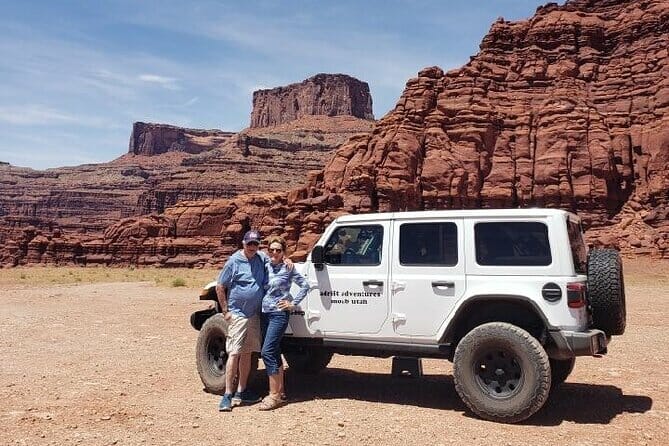 ⭐️ RATING: 5 out of 5 Stars, 300+ reviews | ⏳ TOUR LENGTH: 4 hours | ✔️ BOOK NOW
Embark on a thrilling 4WD expedition from Moab to unveil the untamed allure and age-old tales woven within Canyonlands National Park.
Venture into the rugged terrains aboard a robust Jeep, journeying to the Island in the Sky enclave and other secluded domains.
"We were pleased to discover Adrift Adventures and their 4×4 off-road tour of Canyonlands. Ric, our driver and guide, made the trip totally memorable. We had been to Canyonlands Island of the Sky before, but we never saw it the way Ric showed it to us this time. We're totally sold on guided tours."
Here, witness the Colorado River's intricate carving of sheer gorges while ancestral Pueblo rock art adorns the sandstone cliffs, echoing tales of ancient civilizations.
Cling to excitement as your adept driver and guide masterfully navigate the twists of the Shafer Trail, capturing awe-inspiring panoramic shots of the crimson-hued canyons to fill your camera reel.
Need-to-knows about this tour:
ice water and snacks included
parking available at the office
bring sunglasses, sun visor, sturdy footwear, daypack, and sunscreen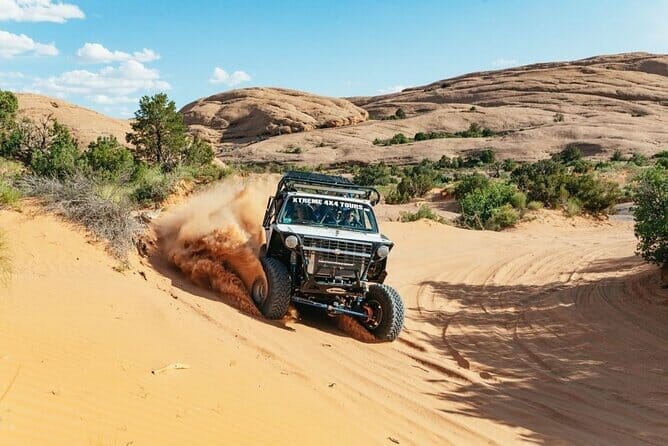 ⭐️ RATING: 5 out of 5 Stars, 140+ reviews | ⏳ TOUR LENGTH: 2 hours | ✔️ BOOK NOW
Moab presents an opportunity for visitors to marvel at its captivating red-rock vistas, but to truly immerse yourself in the landscape, an off-road vehicle becomes a necessity.
The Moab Xtreme 4×4 Experience is an exhilarating escapade that steers you along the treacherous Hells Revenge trail within the Sand Flats Recreation Area.
"Garrett was awesome! Kept us safe but thrilling and exciting ride. He was helpful with getting best photos for memories!"
Accompanied by a skilled driver well-versed in both vehicle operation and the terrain, this adventure guarantees safety and excitement in equal measure.
Embark on a pulse-pounding journey across Hells Revenge trail in Moab's Sand Flats Recreation Area.
While you traverse this rugged path, catch glimpses of the distant La Sal Mountain Range and the stunning Arches National Park.
Unlike typical Jeep or Hummer tours, this Moab Xtreme 4×4 Experience is not for the faint-hearted.
Need-to-knows about this tour:
snacks and water included
professional guide and safety equipment
this is an extreme off-roading experience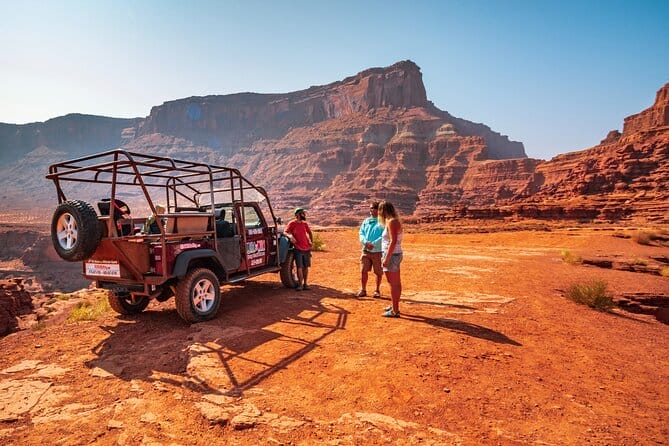 ⭐️ RATING: 5 out of 5 Stars, 8+ reviews | ⏳ TOUR LENGTH: 4 hours | ✔️ BOOK NOW
Want to take the adrenaline down a notch while still enjoying the beauty of Moab on a Moab Jeep safari?
This adventure allows passengers to savor the excitement of four-wheeling on rugged terrain.
"We had a great time with our guide Dusty. He was very friendly and knowledgeable about the area. The ride in the jeep made the trip more exciting."
If you're seeking the rush of teetering on the edge and the surge of adrenaline while navigating cliffside paths, this tour might not be the right fit for you.
The true exhilaration on this tour comes from the breathtaking viewpoints along the way, rather than the intensity of the ride itself.
Taking time to pause for photos and exploration at various stops, your knowledgeable guide will share insights into Moab's fascinating geology and captivating history.
Need-to-knows about this tour:
this is a much more tame tour, perfect for families
scavenger hunts included for the kids
custom designed 4×4 vehicle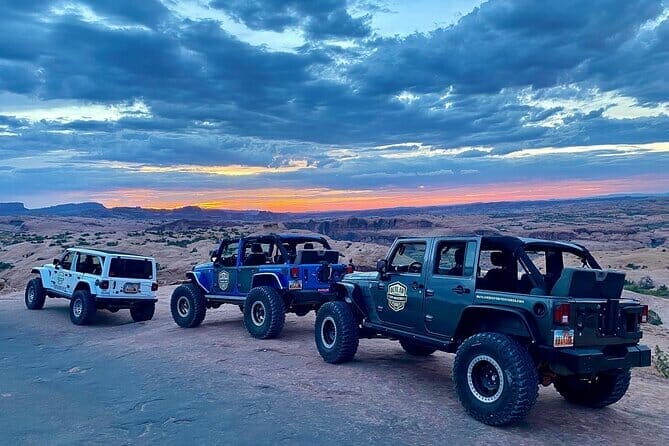 ⭐️ RATING: 5 out of 5 Stars, 65+ reviews | ⏳ TOUR LENGTH: 3 hours | ✔️ BOOK NOW
Embark on an exhilarating Utah adventure where you take the wheel of your own 4×4 vehicle, adding a dash of thrill to your exploration.
This unique tour seamlessly merges a self-drive Jeep expedition with the expertise of a private guide, ensuring you extract the utmost from your Moab escapade.
"This is an absolute must do if you're in Utah. This was my girlfriends first time off-roading and Dan provided the best tour imaginable while making her feel safe and comfortable taking on some of the most challenging obstacles we could find."
Trace the paths of renowned Jeep trails that wind through captivating terrain, a blend of challenging inclines and thrilling descents, all framed by the stunning vistas of the backcountry.
Your journey aboard a Jeep Rubicon promises a dynamic experience, and fret not – no prior off-roading mastery is necessary.
Need-to-knows about this tour:
self-drive expedition included
this is a private activity for just your group
no prior experience required
⭐️ RATING: 5 out of 5 Stars, 40+ reviews | ⏳ TOUR LENGTH: 2 hours | ✔️ BOOK NOW
Indulge in an exhilarating off-road escapade through the privacy of your own 4×4 jeep tour.
Accompanied by a seasoned driver, you're free to immerse yourself in the panoramic beauty, while relishing the natural roller-coaster sensation of navigating the undulating slickrock and sandstone trails.
Tailor your experience to your convenience by selecting from a range of tour timings.
Your journey is made seamless with all-terrain and entrance fees covered, along with provisions of bottled water and snacks.
Preserve the cherished memories with snapshots taken by your guide, allowing you to relive the adventure time and again.
Opting for a private tour like this ensures a fully bespoke encounter, designed to meet your preferences and desires.
"We had a great time with an awesome guide! Felt safe but still experienced thrills! Highly recommend this company for a group you'll want to share a beer with after!"
Need-to-knows about this tour:
not recommended if you have back problems
this is a private tour for just your group
FAQs about Moab Jeep Tours
What are Moab Jeep Tours and why are they popular?
Moab Jeep Tours offer thrilling off-road adventures through the stunning landscapes of Moab, Utah.
These guided tours are popular because they provide a unique opportunity to explore rugged terrains, iconic landmarks, and hidden gems inaccessible by regular vehicles.
What types of Jeep tours are available in Moab?
There's a wide range of Jeep tours available, catering to different preferences and skill levels.
You can choose from scenic rides, sunset tours, adrenaline-pumping trails, or family-friendly excursions, ensuring there's an option for everyone.
Are Moab Jeep Tours suitable for all ages and experience levels?
Yes, Moab Jeep Tours typically offer tours suitable for all ages and experience levels.
Whether you're an off-road enthusiast or a first-time adventurer, tour operators usually have options that cater to your comfort and expertise.
How long do the Jeep tours usually last?
Tour durations can vary depending on the specific tour you choose. Some may be as short as a couple of hours, while others can last a full day.
Be sure to check with the tour operator to get accurate information about the duration of your chosen tour.
What should I wear and bring on a Moab Jeep Tour?
It's recommended to wear comfortable, weather-appropriate clothing and closed-toe shoes suitable for rugged terrain.
Don't forget to bring sunscreen, sunglasses, a hat, a reusable water bottle, and a camera to capture the breathtaking views.
Is prior off-roading experience necessary?
No prior off-roading experience is usually required for most Moab Jeep Tours. Knowledgeable guides will provide instructions and ensure your safety throughout the journey.
However, if you're interested in more advanced trails, some experience might be beneficial.
How do I choose the best Moab Jeep Tour for me?
Choosing the right tour depends on your interests and preferences. Consider factors such as the type of terrain you want to explore, the level of adventure you seek, and the duration of the tour.
Get the All-American Travel Secrets!
Don't miss out on America's hidden gems!