Tuscaloosa, Alabama.
The "Druid city" (named because of all of the massive water oak trees planted in the 1940s and the name of the ancient Celtic people who worshipped oaks!).
This is the proud home to the University of Alabama, the fifth largest city in Alabama, and a true example of the hospitality of the Deep South.
It's a place where you live and die by the results of your hometown football team, where you can cruise down the open road with the vast blue sky in front of you, and where the brown brick of the campus buildings somehow seem to shine in the autumn sun.
Whether you're coming to Tuscaloosa because of a friend, child, or relative at the University of Alabama or you're just planning on cheering on your team, this guide to the best things to do in Tuscaloosa will help shed some light on when and where you should spend your time in this friendly city.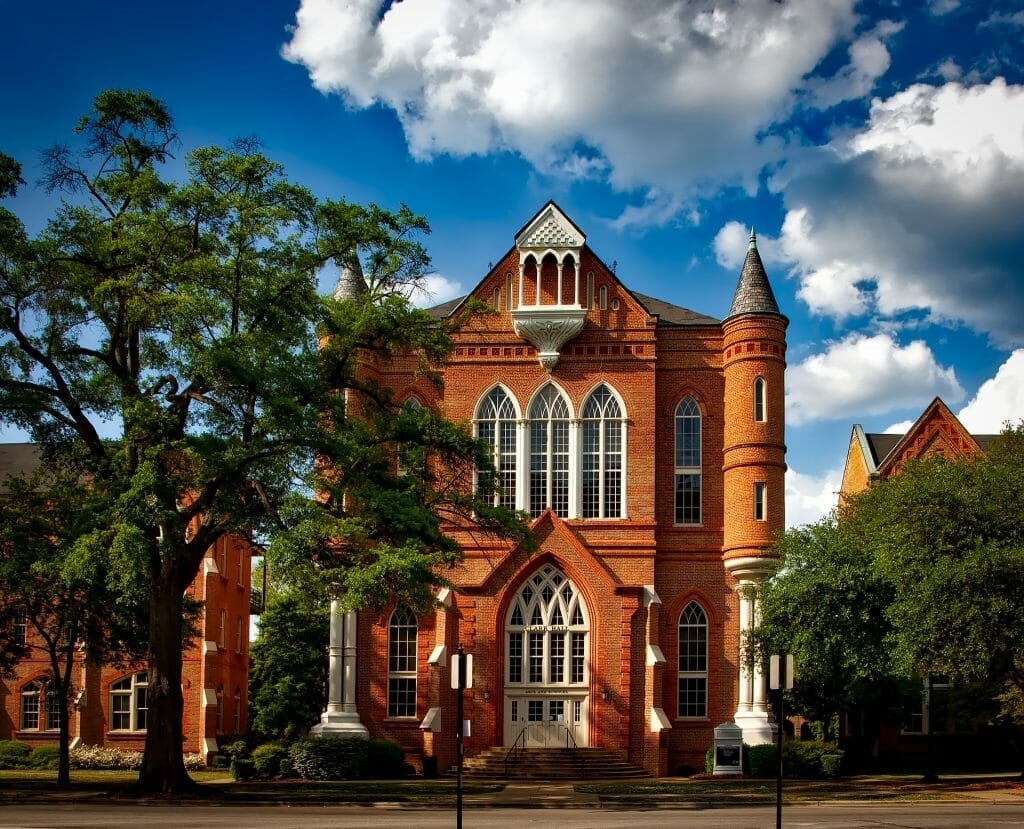 What to Pack for Tuscaloosa
The first thing to pack for Tuscaloosa is always your travel insurance documents.
If this is an overnight trip that includes flights, I recommend purchasing insurance through World Nomads that will help cover you in case of having to cancel the trip due to illness or loosing luggage along the way, along with plenty of others things.
When it comes to other packing, remember that Tuscaloosa is in the south so for most of the year, you'll get by just fine in some shorts and T-shirts.
It can get colder in the winter months, so you'll want to also prepare with a warm coat and some gloves.
The most important thing, really, is your University of Alabama gear!
Check out this awesome UA women's shirt or don the whole family in this Bama hoodie.
You can also show your pride in these crew socks or a Bama baseball hat.
This is another great "Roll Tide" shirt to wear around town!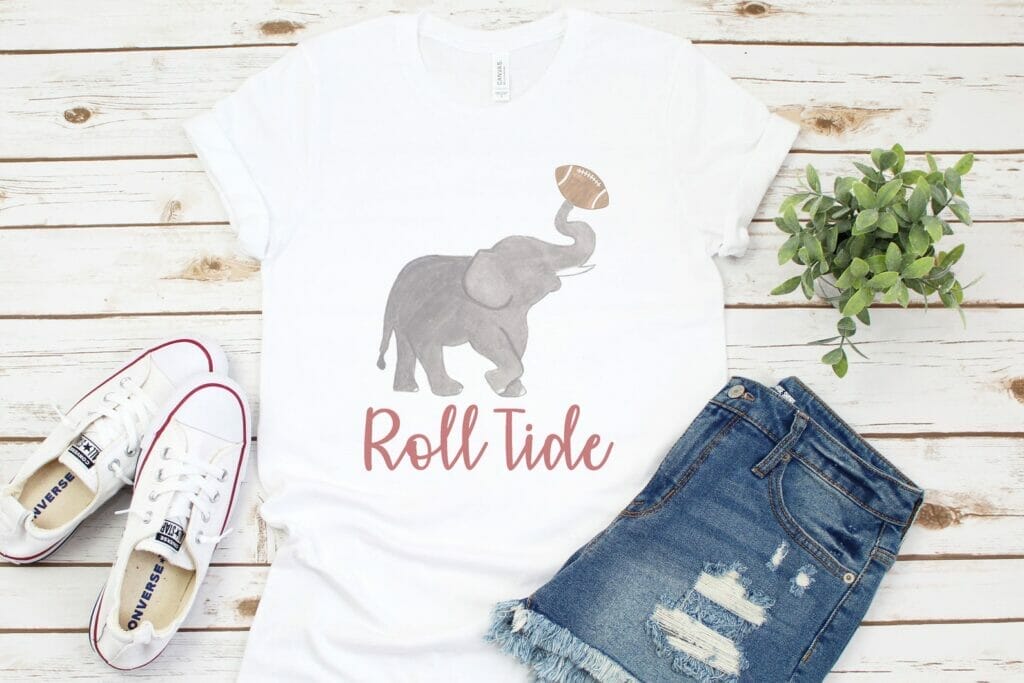 How to Get Around Tuscaloosa
Don't forget that it's much easier to see Tuscaloosa by car so you can get around on your own. Rental cars are perfect if you're flying into the area.
We recommend using Discover Cars price comparison to find the cheapest deals.
Where to Stay in Tuscaloosa
There are a few considerations when it comes to booking somewhere to stay in Tuscaloosa, including budget and what part of the city you want to be in.
Here are a few suggestions of where to stay in Tuscaloosa with your family or significant other, broken down by budget.
Budget: Splashing Out ($200+ per night)
This is one of the most beautiful places to stay for any fan of the Crimson Tide.
Not only do you get a suite within this historic Alabama home, but it's only two blocks from the stadium and the decorations inside are in UA colors.
There's a gorgeous lawn out back, a full breakfast included, and plenty of Southern hospitality to go around.
Even if it's not game day, the location in proximity to the campus and the complimentary wine and cheese on arrival (oh, yes), is more than enough reason to stay here.
Budget: Mid-Range ($100 – $200 per night)
If you want to be located downtown in Tusaloosa, only about a mile an a half away from the campus but perfectly located for the downtown and Riverwalk attractions, this is the hotel for you.
Sleek, welcoming, and with free parking (hello, score), this hotel shines for couples and families wanting a mid-range option in Tuscaloosa.
There's also a terrace with great views so you'll get to soak in the sun in between your adventures.
Budget: Uh…on one! ($100 or less per night)
Want a safe and clean place to sleep in Tuscaloosa that won't break the bank? Rodeway Inn is it for you!
For a budget hotel, it has amazing modern rooms, a free hot breakfast, close location to the highway (but no road noise) and, by all accounts, one of the best budget hotel showers ever.
Iconic Things to Do in Tuscaloosa
Some of the best things to do in Tuscaloosa are on the list because they're the ultimate must-dos.
The things that are time honored traditions and on the Tuscaloosa "bucketlist."
1. Wander along the Riverwalk
The Black Warrior River flows through the heart of Tuscaloosa, and next to it is a paved walking and running path that stretches almost five miles.
The Riverwalk is constantly filled with local residents and visitors of all mobile abilities enjoying a nice stroll by the river or getting their heart rate up with some fast-paced biking and running action.
There are also benches lined up along the path, so if you want to pack a snack and enjoy watching the world go by and the river flow on, you're more than welcome to do so.
This is a great way to get around in Tuscaloosa when you want to stretch your legs and see more of what natural Tuscaloosa has to offer.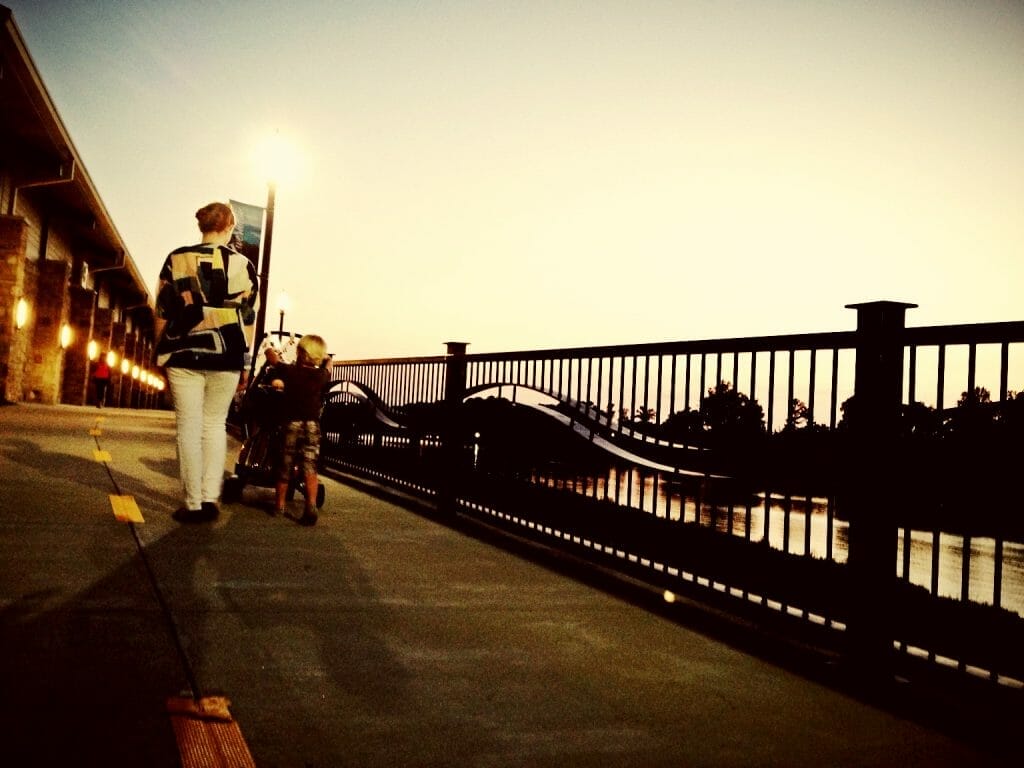 2. Explore the University of Alabama Campus
It's no secret at the University of Alabama campus is one of the major heartbeats of Tuscaloosa, and they not only tolerate visitors, but welcome them!
This campus has consistently been ranked as one of the most beautiful colleges in all of America, and it's not hard to see why.
From the gorgeous exterior of the President's Mansion (the white columns seem to go on for days) to the softly rustling trees in Woods Quad, you're spoiled for choice in Instagram-able backdrops and Alabama history everywhere you turn.
Visitors are encouraged to park in the Campus Drive Parking Deck and make use of the Crimson Ride Bus Hub to explore campus.
This service is free.
3. Watch a Game at Bryant-Denney Stadium
There's nothing like seeing a home game at Bryant-Denney Stadium.
It's one of the absolute best things to do in Tuscaloosa.
The whole town is awash in crimson and white, and spirit is at all time high.
Over 100,000 fans can fit in Bryant-Denney Stadium, and even more use the campus and surrounding areas to tailgate, which really makes game day something special.
If you thought you knew what team pride was, you're about to be blown away by the pride of the South and fierceness with which Bama fans celebrate.
You'll want to plan your route ahead of time on game day, making sure to have a Gameday permit and an idea of where to park.
Multiple streets are closed off, and the entire main campus area is shut to thru traffic three hours before kick-off, so don't be caught out and miss the start!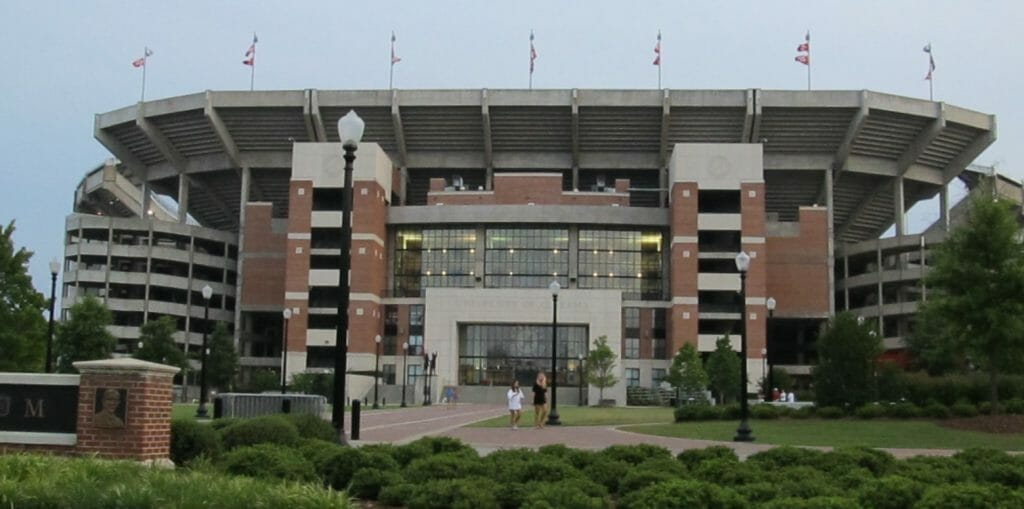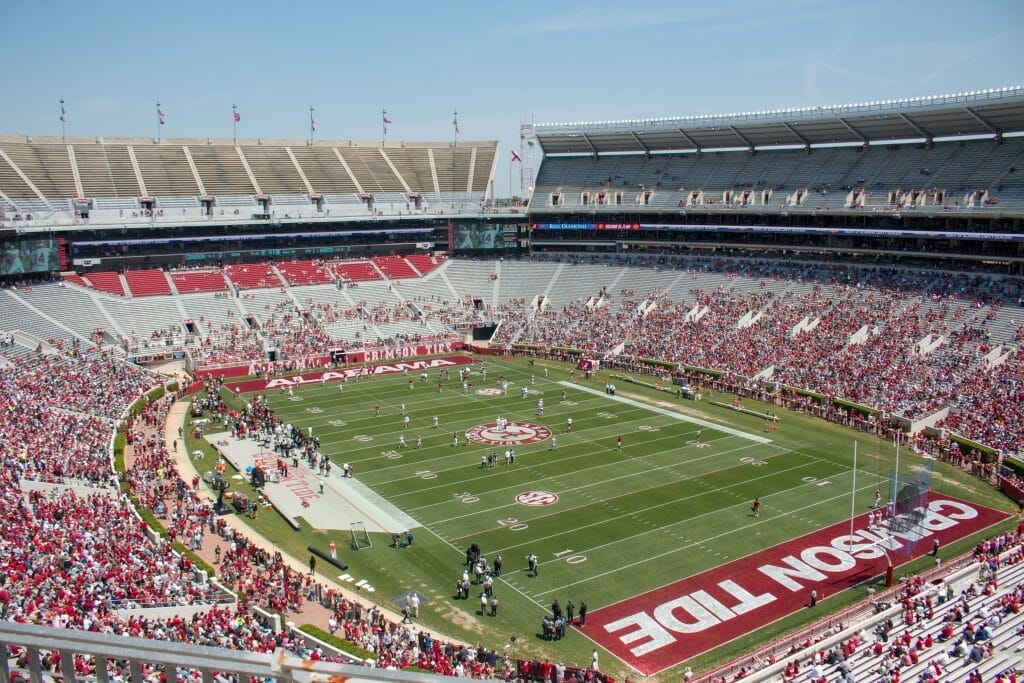 Just over ten miles south of Tuscaloosa is one of the most interesting and historic areas of all of Alabama.
No, you won't find pristine mansions or buildings dating back to the Civil War – go further.
This is a Native American heritage site that was home to a prehistoric community settled 800 years ago.
During that time, Mississippian people built over 20 mounds around a main central hub, which served both as homes and ceremonial spaces.
Together, they built the area to be what once was America's largest city north of Mexico – over 300 acres.
Today, visitors can enjoy gorgeous views of these mounds as well as an on-site museum that showcases some of the treasures found here, as well as some ambling nature trails and places for a picnic to let you enjoy the outdoors.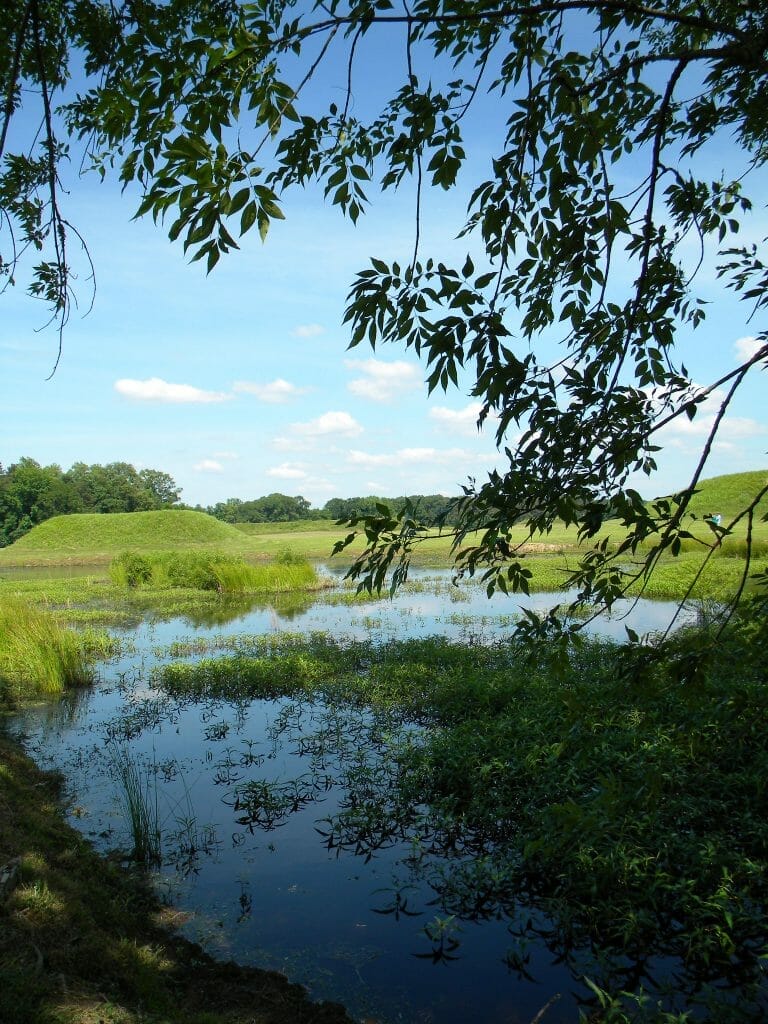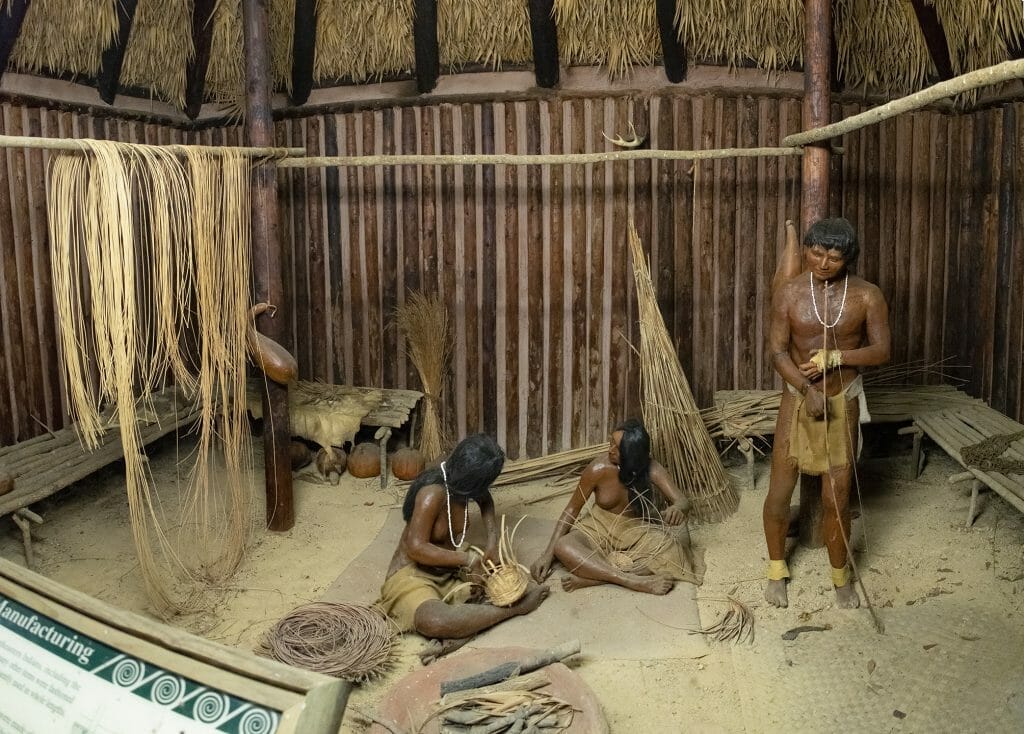 Things to Do in Tuscaloosa for Kids
You don't have to be a college student to appreciate Tuscaloosa!
It's got plenty to do for kids of all ages – some attractions specifically for them, and other that the entire family can enjoy together.
Here are the best kid's activities in Tuscaloosa to add to your Tuscaloosa itinerary.
5. Alabama Museum of Natural History
In Smith Hall on the UA campus, you'll find a treasure trove of natural specimens and information about Alabama's ancient past, including fossils and dinosaur facts sure to delight kids of all ages.
The Alabama Museum of Natural History is dedicated to preserving the work and legacy of Dr. Eugene Allen Smith who was the state geologist for almost 40 years.
In addition to regular museum offerings for the grown-ups, the museum puts on plenty of kid's activities including "Growing Up Wild Preschool," Naturalist programs for school-aged children, and lots of chances for kids to get involved in learning about the beauty of the world around them.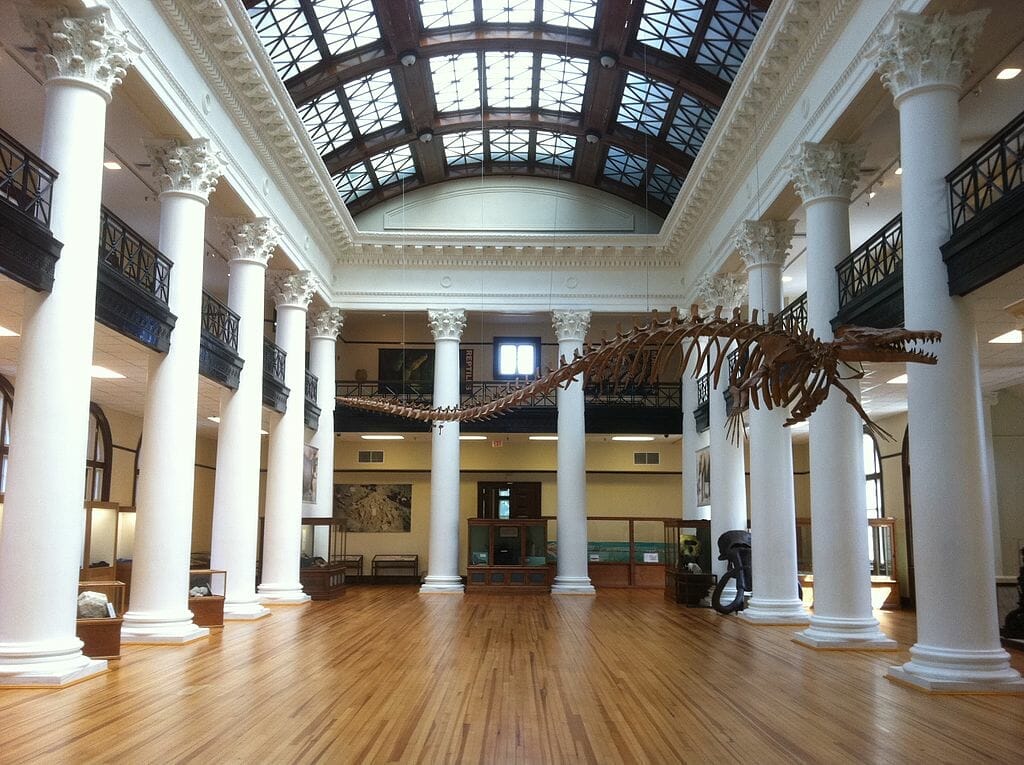 6. Bear Bryant Museum
I've included the Bear Bryant Museum in the best thing to do in Tuscaloosa with kids because there's nothing more special to an Alabama fan than bringing their kids up to love the same team they do.
Dedicated to Alabama's legendary coach Bear Bryant, this museum takes visitors through the history of Alabama football and celebrates all things crimson.

In addition to seeing physical artifacts like jerseys and a replica of Bryant's office, there's also a research room where all of Alabama's games can be watched.
Visiting this museum is a perfect way to gain even more appreciation for your favorite college team and the famous names who made it what it is today.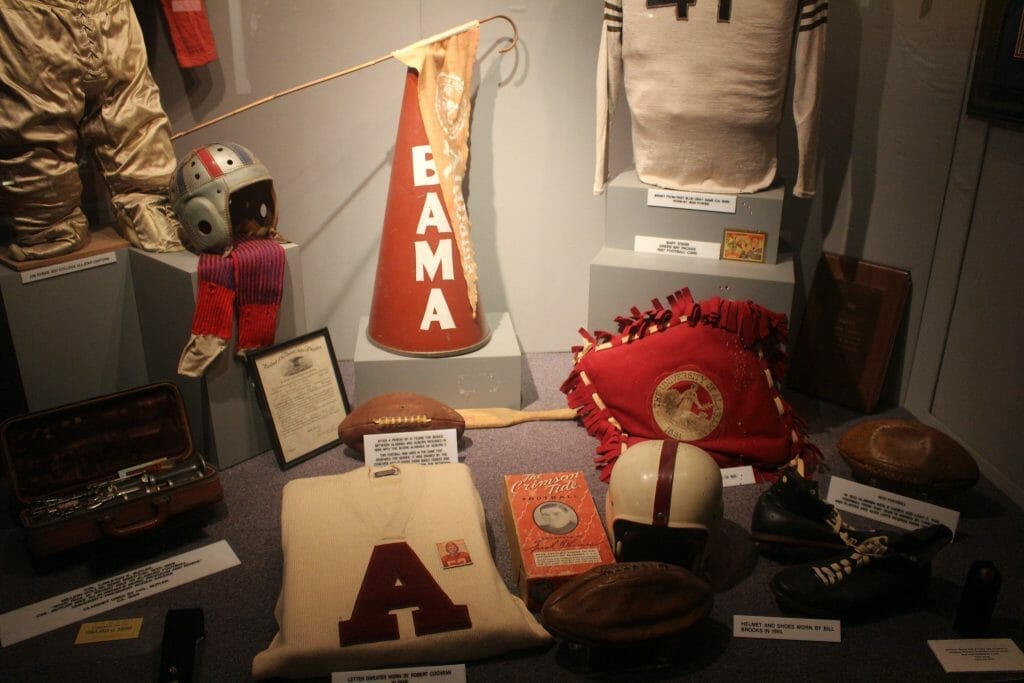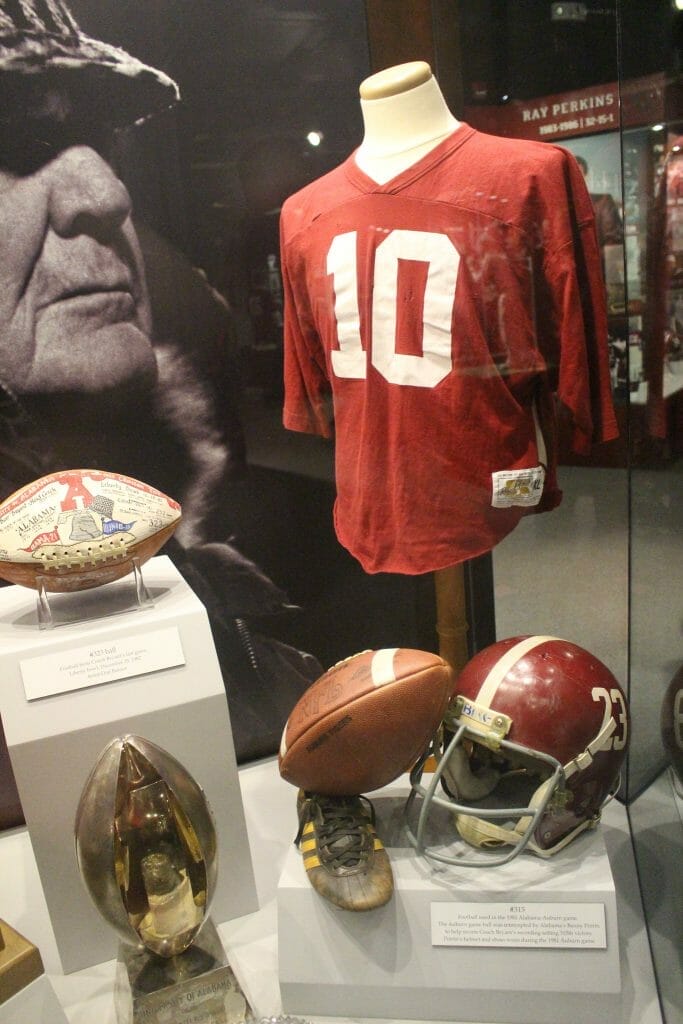 7. Children's Hands-On Museum of Tuscaloosa
Run, don't walk, to the Children's Hands-On Museum if you've got kids from the age of, well, just born to about 13 years old.
This fascinating museum is dedicated to helping kids learn through play and they've got an amazing array of exhibits where kids can immerse themselves in new worlds.
From pretending to be a doctor and learning about labs to driving tractors on the farm to selling produce at the Farmer's Market, there are so many different nooks and crannies for their imagination to run wild.
The museum also hold regular kid's events throughout the year, including holiday crafts, storytelling times, New Year's Eve for kids and more.
8. Go Camping in Lake Lurleen State Park
Quick, ditch the iPads and pile all of the kids in the car to head to Lake Lurleen State Park, where you can spend some blissful family days hanging out with each other disconnected from the outside world.
Lake Lurleen State Park is about nine miles from Tuscaloosa and has almost 2,000 acres to explore set on the lovely Lake Lurleen.
In addition to walking, hiking, and biking trails to let everyone blow off some steam, you'll also find water-based activities like fishing and paddleboating on the lake, as well as play areas.
There are modern campsites here with water and electric hook-up so you can get out in nature while still being comfortable.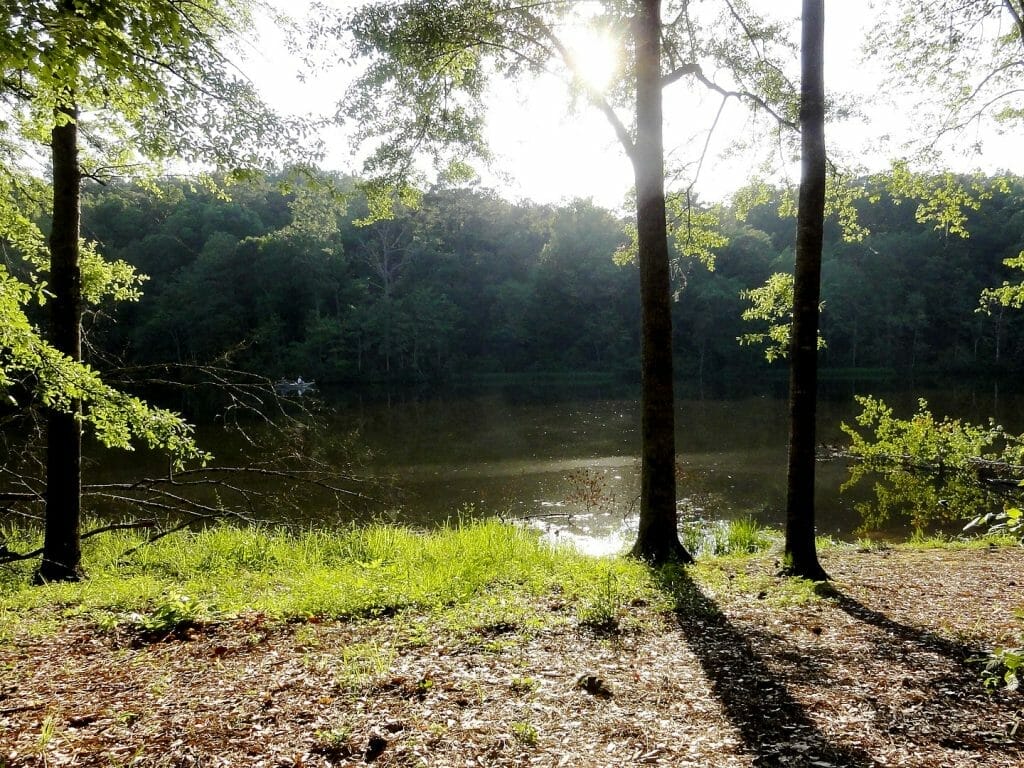 9. Check out the Tuscaloosa Public Library
No matter the time of year, the Tuscaloosa Public Library is one of the best places in Tuscaloosa to go with kids who need a bit of air conditioning and a lot of entertainment.
Of course you can just come to browse the children's sections and let them get lost in a good chapter book, but even more importantly, the library holds kid's events throughout the week to engage the local kid's community in reading and learning.
If you've got a baby or toddler, there are weekly storytime activities where you can join your child and listen to some age-appropriate tales and meet new friends.
For the elementary set, they've got some hands-on fun like LEGO building and crafts.
Even tweens and teens can get involved at the library with creative writing events dedicated to expanding their imagination and helping them follow their writing dreams for the budding authors out there.
10. Beat the Heat with Ice Cream
Let's face it.
Tuscaloosa can get hot.
Like, your face is melting hot.
But never fear.
When you've got kids complaining of the heat and wanting something cold to eat, you should head to Frost Bite Tuscaloosa.
This amazing ice cream shop has everything from rolled ice cream (totally in these days) to banana splits to vegan ice cream to "build your own" options for you to dump those toppings all over your treats.
You can also have your birthday party hosted there where you and your guests can make your own ice cream, and I know this section is all about the kids, but – hint, hint, adults: turning older has never been more fun (or deliciously calorie filled!).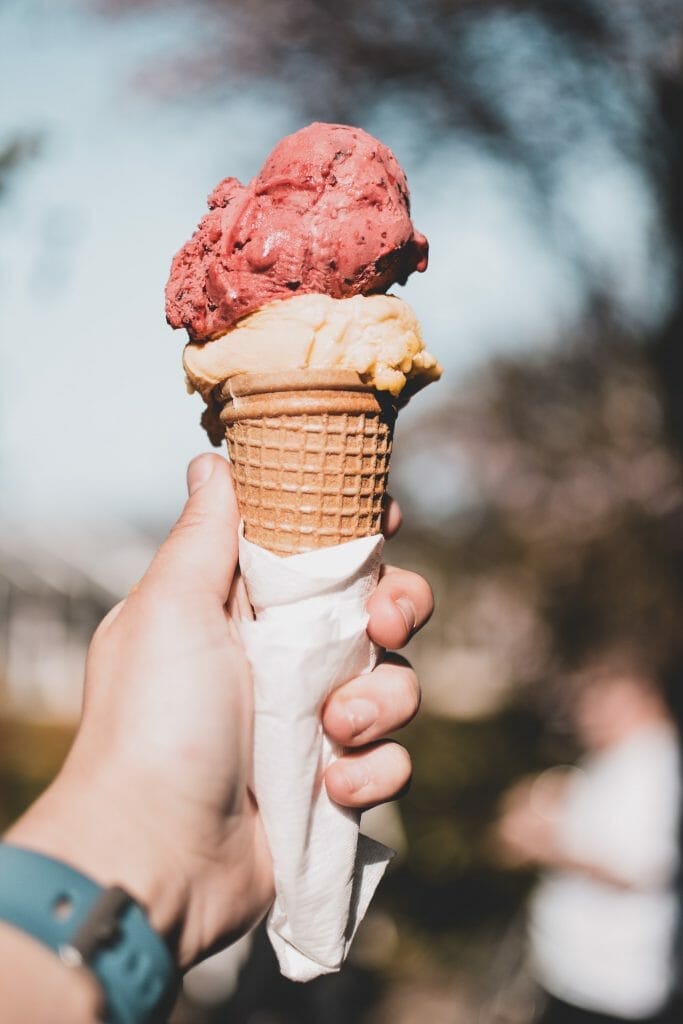 What to Do in Tuscaloosa at Night
Tuscaloosa certainly doesn't shut down as soon as the sun sets.
In fact, there's plenty of nightlife and nighttime entertainment like plays and concert venues to keep you out of the house until way past your bedtime (if that's the sort of thing you're into).
Here's a round-up of some of my favorite things to do in Tuscaloosa after dark.
11. Visit the Bama Theater
This historic Tuscaloosa location is on the U.S National Register of Historic Places and was originally built around 1937 as part of Franklin D. Roosevelt's New Deal.
The exterior was done in an Art Deco style popular of the period, and the interior had a "lavish" design, including clouds and stars on the ceiling!
Today, Bama Theater is Tuscaloosa's Performing Art Center and they often put on films, theatre shows, and dance events.
Step inside and you'll also notice the beautifully painted murals done by Navino Nataloni that create a Mediterranean atmosphere.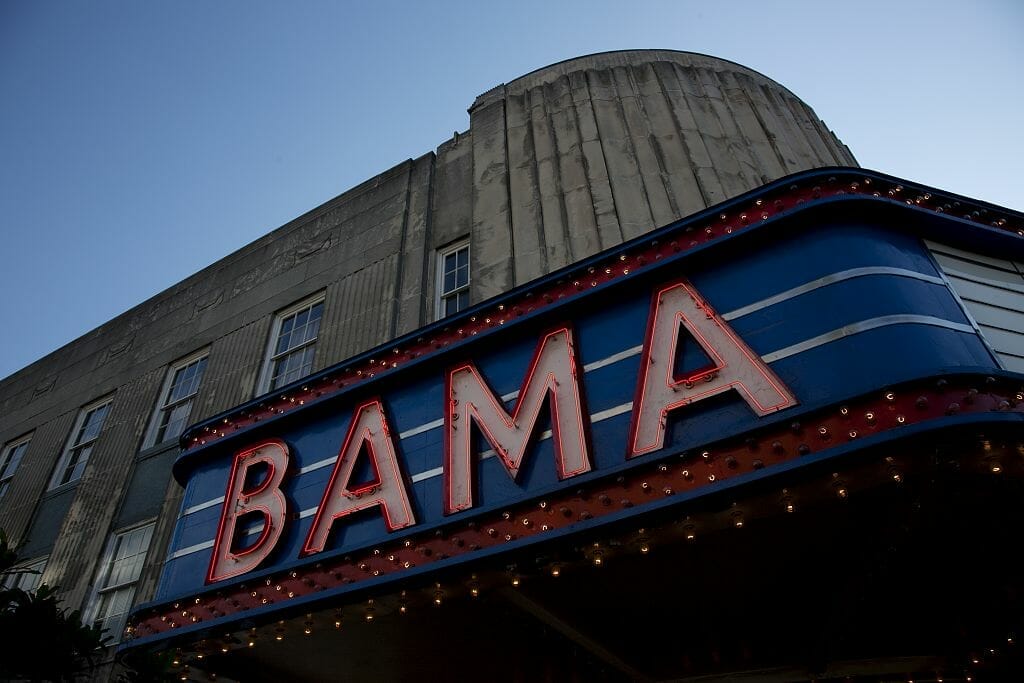 12. See What's On in the Tuscaloosa Amphitheater
If your favorite headliner band is coming to town, it's likely that you'll see them at the largest outdoor theater in West Alabama – the Tuscaloosa Amphitheater.
This amazing venue plays host to major names like the Lumineers, Brantley Gilbert and the Avett Brothers, among others.
They also host a free 4th of July Celebration and plenty of activities around the holidays.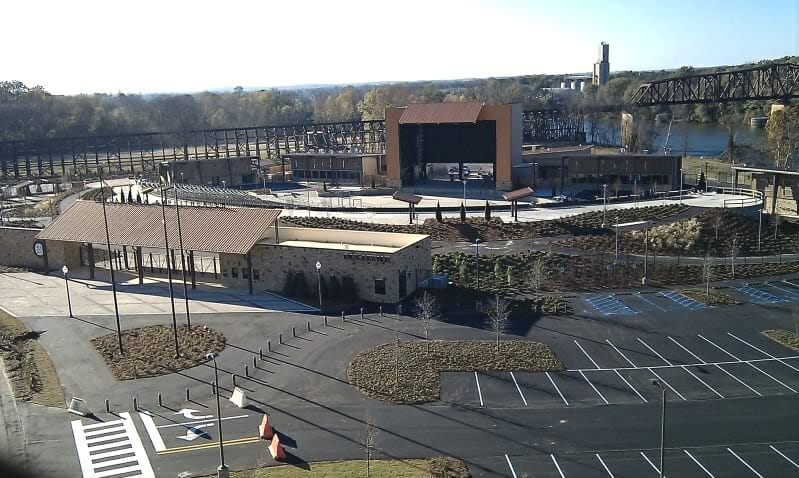 13. Enjoy Craft Brews Downtown
Tuscaloosa is a college town, and with that comes a built-in audience for one of Tuscalooa's favorite pasttime: craft beer!
When the sun goes down, you've got lots of options for where to try out the latest brews and hang out with friends.
Try Black Warrior Brewing Company for nightly events like yoga, trivia, and poker and to try their extensive beer and wine menu, or head to Loosa Brews for their family-friendly atmosphere, live music, and pinball game room (yes, please).
14. Play Games at the Sports Pub
Combine the atmosphere of a pub with the fun of an arcade and you've got the Wheelhouse – Tuscaloosa's best venue for catching up with friends and enjoying fresh food and a wide variety of drinks.
From Super Smash Bros tournaments to beer pong to 8 ball tournaments, the Wheelhouse has everything the over-21 crowd needs to relax and unwind during an evening in Tuscaloosa.
15. Sing Along at the Druid City Music Hall
For a night spent in an intimate concert hall listening to your favorite acts perform live, the Druid City Music Hall is the place to be.
It's considered to be the area's premier live music venue for all types of genres.
Previous acts include Chris Lane, Riley Foster, Luke Bryan, Muscadine Bloodline…and the list goes on!
The acoustics are excellent, and you can also book out the space for private events if you want a unique way to spend a night of celebrating in Tuscaloosa.
Romantic Things to Do in Tuscaloosa
Exploring Tuscaloosa as a couple isn't hard.
There are so many date ideas in Tuscaloosa that you could plan a whole month of activities and have something new to do each day.
Whether you're into flowers or fast cars, here are some of the loveliest romantic things to do in Tuscaloosa, Alabama.
16. Gorgas House Museum
The University of Alabama's oldest building, the Gorgas House, was built in 1829 and was a residence and dining hall for the University's Steward.
Through the years, it was also used as a faculty residence and housed the Gorgas family from 1879 to 1953.
Today, this beautiful building still stands (having survived the campus Civil War burning in the 1800) and it houses 19th century artifacts that help gives you an idea of the university's history and that of its residents during that period in America.
The museum is open Mondays to Fridays (except university holidays) and it's a nice way to have an on-campus date between classes or while you're visiting Tuscaloosa.
17. Walk Hand in Hand Through the University of Alabama Arboretum
Breathe some fresh air as you explore miles of walking trails in the 60 acres of the University of Alabama Arboretum.
This outdoor space focuses on plants native to Alabama, and you'll wander through woods, see wildflowers growing, and stumble across an experimental garden hosting some rather unusual species.
There are also some greenhouses for more tropical plants that need more a more controlled atmosphere, including beautiful orchids.
This is a stunning place and a great thing to do for couples in Tuscaloosa who just want the time and space to walk and talk and take advantage of the natural beauty of Alabama.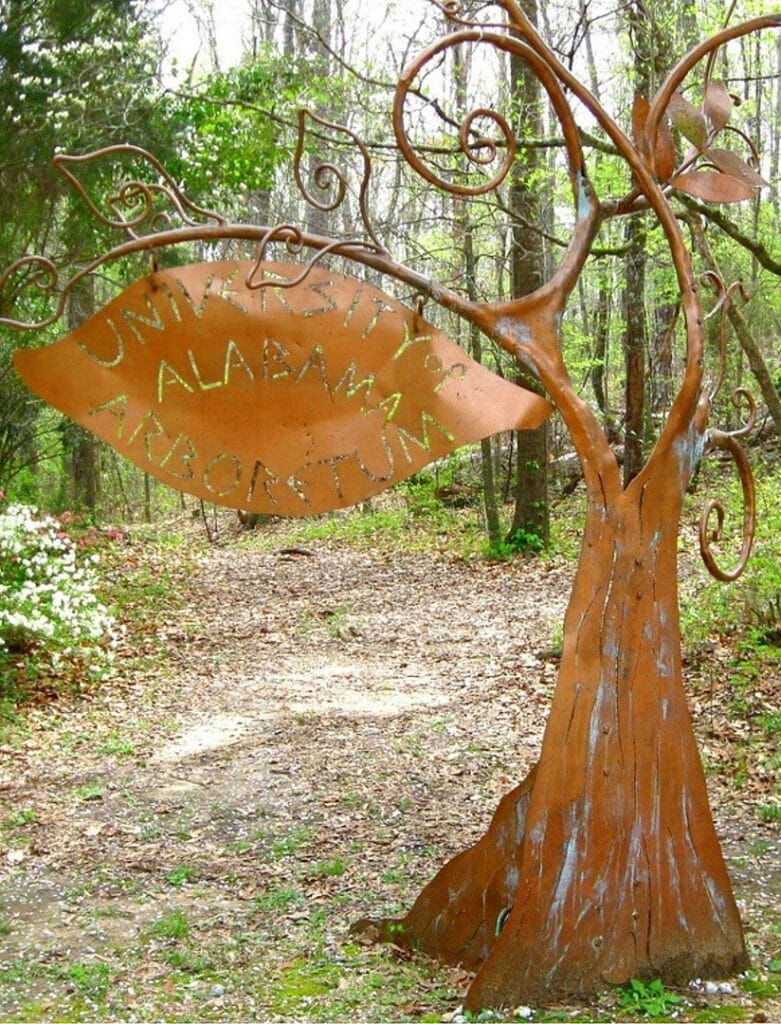 18. Check out the Sarah Moody Gallery of Art
Art lovers will adore the exhibitions and lectures held at the Sarah Moody Gallery of Art, run by the University of Alabama Department of Art and Art History.
This exhibition space features rotating series that shed light on UA faculty, UA graduate students, and its permanent collection of contemporary art.
Support UA and local artists by stopping by an exhibition or lecture and learning more about what they're doing for the arts scene in Tuscaloosa.
19. Practice Your Swing on the Golf Course
Whether you already love to spend time together putting your way around a course or you want to learn this classic sport together, Tuscaloosa has plenty of golf courses with beautiful grounds for you to hang out at.
Popular ones include Ol' Colony Golf Complex, the Links at Tuscaloosa, and Indian Hills Country Club.
As a matter of fact, Ol'Colony Golf has been ranked the best public golf course in Alabama, and it's a full 18 holes of beautifully maintained greens and gorgeous lakes (well, maybe not so gorgeous when your ball goes in them, but appreciate the beauty beforehand).
20. Take a Tour of the Mercedes-Benz Visitor Center
Just a short drive to the east of Tuscaloosa to a town called Vance is a massive Mercedes-Benz visitor center and plant.
Take your loved one here to help him or her fulfill their need for speed or just dream a little about your future as Mercedes-Benz owners when you win the lottery or become famous house flippers or finally beat the house at the casino.
Public tours of the plant are temporarily suspended, but you can see the history of Mercedes-Benz vehicles at the visitor center, complete with concept cars, race cars, and more information on how Mercedes-Benz has been producing their famous cars in Alabama for years.
21. Enjoy Fresh Produce at the River Market
On the banks of the Black Warrior River, you'll find one of the most romantic things to do in Tuscaloosa when the weather's right.
Enjoy the sights and smells of the Saturday Farmer's Market that happens every Saturday between 7am and 12pm.
Support local vendors as you taste test their baked goods, fresh produce, and southern delicacies like sweet tea and boiled peanuts.
You'll also find craft stalls and jewelry so you can come home with a memento of your relationship and time in Tuscaloosa.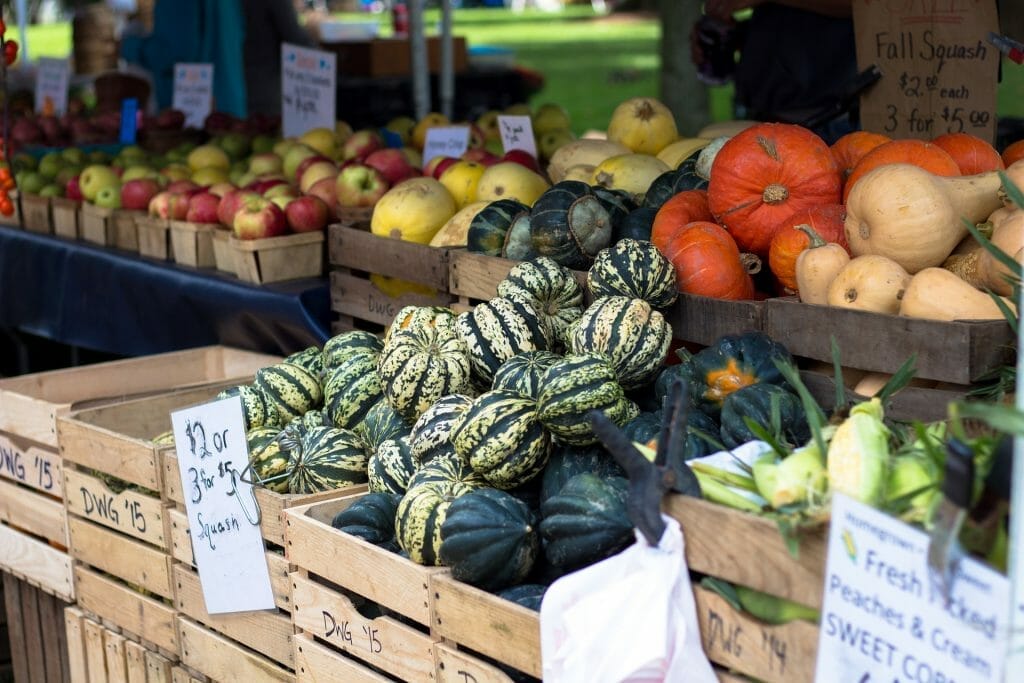 Get the All-American Travel Secrets!
Don't miss out on America's hidden gems!