If the idea of finding free places to stay across the world while taking care of adorable pets sounds good to you, then keep reading because this Trusted Housesitters review is about to let you in on our little secret.
Trusted Housesitters is one of the most popular (and in our opinion, the best) housesitting platform to help connect you with people who need you to stay in their homes and look after their house and pets while they're away.
This is the premise of housesitting (check out our guide on how to become a housesitter here), where you can travel to new places and stay in someone's home while they're away instead of paying for a hotel or AirBnb.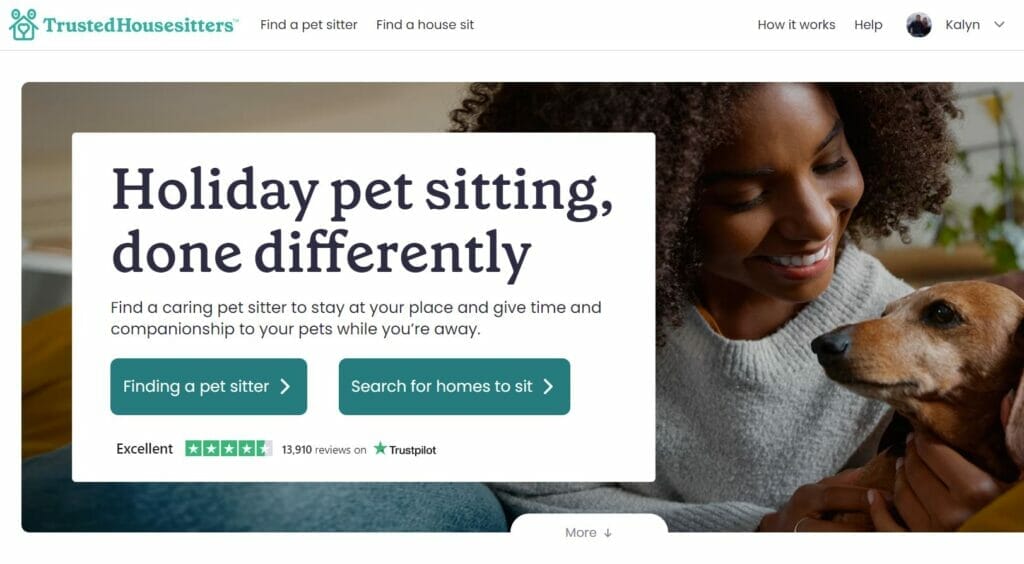 We'll go over exactly how to use Trusted Housesitters, tips for qualifying for all of the sits you want, common mistakes that people make on Trusted Housesitters and our experiences with our 3 previous housesits (one in NYC, one in Long Beach, and one in Los Angeles.)
How Does Trusted Housesitters Work?
Trusted Housesitters allows home owners who are in need of a house/pet sitter to be matched with people looking to house/pet sit.
It's not like a dating site match-up, but more of a "post your job listing and people can apply" website.
A homeowner will post a listing with their dates of travel, photos of their home, pets, and a description of what responsibilities the housesitter would need to take on, and then housesitters can apply for the job and send a personalized message.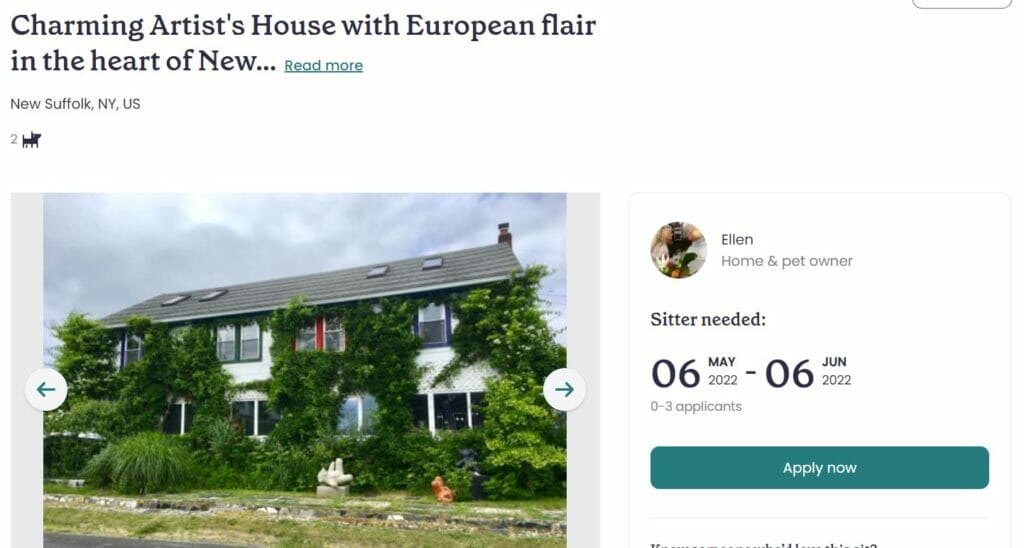 Once the homeowner chooses the sitter that they think is best for the job, the homeowner and housesitter can communicate about the date of arrival and any other questions.
How to Sign Up to Trusted Housesitters
Signing up to Trusted Housesitters costs an annual fee for both the housesitters and homeowners.
This is a small investment when it comes to how much you would save using Trusted Housesitters when traveling, and it also helps weed out the people who might be scammers or not serious about housesitting.
You can choose from two plans, each with their own perks.
The standard plan is $129 per year and allows you to do free video calls with vets while pet-sitting, unlimited housesits per year, dedicated member support and third party liability protection (so a homeowner couldn't sue you if something happened to their home or pet while they were away).
This is the plan we recommend to most people.
The premium plan is $199 per year, and it includes everything from the standard tier as well as cancellation insurance in case a housesit cancels on you, as well as 2 global airport lounge passes per year.
You also get a "Premium" badge next to your name, which could possibly help you secure more housesits when compared to people on the standard plan.
We are on the standard plan and had no problem securing 3 housesits when we first signed up to the platform using the tips I'll share below.
Put in your payment details, complete your basic information, and it's off to the races!
Trusted Housesitters Profile Tips
When you fill out your profile for Trusted Housesitters, there are a couple of key components: the About section, your availability section, and references.
References are not the same as reviews, as references can come from anyone in your life, while reviews are for people you have housesat for on the Trusted Housesitters platform before.
For the "About" section of your profile, you want to include a lot of pictures of you (or you and your partner if applying as a couple) looking happy and smiley around pets.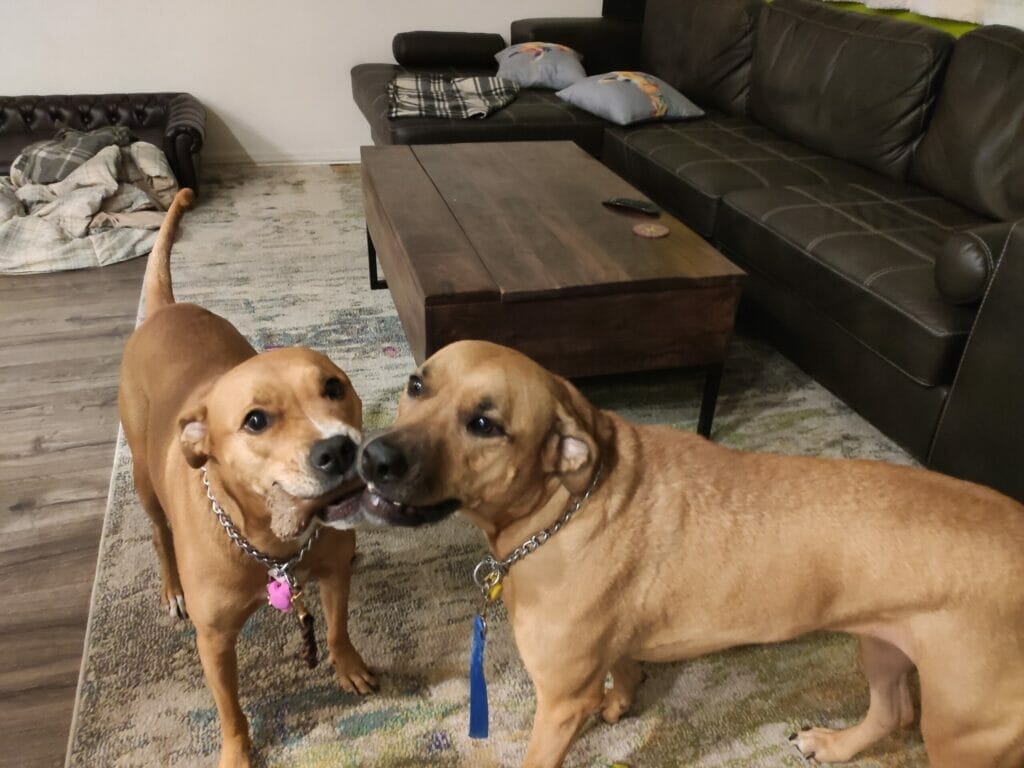 Seriously, most people are going to be trusting you with their pets, so showing them that you have interacted positively with pets before, even if it's your friend, is going to be crucial.
We included pictures of us on vacation as well and just general photos, but most of our photos have us with pets of all types.
Don't use group pictures – make sure it's just you and/or you and the animals so it's easy for a homeowner to see who you are.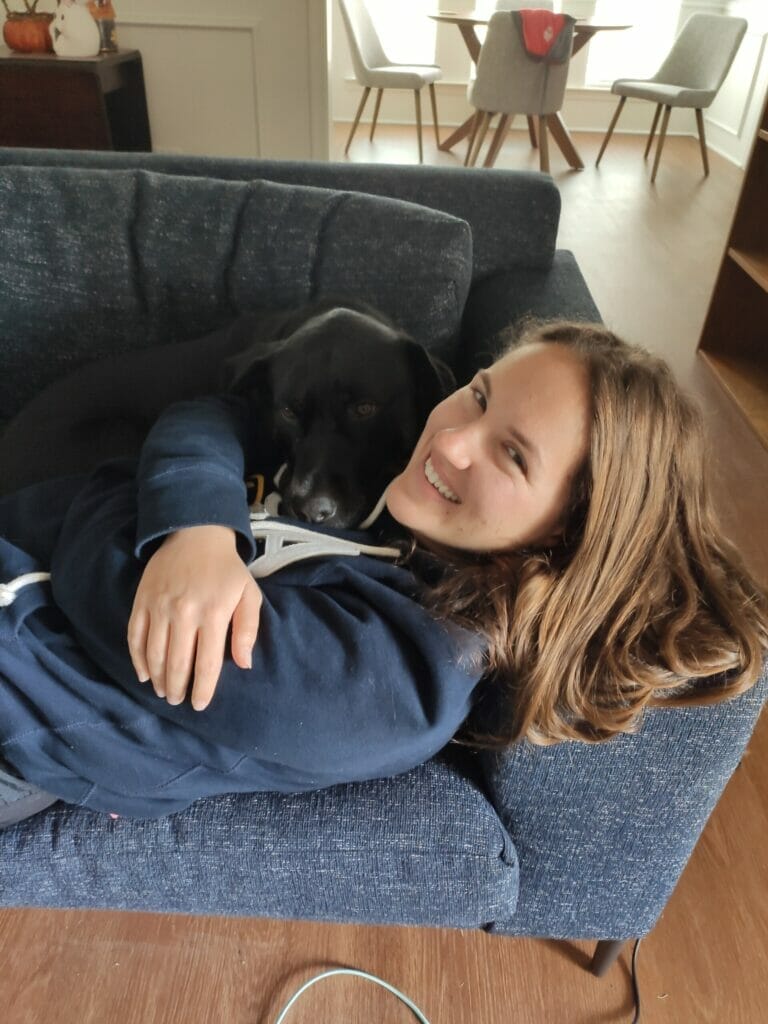 When you fill out the text About section, be yourself!
But a confident, conversational, and friendly version of yourself (this is not the time to get too honest about your weaknesses or your regrets in life – keep it upbeat and excited).
Give some information about who you are, where you're from, what you do for work, and why you want to housesit in general.
Note: saying that you want to housesit to travel the world and stay places for free is not nearly as enticing to a homeowner as talking about how you look forward to spending time with pets, because really, from their point of view, that's the reason you're there.
You can always include a section about how you're looking forward to getting to know a new location from a more local perspective, but you should come across more like, "Please trust me with your pets because I love them and will take good care of your house" instead of "Please let me come stay in your house for free – oh yeah, do you have a pet somewhere?"
You can talk about your interests and your experiences in house or pet sitting.
You would be surprised how many people pick housesitters because they share common interests, alma maters, or hometowns, so really you can't go "wrong" here because you don't know what a homeowner will be looking for.
Just make sure they get a good snapshot of who you are.
The final section is the availability section.
Here, make sure you accurately list the dates you are available and looking for housesitting.
It could be the whole year or a few weeks.
This will help avoid any confusion when you're applying.
How to Apply for a Housesit
Once you have your profile set up, it's time to browse the housesitting listings!
Check out the end of this article for tips on picking the right housesit.
When you've found one you like the look and sound of and you know you could do those dates, click "apply" and it will let you send a private message to the homeowner.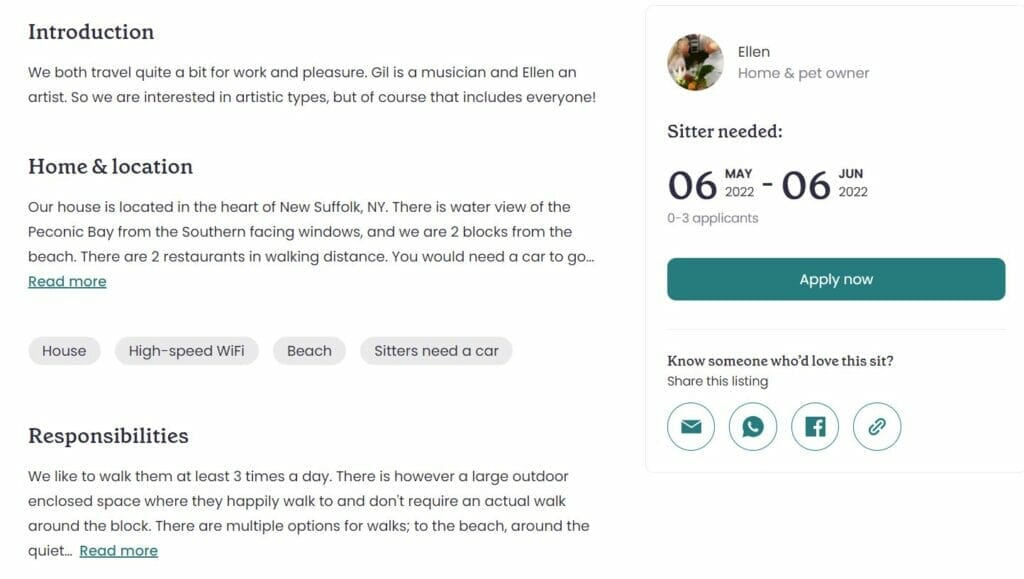 Here, you want to send a personalized message that sort of recaps your profile while also mentioning their pets and any responsibilities that you would have during the housesit – you want to make sure they know that you have actually read their listing and are excited about it.
Here's an example of an application message.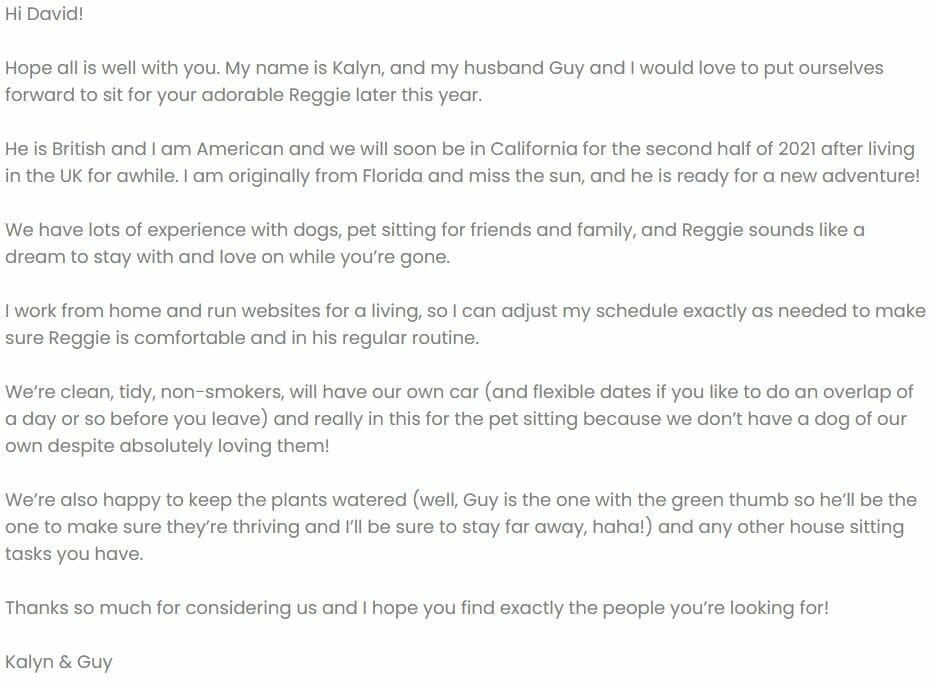 Trusted Housesitters will tell you how many other people have applied (roughly), and it goes without being said that typically the fewer the number of people, the better chance you have of securing the sit.
Other tips for getting your application accepted in Trusted Housesitters:
In addition to a polite and conversational application that is personalized to the listing, make sure that you are using correct spelling and grammar! This is not the time for shorthand!
Apply as soon as possible after the listing is put up. We got two housesits simply because we had a great application and we were one of the first that applied. The homeowner didn't want to drag the process out, so they picked us!
What Happens Once You're Approved?
Once the homeowner accepts your application, you'll be notified within the platform and then you can continue conversing via the private messaging system, or they may ask to have a video call or regular call.
This is a normal part of the process, and 2/3 of our past housesits asked to video call before accepting us.
From there, confirm your arrival date and time, and get their address so you can show up at the right place!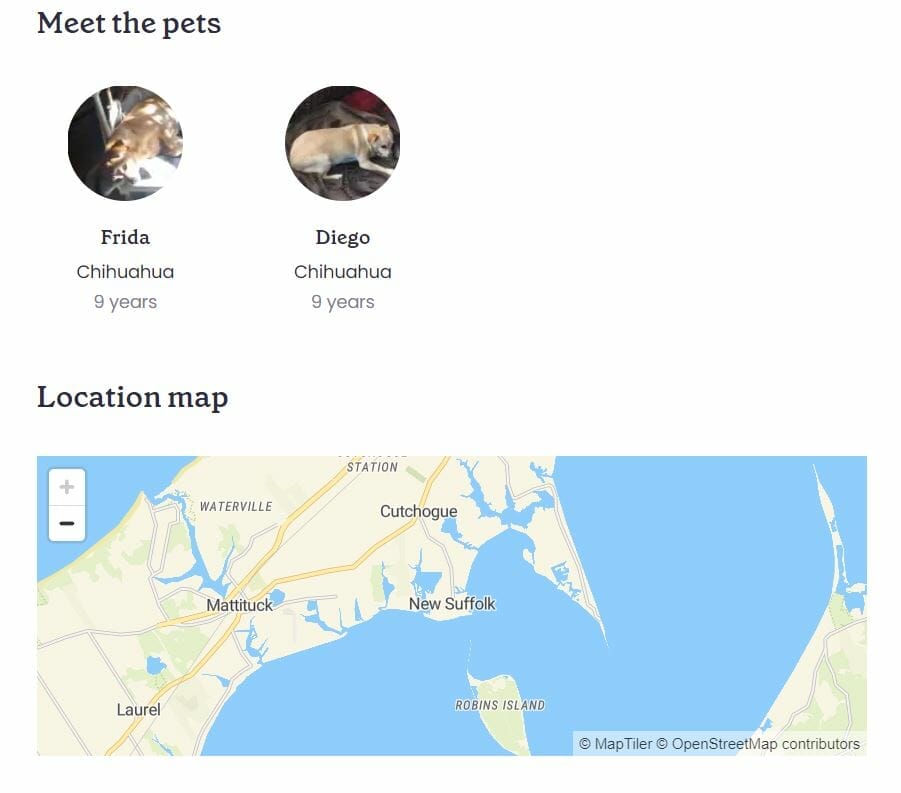 They may upload a "handbook" for their home ahead of time, if they are experienced on the platform, but many people don't and will just tell you everything you need to know via message or once they meet you in person (things like internet passwords, exactly how much food to give the pets, etc).
During the Sit
Arrive for your sit at the time agreed and start the "handover."
Sometimes, you may be invited to stay the night before, while other times you will show up on the day they leave.
We have also had a situation where we went to meet the couple the day before and then showed up the next day on our own after they had left as they had given us keys and they had an early flight (but wanted to make sure they showed us around).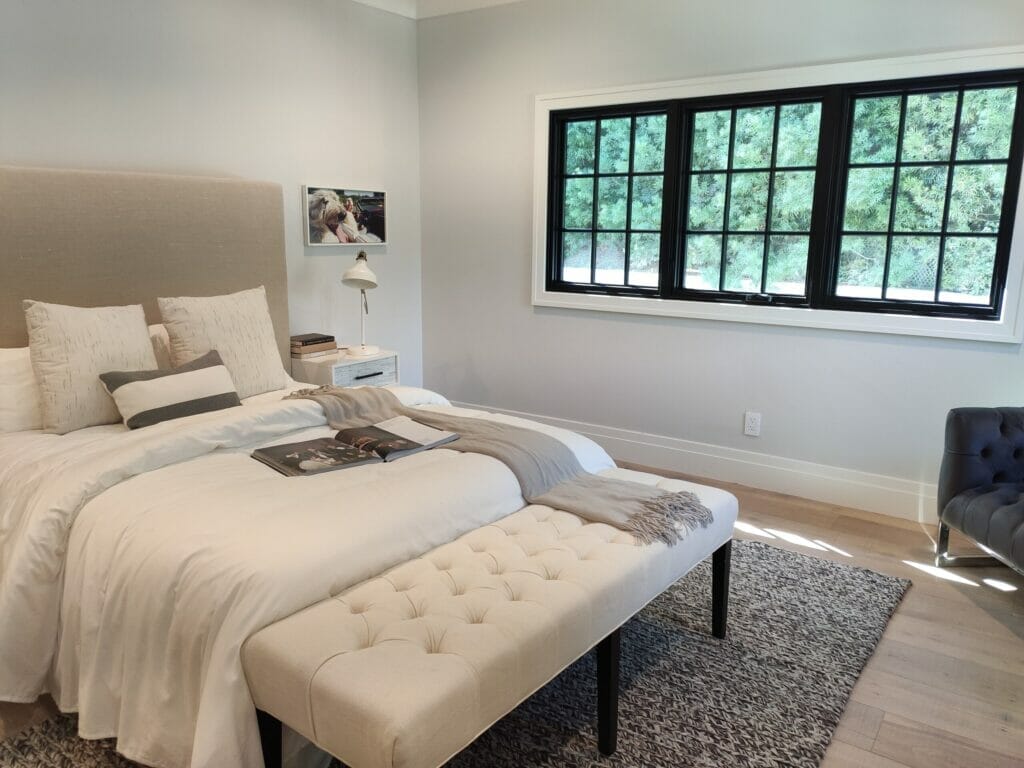 While you're on the sit, communicate via text or other messaging with the homeowners if they would like for you to check-in, and watch their pets and home as if they were your own.
Whatever the routine or schedule is, follow it as best you can and make sure to clean up after yourselves and the pets as you go along.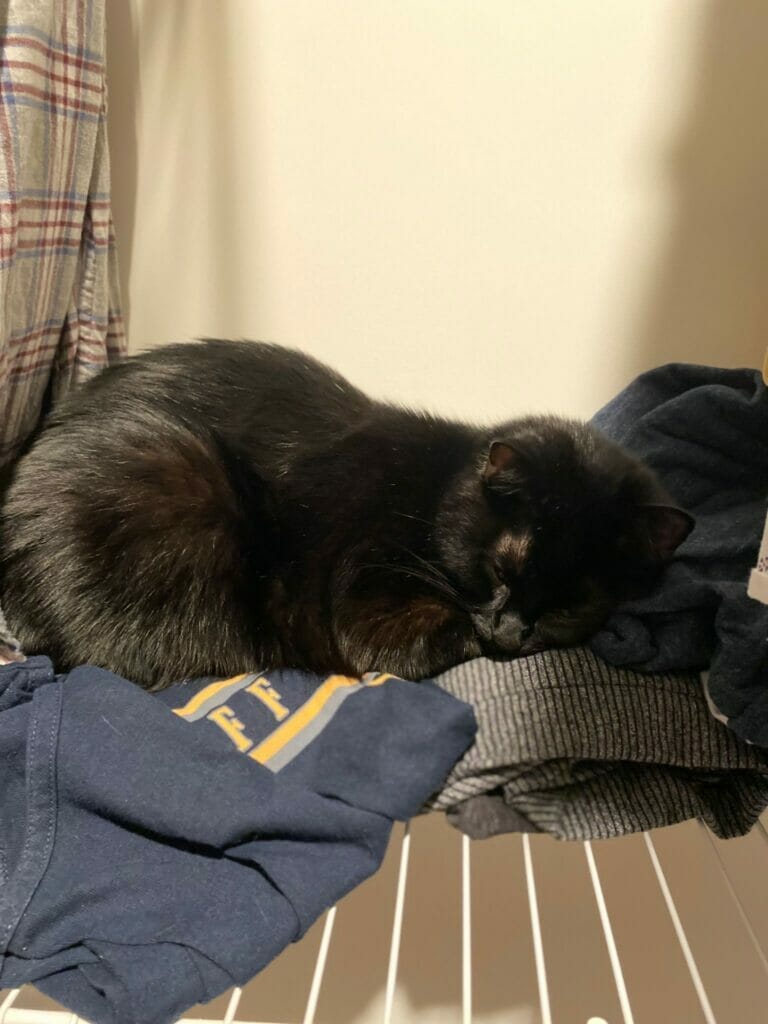 Enjoy the amenities in their home that they have allowed you to use, and enjoy exploring the local area.
Before they come home, make sure that you have cleaned the house and will leave it as you found it.
We always wash our laundry and sheets and towels, but if you're leaving early in the morning, the next best option may be just to strip the sheets and leave them in the hamper.
Homeowners can instruct you on how they would prefer it.
Some people leave gifts, but we have not done this and still had great reviews.
You are providing a service in exchange for staying at the house, so it really is an equal exchange both ways with no money or tips or gifts expected.
After the Sit
After you leave, the homeowners should get a message through Trusted Housesitters to leave you a review, but you can also click a button to prompt them to do so.
You can also leave a review for the homeowner, which is always a nice thing to do if you've had a great time, and an honest thing to do if there are things you'd like to mention to other potential housesitters if something wasn't as expected.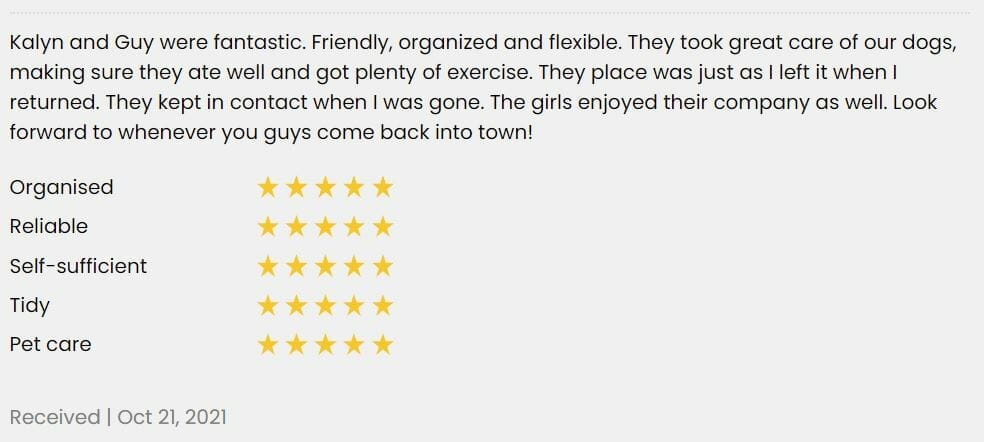 Bad Experiences with Trusted Housesitters
While we haven't had one of our own, it is always possible to have a bad experience when doing really anything in life.
Trusted Housesitters works hard to verify homeowners and housesitters and to make sure everyone has a good experience, but sometimes people can be people and homeowners might lie about their situation or their pets, they may be hard to communicate with, or they may have a house far dirtier or more cluttered than expected.
As I said, we haven't had any bad experiences, but if something does go wrong during your sit, reach out to Trusted Housesitters for support and know that most of your experiences will be positive if you follow our advice (and read the reviews of homeowners before you agree to sit for them, if available!)
Common Mistakes on Trusted Housesitters
Here are some of the most common mistakes we've found people make on Trusted Housesitters, as well as how to avoid them so you can get all the sits you want, make sure you're sitting for quality people, and not get too far in over your head.
Not Personalizing Your Application
Every time you apply for a new sit, make sure to actually read the listing and mention the pets, responsibilities and locations by name.
Don't just say "your pets look so cute," but "Rexy and Tristan look absolutely adorable – my friend had a cat just like him when she was growing up. I would love to take care of them"
Waiting Too Long to Submit an Application
If you see a sit that you want to apply for, always apply ASAP.
In our experience, the longer a sit has been up, the less your chances are of getting it as the homeowner may already have someone in mind and just be interviewing them before clicking "accept."
Be first in line with a great application and show them why they don't need to drag the process out.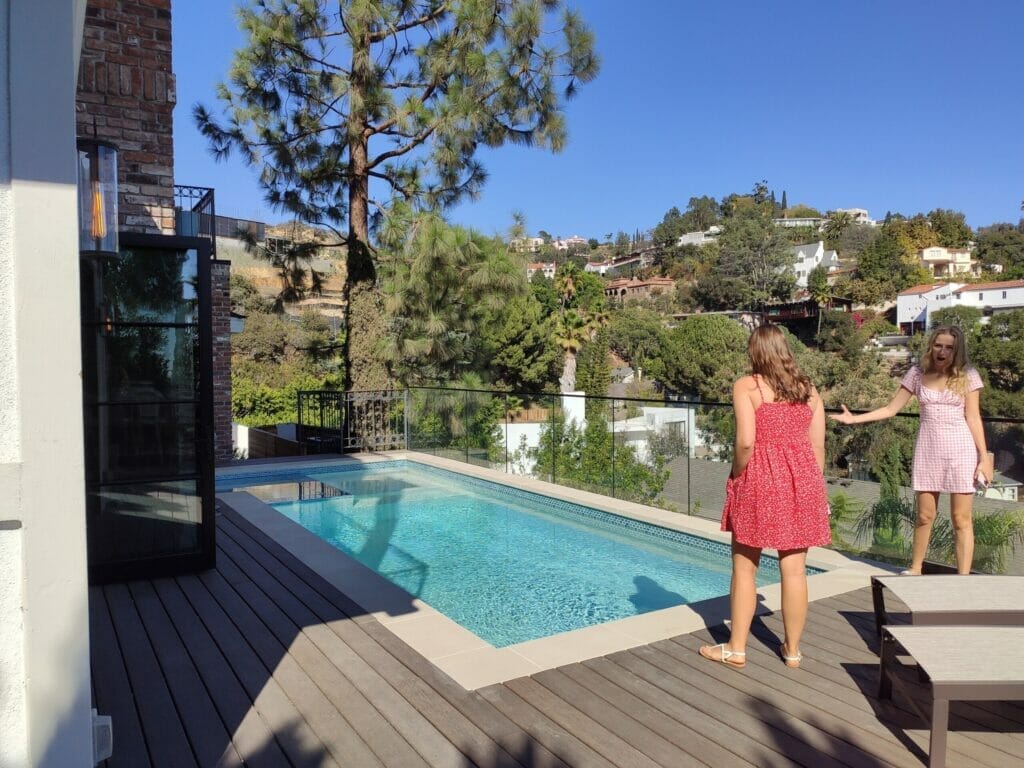 Not Reading Reviews of a Homeowner
There are plenty of new homeowners on Trusted Housesitters, so a homeowner not having a review does not mean that they are going to be bad, but many do already have reviews.
If you want to play it safe in the beginning, always sit for people with existing, positive reviews.
At the very least, make sure to find out why they don't have any reviews (maybe they're new) or to read the reviews they do have to make sure that other housesitters haven't revealed something that would turn you away.
Not Having Pictures of You with Pets
Get those pictures with animals and pets in your profile!
It doesn't have to be your pet – you may not have any, but get up pictures of you with friends pets or riding a horse on vacation or anything involving animals.
Not Having Your Profile Verified and Filled Out all the Way
Make sure to verify your profile (this often includes e-mail and ID verification) to make sure homeowners feel secure choosing you, and fill out all areas of your profile.
Leaving anything blank is a surefire way to lose the housesit to other people who have taken the time to have a complete profile.
Agreeing to a High Needs Sit when You Shouldn't
Some housesits are for high needs pets, like dogs that you can't leave alone for more than 5 minutes or who need to be walked 5 times per day.
Similarly, some housesits are for high needs houses, where maybe there isn't enough furniture or they've just moved in and things are breaking/leaking, or they live on lots of acres that need to be tended to when you're just one person.
It can be hard to say no to sits, especially if they're in the right location for your travels, but if it feels like a situation where it is going to require more time or expertise than you have or would like to give, let someone else have it.
There are plenty of low-maintenance house and pet sits where you can take care of the pets and house while still having time to yourself and not overstretching yourself.
Get the All-American Travel Secrets!
Don't miss out on America's hidden gems!