Are you ready to book the best Key West snorkeling tour?
You've come to the right place because the best 9 Key West snorkeling tours are here!
How can I be so sure?
I'm a born and bred Floridian who has been to Key West more times than I can count, usually opting for snorkeling tours as a great way to get in the water and enjoying the ease of letting someone else take me to the best spots.
Key West is one of the best places to visit in Florida, and I've also vetted the tours below to make sure they're well-reviewed and highly rated so all you have to do is decide which one sounds more your style and off you go.
Enjoy this list of the 9 top-rated Key West snorkel tours so you know you're making a great choice for your vacation!
Easy Guide: Best Guided Snorkel Tours of Key West
⭐️ RATING: 5 out of 5 Stars, 353+ reviews | ⏳ TOUR LENGTH: 3 hours | ✔️ BOOK NOW
Discover the unique beauty of North America's only living coral reef on a small-group snorkeling adventure in Key West.
Hop aboard the Floridays, a 54-foot sailing yacht, and get ready for an amazing experience.
Our skilled guides will give you all the equipment know-how you need. While being comfortable in the water and having basic swimming skills are good, you don't need to be an expert. Dive into the clear waters and get up close with marine life – from colorful fish to curious dolphins, turtles, and more.
"We had so much fun on our snorkeling and sailing adventure! The teens loved it and adults as well! Excellent and knowledgeable crew, and beautiful, clean boat. We saw dolphins and turtles along the way! We would highly recommended!!."
While you explore, the Floridays' sails offer a nice shady spot where you can relax, enjoy the sun, and sip on drinks like water, soda, white wine, or craft beer.
This isn't just about snorkeling. It's a chance to see Key West from a new angle – the water. Away from the big groups, you'll have an intimate experience and a chance to truly appreciate the reef's beauty. We provide sanitized masks, snorkels, fins, and vests for your safety.
Let us share our love for the Florida Keys with you. Join us for an unforgettable snorkeling and sailing adventure, and take home memories of a day spent in one of nature's wonders.
Need-to-knows about this tour:
maximum of 24 travelers
do not attend with heart problems or serious medical conditions
drinks included to stay refreshed
⭐️ RATING: 4.5 out of 5 Stars, 1,141+ reviews | ⏳ TOUR LENGTH: 3 hours | ✔️ BOOK NOW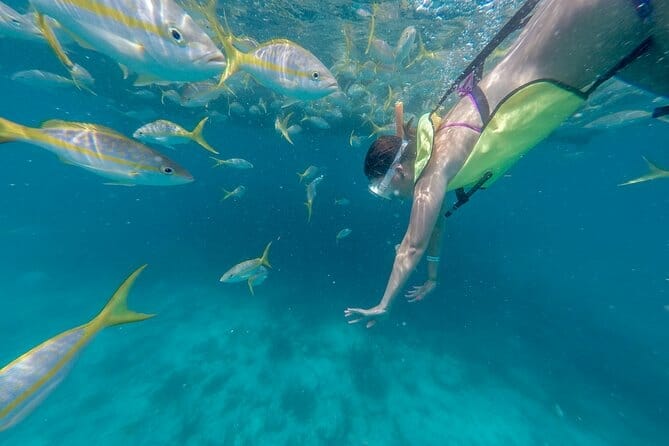 Set out on a remarkable snorkeling adventure in Key West's Great Florida Reef. Hop aboard the Marquesa, a spacious 69-foot catamaran, at Key West's historic seaport. Enjoy the sun and breeze as you head towards the only living coral barrier reef in North America.
Once you reach the reef, the friendly crew will provide you with snorkeling gear and a quick safety briefing. Dive into the water and explore the shallow reef, home to more than 600 species of colorful fish, coral, and other sea life. Keep an eye out for turtles, lobsters, and various types of fish like parrotfish and angelfish.
"What a fun, exciting snorkeling adventure we had at the Reef. The boat captain and crew were 5 star. They did an excellent job of training and explains the process of snorkeling at the Reef. The experience was amazing. The fish, the colors, the reef itself were amazing, This was a memorable excursion for us."
After your snorkeling adventure, relax on the deck of the Marquesa. You'll be offered beer, wine, or soft drinks to quench your thirst. Be on the lookout for dolphins that might swim alongside the boat.
As the tour comes to an end, the catamaran will take you back to the Key West Seaport. This snorkel tour promises an exciting day of underwater exploration and relaxation on the open waters.
Need-to-knows about this tour:
use of snorkeling equipment included
beer, wine, and soft drinks included
cash bar
⭐️ RATING: 5 out of 5 Stars, 83+ reviews | ⏳ TOUR LENGTH: 3 hours 30 minutes | ✔️ BOOK NOW
Come along on a fun family adventure with us as we head to the warm waters of Key West.
We'll go snorkeling to see animals and then look for wild dolphins in the Gulf of Mexico.
This trip starts on a big boat called the Seabreeze catamaran.
It's comfy and shady, and our local team will teach you about the animals and plants in Key West. You can ask them questions, and they'll tell you interesting things about our tropical home.
"Captain Zach and Charles were wonderful and very informative. Views were outstanding. Seeing dolphins was absolutely the best. Snorkeling was fabulous. Seeing all the fish including the shark was the greatest. Would do this again."
Get ready to jump into the water and see awesome things like starfish, rays, turtles, conch, corals, sponges, and colorful fish. Our guides will take us to the best spot to snorkel that day, like a special reef or the famous Great Florida Reef, the only natural reef in the United States. Every trip is different because we'll be looking for dolphins and enjoying whatever animals and birds we spot. Dolphins, eagle rays, sea turtles, ospreys, frigate birds, and migratory birds might come into view!
While we sail around, you'll see dolphins playing near beautiful islands. It's a cool way to spend time in nature and see animals in their own homes.
Need-to-knows about this tour:
snacks, bottled water included
snorkel equipment included
towels included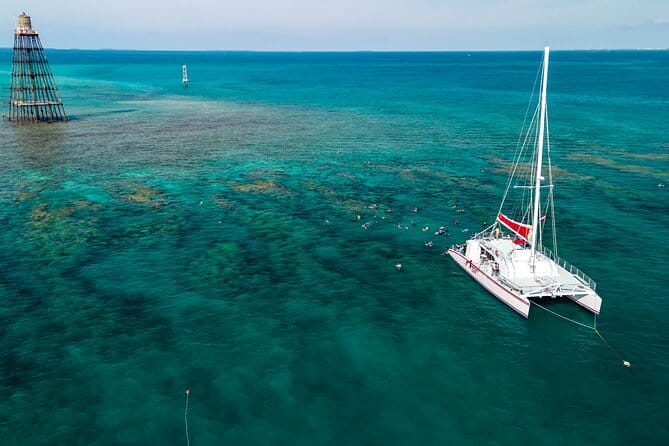 ⭐️ RATING: 4.5 out of 5 Stars, 240+ reviews | ⏳ TOUR LENGTH: 3 hours | ✔️ BOOK NOW
If you're interested in snorkeling in Key West but uncertain about where to plan your underwater experience, this Key West snorkeling cruise is designed to simplify everything for you.
By reserving this adventure in advance, you can enjoy a relaxing cruise to a captivating coral reef area—an ideal location for snorkeling and observing tropical fish.
The package includes all essential equipment, comprehensive lessons, a satisfying breakfast, invigorating showers, and your choice of a refreshing beer or soda.
"Jaime was excellent and very humorous. The coral reef and tropical fish were simply amazing. Breakfast consisted of Cheerios, blueberry muffins, and orange slices. Mimosas were great but you can't partake in drinking until you're completely done with swimming. Money well spent. I would definitely recommend this to anyone looking for a fun excursion."
Delve into the captivating world of a coral reef near Key West, fully equipped with all the necessary gear.
Prior to diving in, a knowledgeable guide will provide you with thorough snorkeling instructions, catering to your individual requirements.
Recharge with a hearty breakfast before embarking on your Key West snorkeling cruise.
Once your underwater exploration wraps up, make use of the rejuvenating showers available, and savor a chilled beer as you leisurely cruise back to shore.
Need-to-knows about this tour:
Breakfast included
Beverages included
Use of Snorkeling equipment included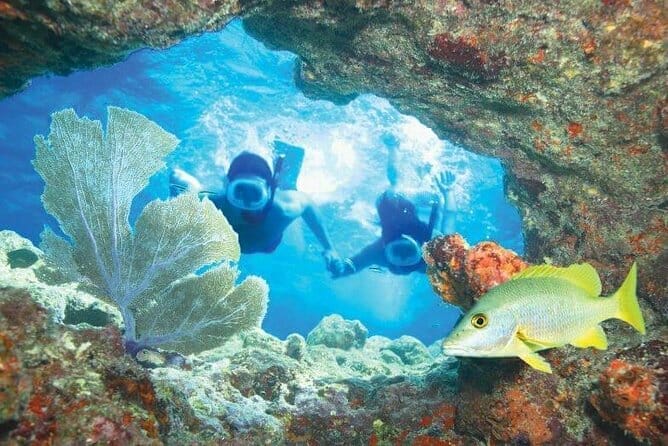 ⭐️ RATING: 4.5 out of 5 Stars, 275+ reviews | ⏳ TOUR LENGTH: 3 hours | ✔️ BOOK NOW
Join us for an amazing adventure where you can snorkel on the only living coral reef in North America and enjoy a beautiful Key West sunset all on a cool catamaran cruise.
Listen to fun reggae music, go snorkeling with the gear we provide, and watch the sunset while holding a yummy rum punch.
"Friendly staff, clean boat! Coral reef was amazing & the wild life was all around! Will be recommending this to everyone!"
This special trip is all about having a great time – you'll get to snorkel, listen to reggae music, and see a gorgeous sunset from the big open decks of the catamaran.
We'll even give you all the stuff you need to snorkel safely. And don't worry about the sun – we've got reef-safe sunscreen for you too!
Need-to-knows about this tour:
Top-of-the-Line Snorkel Gear
Professional Instruction
Complimentary sodas and water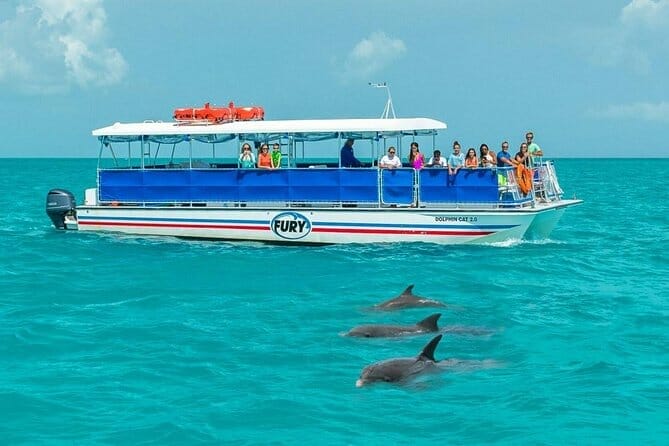 ⭐️ RATING: 4.5 out of 5 Stars, 870+ reviews | ⏳ TOUR LENGTH: 3 hours | ✔️ BOOK NOW
Get ready for a fun day in the sun! Join us for an adventure where you can watch dolphins and go snorkeling near Key West. We'll leave from Key West and you'll see dolphins swimming next to our boat. You can also jump into the water and snorkel to see all kinds of sea animals at the Key West National Wildlife Refuge.
"Crew did great finding dolphins, helping kids get in water to snorkel. Answered every question about dolphins from kids.."
While you're on the boat, you can relax, enjoy the warm breeze, and choose from different drinks to quench your thirst. Look around and enjoy the beautiful views as we sail with the dolphins. We'll also take you snorkeling in the quieter waters of Florida, where you can see many different kinds of fish.
And don't worry about drinks – you can have as many soft drinks as you want on the boat. We'll also give you all the equipment you need for snorkeling.
Need-to-knows about this tour:
3-hour dolphin cruise
Use of Snorkeling equipment
Unlimited soft drinks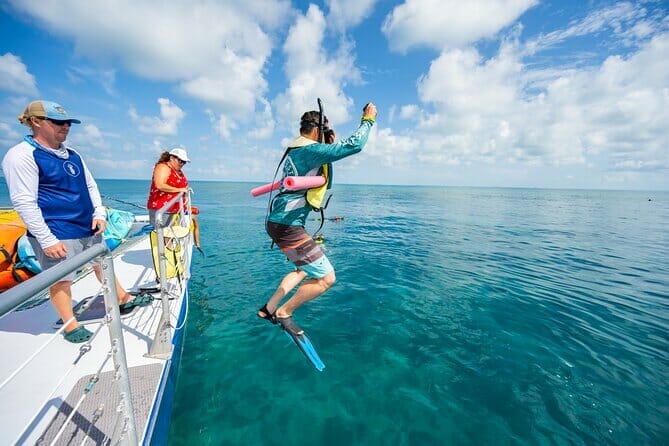 ⭐️ RATING: 4.5 out of 5 Stars, 552+ reviews | ⏳ TOUR LENGTH: 6 hours | ✔️ BOOK NOW
Get ready for an incredible day of excitement and relaxation on the Island T'ing adventure, right by the shores of Key West.
Step aboard a spacious catamaran, leaving behind the charming city of Key West as you set out to explore the crystal-clear, breathtaking waters of the Gulf of Mexico. Feel the wind in your hair and the sun on your skin as you sail away.
Embark on a kayaking journey, gliding through the serene and untouched beauty of a natural mangrove habitat.
Keep your eyes peeled for some of the ocean's most enchanting residents – playful dolphins, graceful stingrays, majestic sea turtles, and the gentle giants of the sea, the manatees.
"The crew was amazing! Had great facts about wildlife and the islands eco system. We stopped to see dolphins! While kayaking and snorkeling, we saw plenty of wildlife including a stingray and nurse shark!."
But that's not all – this adventure is packed with even more thrills, like snorkeling and dolphin spotting.
Of course, all this exploration is bound to build up an appetite. Don't worry – you won't go hungry!
A satisfying breakfast and a scrumptious buffet lunch will be provided, ensuring you stay energized throughout the day.
Need-to-knows about this tour:
1-hour kayak tour
Professional guide
Full breakfast
⭐️ RATING: 4.5 out of 5 Stars, 504+ reviews | ⏳ TOUR LENGTH: 4 hours 30 minutes | ✔️ BOOK NOW
Join us on an amazing tour that promises excitement and relaxation! To start your adventure, make sure to reach the meeting point at least 30 minutes before the tour begins. You can pick whether you want to go in the morning or afternoon when you book your spot. Don't forget to pack your swimsuit, towel, sunscreen, and either sandals or water shoes – these things will make your day comfortable.
Hop on our comfy boat and enjoy a tasty snack or breakfast while we set off from the dock. We'll sail through a lovely passage surrounded by lush mangroves, heading to a quiet sandy spot that most tourists don't know about.
As we cruise, keep an eye out for dolphins and sea turtles – you might see them doing their daily stuff! When we reach the hidden sandy area, you can put on the snorkeling gear we provide – a mask, snorkel, and fins – and explore the underwater world. Even if you're new to snorkeling, this is an easy and calm place to give it a try.
"Very memorable trip! Matthew and Isaac were AMAZING and attentive to our needs. Snorkeling was beautiful, kayak/ paddle board were fun, and food was delicious. I would definitely recommend them!."
Once you're done snorkeling, recharge with a yummy lunch that has something for everyone. After that, you can pick what to do next: paddle around in a kayak with our guide or just hang out on the sandy spot, soaking up the sun.
As the day winds down, relax with a glass of bubbly or a cold beer (if you're on the afternoon tour) while the sun sets – it's a beautiful sight. Then, we'll head back to the dock, wrapping up our adventure.
Remember, the captain might change our route a bit based on things like the tides and the weather. So, get ready for an awesome day full of fun, nature, and good times!
Need-to-knows about this tour:
Top-of-the-Line Snorkel Gear
Professional Instruction
Lunch
⭐️ RATING: 4.5 out of 5 Stars, 100+ reviews | ⏳ TOUR LENGTH: 3 hours | ✔️ BOOK NOW
Indulge in the ultimate underwater escapade that transcends the ordinary – Fury's Double Dip Snorkeling Tour in Key West.
Picture this: not just one, but two enthralling snorkeling experiences packed into a 3-hour expedition.
Step onto the fast and luxurious Fury catamaran and let the adventure begin.
"Captain Willy and Stephanie were great. They were very informative and answered all of our questions. We loved that he took us to an area with less people. The coral was beautiful!."
As you glide over the crystal-clear waters, prepare to explore the hidden treasures beneath the surface.
Fury's Reef Express, a state-of-the-art 57-foot power catamaran, is your ticket to swift and comfortable travel.
Designed for speed, it ensures you spend more time reveling in the mesmerizing underwater landscapes and less time commuting. Equipped with premium snorkeling gear, including mask, snorkel, fins, and a buoyant vest, you'll be perfectly primed to plunge into the turquoise realm. Seasoned guides will offer their expertise, enriching your journey with insights on optimal snorkeling techniques and ways to enhance your encounter with the aquatic wonderland.
At the heart of this journey lies the awe-inspiring reef, a haven for an array of vibrant marine species. Meet these colorful residents up close, forging a connection with the captivating marine ecosystem. But the adventure doesn't end there. Prepare for the "Double Dip" – an extension that transports you to another prime location on the reef, granting an additional hour and fifteen minutes of immersive snorkeling. And fear not, for as the snorkeling segment concludes, a delightful surprise awaits – complimentary cold beer and wine, a perfect touch to cap off your aquatic odyssey.
Need-to-knows about this tour:
Professional snorkel instruction
Top-of-the-Line Snorkel Gear
Reef Safe Sunscreen
Get the All-American Travel Secrets!
Don't miss out on America's hidden gems!