With its incredible Central Florida location, Orlando is well-suited to help visitors exploring both Florida coasts, the Everglades, and more on day trips from Orlando.
Now, as an Orlando native, I can tell you that any article suggesting day trips like Miami have never been to Orlando.
It can be a four hour drive (on a good day), and is definitely not what I consider a "day trip".
These are actual day trips from Orlando, where you can enjoy your day in the destination and come back at night at a reasonable hour.
These Orlando day trips range from beaches, to historic forts, to wildlife reserves, to theme parks (hello, LEGOLAND®!), so whatever you're in the mood for, hop in the car and let's go!
What to Bring to Florida
If you're not used to the Orlando heat, here are just a few suggestions on what to make sure you have with you, almost year-round.
Getting Around Florida
Don't forget that it's much easier to see Florida by car so you can get around on your own.
Rental cars are perfect if you're flying into the area.
We recommend using Discover Cars price comparison to find the cheapest deals.
Right, now that you're all set, let's get to those 21 best day trips from Orlando!
1. Daytona Beach
Distance from Orlando to Daytona Beach by car: 55 miles, about 1 hour
Famous for being a "Spring Break" destination, Daytona Beach is a hot spot for people looking for white sandy beaches on Florida's east coast.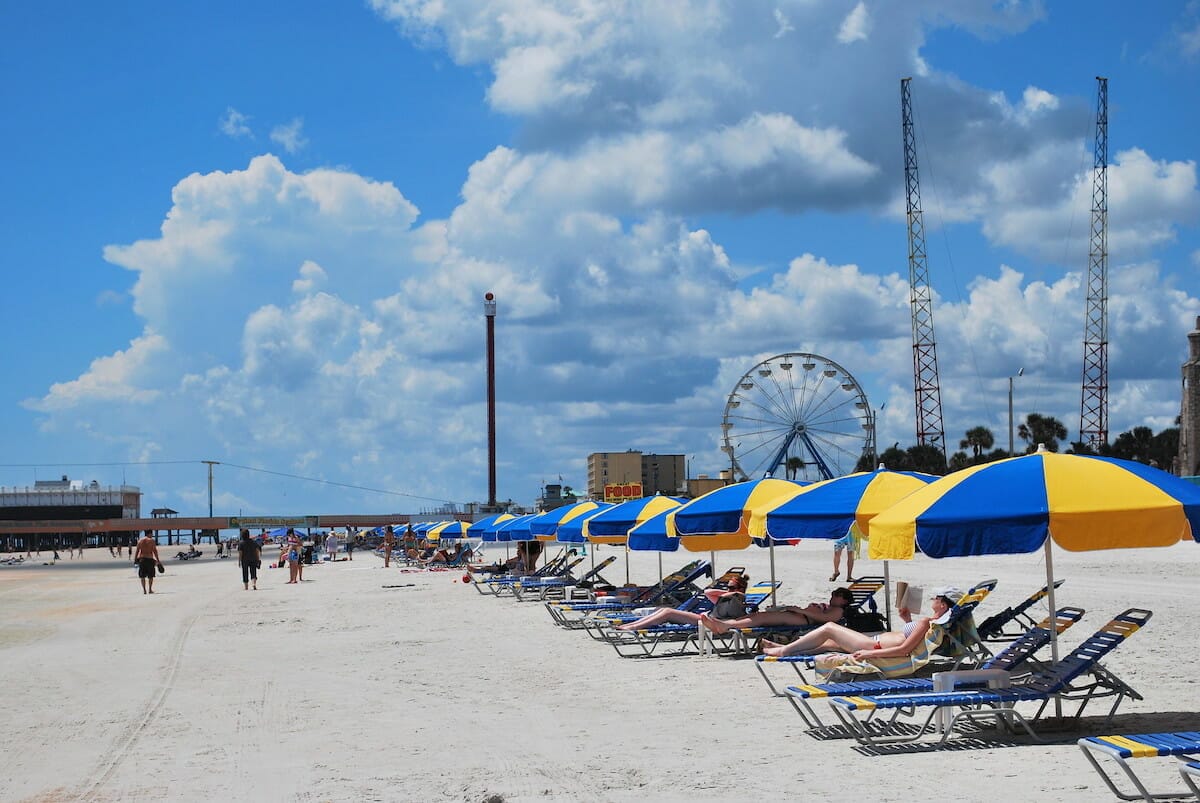 On some of the beaches, you can even drive on the beach, which is great for those hoping to be able to enjoy lunch from the back of their car or be closer to their surfboards and boogie boards.
This is one of the best Daytona tours – a paddleboarding experience as you go manatee and dolphin watching!
You can walk on the Daytona Beach Boardwalk to get some amazing views of the coast, or spend the afternoon in the Ocean Walk Shoppes shopping or eating.
If you haven't come specifically to put your feet in the sand and chill out, you can check out the Daytona Speedway, which hosts the annual NASCAR event the Daytona 500!
This is very much a "happening" place for people who want the hustle and bustle of a busy beach town while also being able to ride the waves.
2. Cocoa Beach
Distance from Orlando to Cocoa Beach: 60 miles, about 1 hour
If you're wanting to learn how to surf, visit the world's largest surf shop, or just enjoy one of Florida's best beach towns, Cocoa Beach is the place to go!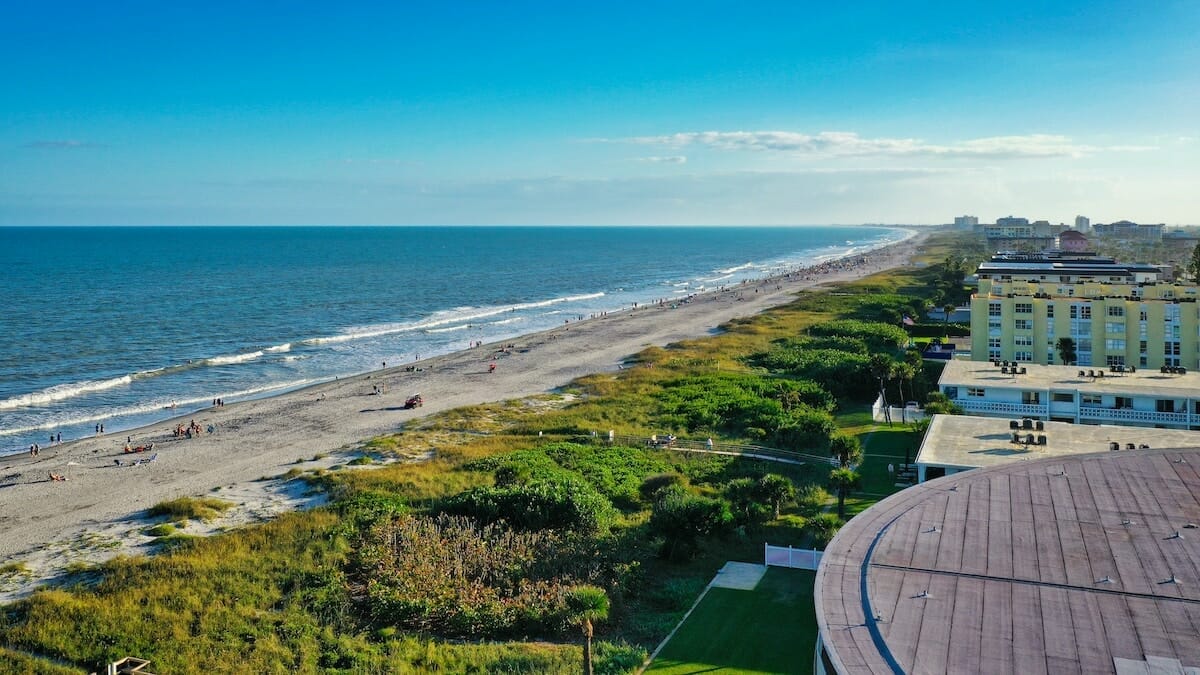 On Florida's east coast, Cocoa Beach has clean beaches, warm water, spectacular sunsets and basically everything you could want from an Orlando day trip.
If you want to do more than lay on your beach towel, consider a segway tour through the streets of Cocoa or you can embark on a kayaking expedition to explore some of the inlets while watching for dolphins.
You can also rent bikes for a low price here.
Unlike some beaches like Daytona, Cocoa Beach does not allow cars, so be prepared to park and then walk on the pathways through the dunes to get to the beach.
Before or after your beach day, don't forget to stop at Ron Jon's Surf Shop, whose Cocoa Beach location is the largest surf shop in the world at over 50,000 square feet!
There, you'll find everything from boogie boards to surf gear to T-shirts and souvenirs.
3. St. Augustine
Distance from Orlando to St. Augustine: 107 miles, about 1 hour and 40 minutes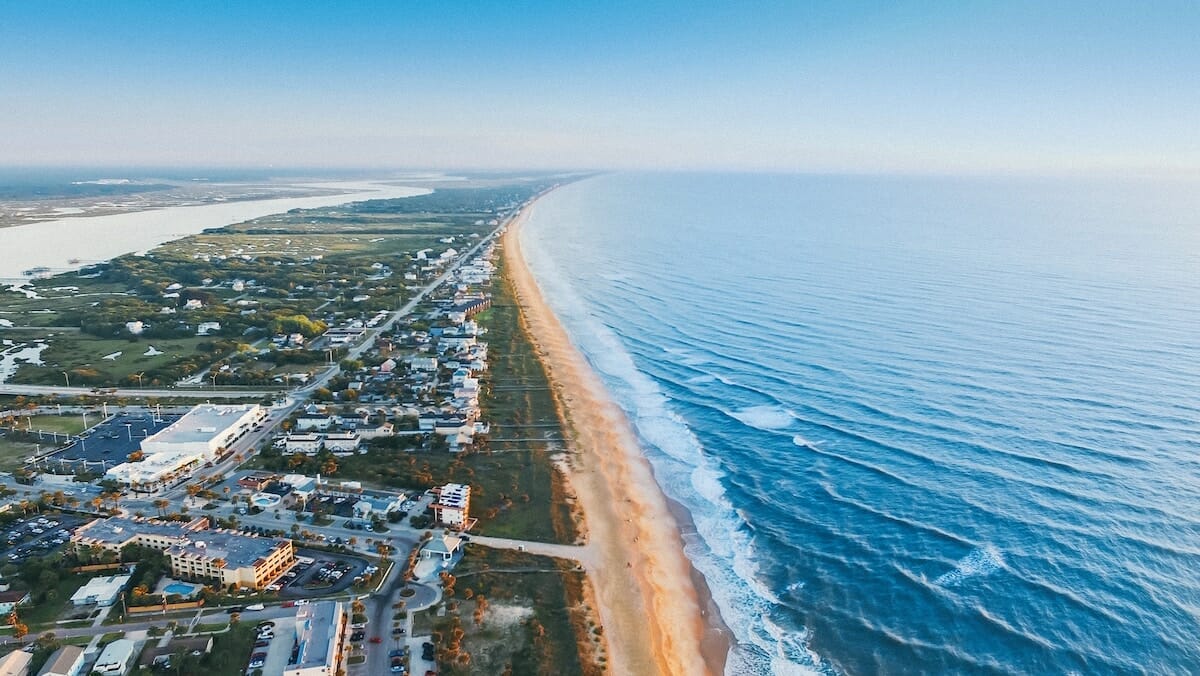 Founded in 1565 by the Spanish, St. Augustine is known as the oldest continuously inhabited European settlement in the US.
Who knew such history was waiting for you just under two hours from Orlando?
For history buffs, a day trip to St. Augustine would be incomplete without the experience of roaming inside the walls of the Castillo de San Marcos, a Spanish fort with gorgeous views of the ocean.
Or you can visit the Fountain of Youth, which is rumored to be discovered by Ponce de Leon, a Spanish explorer, back in the early days of St. Augustine.
This trolley tour is the best way to see the city in style – with maximum historic fun!
The cobblestone streets are sure to charm you, and the overall welcoming atmosphere makes this day trip even more memorable.
Local restaurants and shops tend to be family-run and boutique, so you know you're getting something special.
Go on a tour of historic Flagler College, admiring its red brick exterior, or hang out on the beaches of Florida's historic coast after a full day of sightseeing!
Distance from Orlando to the Kennedy Space Center: 45 miles, about 50 minutes
The Kennedy Space Center Visitor Complex is the world's must-do destination for anyone interested in the USA space program.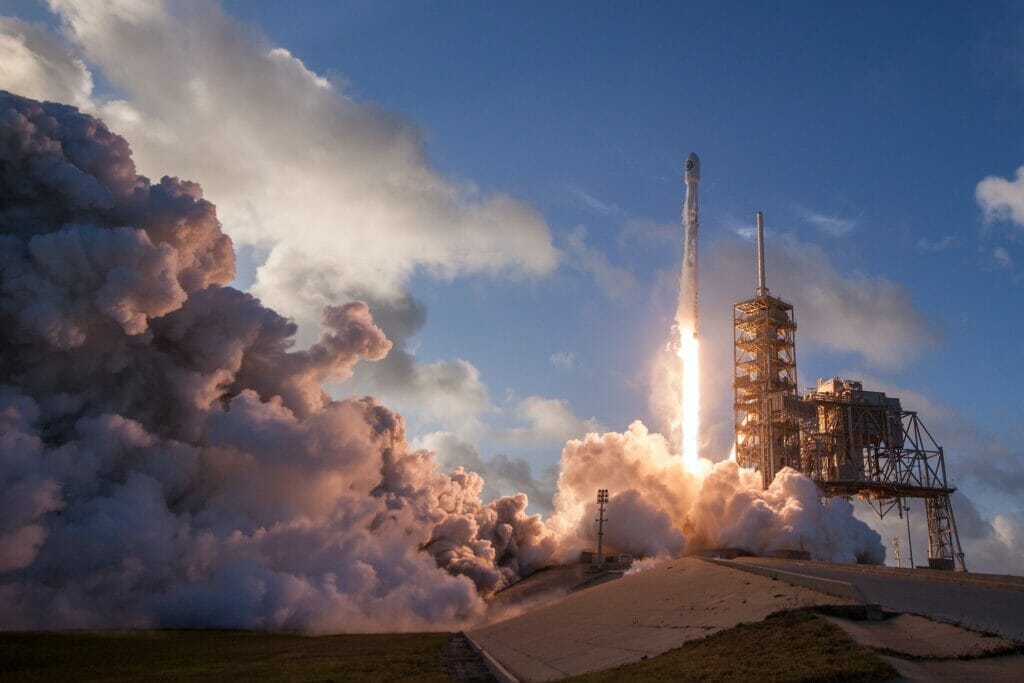 While Houston is well-known for being Mission Control, the Kennedy Space Center on Cape Canaveral is the true hub of the missions while they're preparing for launch.
At the Visitor Complex, you can meet real astronauts and ask them questions, get up close to retired space shuttles from the shuttle program, see moon rocks, enjoy interactive games and demonstrations to help build your knowledge of what it takes to manage a spacecraft, and so much more!
Not only that, but you can take a bus tour through restricted access areas, so you can see the launch pad, the runway to the launch pad, the buildings where the spacecraft are built and stored, and more.
If you're just heading out on a day trip from Orlando, plan to spend the whole day at Kennedy Space Center – it's that big!
If you have a weekend, you can also spend some time at the surrounding beaches on what's known as the "Space Coast".
There are also plenty of tours from Orlando to Kennedy Space Center.
5. LEGOLAND® Florida
Distance from Orlando to LEGOLAND® Florida: 51 miles, about 1 hour
LEGOLAND® Florida isn't actually in Orlando, but in a town called Winter Haven which is about an hour's drive from Orlando.
However, it's worth the trek for families with younger children who will be in LEGO heaven at this unique theme park!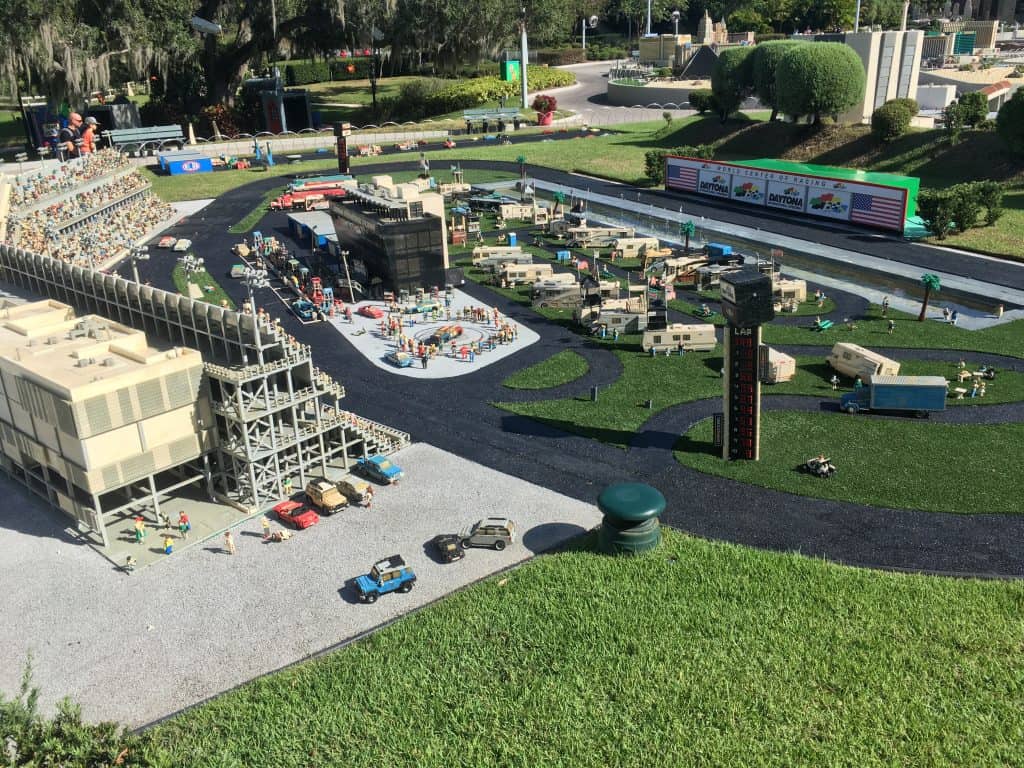 Everything here is LEGO-themed, from the water ski shows to the dining options to the roller-coasters to the LEGOLAND® Hotel.
In addition to the park, which has rollercoasters, dark rides, tons of LEGO-themed "cities", and Star Wars memorabilia, there's also the LEGOLAND® Water Park!
Adjacent to the main park, LEGOLAND® Water Park has a wave pool, giant slides, play areas for the little ones, and more fun LEGO-theming all around.
This is one of the best Orlando day trips for families with kids, and while it isn't the same level of theming and service as the Disney or Universal parks, it's a must-visit destination for any LEGO fans!
6. Clearwater
Distance from Orlando to Clearwater by car: 105 miles, 1 hour and 45 minutes
Take a drive to Florida's west coast and visit one of the most spectacular beaches along the Gulf of Mexico.
The name "Clearwater" rings true to the conditions you'll find here.
Clearwater Beach is the most popular attraction in the area, with white sand beaches and the most stunning sunsets you'll ever see.
Plenty of outdoor eating options on the beach means you can enjoy lunch or dinner without ever giving up the view.
If you want to head inland, you'll find the Clearwater Marine Aquarium just a few feet away, where you can learn more about the wildlife that lurks under the sea.
Or you can go in search of other entertainment options, like the Big Storm Brewing Company!
You can also take an amazing dolphin-watching tour like this one.
Clearwater is particularly great for families, as the shallow waters and soft sands make it ideal for little beach-goers.
7. St. Petersburg
Distance from Orlando to St. Petersburg by car: 107 miles, 1 hour and 40 minutes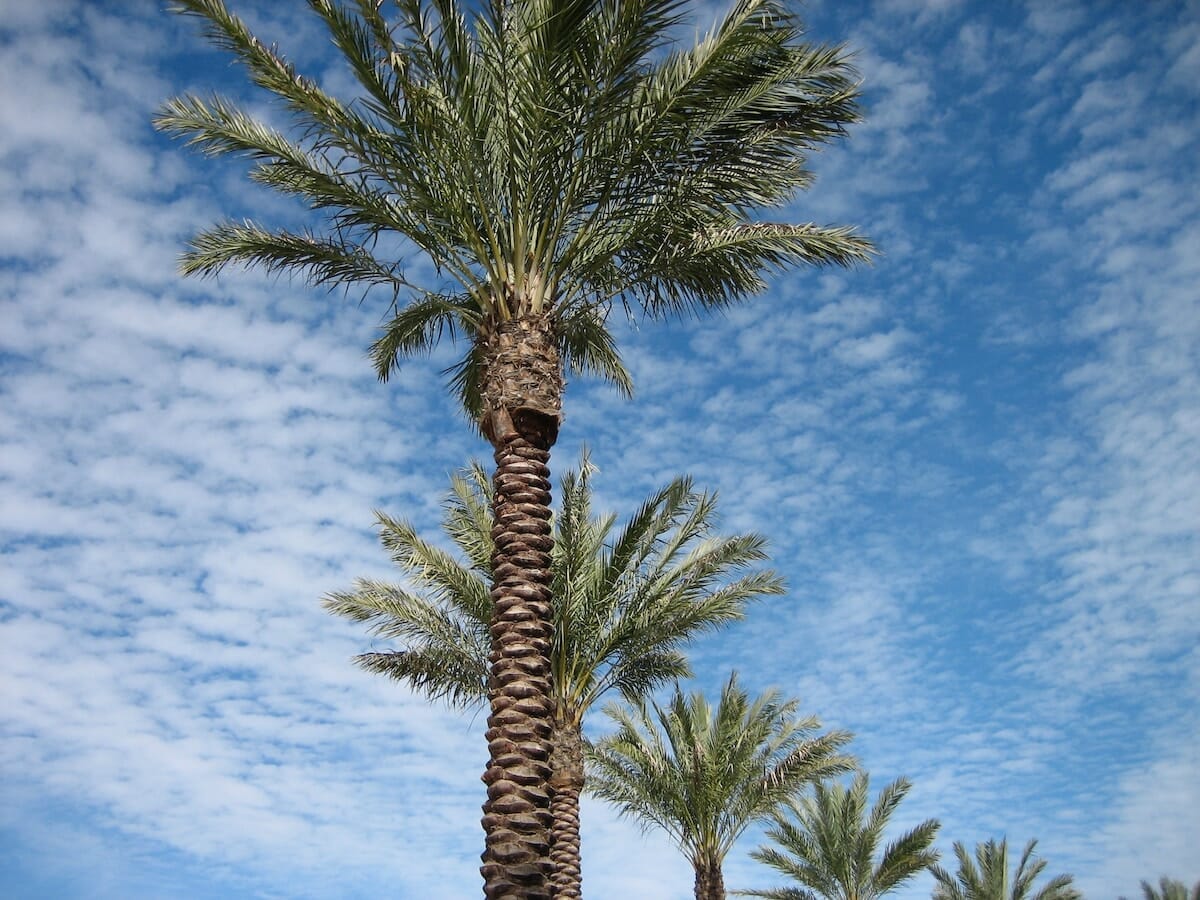 Not only does St. Petersburg have absolutely stunning beaches, but it's a treasure trove of museums, historic hotels, and a really vibrant local community that loves Florida and loves St. Petersburg.
Start with a visit to the Salvador Dalí Museum, one of the world's largest collections of the weird and wonderful melting clocks that Dalí was so fond of.
Continue your artist's day out at the Museum of Fine Arts, or go get some sun in your face as you drive along the Sunshine Skyway Bridge or wander along the St. Pete Pier.
This is seriously the coolest tour anywhere – kayaking with a glass-bottom kayak to see the wonderful world under the inlets!
Don't miss a visit to The Don CeSar, a quirky pink hotel that is as lavish inside as it is out, and explore the white sandy shores of St. Pete Beach (about a 15 minute drive from downtown).
8. Crystal River
Distance from Orlando to Crystal River by car: 86 miles, 1 hour and 30 minutes
Located in what's known as "Citrus County," Crystal River is another great destination for visitors hoping to see Florida springs and, in the winter, manatees!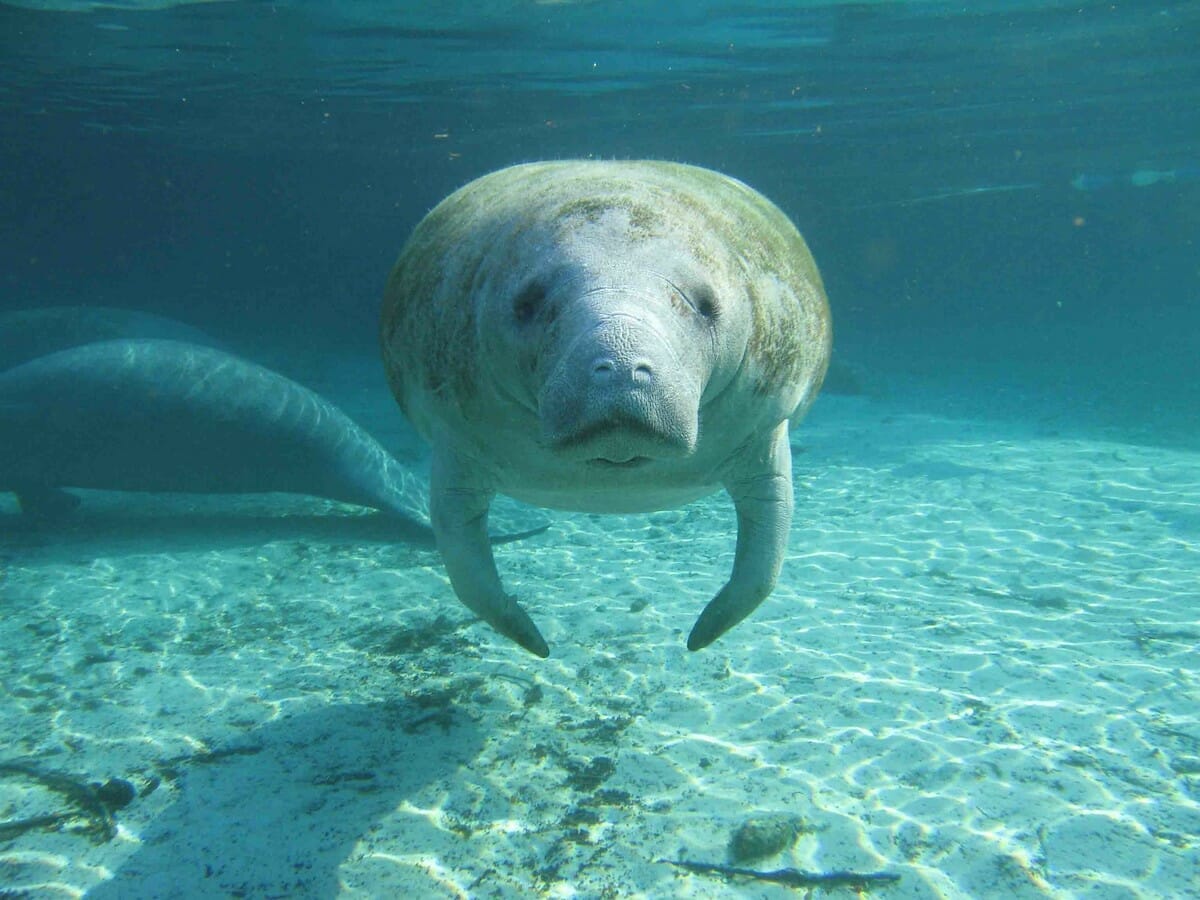 In addition to kayaking along the river or trying your hand at scuba diving through the springs, Crystal River has plenty of other fun things to do.
Explore the area's past at the Crystal River Archaeological State Park, or check out this awesome opportunity to swim with manatees!
If you want to buy some gifts for friends and family, many of the shops in Crystal River are located in adorably bright buildings with shiplap sides, offering a unique shopping experience and some local stories if you take the time to chat to the owners.
9. Tampa
Distance from Orlando to Tampa by car: 84 miles, 1 hour and 20 minutes
Take a day trip from Orlando to Tampa and you'll be right in the heart of another major Florida city with plenty of things to do.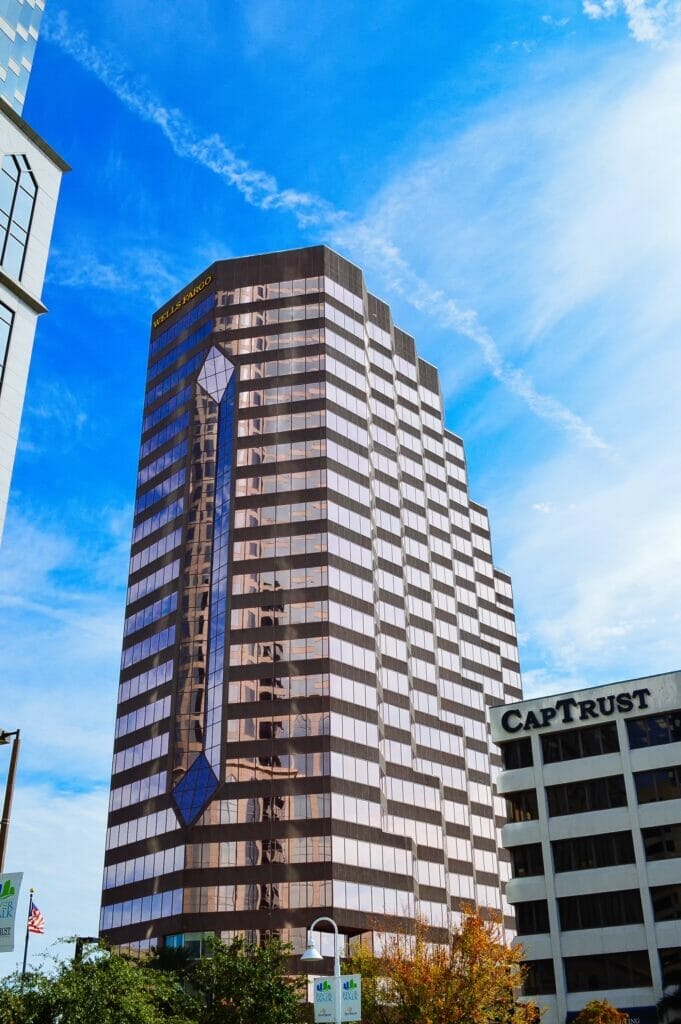 From spending the day screaming your head off on roller-coasters at Busch Gardens, to teeing off at one of the gorgeous Tampa golf courses, you'll have to get specific about what you want to do if you're only dropping in for one day.
Visit the Tampa Museum of Art for a cultured day out, support the Tampa Bay Buccaneers at their stadium as they face their latest rival in football, or check out the best Tampa breweries.
You've also got the Tampa Riverwalk for some hustle and bustle as you wander along the river, as well as kayaking options so you can see the river by boat (or take a guided boat tour).
You can also go on a dolphin-watching cruise like this one!
And of course, you can't forget the Seminole Hard Rock Hotel & Casino, which is a major favorite among Floridians who want to try their hand at casino games, and visitors stopping by for their big events.
Check out other things to do in Tampa here.
10. Mount Dora
Distance from Orlando to Mount Dora by car: 31 miles, 40 minutes
This charming town will keep your day trip from Orlando inland, as well as closer by than some of the other options.
If you like antiquing, eating ice cream as you stroll down cute streets, dining at family-owned restaurants, and popping into unique museums, this area is for you.
Mount Dora is super popular for its shopping options downtown, as well as regular events like Farmer's Markets and outdoor festivals.
It's particularly charming when decorated during the winter months, but is truly a great Orlando day trip year-round!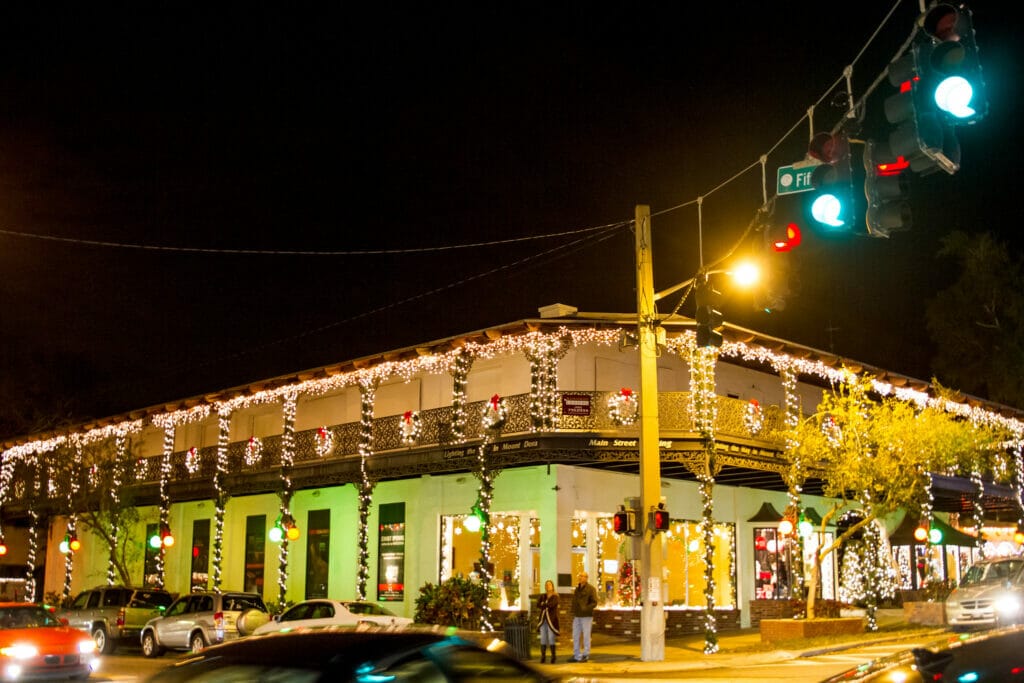 If you're into modern art, the Modernism Museum can't be missed!
This is more an adult-friendly day out if you're planning on shopping and eating, but there's also one of the best playgrounds in all of Florida here: Gilbert Park, which is a wooden playground with water views that your kids will fall in love with.
You can also have a picnic at Palm Island Park if you're all shopped out!
11. Siesta Key
Distance from Orlando to Siesta Key by car: 140 miles, 2 hours and 10 minutes
Siesta Key is one of the longer day trips from Orlando, but if you're really wanting to go to one of Florida's best beaches, it's worth it.
On Florida's west coast, just a short drive from Sarasota, this island is the place to be for relaxation – hence the name "Siesta", which is Spanish for a nap or rest period!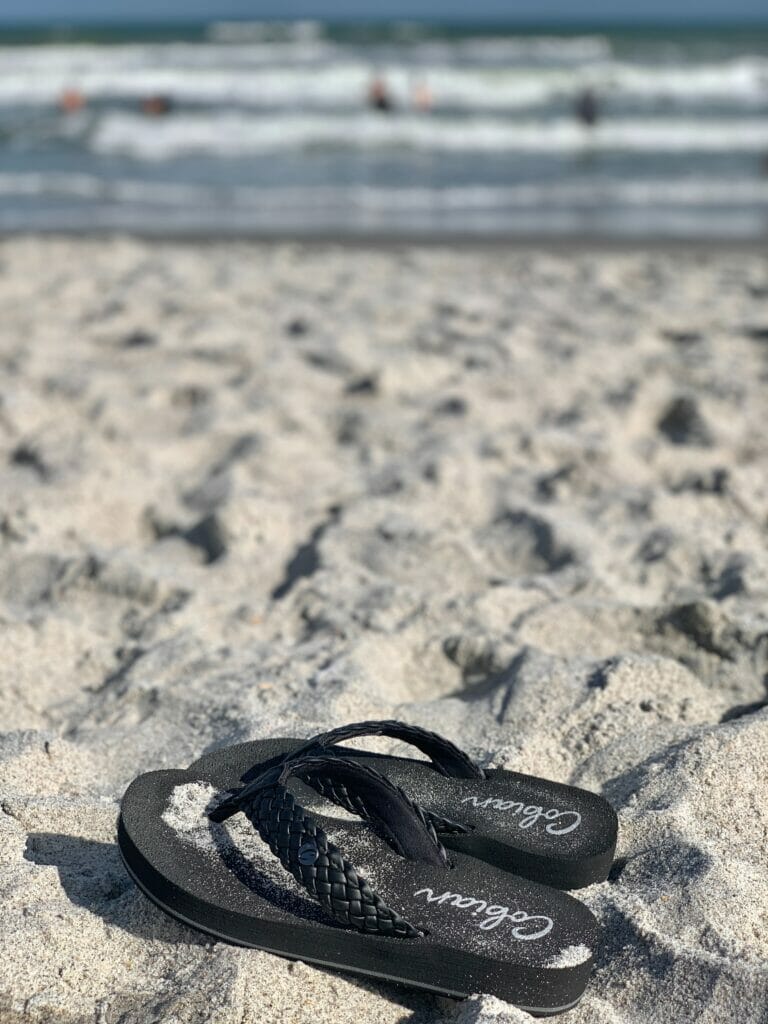 Feel the smooth, soft white sand underneath your feet as you walk along looking for perfectly formed shells.
Enjoy warm water that glistens in the sun, set up your day underneath a beach umbrella and let the family run free, or make it a point to spend some time together playing in the water or building sandcastles.
There's a free trolley to take you around the island, which is worth doing just to see the sights.
And if you're feeling adventurous, try parasailing over the wide open ocean!
12. Tarpon Springs
Distance from Orlando to Tarpon Springs by car: 113 miles, about 2 hours
Let's cut to the chase.
If you're going to Tarpon Springs, Florida, you're going to see the sponge docks.
Yes, sponges!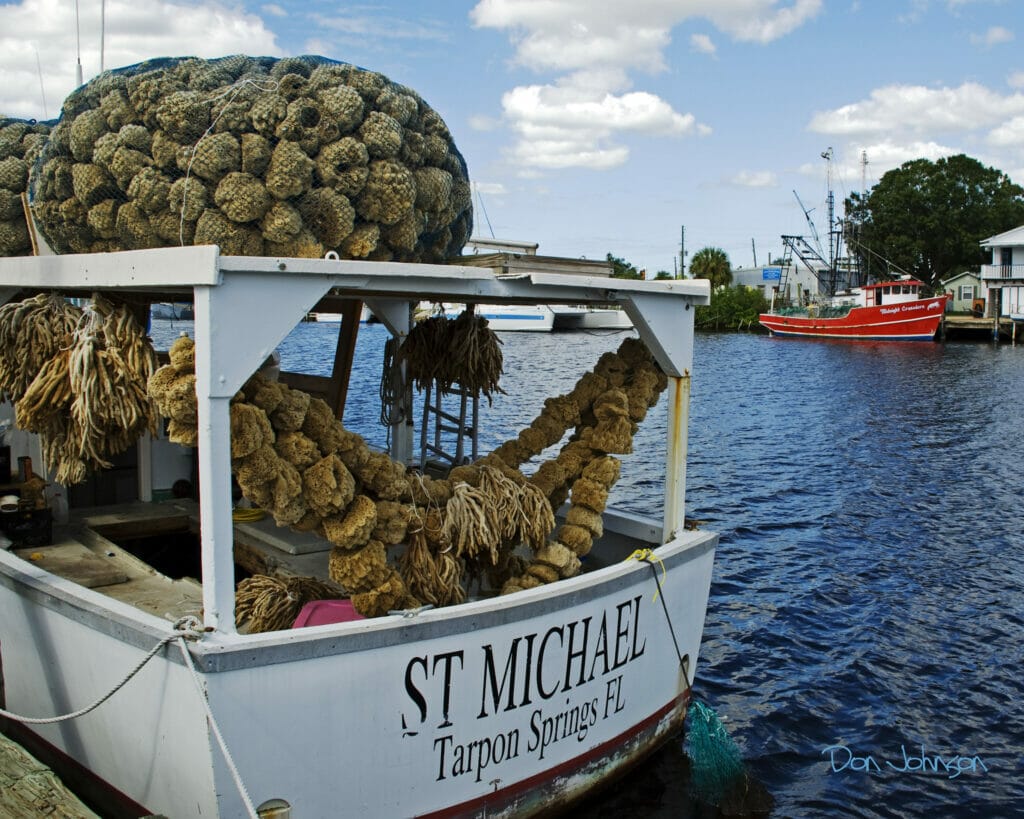 Built up by the community of Greeks who immigrated to this part of Florida, the Tarpon Springs sponge industry at one point was exporting more sponges than Florida was exporting citrus!
These sponges, collected by divers from the ocean, are high quality and have become the center of a fun day out as you can walk along seeing the sponging boats and experiencing delicious Greek restaurants and bakeries.
If you visit downtown, you'll also encounter plenty of antique shops and art galleries that put this area on the National Register of Historic Places.
It's a quirky, off-the-beaten path Orlando day trip that is great for people who feel like they've seen it all.
13. New Smyrna Beach
Distance from Orlando to New Smyrna Beach by car: 55 miles, about 55 minutes
With great waves for more advanced surfers and plenty of white sandy beaches, New Smyrna Beach is a popular day trip option for couples and families with teens.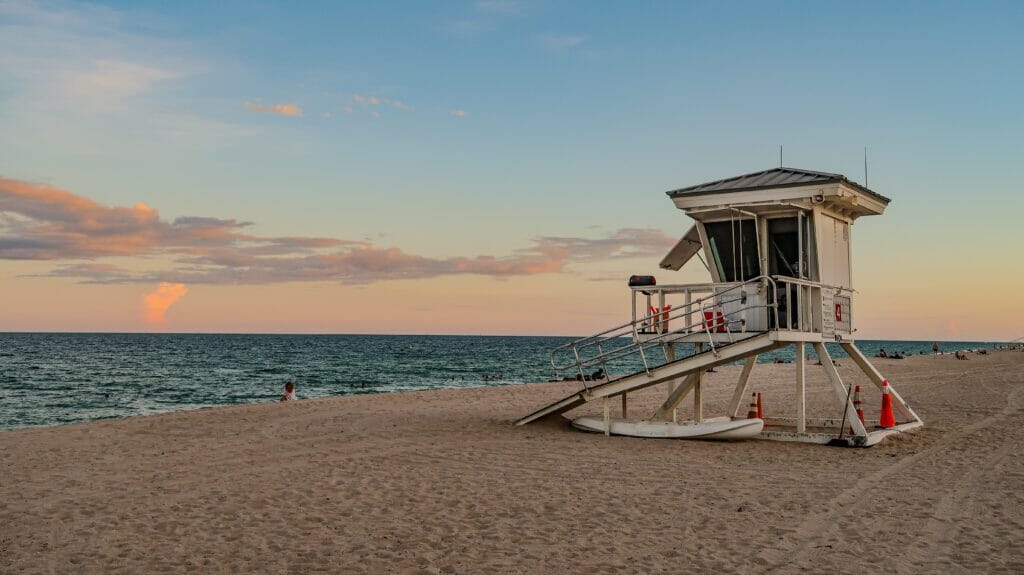 Check out the drive-on beaches where you can drive over packed sand to park your car and surf gear directly in front of the waves.
That means no traipsing back to the car for lunch!
If you've got your furry friends with you, there's a pet-friendly area at Smyrna Dune Park, which also offers gorgeous backdrops of the stunning white sand dunes.
If you're in the mood for some culture, there are lots of boutique art galleries and local museums – like the Peter Wolf Toth Museum, which is filled with quirky outdoor sculptures.
14. Blue Springs State Park
Distance from Orlando to Blue Springs State Park by car: 33 miles, about 40 minutes
There's a hidden gem near Orlando that is different from all of the other state parks in the area.
What makes Blue Springs State Park stand out above the rest?
It has manatees!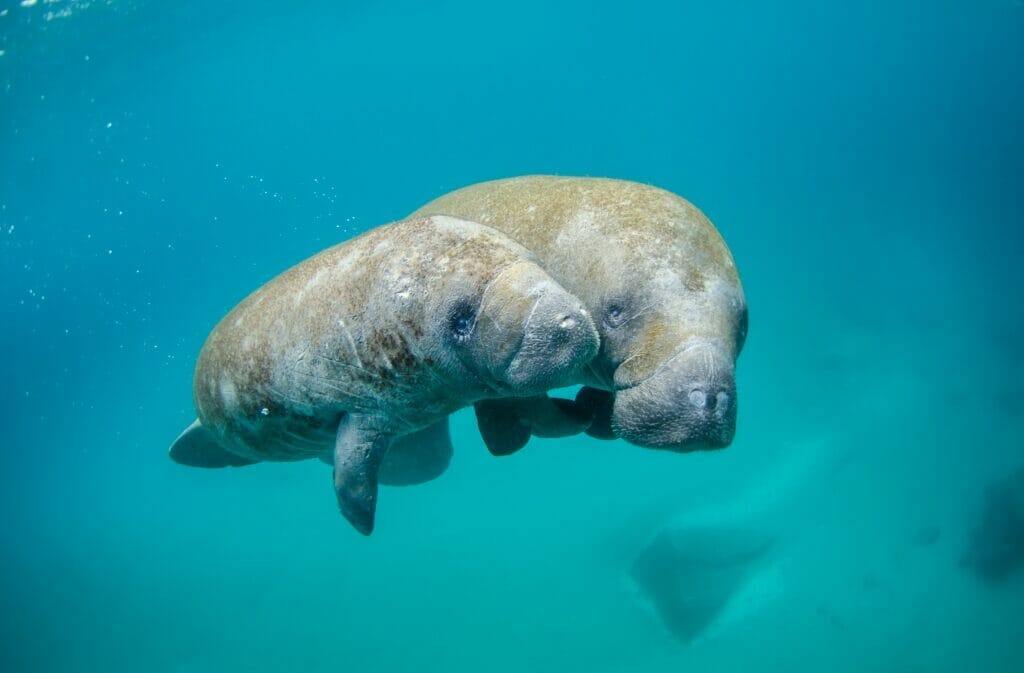 These gentle giants come to Blue Springs State Park every winter, from about mid November to mid March, when the 72-degree waters are nice and warm for them.
Come during this time and you'll be able to see manatees all over the place, lazily spending the day bobbing around in the water.
Because they're springs, the water is also crystal clear, and in the summer months you can swim, snorkel, or even scuba dive.
In the winter, rent a canoe or kayak or go on a guided boat tour which will not only take you past manatees, but also other Florida wildlife like ospreys, alligators, and so much more.
15. Alexander Springs Recreation Area
Distance from Orlando to Alexander Springs Recreation Area: 57 miles, about 1 hour and 5 minutes
This gorgeous spring in the Ocala National Forest is a paradise for visitors wanting to take a dip in some of Florida's fresh waters.
Because the spring is so gently sloped, this is a perfect spring for families to enjoy together.
Go for a swim, bring a picnic to enjoy, or rent a canoe to travel over the water rather than through it.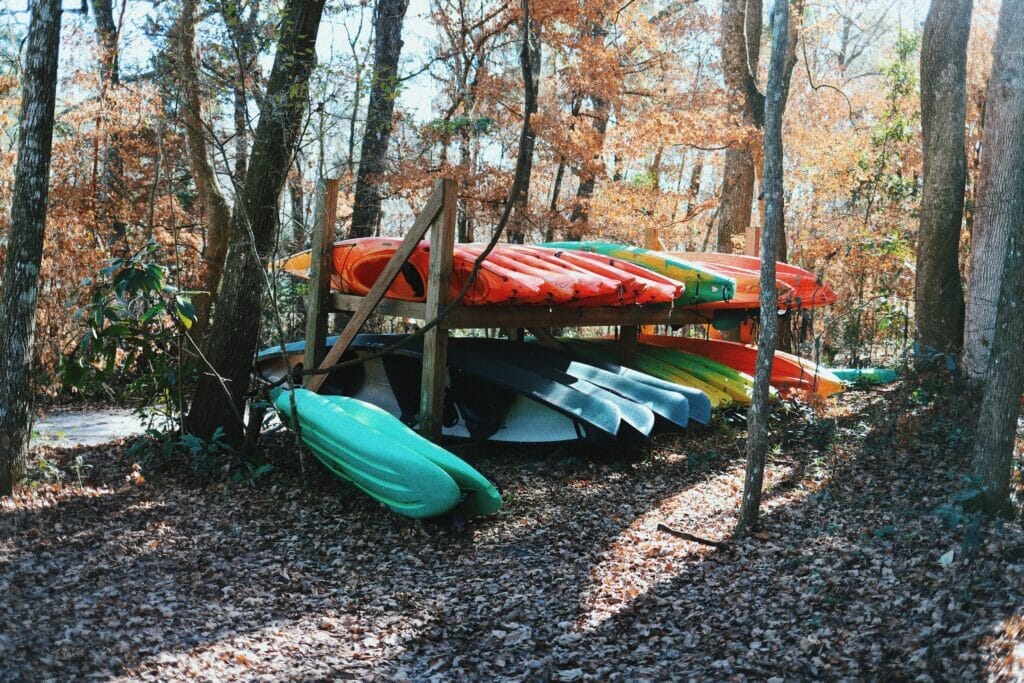 The best time to visit is in the spring, when the crowds are lower than in the busy summer months.
This is definitely one of the most local Orlando day trips.
You won't find too many tourists here, but instead friendly Floridians who call this vacation state their home and are looking to have some fun in the sun without the price tag.
16. St. Sebastian River State Park
Distance from Orlando to St. Sebastian River State Park by car: 87 miles, about 1 hour and 20 minutes
It's not often in Florida that you see the word "forests," but St. Sebastian River State Park is an excellent place to go if you want to wander through the trees.
Nestled off of the St. Sebastian River, this state park preserves longleaf pine forests – one of the few remaining in the state.
You've got plenty of walking and biking trails to get active, as well as natural birdwatching and wildlife watching spots.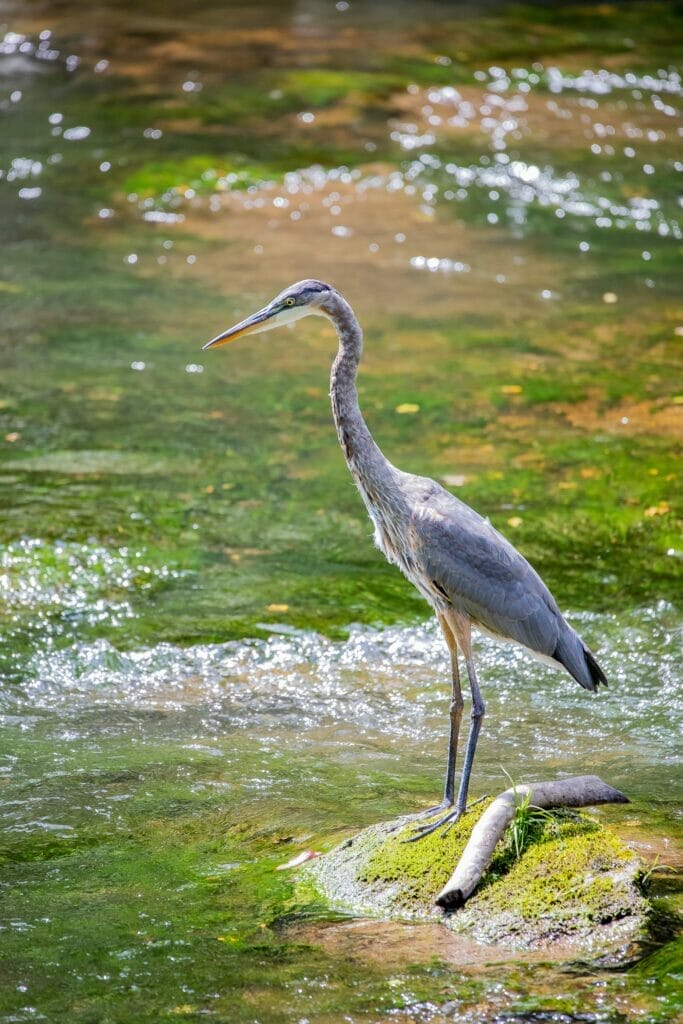 You can also go fishing in the pond, as well as in the St. Sebastian river, and horseback riding is hugely popular here!
If you do want some water-based adventures, go kayaking in the St. Sebastian River to see what kind of wildlife you can spot along the banks.
17. Wild Florida
Distance from Orlando to Wild Florida: 40 miles, about 45 minutes
Where can you see an albino alligator, hold a sloth, or go on an Everglades airboat tour?
Wild Florida, of course!
This attraction is truly in the middle of nowhere – and that's a good thing.
This is Florida as nature intended: wild and rugged, filled with alligators (in the water, not running after you!), and ready for adventurers to explore.
We took part in the sloth experience at Wild Florida, which is a memorable encounter with these slow-moving creatures.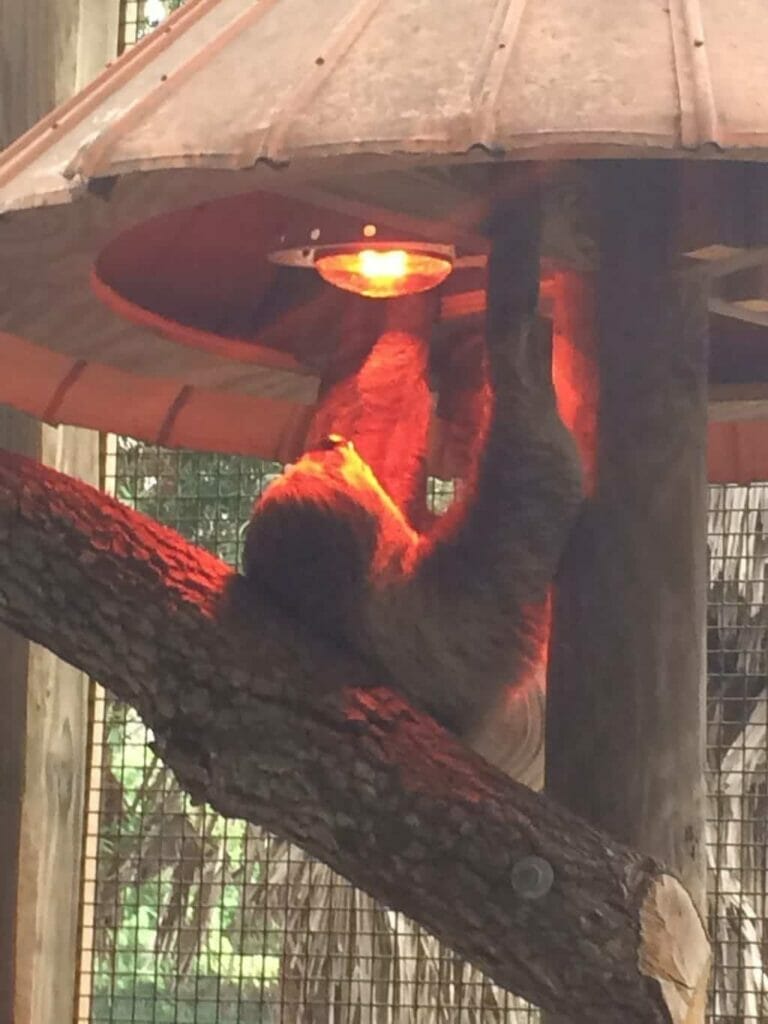 You can also see lemurs, zebras, and more exotic animals at the animal park.
Take an airboat tour through the Headwaters of the Florida Everglades in the morning, afternoon, or night for a different experience each time, and enjoy a day far away from the crowded lines and hustle and bustle of Orlando.
There's an on-site barbecue restaurant as well, so you don't have to worry about packing food.
18. Sarasota
Distance from Orlando to Sarasota by car: 131 miles, about 2 hours
Sarasota is a gateway to some of Florida's best beaches, but that's not why it's on this list of the best day trips from Orlando.
No, it's because Sarasota is awash in culture, and sometimes in Florida, culture can be hard to find (sorry, Mickey).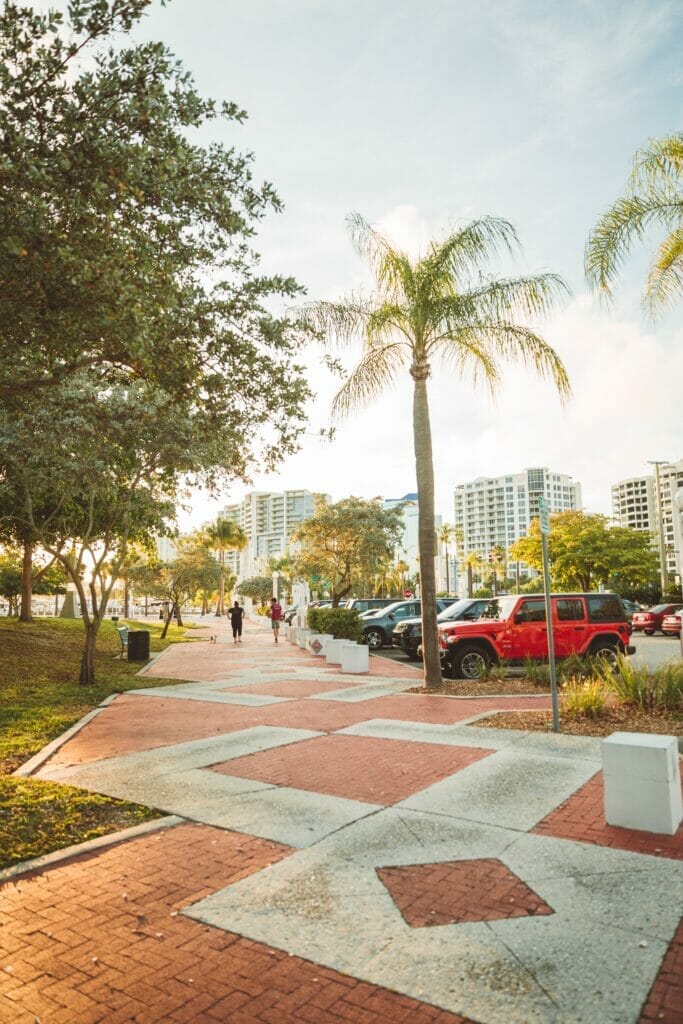 Spend the day here visiting the John and Mable Ringling Museum of Art, which pays homage to the Ringling family and has everything from art collections to old costumes and wagons from the world's largest circus.
You can also stop by the family home of the Ringlings, the Ca'd'Zan Mansion, which was built in 1926 in a Mediterranean Revival style and spans 36,000 square feet!
19. Gainesville
Distance from Orlando to Gainesville: 111 miles, about 1 hour and 40 minutes
If you're taking a day trip from Orlando to Gainesville, it's likely that you've got one thing in mind: the University of Florida.
Gainesville is very much a college town, with UF dominating the area, and of course, the football fans.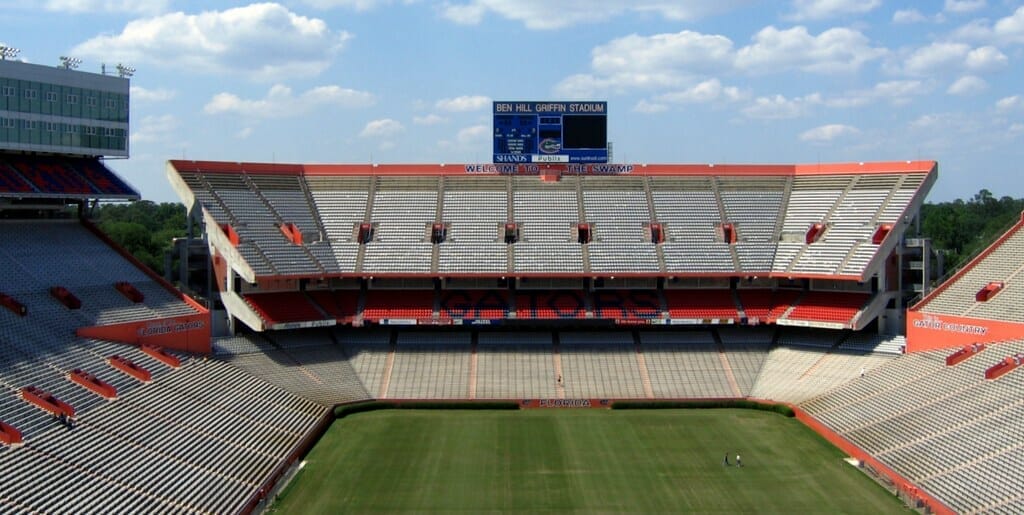 Take a tour of the UF campus to see where football greats like Tim Tebow went to school, take a look at the "Swamp" (the football stadium), or just enjoy the beautiful architecture dotted around the campus.
If you've got extra time after visiting UF, you might be surprised to find that there are other things to do in Gainesville, many of them geared towards Florida nature.Visit the Butterfly Rainforest to walk through different butterfly habitats and feel a tickle as they land in your hands.
Check out the Florida Museum of Natural History, known as the best natural history museum in Florida for its collection of fossils and other natural history exhibits that put Florida's natural wonders on full display for future generations to enjoy and protect.
20. Weeki Wachee Springs State Park
Distance from Orlando to Weeki Wachee Springs State Park by car: 92 miles, about 1 hour and 45 minutes
Orlando may have the magic of its theme parks, but did you know you can see live mermaids just less than 2 hours away?!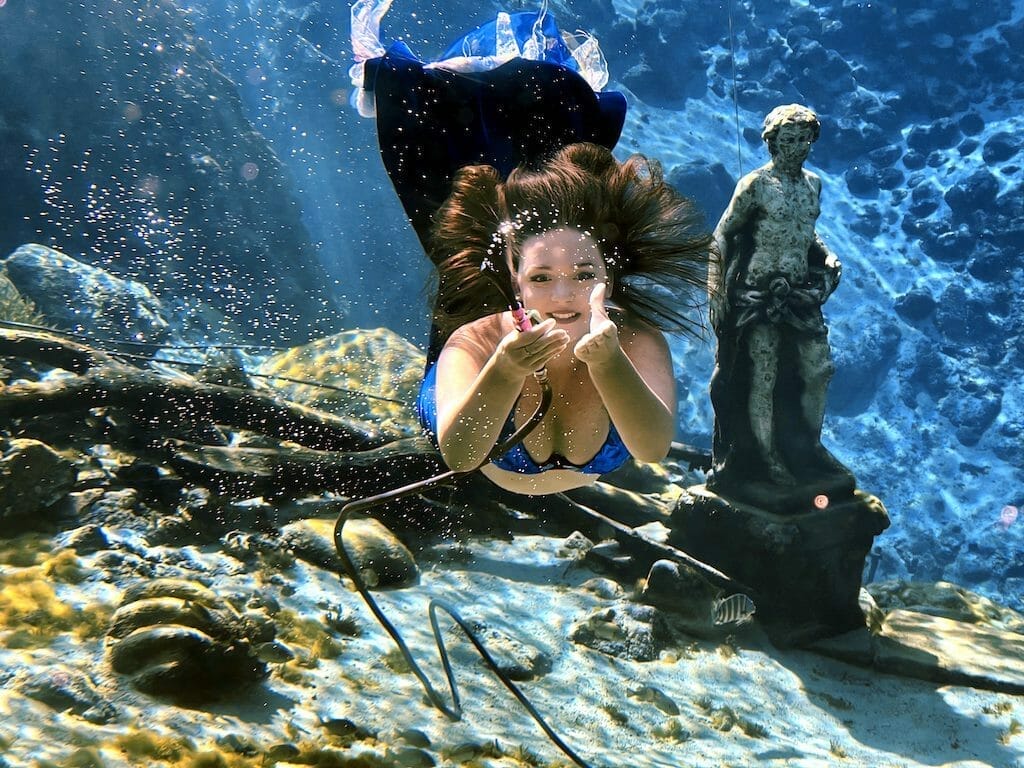 One of the most magical day trips from Orlando is to Weeki Wachee Springs State Park, where the performing mermaids are sure to enchant visitors of all ages.
Watch a family-friendly show where these talented women perform underwater, or dive into the springs yourself at the water park, Buccaneer Bay, which features two water slides that lead into clear spring water!
Go paddling on the Weeki Wachee River, or take a boat tour and learn about the natural wildlife in the area.
There are plenty of dining options in the park, but you can also pack your own lunch to enjoy in the picnic area by the water park.
21. Sebring
Distance from Orlando to Sebring by car: 95 miles, about 2 hours and 10 minutes
Visit Sebring and fall in love with "The City on the Circle"!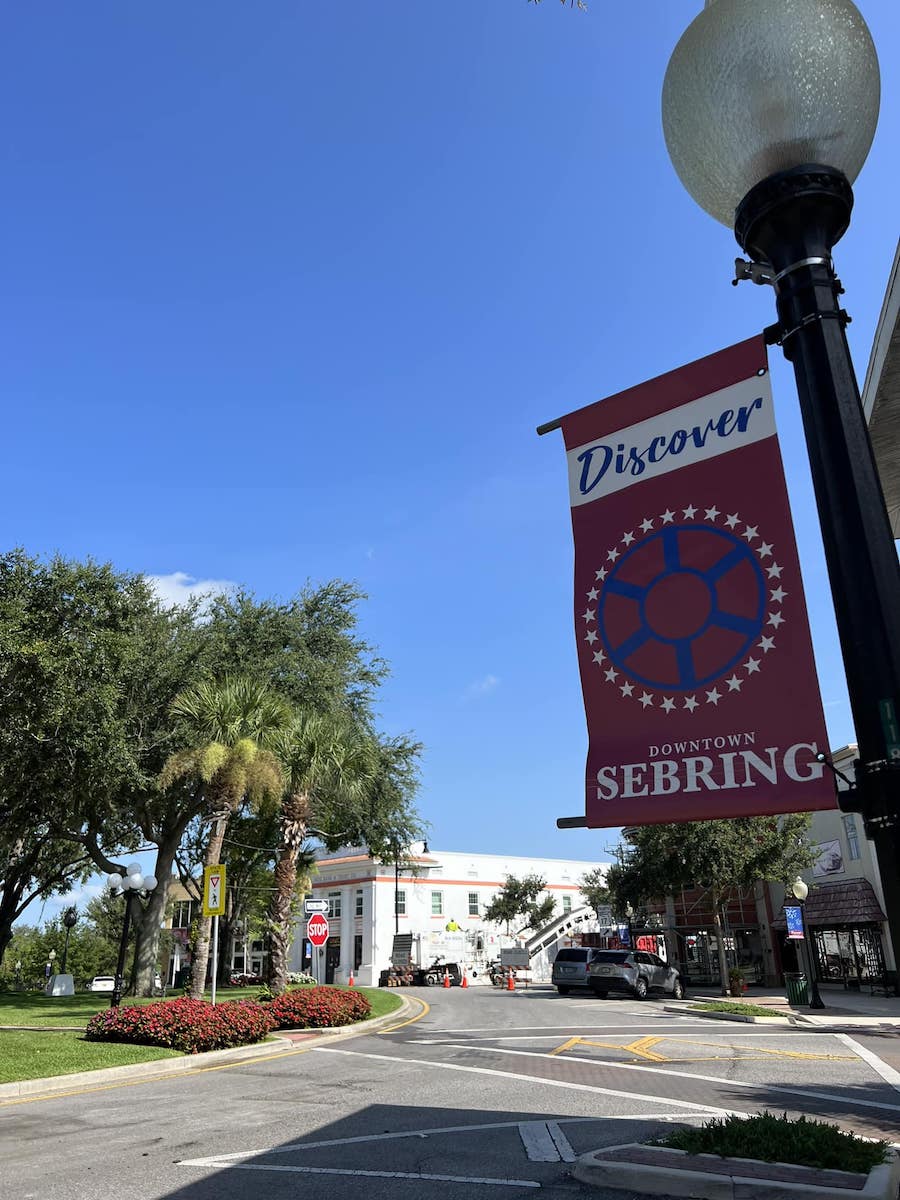 This beautiful town is centered around the breathtaking Lake Jackson, where fishing enthusiasts are sure to have a blast.
But it's the town center that really makes Sebring shine, with its charming park in the middle of Circle Park Drive, and colorful buildings all around that house lovely little shops, salons, and eateries.
Bring the kids to the Children's Museum of the Highlands, or have an adults-only evening at the circus-themed Mon Cirque Wine Bar!
If the lake is calling your name, there's a beach by the fishing pier, or head over to Veterans Beach for a swim and a picnic in the shade.
And of course, if it's an adrenaline rush you're looking for, be sure to find out what's happening at Sebring International Raceway!
Hey! Want more Orlando content? Check out these guides!
Pin for later!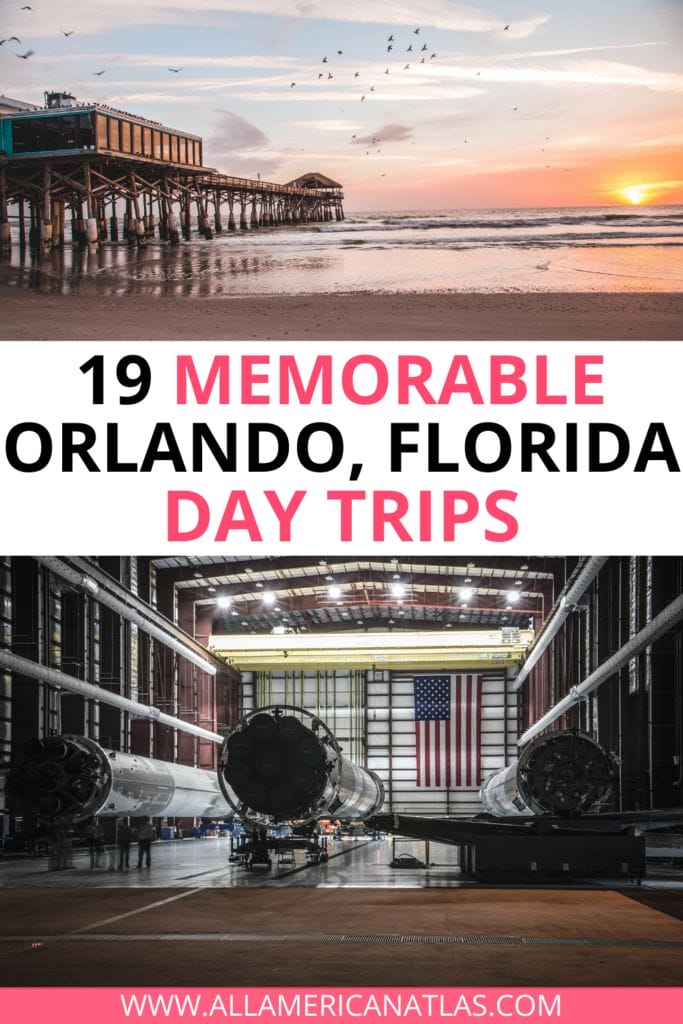 Get the All-American Travel Secrets!
Don't miss out on America's hidden gems!