From crispy hash browns to sophisticated poached eggs, these restaurants are where to get the best breakfast in Orlando.
Visit a hometown diner for friendly locals or get dressed up and plan a special breakfast event in an upscale eatery.
Whether you want something light like granola bursting with fresh berries, or you're looking forward to eating your weight in cinnamon and sugar pancakes (trust me, that can be arranged), you'll absolutely be able to find what you're looking for.
Luckily for breakfast lovers in Orlando, the city is full of options, but to save you from having to test every single one (okay, that doesn't actually sound that bad), here are some of my favorites.
Don't forget you can also check out a tour of Orlando that involves some food stops!
1. Hash House a Go Go
With a prime location on I-Drive, this quirky restaurant (if you couldn't tell by the name) serves up some of the best chicken and waffles, pancakes, and scrambled eggs in the business.
Their motto is "Twisted Farm Food," and everything here has Midwest roots as the original location began far away from Orlando on the other side of the country.
Have classic flavors like buttermilk pancakes drizzled in maple syrup, or get adventurous with Snicker's pancakes, cinnamon churro waffles, and so much more.
The crispy potatoes are actually crispy (my favorite), and the portions are so generous that you're better off not eating the night before so you can fit it all in (or take it home and have breakfast for lunch or breakfast for dinner).
Location: 5350 International Drive, Orlando, Florida, 32819
Check hours and the menu here.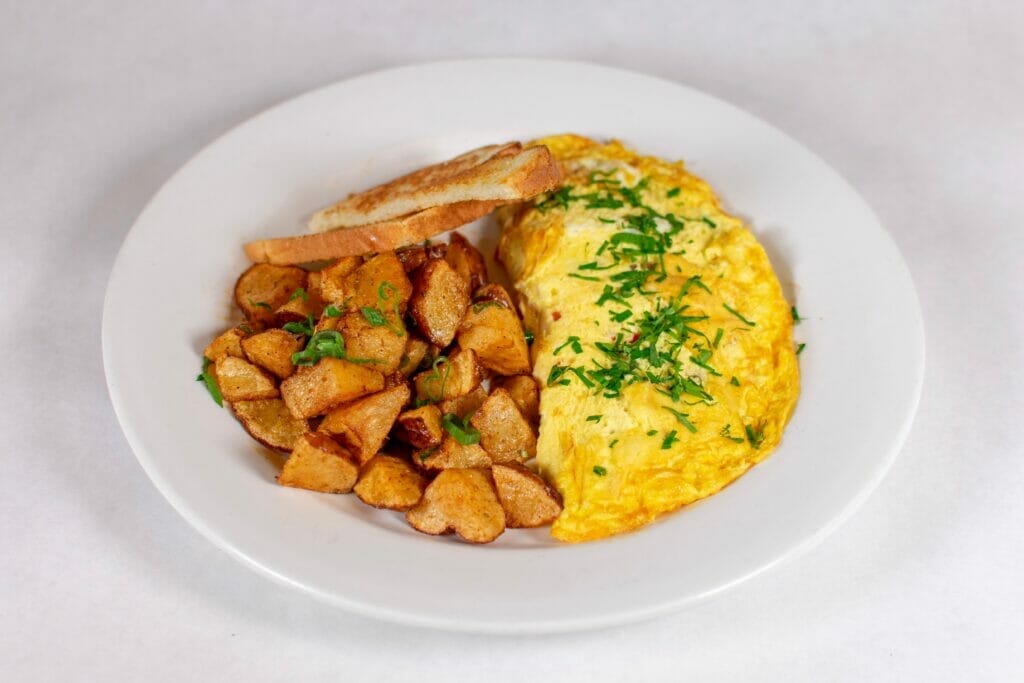 2. Omelet Bar UCF
This hip breakfast restaurant, located near the UCF campus, is perfect for all of your Instagrammable breakfast or Orlando brunch needs.
With a menu that changes with the seasons, you can be sure that you're getting the freshest ingredients and, yes, your favorite pumpkin flavored drinks when the weather turns cold (well, it's Florida, so it's never really cold, but cool…er).
This Orlando breakfast restaurant is bursting with original flavors like Caramel apple waffles, PB & J pancakes, and a sausage gravy recipe that you have got to try.
You don't have to dress up fancy for a visit to the Omelet Bar (that's the sound of college students sighing in relief).
Just come as yourself, ready to enjoy the fun atmosphere and delicious breakfast options.
Location: 12250 Strategy Blvd Suite 401, Orlando, Florida, US, 32817
Click here to check out the Omelet Bar.
3. Dixie Belles Cafe
This down home cafe is where you go when you want classic homestyle cooking, including biscuits and gravy that seem to overflow from your plate (in the best way possible), hearty scrambled eggs, and the best French toast around.
It's family-friendly (emphasis on friendly), the grits are just like your grandma used to make, and they even offer catering so you can enjoy one of Orlando's best breakfast places no matter where your event is in the city.
Prices are extremely reasonable, and you'll soon be part of the family.
Location: 7125 South Orange Avenue, Orlando, 32809.
Click here to check out Dixie Belles Cafe.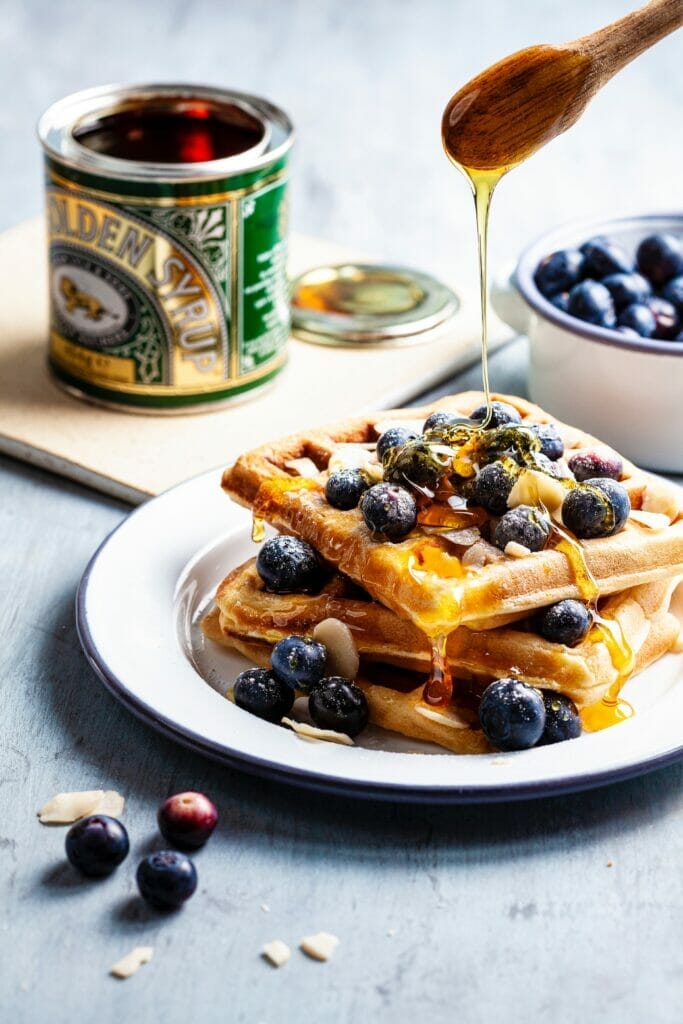 4. Kekes Breakfast Cafe
With locations all around Central Florida, Kekes specializes in breakfast (hence the name) and really nails it every time.
This is somewhere you'll be equally welcomed eating in your Sunday best or your Sunday sweats, and is a great option when you're looking for delicious breakfast food in a nicely lit and beautiful atmosphere with the fuss and stuffiness of a "fancy" restaurant."
From the French toast to the waffles to the sliced home fries and crispy bacon, Keke's has something for everyone on the menu.
Eat healthy with poached eggs and some fruit or really embrace the breakfast experience with a banana split waffles (oh yes, that's a thing).
The service at Keke's is friendly and prompt, and if you've got mixed tastes in your dining party, they start offering lunch as well at 10:30am so some people can get their breakfast fix while others move on to the next meal.
Click here to check out opening hours and locations.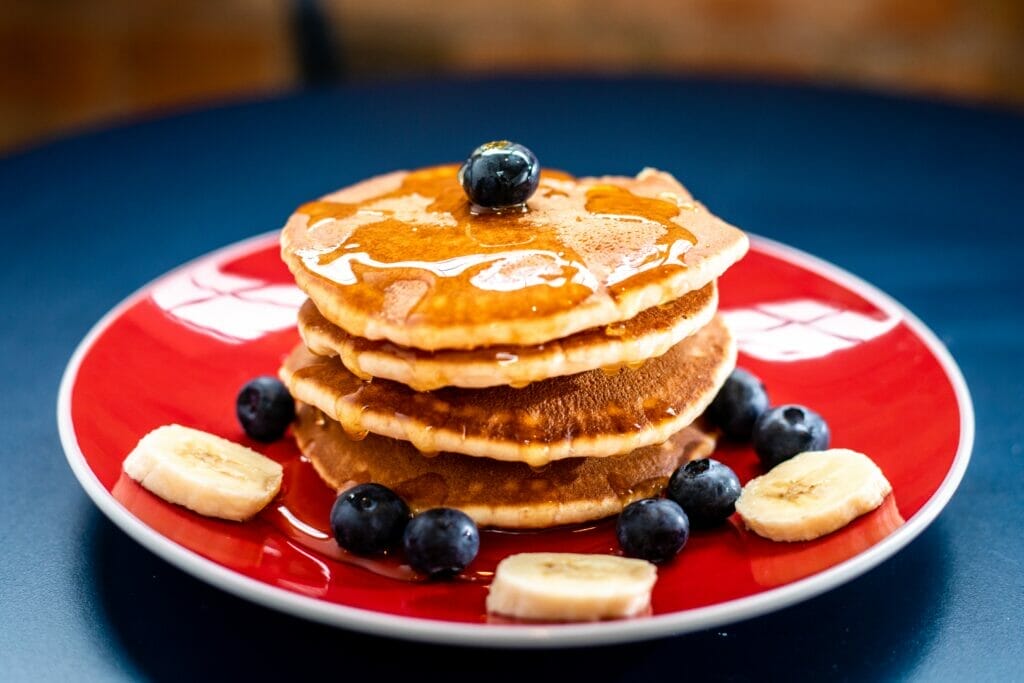 5. First Watch
When you're hoping for something a bit healthier, but still with amazing flavor, First Watch is one of the best breakfast restaurants in Orlando.
Not only do they serve up energizing drinks, but their food menu gets pretty inspired with fresh ingredients and combos like eggs and red pepper and spinach topped with goat's cheese.
Superfoods bowls with chia seeds and plenty of nutrients starts your day off right, or you can keep it simple with your favorite waffles and eggs and bacon.
And of course, the iced coffee is on point because there's no better way to start a Florida day than with something cold to beat the heat.
6. Peach Valley Cafe
The Orlando location of Peach Valley Cafe is the perfect setting for embracing your inner Floridian (even if you're not one), and enjoying everything from Steak & Eggs to housemade granola and smoked bacon.
The flavors of the Sunshine State come out in the refreshing beverage list (grapefruit juice for the win), while the hospitality of the South is evident in the Pecan pancakes, buttermilk biscuits, and all of the gravy you could ever want.
I'm obsessed with their croissant sandwich options, while others go for the more decadent flavors like chocolate chip pancakes, but whatever you're in the mood for, Peach Valley Cafe is a welcoming and family-friendly breakfast option in Orlando (and beyond).
Click here to check out hours and locations.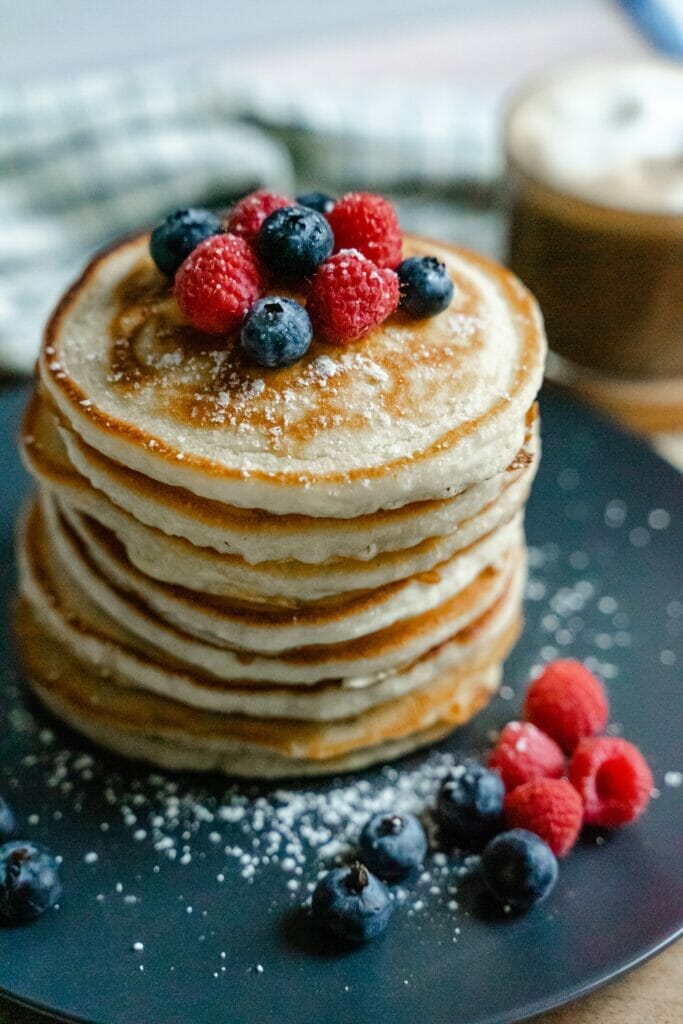 7. Nuno's Cafe
In Downtown Avalon Park, Nuno's Cafe is my pick for where to go for breakfast in Orlando when you're looking for gorgeous plating, freshly prepared ingredients, and friendly service.
The breakfast menu features everything from a meat lover's wrap to cannoli French Toast (stuffed with cannoli cream and topped with powdered sugar, yes please).
Weekend specials mean that you can visit every week and still find something new to try, and the bagels are fresh, delicious, and calling your name.
Location: 12001 Avalon Lakes Dr, Suite G, Orlando, Florida
Click here to see the menu and hours.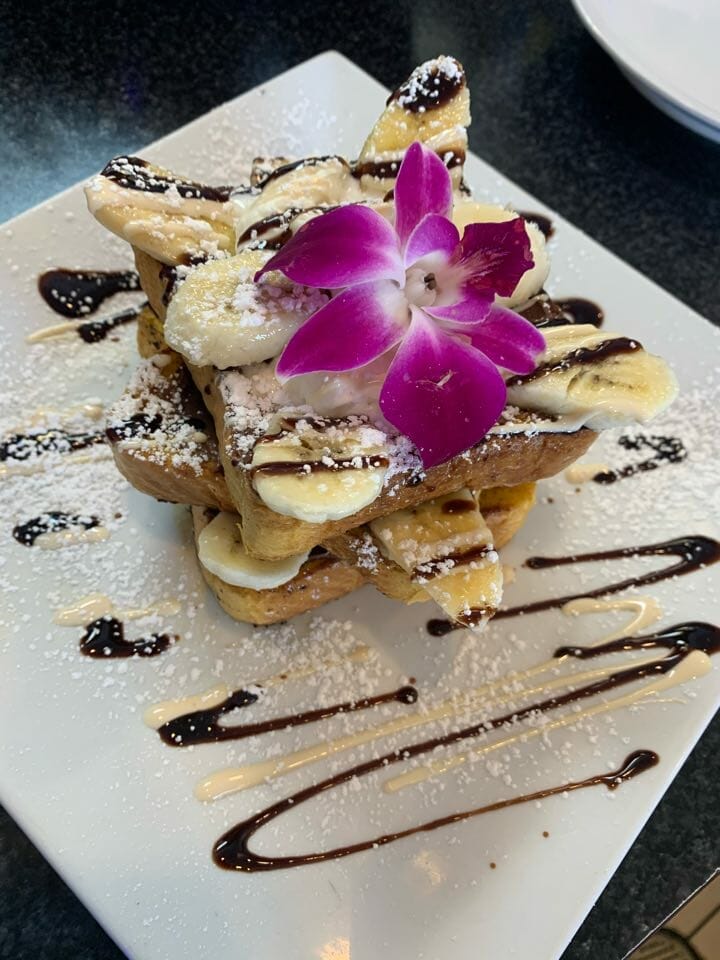 8. Dan's Family Restaurant
Known to locals as "Dan's," Dan's Family Restaurant is the best diner for breakfast in Orlando when you want to be greeted with a smile and become part of, well, the family!
They specialize in classic American diner fare, which means the most delicious biscuits and gravy, amazingly crispy bacon, and a tall stack of pancakes sure to put a smile on anyone's face.
This is comfort food done right, and there's no need to dress up – come exactly as you are, ready to catch up with friends and family and enjoy your favorite foods.
Location: 7300 E Colonial Drive, Orlando, FL, US, 32807
Click here to see the menu and hours.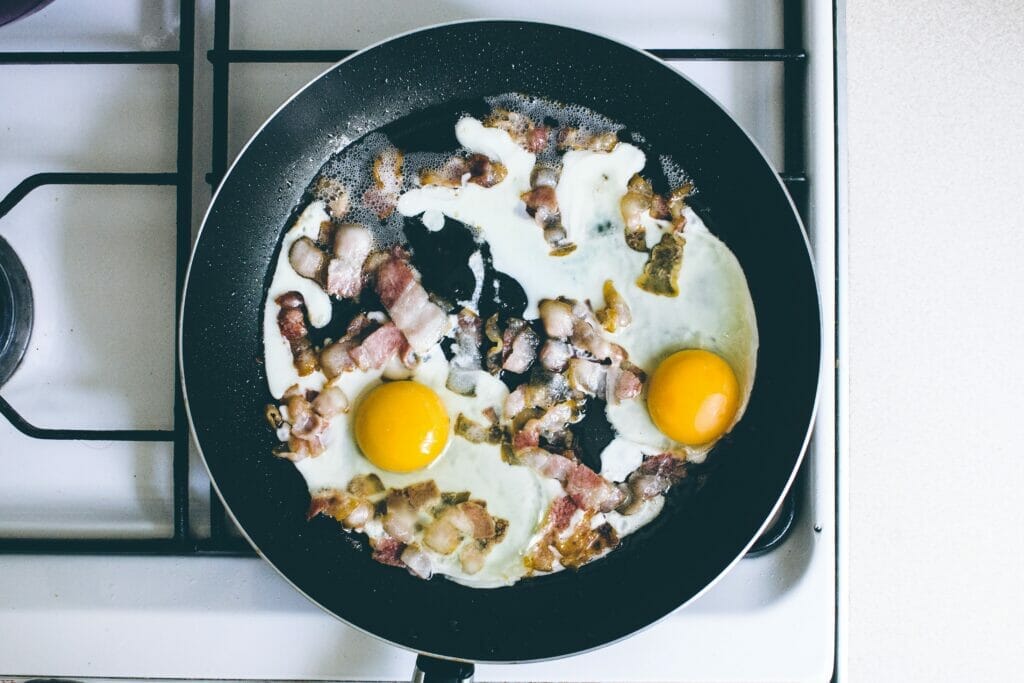 9. Brick & Spoon Orlando
Southern flair is the name of the game at Brick & Spoon Orlando.
With tantalizing options like breakfast tacos and shrimp and grits, you can have a truly unique breakfast experience here.
If you're in the mood for traditional options, try the original pancakes or American breakfast, or get creative with the chicken florentine or Bananas in Pyjamas (it's as fun as it sounds).
This is where to go in Orlando for breakfast when you want to create great memories, try new flavors, and connect with the local community who have come out to Brick & Spoon to also get their breakfast on.
Location: 933 S. Orlando Ave Maitland. FL 32751
Click here for the menu and hours.
Hey! Want more Orlando content? Check out these guides!
Get the All-American Travel Secrets!
Don't miss out on America's hidden gems!