When it's time to take the teenagers to Orlando, you're going to want to know the best things to do in Orlando with teenagers.
Sure, you can take endless trips on It's a Small World with your babies in Orlando, but most teenagers are looking for thrills, spills, and socializing.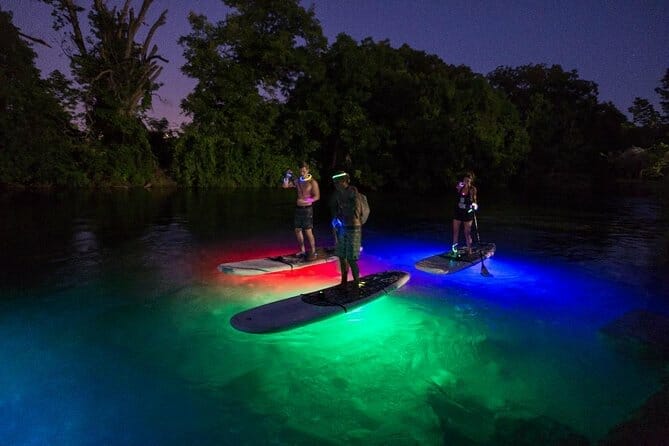 From the theme parks to International drive, this is a full guide on what to do in Orlando with teenagers to make sure that they have a great time in one of the world's most popular tourist destinations.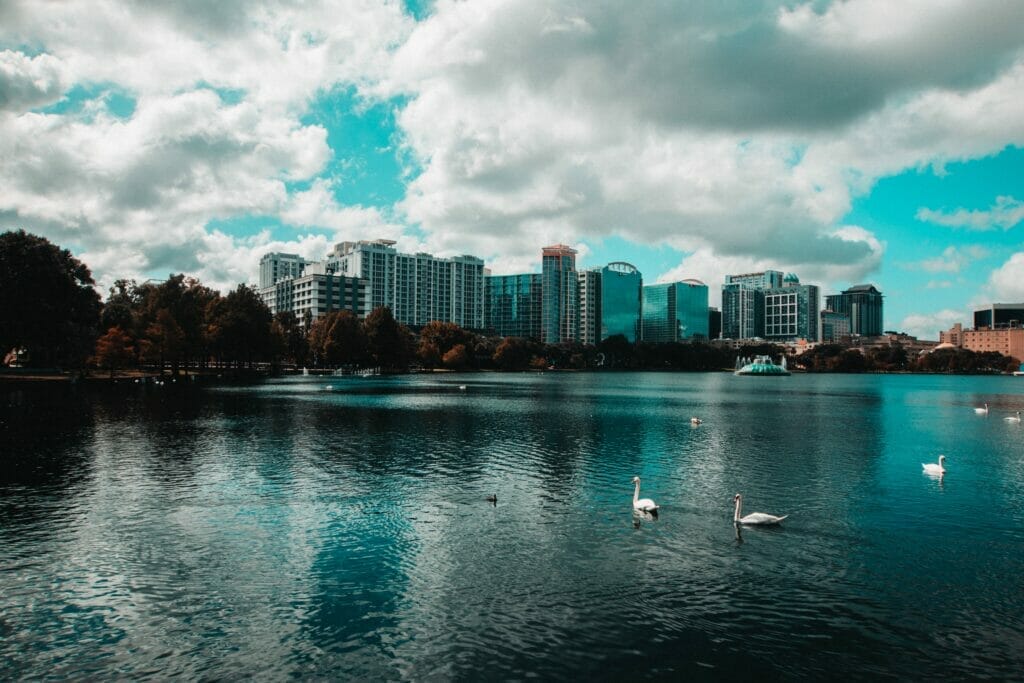 Getting around Orlando
Don't forget that it's much easier to see Orlando by car so you can get around on your own.
Rental cars are perfect if you're flying into the area.
We recommend using Discover Cars price comparison to find the cheapest deals.
What to Bring to Orlando
If you're not used to the Orlando heat, here are just a few suggestions on what to make sure you have with you, almost year-round.
Where to Stay in Orlando
Budget: Splashing Out ($250+ per night)
Orlando is full of luxury hotels to choose from, and while more obvious options might be the Ritz Orlando, the Waldorf Astoria is at a bit of a cheaper price point (though not cheap, this is still a splash out) and offers some spectacular amenities.
Firstly, it's set on over 400 acres, and in addition to plush rooms that will rival any resort you've stayed in, there is also a full golf course, 2 swimming pools, kid's clubs, a lazy river, an on-site spa AND free transportation to the Disney parks.
Oh, also there are 12 restaurants, so, there you go, decision made!
Budget: Mid-Range ($150-$250 per night)
I've stayed in this hotel so many times, I've lost count – and every single time, I want to stay forever.
The Wyndham Bonnet Creek is a great mid-range option with spacious rooms, beautiful pools, a lakeside location with plenty of recreational opportunities for kids and adults alike, and some rooms even have Disney fireworks views.
Relax by the fire pit in the evening, or put on your plush robe and check out the spa. The location is top notch, the price is reasonable for Orlando, and the memories you'll make here will last a lifetime.
Budget: Uh…on one! ($150 or less per night)
If you'd rather spend your vacation money on things to do in Orlando while still being comfortable and happy at your resort, Hilton at Tuscany Village is for you.
The whole resort is sleek and modern, with awesome views from many of the balconies and well-designed outdoor pools (yes, this is Orlando, even the cheaper hotels have a pool!)
Choose from studios or suites, and appreciate the great location that makes you a 4 minute walk from the Outlets and a less than 10 minute drive from Disney, SeaWorld, Universal, and other Orlando attractions.
1. Islands of Adventure
From the Wizarding World of Harry Potter to classic thrill rides like the Hulk, Islands of Adventure is one of the best theme parks for teenagers in Orlando.
Get cheap tickets here.
Marvel Super Hero lovers will find a ton to enjoy here, including the Amazing Adventures of Spiderman and Doctor Doom's FearFall.
On a hot day, the teens will love the water rides, Dudley Do-Right's Ripsaw Falls and Pope and Bluto's Bilge-Rat Barges.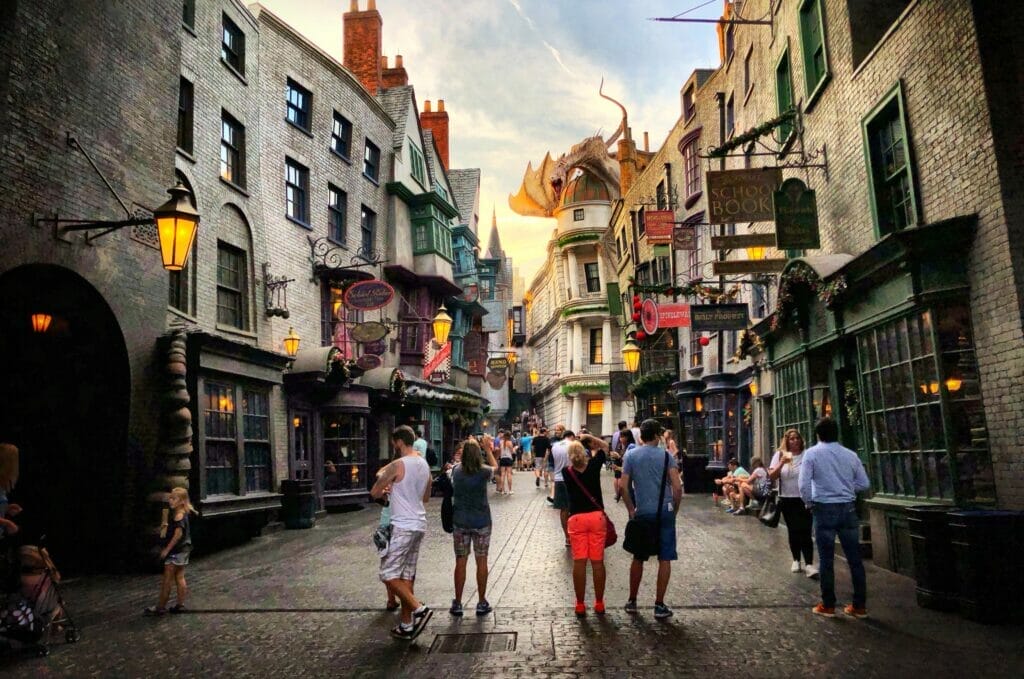 There are also Jurassic Park themed attractions and plenty of places to eat and explore.
The best option is to get a joint ticket for both the Universal Orlando and Islands of Adventure parks, as there are Harry Potter attractions in both and you can take the Hogwarts Express in between them provided you have a ticket to both.
2. Universal Studios Florida
Universal Studios Florida is the second theme park at Universal Orlando, and the original!
This is another theme park that caters to the teenage crowd with rollercoasters like Hollywood Rip Ride Rockit, Revenge of the Mummy, and Harry Potter and the Escape from Gringotts.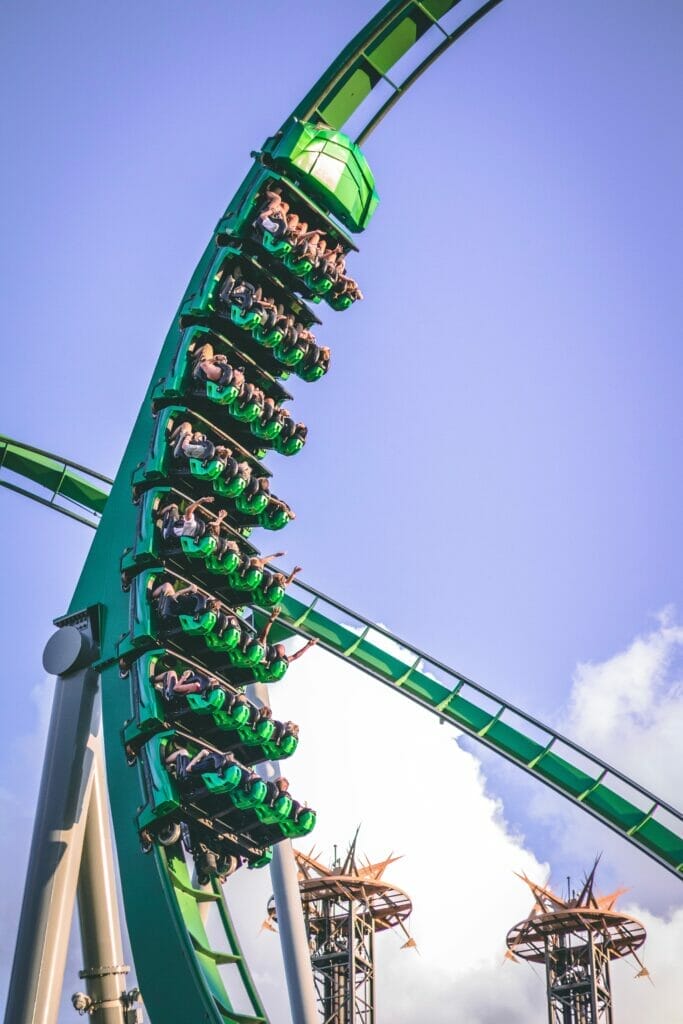 There is also a Simpsons land, Springfield, which is a major hit with a lot of teenagers, as well as Men in Black, a ride where you are whipped around an alien-infested office and have to try and protect the world from the invasion.
Universal Studios also hosts popular events like Halloween Horror Nights, where the entire park is transformed into a scare-factory as you're chased by ghouls and horror movie characters through haunted houses and more.
3. Hollywood Studios
Disney World isn't without its teenager-friendly parks.
Of course, each one of them has enough for teenagers to do, but there are a couple that stand out.
Firstly, Hollywood Studios.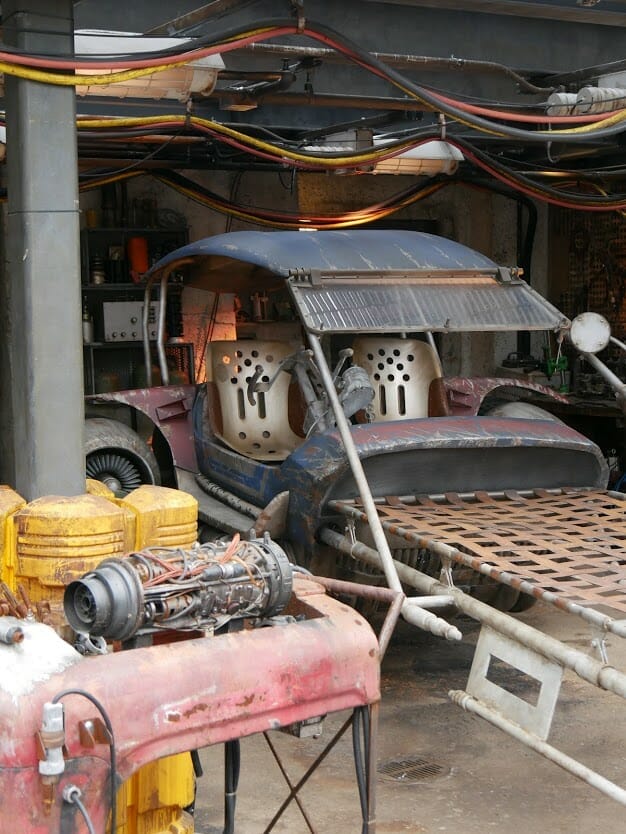 With the introduction of the Star Wars themed Galaxy's Edge, you can get yourself immersed in the world of Han Solo and Darth Vader, as you navigate the Millenium Falcon and take a spin on the best ride at Disney World, Rise of the Resistance.
Hollywood Studios also has Tower of Terror and Rock'n'Rollercoaster, which are thrill rides popular with teenagers.
4. Epcot
Epcot has so much to do and see, but what's in for for the preteens or teenagers in Orlando?
Firstly, you've got some of Disney's most popular thrill rides, including Test Track and Mission Space.
These are definitely for those with a need for speed.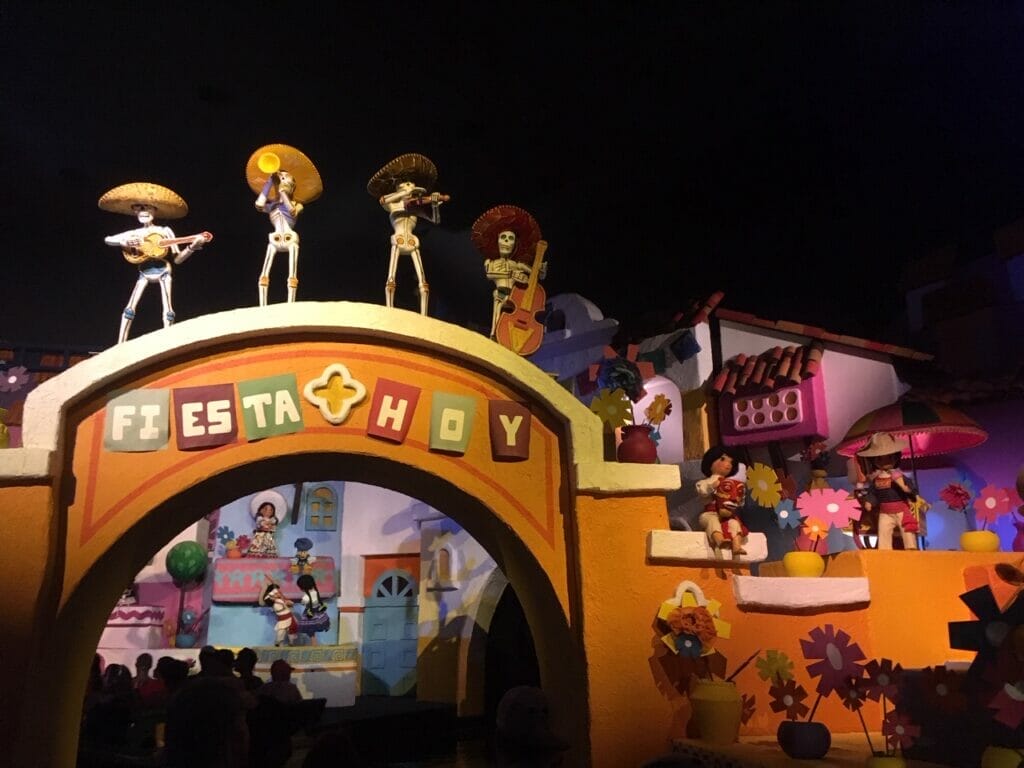 There are also tamer options, like Soarin and Frozen Ever After.
And while it could be easy for a teenager to see the World Showcase as boring, it won't be if they're given a scavenger hunt or they have the aim of "eating around the world" where they try a new dish in each country.
Teenagers who love to learn will also be impressed by the Living with the Seas aquarium and the greenhouse on Living with the Land.
5. Eating and Shopping at Disney Springs
One of the best things to do with teenagers in Orlando is to take them to Disney Springs.
This is a safe area where you can let them off the leash a bit to roam around on their own, and they can do everything from shop at the World of Disney store to eating at the food trucks by the lake or watching the Amphicars outside the Boathouse roll, and then float, by!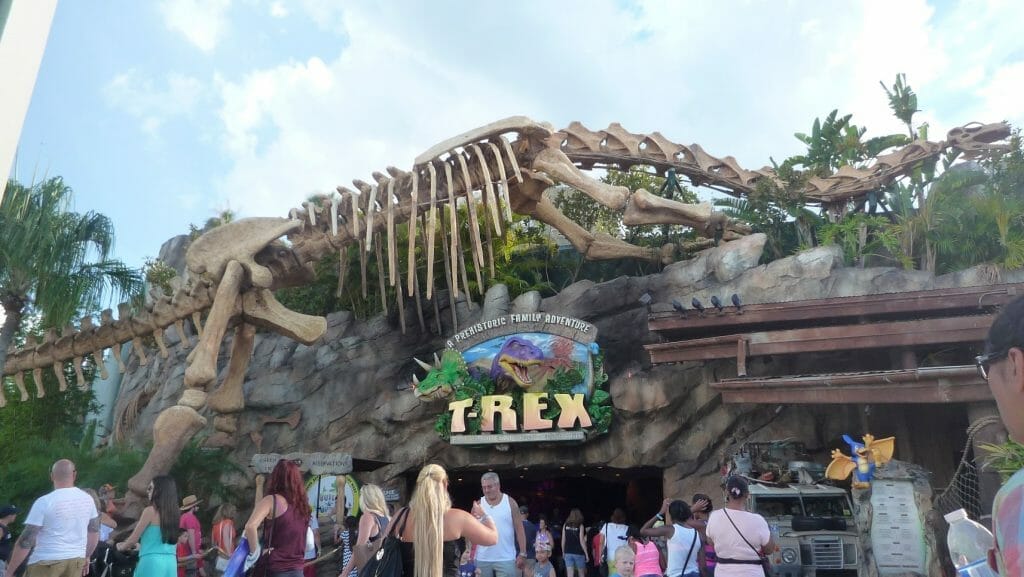 There is also Splitsville, where you can bowl all night long, a movie theater, and lots of stores with popular names like Sperry's.
The great thing about Disney Springs is that the teenagers will think it's fun, but everything is teen-friendly and well-policed by Disney security guards so you know they can't get into too much trouble while having fun with their friends.
6. Disney Water Parks
When the weather's hot (which is most of the time in Florida), take your teenagers in Orlando to the water parks.
Disney has some amazing water parks, including Blizzard Beach and Typhoon Lagoon, that are wonderfully themed and have a great mix of things to do.
Typhoon Lagoon has the water rollercoaster the Crush n Gusher, while Blizzard Beach has the Summit Plummet, which is an almost vertical water thrill ride.
There are also wave pools, plenty of other slides, and places to sit out and relax.
This can be a great break from the theme parks and a relaxed way to spend the day for the whole family.
7. Watch an Orlando Magic Game at the Amway Center
Orlando's home basketball team, the Orlando Magic, play at the Amway Center and tickets are very reasonable.
While Orlando doesn't have as much basketball pride as some other cities due to the number of "transplants" who live here, or people who move to Orlando from other places, there is a great and positive atmosphere at Magic games.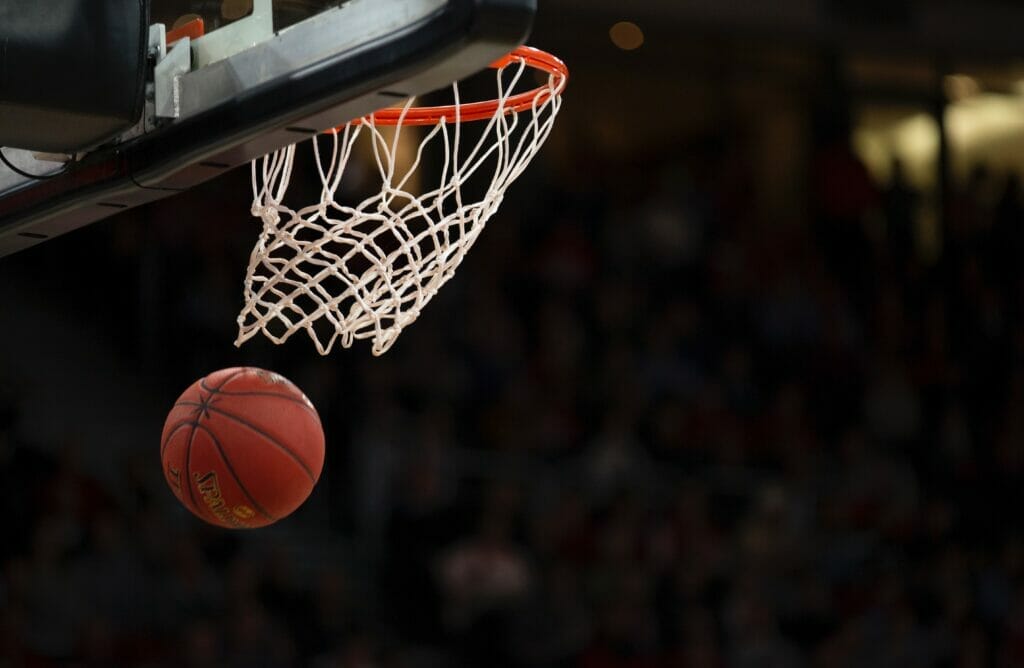 Sports loving teens will jump at the chance to go to any basketball game, so build this in to your trip to Orlando.
Get the GO Orlando Pass here, which includes certain games as part of the pass, along with other Orlando attractions.
8. Shop at the Florida Mall
Got a teenager who loves to shop?
The Florida Mall is the biggest mall in Orlando and has everything you're looking for, including the classic mall atmosphere.
Spend time in the food court while they shop until they drop at popular stores like Buckle, the Disney Store, and PacSun.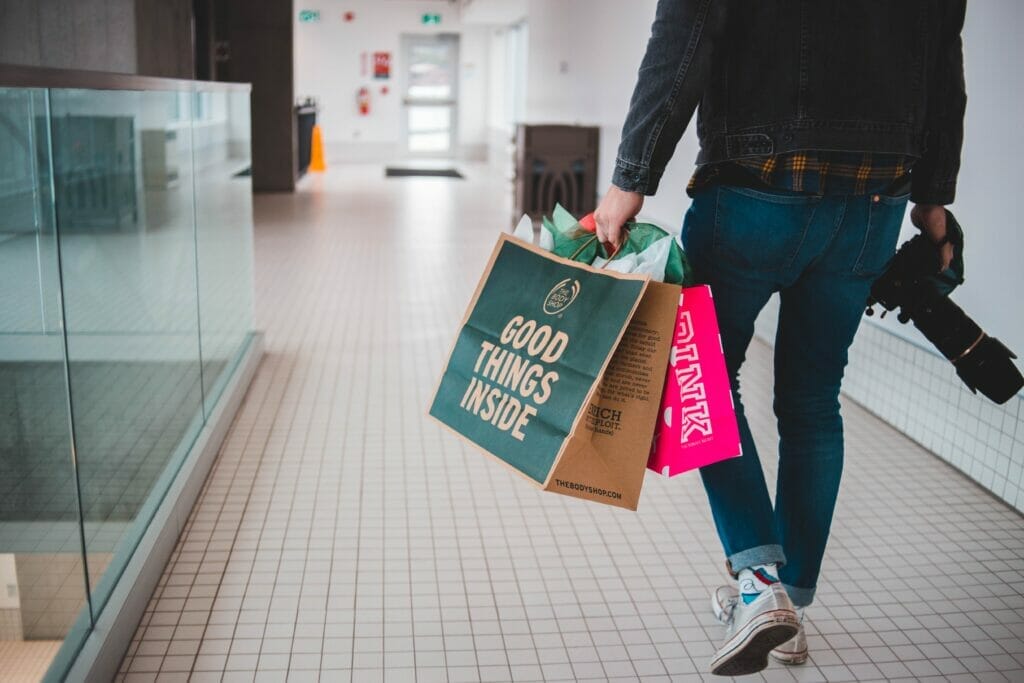 There are also full restaurants like Buca di Beppo and Shake Shack if you want to grab a meal as a family.
9. Visit the Orlando Premium Outlets
The Outlets are a huge part of Orlando shopping culture, and this outdoor shopping complex is filled with outlets of popular designer and famous brands, which means they are often selling things at a discount.
You could easily spend a whole day at the Outlets, and many families come to Orlando just for the shopping.
If you've got a teenager with a need to spend, letting them loose with their allowance at the Outlets is a fun way for them to explore this larger than life shopping center and buy some souveneirs from the trip.
10. Learn to Wakeboard at the Orlando Watersports Complex
Take to the water at the Orlando Watersports Complex, where awesome instructors can teach your teenager how to wakeboard or participate in other thrilling water activities.
This is one of the most unique things to do in Orlando!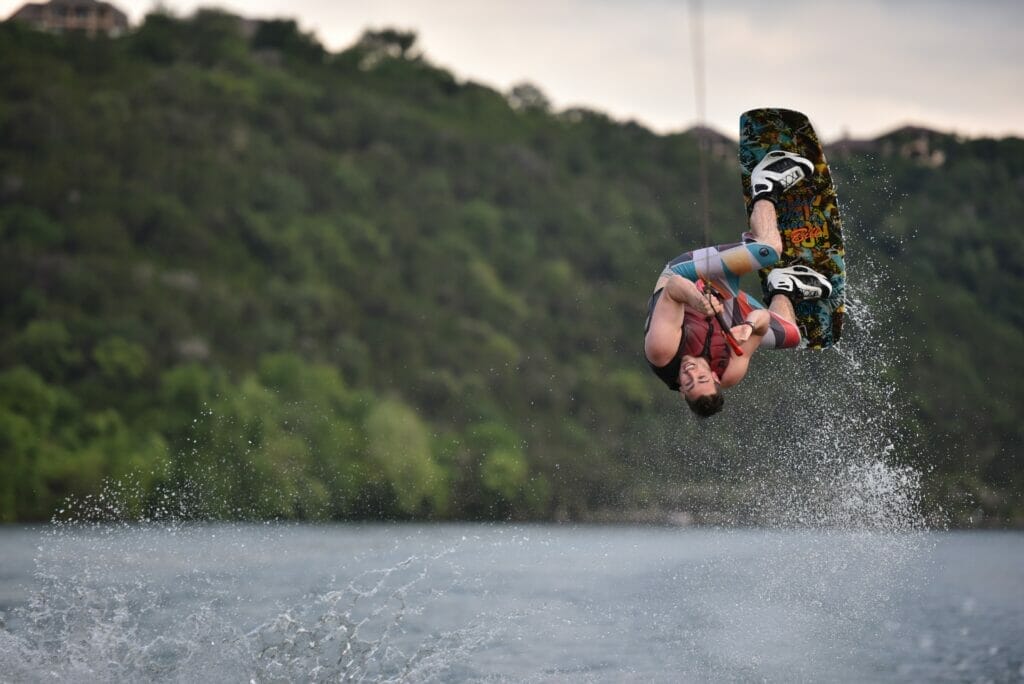 The little ones can spend their time on the aqua park while the teenager is skimming over the water.
There are options to learn cable wakeboarding or boat wakeboarding, and you can be sure that this will be a memorable day out for any teen.
11. Support Orlando City at a Soccer Game
Soccer fever is sweeping Orlando, and with it support for the Orlando City soccer team is on the rise.
If you've got a soccer loving teen, bring them to an Orlando City game and enjoy the friendly atmosphere.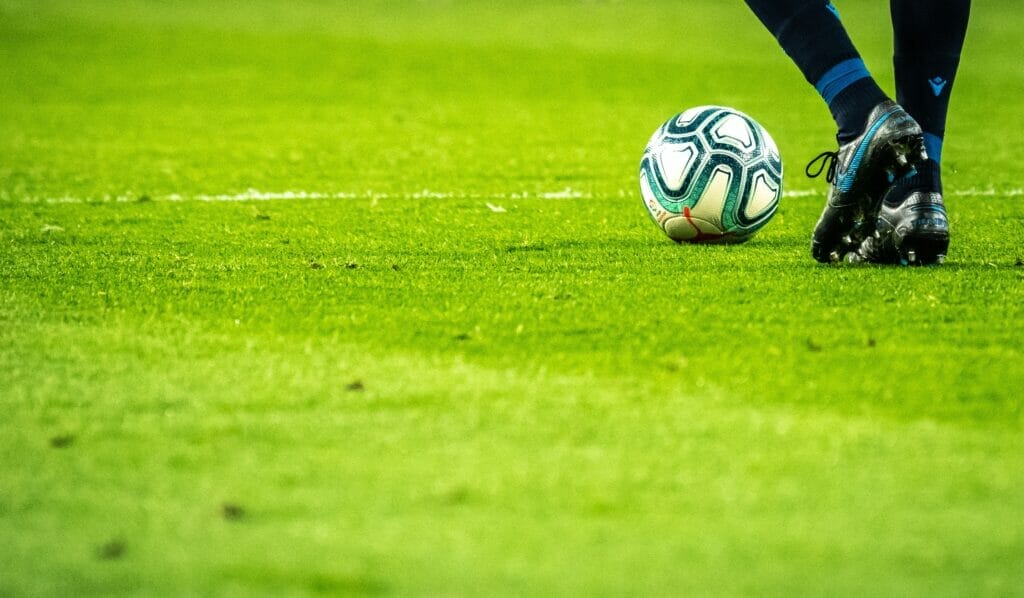 Unlike sports like basketball and football, soccer has taken hold in Orlando more recently and the resulting fans are authentic and true soccer lovers, finally giving all those kids who play soccer in school and college the chance to dream about their professional goals.
12. Go Indoor Skydiving at iFly
One of the coolest things for teenagers to do in Orlando is to go indoor skydiving at iFly (get discounted experiences here).
You don't necessarily want them jumping out of an actual plane, but bring them to iFly and they can enjoy the sensation of skydiving, along with lessons on body posture, in the indoor skydiving funnel.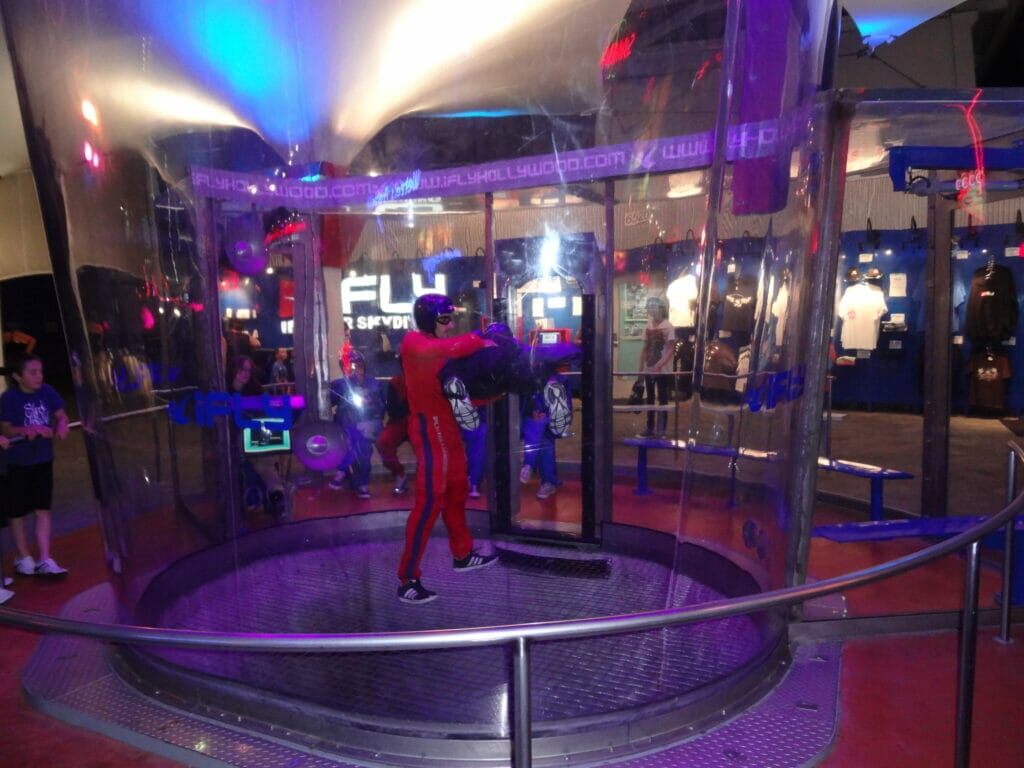 Assisted by an expert who will help them get the msot out of the experience and get as high as they can within the funnel, the walls are glass and allow you to see the smile on their face as the adrenaline junkie in your family gets an experience they'll never forget.
13. Have Dinner near Lake Eola Park
Lake Eola Park is one of the most beautiful parts of Orlando, and one of the most romantic parts of Orlando, but while you may not have luck getting your teenager into a swan boat on the lake, it's a nice area to have dinner in.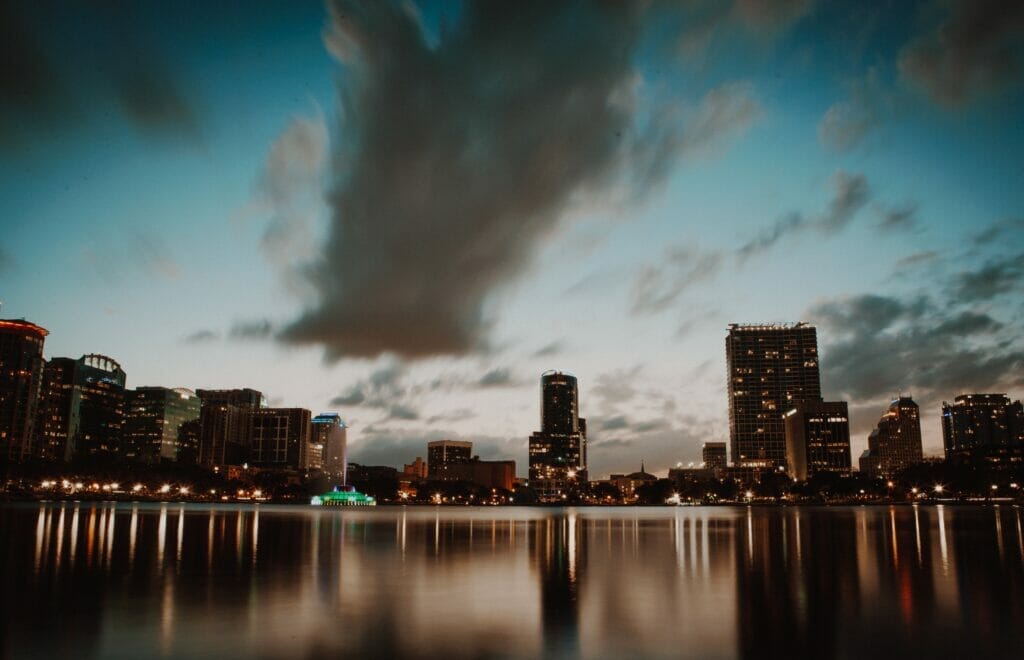 Take a walk around the lake and enjoy pizza sitting outside and people watching.
14. See a Show at Dr. Phillips Center for the Performing Arts
Got a creative teenager?
Take them to a show at the Dr. Phillips Center for Performing Arts, as this is the main venue for visiting Broadway shows.
They've hosted everything from Grease to Come From Away, and you can go see a show as a family or drop them off with a friend or two to enjoy while you have dinner in the area.
15. Have a Beach Day at the Beach Club
Got a teenager on a trip to Orlando who just needs a day off from the family?
If you're on Disney property, they can go to the Beach Club resort, free of charge, and spend the day sitting on the gloriously sandy beach and looking out onto the water.
There are bench swings as well as regular chairs to lay out in, and they are more than welcome to spend the day tanning or reading or just talking to friends if they want.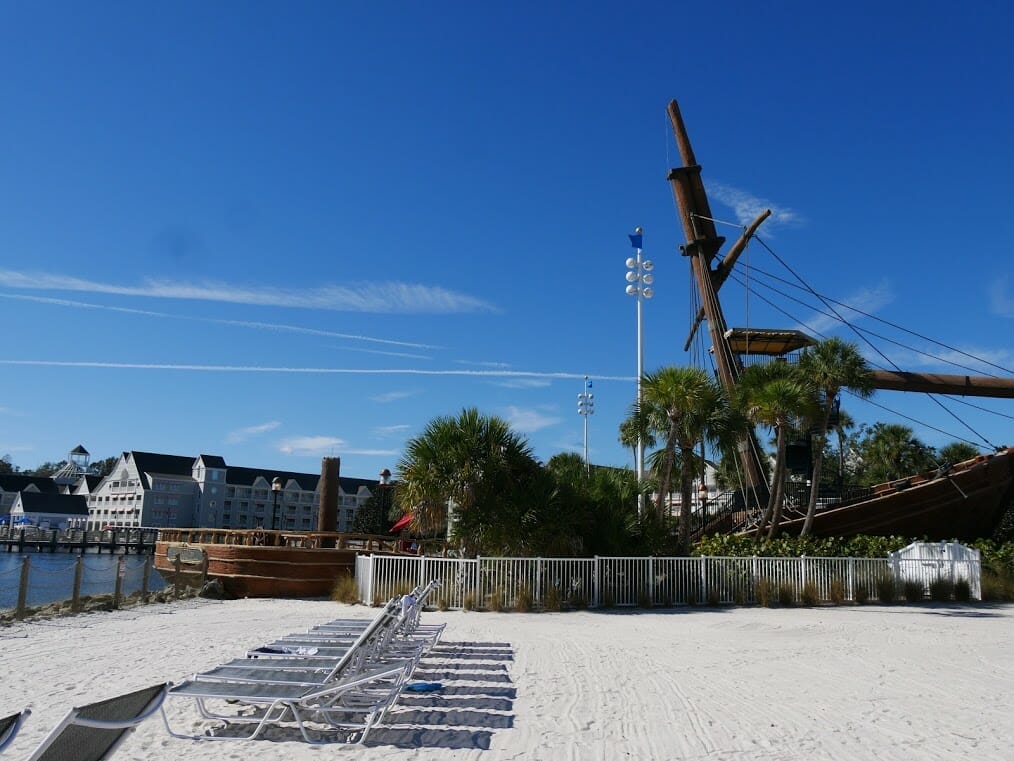 There is a food court at the Beach Club that sells sandwiches and other quick to-go items so they can take care of themselves for lunch or dinner, and the Beach Club is walking distance to Epcot or Hollywood Studios if you want to meet up with them there later.
16. Try Wahlburgers
Heard of Mark Wahlberg's famous burger shop, Wahlburgers?
There are locations in Orlando, and it's well worth it for the specialty burgers and sandwiches.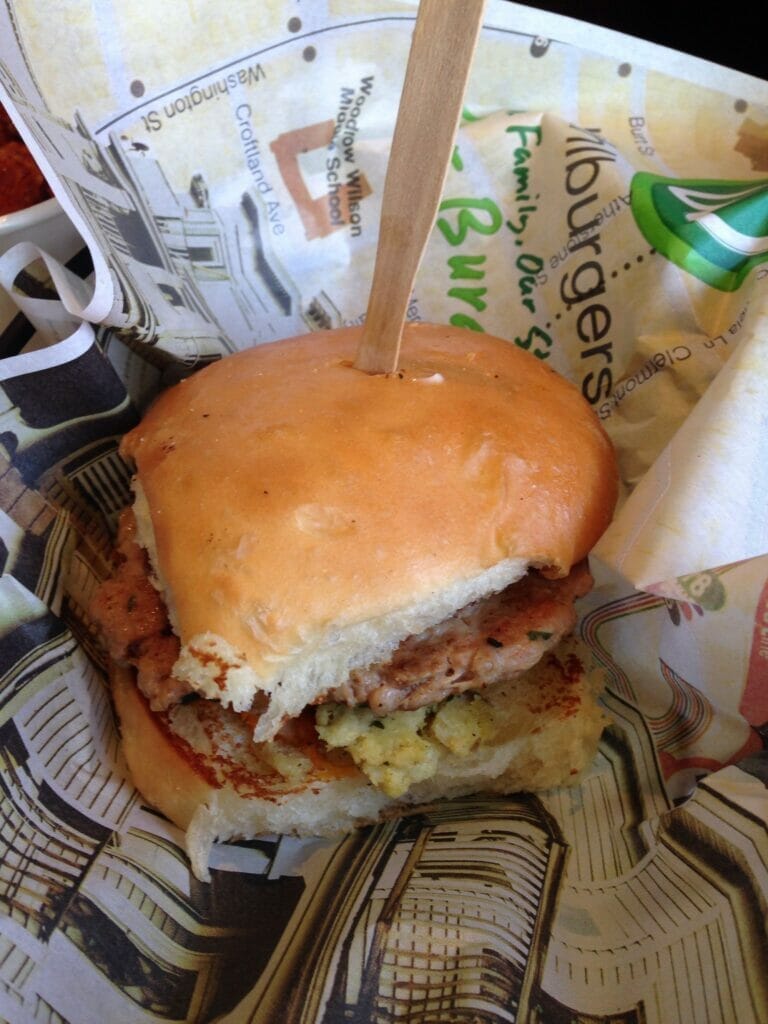 The one in Orlando is right off Church Street, a popular dining and entertainment district in downtown Orlando that's walking distance to Lake Eola, so make an evening out of it and get them out of the theme park bubble for a little bit to explore some of the "real" Orlando.
17. Watch a Movie
Sometimes, there's no better thing to do in Orlando than to go inside and watch a movie.
The climate makes it so the air conditioning, on some days, is the best thing of all, and being able to get out of the heat for a couple hours is a huge bonus.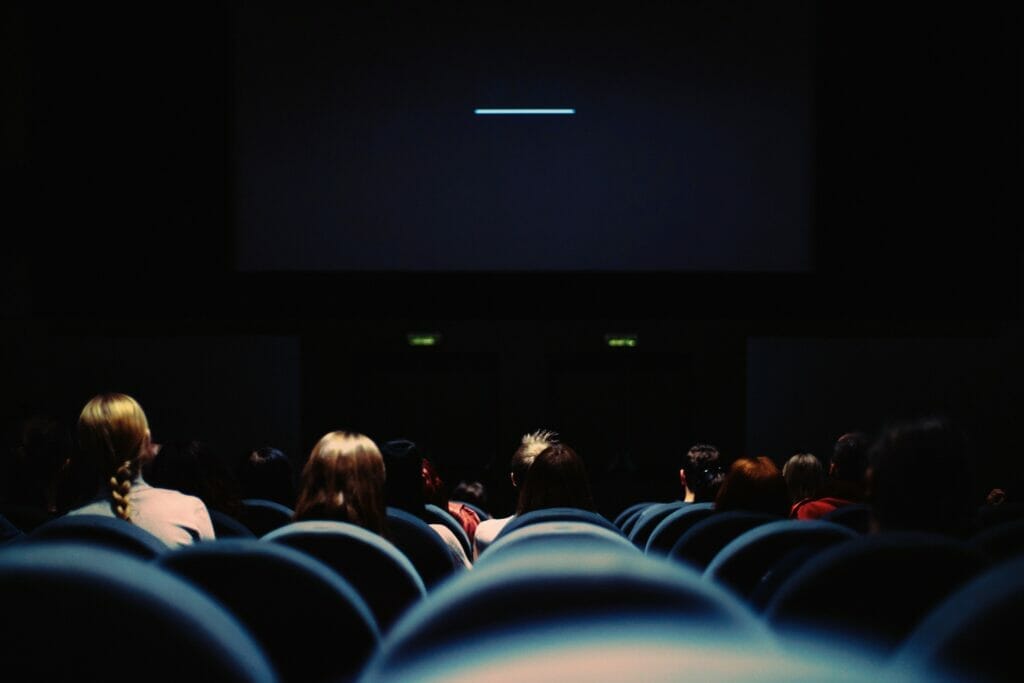 There are plenty of popular movie theaters in Orlando, including an AMC at Disney Springs, the wonderful and upscale Winter Park AMC where the seats go all the way into a laying down position, and more independent movie theaters like the Enzian that show arthouse movies and let you have dinner while watching.
Whether your teenager is a movie buff or just looking to slow down for a few hours or to see the newest release, they won't be searching long for a movie theater in Orlando.
What else should I not miss in Orlando?
If you're visiting Orlando soon, here's a very brief rundown of a few of my other favorites to make sure you don't miss anything!
Hey! Want more Orlando content? Check out these guides!
Get the All-American Travel Secrets!
Don't miss out on America's hidden gems!