Believe it or not, Orlando is one of the top honeymoon destinations in the world with thousands and thousands of couples choosing it as their happy place after they tie the knot.
What is typically known as a "family" destination is also very much a honeymoon one, filled with opportunities to float around in lazy rivers, soak in the sunshine, dine at fancy restaurants and generally enjoy the post-wedding feelings.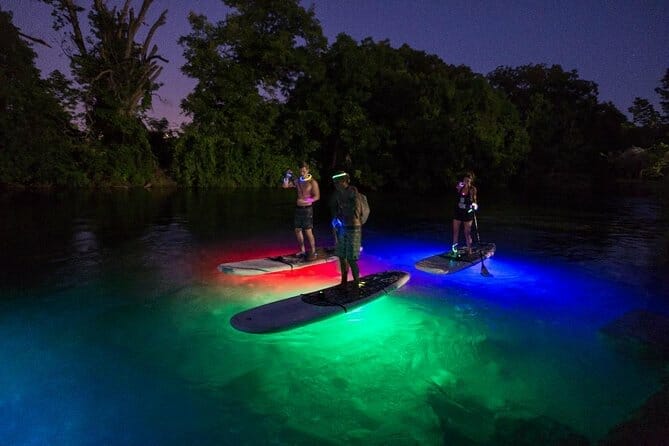 If you're looking for things to do in Orlando on a honeymoon, you've come to the right place because I've put together the ultimate list of what to do in Orlando on a honeymoon for thrill seekers, animal lovers, fun-loving couples, foodies, and so much more.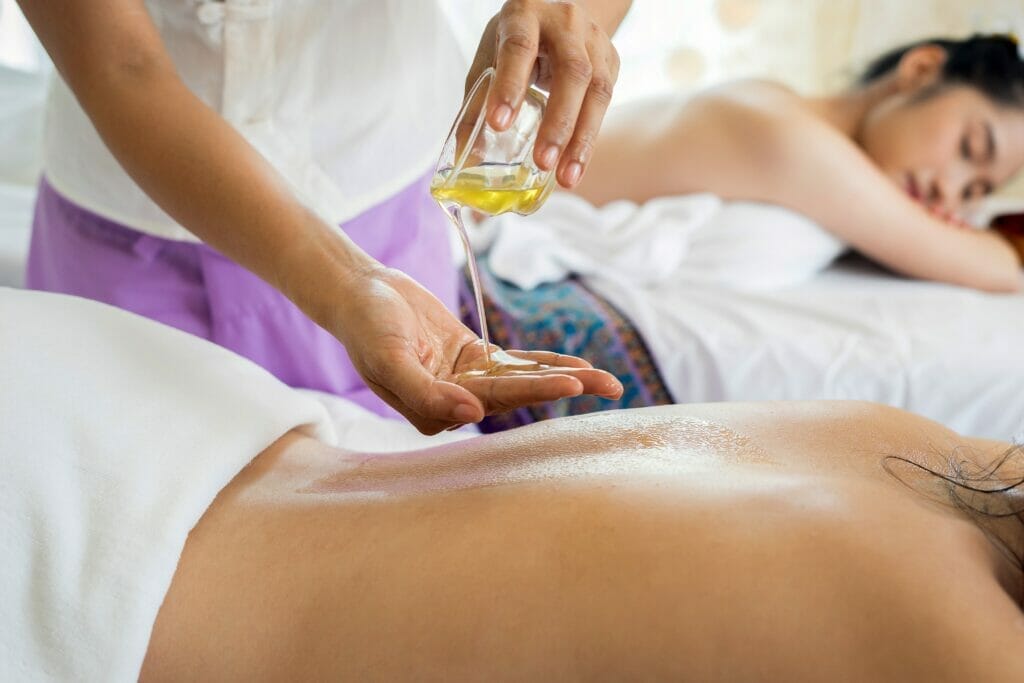 From an afternoon sitting on the beach (well, a Disney beach) at the Beach Club to a picturesque morning paddling the swan boats around Lake Eola, here are the perfect Orlando honeymoon activities to help craft your honeymoon itinerary.
Okay, everyone get your adorable honeymoon shirts that you're only going to be able to take advantage of once (hopefully) on…!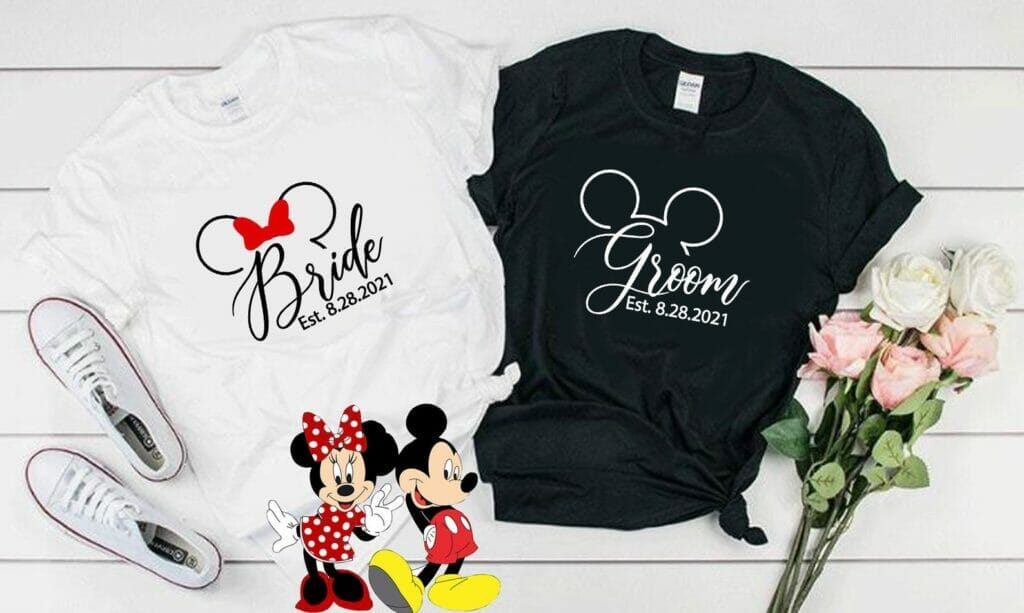 What to Bring to Orlando
If you're not used to the Orlando heat, here are just a few suggestions on what to make sure you have with you, almost year-round.
Getting around Orlando
Don't forget that it's much easier to see Orlando by car so you can get around on your own.
Rental cars are perfect if you're flying into the area.
We recommend using Discover Cars price comparison to find the cheapest deals.
Where to Stay in Orlando on Honeymoon
Budget: Splashing Out ($250+ per night)
Orlando is full of luxury hotels to choose from, and while more obvious options might be the Ritz Orlando, the Waldorf Astoria is at a bit of a cheaper price point (though not cheap, this is still a splash out) and offers some spectacular amenities.
Firstly, it's set on over 400 acres, and in addition to plush rooms that will rival any resort you've stayed in, there is also a full golf course, 2 swimming pools, kid's clubs, a lazy river, an on-site spa AND free transportation to the Disney parks.
Oh, also there are 12 restaurants, so, there you go, decision made!
Budget: Mid-Range ($150-$250 per night)
I've stayed in this hotel so many times, I've lost count – and every single time, I want to stay forever.
The Wyndham Bonnet Creek is a great mid-range option with spacious rooms, beautiful pools, a lakeside location with plenty of recreational opportunities for kids and adults alike, and some rooms even have Disney fireworks views.
Relax by the fire pit in the evening, or put on your plush robe and check out the spa. The location is top notch, the price is reasonable for Orlando, and the memories you'll make here will last a lifetime.
Budget: Uh…on one! ($150 or less per night)
If you'd rather spend your vacation money on things to do in Orlando while still being comfortable and happy at your resort, Hilton at Tuscany Village is for you.
The whole resort is sleek and modern, with awesome views from many of the balconies and well-designed outdoor pools (yes, this is Orlando, even the cheaper hotels have a pool!)
Choose from studios or suites, and appreciate the great location that makes you a 4 minute walk from the Outlets and a less than 10 minute drive from Disney, SeaWorld, Universal, and other Orlando attractions.
1. Orlando Hot Air Balloon Ride
Did you know you can take hot air balloon rides in Orlando?
Soar high above the theme parks and Florida wildlife and join a tour like the Painted Horizons Hot Air Balloon Tour for a private or shared hot air balloon experience.
This is one of the most unique ways to see Orlando and one of the best tours of Orlando, as well as the perfect opportunity for a special splurge on your honeymoon.
Don't worry if you're afraid of heights, as the experienced captains and guides will talk you through every step and help you enjoy the experience.
Keep an eye out for the many lakes that populate inland Florida, and don't forget to take part in the champagne toast afterwards!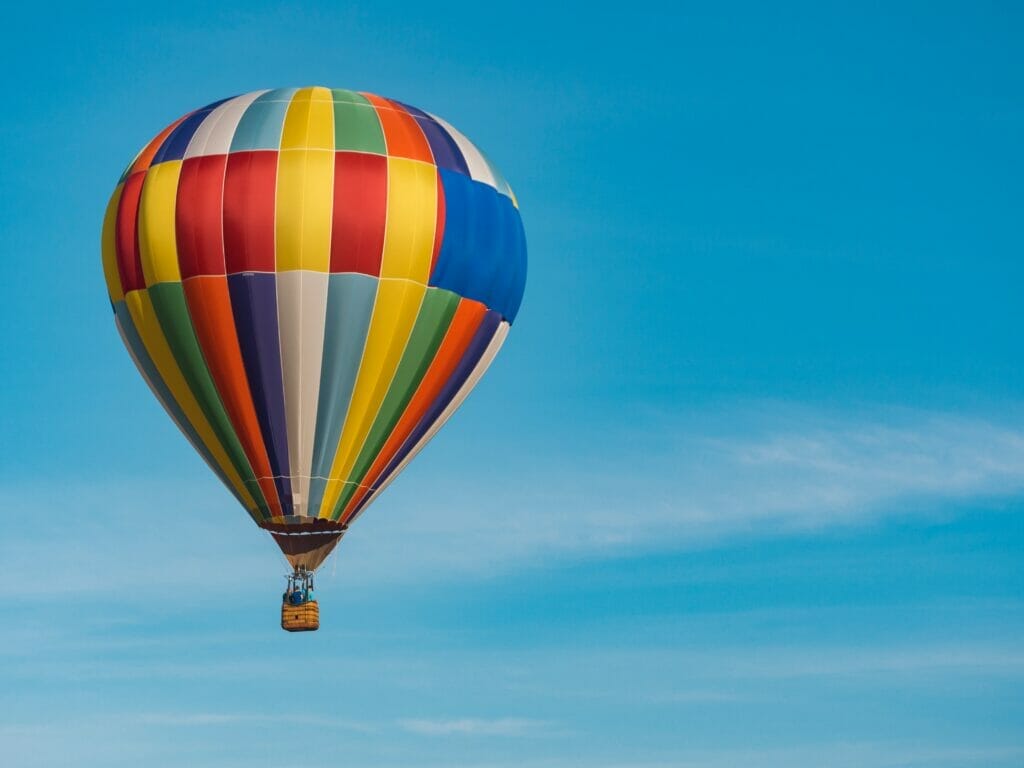 2. Wizarding World of Harry Potter
Harry Potter loving couples, your time to go to Hogwarts has finally arrived!
You see so many couples walking hand-in-hand through the Wizard World of Harry Potter at Universal Studios and Islands of Adventure because who wouldn't want to use a honeymoon as an excuse to indulge in chocolate frogs, purchase the wand of your dreams, and take flight on the Hippogriff.
From breaking into Gringotts to journeying through the Forbidden Forest with Harry and friends, the Wizarding World of Harry Potter is a huge draw for all visitors to Orlando, but especially for couples who have bonded over their shared love of these stories.
The theming is breathtaking, and in addition to sipping on butter beer and getting pictures in front of the Hogwarts Express, you can explore two theme parks and both Harry Potter areas if you get a two-park pass.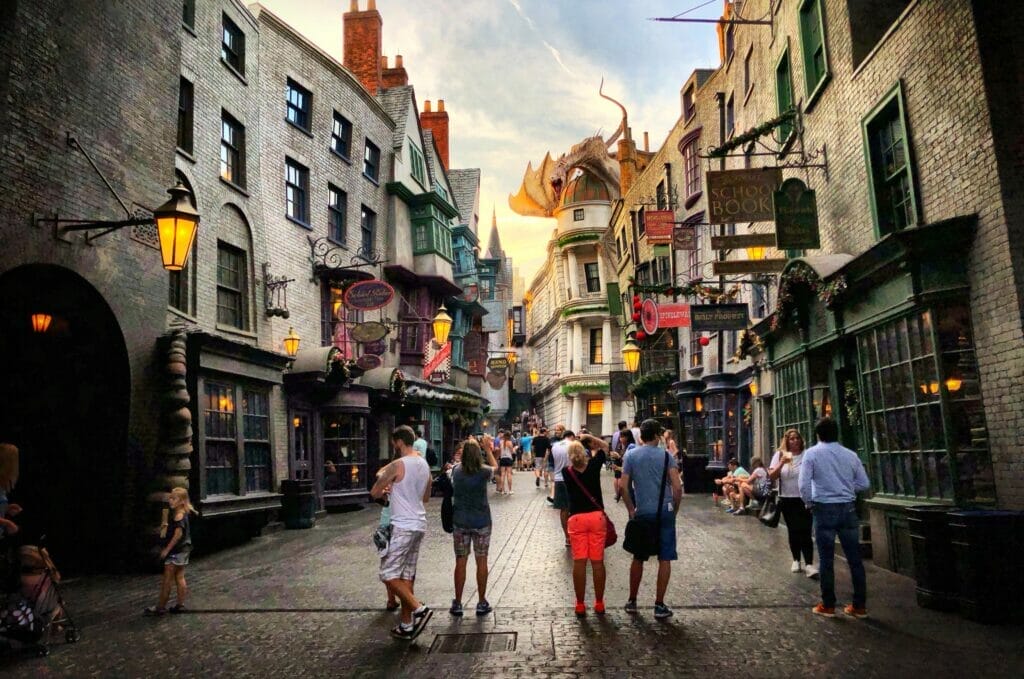 3. Have Afternoon Tea at the Grand Floridian
Pinkies up!
An Orlando honeymoon calls for a little sophistication, so head over to Disney's Grand Floridian resort, the flagship Disney hotel, and dine on scones, desserts, tea and finger sandwiches.
This is a special treat and one of the most romantic things to do in Orlando that will help you slow down and appreciate the finer things in life, complete with some Disney magic.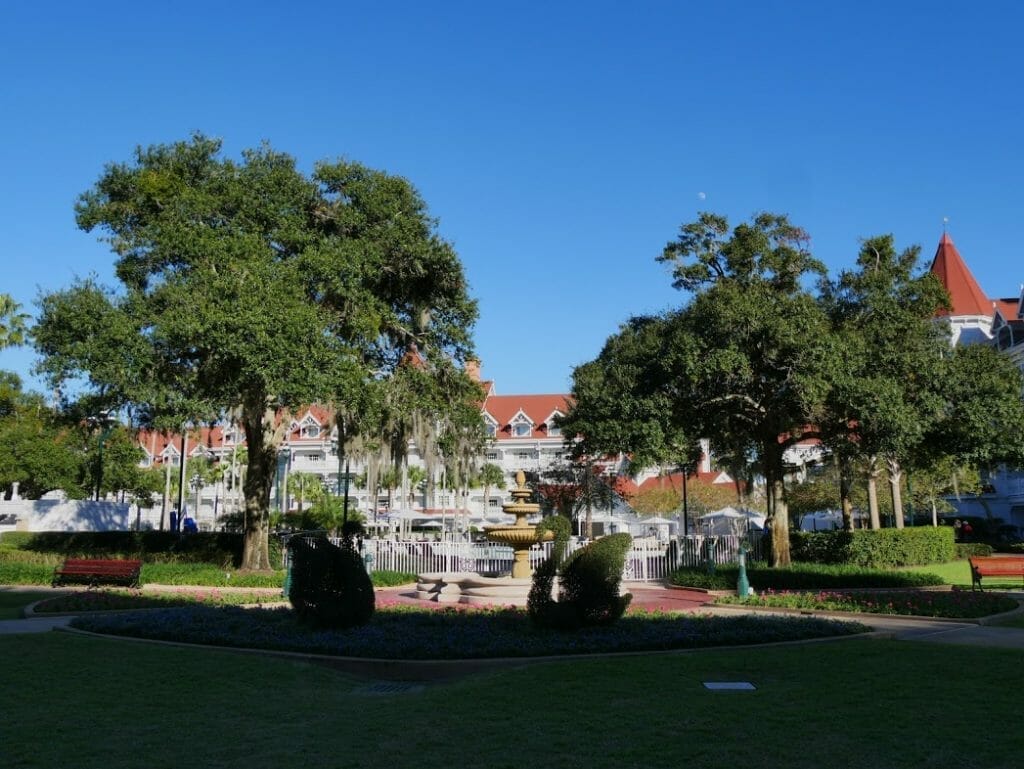 4. Watch the Fireworks from the Contemporary
If you're hoping for dinner and a show on your Orlando honeymoon, look no further than California Grill at the Contemporary Resort.
This is a favorite among Disney honeymooners, and it's not hard to see why.
The California Grill sits on top of the Contemporary, which gives you great views of the Magic Kingdom during the day, but obviously at night there's more to the story: fireworks!
Book a dinner at the California Grill and you can enjoy fireworks during your meal, which is truly an Orlando experience to remember.
If you just want to watch the fireworks and haven't booked, you can always get a drink from the California Grill bar and go to the public viewing platforms from the Contemporary to watch the show.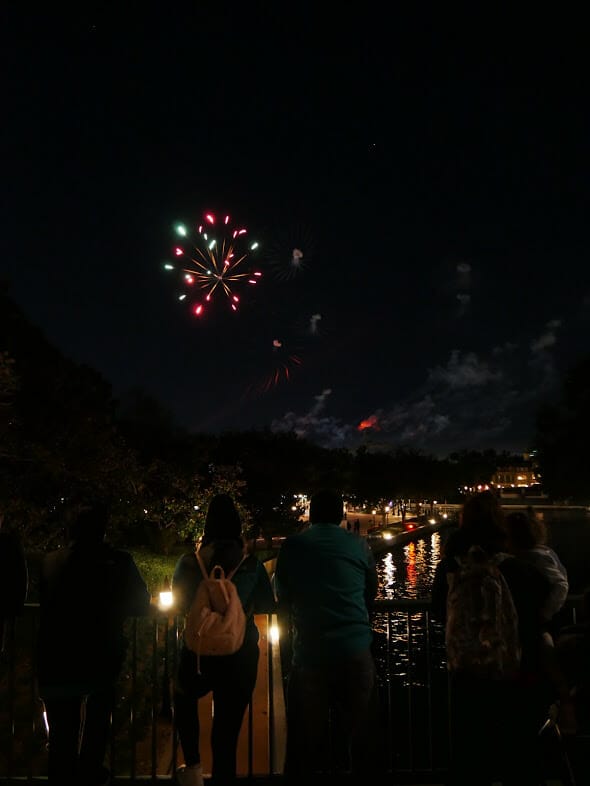 5. Swim with Dolphins at Discovery Cove
One of the most unique things to do on a honeymoon in Orlando is to experience the joy of interacting and swimming with dolphins at Discovery Cove.
Discovery Cove is a tropical oasis where you can spend the day having animal interactions, snorkeling, sitting on sandy beaches, and enjoying unlimited food options.
The most special part of the day for many people is the dolphin experience, where you suit up in a wet suit and jump in the dolphin's play area to get up close to these special creatures.
For dolphin lovers everywhere (I'm looking at you, 90's girls), this is a memorable way to spend the day and learn more about conservation and protection of dolphins in the wild.
6. Play Putt Putt Golf
You don't need to book something super expensive for your honeymoon in Orlando.
Instead, play some fun rounds of putt putt golf at the many options across the city.
It won't break the bank, it's a few hours of fun each time, and it's a nice way to get to talk and catch up after the wedding craziness while having some fun.
The best putt putt golf options near the theme parks are the Disney mini golf courses, of which there are two: Fantasia Gardens and Winter Summerland.
The beautifully themed courses are filled with Disney magic and that classic Disney touch that means you're not just playing putt putt – you're part of a story.
If you want something off-property, Congo River Golf in Altamonte Springs is a fun course with the option to feed baby alligators to become a true Floridian, or you can try Pirate's Cove which is pirate themed mini golf on I-Drive for some swashbuckling fun.
7. Get Massages at Senses
Looking for a way to relax and unwind on your honeymoon?
The Senses Spa at Disney's Saratoga Springs resorts takes day guests and is a great way to let someone else pamper you while you relax in the jacuzzi or enjoy a massage.
Not only will you be surrounded by soothing music and calming smells, but you will also enjoy the grounds of Saratoga Springs after your massage as they are large, very green, and great for walking hand-in-hand.
Choose from mini experiences like soothing facials or opt for a couple's massage or all-day package.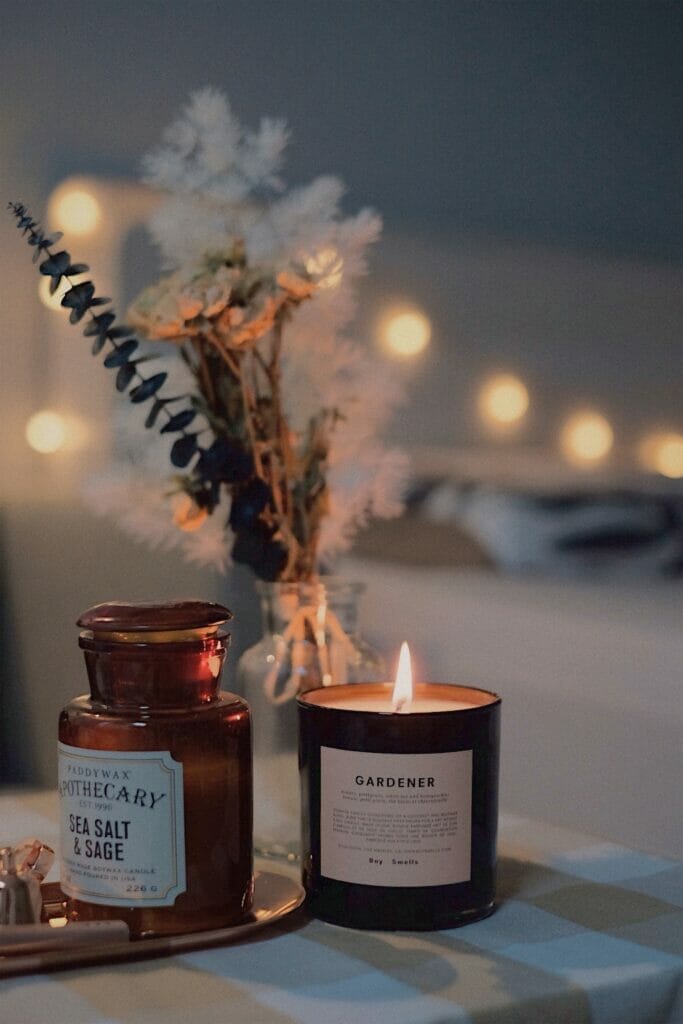 8. Enjoy an Upscale Dinner at Disney Springs
Disney Springs has plenty of things to do, but most importantly for the couple on an Orlando honeymoon?
Delicious and upscale dining options!
The most recommended restaurant in Disney Springs for couples is the Boathouse, a gorgeous nautical themed restaurant by the lake that even has a far away view of Hollywood Studios fireworks at the right time.
Here, you'll find plenty of seafood dishes, as well as mouth-watering upscale burgers, the best bread rolls you've eaten everywhere, and a drinks list sure to satisfy even the most adventurous of tastes.
There are also other dining options at Disney Springs, including more basic ones that are more grab-and-go, but make sure to book at least one restaurant for a sit-down experience.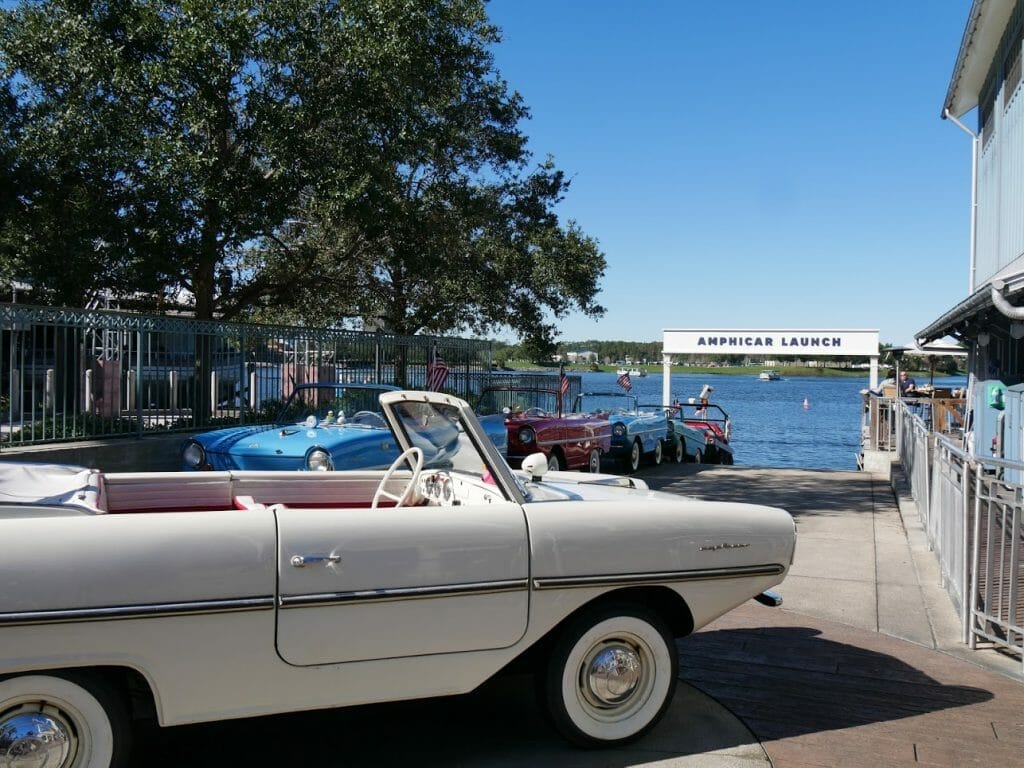 9. Go for a Spin on the Wheel at ICON Park
The Wheel at ICON Park has quickly become synonymous with Orlando with its rainbow lights and beautiful views over the cityscape.
Head to ICON Park in the evening for drinks and atmosphere and then take a spin on the Wheel at night when Orlando seems to sparkle in the Florida evening.
Unlike a regular Ferris Wheel, you'll be in an enclosed pod with 360 degree views, so you can wander around within the pod and get some great pictures of the two of you high above Orlando.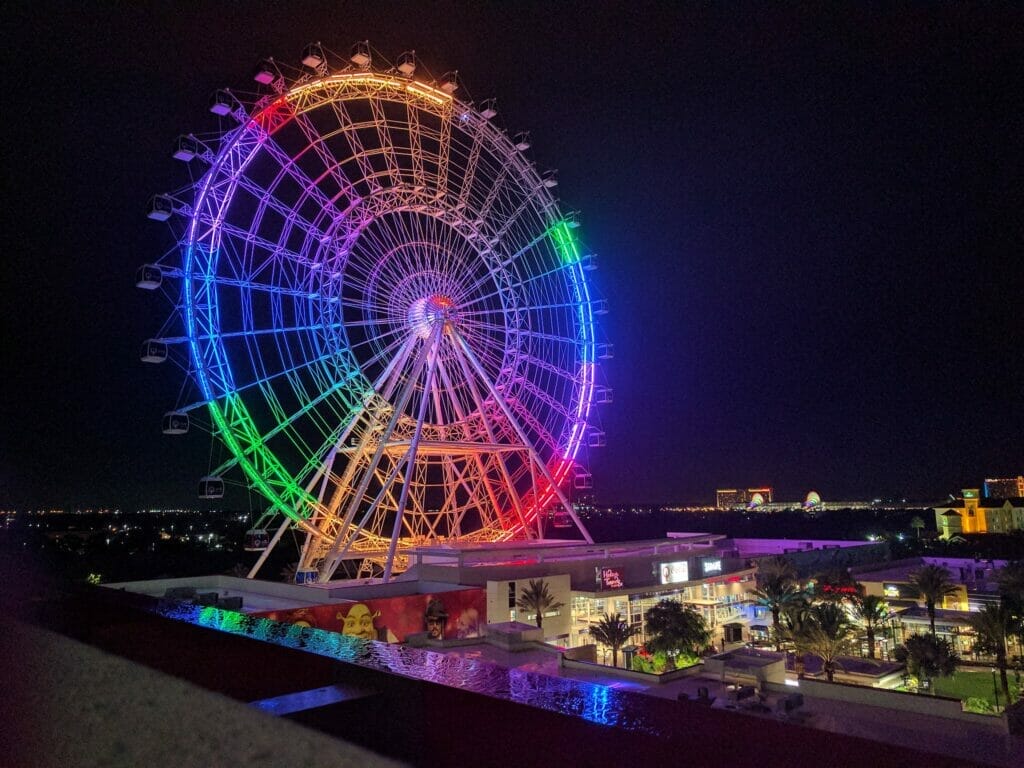 10. Swan Boats at Lake Eola
Can you really say you've honeymooned in Orlando if you haven't taken a ride on the swan boats at Lake Eola?
Lake Eola is one of Orlando's most popular hang-out spots downtown, and for most of the day, you can rent a swan boat and use it to tour around the lake.
Get up close to the fountain or stay on the perimeter, but enjoy the classic couples experience in one of Orlando's most romantic atmospheres.
The best thing about Lake Eola is it's location: it's right next to plenty of bars and restaurants, so you can enjoy dinner afterwards only a short walk away without needing to get back into the car.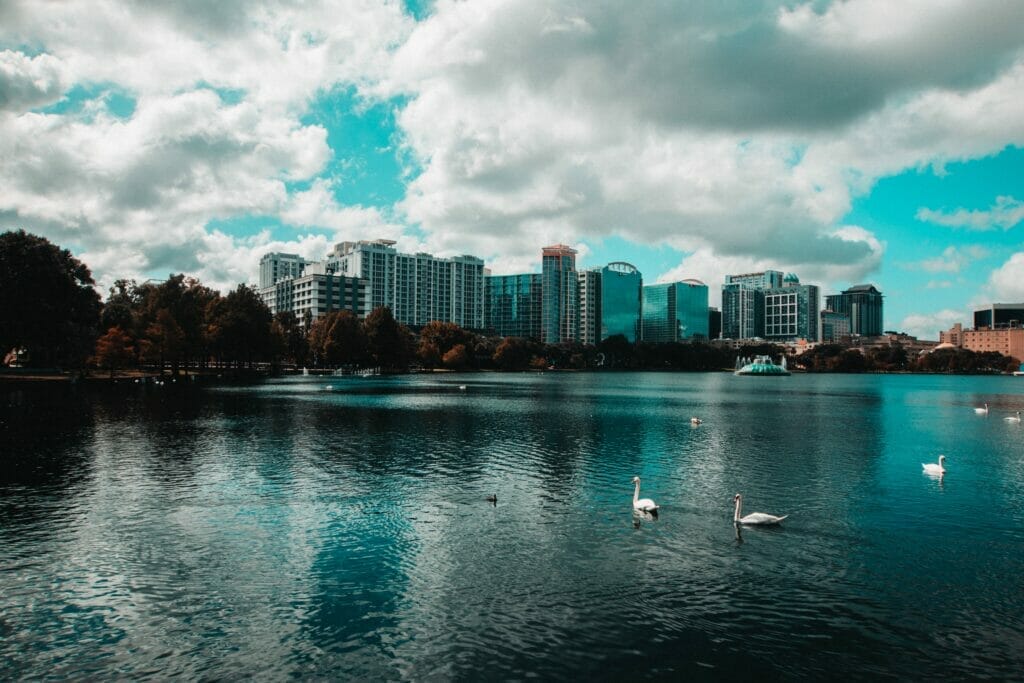 11. Ice Cream at the Boardwalk
Disney's Boardwalk is one of the best places to enjoy some ice cream and a stroll around the shops, overlooking the lake that sits in front of Disney's Yacht and Beach Club.
It's completely free to visit the Boardwalk, and you can even take a free boat towards Epcot or Hollywood Studios for fun.
In the evenings, stop in at Jelly Rolls for the dueling piano bar, or have a nice dinner at Flying Fish, known for its amazing seafood and then get ice cream afterward.
Removed from the sights and sounds of the theme parks, Leu Gardens is one of Florida's most beautiful botanic gardens.
With over 50 acres to explore, this is a place to smell the fresh air and wander through the rose gardens and the herb gardens and all of the winding pathways.
Regular events including Jazz evenings mean that you may just stumble on a romantic night out, or you can simply visit during the day and soak in the sun while smelling the roses – literally.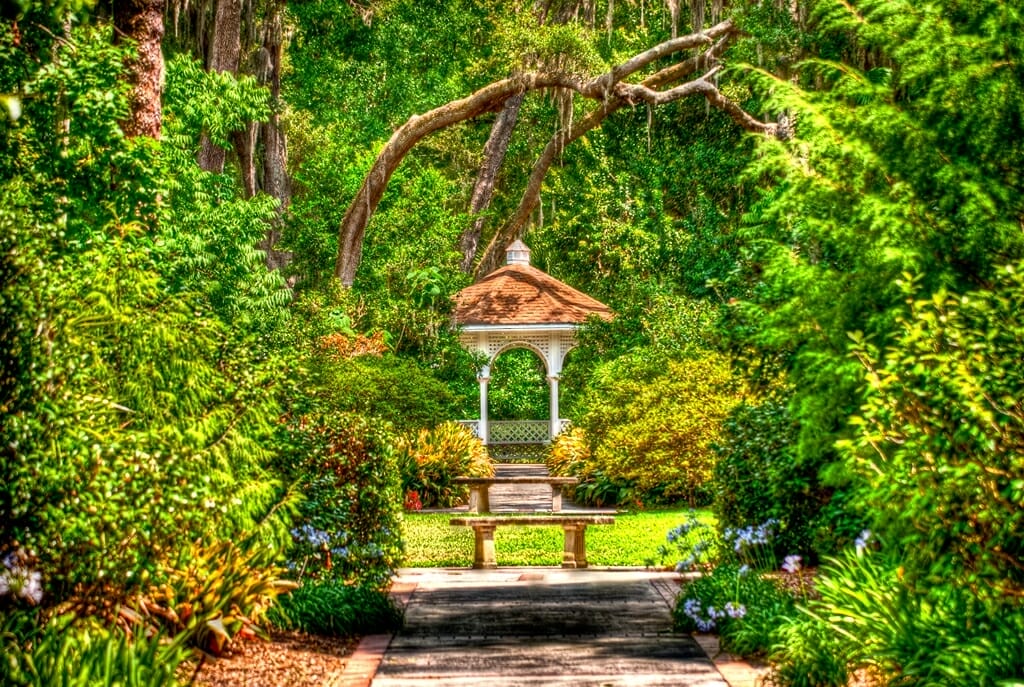 13. Get Brunch at The Glass Knife
There's something about brunch that just screams "honeymoon in Orlando."
Maybe it's the late mornings when you spend a lazy day in bed, maybe it's the fact you can get cheddar biscuits all day long, or maybe it's the pairing of breakfast food with mimosas.
Whatever it is, the best place for a honeymoon brunch in Orlando is the weekend brunch at the Glass Knife in Winter Park.
What is a cake and desserts heaven during the week turns into the best brunch in all of Orlando on Saturdays and Sundays.
Enjoy decadent meals like peach cobbler waffles and biscuits and gravy, or keep it a bit lighter with a grain bowl.
The food is fresh and delicious, and you can enjoy it from 8am to 4pm on both days so you have plenty of time to fit it into your schedule.
14. Take a Tour at Epcot
There are plenty of Disney tours you can take, but one of the most interesting and least talked about is the Behind the Seeds tour of Epcot's greenhouses.
Take a ride on Living with the Land, a boat ride that takes you through the innovative greenhouses, and then take a special tour where you can to learn more about the cultivation and innovative growing techniques from your Disney guide.
These tours aren't lengthy – about an hour, and it's truly a special treat to get behind-the-scenes anywhere at Disney.
And if you think a "greenhouse tour" sounds boring, think again: this isn't your average greenhouse, and you'll see incredible growing techniques that will keep even the non-green thumbs interested.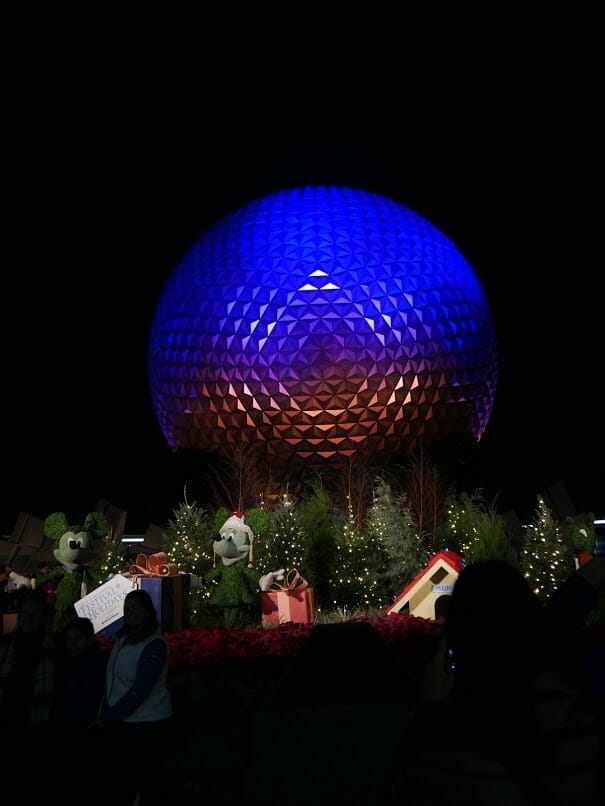 15. Watch the Animals at Animal Kingdom Lodge
Even if you're not staying at Animal Kingdom Lodge, you can spend plenty of time here watching the animals graze the savannas for free.
This is one of the most romantic and secluded Disney resorts for a honeymoon, and there are animal-watching areas with rocking chairs all throughout.
You can even get up close to them and see them from the outside using night vision goggles, or just wander the hallways with their glass viewing areas and spend some time spotting giraffes, deer, and so much more.
It's one of the best free things to do at Disney!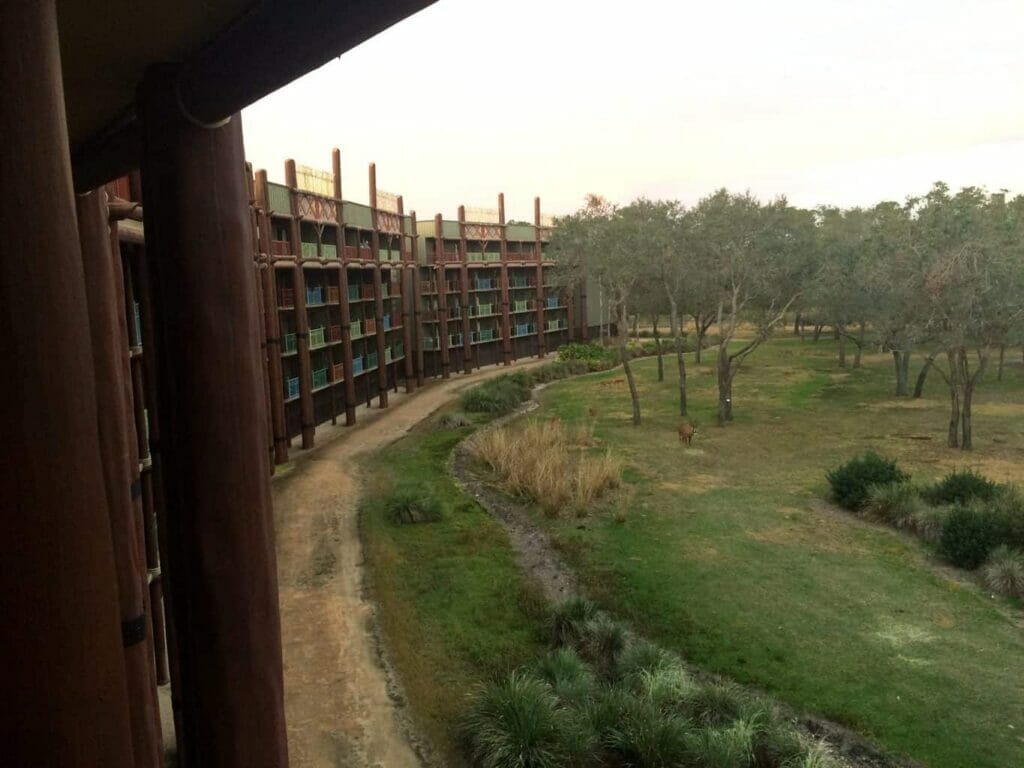 16. Swim at Wekiva Springs
Just a few minutes from downtown Orlando is a hidden gem in Florida, known to locals as one of the best places for spring swimming.
Wekiva Springs has miles of trails, crystal blue waters, and lots of Florida wildlife around to spot as you canoe, swim, or just sit on the shore and take in the atmosphere.
Springs are a huge part of Florida nature and culture.
Feeding nearby rivers, Springs are fresh water that are safe to swim in in Florida and can be incredibly refreshing on a hot summer's day.
Grab your bathing suits, pack a picnic lunch, and have a chilled out Florida nature day.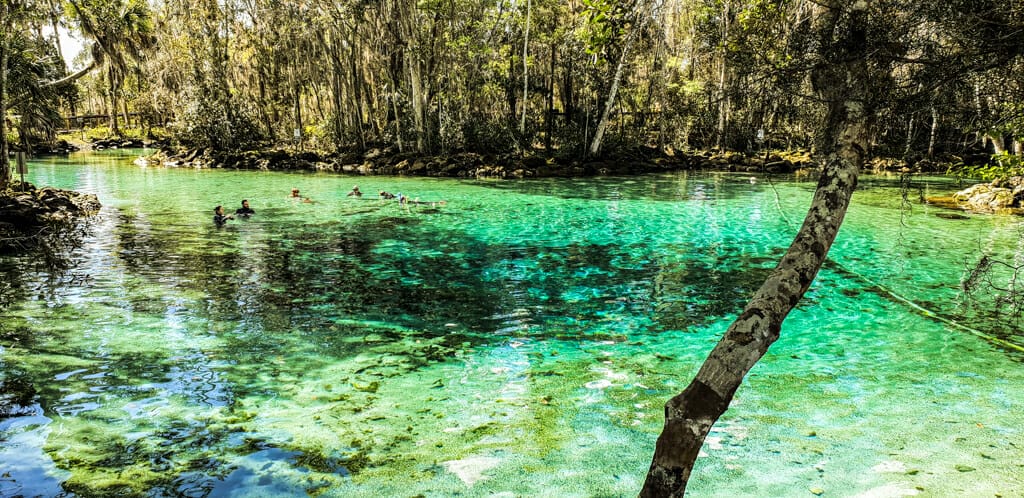 17. Lazy Moon Pizza
Pizza and craft beer are the name of the game at Lazy Moon Pizza, the perfect Orlando honeymoon option for couples who prefer craft brews to afternoon tea and pizza slices to an upscale dining atmosphere.
Here, it's all about the fun, the family, and the aged dough that makes the pizza toppings sing.
With 15 beers on tap and plenty of wine options, those over 21 can also indulge with their meal.
Add some cheesy breadsticks, calzones, or salad, and you've got yourself a no-fuss honeymoon dinner.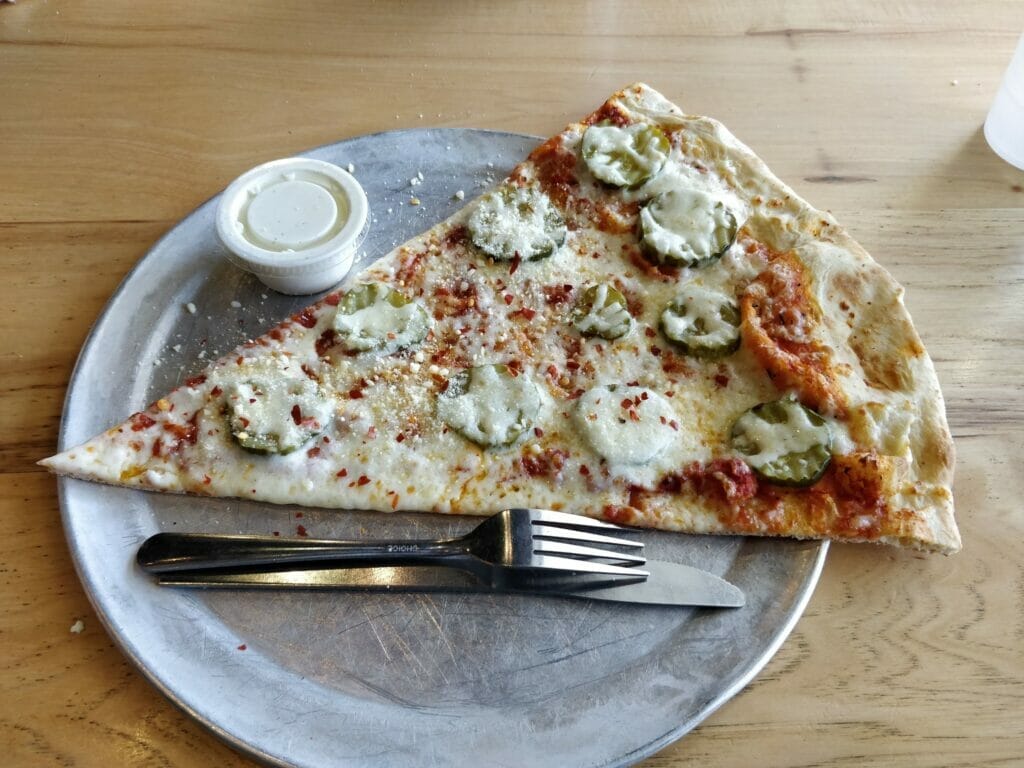 18. Bar Crawl on Church Street
The area around Church Street Station in downtown Orlando is known as the Church Street district, and it's here you'll find the nightlife and the bar options.
If you and your loved one want to get involved in the local bar crawl scene or try some of the Floridian cocktails, get yourself to Church Street one evening and simply hop from bar to bar, enjoying your time together, talking to locals, and generally experiencing Orlando at night at it's finest.
Regular "block parties" in the area celebrate everything from the local soccer team's home games to special holidays and more.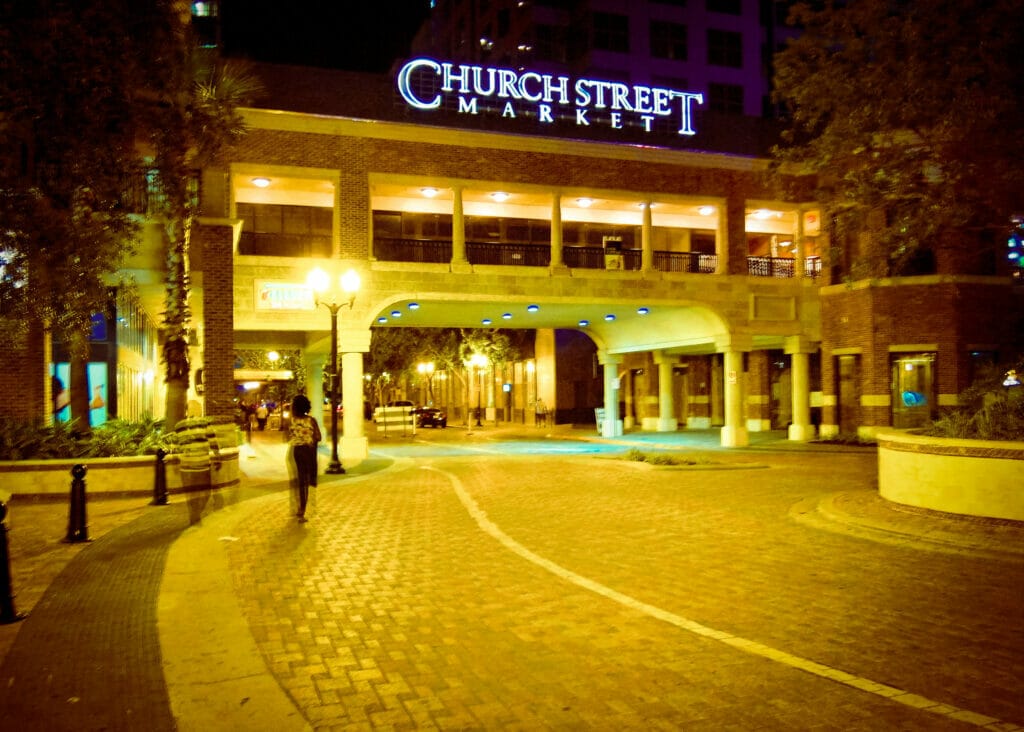 19. Get Lunch in Celebration
Celebration, a picturesque Disney-built town near Orlando, is the perfect place to, well, celebrate.
Here, you'll find a gorgeous Main Street with everything in it's place and a far cry from the strip malls you can find in the rest of Orlando.
This is a wonderful place to stroll through the streets and relax, and of course take in a bit of lunch at one of the area's best restaurants.
Try the Celebration Town Tavern for some New England inspired cuisine including cham chowder, or you can keep it simpler with pizza at Cafe D'Antonio.
Rent bikes to ride through the streets after lunch, or spend some time sitting near the lake.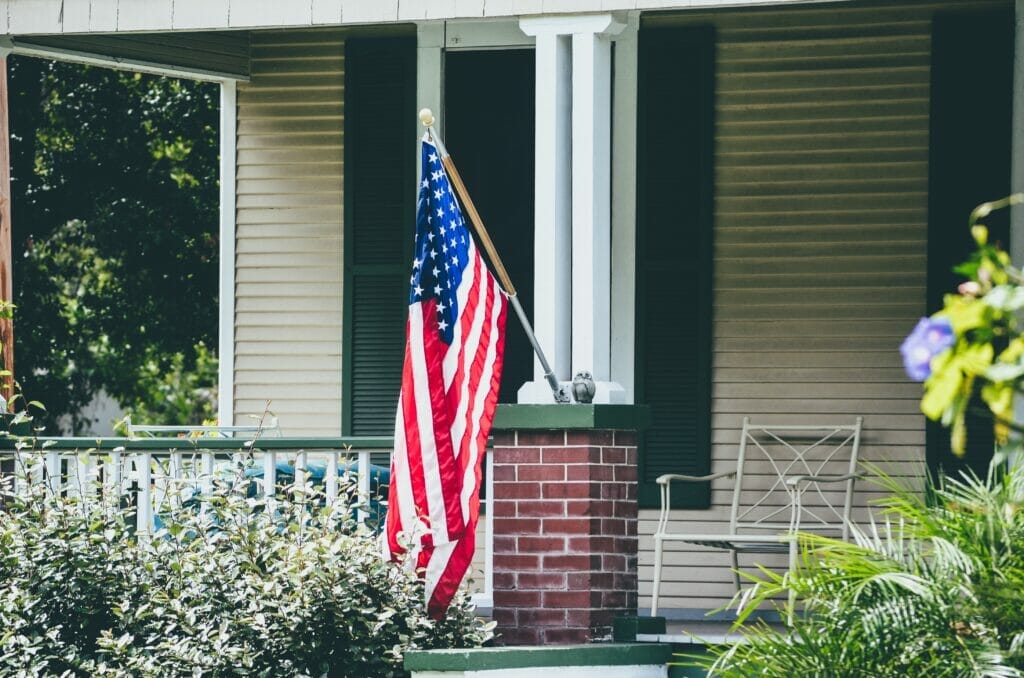 20. Go Dancing
If you're a fan of dancing the night away, Orlando is the best honeymoon destination for you.
Choose from line dancing at Cowboys on Orange Blossom Trail, or spice it up a bit at the Cuba Libre Restaurant and Bar with plenty of dancing options.
For salsa, Mango's Tropical Cafe Orlando is the best place to go.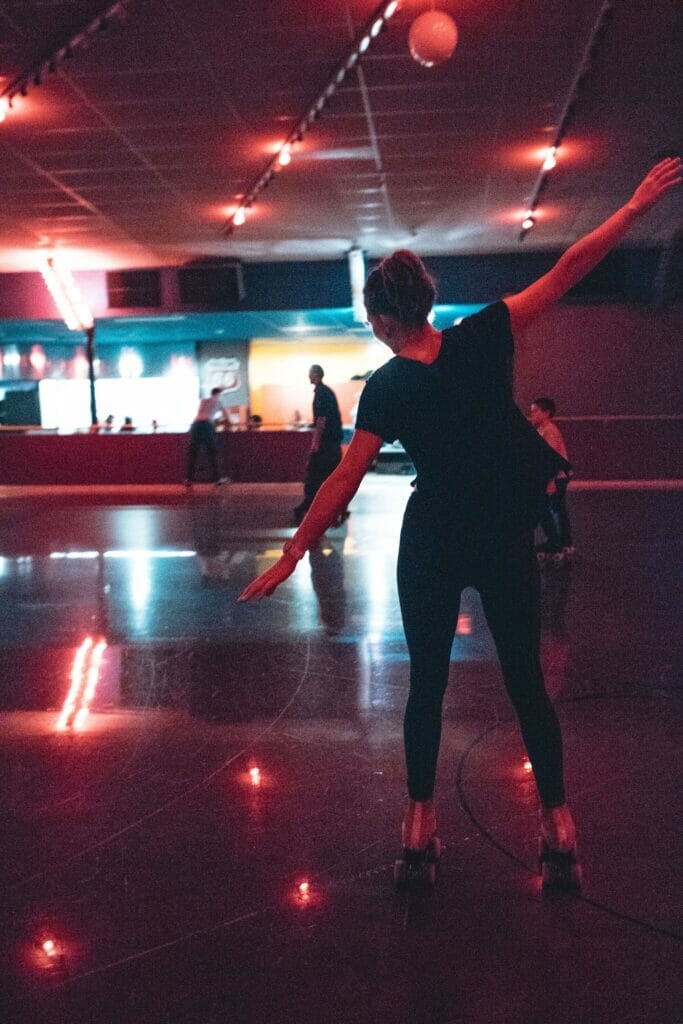 21. Gatorland
If you've chosen to honeymoon in Orlando, you clearly are looking for fun at the theme parks.
But don't miss out on Orlando's original theme park, Gatorland!
Test your new marriage with a ropes course that involves zip lining over gator-infested waters (only in Florida), or simply enjoy the day walking around and seeing the gators and other Florida wildlife.
Gatorland believes in conserving Florida's alligators, and you'll learn more about their feeding habits, how they act in the wild, and what Gatorland do to take in alligators that, er, aren't wanted elsewhere (like in people's pools!).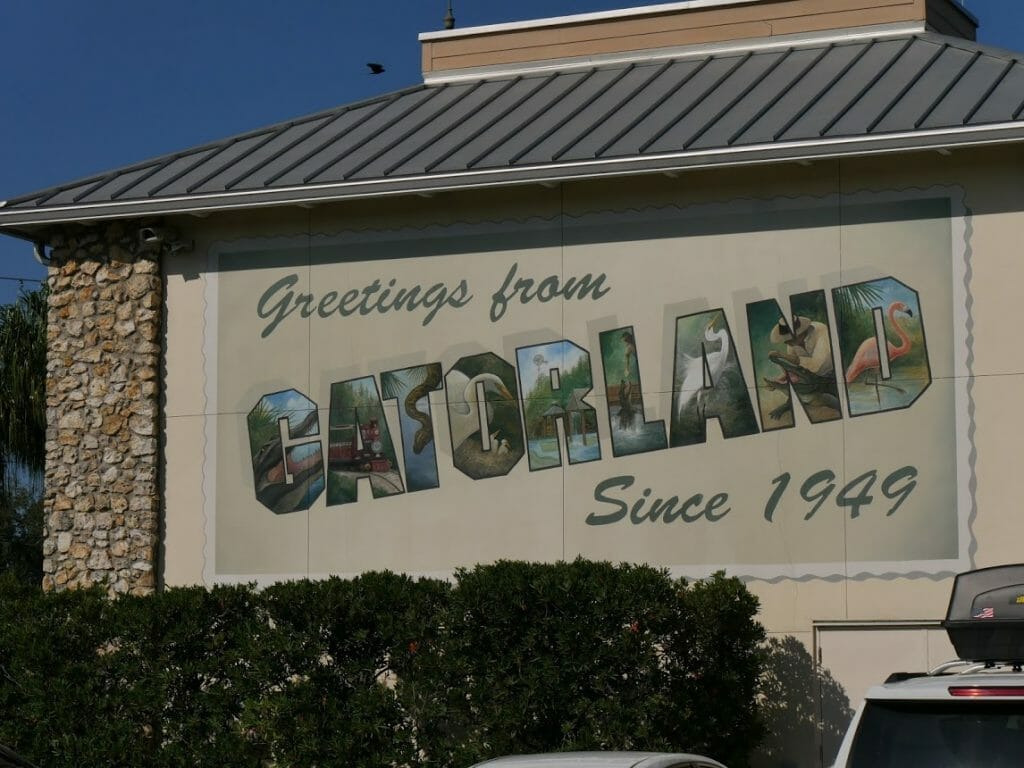 22. Indoor Skydiving
You don't have to jump out of an actual plane to enjoy the rush of wind in your hair in Orlando.
Instead, head to iFly, which is an indoor skydiving experience that is incredibly safe and means you can experience the sensation of skydiving closer to the ground.
You'll be suited up in a funny-looking wind suit, taught some techniques by an instructor, and then enjoy your turn in the wind tunnel with the help of an expert who will make sure your body positions are in the right place to really get the feeling of flight.
This is a fun way to try something new as a couple in Orlando.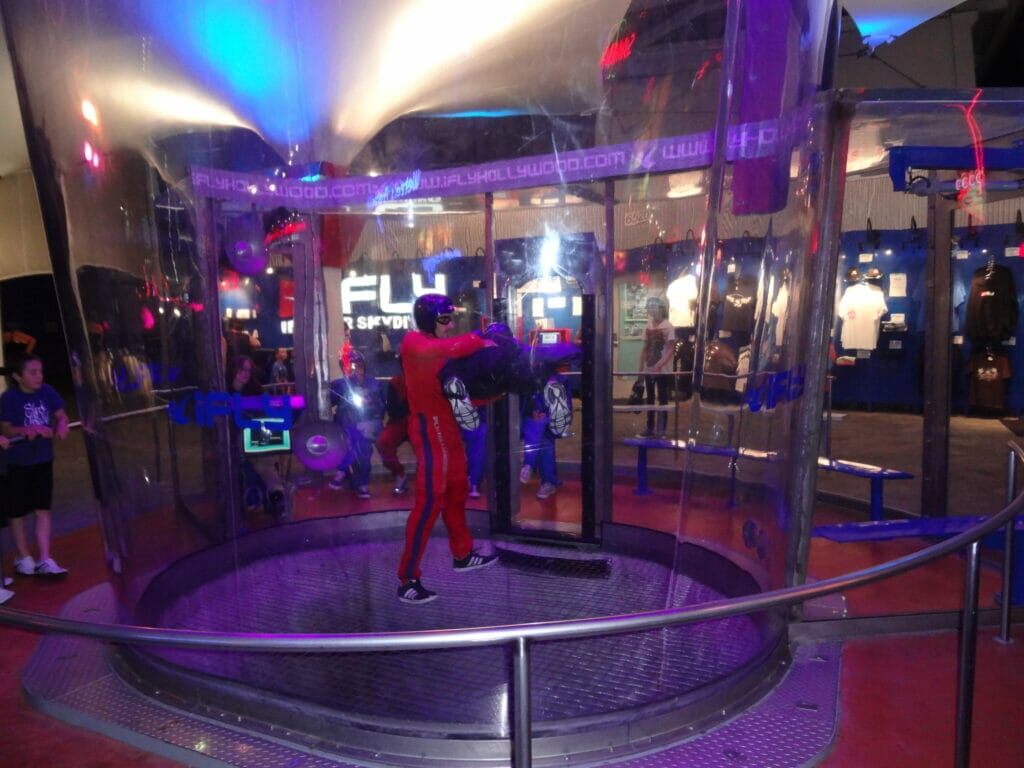 23. Tibet-Butler Preserve
Experience real Florida at the Tibet-Butler Preserve, where you can wander through miles of trails through swampy marshes and see if you can spot Florida wildlife.
An interactive nature center introduces you to the area, and the wide open space and fresh air helps you see what true Florida is all about.
No Mickey, nothing fake, just gorgeous wetlands teaming with lizards, birds, and the occasional tortoise!
24. See the Manatees at Blue Springs
In the winter months, hundreds of manatees descend on Blue Springs State Park for the warmer waters, and it's during these times that you can come to see them lazily float around in the water.
In the winter months, in order to cause no harm to the manatees, swimming is not allowed, but you can take a boat tour that takes you up and down the waterways and helps you spot manatees, gators, and other Florida wildlife.
Blue Springs State Park is the best place to see manatees in Florida, and if you've never seen these gentle giants in the wild before, this is your chance.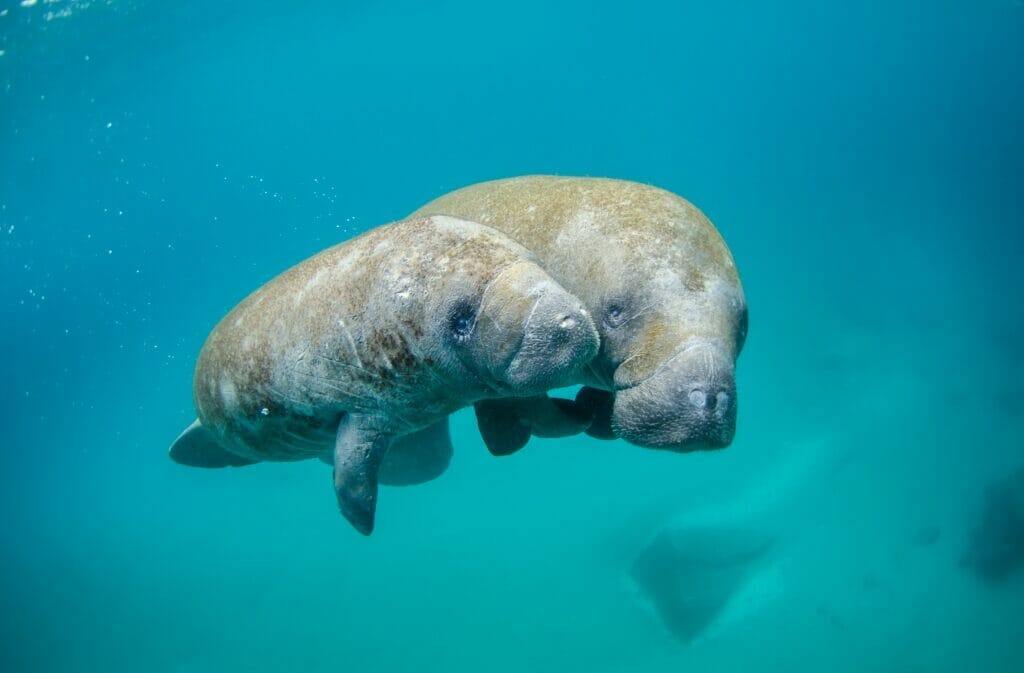 25. Have a Fancy Dinner in Winter Park
Looking for something to do in Winter Park on your honeymoon?
Why not have a fancy dinner at one of the classy restaurants that surround Park Avenue.
Winter Park is known for its thoroughfare, Park Avenue, filled with shops and restaurants, that is completely walkable – unlike many places in Florida that require a car.
Book at Luma on Park for American cuisine, or try Tabla Indian Restaurant for delicious Indian cuisine combined with some local flavors.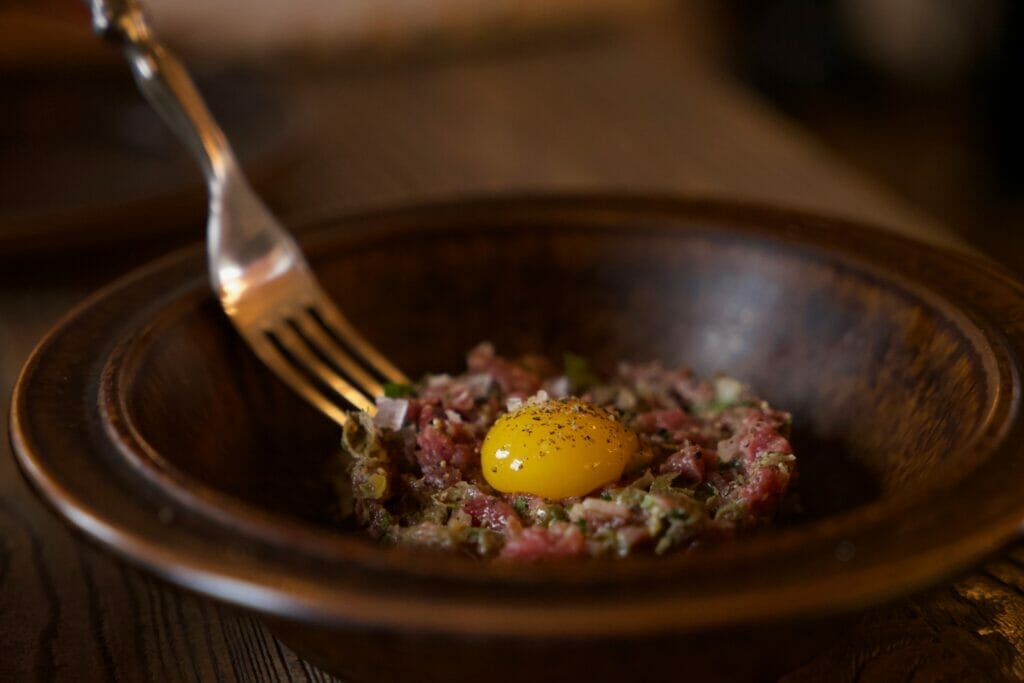 26. Go to the Movies at AMC
Sometimes, even on a Florida honeymoon, it's just so hot that you'll want to escape inside to catch a new release.
The coolest place to watch movies in Orlando (no pun intended) is at the AMC in Disney Springs.
Not only is it conveniently located if you're staying on Disney property, but it's spacious and has a dine-in menu where your dinner can be delivered right to your seat!
How's that for luxury?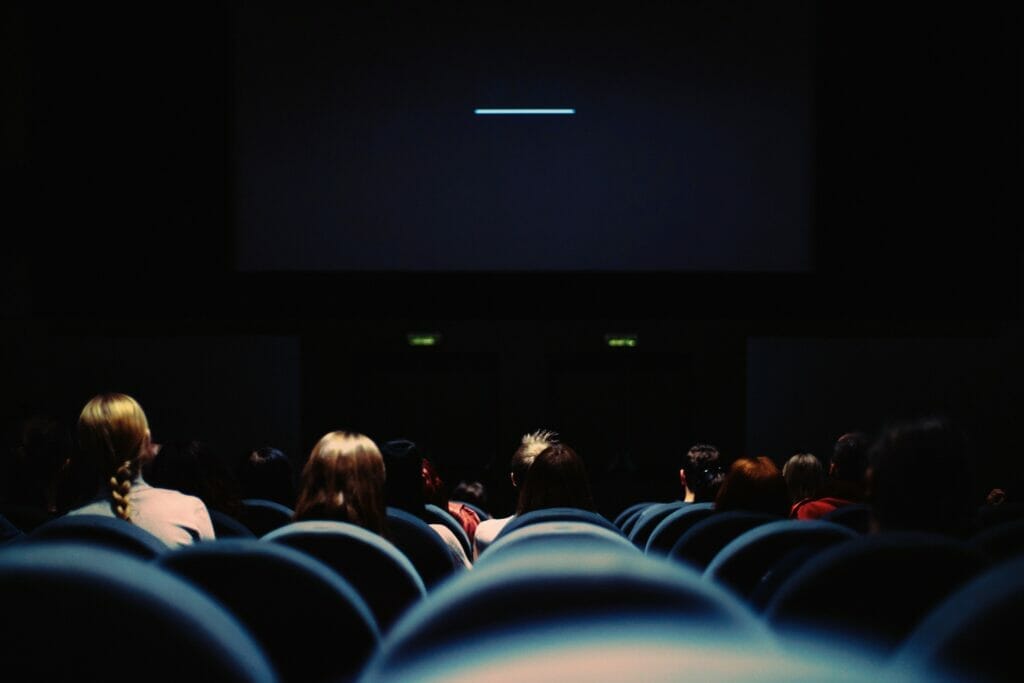 27. Bowling at Splitsville
For some good grub, excellent bowling atmosphere, and plenty of drinks, try booking a bowling lane at Splitsville in Disney Springs for your honeymoon in Orlando.
This is consistently rated one of the best places to bowl in Orlando, and it's truly a destination bowling alley instead of one you'll find on the side of the road with outdated decor and smelly bowling shoes.
Splitsville is set up so that you can enjoy lunch or dinner at your table as you bowl, and the food isn't your typical bowling alley fare: it's actually good – raved about, actually.
Book a lane for 2 and spend your evening bowling the night away.
28. Disney Fireworks Cruise
Of course you should spend time in the Disney parks on your honeymoon (make sure to get your "Just Married!" button), but another great way to celebrate is to take a Disney Fireworks cruise.
These cruises take you out on the water in front of the Magic Kingdom with snacks and drinks, and when it's time for the fireworks, the music is piped in.
Not only does it mean you'll miss the crowds in the parks, but you can book a private fireworks cruise to really have a honeymoon experience to remember.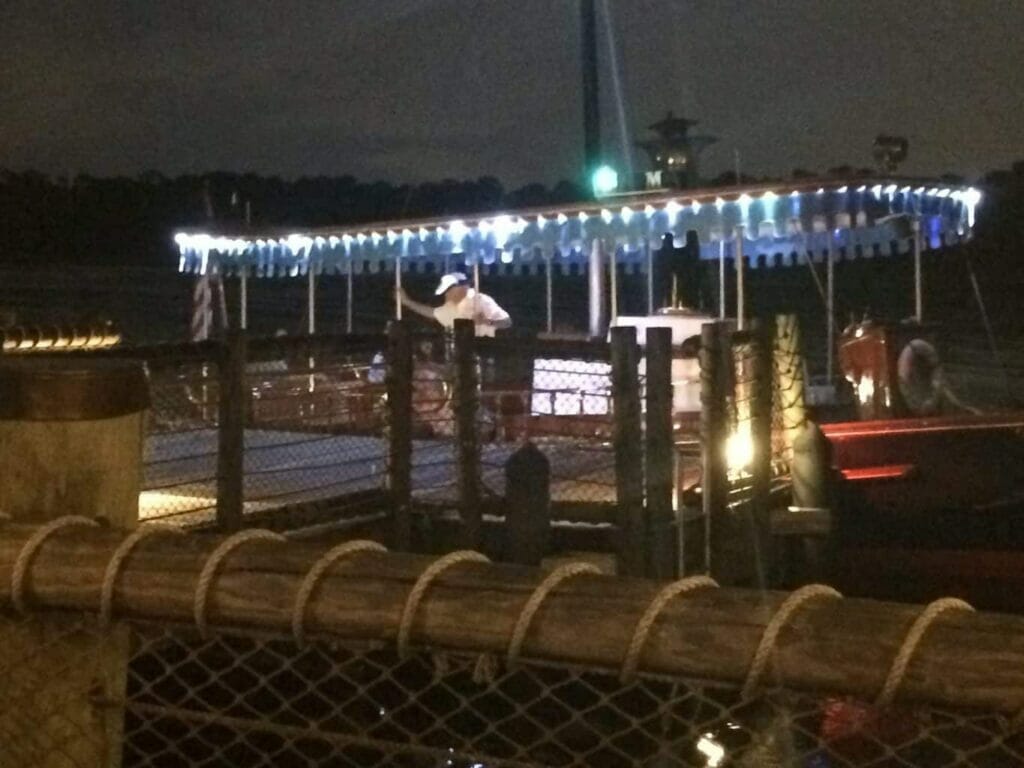 29. Go Spa Hopping at Orlando Luxury Resorts
You don't have to just stick to the Disney Spa if you're hoping to experience some spa days on your Orlando honeymoon.
From the Four Seasons to Wyndham to Hiltons, Orlando has plenty of luxury resorts offering spa day passes and individual spa experiences.
30. Beach Club
Disney's Beach Club is one of the most beautifully themed resorts in Orlando for anyone who loves the New England aesthetic. Not only can you access it from the Boardwalk, but it's free to sit out on the beach and look at the boats and people go past.
The sand is white and soft on your feet, and it's walking distance from Epcot so you can incorporate it into an Epcot day or stand at the bridge in between the Beach Club and the Boardwalk to watch Epcot fireworks for free without park entrance.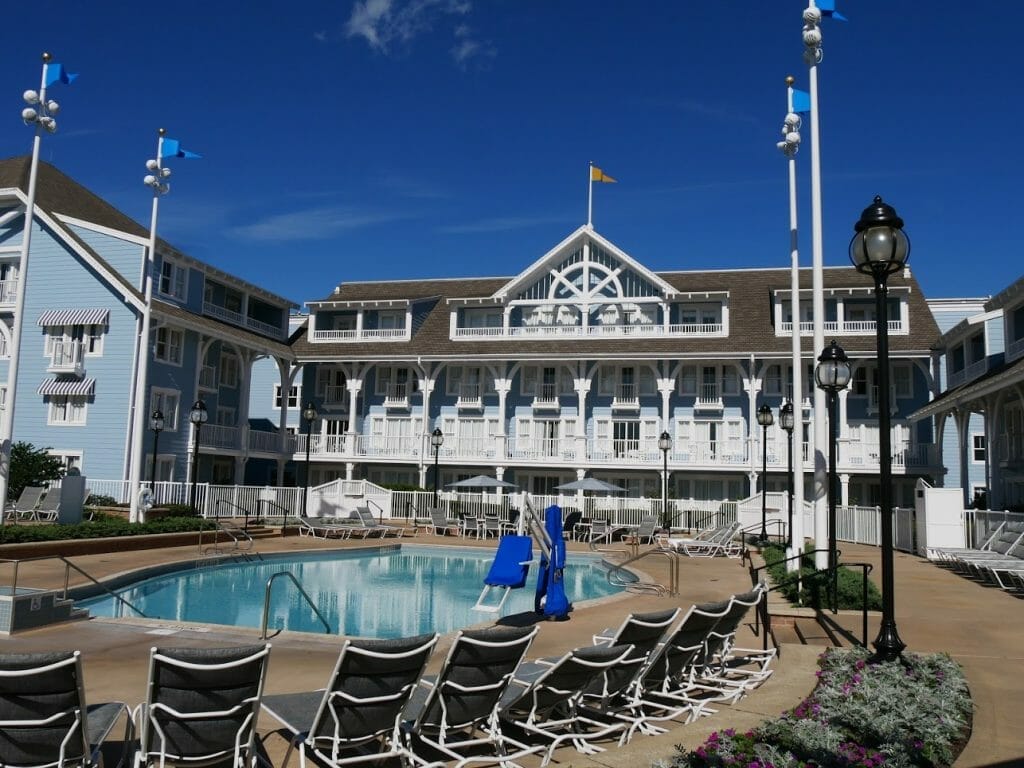 31. Dinner Theater
There's nothing like some rousing dinner theater to get theatrical couples enjoying an evening on their honeymoon.
Orlando is built on entertainment, and that includes while eating!
Try the Titanic themed dinner show where you eat aboard the famous vessel, or try out a spectacle like the Spirit of Aloha luau at Disney's Polynesian Resort.
There are also dinner theater options like Medieval Times with the iconic jousting competitions, or mystery dinner theater where you have to solve "whodunnit!"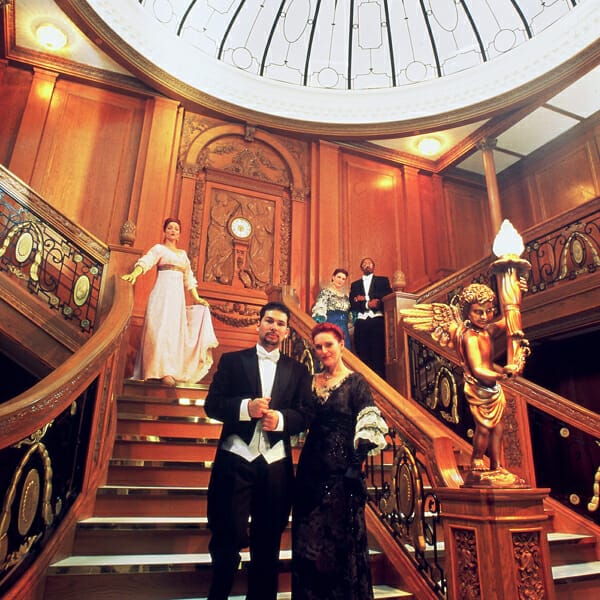 32. Orlando Brewery Tour
Visit Orlando Brewing in Downtown Orlando for free brewery tours on certain days, or just book yourself a brewery package that includes plenty of options of the local brews.
This is a fun, couple-friendly place to help you make the most of Orlando's craft brew scene and it's one of the best things for adults to do in Orlando.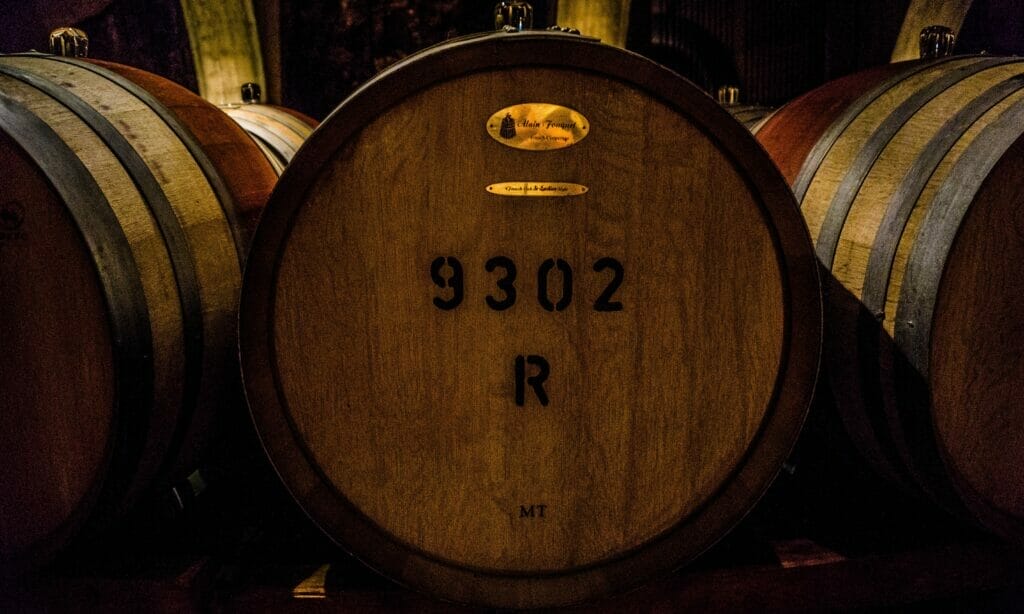 33. Get Bundt Cakes from a Bakery
You may have just had a wedding cake, but what about a honeymoon cake?
Try out Nothing But Bundt Cakes in Orlando at the Sand Lake location or the one in Winter Park, and enjoy these tasty and adorable mini bundt cakes in the most amazing flavors.
What else should I not miss in Orlando?
If you're visiting Orlando soon, here's a very brief rundown of a few of my other favorites to make sure you don't miss anything!
Hey! Want more Orlando content? Check out these guides!
Get the All-American Travel Secrets!
Don't miss out on America's hidden gems!