Looking for ideas for an Orlando bachelorette party?
Orlando is one of the best places in the US for a bachelorette party with all of the options, ranging from dance clubs to theme parks to spa days.
These Orlando bachelorette ideas will help you plan a perfect bachelorette experience, whether you're the Maid of Honor planning for the bride or you're planning your own.
And let's face it – while the typical bachelorette party involves some sort of drinks and saucy decorations, that's not a requirement.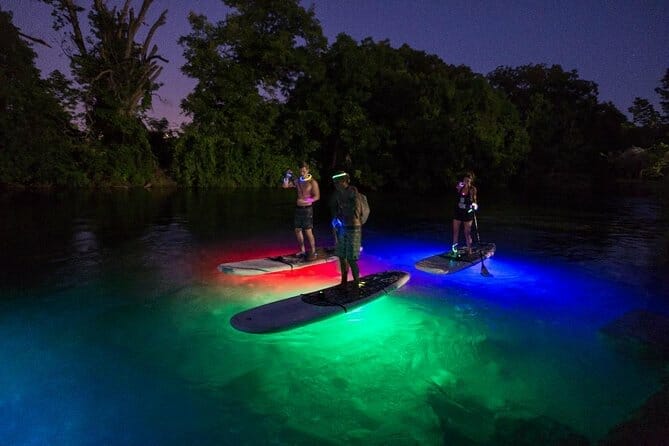 There are plenty of brides who would enjoy something more low key or a different kind of bachelorette experience, and I've included plenty of options no matter what kind of Orlando bachelorette event you're trying to plan.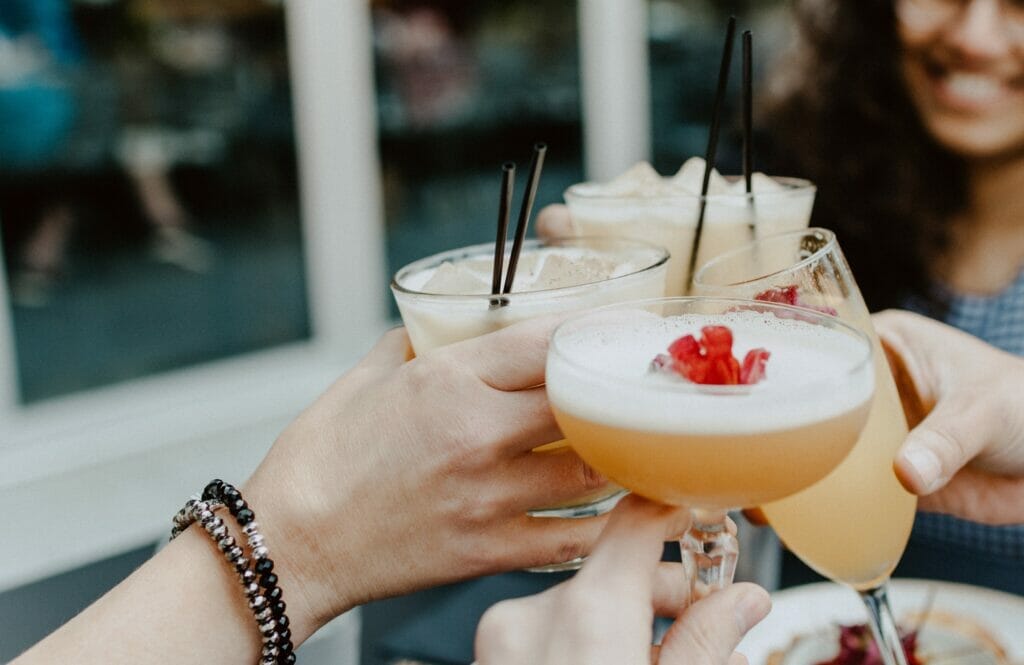 Okay, everyone get these adorable Orlando bachelorette Disney shirts and this "Disney before I Do" sign and let's get going.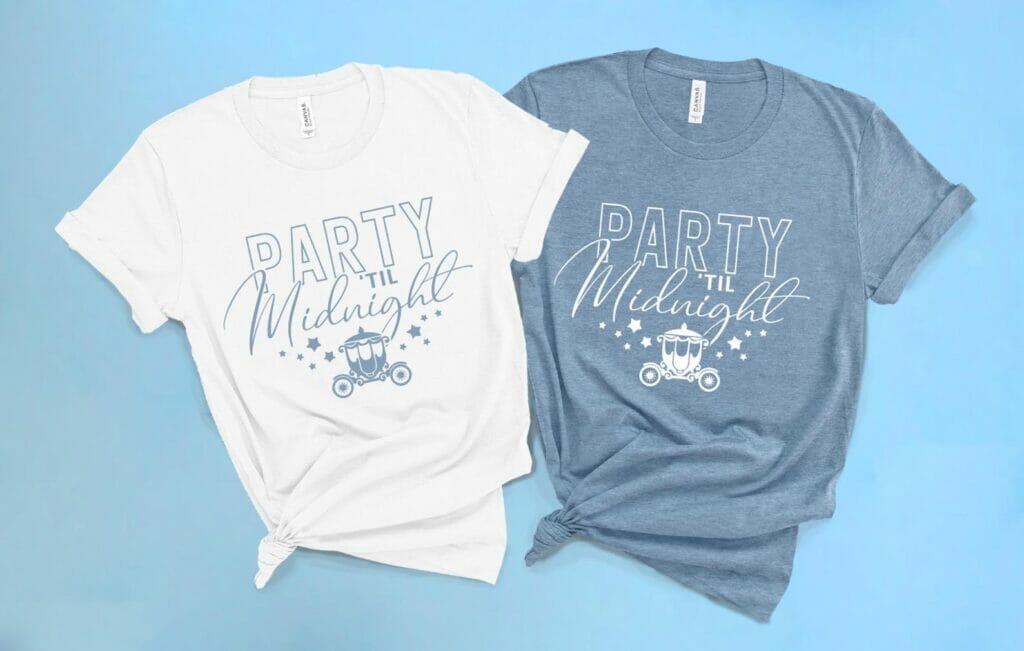 Where to Stay in Orlando
Budget: Splashing Out ($250+ per night)
Orlando is full of luxury hotels to choose from, and while more obvious options might be the Ritz Orlando, the Waldorf Astoria is at a bit of a cheaper price point (though not cheap, this is still a splash out) and offers some spectacular amenities.
Firstly, it's set on over 400 acres, and in addition to plush rooms that will rival any resort you've stayed in, there is also a full golf course, 2 swimming pools, kid's clubs, a lazy river, an on-site spa AND free transportation to the Disney parks.
Oh, also there are 12 restaurants, so, there you go, decision made!
Budget: Mid-Range ($150-$250 per night)
I've stayed in this hotel so many times, I've lost count – and every single time, I want to stay forever.
The Wyndham Bonnet Creek is a great mid-range option with spacious rooms, beautiful pools, a lakeside location with plenty of recreational opportunities for kids and adults alike, and some rooms even have Disney fireworks views.
Relax by the fire pit in the evening, or put on your plush robe and check out the spa. The location is top notch, the price is reasonable for Orlando, and the memories you'll make here will last a lifetime.
Budget: Uh…on one! ($150 or less per night)
If you'd rather spend your vacation money on things to do in Orlando while still being comfortable and happy at your resort, Hilton at Tuscany Village is for you.
The whole resort is sleek and modern, with awesome views from many of the balconies and well-designed outdoor pools (yes, this is Orlando, even the cheaper hotels have a pool!)
Choose from studios or suites, and appreciate the great location that makes you a 4 minute walk from the Outlets and a less than 10 minute drive from Disney, SeaWorld, Universal, and other Orlando attractions.
1. Disney Springs
Disney Springs, Disney's shopping and dining area, is a great place to have a bachelorette party for a Disney fan or for a bride who wants tons of options of things to do.
Not only can you grab drinks at somewhere like Wine Bar George or the Hanger Bar (Indiana Jones themed bar), but there are plenty of delicious places to eat, including the Boathouse if you want a sit-down meal and the Polite Pig if you want a more casual barbecue experience.
There's plenty of nighttime shopping to be had, and you can plan a Disney scavenger hunt all around Disney Springs for your bachelorette party, trying to get pictures of the bride all around property with her bachelorette gear on.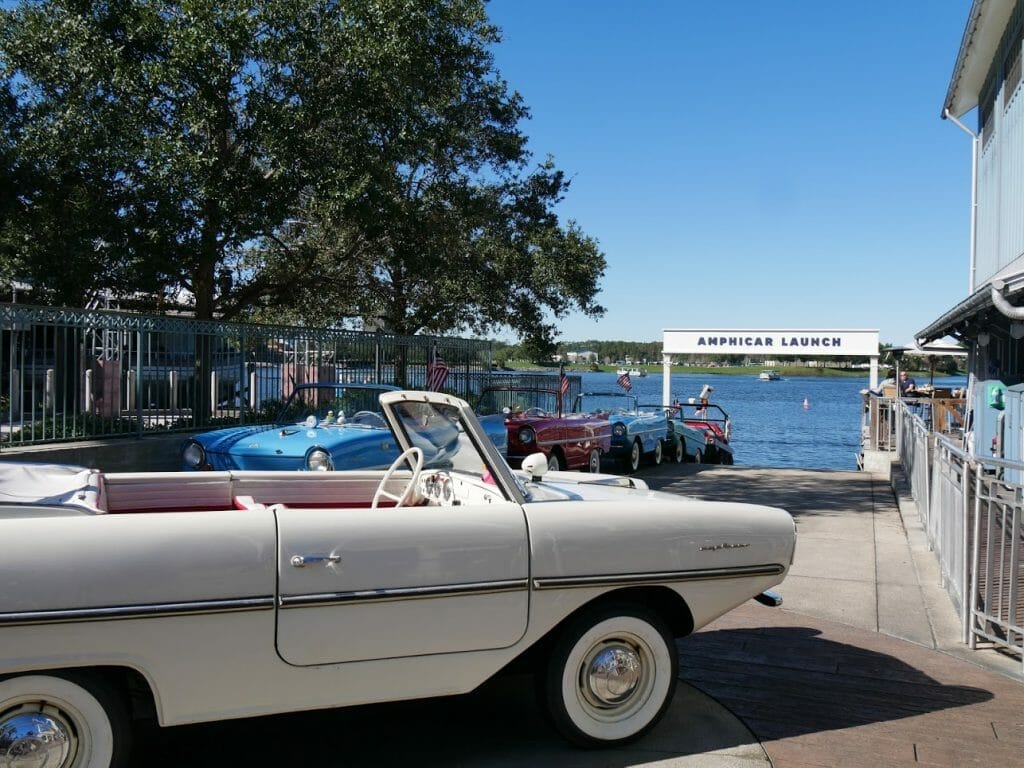 2. Citywalk
Citywalk, Universal's shopping and dining district, perhaps has an even more adult feel than Disney Springs.
As the night falls, you've got dining options like the Cowfish which specializes in burger and sushi (which they admit is a strange combination!) and Vivo Italian Kitchen for a really nice Italian meal option.
You've also got plenty of places to get drinks, including Pat O'Briens, a reproduction of the New Orleans location where it's always Mardi Gras.
You've also got shopping, live entertainment, and places for snacks like Voodoo Donuts.
Especially if your Orlando bachelorette night is party of a longer Orlando bachelorette weekend, going somewhere like Citywalk is a great central location that can be held after a day at the theme parks.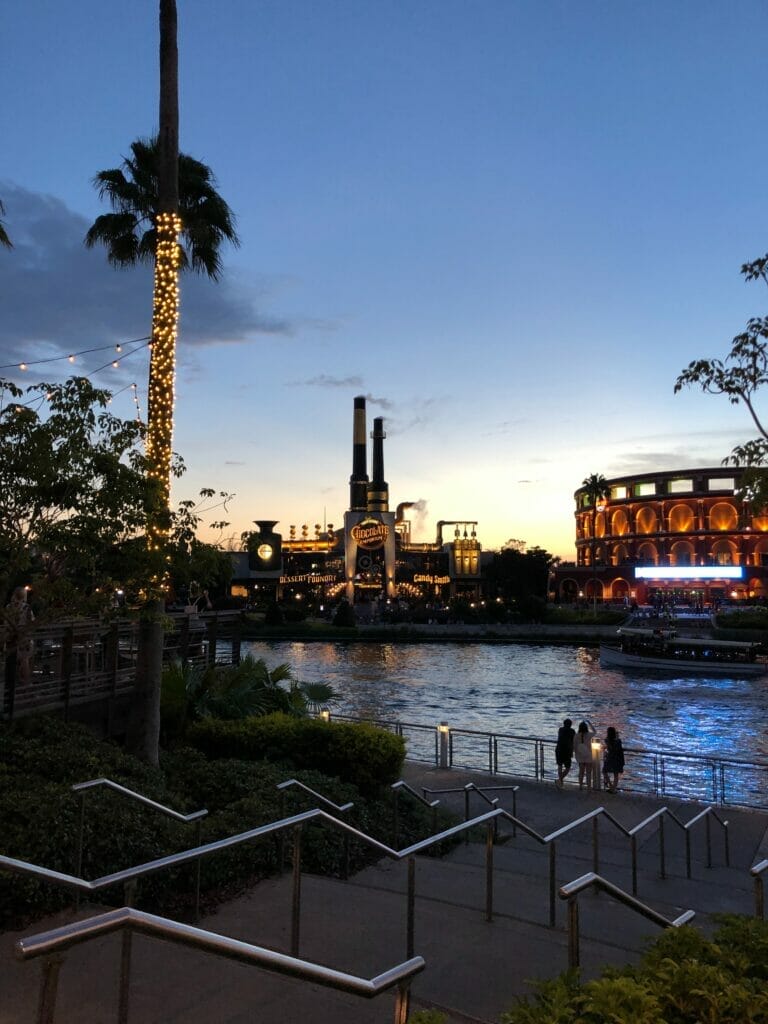 3. Theme Parks
Speaking of the theme parks, it's really popular to hold a bachelorette day in Orlando at any of the theme parks!
A foodie and drinking-friendly option would be to head to Epcot, where you can wear matching shirts and do a "drink around the world" challenge, getting a drink and a snack in each of the country pavilions.
Plenty of people also choose the Magic Kingdom for Disney fans, and everyone wears their ears and has a magical day on Magic Kingdom rides, maybe with an extra event like attending one of the firework's dessert parties.
If you're a Universal fan or the bride is a thrillseeker, definitely consider either Universal Studios or Islands of Adventure for the bachelorette day.
Big Harry Potter fans will be in heaven by spending their bachelorette party at Hogwarts with their favorite friends.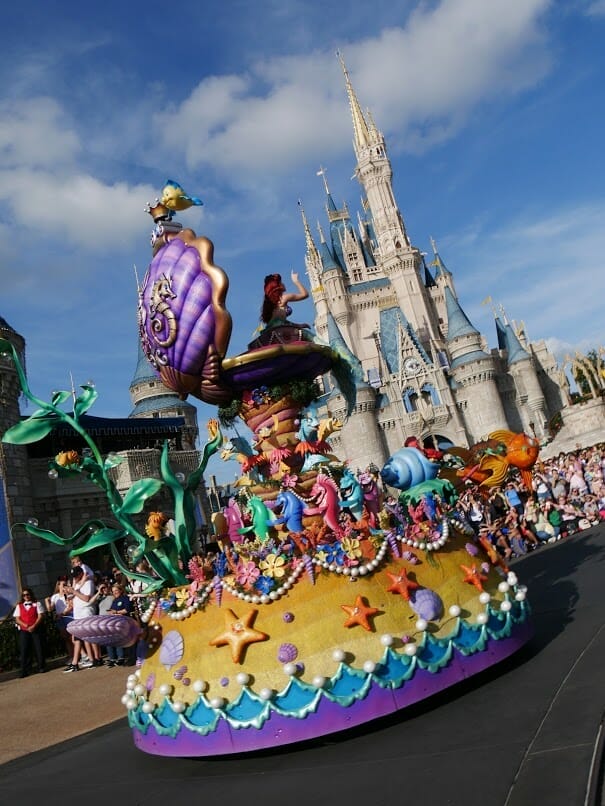 4. Spa Day at The Four Seasons
Take the girls to the best spa in town at the Four Seasons for a pampering day they'll always remember.
This is the premier spa in Orlando, with elegant robes, delicious food offerings, and so many treatments that your head will spin when you're presented with the options.
Let everyone choose from a basic facial or massage, or really plan a day to remember as they try out new treatments like an auditory treatment filled with relaxing sounds.
Don't forget to check out the other on-site amenities at the Four Seasons, including upscale restaurants and an overall feeling of luxury.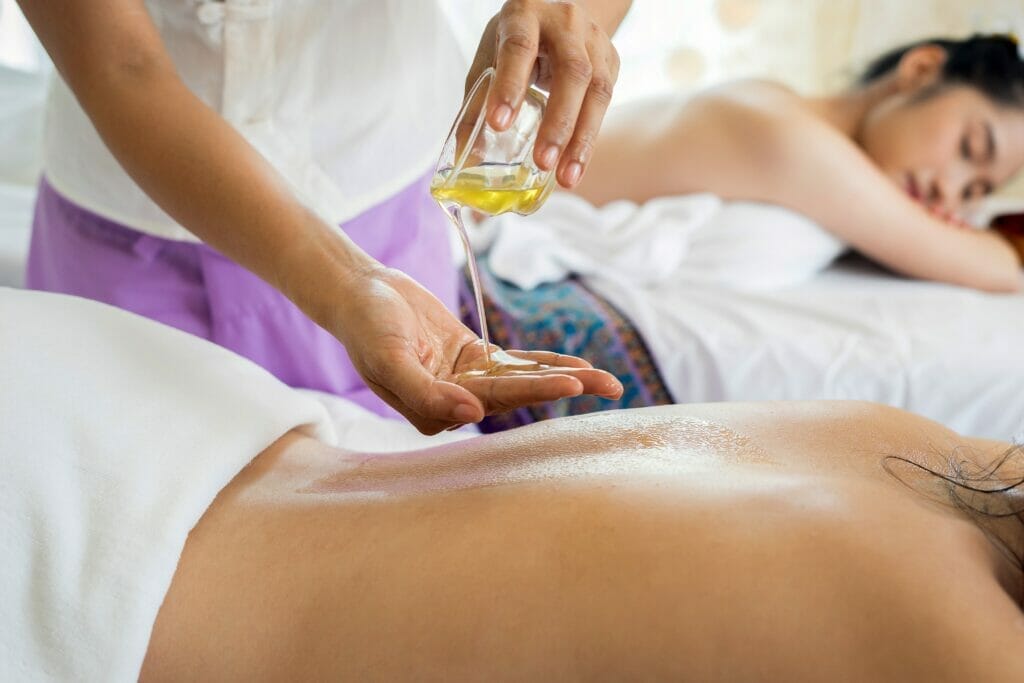 5. Afternoon Tea at the Grand Floridian
If you want to plan a bachelorette party in Orlando that everyone can come to, including moms and grandmas, try afternoon tea at the Grand Floridian.
This unique Disney experience is held in the tea room at this iconic resort, and you can dress up and spend the afternoon with your pinkies up as you're served tea, sandwiches, and scones fit for a queen or princess.
This is much more original than just going out to eat, and a fun way to celebrate a bride who wants a more low key, but still memorable event.
6. Church Street Bar Crawl
For party brides, there's nothing better in Orlando for a bachelorette party than a Church Street bar crawl.
Sure, you could just go to one bar, but why do that when Church Street in Downtown Orlando is chock full of drinking options?
Plan the evening to bar hop with times you're going to move on for the organized bridal party, or just start at one and see how it goes and when you feel like moving.
From the rooftop bar at Latitudes to some Irish spirit at Irish Shannon's Pub, there's something new to discover and different drinks to try at each one.
Just don't lose anyone along the way!
Or, try an Orlando tour that features some bar hopping.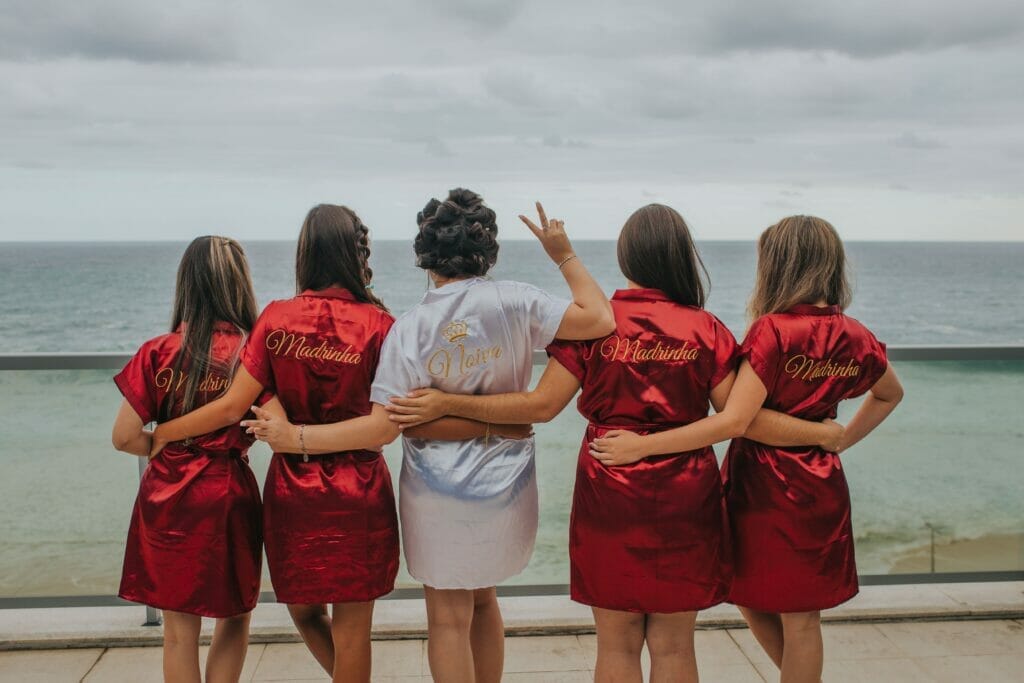 7. Dancing at a NightClub
Want a traditional bachelorette party of dancing and drinks?
Orlando is a haven for danceclubs, and you can choose from so many different options.
One of the most popular for big groups is 3NINE at the Rosen Plaza Hotel on International Drive where you can dance the night away in the sleek surroundings, but you should also check out ONO Nightclub on Orange Avenue with their awesome VIP tables and bottle service.
8. Take a Cocktail Class
For a truly memorable bachelorette experience in Orlando, consider taking a cocktail class together.
Not only does this give you something more structured to do, particularly if the bridal party don't know each other that well, but you can go out drinking any night – going to a cocktail making class is something different!
The best cocktail making classes are held at the Courtesy, an Orlando cocktail bar, and you can book a private event on Saturdays if you book in advance.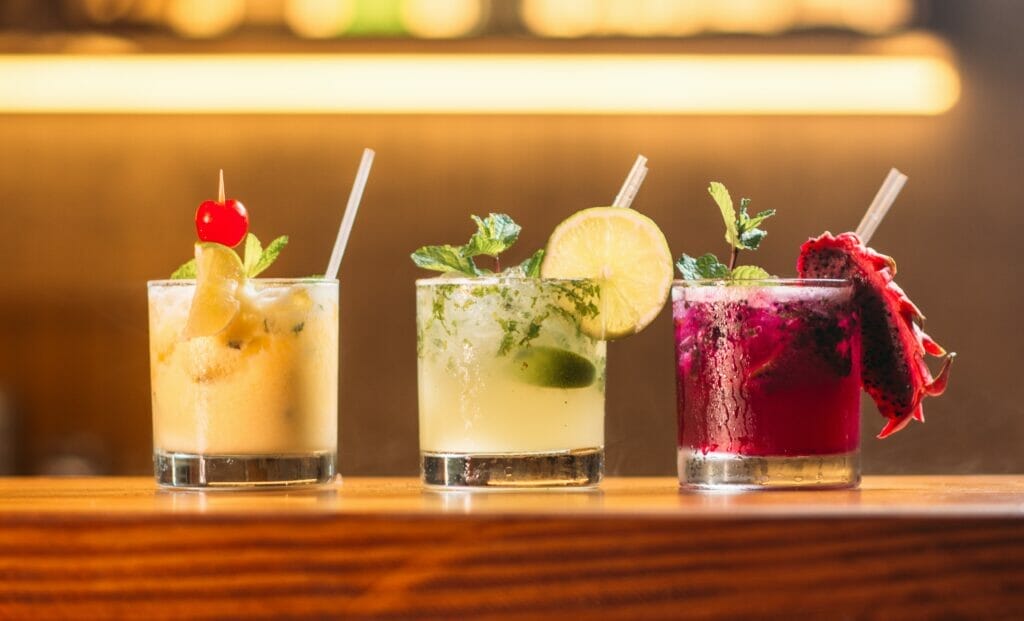 9. See a Show at Dr. Phillips
If you're planning a bachelorette for an artsy bride, see if there's anything playing at Dr. Phillips Performing Arts Center.
This is the best location for theatre in Orlando if you're looking for things like visiting broadway musicals, and it can be such a fun evening if you all go see a show and then go out afterwards, or have dinner beforehand.
This is another one of those options that are more suitable for a bridal party of all ages, so even the flower girl can participate and the groom's mom can come along.
It may take extra planning to make sure that your plans match up with what's playing, but well worth looking in advance if that's an option for you.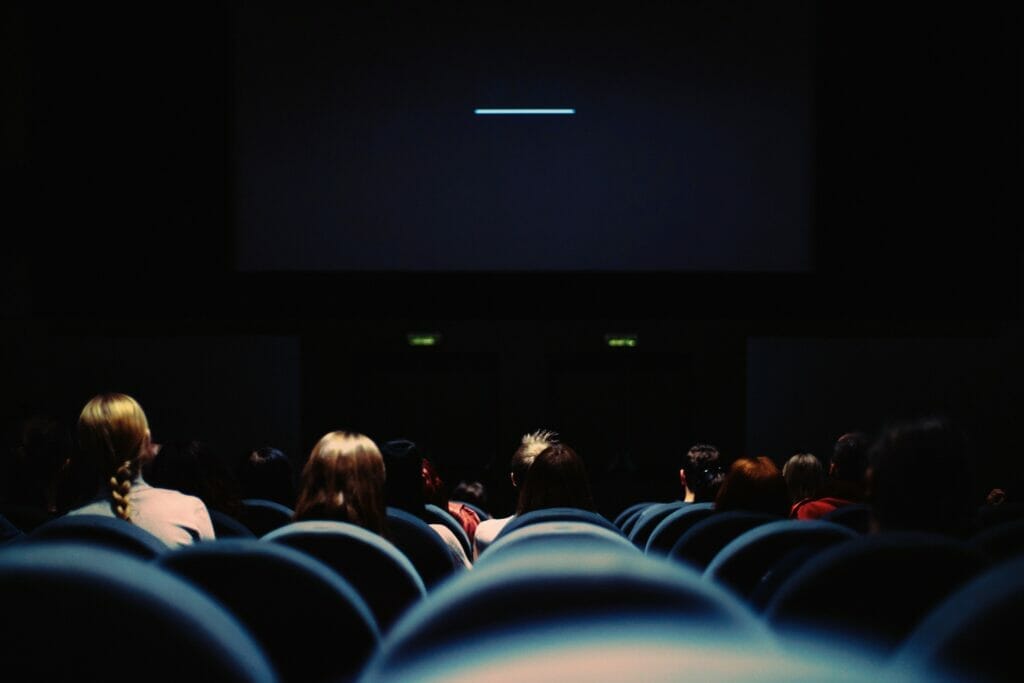 10. Take a Cooking Class
Like cocktail classes, cooking classes are a great bachelorette idea in Orlando for brides who want something a bit more structured and accessible to all ages.
Truffles and Trifles will let you book a private party, including an option of 4 menus that you can pick and choose from to really make sure that your group is cooking up dishes that everyone will love.
This is such a fun way to help the bridal party bond or just to let everyone socialize while learning a new skill without the debauchery of a traditional bachelorette party.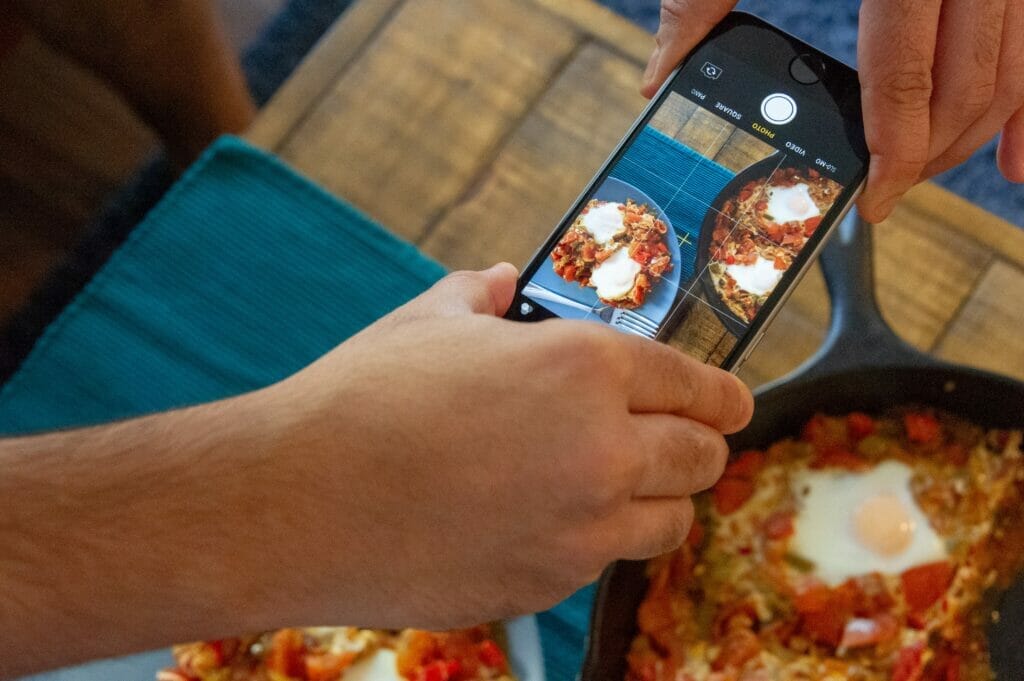 11. Enjoy Shopping and a Fancy Dinner in Winter Park
Winter Park is the ideal destination for a bachelorette party that involves a fancy dinner and some high end shopping or window shopping.
This beautiful part of Orlando centers around the famous thoroughfare, Park Avenue, and it's filled with gorgeous mansions and really elegant design.
For a really upscale dinner with American fare, try Luma or Hillstone Restaurant.
If you want something a bit more exotic, Cafe de France has excellent European inspired food.
And of course there is plenty do on Park Avenue if you're wanting to shop or stop in to a wine bar for an after dinner drink.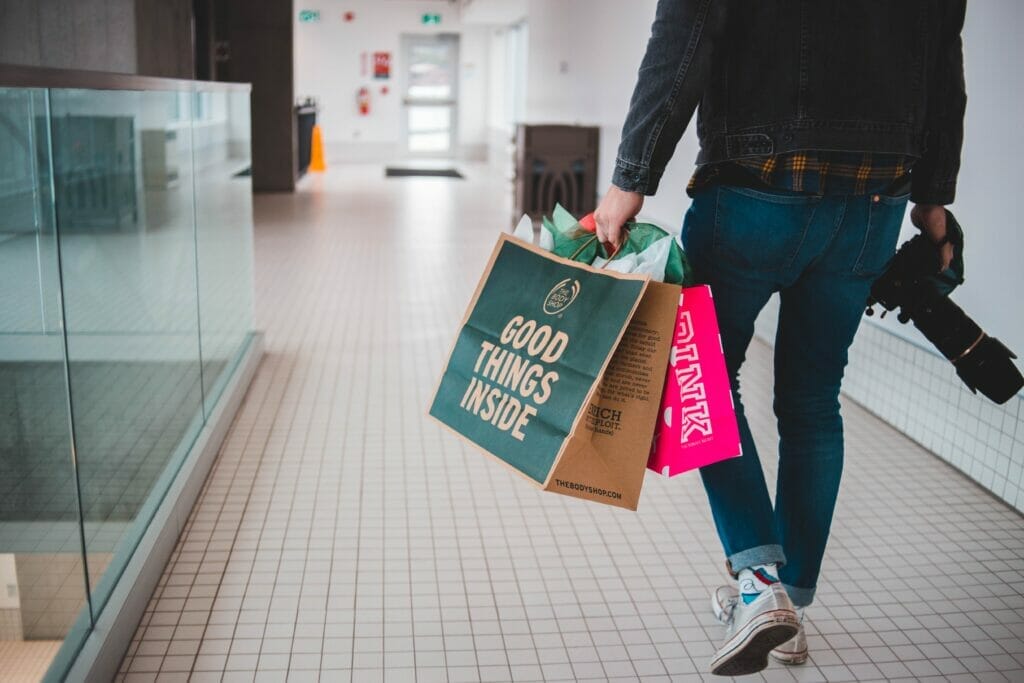 What else should I not miss in Orlando?
If you're visiting Orlando soon, here's a very brief rundown of a few of my other favorites to make sure you don't miss anything!
Hey! Want more Orlando content? Check out these guides!
Pin for Later!
Get the All-American Travel Secrets!
Don't miss out on America's hidden gems!