It surprises some people that you can go to Disney World without even stepping foot inside a theme park.
In fact, hundreds and thousands of people do just that, daily, when they head to Disney Springs.
Disney Springs is Disney World's shopping, dining, and entertainment district, and aside from being free to enter, it's got a lot of cool things going on.
After years of being an Orlando resident and using Disney Springs as my playground, I've cultivated this list of things to do at Disney Springs to help inspire your travel plans and get you excited about everything there is to do in this magical non-theme park world.
From things to do in Disney Springs with kids to where to eat in Disney Springs to romantic things to do in Disney Springs, this full list of 27 things to do in Disney Springs is guaranteed to help you find something new to add to your Disney vacation.
It's always a fun idea to wear your Disney apparel to Disney Springs, like this cute "done adulting, gone to Disney" shirt.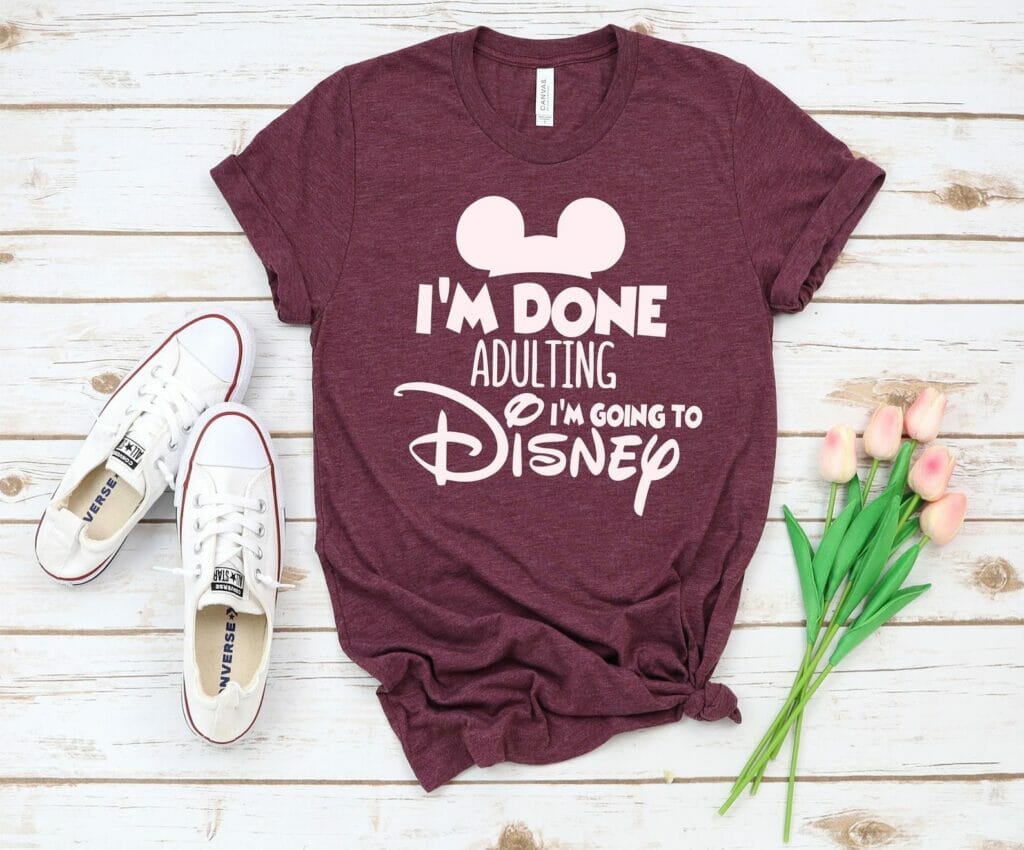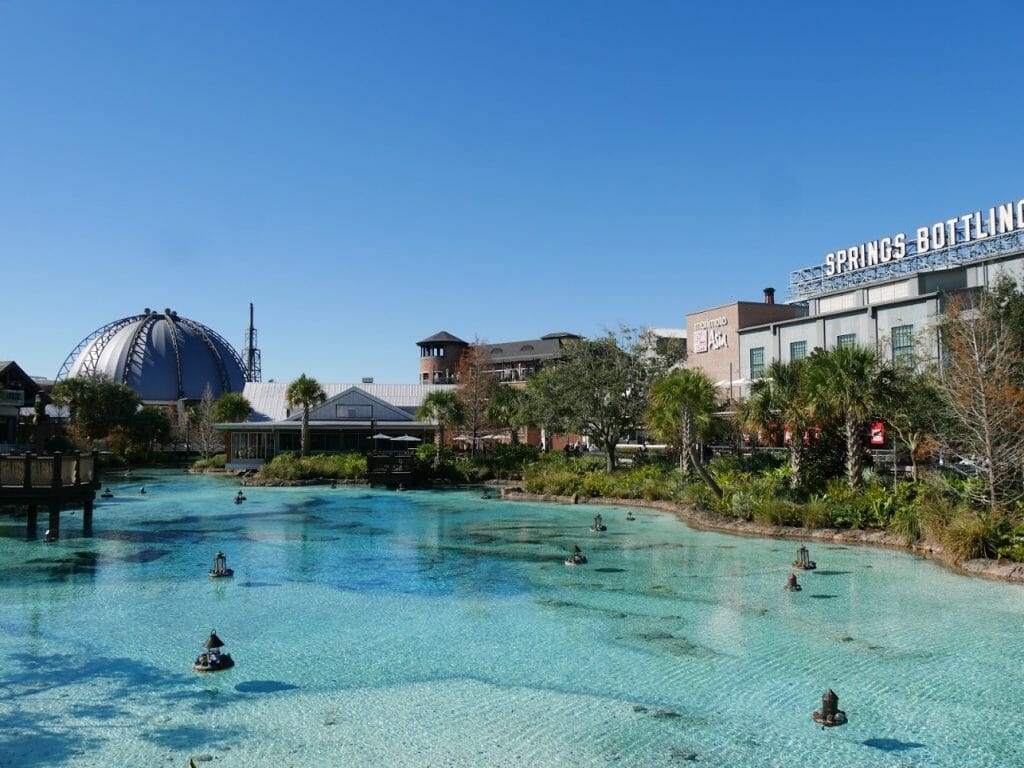 1. See a Cirque du Soleil Show
Starting in Fall 2021, Cirque du Soleil is coming back to Disney Springs with the "Disney Drawn to Life" show.
Cirque du Soleil is one of the most incredible types of entertainment you can watch, as are all the Cirque shows.
Enjoy a show that combines acrobatics, circus tricks, death-defying stunts, beautiful artistry, and, of course, Disney animation.
2. Enjoy Barbecue at the Polite Pig
Sometimes, when you're trying to think through all of the things to do at Disney Springs, your mind will wander back to some good old homecooked food!
If you're in the mood for some barbecue, the Polite Pig has a super cool atmosphere, lots of amazing menu options, and fantastic waffle fries (priorities, right!).
There is both outside and inside seating, and you order at the counter and then have your food brought to you.
Whether you're dining with friends or family, this is a great way to get a sit-down meal without paying table service prices.
3. Watch a Movie at AMC
A lot of people don't know that one of the best things to do at Disney Springs when it's hot out is to take in a new movie at the AMC.
Disney Springs has its own movie theater, complete with super comfortable seats and food service in some of the theaters.
All of the new releases will be out, and it's a great way to spend an afternoon if there's a new Disney release you want to see during your Disney vacation.
After all, it's air-conditioned, and in the height of the Florida summer, that counts for so much.
4. Get a Bird's Eye View of Disney Springs
Go flying on the Disney Springs Balloon, an iconic part of the Disney Springs landscape, to get a view of Disney Springs that you've never seen before.
This French-designed balloon will let you stand in the basket while you soar above the buildings and look down at the lake and people below.
From the top, you can see for up to 10 miles a day, and on a gorgeous day in Florida, there's nowhere better to be than high up in the clouds surveying one of the most beautiful places on earth.
5. Shop your Favorite Disney Merchandise
You can do so much shopping in Disney Springs, it's unreal.
You could go only for the shopping and not run out of places to see for the whole day.
If you want your favorite Disney merchandise, though, I suggest heading to the World of Disney.
This is the largest Disney store in the world and you genuinely need to keep an eye on your family because getting separated is super easy and it may takes you quite a while to find them again!
They've got everything from kitchen items to clothing to books to games to socks to toys to Disney pet supplies.
If you want something Disney-branded, you'll find it there.
You've also got some great Disney shopping options elsewhere in Disney Springs, like in the Disney Springs marketplace which has an entire store dedicated to Disney apparel for men, a Disney store for travel items, a trendy clothing store for teens called "Tren-D" and much more.
6. See Live Entertainment
Whether it's groups of kids singing Christmas carols at the holidays or live music sets from artists seranading you in the summer, there is frequent live entertainment held on the Disney Springs stage.
I highly recommend leaving some time in your schedule to see who's playing and take a seat and just let the music and atmosphere wash over you.
Oh, and this is Disney, so if your kids want to get up and dance, they won't be the only ones.
This is one of the best free things to do at Disney World too.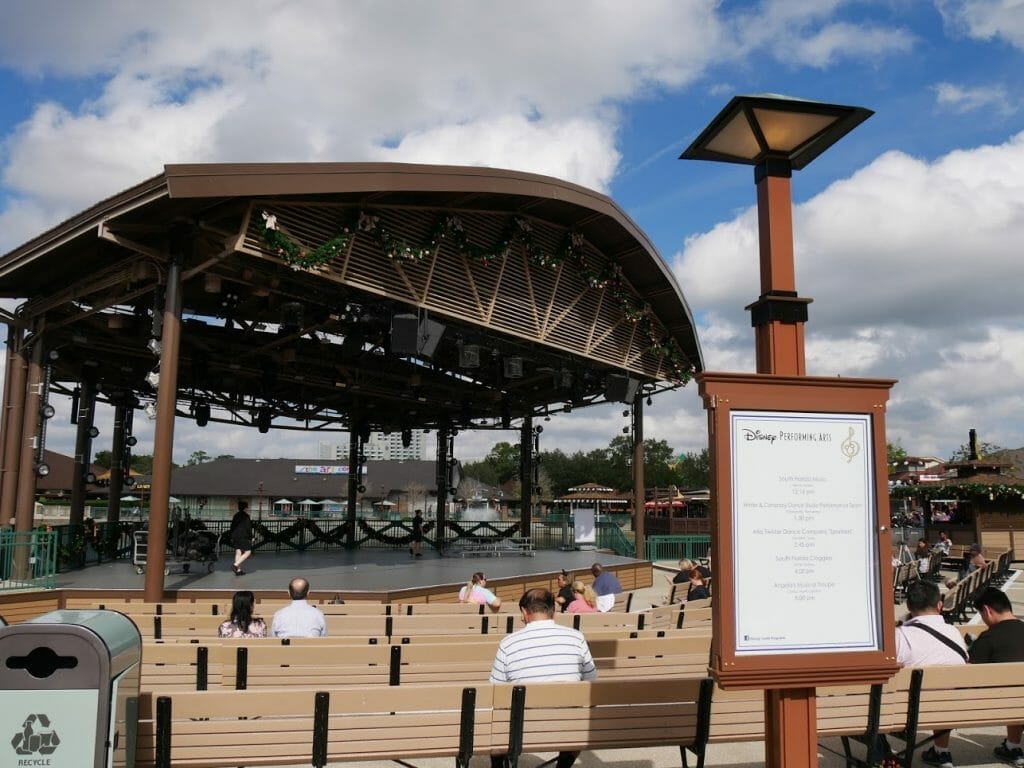 7. Step into Virtual Reality at the VOID
The VOID has been making a name for itself across the US, but particularly at Disney Springs where you can choose from a virtual reality Star Wars or Wreck it Ralph experience.
To participate, you and your teammates will get suited up in virtual reality gear and then led into a room where the world around you suddenly becomes a virtual reality mecca.
In the Star Wars game, you'll battle Darth Vader, look out for Stormtroopers, and genuinely move around and interact with the world in an authentic and genuine way.
The technology is superb and fully immersive.
It's a must-try for anyone interested in this new type of entertainment.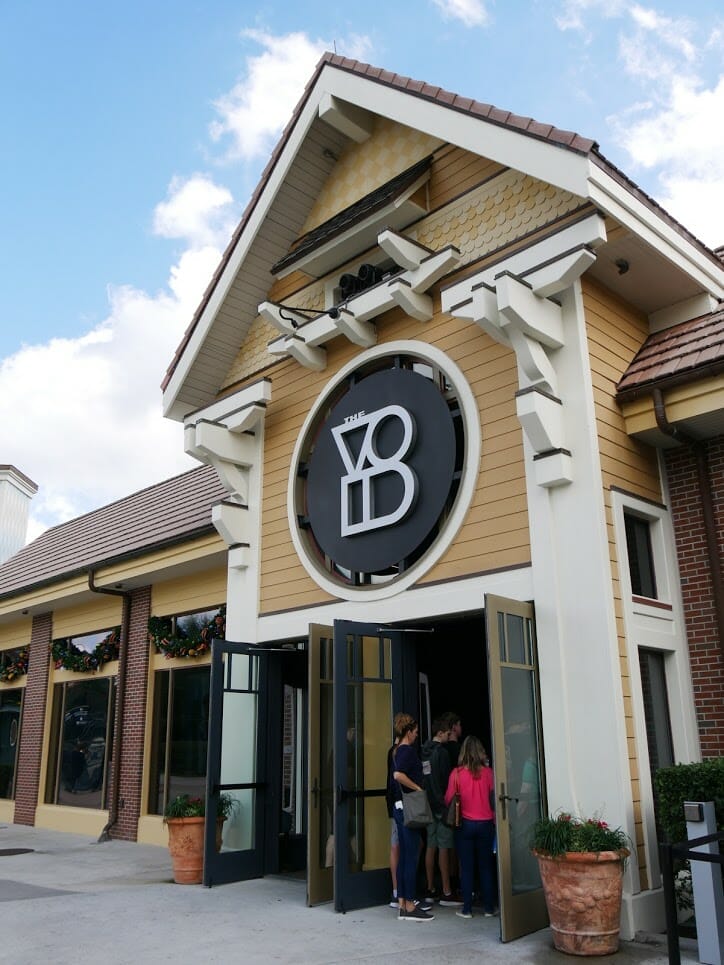 8. Dress Up at Bippiti Boppiti Boutique
Got a Disney prince or princess on your hands who want to be dressed up in their favorite character's dress and have their hair and make-up done in true Disney style?
Bippiti Boppiti Boutique has a location in Disney Springs, which is perfect for letting your kids live their dress-up dreams in a more low-key environment than the Magic Kingdom.
Here, they can be fully transformed and enjoy all of the adoring attention they get walking around the Springs all day.
Their hairstyle is also made to last quite a few days, so they can put on their outfit again the next day and keep the magic going.
9. Enjoy a Chocolate Milkshake at Ghirardelli
Lots of people have heard of Ghiradelli, but if they haven't been to the Ghiradelli shop in Disney Springs, they're missing out.
My favorite thing to do in Disney Springs when it's hot out is to get a Ghiradelli milkshake and sit out near the water and watch the world go by.
They've got tons of flavor options and the chocolate is to die for.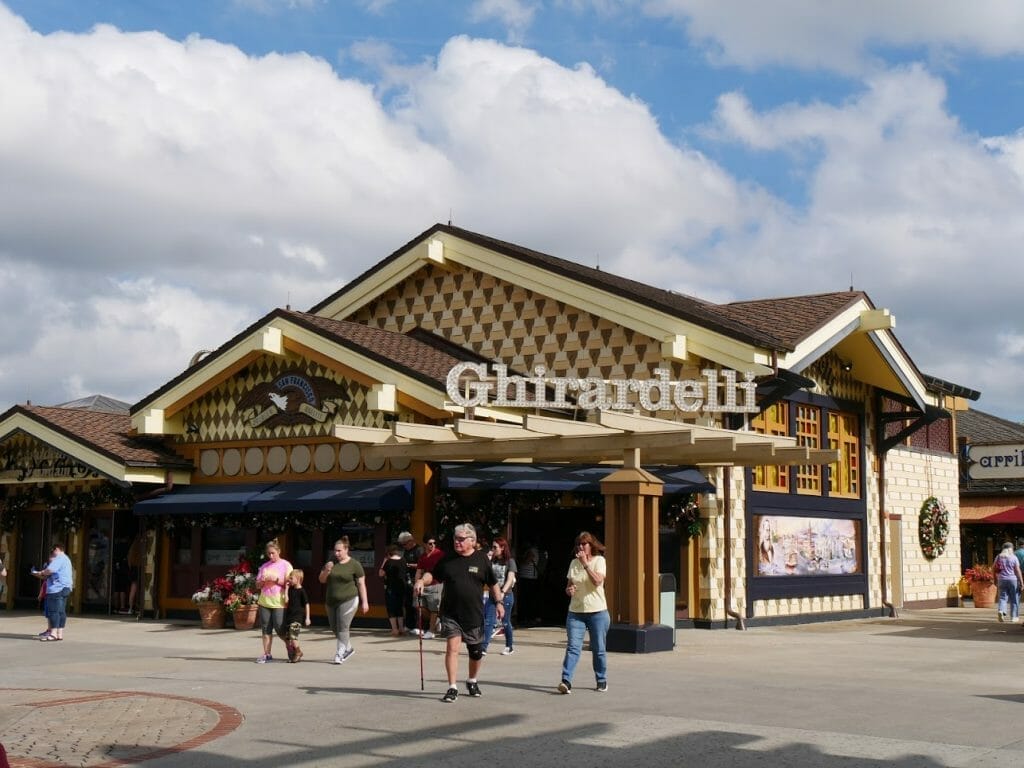 10. Build a LEGO Creation
Disney has a full LEGO store right near the World of Disney, as well as some fantastic LEGO creations around Disney Springs including the magic dragon in the water.
Step inside the LEGO store and you can build your own LEGO creation and take turns playing with some car racing tracks and other LEGO world items to pass the time.
Of course, the idea is that the kids ask you to buy them all things LEGO, but you don't need to spend any money to spend a few minutes embracing your creativity in here.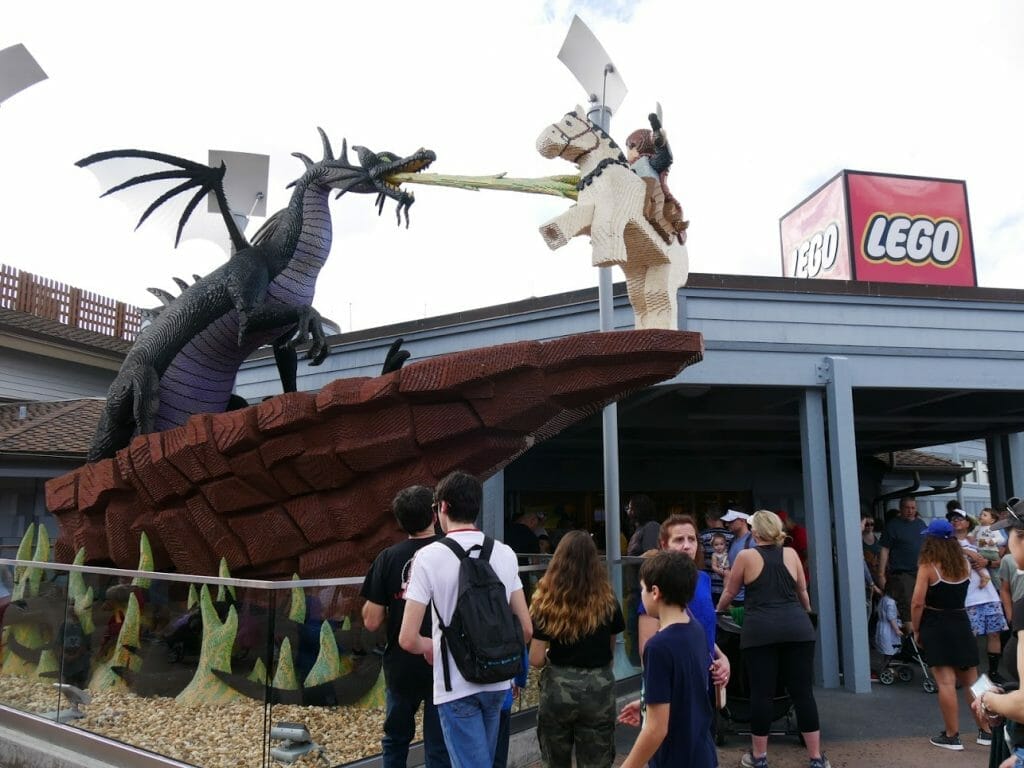 11. Embrace Your Love for Coca-Cola
Coca-Cola is a classic American brand and it's got its own store at Disney Springs. This two story mecca is where all Coke lovers should unite.
You can buy Coca-Cola branded everything, from T-shirts to notebooks to backpacks and more.
12. Buy Designer Brands with Disney Flair
Imagine a store dedicated to Instagram photo ops and classic looks and rides from the 90s that we all love and miss.
That's the premise behind Disney Style, a new Disney Springs store that has everything from shirts loving on the Carousel of Progress and People Mover to full Instagram style backgrounds for you to take some snaps at.
It's aimed at a Millennial crowd, of course, but if that's your thing, it's one of the most throwback things to do in Disney Springs that will remind you of your Disney childhoods or much-loved rides that have a cult following like the Enchanted Tiki Room.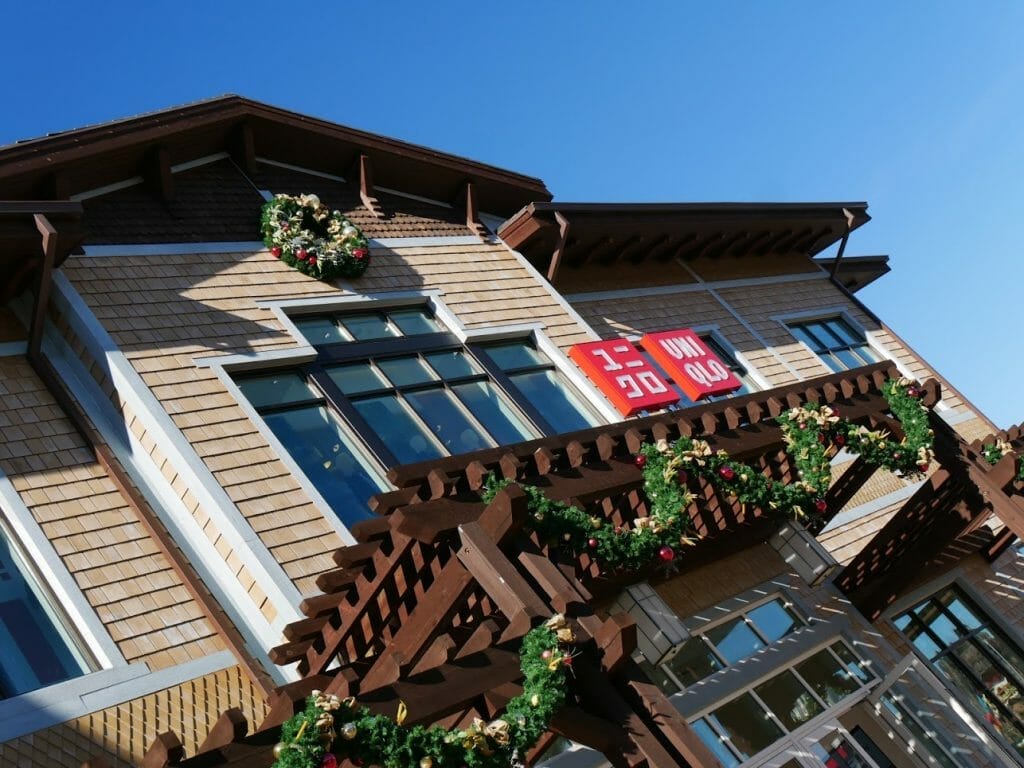 13. Take a Boat Car Around the Lake
It's not a boat, it's not a car, it's an…amphicar!
These crazy creations look like cars, but they're actually boats floating around the lake!
This is a super unique way to take a waterside tour of Disney Springs, and you can pick them up from right outside the Boathouse.
It makes for some great memories and even better pictures, and it's a wonderful romantic Disney date idea.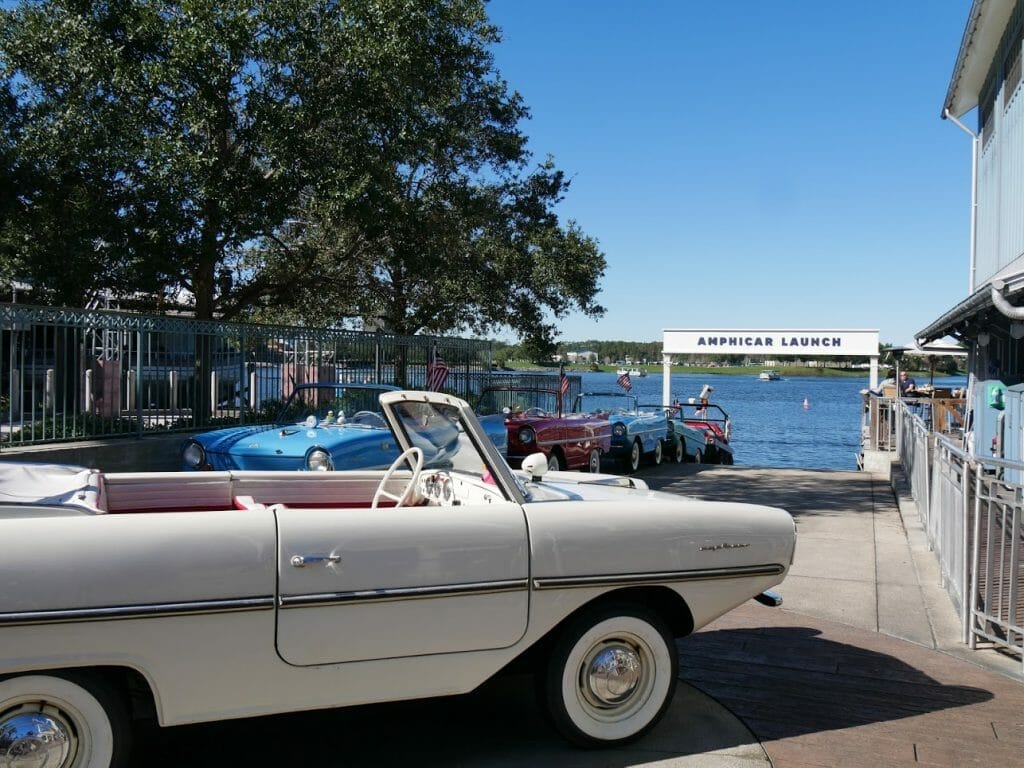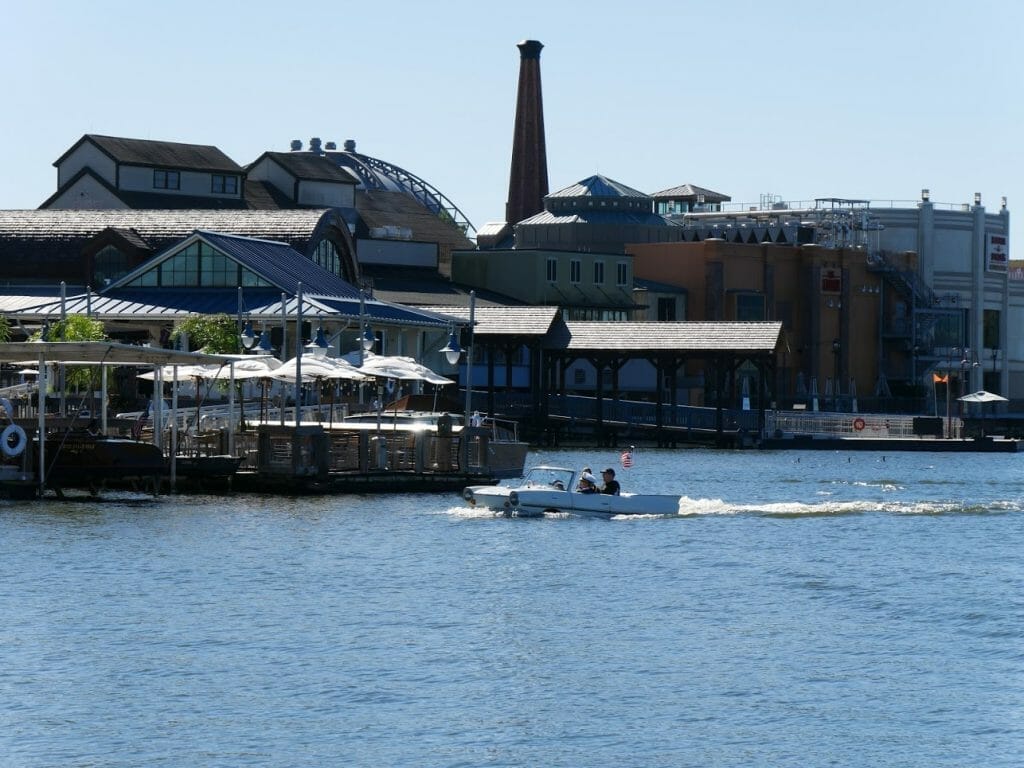 14. Have a Food Truck Dinner
If the family can't agree on what to eat at Disney Springs, it's time to head to the food trucks.
There are usually 4 or 5 food trucks throughout Disney Springs selling everything from Mickey waffles to tacos to chicken nuggets.
I love these food trucks as they're Disney created and approved, so you know you're getting Disney quality, but they give you something a little different to enjoy than what you're used to and have regularly rotating menus.
There is seating near the food trucks so you can order your food, wait for it to be ready, and then go grab a spot near the water to watch the amphicars pass by or the sun set.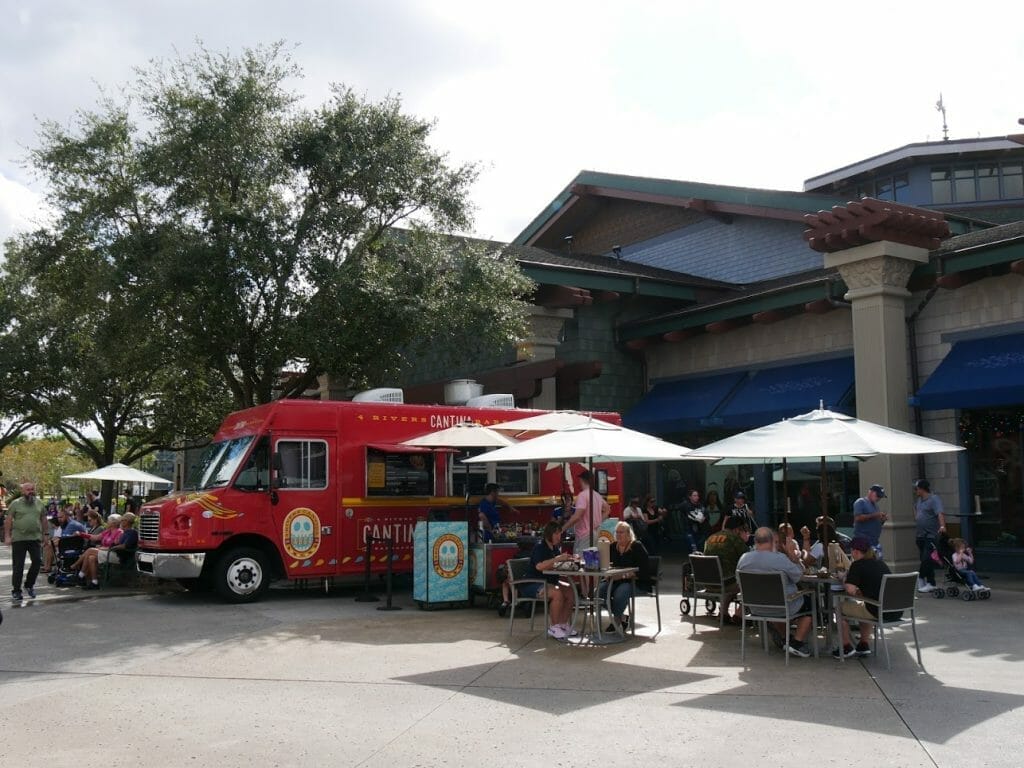 15. Rock On at the House of Blues
For years, House of Blues has been one of Orlando's main concert venues and they welcome acts regularly from all different genres.
Even if there isn't a concert on, you can head to the House of Blues for some live music and dinner.
Prices aren't crazy and the food is good!
16. Take a Ride on the Marketplace Train
If you've got little ones, you're going to want to send them for a spin on the miniature Marketplace train to get some great pictures of them enjoying Disney Springs.
This train goes around in a relatively small circle, but is just fit to their size so they'll feel larger than life.
There is also a mini carousel that they can ride on.
A far cry from the incredibly themed Disney rides, but hey, sometimes you just want a mini train and a carousel.
17. Get Your Bowling Shoes On at Splitsville
Did you know that you can actually go bowling at Disney Springs?
Splitsville is an awesome bowling and entertainment venue that allows you to enjoy excellent food (seriously, way better than normal bowling alley food!) while bowling the night away with friends and family.
These are the kinds of things to do at Disney Springs that people don't even realize is possible.
It's not just shopping or just dining or just walking around – if you've got a special occasion to celebrate or just need a family night out of the parks, you can take full advantage of Splitsville and its family-friendly vibe.
18. Try Irish Dancing at Raglan Road
Raglan Road is an Irish themed pub in Disney Springs that has attracted quite a few fans over the years.
Whether it's the Irish dancing that takes place or the fish and chips that they fall in love with, they keep coming back for more.
If you really want to eat here, make sure to make a reservation in case it's a particularly busy night, or just poke your head in to see all of the fun being had.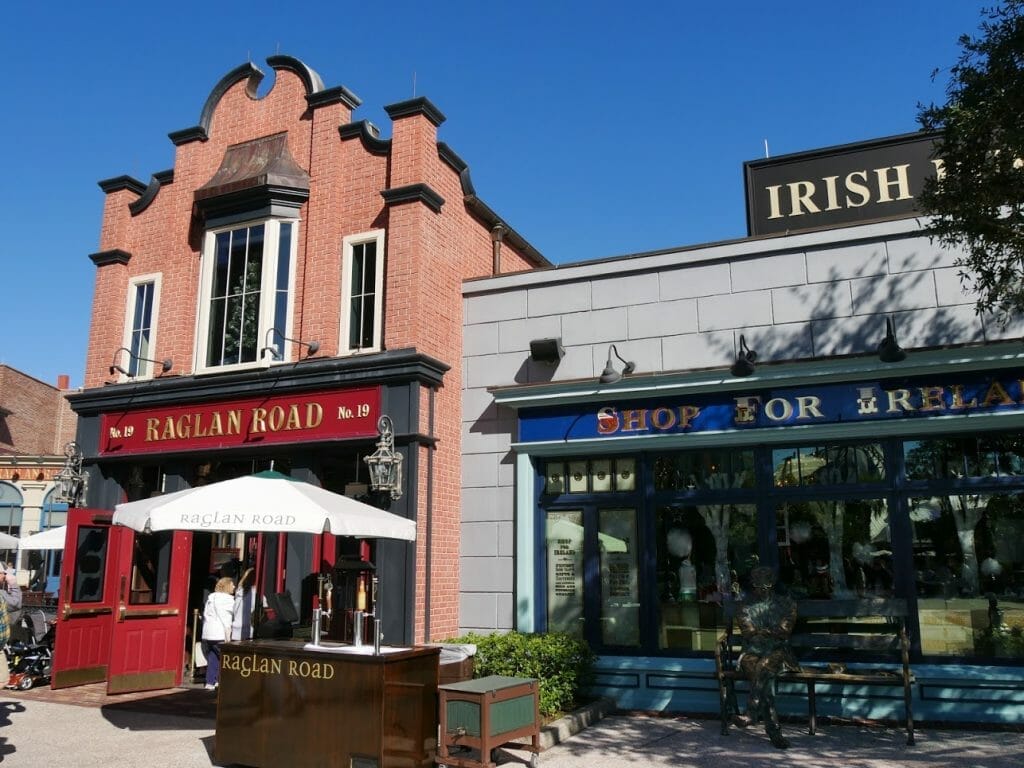 19. See the Volcano Explode at Rainforest Cafe
There are Rainforest Cafes around the world, but Disney Springs has a particularly impressive one.
The volcano explodes with fire regularly throughout the day, and when it does, it's a show you need to stop and watch!
Rainforest Cafe is such a popular choice for families with kids who want a unique eating atmosphere and some good food – try their Cobb salad for an excellent meal.
One thing to be aware of with Rainforest Cafe is that there are regular "thunderstorms" inside where it gets loud and dark, so if you have easily frightened little ones, prepare them!
20. Have a Sophisticated Night at Wine Bar George
If you're over 21, you'll know that Disney has some fantastic drinking options throughout its parks and resorts.
Wine Bar George is no different – a stylish, sophisticated wine bar where you can catch up with friends and family and enjoy your evening in Disney Springs.
There are also some food items and nibbles on offer so you don't necessarily need to eat before you come.
21. Sit Outside at the Boathouse
The Boathouse is one of Disney Springs most beloved restaurants, and despite its higher prices, it's easy to see why.
Our meal there was one of the best we've ever had, including an amazing lobster roll, a turkey sandwich that was the best I've ever eaten, and honey rolls that we could have eaten for days.
We like to sit outside near the water when we eat at the Boathouse, and if you time it right, you can even see some fireworks from surrounding theme parks while you're eating.
If that's not Disney magic, I don't know what is.
PS – the Boathouse can book up fast during popular times, so make sure to use my guide on getting hard-to-snag Disney dining reservations here.
22. Try Not to Get Eaten at T-REX
T-REX is another themed restaurant like Rainforest Cafe, and it's one of the best things to do at Disney Springs with dinosaur loving kids.
You'll be placed right in the heart of the Jurassic period with dinos all around you hoping to crunch down on your meal (and hopefully not you).
Again, there is some entertainment from your surroundings as you eat, and it can be quite loud and chaotic so make sure you're in the mood for that and enjoy one of the most unique dining experiences ever.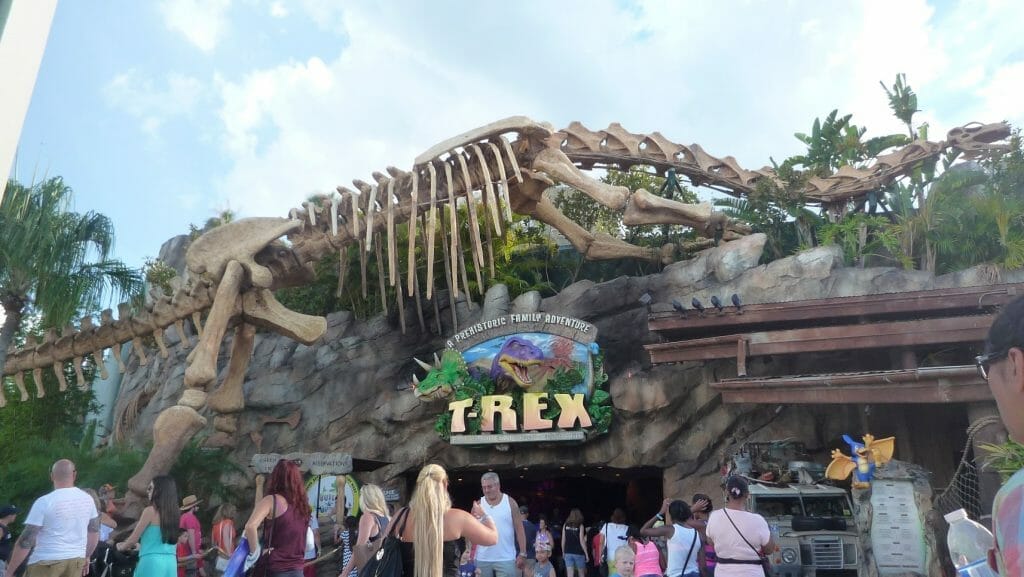 23. Lather Your Hands Up at Basin
Whether you want some adorable Mickey soaps or some of the best hand scrub around, Basin is the place to go.
Not only can you find adorable bath and body products, but you can also test them out at their tester stations.
You don't need to buy anything to test them, and it will leave your hands soft and smelling awesome.
We make sure to stop in here everytime if we need to kill a few minutes and want to check out what new scents they have on offer.
24. Admire Disney Art at the Art of Disney
Disney is all about the artistry and animation, and that is evidenced at the Art of Disney store where you can buy Disney prints and original artwork produced by Disney artists both on-site and from around the property.
You can buy sketches of your favorite characters, postcards with your favorite prints, or even massive pieces of artwork from your favorite rides.
There are also kiosks you can use to order prints to be delivered to you if they're not in store.
This is one of my favorite shops in Disney Springs and we make sure to head here everytime to see what's new in the world of Disney art.
No matter what style you like, you're bound to find something here that suits your design tastes.
A new painting for the mantle, anyone?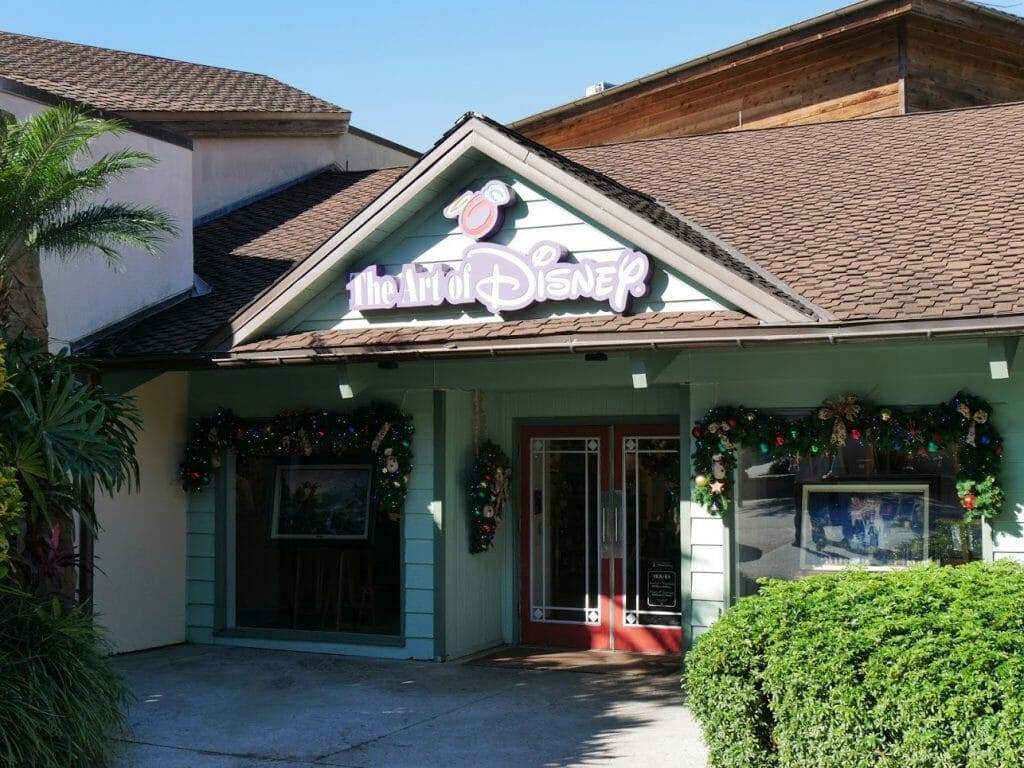 25. Trade Pins with Cast Members
Pin trading was more popular in the 90s and early 2000s around Disney, but it still goes strong in 2020 and beyond.
There is an entire pin kiosk in Disney Springs where you can buy new pins and trade with cast members or other guests.
Even if you don't collect pins, a single pin can be a great piece of memorabilia from a trip, and they have everything from Disney characters to Disney resorts to pins only for Disney annual passholders and more.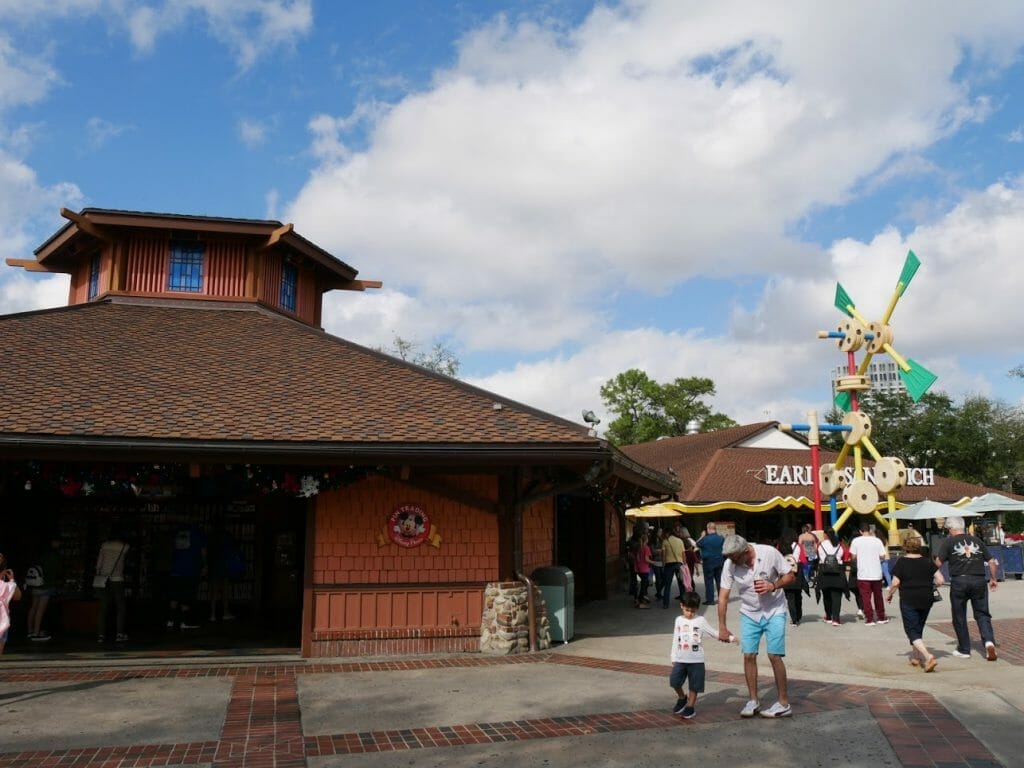 26. Bite into a Candy Apple at Goofy's Candy Co
If I'm at Disney Springs, chances are I'm finishing the day at Goofy's Candy Co.
This fantastic candy and sweet shop has everything from Disney cupcakes to candy apples to Disney rice krispie treats.
It's fun, it's colorful, and you can actually watch them make the treats behind the counter before you buy.
27. Celebrate Christmas All Year Round
Whether you've come on December 24th or May 1st or any day in between, you'll find the Disney Christmas store alive and well with the sounds of the holidays.
Stop in to buy ornaments to put on your tree to remember your Disney trip or get a stocking engraved with the name of the newest member of the family.
It's fun to go around Christmas, of course, but it's also unique to stop in in the heat of the summer and dream of the colder days and festive cheer that's yet to come.
And of course, if you do come during actual Christmas, don't forget about the Disney Springs Christmas Tree Trail that's filled with festive ornaments and Disney carols to remember.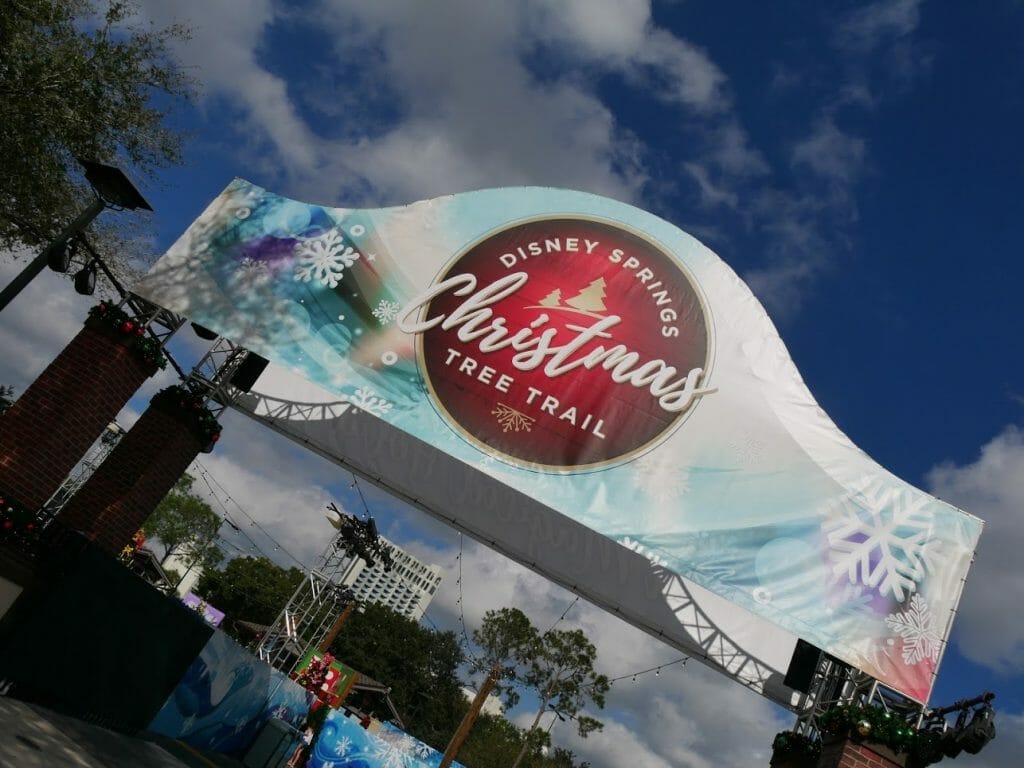 Pin for Later!
Hey! Want more of our expert Disney guides? Check these out!
Get the All-American Travel Secrets!
Don't miss out on America's hidden gems!