Disney-loving couples will fall in love with these Disney couple shirts that feature your favorite Disney characters or some adorable sayings to let everyone know who's there to have fun and who's there to be the wallet!
We've rounded up some of the best couples shirts for Disney, including matching couple Disney shirts and some shirts that don't exactly match, but are meant to be paired together for maximum fun.
You don't have to be married or in a particular stage of your relationship to wear these shirts, as these are just Disney His and Hers shirts (or His and His shirts or Her and Her shirts!) that are applicable to many couples, from freshly dating to married for 50 years!
You'll be all set for what to wear to Disney World, and if you're looking for more Disney inspiration, check out our guide on the best Disney shoes and the best Disney backpacks so you can accessorize!
Want insider Disney tips from an expert?
Join 4,000 others in weekly guides to Disney's hidden secrets, gems, and money-saving tips!
Pssst – this printable Disney scavenger hunt is amazing
Since you're already looking up Disney guides, I just wanted to make sure you knew about this printable Disney World scavenger hunt created by a lifelong Orlando native and Disney World fan.
There are over 60 challenges with a full answer key and both Family and Grown Up versions and a bonus Disney Springs hunt for your non-park day!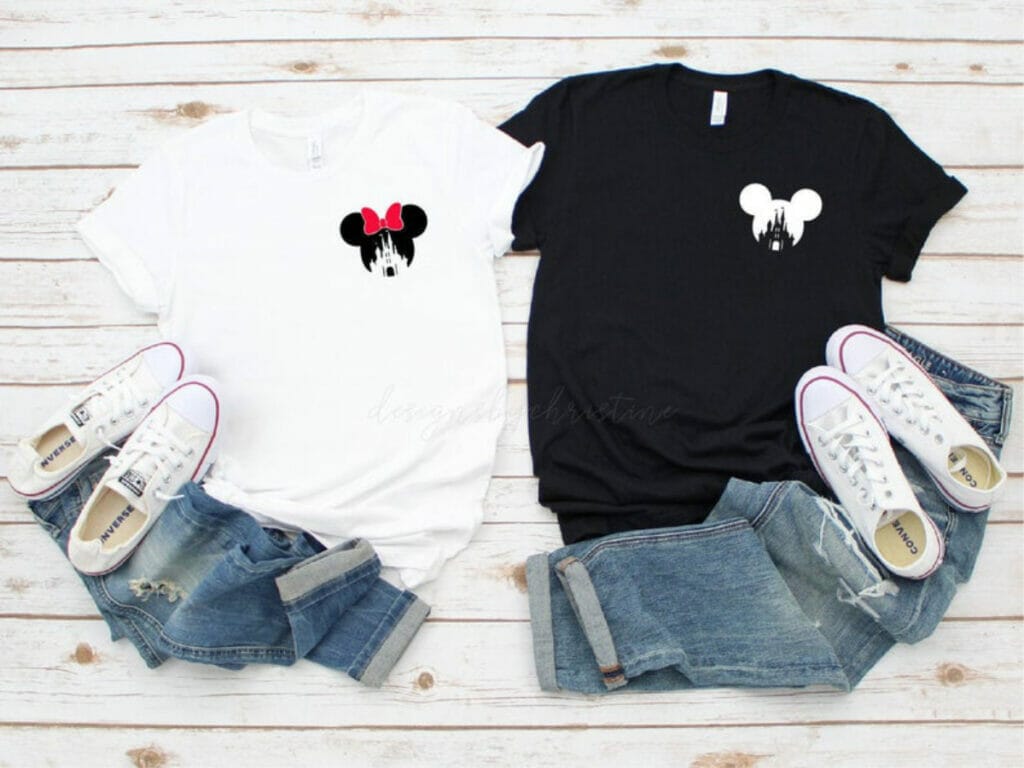 These subtle Mickey and Minnie couples shirts are a fun way to keep it classy and still match as couples in the Disney parks.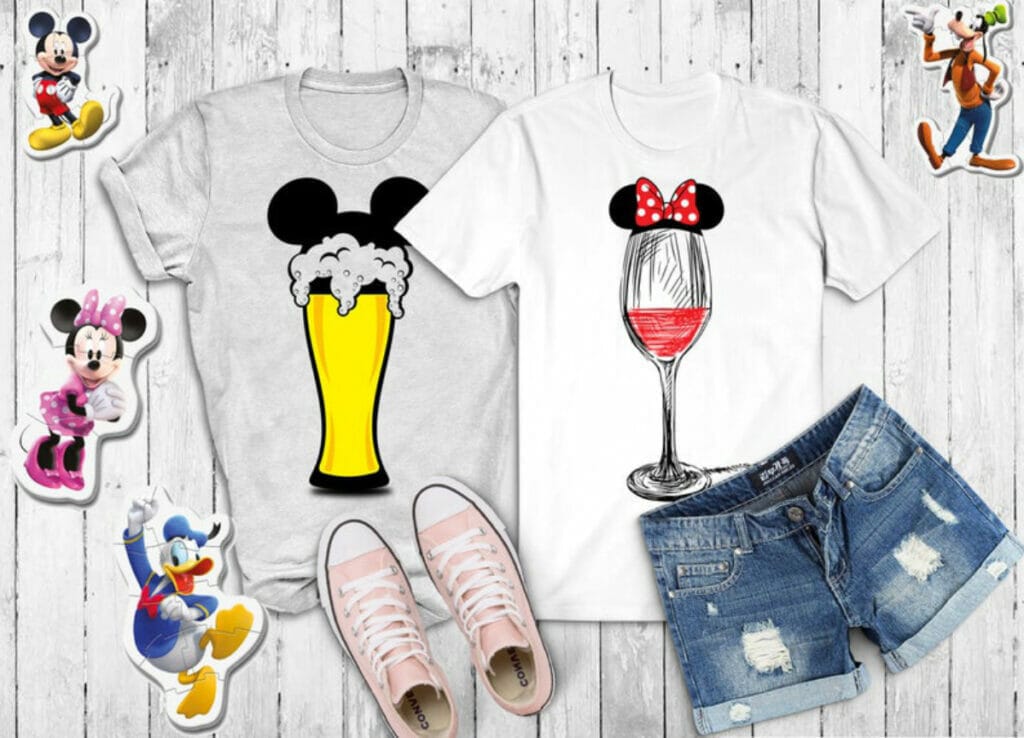 If you're planning on drinking around the world at Epcot, these adorable matching wine and beer ears shirts are a great way to express your plans for the day and show off your favorite drinks.
Check out our guide on the best shirts for Epcot here.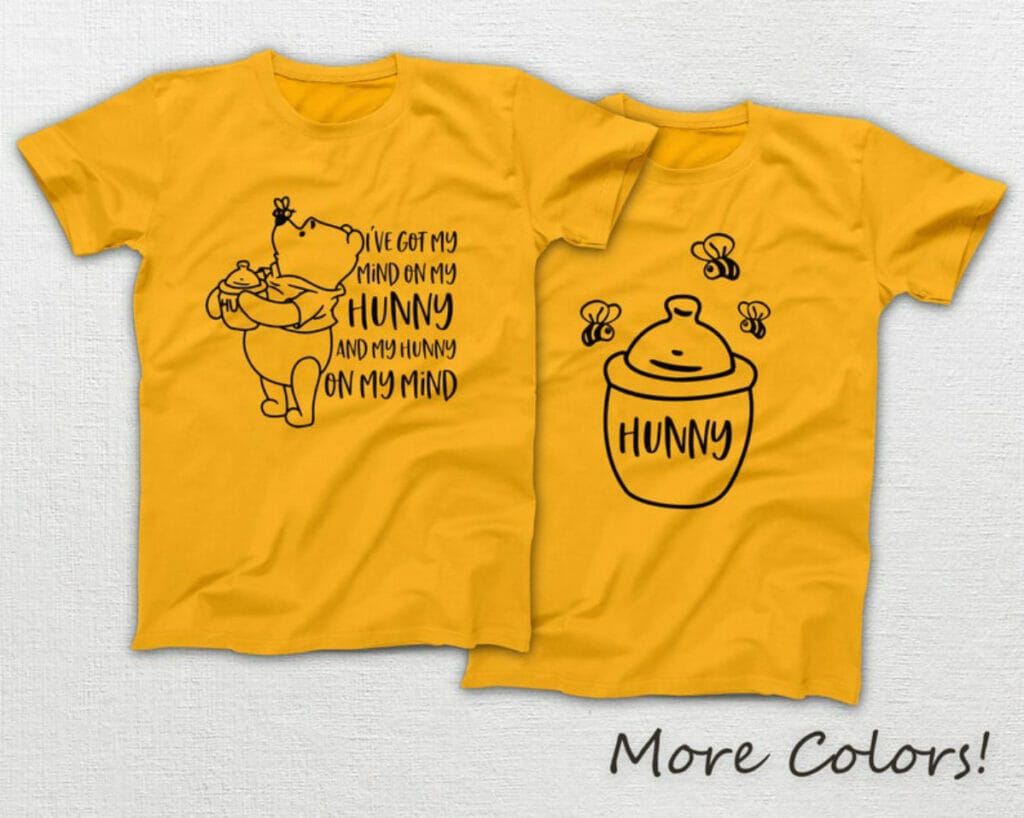 For Winnie the Pooh fans, this funny couples matching shirt set uses Winnie the Pooh to show off who's the "hunny" or the sweet one in the relationship.
Wear these to the Magic Kingdom (find our other Magic Kingdom shirts here) and enjoy this family-friendly but unique matching Disney couple's shirts.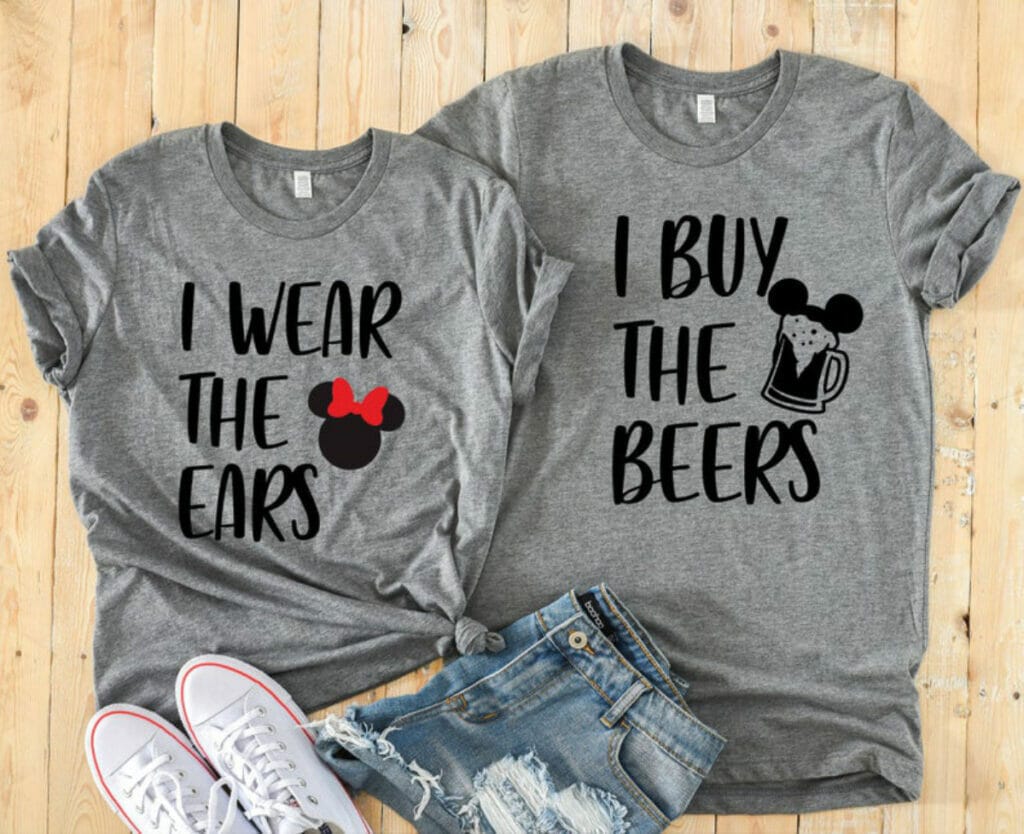 Another funny couples Disney shirt for those who are taking advantage of the adult beverages in the parks, these rhyming couples shirts are great for Epcot or for somewhere like Hollywood Studios that have a brewhouse within the park.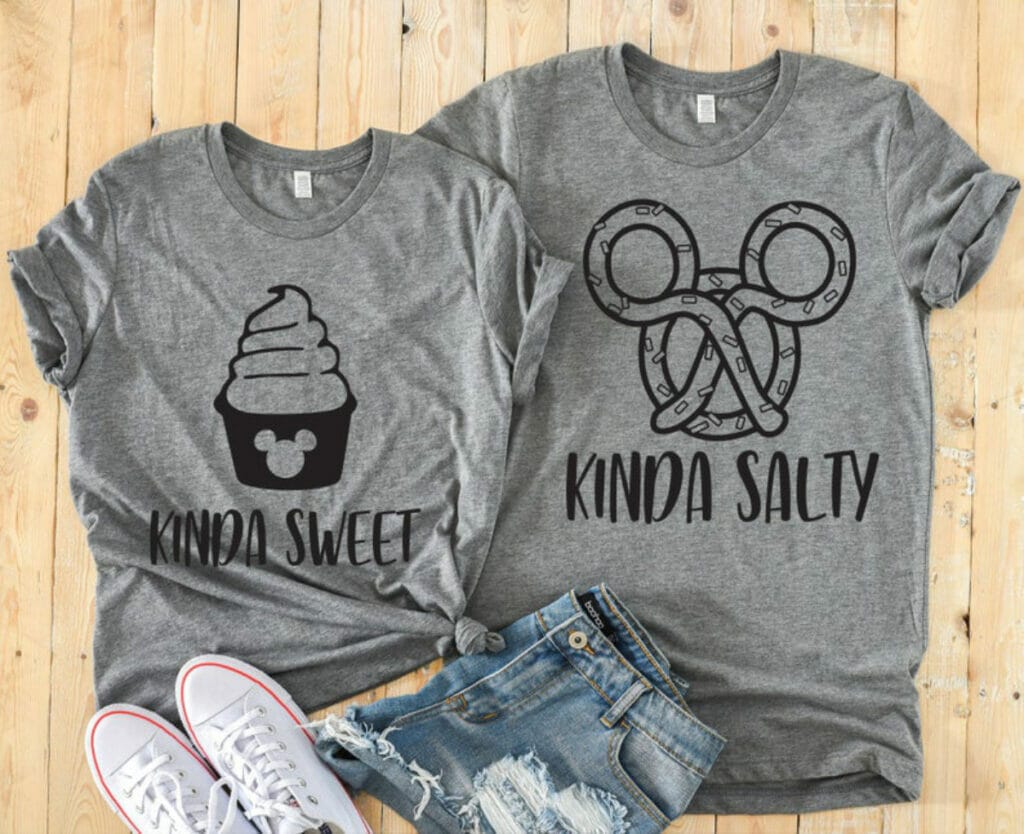 If you're at Disney for the snacks (we won't just you), this "Kinda sweet and Kinda salty" shirt set is a fun way to bring some Disney fun into your wardrobe and let everyone know which of you is the sweet one!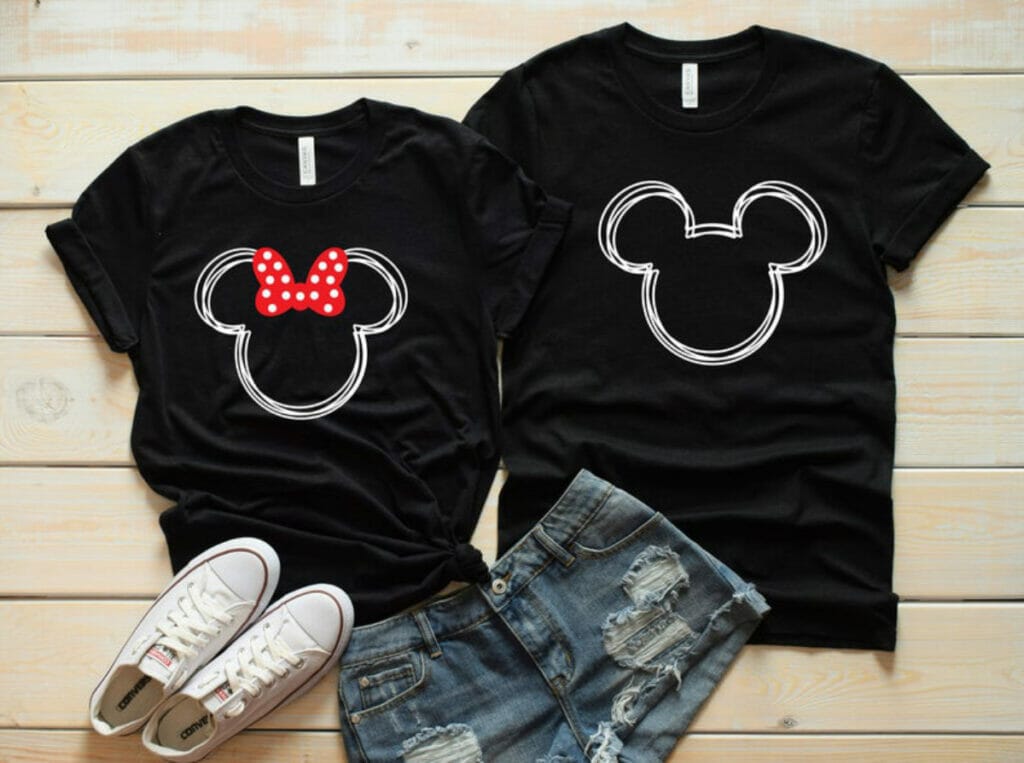 Another classic option is this Mickey and Minnie outline shirt that fit in with any theme park and Disney destination.
Not everyone likes the more in-your-face, funny line Disney couples shirts, and so this is a great option for the Mickey and Minnie purists.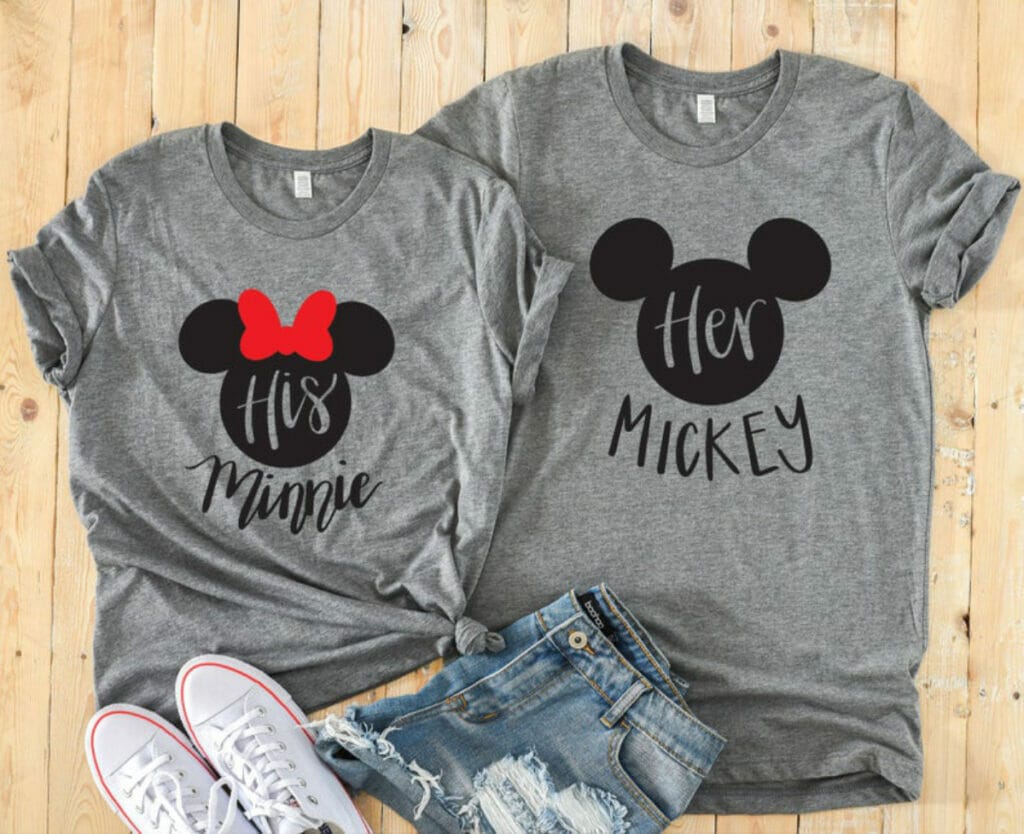 For couples who want to show everyone that they belong together, these "His Minnie, Her Mickey" shirts are absolutely adorable to show off your love and emulate your favorite mouse duo.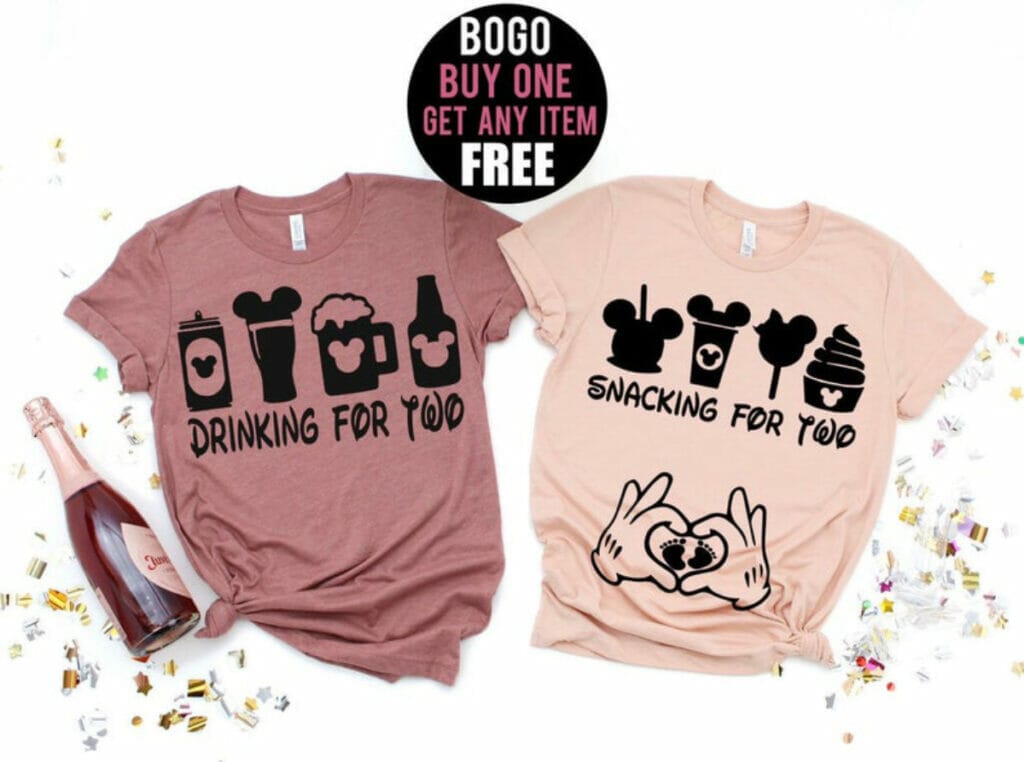 These adorable "drinking and snacking" Disney shirts are fantastic for couples who are expecting, as the pregnant person can wear the adorable "snacking for two" shirts to show off the baby in their belly, while the other person gets to wear the "drinking for two" option.
There are lots of Mickey ears within the shirts to make these Disney-specific as well.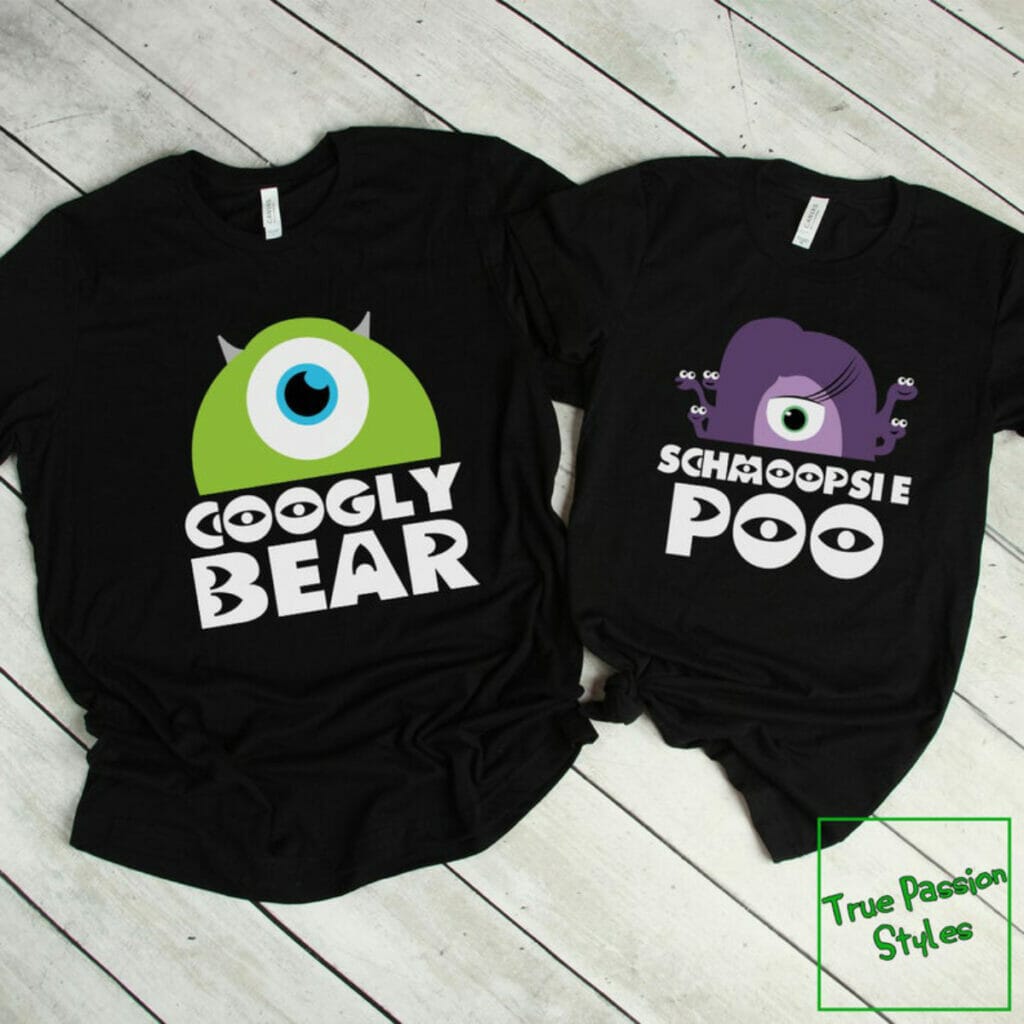 Monsters, Inc fans will love these couples Disney shirts that call out to the relationship between Mike Wazowski and his girlfriend.
They're perfect for the Magic Kingdom, and they're a unique Disney shirt using characters that not everyone has on their shirts!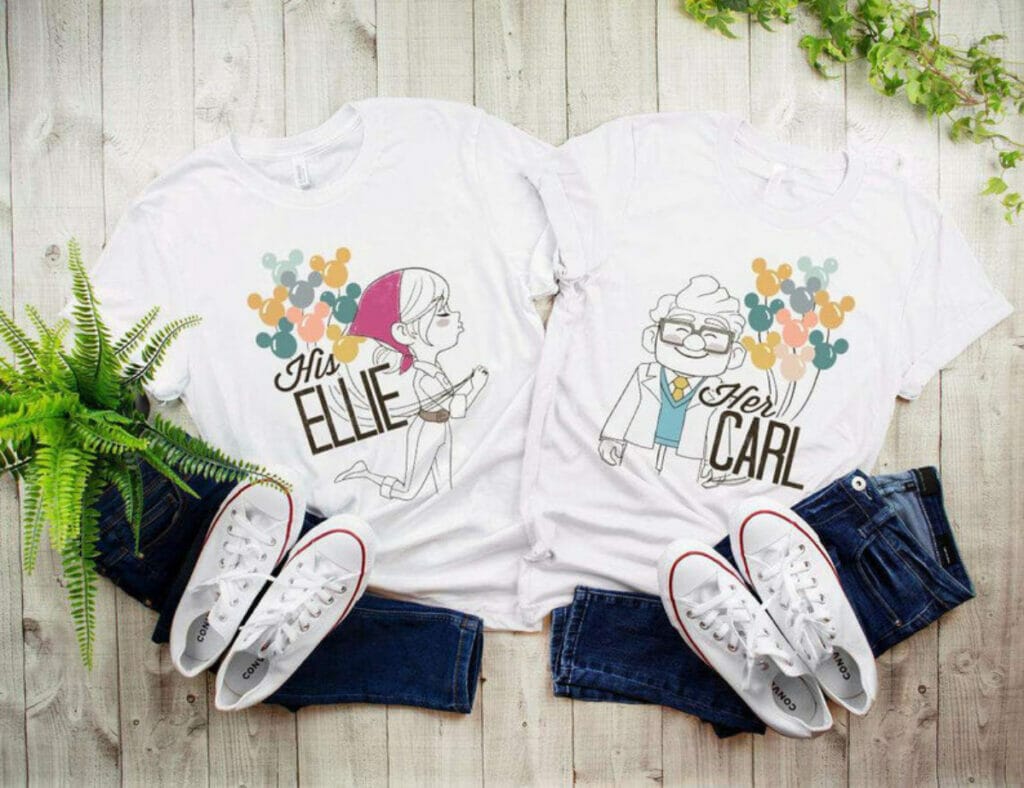 One of the most beloved relationships in all of the Disney movies is Ellie and Carl from UP!
Couples can rep this relationship and their own love for each other while wearing these adorable shirts at Disney World. The design is picture perfect, and the colors are bright without being overwhelming.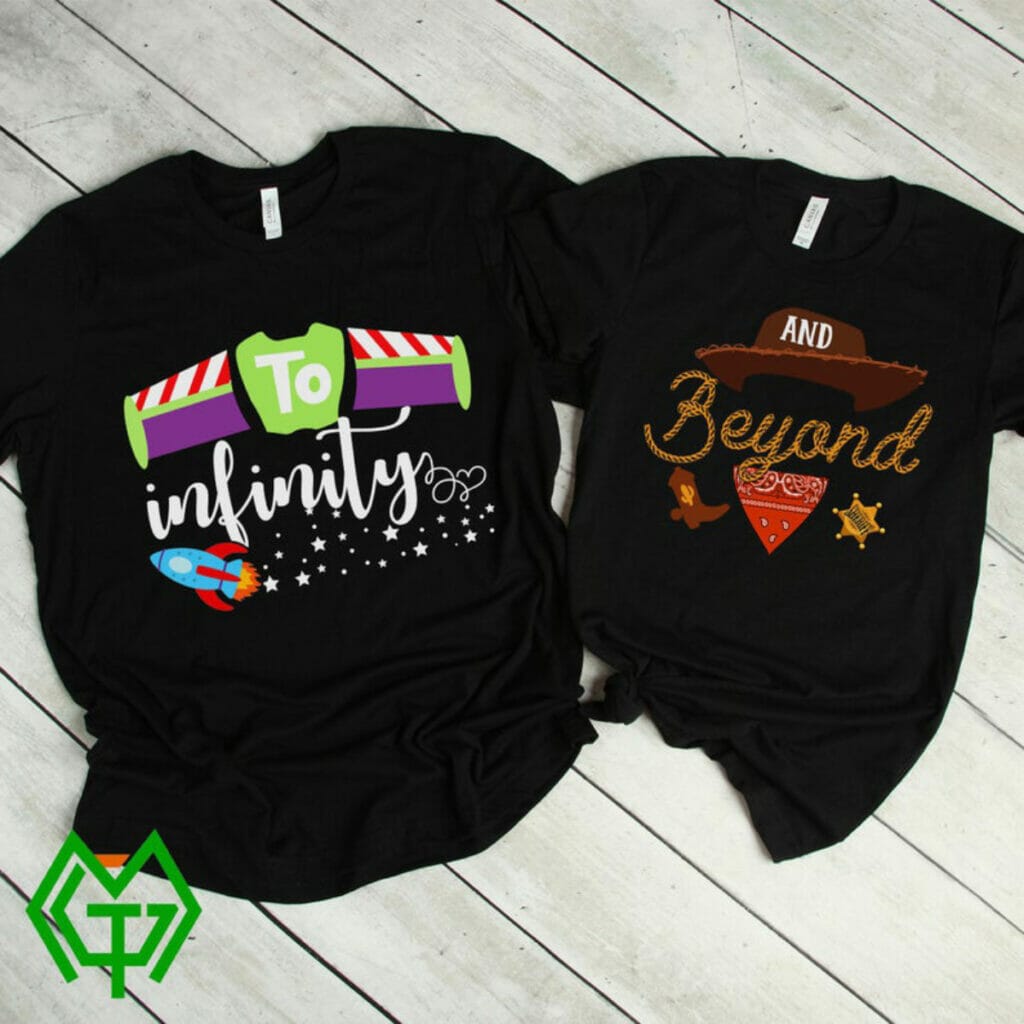 Toy Story fans will love these couples shirts where one of you gets to be Buzz and one of you gets to be Woody.
Wear these to Toy Story Land and live your own Disney adventure (or check out our other Hollywood Studios shirt ideas for more).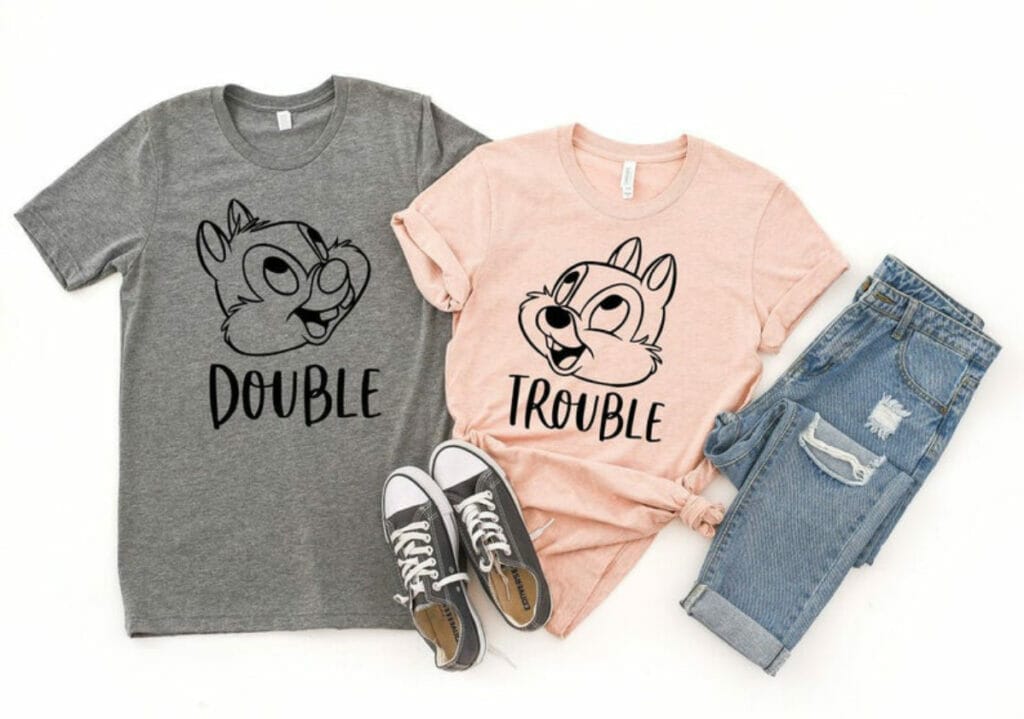 Mischievous couples will love these "Double, Trouble" shirts that have the adorable Chip and Dale duo on them.
These are a great example of a Disney shirt for couples that can be Disney-themed without having "Disney World" all over it.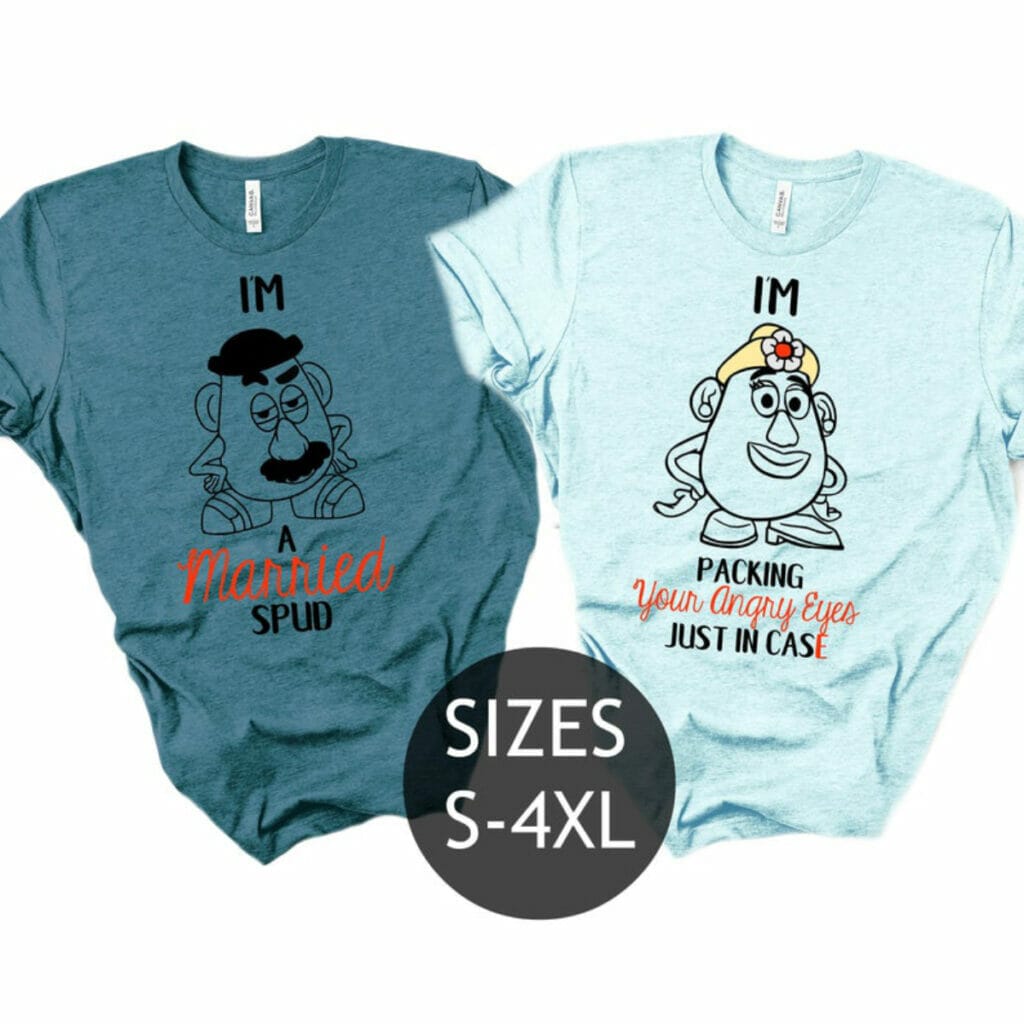 Mr. and Mrs. Potato Head get a chance in the spotlight with these hilarious couples shirts, where Mr. Potato Head is a "married spud" and Mrs. Potato Head is "packing his angry eyes."
These are iconic Disney characters and are great for fun-loving couples.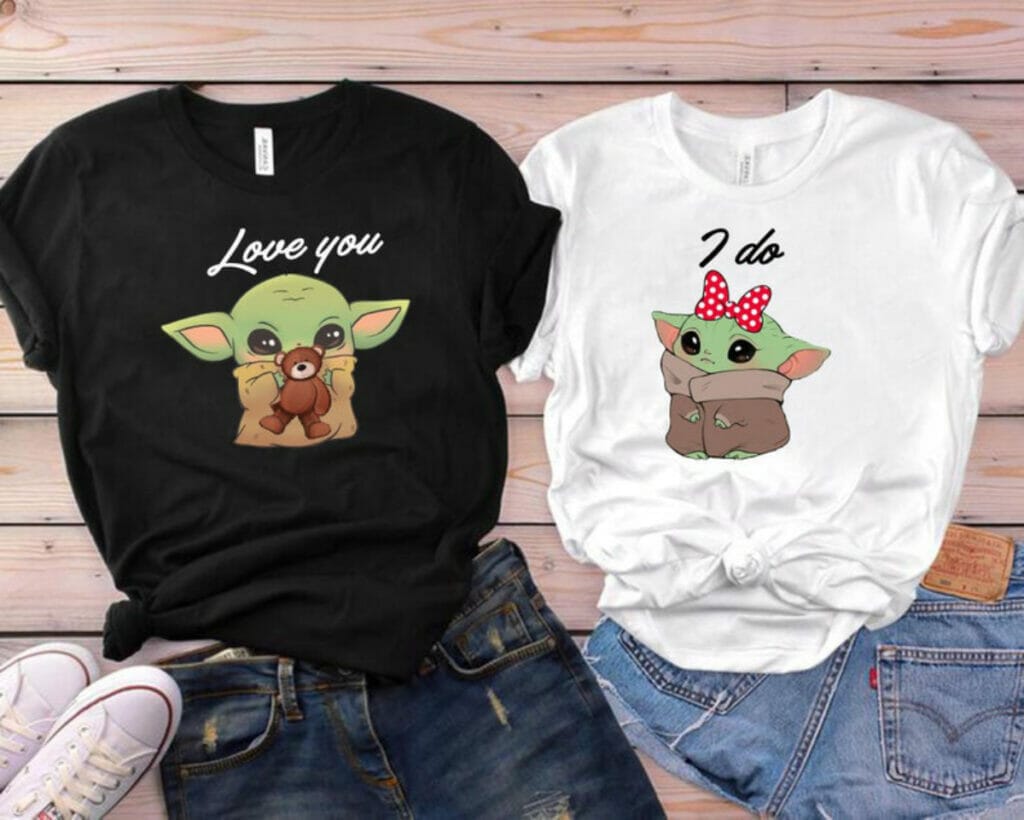 Baby Yoda couples fans can mix and match their couples shirts with these Baby Yoda themed shirts.
Wear them to Galaxy's Edge and show off your love for each other and for this newly beloved Star Wars character.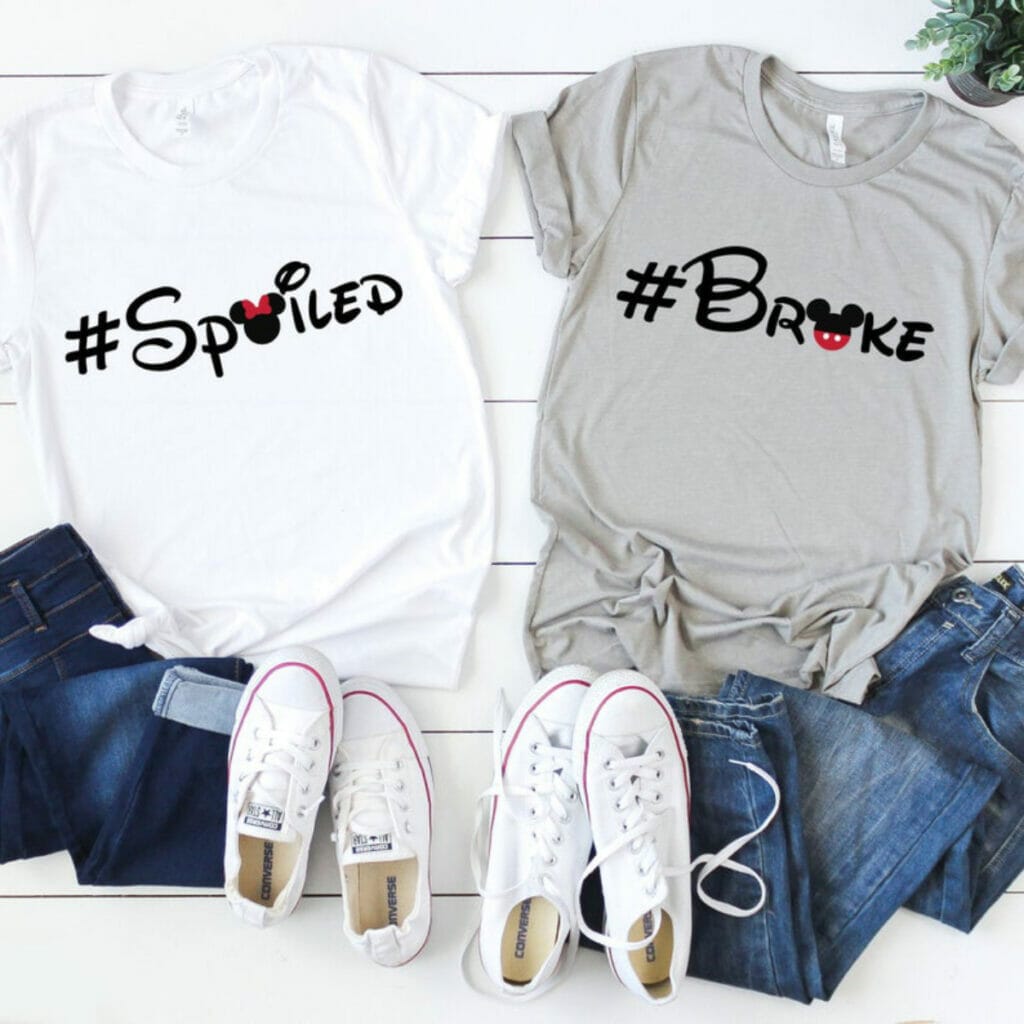 Some couples like to have fun with their Disney shirts and poke fun at the situation, where one part of the couple is the main Disney fan buying allllllll the things and the other person is mostly just there to help pay for it.
These "Spoiled and Broke" Disney shirts are great if you want a tongue in cheek Disney shirt!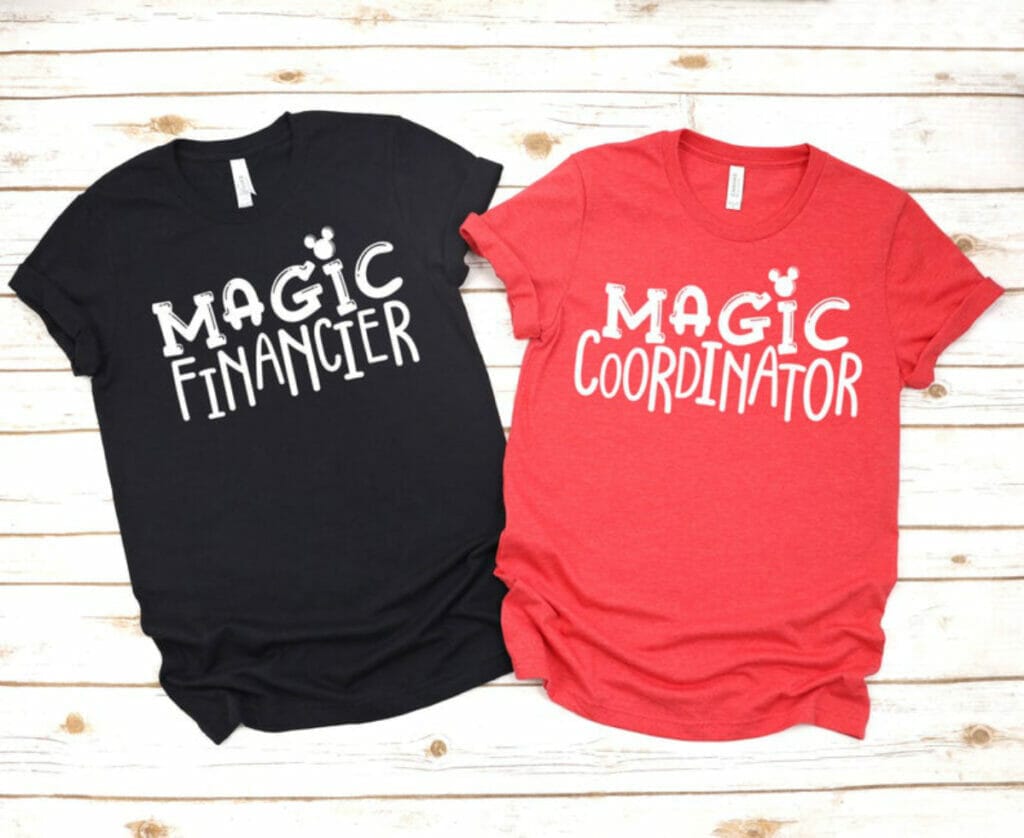 Another hilarious pair of Disney couples shirts that point out who is managing all of the itineraries and planning the trip and who is acting mostly as the wallet to pay for the extravagance!
These matching shirts for Animal Kingdom have a Mickey and Minnie theme, but the heads are made of animal print.
You can customize colors and whether you're matching Minnie and Minnie or Mickey and Mickey or Minnie and Mickey which make these great shirts for couples of all kinds.
Check out our other Animal Kingdom shirt suggestions here.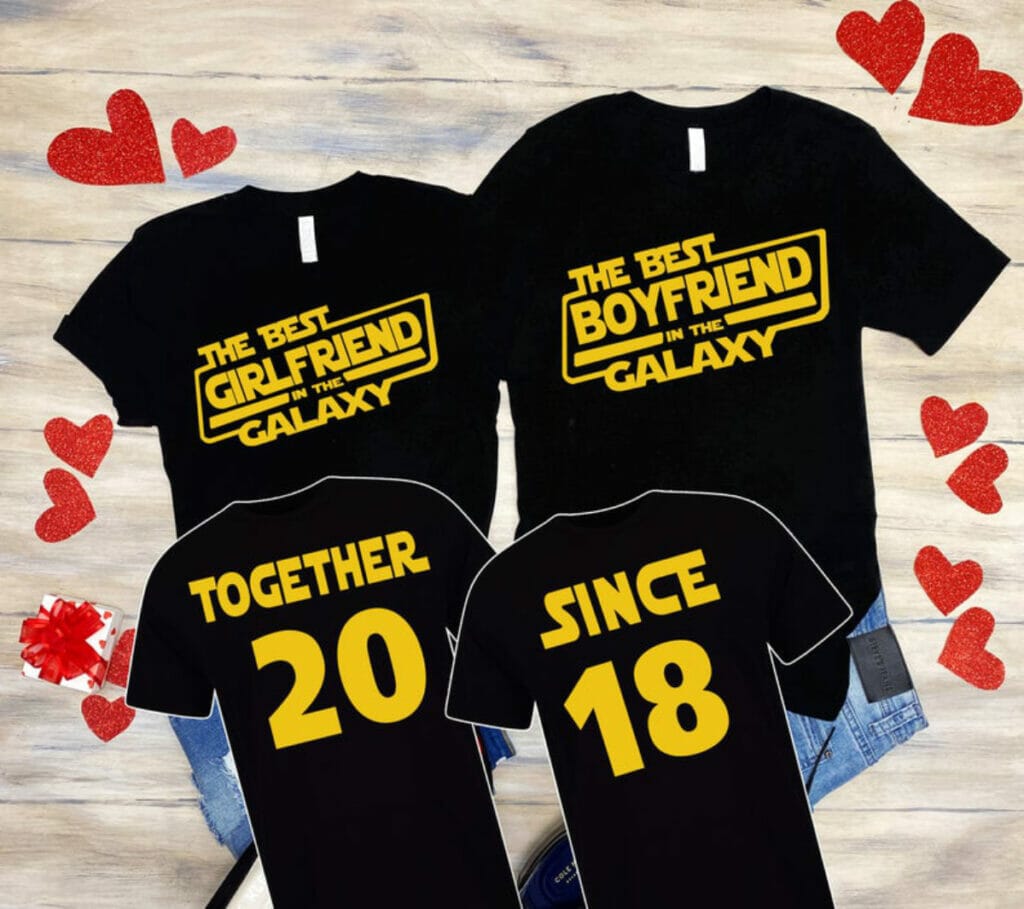 Star Wars couples fans will love these "best boyfriend/girlfriend in the galaxy" shirts, which gives you the option to tell the world how long you've been together!
Cute, creative, and shows the world how much you both love Galaxy's Edge at Hollywood Studios.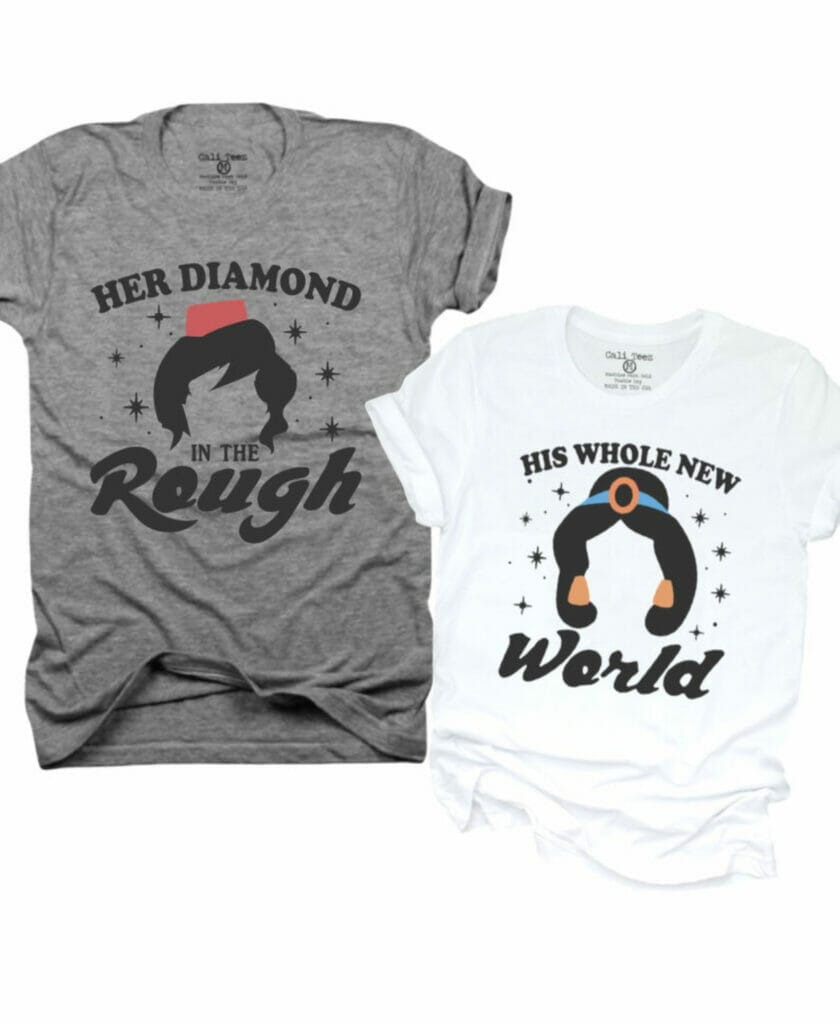 Aladdin fans will adore these "His Whole New World" and "Her Diamond in the Rough" matching shirts.
You don't often see Aladdin shirts around the parks, and these are particularly great to wear to the Magic Kingdom.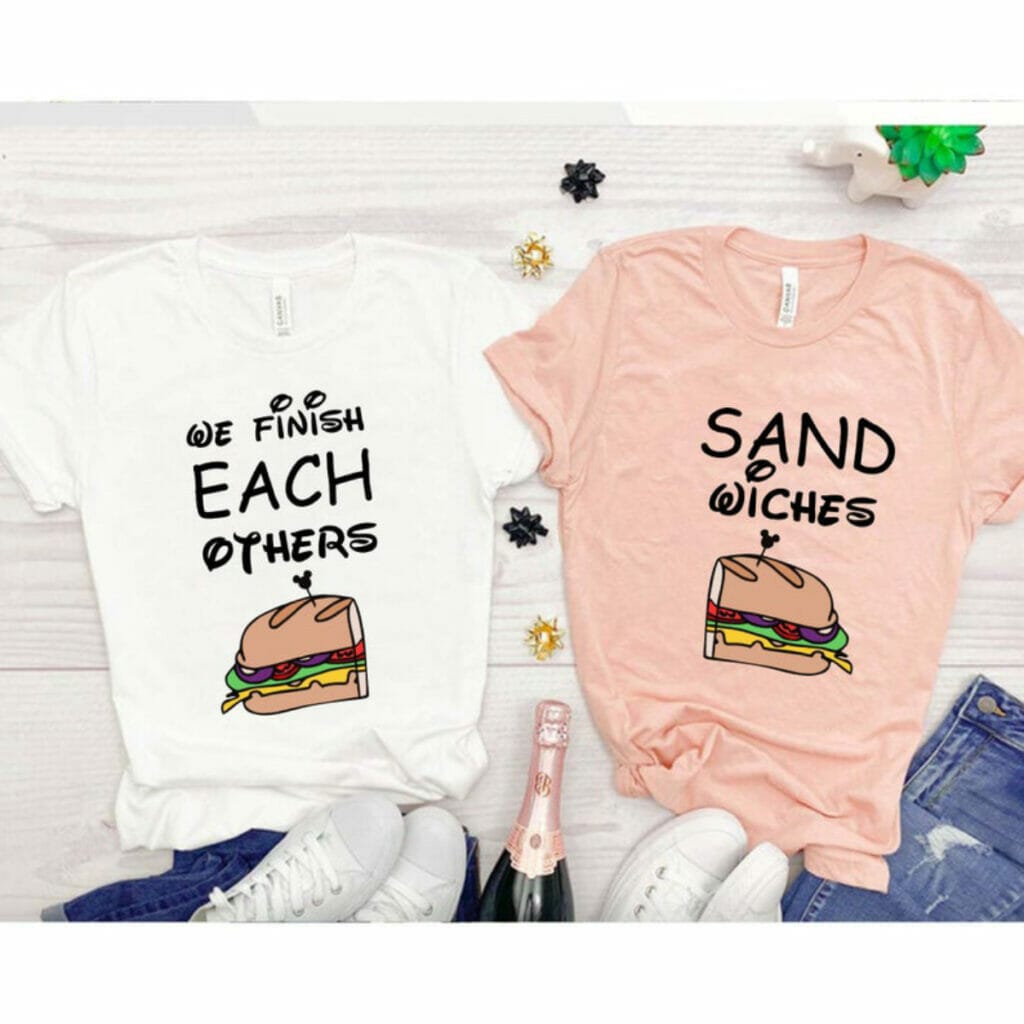 Most couples will know the iconic Frozen line, "We finish each other's sandwiches," and while it was about a relationship that was eventually doomed, it's caught on in the Disney fandom.
These are the cutest Frozen themed couples shirts.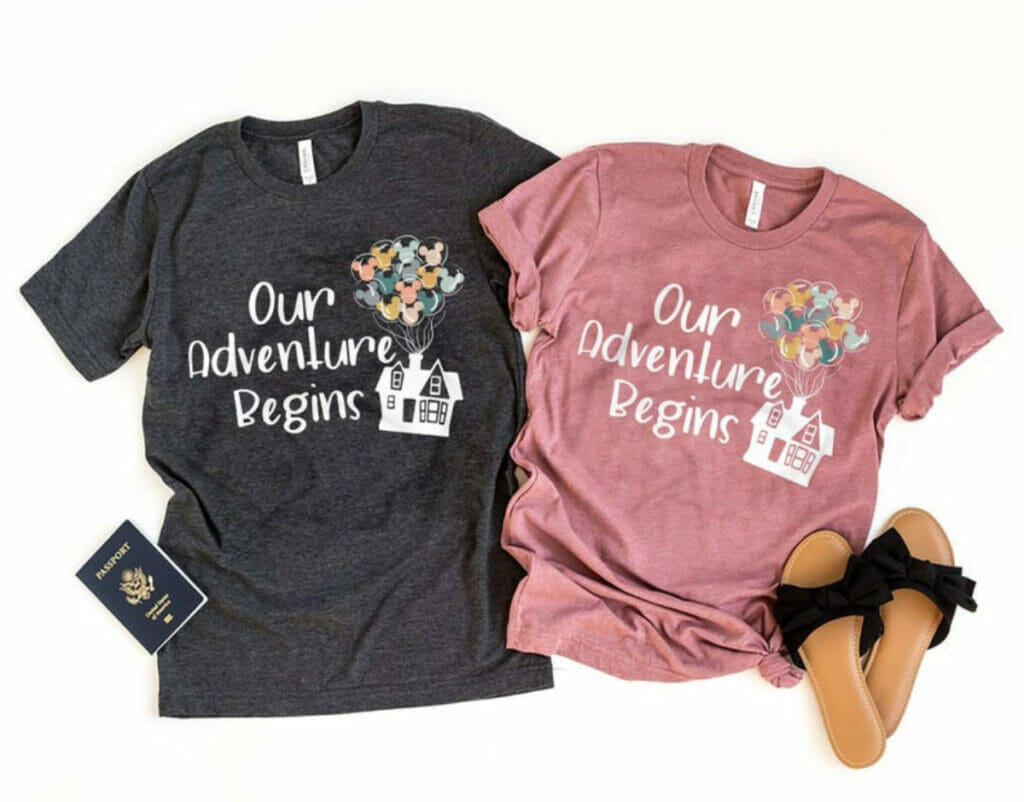 Another UP! themed pair of couples Disney shirts, these are absolutely adorable shirts for newly engaged or newly married couple who want to tell the world that your new adventure is beginning.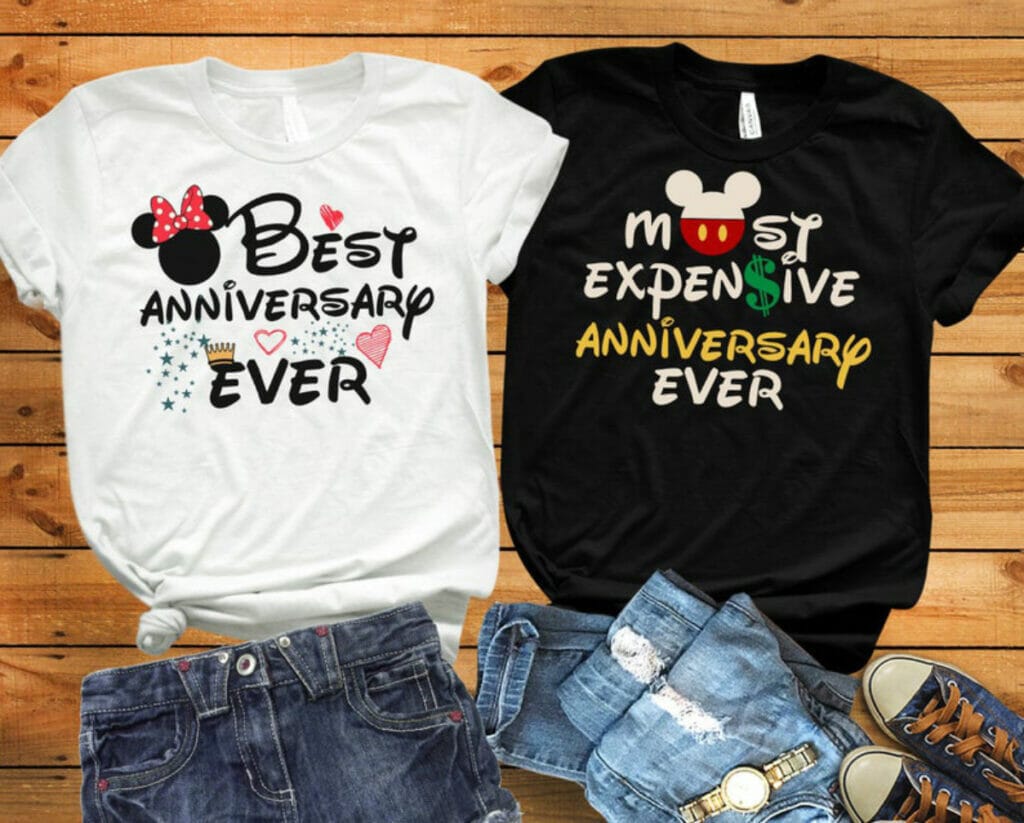 These are some funny anniversary themed Disney shirts where one of you gets to proclaim that it's the most magical anniversary ever, while the other gets to comment on the expense with their shirt!
You'll get lots of knowing nods from fellow Disney goers!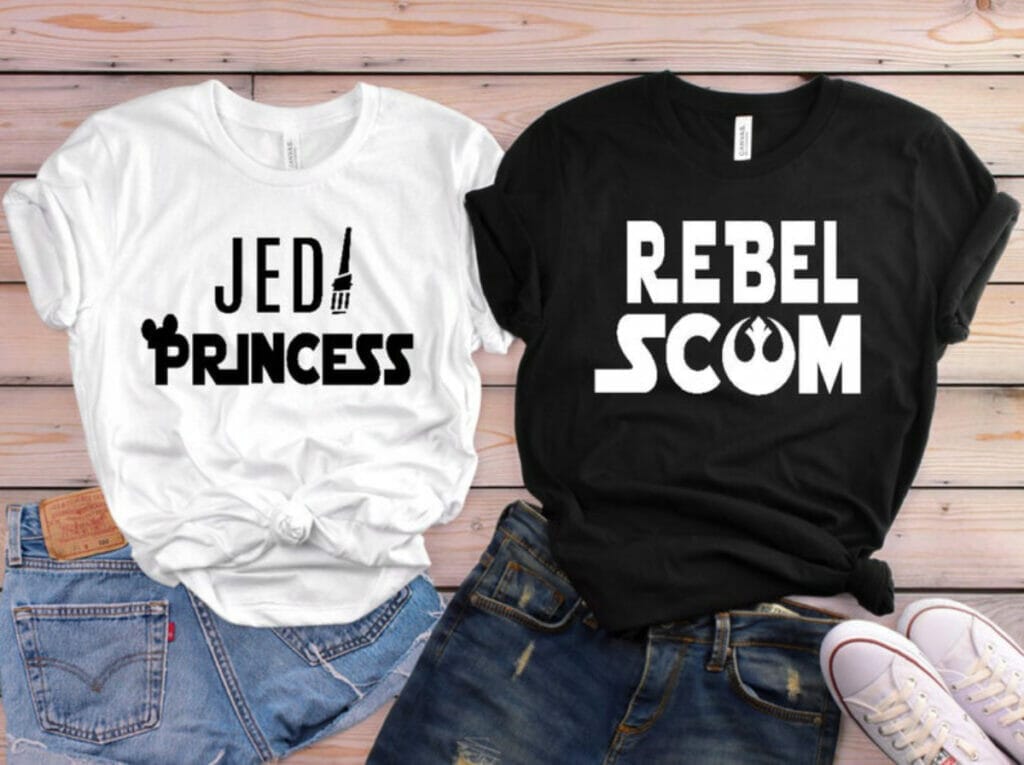 Star Wars fans will love these matching couples shirt featuring a Jedi Princess and a Rebel Scum.
Hey! Want more of our expert Disney guides? Check these out!
Get the All-American Travel Secrets!
Don't miss out on America's hidden gems!