Packing for a Disney World vacation in Florida is a bit like trying to predict the weather in an unpredictable alternate reality where the temperature could be 90 degrees F one day and 60 degrees the next.
Or rather, figuring out what to wear to Disney World in Florida is exactly like that because the crazy weather is your new reality and good luck figuring out if you're going to need a jacket or feel like you're being burned with the fire of a thousand suns.
One of the worst Disney planning mistakes is thinking that you'll be able to accurately predict the weather down to the degree.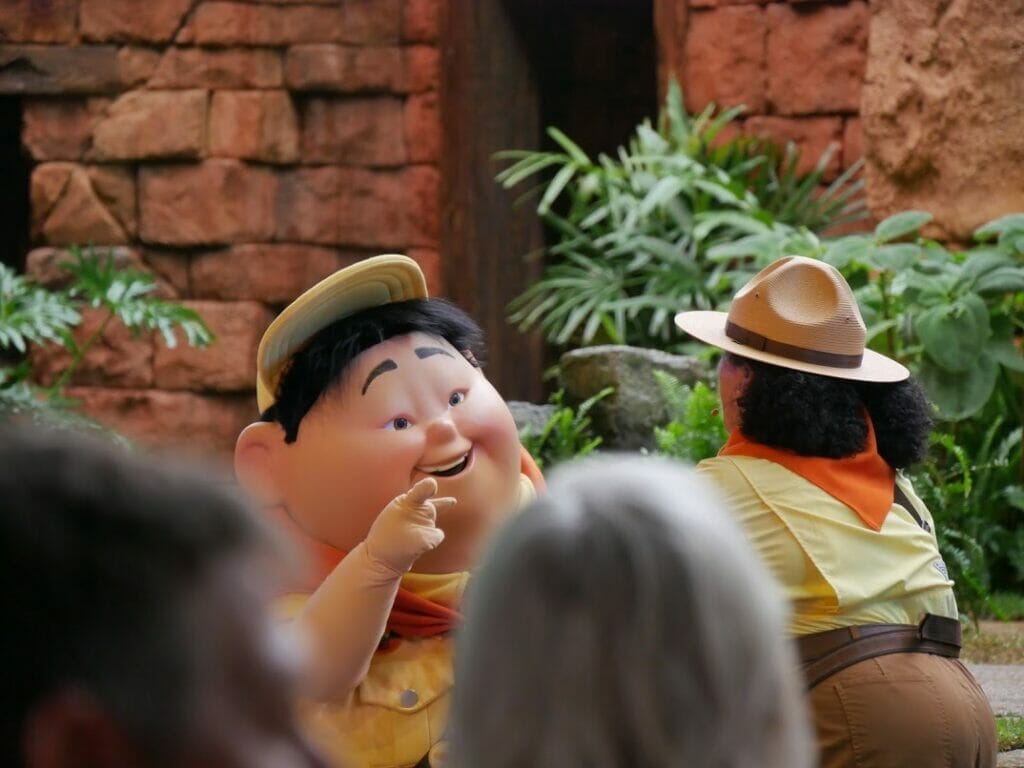 But, hey, as an Orlando native who grew up trying to figure out how to dress for Disney World in every month of the year, I've done my best to put together the ultimate guide on what to wear to Disney World in every month and every season.
Basically, just pack like 5 of these cute Disney shirts and be done with it.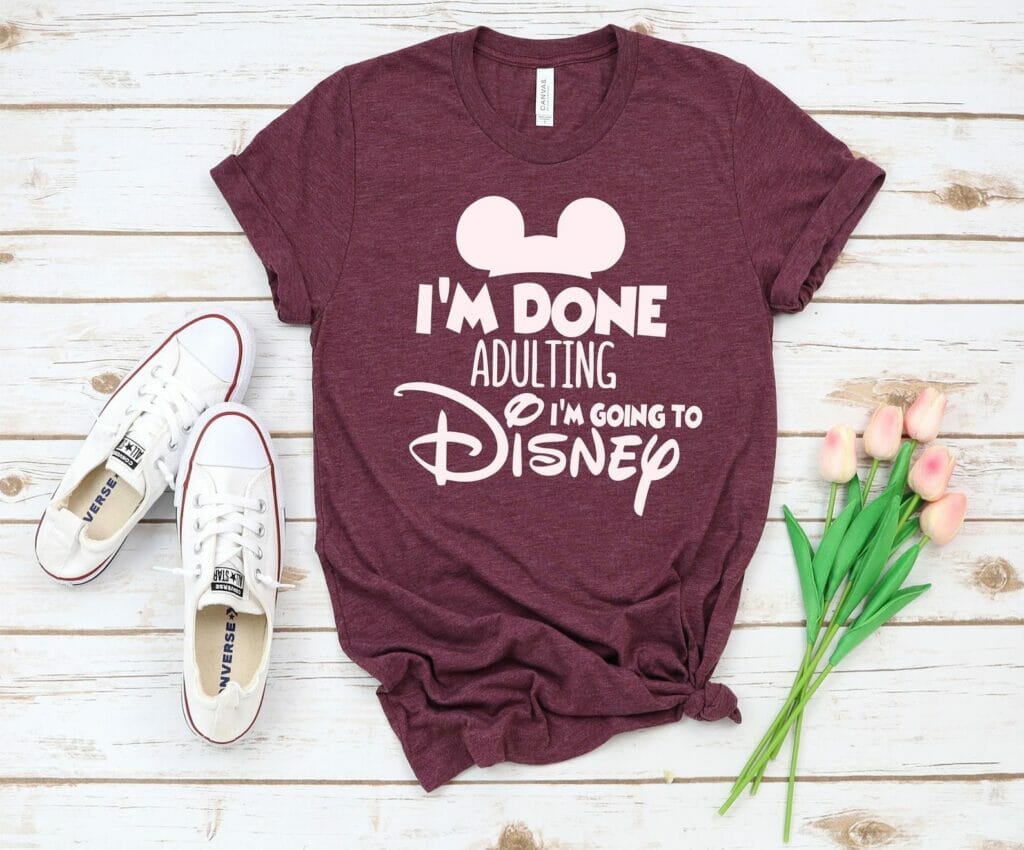 Okay, sorry, you wanted more than that?
The best advice I can give to be doubly sure you've packed correctly is to check the weather for your trip a couple of days before you leave.
Again, Florida weather doesn't always like to run on schedule.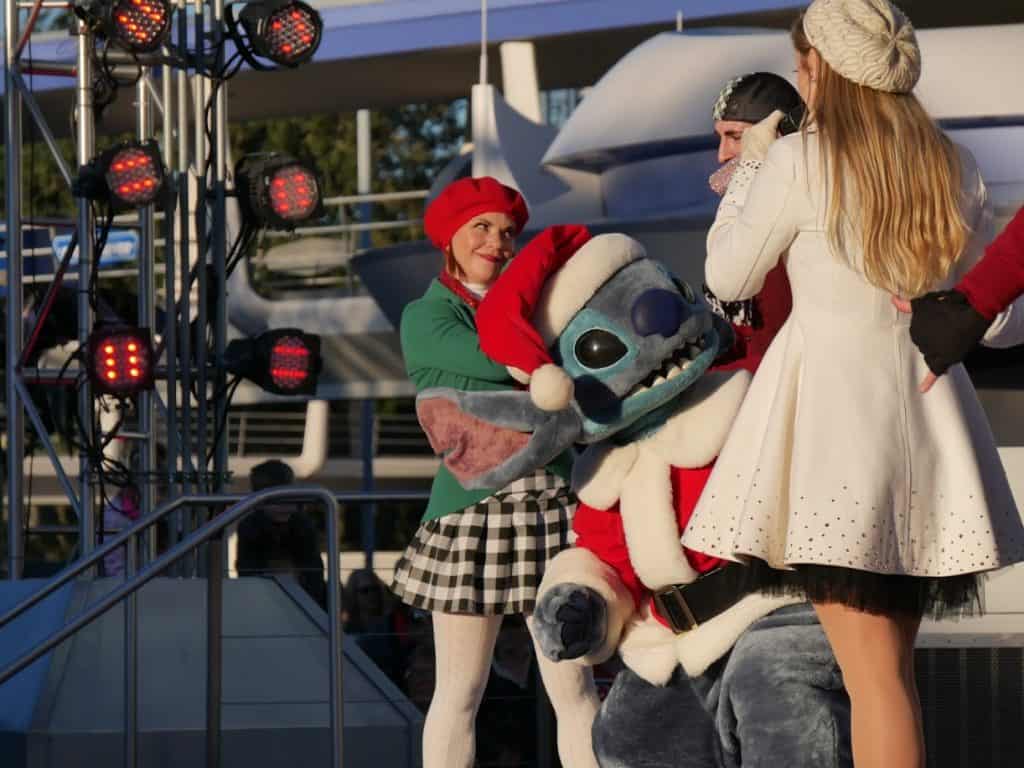 Want insider Disney tips from an expert?
Join 4,000 others in weekly guides to Disney's hidden secrets, gems, and money-saving tips!
Pssst – this printable Disney scavenger hunt is amazing
Since you're already looking up Disney guides, I just wanted to make sure you knew about this printable Disney World scavenger hunt created by a lifelong Orlando native and Disney World fan.
There are over 60 challenges with a full answer key and both Family and Grown Up versions and a bonus Disney Springs hunt for your non-park day!
What to Wear to Disney World in the Winter
Winter at Disney World can be so cold that you're standing on Main Street in 30 degree weather cursing yourself for not bringing a coat, or it can be so hot that you're perfectly happy in your bathing suit swimming in the hotel pool and basking in the sunshine.
And these days can be one after the other.
This is, in fact, the most unpredictable months, so pay special attention to the weather predictions for your Disney World winter trip to figure out what to wear to Disney World in the winter while also following this advice.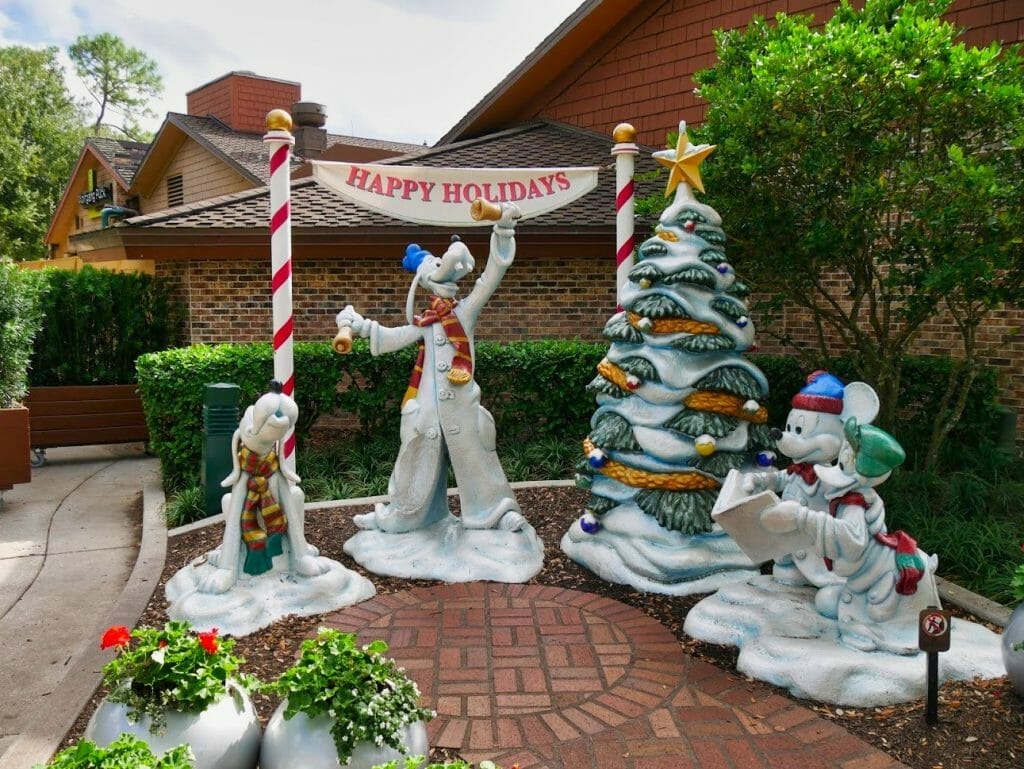 What to Wear to Disney World in December
December is a fantastic time to visit Disney World.
Christmas decorations make the whole place seem endlessly festive, Florida's dry season is getting in full swing, and there's just something magical about spending the end of the year at the Happiest Place on Earth, no matter whether you're visiting Animal Kingdom at Christmas, Magic Kingdom at Christmas, or Hollywood Studios at Christmas.
If you're going to get cold weather, it will likely be in the latter half of December.
Florida also can still get hot during the day even if it's cold in the mornings and evenings, so figuring out what to wear to Disney World in December can be an issue.
Consider this packing list.
A short sleeve Disney shirt
You may very well be hit with some very warm days where you're not going to want to add more layers than a simple short sleeve t-shirt.
I opt for short sleeves rather tank tops in a Florida winter because it's more comfortable and a bit warmer that way.
Try one of these adorable Disney shirts for women or this Goofy shirt for men that I'm getting my husband like, right now.
The last time we were upgraded at Disney World, it was because of our bride and groom shirts, so might as well!
For kids, a short sleeve shirt like this will be bright enough for them to stand out among the crowds to you while also keeping them nice and cool.
A Sweater or Hoodie
On some days and perhaps more in the evenings in December, you're going to want a sweater or hoodie to layer over your t-shirt.
It doesn't have to be the warmest wool sweater that you would wear in the backroads of Wisconsin in the middle of a snowstorm, but something comfortable and cozy that you can snuggle up in as you're waiting along Main Street for like 10 hours for the fireworks because you wanted a prime viewing location.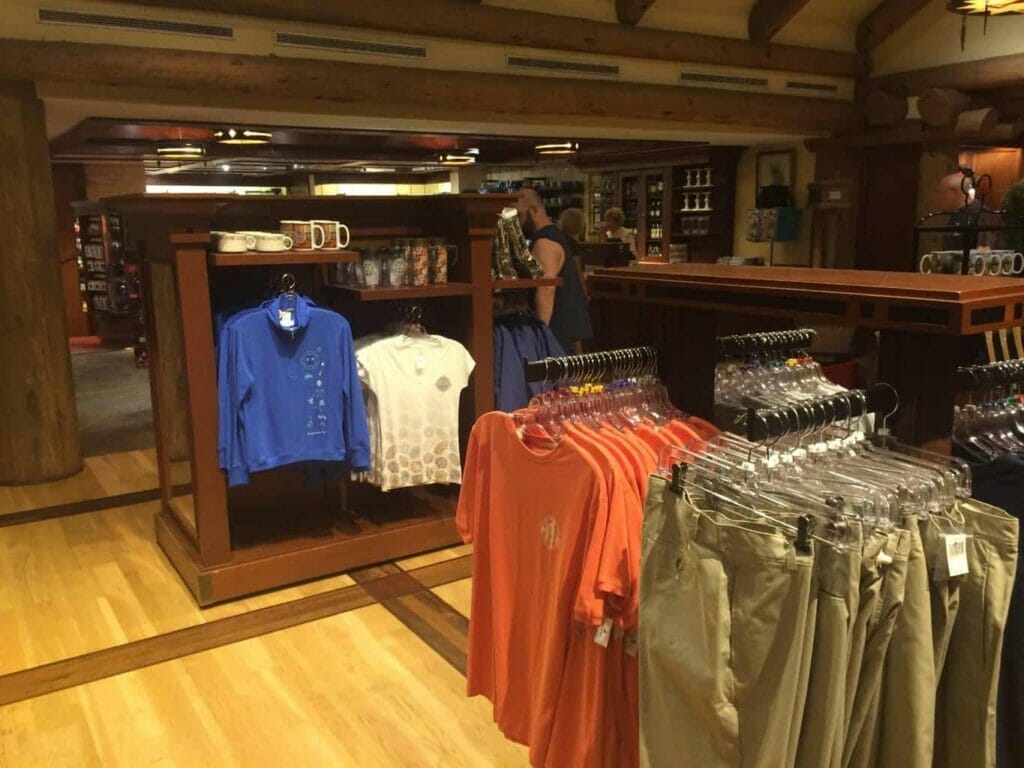 It also helps if it is lightweight enough to be put into your bag during the day or tied around your waist, as you're not going to want to carry it in your hands all day when the sun comes out and you don't need it anymore.
A coat
Especially if you are staying at Disney World for more than a week, Florida's weather may be subject to change while you are there and you are best off bringing your coat with you in case you need to whip it out one day.
Now, keep in mind I do not advise bringing it to the PARK with you every day for no reason – it's just best if you have it with you in your hotel room so that if the weather does turn, you can wear it.
Bringing a heavy coat to the park in December just because you're from somewhere cold in December is a bad idea.
It's very easy to have days of 80 degrees in December in Florida and you're going to be real overheated if you don't ditch the coat.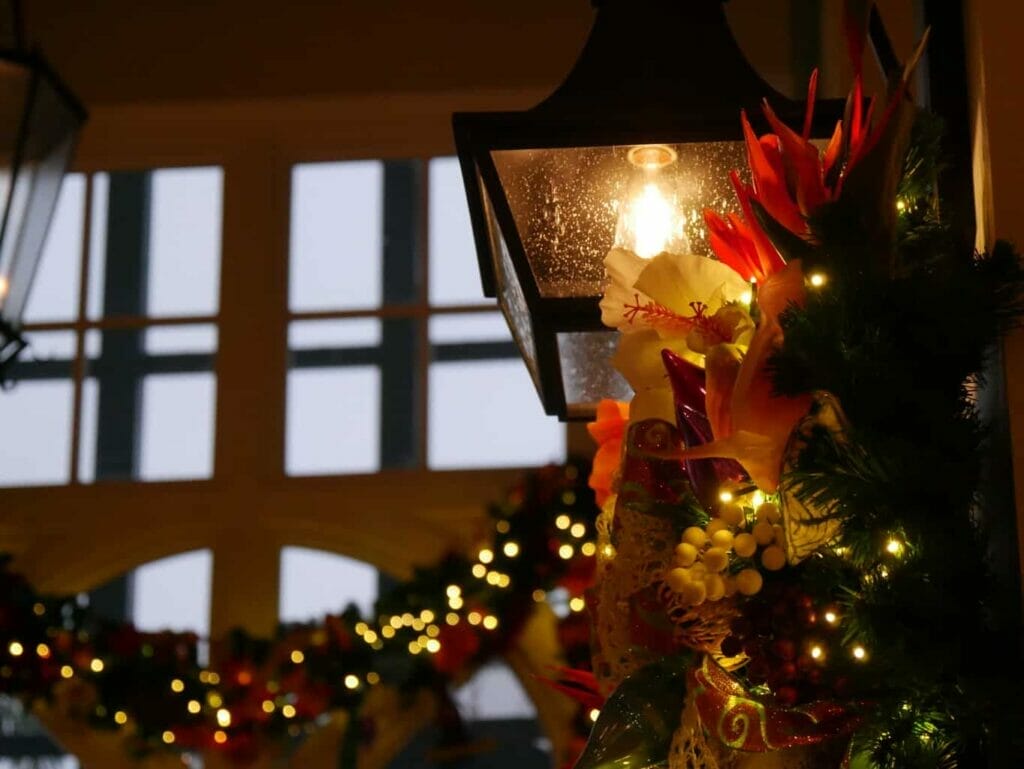 Bonus tip: December isn't Florida's rainy season, but we are on a peninsula in the middle of the ocean, so rain is always a possibility.
What I do is bring a waterproof winter coat with me in December, which has really saved me when I needed it to act like a poncho without actually needing to pack an entirely separate rain coat.
Socks
The one guarantee about December in Florida is that the weather won't be absolutely scorching.
It can be hot, especially for those of you from colder climates, but it's not going to be so hot that your feed won't thank you for wearing some regular socks instead of flip flops.
If you want to be super festive, try these adorable Disney ones or these colourful socks to wear to Florida in December.
Tennis Shoes
Again, I don't think it's necessary to bring flip flops to Disney World in December.
A comfortable pair of tennis shoes should get you through most weather days, and it's unlikely you're going to want to go on soaking water rides in December.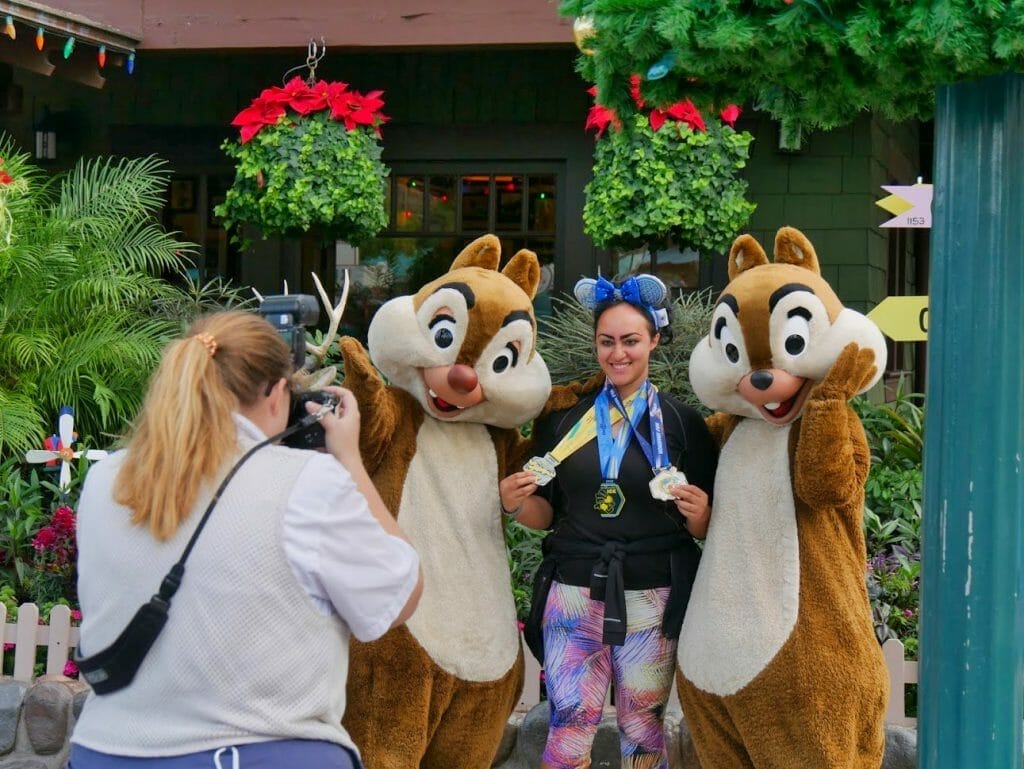 If you are, a spare set of shoes would be handy, but otherwise just bring your best walking shoes.
I always opt for these ones from Asic and these ones from New Balance, while my husband prefers waterproof tennis shoes like these amazing ones.
Pair of Boots
There are a couple things to consider if you're going to Disney World in December and it's going to be cold, and that's whether or not you're going to want something warmer on your feet than tennis shoes.
If you are particularly prone to cold feet AND you have seen on the weather that it is meant to be cold while you are there, then bring a pair of comfortable walking boots (not your most fashionable ones you would wear to the office).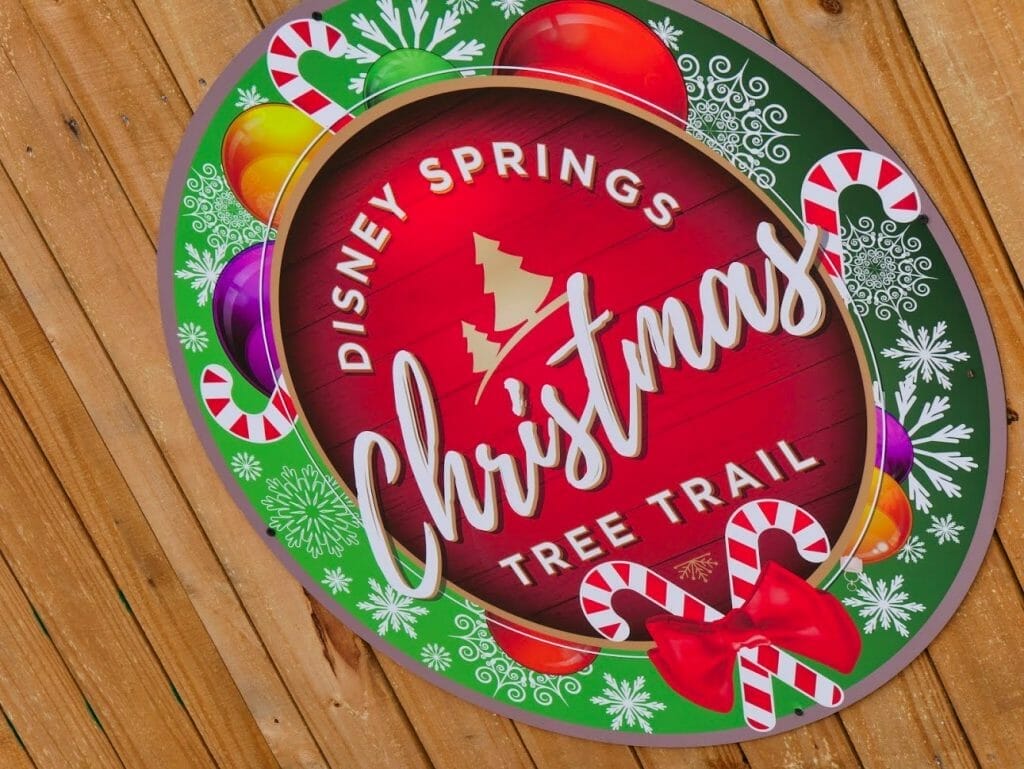 This can help save your toes when you're sitting around waiting for shows to start or just walking around, but ONLY if you see the weather is meant to be cold while you're there.
If there isn't cold weather forecasted, leave these at home as they take up too much space.
When boots are called for, a waterproof comfortable set like these are just the ticket.
Otherwise, try something a little bit more fashionable but still cozy like these.
Gloves
Because gloves don't take up too much space, pack a light pair in your suitcase for Disney in December.
You might not need them, but a cotton pair like these can curl up in a little ball and just be shoved in a shoe in your suitcase.
You don't need to bring your snow gloves, your warmest mittens, or anything that looks like it would be perfect for facilitating a snowball fight.
You are not going to see snow in Orlando. The end.
1 pair of shorts
While you can't always assume that December in Florida means shorts weather, it does a lot of the time.
Pack a pair of shorts to wear to Disney in December so that if you are struck by a winter heatwave, you're not suddenly needing to buy a pair of Winnie the Pooh short pajama bottoms at the gift shop.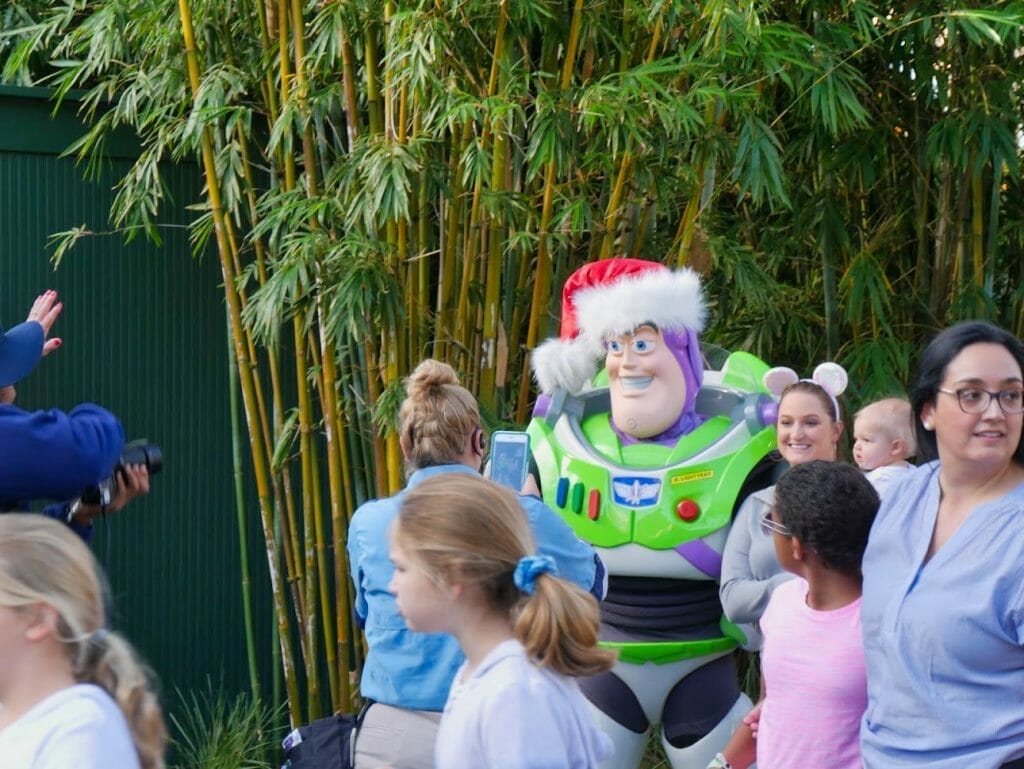 I love denim ones like these, but you can also go for travel pairs like these that are easy to wash and wick away moisture really easily.
Jeans
For nights when it does get a bit colder or the occasional cool day in December, make sure to have a pair of jeans or other long pants so you won't be too cold.
If you're traveling by plane, you're often coming from somewhere a bit colder than Florida (or a lot colder), so it's always an idea to wear your long pants on the plane so you know you have them if you need them, and then you always have them to go back home so you're not stepping off the plane in Maryland wearing shorts on Christmas Eve like a lunatic.
It also helps if you're flying an airline like Spirit Airlines as you won't have a lot of checked baggage room, so wear the bulkier things on board.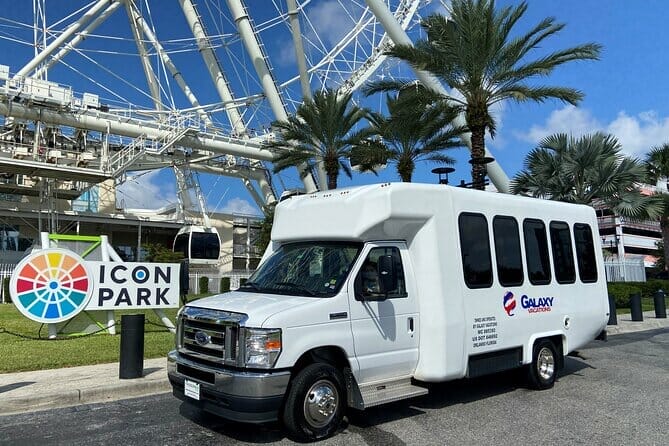 🚌Not renting a car in Orlando?
My favorite shuttle to get from the Orlando airport directly to Disney World is this one with a ⭐⭐⭐⭐⭐ rating.
What to Wear to Disney World in January
January is, on record, the coldest month in Florida.
This is going to be the month you have the greatest chance of needing your winter gear, but equally it is very possible to be wearing shorts and t-shirts to Disney World in January, so again, thank you Florida weather!
For a longer trip where you don't have the luxury of knowing the weather for your whole trip before you go, consider taking the following things to Disney World in January.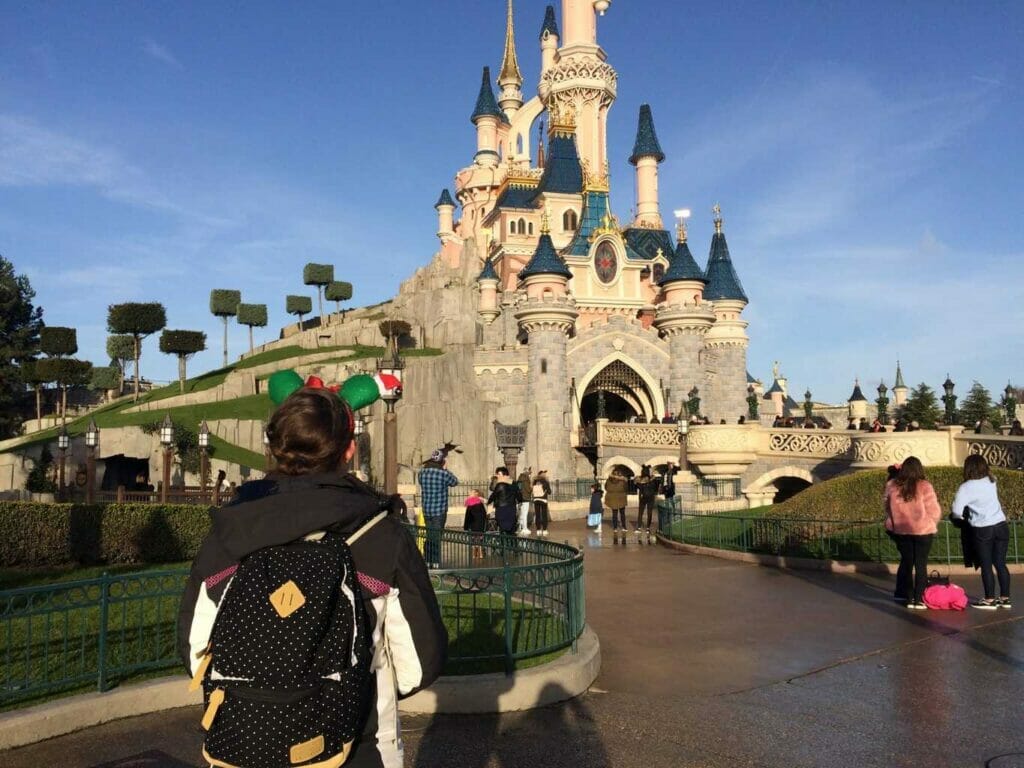 Long pants
It's not always shorts weather in Florida in January, though it often is for people who come from out of state.
Floridians have a very low tolerance to temperatures below about 75 degrees, so there's a very large chance that the people in line with the heaviest winter clothes are locals, but the weather should generally be comfortable for long pants regardless of where you come from.
Opt for jeans for more travel-friendly pants like these.
Or you can get really crazy and wear your Disney leggings because it is literally the only place in the world you can do that and get complimented rather than weird looks (trust me, I've tried).
Shorts
I KNOW, it's January, the rest of the country is knee deep in snow, whatever.
It's very possible you'll encounter 75+ degree days at some point in January, and you don't want to be that person sweating up the Disney bus because you forgot you were going to Florida.
Bring shorts.
Tennis Shoes
Hint: you should bring tennis shoes to Disney World every month of the year.
They work just as well in January as they do the rest of the year.
This is especially important if you're trying to travel to Disney with a non-Disney fan as you'll want them to be comfortable.
Socks
I don't recommend flip flops for this time of year being a staple for your Disney wardrobe, so whatever shoes you do wear to the park should be comfortable and hopefully include socks.
Bonus points for wearing Disney ones like these.
Short sleeve shirt
For those 80 degree days, you're going to wish that your packing list included more than long sleeve shirts and a parka.
You can still wear short sleeve shirts on many days, especially if you want to wear this adorable "The Mountains are Calling" shirt that I've wanted forever.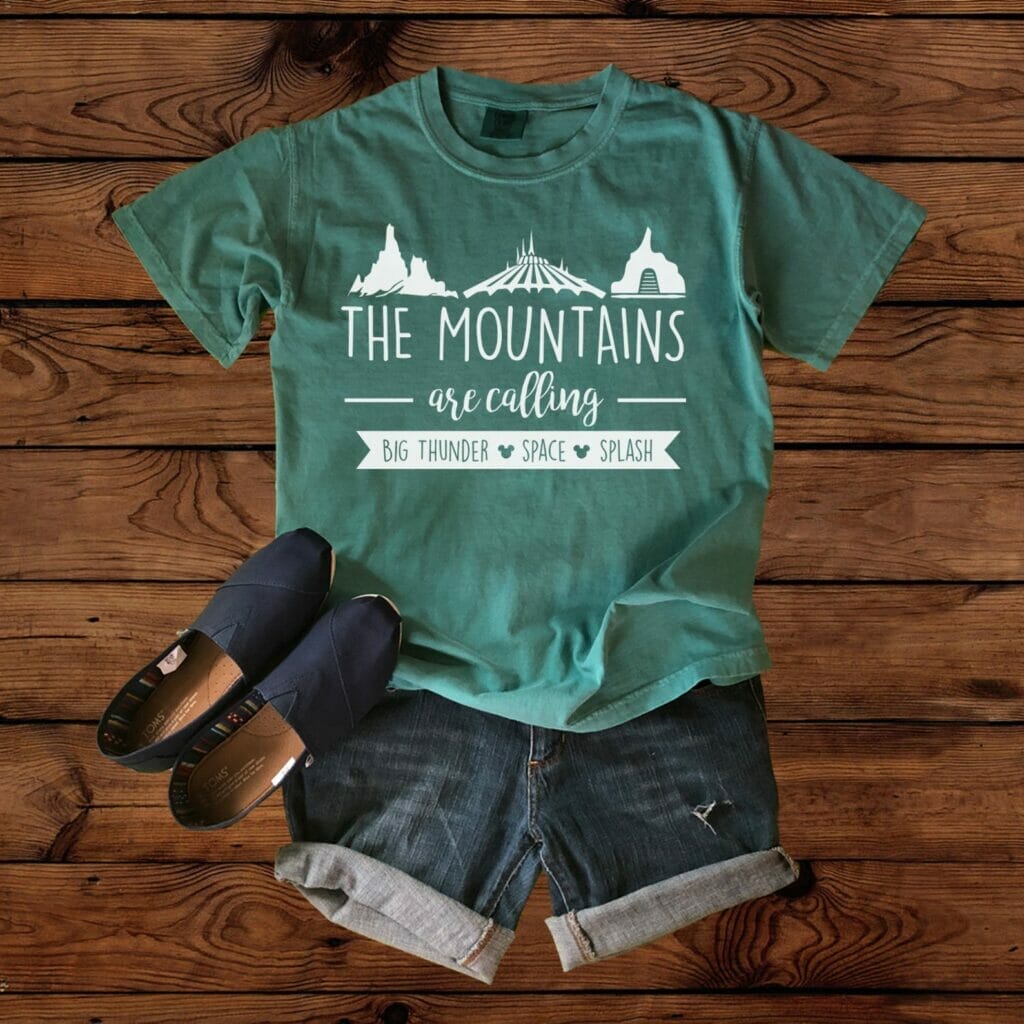 You can also find plenty of shirts that are themed towards the Star Wars universe so you can look your best when checking out Disney World's Galaxy's Edge.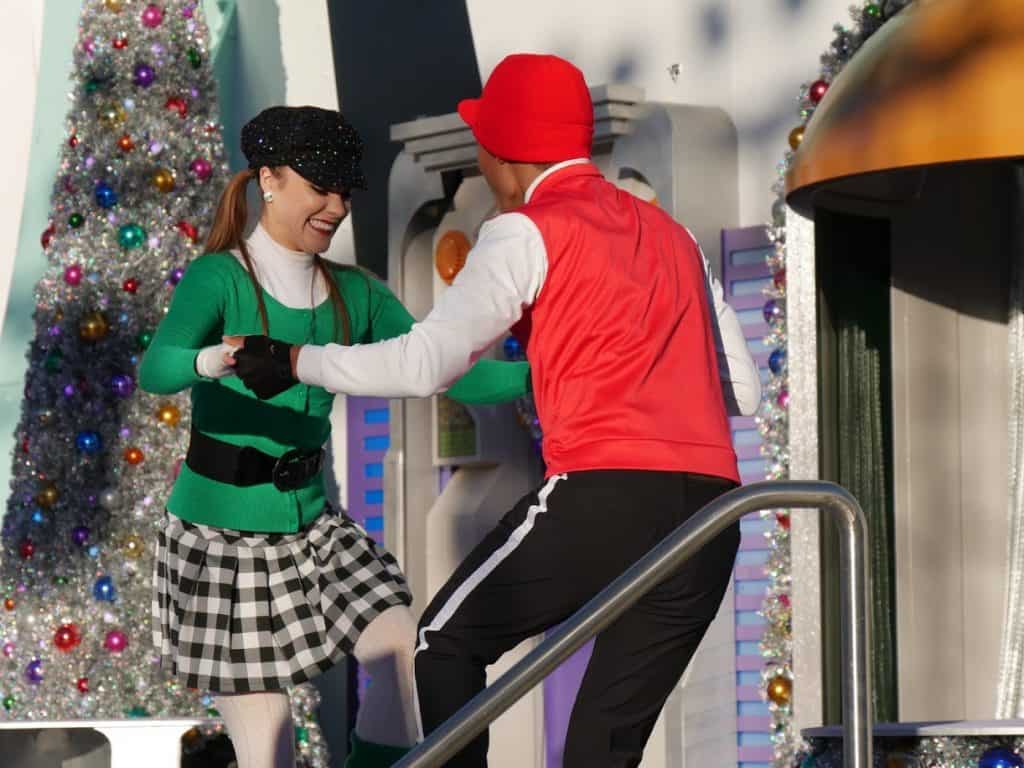 Hoodie or jacket
The key to figuring out what to wear to Disney in January includes packing a warm hoodie or jacket that you can throw on during a cold day or when the sun goes down and you find yourself freezing your butt off while waiting for Fantasmic.
Hoodies are a very popular Florida wear because Floridians were not born to be particularly formal and we can't ignore the amazing feeling of wrapping your head up in a little hoodie cocoon.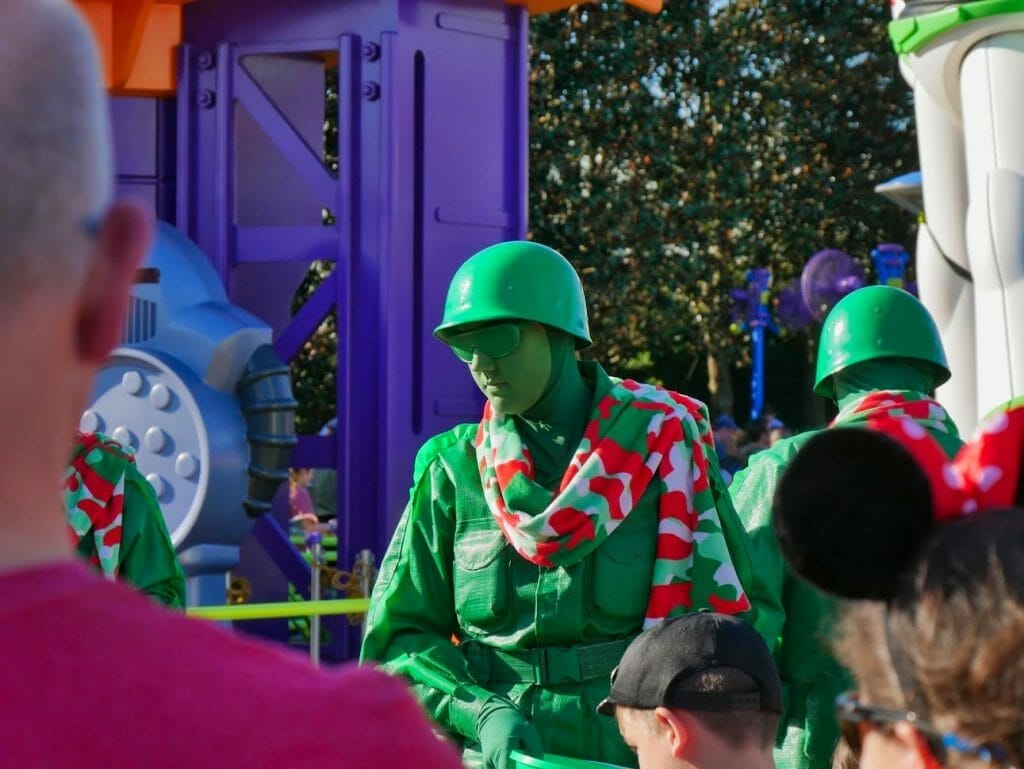 Waterproof Coat
January is one of the months that I do recommend bringing a coat – most people will probably already have one from when they started their travels, anyway, but you can get some of the coldest Florida days in this month so be prepared!
The reason I suggest that it's waterproof is not because of potential snowfall because there is 0 chance of that happening, but because sometimes Florida can have an unusual rainstorm in January and if your coat doubles as your poncho, then you're slightly more prepared.
Mickey Ears
The Christmas decorations stay up through some of January, so you won't be out of place if you're still wearing your Mickey Ears that light up like a Christmas tree.
Or, maybe you're running the Disney Marathon in January (bless your soul, as we say in the South) and you want to wear this adorable pair of Mickey Ears for runners.
The Toy Story Land Mickey Ears are still my favorite for now, though.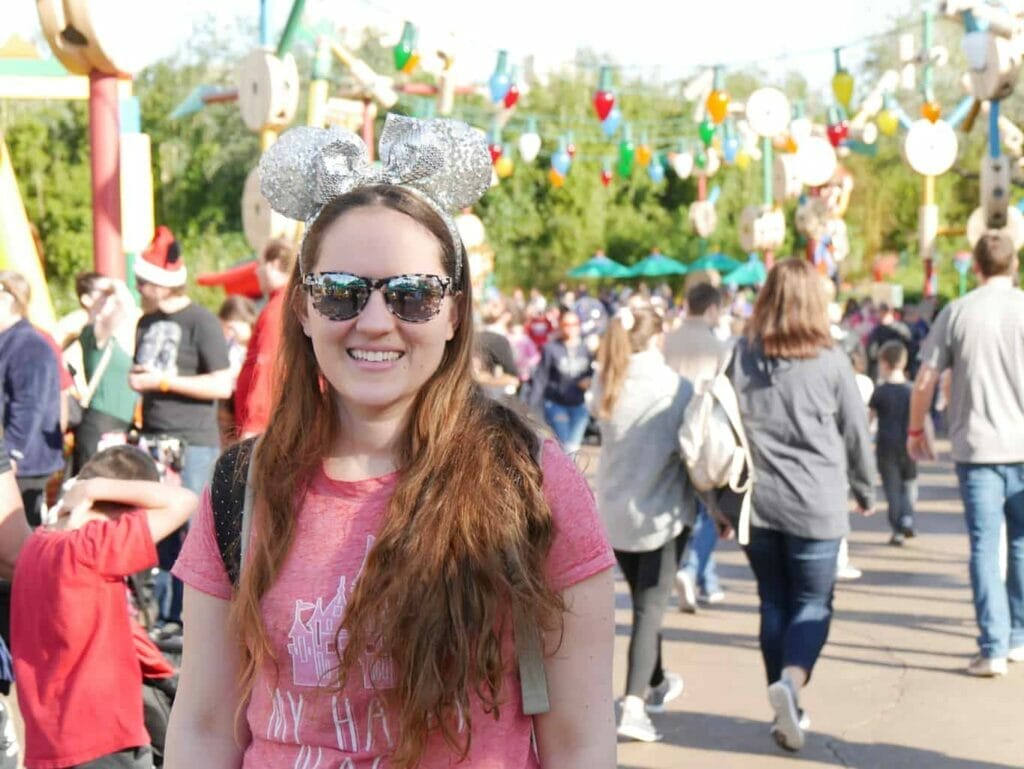 What to Wear to Disney World in February
February!
My birthday month and another volatile weather month in Florida.
February can technically still have some cold days, but by this point Florida is already back up into the 70s and 80s usually as the heat doesn't mess around in this state.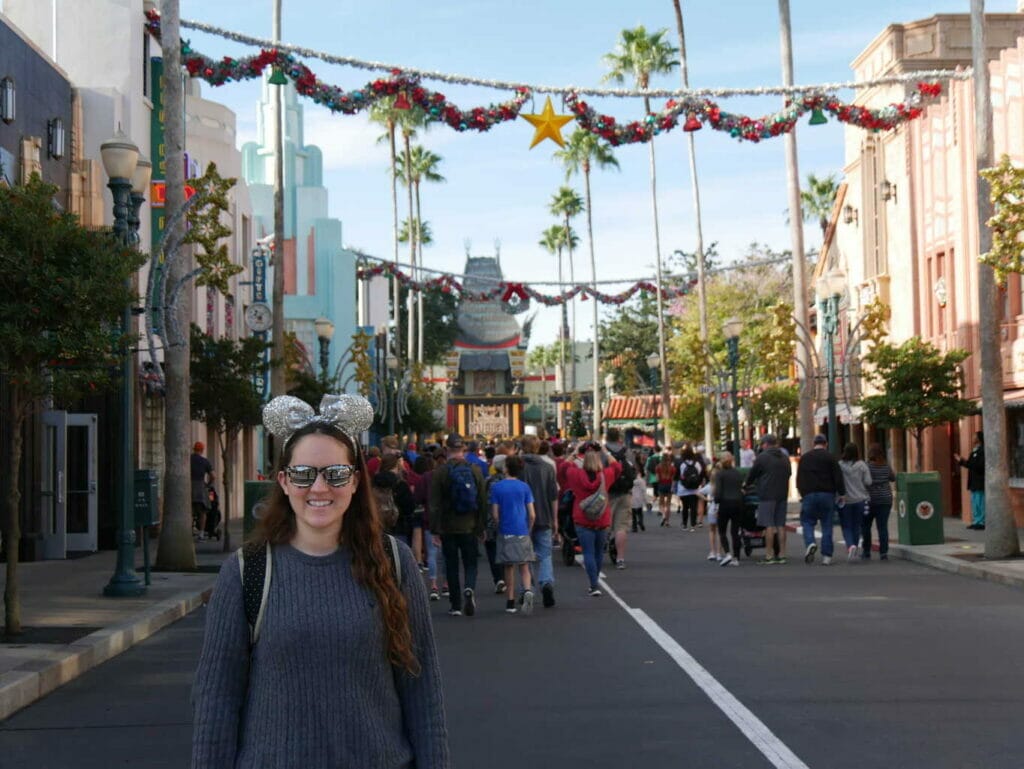 Tennis shoes
Wear your most comfortable pair of tennis shoes and try to see if you can find some waterproof ones like these that will keep your feet dry in case of a downpour.
And that's what it usually does in Florida – downpour.
None of this misting rain or all-day weather affairs, for the most part.
Just about an hour of sheer terror and buckets of water being dumped on your head and then all is fine.
Short sleeve shirt
For locals, February isn't always short sleeve shirt weather, but it definitely is if you're a visitor who is used to thinking of February as a winter month.
I would go so far as to say that visitors from out of state who aren't as afraid of the cold as Floridians are might be comfortable in tank top at this time (I have these adorable Minnie ones), but even so, short sleeve shirts all around.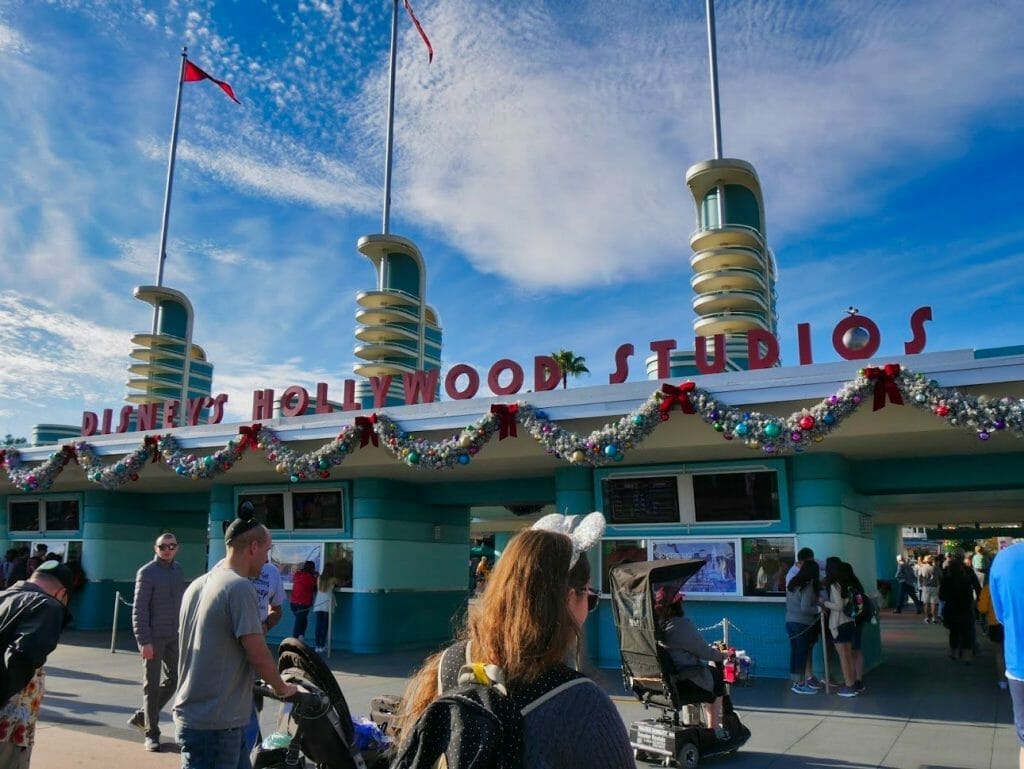 Socks
If you're wearing tennis shoes, make sure you also have comfortable socks that don't rub your feet in all the wrong ways or protect your feet against the potential blisters your shoes can give you after walking 17 miles around Animal Kingdom all day (this is a real possibility).
I love these ones with the Disney characters on them.
Flip Flops
By February, I think you should go ahead and start packing those flip flops!
I know, in February?!
But the weather has the potential to be really warm already, and flip flops make it easy to relax by the pool at your Disney resort OR they double as a great way to protect your shoes when you're on the water rides because you can just dry your flip flops off and then switch shoes at the end.
Lightweight Hoodie
I wouldn't recommend bringing your heaviest coat to Disney World in February – Florida really does get a short winter and February is usually warm enough to get away with a shirt layered under a hoodie if the weather does turn a bit colder.
Get matching family ones like these or dress up like Mr. Incredible with this hoodie that will make all the other dads jealous.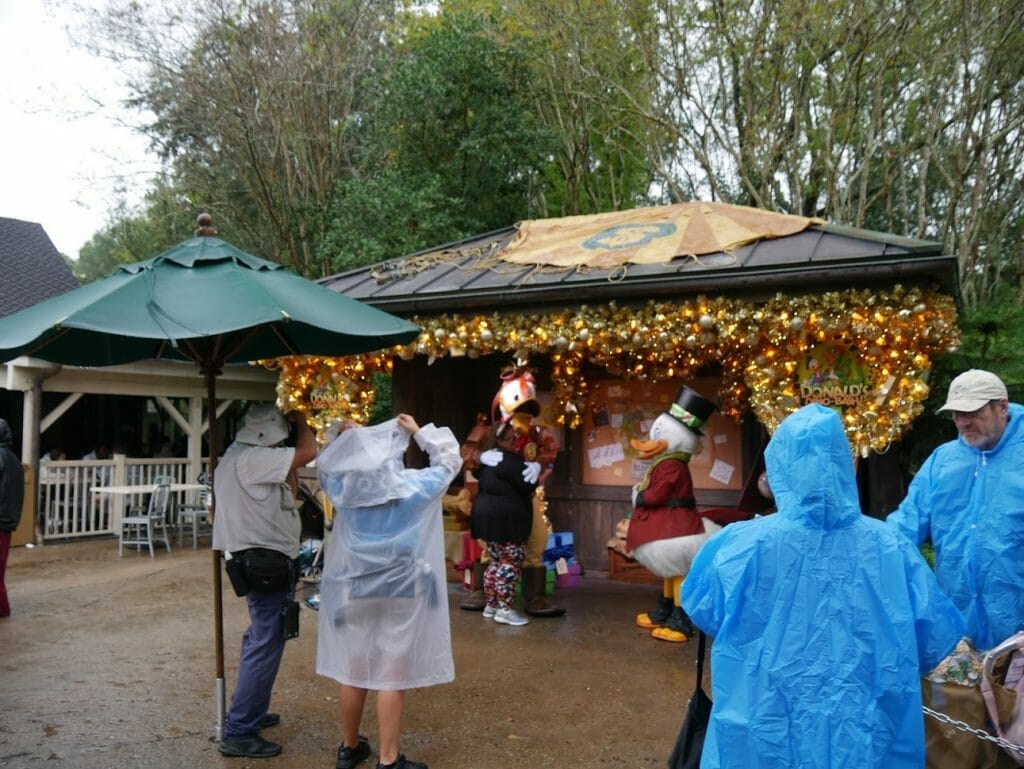 Shorts
Shorts in February?
Yep! You're in Florida!
Shorts year-round can be a way of life, and with weather in the 70s and 80s in February, you'll definitely find some days that are great for shorts if you're used to much colder temperatures.
Some people opt for denim ones they would wear in their everyday life, which are fine, while others go for a more athletic short to prepare them to spring to Flights of Passage at Rope Drop, which is also fine and infinitely more comfortable.
Jeans
I really hate jeans and having to wear them, but February does have days where it can get closer to 50 degrees, which might be time to throw on some long pants.
Again, if you're going on a short trip, you should just check the weather ahead of time and plan ahead, but for everybody else, wear long pants on your way to Disney and then you'll have them should you need them while there.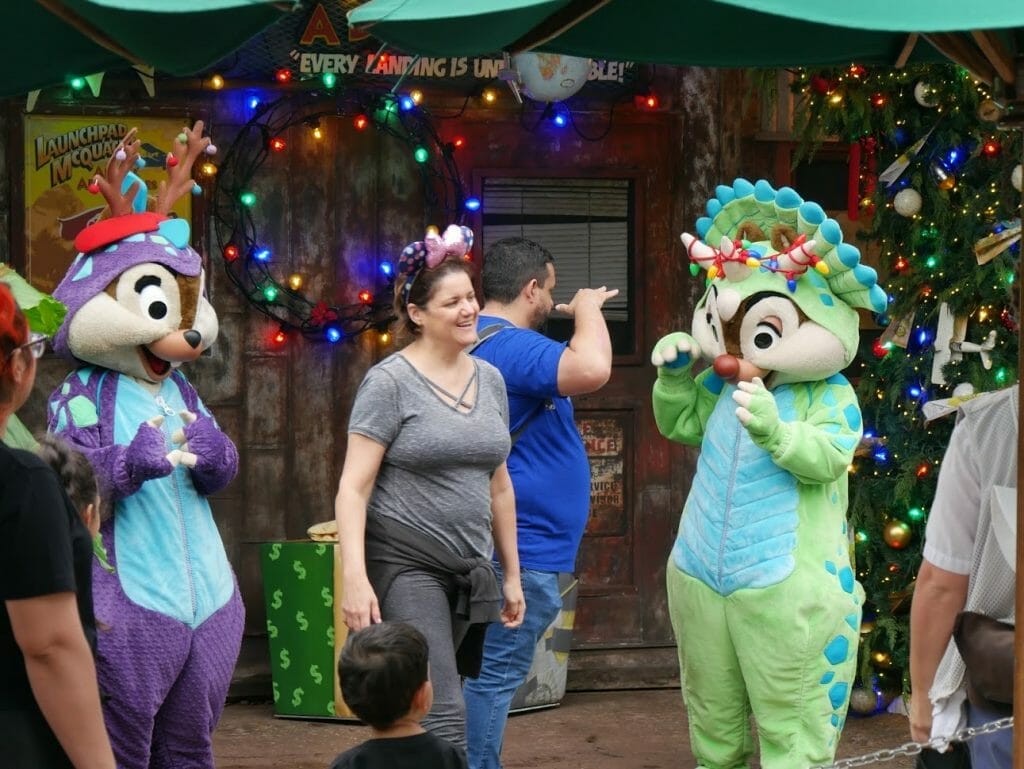 Valentine's Day Themed Apparel
Disney loves Valentine's Day!
Even if you don't, Mickey and Minnie are always sweetly celebrating their love (sidenote: I'm not sure if it's weird to celebrate the love of two mice but we're going to go with it in the name of Disney magic).
Wear your cutest Valentine's Day themed Mickey Ears like these ones, shirts like these ones, and sunglasses like these ones.
What to Wear to Disney World in the Spring
Spring has sprung at Disney World!
If you're planning a trip to Orlando in the Spring, you'll be glad to know that you're in another transition period for the state, transferring from the "kind of hot" weather in the winter to the "really hot" temperatures in the summer.
It doesn't yet feel like you're baking on the face of the sun (all of the time), but the humidity does start to creep back into the Florida lifestyle.
What to Wear to Disney World in March
If you're visiting Disney World in March, be prepared for pleasantly warm temperatures and not too much rain.
It's a good time to go, which is great because many schools take their Spring Breaks during this month and so the parks can get extra crowded.
Tennis shoes
Whether you're a woman, man, or small child, you can't go wrong with tennis shoes in the Disney parks.
You need something comfortable on your feet that's not too heavy, both so that your feet don't start aching and you have the proper support to make a dash to your Genie+ reservation.
Short sleeve shirt
Pack plenty of short sleeve shirts for March, as they're great on their own in the hot Florida weather or for layering underneath hoodies when it gets slightly colder.
If you really want to go the extra Spring Break mile, get family matching ones like these or couple-themed Disney shirts like these.
Lightweight Hoodie
For when it does get down to a bit colder in the evenings, you might want a lightweight hoodie in March, but if you're from somewhere where it actually does get cold in winter, you probably won't even feel it.
Southerners and Floridians, however, will be rocking their hoodies because anything below 95 degrees is basically an eternal winter for us.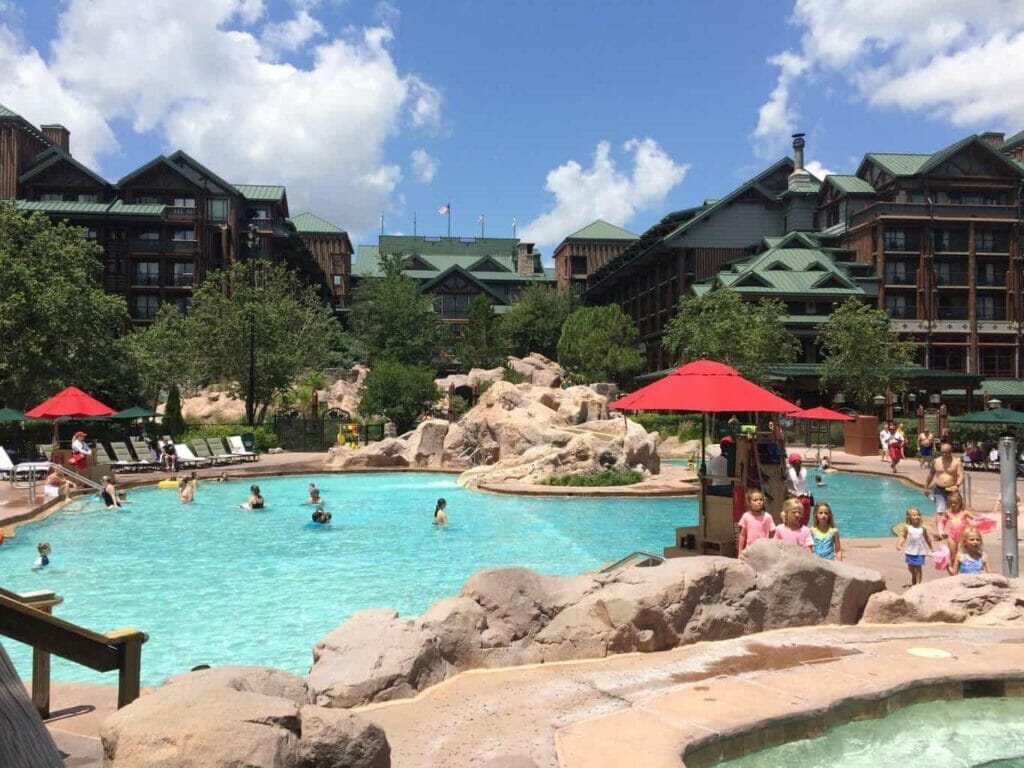 Shorts
March is shorts weather in Florida!
Bring your denim shorts, your cargo shorts, your athletic shorts – whatever kind of shorts make you happy, wear them to Disney World.
I do have jeans on this list because March technically is still the winter for a bit, but shorts in March are definitely more popular among out-of-towners who are coming to Florida to soak in the sunshine, not bundle up.
Bathing suit
Don't actually wear your bathing suit by itself to the parks, but if you've got plans to stay at Disney resort, you'll find a lot of good swimming weather in March, especially because the Disney pools are always heated to 82 degrees.
You can also easily visit a water park in March and have a great time.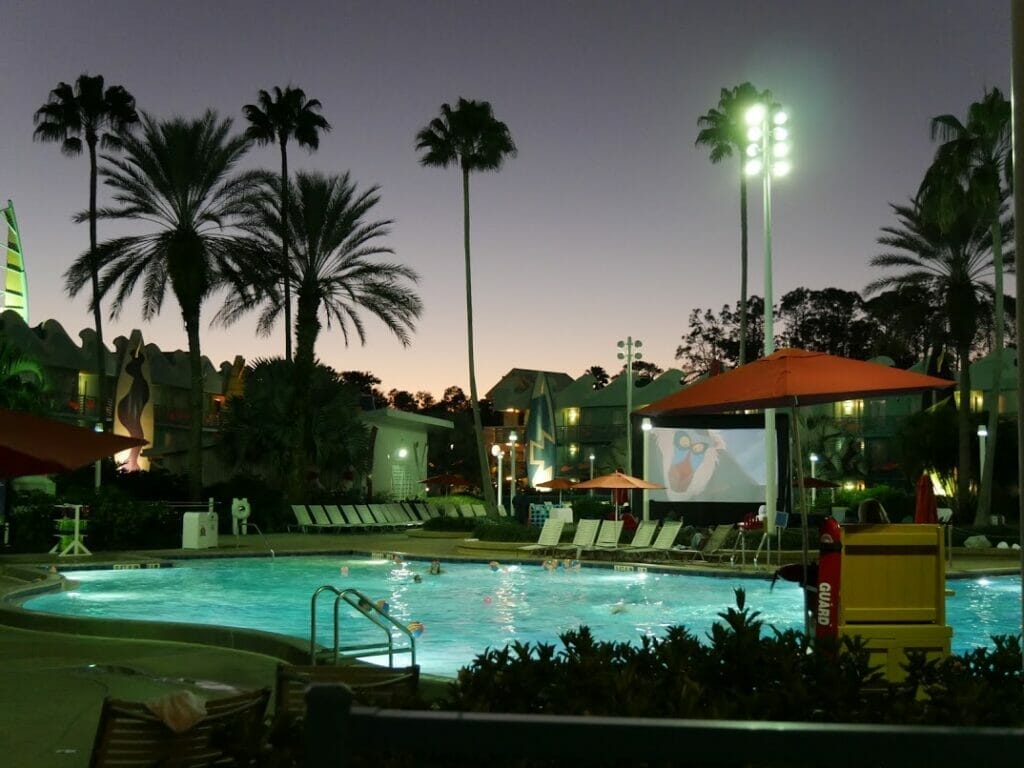 Jeans or Long Pants
As I mentioned before, wearing jeans or long pants will be more popular among locals in March than out of towners who are wondering why everyone is wearing jeans in what would to them be summer weather, but you can get a few colder days in March, so packing a pair of versatile long pants like these will help you make sure you're super prepared.
What to Wear to Disney World in April
If you're going to Disney World in April, you should know that you've picked the first month that really segways Florida into its summer.
The weather and temperatures will be similar to what you might be used to your actual summer (think June, July) at home.
That's because when real summer does come around in Florida, the temperatures are similar to the face of the sun and a Florida summer is probably like nothing you've ever experienced if you're not from somewhere with the same climate.
So April is like summer – sunny, hot, and full of Disney magic!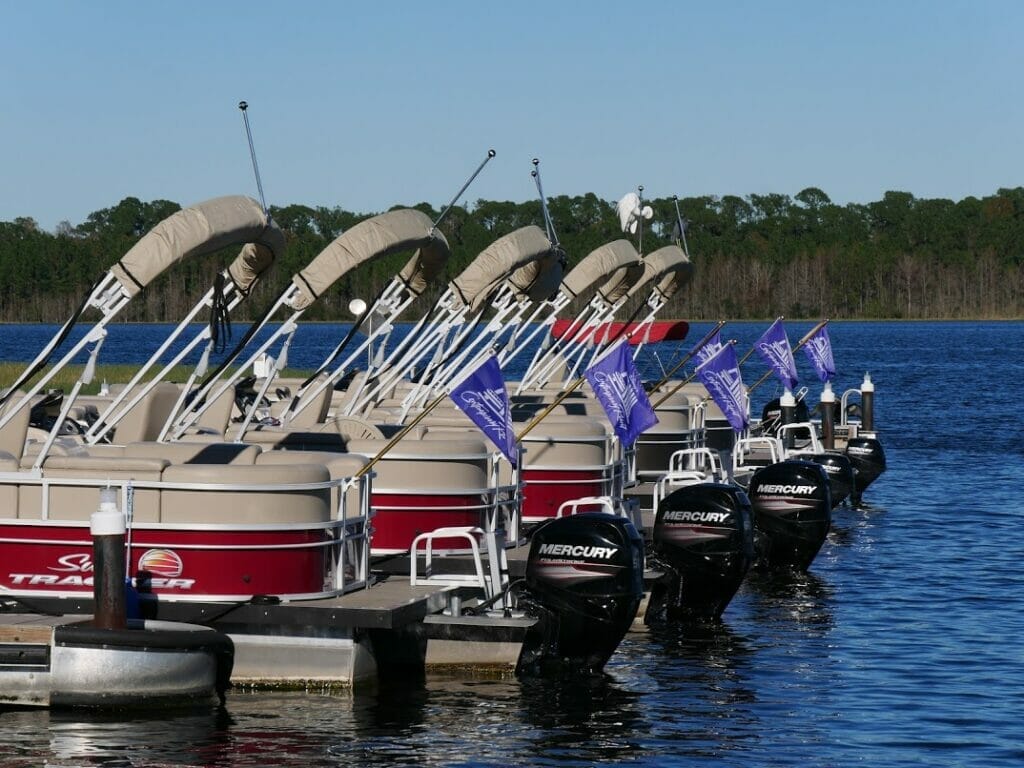 Tennis shoes
Once you hit the hot temperatures of April, you'll still want to wear tennis shoes or other comfortable shoes to the parks (but not brand new ones because you're going to get blisters if you do).
The one thing to keep in mind though is to make sure they're some type of breathable shoe.
I find this a lot when I was buying clothes when I lived in Pennsylvania versus buying clothes in Florida.
If you come from somewhere built for the cold, your clothes may be designed in a way to keep out the cold rather than keep any cool temperatures in.
Check out these shoes for ultimate breathability or these ones if you also want them to be waterproof.
Socks
After spending all day walking around trying to meet all of your favorite characters, you're going to be grateful if you have some moisture wicking socks like these ones that keep your feet dry and comfortable.
I realize that choosing a particular type of sock to wear seems like a bit much, but you really do want to leave your holey ones at home.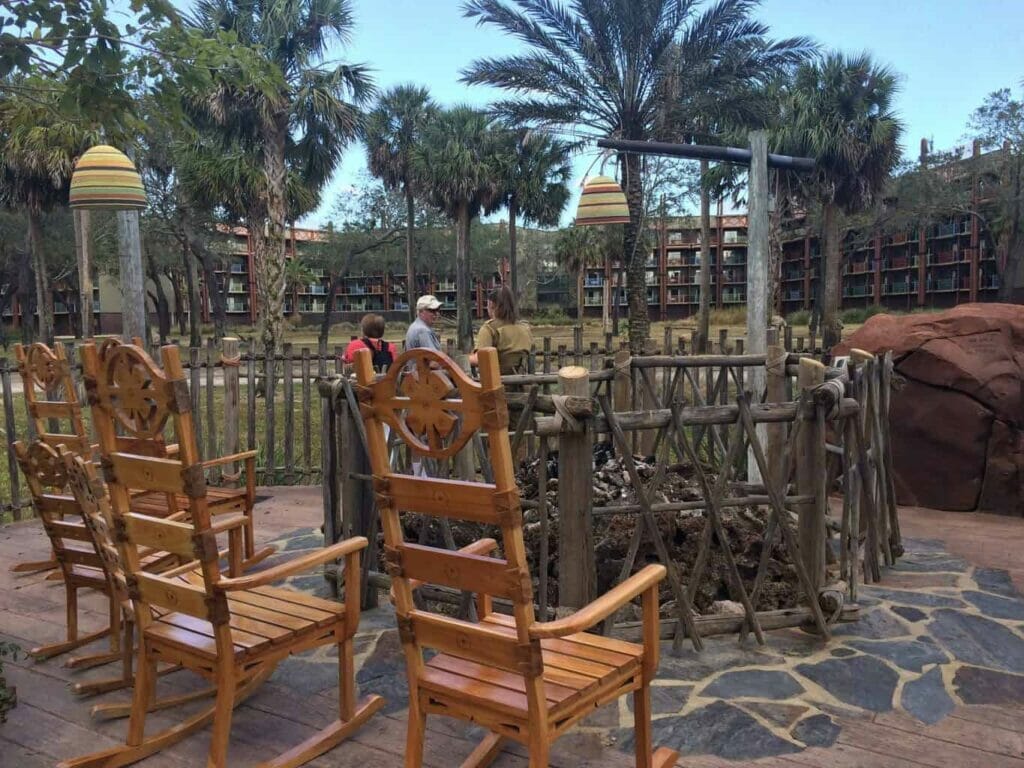 Shorts
By April, out of towners can mostly get away with just wearing shorts to Disney World.
The chances of deep freezes are pretty much over, and you'll be sweating if you wear your warmest pair of long pants.
Plenty of people like to go for a more athletic looking short to give them optimum range of motion to push people out of the way in the churro line, but you can also just wear your normal shorts that you'd wear when you're out and about in a warm climate.
Buy your kids these Disney ones and you'll be an A+ parent (at least I think that's how it works).
Short sleeve shirts
By April, the majority of your day at Disney can be spent in short sleeve shirts, soaking in the sun (with sunscreen of course) and unthawing your core from the winter's temperature.
It's not quite hot enough yet to need to worry about special moisture-wicking shirts so you don't drown in your own sweat (YAY, FLORIDA SUMMER), but you definitely can bring your favorite short sleeve ensembles.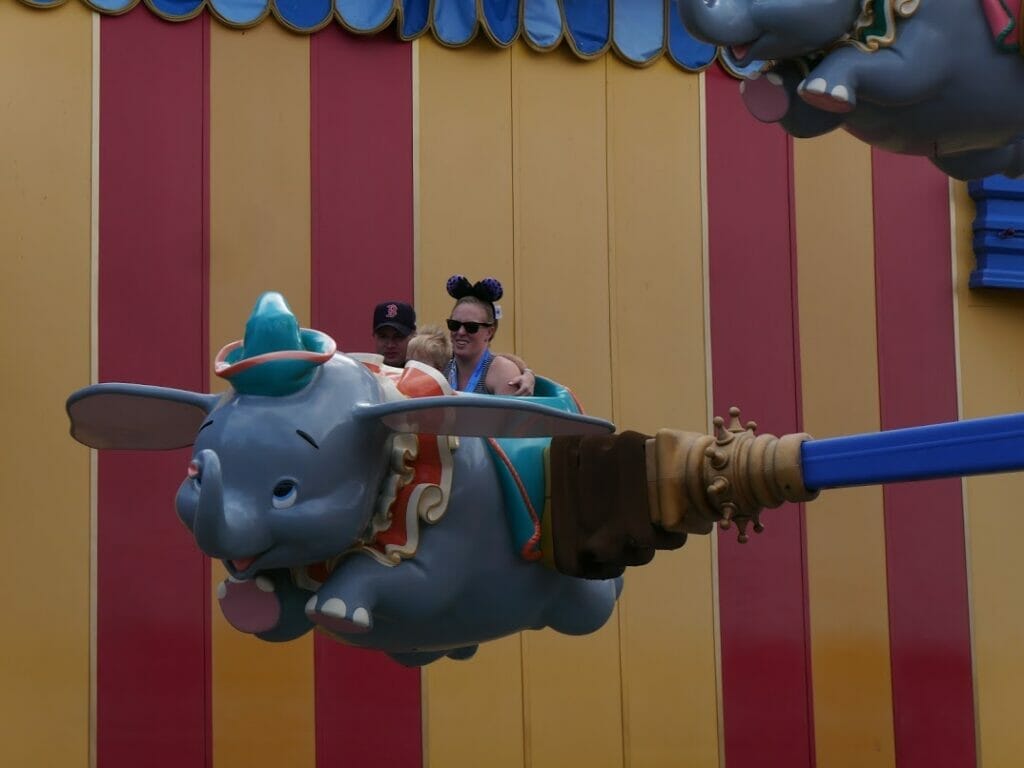 Very lightweight hoodies
There is a small chance in April that you could want a very lightweight long sleeve shirt or hoodie (again, this is a Florida hoodie, not one filled with wool from Antarctica) for the occasional moment at night when you're sitting and watching a fireworks display or for when you're dining in a restaurant and aren't used to having the air turned up on blast.
Bathing suit
Make sure everyone in the family packs their bathing suit, as April is very much swimming weather and the pools and water parks will be open and ready for you to splash in.
There is no "will it be suitable to swim" question here like you get in December or January.
The winter is long gone.
Hello, Typhoon Lagoon!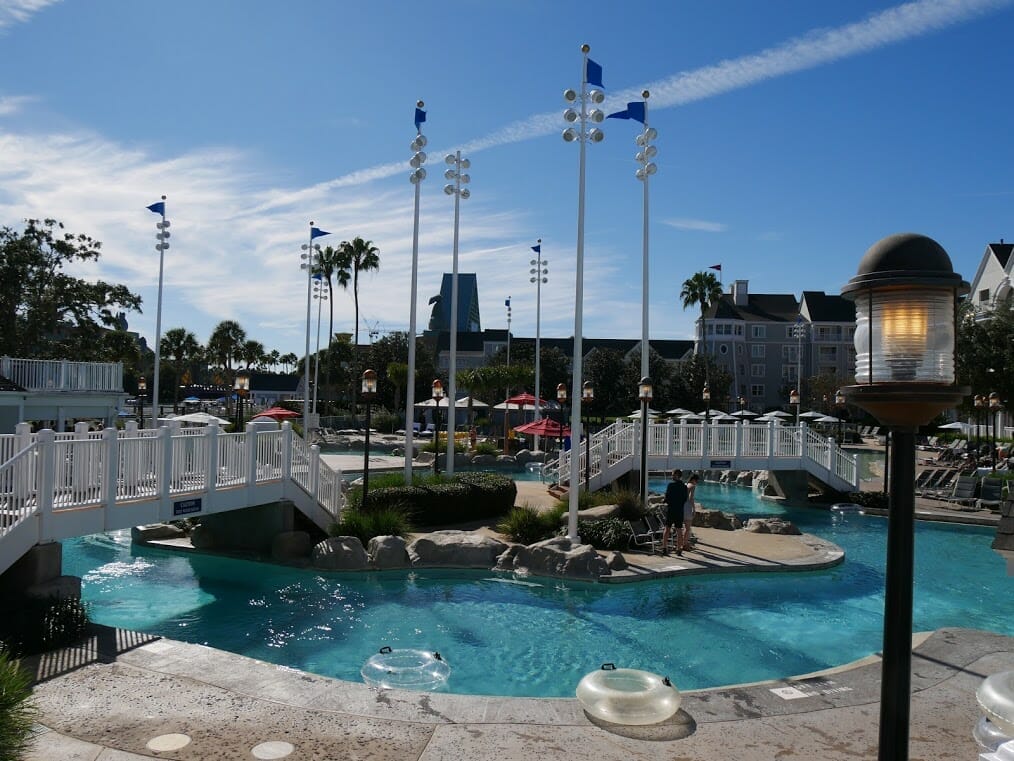 What to Wear to Disney World in May
Going to Disney World is May is the last month before the summer truly hits.
If you haven't experienced a Florida summer before, then May will definitely still feel like summer to you, but it's not quite as intense as the months that come after.
But what should you pack for Disney World in May?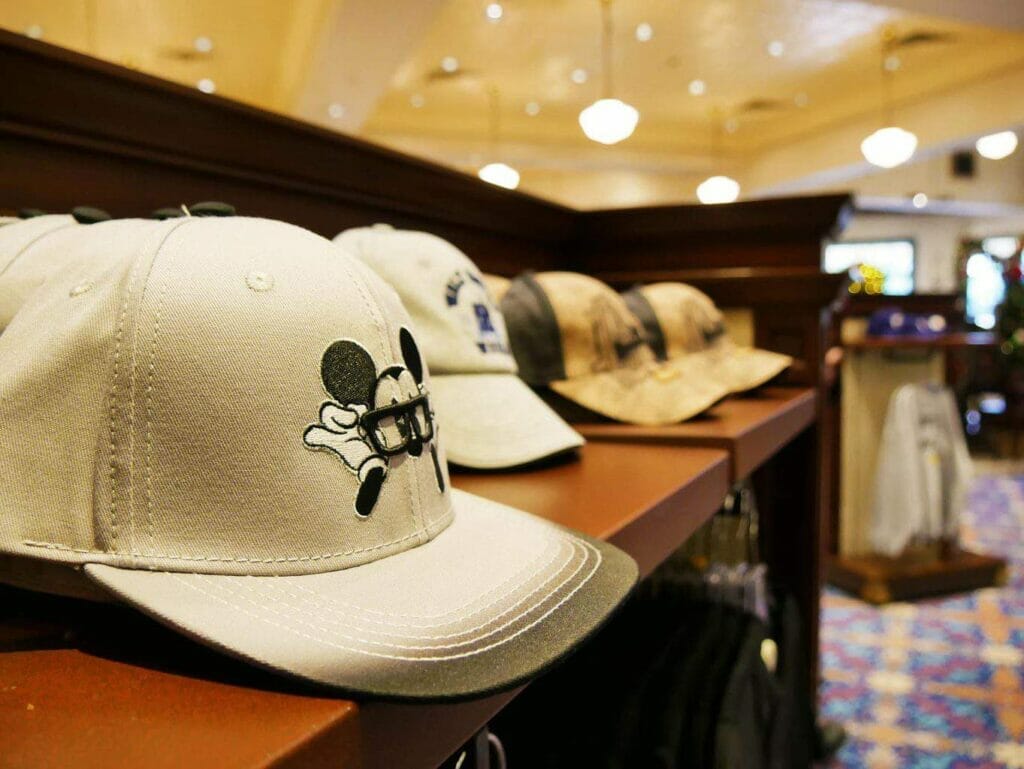 Short sleeve t-shirts
There is no point in wearing nor even contemplating a look sleeve t-shirt or hoodie in Disney World in May.
It's too hot, too humid, and too sunny to need anything but your favorite short sleeve shirts and tank tops.
As Floridians, we learn various things about fabric and color that help us pick out what we wear, so if you're not initiated into our fashion sense, remember that darker colors get hotter than lighter colors, and you want a breathable fabric that can help wick away sweat rather than keeping it on you.
Bonus points if you wear a Disney polo shirt like this one or a cute Minnie tank top like this one.
Short socks
Try to bring your shortest pairs of socks that both work with your shoes and keep as much of your leg exposed as possible.
Any part of your body that's covered up is a prime opportunity for the heat to get to you.
Shorts
May at Disney World means shorts all around.
Longer pants just aren't needed this time of year –if you're really committed, you can still bring them, but just know that even in the most formal settings on Disney property, Floridians consider a nice pair of shorts to be perfectly fine.
No point in losing all of your body's fluids in sweat dripping down your pant leg because you didn't listen to me.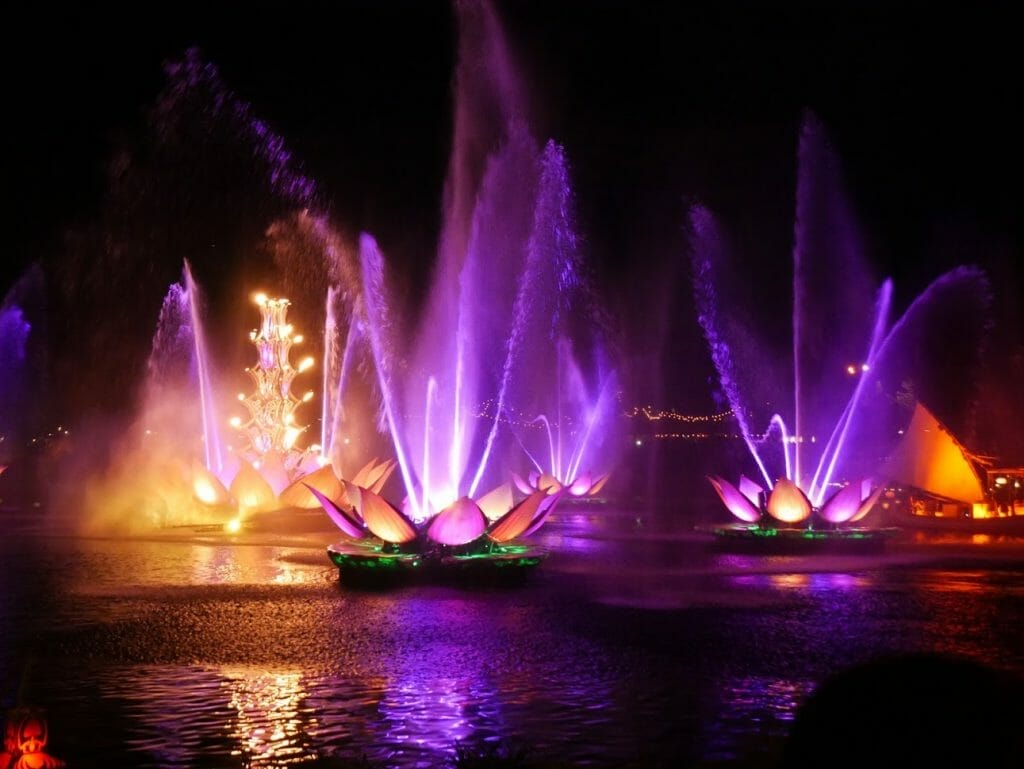 Tennis shoes
You're still going to be doing a lot of walking, even if it's hot, so make sure to pack your most comfortable pair of tennis shoes (or trainers or sneakers or whatever you call them where you come from).
Get your kids some cute Velcro ones like these so you don't have to stoop down and help them tie them every 10 seconds when you're trying to get the perfect shot of Dumbo.
Flip flops
I don't recommend flip flops for walking around the parks for long periods of time, but if you're only there for a couple of hours or you're heading to the resort pool or a water park, flip flops are a necessity.
Get some sturdy, waterproof ones like these or opt for a colourful pair like these.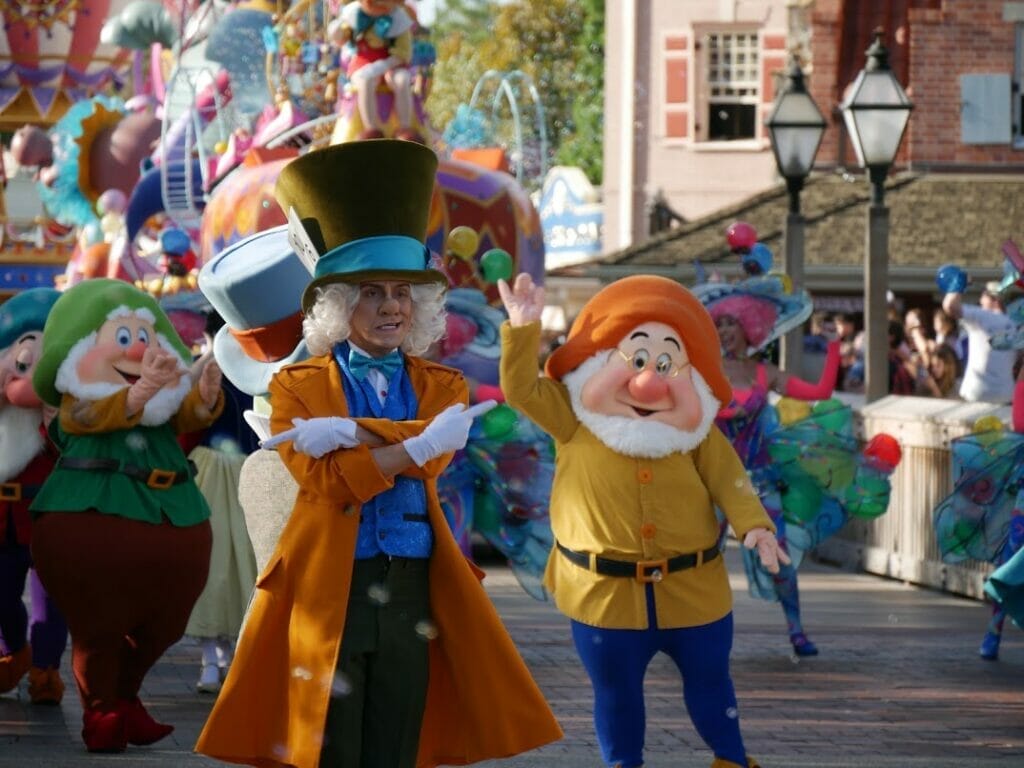 What to Wear to Disney World in the Summer
If you're trying to figure out what to wear to Disney World in the summer, I'm just going to warn you now that it's mostly going to be the same recommendation no matter which summer months you go because the humid, sticky, hot days of a Florida summer all blend together.
Florida summers are very predictable, except when we get a hurricane here and there (and if you do experience a hurricane while at Walt Disney World, don't worry as it's one of the safest places to be and that's not just because of the protection of Disney magic).
You'll experience very warm to scorching weather, torrential rain almost every afternoon that blows through and then clears up in the evening, and humidity that makes you feel as if you've just stepped foot into an actual swamp because, well, you did.
But don't worry, you're still at Disney so all is okay.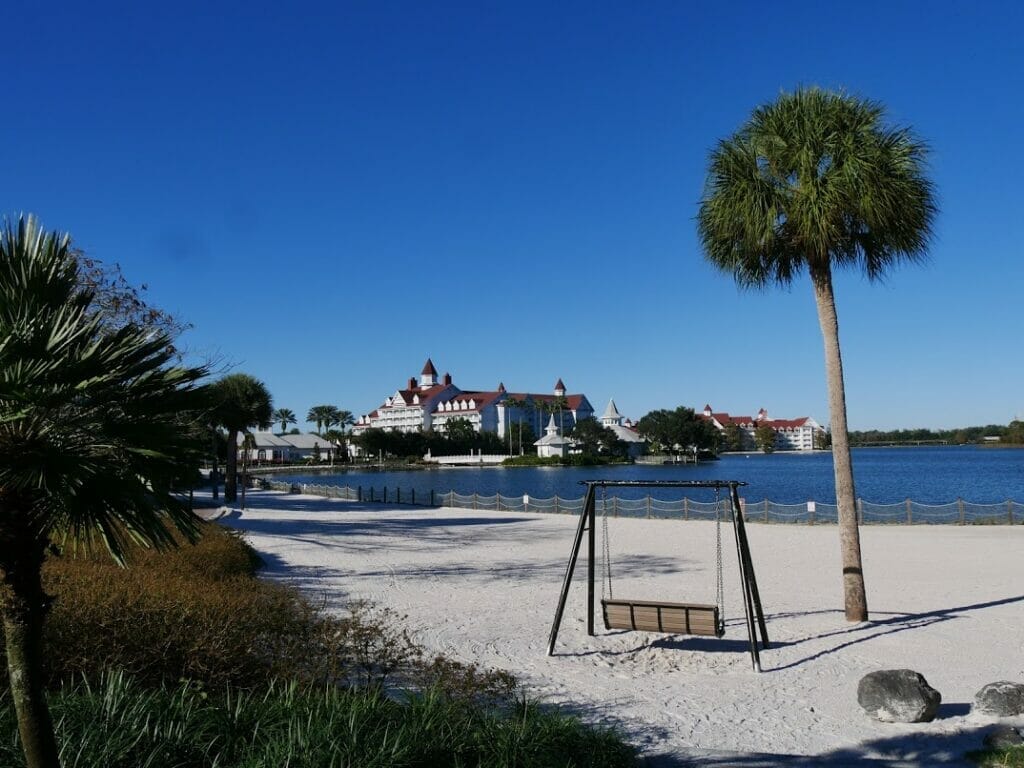 What to Wear to Disney World in June
Disney World in June is hot – with highs of 90 degrees.
You'll notice that my list of what to wear to Disney World gets shorter as we approach summer – that's because the whole point is to wear as few clothes as possible while still being socially acceptable.
Flip flops
Bring your flip flops for when your feet are just begging to be let free – I like to take them with me in my backpack in addition to my other shoes so I can switch them off and on.
Make sure to have walked around in your flip flops a lot before using them as your main shoe at Disney though, as once you start getting blisters there's no going back.
Short sleeve shirts and tank tops
Do I need to even explain why you need short sleeve shirts and not long sleeve shirts in 90 degree weather?
Trust me, it will not be getting cold enough for long sleeve shirts, hoodies, jackets, coats, or anything that covers more of your arm than a couple of inches so go crazy with your short sleeved wardrobe.
Shorts
Not everybody likes to wear shorts or is used to wearing them.
This is very odd to me as I am Team Shorts as many days of the year as possible, but you're going to want to wear them in June in Florida.
You can opt for a fashionable pair like these ones, or stay practical with an athletic short with breathable fabric. Whichever kind you like, just spare yourself the pain of long pants in June in Florida, please.
Bathing suits
Bathing suits are a necessity in Disney World in June, not only if you're going to the water parks or Disney hotel pools, but also if you're going on a water ride at Disney World.
Often, people will bring their bathing suits to change into to go on a ride that gets you really wet like Kali River Rapids in Animal Kingdom, and then once they're done they'll change out again into their regular clothes.
This prevents you from walking around all day in horribly wet clothes and you can work on your tan slightly.
Poncho
June starts a massive rainy season in Florida, and the chances it will rain while you are there is high.
If you haven't been to Florida before, you might not recognize the type of rain we get which is a torrential downpour for a couple of hours in the afternoon.
It's not usual that it starts in the morning or goes into the late evening, but at least for those couple of hours, you're going to want something to keep you dry so you can keep walking around the parks.
I know ponchos look stupid. Seriously, no one looks good in a poncho.
But you know who looks worse than people in ponchos?
People who are soaking from the rain storm in June because they didn't bring a poncho to Disney.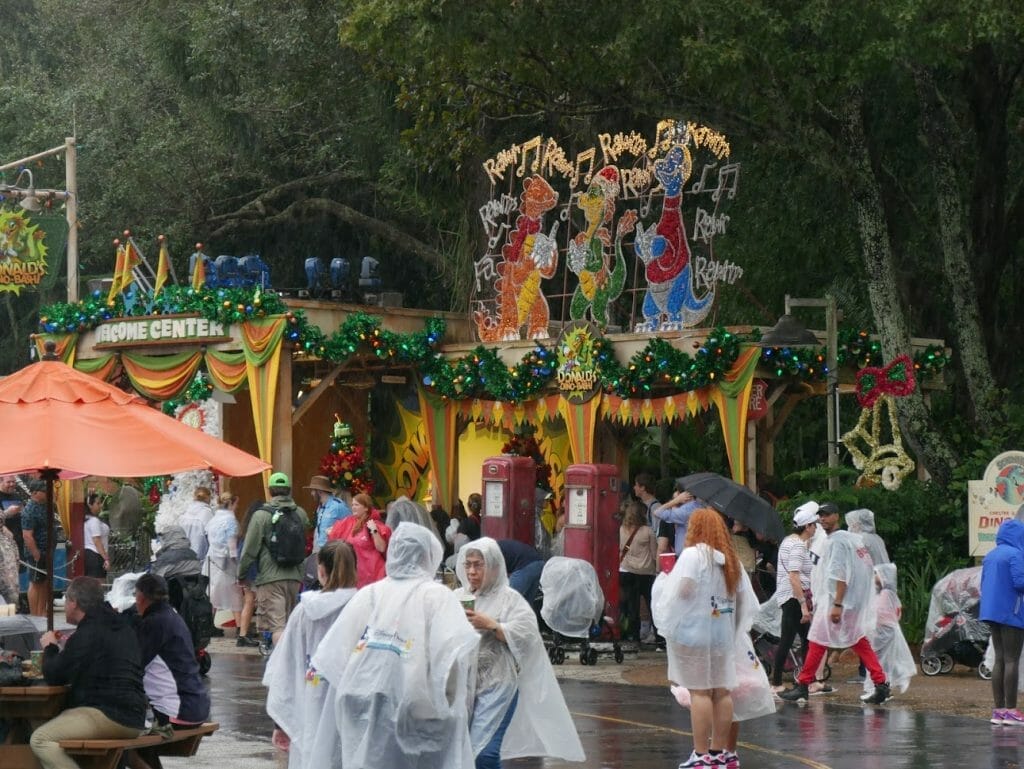 What to Wear to Disney World in July
Visiting Disney World in July is like stepping foot on the face of the sun itself.
Yes, it's magical, it's Disney, it's a once in a lifetime experience for some, but it's also scorching hot.
So be prepared and wear…
Shorts
Do not wear jeans or long pants to Disney World in July.
I repeat, do NOT wear jeans or long pants to Disney World in July.
No. No. No.
Wear your favorite pair of shorts or your least favorite pair of shorts or an athletic pair of shorts or a fashionable pair of shorts or a red pair of shorts like these ones or a blue pair of shorts like these ones.
Just wear shorts.
Tennis shoes
Try to make sure your tennis shoes are made with a breathable fabric, like running shoes that are used to being exercised in, as your feet will thank you once you've walked like 100 miles and your feet are sweating.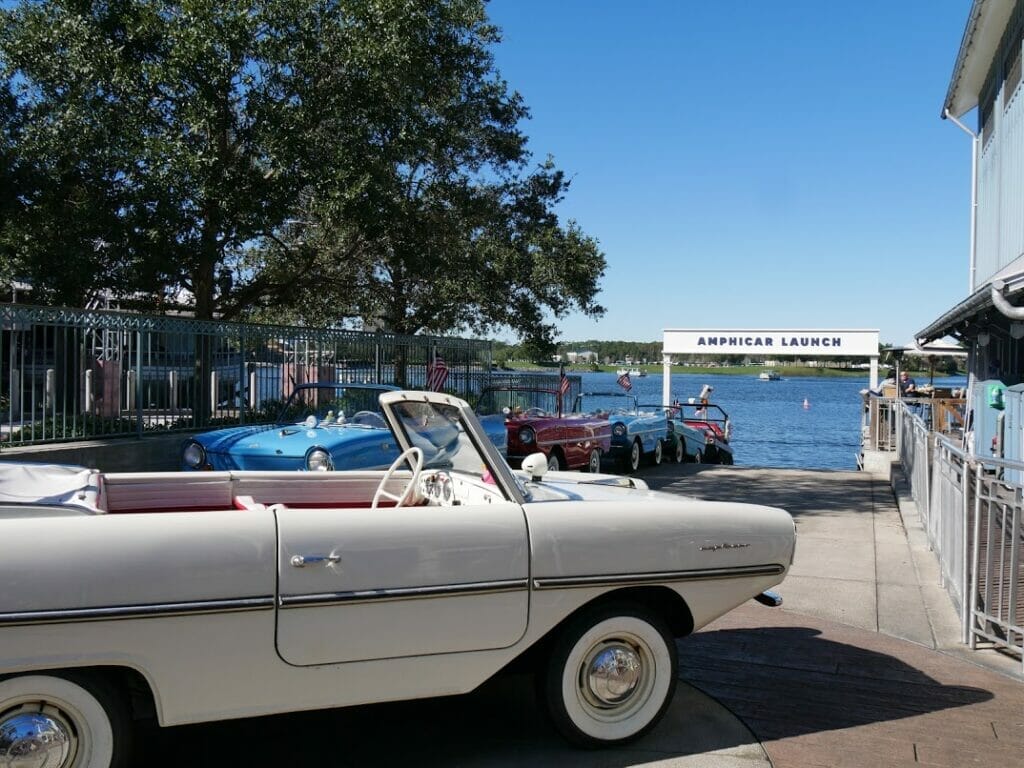 Socks
You're going to need some socks for this tennis shoes, but make sure they're short and preferably white to keep your feet the coolest (I'm not exactly sure that's correct but go with it).
Or go for Disney ones like these.
If you have wool socks, long socks, or warm socks of any kind, do not pass go, do not collect $200, do not go to Disney World.
Short sleeve shirts and tank tops
Girls, this is the time to rock the tank tops and feel the freedom of sun on your shoulders.
Guys, you can rock the tank tops too if you really want, but whatever you do, keep your sleeves short and you'll get through the long, hot days with ease (not really, you will be dying of heatstroke practically, but you will be grateful you don't have on more clothes).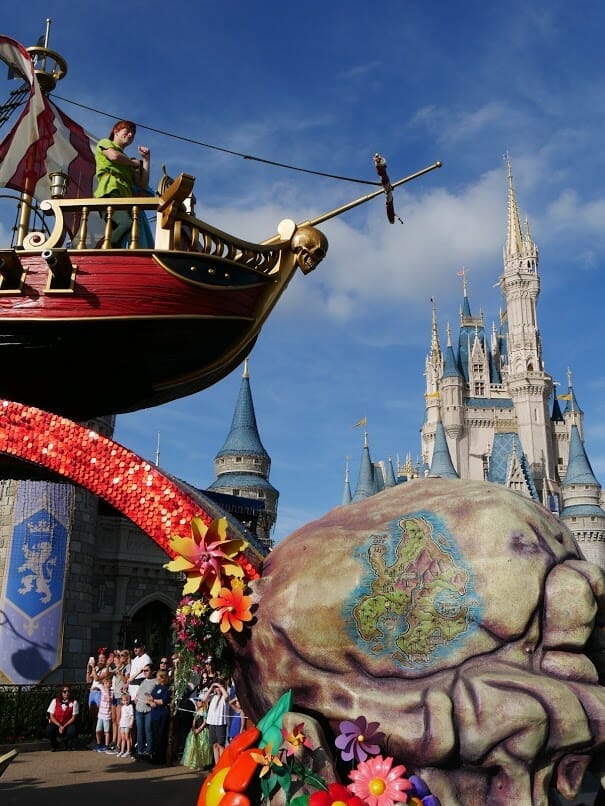 Poncho
Oh, yes, it's still very much poncho season.
Tis the season to wrap yourself up in some weird plastic to keep the rain out of your belongings and various crevices.
I recommend a poncho rather than a raincoat because a poncho is easier to bunch up and store away later, and also it's light weight.
You do not want a raincoat that keeps the heat in or you're going to be hardcore regretting it.
What to Wear to Disney World in August
So technically July is actually the warmest month of the year in Orlando, but when you're looking at a difference of 97 degrees per day and 95 degrees per day, there's not much in it.
Figuring out what to wear to Disney World in August is very much still a case of: less is more.
Oh, and don't forget the best cooling towels for Disney World.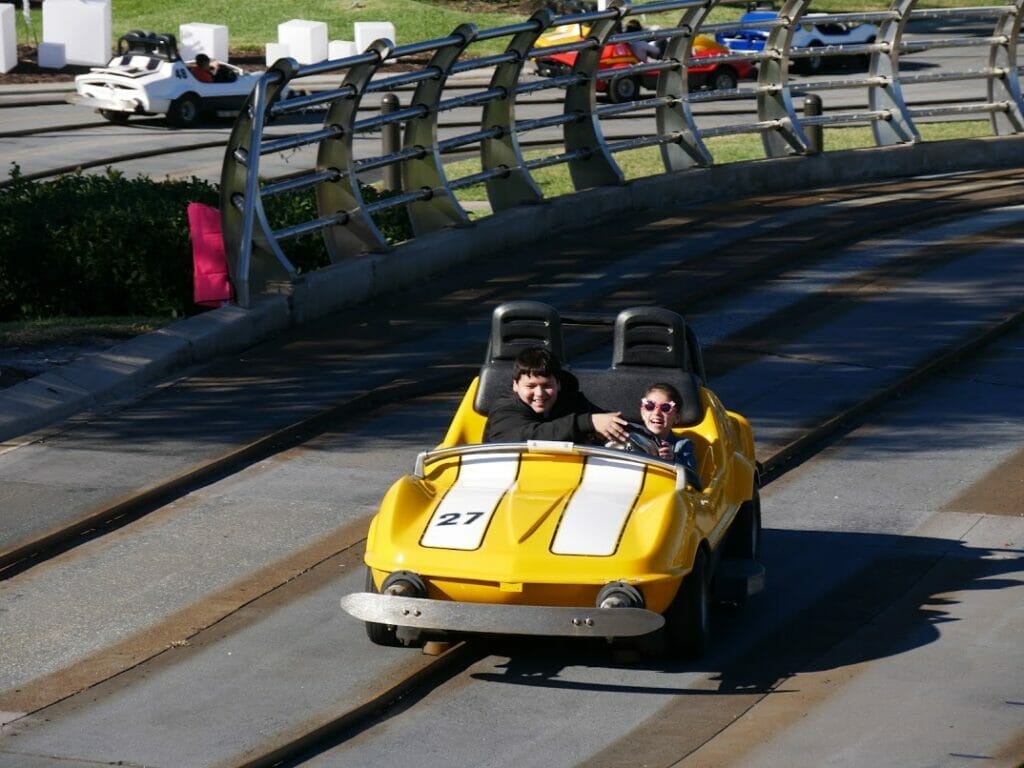 Short sleeve shirts
It is not time for long sleeve yets, people!
Embrace your inner cheesy Disney lover and wear matching short sleeve t-shirts with your kids and family or opt for your own fashionable tank top or crop top.
You do have to wear A shirt to Disney World – shirts and shoes required at the theme parks, but it doesn't have to be crazy with loads of fabric.
Keep it simple, keep it Disney-themed.
Socks
Try to wear the shortest socks you can get away with so you're not absolutely dreading putting them on in the mornings when any fabric feels like lava on your skin because it's so hot out.
If you're wearing flip flops or Crocs or similar, you can forgo this part, just make sure to bring a change of shoes.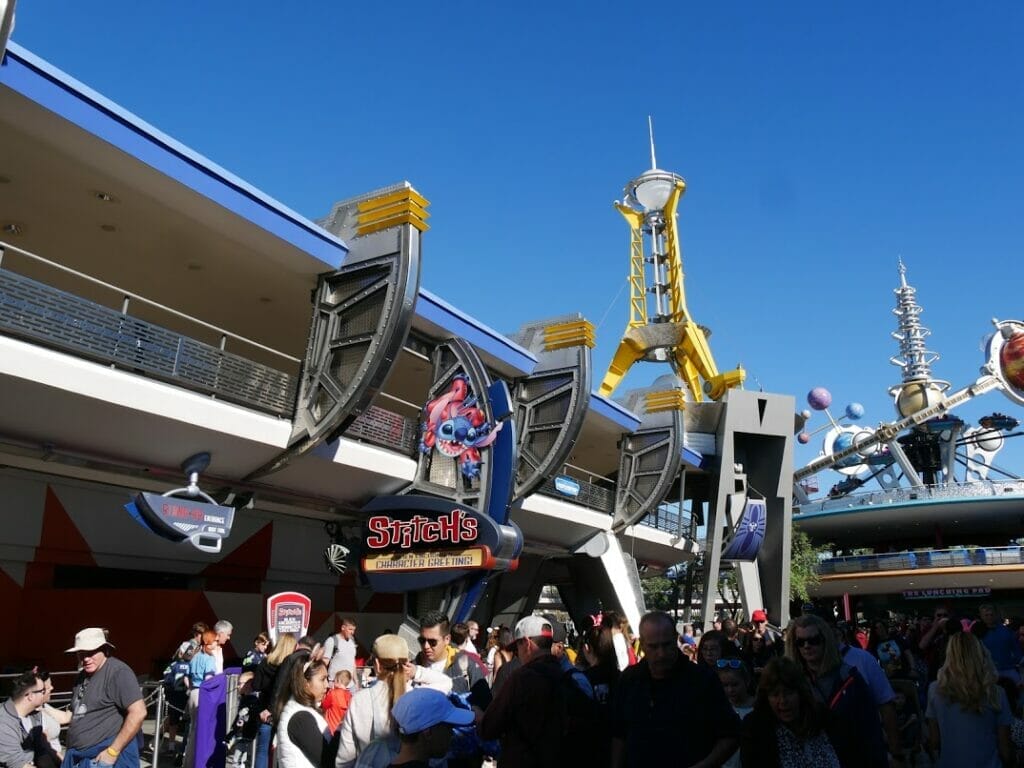 Tennis shoes
I still advise tennis shoes in August, despite the heat, as long as you make sure your shoes are breathable and meant for exercise like this pair.
August is also a great time of year to wear something like Crocs to the parks, as long as you're comfortable in them.
Small Disney jewellery
If you love being Disneyfied when you visit the parks, I think you should still steer clear of dramatic costumes and hot and sweaty Mickey Ears in August.
Keep it simple – maybe a little Disney pin to wear on your shirt or a thin Disney bracelet around your wish.
Or make your shirts Disney themed so you've got the Disney there.
You think it's going to be a great idea to wear your full Disney get up to the parks, but when it's so hot and your makeup is melting off your face and your shoes off your feet, you're going to regret it.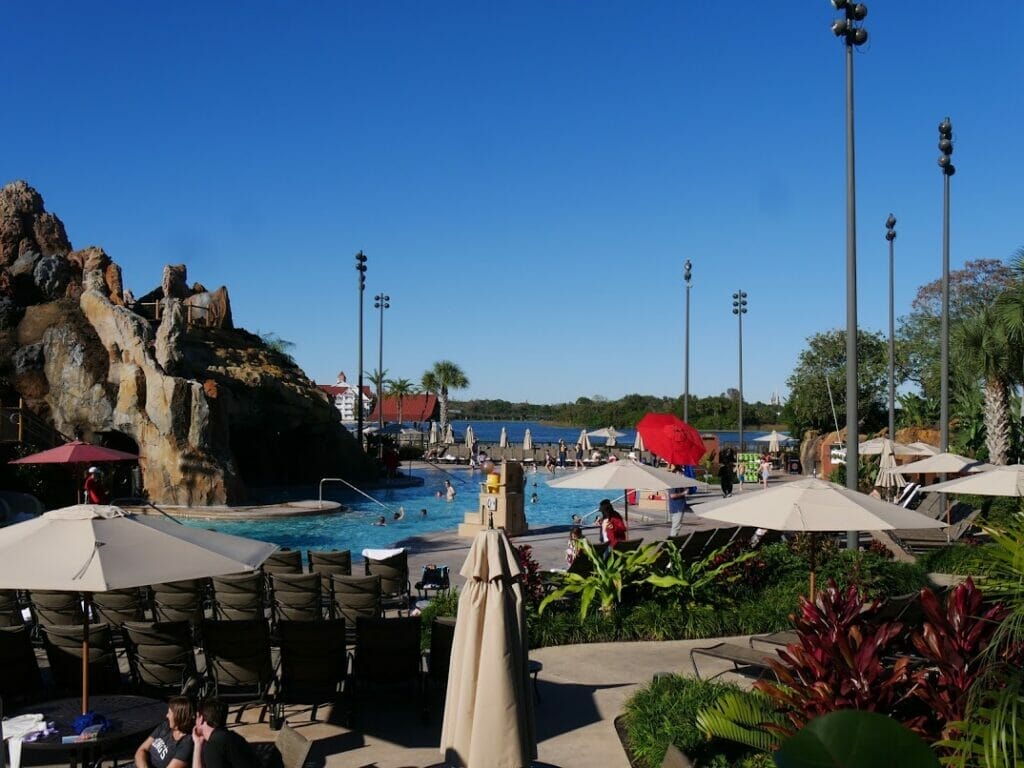 Bathing suits
Don't forget your bathing suits when visiting Disney World in August.
And if you do forget, run to the nearest giftshop and purchase the cheapest one you can find which will be like one million dollars.
There's nothing more relaxing than getting splashed or jumping in a pool in the Florida heat in August, and you had better be prepared.
Poncho
It still rains almost every afternoon in August.
In fact, August is hurricane season.
I'm not suggesting you should be out in a hurricane at Disney, but water and August in Florida go together like Minnie and Mickey.
I get that ponchos look dumb, but if my British husband could embrace his inner Floridian and buy a poncho on our last trip, so can you.
Shorts
You have no choice but to pack your shorts in August.
Jeans and long pants are not appropriate nor acceptable nor nice to wear in a Florida summer, so just don't.
Absolutely don't.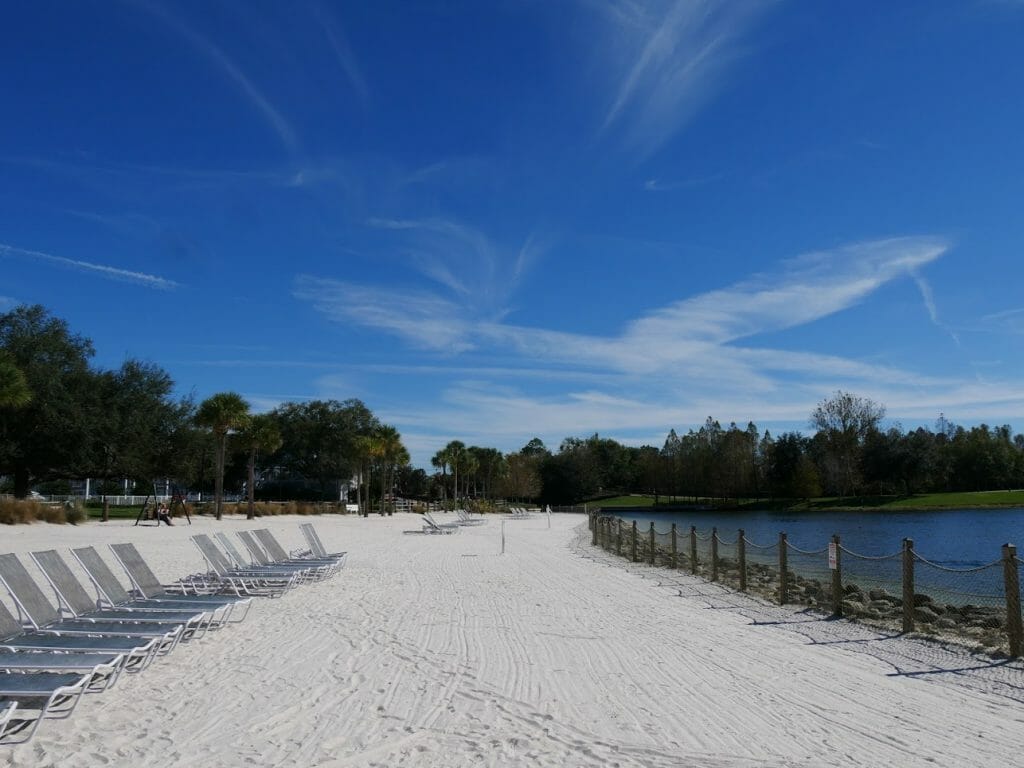 What to Wear to Disney World in the Fall
If you go to Disney World in the fall, you should expect a variety of weather patterns, much like the winter.
It's pretty guaranteed that September will be hot and November will be cooler, but what happens in between is a mystery that changes daily.
I've provided the best packing list I can think of for what to wear to Disney World in the fall, but do check the weather before you go just in case.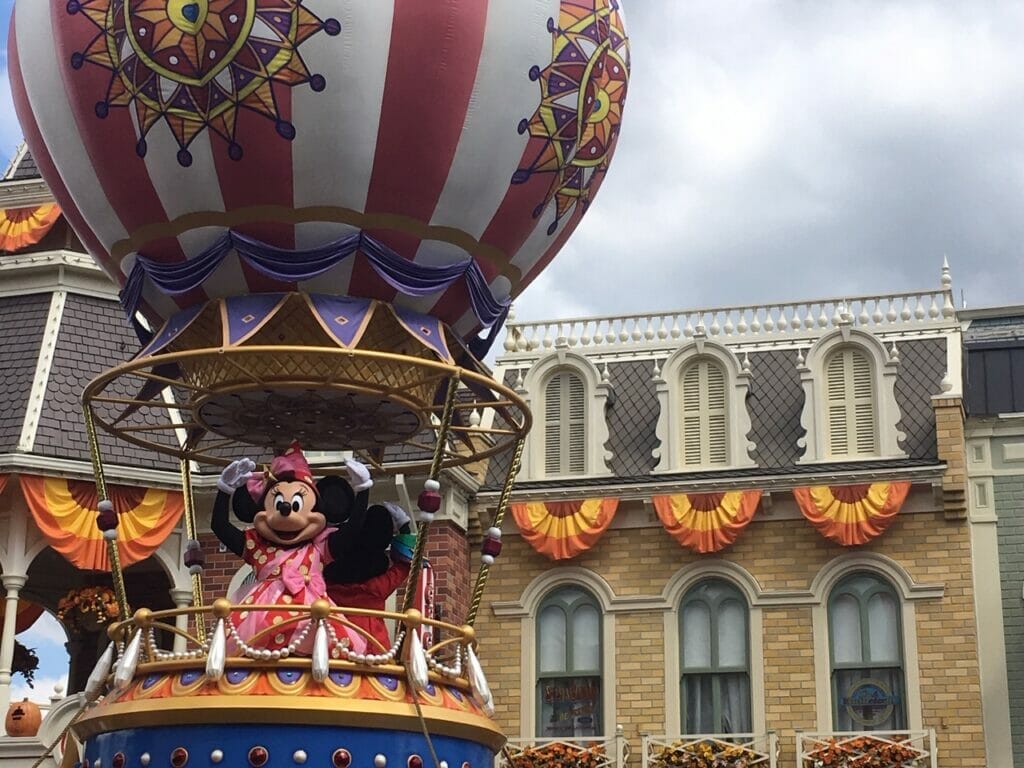 What to Wear to Disney World in September
Going to Disney World in September is going to still be pretty hot – the weather doesn't start cooling off yet, so while the end of the month might bring some more pleasant temperatures at night, I wouldn't pack any of your winter gear just yet.
Instead, pack…
Poncho
Oh yes, September is still rainy season so you're going to expect the afternoon storms still rolling through.
Hurricanes are a real possibility, not that Florida gets them every year, but when they do September is a popular month for them!
You can buy a poncho for some overpriced amount at the parks, or you can just buy one online like one of the best ponchos for Disney World.
The joy of a poncho is that it lets your body breathe as it doesn't seal you up with all of the humidity.
Shorts
September is still very much shorts weather in Florida.
You don't necessarily have to go with the shortest shorts you can find like July and August, but I wouldn't be bringing my long pants just yet.
Many people go for athletic type shorts that are easy to wash and wear around, while others prefer to get a bit cuter at the parks and wear khaki shorts like these or denim ones like these.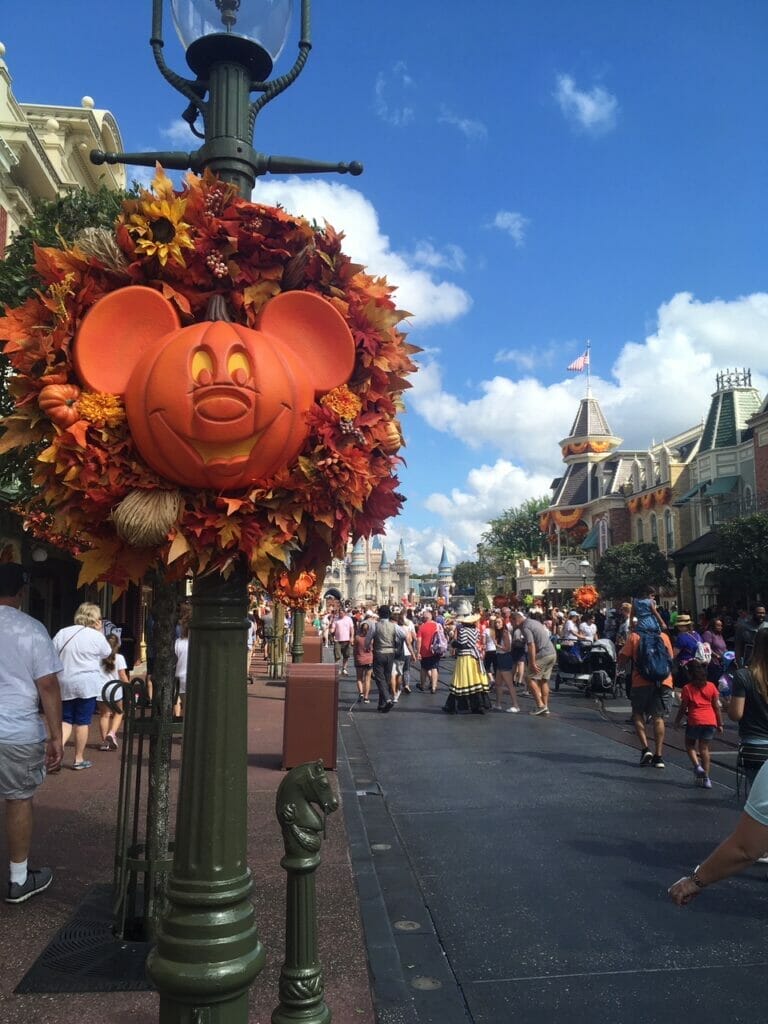 Short sleeve shirts
You're going to want your sleeves to still be short, because the humidity can be a killer when you're wearing anything longer.
Again, moisture wicking shirts are great for keeping you cooler, and I wouldn't go crazy with too many layers.
Stick with one layer, whether it's a tank top or short sleeve shirt and you'll be good.
Tennis shoes
You need to have good walking shoes to make your way around the parks without blisters.
I wear tennis shoes all year round, and September is a good month for your favorite pair of walking or running shoes to come out.
Make sure to wear them around the house (or the world) a lot before wearing them to Disney as nothing stops a vacation in its tracks like blisters in uncomfortable places.
Socks
It might go without saying, but you're going to want some nice cotton socks in your shoes so you're not walking around all barefoot and gross.
Bring an extra pair in case you get wet on a water ride as no one wants to walk around in wet socks.
Bathing suit
September, when not raining, is a great swimming month for Florida as the water has had the whole summer to heat up.
Make sure to pack the whole family's bathing suits if you're planning on going for a swim at a resort or going to a water park.
What to Wear to Disney World in October
October is one of the most magical times to visit Disney World if you like Halloween.
The decorations are up all month, Mickey's Not So Scary Halloween Party is taking place, and there's something about October that just heralds in the (very short) Florida fall.
Now, keep in mind that October is technically still hurricane season, but the rainy days do get less as you march forward into new seasons.
When traveling to Disney World in October, pack…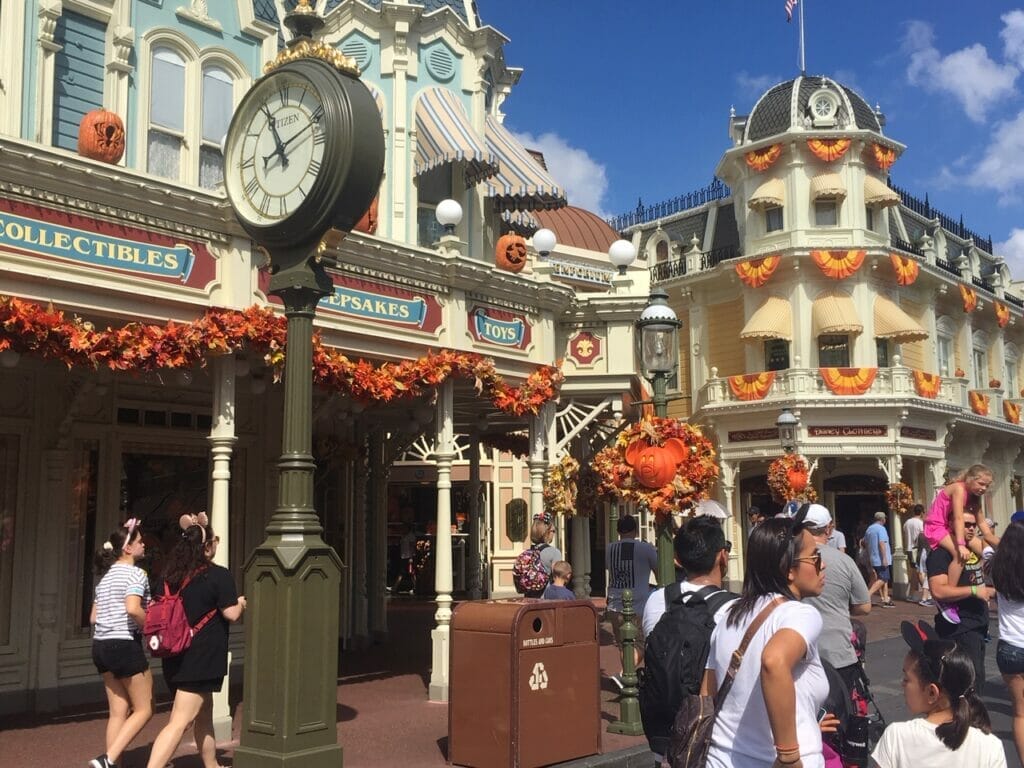 Short sleeve shirts
Keep your basic layers short sleeve.
You're still not going to need parkas or leggings or other super warm pieces of clothing for October, so the majority of your wardrobe should be short sleeve shirts that you can easily pair with your shorts.
Shorts
As mentioned above, shorts are still very much an October thing in Florida, especially for out of towners.
The temperatures will be perfectly fine for you to walk around without long pants all day, and you'll probably appreciate the ability to show the rest of your summer tan off if you've had to hide it away for a couple of weeks up north.
Very lightweight hoodie or cardigan
For the evenings in late October or for when you're in an air conditioned building, you could potentially get away with wearing a very lightweight hoodie to "take the edge off" of any potential cold that comes through.
It is not going to be COLD, but it may be cool enough to wear a thin long layer, if that makes sense.
Wear a cute Disney one like this or keep it colourful with one like this.
Tennis shoes
You can start leaving the flip flops home in October, as you'll be perfectly comfortable in tennis shoes.
Still make sure they're comfortable and breathable and all that good stuff.
Perhaps bring two pairs to switch off between if you have extra room in your luggage.
Light rain coat
You're going to have fewer rainy days in October than in the summer, but having some rain gear is always helpful when it comes to being able to just move forward with your plans in the parks rather than having to wait in Carousel of Progress for like 10 hours because it's raining and you're not prepared.
A poncho still works perfectly well, but towards the end of the month you could also bring a lightweight, breathable raincoat if you wanted something more fashionable – like this one.
Halloween costume
If you're under the age of 12, you're allowed to wear a costume to Disney World!
October is the perfect month to do this.
Whether you dress your kid up as a pirate with an adorable Jack Sparrow costume like this or like Moana in this super cute outfit, let them express their creativity and wear a costume to the parks in October.
If you're an adult, you can still wear Disney inspired clothing and do something known as "Disney bounding," which is basically dressing up to look like a character without actually wearing a costume – think dressing up like Winnie the Pooh while wearing yellow jeans and a red shirt.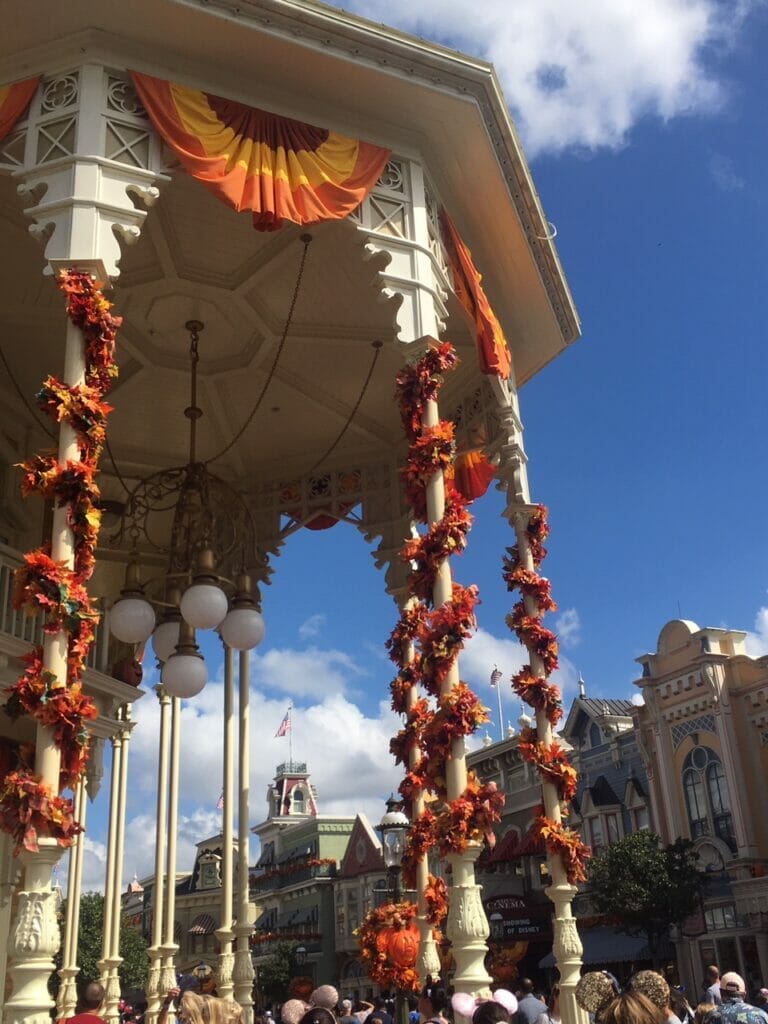 What to Wear to Disney World in November
November is a beautiful month to visit Disney World as you can expect Christmas decorations to be up at least the second half of the month.
The weather cools off and the humidity is lower, and the threat of hurricanes and horrible rain has gone significantly down.
This doesn't mean that the weather isn't still a bit unpredictable, because it is, but you can get some really lovely days in November without crazy crowds.
As far as daytime temperatures, you're looking about 65 to 80 degrees depending on the day, so read on for what to pack.
Shorts
You're still going to want shorts as an option in November, especially for days where the temperature creeps up to the higher end of the spectrum earlier in the month.
Having a pair with you will give you the option if you find that you get hot walking around in jeans or other travel pants.
Long pants
November is a time to start pulling out the long pants at Disney again, whether that's jeans or a versatile hiking-type pant that washes easily if you've got lots of other stops on your vacation.
If you're someone who doesn't like wearing shorts and can put up with being a bit hot at times, you could get away with wearing pants to Disney World throughout most of November.
Short sleeve shirts
I always recommend to layer with short sleeve shirts as your starting point.
What it means is that when the middle of the day is upon you and the sun is glaring in your face and you're running like a madperson all over the park, you can shed down to your short sleeve shirt and feel perfectly comfortable.
Girls can opt for adorable Minnie shirts like these ones, while guys can go for the Mickey ones that make them look super cool and manly (okay, you're never going to look super cool and manly at Disney – that's part of the fun).
Hoodie or jacket
It's a great idea to bring a hoodie or jacket with you to Disney World in November for the mornings, evenings, and colder days.
You're not going to need your warmest coat ever, but a nicely lined hoodie or jacket that's comfortable will save you when you're sitting for an hour waiting for Fantasmic to start.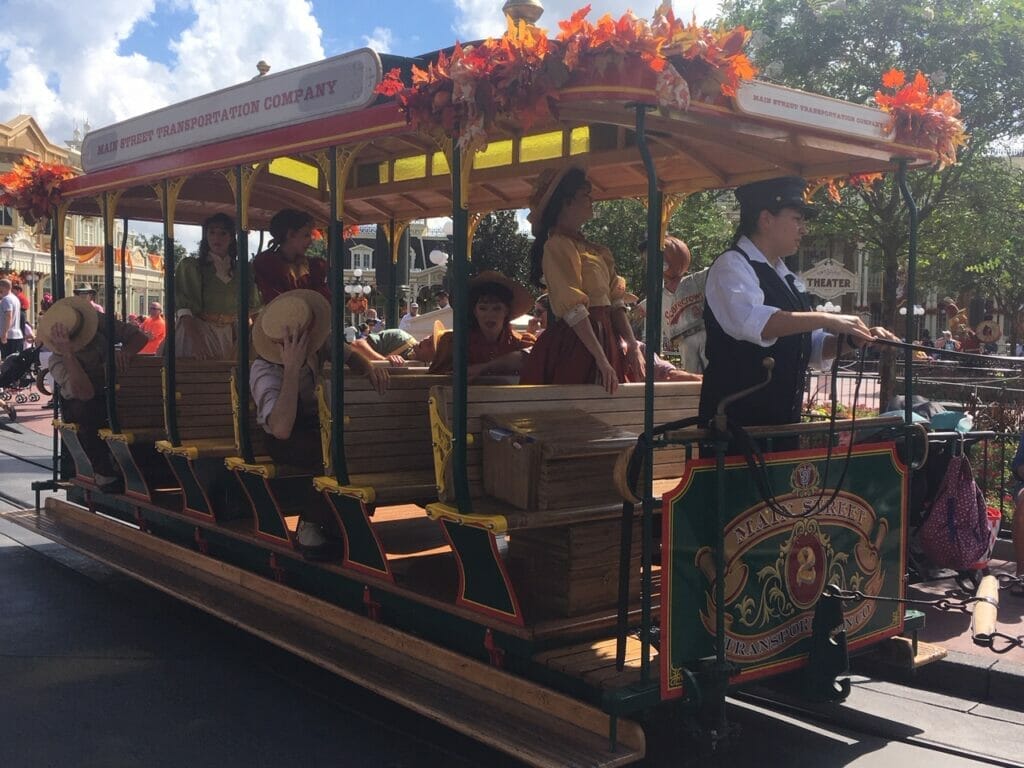 Tennis shoes
November isn't usually cold enough for your winter boots in Florida, so a nice pair of comfortable tennis shoes for walking purposes is where it's at.
They don't need to be any particular fabric or type – just ones that keep your feet cozy and you feel happy to walk miles in.
Socks
Don't forget your socks!
Make sure you pick a pair that are suitable with your tennis shoes.
In the summer I advise to only wear short socks due to the heat, but by November you can wear short or long socks and still be comfortable for the most part.
Christmas themed Mickey Ears
The holidays at Disney are a really special time, and they start celebrating early!
You won't look out of place with your holiday gear, like these light up Mickey Ears or this Christmas Disney shirt that everyone will be envious of.
If you're trying to save money at Disney World, why not make your own Christmas Mickey ears?
Hey! Want more of our expert Disney guides? Check these out!
Get the All-American Travel Secrets!
Don't miss out on America's hidden gems!