If you haven't experienced Florida rain before, you should know that it is most often BUCKETS of water being dumped from the sky, soaking everything in its path.
If you're traveling to Disney World in the summers especially, you're going to want to buy ponchos for Disney World ahead of time and not rely on the more expensive ones in the parks (it's usually about 12-14 dollars for one in the park, compared to that price for 4 or 5 ponchos online).
These are one of the most essential things to bring to Disney on my packing list, and you'll soon see why.
The rain isn't a light drizzle, it is usually a torrential downpour that you can't escape from.
And in the summer, it happens almost every day in the afternoon, which could really impact on your park time if you're not prepared with the best Disney world ponchos.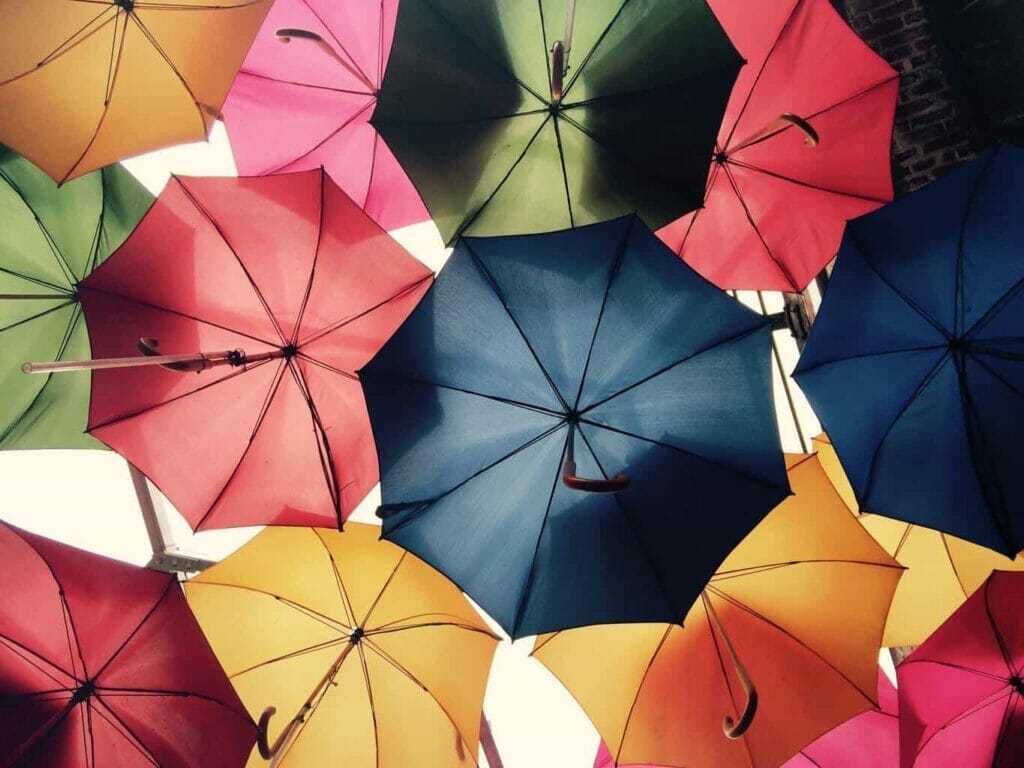 Also, I get it.
Ponchos look stupid.
They just do.
There's no getting around that.
But you're not going to want to be walking around with an umbrella or a piece of paper over your heard or anything else you're used to using back home.
"But what about a rain jacket," you ask. "Should I bring mine?"
And the answer is no – check out my guide to what to wear to Disney World first, where I'll tell you that the problem with rain jackets is that the sheer humidity in Florida is going to mean that are sweating your face off in that rain jacket in like two seconds.
You need room to breaaaaaathe.
And that is why these Disney World ponchos are your new best friend.
Don't forget to check out our guides to the best cooling towels for Disney World, the best water bottles for Disney World and the best backpacks for Disney World as well.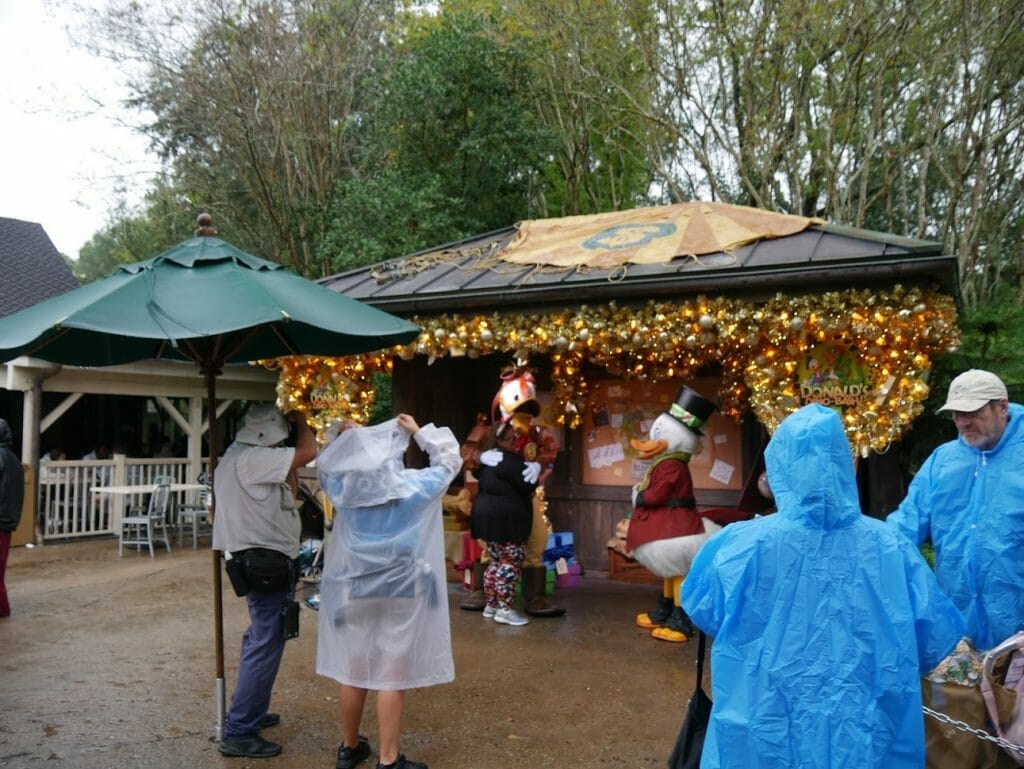 Best Reusable Disney World Ponchos for Adults
There are two types of ponchos you can get for adults, and one is the kind that you can reuse over and over again.
These are a bit thicker and made from a sturdy enough material that you just let your poncho dry out and then can pack it and rewear it again on your next trip or the next day.
It is a "one and done" solution that is great if you plan multiple trips to Disney World as an adult or just foresee the need for a poncho in your everyday life.
Anyoo Waterproof Rain Poncho
This is the best Disney World poncho if you're looking for sheer utility or you have a large backpack that you need to fit under it.
It comes in multiple colors and patterns, but the main idea is that it has extra room in the back for whatever you're carrying (it would also make a good cover for a stroller) and it is durably made so you can take it camping, hiking, etc.
In addition to being really durable, it's also breathable and comes with a drawstring bag that you can pack it up in.
This poncho comes in plain colors as well so if the only way you can convince your teenage son to wear one is getting him a jet black one, that's no problem.
Click here to learn more about the Anyoo Waterproof Rain Poncho.
Vibe Reusable Rain Poncho
If you're all about fashion and fun colors, this poncho is for you.
You have the choice of three patterns and colors, and while it doesn't have all the space for extra backpacks and bags underneath, it's a great option if you want to feel a bit more colorful in your poncho.
The material is also anti-rip so it can be pulled around a bit, and the hood has a drawstring to keep it on your head better.
More importantly for me, it's fabric, not plastic, which feels better on my skin and just makes for a nicer look.
If you want your Disney World poncho to help make you smile about the fact that you're running through giant puddles and splashing your way through Magic Kingdom, then this is it.
Click here to learn more about the Vibe Festival rain poncho.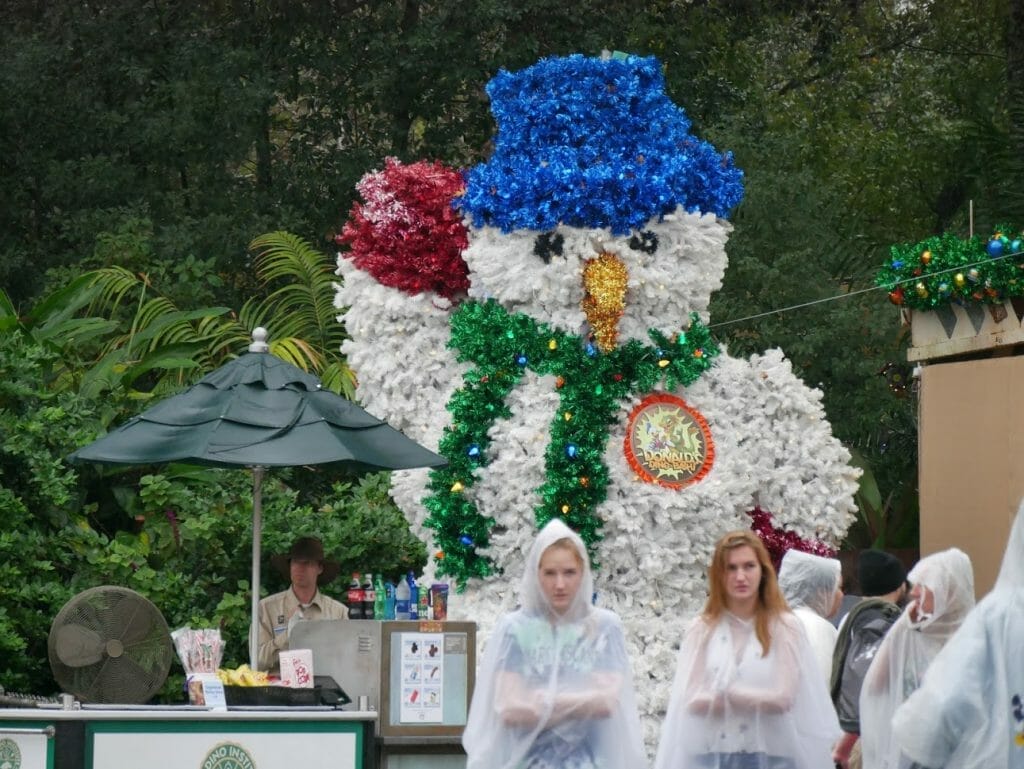 Rain Ponchos with Pockets
My mind is blown at the ingenuity of these ponchos with pockets.
They come in the most amazing patterns – dozens to choose from, and they have pockets.
POCKETS!
These are truly meant to be stylish and help you feel like you're living your best live while getting soaked.
Click here to check out my favorite poncho with pockets.
Best Disney World Ponchos for Adults that are Disposable
Sometimes, you can't have room in your luggage for even more stuff and don't really see a need for ponchos outside of the Disney World bubble where Mickey isn't going to judge you.
If that's the case, then these disposable ponchos for Disney World will keep you dry and also you can get rid of them at the end of your trip.
Wealers Rain Ponchos for Adults
These disposable Disney World ponchos come in different colors including blue, green, yellow, and red (so you can tell your family apart!)
They're adult sized, so will fit teenagers and adults, and the best part is that they're recyclable – no single use plastics here!
The extra long design means that you'll stay dry down to your toes, and the material is breathable so you won't feel like you're drowning in your own humidity.
You can buy them in packs of 10, 20, or more – this sounds like a lot, but when you consider the fact that they're disposable, you realize that you need more than 1 per person per Disney trip because they're not really meant to be used over and over again.
Click here to learn more about Wealers disposable ponchos.
KASU Emergency Rain Ponchos
These disposable rain ponchos are clear, which makes much less of a statement and draws less attention than colorful and patterned ones.
They have drawstrings for the hood so that it will stay on your head better, and each is packed individually so you can put it in each person's bag.
You'll like these if you're looking for something that will just fit its function, not draw attention to you, and then you can get rid of it.
Click here to learn more about KASU Emergency Rain ponchos.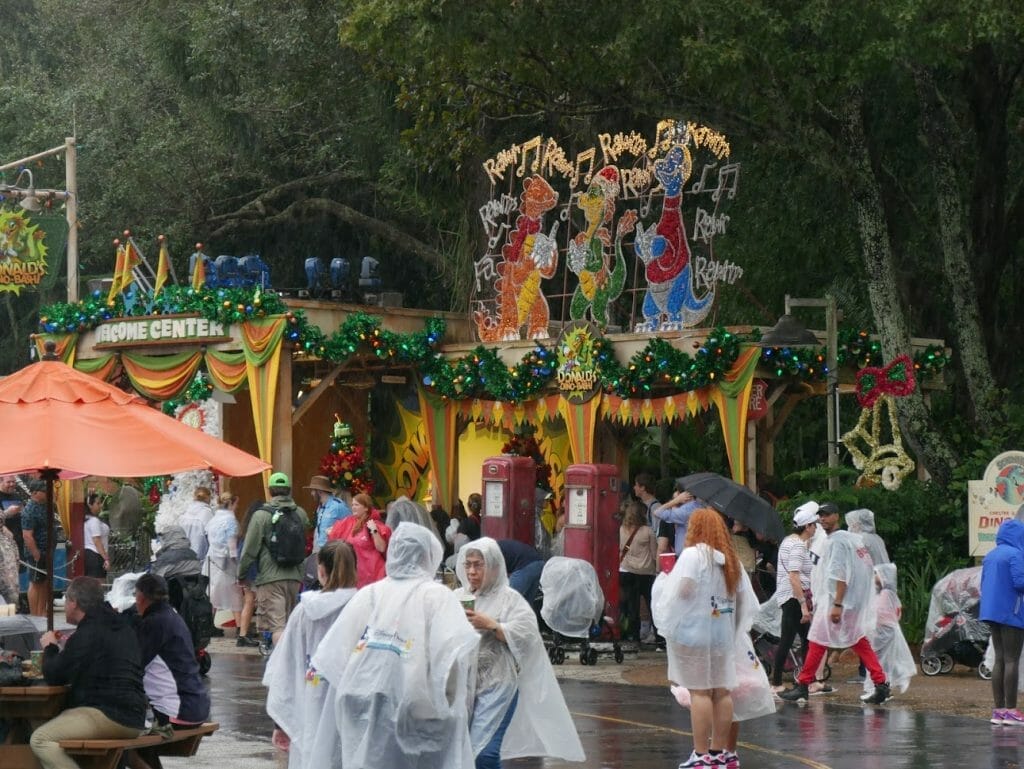 Disney World Ponchos for Kids
Kids ponchos for Disney World are not that different to adult ones besides not having a drawstring at the hood for safety reasons, but you can also get some adorable patterns and some Disney-themed ones that I think are great for kids.
Disney World Minnie and Mickey Ponchos
These Disney brand ponchos are cheaper than the ones you'd find in the park while still rocking the Disney theming, AND they have both youth and adult sizes.
They're wonderfully simple and not crazy-in-your-face Disney pattern, so even the new Disney fan will feel comfortable wearing your Minnie or Mickey ears on your poncho!
These ones are made out of a durable material and have two snaps to make getting into and out of them easier.
Because they're meant to last, you can also just buy them once and use them for every trip.
Click here to check out the Minnie and Mickey ponchos.
Disposable Kid's Ponchos
If you want to just buy some cheap ponchos for kids, I recommend these ones.
They come in plain colors and clear so there won't be fighting over who gets what pattern, and they're meant to be disposed of so it doesn't matter if they get them dirty or drop them in a puddle or otherwise don't like the feeling of poncho on their skin (an acquired Florida experience).
Click here to check out my favorite disposable ponchos for kids.
Get the All-American Travel Secrets!
Don't miss out on America's hidden gems!