Magic Kingdom may be the smallest Disney park at Disney World, but it also has the highest number of attractions.
This sometimes makes a trip to the Magic Kingdom stressful rather than magical, as you're rushing around trying to figure out what to ride, but hold up!
As a self-professed Disney guru who has been on every ride at the Magic Kingdom like 86 times, I'm here with a full round up of the best rides at the Magic Kingdom for everyone in the family, as well as the most popular rides at Magic Kingdom.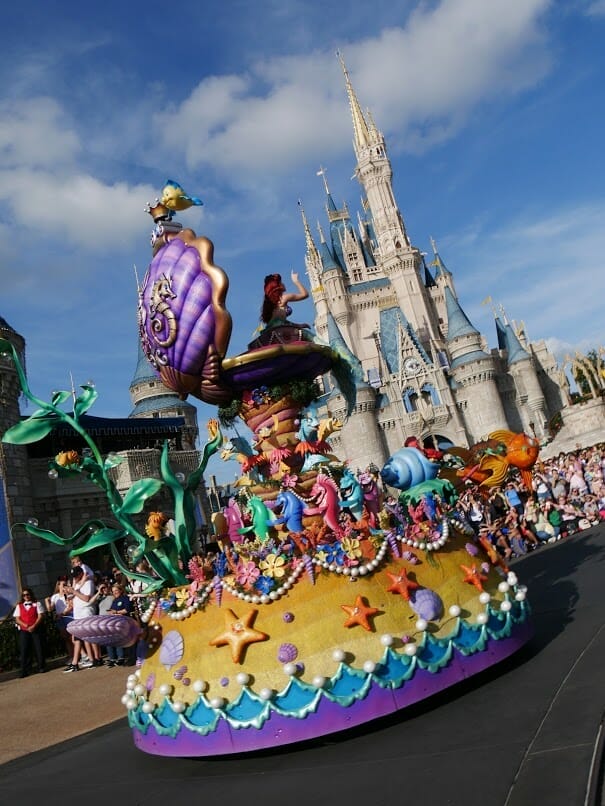 Put on your Hakuna Matata shirt and let's get going!
I've also got a recommendation for the best one day itinerary at the Magic Kingdom for your planning pleasure!
Deciding on the best attractions at the Magic Kingdom isn't easy, but based on my 20+ years of research and experience as a child, teenager, and adult, these are the ones I would prioritize if I only had one day at the Happiest Place on Earth.
Want insider Disney tips from an expert?
Join 4,000 others in weekly guides to Disney's hidden secrets, gems, and money-saving tips!
Pssst – this printable Disney scavenger hunt is amazing
Since you're already looking up Disney guides, I just wanted to make sure you knew about this printable Disney World scavenger hunt created by a lifelong Orlando native and Disney World fan.
There are over 60 challenges with a full answer key and both Family and Grown Up versions and a bonus Disney Springs hunt for your non-park day!
If you want a more specific guide based on your family or age group, don't forget to check out the best rides for babies at the Magic Kingdom, the best rides for Adults at the Magic Kingdom, and the best rides for teenagers and tweens at the Magic Kingdom.
Now, everyone's list of the best rides at the Magic Kingdom are going to be different, so don't react in horror when you find out that I've left off rides like the Seven Dwarves Mine Train (I'M SORRY, IT'S TOO SHORT FOR THE MASSIVE LINE YOU WAIT IN).
You might also be shocked to see some rickety old Disney classics on the list, but I unashamedly love Disney history and you will have to pry the Carousel of Progress from my cold, dead hands.
Ahem.
Here we go!
PS – here's another great Magic Kingdom shirt idea!
Best Rides at the Magic Kingdom in Tomorrowland
Tomorrowland is the first land that many visitors to the Magic Kingdom explore first, given that it's on the right hand side when you finish walking down Main Street and has some of the best things to do at Magic Kingdom.
Luckily, it doesn't disappoint and I would argue that it has the best rides in the Magic Kingdom overall if I had to pick just one land.
I've chosen my three favorites that offer a diverse range of experiences that really cover all aspects of the Disney magic.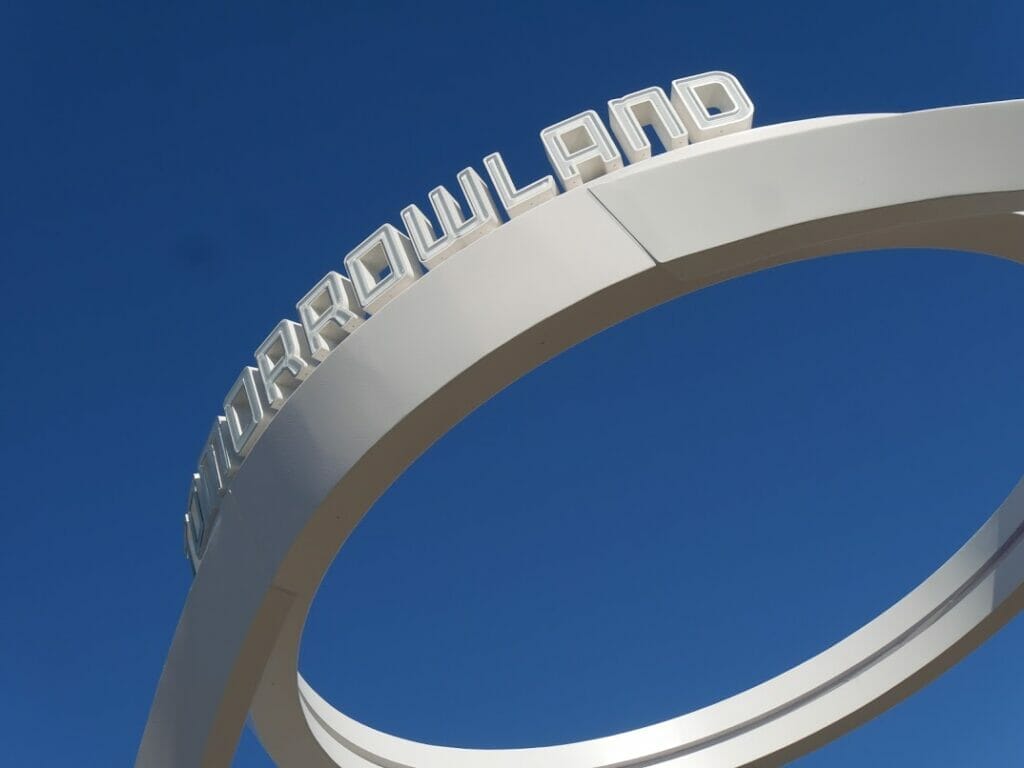 1. Tomorrowland Transit Authority
This slow-moving ride is also known as the "People-Mover" and is fantastic for getting stunning views of the rest of Tomorrowland and some of Main Street and Cinderella's Castle.
It's one of the top 10 rides at Magic Kingdom, easily.
You'll get your own car to sit in with your family and won't be sitting next to strangers, which is important to me especially when you've spent the whole day squashed up against strangers.
In addition to the views you get of the park, you also get to go through a couple of rides, namely Space Mountain and Buzz Lightyear's Space Ranger Spin.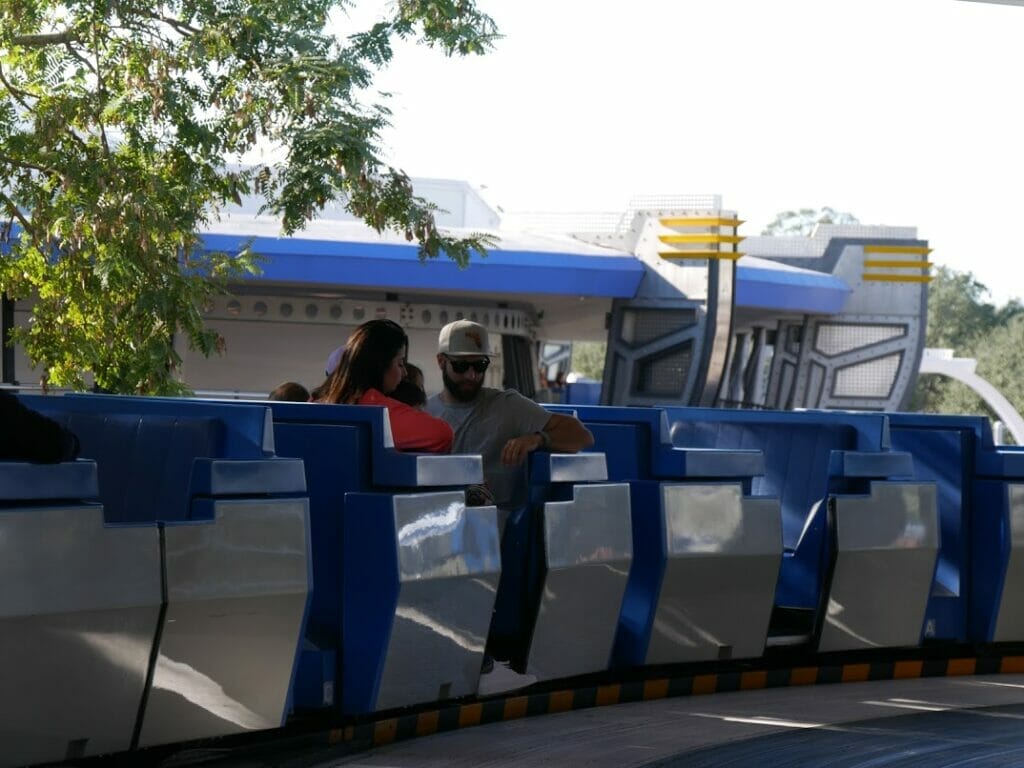 When you go through Space Mountain in particular, it gets pitch black and you are suddenly immersed in the atmosphere with joyful screams around you as people "blast off to the moon."
The other benefit of the Tomorrowland Transit Authority is that it is continuously loading, so you never have too much of a wait. In off-season, you can just walk on, and even in peak season, you may only wait 5 or so minutes as long as the ride is operating properly.
Pay special attention to the "easter eggs" Disney have added to the ride, including a page over the loudspeaker for a 'Mr. Tom Morrow."
2. Space Mountain
Is it possible to talk about the best rides at the Magic Kingdom without talking about Space Mountain?
No, no it is not.
Space Mountain, with its iconic exterior and Magic Kingdom history (it's been there since 1975!), is a Magic Kingdom classic and one of my favorite rollercoasters in all of Disney World.
It's also one of the top things to do at Magic Kingdom.
If you can get a Fastpass, definitely do that as the lines can get insane, but if you do decide to wait stand-by, you'll be pleased to know that you can download interactive games to play in line through the Play Disney app.
The thrill of Space Mountain comes from the darkness during the ride, leaving you feeling like you're hurling through space (or hurling on the person in front of you, up to you).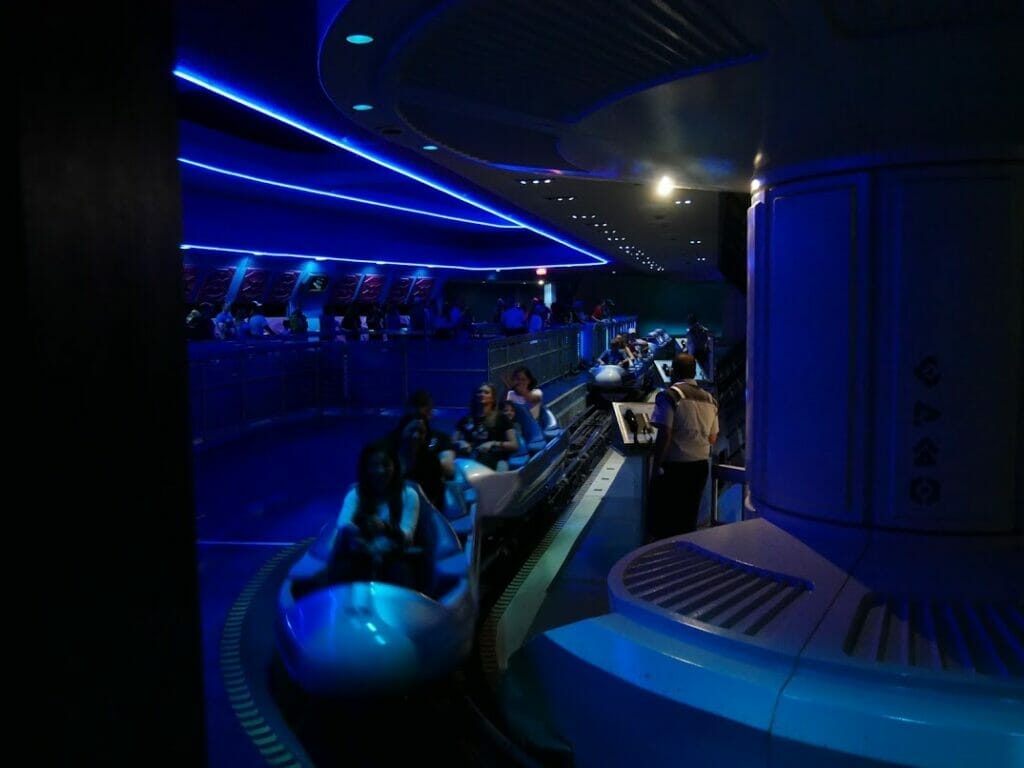 It doesn't go upside down, and if you see the track with the lights off (possible from the People Mover at times when the ride is broken down) you'll soon realize how tame it actually is.
Don't get me wrong, it does feel intense and I scream every time, but it's a great one to take the whole family on if you have kids that meet the height restrictions and are up for a bit of an adventure.
3. Carousel of Progress
If I had to pick the best ride at the Magic Kingdom, I'd choose Carousel of Progress every time.
For full disclosure, I think this perspective stems from a lifetime of going to the Disney parks and the ability to appreciate a dark, air-conditioned ride/show that takes 20 minutes.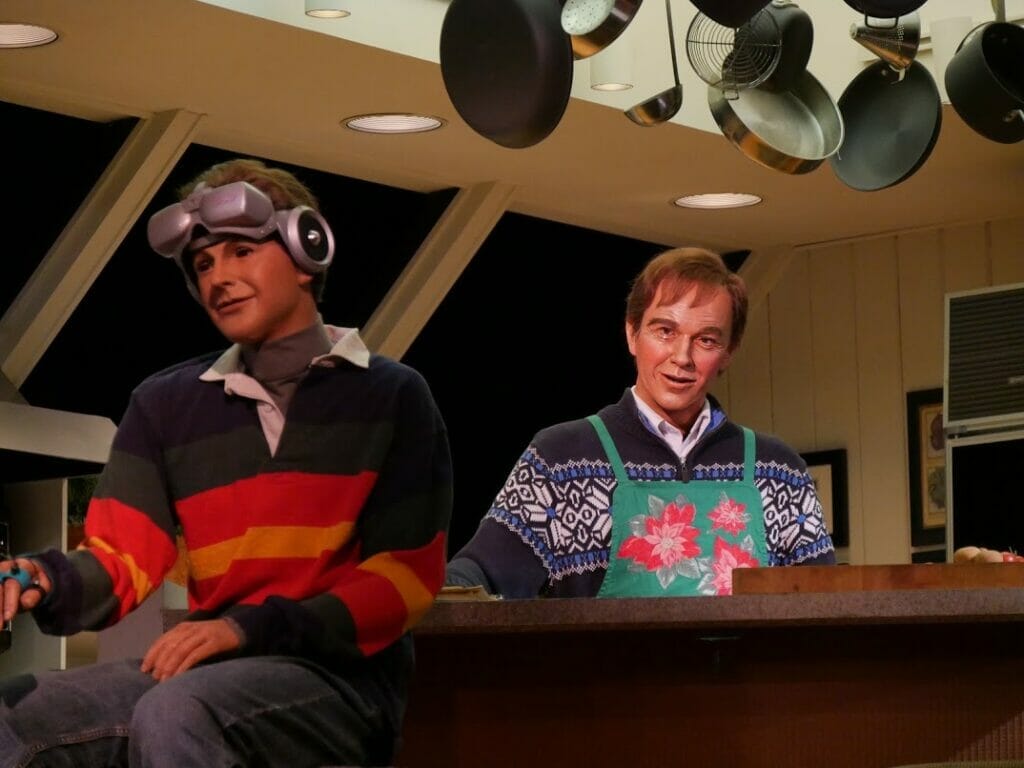 I don't necessarily think this will be the average family's favorite ride, but I do think it's a must-see at Magic Kingdom if you want to experience the vision and history of the Magic Kingdom.
The Carousel of Progress dates back to the World Fair, and it is in fact the original ride. The use of the animatronics, at the time, were ground-breaking.
And if you don't leave singing the Carousel of Progress song, then I question whether you really have the spirit of Disney within you.
There's a great big beautiful tomorrow shining at the end of every day!
Best Rides at the Magic Kingdom in Frontierland
Frontierland aims to reflect the landscape and quality of America's Wild West.
When you walk through Frontierland, you'll be tempted to put on your best Davy Crockett accent, grab a turkey leg, and ride a horse through a dusty plain.
It's also home to some of the best rides in the Magic Kingdom, including some of the most iconic.
Frontierland always feels a bit tucked away from the rest of the park (and for good reason – it's the frontier, after all!) but you should definitely make it a point to stop by to ride Big Thunder Mountain and Splash Mountain.
4. Big Thunder Mountain
Big Thunder Mountain is a fantastic family rollercoaster that involves you, a runaway train, and some fantastic special effects to look at along the ride.
It's also one of the most popular attraction at Magic Kingdom.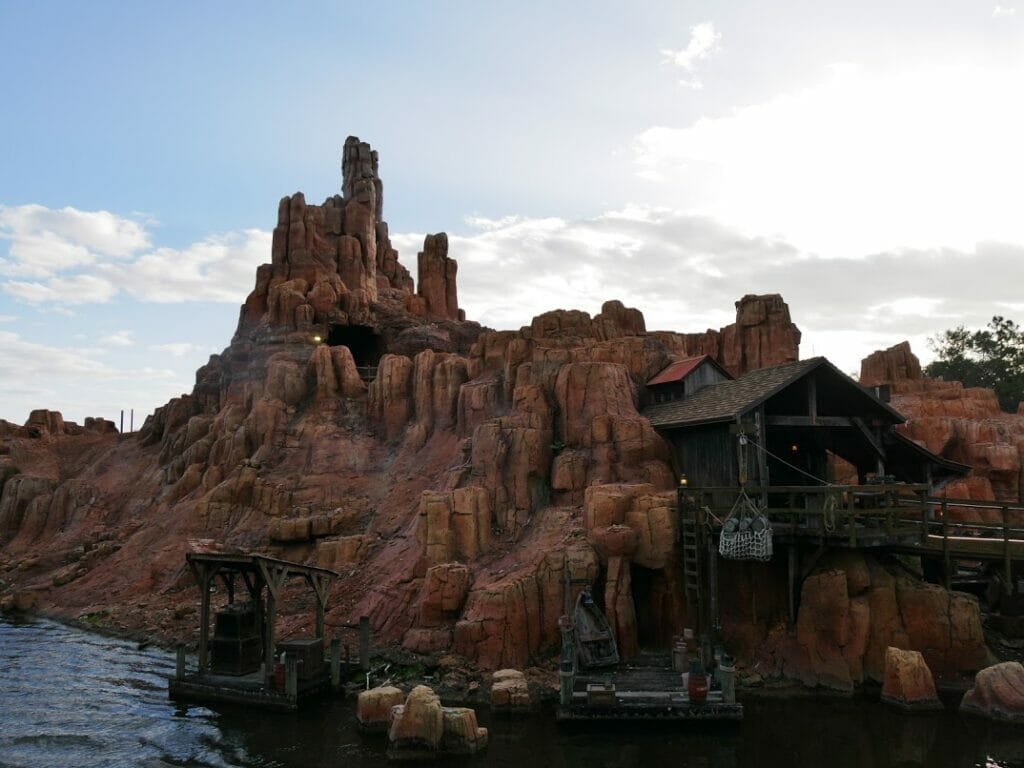 Big Thunder Mountain's line is not super interesting to look at, and it curves and wraps back around itself a bit too much for me, but it does keep in with the theming of the ride, and if you just stick with it, you'll be spit out onto the platform ready for, as they say, the "Wildest Ride in the Wilderness" (if you said that out loud with me with the right inflection, you know you're a Disney fan).
Once you jump in and pull your lap bar down, get ready to be thrown around this arid landscape, and make sure to look out for the man in the bathtub.
5. Splash Mountain
I was afraid of Splash Mountain for almost my entire life.
It's a log flume, which is easily noticed when you walk by it and see the log rafts racing down to the earth.
I was NOT ABOUT this ride as a kid, and I didn't ride it for the first time until I was probably 16 or so.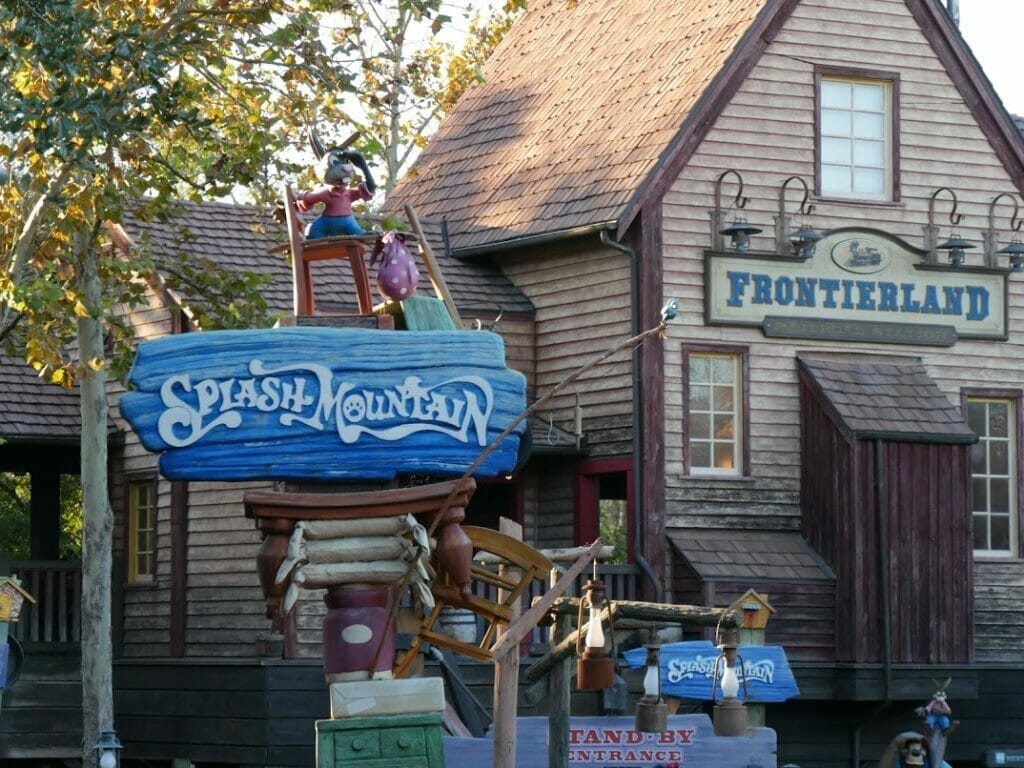 Unfortunately, I was missing one of the best log flume rides ever, complete with a wandering journey through the briar patch and some very catchy songs.
Splash Mountain does have a height restriction, so it's not one for the babies (but there are also great rides for babies at the Magic Kingdom), but if you have older kids who aren't as scared as I was, schedule Splash Mountain in your itinerary to get cooled off and Zip-a-dee-doo-dah-day your way through Frontierland.
It's a fantastic ride if you're doing an adults-only trip to Disney World.
Best Rides at the Magic Kingdom in Liberty Square
As you walk down the road in Frontierland, you'll eventually notice the atmosphere changing a bit until you're suddenly in colonial America.
Liberty Square is an exclusive Disney land that can only be seen in the Magic Kingdom, and it includes replicas of both the Liberty Tree and Liberty Bell.
It also contains one of the best attractions in the Magic Kingdom, one that has entire books written about it, movies dedicated to it, and a giant legion of fans who soak up every piece of merchandise themed like this ride.
6. Haunted Mansion
That ride, of course, is the Haunted Mansion. Haunted Mansion has been one of the best rides at the Magic Kingdom since opening day, as it has been a staple part of the park from the very beginning.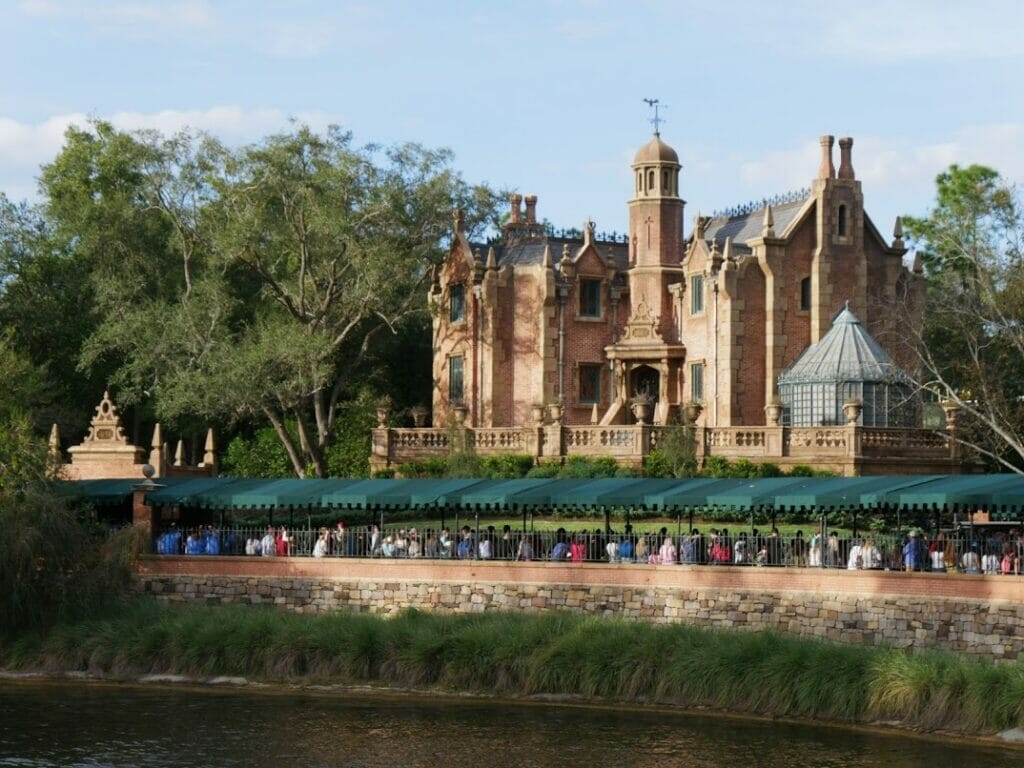 In fact, the parts for Magic Kingdom's Haunted Mansion were actually created during Disneyland's Haunted Mansion build process, as they simply made duplicates.
That being said, the Magic Kingdom version is a bit longer than the California one was it has a larger building to operate in.
Of course Haunted Mansion has come cool features such as dancing ghosts as well as Hidden Mickeys, but it also has one of the most intense and depth-filled backstories of any Disney ride.
For instance, did you know that when you walk through the graveyard in line, you come across the Dread family, a family that killed each other for their wealth?
And what about the dead bride that you see during the ride – what's her story? Ask a cast member and find out!
Best Rides at the Magic Kingdom in Adventureland
Adventureland is full of swash-buckling pirates, crazy jungle scenes, and an exotic version of Dumbo featuring the magic carpet from Aladdin.
Adventureland has been a popular land in the Magic Kingdom since opening day, and it has some heavy hitter rides that attract families to the park year after year.
In fact, the following two rides have also had movies made about them, which goes to show that public's enjoyment of Adventureland extends well beyond the park gates.
7. Jungle Cruise
I feel like I'm going to get some backlash here from Jungle Cruise haters, but hear me out.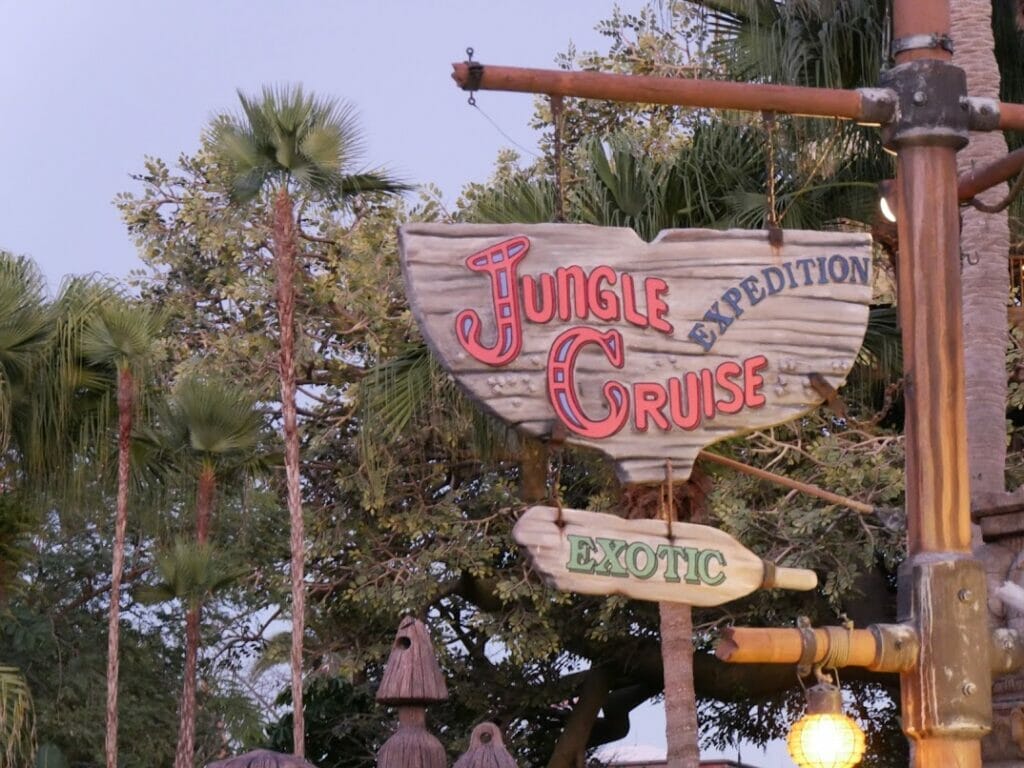 The Jungle Cruise involves a boat trip around the world through Asia, Africa, and South America with a pun-loving captain and a load of friendly (and not so friendly) audio-animatronic jungle animals.
The Jungle Cruise is another opening day attraction at Disney World and was originally meant to include live animals until Walt realized that real animals would probably sleep during the day (Animal Kingdom was built long after Walt's death, though Disney had always had an interest in animals and animal conservation).
While the audio-animatronics aren't quite as up to date as recent additions to the parks and the constant puns of the skipper can get a little old, it's important to let yourself just get wrapped up in the historic Disney feel of the ride and appreciate it for what it is.
Another reason I rank the Jungle Cruise as one of the best Magic Kingdom attractions is because of the detailed line that involves artifacts from the time period the Jungle Cruise takes place in, as well as photos and tools that help to recreate the feeling of an explorer outpost.
8. Pirates of the Caribbean
Yo-ho-yo-ho, it's a Pirates (of the Caribbean) life for me!
Pirates of the Caribbean, one of the most popular attractions in Adventureland, sticks you in a boat on this indoor dark-ride as you follow the journey of a group of pirates living the pirate life, stealing treasure, and hoarding gold.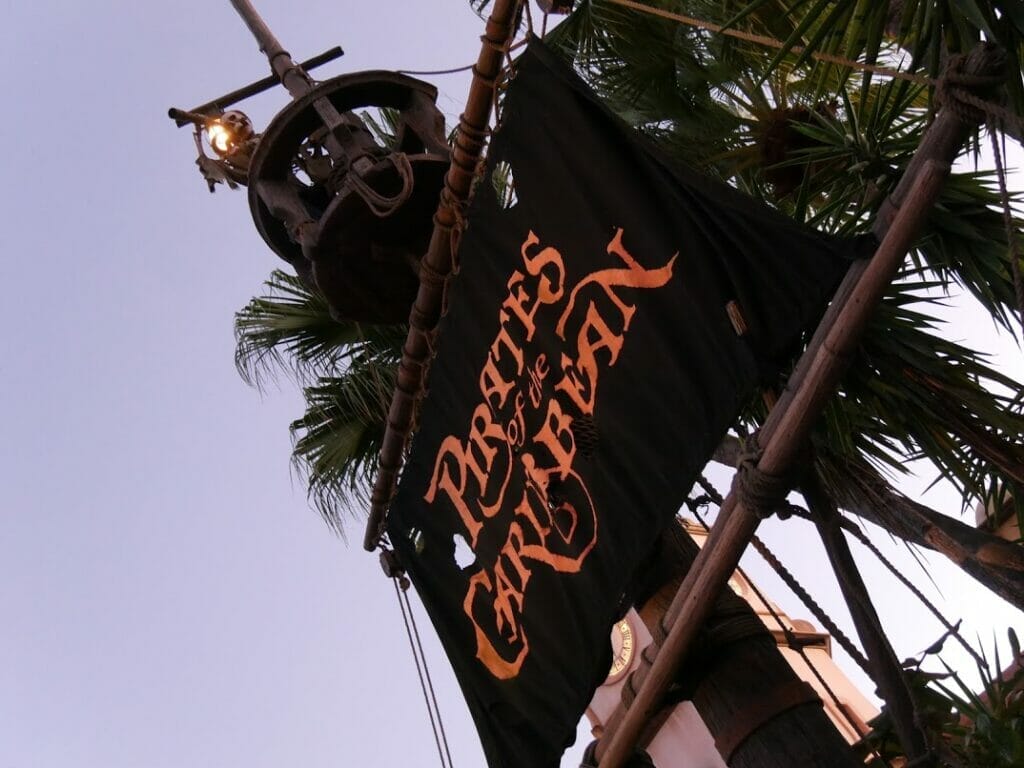 The Magic Kingdom version of Pirates of the Caribbean starts in a Spanish fort called Castillo Del Morro, and takes you past pirate skeletons and cannons before you embark on your journey.
Throughout the ride, you go through a mist waterfall and you go down a thrilling drop (it's not nearly as intense as a real log flume ride, but instead a fun addition to an otherwise tame ride).
The Pirates of the Caribbean movies were inspired by the ride, and after the success of Johnny Depp's performances, an audio-animatronic Johnny Depp was added to the ride in multiple places – see if you can spot him!
One thing to keep in mind with Pirates of the Caribbean at the Magic Kingdom is that it is a boat ride in the dark, which can be slightly scary for young children even if they say they like pirates!
It's a fantastic Magic Kingdom ride for teenagers, however, and you should especially encourage the teens in your family to live the pirate life.
Best Rides at the Magic Kingdom in Fantasyland
I've saved Fantasyland for last, despite it being one of the most recognized lands in the Magic Kingdom.
This is for no particular reason, except that while I think these rides are perfect for families with small children, I would highly encourage families to make note of the above rides and realize that the Magic Kingdom is not all princesses and Peter Pan.
But of course, like the rest of you, I adore princesses and Peter Pan and all of the fantasy and wonder that the Magic Kingdom provides, so I've broken down the best rides in Fantasyland at the Magic Kingdom so you know what's worth the wait.
9. "it's a small world"
You can't go to the Magic Kingdom without riding "it's a small world."
I'm sorry, you just can't. It's not acceptable.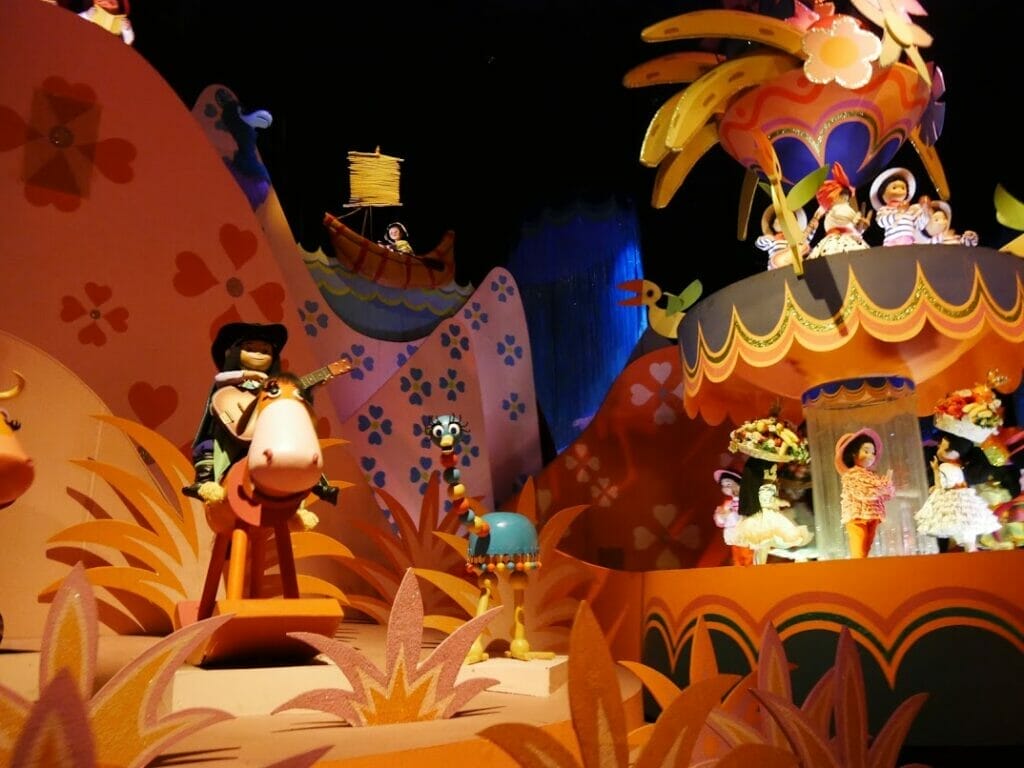 Whether you love the song or hate how you can't get it out of your head, there's something about taking a slow-moving boat ride through a room full of singing and twirling dolls that is so classically Disney.
In my opinion, it's the best attraction at Magic Kingdom.
The idea of the ride, as suggested by its name, is that the world is small and we are all one, no matter what we look like, what we do in our free time, or what we celebrate.
As you go through each room, you'll see a new group of dolls that represent a particular part of the world.
Once you get to the end, the scenery changes into a beautiful white and blue tone to really drive the point home that "it's a small world."
It's a Small World is one of the best rides for infants at the Magic Kingdom as well, as there are no drops or scary moments, and with any luck they'll be mesmerized by the repetitive songs and moving dolls.
10. The Many Adventures of Winnie the Pooh
The addition of the Many Adventures of Winnie the Pooh is one of the top rides at Magic Kingdom for a couple of reasons.
Firstly, I love Winnie the Pooh. Kids love Winnie the Pooh. Families love Winnie the Pooh. Adults love Winnie the Pooh.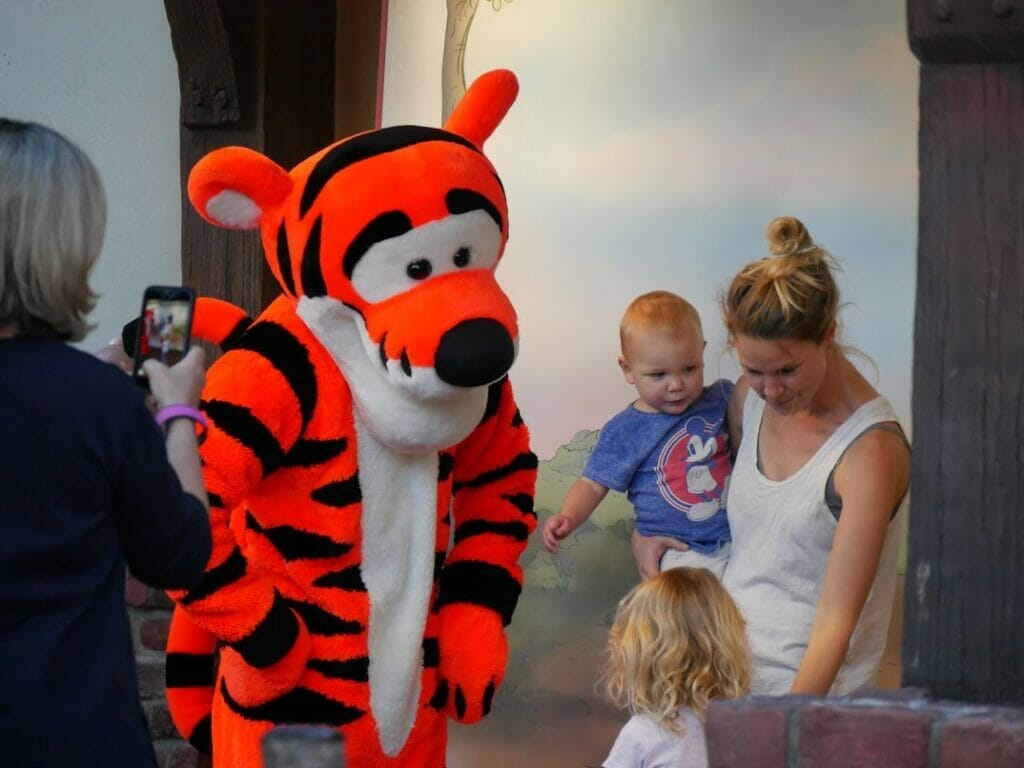 Winnie the Pooh spans all generations, and I think that's a nice way to enjoy Fantasyland together.
Secondly, the movement of the honeypot (did I mention you're riding in a honeypot?) is a gentle thrill for children, and while the technology may no longer be as innovative as it once was, I think it's a nice departure from the ride vehicles that only move through the ride and not up and down.
Thirdly, Winnie the Pooh has one of the best ride lines at the Magic Kingdom for kids.
From the very moment you enter the line, there is something to play with or look at, including a fenced off fake-vegetable garden that the kids can play in while you wait.
Once you get further into the line and move past the play area, the walls seem to be made of honey, and the kids (and adults) will love seeing what happens when they wave their hands over it to try and uncover the story underneath.
It's also a quick walk to lunch at Be Our Guest restaurant from here if you need a break in the day.
11. Peter Pan's Flight
It would pain me to leave Peter Pan's flight off of the list of the best rides in the Magic Kingdom, as it embodies everything that the original Magic Kingdom stood for: escaping into a new world, enjoying your day at the parks with the whole family, and celebrating iconic Disney characters and stories.
The line for Peter Pan's flight is almost always crazy, for the reasons mentioned above, but if you secure a Fastpass, you can get in quicker and will skip the line.
When you step on the ride, you're suddenly flying high over the streets of London and Wendy's bedroom, which is so fun for kids who are used to experiencing rides "from the ground."
As I've gotten older, I've gotten a bit more jaded at what can only be described as a black tarp dotted with Christmas lights representing London at night, but you know what?
Disney isn't just for me, it's for the kids too, and as a kid I remember being in awe of what was going on around me.
It's highly likely that if you don't get into the spirit of things, you'll wonder why you waited so long for such a short ride, but I maintain that Peter Pan is one of the best attractions in the Magic Kingdom.
It doesn't have incredible technology and 86 different things immersing you in the ride at all times, but it does represent a simpler time in Disney's history and is one of the only original rides from opening day.
And that's something to experience!
12. Mickey's Philharmagic
The final entry into my list of the Magic Kingdom's best rides is actually not a ride at all: it's a 4D show.
If you need to take a break from the heat and sit down for a little bit while experiencing some Disney magic, Mickey's Philharmagic is everything you're looking for.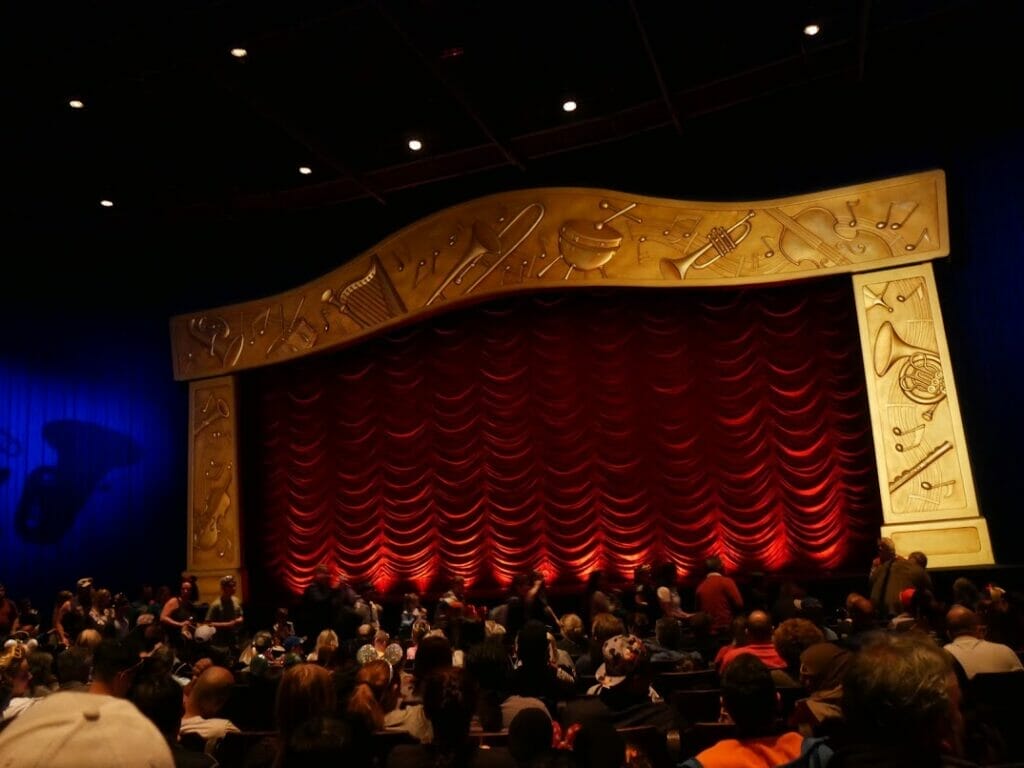 The premise is that Mickey is conducting a concert band, but some hijinks ensue and suddenly you and your 3D glasses are being swept up in classic Disney movies like Lion King, The Little Mermaid, and Aladdin.
One of the best parts of Mickey's Philharmagic is that in addition to the 3D features, there are also smells, water features, and a surprise at the end that brings the production off the screen and into the world around you.
Mickey's Philharmagic is all about the classics – Disney characters and movies that today's adults knows and loves. I know it by heart now, but I still make sure to stop by every time I'm in the Magic Kingdom.
And if you need any more incentive, there's usually just a short wait until the next show and it's not often you'll wait more than 10-20 minutes, which can be a relief on crowd-heavy days.
I love this option as a solo traveler to Disney because you can choose which row you want to sit in rather than dealing with the high maintenance members of your party who have 86 rules when it comes to where you go can!
Hey! Want more of our expert Disney guides? Check these out!
Get the All-American Travel Secrets!
Don't miss out on America's hidden gems!