Whether you're looking for the best Disney World Instagram spots to make all of your followers jealous, or you just want the most instagrammable places in Disney World to capture the best memories, this guide is for you.
If you need some Disney World Instagram captions, I've got that too!
Disney World is the most Instagrammed (is that a word?) place in the entire world, which is no surprise since it's also one of the most popular tourist destinations in the world!
Every corner you turn is going to give you new opportunities for an awesome Insta snap, but this guide takes you through each park as well as outside of the parks to give you some ideas for where to head for the best Disney Instagram spots.
Want insider Disney tips from an expert?
Join 4,000 others in weekly guides to Disney's hidden secrets, gems, and money-saving tips!
Okay, everyone grab your adorable Disney shirt and let's get going.
Pssst – this printable Disney scavenger hunt is amazing
Since you're already looking up Disney guides, I just wanted to make sure you knew about this printable Disney World scavenger hunt created by a lifelong Orlando native and Disney World fan.
There are over 60 challenges with a full answer key and both Family and Grown Up versions and a bonus Disney Springs hunt for your non-park day!
Best Instagram Spots in Magic Kingdom
The Magic Kingdom is probably the most popular out of all Disney Instagram photos, and with multiple different themed lands and some really gorgeous queue theming, it makes sense.
The whole park feels like you've just stepped into a magical postcard, and you can get so many different looking photos without going far (Adventure Land is just a few steps away from Cinderella's Castle, but you'll look like you just traveled for days!)
These are the best Magic Kingdom Instagram ideas for your feed.
1. Tea Cups
Even if you get, like most people, motion sick on the tea cups (officially known as the Mad Tea Party), you'll want to ride them for some gorgeous Instagram photos.
Not only is the entire ride colorful, but the lanterns hanging from the ceiling and the motion you get from the rotating tea cups makes for an adorable Instagram photo.
You can just take one before the ride starts of the ride theme, or get one of your hair flying everywhere as you actually spin on it!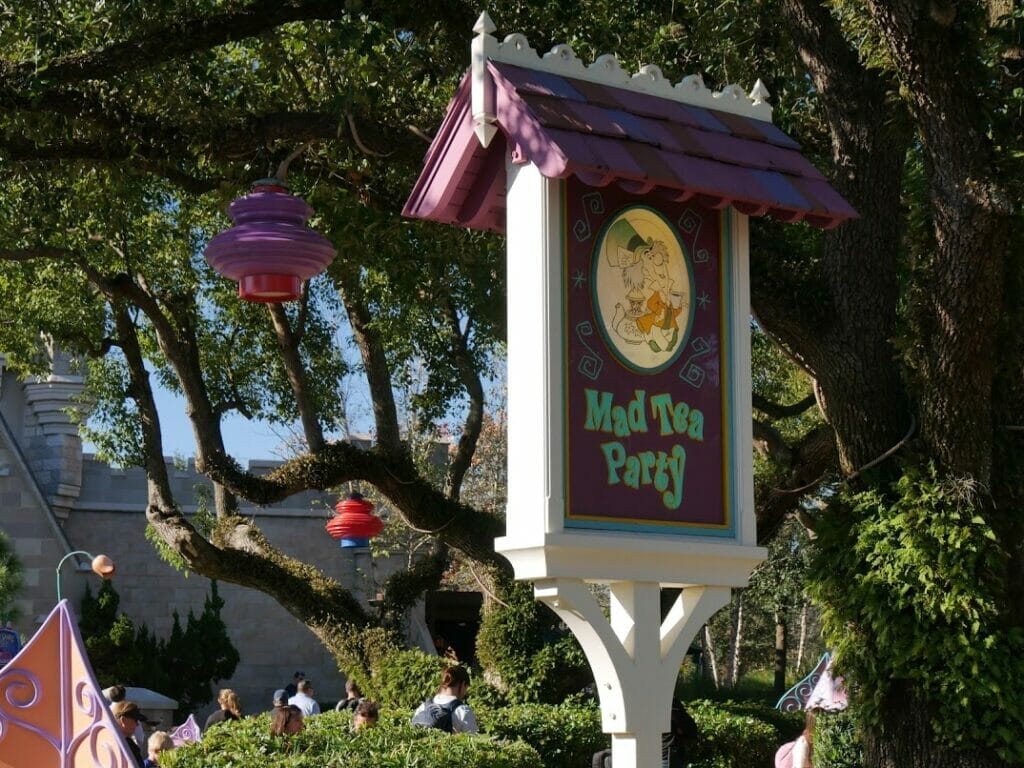 2. Cinderella's Castle
Within Disney World, Cinderella's Castle is actually the most Instagrammed spot.
You can get a photo of you from outside of it, looking up at it, or many people like to get one from behind where you're looking at the castle with your Mickey ears on (I love these adorable ones!).
You can also get ones from inside the castle (check out the mosaic), or if you go to the front of the castle, then head towards the bridge on your left, you can get great photos from a new angle of you on the bridge looking at the castle.
3. View of Space Mountain from the Astro Orbiter
Space Mountain is such a big part of Magic Kingdom history and legend, but everyone seems to take the same photos of it.
A great view of it, if you're up for a challenge for that perfect Insta photo, is to take a ride on the Astro Orbiter and then get a picture of the astro orbiter in front of you with Space Mountain in the background.
It really makes the photo pop and gives you that illusion of flying through space, which you can't do on Space Mountain as the entire thing is in the dark so little chance of getting any great ride pics!
4. Big Thunder Mountain (on the Ride)
Another on-ride option for one of the best Disney World Instagram photos it to hop on Big Thunder Mountain.
Almost all of the ride will provide you with some great options, but a particularly good one is when you see tusks coming out of the wall and your ride car will go underneath them.
You can also see if you can get a photo for Instagram of the man in the bathtub – keep your eyes peeled for him!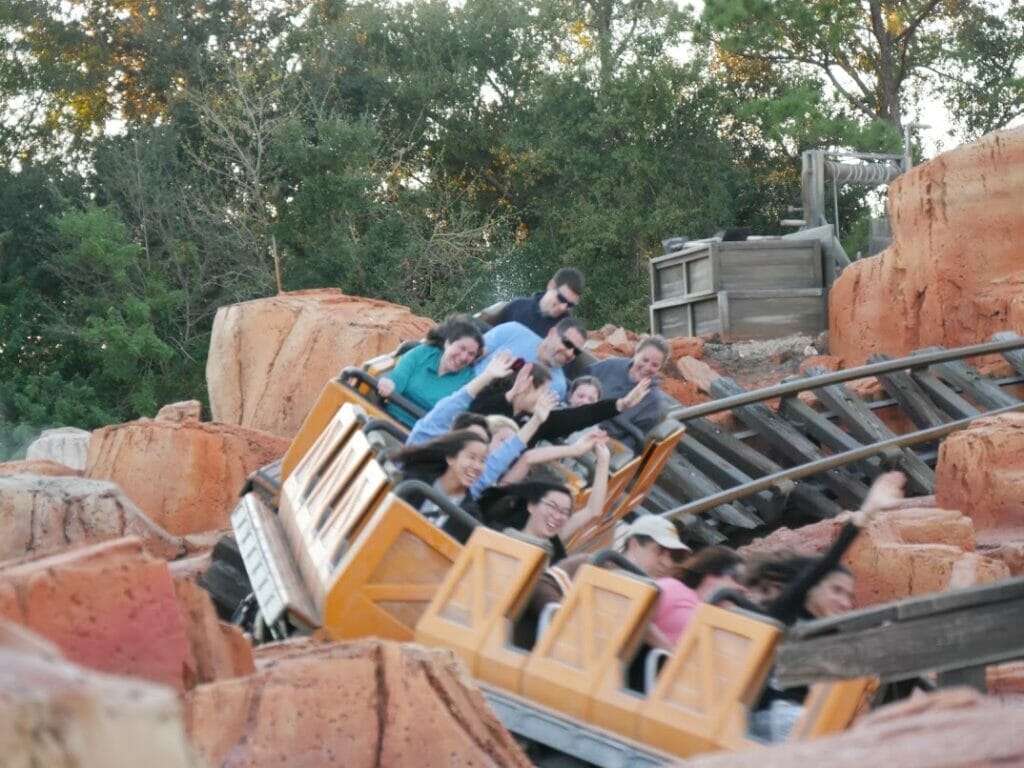 5. Purple Wall
Want to check out one of Disney's most famous Instagram spots?
Look no further than what's known as the "Purple Wall," a wall in Tomorrowland.
This didn't start out as a dedicated Instagram spot, but once it picked up as one, Disney actually repainted the wall and made it look even snazzier.
Whether you want to take a photo of you jumping or just smiling in front of the wall, you'll join a long line of Disney Instagram fans!
Best Epcot Instagram Spots
How could a park that offers the chance to travel the world not give you the option for some amazing Disney Instagram photos?
Check out the best Instagram spots in Epcot here.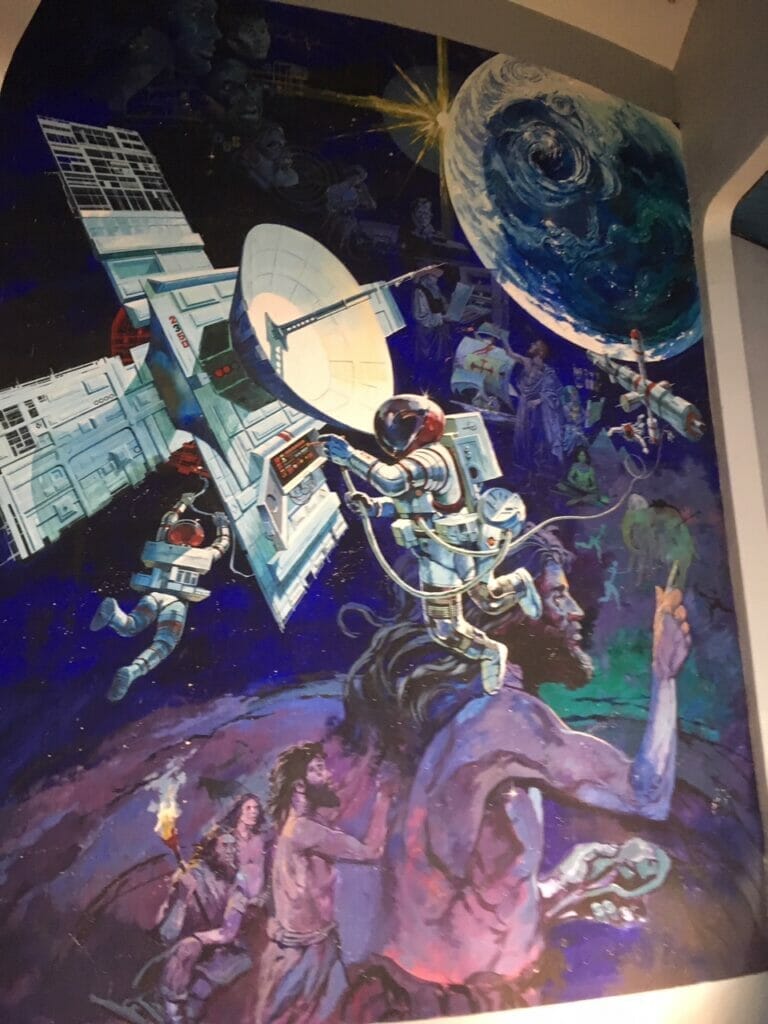 6. Epcot Ball
Okay, before we travel the world, let's get a pic in front of the giant "golf ball" at the entrance of Epcot first.
This is perhaps the most familiar Epcot scene, and there are a few options, including getting one from right underneath it to give you a more abstract look or taking one from closer to the front of the park where you'll get a longer view, along with some awesome Epcot topiaries in the foreground.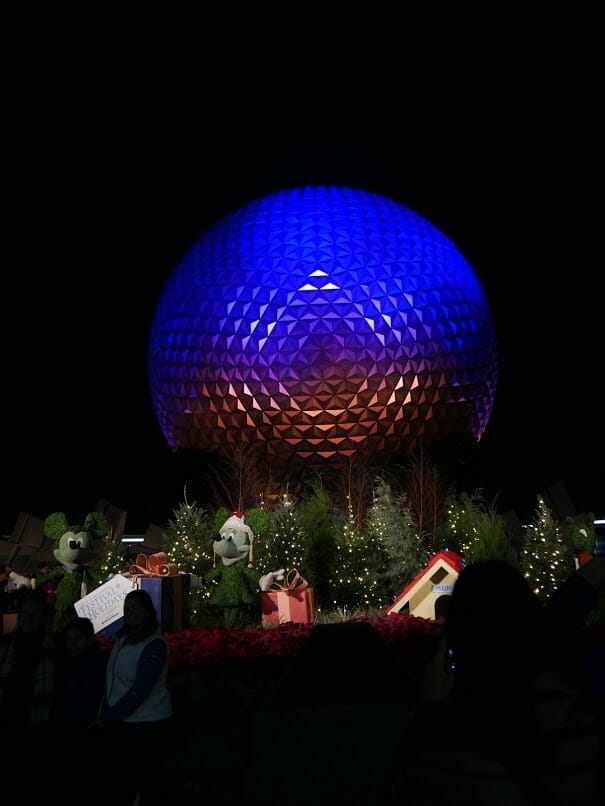 7. Arch in the Japan Pavilion
Head to Japan, where you'll find a bright red arch with a great view of the park through it.
This is a nice spot for a landscape Instagram photo, or an Insta photo with people in the photo.
8. Markets in Morocco
Within Morocco, there are so many gorgeous photo spots, but my favorite for Instagram are the market areas.
These are themed to look like the blue markets of Morocco, with the walls being a gorgeous shade of blue and really giving you some awesome colors to work with.
Head around tight corners, dip into stall areas, and really explore this area until you find the right angle for your photo.
9. Inside the China Pavilion
When in the China Pavilion, head into the gorgeous temple and look up.
This is one of the coolest Instagram spots at Epcot because of the stunning colors and mosaic design on the ceiling. It's a geometric fan's paradise.
10. Living with the Land Mosaic Wall
Let's not forget the rest of Epcot!
Head to the Living with the Land ride, where, while waiting in line, you'll find a really beautiful mosaic wall with natural elements to it.
Best Instagram Spots in Animal Kingdom
Animal Kingdom offers some beautiful opportunities for Instagram photos at Disney, though not many people think of the options besides the first one.
Get creative here, using the natural playground the Imagineers have created to capture this park and its animals and designs in ways others haven't.
11. Tree of Life
This is the most obvious Insta spot in Animal Kingdom, as the Tree of Life is the first thing you see when you walk into the park, and let's be honest: it's gorgeous.
You can see it from a few different places in the park, so don't just settle for a picture from the front.
You can get up close and get shots of the animals carved into the trunk, or you can get a great view of it from Africa, outside of the Lion King Festival area.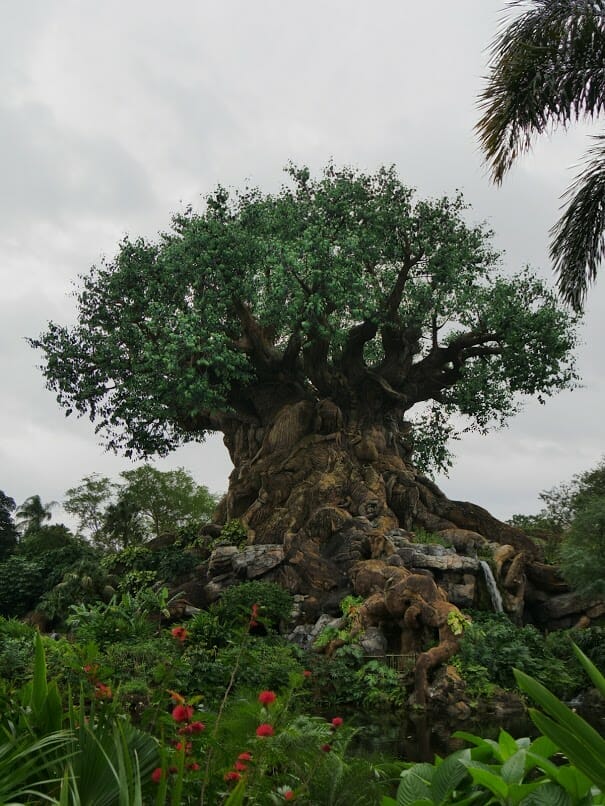 12. Floating Islands in Pandora
From banshees to floating islands, Pandora: the World of Avatar offers some really incredible Instagram photos that you can be sure no one is going to be able to mimic themselves unless they, too, are at Animal Kingdom.
One of the most stunning views is that of the floating land that seems to rise above you in that magical Disney way, and if you go at night when everything is glow in the dark, that can take your pic to the next level.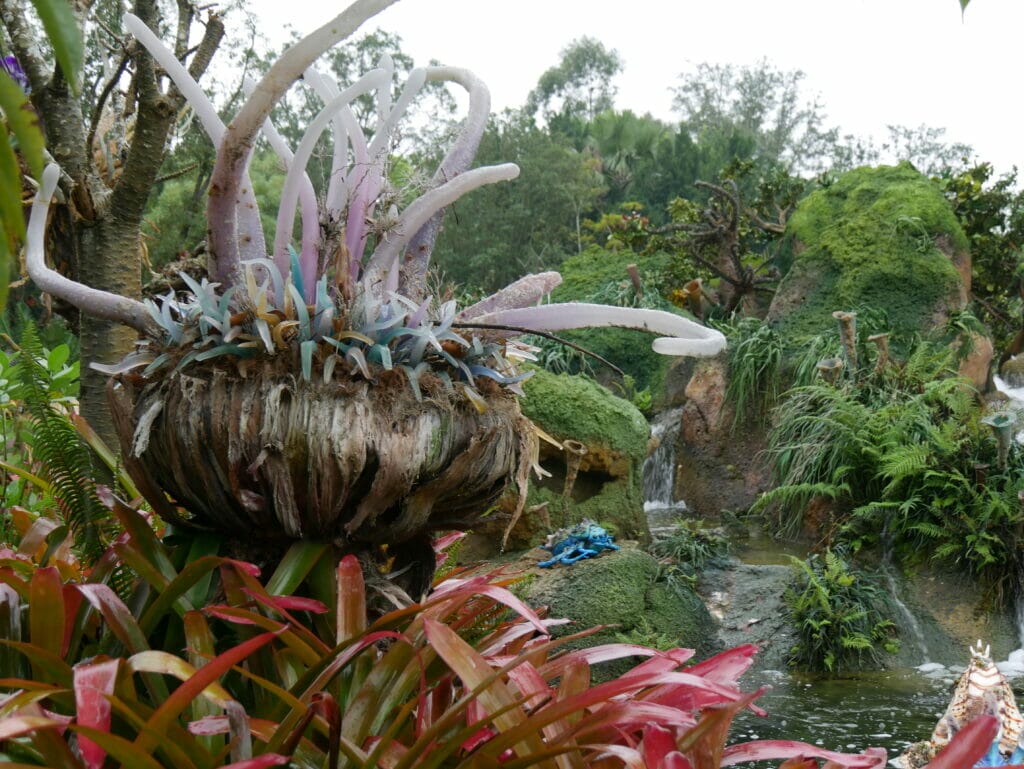 13. Tiger Wall at the Maharajah Jungle Trek
The Maharajah Jungle Trek is a great option for people wanting to see some animals without waiting in line, but what many people don't know is it has some great options for Instagram photos!
Not only do you have the gorgeous tiger wall where you can get a fun Disney wall photo, but there's also the bridge with the colorful flags hanging over it that is a must for any true Disney fan's Instagram.
Hollywood Studios Instagram Spots
Whether you're ready to explore Andy's room at Slinky Dog Dash or you want to join the resistance in Galaxy's Edge, Hollywood Studios is all about some of your favorite movies and the behind-the-scenes of movie magic.
What better place to capture some incredible Instagram photos?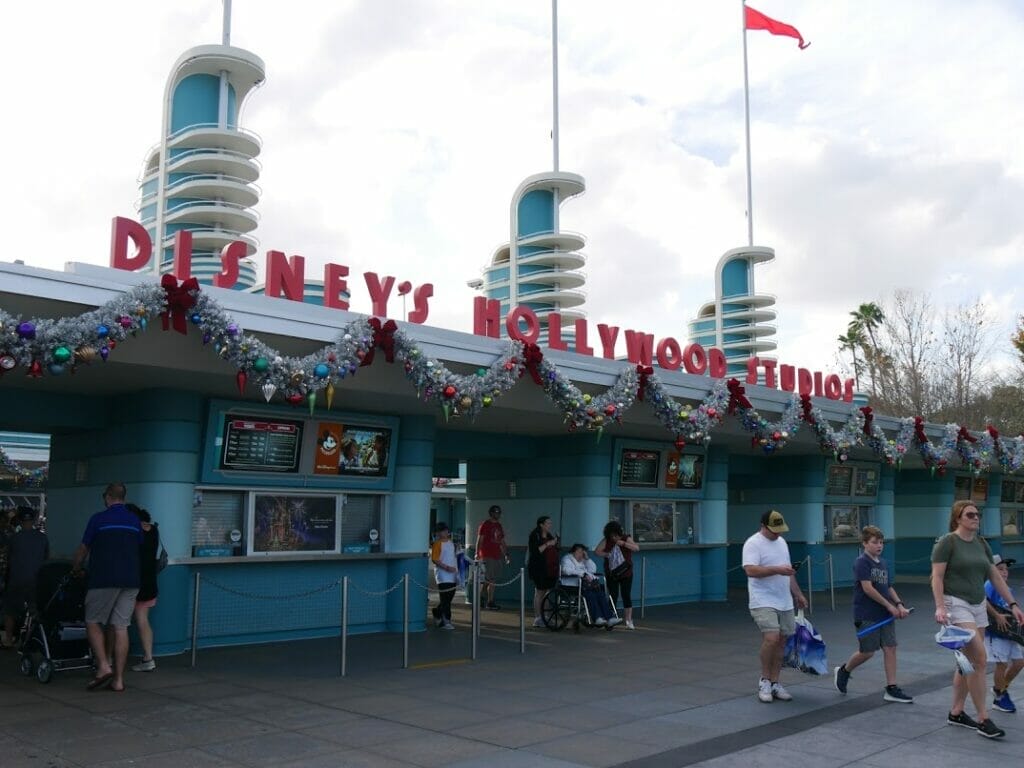 14. Millennium Falcon
If you're a Star Wars fan, there's no doubt you'll already be taking 87234 snaps of the Millenium Falcon, so why not turn it into an Instagram opportunity?
Not only can you get some great pictures of it from the outside, but if you have your camera ready, you can get awesome photos of the inside right before you go into the ride, and even take a second to sit down at the iconic table.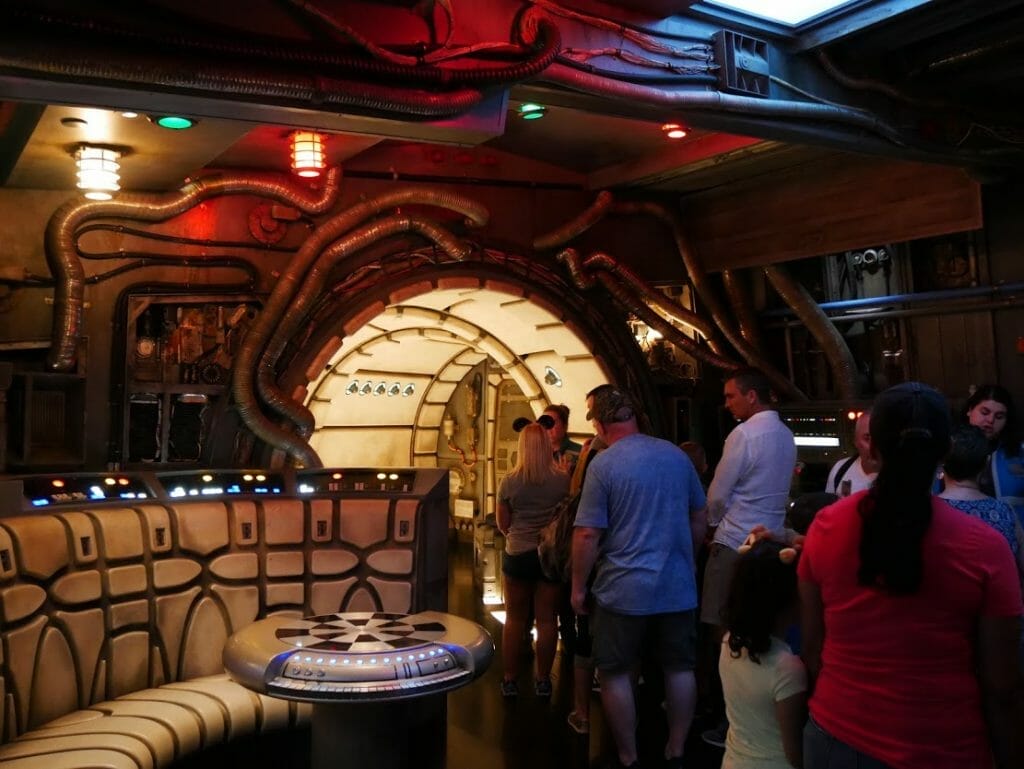 15. Inside the Rise of the Resistance Ride
Where have you seen hundreds of stormtroopers lined up? Either Star Wars movies, or on the Rise of the Resistance ride – nowhere else in the world can you capture this gorgeous photo of the Stormtroopers doing their thing.
It's truly awe-inspiring, even if you're not a huge Star Wars fan, and makes for an awesome Insta snap.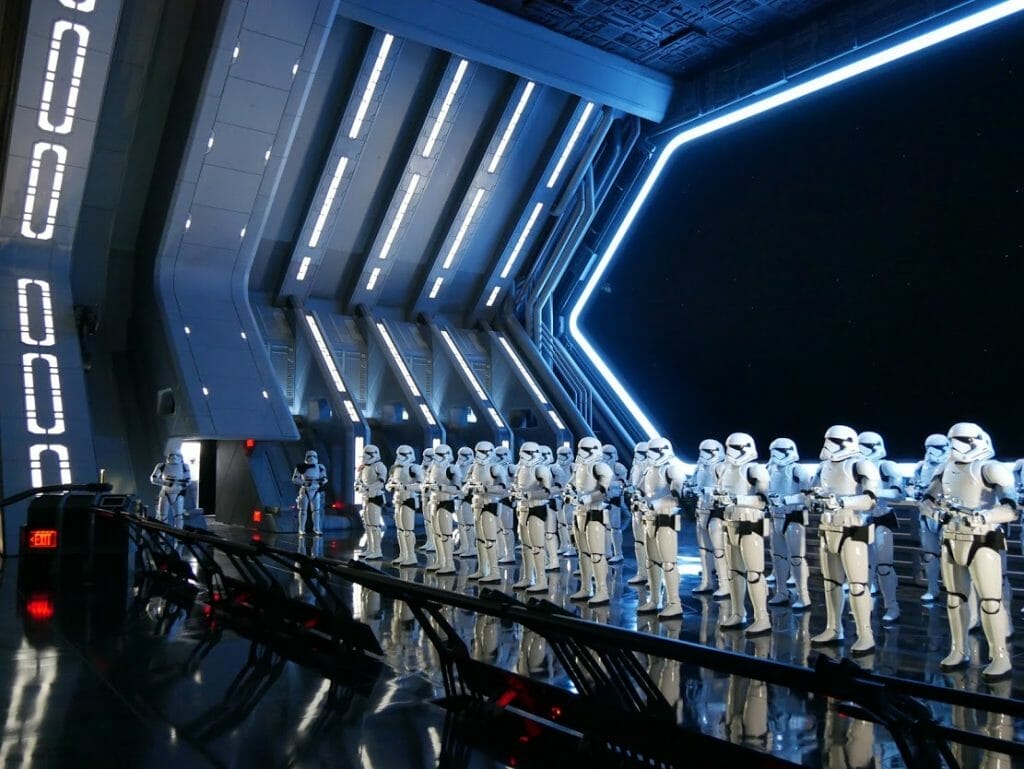 16. Toy Story Land at Night
Many people recommend the giant Woody statue as a great place for photos in Toy Story Land, but I'm going to go ahead and recommend another great option: Toy Story Land at night, looking down the main thoroughfare (right outside of Slinky Dog Dash) with the lights on.
The whole theming in Toy Story Land is that Andy used things from his house to create this land, and the Christmas lights (up all year) give so much color to photos at night.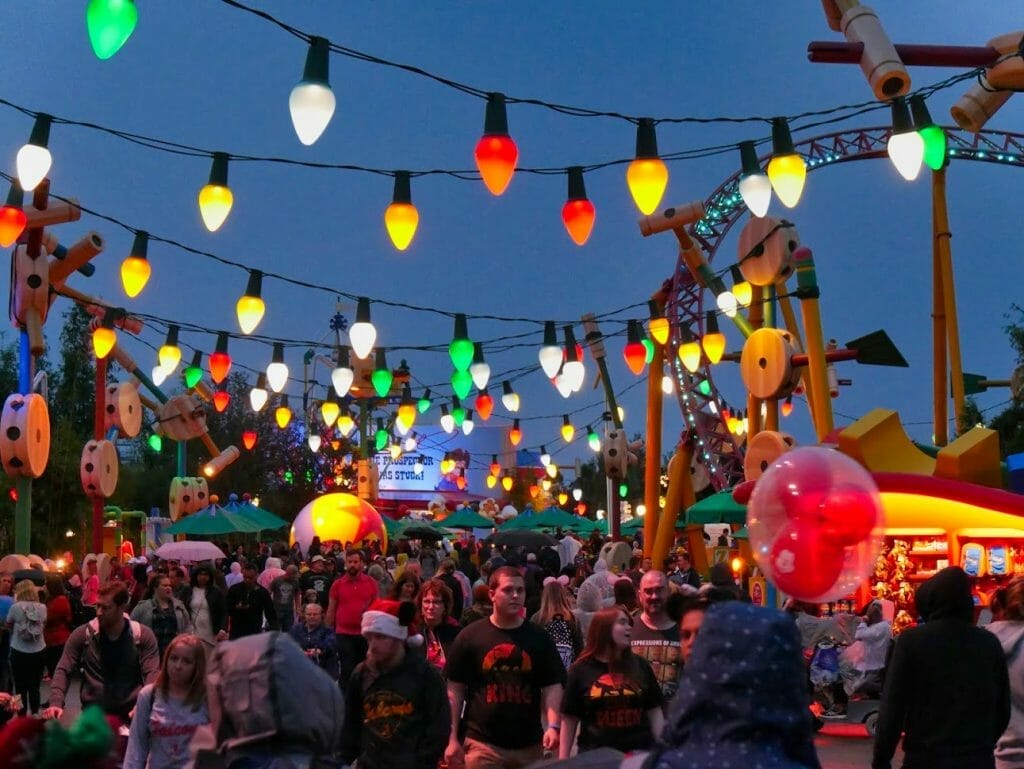 Other Disney World Instagram Spots
Sure, taking photos in Disney parks is fun, but what about if you're spending a day elsewhere, whether at Disney Springs or at a water park or just doing some resort hopping?
Here are some other fun Disney Instagram spots to go find.
17. Wave Pool at Typhoon Lagoon or Blizzard Beach
When you're at a Disney water park, you're going to want to keep your phone away most of the time so you can actually enjoy the rides and not worry about it getting splashed, but a great photo to get before you put the phone away is of you looking into or jumping into either of the wave pools.
At Typhoon Lagoon, you'll get a great view of the shipwreck in the background, and at Blizzard Beach, you should be able to see the "dripping snow" theming of the rides in the background.
18. Skyliner
Disney's Skyliner isn't just a way to get around, but an awesome place for Disney Instagram photos!
The pictures aren't that great from inside the Skyliner looking out because of the tint on the windows, but you can get some great ones of yourself riding in the Skyliner, OR head to the back of Epcot entrance where you can get some really great and beautiful shots of the Skyliner going overhead.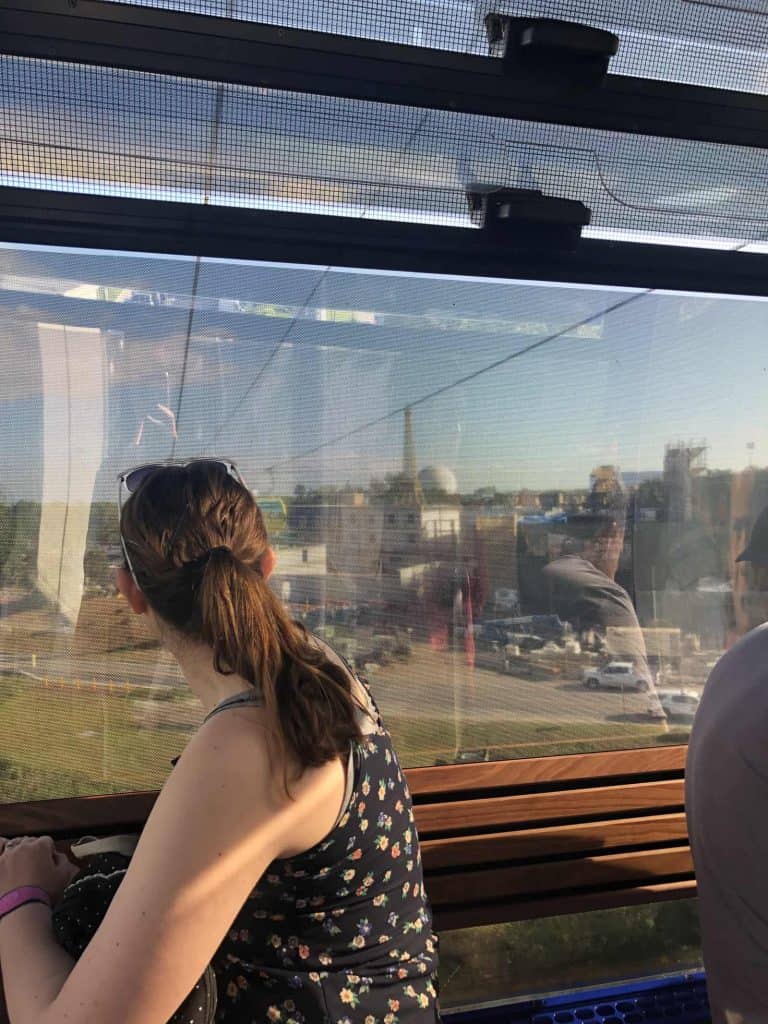 19. Monorail at the Contemporary
Monorail photos are of course popular at Disney, but your Insta fans will fall in love with your photo of the monorail going through the Contemporary resort!
Just go to the Contemporary (walk from Magic Kingdom, or drive and park as a day guest, or take a bus from any Disney park or Disney Springs) and head to the 4th floor and you'll be able to find lots of angles to see the monorail flying by overhead.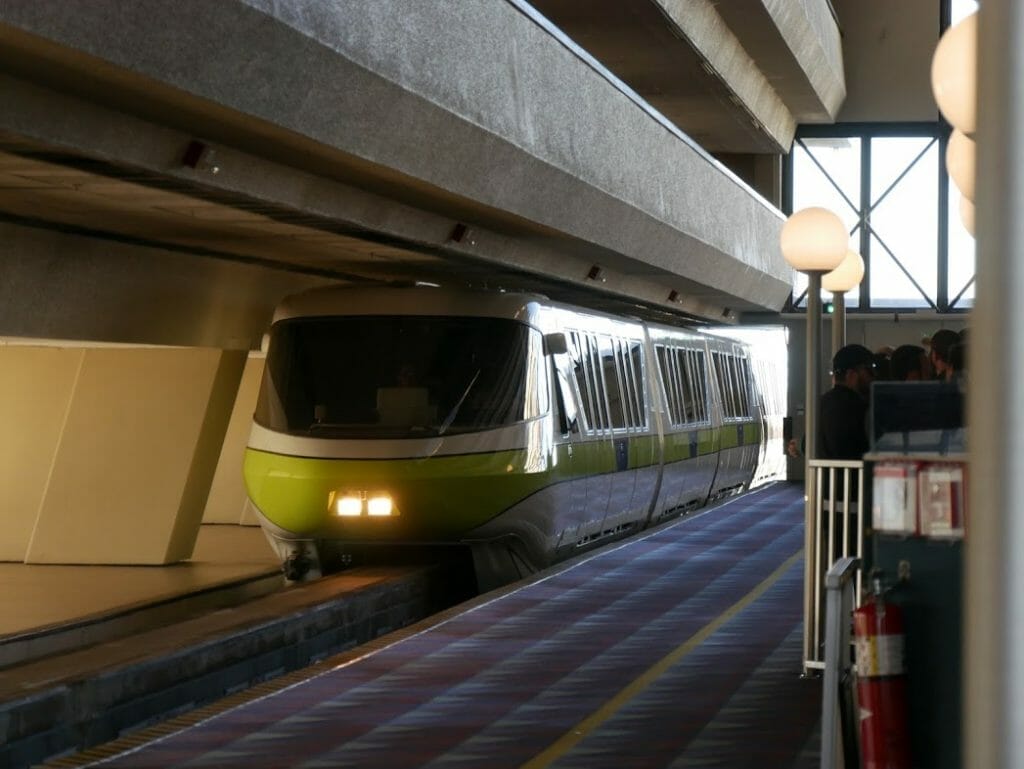 20. Beach at the Beach Club
There are some areas of Disney where it really doesn't feel like you're at Disney, but in a fun way.
The Beach Club beach is one of those places.
Put your toes in that bright white sand and get some photos of you seemingly relaxing on a tropical island, when in fact you're in Orlando!
This is also one of the best free things to do at Disney, so take advantage!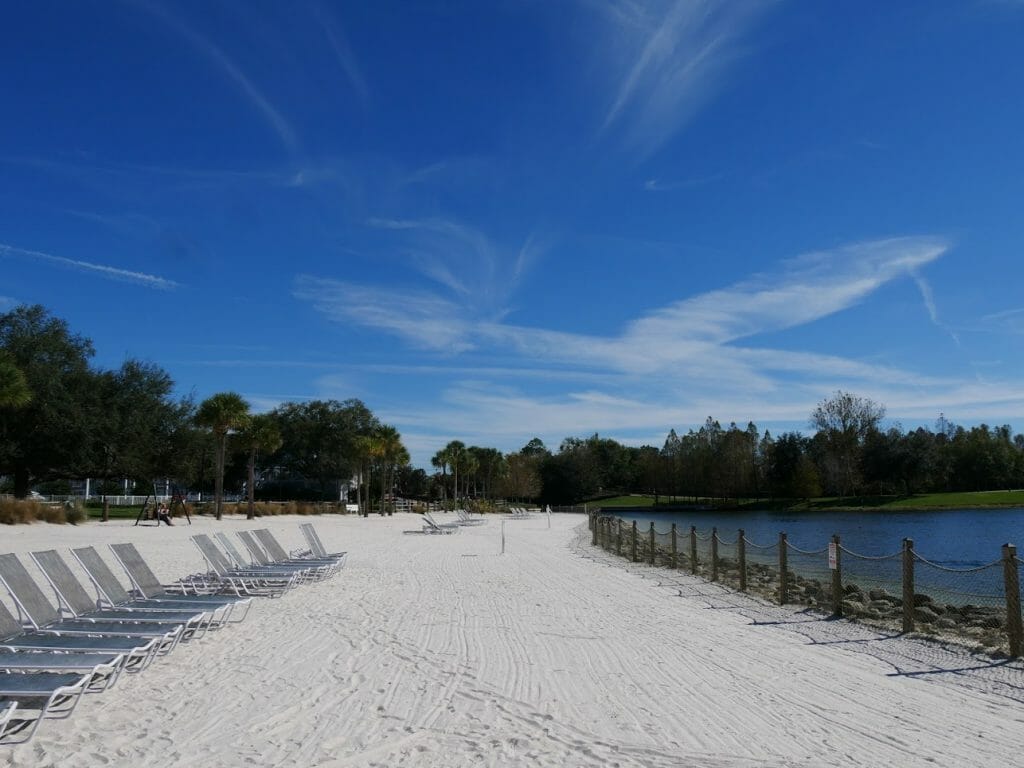 21. Citrus Wall at Disney Springs
Disney Springs has some great Instagram options, ranging from the LEGO dragon in the water to the volcano at the Rainforest Cafe, but a really trendy one is the citrus wall where you can get a photo in front of an awesome brick wall with a mural decorated to Florida oranges!
Hey! Want more of our expert Disney guides? Check these out!
Get the All-American Travel Secrets!
Don't miss out on America's hidden gems!