In the heart of Disney property exists a timeless bit of seaside atmosphere that will instantly make you think of summers at Cape Cod (even if you've never spent a summer at Cape Cod).
Disney's Beach Club resort is one of the best Disney Deluxe resorts on property, and in this Beach Club review, we're unpacking all of the ways it stacks up against other Disney resorts.
From the pool area that is closer to a water park than a hotel pool to the stunning location on Crescent Lake, right across from the Boardwalk, the Beach Club has more going for it than not.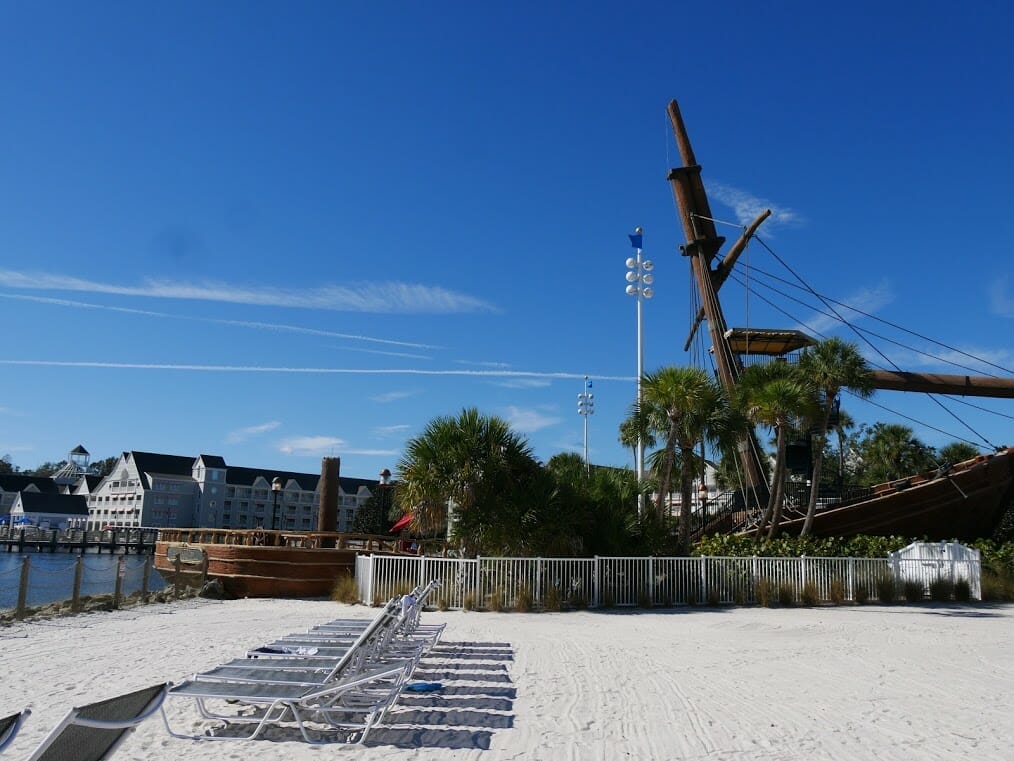 But, of course, nothing is perfect (not even our beloved Beach Club), and we'll also use this Beach Club review to go over things that lets it down, including some of its dining options and balcony situation.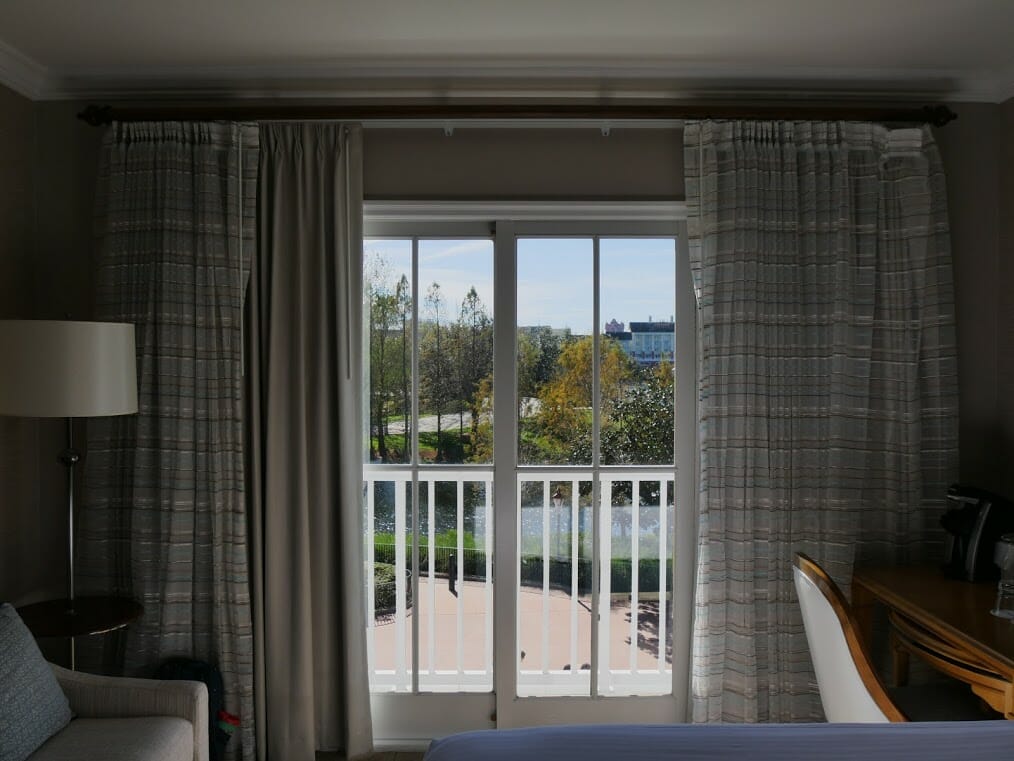 Read to the end of the review to also hear more about what went wrong in our room and the incredible way Disney fixed it.
Want insider Disney tips from an expert?
Join 4,000 others in weekly guides to Disney's hidden secrets, gems, and money-saving tips!
Pssst – this printable Disney scavenger hunt is amazing
Since you're already looking up Disney guides, I just wanted to make sure you knew about this printable Disney World scavenger hunt created by a lifelong Orlando native and Disney World fan.
There are over 60 challenges with a full answer key and both Family and Grown Up versions and a bonus Disney Springs hunt for your non-park day!
Hey! Want more Disney World resort reviews? Check these out!
Things to Do Before Your Beach Club Stay
You should make sure you have park tickets, of course, unless you're making it a resort-only trip.
What to Pack for your Beach Club Stay
Packing for your stay at the Beach Club is made easier with my list of what to bring to Disney World, including the best ponchos for Disney World, the best backpack for Disney World, the best shoes for Disney World and the best cooling towels for Disney World.
I also always like to make sure I have a mesh bag for dirty clothes in a hotel room like this one, a safety device like this one to put up against the door at night, and a toiletry travel bag like this one that has so many separate compartments to help keep things organized.
You'll also want to bring flip flops to go down to the pool (try these adorable Disney ones) and swimsuits for the family – Disney pools are heated even in the winter, so while you won't find Floridians in them in January, certainly you'll find people from all over the world wondering why the Floridians are being such babies!
If you really want to dress the part, though, check out this adorable Disney beach tee, a fun option for check-in day!
Beach Club Theming and Grounds Review
If you love the New England vibe, the Beach Club is for you.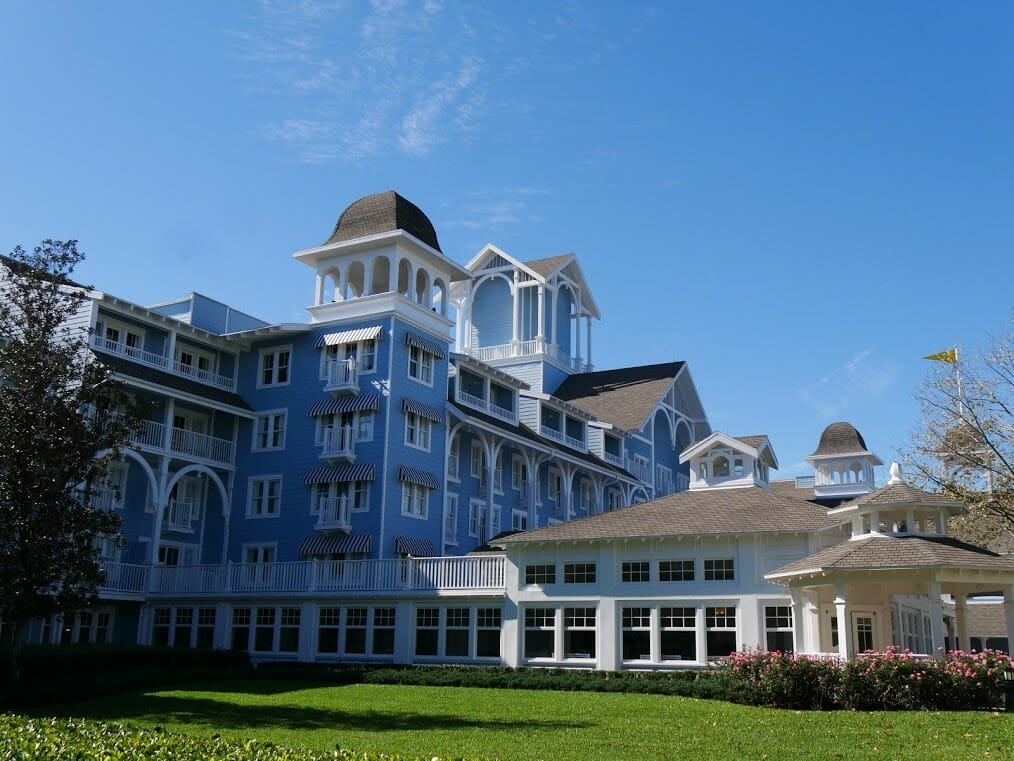 From the crisp blue and white on the exterior to the gorgeously manicured garden areas to the classy, but casual aesthetic everywhere you go, the theming is spot on.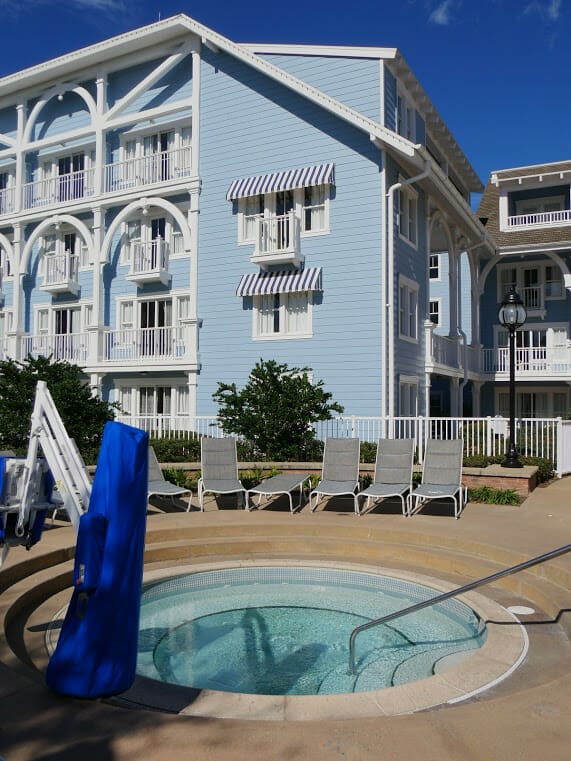 The hallways have fantastic carpets (yes, these are the things I notice), and the doors are the perfect shade of blue to keep that beachy vibe going.
Everything feels open and bright and fresh – no dingy areas to be found and darkness is all but banished.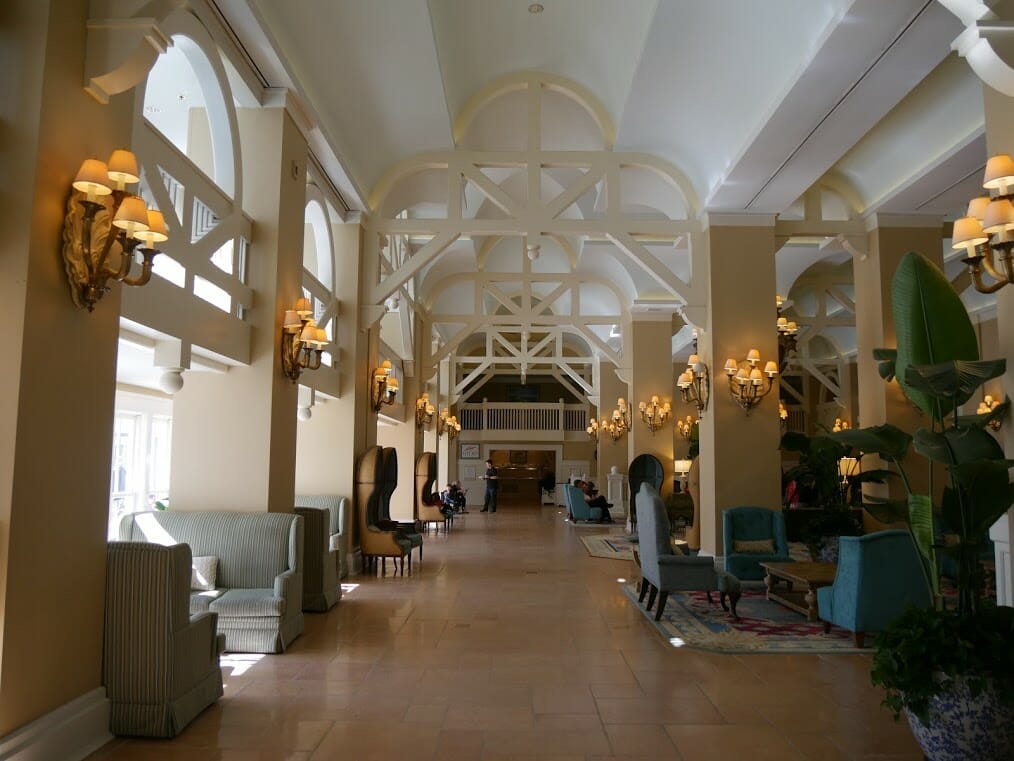 The theming carries to the outside to the fantastic pool (more on that later) and the wonderful beaches on Crescent Lake.
Of course these aren't swimming beaches, but sandy areas where you can sit on the beach chairs and read a book or swing on the swinging chairs – this instantly makes the Beach Club one of the best Disney resorts for honeymooners!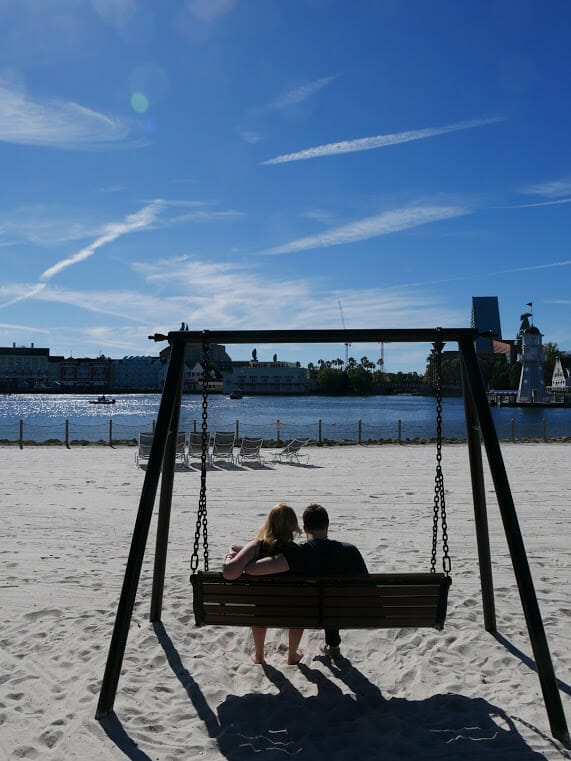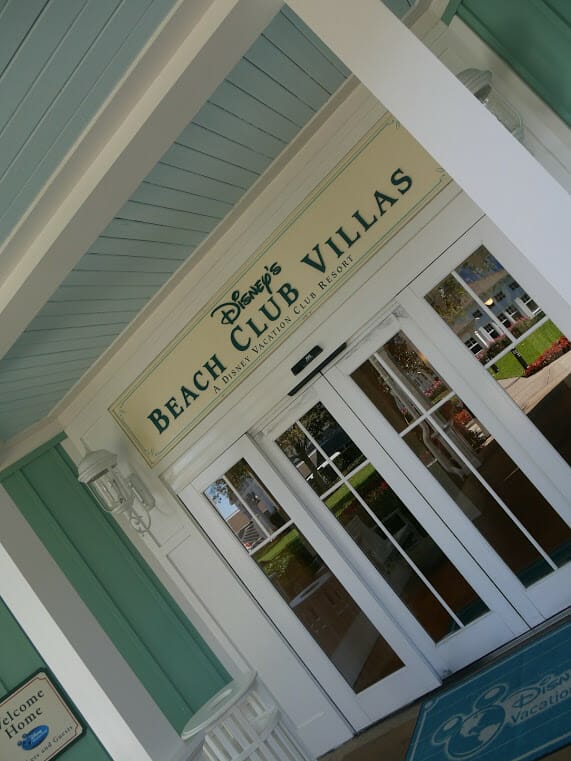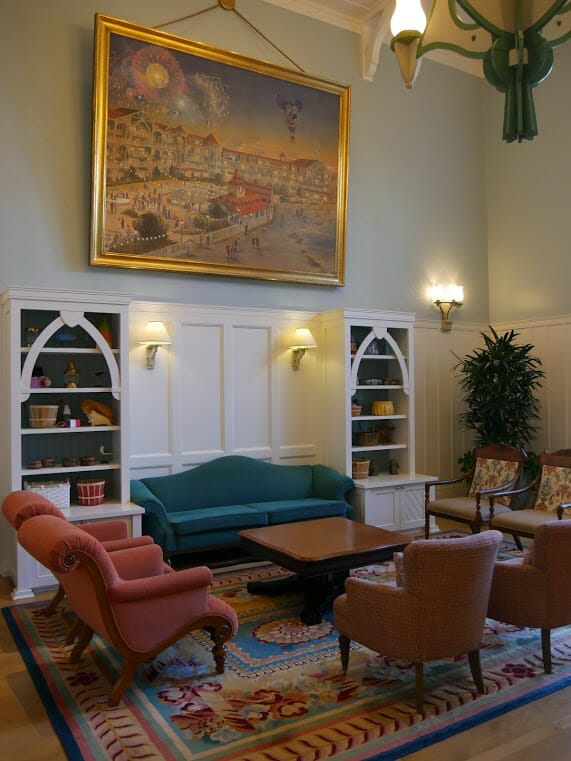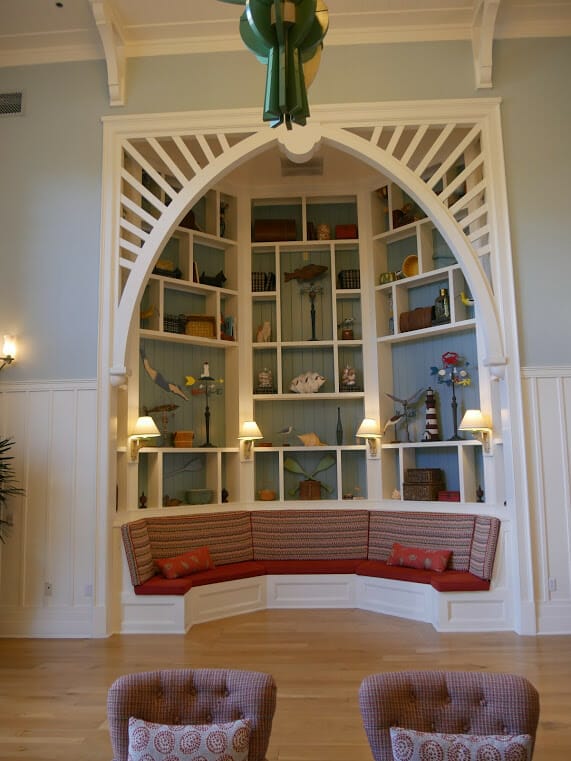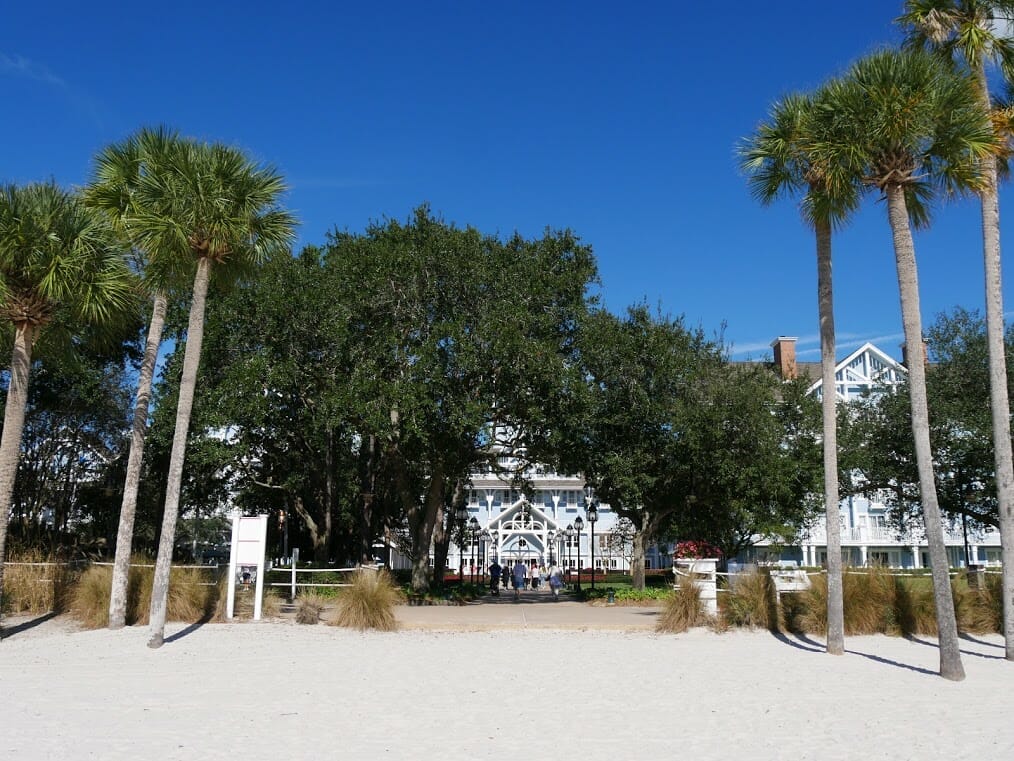 Throughout the entire grounds, you feel as though you should always be wearing a bathing suit with flip flops in hand and a wide brimmed hat on.
There are no "in your face" Disney characters or Disney theming – subtle Mickeys here and there, but overall a wonderfully immersive Deluxe resort theming.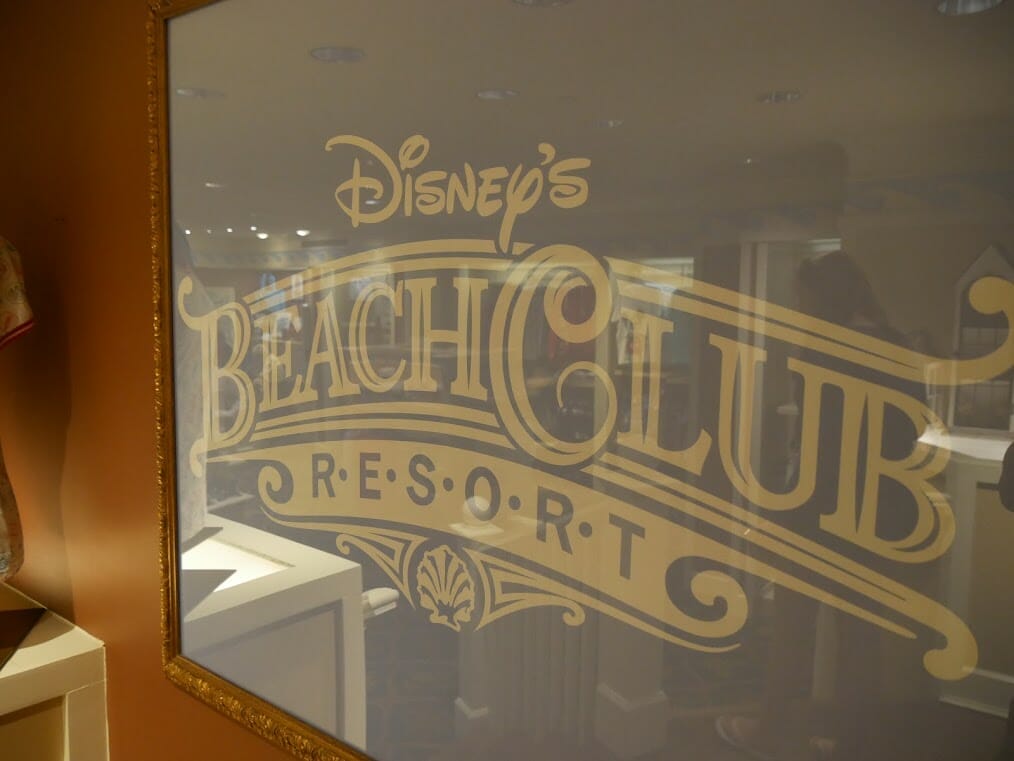 One thing to note is that the Beach Club is connected to the Yacht Club and they share a pool.
Sometimes it's referred to as "Disney's Yacht and Beach Club," but the Yacht Club is a separate hotel with its own staff and differently themed rooms and lobby despite them being so closely connected.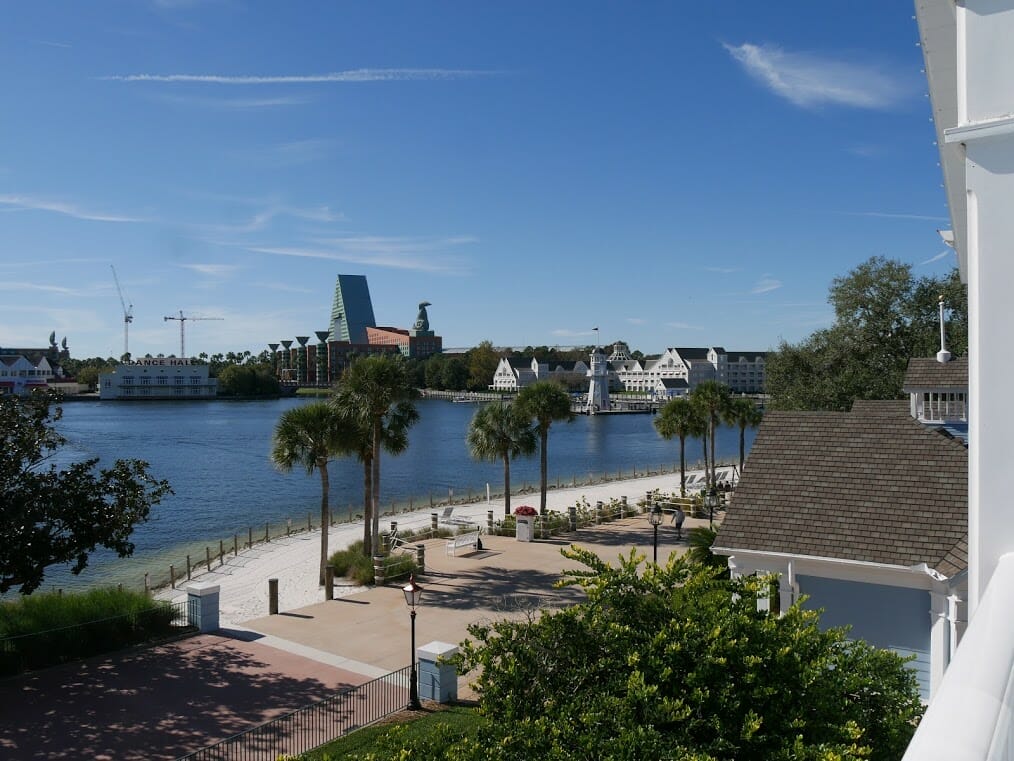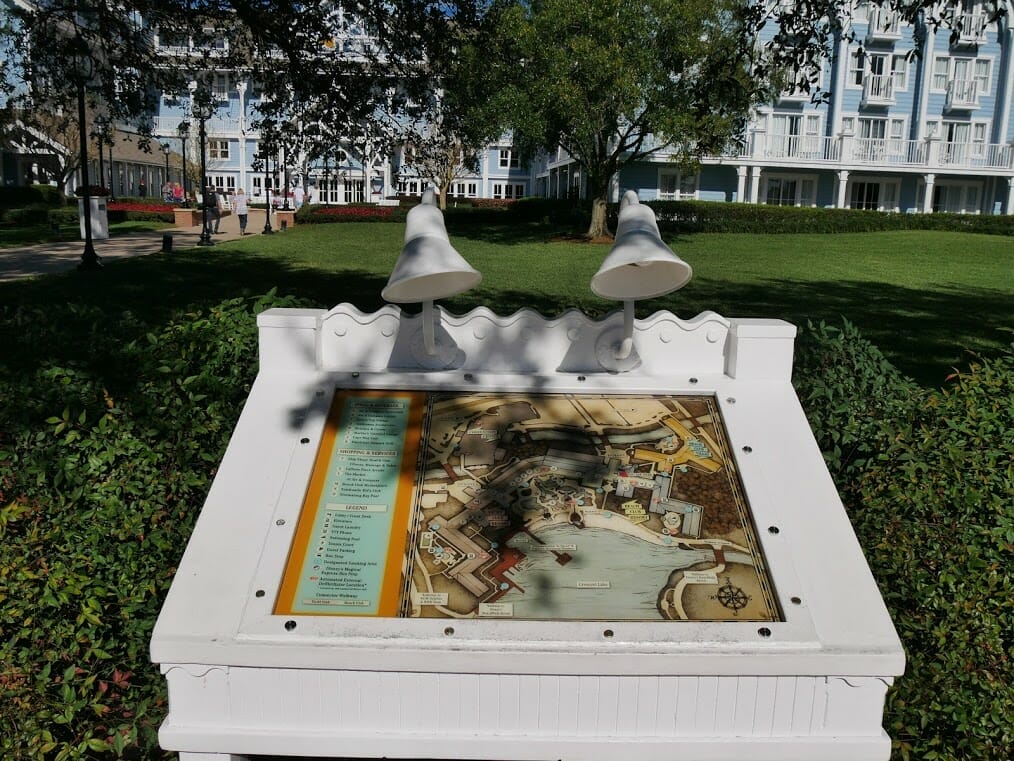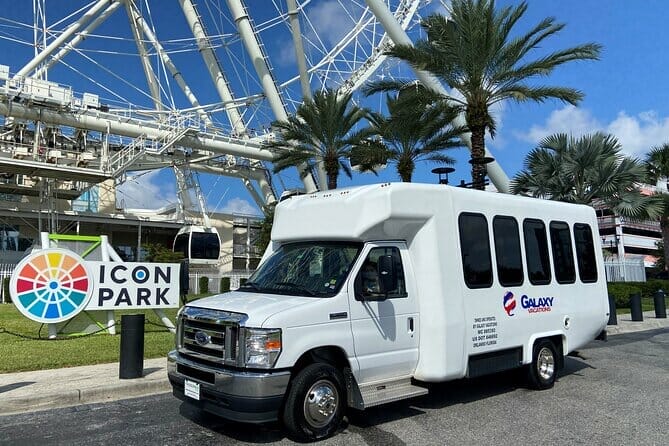 🚌Not renting a car in Orlando?
My favorite shuttle to get from the Orlando airport directly to Disney World is this one with a ⭐⭐⭐⭐⭐ rating.
Beach Club Lobby Review
The Beach Club Lobby has lots of spaces to sit, which is always a welcome relief when you've just arrived from the plane or a long car ride.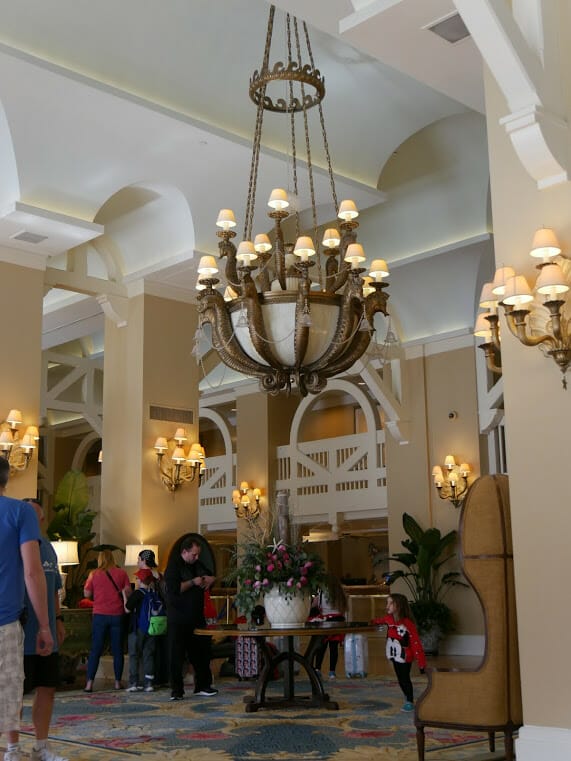 There are multiple desks for check-in and then luggage services, though you won't find the long strip of check-in areas like you do in resorts like Animal Kingdom Lodge or Wilderness Lodge.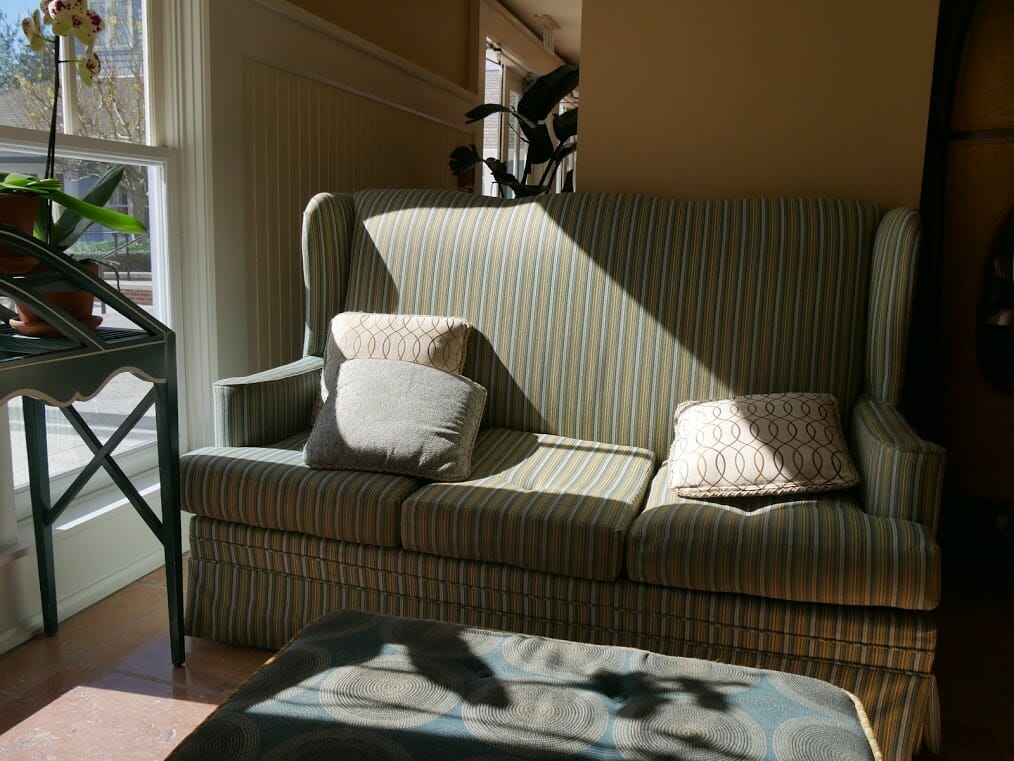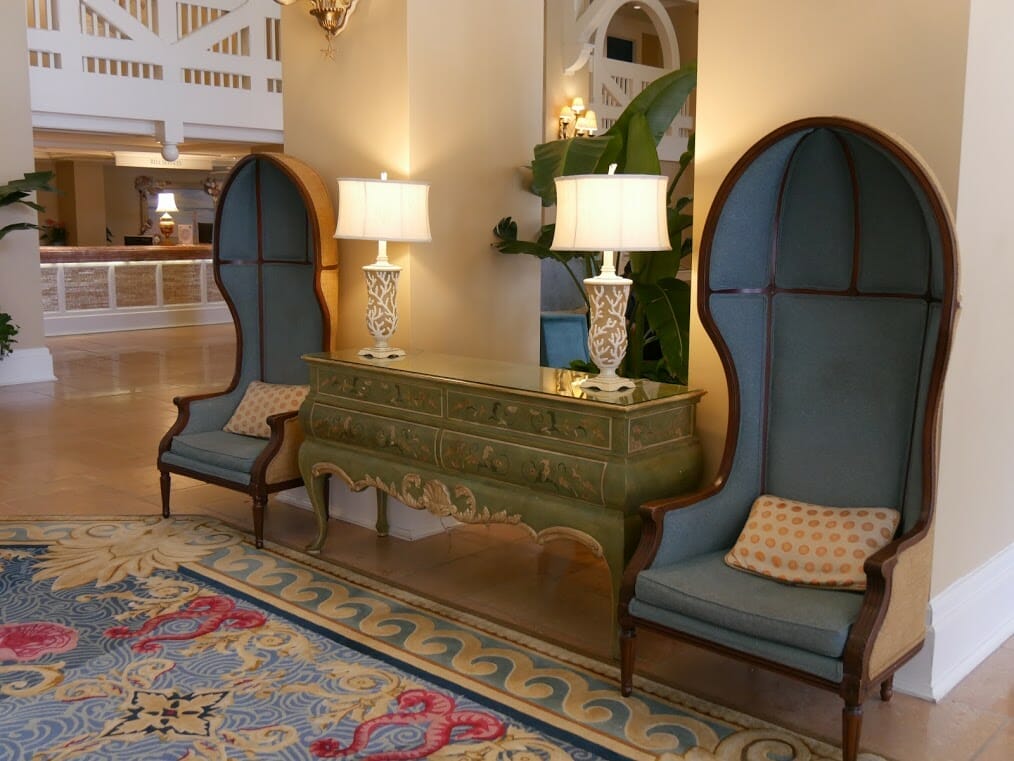 There's a small area for the kids to watch Disney movies while you check in, and there's something about the stairs that lead up to the next level that just make me feel cozy and welcome in this lobby.
It doesn't quite have the same grand feeling as some of the other Deluxe resorts, but it nails its own aesthetic.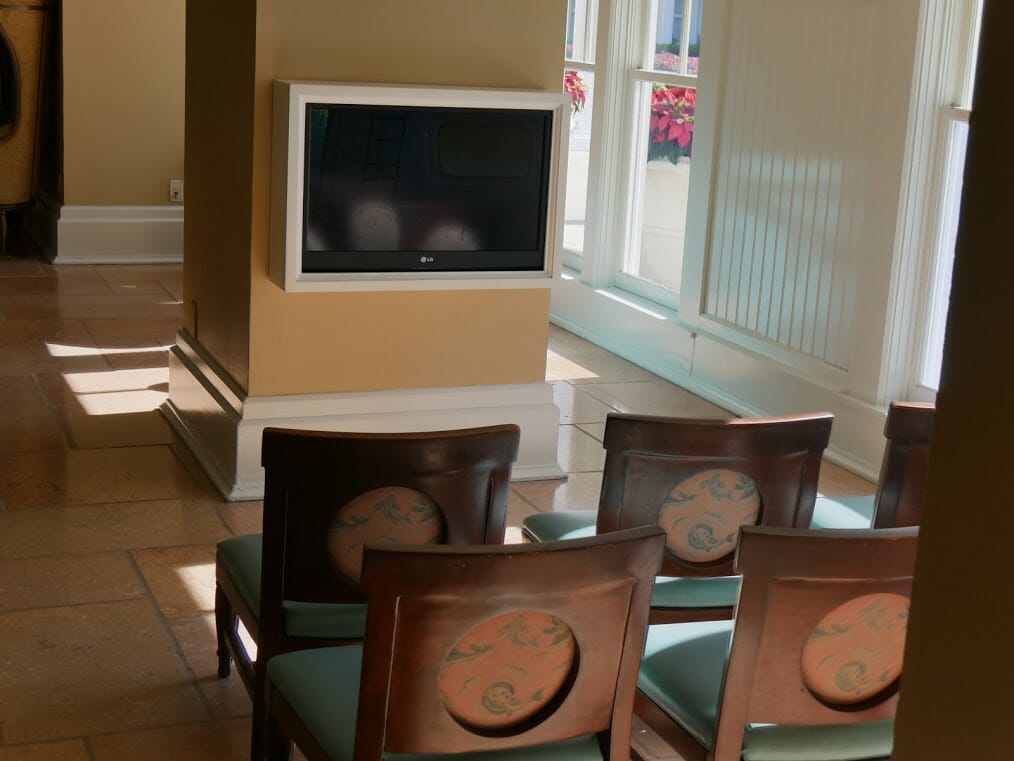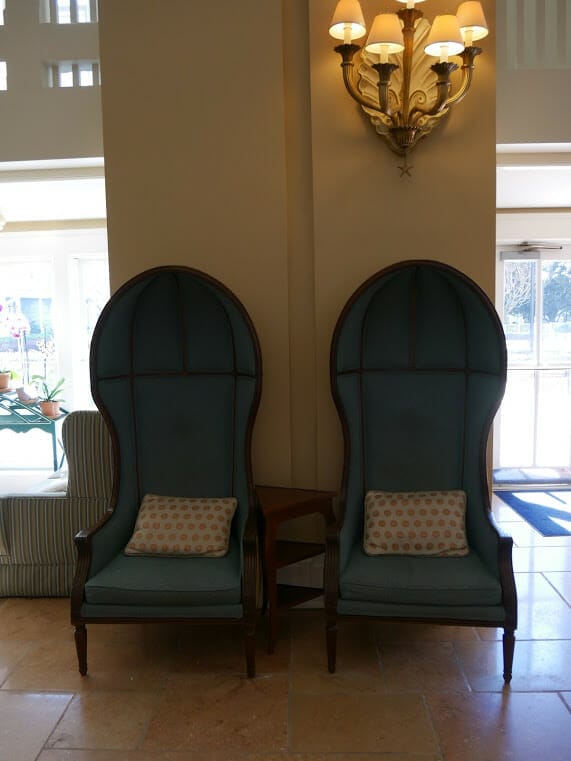 Beach Club Room Review
The Beach Club rooms are, in our opinion, stunning. (and also, large!).
You've got a large bathroom with gorgeous countertops and his and hers sinks, as well as a shower with sophisticated tiles.
The toilet and shower can be closed off to the rest of the getting ready area.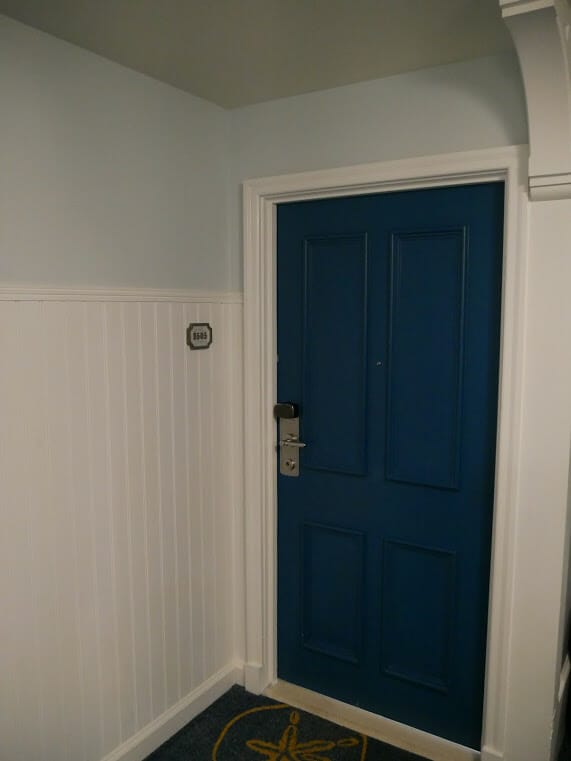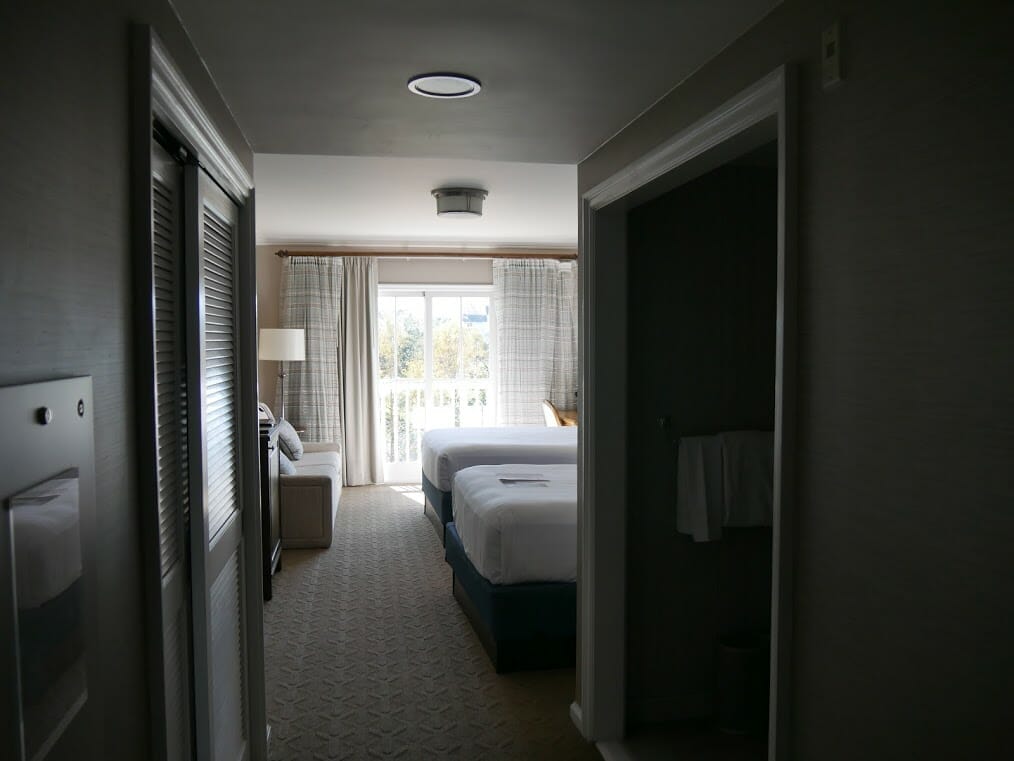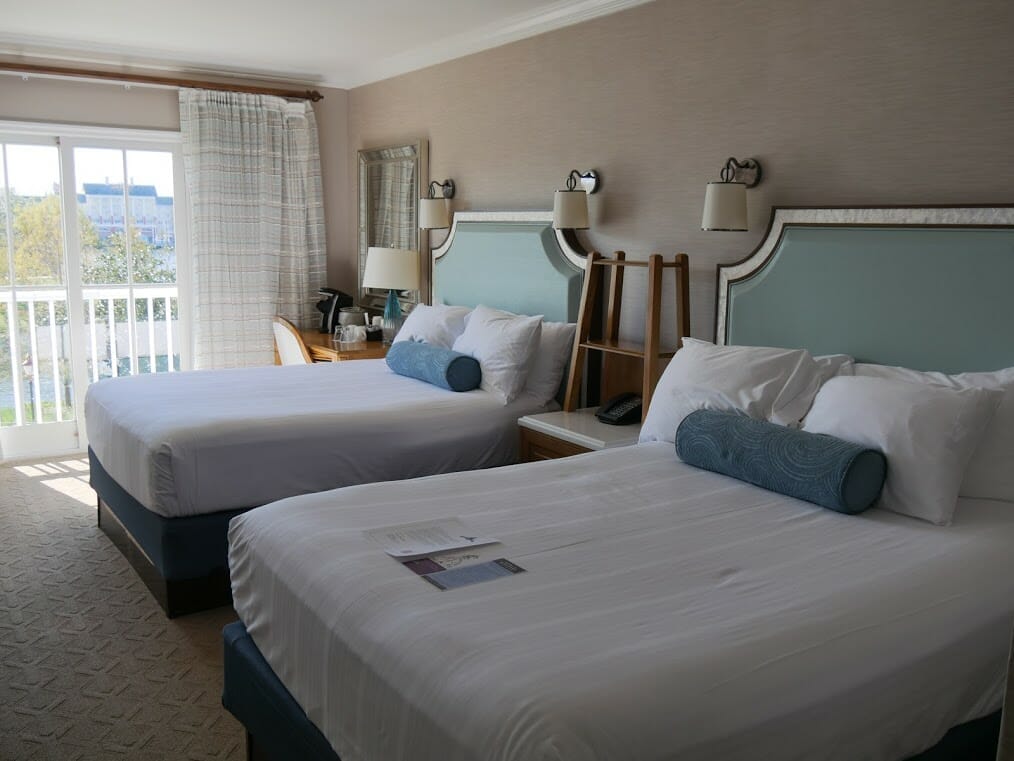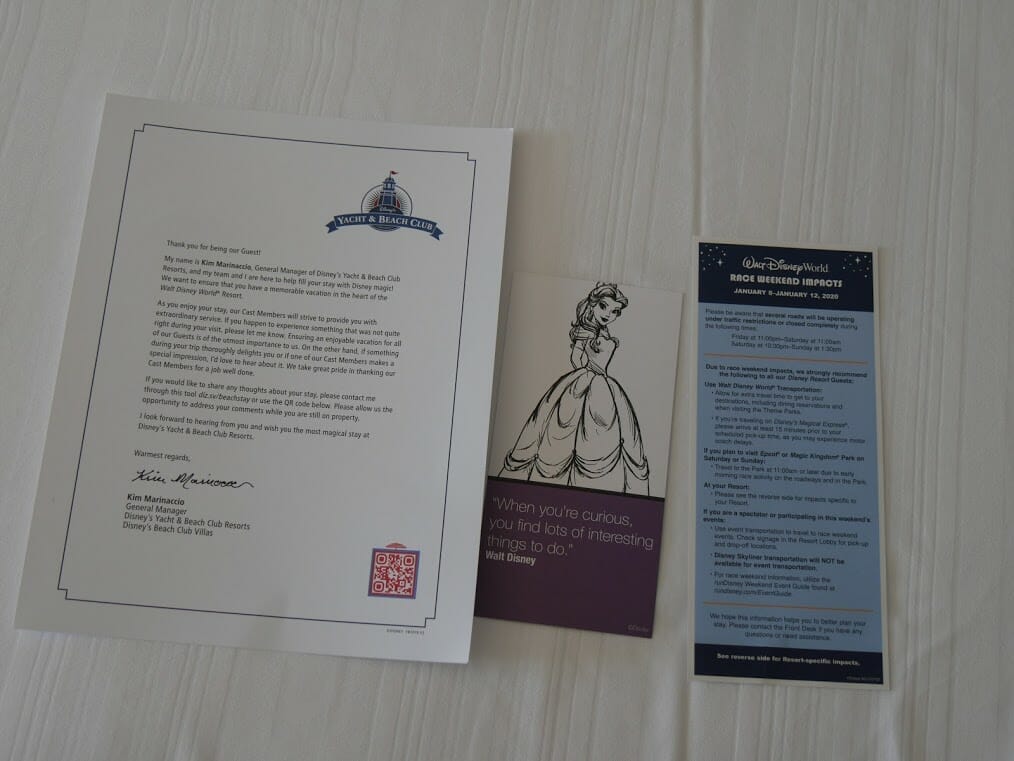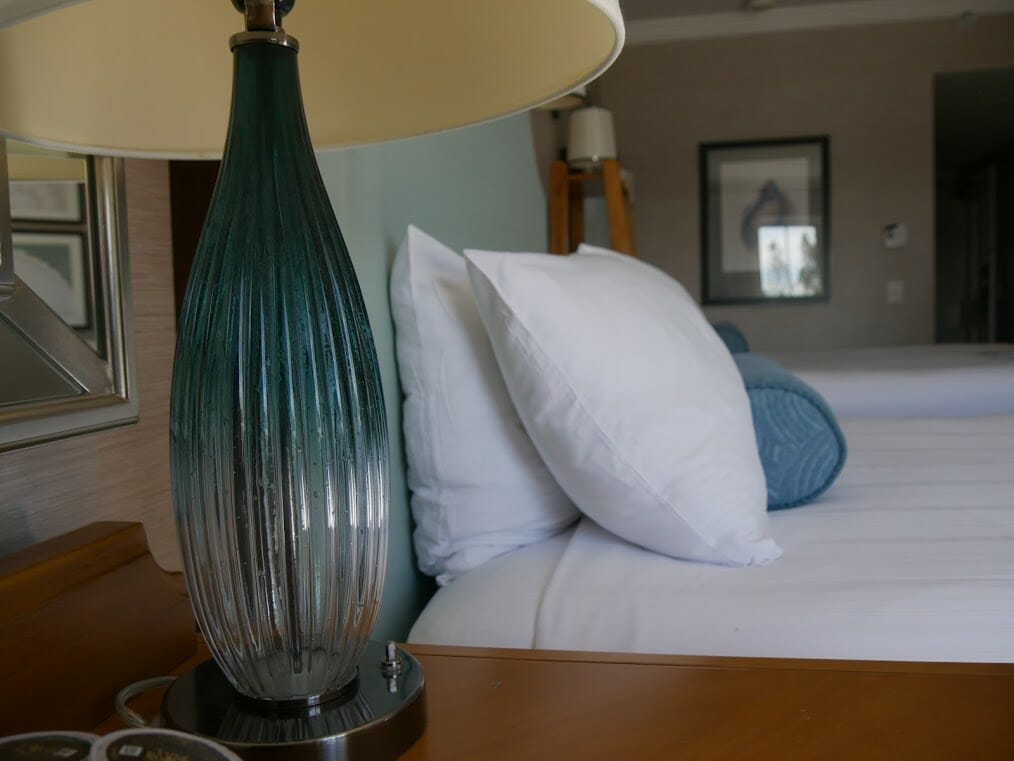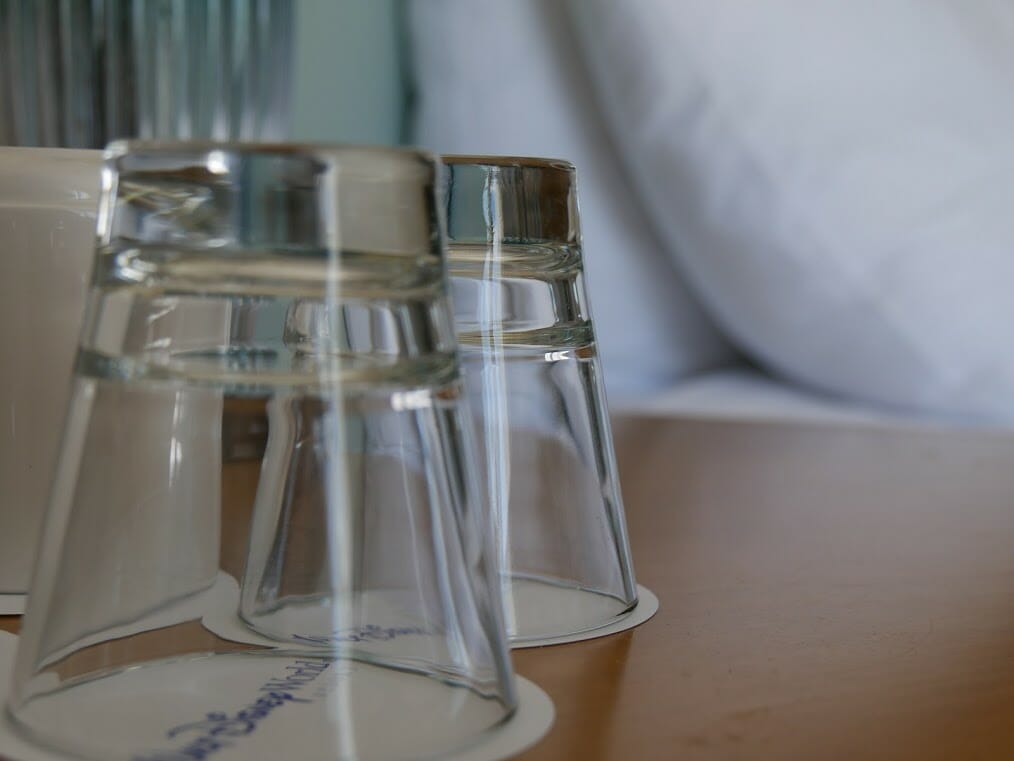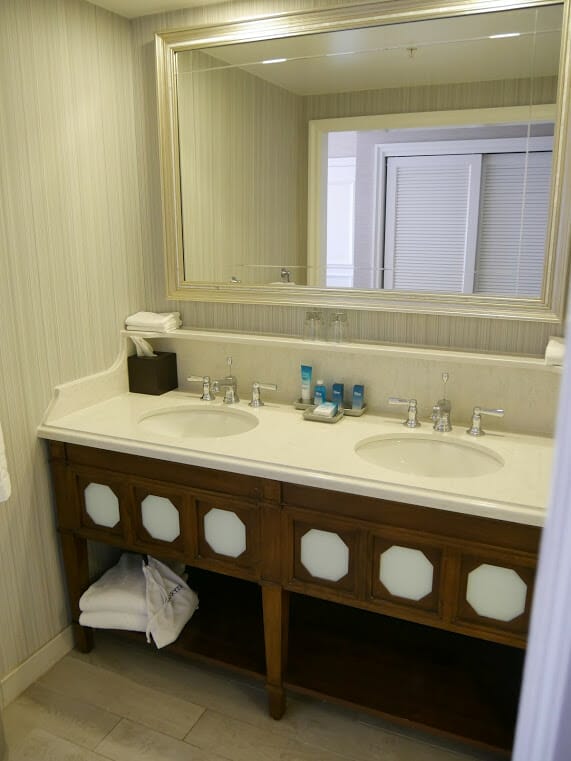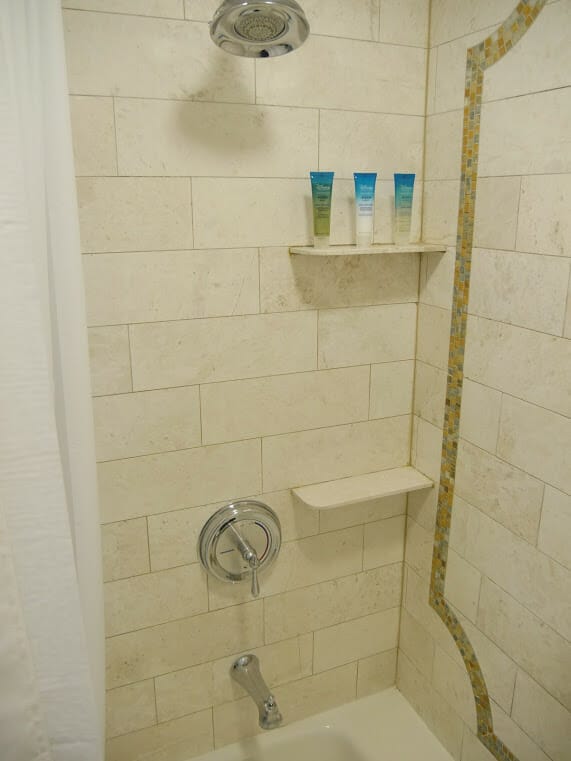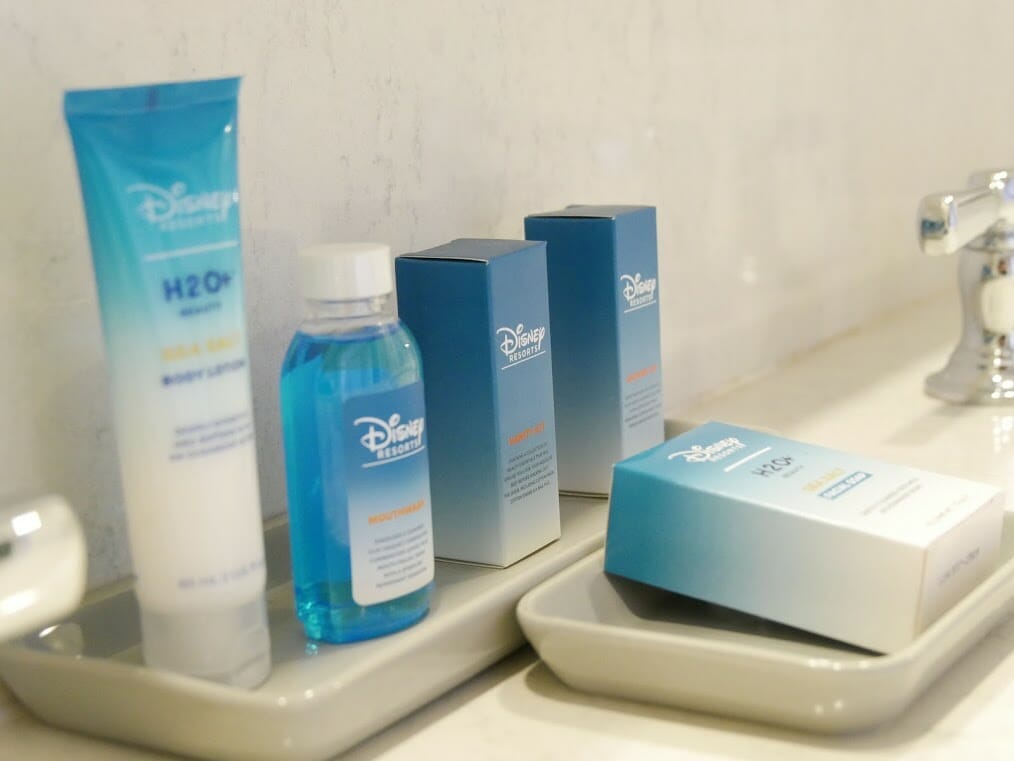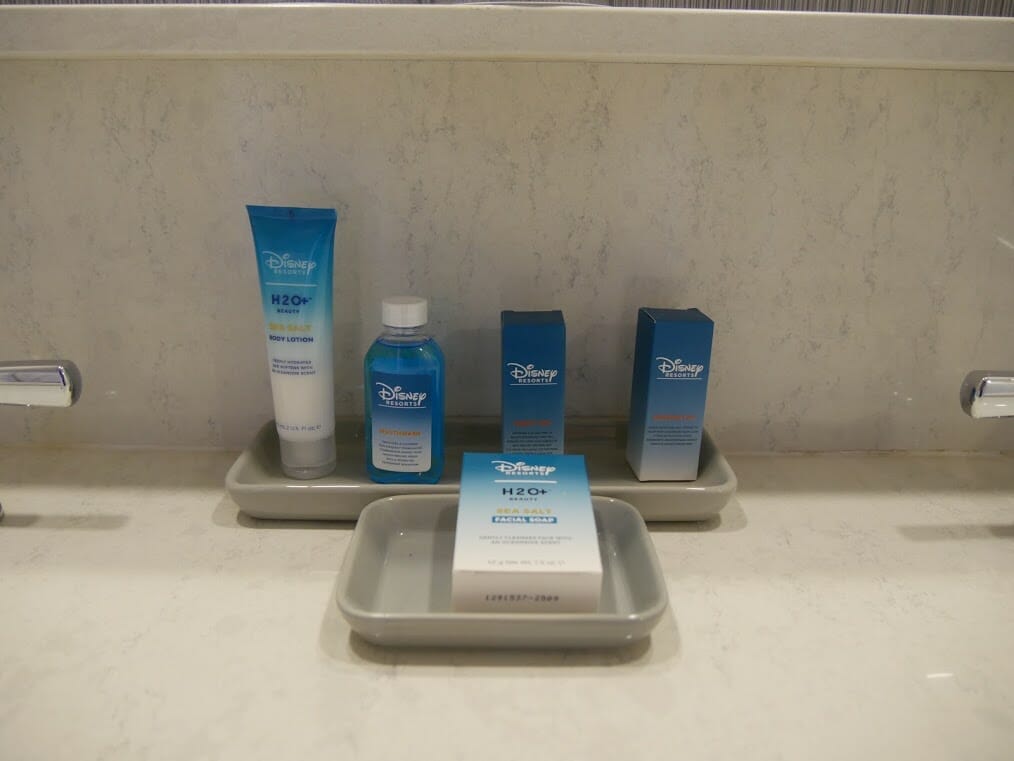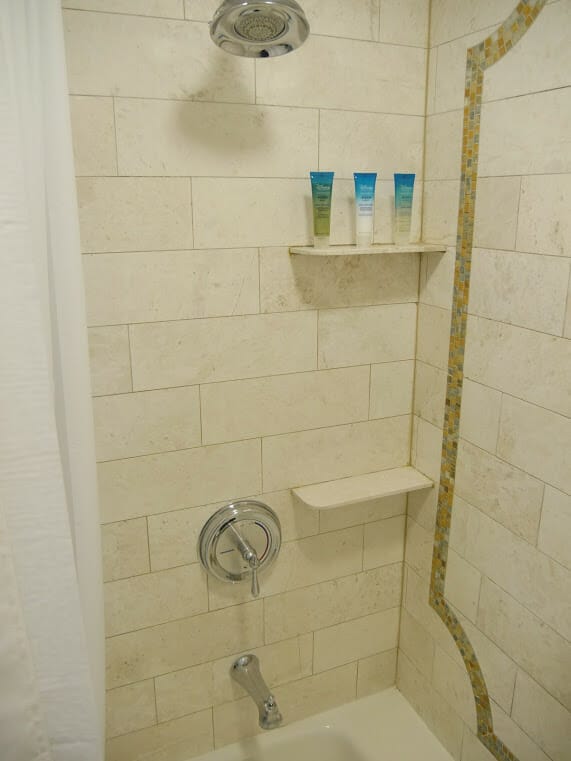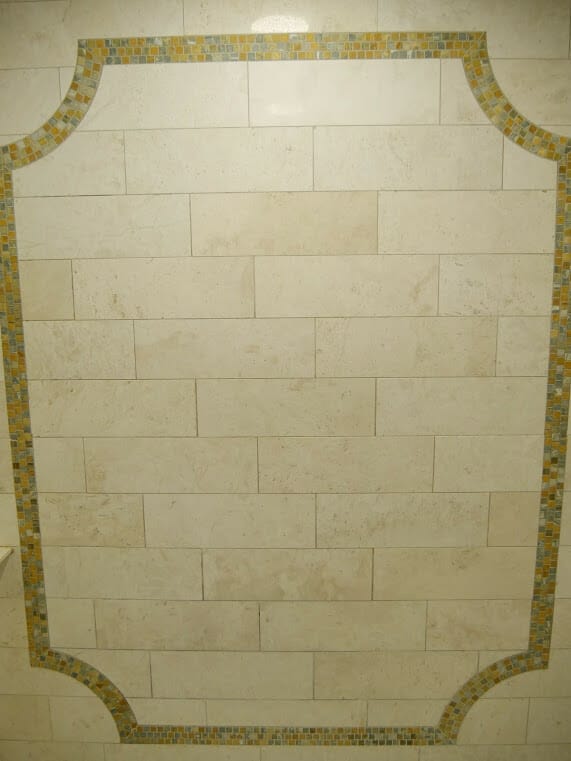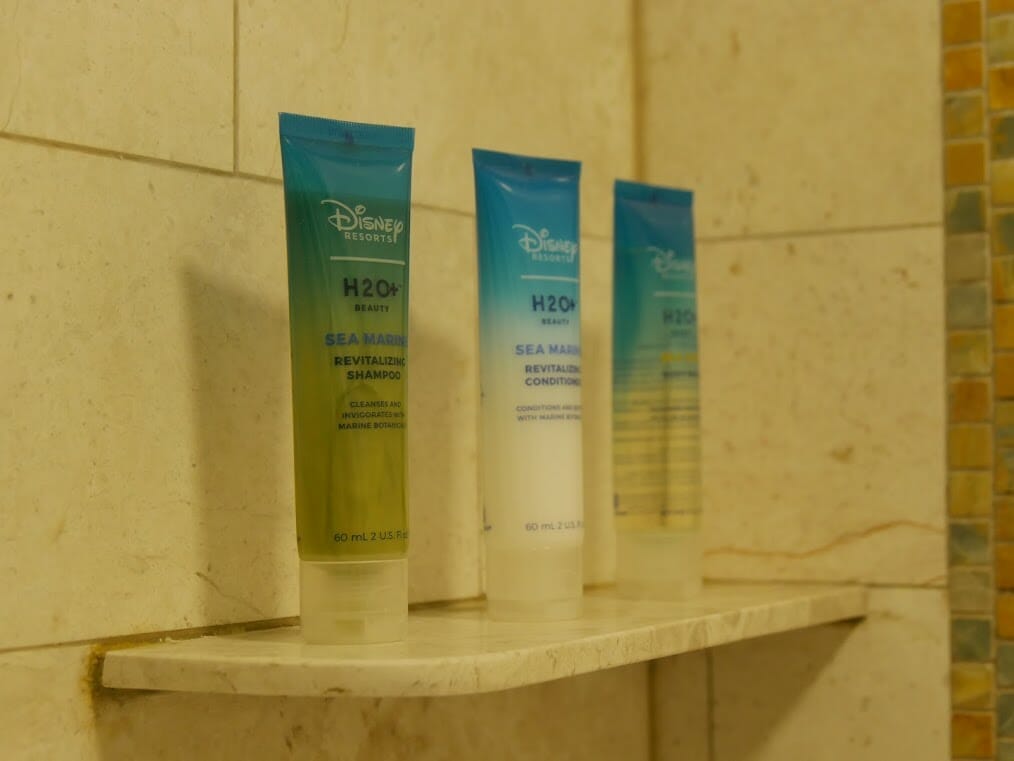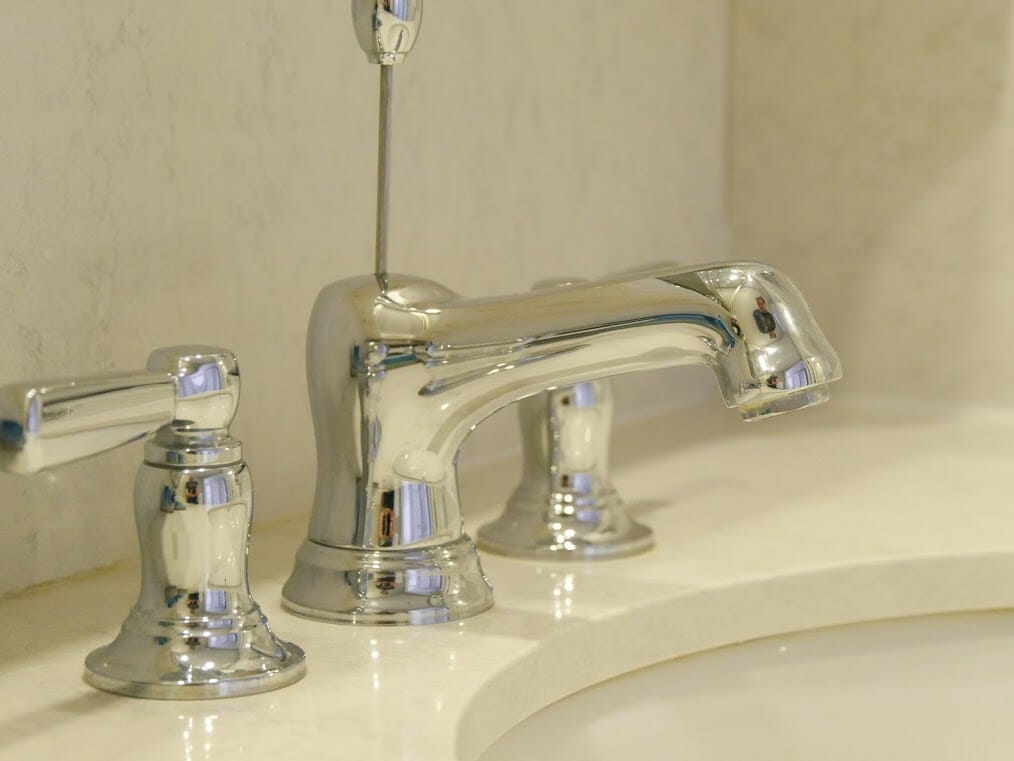 There is a large closet with a safe and hangers to store things while you're in the room – if you like to put your suitcases away, this is the place to do it.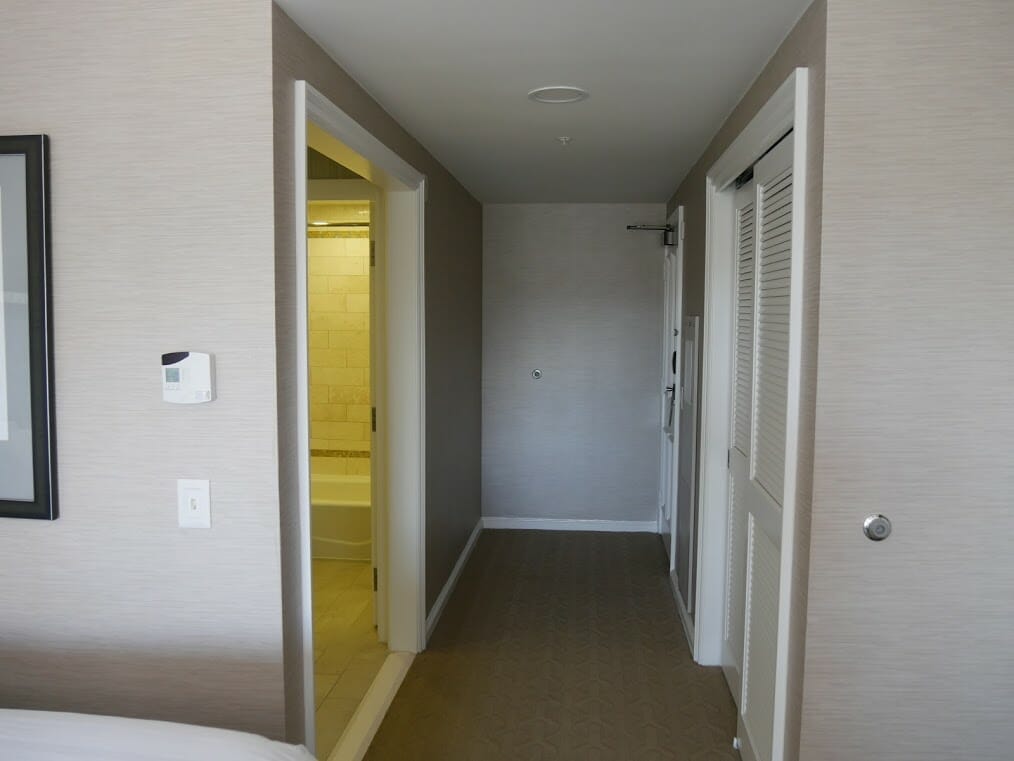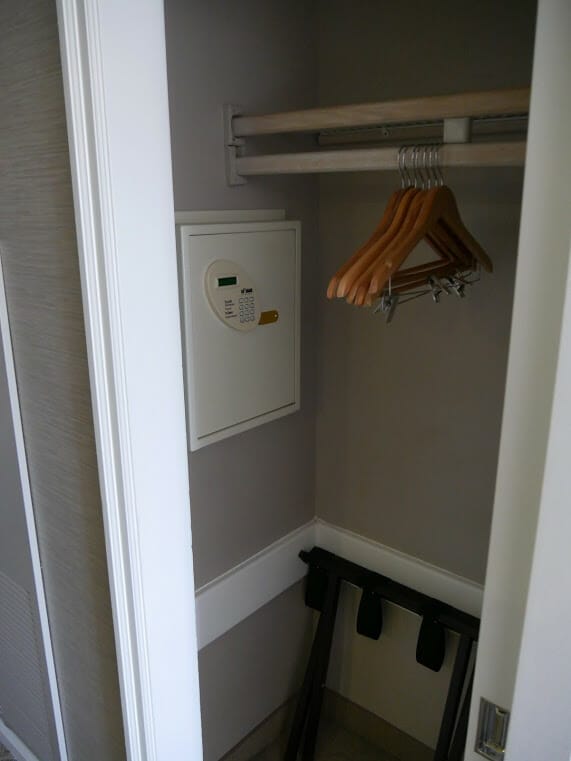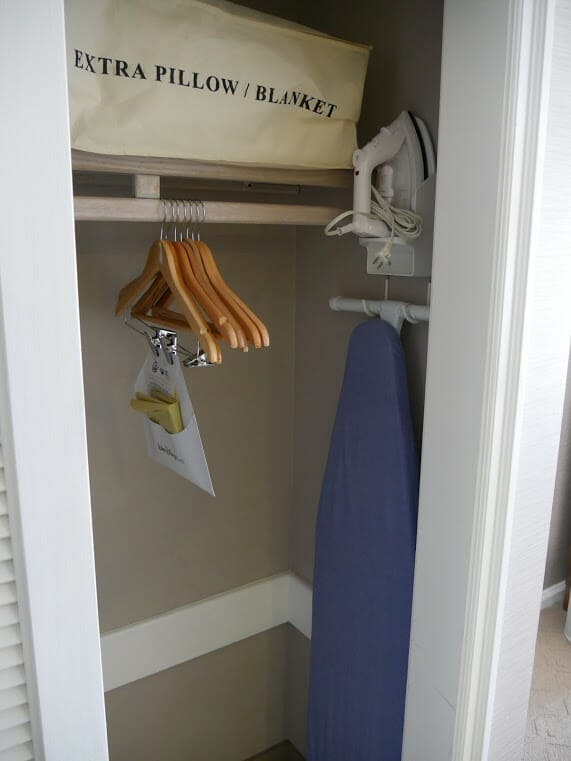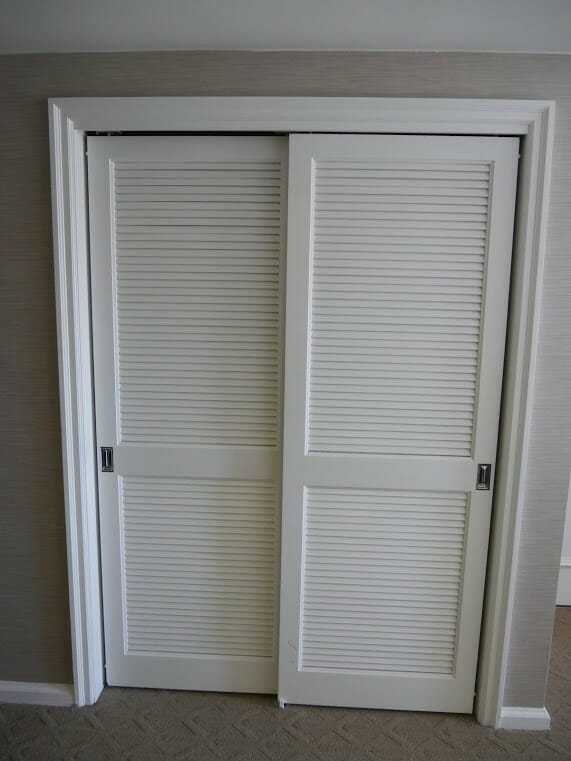 We had a room with two queen beds and a pull out sofa, and I have to say that these beds were the comfiest I've ever slept in on Disney property.
There were super soft, but in a supportive way and not a "the mattress has no shape" kind of way.
Almost like a pillow that you could just sink into.
This, compared to the ROCK SOLID beds we slept on at Animal Kingdom Lodge, was much better.
The decor in the room was nice and we had no complaints.
You could tell in a few spots that these rooms weren't refurbished yesterday or anything, but they've held up well and we are fans.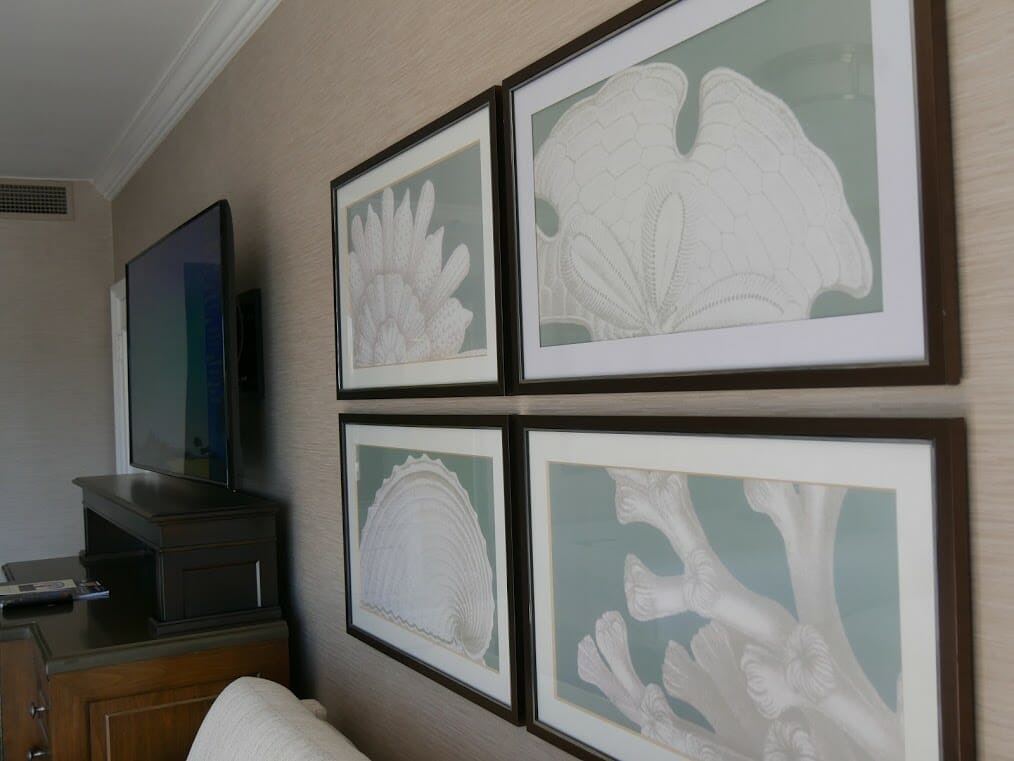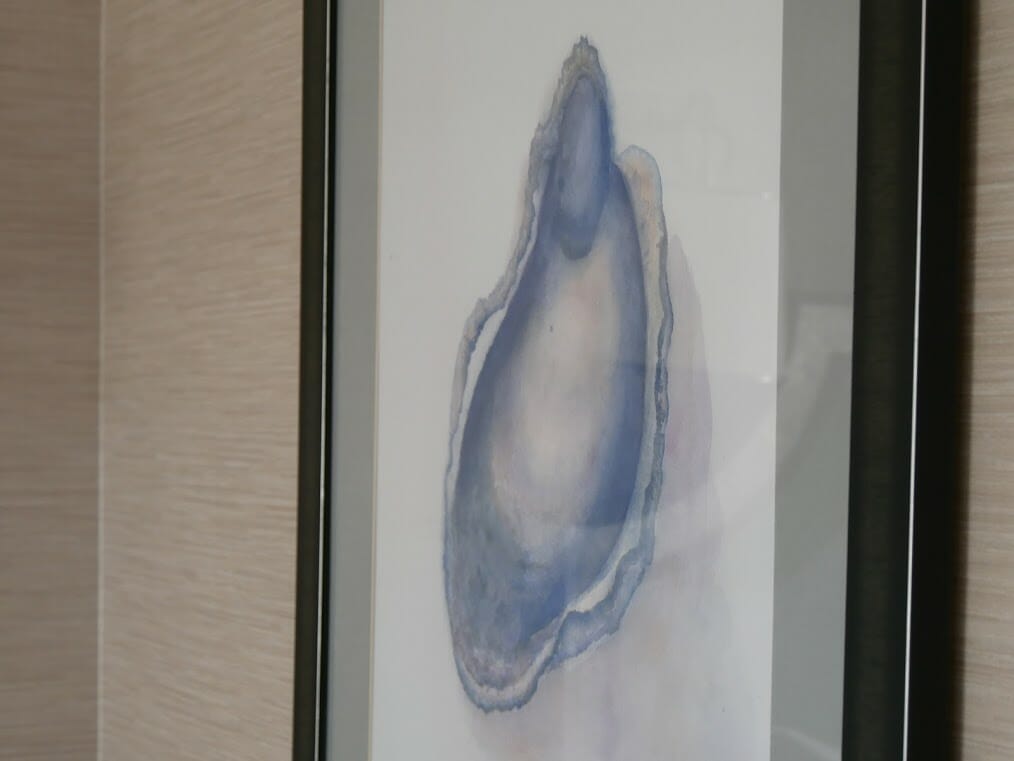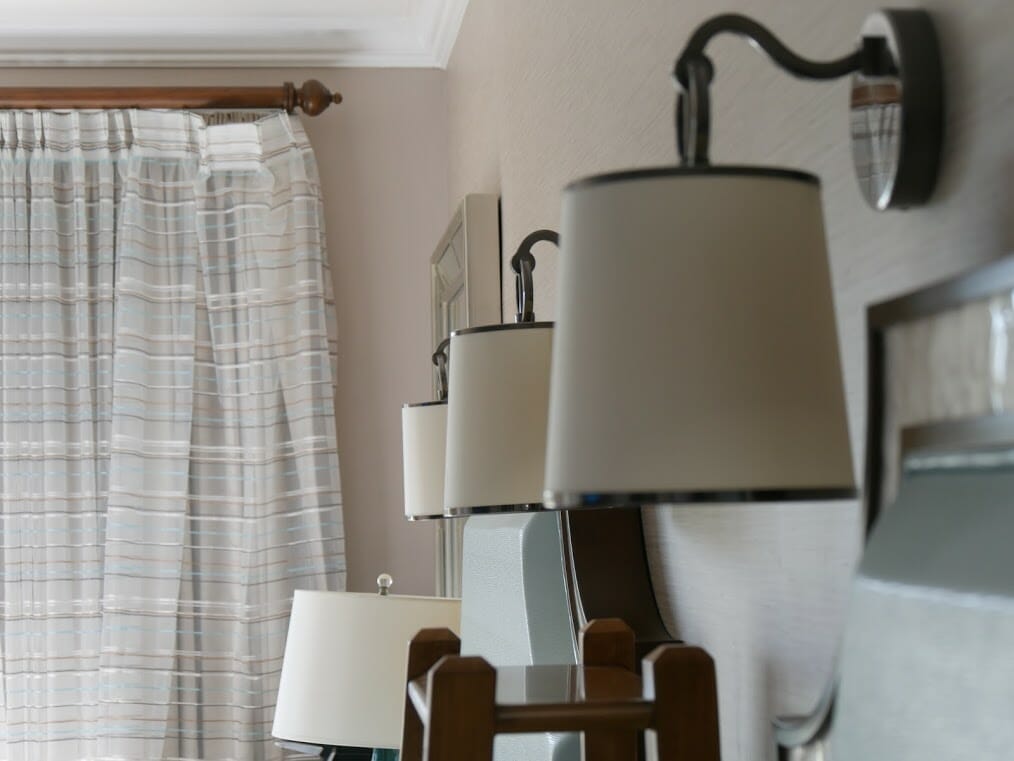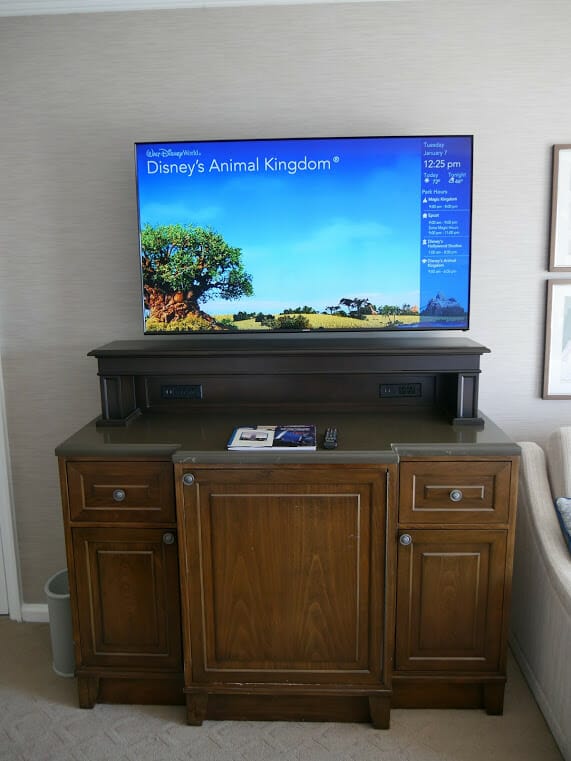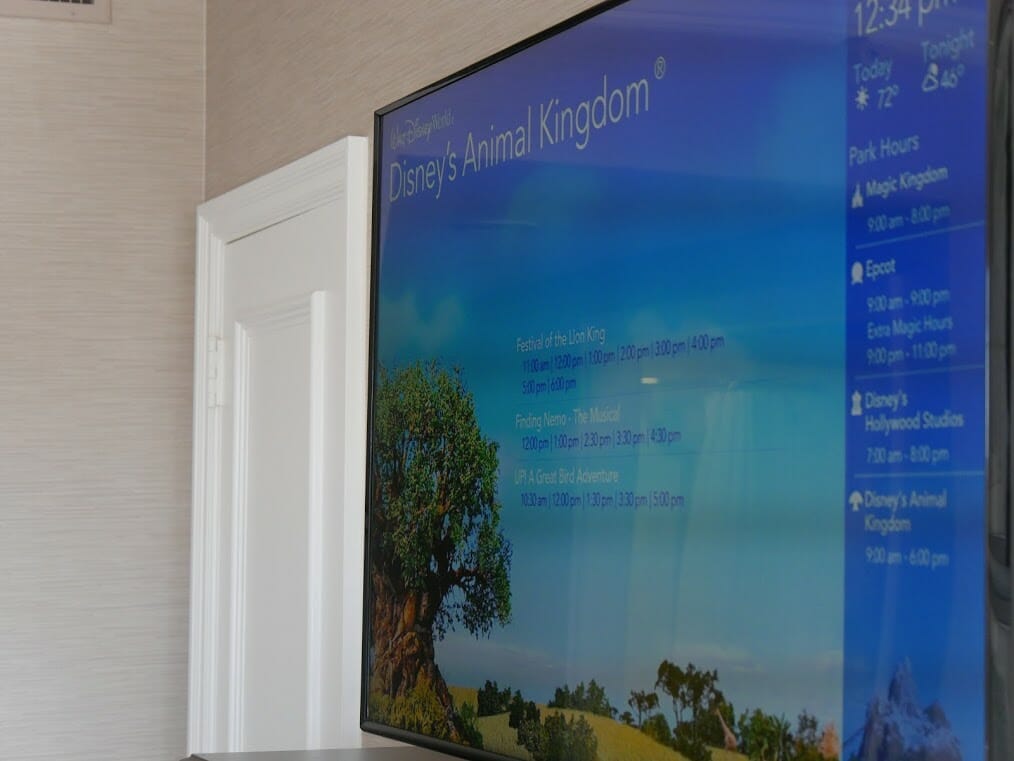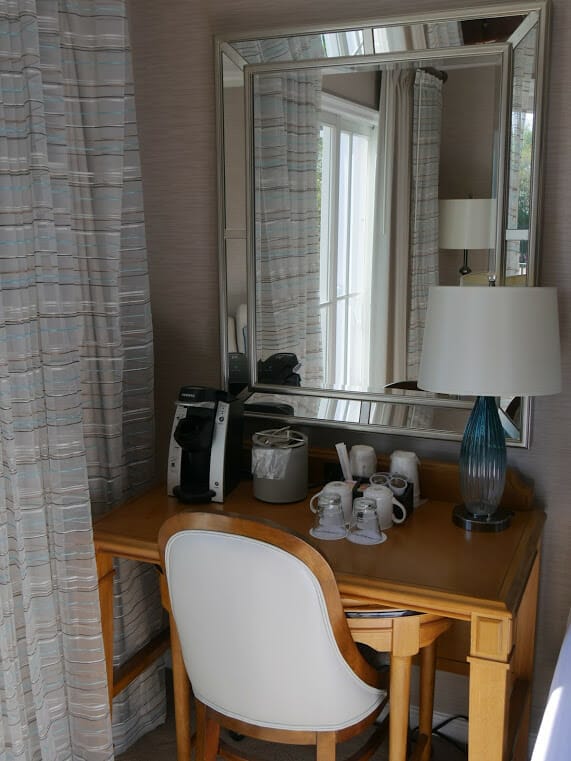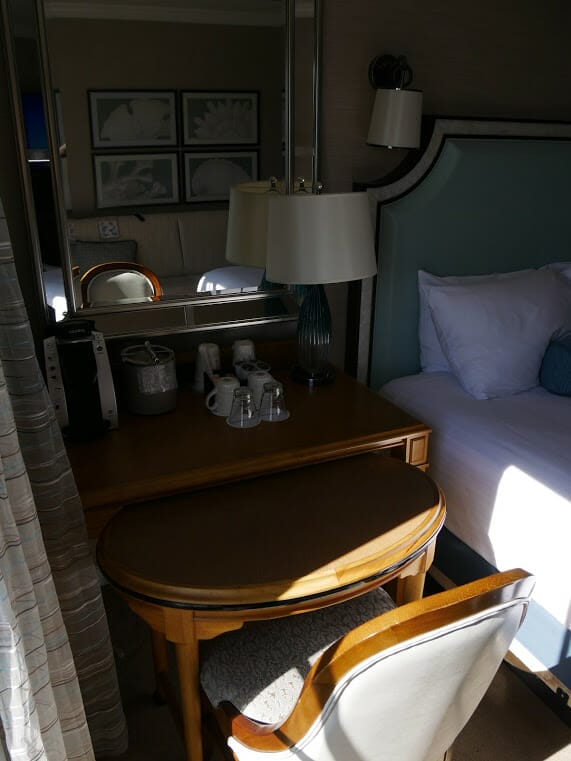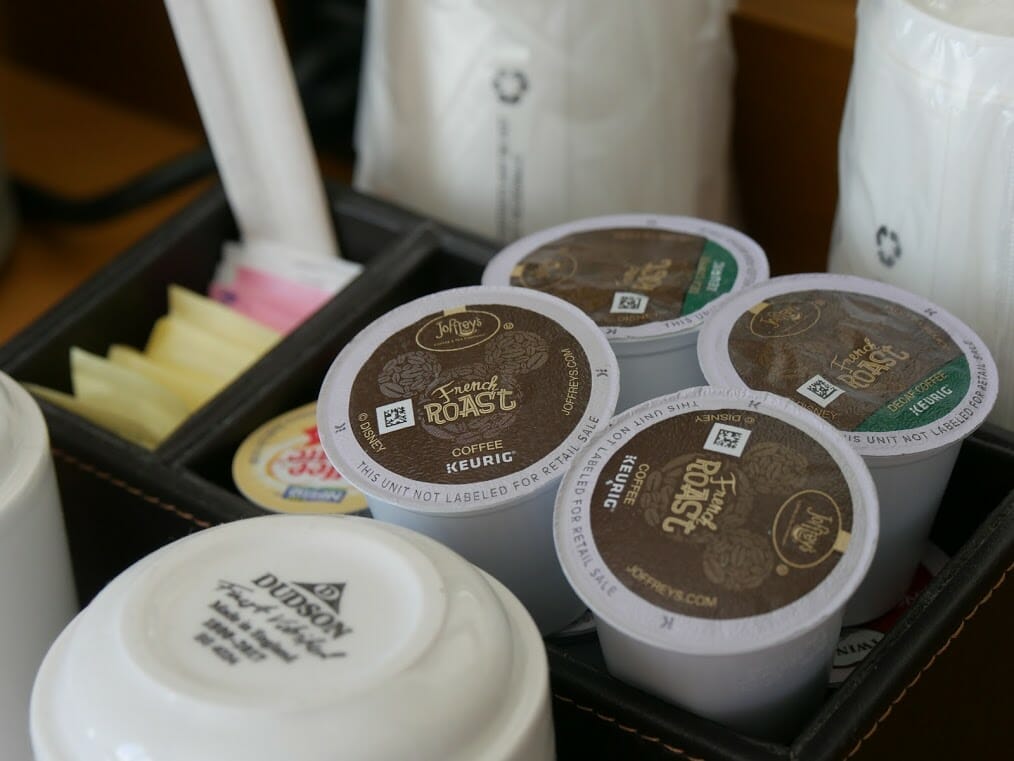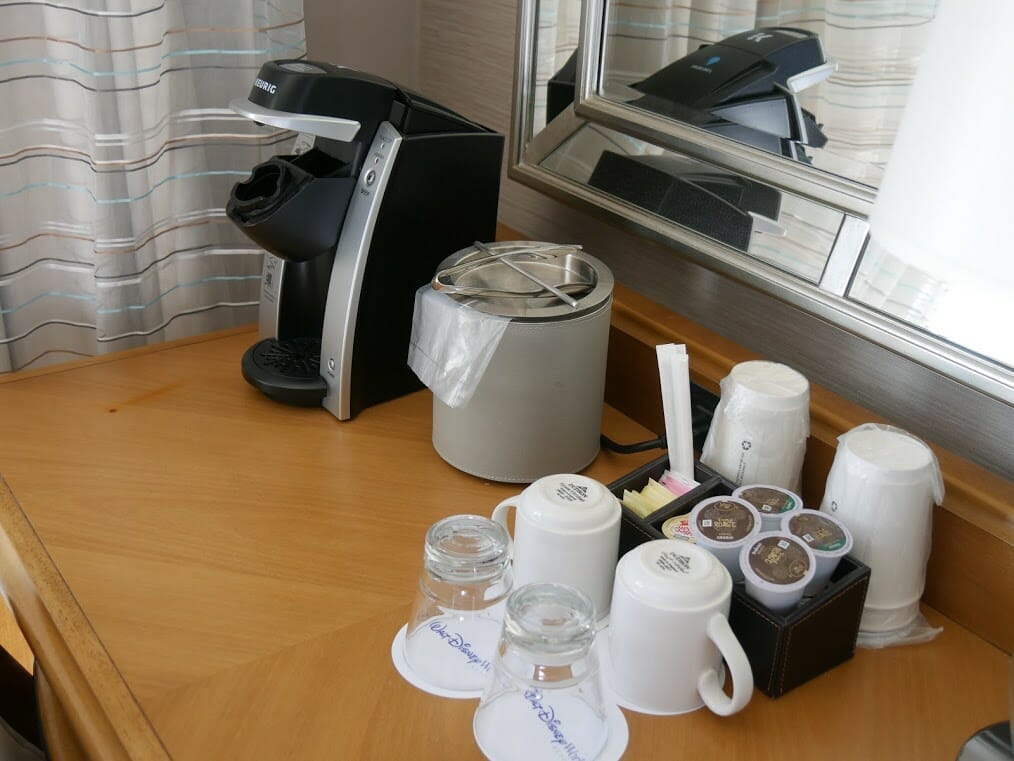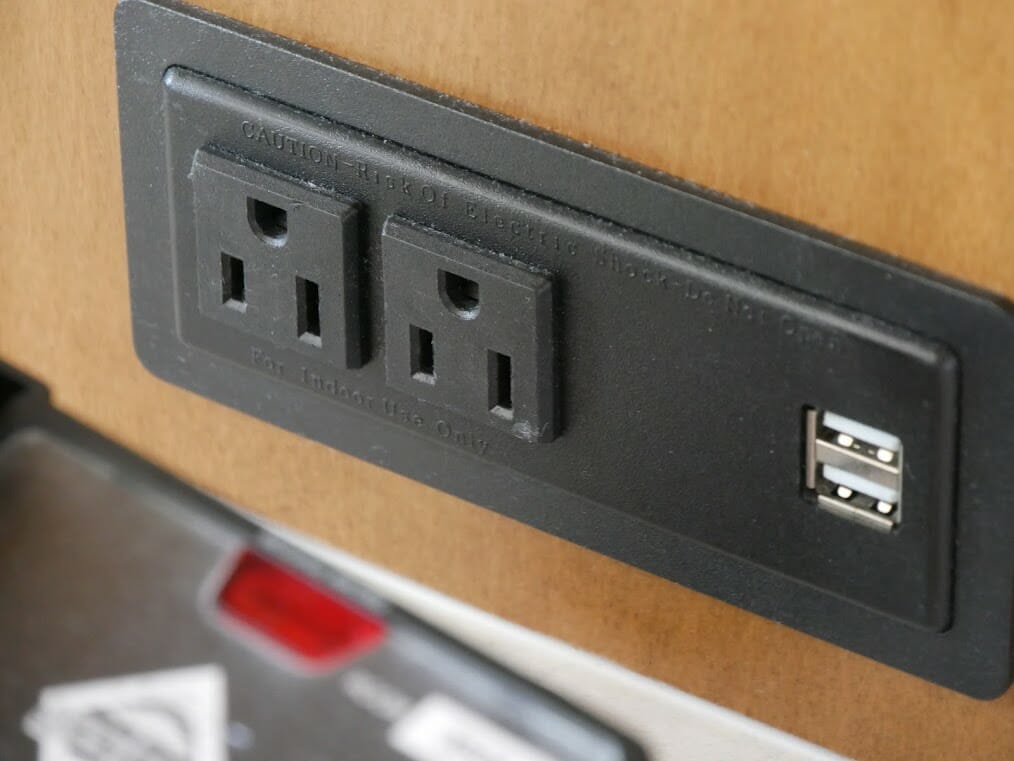 On the topic of Beach Club room views, we ended up booking a Standard view which was going to be of the parking lot or maintenance facilities, but we ended up being upgraded to the highest level of view, Water View.
We had a gorgeous view of Crescent Lake that I still dream about.
Room 3505, for anyone playing along who wants to request the same.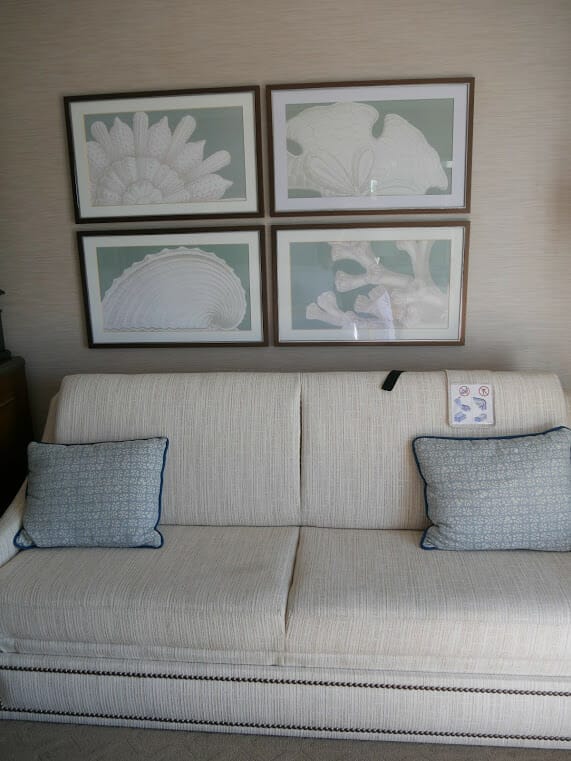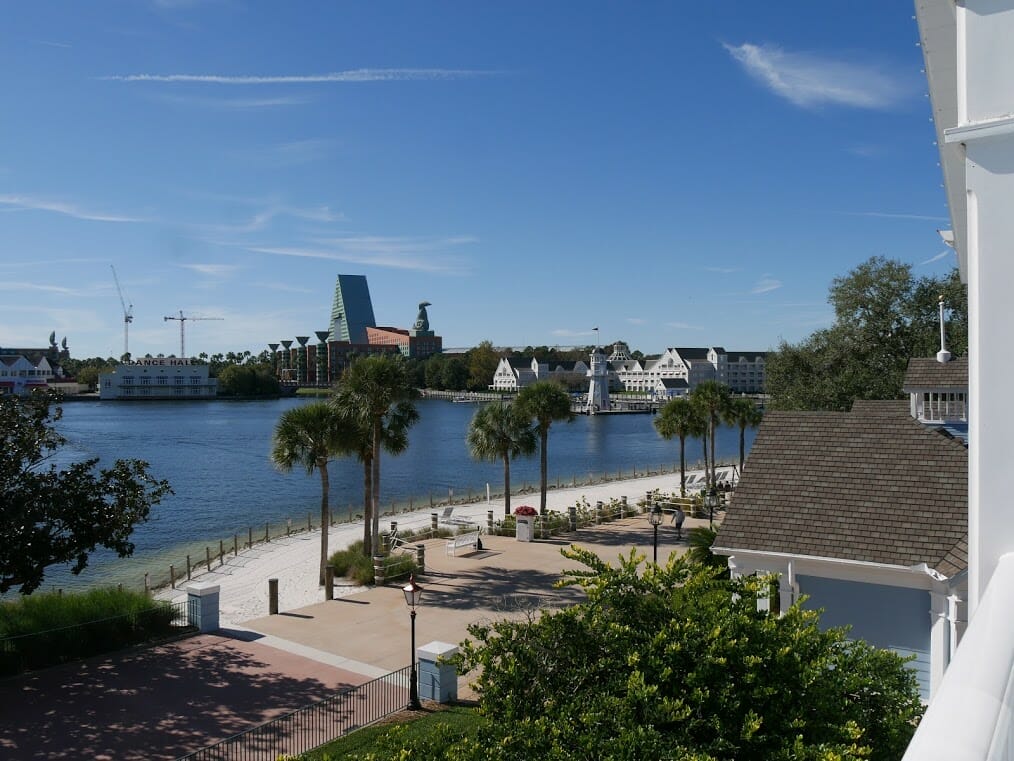 There is also a garden view, which would have been lovely too.
The one downside to staying at the Beach Club for those used to full balconies at Disney Deluxe resorts is that many of the balconies are either small or just juliette balconies so you can't walk out on them or fit a chair to sit down.
This is a huge factor for some people who really enjoy sitting on the balcony.
There are rooms with full balconies, but you would need to send in a request to have one and also there are no guarantees.
Beach Club Stormalong Bay Pool Review
Made up of three sections, the Beach Club's pool is hands down the best pool on Disney property for most families.
You've got the main section, which the slide enters into, which also has some water volleyball nets.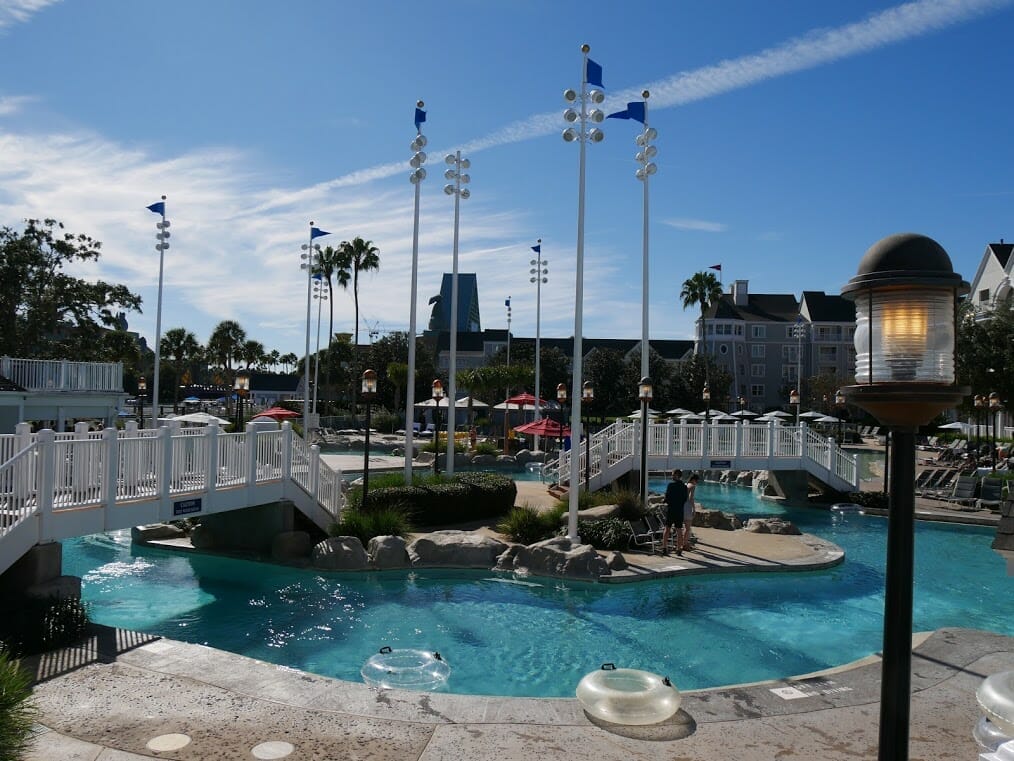 You've got the lazy river section, which is a working lazy river, complete with inner tubes available.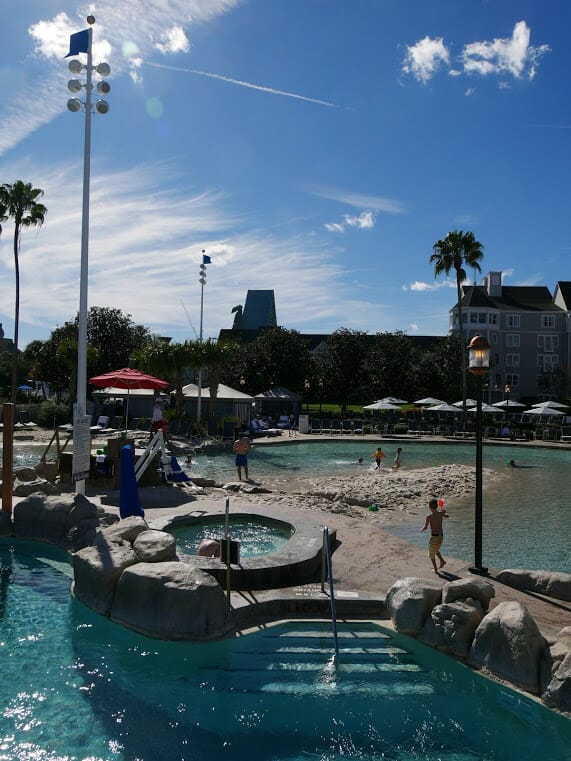 And you've got the shallow sand bar section, which doesn't just have sand on the bottom, but a giant pile of sand to build castles and other sand creations with.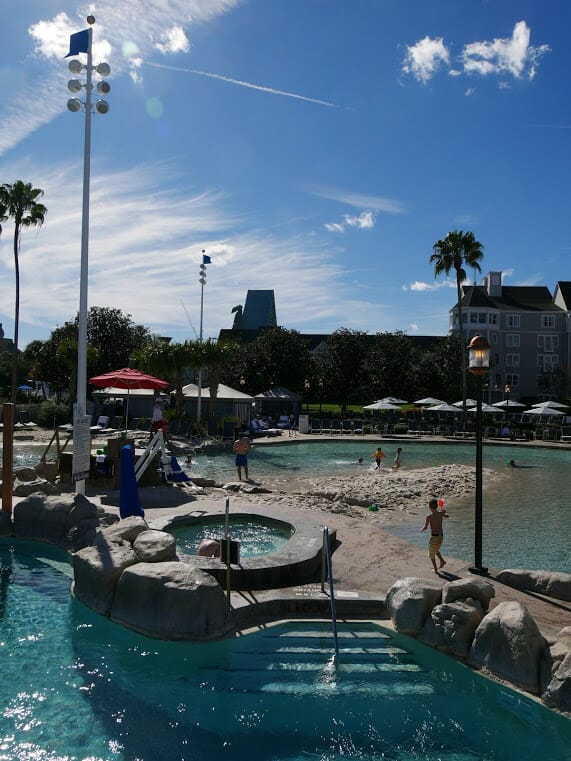 Oh yes, that's right.
Did I not mention that the Beach Club pool has a sandy bottom?
You can squish your toes right into it and it is incredible.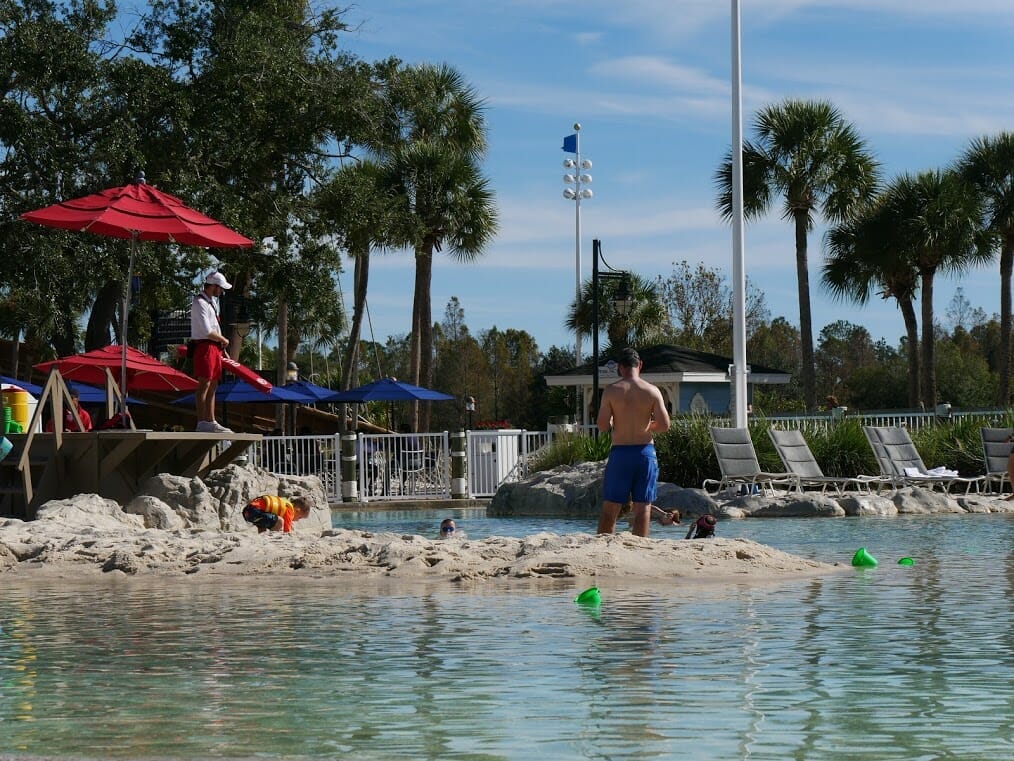 They clearly use a specific type of sand actually meant to go in pools as the grains are bigger than real beach sand, but it feels roughly the same on your feet and is such a unique feature for Disney pools.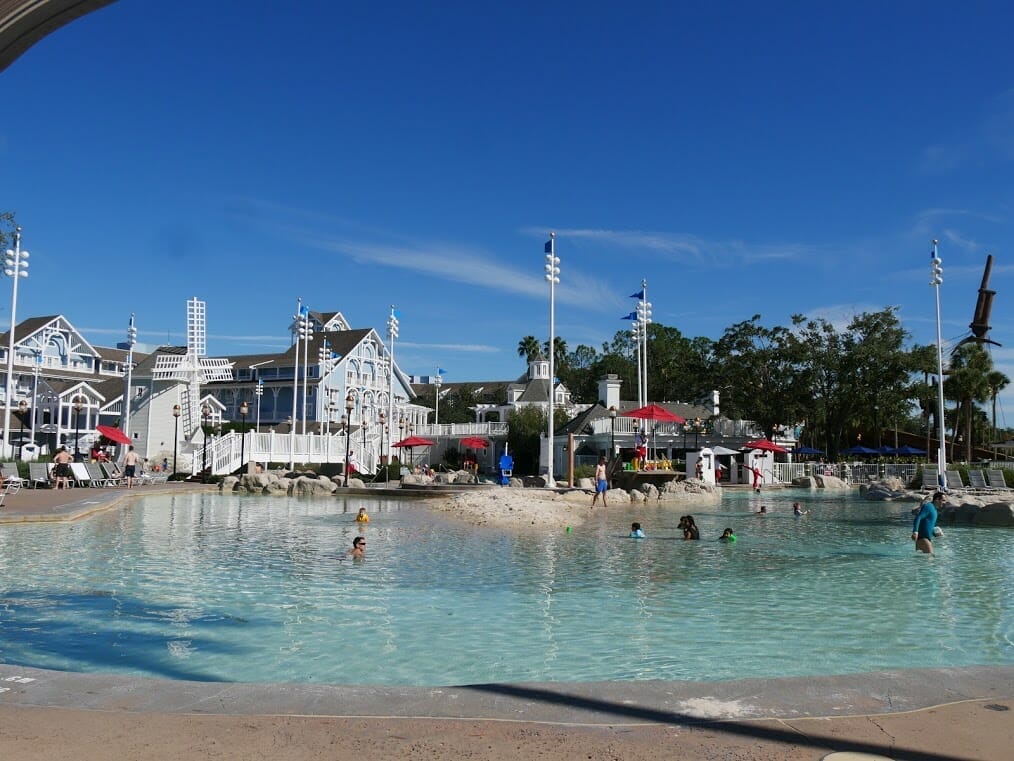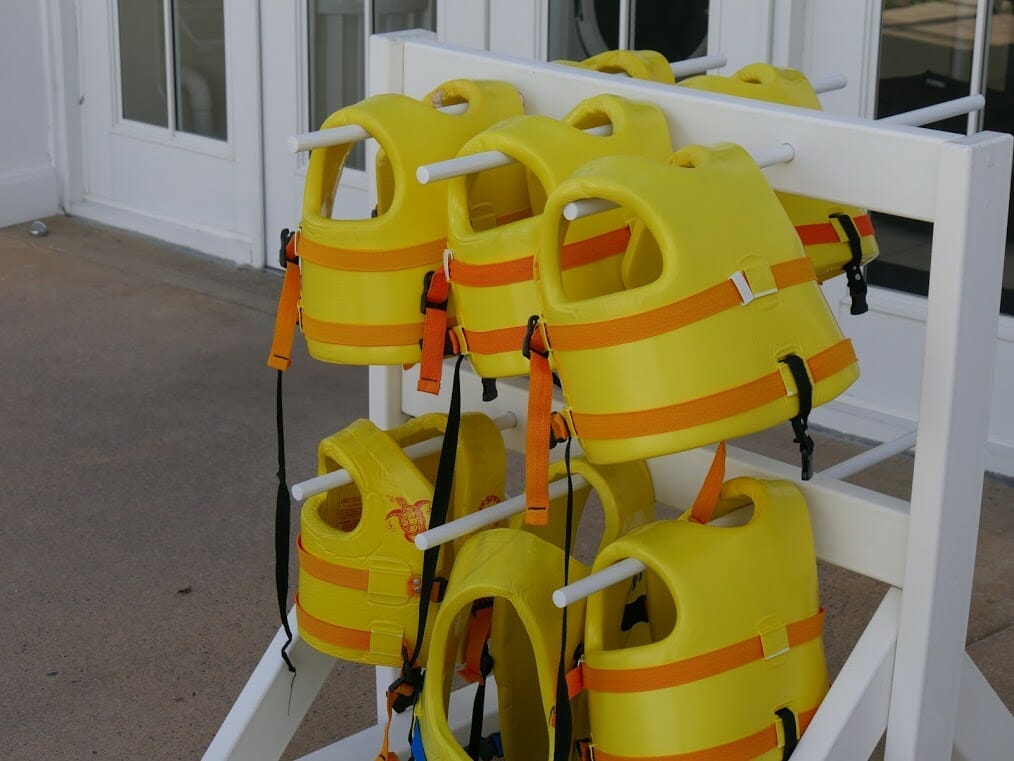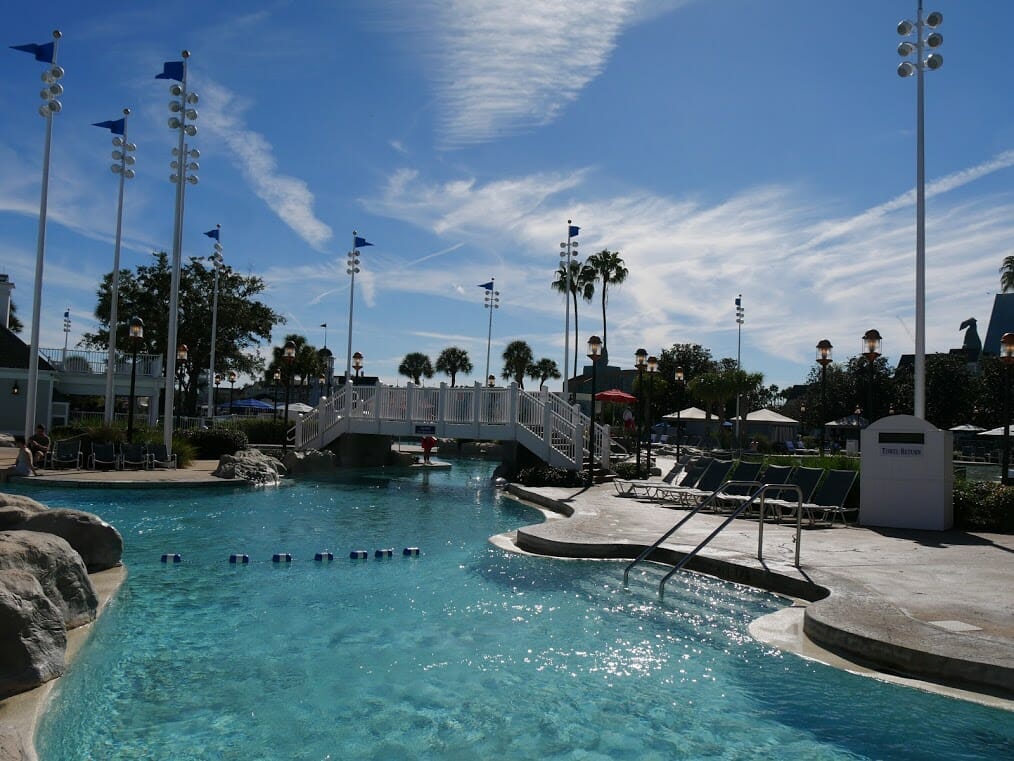 There are also two hot tubs, one a bit more secluded than the other, as well as plenty of beach chairs and tables and an elevated section with a pool table where you can sunbathe and escape from the hustle and bustle down below.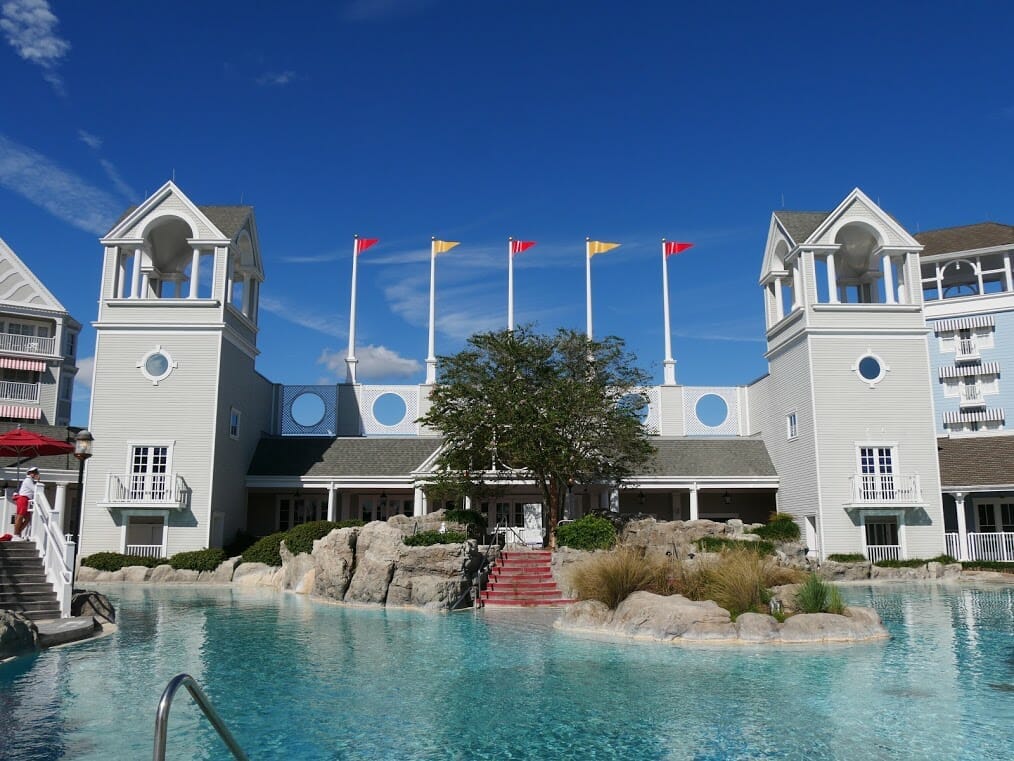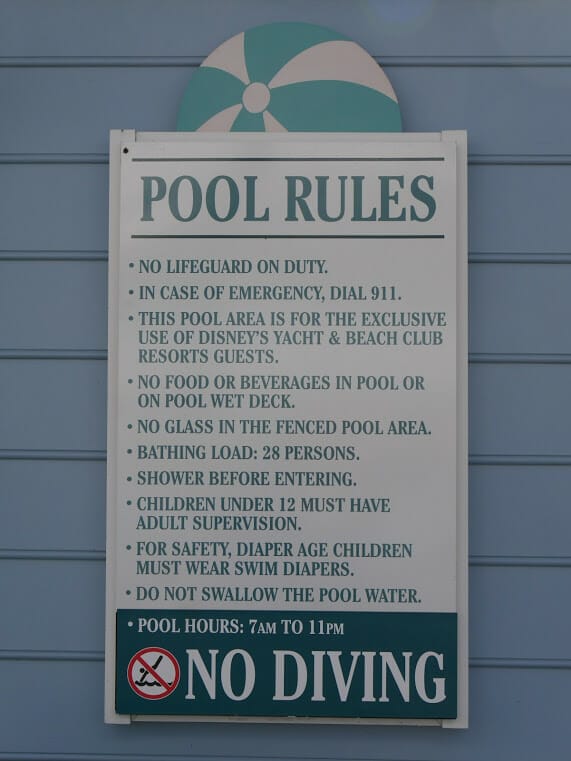 The only downside to this pool would be if you had multiple children to look after, as you can't sit in one spot and see them.
You would need to stay with them and follow them around to keep an eye on them.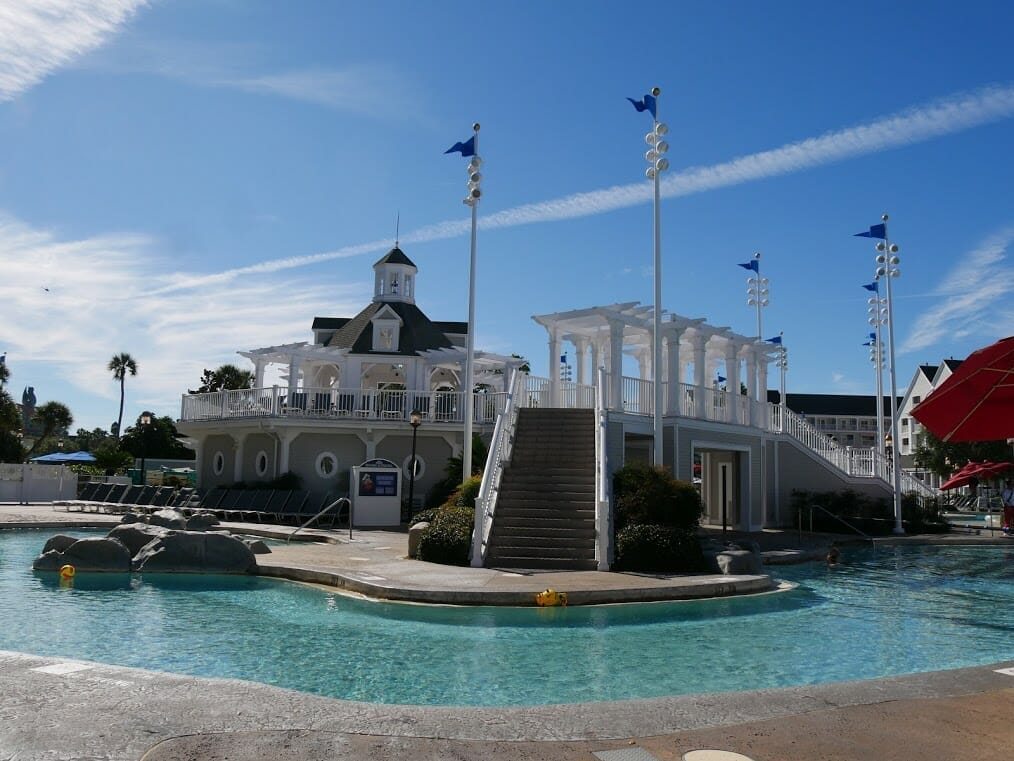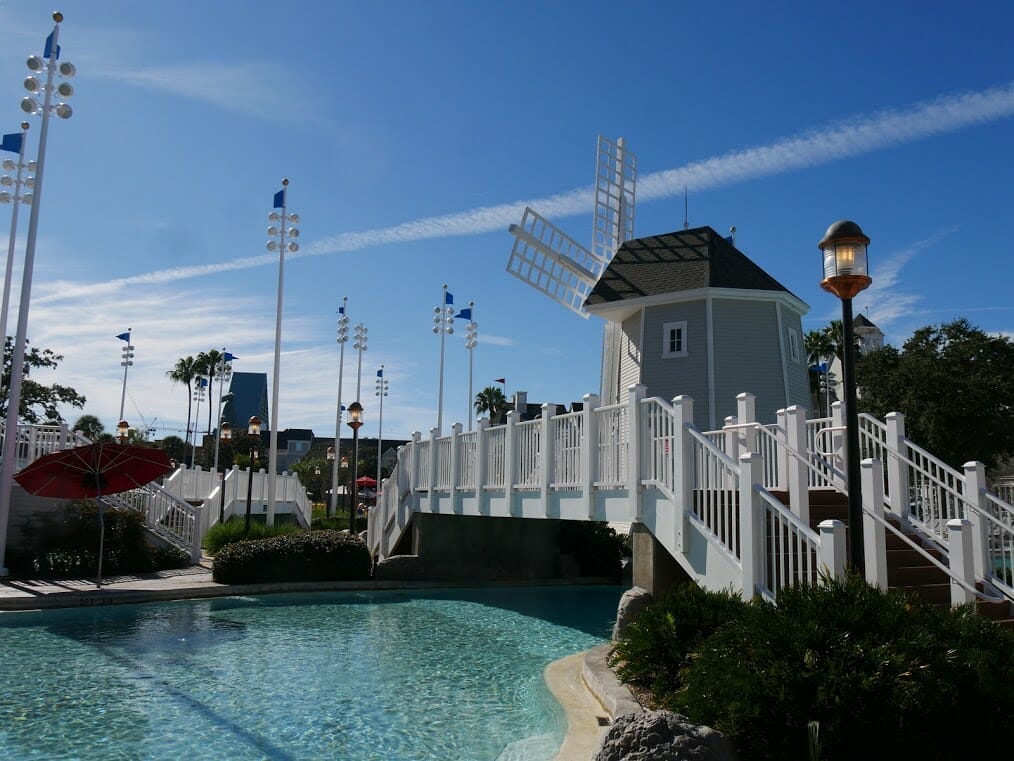 There are also lifeguards all around the pool for peace of mind.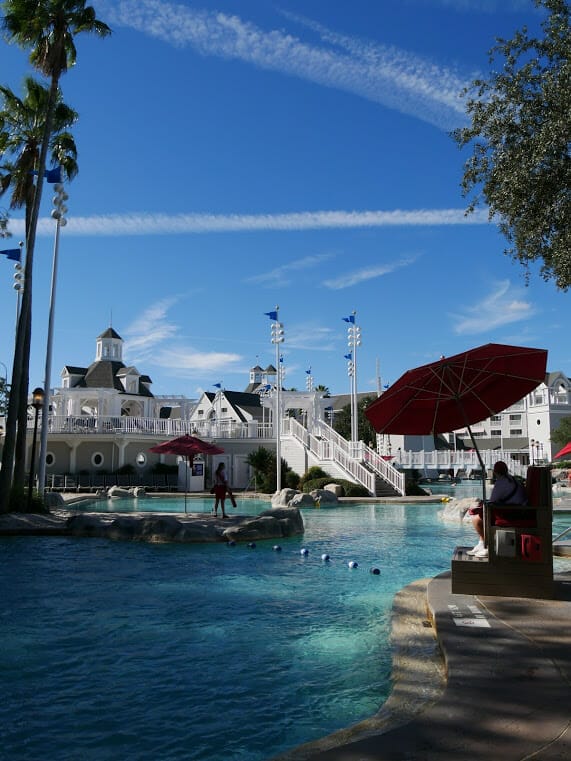 Perhaps one of the best features is the slide – this pirate ship themed adventure actually goes over a major walkway, making it the only slide at a Disney pool to actually traverse something.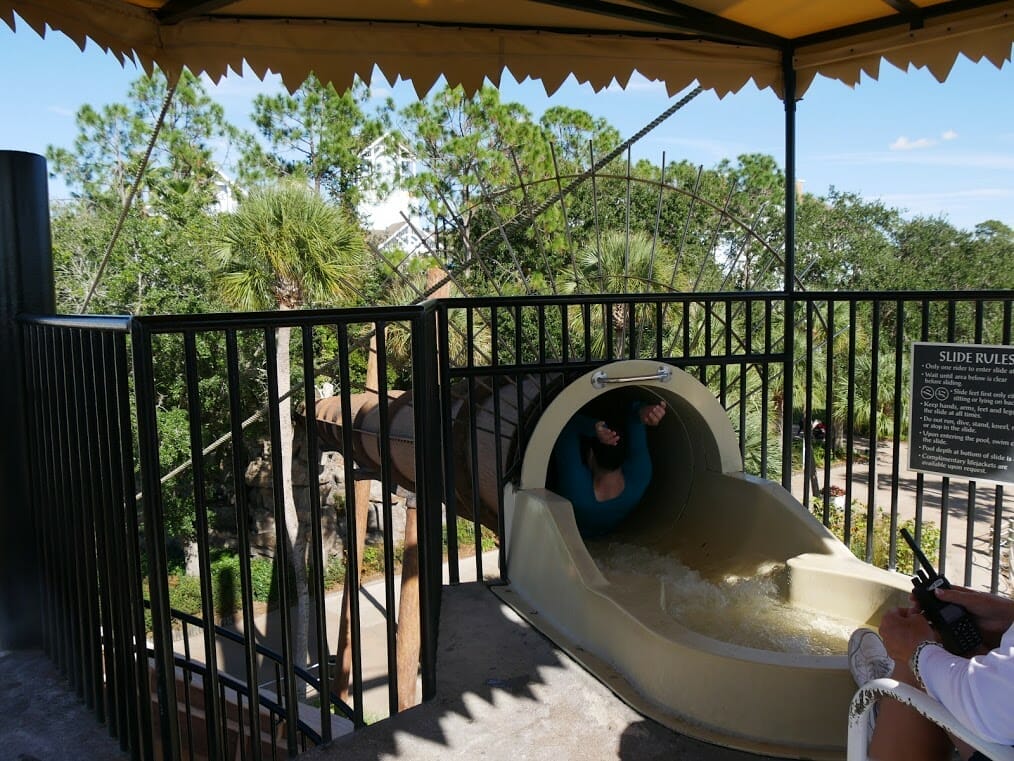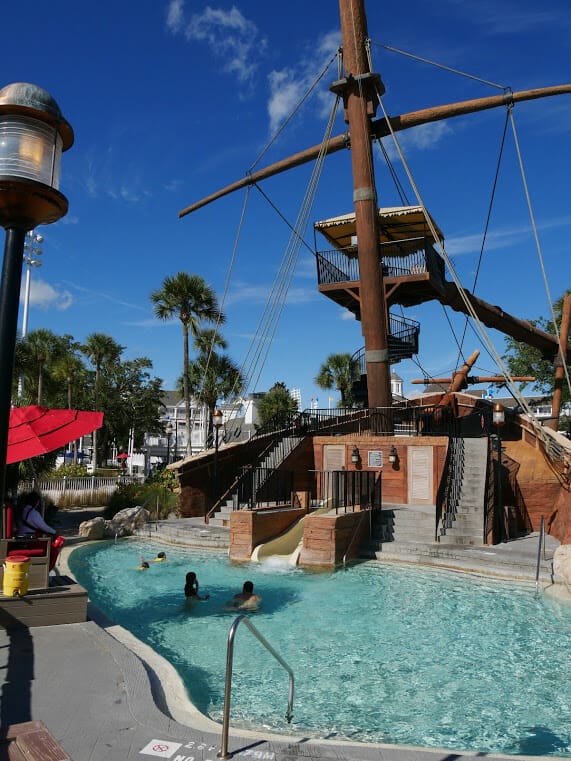 One of the major worries Beach and Yacht Club guests might have is people not staying at the resort "pool hopping" to use Stormalong Bay.
The first day we we were there, there was a cast member checking magic bands and giving out wristbands before entry to the pool, which made it easy for the lifeguards to check who belonged there.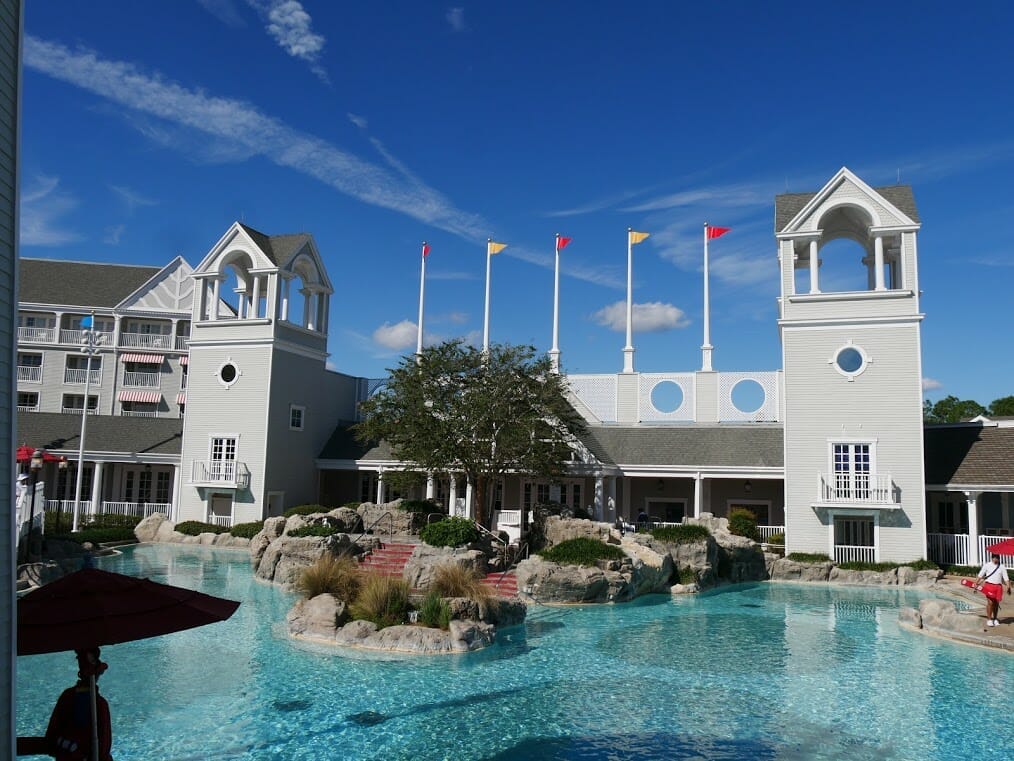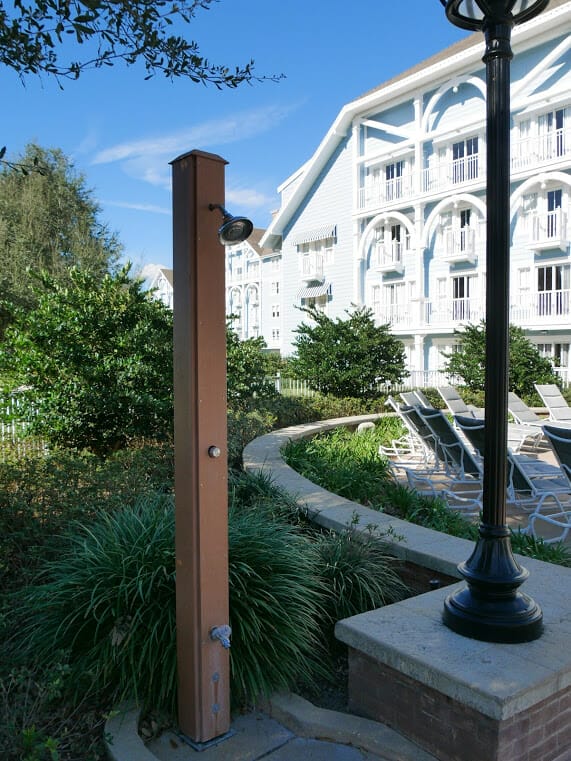 Beach Club Dining Review
Disney's Beach Club has one major sit-down restaurant, Cape May Cafe.
This is a buffet table service restaurant that is character dining in the morning with breakfast and a seafood buffet without characters in the evening.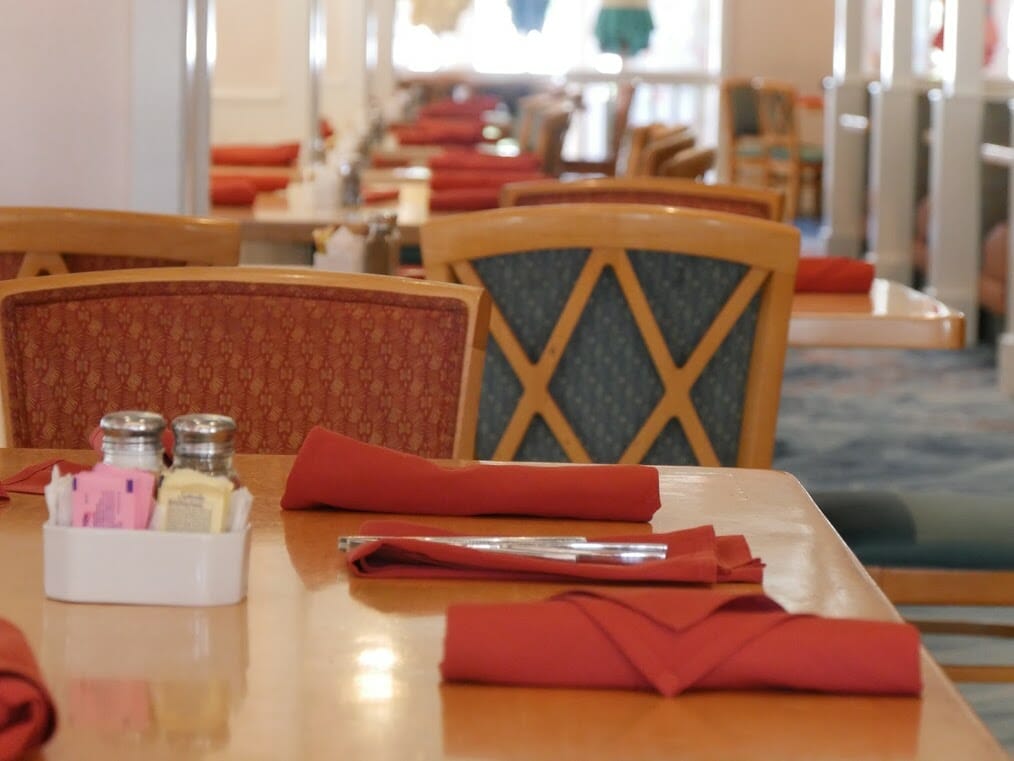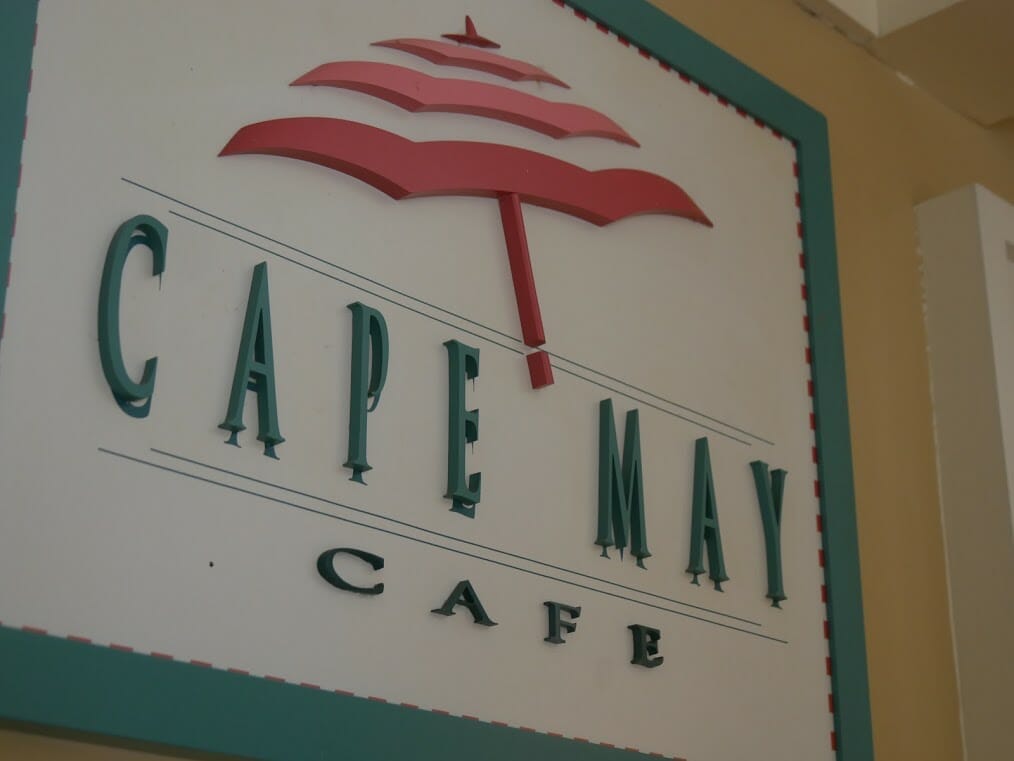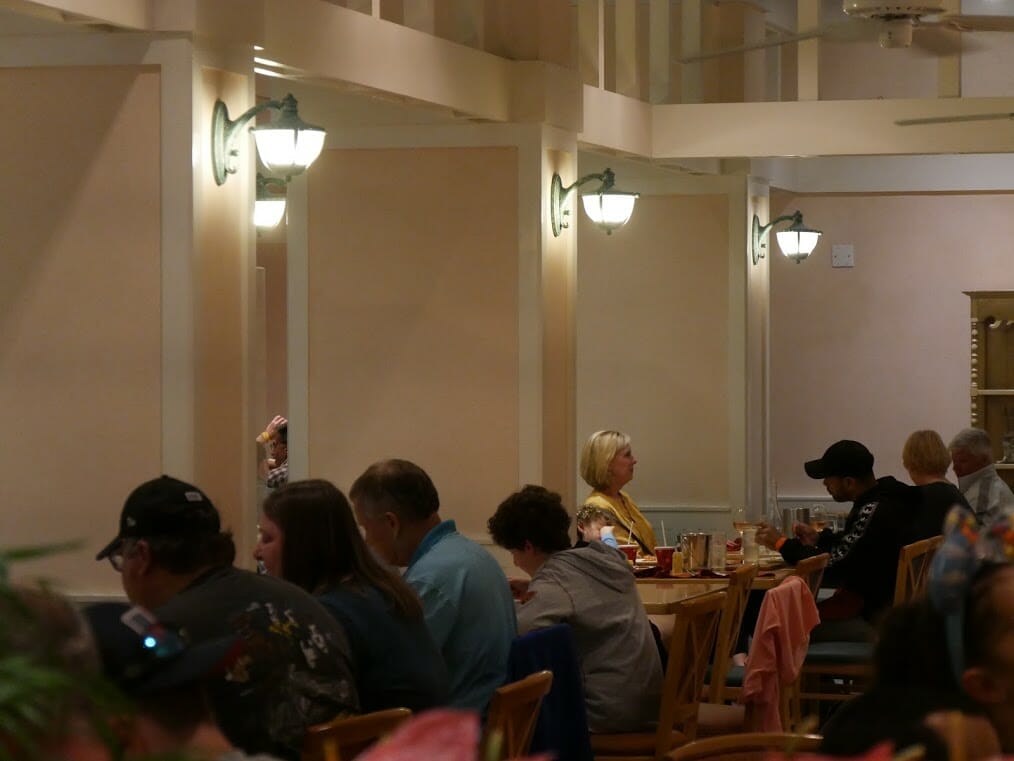 There's also the newly renovated Beaches and Cream restaurant, which is also table service but not a buffet (though if we could get a buffet of milkshakes and tater tots arranged, I'd be all over that).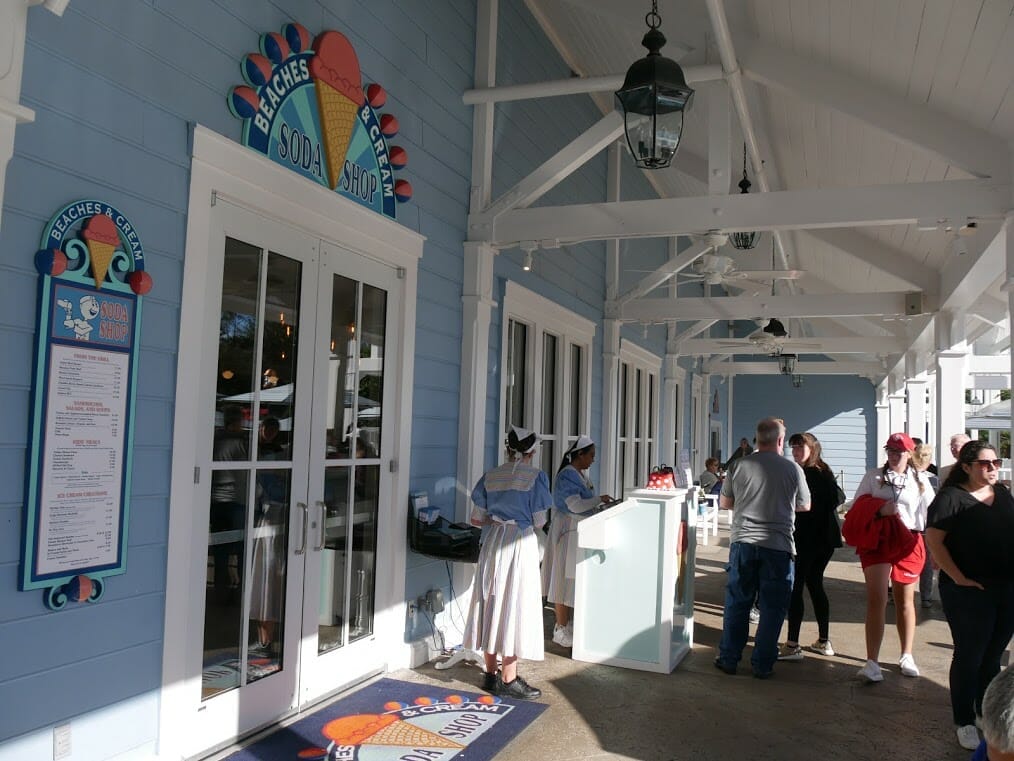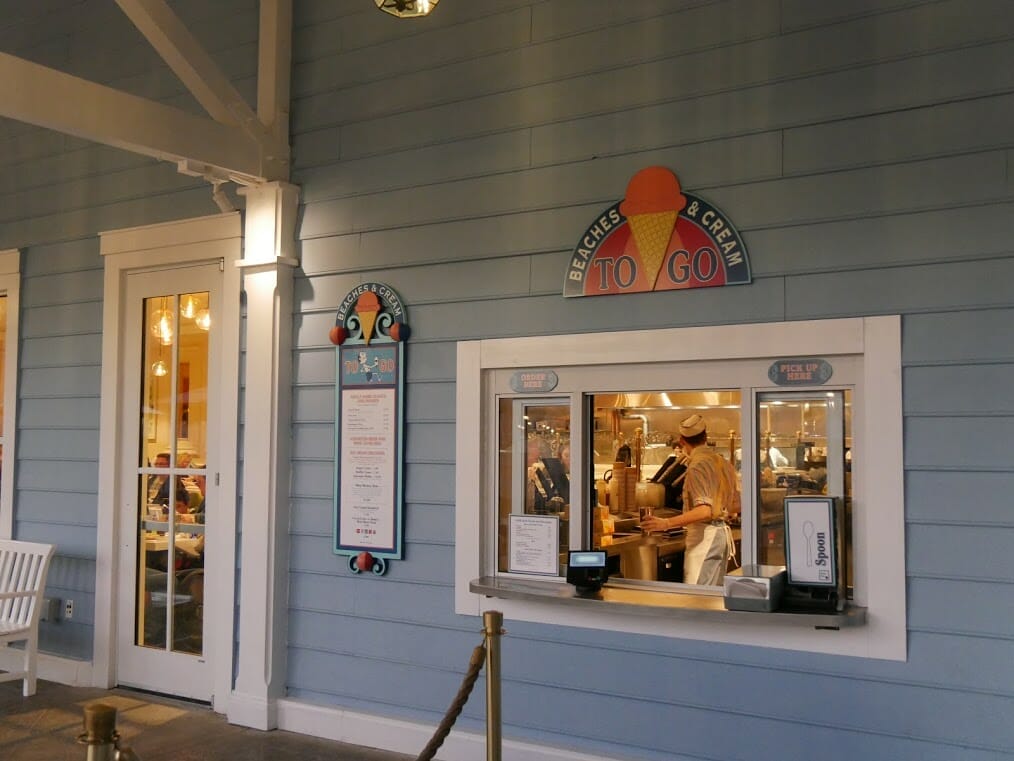 We absolutely loved the new Beaches and Cream and enjoyed both our main meals and the ice cream to go along with it.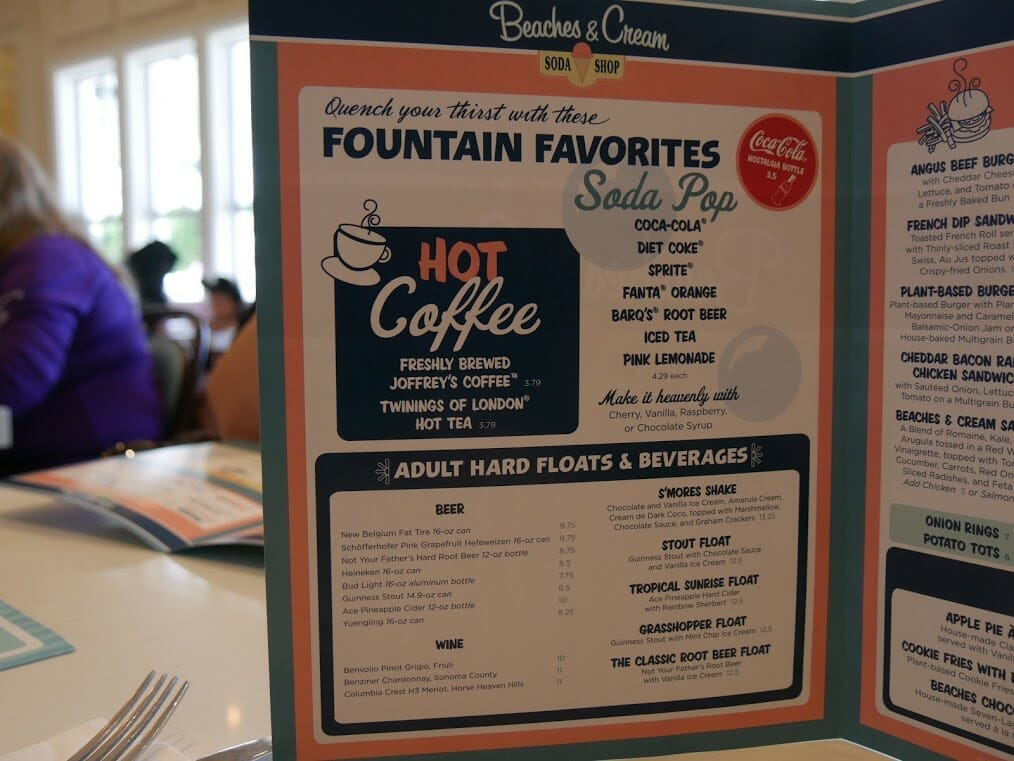 If you're out by the pool, you can also take advantage of the pool bar which both serves drinks, hot food and has a soda machine for refilling your refillable mug.
It's called Hurricane Hanna's and the seating is right off of the major walkway past the Beach Club, so to some people it will be "too exposed" and to others it will feel "right in the action."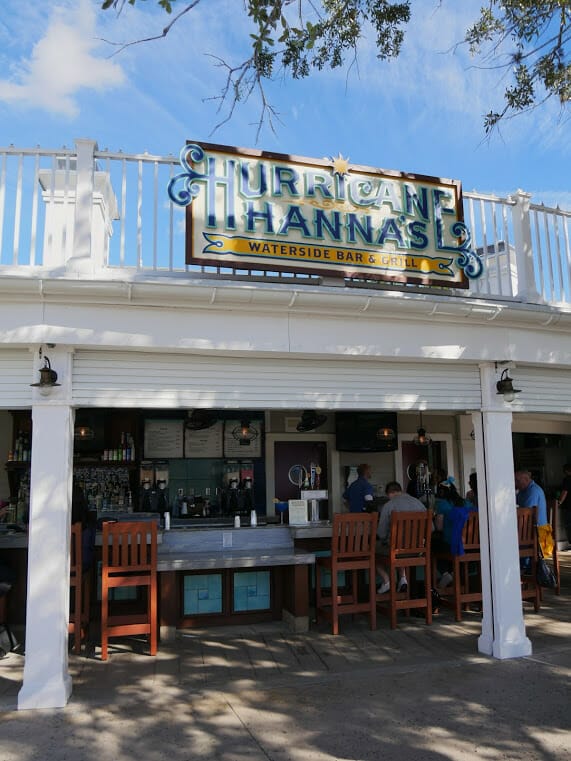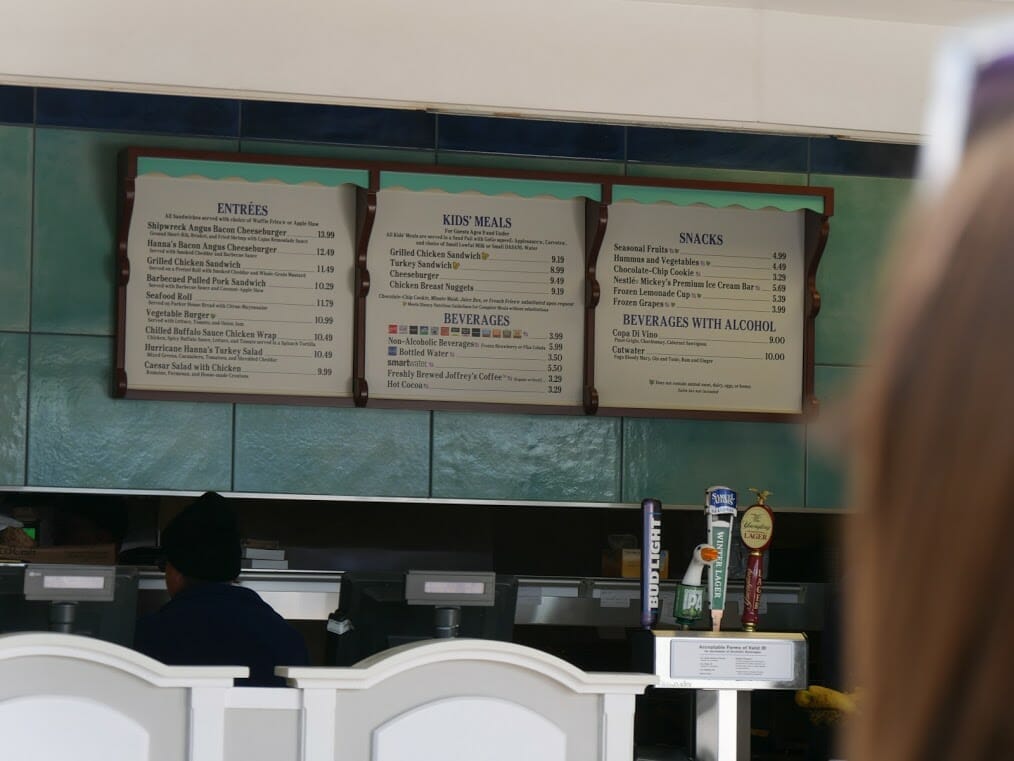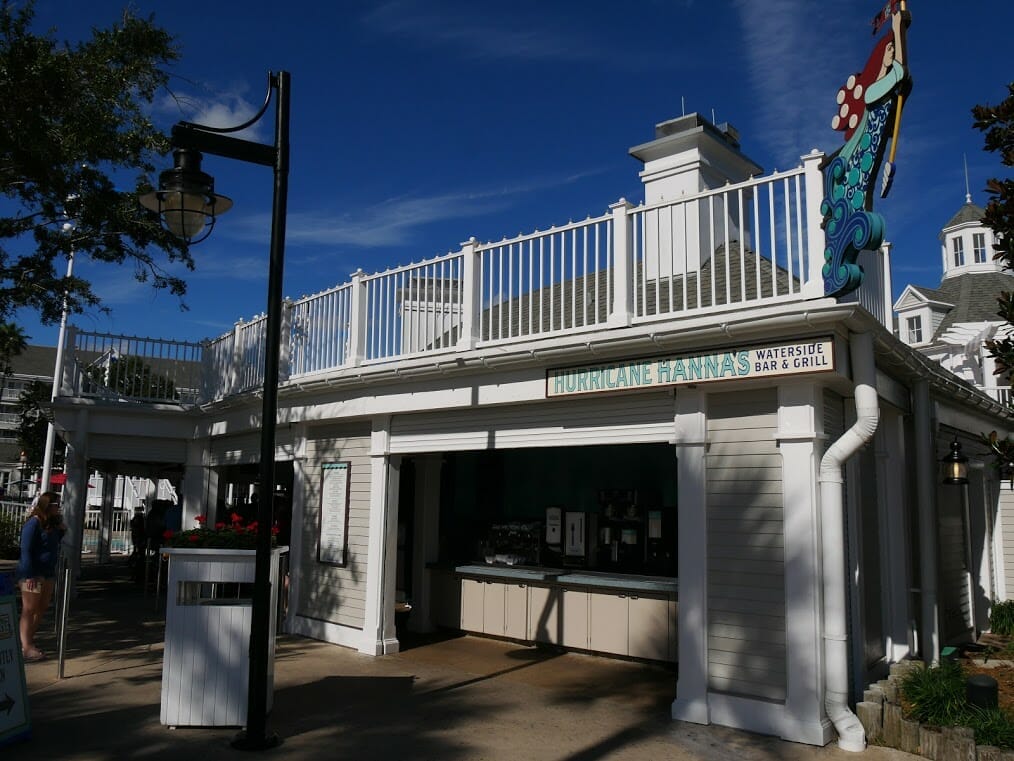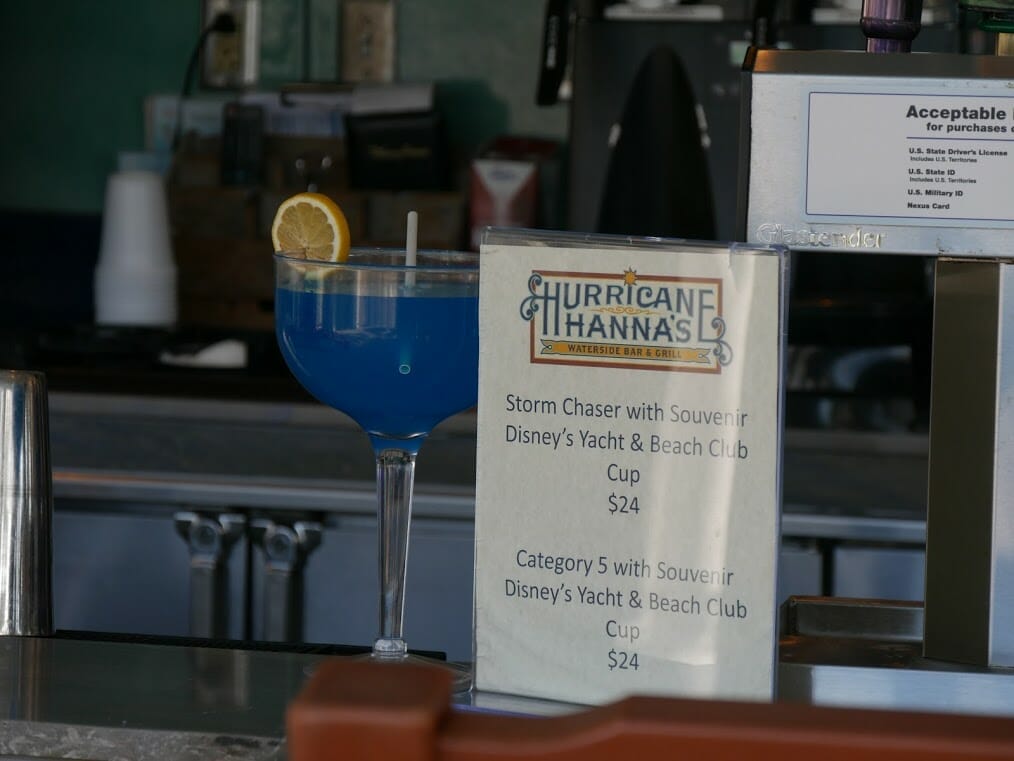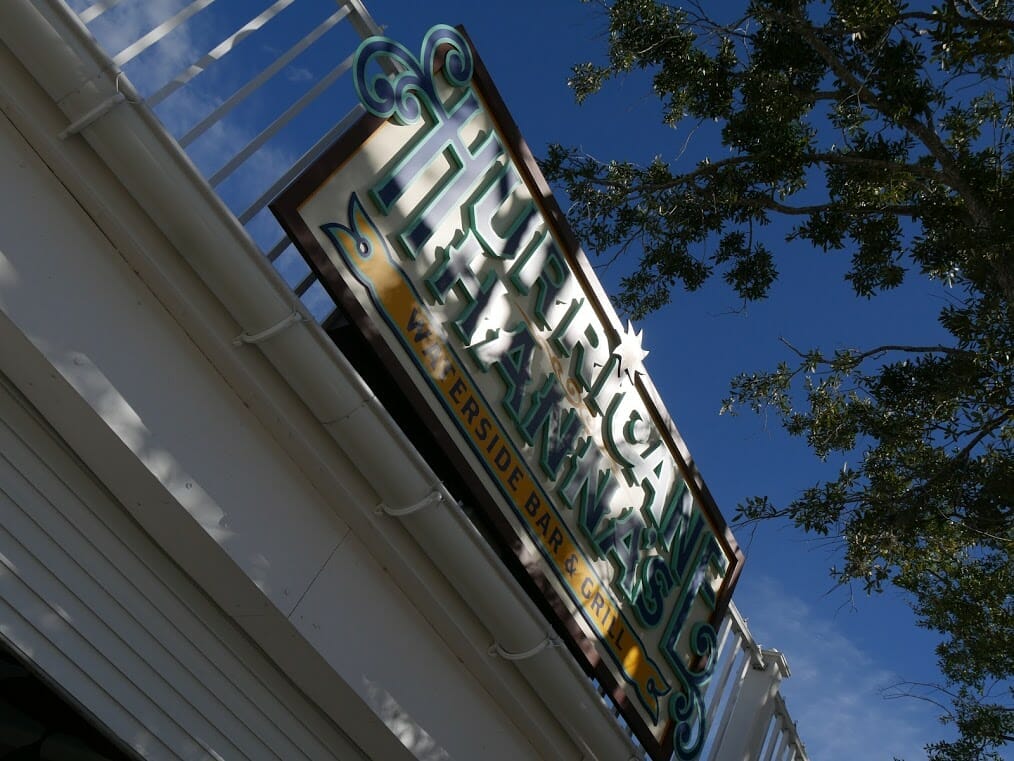 Disney's Beach Club also has a quick service location, but it is very small with just a few options.
They've got the basic things like a couple of dessert options, some "regular" food from the outside world like chips and snacks that you can buy, and some hot sandwiches and pizzas.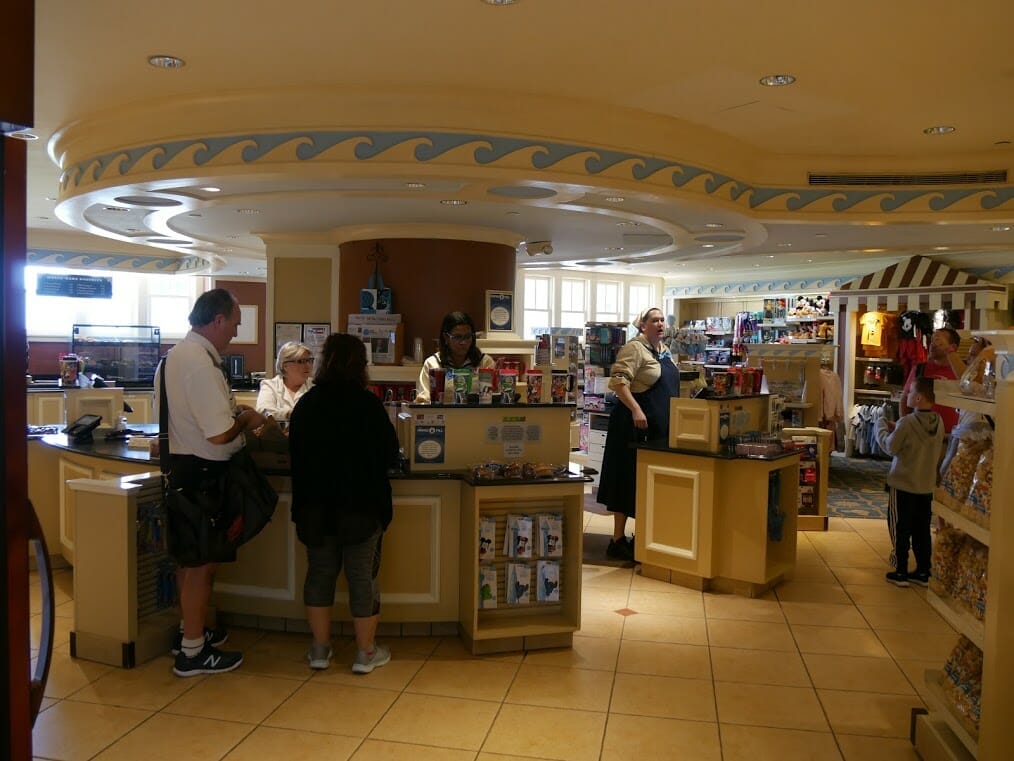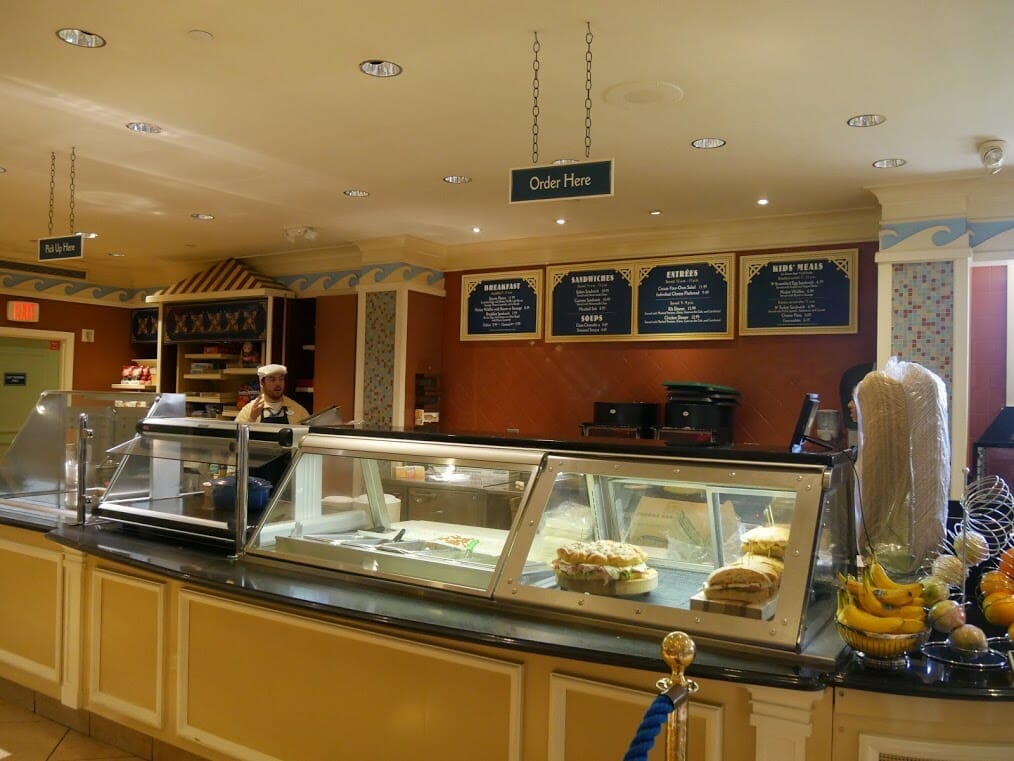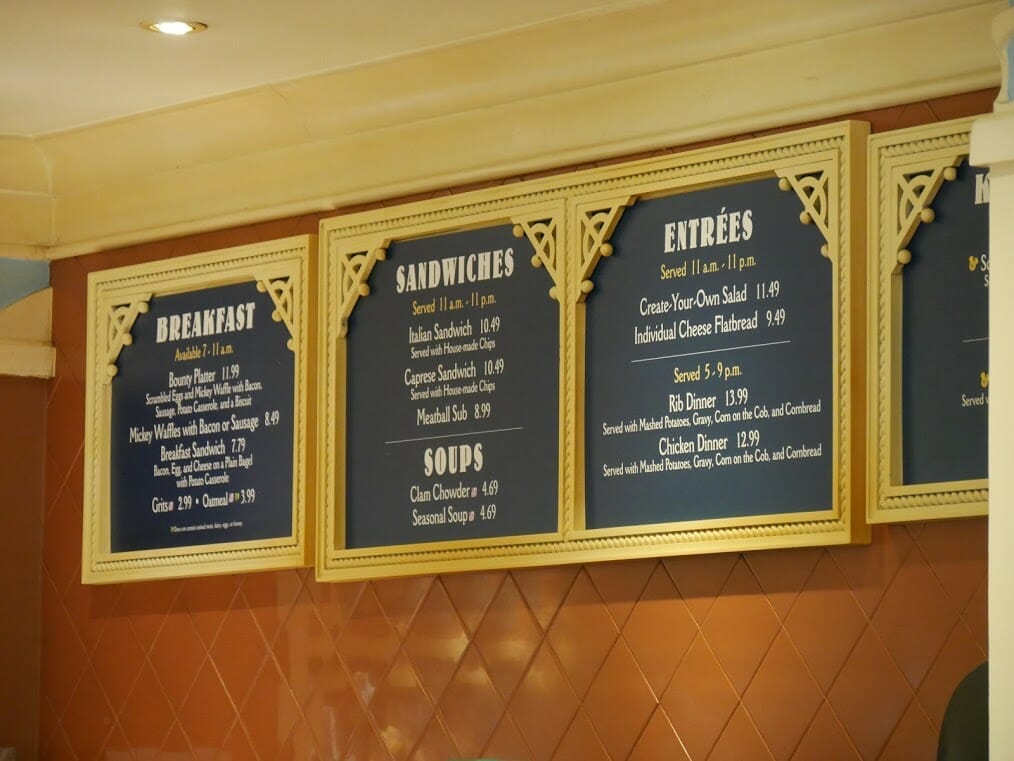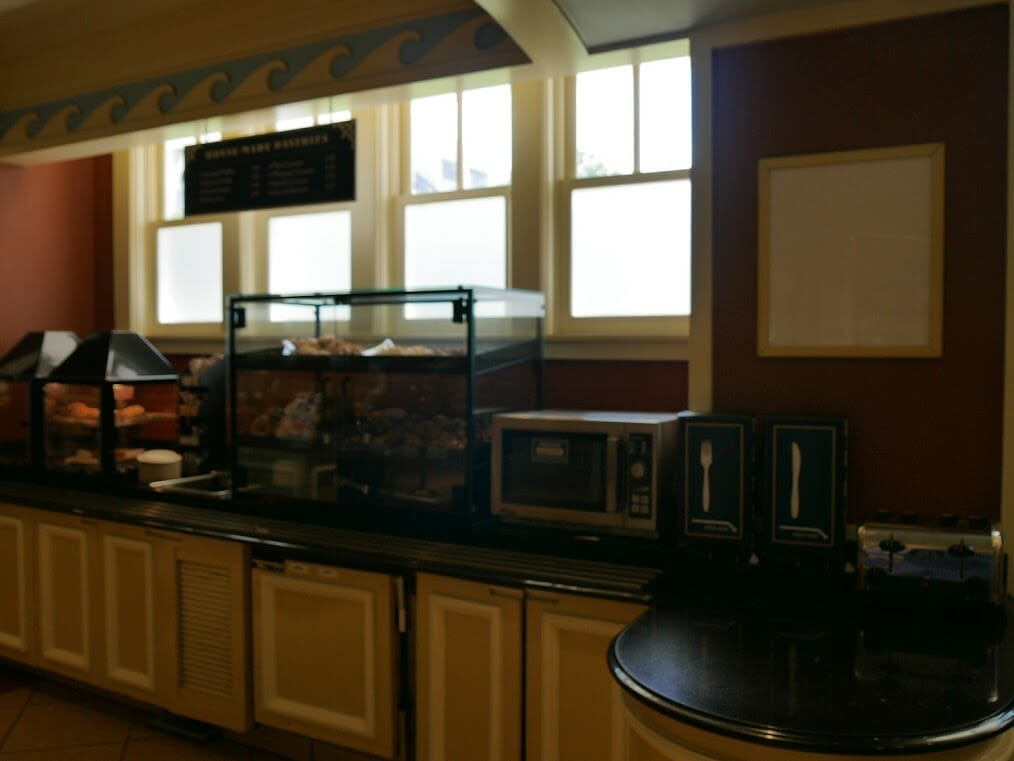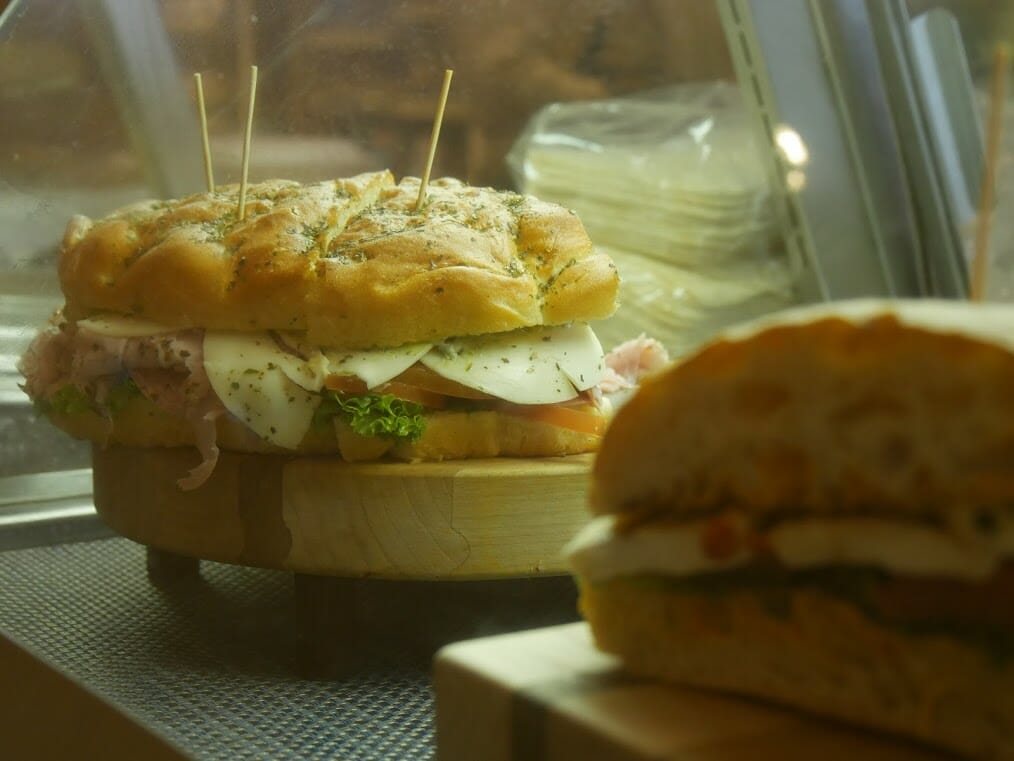 This quick service adjoins the gift shop and is nothing to write home about.
The Yacht Club has a better quick service place if that's what you're after, or go and eat at some of the quick service places on the Boardwalk for a better atmosphere and similar food.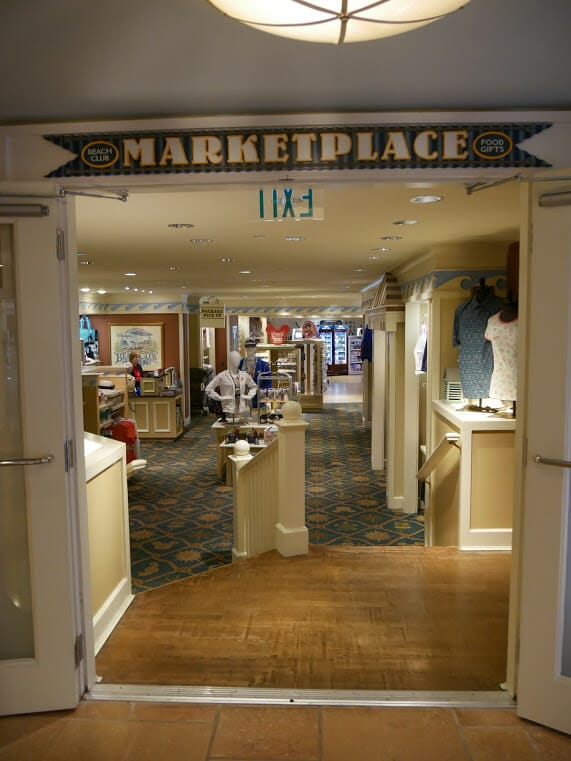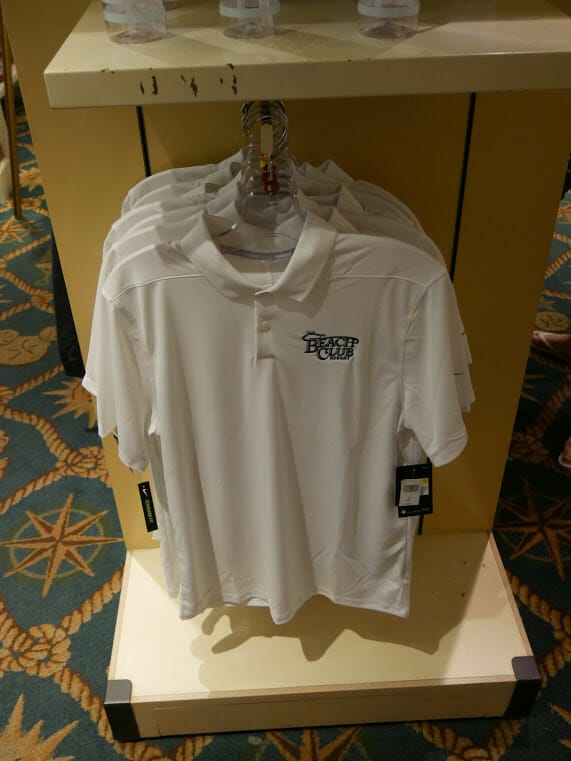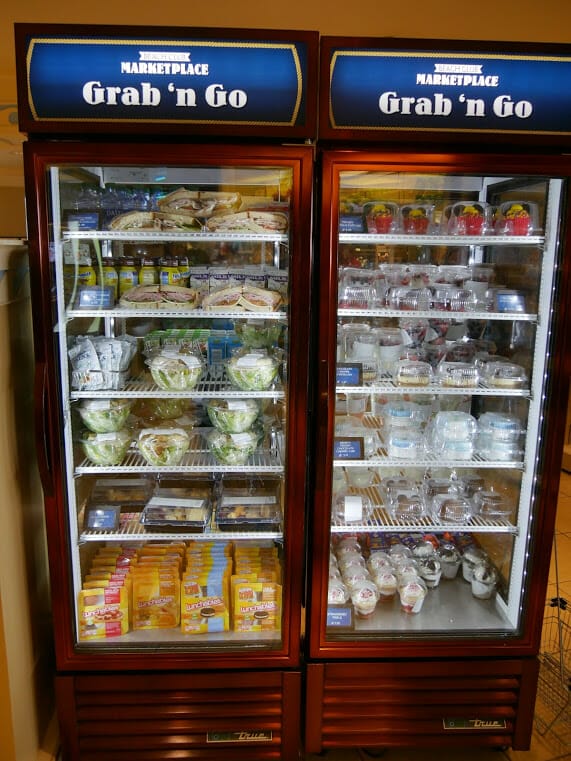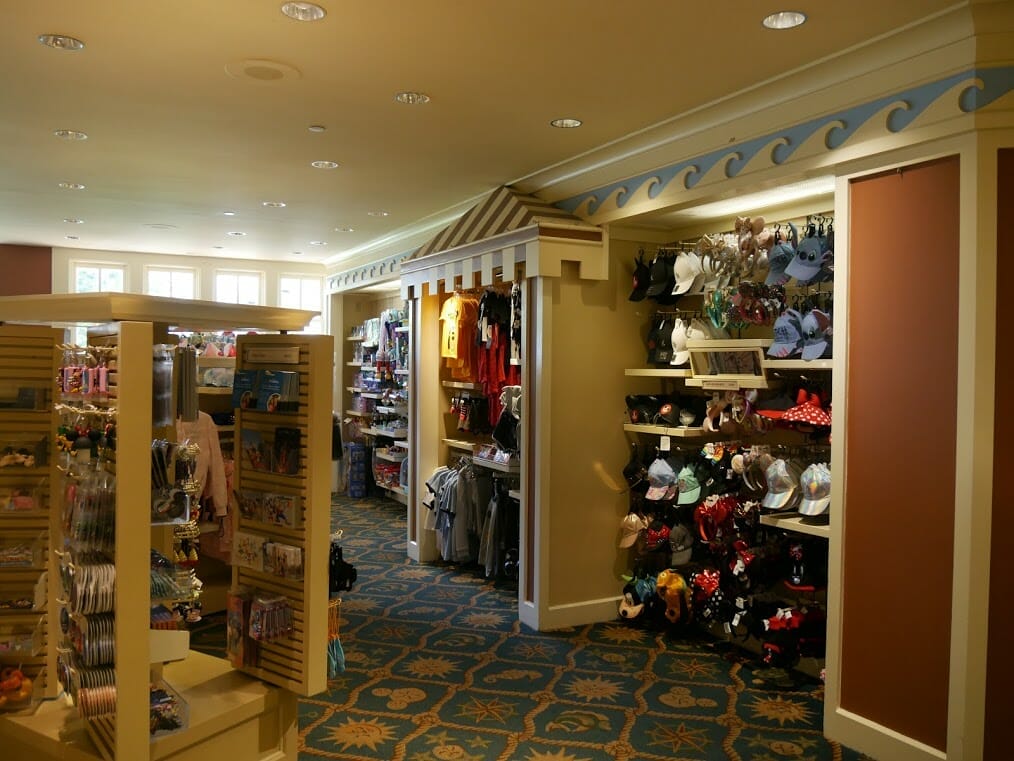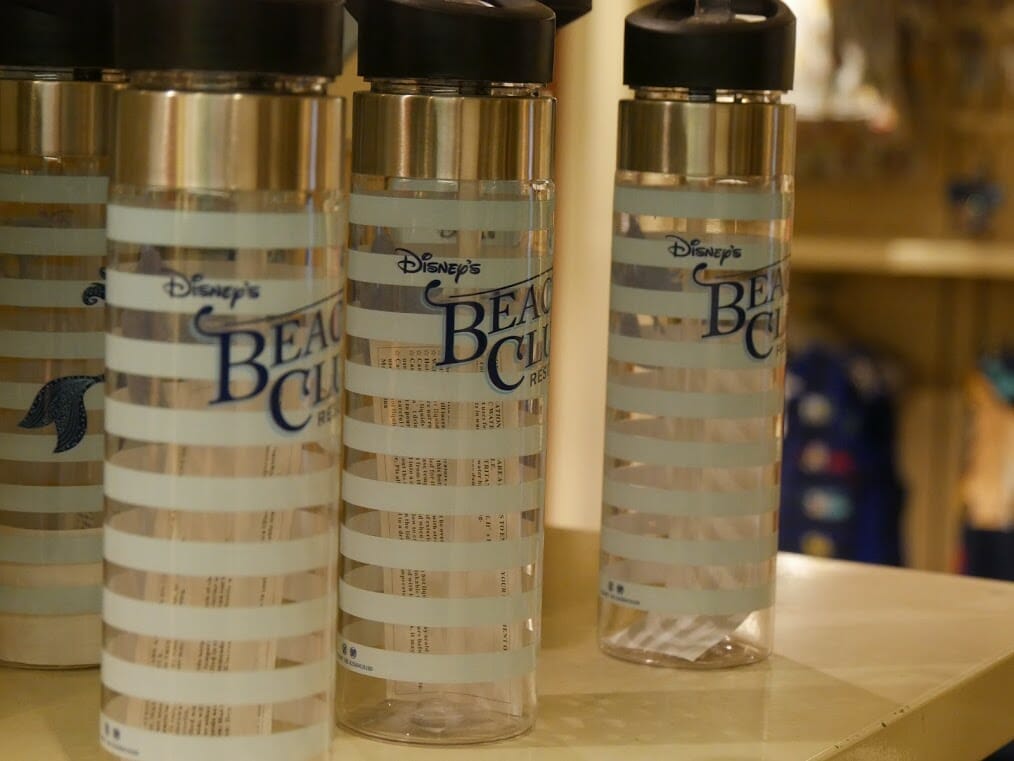 The Beach Club also offers room service, and of course you can go to the Yacht Club to eat at Ale and Compass or the Yachtsman as the two resorts are connected.
Beach Club Amenities Review
When we're talking about amenities in this Beach Club resort review, we mean things like a spa, the pool showers and changing rooms, etc.
As you can read in the rest of the review, they have an amazing pool, great restaurants, a gorgeous lobby and full access to the adjacent Boardwalk.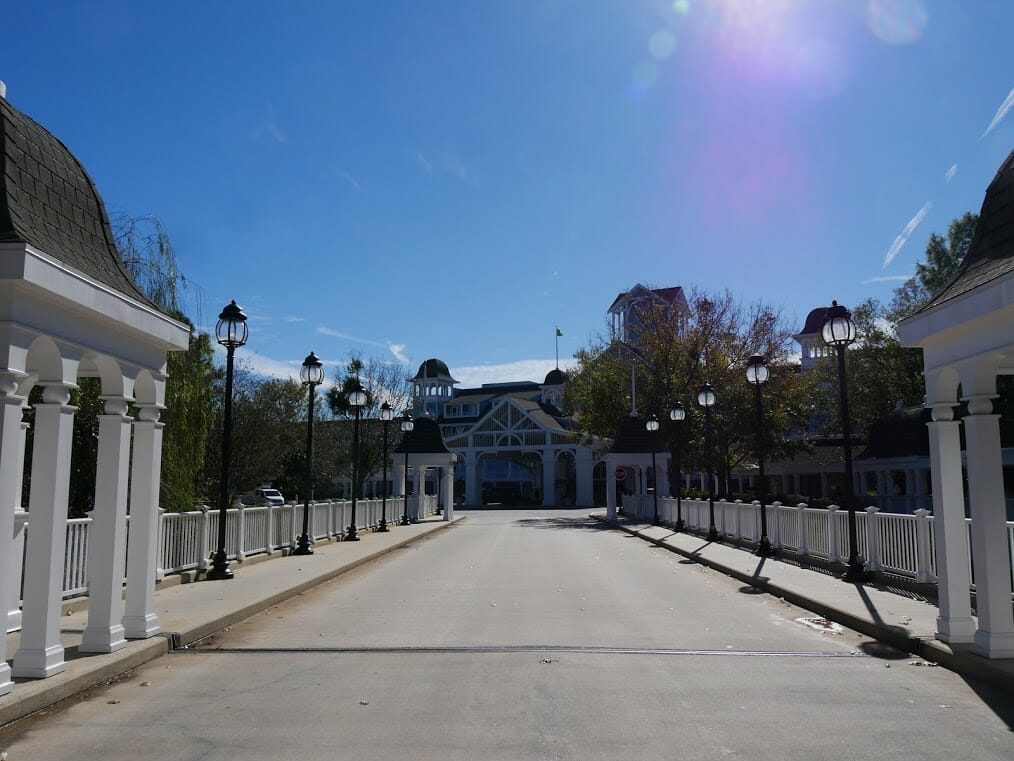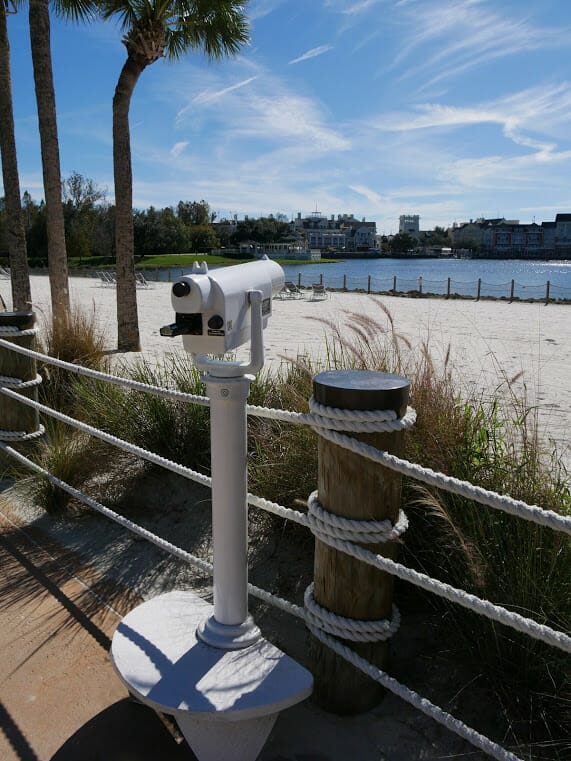 As far as the spa, salon, and fitness amenities, the Beach Club does have a place where you can get a massage or get your hair cut, and the gym is fantastic (I can say this because we explored it, but you won't see me running on a treadmill on my vacation unless it's with a Mickey cupcake in hand).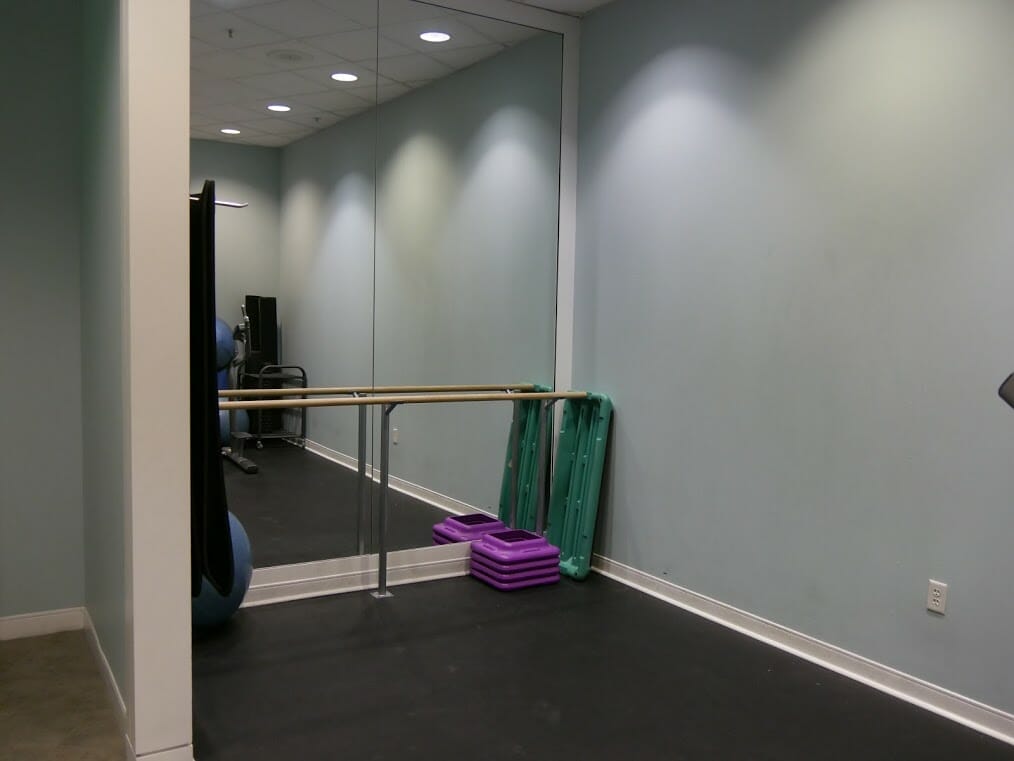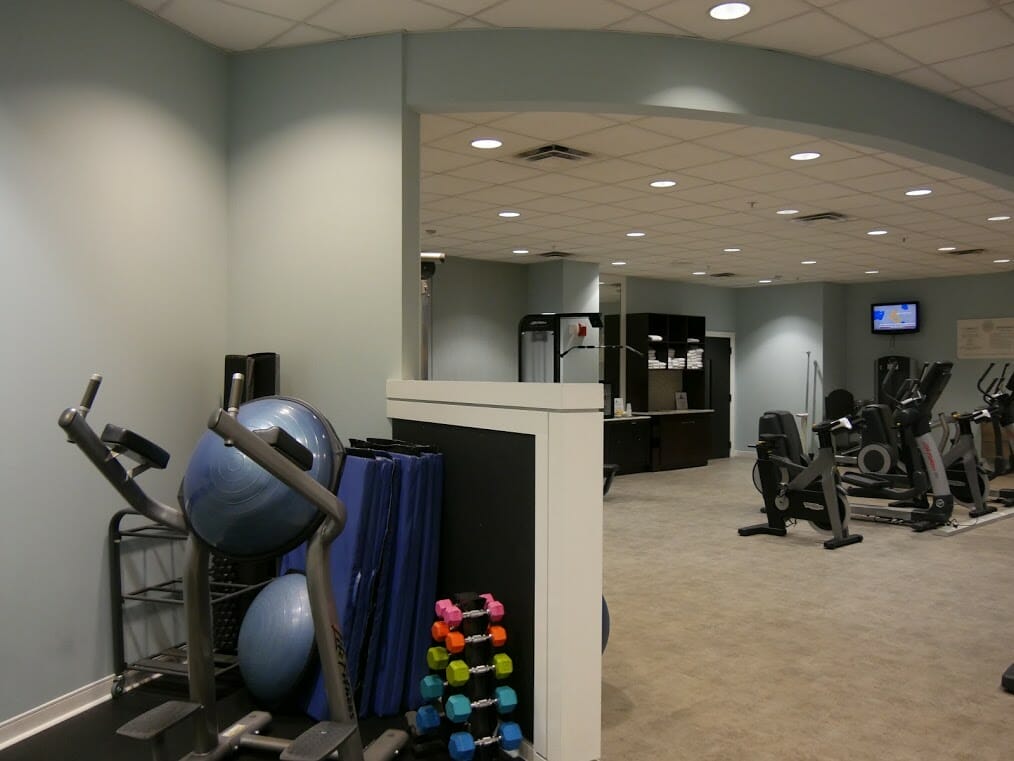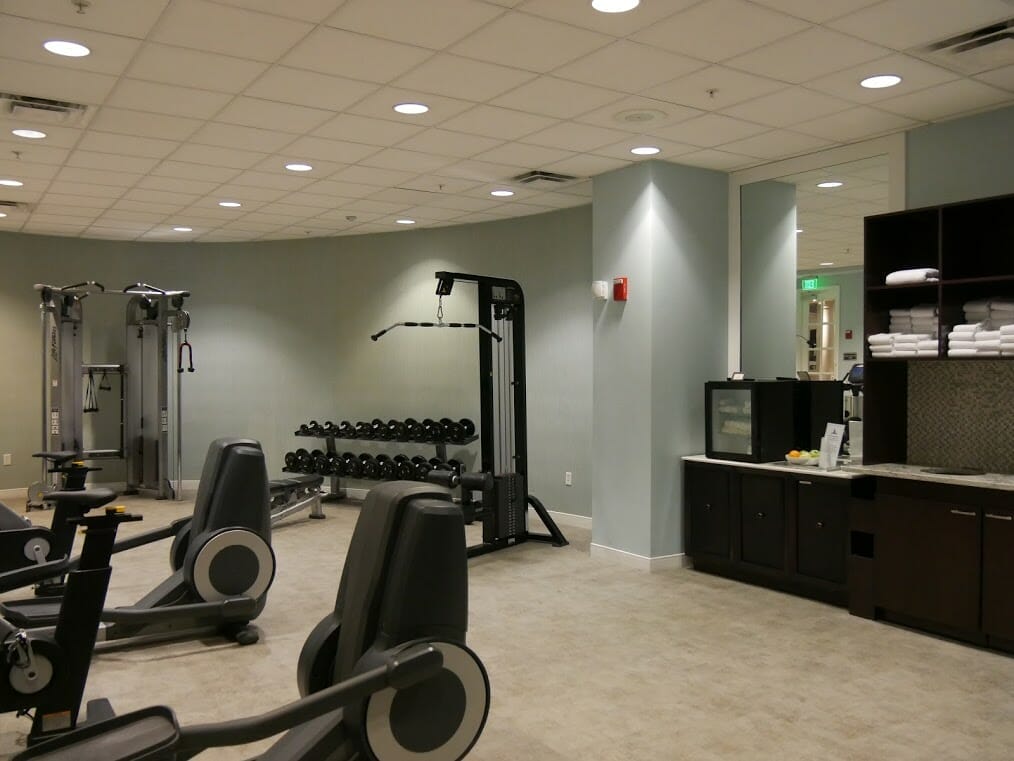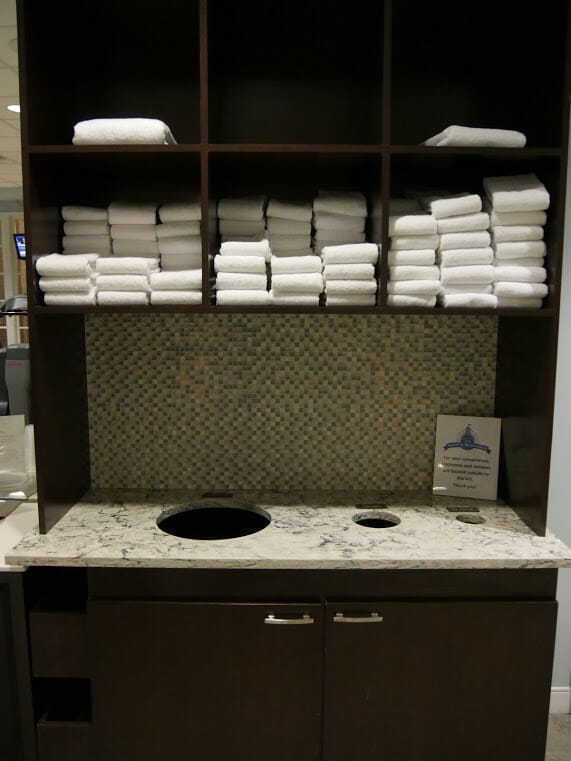 One thing that we absolutely loved were the pool changing rooms and showers.
They were lux-ur-ious and came in handy when we had checked out of the room but were still staying on property.
You have access to the pool for the entire day of checkout, which meant that that's where you could find us, floating around the lazy river.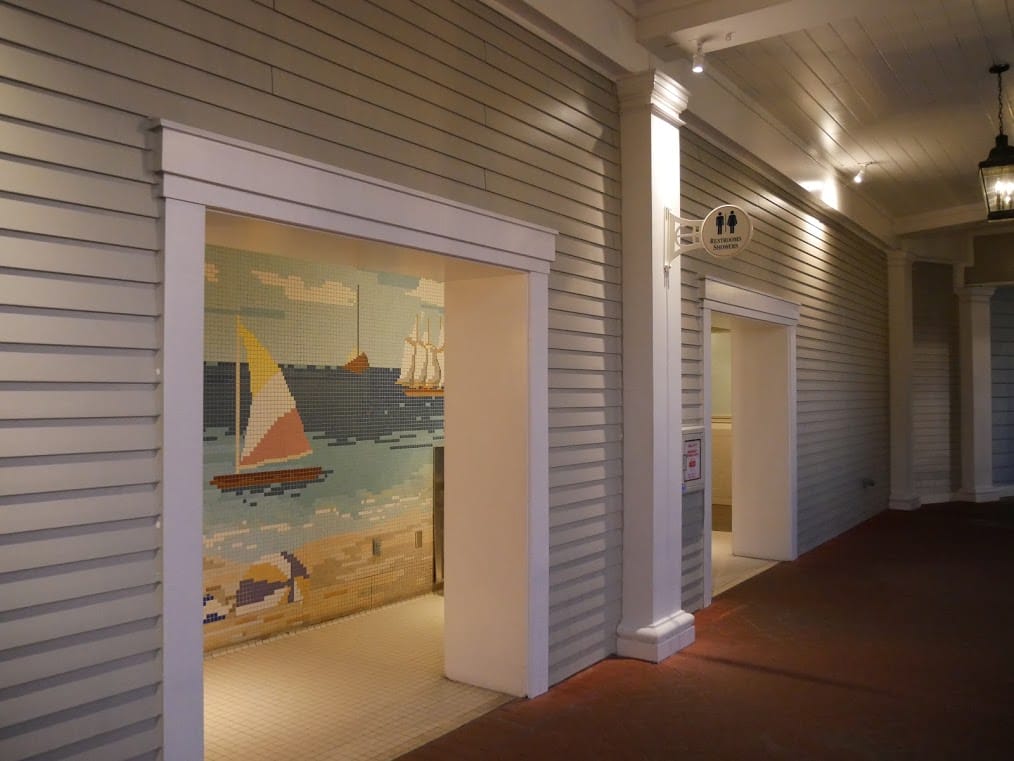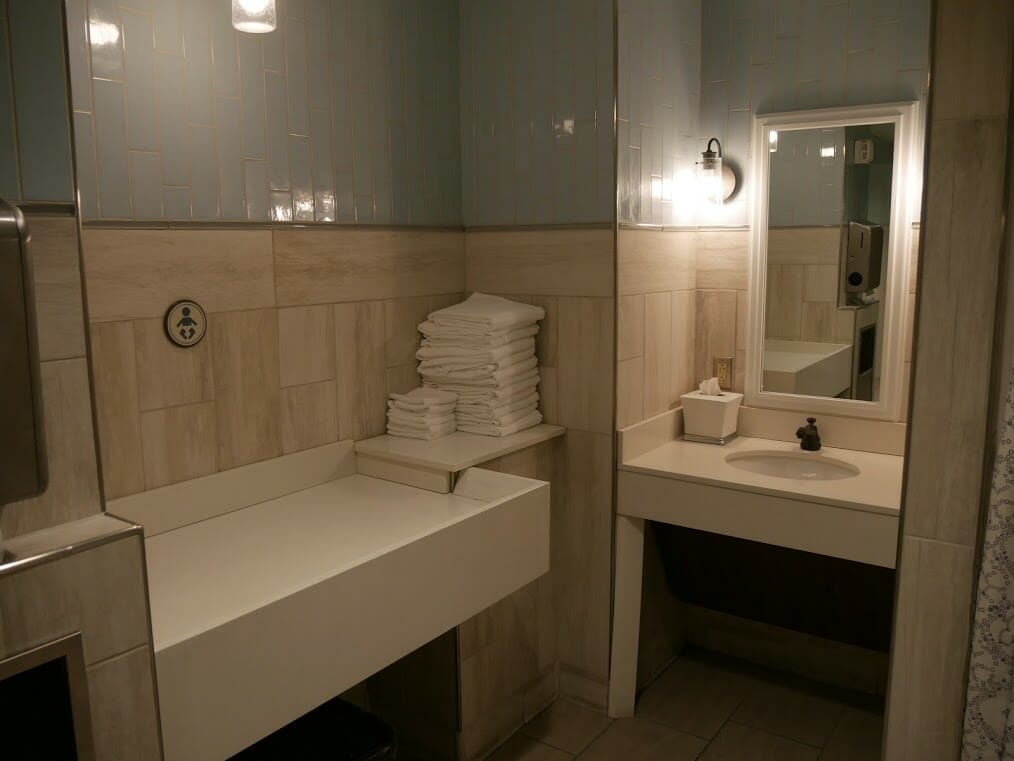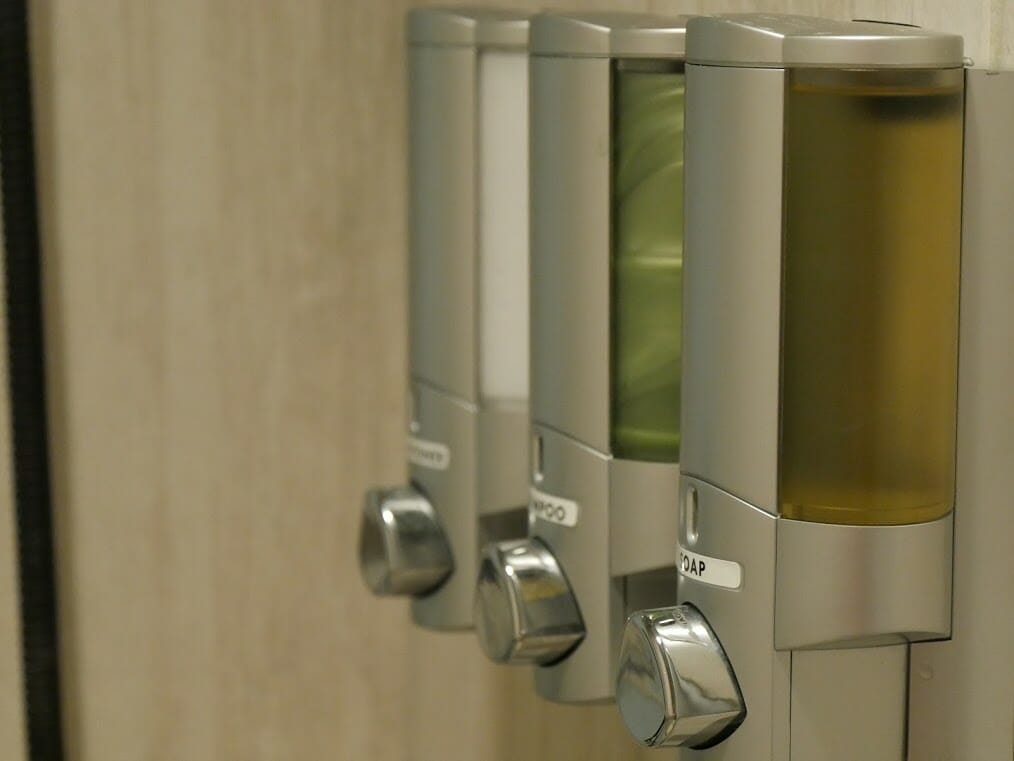 When it came time to change into our street clothes, we wanted to rinse off, and we were able to take full showers in the pool showers, which were fully stocked with towels and shampoo and conditioner.
Beach Club Activities Review
There is so much going on at the Beach Club that you could have entire resort days here and not get bored.
The pool always had an activity going on in the main section near the slide, whether that was a trivia game or a dance party.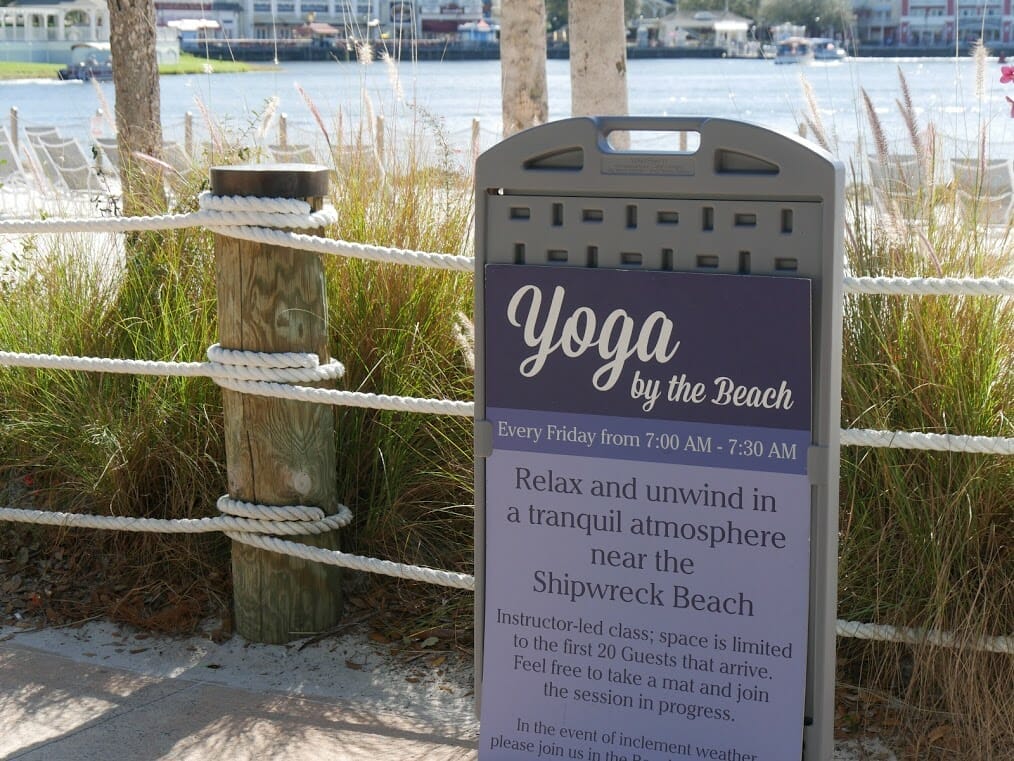 You could also take part in a painting class once a week, and there was regular "yoga on the beach."
Like every Disney resort, they had nightly movie nights, and bonus – they were out by the beach!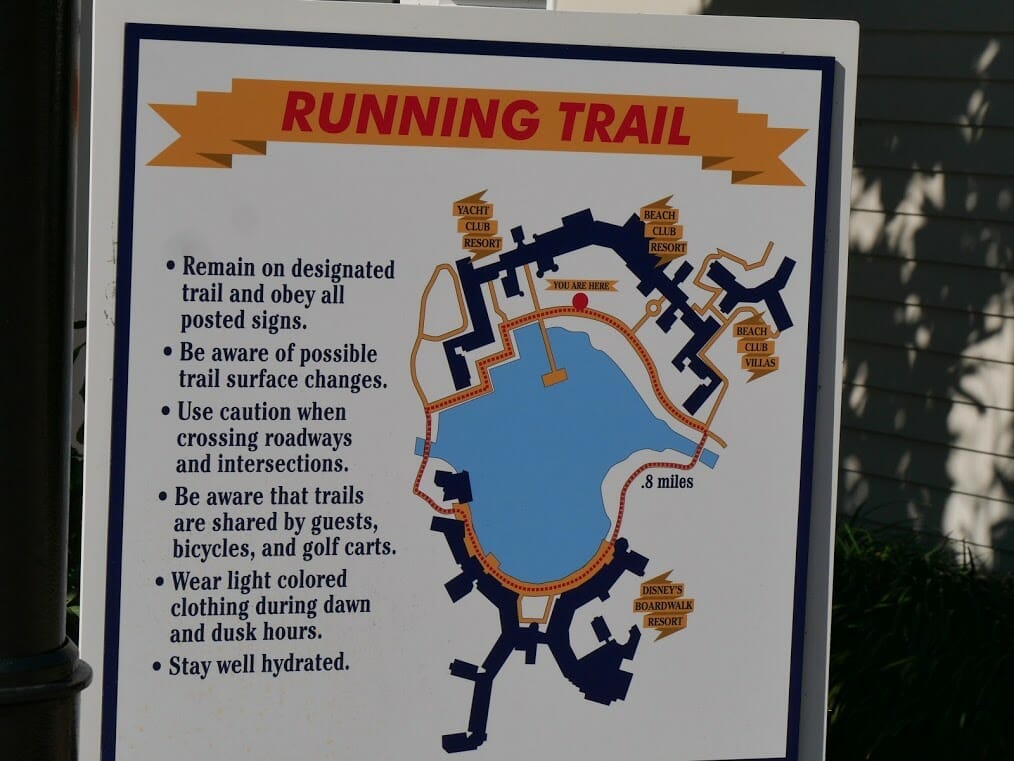 There is also a small arcade on property.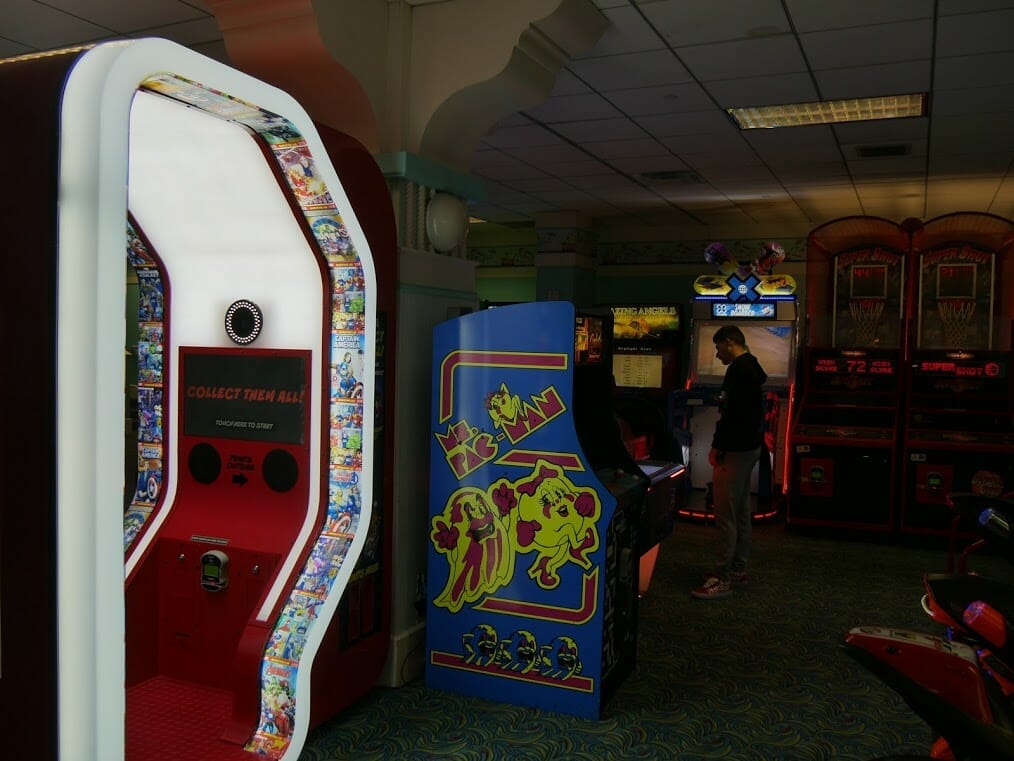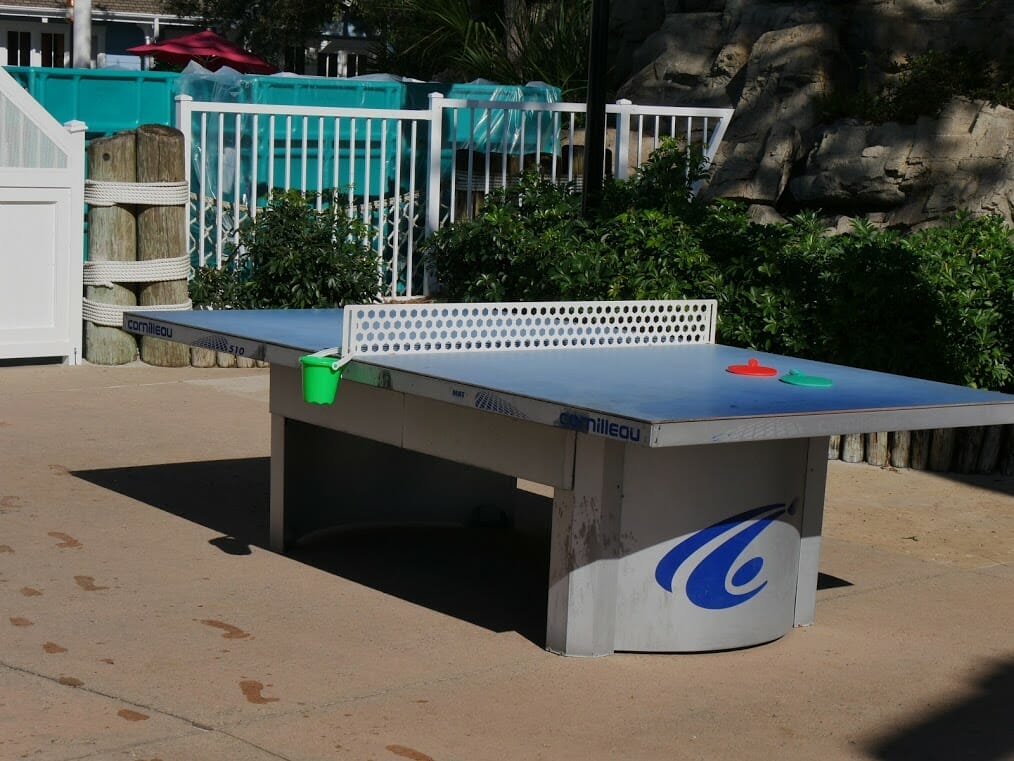 And, of course, the Beach Club has direct access to the Boardwalk by walkway, which means that you can go and make the most of this shopping and entertainment destination and see the street performers entertain throughout the night.
This is a fantastic benefit of staying at any of the resorts around Crescent Lake, as you've got great restaurants, bars, shops, and my favorite ice cream shop in all of Disney just a short walk away.
In fact, the Boardwalk is listed as one of the best free things to do in Disney World and a perfect Disney World date night.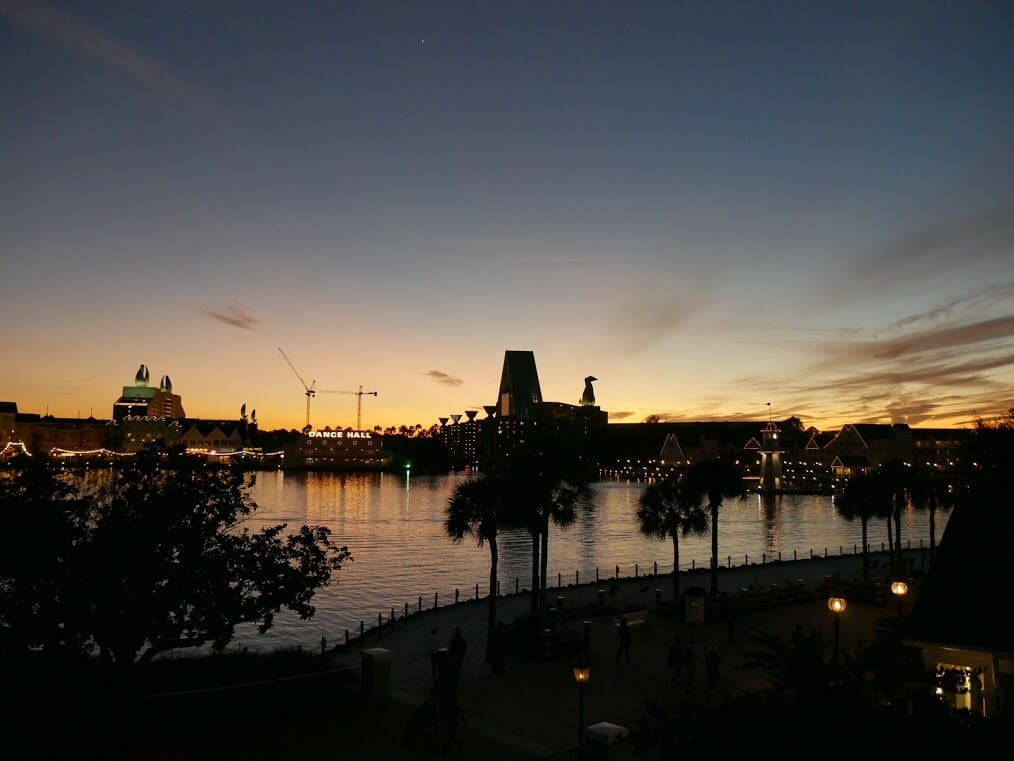 Beach Club Cast Member Review
We interacted with multiple cast members throughout our stay at the Beach Club and I have shining things to say about all of them.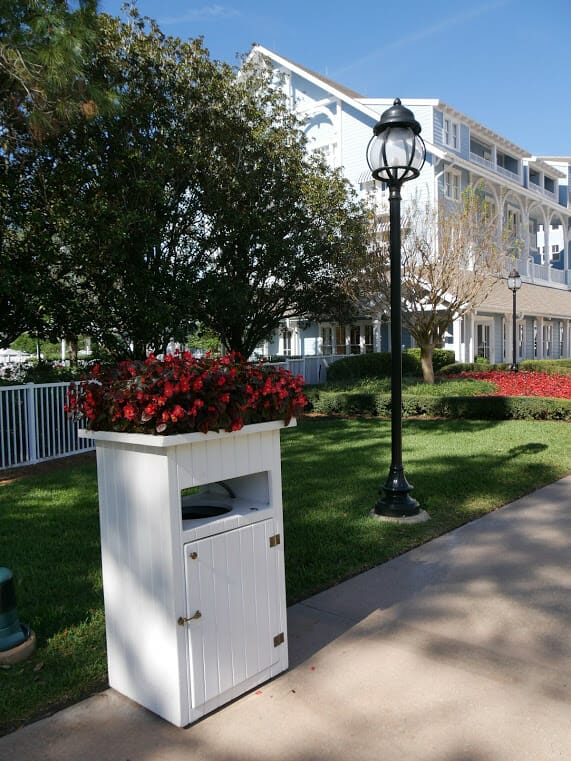 At the front desk, where we checked in, the cast member was pleasant and welcoming. He got our room figured out swiftly and was kind.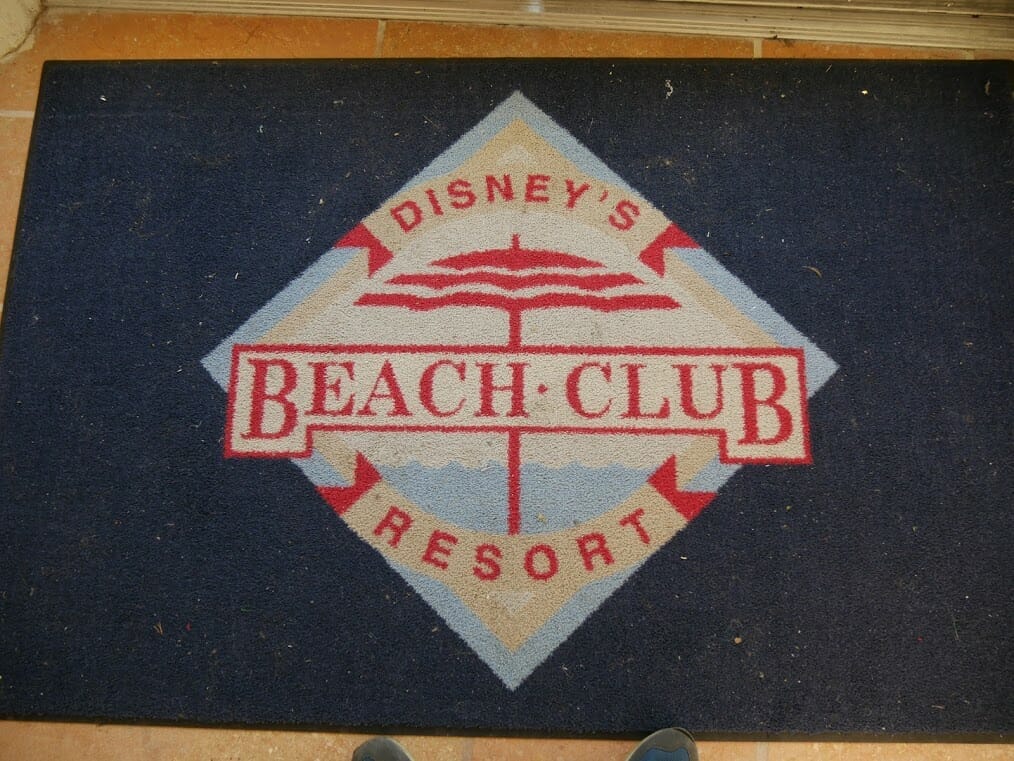 Our waiter at Ale and Compass was also fantastic and personable, going out of his way to make sue we were happy and knew what we wanted to order.
We had a slight mix up on the check out day, as we had called for late check out and they had been able to approve it, but it didn't appear on the mousekeeper's system so she came to clean the room before we had left.
Once I explained the situation to her, she was so friendly and said that of course we should take advantage of the room while we had it and she would be back later once we had checked out.
Not rushing us out, not annoyed, just friendly and Disney magical.
One of the concierge cast members also went above and beyond for Guy, who was desperate for some lotion for his dry hands when we were waiting for our dinner reservations.
Despite not having any at the front desk, they went and retrieved some to give to him on the spot.
Overall, we had no negative cast member interactions and only positive memories of our time there.
Beach Club Transportation Review
If you're staying at the Beach Club, you're not just in it for the great views and relaxing atmosphere.
You're probably also interested in getting around to the rest of Disney property, at least a few times!
The Beach Club benefits from so many different transportation options, including being able to walk to both Epcot (don't forget to check out Epcot at Christmas) and Hollywood Studios.
You can also take a boat to Epcot and Hollywood Studios, OR you can take the skyliner to Caribbean Beach and then to Hollywood Studios to ride Rise of the Resistance by using the nearby Skyliner hub that you can walk to.
If you're hoping to make it to the Magic Kingdom or Animal Kingdom, it's the buses for you.
Like many deluxe resorts, the buses go from one central location outside the main entrance.
What Went Wrong in Our Room?
I promised to tell you in the beginning of the review what went wrong in our room.
The one issue we had was getting hot water to our room, which is obviously a big deal when you need to shower. It was intermittently getting lukewarm, but we couldn't get it to stay and couldn't figure out how to make it actually "shower hot."
After alerting the front desk, who sent a friendly maintenance man up, he explained that where our room was located was one of the furthest points from the resort boiler and that he had seen this problem occasionally.
He showed us that if we ran the water for a solid 10-15 minutes, we could get it to run hot.
We were just happy we figured out how to make it hot, but also recognized that if we were staying for more than a night, this would have been a bigger problem as it was a huge waste of time and water to get it to work.
It was still shocking to us, though, when we got a call to our room from the front desk saying they were refunding the cost of our room for the whole night due to the hot water issue.
They saw the maintenance report that it wasn't working properly and changing temperatures, and they didn't want this to mar our view of the resort.
I have to say that in all of the Disney pixie dust I've gotten, including being upgraded to Club Level at Animal Kingdom Lodge, I have never been more pleased with Disney service.
It was a huge dream of mine to stay at the Beach Club and I wasn't too concerned with the hot water situation because we had already been upgraded to a fantastic water view, but to have them recognize that our stay wasn't the standard they like to put forward and ensure we weren't out of pocket for the experience was the Disney difference.
I'm also sure they could see our history with Disney and the fact that it was a pretty sure bet that we would spend that money back on Disney anyway (in fact I believe I said to my husband, "Oh! Great! Now we can book another night!", but it was still magical).
Overall Beach Club Resort Review
Overall, would I stay at the Beach Club again?
Yes. Again. and again. and again.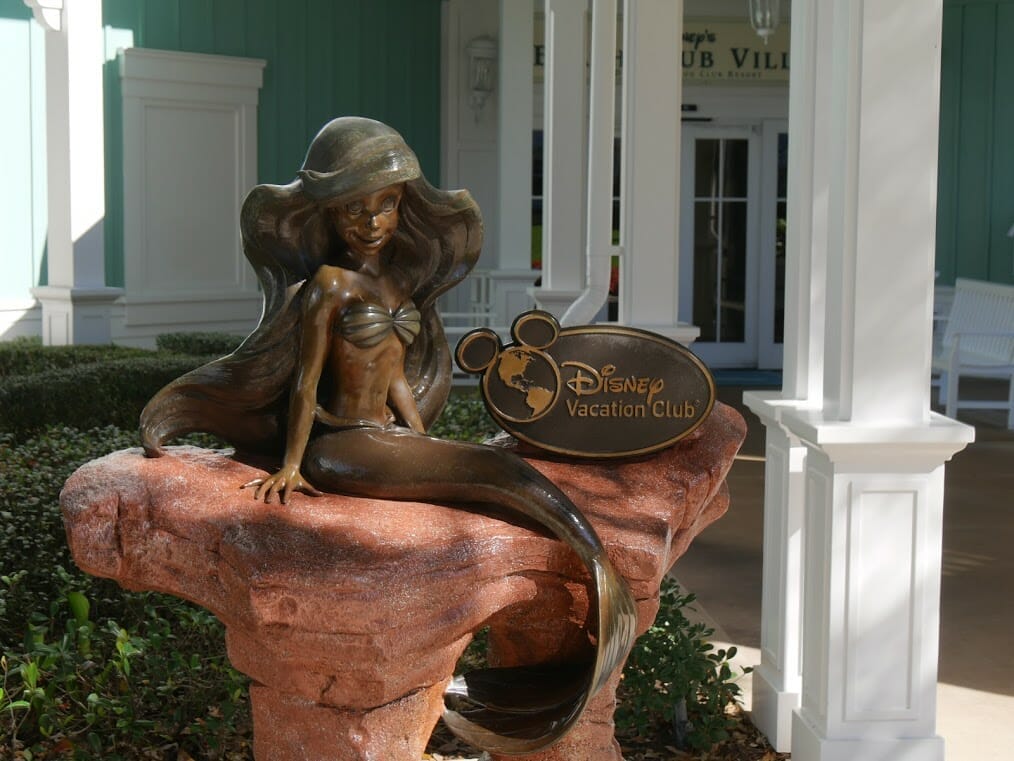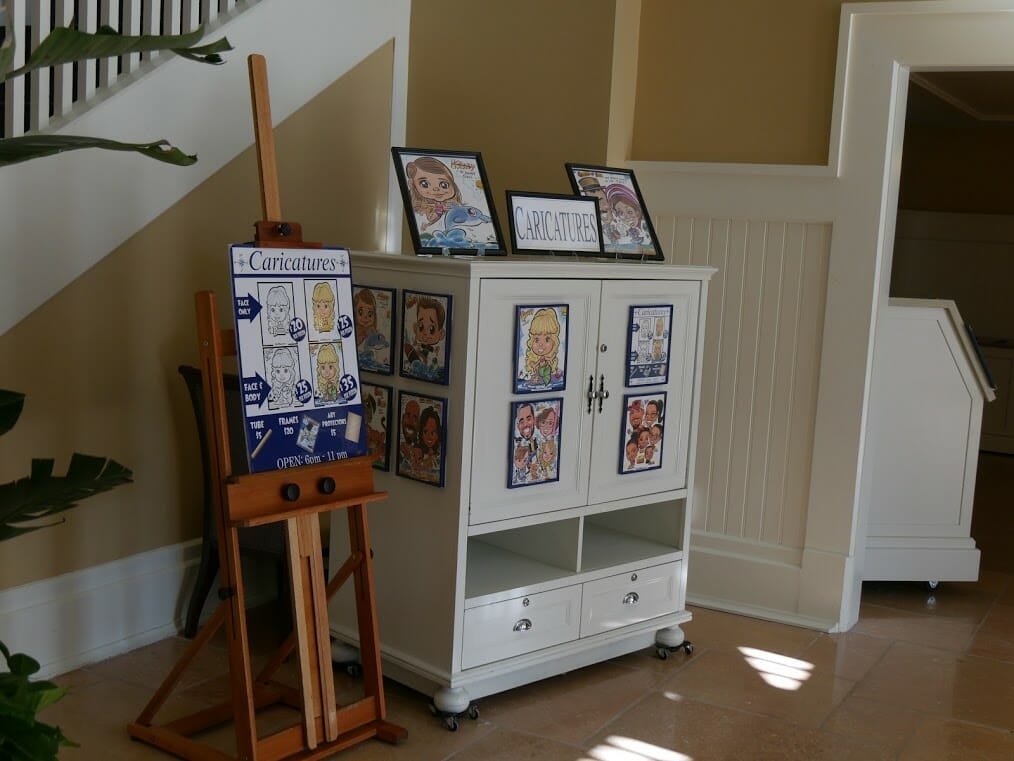 The Beach Club is my husband's new favorite Disney resort, and it lived up to all of the dreams I had had about staying there.
It's relaxing, while also being luxurious, and casual while also being elegant.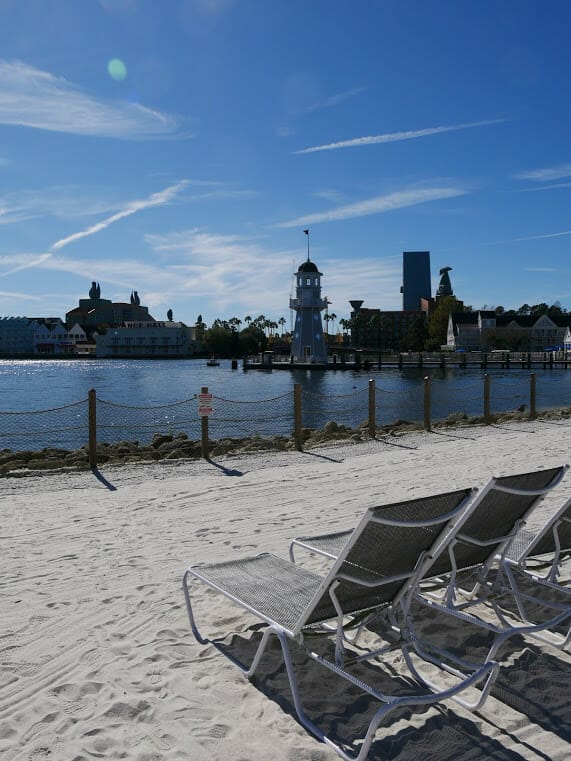 Fantastic rooms, pool, transportation, cast members, and access to two other resorts and the Boardwalk itself keep it at the top of our list, and we're already looking forward to our next stay.
Get the All-American Travel Secrets!
Don't miss out on America's hidden gems!