Many people skip right over New Jersey in favor of a grand New York vacation.
Don't miss out like those people; New Jersey is full of vacation-worthy destinations!
From quaint downtown shopping centers, to sunny seaside resorts, to lush green parks and plenty more, here are 19 charming small towns in New Jersey you need to visit!
1. Boonton: cute towns in New Jersey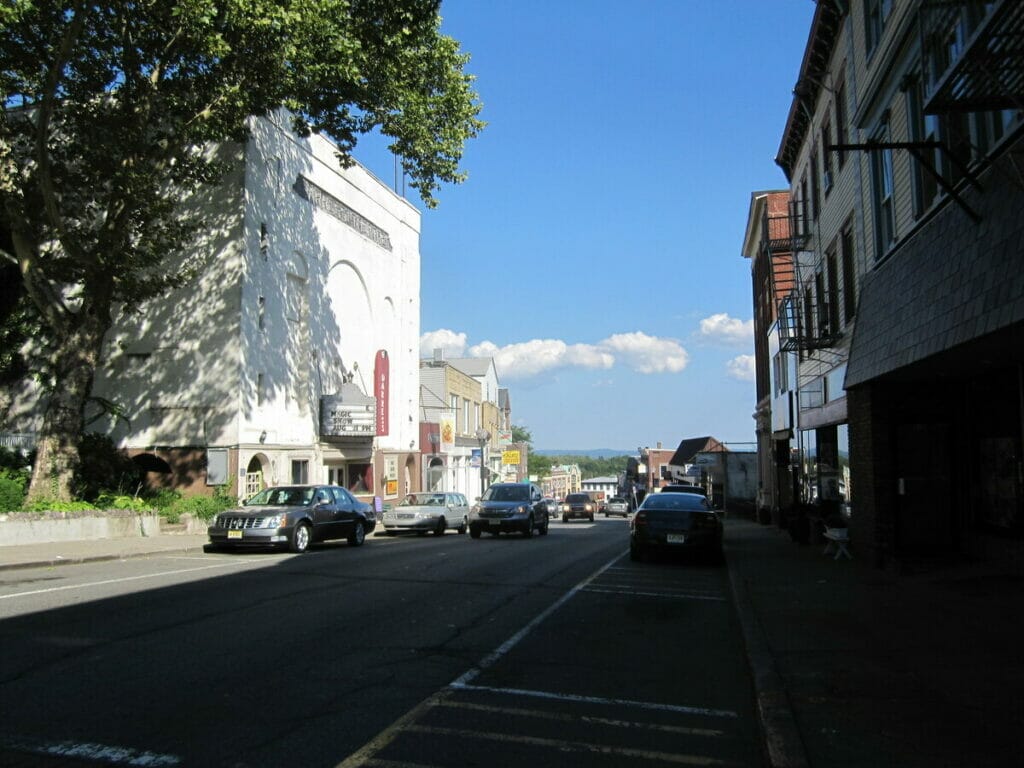 One of the best little towns in New Jersey is Boonton, with a population of just under 9,000.
Boonton's Main Street has such a unique feel to it – the way it winds up a hill, with views of treetops visible between buildings.
You'll know you've reached the end of downtown when you come across Top Of The Park, an Italian restaurant known for its delicious pizza and fair prices.
Grab a satisfying lunch there, or head back down Main Street for sushi, sandwiches, Thai, Jamaican, and other cuisine options!
On a sunny day, opt for takeout or pack a picnic down to Grace Lord Park, where you'll find a beautiful waterfall, a gazebo, a playground, and a scenic trail.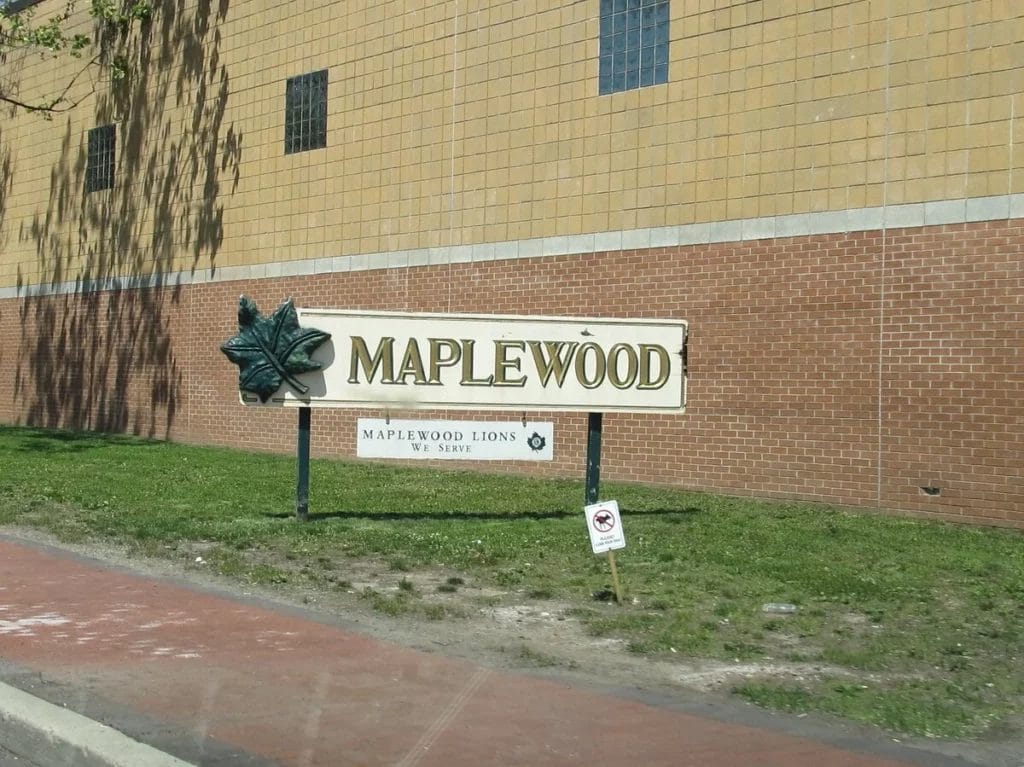 The shops and eateries that line Maplewood's town center are diverse in both architecture and offerings.
You'll find Irish, Italian, Thai, Middle Eastern, Indian, American, and other cuisines, providing plenty of dining options while you browse the town's clothing and gift shops!
Take the kids to the Maplecrest playground and skate park, or head into the town center to enjoy the lush greenery of Memorial Park, which also has a playground in addition to sporting areas.
Looking for something a little more removed from the city?
Explore the 2,000 acres of South Mountain Reservation, where you'll find scenic hiking trails, waterfalls, a dog park, fascinating sculptures, and more!
History enthusiasts will want to stop by the Durand Hedden House & Garden Association – check their events page to find out when the historic house is open to visitors!
Bordering New York along the Hudson River are Englewood and Englewood Cliffs.
Spend the day shopping and dining in the broad streets of downtown Englewood, immerse yourself in live entertainment from the Bergen Performing Arts Center or the Black Box Performing Arts Center, or brave the mysteries that await at Escape Room NJ!
Need a break from downtown?
Head out to Englewood Cliffs to enjoy a breathtaking sunrise from Rockefeller Lookout, a stunning sunset from Hudson Park, or a refreshing picnic in the marina.
Downtown Glassboro and the Glassboro Town Square are full of charm and character, starting with the recently commissioned Glassblower Bronze Sculpture, standing proudly at the northwest corner of the town square.
Dine and browse the shops along Rowan Boulevard, then work your way up to the Monarch Diner and Restaurant for a delicious dinner!
Had enough shopping? See what's on at the Edelman Planetarium, Pfleeger Concert Hall, or Boyd Recital Hall on the beautiful Rowan University campus, just a short walk from downtown!
Near the south end of the university is the Glassboro Historic Train Station, and the Heritage Glass Museum (open certain Saturdays only – check their website before you go!) is sure to intrigue any history enthusiast.
Italian Americans will want to visit Glassboro in September for the St. Anthony's Italian Heritage Festival!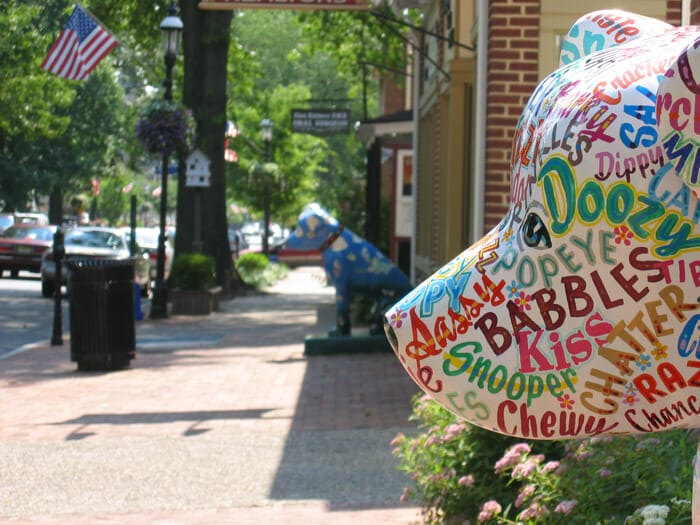 Looking to hold a wedding or other special event in small town New Jersey?
Look no further than The Community House of Moorestown!
Located conveniently in the town center, this gorgeous brick building and its lush green lawns have been home to many elegant weddings, birthdays, and other events.
Of course, you don't have to be having a wedding to say "I do" to Moorestown!
Spend an afternoon at the scenic Strawbridge Lake Park, or see what's on at Perkins Center for the Arts.
If the shops and eateries downtown aren't doing it for you, head over to the Moorestown Mall, where you'll find all your favorite retailers as well as a movie theater!
Yankees fans will find Little Falls, NJ worth a visit solely for the Yogi Berra Museum!
But if baseball isn't your thing, you'll still enjoy the shops, eateries, and salons in the town center!
Find the perfect gift at Chubzzy Wubzzy Toys & Collectibles, get a new 'do at Shag86, then grab lunch at A Taco Affair before enjoying a fresh scoop of ice cream from Falls Creamery!
Go for a skate at the Montclair State University Ice Arena, or head to the other side of town to fill up at Munchy's, a local favorite featuring fresh subs, burgers, breakfast, Mexican food, and more!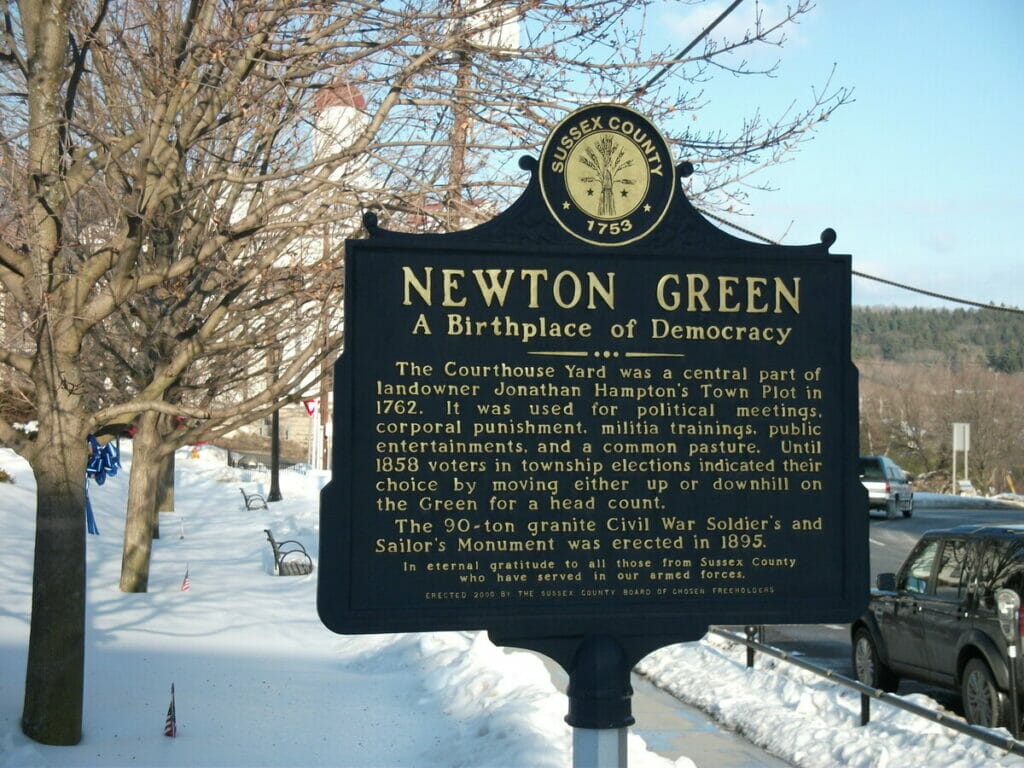 One of the most quaint towns in New Jersey has gotta be Newton!
The unique buildings in the town center create an eclectic shopping and dining experience – from a cozy record shop, to a metaphysical boutique, and plenty of cuisine options from all around the world!
Stay at the Holiday Inn Express & Suites located in the major shopping center to the north of town, then spend an afternoon or two in the town center.
Done shopping?
See a concert or play at The Newton Theatre, play a game of catch in Memory Park, or enjoy a moment of reflection from a park bench on the Newtown Green.
8. Lambertville: small towns or cities in New Jersey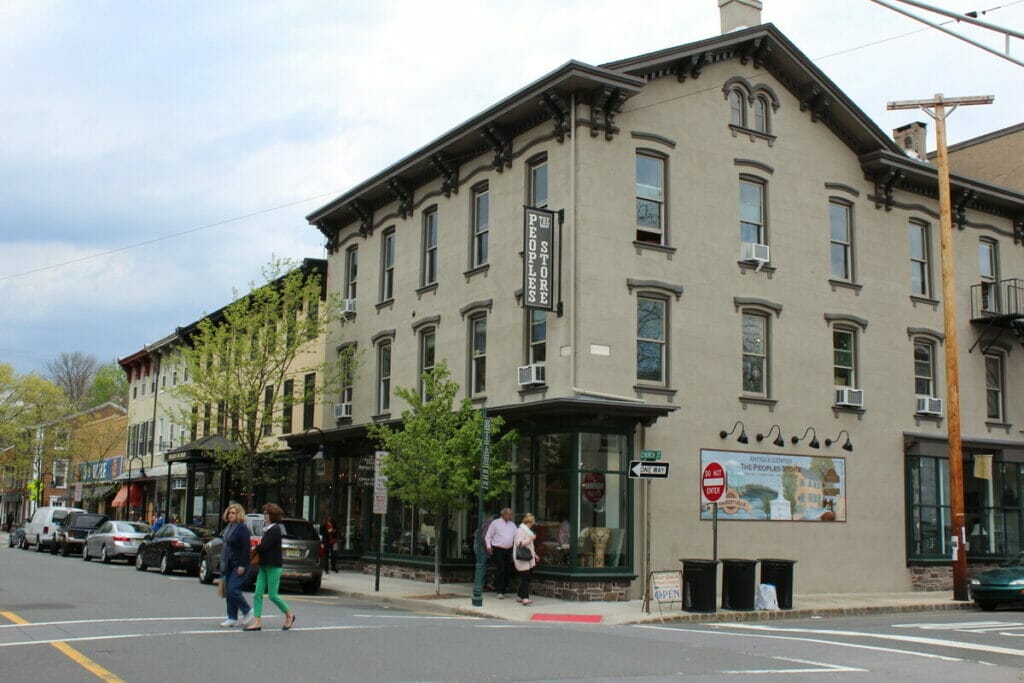 Downtown Lambertville is full of art galleries, boutique shops, and plenty of fine and casual dining options, making it one of the best small towns in New Jersey!
Stay at the Lambertville Station Inn, a destination in itself, and be sure to book a room with a view of the Delaware River!
Even if you decide not to stay at the inn, you don't want to miss the Lambertville Station Restaurant for a meal on the waterfront!
Another excellent option for an overnight trip is the Lambertville House, an early 19th century hotel featuring luxurious rooms, fine dining, and elegant balconies.
Egg Harbor City may have a population of less than 5,000, but don't think for one moment that it's too small to be worth visiting!
The extremely high-rated Renault Winery & Resort is worth the trip in itself, with its bright, clean, and reasonably priced rooms, green golf course, exciting special events, and, of course, the winery and tasting rooms.
If you're looking for a more casual stay, check out the Egg Harbor Lake Campground, complete with a mini golf course, a playground, and a lake!
In the town center (which is really in the south of town), you'll find a great photo op in front of the mural that's across from the town clock and library on Philadelphia Avenue!
Browse the shops and grab lunch at one of the local restaurants, or head for The Harbor Diner for some comfort food in a retro atmosphere on US-30.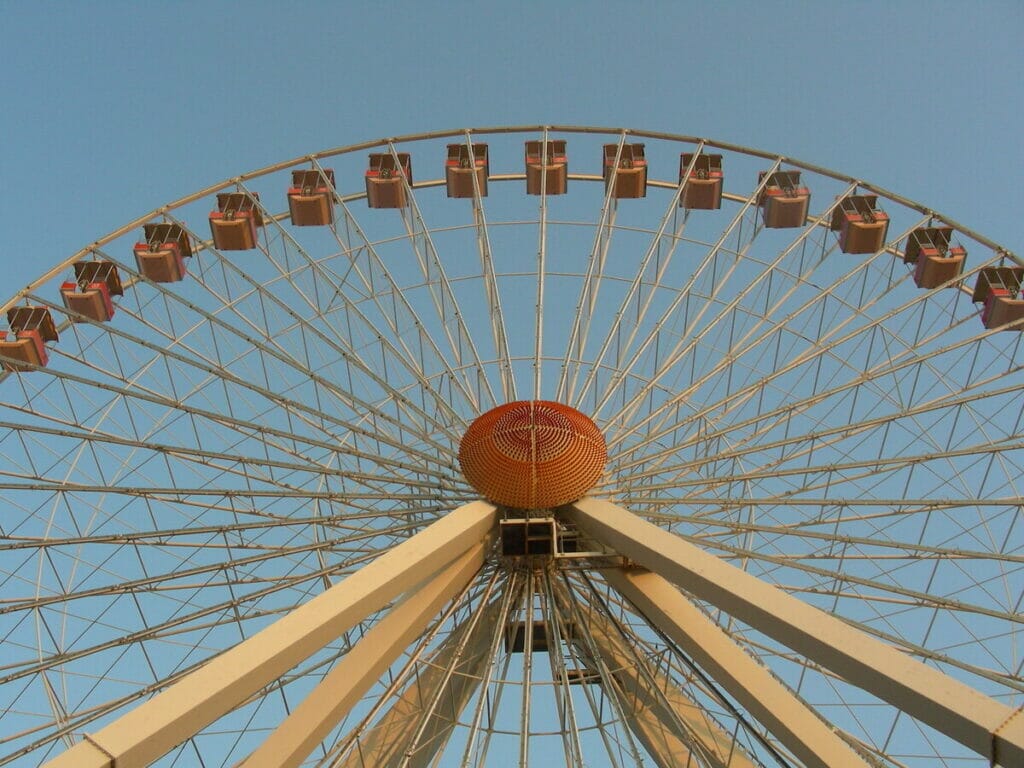 When you think of cute towns in New Jersey, you might not be picturing a beach and boardwalk.
If that's the case, the resort city of Wildwood, NJ is here to prove you wrong!
Seated right along the Atlantic, Wildwood is one of the best small towns in New Jersey to visit during the summer.
Stay at any one of the classic motels near the shore, then gear up for a day of fun at the beach!
Zoom through the air on the amusement rides at Wildwood Boardwalk, chow down on classic American food, and pay a visit to the Doo Wop Experience Museum.
Don't forget to snag a pic in front of the iconic beach balls and "Wildwoods" sign!
Top tip: remember, this is a resort city, so plan to visit in the summer or you'll find that half the town is closed for the season!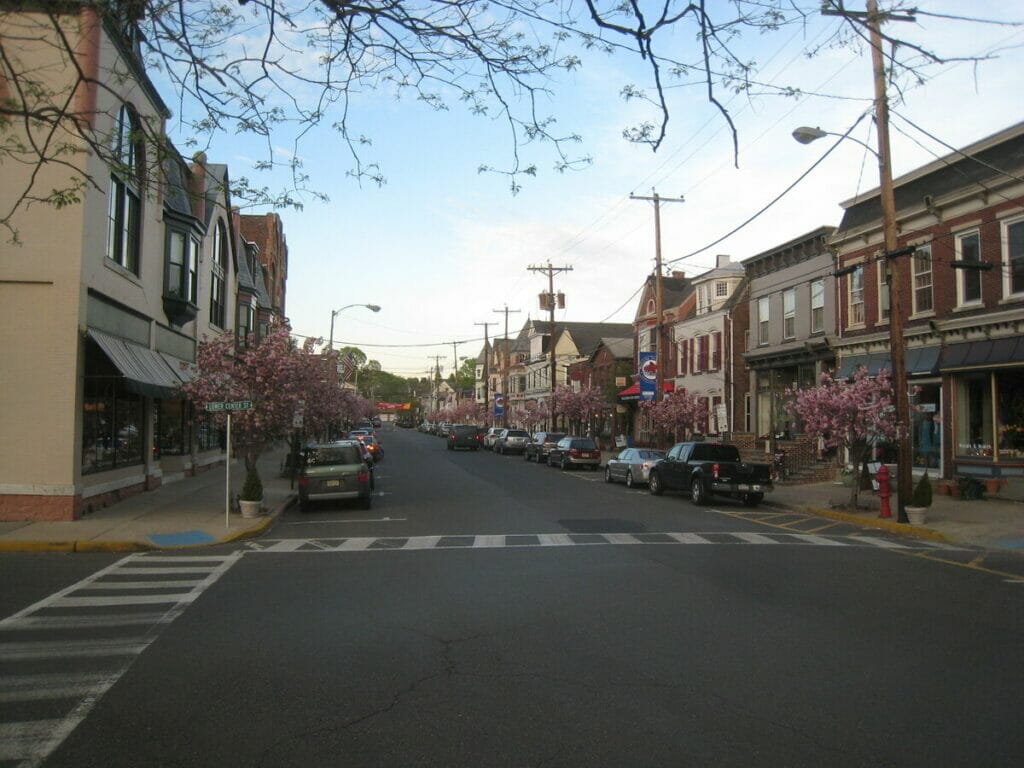 Step into history at the Red Mill Museum Village in Clinton, NJ, where you'll find a huge collection of artifacts ranging from Colonial times to the 1920s.
Not excited about history?
There's plenty more to do in Clinton!
Cross the historic bridge into the heart of Main Street and ignite your creativity at the Hunterdon Art Museum.
After that, continue downtown and browse the diverse assortment of boutiques and other shops before stopping for lunch at Towne Restaurant.
12. Cape May: best small towns in New Jersey to visit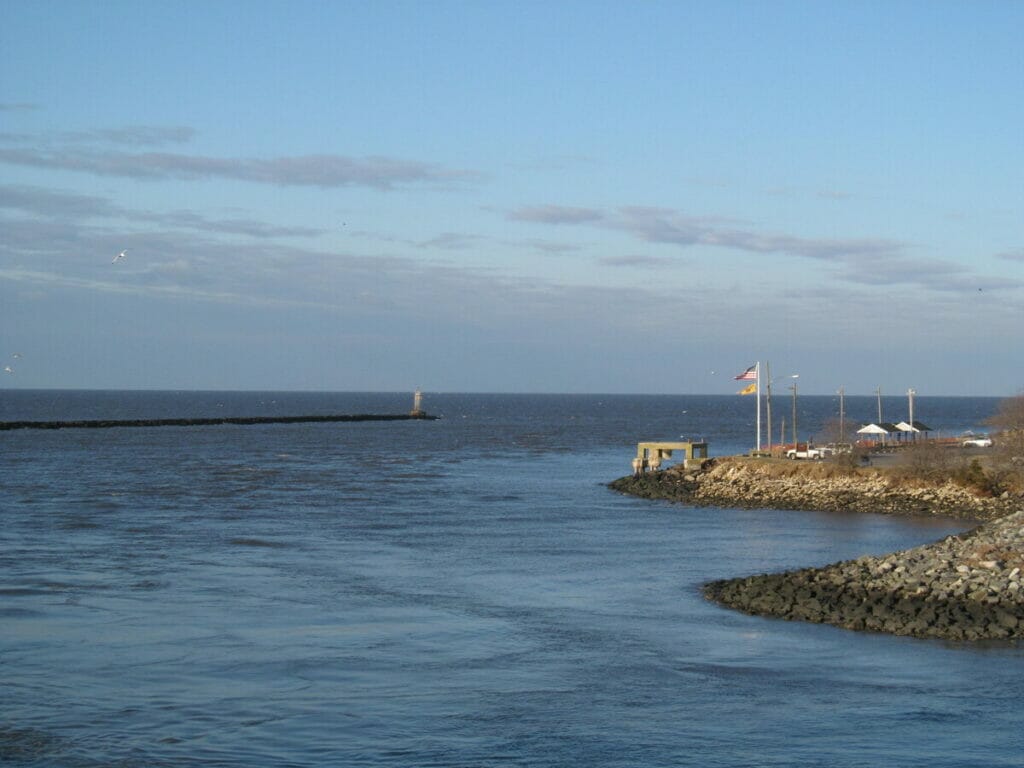 The seaside resort of Cape May is perfect for your small town beach getaway!
Book a quaint, cozy room at Angel of the Sea, an exquisitely unique inn right across from the beach!
You'll have no trouble spending an afternoon or two walking along the sand, or shopping in the pedestrian-safe Washington Street Mall.
Pick up some mouthwatering peanut butter cookies from Cape May Peanut Butter Co., then sit in Rotary Park and enjoy your dessert in front of the water fountain and bandstand.
History enthusiasts will want to stop by the Harriet Tubman Museum, as well as the Emlen Physick Estate to learn about life in the late 19th century!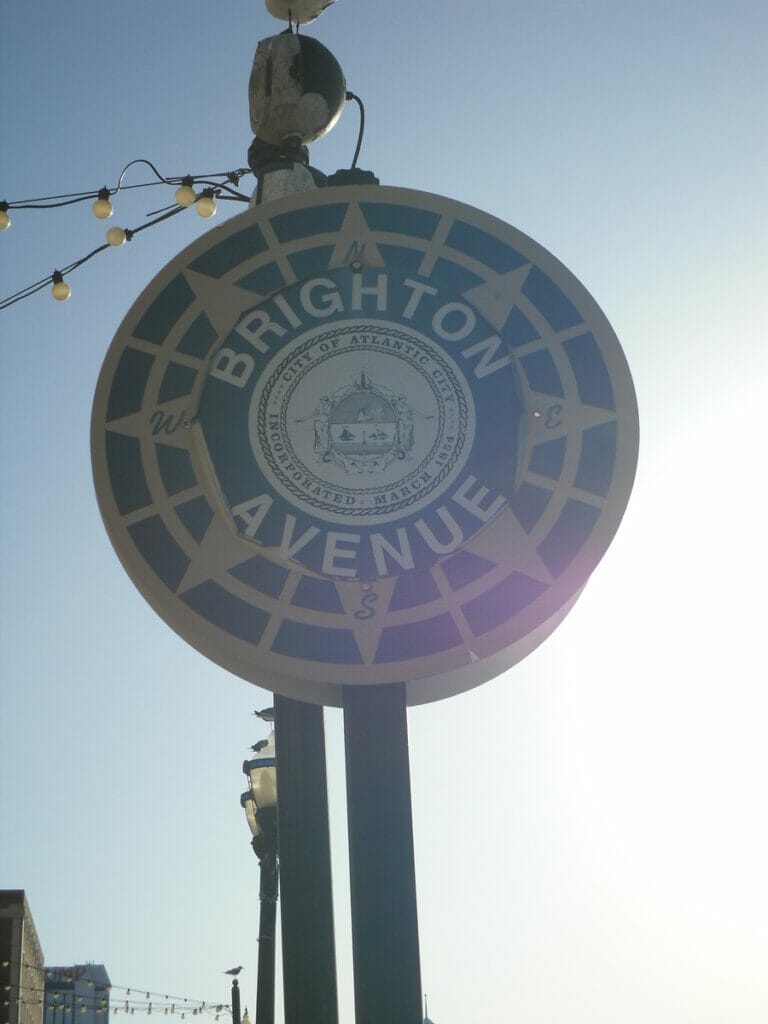 Planning a romantic getaway in small town New Jersey?
Stay somewhere with history at the Jonathan Pitney House in Absecon, NJ!
This luxurious bed and breakfast dates back to the early 19th century and each room has its own unique charm.
Enjoy a quiet weekend at the romantic bed and breakfast, take a stroll through Heritage Park, and treat yourself to some fine Italian dining at Villa Rifici.
Looking for more to do?
Atlantic City is just 7 miles away!
In this coastal resort city, you'll find a beach and boardwalk, dozens of shops and eateries, and a Hard Rock Hotel!
14. Millburn: charming towns in New Jersey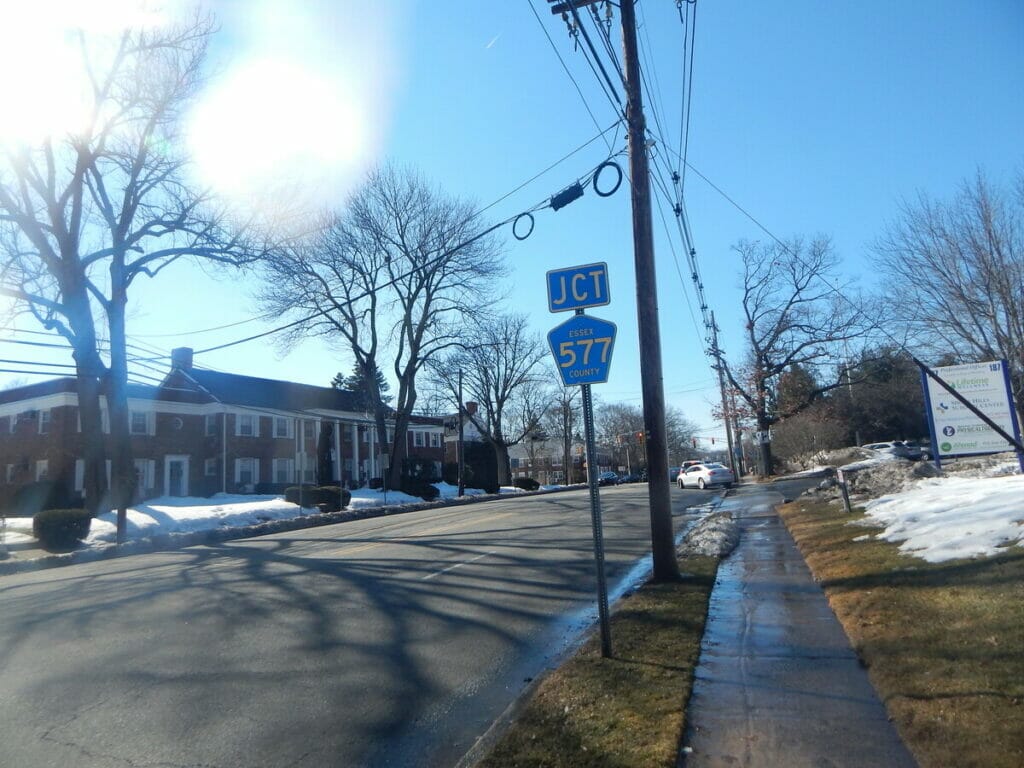 Nature enthusiasts, shoppers, and foodies alike will all love Millburn!
You'll have dozens of local eateries and shops to choose from in the town center, plus a beautiful city park featuring a small pond just a short walk away.
Hike through the fantastic Fairy Trail at South Mountain Reservation, or admire the trees and birds at Cora Hartshorn Arboretum and Bird Sanctuary.
Don't want to immerse yourself in nature?
Dive into a story instead!
See a show at the Paper Mill Playhouse, which puts on big productions from Broadway!
If the shops downtown don't do it for you, head northwest to The Mall at Short Hills, where you'll find all your favorite retailers!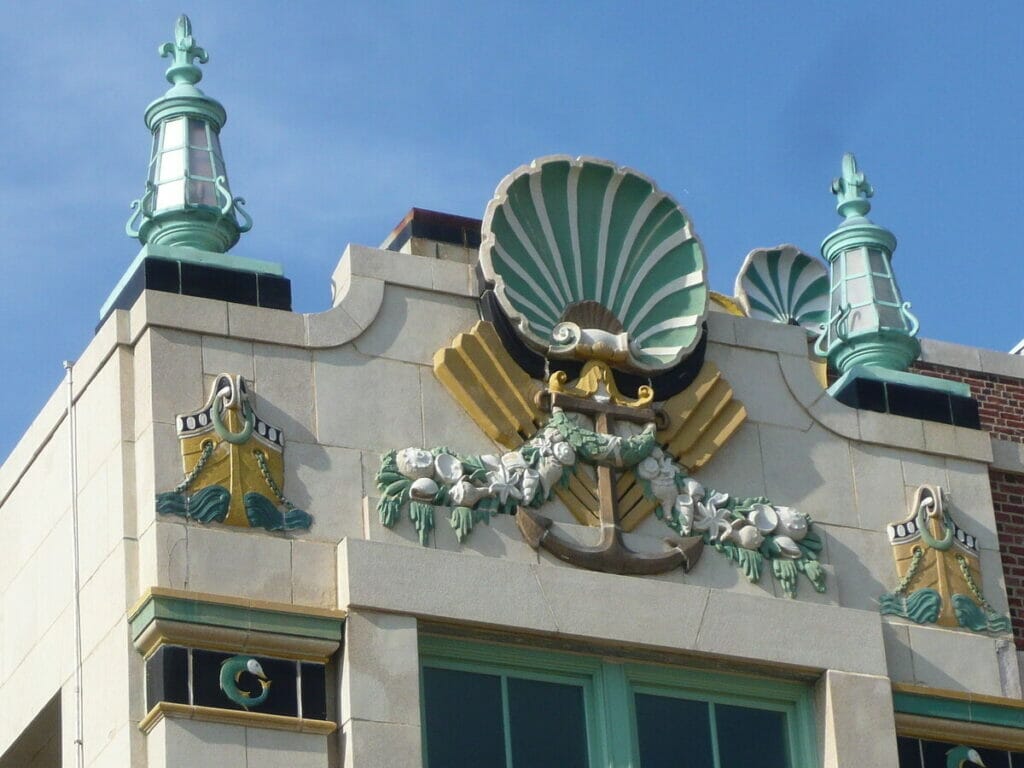 You'll find plenty of shops and eateries along Asbury Park's Main Street, but the real party is down Cookman Avenue and the beach boardwalk!
Stay at the trendy Asbury Hotel, then spend a weekend antique hunting downtown, playing arcade games on the boardwalk, and, of course, soaking up the sun at Asbury Park Beach!
In need of some greenery?
There's plenty of room to kick back and relax in Atlantic Square Park and the adjacent Bradley Park!
16. Hammonton: quaint towns in New Jersey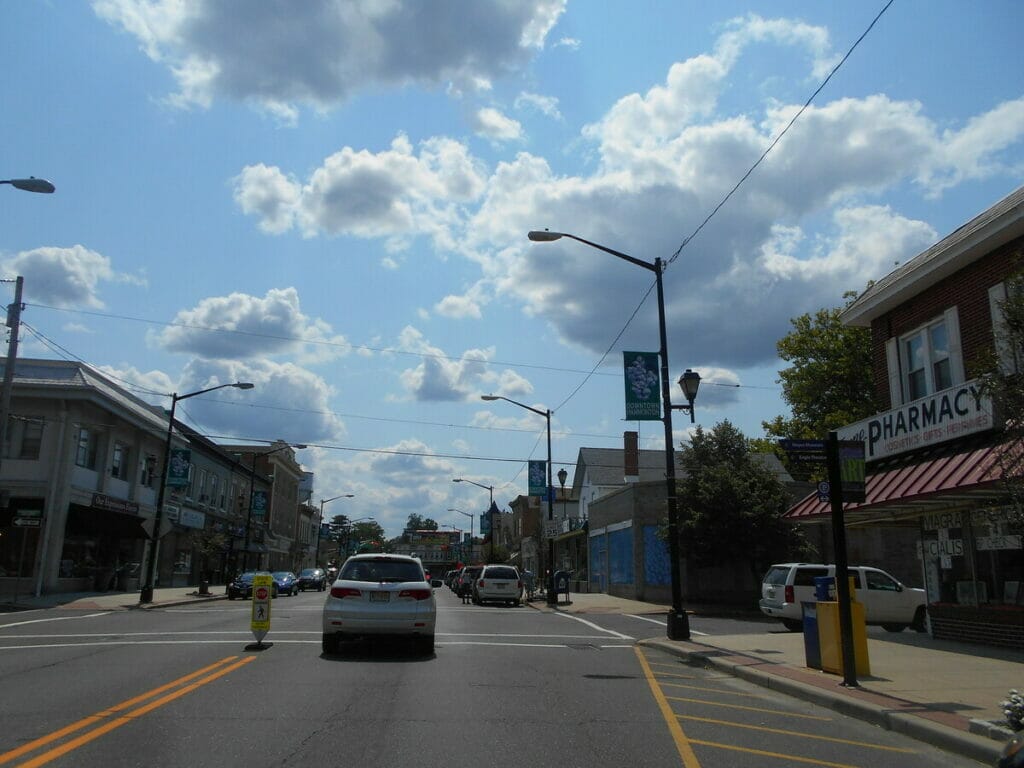 Calling all wine enthusiasts: You're in for a luxurious weekend of wine tasting in Hammonton, NJ!
Sip on the sweet wines at DiMatteo Vineyards, or snack on a cheese plate while enjoying the wine from Plagido's Winery.
You've got to try the blueberry moscato at Tomasello Winery – which, by the way, is the perfect place to hold an elegant outdoor wedding!
If you're not into wine, spend an afternoon in the idyllic Hammonton Lake Park instead, or go shopping downtown and enjoy a delicious meal from any of the highly rated Mexican and Italian restaurants in town!
You'll find the best view of the Manhattan skyline from the harborside parks of Weehawken, NJ!
Look out across the Hudson River at NYC from this lovely waterside New Jersey town.
But there's more to Weehawken than its proximity to the Big Apple!
With its prime location, good schools, and low crime rate, Weehawken is a top contender for one of the best small towns in New Jersey to live in.
Spend an afternoon in Hamilton Park, and visit the site of the fateful 1804 duel between Aaron Burr and Alexander Hamilton.
Treat yourself to a deluxe dinner with stunning views of the Hudson River at Chart House – don't forget to make a reservation!
See what's on at the Hudson Theatre Works, and check out the historic Weehawken Water Tower, which stands proudly at 175 feet tall and wows with its Gothic-Revival style architecture.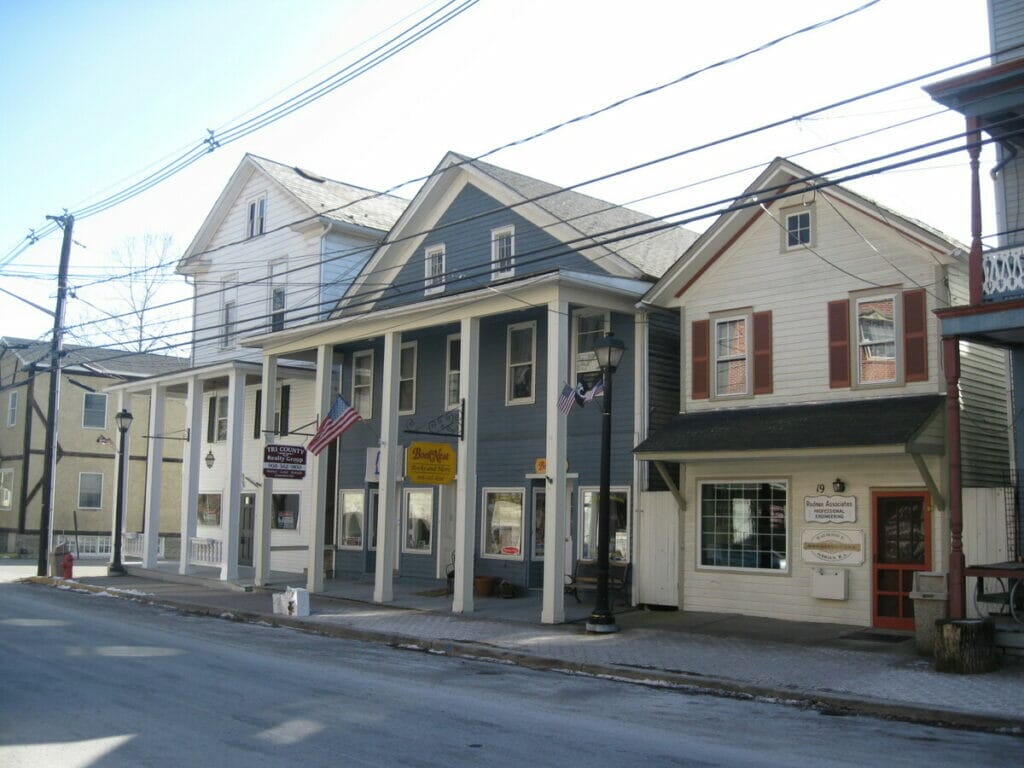 The dam and iron arch bridge in Blairstown is a hidden gem in this New Jersey small town. (You'll find it on Main Street, near the Blairstown Museum.)
You'll have a blast at Blairstown Museum during one of their spooky Friday the 13th events – check their Facebook page for updates!
See a live performance at Roy's Hall, then head over to Gourmet Gallery, Blairstown Inn, Blairstown Diner, or Buck Hill Brewery & Restaurant for a satisfying meal.
If you're looking for a place with a unique, casual atmosphere, you'll love The Airport Cafe, with model planes suspended from the ceiling and plenty of good American comfort food!
Sycamore Park is a great place to relax in nature, but if you're willing to go a little way out of town, the Delaware Water Gap National Recreation Area and Worthington State Forest are absolutely breathtaking!
19. Dover: New Jersey small towns
If you love nature, you've absolutely got to visit Dover in the spring!
Hurd Park becomes a pink wonderland, with cherry blossoms blooming over the lush green grass.
Pack a picnic and enjoy a breathtaking afternoon in this gorgeous park!
Then, head over to Blackwell Street for dozens of local shops and eateries – you'll find the best rotisserie chicken in town at Pollos Pucalor.
History lovers: Be sure to book an appointment with the Dover Area Historical Society before you go so you can tour the museum!
Hey! Want more ideas on the best small towns in the USA? Check these out!
Pin for Later!
Get the All-American Travel Secrets!
Don't miss out on America's hidden gems!