The best small towns in Arizona have got it all!
From the historic Route 66, to desert oases, to unique souvenirs, to American, Mexican, and southwestern comfort food…there's plenty of fun to be had in The Grand Canyon State!
Here are 19 charming small towns in Arizona you need to visit!
Hey! Looking for more great Arizona content? Head here!
When you're "standin' on a corner" in Winslow, AZ, you'll find plenty of sights to see!
This essential stop along Route 66 is sure to please whether you're an Eagles fan or not.
Snap a photo in front of the iconic mural and sculpture in Standin' on the Corner Park, then head across the street for a hotdog and a root beer float at Sipp Shoppe!
You'll have no problem finding the best souvenirs in gift shops downtown, and Homolovi State Park is the perfect place to enjoy the unique beauty of the desert.
Learn about the history of the area at the Old Trails Museum – admission is free!
You're definitely going to want to stay at La Posada Hotel, a historic railroad hotel that has seen such guests as John Wayne, Shirley Temple, Franklin D. Roosevelt, and even Albert Einstein!
Holbrook, AZ is home to one of Route 66's most famous places to stay: The Wigwam Motel!
Book a "room" at this iconic motel, where you'll stay inside one of the concrete teepees that served as inspiration for the Cozy Cone in Disney Pixar's Cars.
You'll discover the history of the area at the Navajo County Historical Society's free museum, and young travelers are sure to get a kick out of the giant dinosaur statues in front of the Rainbow Rock Shop.
It's not all about the town center, though!
Don't forget to swing by Jim Gray's Petrified Wood Co. in the south of town to find a fascinating souvenir, and head up to the north of town for a satisfying meal from Sombreritos Mexican Food!
There's plenty of history, art, and nature to be found in Fountain Hills, one of the best little towns in Arizona!
Find lush greenery amongst The Grand Canyon State at Fountain Hills Parks and Recreation, where green grass surrounds a sparkling lake.
Have a picnic, play disc golf, or let the kids run around on the playground at this gorgeous 64-acre town park.
All American Sports Grill, to the west of the park, is the perfect place to grab lunch. But there are so many highly-rated eateries in town, you're going to want to stay for a whole week!
Stoke your creativity at the Fountain Hills Artists' Gallery, or plan a trip during one of the town's art festivals!
Interested in history?
Visit the River of Time Museum & Exploration Center and learn about the history of the Lower Verde Valley region.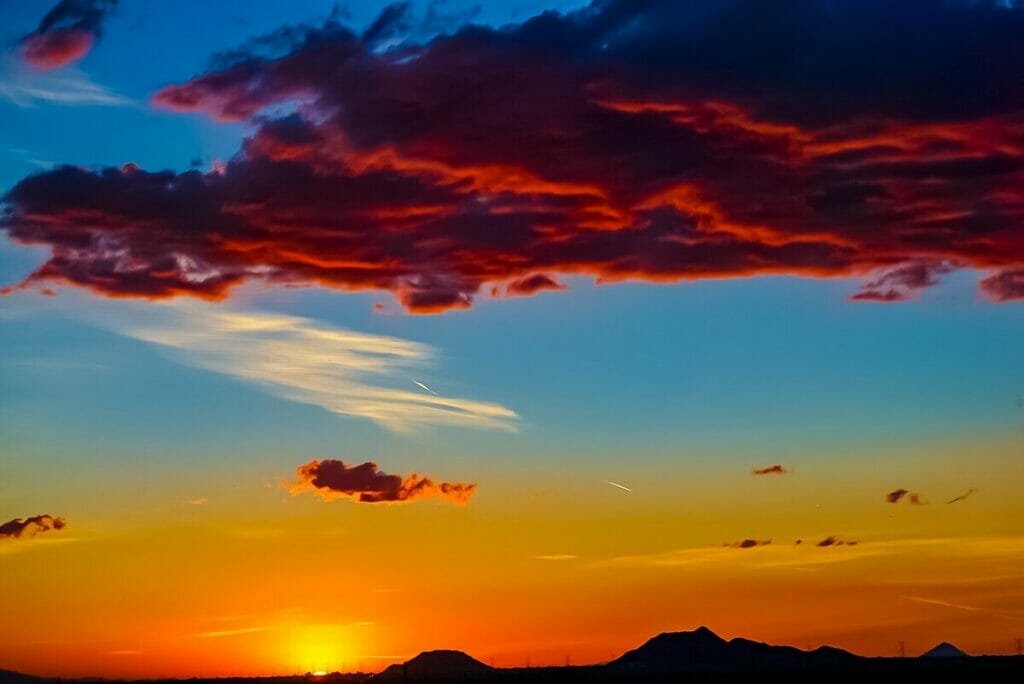 Is there gold hidden in the mountains of Apache Junction?
Visit the Superstition Mountain Museum to find out!
Located in the north of town right next to the iconic Elvis Chapel, this fascinating museum will tell you of the lore behind the Lost Dutchman State Park.
Just a little further north is Goldfield Ghost Town, where you'll bear witness to an Old Western gunfight!
And their nighttime walking ghost tour will leave you shaking in your boots!
Too spooky for your tastes?
Enjoy an evening of live entertainment and a delicious meal with Barleens Dinner Show instead!
(You'll love their famous chocolate cake, which they'll serve you before the main course!)
With all the fun to be had in Apache Junction, it's no wonder that it's one of the best small towns in Arizona to live in!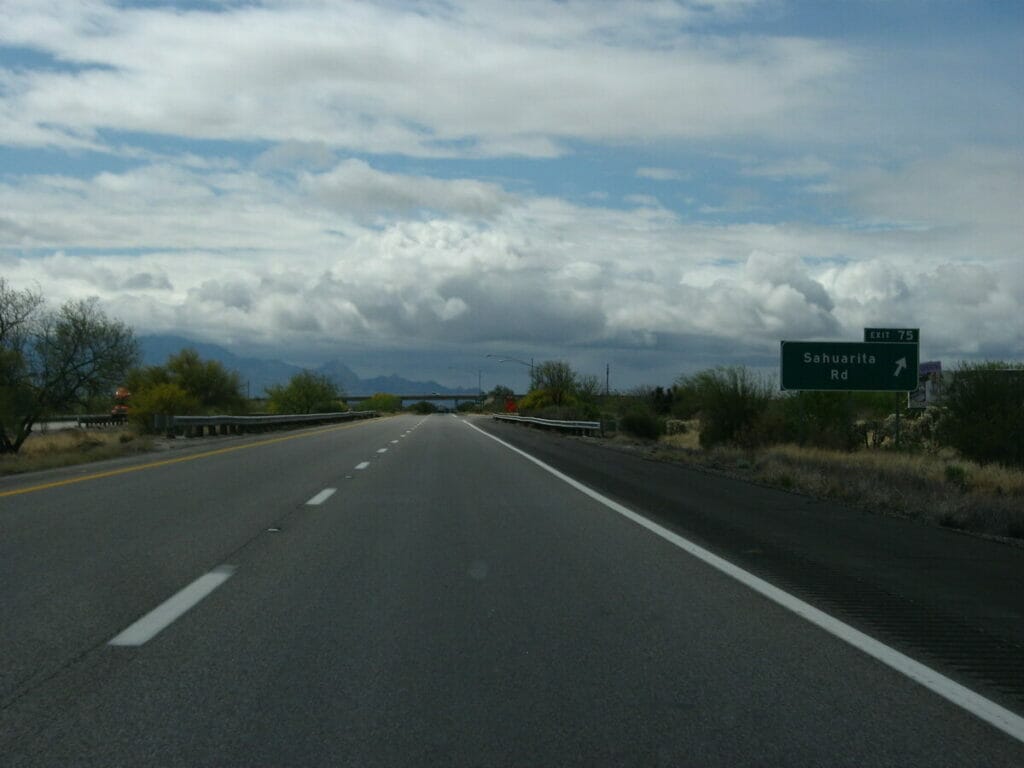 Explore the inside of a missile silo at the Titan Missile Museum in Sahuarita, AZ!
After that, enjoy a peaceful walk or a scenic picnic near the water in Sahuarita Lake Park.
The town is always putting on fun events, so check the Parks and Recreation department for the latest on upcoming festivals and more!
You'll savor the breakfast at JerryBobs Restaurant, and El Patio Mexican Restaurant is the best place to grab lunch or dinner in town!
If you're looking for more things to do in the area, Desert Meadows Park in Green Valley is just a short drive away, and be sure to see what's happening at the Community Performance & Art Center!

Right along the border to Mexico is Nogales, AZ, where you'll find a beautiful mural welcoming you to the Santa Cruz Valley National Heritage Area. (Located across from the Kids Club building.)
The charming Nogales Border Plaza near the railroad tracks will make you feel like you've taken a mini Mexico vacation, and there's plenty of mouth-watering Mexican food to be found around town.
You'll definitely want to check out the Pimeria Alta Historical Society Museum, housed inside the Old Nogales City Hall – which dates back to the early 20th century!
Be sure to walk by the grand Santa Cruz County 1904 Courthouse, and try the delicious Mexican seafood at Cocina La Ley!
Also along the Mexican border is Douglas, AZ.
You'll find it hard to believe you're in small town Arizona when you stay at the Gadsden Hotel, which has an absolutely stunning grand lobby!
Across the street, you'll find a charming little park with a gazebo, and enjoy breakfast at the nearby Blueberry Cafe.
Ignite your creativity at Art Car World, where automobiles have been turned into unique works of art, or take a refreshing walk along Paseo de las Américas Linear Park.
Hungry?
Find the Takos Fuentes food truck next to Castro Park, then take a seat at one of the park's picnic tables.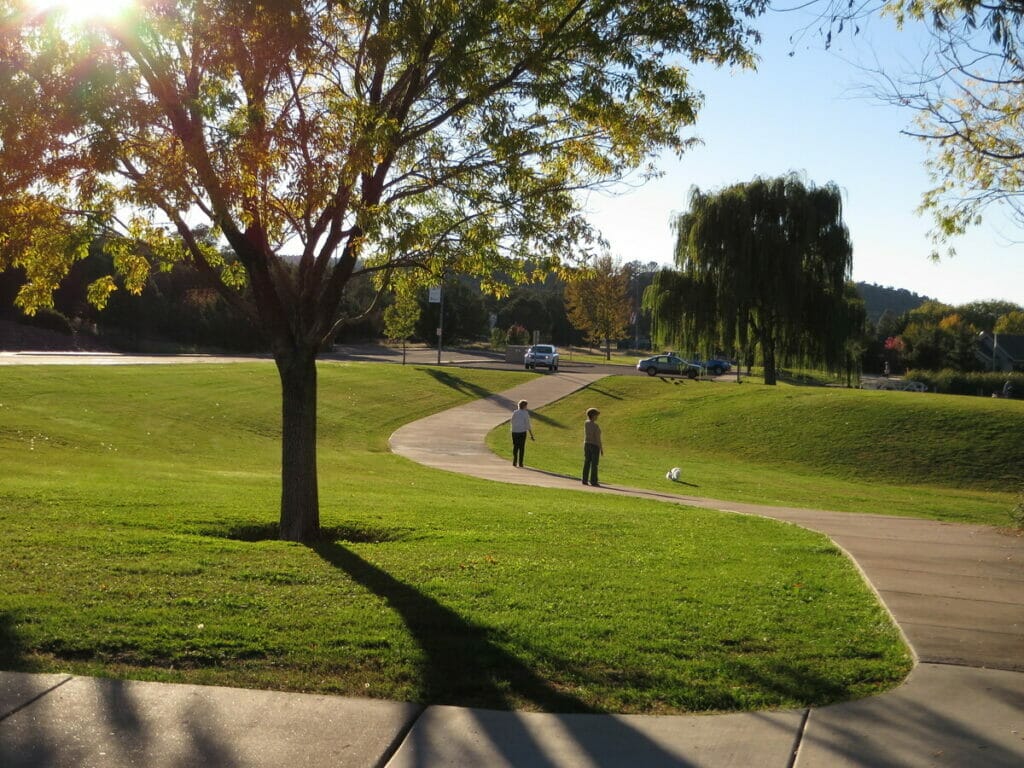 Stay in a beautiful lodge at the Majestic Mountain Inn when you come to Payson, AZ!
While you're in town, enjoy the great outdoors as you roam the 13 acres of Green Valley Park – don't forget to stop by the Rim Country Museum and Zane Grey Cabin!
If you're up for a challenge, track down the Cypress Trail, a hidden gem where you'll enjoy a lovely hike amongst trees and creeks.
Hungry?
You've got your choice of several great food options, like the Beeline Cafe, Macky's Grill, the Pinon Café, and the charming Common Grounds Coffee House!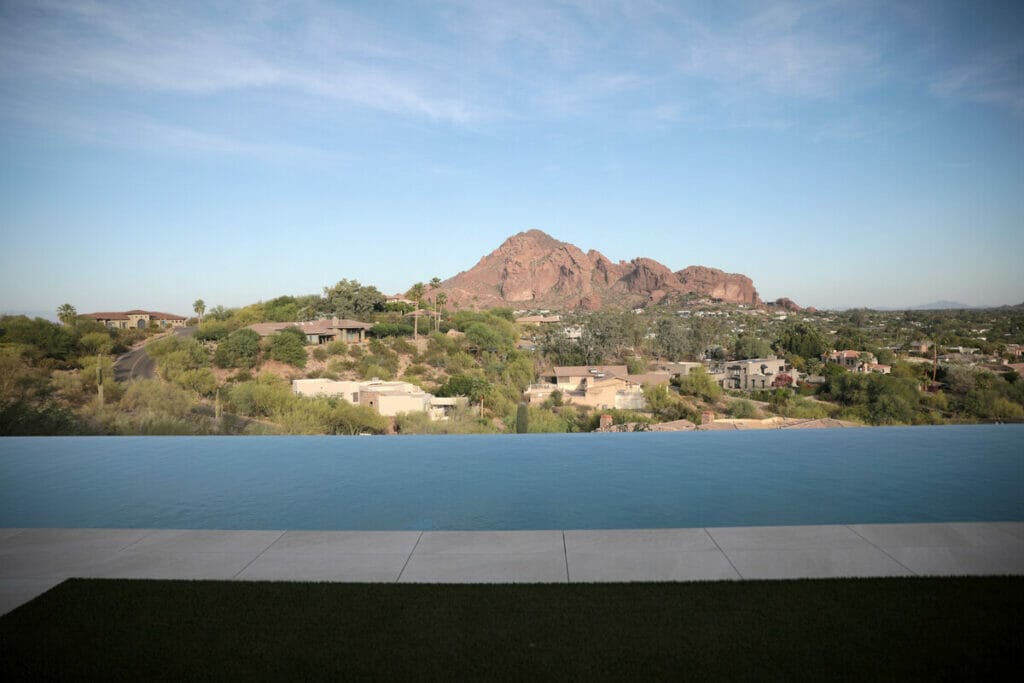 Talk about paradise!
There are several beautiful resorts to stay at in the aptly named Paradise Valley, AZ.
Treat yourself to a golfing getaway at the Mountain Shadows Resort Scottsdale.
Tee up at the hotel's short course, or head out to the luxurious Camelback Golf Club!
The JW Marriott Scottsdale Camelback Inn Resort & Spa is another excellent choice to stay at, and the water fountain behind the hotel restaurants is absolutely stunning.
Not a golfer?
You'll still love a trip to Paradise Valley!
Find a new statement piece for your home at the highly rated Cosanti Originals, where you'll find fine art prints, windbells, jewelry, pots, planters, and more.
You'll know you've reached Camp Verde when you see the World's Largest Kokopelli statue!
While you're in town, brave the zipline and meet the animals at the Out of Africa Wildlife Park, or go horseback riding on an Old Western ranch.
While it may look like an Old Western saloon from the outside, you'll enjoy fine dining at Moscato Italian Restaurant!
History enthusiasts will love the Camp Verde Historical Society Museum, the Verde Valley Archaeology Center and Museum, and the restored 19th-century buildings and exhibits at Fort Verde State Historic Park.
If you're looking for cute towns in Arizona, a trip to Sedona is an absolute must!
The topography is breathtaking, with gorgeous background scenery everywhere you turn.
Spend an afternoon in the heart of town, with unique and utterly charming shopping centers like the Tlaquepaque Arts & Shopping Village – you're definitely going to want to take a photo in front of the water fountain!
Explore the area with Pink Jeep Tours, or take a walk along the Cathedral Rock Trailhead, Broken Arrow Trail, or through Airport Mesa.
Art lovers will want to visit the Sedona Artist Market, and those with an introspective side will enjoy a moment of meditation at Amitabha Stupa and Peace Park.
There are a plethora of luxurious resorts and hotels to choose from, but L'Auberge de Sedona really takes the cake!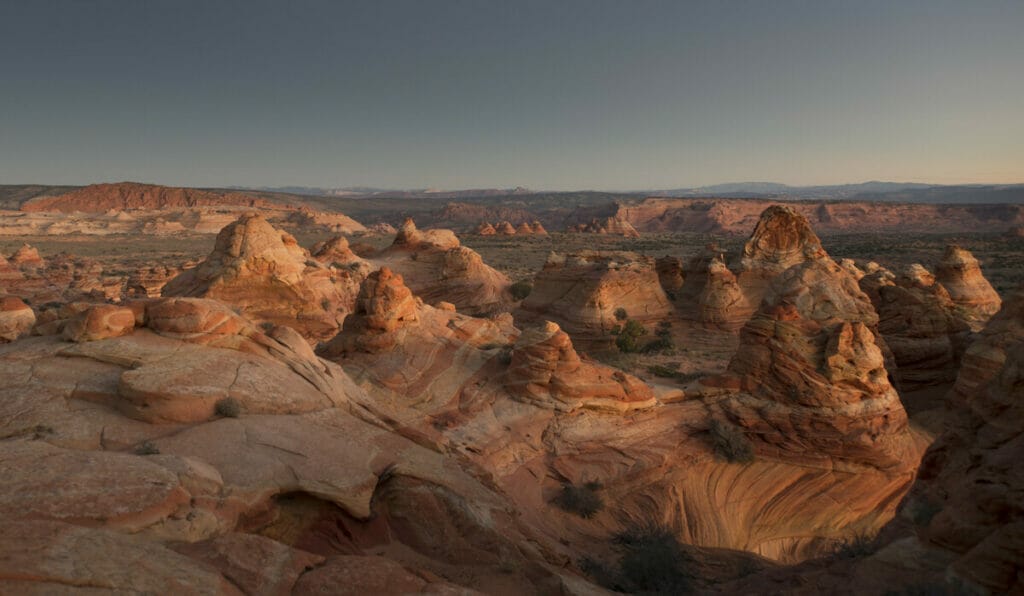 If you're visiting Sedona, you'll definitely want to spend a day in the nearby Cottonwood, too!
Go hiking, fishing, or swimming at Dead Horse Ranch State Park – don't worry, you won't actually find any dead horses there.
Stay at either The Iron Horse Inn or the Tavern Hotel in Old Town Cottonwood, where you'll be right in the middle of the shops and eateries on North Main Street!
Wine lovers will love the Merkin Vineyards Tasting Room & Osteria.
Find it next to the Old Town Welcome sign – be on the lookout for their gelato and kebab food trucks!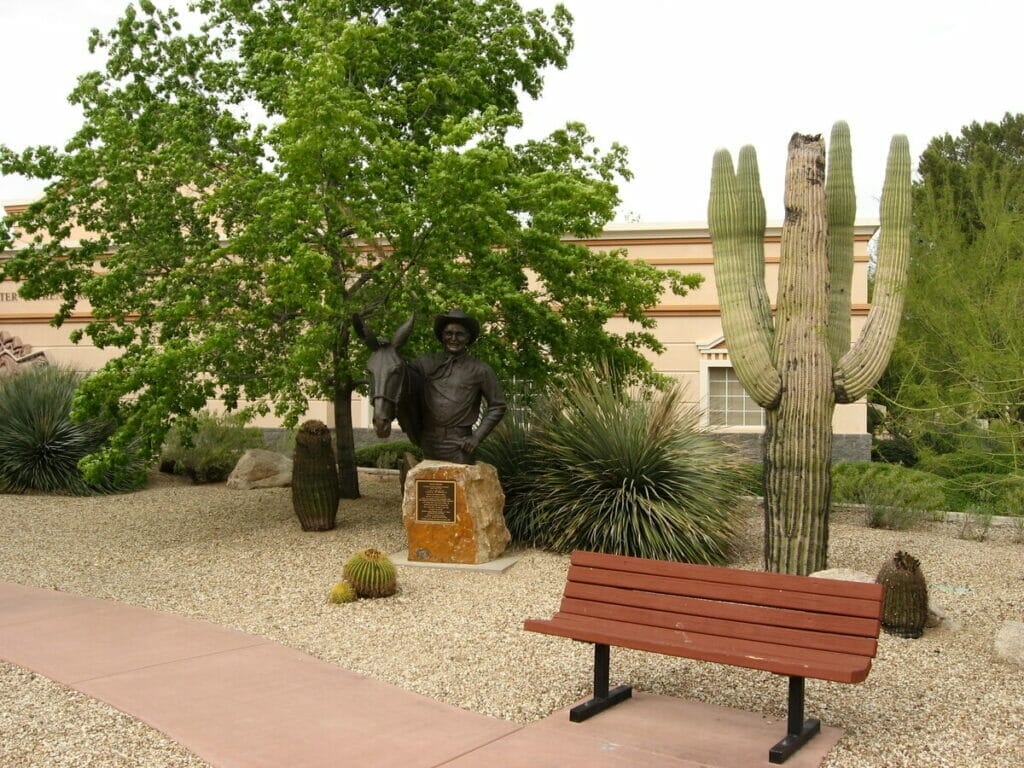 Get your cowboy on in Wickenburg, AZ!
Immerse yourself in the wonders of the Old West and beyond at the Desert Caballeros Western Museum, chow down at Cowboy Cookin', or take a Jeep tour of the Sonoran Desert!
Thirstin' for a good plate of ribs?
Get on down to Onery Hog BBQ, just a short walk from Coffinger Park, a great place to let the kids run around and get some fresh air.
Stay at Los Viajeros Inn, where you'll enjoy clean rooms, an outdoor pool and heated whirlpool, and a cozy, casual lounge featuring a fireplace in the hotel lobby.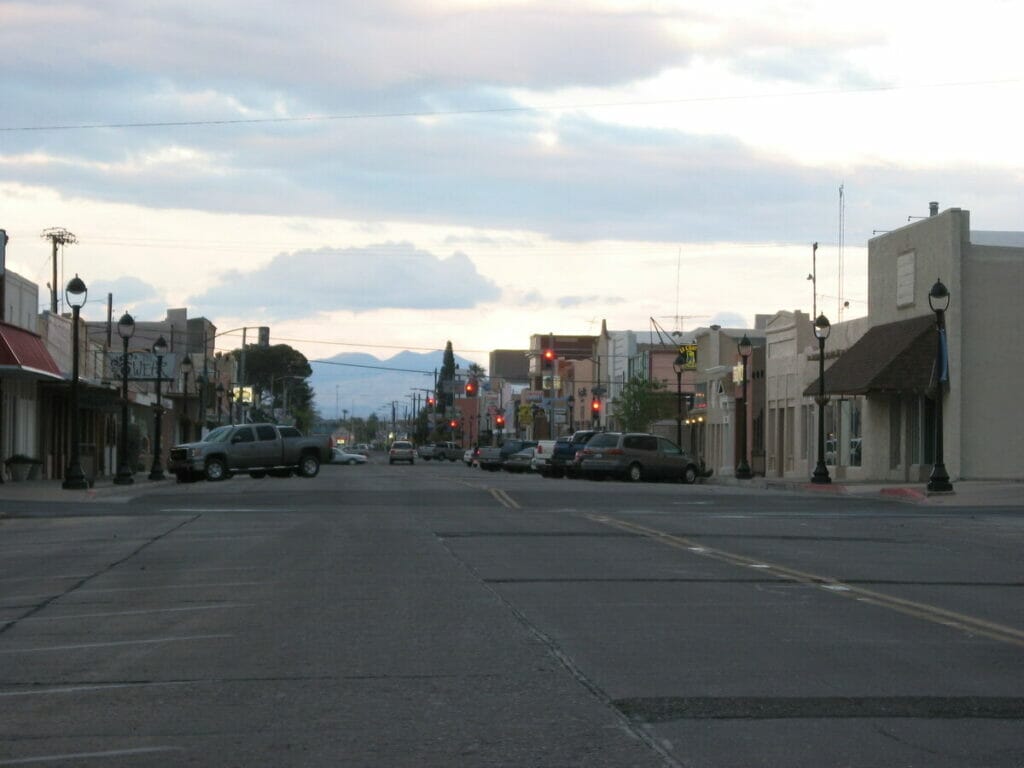 Travelers with young ones will love a trip to the EAC Discovery Park Campus in Safford, where they'll learn about space and take a simulated shuttle tour of the solar system!
Not into space?
Let the kids have some fun on the covered playground in Glenn Meadows Park, or visit in October for the Graham County Fair!
Many of the shops have unfortunately closed in the historic downtown, but there are still a few boutiques open, and you'll definitely want to swing by the locally adored Main Street Cafe for brunch!
You're in for a memorable getaway in Litchfield Park, AZ!
Stay at The Wigwam, a luxurious golf resort with a deluxe spa, fine dining, and three pools featuring cabanas, bars, and a water slide!
Even if you're not staying at the resort, you'll definitely want to book a table at Litchfield's Restaurant, where the rustic but elegant atmosphere creates a comfortable fine dining experience.
Dive into the history of the area at the (free!) Litchfield Park Historical Society Museum, open Wednesday through Friday.
Not into golf, but in need of the outdoors?
Spend an afternoon at the beautiful Tierra Verde Lake Park, or take a dip in the pool at the Litchfield Park Recreation Center!
You'll find no shortage of lodging options in Page, AZ!
Book a stay at one of the local bed and breakfasts, pitch a tent at Page Lake Powell Campground, or opt for a more familiar hotel chain…then get out there and see the sights!
Marvel at the Ancient Anasazi Petroglyphs on Glen Canyon (find them near Horseshoe Bend), enjoy a quiet hike along the secluded Rim View Trails, or take a guided tour of the absolutely stunning Antelope Canyon.
Hungry?
Try the chimichangas at El Tapatio, or go for chicken wings and a craft beer at State 48 Tavern!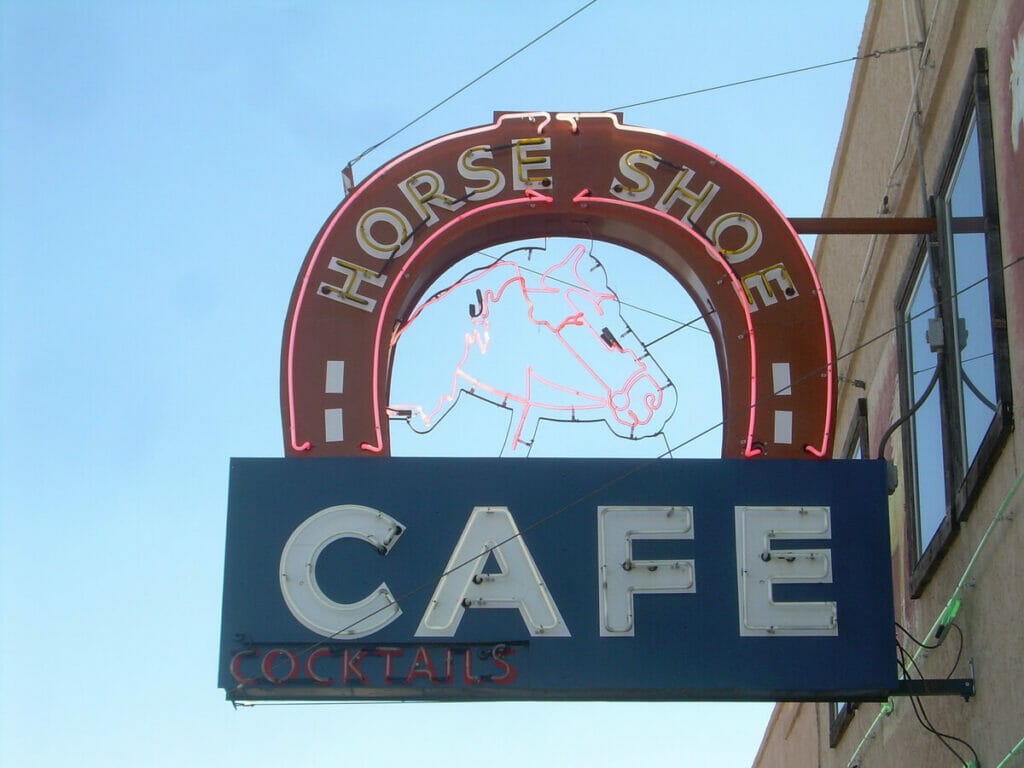 Camp, hike, and explore the limestone cave at Kartchner Caverns State Park in Benson, AZ!
If you don't want to rent a cabin or camp at the park itself, stay at the highly rated Comfort Inn Benson.
You'll know you've reached the town center (which is really in the north of town) when you see all the gorgeous murals on the buildings.
Find the cave mural on the corner of 4th and Huachuca!
Just across the street is the Benson Visitor Center, where you'll encounter friendly staff and fascinating model trains.
Then, walk about three minutes to the Benson Historical Museum, open Thursday through Saturday, and admire the collection of local artifacts.
Don't forget to try the pie at Horseshoe Cafe & Bakery before you leave town!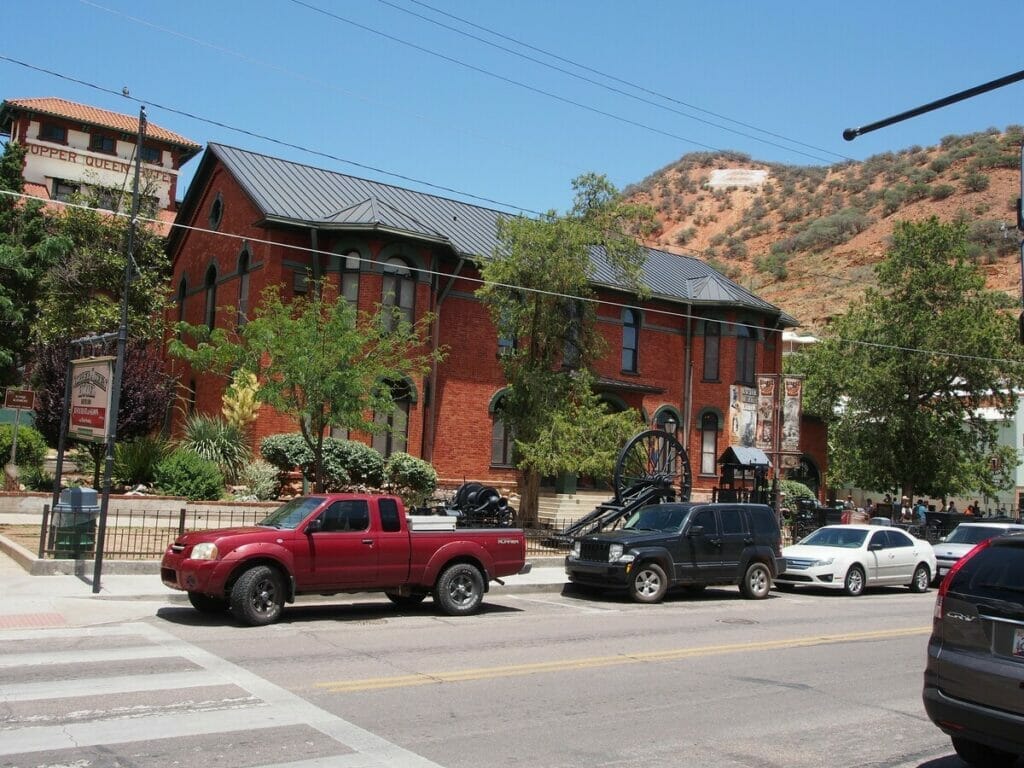 Bisbee is easily one of the most quaint towns in Arizona!
The charming town center is full of great places to stay, from the historic, cozy vibe at The Inn At Castle Rock, to the bright, colorful rooms at Eldorado Suites Hotel.
Have lunch at the popular Bisbee's Table, then walk over to the Bisbee Mining & Historical Museum for hours of fascinating fun!
If you're done with shopping and dining downtown, take a tour of a historic mine (don't forget to make a reservation), marvel at the view from atop Lavender Pit, or brave the Old Bisbee Ghost Tour!
Be sure to visit Bisbee on a Thursday, Friday, or Saturday so you can enjoy dinner, drinks, and an artsy atmosphere at Cafe Roka!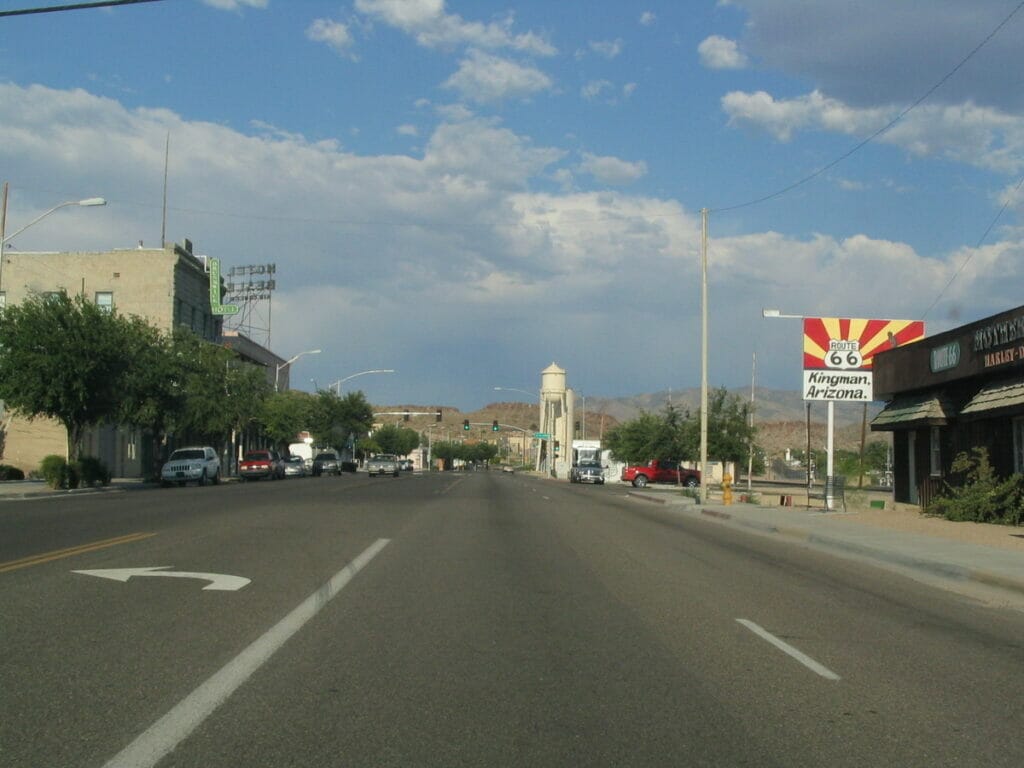 We'll end our list of small towns in Arizona as we started it: with another essential Route 66 stop!
Visit the Arizona Route 66 Museum in Kingman, and check out the Kingman Railroad Museum while you're in town!
You'll find plenty of fresh air at Cecil Davis Park, as well as a splash pad and shaded playground for kids.
Hungry?
Rutherford's 66 Family Diner is a great place to grab a casual meal!
Or, for the over 21 crowd, head over to Desert Diamond Distillery to try their award-winning whiskey, rum, and vodka while seated in a historic train car!
Hey! Want more ideas on the best small towns in the USA? Check these out!
Pin for Later!
Get the All-American Travel Secrets!
Don't miss out on America's hidden gems!