Are you looking to explore more of the southwest and the state of Arizona, but not looking to visit a national park this time?
Do you feel as if you have already "been there, done that" with Phoenix, and are now wondering where else to go?
Well, you are in luck, because located just outside of Phoenix, is Chandler, Arizona, the fourth largest city in the state that has become a diverse community of professionals and families thanks to the technology and innovation businesses calling the city home.
Located under 30 minutes from the Phoenix Sky Harbor International Airport, Chandler is the perfect spot for your next family vacation, friends' trip, or solo adventure.
With parks galore, indoor and outdoor sports and activities, museums, and more, there is plenty to keep folks of all ages entertained.
So read on for a list of the best things to do in Chandler, and then come see for yourself!
What to Bring to Chandler
If you're not used to the Arizona heat, here are just a few suggestions on what to make sure you have with you, almost year-round.
Getting around Chandler
Don't forget that it's much easier to see Jerome by car so you can get around on your own.
Rental cars are perfect if you're flying into the state.
We recommend using Discover Cars price comparison to find the cheapest deals.
Hey! Want more locally-approved Arizona guides? Check these out!
1. Chandler Museum
One of the top things to do Chandler is take a visit to the Chandler Museum.
The museum's main collection focuses on the history of Chandler, shown through photographs and artifacts, as well as oral histories of Chandler over the years.
There are also a variety of exhibits that rotate throughout the year, ranging from local focuses that build on the main collection's history of Chandler, to visiting exhibits touring from elsewhere in the country.
At the time of writing, current exhibitions showcase the many facets of farming, from the Dust Bowl era to migrant farm workers.
Located on the same property as the museum is the historic McCullough-Price House, which is on the National Register of Historic Places.
The house has been renovated to house the museum foundation's research and archival site, but you can still tour the living room to get a feel of days past in Chandler.
2. Crayola Experience
A fun thing to do in Chandler if you are travelling with kids is take in the Crayola Experience.
With only a few locations around the country, this is a must-do while in Chandler for the 19 hands-on activities that bring Crayola crayons to the next level!
Highlights of the experience include the opportunity to choose your favorite color crayon, give it your own unique name, and then wrap it in the label yourself (because one of the best parts of the crayons are their names, isn't it?) as well as seeing your art come to life with a digital scanner and projection screen.
And it's not just crayons at the Crayola experience – you can also dabble in drip art, clay modelling, and chalk drawings to complete your creative day.
Before you leave, make sure to stop in the Crayola store, where you can find themed merchandise and souvenirs, and pick your own pack of crayons or markers, choosing your favorites from the wide range of colors.
3. San Marcos Golf Resort
If you're looking to golf while visiting Chandler, look no further than the San Marcos Golf Resort, which opened just one year after Chandler was founded.
Come and play 18-holes on 90-acres of manicured golf course that underwent an extensive renovation in 2014 and allows year-round play through a cutting-edge irrigation system, while still retaining its history and charm.
If you get hungry or thirsty, take a visit to Grill60 for a variety of drinks and gourmet food, and enjoy your meal or beverage while overlooking the greens.
It was also the first green grass course in the state, and the architecture of the resort reflects the California mission design and is still one of the top examples of Mission Revival in Arizona.
4. Arizona Railway Museum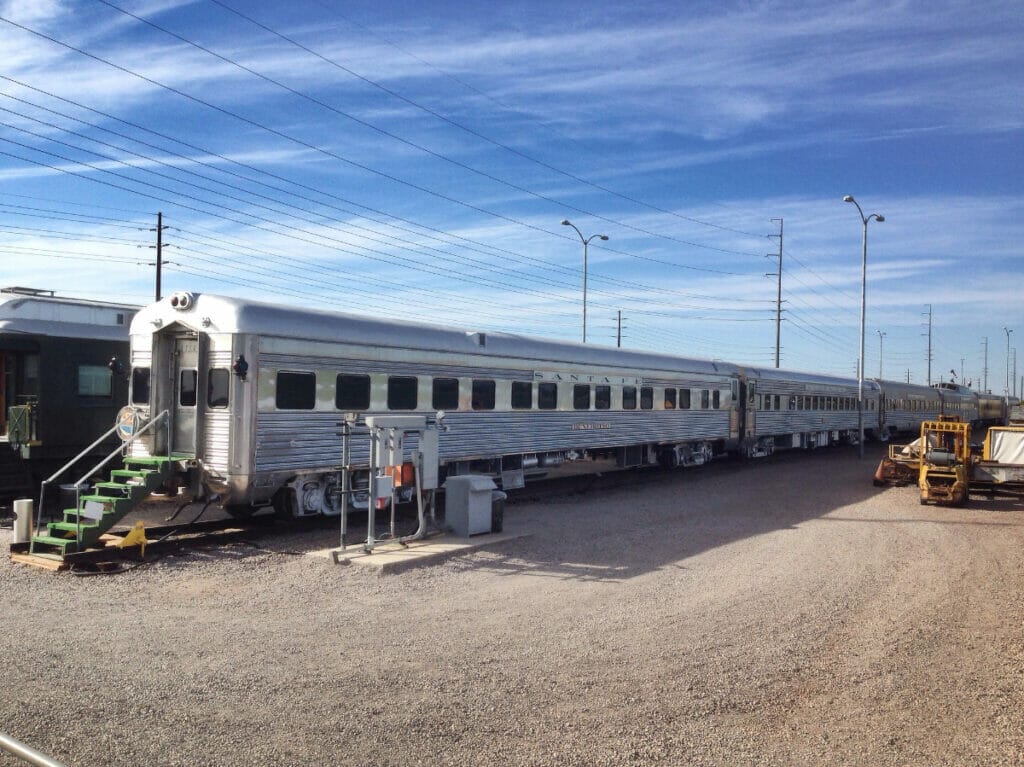 Though not open in the summer (June-August) due to the desert heat, if you're visiting any other time, you must have the Arizona Railway Museum on your list of stuff to do in Chandler.
Take a walking tour around the rail yard to view a variety of historic trains and train equipment, including locomotives, passenger cars, and freight cars.
You can also climb aboard select passenger cars and a caboose to take a look around the inside of the train cars – some are sleeper cars with beds and lounges, and others can be rented out for parties, events, or even weddings.
There's also a wide collection of train-related artifacts such as lanterns, tickets, maps, tools, and more, as well as a wide variety of books covering the railroad industry's vast history.
5. Veterans Oasis Park
One of the best parks in Chandler is Veterans Oasis Park, located in the southeastern part of the city, with the San Tan Mountains as a backdrop.
It features a 5-acre fishing lake, as well as trails for hiking and horseback riding, with pavilions available if you need some time in the shade.
There's also an outdoor amphitheater, a solar system walk, and the Field of Honor memorial, dedicated to veterans from the Southeast Valley across all military branches.
Also within the park is the Chandler Nature Center, which has a community and demonstration garden and a wide variety of nature exhibits, and additionally hosts events and programs such as yoga classes and bird watching walks.
6. Chandler Center for the Arts
One of the top attractions in Chandler is the Chandler Center for the Arts, which presents both local and touring productions, as well as performances by area schools.
It features 3 different performance spaces, a main stage and 2 smaller spaces that break away from the rear of the mainstage to become their own distinct and separate areas – with this unique setup, 3 different performances could be happening at once, without having sound carry from one to the other!
There are also 2 galleries within the Chandler Center for the Arts hosting work from national and regional artists who work in a variety of mediums which change throughout the year.
7. The Eddie Basha Collection
Another must-hit thing to see in Chandler if you like art is the Eddie Basha Collection of Western American and American Indian art.
Considered to be one of the biggest private collections of contemporary American art focusing on the Southwest and Native Americans, this gallery is open most weekdays, but it's best to call to confirm before stopping by.
Named for its founder Eddie Basha Jr., who passed away in 2013, and dedicated to his Aunt Zelma who encouraged his art collecting hobby early on, the Basha family maintains the gallery which hosts two distinct collections displayed in a bright and colorful space.
8. Gila River Casinos
Looking to scratch your gambling itch while in Chandler?
Well, you're in luck with Gila River Casinos, which has 3 properties in the Chandler area – Vee Quiva, Wild Horse Pass, and Lone Butte.
MGM Sportsbooks are featured at all 3 casinos, and they have over 3,600 slot machines situated across the 3 locations where you can try your luck at scoring big!
And of course, a variety of table games are available, including blackjack, craps, and roulette, with Lone Butte hosting 30 poker tables and private entrance just for the poker room.
Vee Quiva and Wild Horse Pass feature resorts as well as gaming and have earned AAA Four Diamond status.
9. Cactus League Spring Training
Depending on the time of year you visit, your Chandler activities might include checking out Cactus League spring training, which typically starts around the end of February and goes through March.
The spring training home of 15 Major League Baseball teams, including the Chicago Cubs and Los Angeles Dodgers, any baseball fans would be crazy to miss out on this experience!
The stadium is much more intimate than your regular ballpark, and fans often have the opportunity for photo ops and signings with their favorite players, and generally feel so much closer to the action!
Games are played during the day and at night, so check their website to see which teams are playing when.
10. Makutu's Island
Originally designed by Disney and intended to bring Disney theme park magic to smaller, suburban venues, Makutu's Island is now an independent play center for kids of all ages.
Unlike some other parks and event spaces, admission provides all day access to the site and its various activities where kids can burn off some energy and have a ton of fun in the process!
Featuring a huge indoor tree with slides, tunnels, and more built in, kids will feel as if they have been transported to a tropical jungle.
There is also a dedicated toddler play area, arcade, bungee jump activity, and an onsite café.
As a bonus, each child admission includes an adult admission (as all children must have an adult onsite while they play), and many of the play structures accommodate adults and bigger kids as well, so everyone can embrace their inner child and get in on the fun!
11. Mesquite Groves Aquatic Center
Looking to stay outside, yet beat the heat in Chandler?
Then take a trip to the Mesquite Groves Aquatic Center, for some fun in the sun that won't wear you out in the desert heat!
The complex features a lazy river complete with a waterfall that's sure to get you soaked, as well as a family play pool and 8-lane pool for swimming laps.
There's also an interactive water feature that's fun for all ages featuring 2 waterslides, a spray pad, water vortex, and giant tumble bucket – so you'll have plenty of ways to get wet and stay cool at this waterpark!
12. Espee Park
One of the unique parks in this list of Chandler things to do is Espee Park.
Besides the usual walking trails and sports fields, Espee Park also has a spray pad with a water tower, spray rings, showers, and ground sprayers to cool off when you're done playing.
But the main draw to Espee Park is its BMX bike park!
The bike park is specifically for BMX bike riders and is completely free to use, with features of varying degrees of difficulty to accommodate all skill levels.
Come to see veteran riders turn their latest tricks, while beginner riders can often get coaching from the seasoned pros.
Locals describe the park as a welcoming environment for all ages and skill levels.
13. Desert Breeze Park
When doing your Chandler sightseeing, why not stop at Desert Breeze Park?
The Desert Breeze Railroad, open on weekends from September through May, takes visitors on a scenic tour of the park in open-air train cars.
The park also includes public tennis courts, sand volleyball courts, and baseball or softball fields, as well as a playground to burn off some energy.
Be sure to check out the hummingbird habitat of native desert plants, with a waterfall and iron sculptures throughout to complete the tranquil aesthetic.
There is also a splash pad if you need to cool off during a hot day, as well as walking paths around a tranquil lake to complete your park-going experience.
14. Tumbleweed Park
Another top Chandler attraction is Tumbleweed Park, which includes both Tumbleweed Recreation Center and Tumbleweed Ranch.
The park features walking trails and multi-use fields, as well as a bocce ball court and horseshoe pits, plus courts for tennis and sandy volleyball.
There's also a playground and rentable pavilions in addition to rec center if you're looking to escape the sun for a while.
Tumbleweed Ranch is operated by the Chandler Museum and opened in the southwest corner of the park in 1999.
Its 14-acres gives a look into the agricultural history of Chandler and its surrounding area in the East Valley of Arizona.
15. Gravity Extreme Zone Trampoline & Adventure Park
The first of two trampoline parks on this list, Gravity Extreme Zone has trampolines plus so much more!
The trampolines include areas for dodgeball and basketball, 2 foam pits where you can test your gymnastic skills or challenge your friends to a gladiator-type duel, plus dedicated kids and toddler areas.
There are also multiple ninja-warrior type activities such as Stairway to Heaven and Leap of Faith, as well as bungees and a drop slide.
If you want even more thrills, try out the rock-climbing wall or the skywalk course – they are both sure to get your heart pumping!
16. Big Air Trampoline Park
The other trampoline park on this list is Big Air Trampoline Park, which is as similar to Gravity Extreme as it is different.
Of course, it has trampolines and a foam pit, plus dodgeball and basketball, but its rock wall has 7 different options to test your skills and limits.
It also has a Valo Jump – an interactive AR (augmented reality) game played on a trampoline where you can battle your friends for domination!
You can also test your reflexes on the "Battlebeam", Vortex, Gauntlet or Warper Wall features – these obstacle course-like features are sure to be a challenge.
There's also a mechanical bull, Big Bruiser…not something your typical trampoline park has!
17. Snedigar Sports Complex
The last item on our list is still a popular thing to do in Chandler – the Snedigar Sports Complex has a few unique features that shouldn't be missed on your visit.
If you've got a furry friend along for the trip, or if you're missing your furry friend back home, head over to the Snedigar dog park where Fido and friends can run and play.
The Chandler Skate Park is another big draw within Snedigar – locals and visitors alike can get their adrenaline pumping here with bowls, blocks, rails, and decks aplenty.
Both the east and west sides of the complex hosts numerous fields for baseball and softball, as well as soccer.
Pin for later!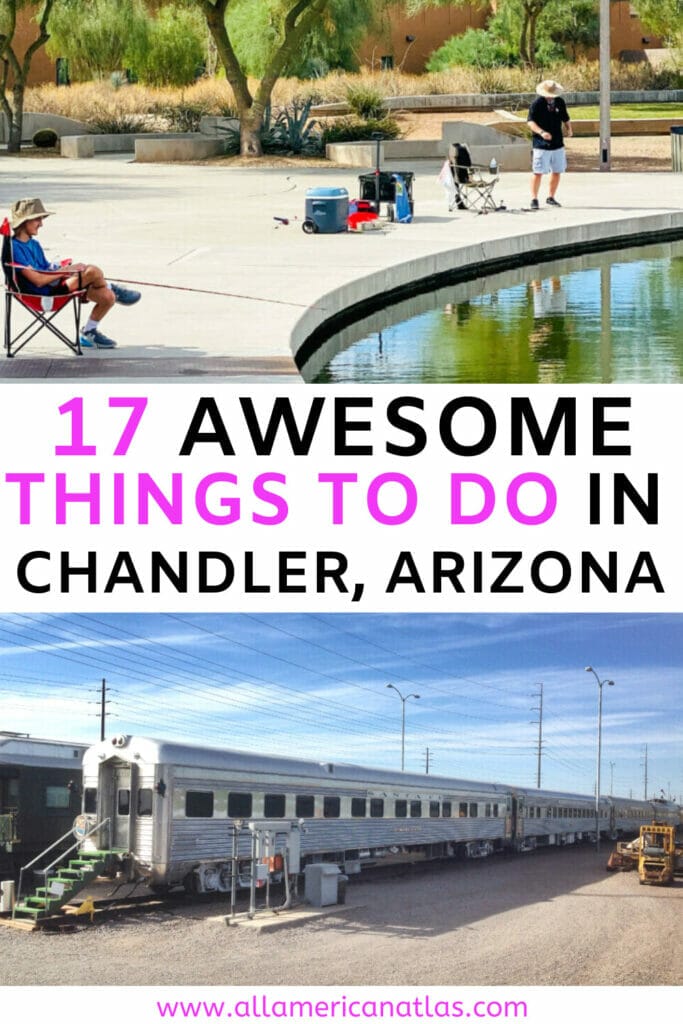 Get the All-American Travel Secrets!
Don't miss out on America's hidden gems!