Electric energy in "the Swamp." Gorgeous parks. Quirky breweries.
Gainesville, Florida is very much a college town, with an average age of only 26, which gives it an energy and vibe that is young, fun-loving, and electric.
If you're not working on your degree, though, don't worry.
Families, couples, and solo travelers will all find something in Gainesville!
With a vibrant museum, art, music and theater culture, great nature and wildlife activities, sports and kid friendly parks, not to mention a fun downtown shopping, restaurants and night life, Gainesville has hidden gems all around and is one of the best destinations in Florida.
Here are 24 of the best things to do in Gainesville!
What to Bring to Gainesville
If you're not used to the Florida heat, here are just a few suggestions on what to make sure you have with you, almost year-round.
Getting around Gainesville
Don't forget that it's much easier to see Florida by car so you can get around on your own.
Rental cars are perfect if you're flying into the state.
We recommend using Discover Cars price comparison to find the cheapest deals.
Hey! Want more locally-approved Florida guides? Check these out!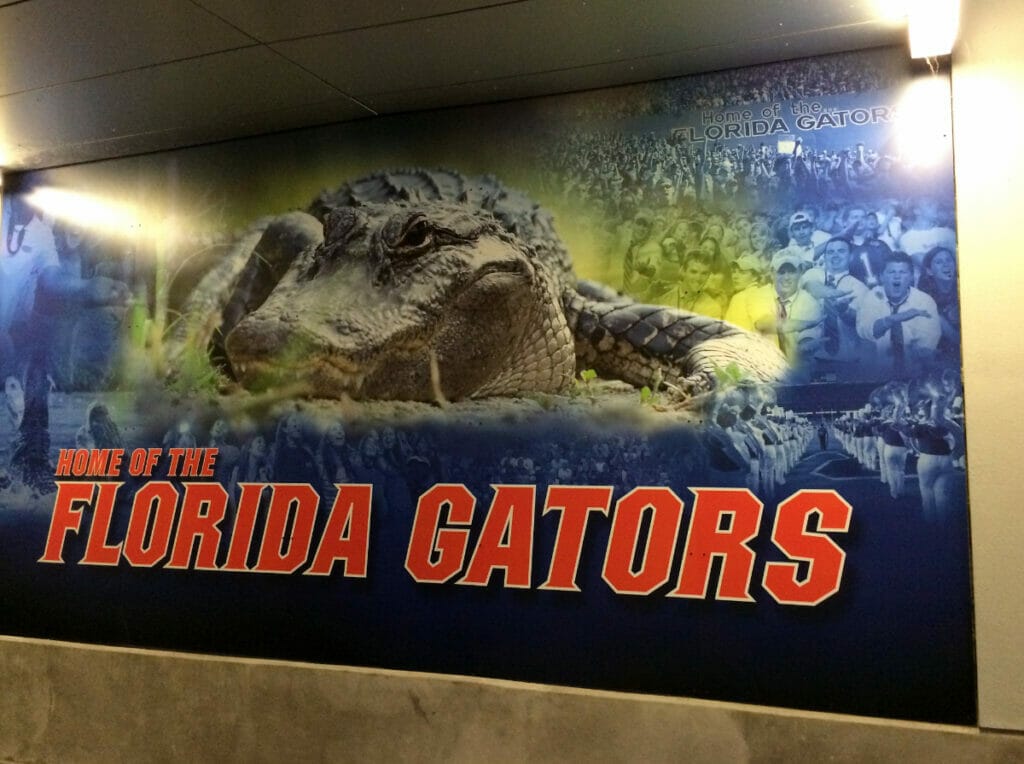 The oldest university in Florida is found here, home of the Gators.
As the largest employer in Gainesville, they are the pulse of the area, with a finger in every pie of their huge variety of offerings.
You'll find info below for a variety of university places and activities you'll want to see or be part of, and tours of the campus are available, including a self-guided walking tour of their Historic District.
For history buffs, check out the National Register of Historic Places, as over 20 of their buildings are listed on it, most in the Collegiate Gothic style architecture.
The campus' 2,000 acres have the reputation as a movie location scout's dream of what a university should look like, including its widely diverse population of students.
Just one of the memorable places is the Center Tower, 157 feet tall and a moving memorial to the university's alumni and students who died in the World Wars.
It has 61 bells with a 5 octave range – students can actually take lessons and play in the two performances that take place each day, sitting in a small room just below the bells.
2. Enjoy Gator Sports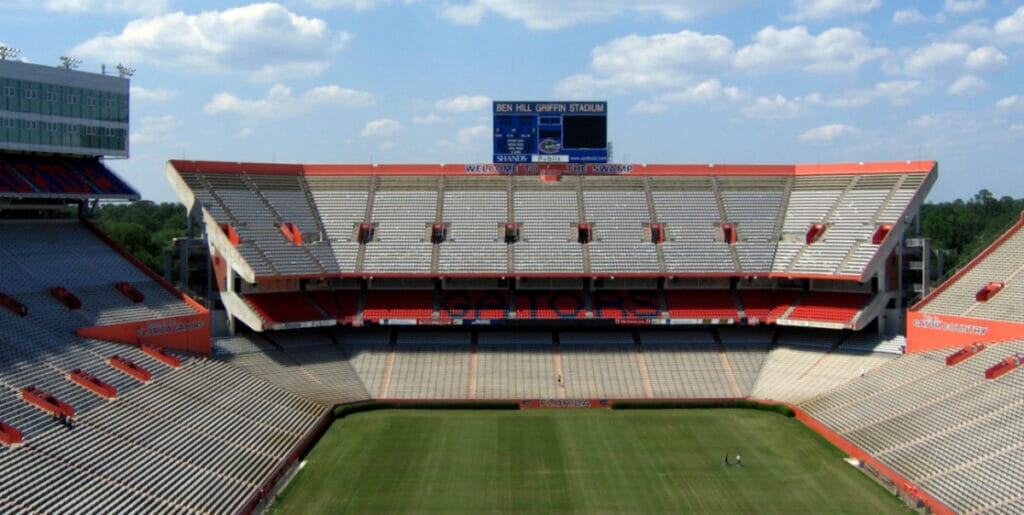 There are quite a few things to see in Gainesville, but a football game is one of the most iconic and Gator Sports are definitely famous in Florida.
Catch a Gators' home game at the Ben Hill Griffin Stadium at Florida Field, popularly known as "The Swamp", with an 88,548 seat venue that somehow magically swells to hold over 90,000+ for home games!
Take a look at the life-size bronze statues of Heisman Trophy winners Steve Spurrier, Danny Wuerffel and Tim Tebow, and visit the Heavener Football Complex, housing a museum of Gator football history.
When home games aren't happening, the stadium holds other events as well, and during down times, visitors are welcome to wander around…just NOT on the turf.
Top tip: Unless you're a loyal fan of a visiting team for a game, for any other event you're going to want to choose your seating on the Gator's home team side for any hope of shade… the entire visitor's side is in full sun and could make for a brutal day!
Florida's home for drag racing and one of the most fun things to do in Gainesville!
The Raceway is home to the Gatornats and events take place year-round.
It was here where drivers first topped 260, 270 and 300 mph Top Fuel runs, and in 2000, 8 of 10 national records were set.
Events include the Amalie Motor Oil NHRA Gatornationals, the Baby Gators, Summit Series Bracket Racing, RACEWARS, Import Faceoff, and more.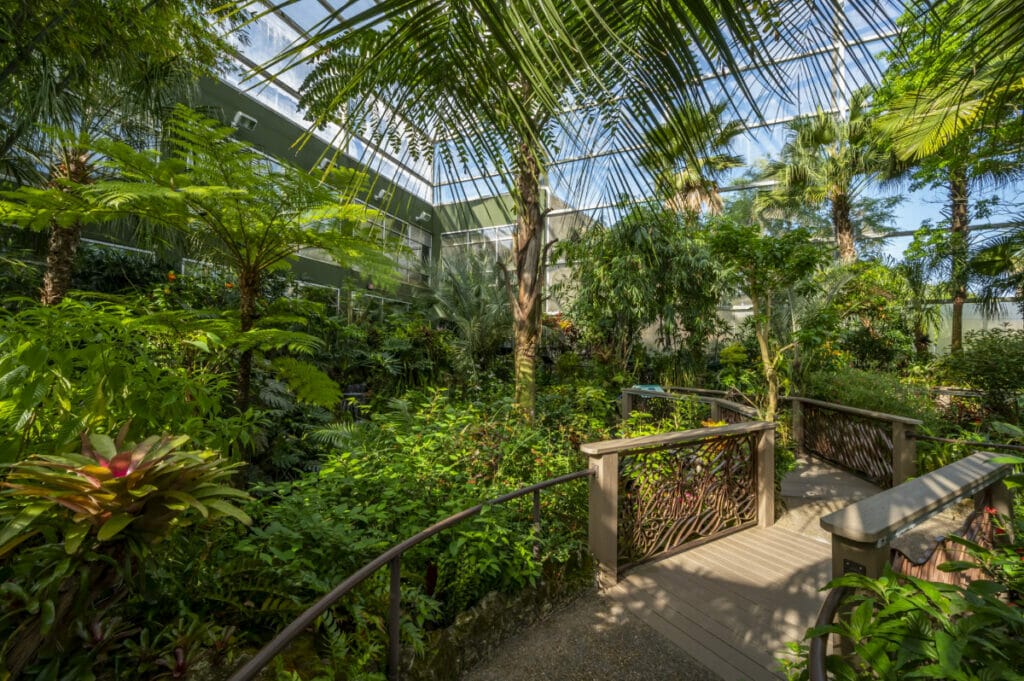 One of the nation's top 5, with permanent as well as temporary displays, from fossils to energy to environment teaching lab trails.
The Discovery Zone
Visiting with kids? One of the best Gainesville things to do with children is the Discovery Zone.
The Discovery Zone is an area where children can explore, observe, play, and pretend in this permanent exhibit.
Interactives and display cases, touchable objects and activity stations will keep them engaged.
Butterfly Rainforest
Don't miss the living exhibit that features hundreds of free-flying butterflies with a feeding station, and birds from around the world as well as a variety of other animals like turtles and fish.
It has a lovely landscape planted with tropical trees and flowering plants and waterfalls along the walking path, with knowledgeable staff available to help offer a personal experience.
Note that while general admission to most exhibits is free, the Butterfly Rainforest does have a separate fee, with discount tickets available.
With a mission to inspire and equip future inventors, entrepreneurs, and visionaries, it was named after Dr. James Robert Cade, lead inventor of Gatorade, the electrolyte sports drink (Anyone ever stop to wonder where it got its name? Created in Gator territory…now you know!)
Among other offerings, try some new experiments and experiences, including the animation of making your own stop motion movie!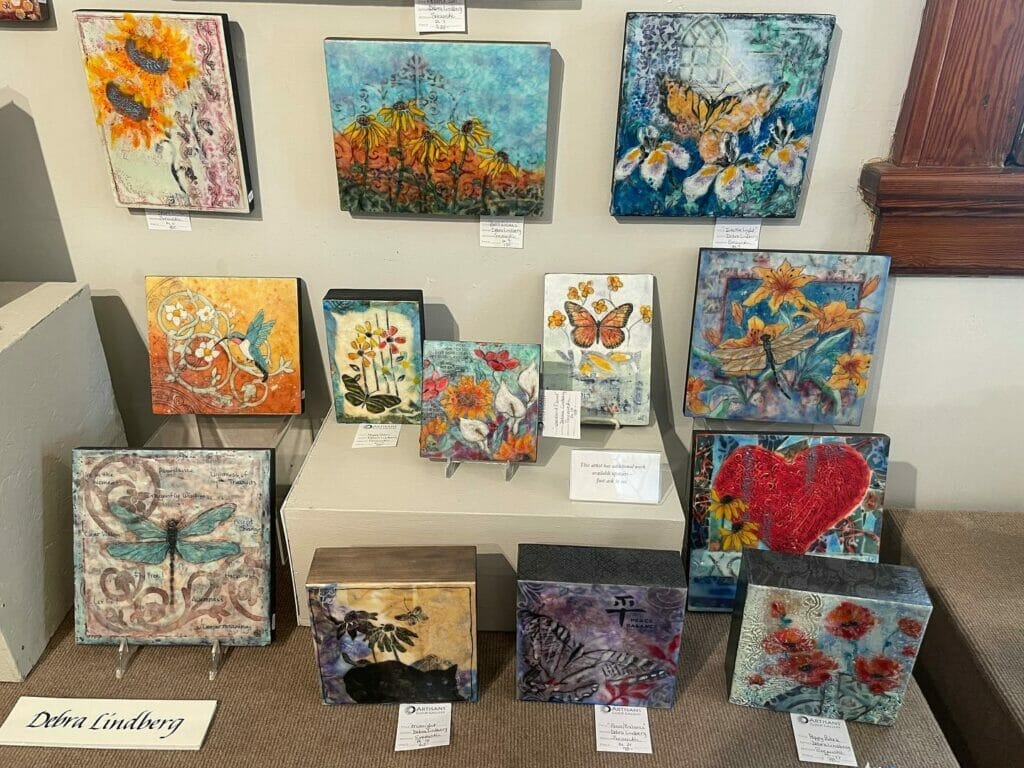 Since 1970, one of the oldest artist co-ops in the country, the Artisan's Guild Gallery has featured hundreds of fine art and craft handcrafted local works from over 50 local arts and craft creators.
You'll find unique gifts and souvenirs, with the option to come to the last Friday of the month's Art Walk.
Part of the University of Florida, their collection includes modern and contemporary art, photography with ancient American and oceanic art, as well as African and Asian pieces in 40,000+ square feet of exhibition space and gardens, with a stop at the Camellia Court Café for lunch.
Originally built as a 1120 foot long retaining wall alongside the University golf course, this landmark has become a giant art piece that locals have been painting on since 1979.
Sometimes called the "Gainesville's public diary", it notes the developments of the day and features great street art, and other than a memorial area, is painted over on occasion so others can join in, keeping it current.
It's a great place for photos, but watch out for traffic…it's a busy street!
University of Florida's performing arts program is vast, with live shows, art displays, and various events throughout the year
With a variety of venues on campus – you'll need to double-check your ticket to ensure you've got the right location for your event!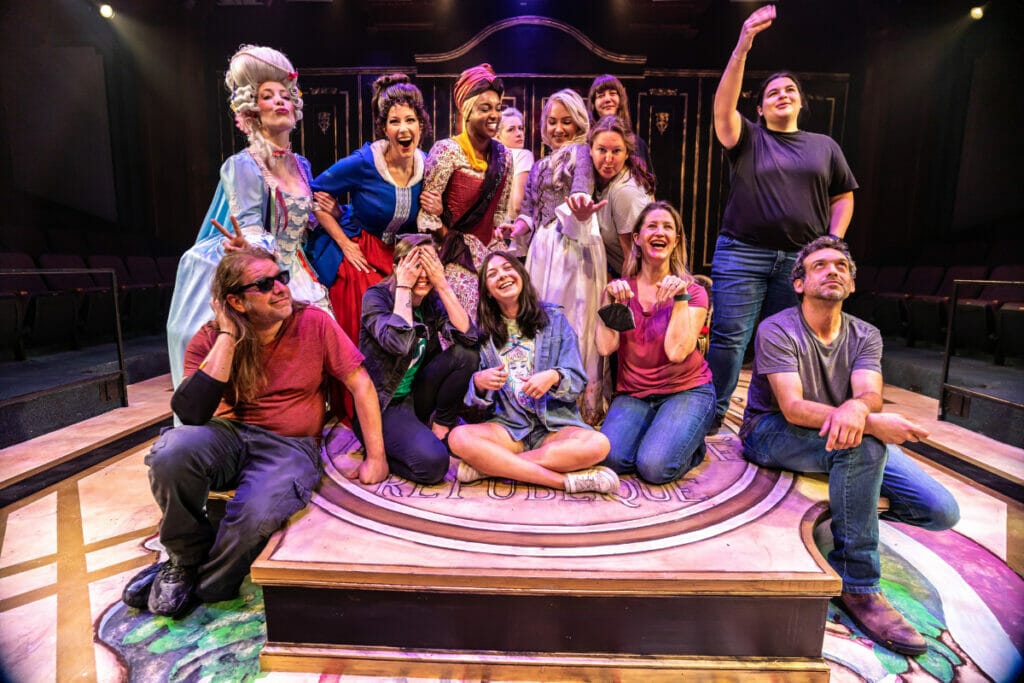 Gainesville is known for its theater arts, and this one has been around for 37 years, making it one of the most historic Gainesville activities.
It's housed in the historic Federal Building, and it's considered one of Gainesville's most prominent.
Located right in downtown, it offers professional shows as well as a visual arts gallery for Florida artists without charge and by invitation only to the artists.
With a visit here, you get the show and an art gallery visit together in one venue!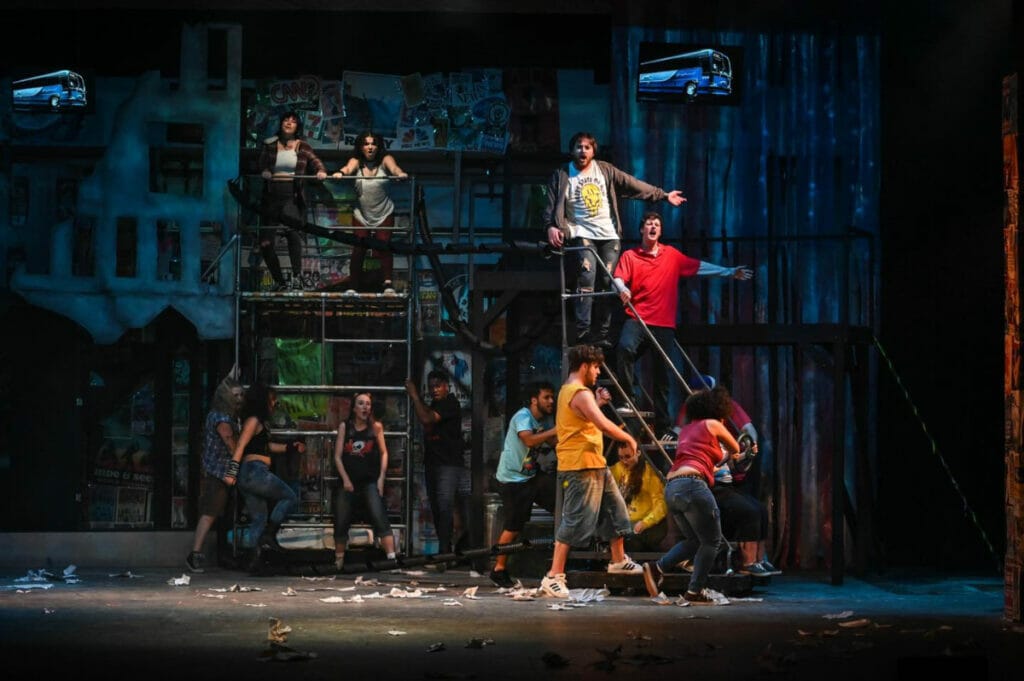 Started in 1927, it was originally known as the Gainesville Little Theater, and opened as a theater program for children, with classes and several plays per year.
Today it has grown into a full community theater, producing about 6 plays per year, with over 750 productions in their history.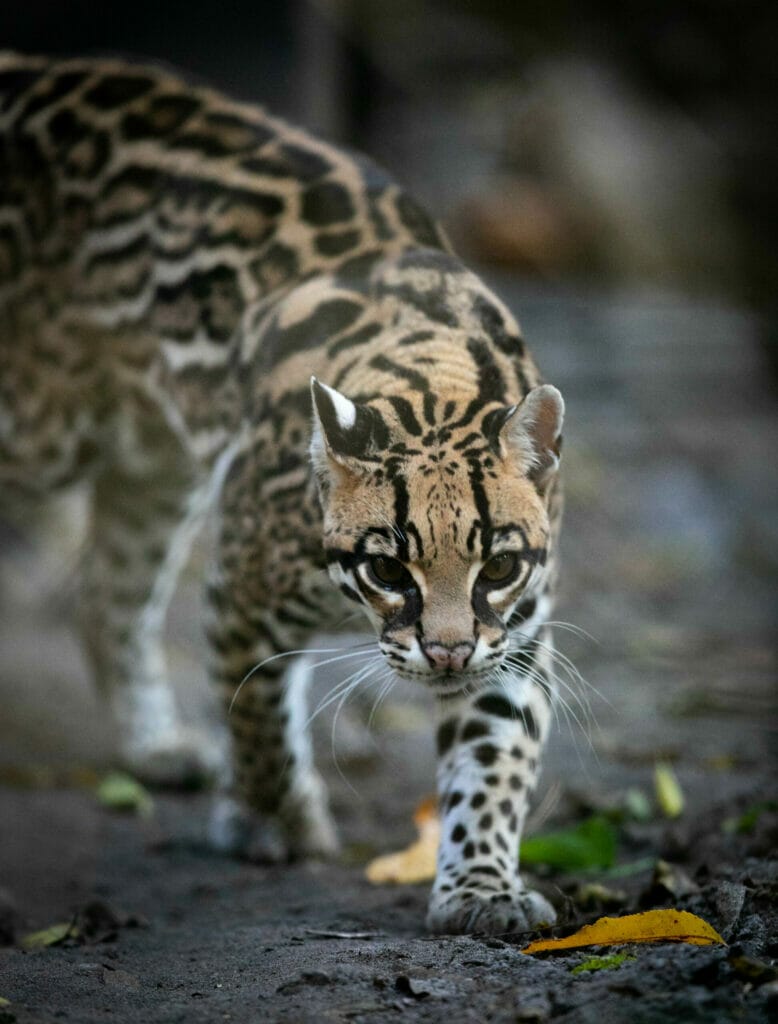 An intimate wildlife experience on 10 acres, the Santa Fe College Teaching Zoo is home to more than 250 animals and 70 species, including Bald Eagles, capuchin monkeys, alligators, Tree Kangaroos, Asian otters and more.
It's both stroller and wheelchair accessible, and visitors are welcome on their own or in groups as a drop-by for a walk through their woods or for one of their special events.
While Gainesville itself is landlocked, just 45 minutes away you can dive in to a crystal clear freshwater spring, and float down the river – it's a local tradition!
Tubes and canoes, as well as limited life jackets are available for rental, and cabins or RV hookup rental for camping, with a concession stand and store – and the invaluable Wi-Fi.
Trams are available to the launch location, or you can walk a trail down and float from there.
Get there early, as when it comes to stuff to do near Gainesville, this is one of the best!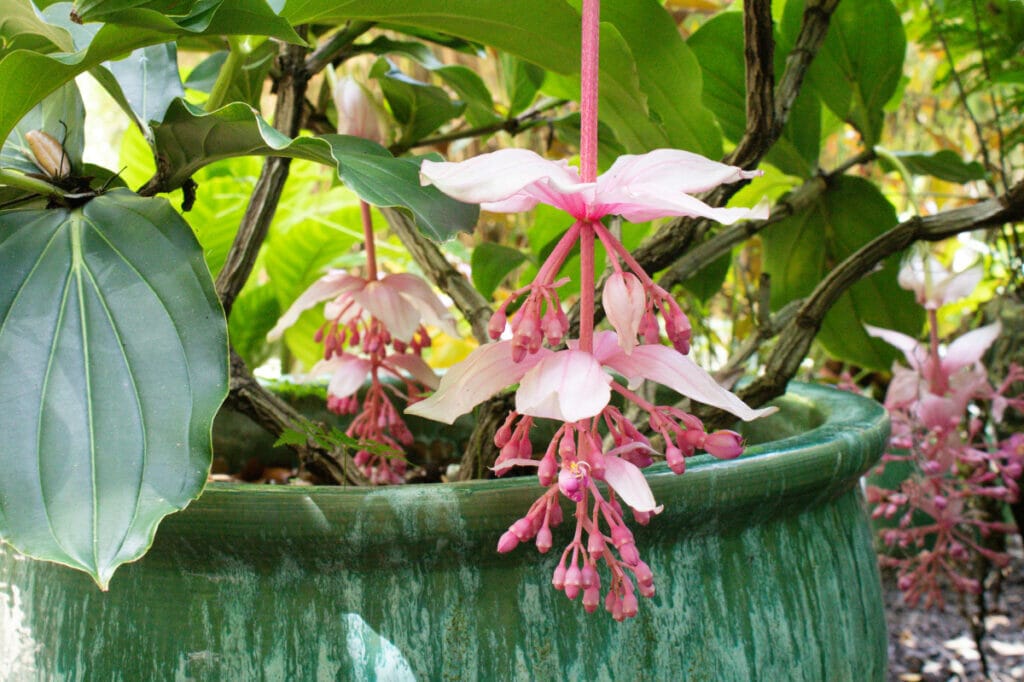 With 68 acres to explore, the gardens have 24 major collections you can wander through from a 1 ½ mile paved walkway.
Many events are hosted there throughout the year, picnic areas are available, and leashed dogs are allowed with the exception of certain special events.
Start your day of Gainesville sightseeing with this healthy dose of fresh air.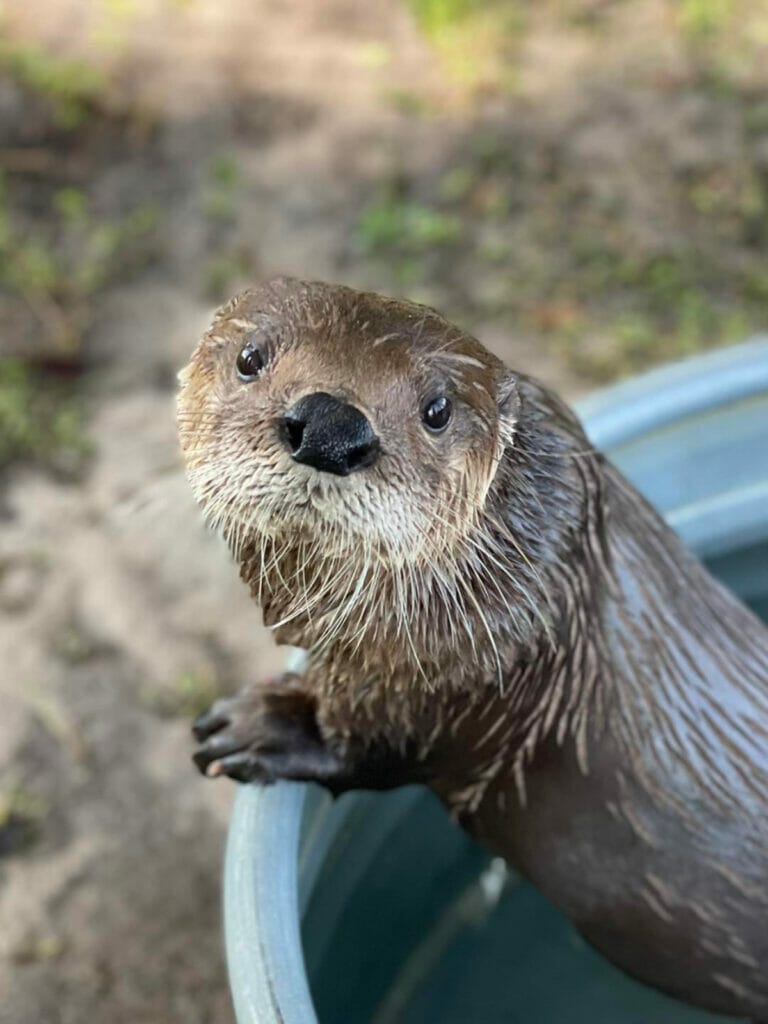 To support conservation efforts, booked private or group tours, walking or riding, are offered to view and hear the stories of the 30 rare and endangered different rescued species living there, including over 100 leopard, rhino, tiger, hyena, lynx, cheetah, lemur and many more.
Created specifically as a gathering place with the community in mind, activities include places for walkers and cyclists, picnics and parties, a splash pad "Blue Grotto" and play area for kids, and continual activities, from dance and fitness classes, kids arts and crafts, game nights, DJ dance parties and movies.
Special events happen often, with art festivals and food trucks, concerts, and more, and "The Depot Station" is on site for food and sundries, with the Parkside Subs & Shop store, Goldie's Burgers, and the Boxcar Beer & Wine Garden.
The Lubee Bat conservancy is designed to save bats and their habitats, with a focus on children – visit for a close view of these animals.
They house over 200 bats and 10 species, with tours offered by reservation.
Want more bats?
Located across from Lake Alice on campus, experience the bats emerging at their feeding time, when they come out of their "houses" during a 15-20 minute period after sunset and before dark on calm, warm evenings.
This is one of the most popular things to do in Gainesville!
They eat insects and may come close to viewers, but will not harm you if you leave them alone!
Spring through early summer is the best time to see them.
19. Lake Alice
Across the street from the University's Bat House on campus, Lake Alice is a small lake in a wildlife area, and a great place to observe live alligators.
A boardwalk will lead visitors through the woods and swamp to a viewing platform.
While you're there, stop in and enjoy the quiet serenity of the Baughman Center, a 96 seat miniature medieval cathedral.
Ever wanted to see into a sinkhole?
Since the 1880's, this is the place.
An out-and-back trail, a boardwalk system descends to the bottom along a half-mile nature trail that takes you along the top of the sinkhole.
Dogs on a 6-foot leash are welcome, and you'll find an unexpected rainforest in this wonderland.
It's a popular place for a picnic and tours are available on Saturdays with a reservation.
Established in 1856, this historic site attracts visitors interested in genealogy, tombstone tracings, photography and plants.
A Gainesville attraction fit for anyone who wants something a bit different.
22. Enjoy Delicious Food and Creative Drinks
Keys Grill and Piano Bar – for a unique seafood dining experience, you'll find solo and dueling piano shows to enjoy along with your meal, and handcrafted cocktails, beers, and wines.
The Dime – featuring trendy and unique cocktails – get the camera ready!
Halo Potato Donuts – an independently owned and operated donut company, Halo Potato Donuts is one of the top things to do in Gainesville. Potato donuts are somewhere in-between yeast and cake donuts, with 6 unique and rotated flavors each week such as lemon blueberry, cookies & crème, brown cinnamon sugar, and more.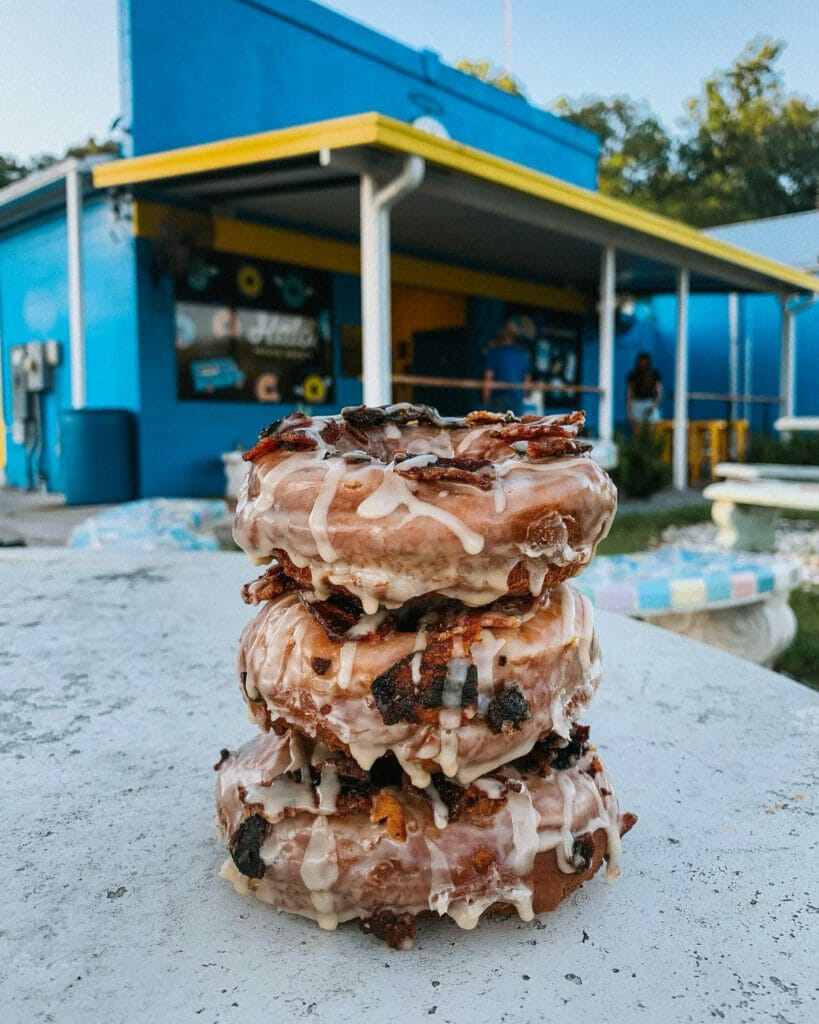 23. Go Shopping
Antiques in Micanopy – while not downtown, this one is just 15 minutes from Gainesville – 20,000 sq. feet of antiques. Search to your heart's content to find that treasure and check out the auctions as well.
24. Enjoy a Brewery
Swamp Head Brewery – a tasting room, with live music and a scheduled variety of food trucks
Blackadder Brewing Company – rotating guest beers, wines, cider and craft sodas, they focus on Belgian inspired beers in an old world atmosphere. Located less than a mile from downtown.
25. Indulge in a Winery Day
Bluefield Estate Winery – a hidden gem 20 minutes outside of town, with a signature blueberry wine and Muscadine Grapes in season, and unique fruit wines such as pomegranate, raspberry and blackberry; U-Pick blueberries available in season.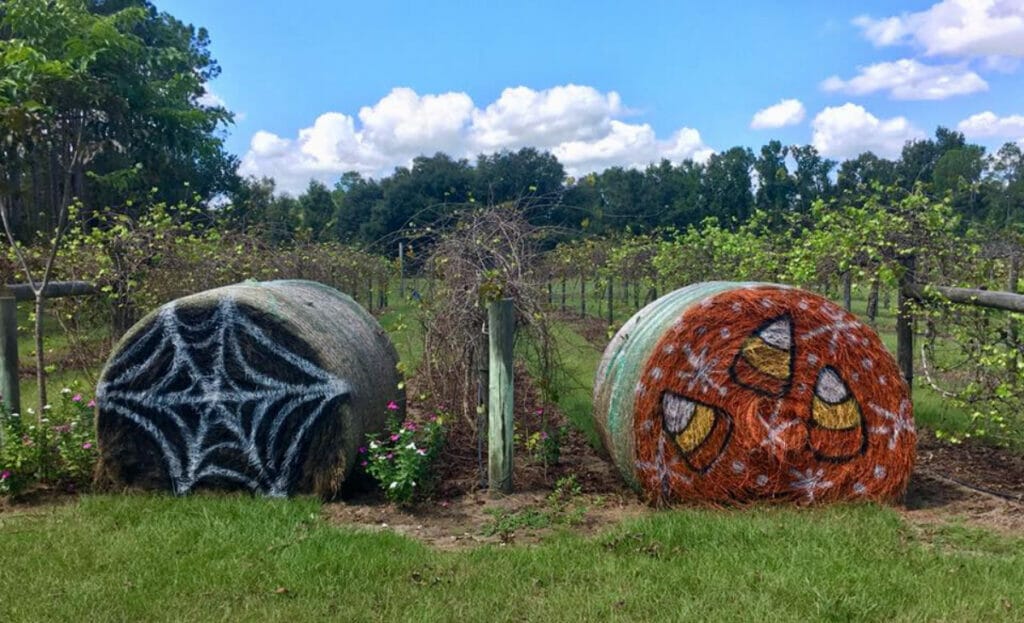 Shop and winetasting days and hours vary, so check before you go!
Pin for later!
Get the All-American Travel Secrets!
Don't miss out on America's hidden gems!