Looking for things to do in Miami alone?
You'll have no trouble creating memorable experiences in the "Magic City"!
From bright, sandy beaches, to modern art and architecture, to some of the best food you'll ever taste, Miami's one of the most unique places to visit in Florida, and there's plenty of fun in store for you on your solo trip.
Let's take a look at some of the best things to do by yourself in Miami!
Hey! Looking for more expert Florida guides? Check these out!
Hey! Be sure to check out these expert guides that feature the best attractions for solo travelers!
How to get around Miami
Like most of Florida, one of the best ways to get around Miami is to explore on your own by car!
While there is public transportation, Miami is very much a driving city.
If you're visiting and need to rent a car to get to your Miami activities, we highly recommend Discover Cars where they find you the best car rental deals from all of the competitors (has saved us so much money!).
Click here to check out Discover Cars!
The Best Tours in Miami
If you'd prefer to have someone else show you around, check out these Miami tours that you could go on, or continue reading our guide that you can follow yourself!
Fun Things to Do Alone in Miami
1. Go to the zoo
Zoo Miami is home to over 3,000 animals from 500 different species, making a trip to the zoo one of the best things to do in Miami alone – especially if you're an animal-lover!
Walk or take a tram tour around the three miles of pathways around the zoo, and don't forget to stop and feed the giraffes!
You can easily spend at least three hours at this popular Miami attraction, and outside food is not permitted, so either plan on eating lunch at one of the zoo's cafes, or schedule your visit between meals.
Top tip: Make sure to book your tickets in advance so you can fast track yourself to the fun!
2. Swim with dolphins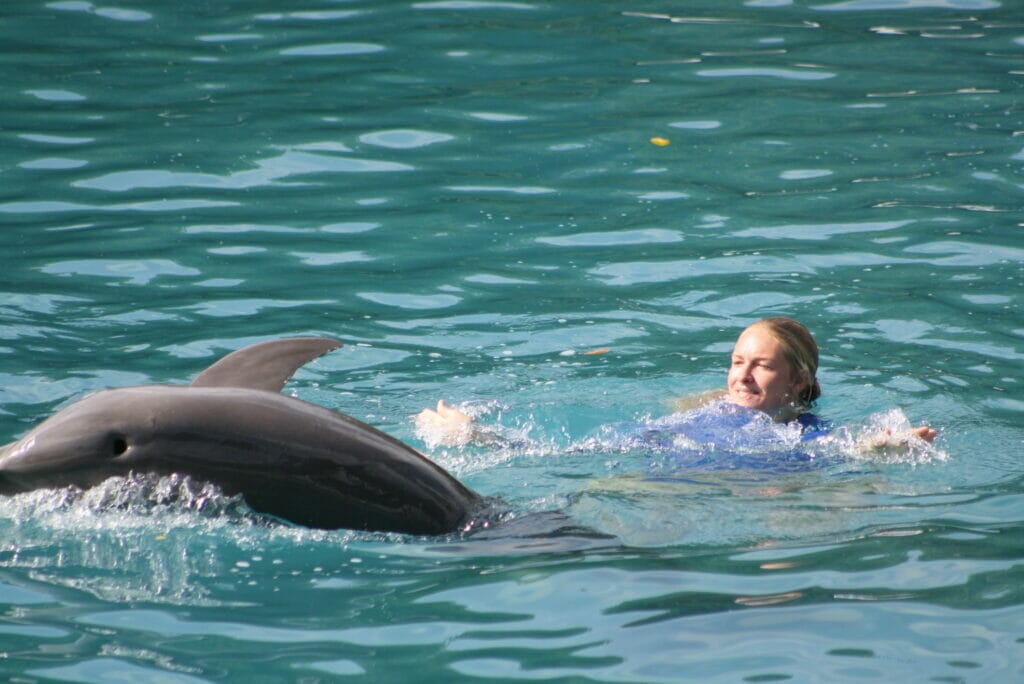 What's more Miami than dolphins?
If you're looking for a memorable experience on your solo trip to Miami, Miami Swim with Dolphins Tours has you covered!
You'll have a full half hour to swim in clear blue waters with one of the ocean's friendliest creatures – an experience you're sure to remember for years to come!
This popular Miami activity books up pretty fast, so be sure to make your reservation at least a couple days in advance.
Swimming not your thing? See dolphins from the comfort of a boat instead! While it's not a guarantee, you just might spot these magical mammals during a cruise or tour around Miami's waters!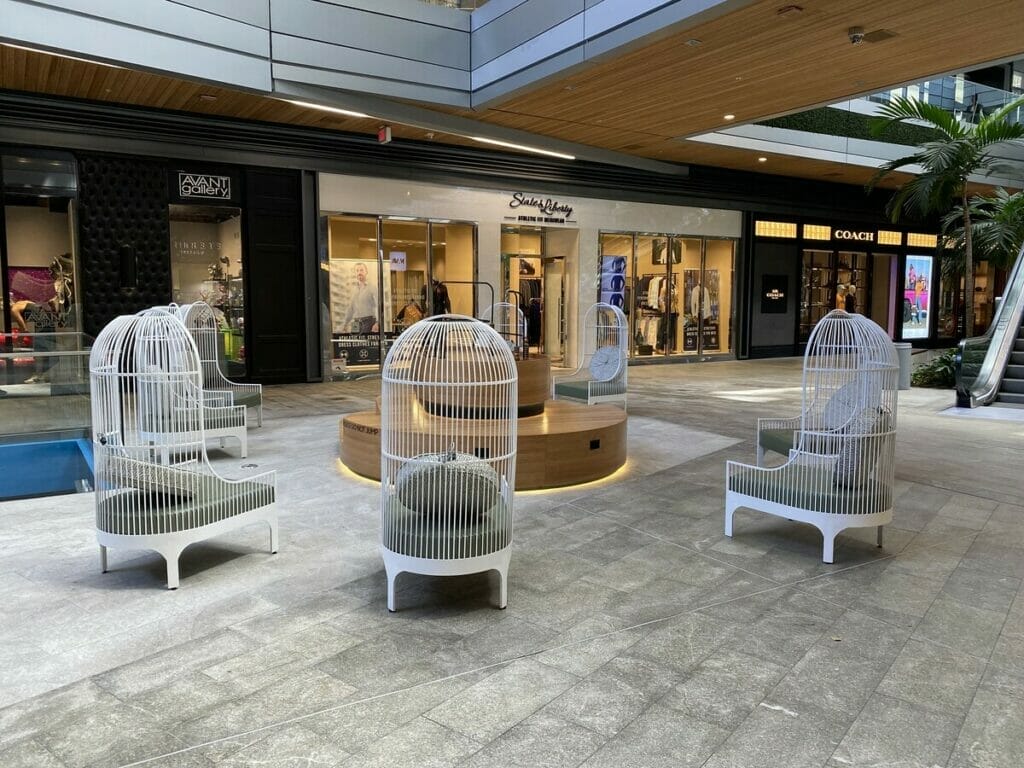 Get yourself a new outfit from big name brands in Brickell City Centre, one of the most popular shopping areas in Miami.
The modern architecture fits right in with the rest of downtown Miami, and you'll have no problem finding a satisfying lunch from either a chain restaurant or a locally adored eatery.
If you've got a couple extra hours to kill, why not see the latest blockbuster at CMX Brickell City Centre?
And if you're not sure where to stay in downtown Miami, there are even a couple of hotels right in the middle of the complex!
Book a few nights at EAST Miami for a prime location and a luxurious hotel stay.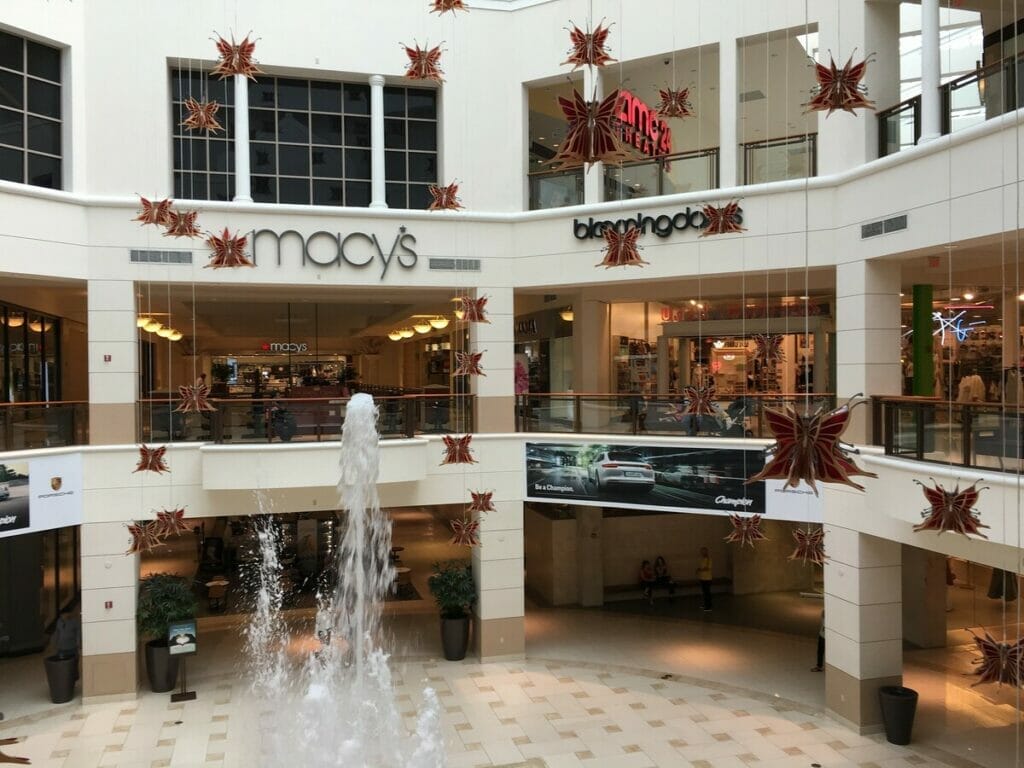 Aventura, located in the Miami metro area less than 20 miles north of Miami itself, is home to an iconic mall that features boutique shops, art, dining, a deluxe farmer's market, and much more!
Take a walk around Aventura Mall and discover around two dozen unique sculptures and other artistic displays, bringing creative life to an already impressive assortment of shops and eateries.
If it's open, be sure to have a slide down the Aventura Slide Tower – an impressive work of art that stands at nearly 93 feet, and a fun experience for all ages!
You're in for a special breakfast, brunch, or lunch when you dine at Café Bastille Downtown!
This popular French eatery elegantly balances chic decor with a laid back vibe, creating an atmosphere that feels both comfortable and classy.
What better way to start your day than with a fresh plate of crepes, eggs benedict, or an omelet?
Café Bastille Downtown is known for its sparkling mimosas and bellinis, but if you'd prefer to keep things alcohol-free, opt for a delicious cup of coffee, tea, or juice!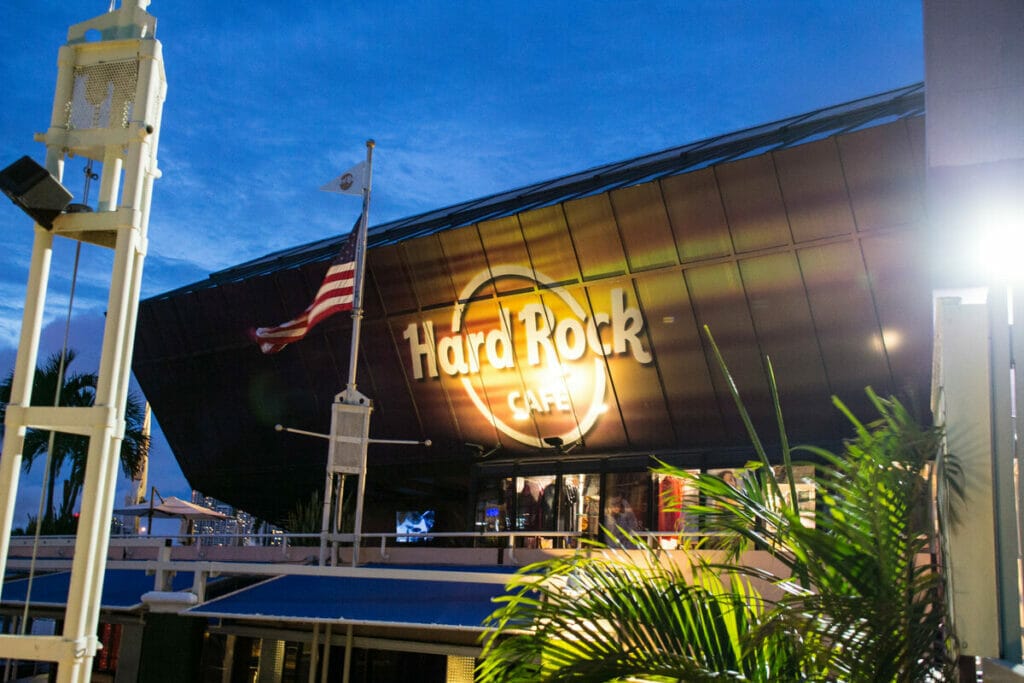 There are Hard Rock Cafes in major cities all over the world, and many people have made it a personal goal to visit as many as they can.
Hard Rock Cafes are known for their unique collections of memorabilia from various music artists. In the Miami location, you'll find items from Elvis, Michael Jackson, Whitney Houston, and more!
Looking for even more of a Hard Rock experience? Head about 25 miles north to Hollywood, FL, and check out the Seminole Hard Rock Hotel & Casino, which features a huge 450-foot guitar-shaped building!
7. Take a sightseeing cruise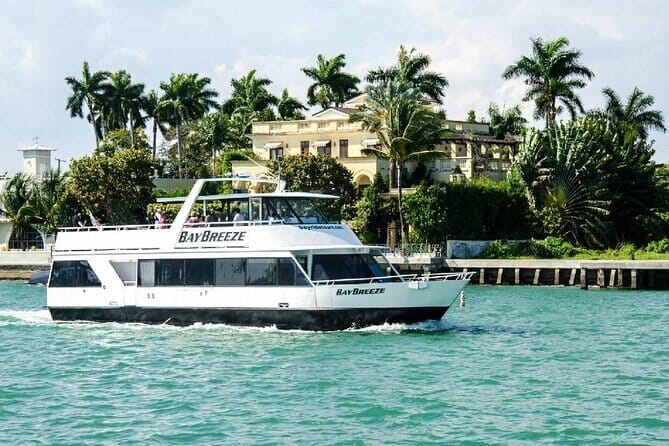 You don't have to embark on an overseas adventure to enjoy the luxury of a cruise!
Sail around the waters of Biscayne Bay as you marvel at the celebrity homes along Millionaire's Row.
This 90-minute sightseeing cruise will take you through the aforementioned bayside neighborhood, as well as Miami Beach, the Port of Miami, and more spectacular Floridian sights!
8. Fill up on seafood
Surrounded by such beautiful waters, it's only natural that Miami is brimming with delicious seafood!
Sate your oceanic cravings by dining at any one of the city's highly-rated seafood restaurants!
The River Oyster Bar is the place to be in downtown Miami, with delicious oysters and an artsy, warm atmosphere.
Bubba Gump Shrimp Co. is a familiar and classic chain in any location, and the perfect spot for a casual lunch.
If you really want to treat yourself, head over to Joe's Stone Crab on Miami Beach! You might want to get a reservation to ensure you'll be seated at this popular restaurant, and remember to check the dress code – no beach attire!
9. Spend a day (or two!) at Miami Beach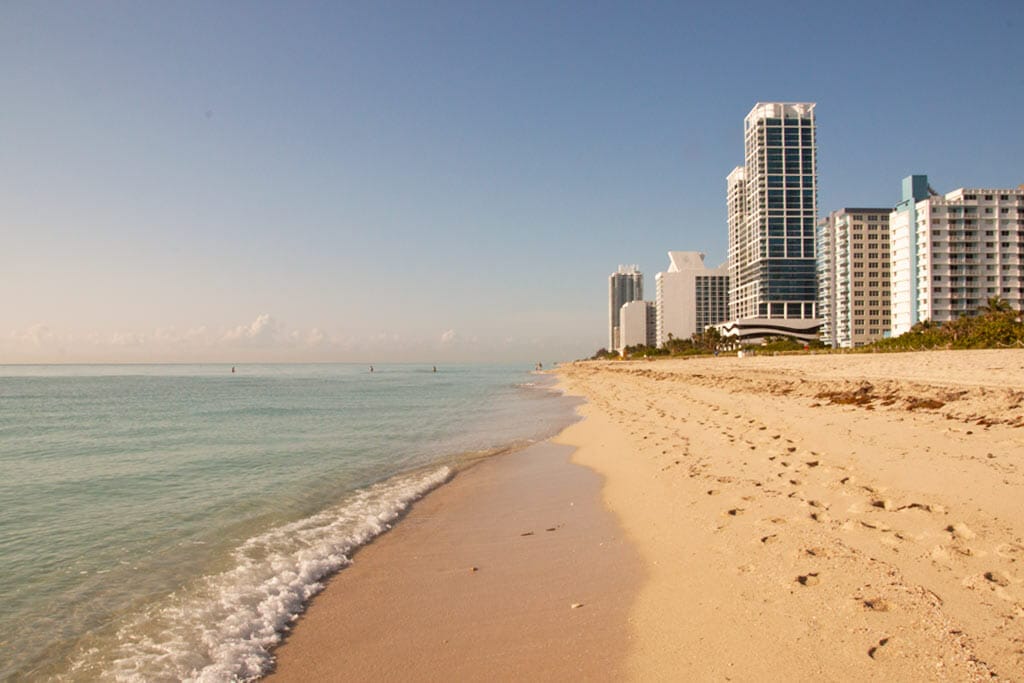 Miami Beach is a destination in itself, with a ton of shopping, dining, art, and, of course, sandy beaches!
You can easily spend more than a day on this island city, where you'll find artistic museums, a breathtaking botanical garden, diverse cuisines, and much more!
Take a walk through the Art Deco Historic District and admire the early 20th-century styled architecture of more than 800 Art Deco buildings in the area.
Don't forget to snap a selfie in front of the iconic Miami Beach welcome mural!
…And, of course, there's the beach itself!
The white sands of Miami Beach are worth their own separate entry on our list, so read on to find out more!
What to Do Alone in Miami Outdoors
10. Hit the waves at Miami Beach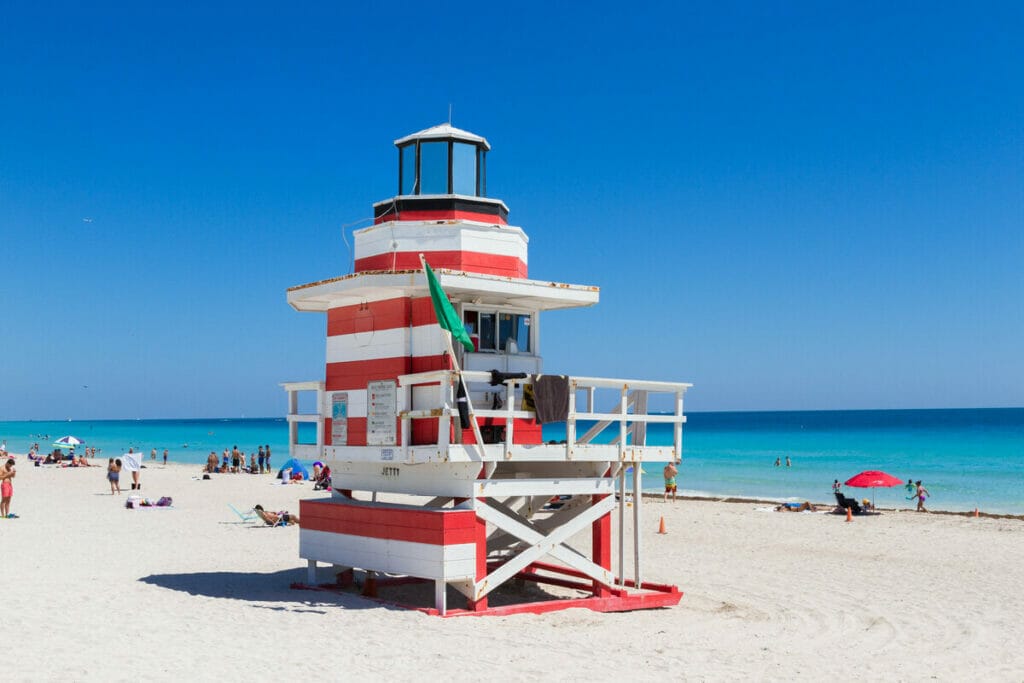 Miami Beach really ought to be called Miami Beaches, what with the miles of gorgeous sands and clear blue waters that grace the island's coastline.
If you're up for a thrill, reserve a spot to go parasailing with Miami Watersports!
With the wind ripping through your hair you'll be able to experience Miami from new heights (literally!)
It's worth getting up early to watch the sunrise from the soft sands of South Pointe Beach – grab a drink from the nearby Starbucks to get your caffeine fix for the day!
Head up to Lummus Park and South Beach for a lively location all throughout the day, not to mention the dazzling nightlife!
Even farther up the coast you'll find the hotel-lined Mid-Beach, and then North Beach, where the more laid-back vibes make for a relaxing day spent alone.
Whether you're looking to kick back on the sand, dive into the waters, ride the waves, or take a boat tour, Miami Beach is the place to be for all your oceanic dreams.
It's rare that you find grass and sand so near to each other, but at North Beach Oceanside Park and the adjacent North Shore Park Beach, you can enjoy both breathtaking green and twinkling beige.
With trees, picnic tables, and paved pathways on one side, and soft sands, blue waters, and a beautiful horizon on the other, you're in for a refreshing time in nature on the northern side of Miami Beach!
12. Explore the trails of Virginia Key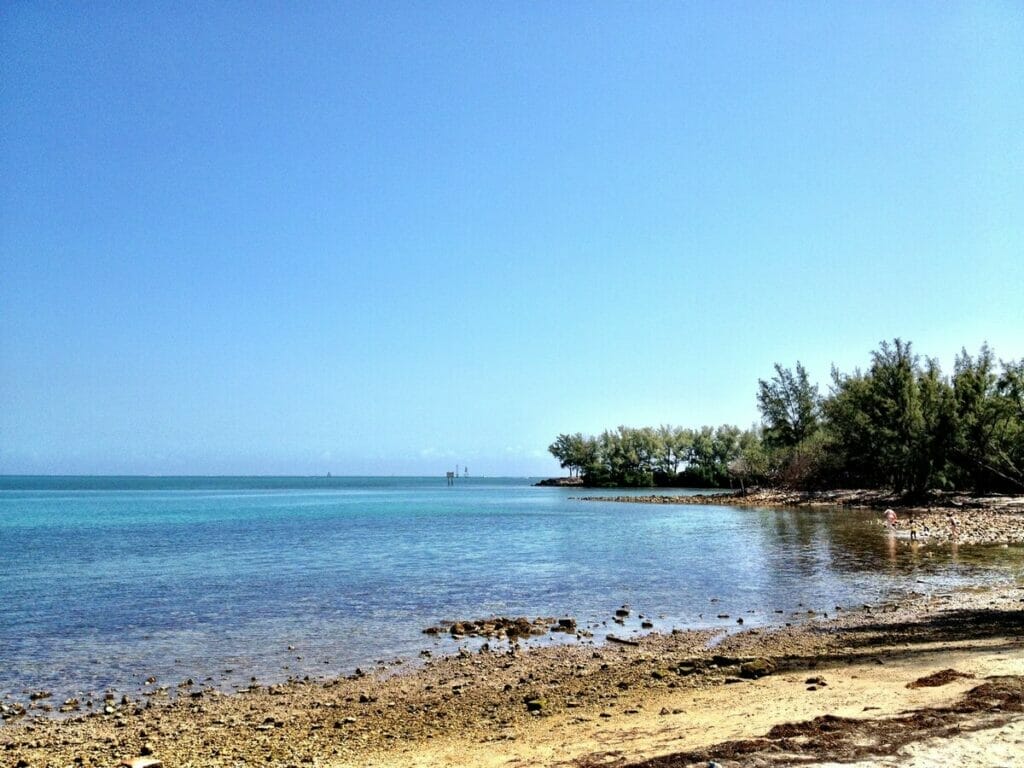 Enter the small barrier island of Virginia Key via Rickenbacker Causeway and you'll find the beautiful Historic Virginia Key Beach Park.
This mile-long beach and its accompanying hiking trails, wetlands, and boardwalk make for an ideal afternoon in Miami.
From trees and rocks to sand and sea, you'll be in a nature-lover's paradise on this charming little island.
Get there earlier in the day to enjoy brunch on the waterfront at Rusty Pelican, an upscale seafood restaurant.
Not in the mood for fish? This popular eatery also offers traditional breakfast and brunch foods, including a delicious gourmet french toast!
13. Spend an afternoon on Key Biscayne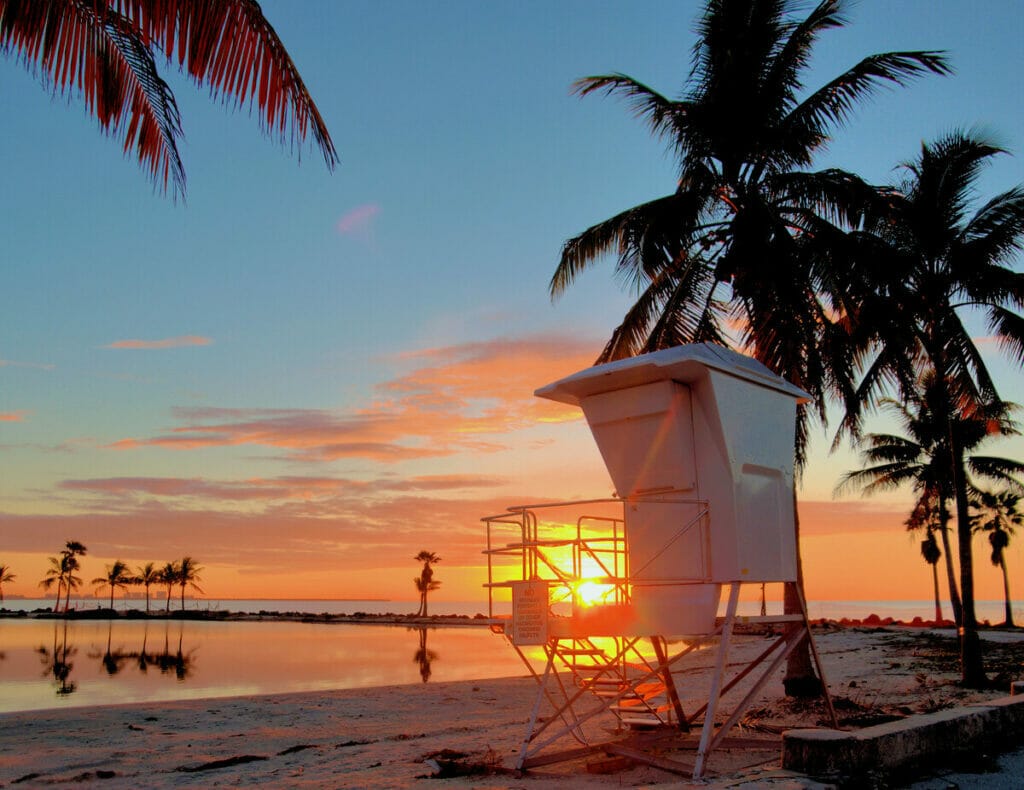 Continue down Rickenbacker Causeway to Crandon Park on Key Biscayne, where a world of outdoor recreation awaits.
Hike or bike along both the paved and rugged trails that weave through island greenery, hit the beach, or tee up at the island's public golf course!
On the south end of Key Biscayne is the Bill Baggs Cape Florida State Park, where you'll find even more scenic hiking trails, along with a historic lighthouse, and plenty of places to go fishing.
14. Have a picnic or see a concert in Bayfront Park
With the towering skyscrapers of downtown Miami behind you and the cool blue waters of Biscayne Bay in front of you, you'll have the best of both worlds in Miami's Bayfront Park!
Green grass, paved walkways, and even an amphitheater await at this popular city park – check to see what concerts or other events might be going on while you're in town.
This is the perfect place to bring your packed lunch or takeout from a local eatery and enjoy a nice little solo picnic on the bayside!
If the popular Bayfront Park is too busy for your taste, head north to Morningside Park.
This smaller, quieter bayside park is one of Miami's hidden gems. It's the perfect place to be if you need a break from the liveliness of the city.
Take a seat on a park bench and watch the wind rustle the trees and the water flow in the bay – you might even spot a dolphin!
16. Go diving or snorkeling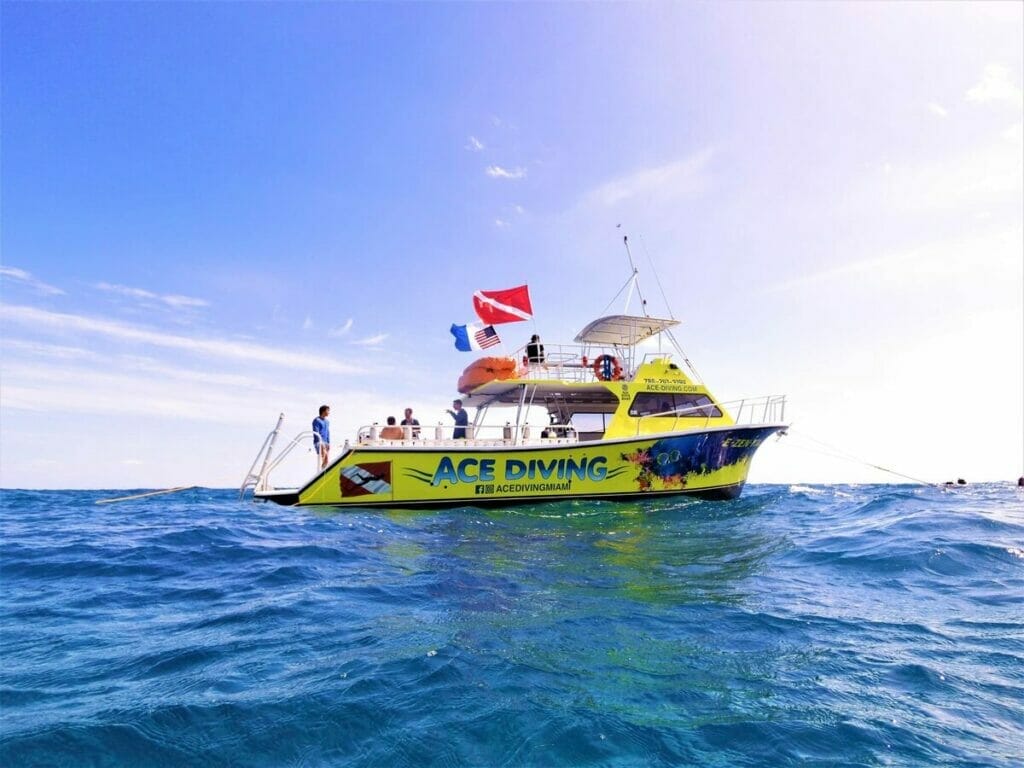 For some, it isn't enough just to look at the water. They've gotta explore!
If the ocean is a source of fascination for you, then one of the best things to do in Miami alone would be to go diving or snorkeling!
Ace Diving will take you out to sea for an adventure you'll never forget!
Whether you're starting small with a bit of snorkeling, or you're an experienced diver looking to explore the depths of Miami's waters, Ace Diving's got you covered for a safe and exciting experience.
Things to Do Alone in Miami at Night

There's nothing quite like a leisurely stroll along the waterside!
The Miami Riverwalk, located in downtown Miami, is beautiful during the day, but becomes downright magical at night, when the city lights illuminate your path!
It's the perfect way to walk off your dinner from a nearby restaurant, like the popular Il Gabbiano or Toro Toro.

Aquatic mammals aren't the only Dolphins you'll find in Miami!
Spend a lively evening at Hard Rock Stadium, where the aqua-colored seats will get you in the mood for some good ol' fashioned American football from the Miami Dolphins.
Not into football?
Watch the Miami Heat play basketball, enjoy a baseball game with the Miami Marlins, or cheer for the Florida Panthers in a game of ice hockey!
19. Hit the clubs
Whether you're an extrovert in need of some socializing, an introvert looking to broaden your horizons, or an ambivert just looking for something to do on a night in downtown Miami, there are tons of lively bars, clubs, and lounges to choose from!
Walk into a world of pink at the Tipsy Flamingo, an outrageous cocktail bar full of fruity drinks and friendly people.
Wanna stay out real late? Mama Tried is open 'til 5 AM and will serve you a unique, laid-back retro vibe alongside its fun cocktails, delicious wines, and draft beer.
Or, get down on the dance floor at Blackbird Ordinary, a highly rated nightclub that's also open until 5 AM!
20. See a concert or a play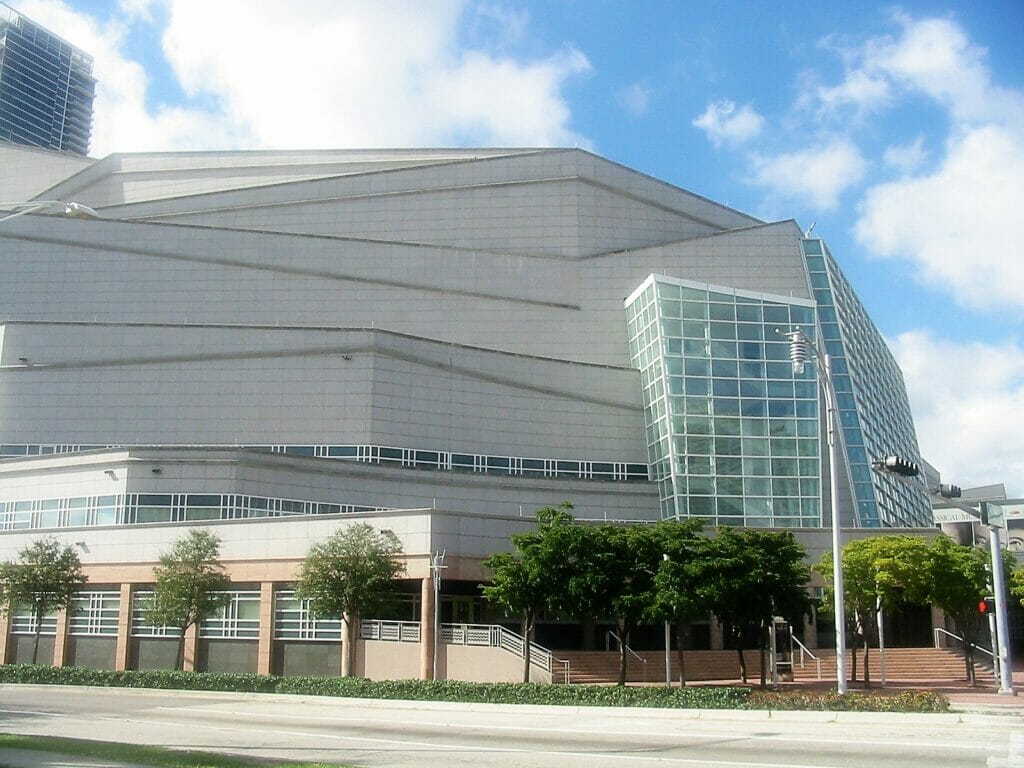 If you want to be around other people but don't necessarily want to feel pressure to socialize, get yourself to a performance venue and join the crowds in enjoying some music, or a play.
The FTX Arena is known as a place for concerts from big name artists.
Go to the arena to see musicians like The Killers, Carrie Underwood, Marc Anthony, and other performers from all sorts of genres!
Looking for something more classical?
The Adrienne Arsht Center for the Performing Arts is an exquisite place to hear an orchestra, or see a ballet or a play.
21. Laugh out loud at a comedy show
There are plenty of places to laugh in Miami!
You'll be falling out of your seat cracking up over Just The Funny's improv comedy group on any Thursday, Friday, or Saturday night.
Flamingo Theater Bar is a lively but comfortable venue where you'll find stand-up comedy from Latin comedians.
At Villain Theater, expect anything from open mic stand-up, to improv, to sketches, to great stand-up from local comedians.
Looking for the big names? Head up to Hollywood!
Hollywood, Florida, that is.
The Seminole Hard Rock Hotel & Casino has a huge live performance venue where you'll find the likes of Steve Martin, Martin Short, Chelsea Handler, Adam Sandler and many others!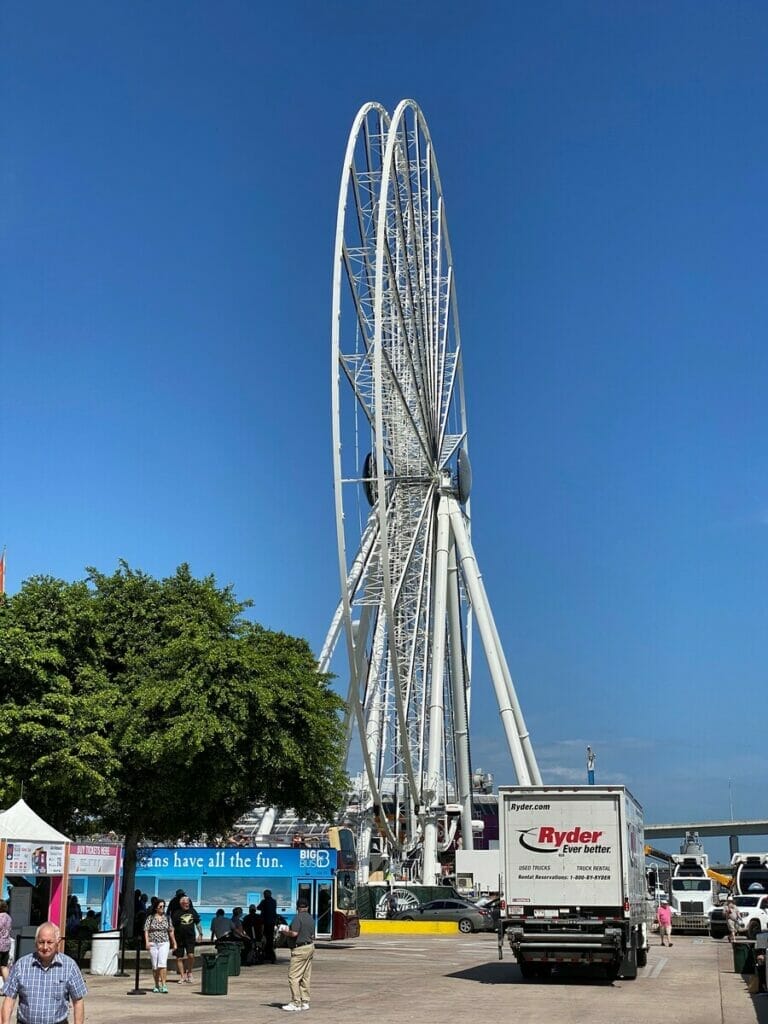 While the views from Miami's iconic ferris wheel are beautiful during the day, they become absolutely breathtaking at night.
Take a 12-15 minute ride in your own private, climate-controlled glass gondola and watch the city lights dazzle from this bayside Miami attraction.
Artistic Things to Do in Miami Alone
Miami is a city full of brilliant diversity, and you'll see that diversity reflected in the art on display at Pérez Art Museum Miami!
With modern and contemporary art from all around the world, you can expect to spend about an hour or two walking through the galleries of this popular bayside museum.
For even more creative inspiration, head over to the Institute of Contemporary Art, where entry is free!
You'll have three floors of art galleries to browse, plus a sculpture garden outside, so plan on spending about an hour at this popular museum.
Top Tip: though admission is free, it's a good idea to reserve tickets to ICA Miami in advance to guarantee entry.
25. Learn about the art of graffiti at Museum of Graffiti
The first museum in the world dedicated to this unique form of art, Miami's Museum of Graffiti will take you on a journey from the early days of graffiti through its evolution to the modern art we see in cities today.
This small but educational museum will take about an hour to explore, and it's right next to the next item on our list: the Wynwood Walls!
26. See the street murals at Wynwood Walls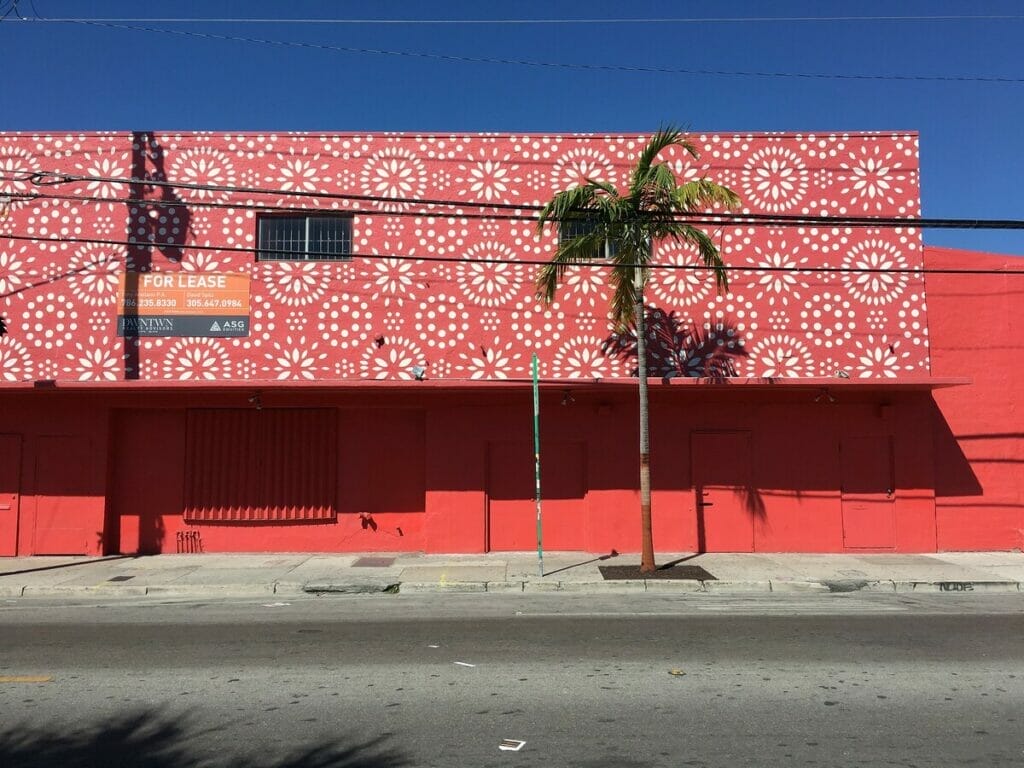 Take a walk through Wynwood Walls, an outdoor museum featuring over 35 colorful murals that celebrate street art.
Entry is $12, and for an additional $5 you'll learn all about each of the unique murals on a guided tour.
Don't wanna pay, but still looking for some cool street art? The whole Wynwood neighborhood is full of it!
Grab a delicious ice cream cone from Salt & Straw and take a stroll around the neighborhood!
27. Admire the curated collection at Rubell Museum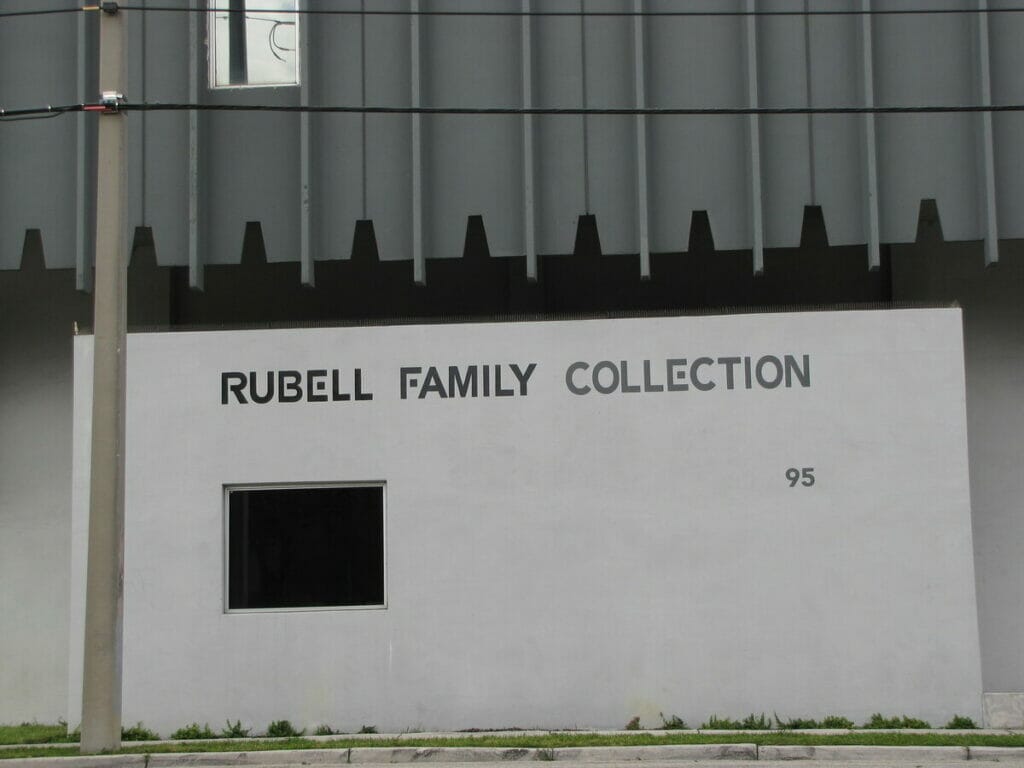 Rubell Museum hosts an exquisitely curated collection of contemporary art just a few miles north of downtown Miami.
Step inside and immerse yourself in a whimsical world of works from up-and-coming and underappreciated artists.
Hungry? Leku, the museum's restaurant, offers delicious Basque cuisine and refreshing cocktails.
This popular contemporary art museum fills up quickly, so advance tickets are recommended!
Best Solo Trip to Miami Activities
One of the coolest things to see in Miami is the historic Vizcaya estate.
Take a walking tour of the early 20th-century mansion at Vizcaya Museum & Gardens – and, of course, don't forget the gardens!
You can easily spend a few hours at this breathtaking Miami attraction, learning the history of the estate and admiring the greenery and antiques that grace its grounds.
Enjoy a delicious lunch at the onsite cafe, and be sure to opt for the elegant outdoor bistro seating!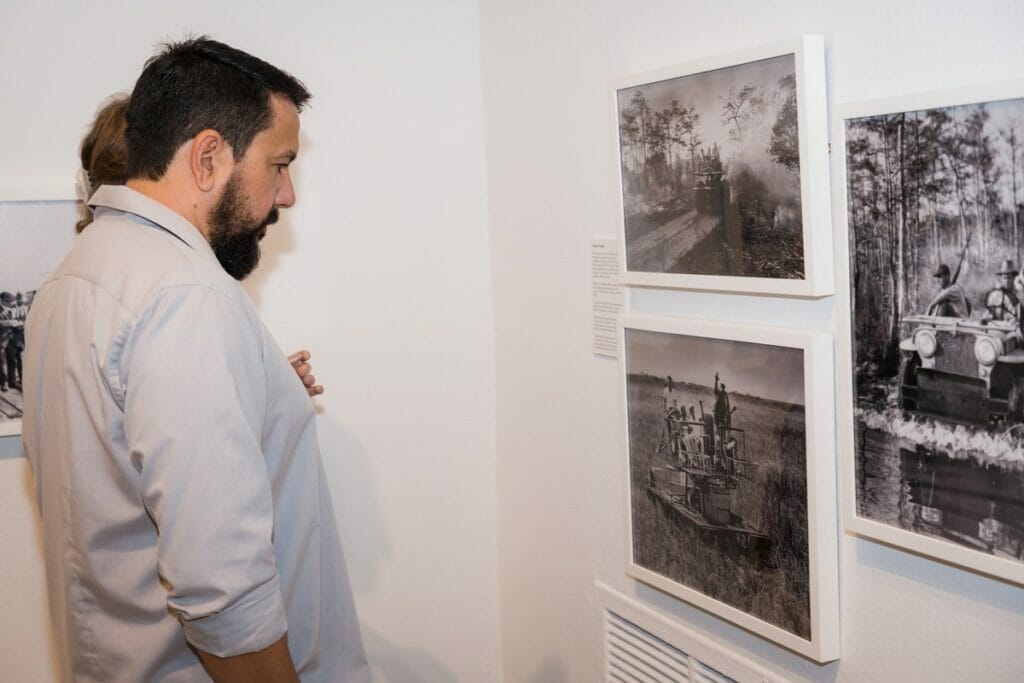 Curious about Miami's multicultural history?
Get yourself downtown for an afternoon to explore the HistoryMiami Museum!
This educational museum will teach you about Miami's regional history, from the area's indigenous roots, through some of the major events of the past few centuries, such as the civil rights movement.
Learn about Miami's Haitian and Cuban immigrants, see artifacts from decades past, and take your time as you walk through the museum's many interesting exhibitions.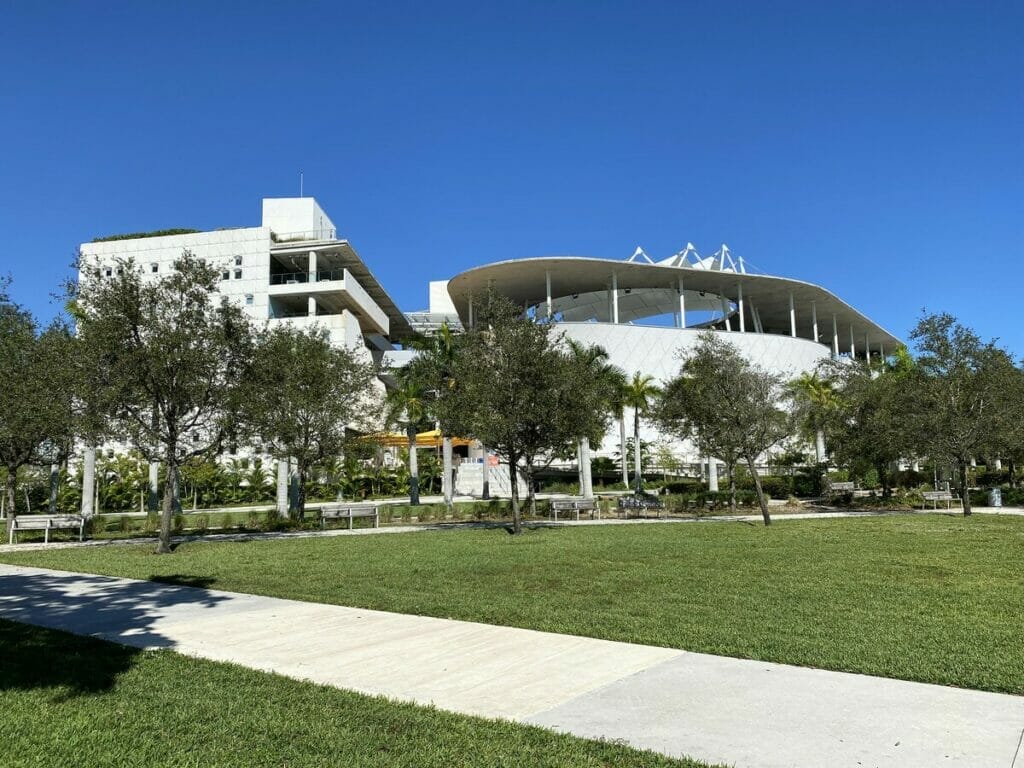 Science is a pretty broad subject, so it's only fitting that Miami's biggest science museum covers a wide range of scientific topics!
From the depths of the ocean to the vastness of space, from dinosaurs and the Ice Age to the complexity of the human body, there's plenty to see and learn about at the Phillip & Patricia Frost Museum of Science.
Plan to spend 4-5 hours touring this fantastic museum, which has its own aquarium and planetarium!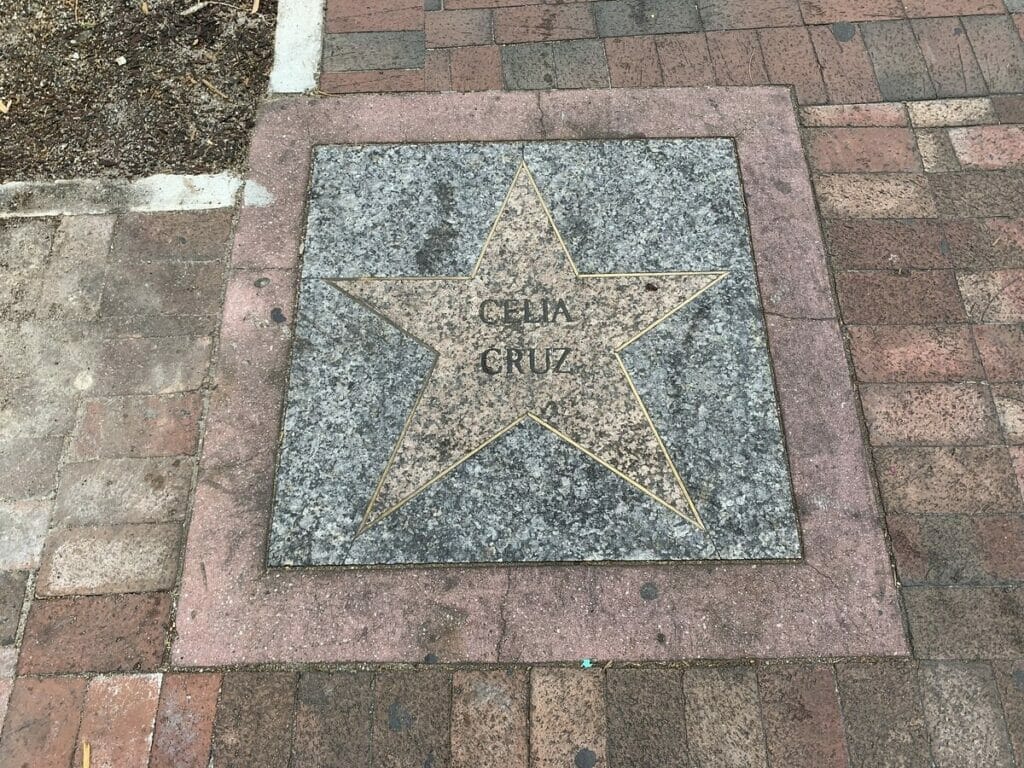 The Calle Ocho Walk of Fame, located in Miami's Little Havana neighborhood, is a lively street that pays tribute to prominent figures of Cuban and Latin culture.
Take a walk down Calle Ocho (8th Street) and read the names on the stars that grace the sidewalk, much like Hollywood's classic Walk of Fame.
Along the way, you'll find festive music venues, delicious food, lively bars, and several cigar shops.
32. Honor Haitian culture in Little Haiti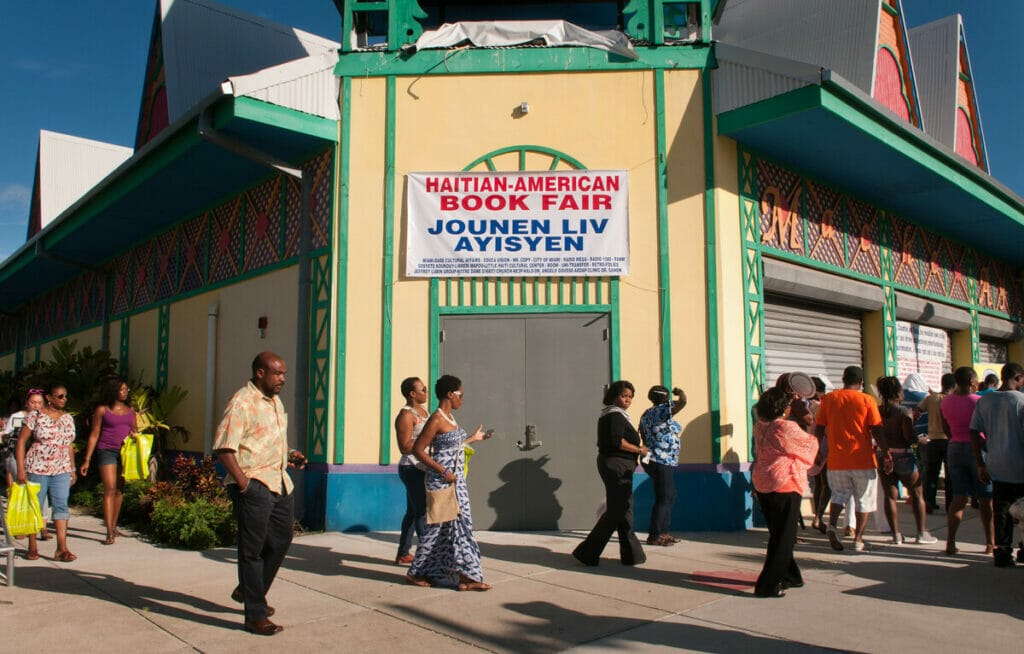 Next to Cubans, Haitians are the second-largest immigrant group in the Miami area.
Little Haiti is a vibrant Miami neighborhood where you'll find art, food, dance, music and more!
Grab lunch at Piman Bouk Haitian Restaurant (cash only), browse the several art galleries in the area, and stop by the Toussaint Louverture Memorial Statue to read about the leader of the Haitian Revolution!
For more information about Haitian history and culture, visit the Haitian Heritage Museum in downtown Miami, open Tuesday through Friday.
33. Take a walking food tour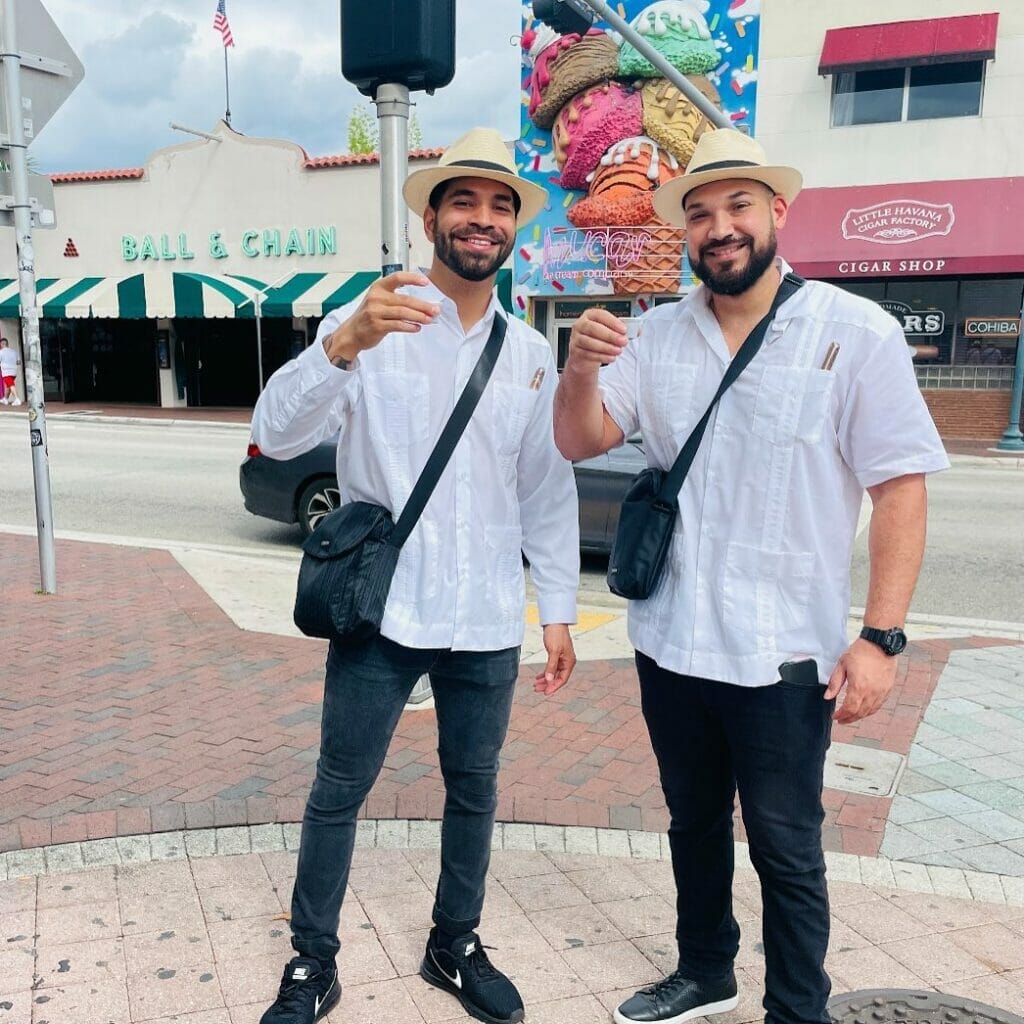 There's so much amazing food to be found in Miami, you don't want to miss out on these diverse culinary experiences!
Miami Culinary Tours will take you through some of the city's most delicious neighborhoods.
Take their Little Havana Food & Cultural Tour and feast on Cuban delicacies, or opt for a multicultural experience on the Wynwood Food & Art Tour – which includes entry to the Wynwood Walls!
Pin for Later!
Get the All-American Travel Secrets!
Don't miss out on America's hidden gems!