Taking a solo trip to NYC?
The Big Apple has plenty to keep you occupied!
From prestigious art and history museums to LGBTQ friendly things to do in NYC to iconic landmarks, to breathtaking public parks and more, you'll have no trouble filling the time with fun things to do during your trip to NYC!
Here are 43 things to do in New York City alone.
Hey! Be sure to check out these expert guides that feature the best attractions for solo travelers!
If you're looking for more expert New York guides, check these out!
The Best Tours in New York City
If you'd prefer to have someone else show you around, check out these NYC tours that you could go on, or continue reading our guide that you can follow yourself!
Fun Things to Do Alone in New York City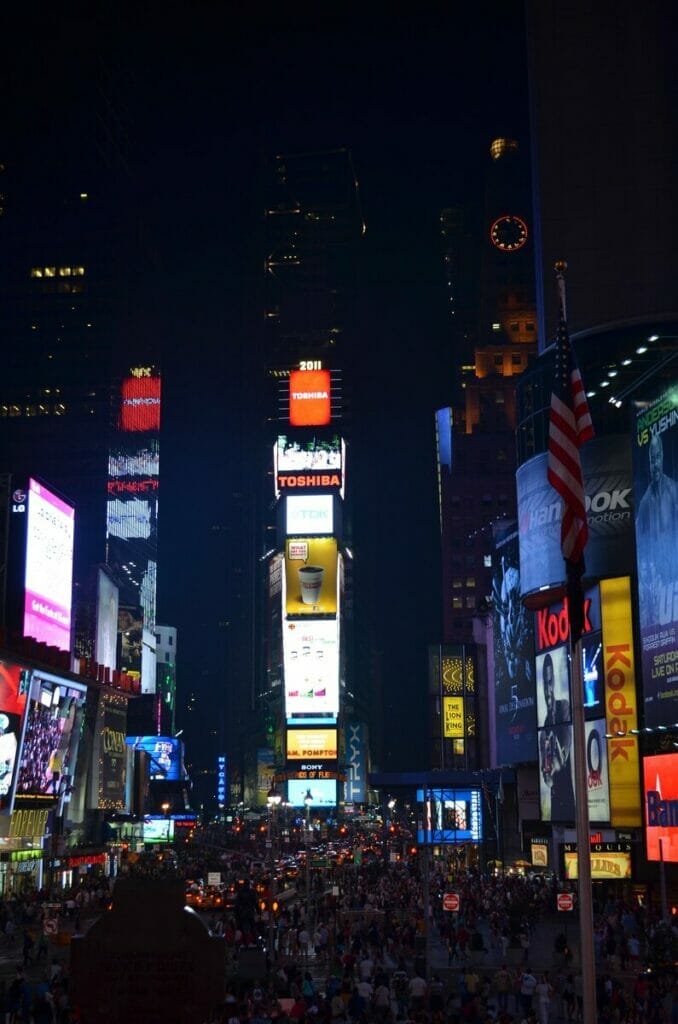 Perhaps one of the most iconic things to do in New York City is to visit Times Square!
A popular tourist destination for over a century, it's a great place to snap a few pics and let everyone know you're in The Big Apple.
And, of course, there are plenty of shops to check out in the square!
Find some souvenirs at Grand Slam New York, put together a trendy new outfit at Old Navy, Levi's, or Forever 21, or grab some cool shades from Sunglass Hut!
You're never too old to pop into a Disney store, and Hershey's Chocolate World is full of sweet treats.
Hungry?
There are plenty of classic food chains, like McDonald's, as well as local eateries offering American, Italian, French, Cuban, and many other cuisines!
The classic Hard Rock Cafe is a short walk away, or you can go for a full New York experience and check out the food cart options on the busy street corners!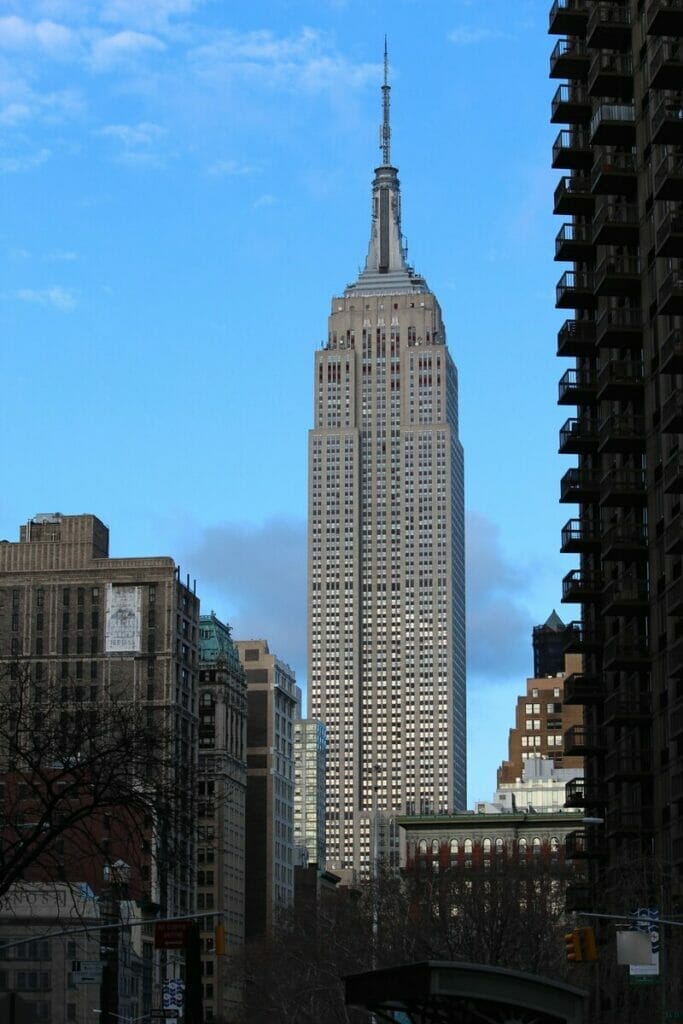 Another iconic NYC destination is the Empire State Building!
The Art Deco exterior is impressive in itself, but you're really in for a breathtaking view of the city when you go to the top of this 102-story skyscraper.
Prominently depicted in many films, such as King Kong, An Affair to Remember, Sleepless in Seattle, and Independence Day, you don't want to miss this essential stop on your solo New York trip.
Top tip: Make sure to get your ticket early – this is a busy attraction so it's worth knowing that you get to skip-the-line with this express ticket.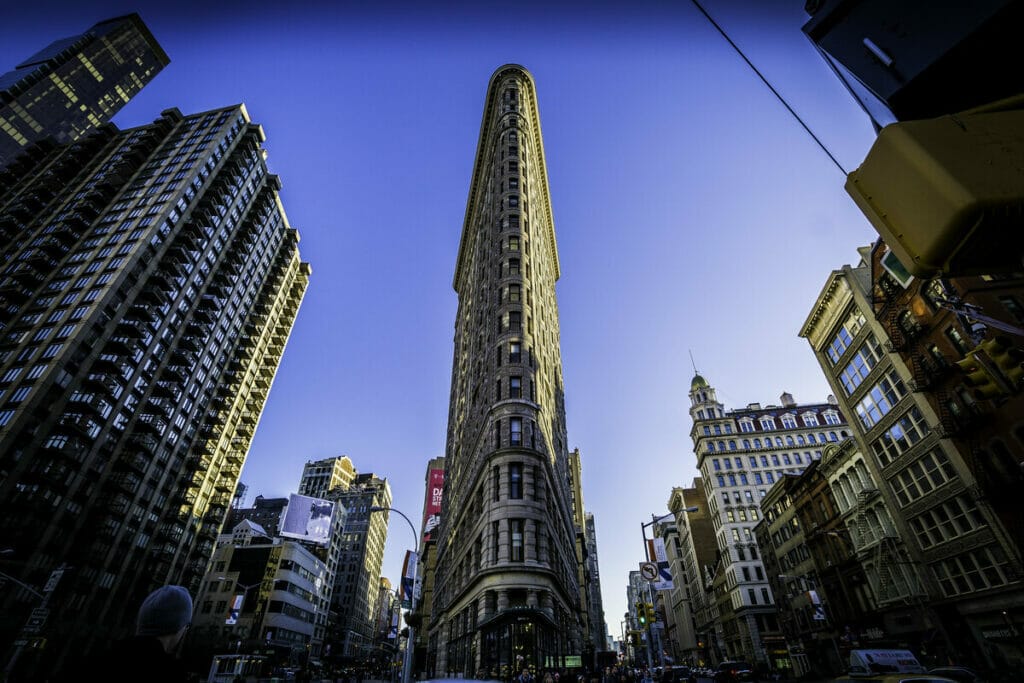 Speaking of historic symbols of New York City, the Flatiron Building is another cool stop on a trip to NYC!
Standing proudly on the corner of 5th Avenue and West 23rd Street since 1902, this uniquely-shaped 22-story building is primarily a home to offices.
While it isn't open for tours, you can simply walk by and snap a few pics of the outside, or take a seat in the Flatiron Public Plaza and enjoy a stunning view of this historic building while you eat lunch.
Or, head into Madison Square Park for some greenery amidst the classic New York architecture!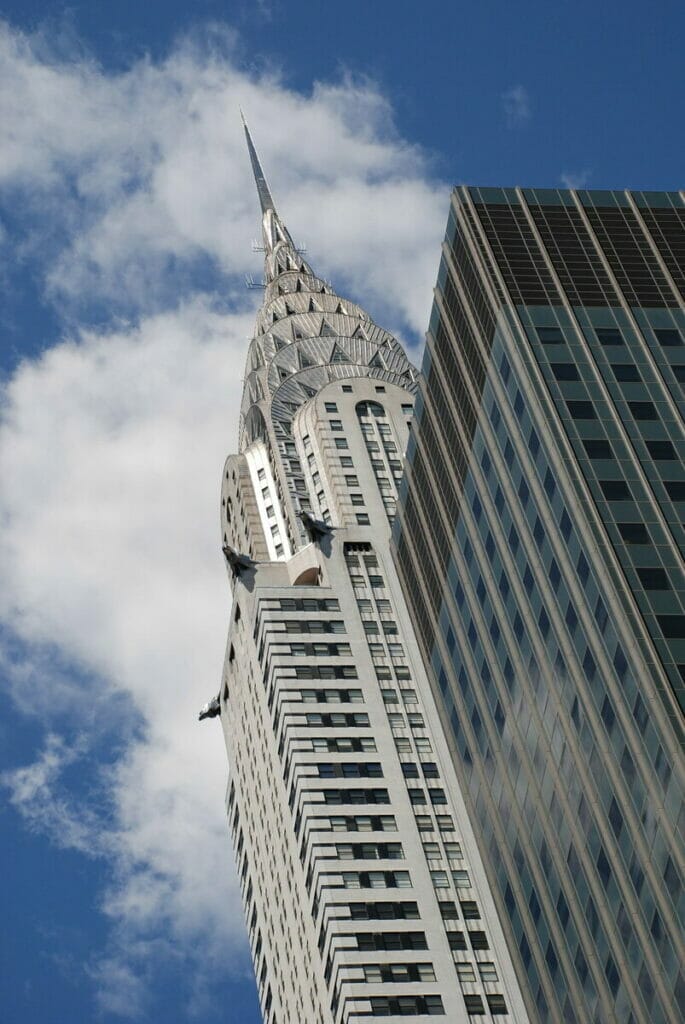 Did you know the Chrysler Building was once the tallest building in the world back when it was completed in 1930?
Of course, architecture has come a long way since then, and it is now only the 11th-tallest in NYC!
However, record-breaking or not, the Chrysler Building is a stunning sight, with that shiny, terraced crown topping off its 77 stories.
Marvel at the Art Deco exterior of this NYC landmark, or go inside and view the lobby during open hours.
Speaking of Marvel… another fun fact about the Chrysler Building is that it's a place Spider-Man (as played by Tobey Maguire) has said he likes to hang out!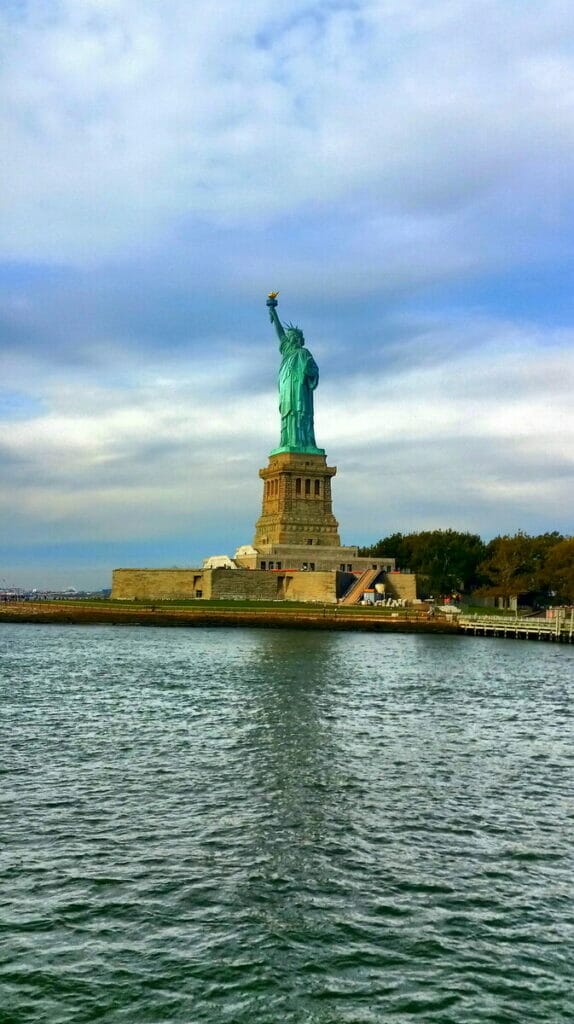 Does it get any more American than the Statue of Liberty?
Gifted to the United States by the French in the late 1800s, this symbol of freedom stands proudly at 305 feet from the base to the torch.
The Lady herself makes up about half of the landmark's overall height!
You'll get to Liberty Island by ferry, then take a tour of the monument, visit the museum and gift shop, or even stop by the Statue of Liberty Crown Cafe for a quick bite!
Top tip: If you want to be the first tour group allowed on the island, make sure to book your early access ticket before going!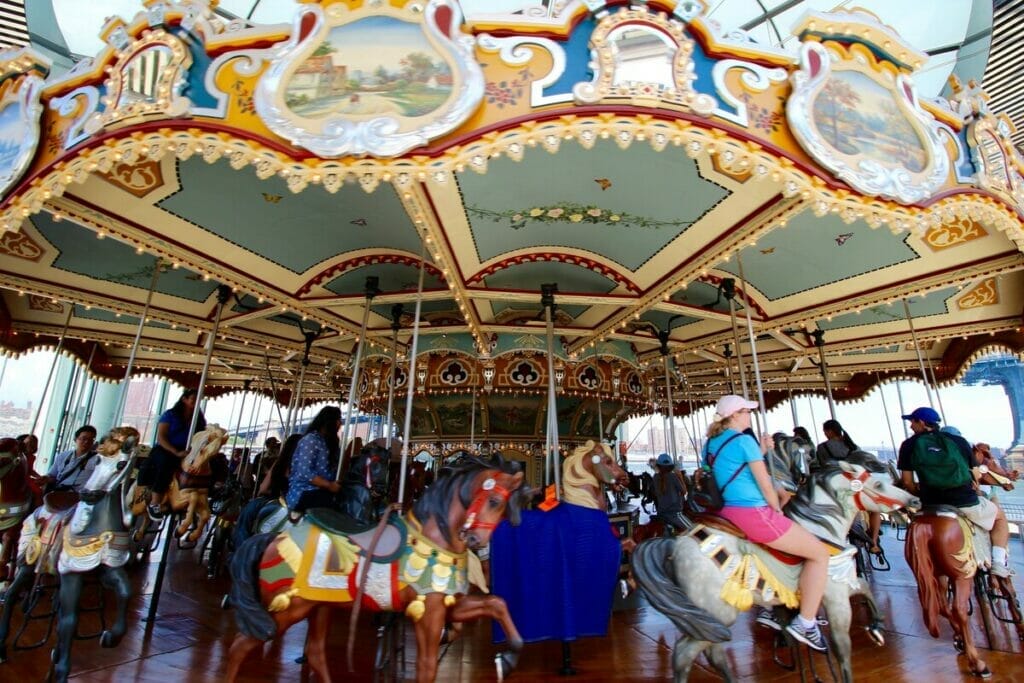 You're never too old to ride a carousel!
Constructed in 1922, Jane's Carousel sits right between the Brooklyn Bridge and the Manhattan Bridge, providing beautiful views of the East River and the city skyline.
The carousel's glass enclosure ensures that this historic attraction can operate throughout the year, so don't let the rain stop you!
This popular attraction sees so many riders every day, no one will think anything of it if you hop aboard a beautifully carved horse and go for a spin!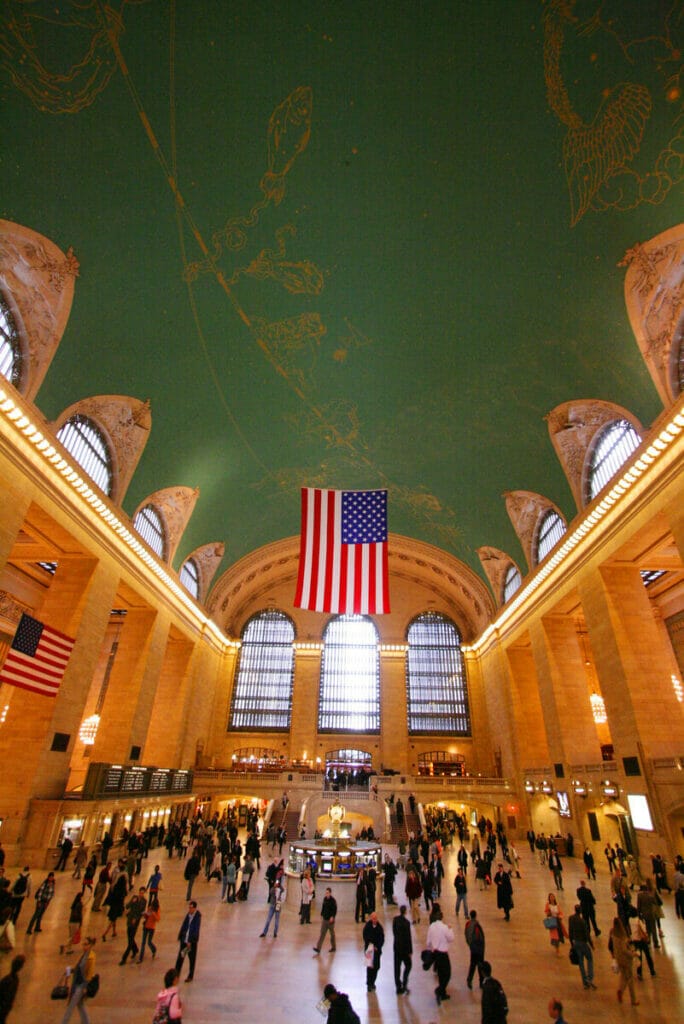 Even if you're not catching a ride through the terminal, Grand Central is an absolute must-see during a trip to NYC!
Stop by the information booth for an up-close look at the terminal's iconic four-sided brass clock.
Don't forget to look up at the gorgeous, astronomy-themed mural on the ceiling!
Hungry?
The Grand Central Oyster Bar is a grand destination in itself.
If you really want to treat yourself, grab an exquisite dinner here!
Or, for a more affordable meal, head over to the vendors at Grand Central Market.
If you're not ready to leave this beautiful, historic station too soon, why not spend some time shopping at Banana Republic or the Apple store, or enjoy a cocktail at The Campbell!
This is one of the many benefits of being alone in New York City, you're on your own schedule!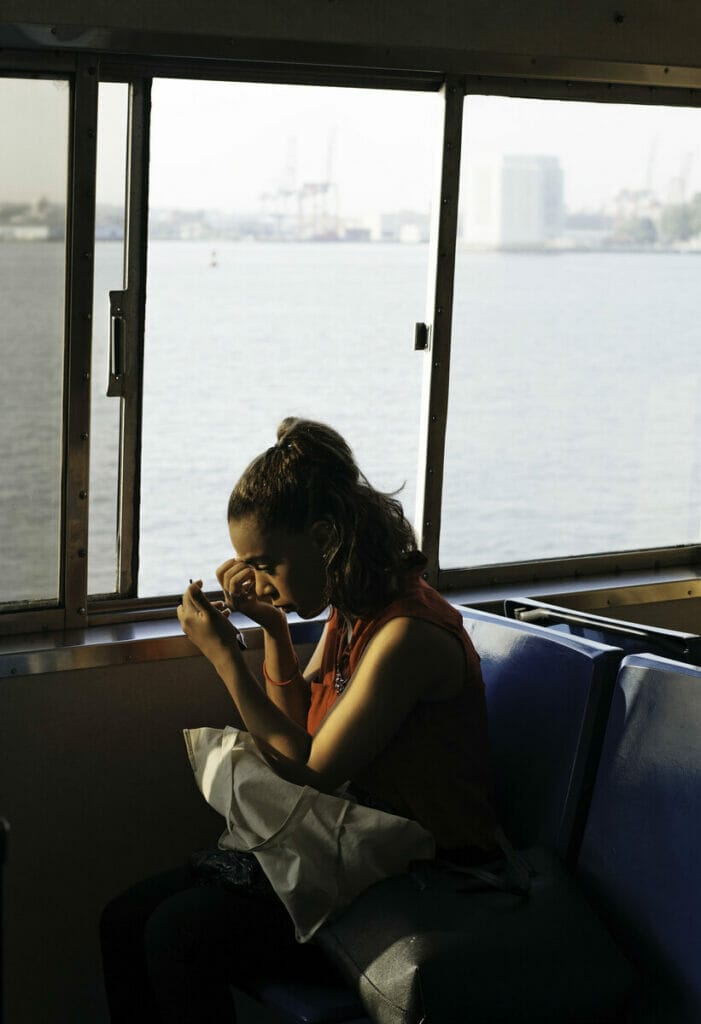 Yep, it's part of New York City, and one of our favorite attractions while exploring New York City alone.
Cross the New York Harbor to NYC's southernmost borough, Staten Island, where you'll find an 8-acre zoo, a beautiful nature center, and plenty of history!
Staten Island Zoo is home to an impressive serpentarium, with one of the biggest collections of rattlesnakes in North America.
The Greenbelt Nature Center is the perfect place to go for a scenic hike, and Historic Richmond Town features 100 acres of history, including a museum, an open village, guided tours, and even an ice cream parlor!
Looking for unique things to do in NYC?
The Staten Island Boat Graveyard is kind of hard to get to, but is visible through the gates of the Donjon Recycling yard.
If you have a drone, that'd be the best way to get a full view of the rusting ships at this lesser-known New York attraction.
9. Head over to Little Italy for some food and culture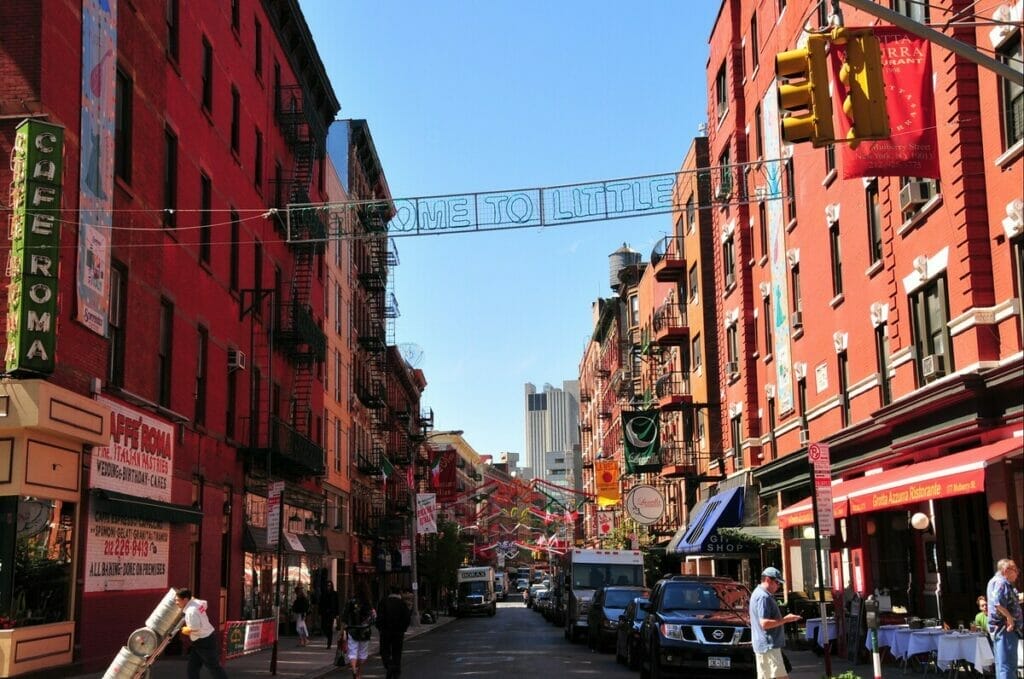 You'll find no shortage of Italian food in Little Italy!
This cultural neighborhood of NYC takes up several blocks in Lower Manhattan, full of restaurants, shops, and even a museum.
Snap a pic of the Little Italy sign, then dine at a classic (or modern!) Italian restaurant or cafe.
Curious about the history of Italians in America?
The Italian American Museum is currently undergoing renovations, but is expected to open by the end of 2022!
Right next to Little Italy is NYC's Chinatown!
In fact, these two neighborhoods are so close, the Museum of Chinese in America is actually in Little Italy.
Stop by the museum while you're in Little Italy, then head over to Chinatown itself!
In addition to Chinese cuisine, you'll find Vietnamese, Malaysian, Korean, Japanese, Taiwanese, Indian, and other Asian restaurants in this cultural hub of Lower Manhattan!
Top tip: Foodies, if you want to get the best of both worlds, make sure to secure your spot at the Little Italy and Chinatown Food Fest Walking Tour!
Your guide will take you on off-the-beaten-path food joints and help you weave your way through these bustling neighborhoods.
Things to Do in New York City Alone for Creative People
11. Check out the modern art at the MoMA
One of the best known museums in New York, and arguably one of the most renowned art museums in the entire world, is the Museum of Modern Art (or, the MoMA).
Take a look at the original Van Gogh painting, The Starry Night, proudly displayed on the 5th floor.
With nearly 200,000 works gracing the walls and floors of this expansive museum, you can expect to spend several hours there, so plan accordingly!
You can't bring food into the museum, but there are two cafes and a restaurant, so you can easily grab lunch or dinner during your visit.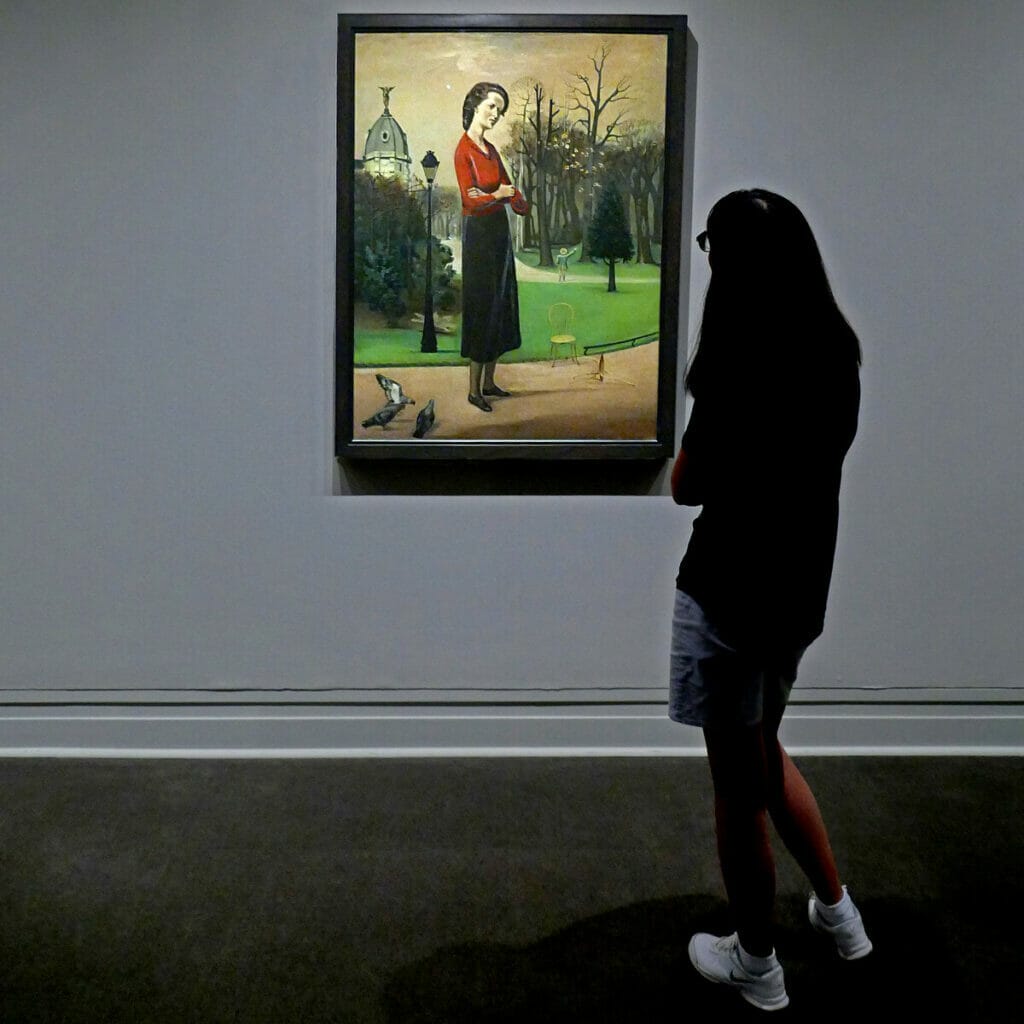 The Metropolitan Museum of Art, also known as the Met, is another must-see museum in New York City.
Located near the middle of Central Park, the Met is one of the largest art museums on the planet, and is the largest in both North and South America!
The Beaux-Arts architecture of the grand entrance is a breathtaking display in itself, but the 490,000+ works that await inside can easily make this a full-day experience.
Walk the halls of this amazing museum and marvel at both old and new art from all over the world, including Greek and Roman statues, medieval armor displays, and an ancient Egyptian temple!
There are many eateries located within the Met, so you'll be all set with meals for the day!
Top tip: If you're looking for one of the best ways to experience this museum, book a private guided tour of the museum, which allows you to skip the lines and explore exhibits at your own pace!
13. See a show
New York City is one of the best places to catch some live entertainment.
Listen to breathtaking orchestras at Carnegie Hall, or see an opera, drama, ballet or other dance performance at Lincoln Center for the Performing Arts.
Radio City Music Hall is another iconic NYC venue, and, of course, there's Madison Square Garden, where the biggest names in music perform.
Find out what's on Broadway when you're in the big city, and be ready for a memorable experience!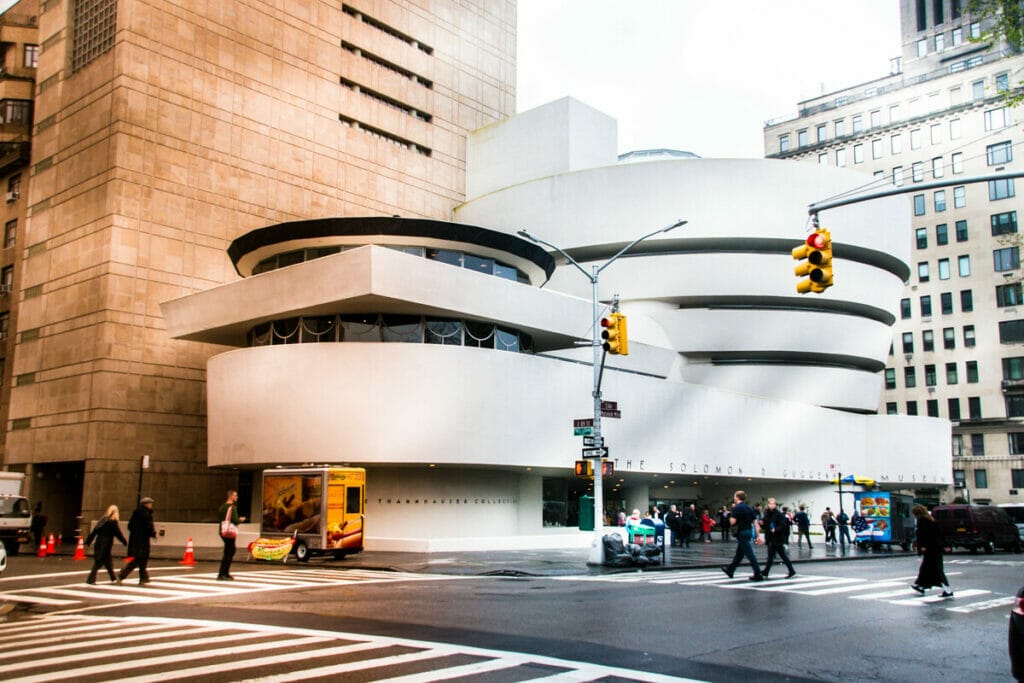 The unique architecture of the Solomon R. Guggenheim Museum on 5th Avenue will draw you in to see its modern art collection.
As you make your way up through the floors that spiral around the museum's center, the pristine white walls will ensure that your attention is drawn to the artwork.
The glass ceiling is a work of art in itself, and the museum store is a great place to pick up an artistic souvenir during your trip.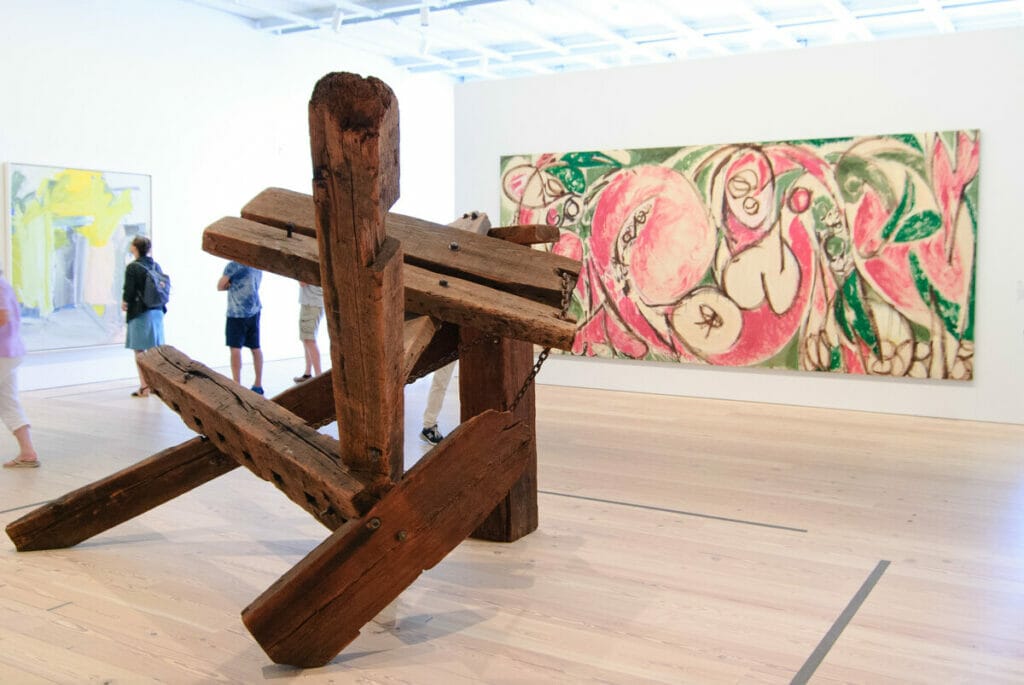 If the varied collections of New York's larger art museums are too much to take in, you might enjoy the Whitney Museum of American Art.
This museum is home to over 25,000 works by American artists from the 20th and 21st centuries alone.
The Whitney's curated collection is perfect for those who like to really hone in on one particular area of art history, which makes it the perfect attraction for those alone in New York City.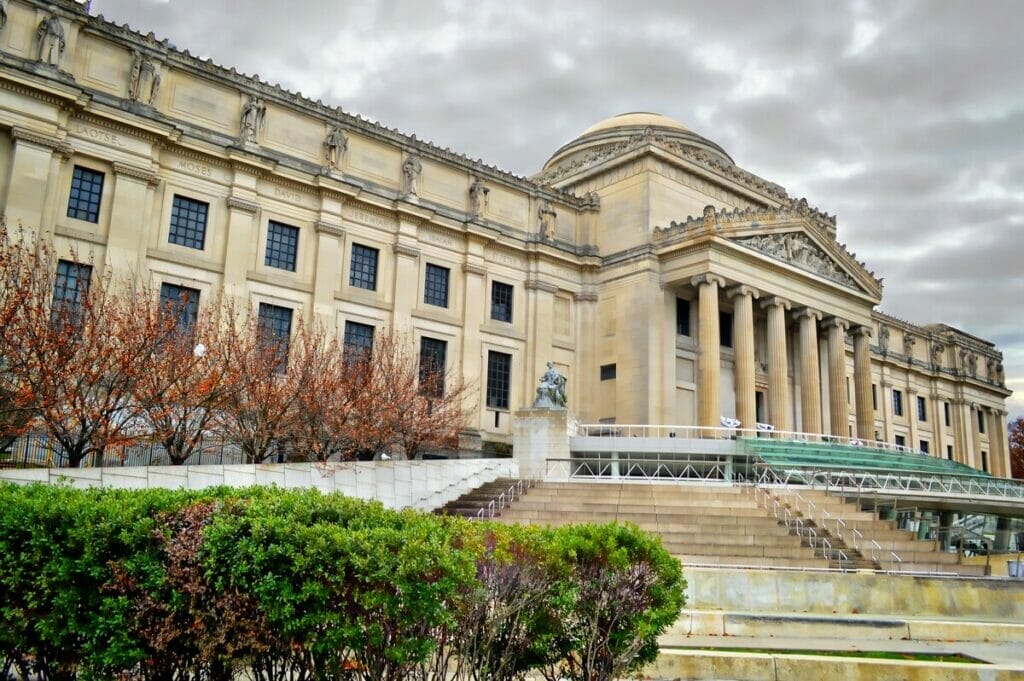 Another breathtaking Beaux-Arts style building full of marvelous art awaits you at the Brooklyn Museum.
From ancient works to modern exhibitions, this museum is the perfect place to kick off (or complete) your visit to Brooklyn's Prospect Park.
Explore the five floors of the Brooklyn Museum, then head out to the Brooklyn Botanic Garden for some art created by Mother Nature herself.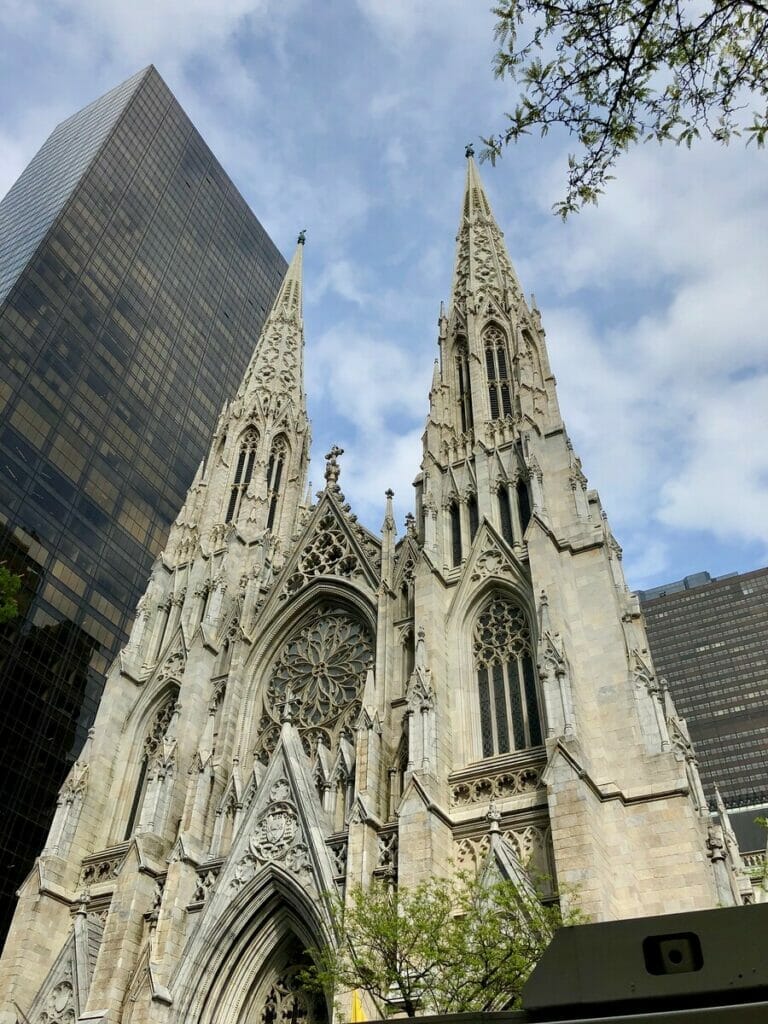 The Neo-Gothic architecture of St. Patrick's Cathedral is a definite draw for any creative-minded tourist.
This iconic church and its twin spires have graced 5th Avenue since 1879!
Inside the building, the stained glass windows are full of vivid color, and the ornate columns stand tall and proud.
If you've got an hour to spare, take a self-guided audio tour of the cathedral, where you'll learn the history of the building and the stunning artifacts housed within it.
Things to Do Alone in NYC at Night
18. Go to a sports game
If the arts aren't your thing, New York City's got you covered with plenty of sports entertainment!
Baseball has a rich history in New York, and an evening Yankees or Mets game is a great way to spend your night in NYC.
Football fans will enjoy a Giants or a Jets game, and there's basketball with the Knicks or the Nets.
Soccer, hockey, boxing, rugby, and other sports are all options for entertainment, too!
With so much variety, this is definitely one of our favorite things to do alone in New York City.
19. See a show on Broadway
Another great thing to do at night in NYC is to watch a Broadway show!
From long-running classics to new and exciting stories, there's plenty worth seeing in any of the 41 theaters scattered along Broadway.
See what shows will be lighting up Broadway when you're in town!
20. Have a laugh at a comedy show
Laugh the night away with an evening comedy show in NYC!
Comedy Cellar is one of the highest rated comedy venues in the city, alongside the New York Comedy Club, Gotham Comedy Club, the Village Underground, and more!
From big names to up and coming comedians, a comedy show is a great way to lighten up during your travels.
21. Rock out at a concert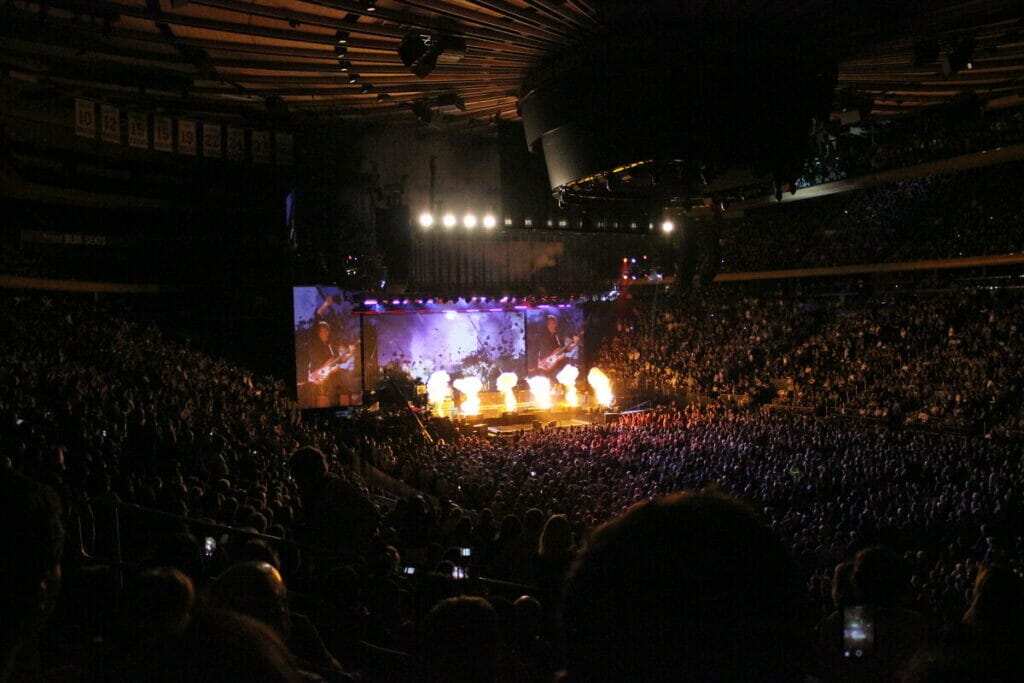 Hungry for a little rock 'n roll?
Believe it or not, Madison Square Garden is another great thing to do alone in New York City.
This arena regularly hosts concerts from prominent rock and pop stars, and is one of the most iconic event venues in New York City.
Barclay Center is another large venue – or, if you're sick of stadium seats, go for a more intimate venue like the Beacon Theatre!
22. Hang out at the best bars and clubs in NYC
There's plenty of nightlife to enjoy at the bars and clubs in NYC!
The Dead Rabbit is a wildly popular destination, with a taproom and a parlor where you'll find Irish eats, whiskey, and cocktails.
For live music, dancing, and drinks, head over to Bembe in Brooklyn.
Just remember to bring cash to this cash-only lounge!
Feeling nostalgic?
Play vintage video games while you enjoy a craft beer at the Barcade on 24th Street.
Educational or Historical Things to Do in New York City Alone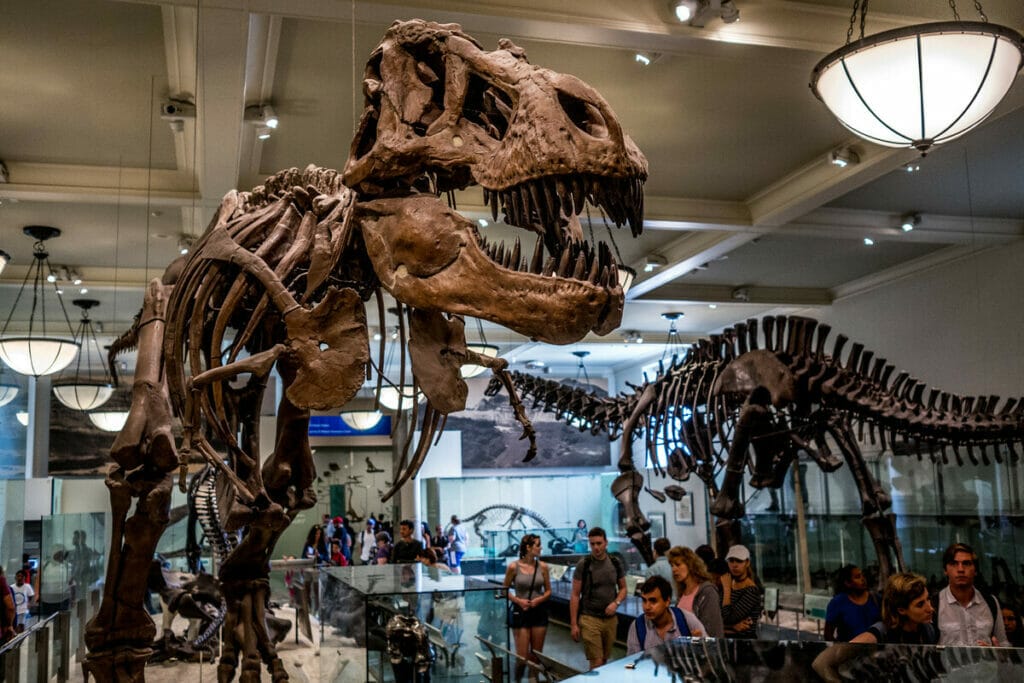 It's not just the setting of the 2006 hit family film Night at the Museum; the American Museum of Natural History is large enough to spend a full day taking in its wonders!
Get there when the museum opens at 10:00 AM, and pick up a map from the information desk.
You'll get an up-close look at the world's natural history, from ancient fossils, to sea creatures, to diverse human civilizations across time!
The museum currently requires reservations with timed entry, so be sure to reserve your ticket in advance!
Located off 5th Avenue near the north end of Central Park, the Museum of the City of New York is the perfect place to learn about the history of NYC!
You can expect to spend 3-4 hours in this museum, where you'll find photos, artifacts, and other exhibitions that give you a detailed look at the history of the city.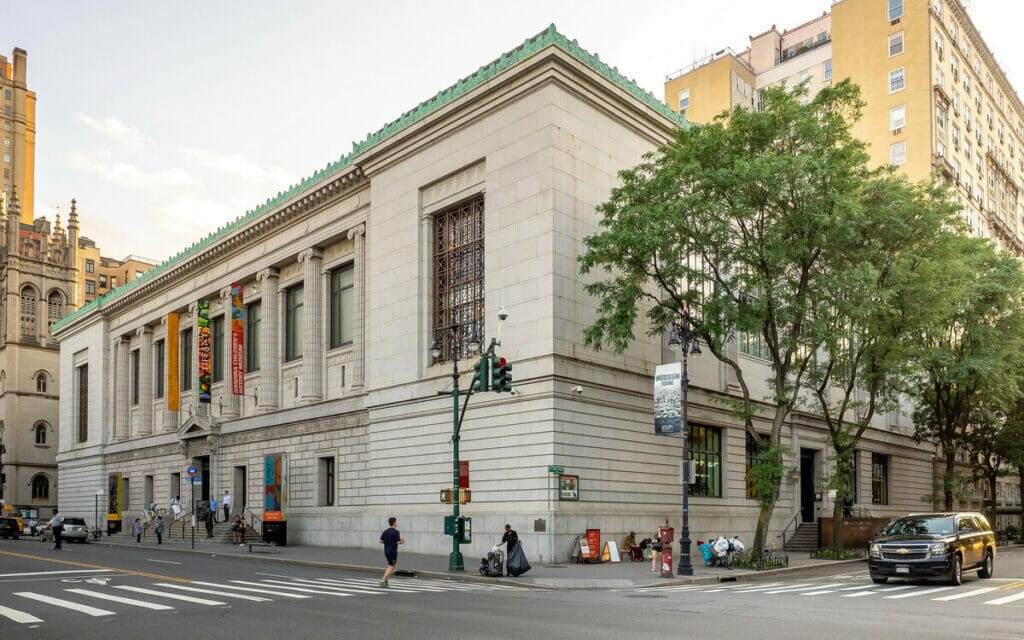 If you're into both art and history, you've got to check out the New-York Historical Society!
This museum, located right across from Central Park, tells the history of NYC through a creative lens, and the perfect museum to enjoy alone in New York City.
The New-York Historical Society's collection will bring you anything from paintings and sculptures, to films and photography, to furniture and other artifacts illustrating NYC's history.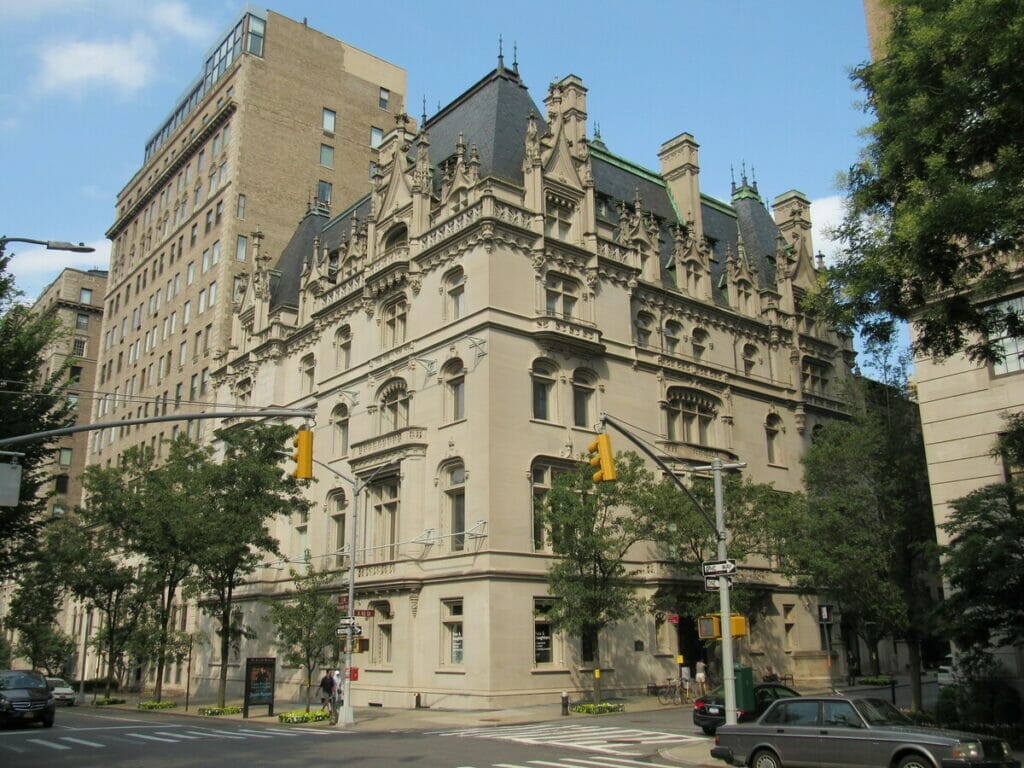 The Jewish Museum is another great source of art and history!
Explore the museum's collection of Jewish art and artifacts, including an impressive assortment of Hanukkah lamps, beautiful paintings, and even some pieces dating all the way back to before the common era!
Looking for more Jewish history?
Another great thing to do in New York City alone is to venture over to the Museum at Eldridge Street, a beautifully restored 19th-century synagogue!
If you're looking for interesting things to do in New York City alone on a budget, you'll be happy to know that the Hispanic Society Museum & Library is free to enter!
Artwork from Spain, Portugal, and Latin America fill the space of this beautiful, Beaux-Arts style building.
The museum is currently undergoing renovations, so be sure to keep up with their exhibitions page to find out which parts of the museum are open and what you can expect to find there.
The Old Stone House of Brooklyn, or, OSH, is a historic house museum whose limited opening hours are definitely worth working around for a visit!
Open Friday, Saturday, and Sunday afternoons and only letting in 10 people at a time, you may need to arrive just as the museum opens in order to guarantee entry.
In addition to being a Dutch farmstead in 18th-century Brooklyn, OSH is famed as the site of the 1776 Battle of Brooklyn, and for being the first clubhouse of the Brooklyn Baseball Club – the team that later went on to become the Brooklyn Dodgers!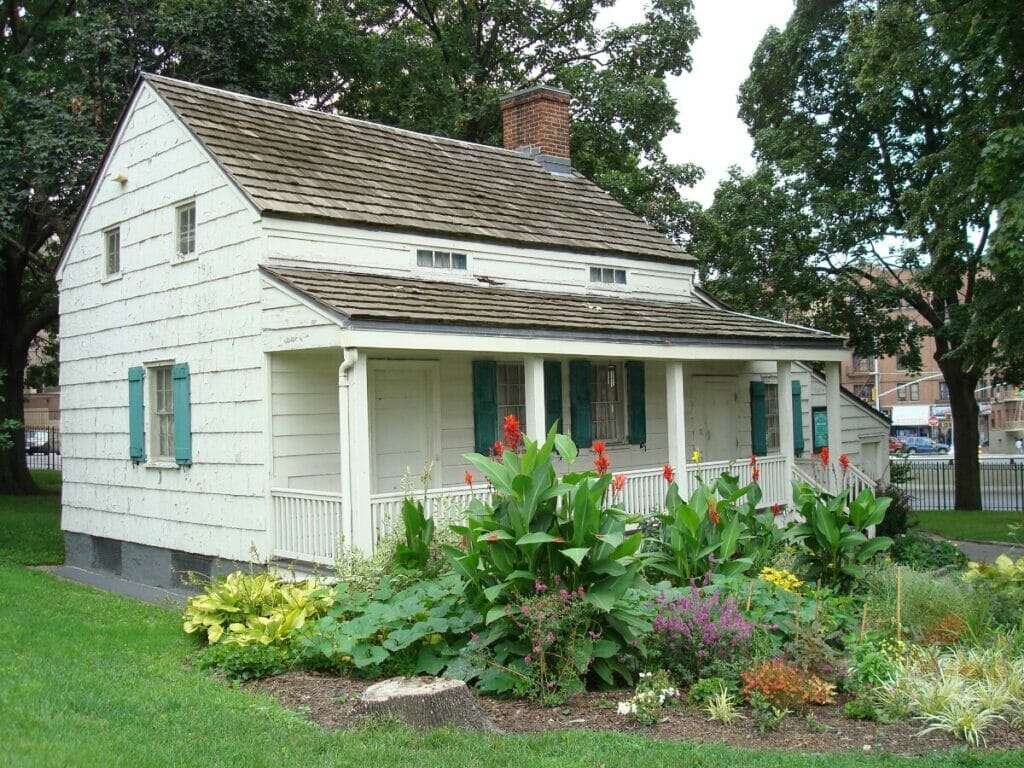 Another must-see historic house in New York City is the Edgar Allan Poe Cottage!
This 19th-century cottage was once the home of the famed author of The Raven, The Tell-Tale Heart, The Cask of Amontillado, and many more spooky stories.
The interior of the home is currently closed to the public, but literature enthusiasts will find it's worth a trip just to circle around the fence outside and imagine Poe sitting at the window, working on his next reflective poem or haunting tale.
If you're looking for more to do in the area, St. James Park is just a block to the west, and a mile east you'll find the New York Botanical Garden!
30. Learn about 19th century immigrant life at the Tenement Museum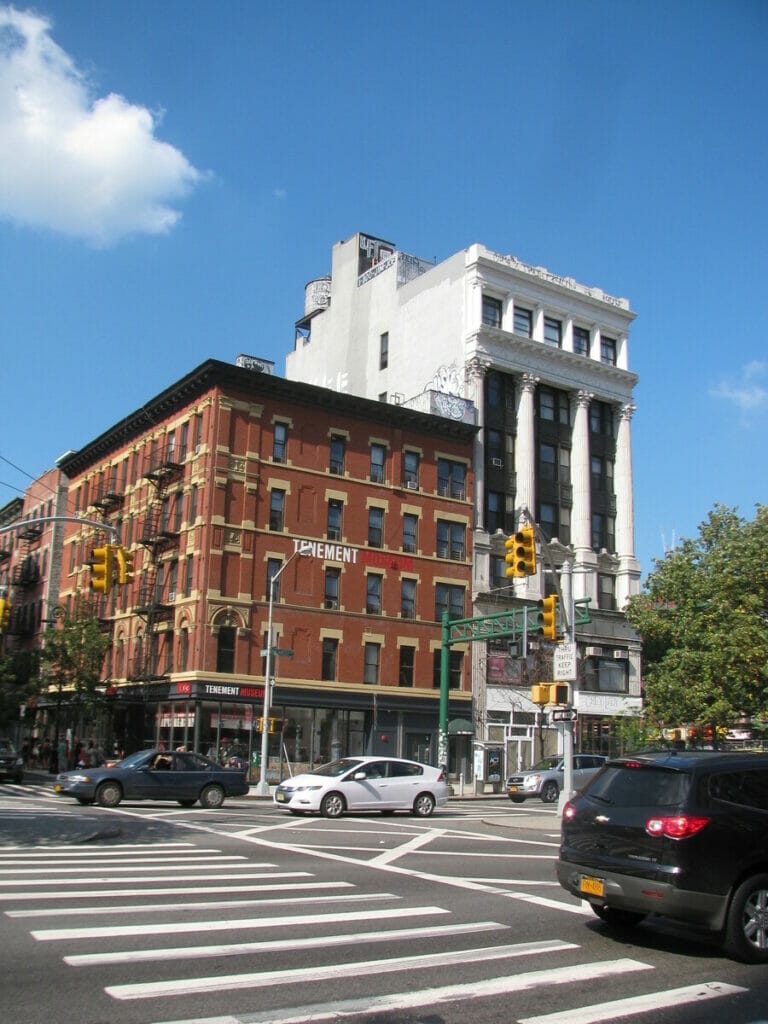 Step into history at the Tenement Museum!
Located in a preserved tenement building from the 19th century, you'll find recreated living spaces of immigrants to NYC, featuring furniture, clothing, and other historical items.
Take a guided tour of these homes and get a glimpse of the lives of immigrants and migrants between the 1860s and the 1980s!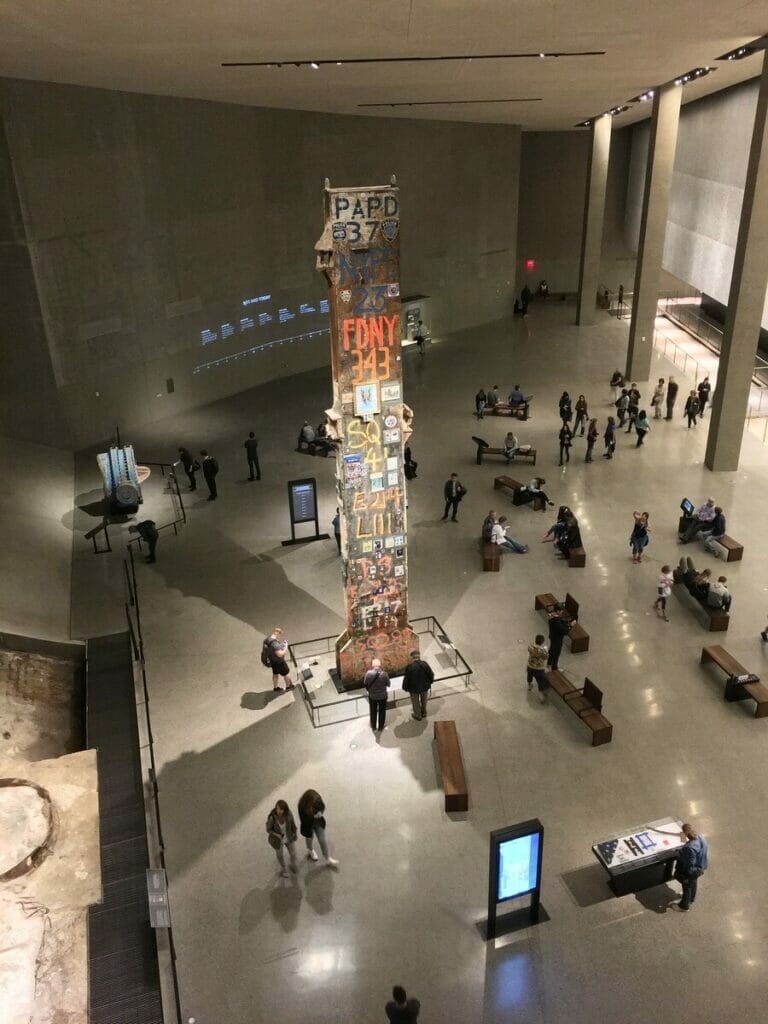 Looking for reflective things to do in New York City alone?
Stop by the site of the fallen Twin Towers and pay respects to the lives lost on September 11th, 2001.
Walk through the Memorial and read the names of those who were lost during 9/11, inscribed on the edges of the pools that fill the space where the Twin Towers once stood.
Then, view the "Survivor Tree", a pear tree that is still standing after the attack.
After that, head into the museum for reflective exhibitions, and take a guided tour if you've got an hour or two to spare.
Top tip: Book your general admission ticket in advance to guarantee admission to the memorial.
32. Take a guided tour
Speaking of guided tours, there are plenty of other offerings for history enthusiasts in NYC!
New York Historical Tours offers a wide assortment of 2-hour private tours of various parts of the city for $249 per tour.
For tours on a budget, Joyce Gold offers plenty of fascinating public walking tours for just $25!
What to Do Alone in New York City Outdoors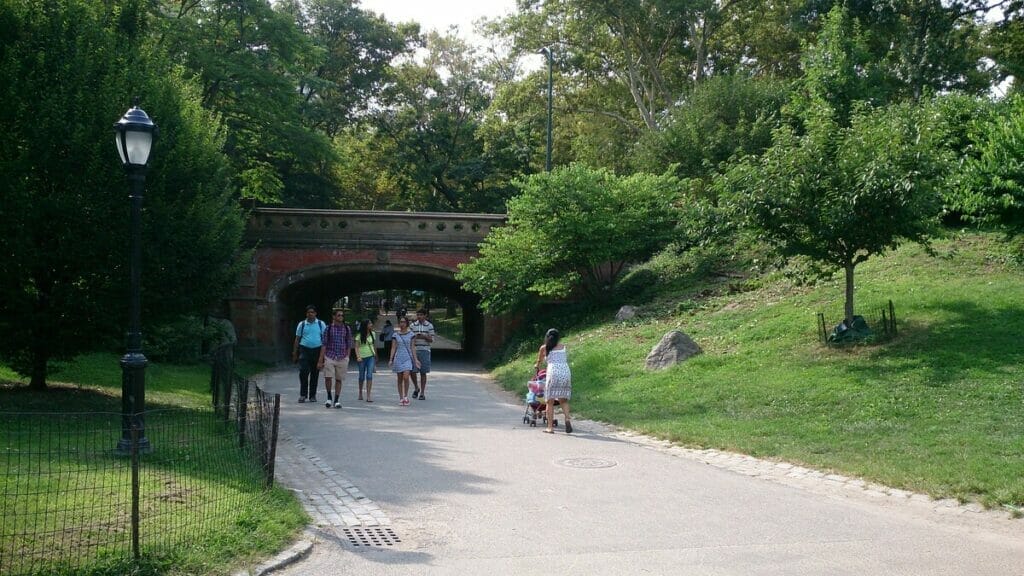 A solo trip to NYC wouldn't be complete without a visit to Central Park!
This iconic park spans 843 acres in Manhattan and stretches over 50 blocks in length!
You'll feel like you're in the middle of a fairytale as you walk by the Hans Christian Andersen Monument and the Alice in Wonderland sculpture, pass over Bow Bridge, and take in the stunning views of Belvedere Castle.
Of course, there's also the historic Central Park Zoo, the beautiful fountain at Bethesda Terrace, and plenty of breathtaking greenery to admire along the paved paths!
Top tip: If you're looking to experience the iconic carriage ride through Central Park, be sure to book your tickets in advance to secure your spot and enjoy the sights and sounds of Central Park in this classic carriage ride.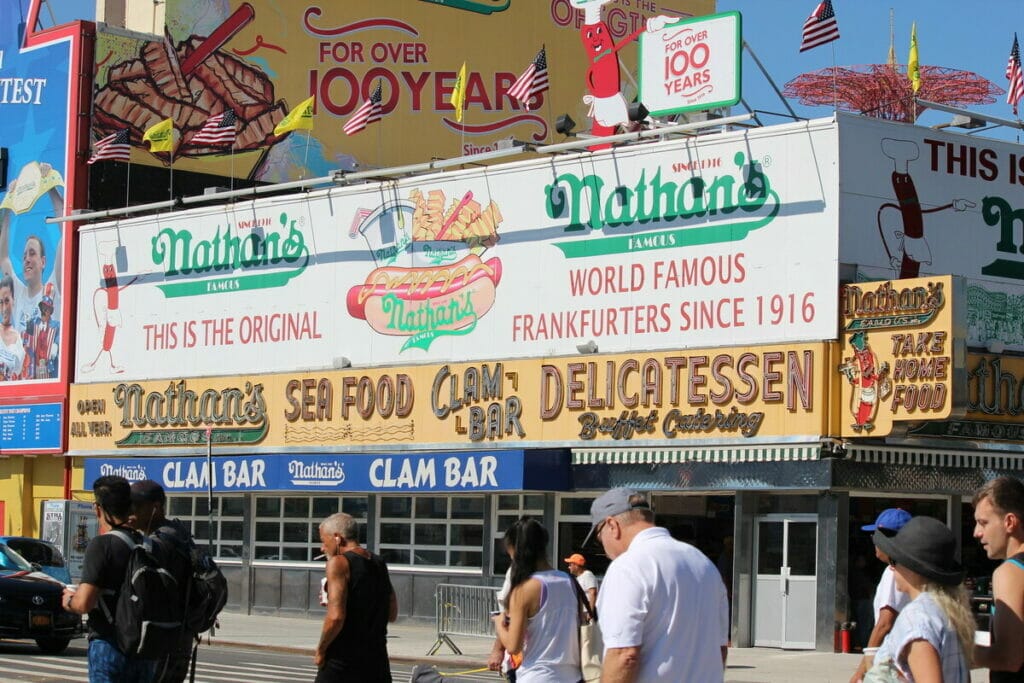 Another essential New York destination is Coney Island!
Catch some waves at the beach, grab a hot dog from Nathan's Famous, and enjoy the amusements along the boardwalk!
The New York Aquarium is also in the area, as well as the Coney Art Walls, an outdoor museum of colorful street art.
Don't forget to ride The Cyclone, the iconic wooden roller coaster built in 1926!
35. Enjoy the gardens, zoo, and lake at Prospect Park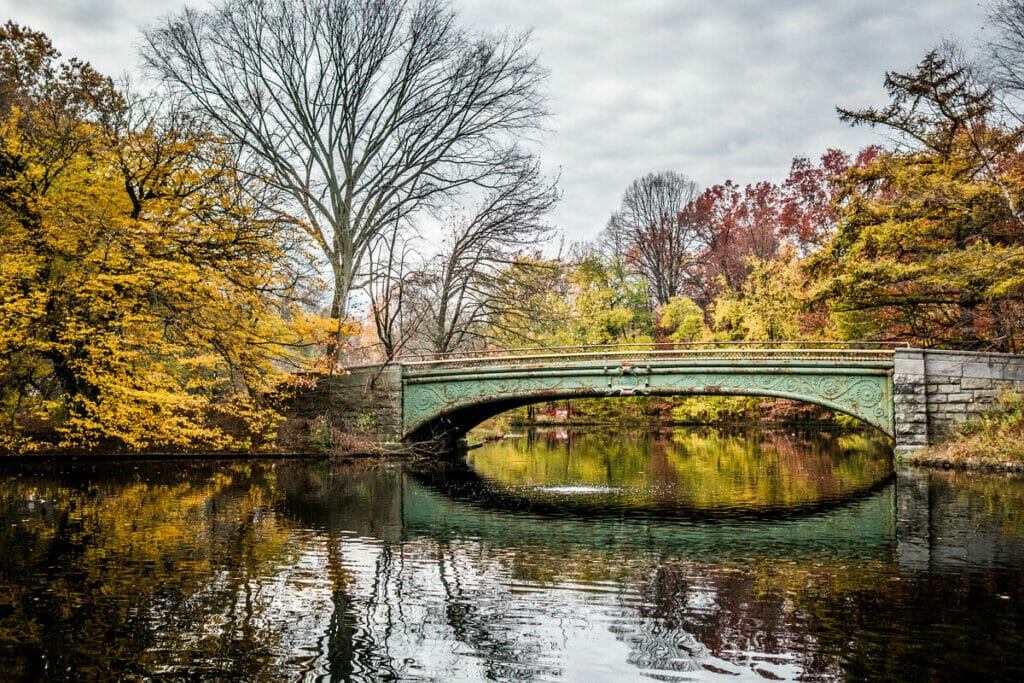 The Grand Army Plaza that greets you at the north side of Prospect Park is graced with a gorgeous stone arch honoring "the defenders of the Union" in the American Civil War.
Be sure to enjoy a scenic walk through the Brooklyn Botanic Garden, located beside the Brooklyn Museum in the northeast corner of the park.
The small but charming Prospect Park Zoo lies in the east of the park, and Prospect Park Lake to the south is the perfect place for a solo picnic.
36. Watch the sun go down from Sunset Park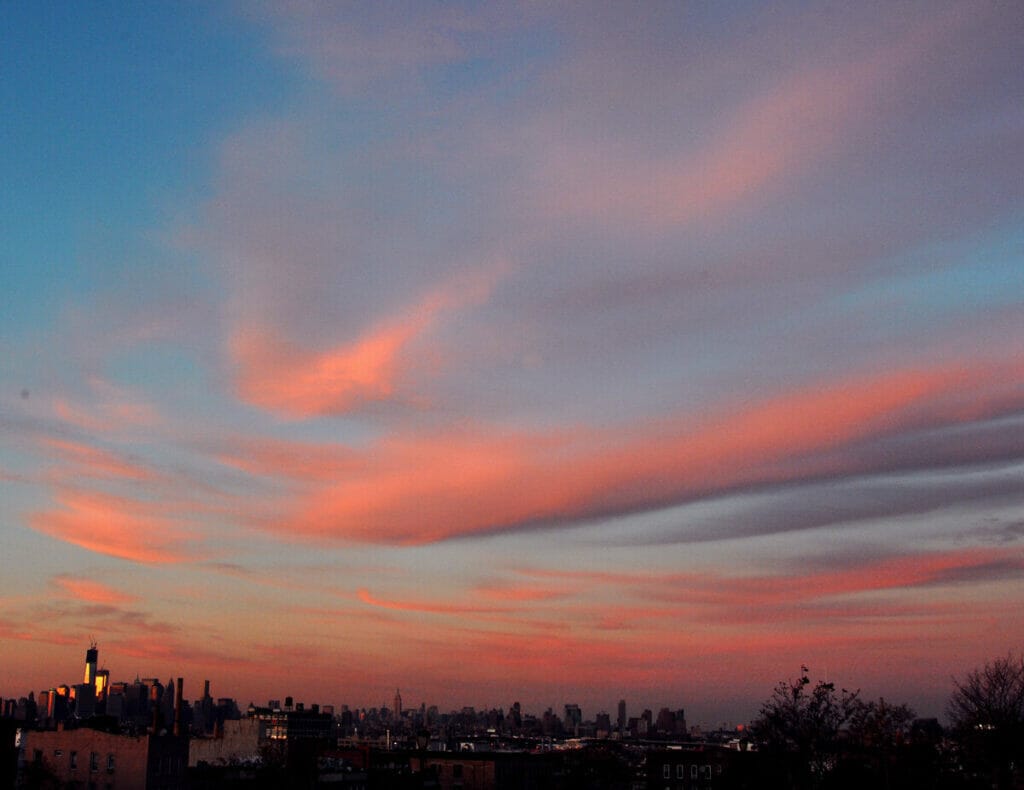 The aptly named Sunset Park in Brooklyn is an idyllic spot to watch the sunset from!
This smaller park has plenty of green areas to plop down amongst the trees and watch the sun go down over the bay.
Grab dinner at one of the diverse offerings of restaurants along 5th Avenue nearby, then head over to the park for a colorful sunset!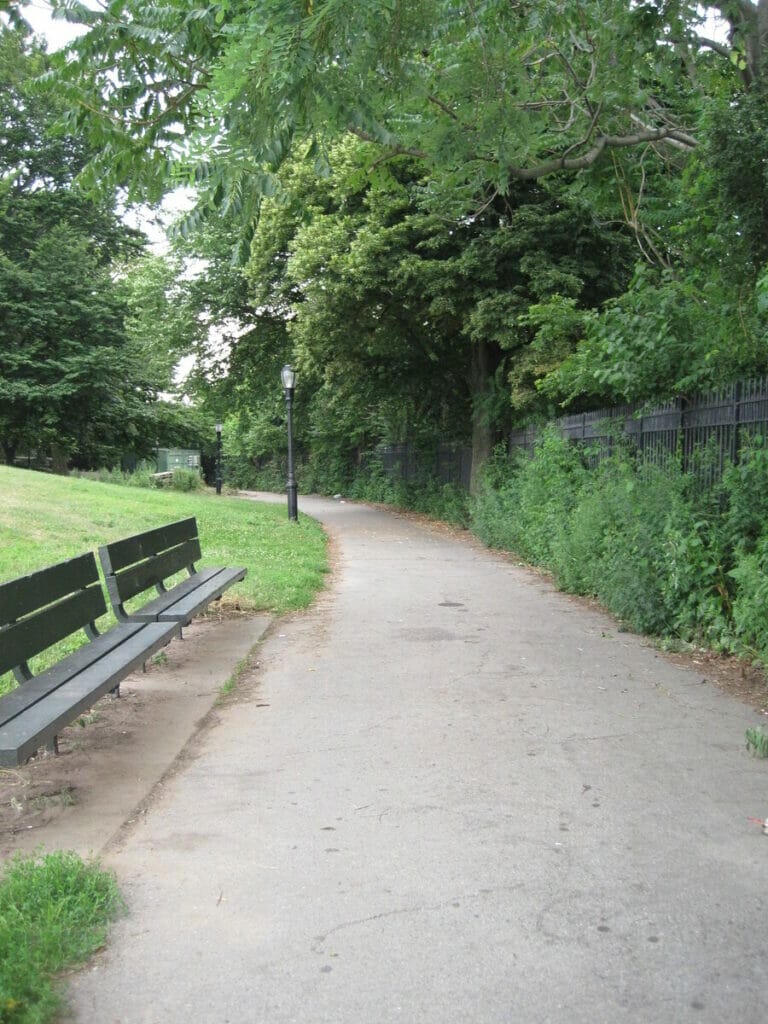 Don't let its small size fool you into overlooking Owl's Head Park!
This gorgeous riverfront park is a calm, quiet getaway from the bustling city.
The rolling green hills provide a serene hideout in nature, with the city skyline just barely visible from the back of the park, and the glistening waterfront ahead of it.
It's another great contender for the best place to watch the sunset in NYC!
Brooklyn Bridge Park doesn't just provide stunning views of the Brooklyn Bridge itself!
This urban park features paved paths, grass-covered piers, plenty of trees, and even a small beach!
Enjoy cocktails and oysters at PILOT, a bar located on a vintage boat docked at Pier 6, or head to the north of the park for an elegant meal at The River Café.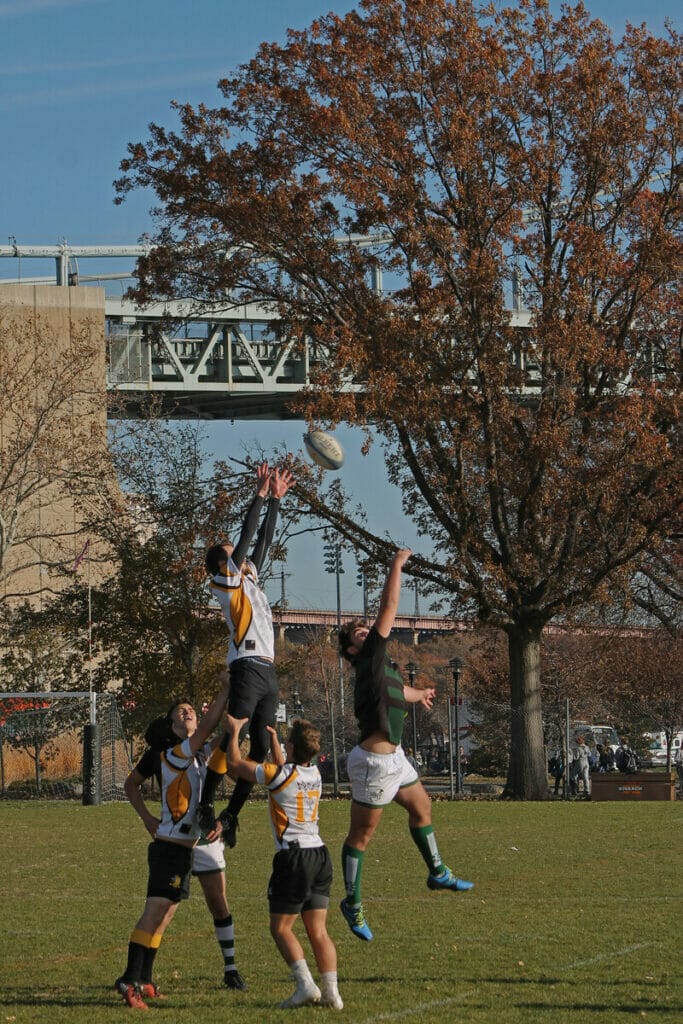 Randall's Island Park is mostly known for its numerous athletic fields, but you can still find plenty to enjoy on your own!
You'll get to Randall's Island and its expansive park via the Robert F. Kennedy Bridge (be prepared to pay tolls on your way in and out of the island if you're driving there yourself).
There's quite a bit of car traffic where the bridge passes through the length of the island, but it's easy to get away from the noise and find some peace and quiet!
The restored wetlands and tidal marsh make for a refreshing break from the big city, where you can relax and do some bird watching or fishing.
Walk through the several beautiful gardens located throughout the park, or go for a run or bike ride along the 10 miles of paved pathways!
40. Walk through Pelham Bay Park and kick back on Orchard Beach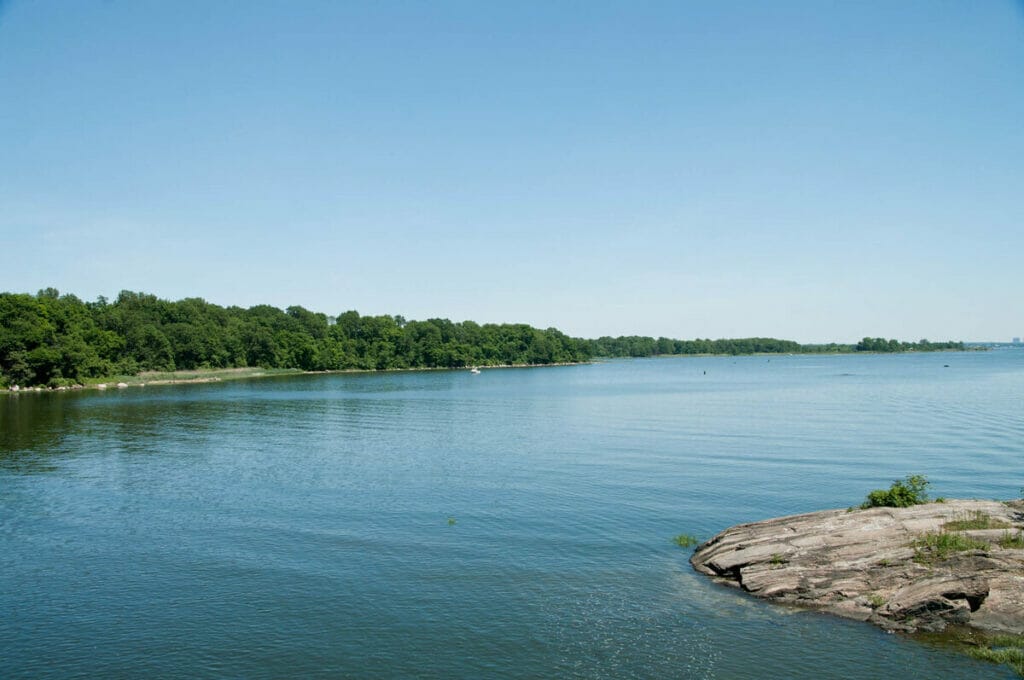 Did you know the biggest park in NYC isn't Central Park, but Pelham Bay Park?
That's right!
Central Park, as a matter of fact, is only the fifth-largest in the city!
At Pelham Bay Park, you'll find scenic walking and horseback riding trails, a wildlife sanctuary, golf courses, and more!
Orchard Beach, which curves along the east side of the park, is the perfect place to kick back on the sand, with blue waters in front of you and green trees behind you.
Before you leave, be sure to visit the Bartow-Pell Mansion Museum, a 19-century landmark estate featuring gorgeous gardens and a carriage house!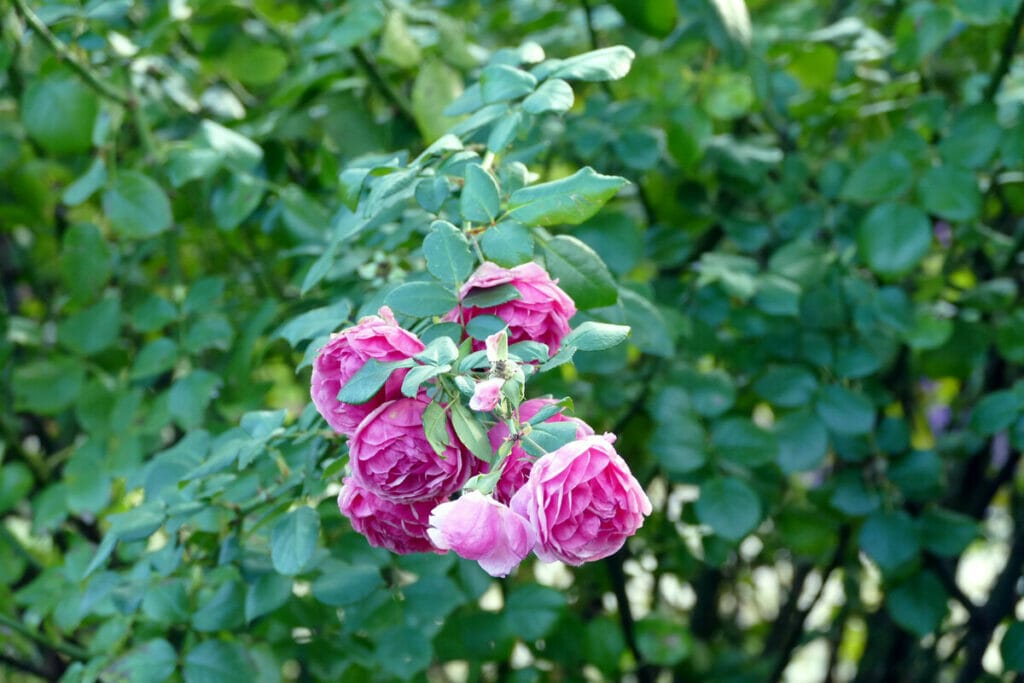 You're in for an idyllic walk when you visit the New York Botanical Garden.
This 250-acre attraction features 30,000 trees, 50 breathtaking gardens, and a beautiful glasshouse conservatory displaying a variety of greenery, from desert cacti to tropical rainforests.
This is truly one of the most beautiful things to do alone in New York City.
Hungry?
Head over to the NYBG's Pine Tree Café for a casual meal, or the Hudson Garden Grill for something more refined.
42. See the animals at the Bronx Zoo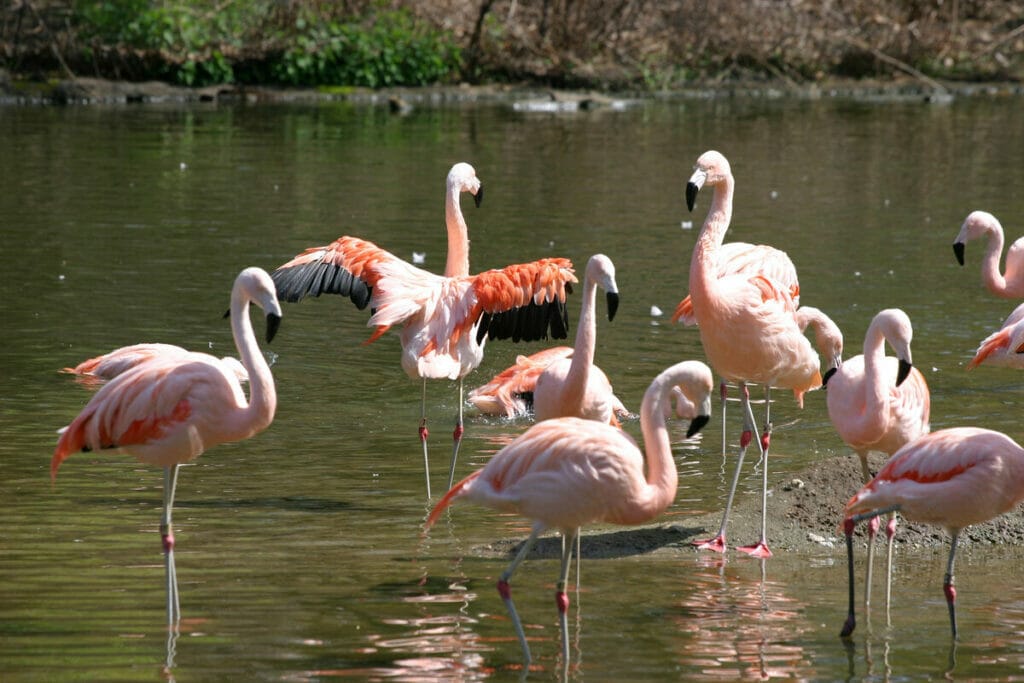 Located in the south end of Bronx Park, just over a mile from the New York Botanical Garden, is the Bronx Zoo.
The largest zoo in NYC, the 265 acres at the Bronx Zoo are home to over 10,000 animals and 700 species!
Top tip: Plan to visit on a Wednesday when regular tickets are under $20 and limited admission is FREE! (Just be sure to reserve your Wednesday ticket on the Monday afternoon before your visit, or they might sell out!)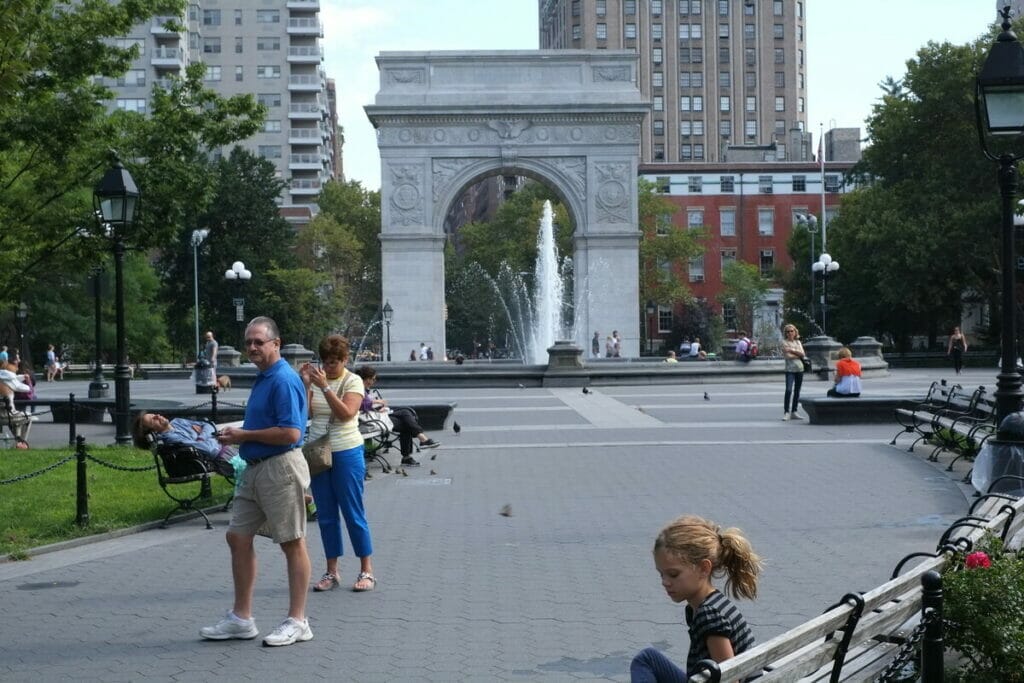 A beautiful marble arch welcomes you to Washington Square Park – one of the best things to do alone in New York City to do some good ol' fashioned people-watching!
Take a moment to admire the fountain near the park's main entrance, then grab lunch or a snack from a local food cart.
Find a seat on one of the park benches, and enjoy some New York street food while you watch the people go by in this busy, diverse, exciting city!
Pin for Later!
Get the All-American Travel Secrets!
Don't miss out on America's hidden gems!