Looking for things to do in San Diego alone?
SoCal's second-largest city is home to gorgeous beaches, fascinating museums, diverse culture, and plenty of delicious eats.
Whether you're in San Diego for a solo vacation, a business trip, a tour of the university, or just passing through on the way to another destination, you're going to want to make the most of your time in this sunny city!
Here are 27 exciting things to do in San Diego alone!
Once you've conquered all these amazing attractions you can really put your San Diego Instagram captions to work!
Hey! Be sure to check out these expert guides that feature the best attractions for solo travelers!
Looking for more expert California guides? Check these out!
How to get around California
Like most of California, one of the best ways to get around San Diego is to explore on your own by car!
While there is public transportation, San Diego is very much a driving city.
If you're visiting and need to rent a car to get to your San Diego activities, we highly recommend Discover Cars where they find you the best car rental deals from all of the competitors (has saved us so much money!).
Click here to check out Discover Cars!
The Best Tours in San Diego
If you'd prefer to have someone else show you around, check out these San Diego tours that you could go on, or continue reading our guide that you can follow yourself!
Fun Things to Do Alone in San Diego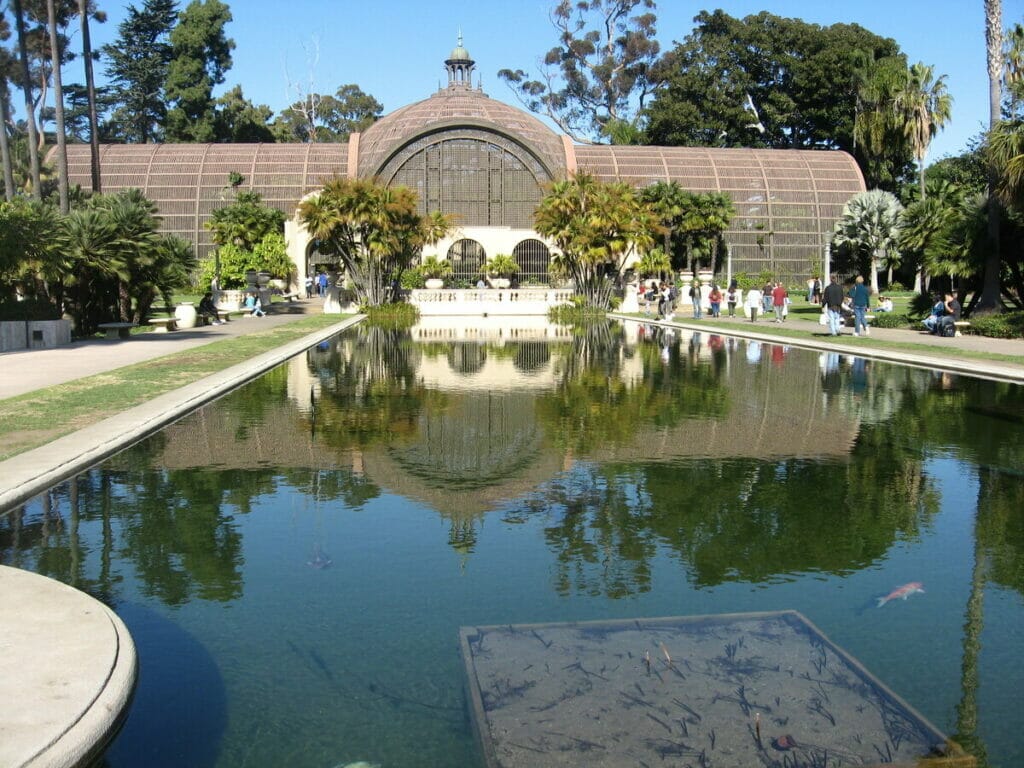 Balboa Park is one of San Diego's most well-known attractions.
In this gorgeous 1,200-acre park, you'll find a diverse offering of museums, gardens, trails, cafes, restaurants, and more!
Take a walk across Cabrillo Bridge to enter the park, then stop by the Balboa Park Visitors Center to pick up a map and a guide to any events that might be happening while you're there.
Once you're in, you'll have no trouble spending hours at the many arts, history, and science museums within the park.
Or simply walking the scenic trails which vary from paved city paths to more rugged terrain.
One of the lesser-known features of Balboa Park is the International Cottage area.
There are over a dozen cottages dedicated to various countries located in this quaint little village.
Be on the lookout for special events where these international culture centers come together to provide a festival of food, art, dance, and other educational entertainment!
The San Diego Zoo is also located within Balboa Park – but that's a whole other attraction in itself, which we'll look at further down the list!
2. Hit the beach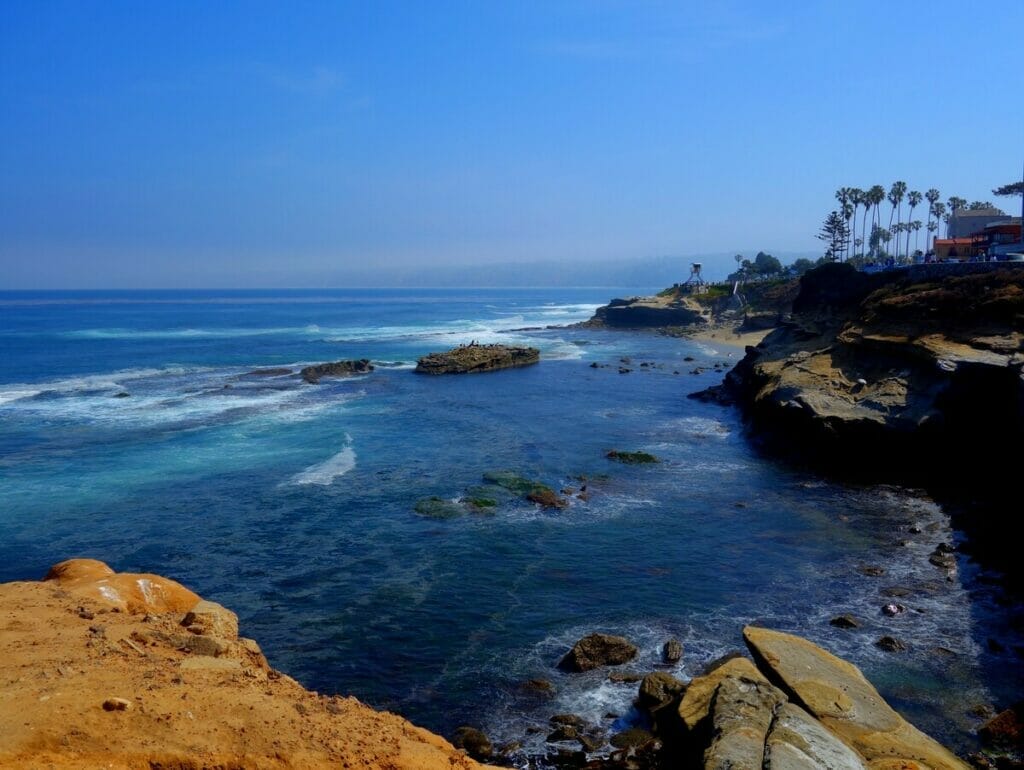 When you're in SoCal, the beach is an absolute must!
San Diego is lined with beautiful sandy beaches all along its coast.
Head over to La Jolla Cove for picturesque waters, rocks, and maybe even a glimpse of sea lions!
The large rock formations at Windansea Beach are an ideal place to watch the sunset from, and the relatively uncrowded sands (as far as San Diego beaches go) are a bonus.
Tourmaline Surf Park is the place to be if you want to go surfing, or head down to Mission Beach for a ton of fun! (We'll take a closer look at Mission Beach later, so keep reading!)
3. Enjoy casual or fine dining in the Gaslamp Quarter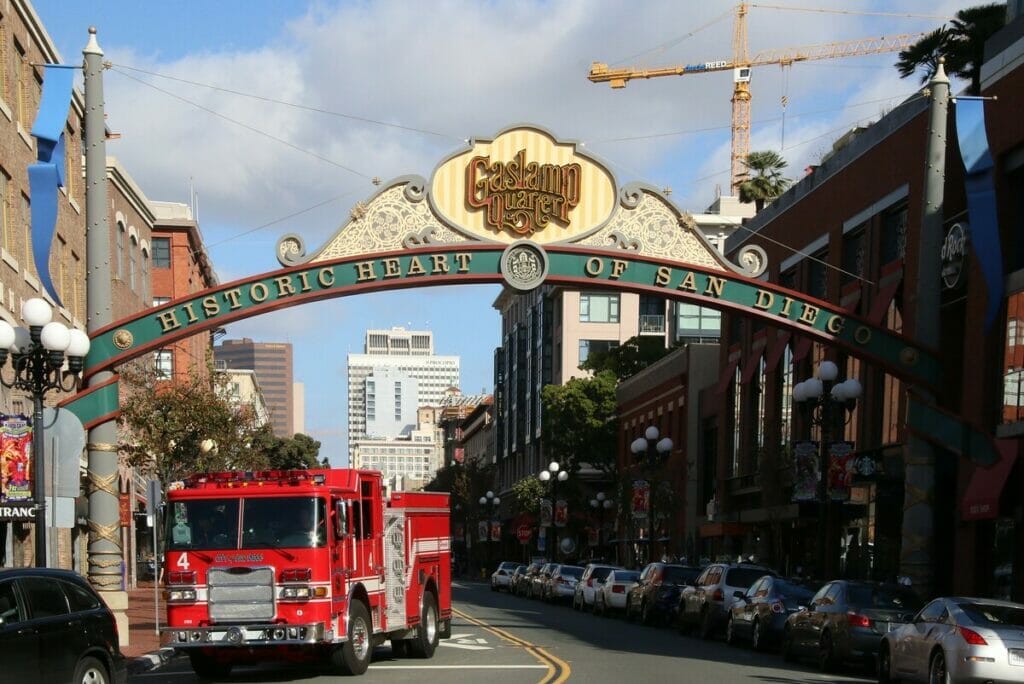 One of the coolest parts of downtown San Diego is the Gaslamp Quarter.
This lively downtown district is lined with, you guessed it, gas lamps! The iconic globe lamps give this part of downtown an old-fashioned charm.
Check out the ornate fountain at Horton Plaza Park, then take a walk down Fifth Avenue and browse the diverse selection of local eateries before deciding where to grab a meal.
You'll find a plethora of American, Mexican, Italian, Indian, French, Thai, Cuban, and other delicious cuisines in the Gaslamp Quarter's many, many restaurants and cafes.
Whether you're just grabbing a morning coffee before you zip off to your day's activities, enjoying a slice of pizza for lunch, or you're looking to sit down for an upscale dinner, the Gaslamp Quarter is the place to find all kinds of food and beverages!
And in the evening?
The district's bright nightlife has got you covered with tons of bars, clubs, and lounges.
If you're still not sure where to go or what to eat in the Gaslamp Quarter, check out the Gaslamp Quarter Downtown Food Tour.
Learn about the history and culture of the Gaslamp Quarter while enjoying the top food and drink in the area.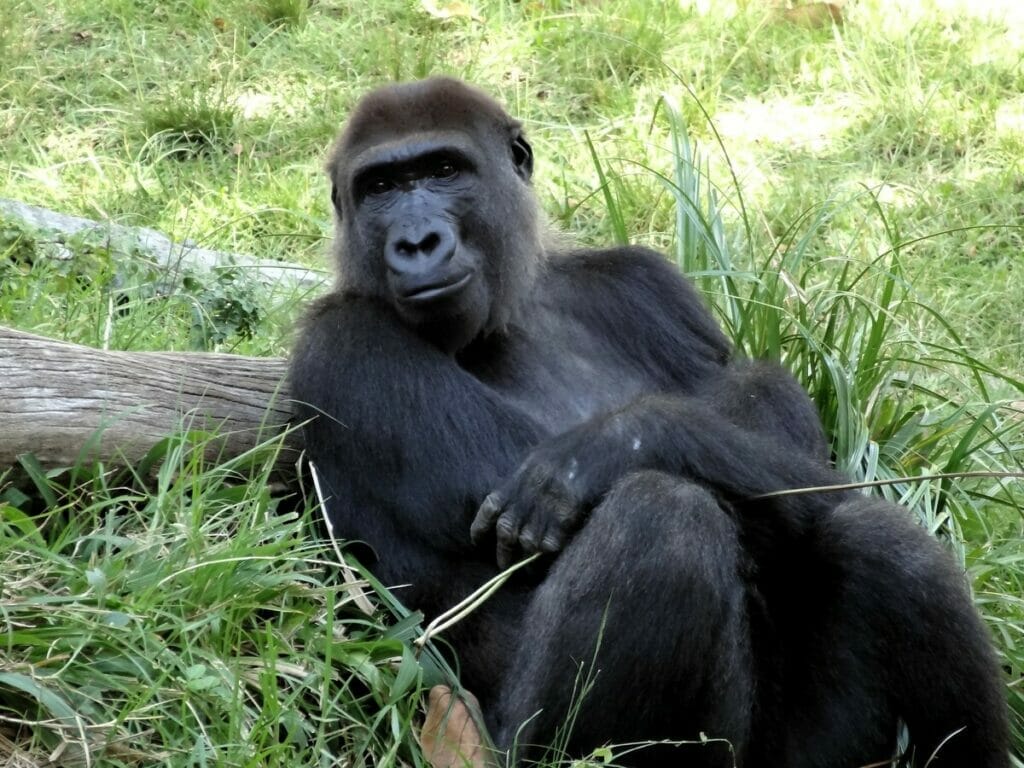 Are you an animal lover looking for fun things to do in San Diego alone?
The world-renowned San Diego Zoo is known for its wildlife conservation efforts and for being a leader in creating more humane, open-air exhibits for the animals in their care to live in.
This 100-acre zoo is full of 4,000 animals from over 650 different species, so be sure to grab a map when you first enter to make sure you don't miss anything!
Tickets average over $60 for a day, so you'll want to get there in the morning when the zoo opens and spend a full day there to get your money's worth!
Top tip: Bring a packed lunch if you don't want to eat at the zoo's restaurants, or get your hand stamped so you can leave and come back later in the day.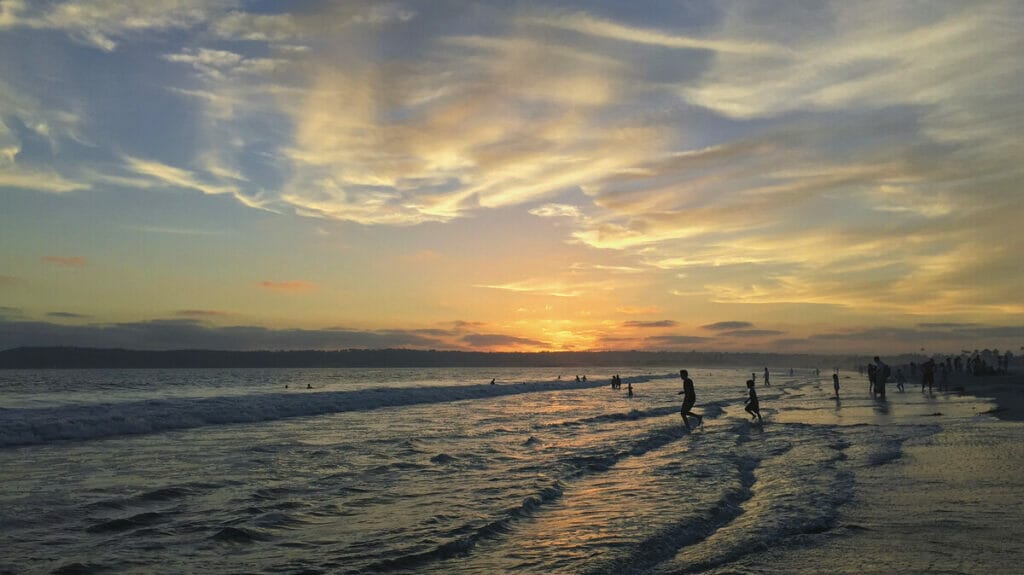 The resort city of Coronado is a beautiful island offering some of the San Diego area's best beaches and boutiques.
Drive across the Coronado Bridge, or take a ferry from Seaport Village and be dropped off right in the middle of the island's waterfront shopping center.
Coronado will dazzle you with its boutique shops, salons, cafes, and restaurants.
Clayton's Coffee Shop is a great place to grab a quick, casual lunch, or try The Henry for something more upscale.
Ready to hit the waves?
Coronado Beach is the place to be! Dive into the blue waters, or kick back on the sand and soak up the SoCal sun!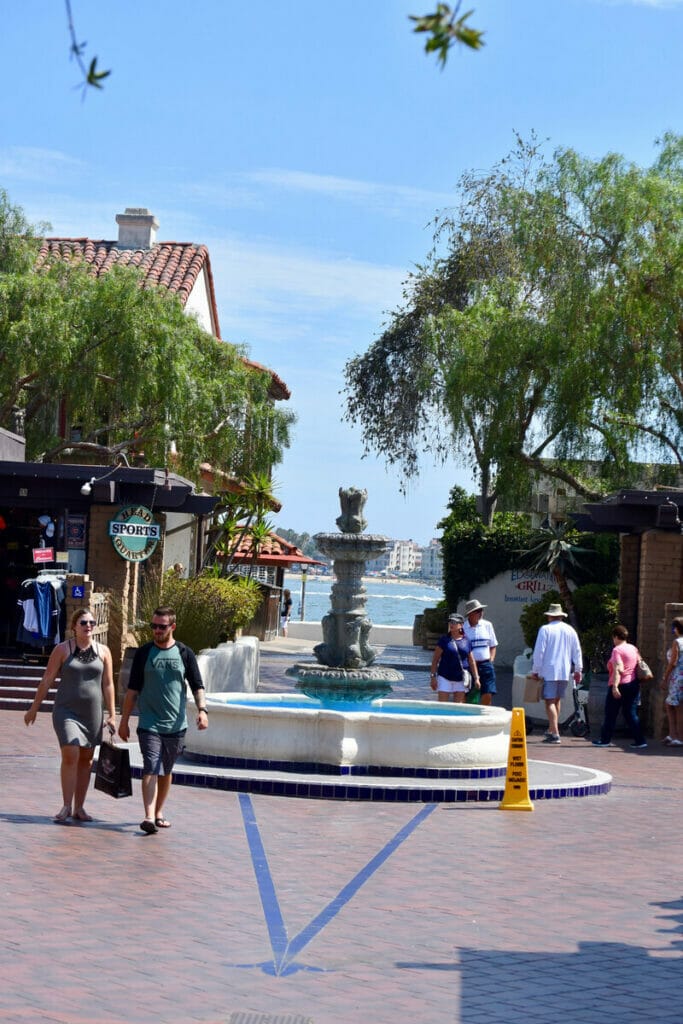 Before (or after) your trip to Coronado, you'll want to take a stroll through Seaport Village!
This quaint little harbourside shopping center is where you'll board the ferry to Coronado, but the Village is worth a visit in itself.
Browse the souvenir and gift shops for something to take home, enjoy a craft beer from Mike Hess Brewing's Seaport Village location, or sit by the scenic pond while you snack on some candy from The Something Sweet Shop!
Got a young one back home?
Go to Geppetto's toy store and find something fun to bring back for them!
7. Explore the city's Mexican roots in Old Town San Diego
Old Town is a state historic park and one of San Diego's most popular neighborhoods for tourism.
Walk through this open-air museum and discover what life was like in San Diego in centuries past, all the way back to the 1800s!
There are several (free!) museums, including a 19th-century hacienda, the city's first courthouse, and the old home of Sheriff James McCoy.
Hunting for souvenirs?
Old Town's marketplace is full of them!
You'll have plenty to choose from, with tons of unique art, jewelry, clothing, and other souvenirs for sale!
For lunch or dinner, you'll want to go to Casa de Reyes.
This popular restaurant is one of the best places to get Mexican food in San Diego – the outdoor seating and live music provide some of the best atmosphere in town!
Or take a Tequila, Tacos and Tombstones Culinary Tour of San Diego!
Enjoy cocktails, authentic Mexican cuisine, and hear entertaining commentary on Old Town's history and rumored ghost sightings.
8. Take a stroll through Little Italy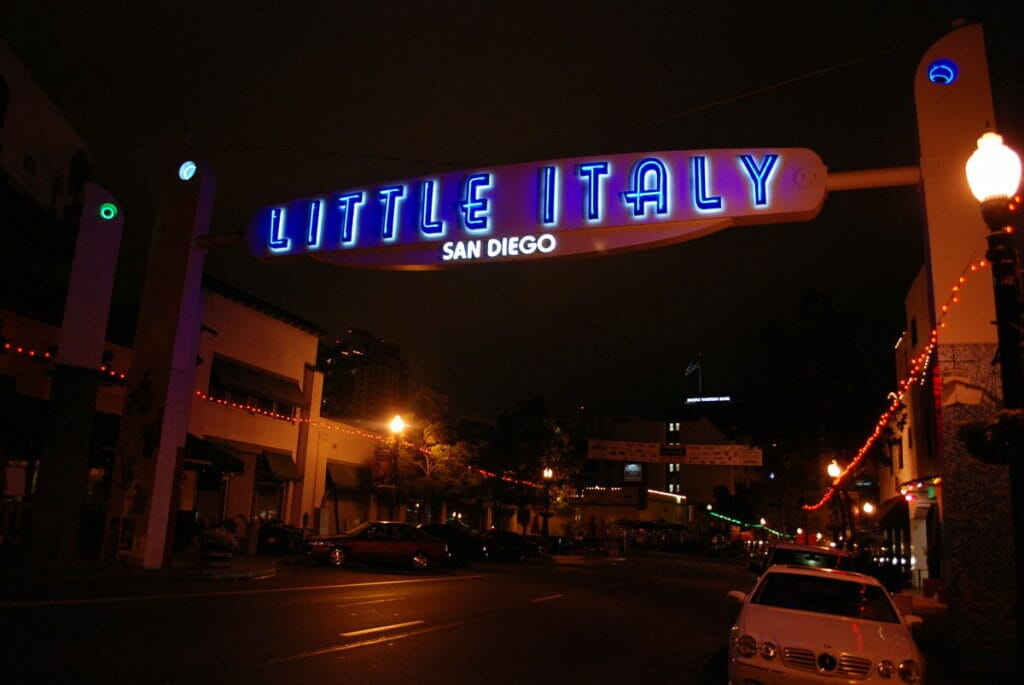 You'll have no trouble figuring out you're in San Diego's Little Italy when you spot the green, white, and red colors of the Italian flags that decorate the streets!
This cultural neighborhood sits on the north end of downtown San Diego, and it's brimming with delicious food, boutique clothing and gift shops, and a whole lotta Italian pride!
Dine in one of the restaurants or cafes, or take a coffee, pastry, or pizza slice to go and sit in the small but charming Piazza Basilone.
Or skip the guesswork and dine with a local food guide!
During this Little Italy Food Tour you'll not only get to experience great food but also learn more about the history of the area.
Be sure to stop by Little Italy on a Saturday morning to browse the farmer's market!
9. Check out the architecture and grounds of the UCSD campus
The University of California San Diego has an immense open campus, and there's plenty to enjoy even if you're not a student or alumnus.
The Geisel Library definitely steals the show, with its exceptionally unique architecture and spacious courtyard.
With the campus being as large as it is, it can be easy to get lost, so be sure to have your favorite maps app handy, or use the map on the UCSD website.
Keep an eye out for the tilted house that sits atop the Irwin & Joan Jacobs School of Engineering!
Things to Do Alone in San Diego at Night
10. Check out the local music scene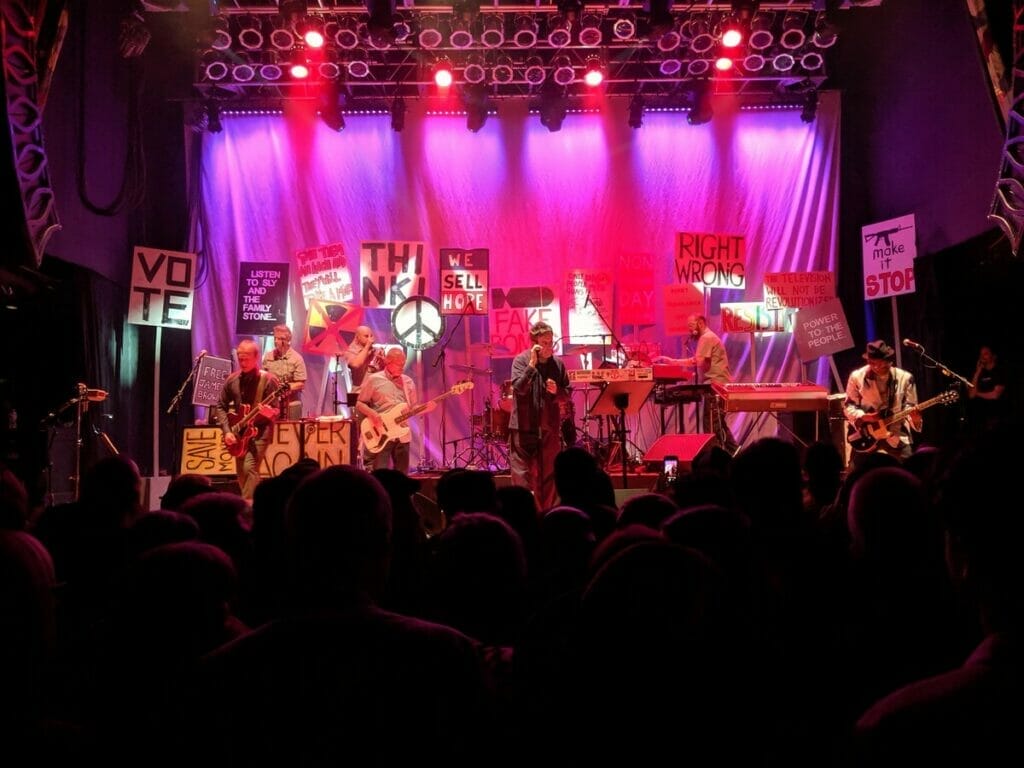 Did you know that San Diego is a hotspot for independent artists?
Music Box is a popular venue, where you'll discover local and traveling musicians representing all sorts of genres.
For a spicy bowl of jambalaya accompanied by rock, jazz, or blues, spend the evening at House of Blues' San Diego location.
The Shout! House will provide an evening of drinks, food, and dueling pianos!
Looking for the a-listers?
Check Cal Coast Credit Union Open Air Theatre at SDSU for the biggest names in the industry!
11. Cheer on the Padres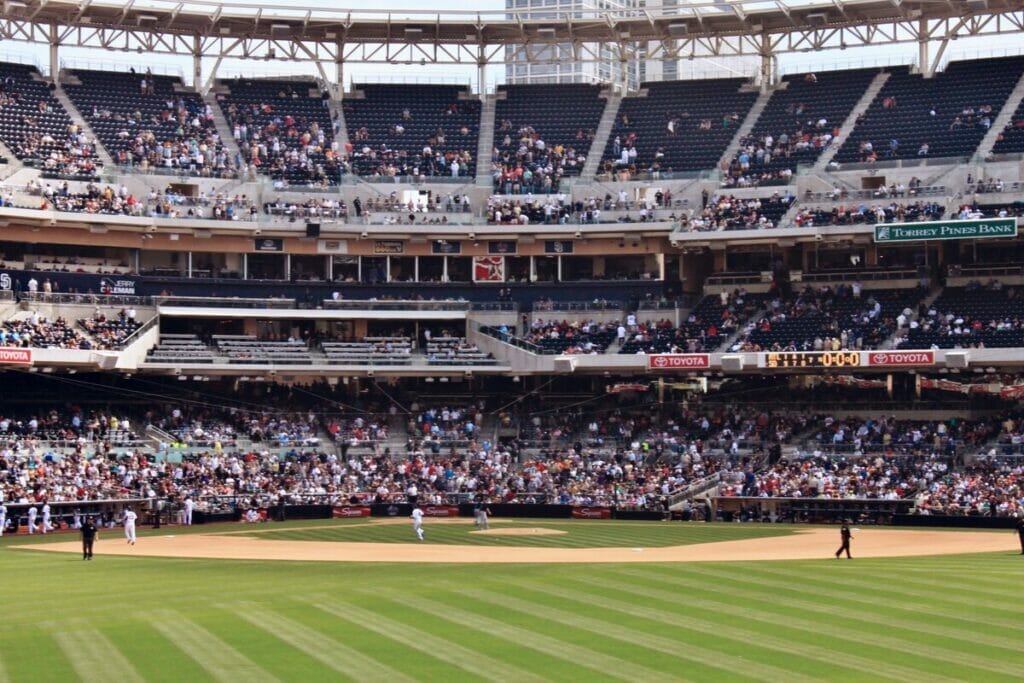 Petco Park is the place to be if you're looking for some sporty fun in San Diego!
Take yourself out to the ballgame and cheer on the Padres from the late afternoon through the evening.
Craft beer and a variety of food options make this baseball stadium stand out, and there's nothing quite like hearing the excitement in the stands when the team makes a home run!
Baseball not doing it for you?
San Diego also has teams in the National Women's Soccer League, the National Lacrosse League, Major League Rugby, plenty of college athletics, and more!
12. Go bar hopping
San Diego is full of lively and diverse bars, clubs, and lounges – a great way to spend a night on the town!
Head to the Gaslamp Quarter for an evening of drinks, comedy, and music at The Tipsy Crow, or go to The Field for a classic Irish pub atmosphere.
Hillcrest is the place to be for all the best gay bars and clubs in the area, and Sidecar Bar in Bay Park is open until 2AM and has a ton of fun pinball machines and other games to play between drinks.
Educational Things to Do in San Diego Alone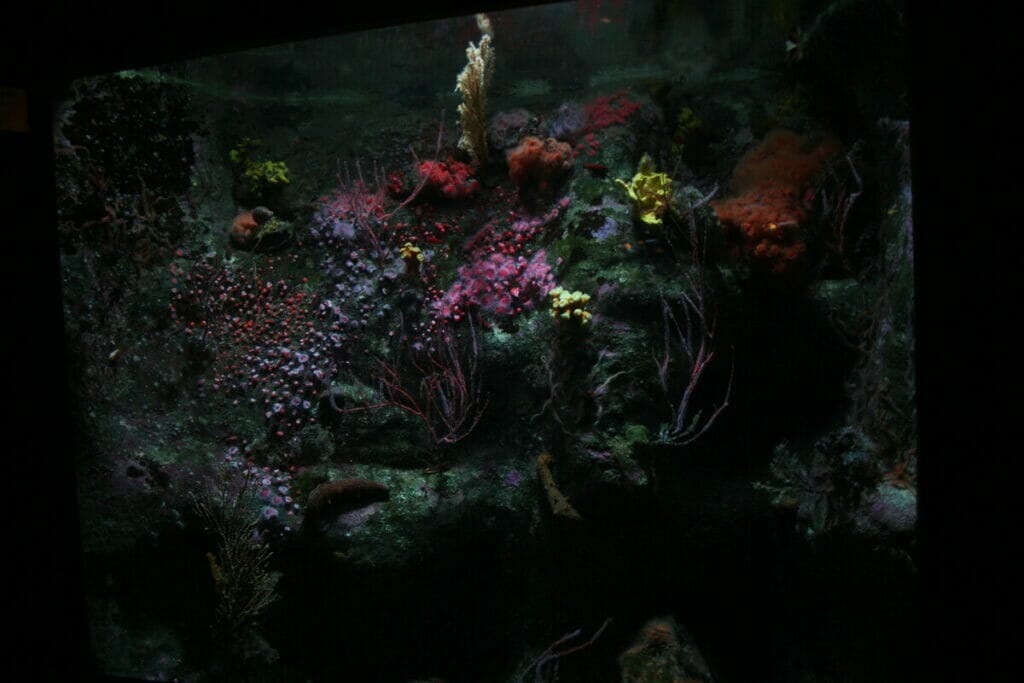 You'll get a good look at the uniquely spotted leopard sharks of La Jolla when you visit Birch Aquarium!
In addition to leopard sharks, you'll also find seahorses, penguins, sea turtles, a giant octopus, colorful coral and a whole lot more during your trip to UCSD's conservation-focused aquarium.
Caroline's Seaside Cafe by Giuseppe is the perfect place to enjoy a nice brunch or lunch while you're in the area, or you can grab a bite onsite at Splash! Café by The French Gourmet.
Reservations to Birch Aquarium are required, so be sure to book your visit online before you go!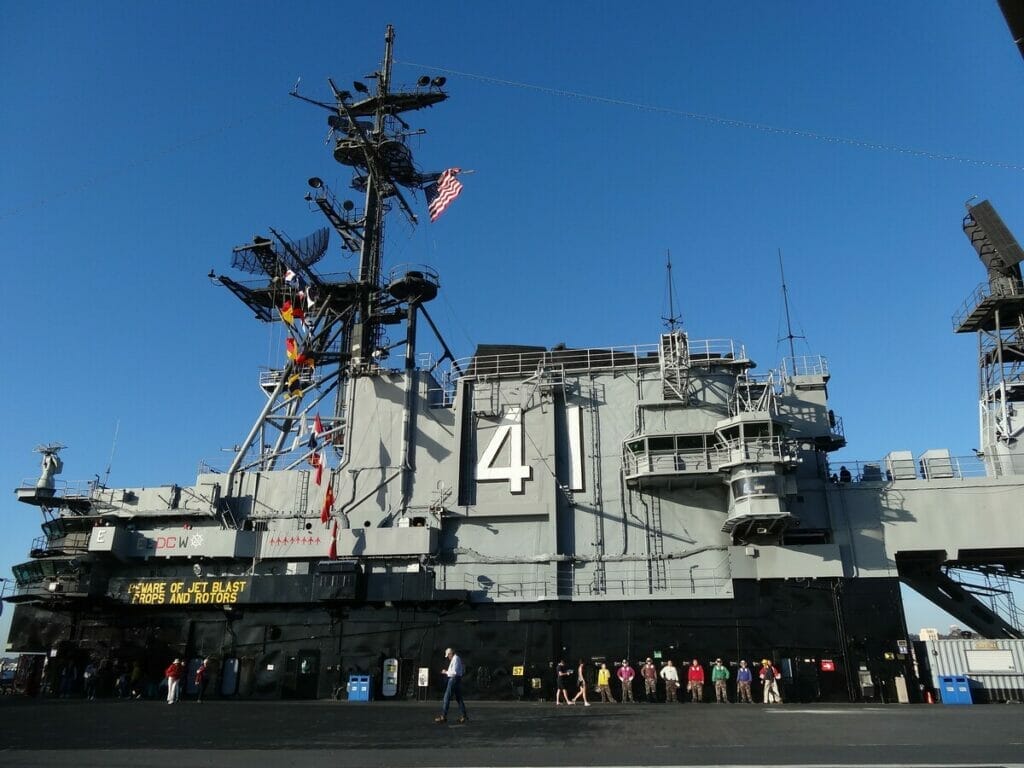 There's so much to see at the USS Midway Museum, you'll have no problem spending several hours there, if not half the day!
This historic aircraft carrier features nearly 10 acres of exhibits and displays, including over 30 restored aircraft, and is sure to fascinate anyone interested in both sea and sky.
Have an immersive look at life below the decks as you walk through displays of the Midway's galley, sick bay, chapel, engine room, and more!
You'll also watch a 15-minute film about the Battle of Midway, walk through the captain's cabin, and take a guided tour of the ship's island/bridge!
Top tip: Be sure to book your tickets in advance to skip the lines!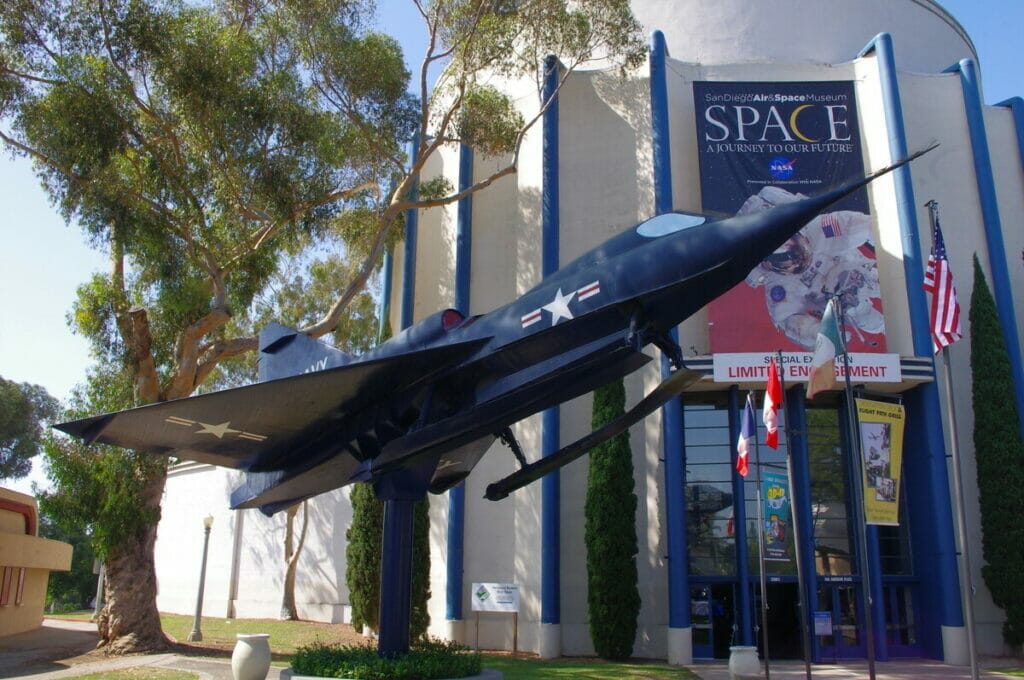 Thirsty for more fascinating flight history?
The San Diego Air & Space Museum, located in Balboa Park, will walk you through the history of flight.
From the Wright brothers' world-changing feats, to the fighter planes of WWII, to modern advances in space flight, you're sure to have your curiosity for air and space satisfied at this museum!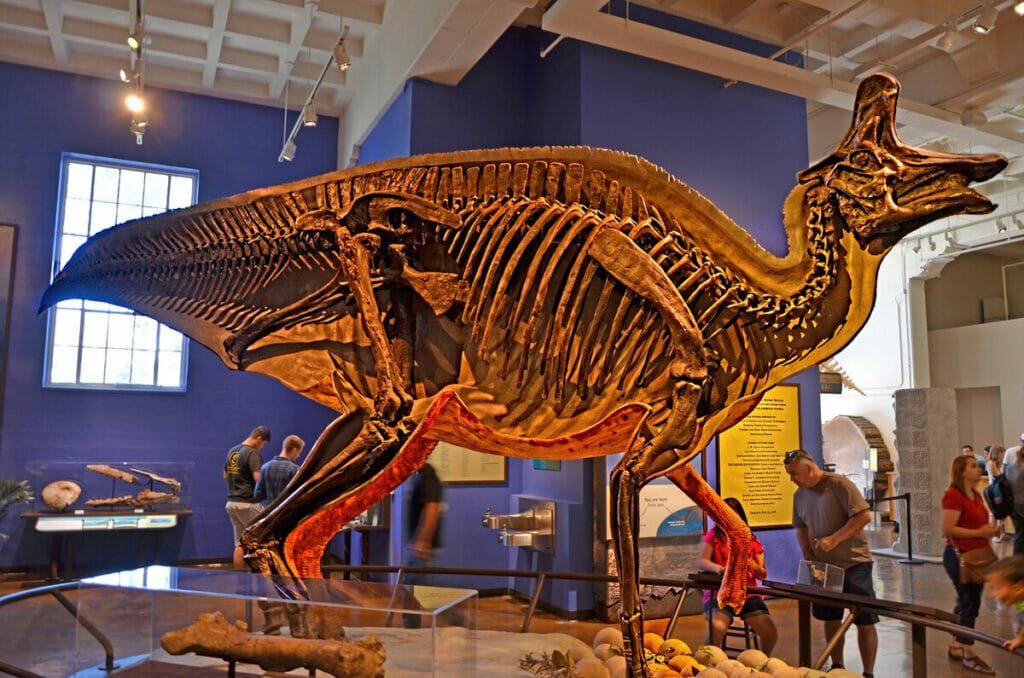 Also in Balboa Park is the San Diego Natural History Museum.
While it may not be as large as the world-renowned American Museum of Natural History in New York, this relatively small museum is big on education and fascinating exhibitions.
From dinosaurs, to creatures of the sea, to local wildlife, you'll learn all about the natural history of our great planet during your visit.
Browse the 200 skulls on display from mammals, birds, amphibians and reptiles, marvel at the skeleton of an allosaurus, and snap a selfie in front of the giant replica of an extinct megalodon shark!
Seated proudly above Old Town San Diego, you'll find a Spanish Revival-style building full of history.
The modest exhibitions inside won't take long to observe, but it's the building itself that truly makes the Junípero Serra Museum worth a visit.
Take a walk around the museum, or enjoy a peaceful walk on the trails around the building.
The interior of this museum is only open Saturdays and Sundays, so be sure to plan accordingly!
Also, check the San Diego History Center's Facebook page to find out if they'll be doing a walking tour at the museum while you're in town!
What to Do Alone in San Diego for Creative People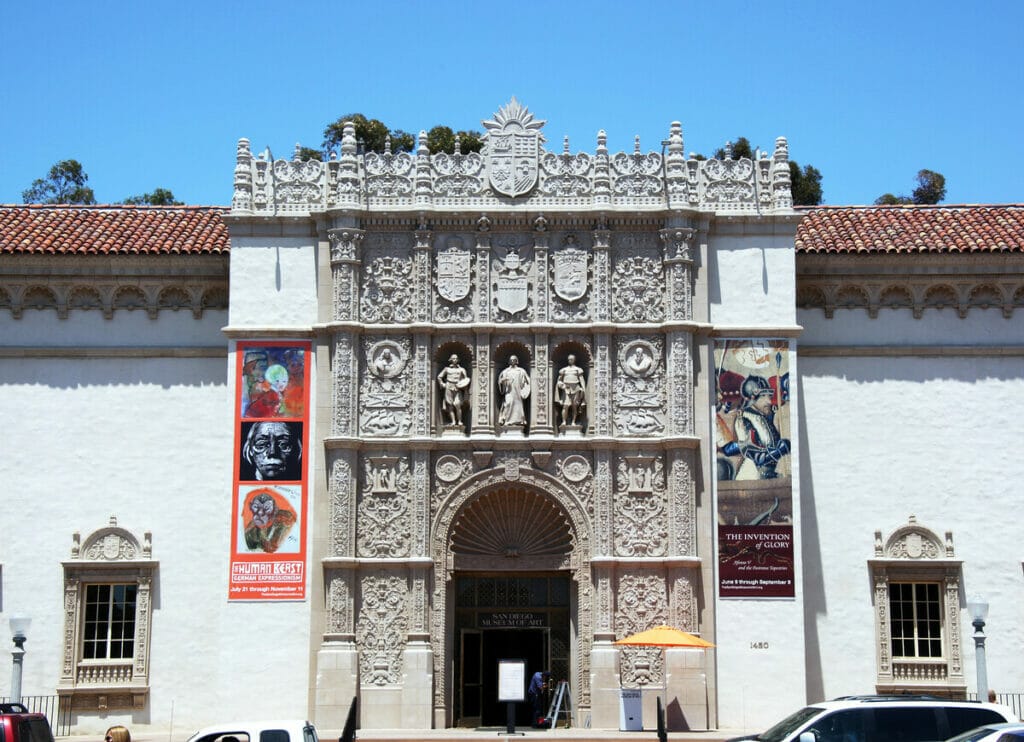 The permanent collection at The San Diego Museum of Art brings you wonders from all over the world, spanning centuries of human creativity.
From paintings, to sculptures, to photography, decorative art, prints, drawings, and more, there's plenty to see inside this popular museum in Balboa Park!
Even if you don't have time in your schedule to step inside, you've got to stop by to admire the building's intricate façade, which is truly a work of art in itself!
Looking to save money?
Timken Museum of Art, just across the way, is a smaller, free museum with an emphasis on European paintings.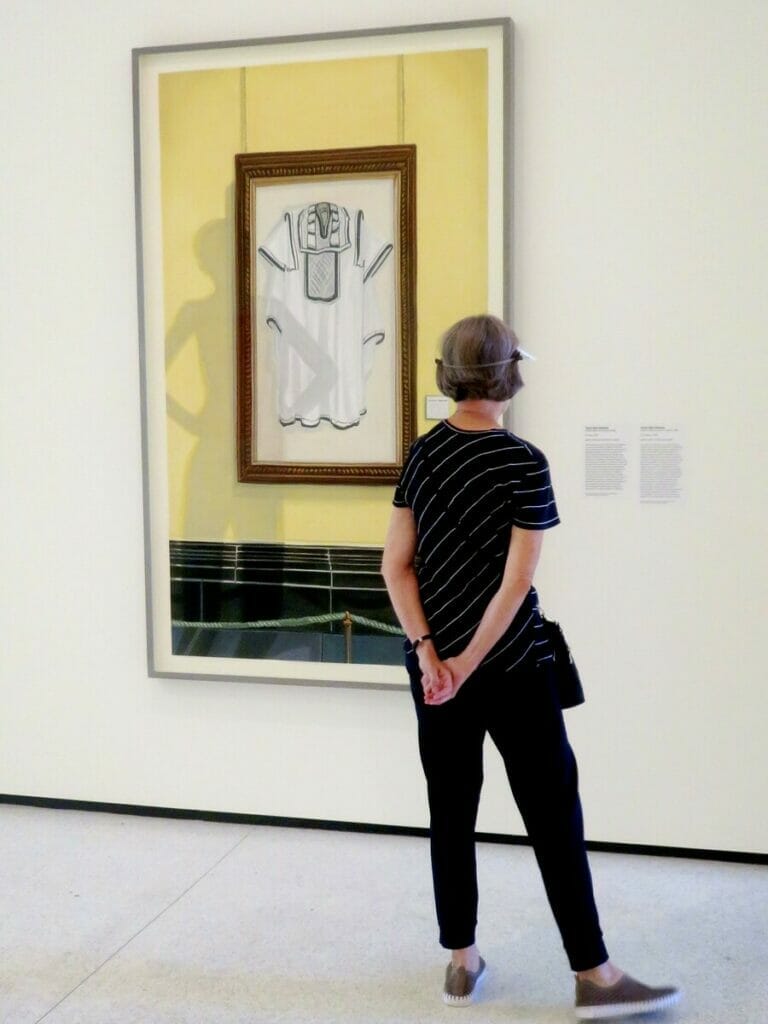 For an emphasis on the art of today, head over to one of the Museum of Contemporary Art San Diego's two locations.
The small but intriguing galleries in both the La Jolla and Downtown locations will enrich your day with thought-provoking, innovative, and utterly unique creations from diverse minds.
Visit on the second Sunday or third Thursday of the month for free entry!
20. See a performance
Dramas, operas, symphonies, ballets… San Diego has it all, and more!
With several popular performance venues in the city, you're sure to find something to entertain you during your solo San Diego trip!
See anything from comedy to ballet to a Broadway play at Balboa Theatre, a gorgeously restored 1924 movie palace that, strangely enough, is not located in Balboa Park.
The Old Globe (which is in Balboa Park) brings you Shakespeare, classic musicals, and new entertainment inside a copy of Shakespeare's Globe Theatre in London.
For a more modern venue, check out La Jolla Playhouse, located on the UCSD campus. There, you'll find both classic and modern musicals and plays.
Outdoor Things to Do on a Solo Trip to San Diego
21. Watch the sun go down at Sunset Cliffs
One of the best things to do in San Diego alone is to spend a day at Sunset Cliffs!
The great cliffs that give the park their name are a fantastic place to watch the sunset from, or you can head down to the sand and water for a refreshing time in the Pacific Ocean!
Be on the lookout for the caves and coves along the beach, which stretches for about a mile and a half and features a beautiful coastal trail.
The Japanese Friendship Garden, located in Balboa Park, serves as a symbol of harmony between San Diego and its Japanese sister city, Yokohama.
You'll enjoy a nice stroll through the gardens, inspired by classic Japanese design, as you encounter koi fish, cherry blossoms, bonsai trees, and more.
Don't forget to stop by the garden's museum, which hosts a small collection of Japanese artifacts, including woodblock prints, kimonos, and a 1934 doll house!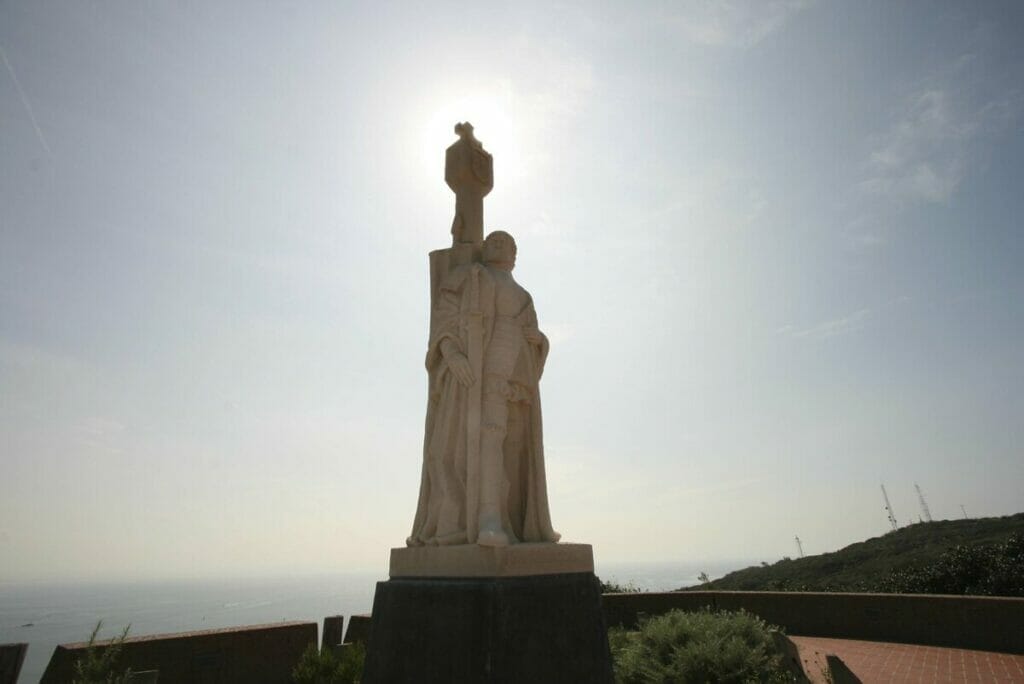 You'll find more than a monument at this beautiful park!
At the Cabrillo National Monument, you'll enjoy a refreshing walk along scenic hiking trails, and you can even catch a glimpse of Mexico off in the distance!
Step into one of the first lighthouses on the West Coast, do some whale watching, or sit on the rocks at the Point Loma Tide Pools.
Be sure to check out the visitor center for more information about the area and the history of the monument, the park, and the man it's named for!
If you've had enough of the ocean, but you're still hungry for some outdoor adventure, get yourself over to Mission Trails Regional Park!
This massive nature park has over 8,000 acres, including 60 miles of scenic trails where you can walk, hike, bike, or even rock climb to your heart's content!
Stop by the visitor center for a free map of the area, then head out into nature and explore the great outdoors!
Remember to keep an eye out for rattlesnakes, tarantulas, and other desert critters!
Acres of breathtaking trails await at Torrey Pines State Reserve.
From rocky cliffs to soft sands, you just might see a dolphin in the Pacific as you walk along these beautiful seaside nature trails!
Had enough hiking for one day?
Head to the north side of the preserve to kick back on the Torrey Pines State Beach!
Headed to San Diego?
Don't forget your wheels!
Whether you're into biking, rollerblading, skateboarding, or otherwise wheeling around, the bumpy roads at Pacific Highlands Ranch Pump Track are worth a visit for any biker or skater!
This park can get pretty busy, especially in the early evening, so be mindful of other skaters and cyclists, and try to get there in the morning if you want to avoid crowds.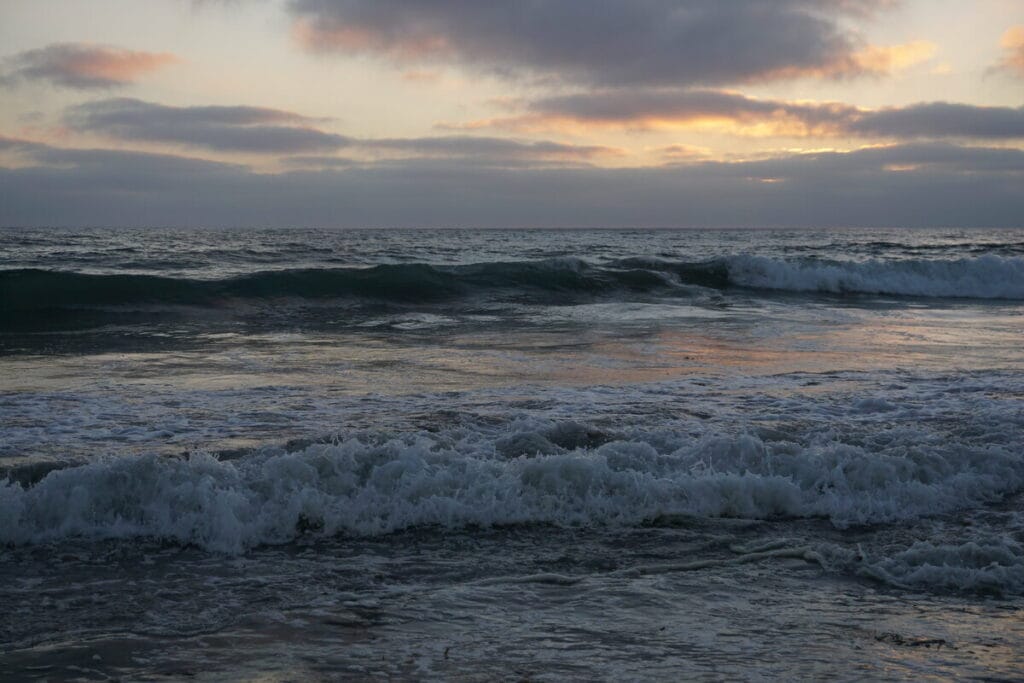 Last but certainly not least, we have Mission Beach – one of the best seaside attractions in San Diego.
From the white sands of the beach itself, to the souvenir and snack shops along the promenade, to the excitement of the boardwalk and its amusement rides, you can easily spend a full afternoon at Mission Beach!
Ride the Giant Dipper, a wooden roller coaster from 1925, enjoy a barbeque lunch at Coaster Saloon, or snack on a refreshing Dole Whip as you walk along the promenade!
Top tip: The parking lot fills up pretty early, so if you're driving around San Diego, be sure to get to Mission Beach in the morning to snag a spot!
Pin for Later!
Get the All-American Travel Secrets!
Don't miss out on America's hidden gems!