Bodie, California: today, one of the most famous ghost towns in the US, but back in the day, one of the most active boomtowns in the American West.
It's a town frozen in time, now known as Bodie State Park after being bought by the state of California, and visitors to this unique place will discover the secrets and strife of the people who lived here during the California Gold Rush.
Wander through Bonanza Street to find dilapidated buildings with a ton of stories to tell, or peer into the Bodie jail and imagine the criminals who must have been housed here in the wild days of the California mines.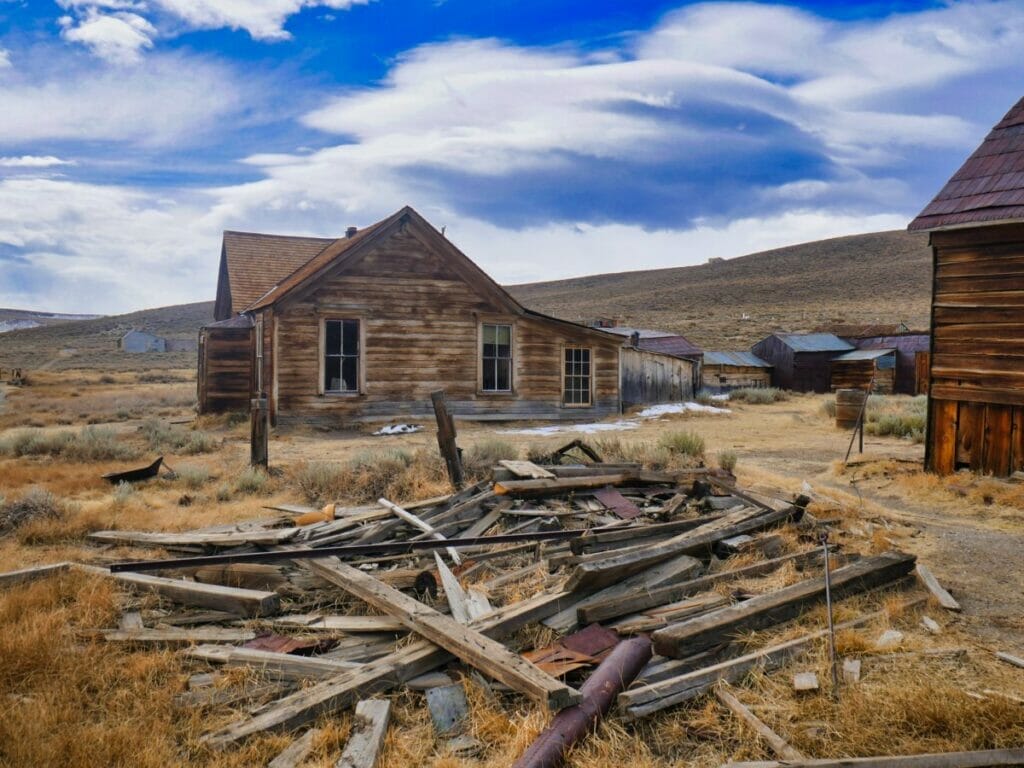 Bodie the ghost town is a far cry from what it was when it reached its highest population of around 8,000 (now it's just home to a couple of park rangers who look after it), but it's one of the most unique things to do in California and truly a memorable day trip from nearby Yosemite.
And the photos you can get will really put your California Instagram captions to work!
Where is Bodie, California?
Bodie is on the eastern slopes of the Sierra Nevada mountains (ie, in the middle of nowhere), 7 miles south of Bridgeport.
Address: Highway 270, Bridgeport CA 93517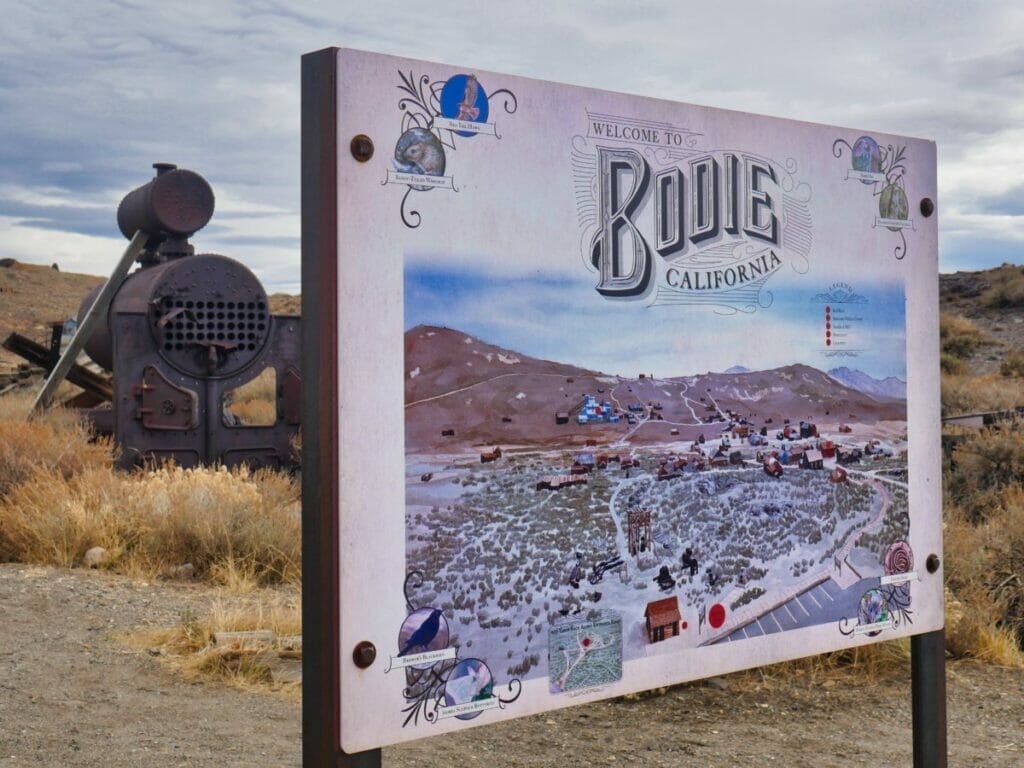 The Boom Town History of Bodie, California
Bodie, California was once an incredibly active mining town on the eastern slopes of the Sierra Nevada.
In 1859, a man named W.S Bodey from New York (remember: back in the Gold rush days, people would come from far and wide!) discovered gold in the area.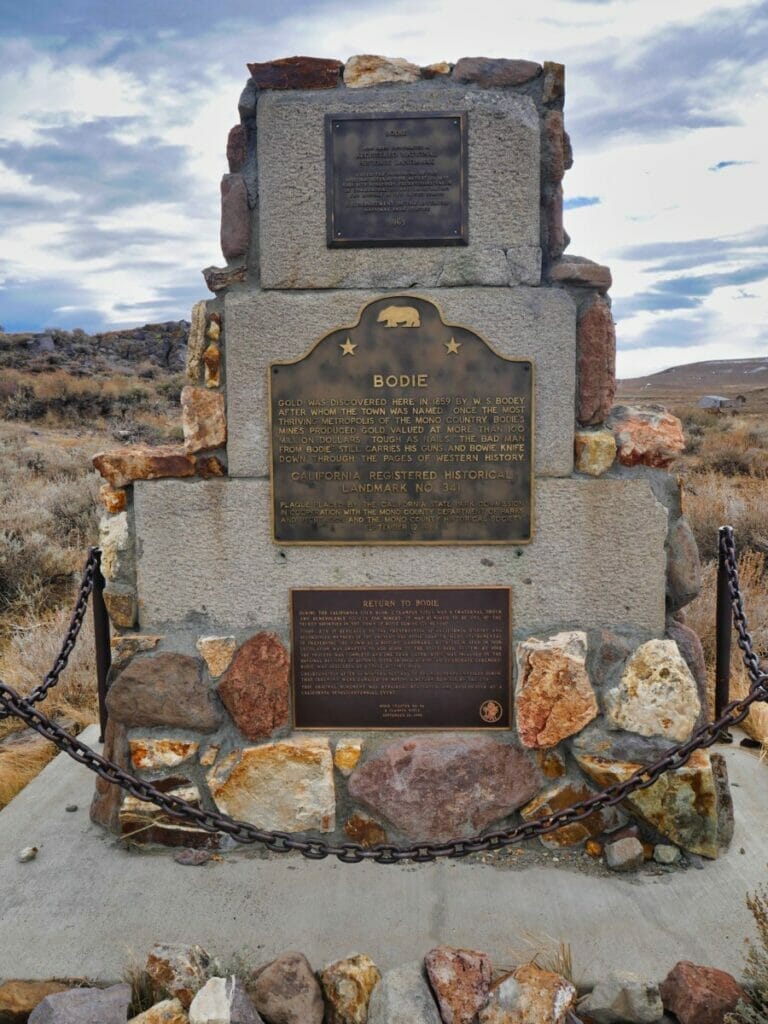 This set off a flurry of activity and newcomers to the area, and while he didn't live to see the town being built, it was named "Bodie" after him.
For decades, mining in the area grew, but it wasn't quite the boom that would happen in 1875 when a body of gold ore was discovered in Bodie.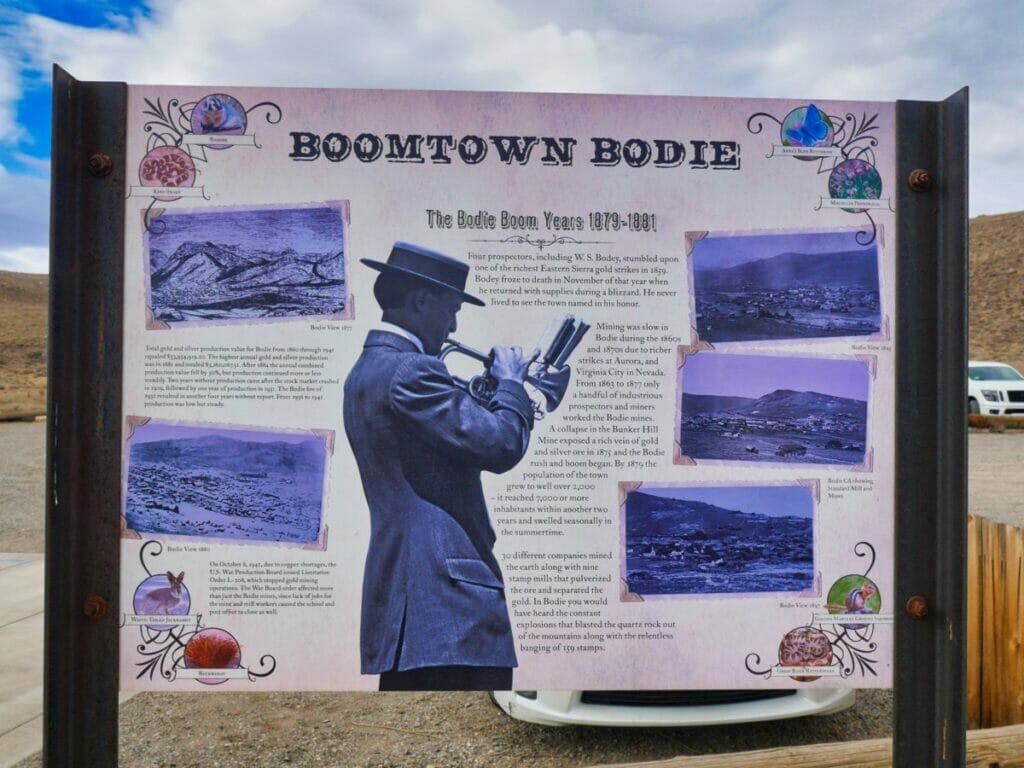 And what happens when you say "there's gold here!"?
Well, everyone comes running!
Bodie's boomtown days began in 1875 and continued until the late 1800s.
The population likely reached around 8,000 people, most of them miners and merchants.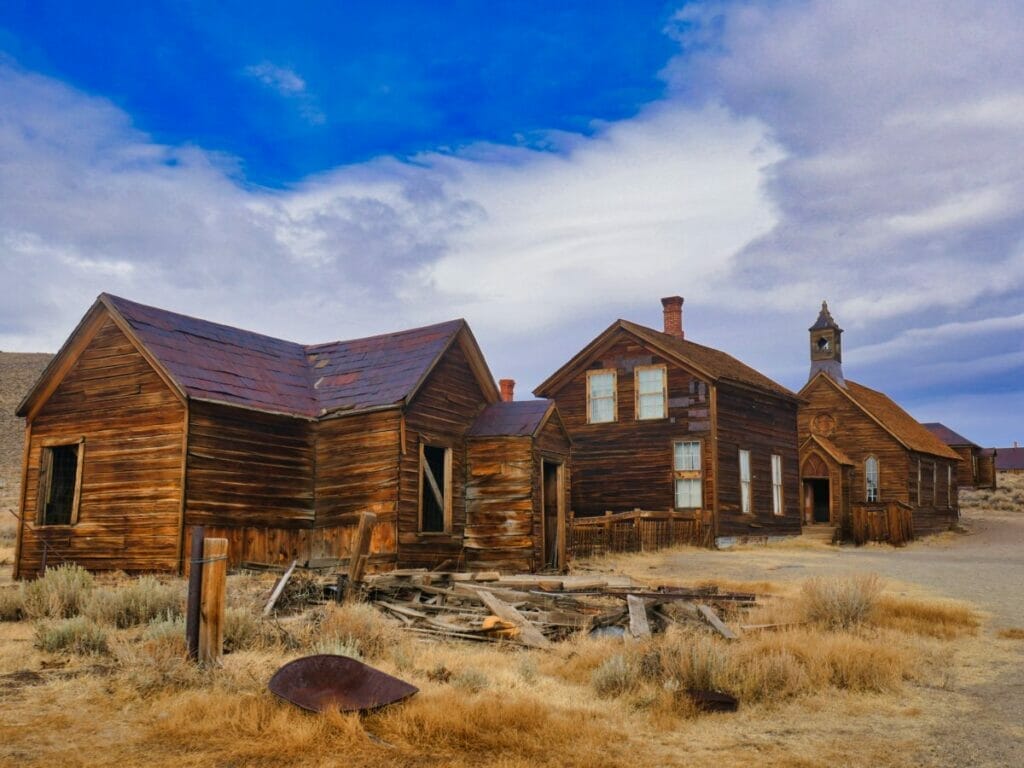 In addition, some men brought their families and women and children made up an important part of Bodie (you can see the old schoolhouse today).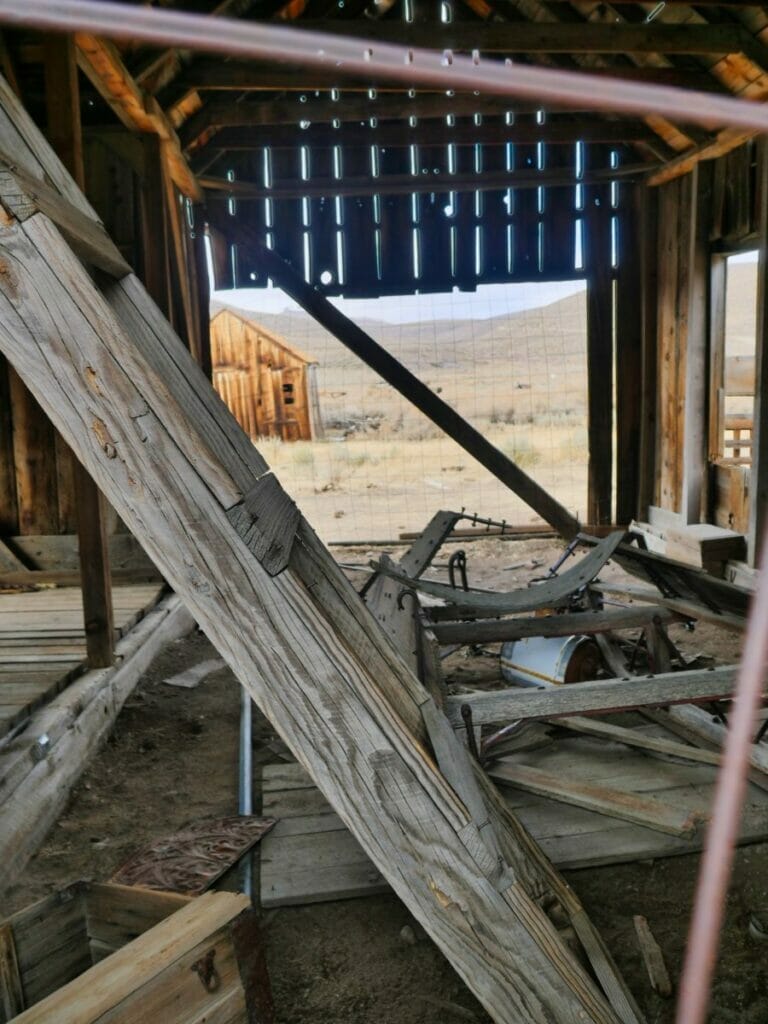 The reputation of the area wasn't something to be proud of, as it got a name for attracting rougher crowds and men with few morals.
Saloons with drinks a plenty and opium dens thrived, and while some found gold and other precious minerals, others were lost to shootouts, violence, and the incredibly difficult weather conditions.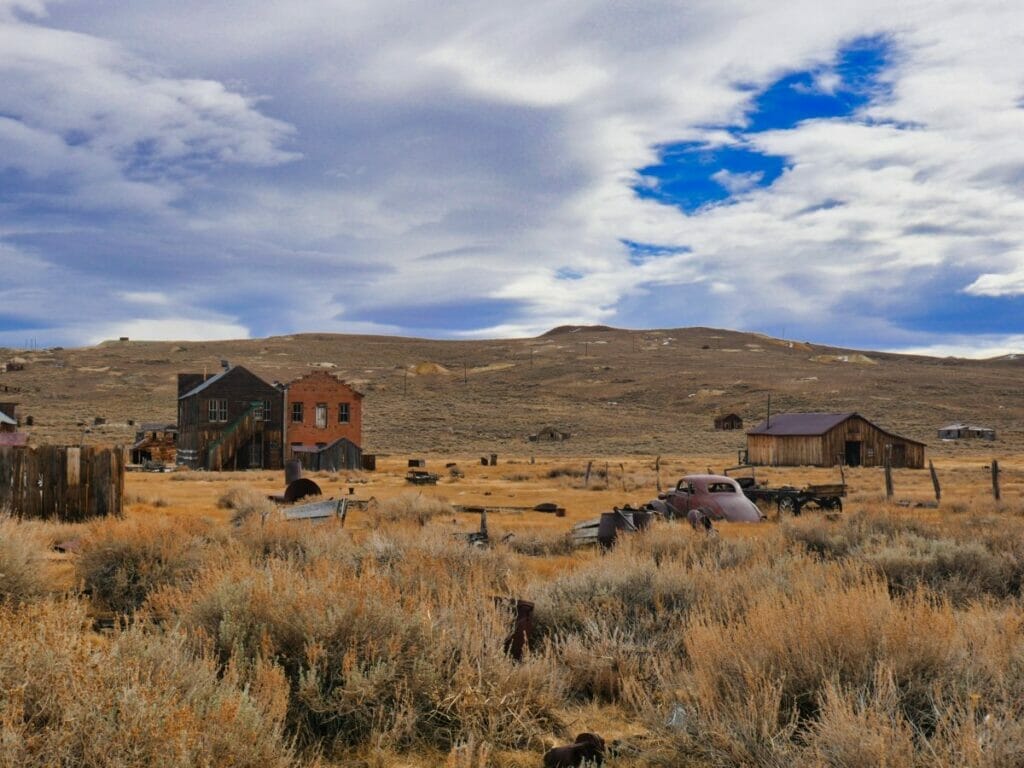 So basically, it was like one long party with a lot of really rich and really poor people living together in the mountains.
Surprised it didn't last!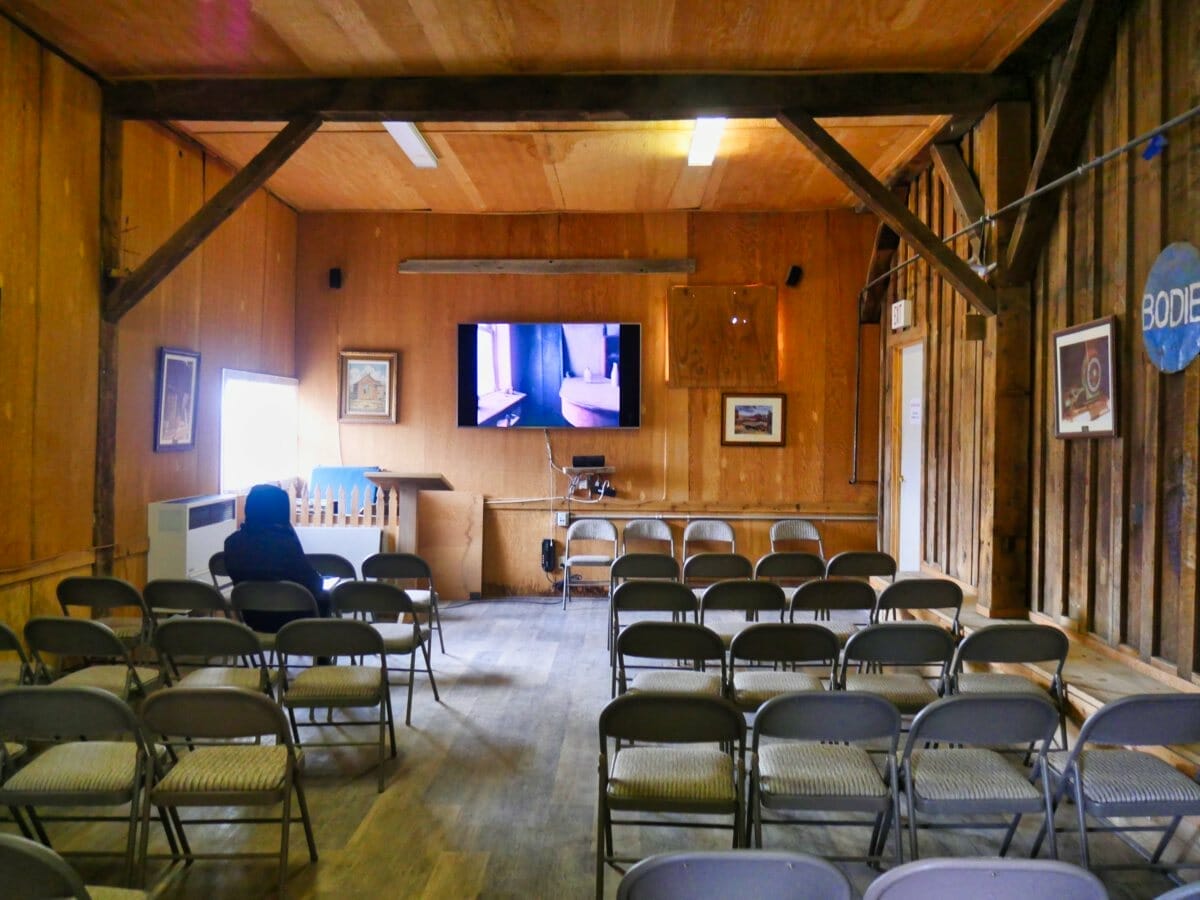 Why is Bodie California Abandoned?
The answer is simple.
As fast as it boomed, the town's population began to decline once the boom year were over and many mines were unsuccessful.
There was no point in people sticking out the harsh conditions, fires, and general rowdiness of the town when they didn't have anything to show for it.
Mining continued until 1942, but the population was dwindling fast.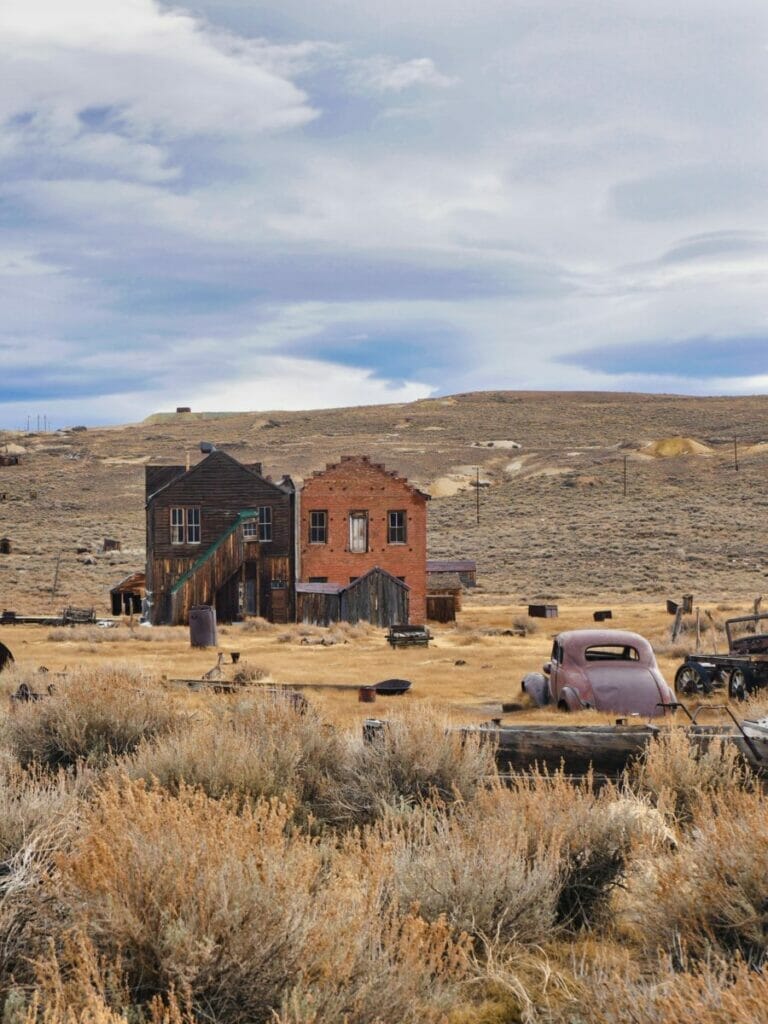 James S. Cain was the last major landowner in Bodie, and his family hired people to protect the town from vandals, but it had stopped functioning as a working, thriving, town.
Instead, it was now a ghost town, and over the years the dust has only increased on the household items, schoolbooks, clothing, and storefronts that were simply frozen in time when people up and left.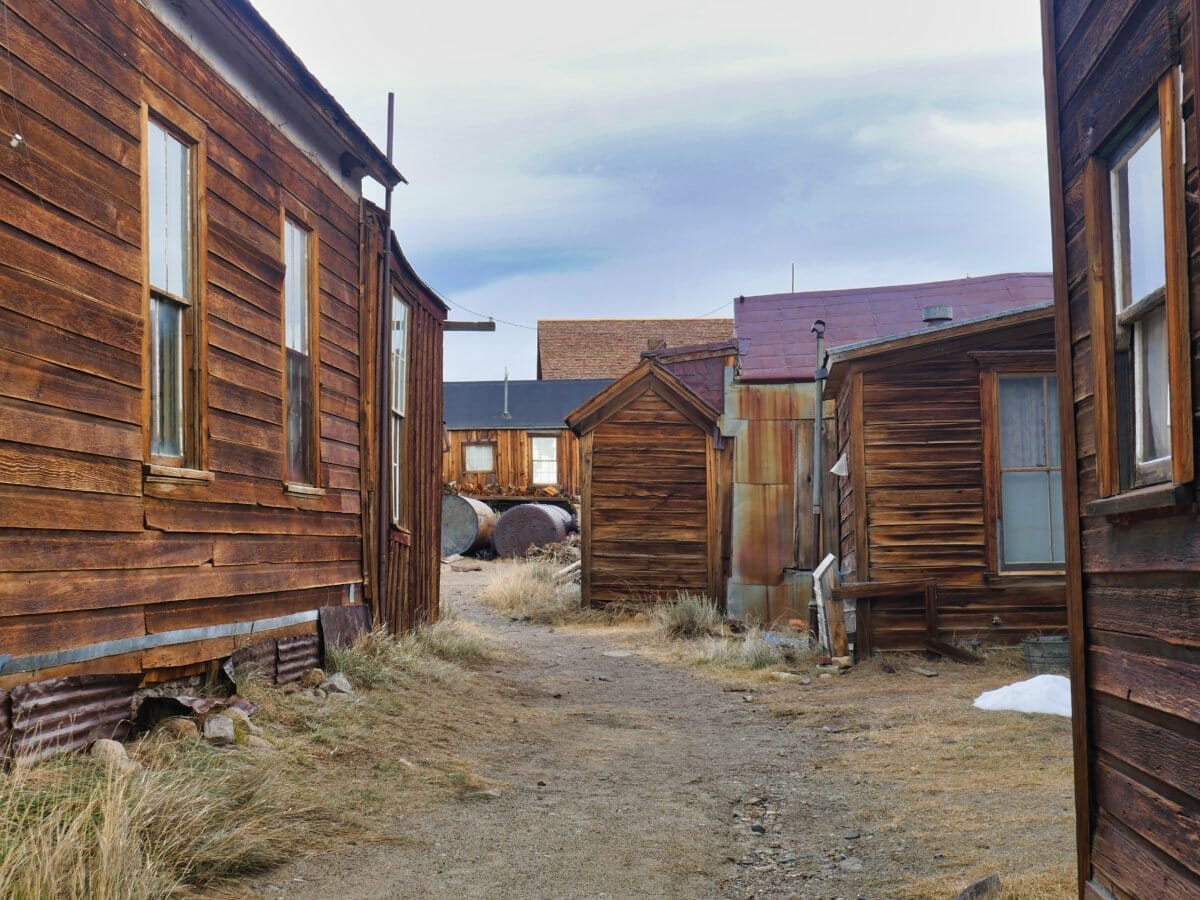 Unlike Pioneertown, which is a Hollywood version of a Western town, Bodie is a real ghost town.
Today, it's visited by curious modern-day sightseers who want to catch a glimpse of old mines and shootout corners, but in the late 1800s, it was a rough and tumble boomtown where thousands of men and some women and children worked tirelessly in the mines in hope of striking it rich.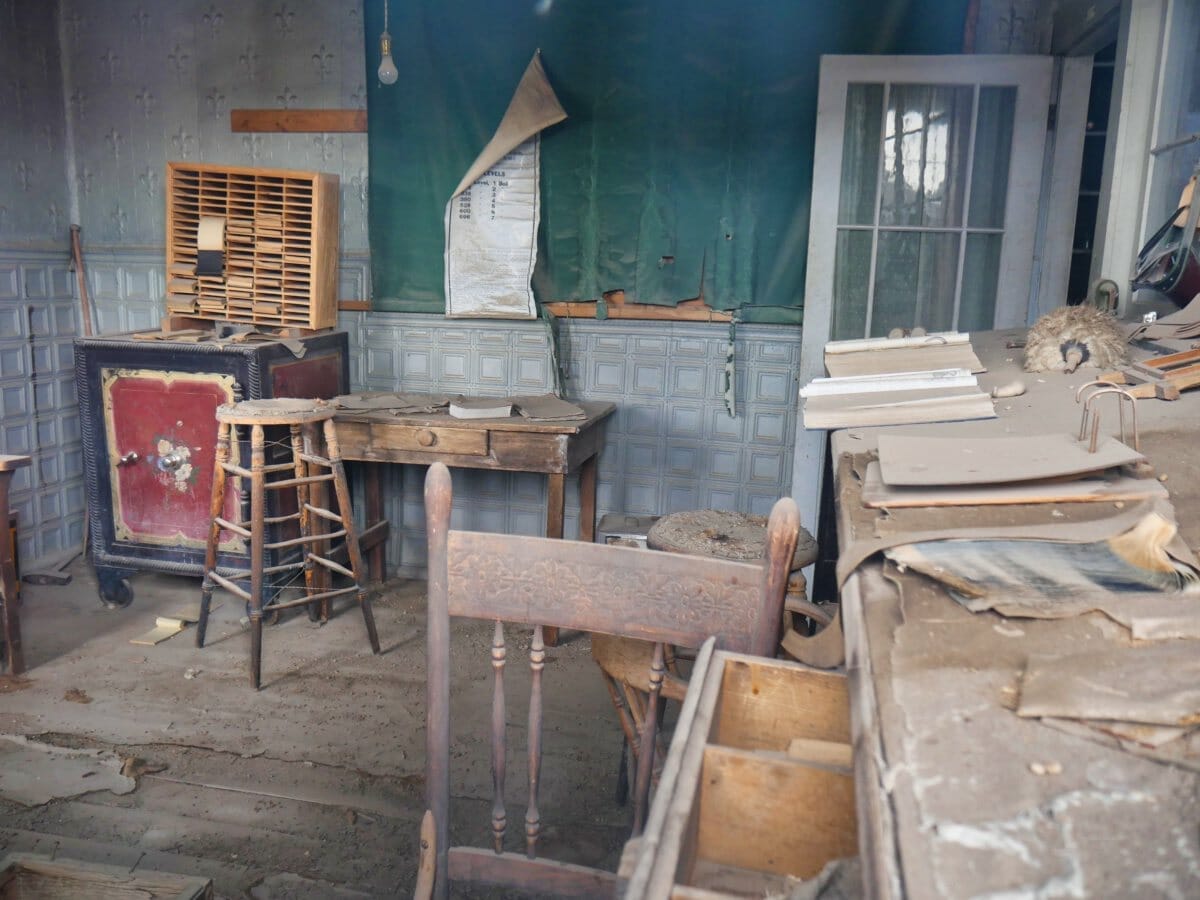 What to See in Bodie
Bodie is left in a state of "arrested decay," meaning that park rangers will stabilize the structures and conserve the artifacts, but will never fix anything in the town to a standard that it wasn't when it became a state park.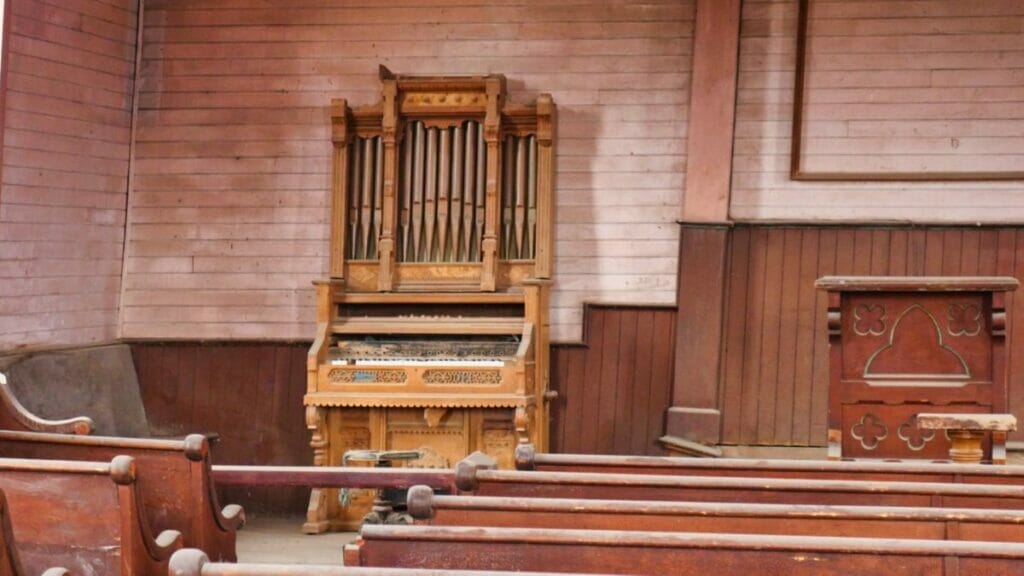 This means that everything that you find really was left like that, or decayed in the harsh winters over time, and you can get right up close to many windows and inside homes to discover all that their owners left.
When you first get to Bodie there is a basic parking lot and some restrooms (but no cafes or anything like that), as well as a sign that gives you the history of Bodie.
If you don't have the self-guided map, you simply walk around through all of the town (well, what's left of it – about 5% of the original town still stands).
If you do have the self-guided map (we recommend it), you can learn more about each stop along the way.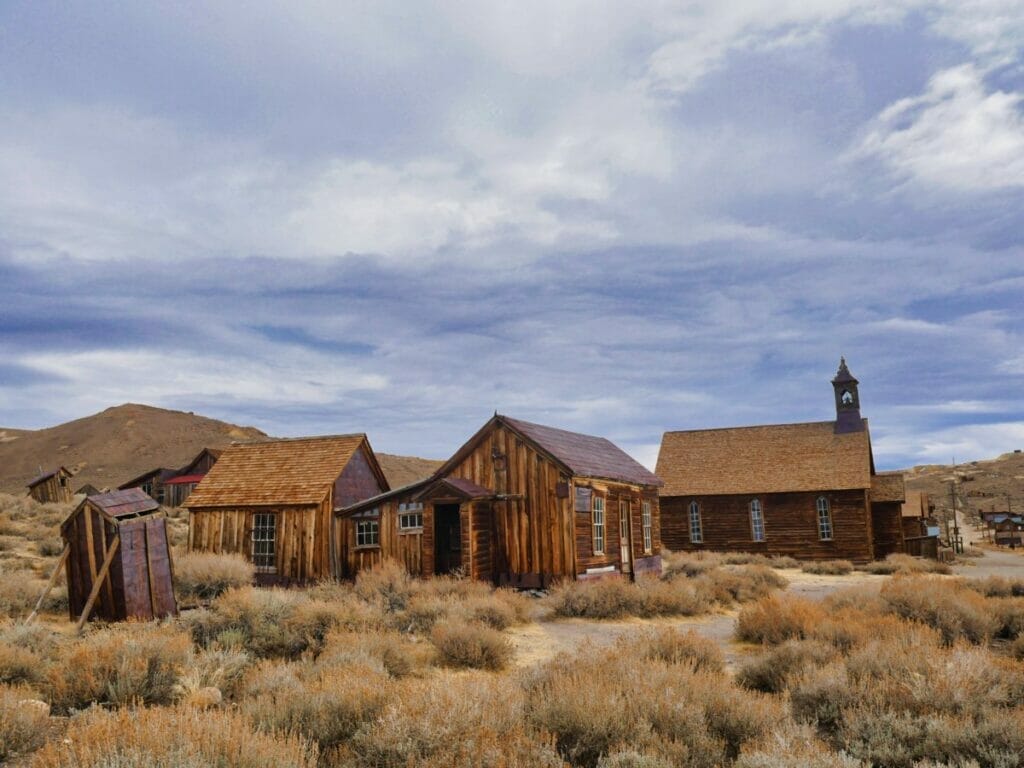 For instance, you'll come across a Methodist Church, Bodie's only church that's still standing (the others burned).
There are plenty of homes, like the J.S Cain Residence, which was home to the family that eventually sold Bodie to California State Parks in 1962.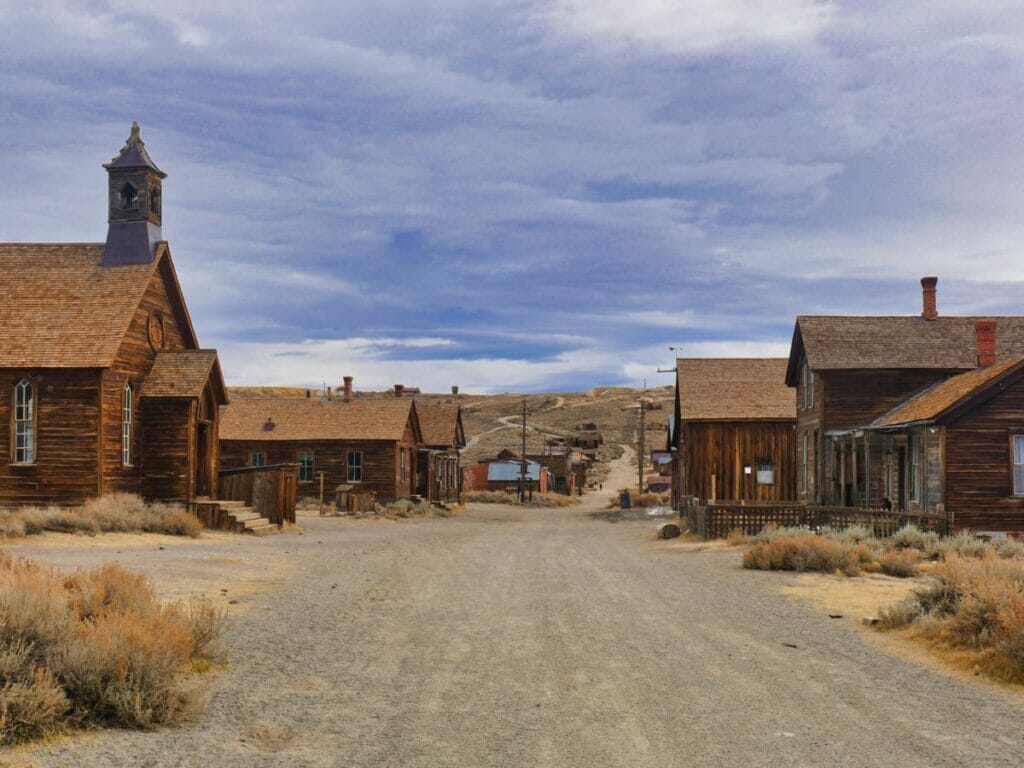 Check out the red barn, the morgue, and the old barbershop.
The Miners Union Hall is now a museum, the only one in Bodie, and it served as a meeting place for the miners and hosted everything from parties to school recitals.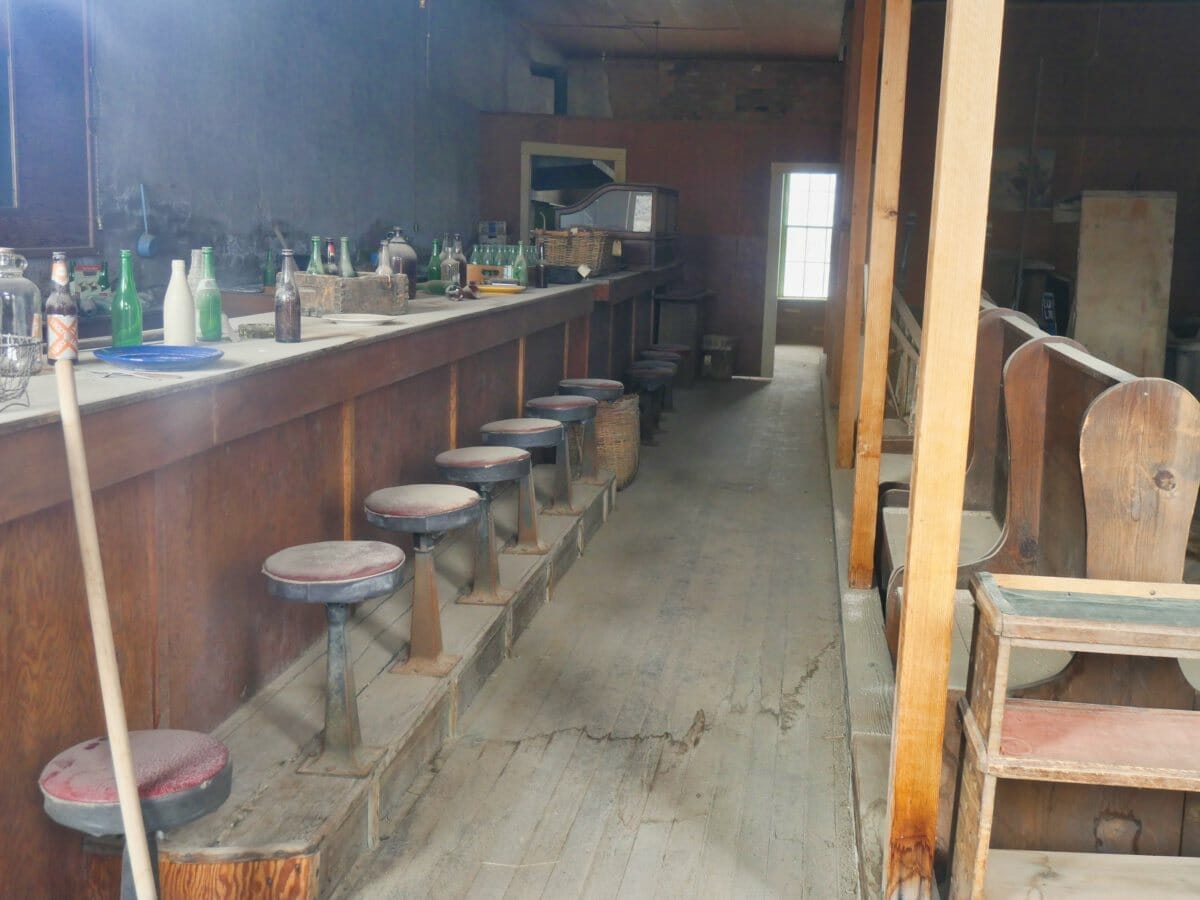 At one point you can stand in the spot of a shootout and then see where he was hung (yes, there were no rules in the Wild West!).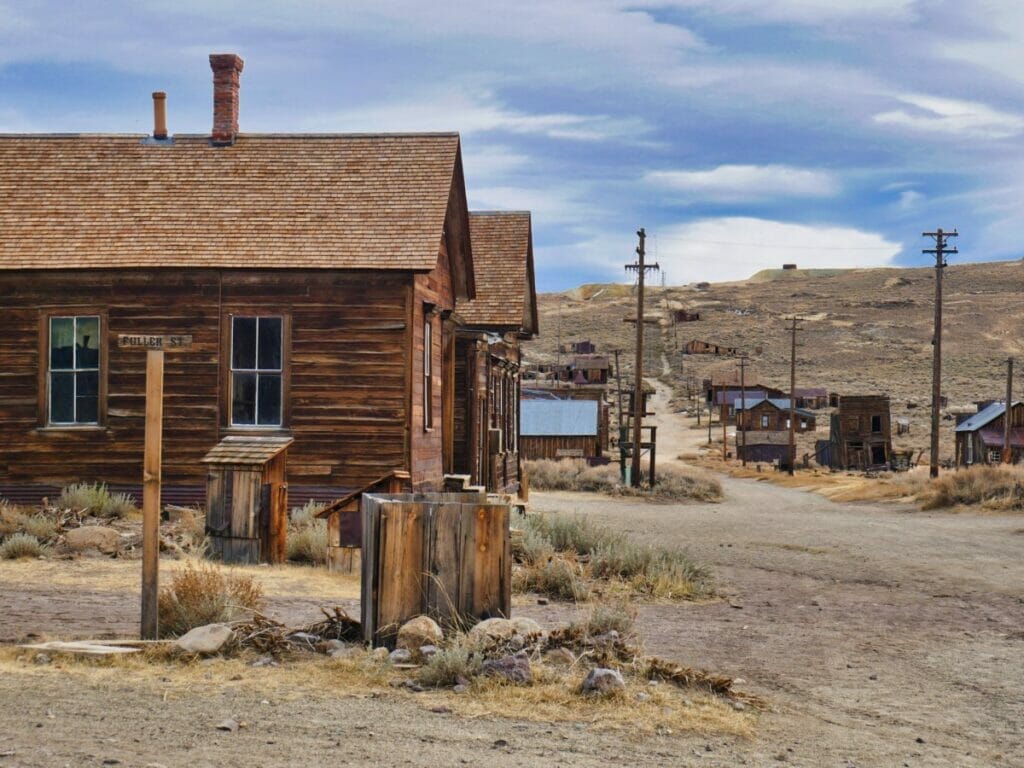 Check out the schoolhouse and other artifacts left inside some of the homes, including dishes covered in dust, reading glasses, and schoolbooks.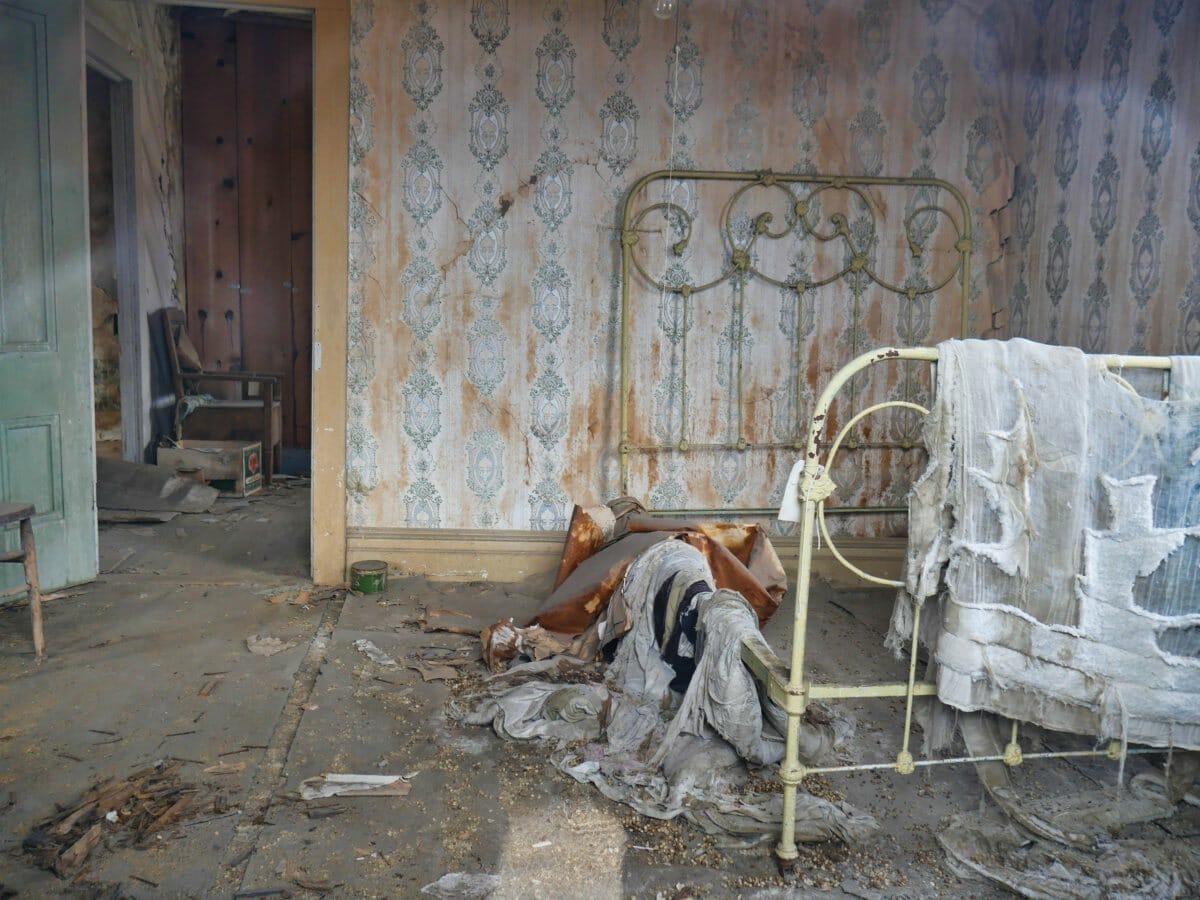 Much of what you'll find will be ruins.
Bodie had a problem with fires, with two big ones burning in 1892 and then again in 1932.
You can see the Firehouse that still stands.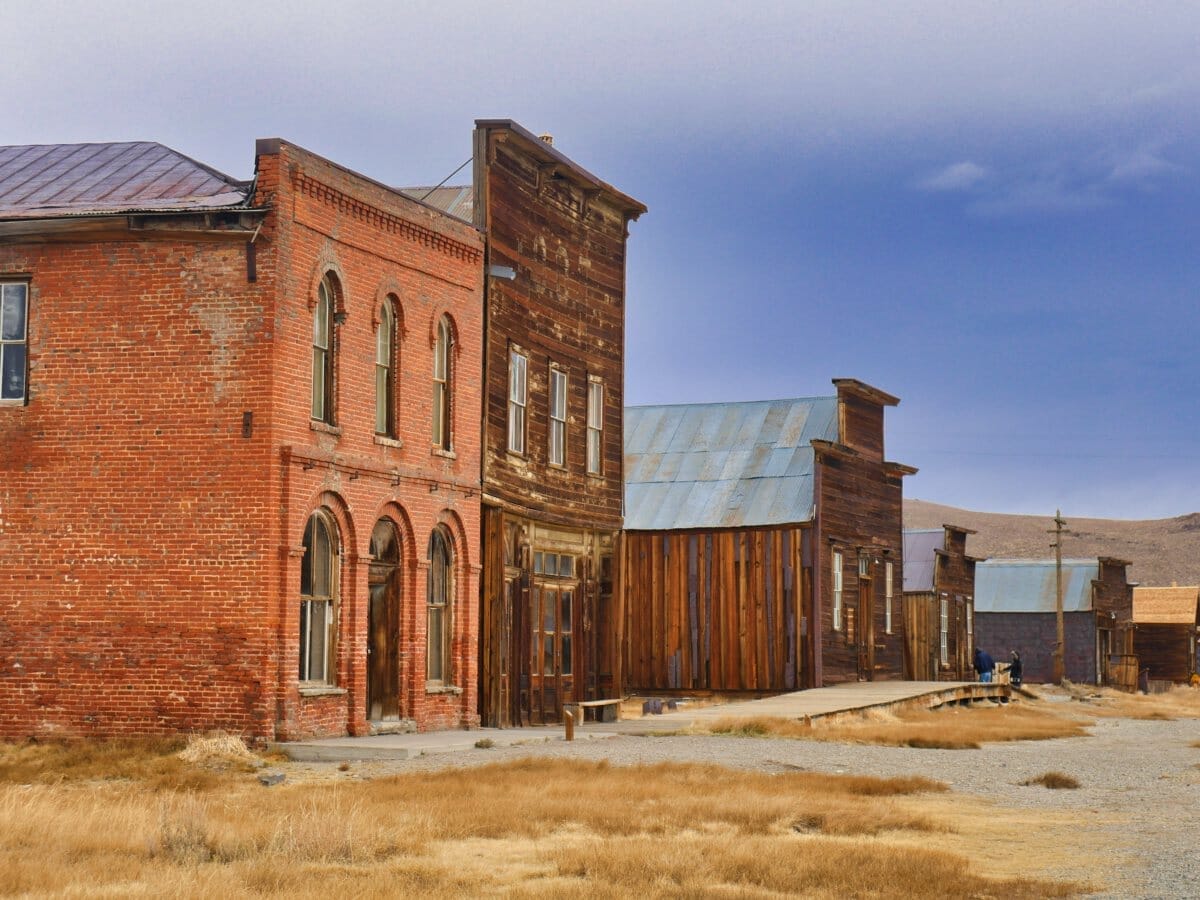 Then, there's the mill, an ominous looking structure that is off limits to visitors due to the area being unsafe to walk through.
This was the Standard Mill, and it was the most successful of the 30 mining companies operating out of Bodie.
Here, the gold ore was discovered in 1875, setting off the rush to the town.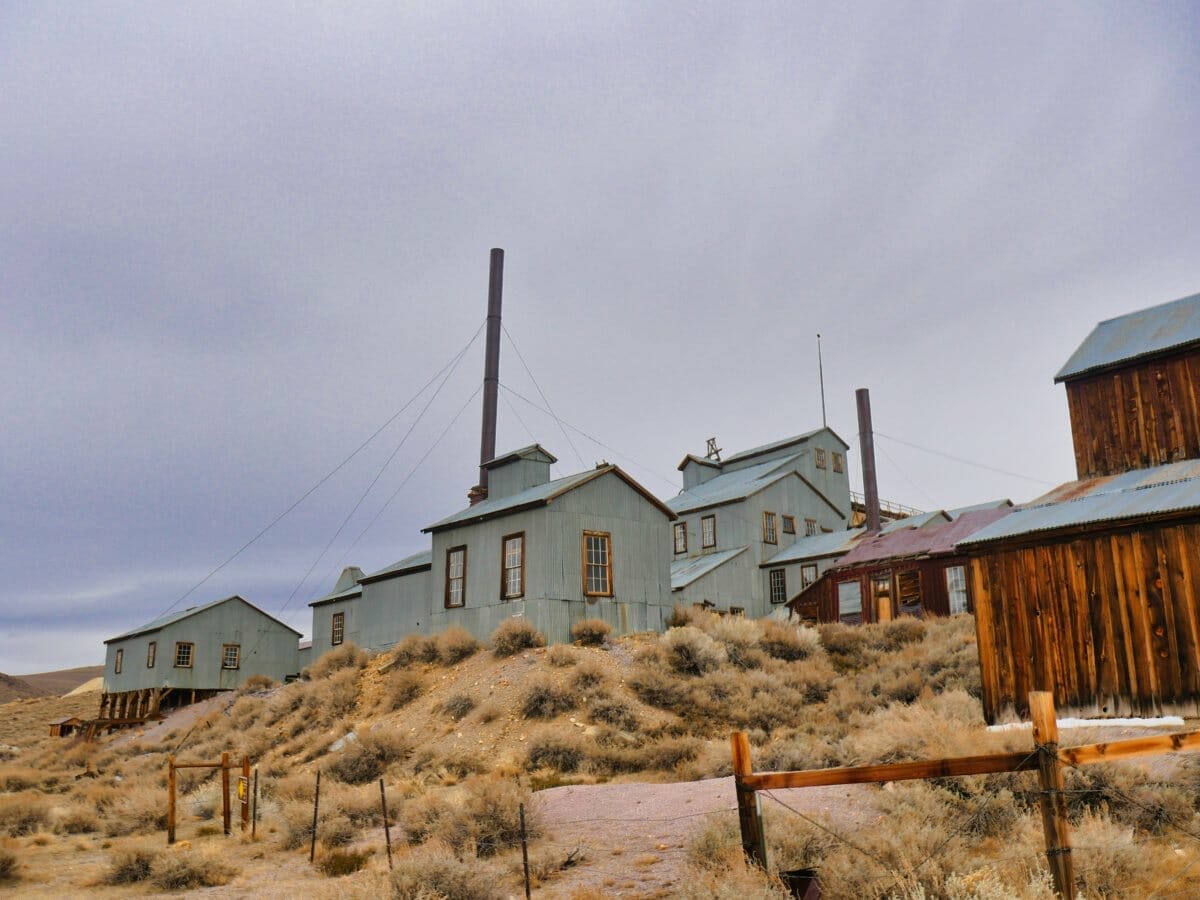 Bodie State Park FAQs
How to Get to Bodie
The only way to get to Bodie is to drive, and you aren't going to want to bring your most precious car because the unpaved road can do a number on it!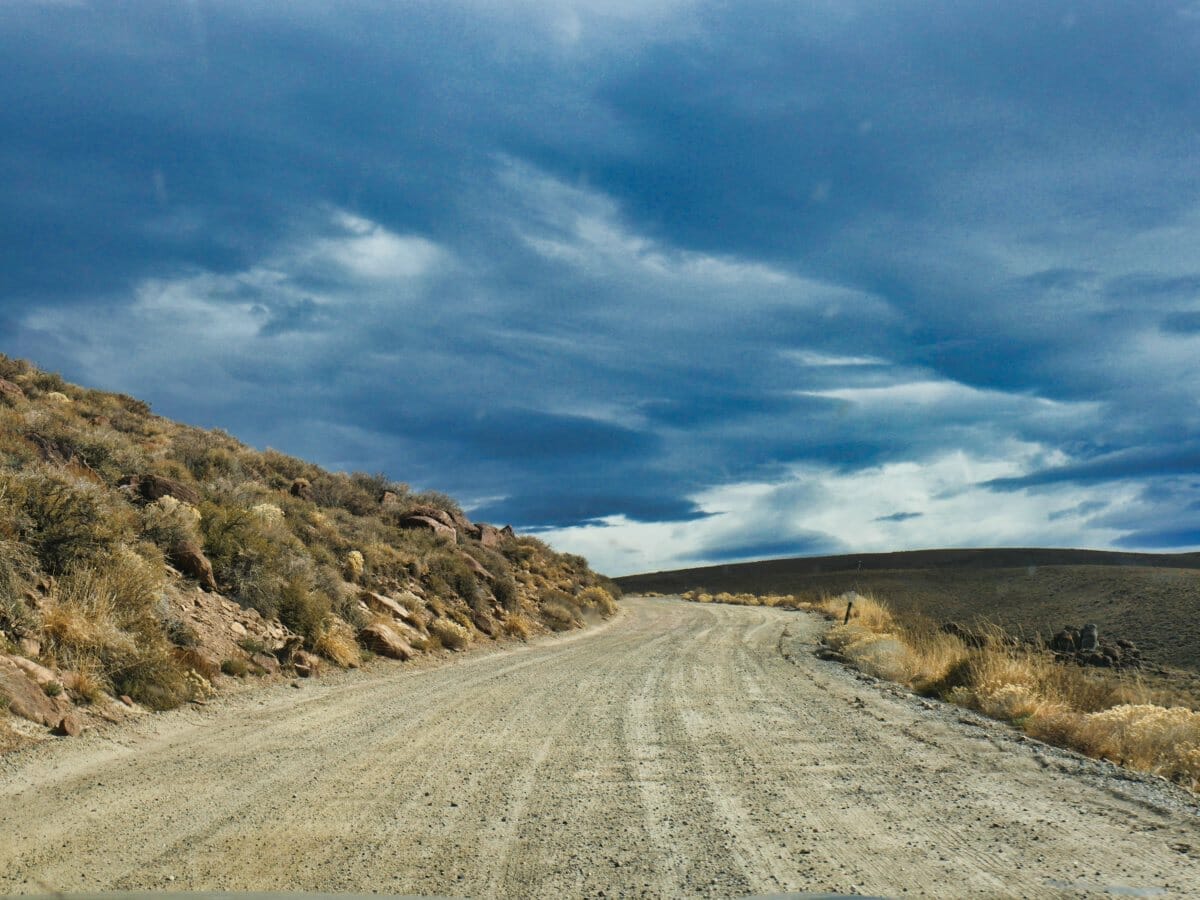 You'll find it off of Highway 395.
Take State Road 270 east, about 10 miles, and then you'll hit the final 3 miles which is essentially just a curvy, unpaved road.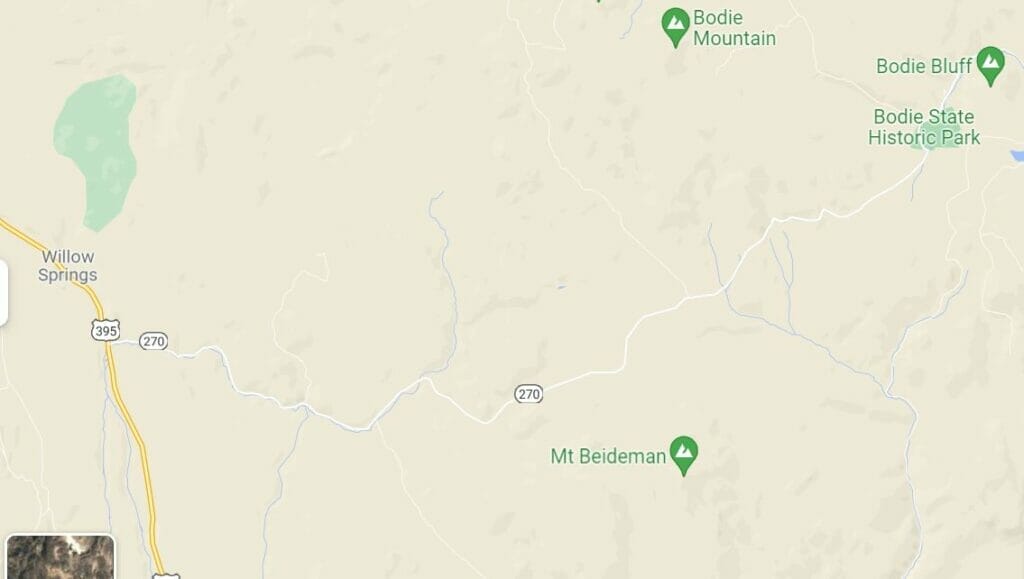 Make sure to fill up on gas before you take the turn onto 270, as there are no services along the way and getting stuck would be an unwelcome part of your trip to California.
Gas is expensive in the area (even more so than in the rest of California), but don't do what we did and have to pray to the Bodie gods that we should have enough gas to get back to the highway safely!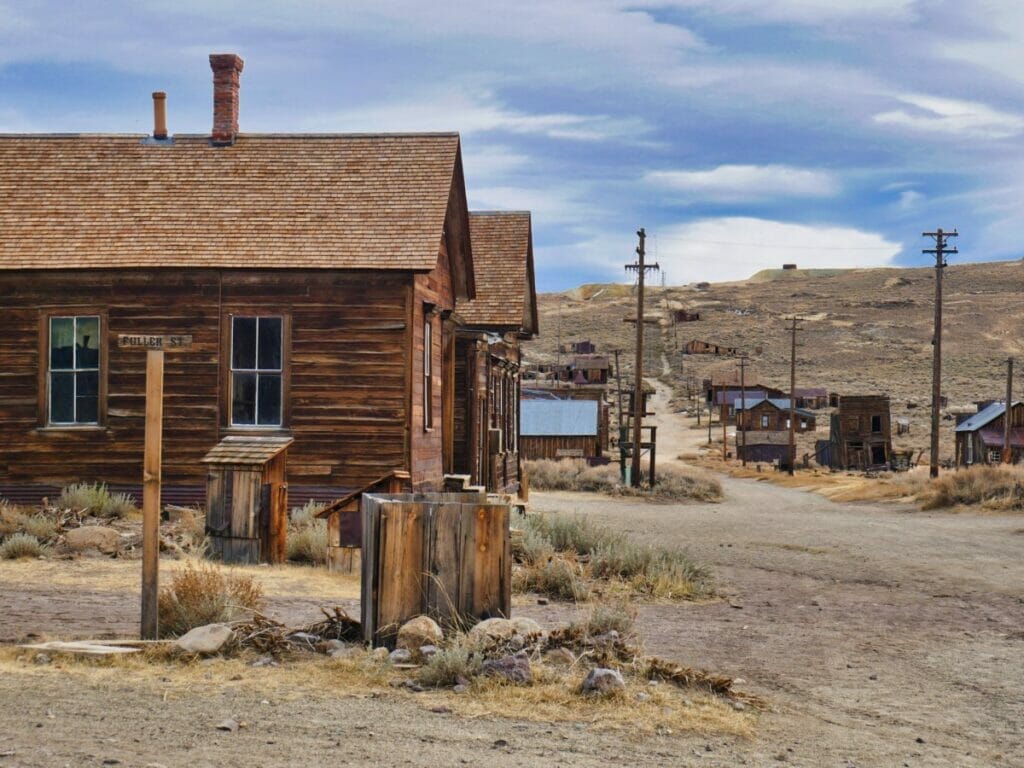 How Much Does it Cost to Get Into Bodie?
Bodie costs $8 per adult and $5 for children, and there is a small charge if you want the self-guided map that tells you about each individual dwelling.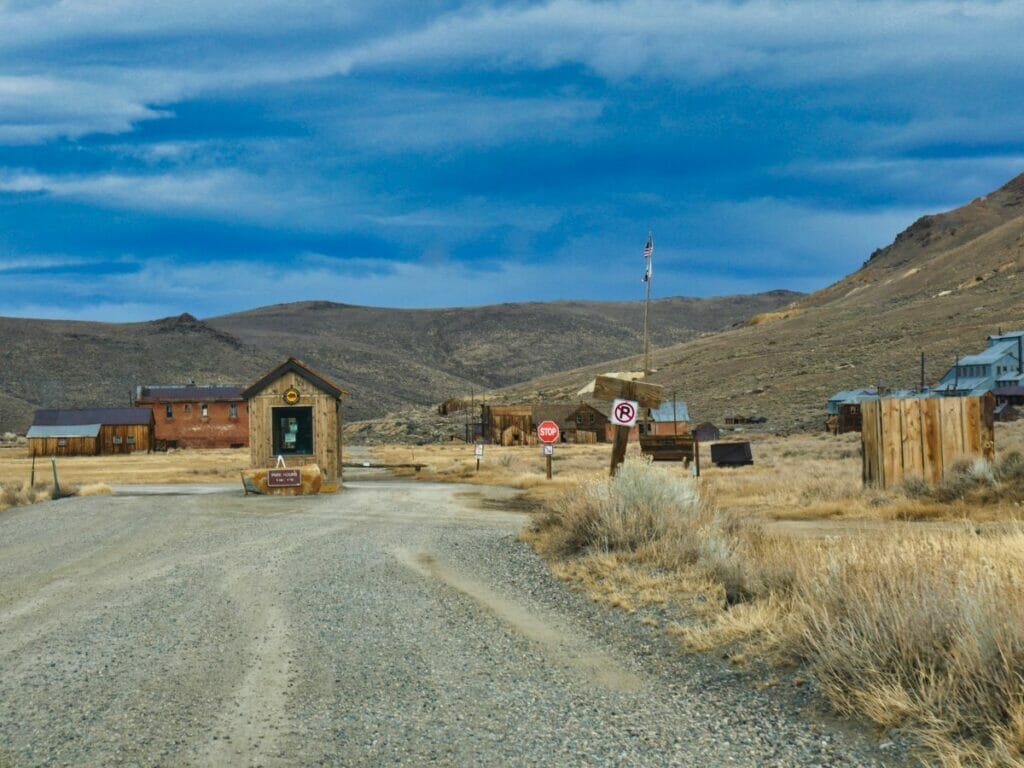 Bodie Opening Days and Hours
Bodie is open all year-round, with opening hours from May to October being 9am to 6pm, and the rest of the year from 9am to 3pm.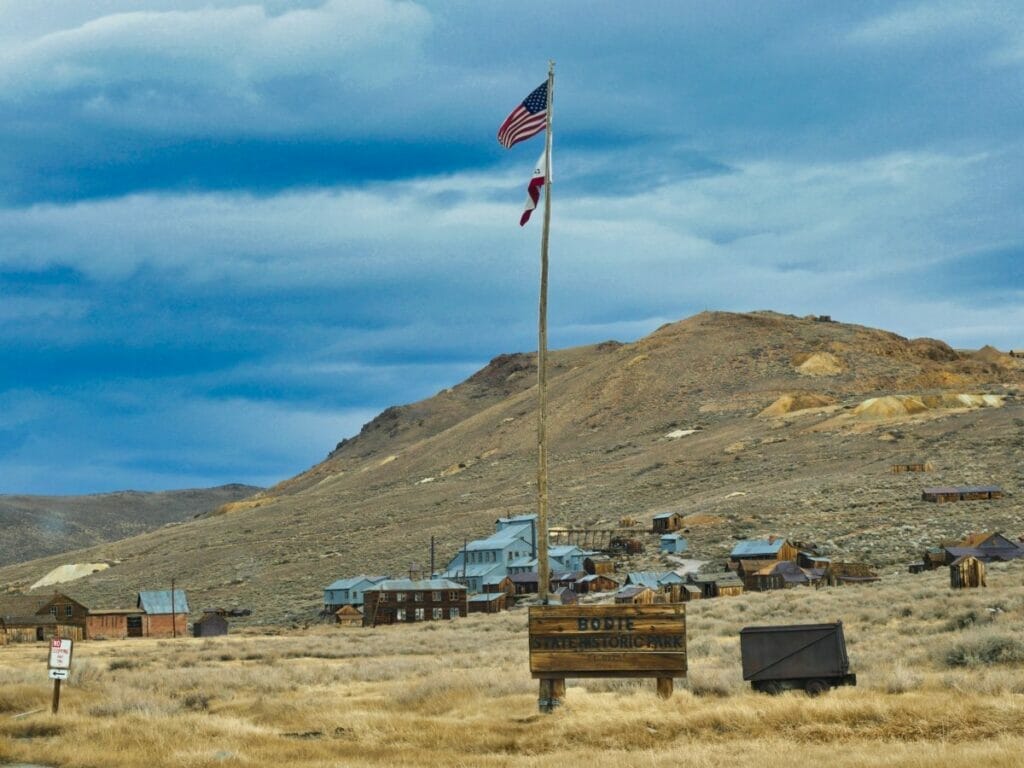 How Long to Spend in Bodie
Bodie is a fantastic day trip, and while there are a lot of buildings to see, it can be done in a couple of hours because most are not open to go inside.
We spent about 2 hours there, but you could do it in 1 if you wanted to just stop by on a road trip.
Equally, you could spend an entire afternoon or morning there if you wanted to take your time, but you wouldn't need the entire day.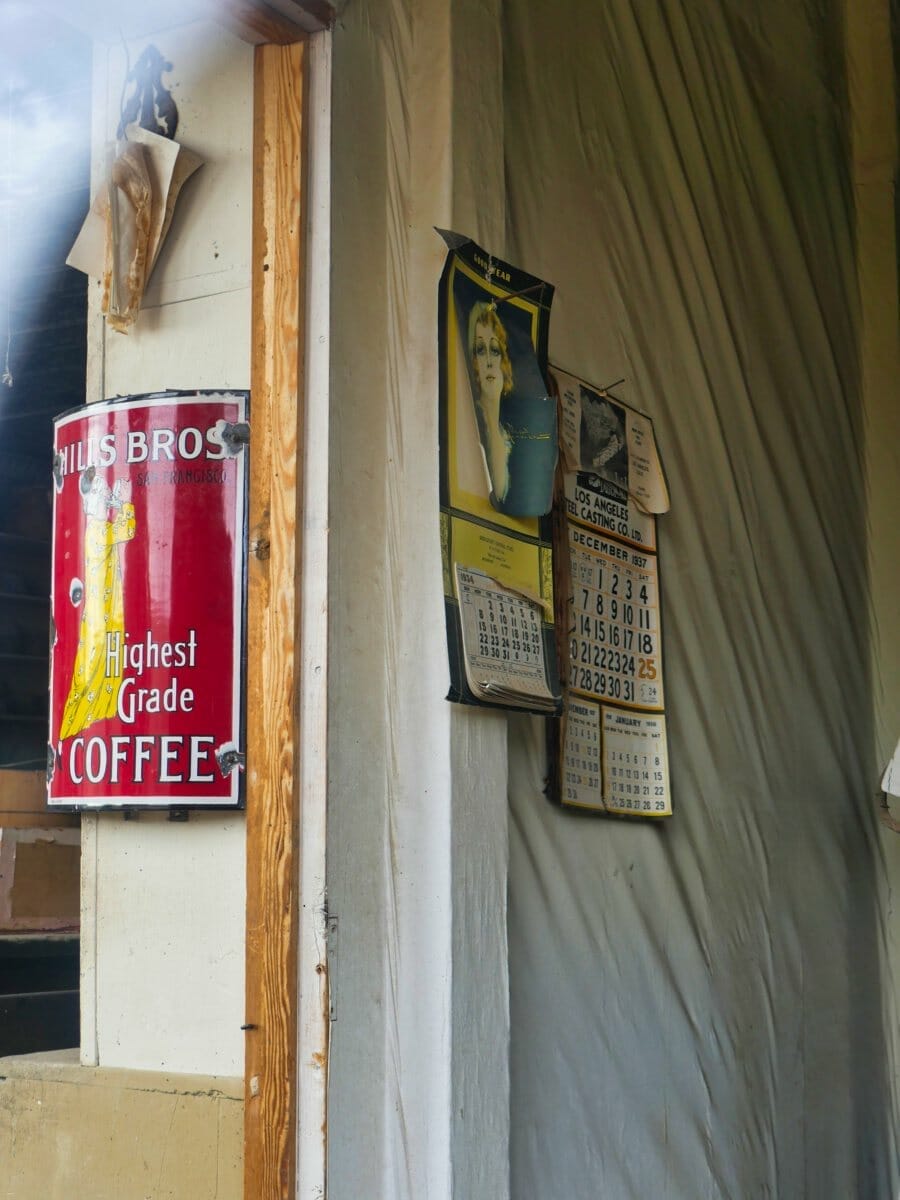 When Should You Visit Bodie?
Bodie is so far off the beaten path that it's best visited in the late Spring, summer, or early Fall months.
The weather at other points in the year can be unpredictable and incredibly cold, and you don't want to be snowed in on a day's visit unless you have snowmobiles or snowshoes.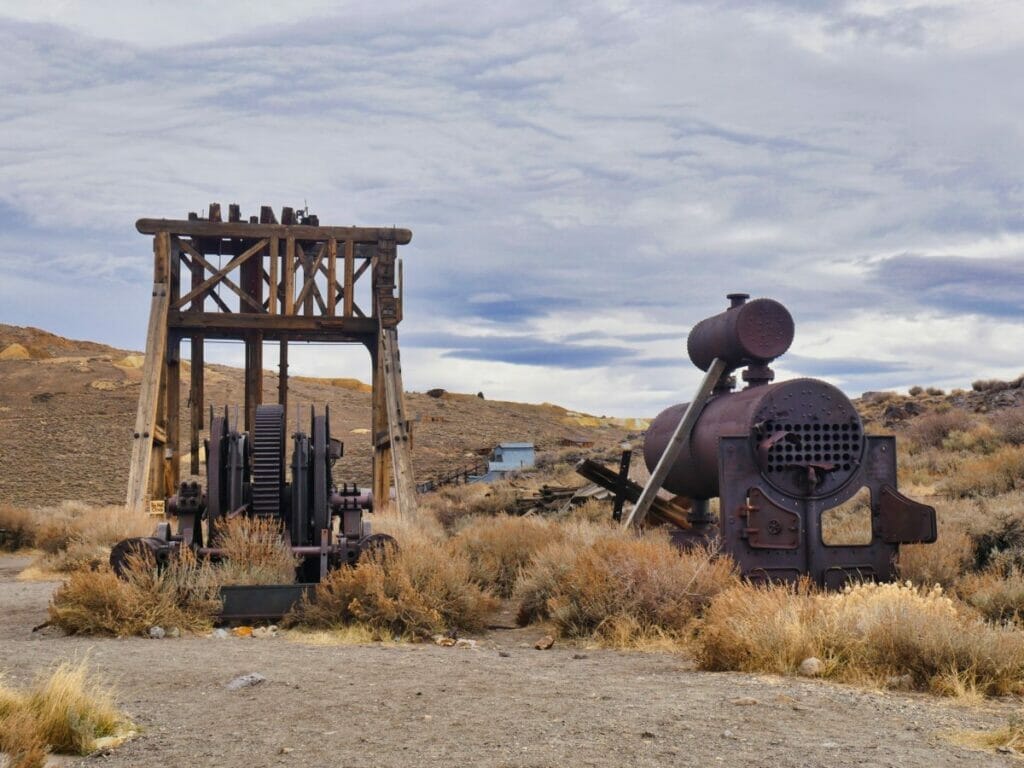 Does Anyone Still Live in Bodie, California
The only people who live in Bodie today are a couple of park rangers who tend to the place and accept the entrance fees.
Bodie is no longer a working town (which you'll soon see when you see how many buildings are basically on the ground!)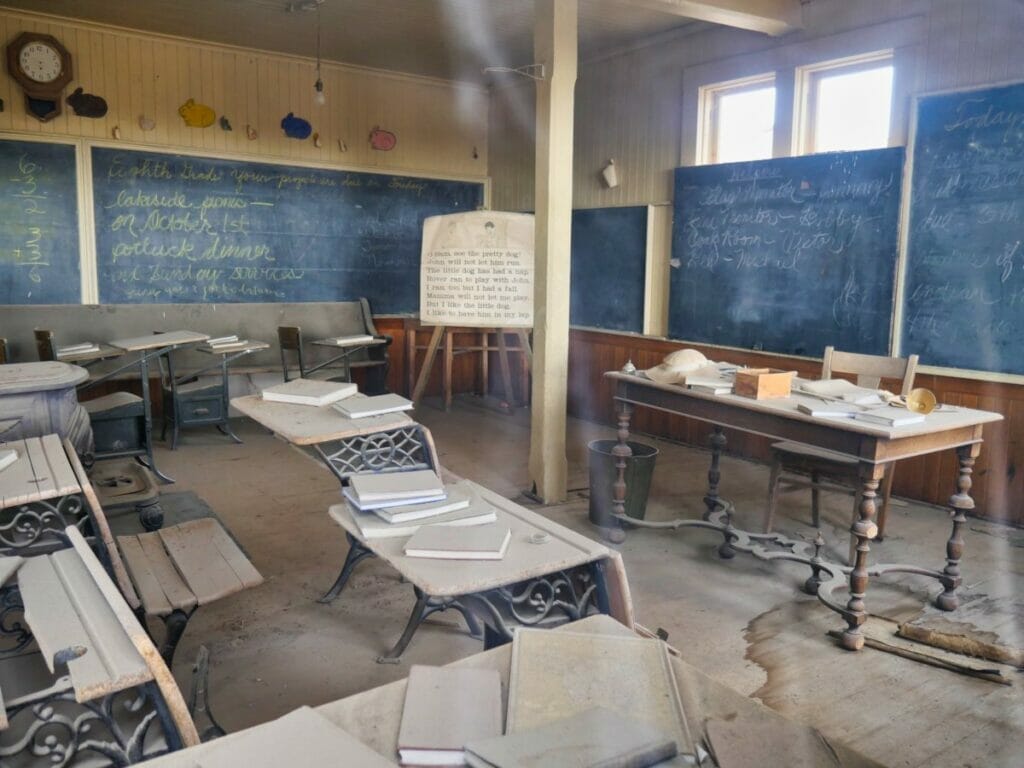 What to Pack for a Day Trip to Bodie
There are no stores, gas stations, or services of any kind in Bodie except for some bathrooms, and it's in such a high altitude that the weather can change very quickly.
We arrived in the sun and were taking off our sweaters (in October), but by the time we left around 3pm, the sky had turned, the wind had whipped up, and we had never been colder!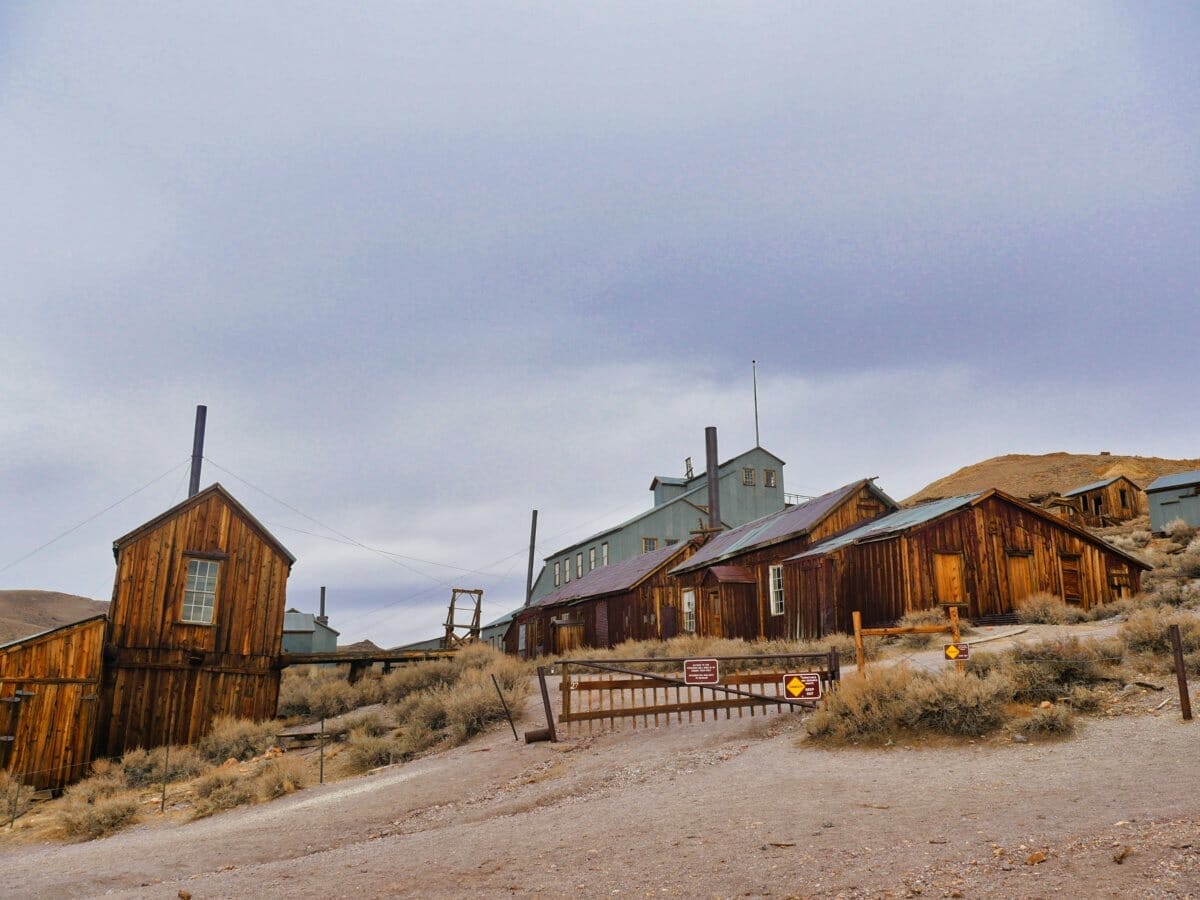 Make sure to pack these essentials for a trip to Bodie:
Portable phone charger – not only is there not really any cell service in Bodie, but of course there's nowhere to charge things. Make sure you have a portable phone charger like this one just for emergencies and future GPS use once you leave Bodie.
Reusable water bottle – fill up a reusable water bottle and take it with you to stay hydrated (I love filtration ones like these)
Sturdy shoes – this is a ghost town and sturdy footwear is the best idea to make sure you're staying safe, not tripping over any debris, and generally prepared for time in the Sierra Nevadas
Sunscreen – in the summer months, the elevation means that you're going to experience sunburn even faster than you do at sea level, so lather on that sunscreen (I love this reef safe brand)
Pin for later!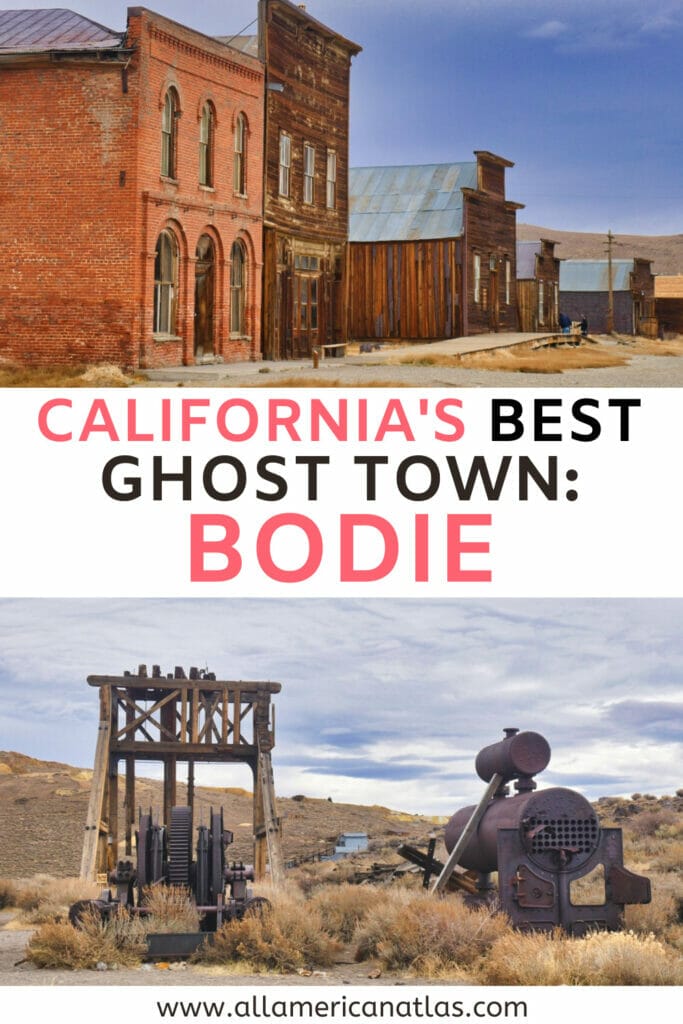 Get the All-American Travel Secrets!
Don't miss out on America's hidden gems!