From old timey saloons to one of the coolest post offices in America, there's a lot to see in California's Pioneertown and this guide to Pioneertown will show you it all!
This is one of the most California attractions, not just because it's in the middle of the desert with absolutely beautiful views, but because it's also a fake Western town.
That's right.
It's an 1880s Western town.
That was built in 1940s.
Because Hollywood, you guys!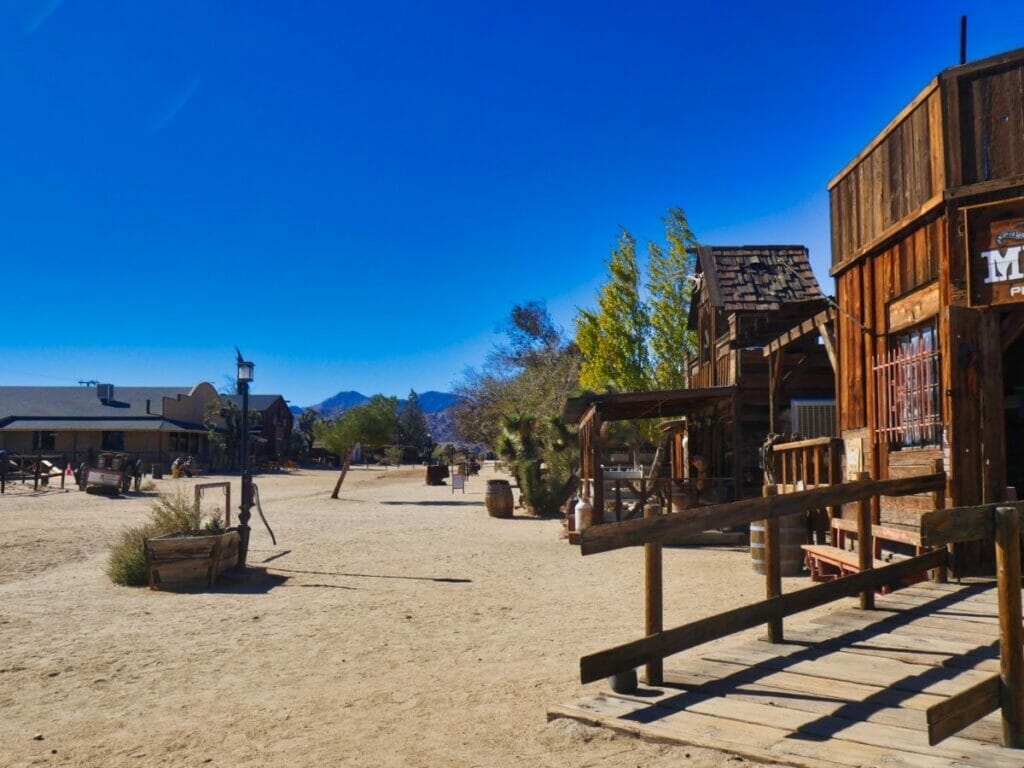 Learn more about this fantastic day trip from Los Angeles and California attraction, including what to do in Pioneertown, where to stay in Pioneertown, and the history of Pioneertown and why there are a bunch of Western style buildings and general stores and saloons that no actual cowboy has lived in.
What to Know Before You Visit Pioneertown
Where is Pioneertown, California?
You can put "Pioneertown Mane Street" into your GPS to get you to Pioneertown, a (very) small town nestled in between Joshua Tree and the San Bernadino National Forest in southern California.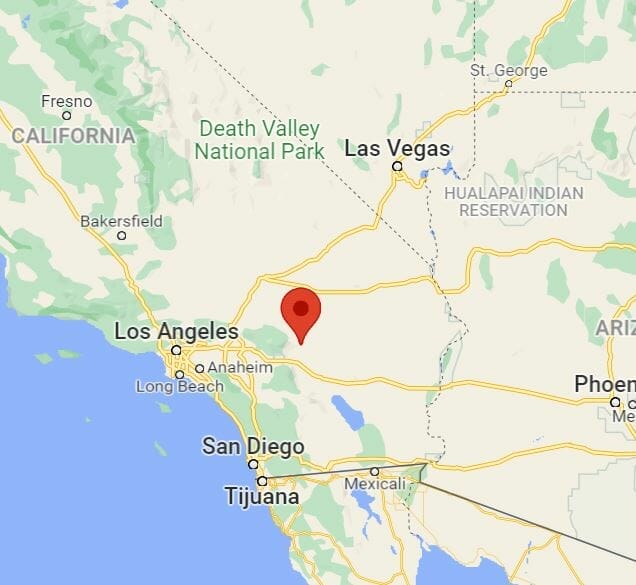 What is Pioneertown Known For and is Pioneertown Real?
Pioneertown is basically the Wild West town you've always wanted to visit, except it's not a real Wild West town but rather a Hollywood version of a Wild West town.
No actual duals have taken place on the streets, but plenty have been filmed here!
As opposed to actual Wild West towns like Bodie, which are understandably dilapidated, Pioneertown has the benefit of having always been fake, so it has been upkept to look like a Wild West town out of the 1880s without actually being the 1880s anymore.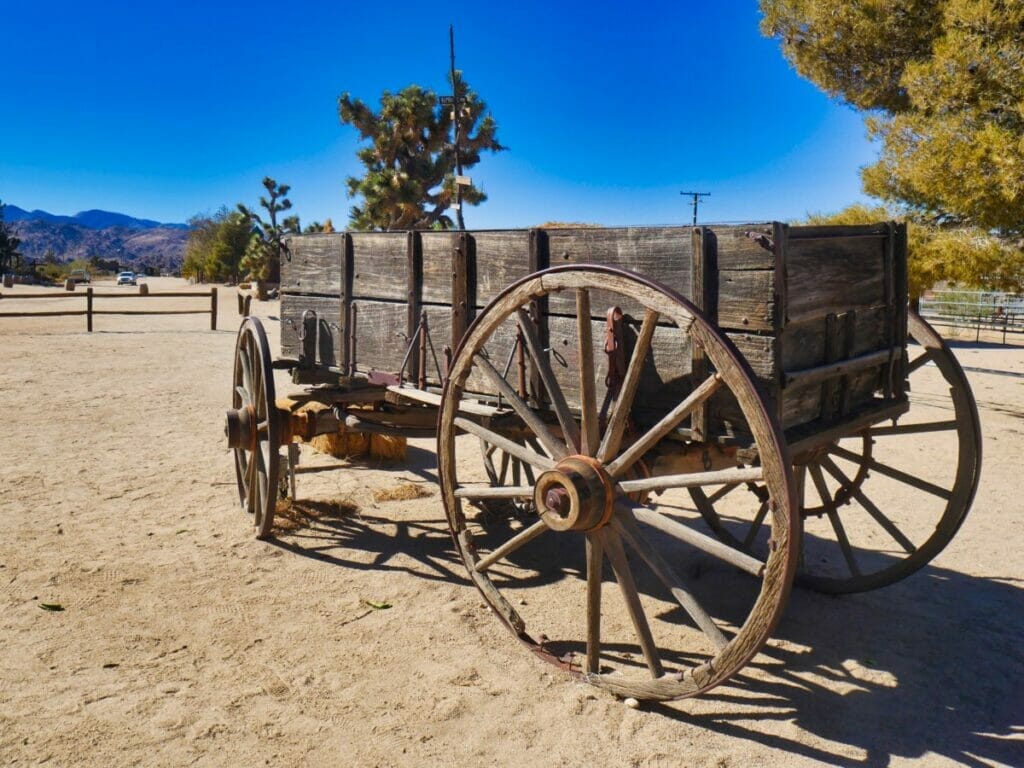 Who Built Pioneertown?
Pioneertown was built by a group of 17 investors, including popular Hollywood actors and directors at the time.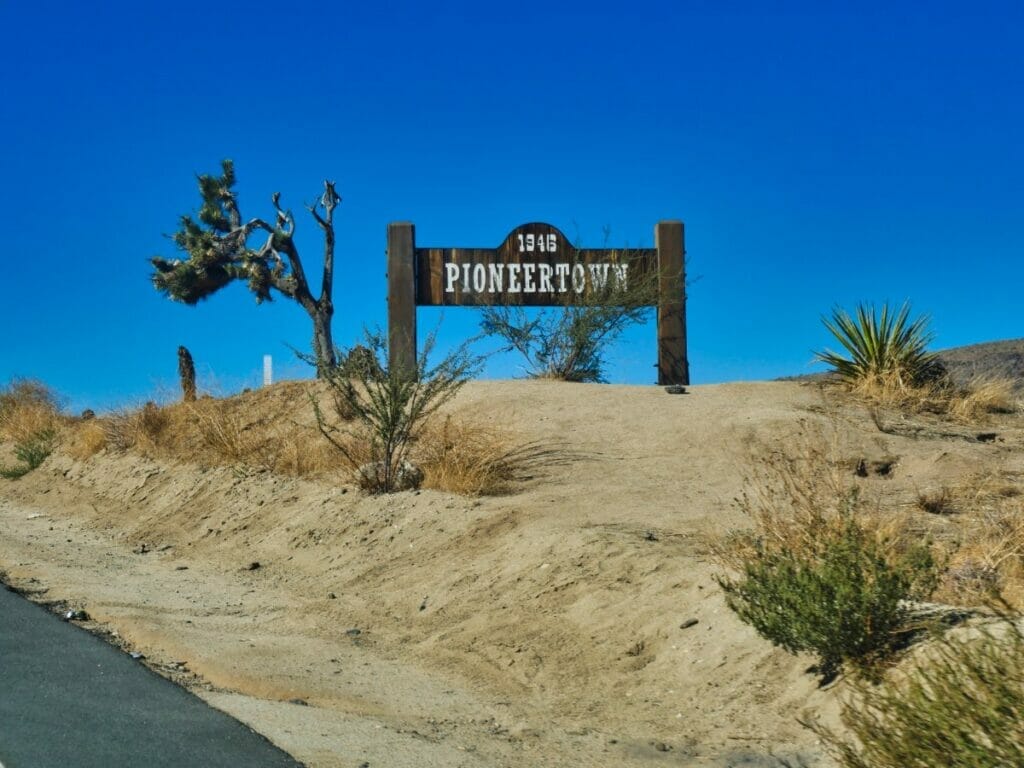 How Old is Pioneertown?
Back in 1946, a bunch of Hollywood people including Dick Curtis and Roy Rogers were like, "hey, you know what would be great? If we could build a community that looks like a Wild West Town and use it for major motion pictures!"
They broke ground that same year and added new structures in the years that followed, including the Red Dog Saloon, Townhouse Motel, and Pioneer Bowl.
Is Pioneer a Ghost Town?
Actually, no!
A ghost town is a town that has been mostly abandoned and has few inhabitants.
Pioneertown had a population of about 420 people in 2019, so while it's not exactly a sprawling metropolis, it's still very much lived in.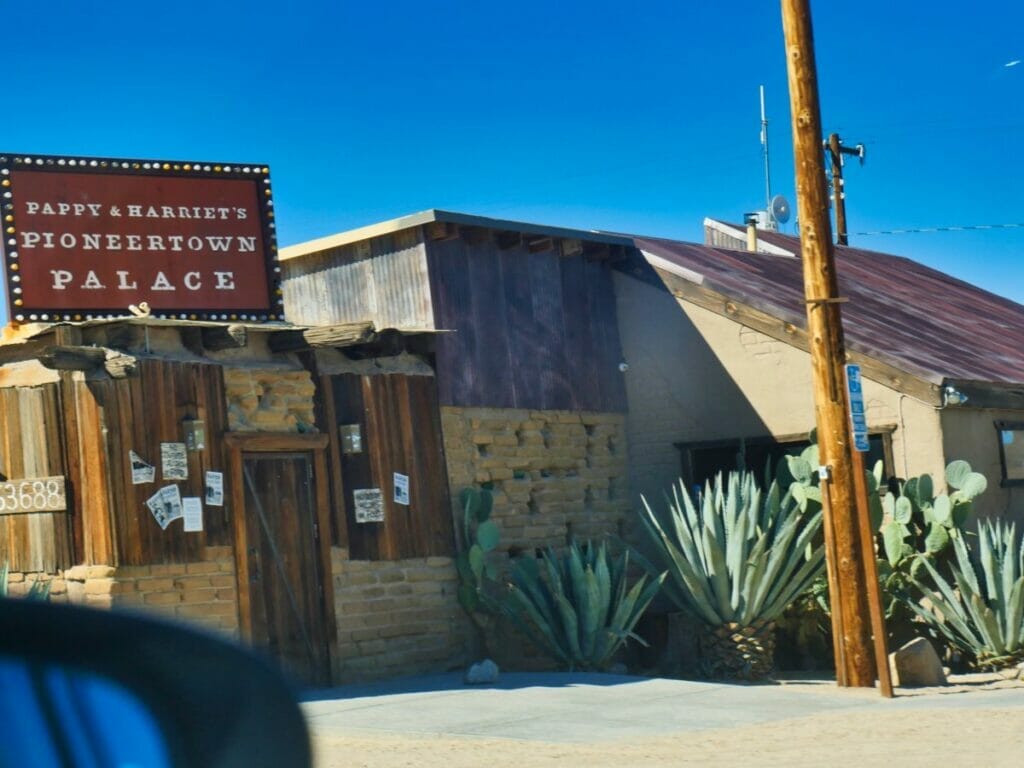 Who Owns Pioneertown?
Pioneertown is unincorporated, which means that it's owned by a variety of different private owners and residents.
Is Pioneertown Safe?
Yes!
While it does feel in the middle of nowhere, because it is, Pioneertown is a fun and family-friendly visitor attraction any day of the week.
Can You Live in Pioneertown?
Yes!
People can move to Pioneertown if they want, but be ready to face scorching heat, scorpions, and the general harshness of the desert.
Recently, it's become a bit of a "thing" for people in their 20s and 30s to move out to Pioneertown for a new type of life (there isn't a supermarket or pharmacy in town, that's for sure), and they have joined the other type of Pioneertown resident who has lived in Pioneertown for decades.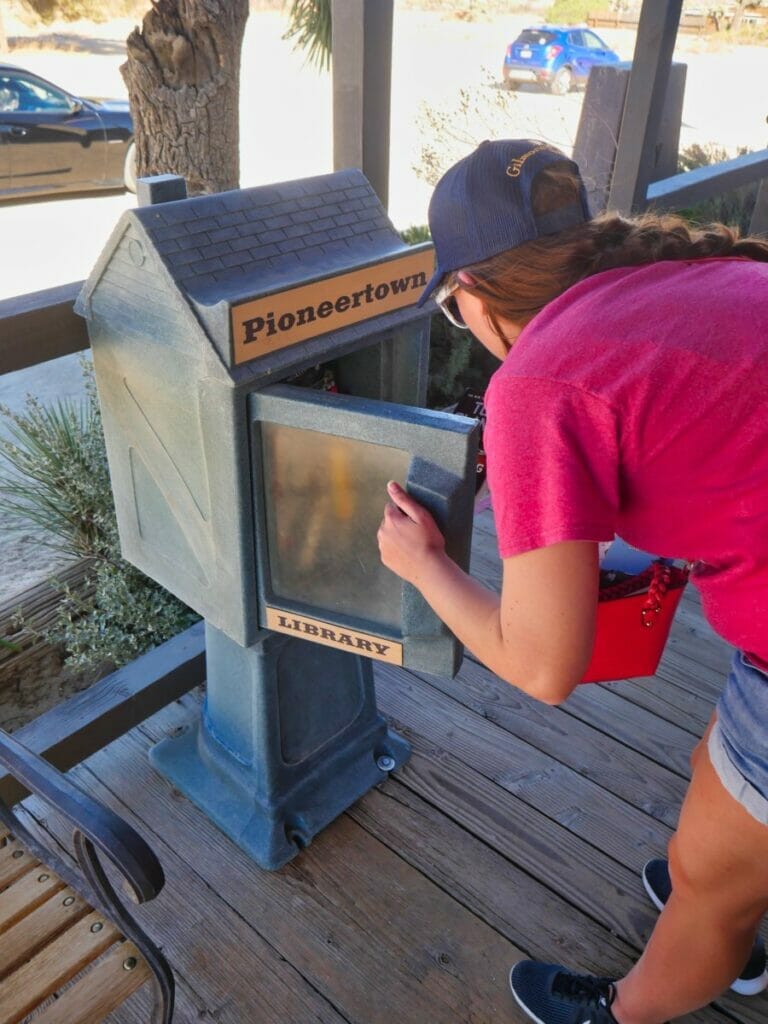 Getting to Pioneertown
The only way to get to Pioneertown is to drive, and it's about a couple of hours from most surrounding major landmarks and cities.
If you don't already have a car, make sure to rent one when in California because it's basically a state that requires a car (we use Discover Cars to get the best deals).
Make sure you fill up on gas before heading out because it definitely is in a remote area and while there is the town of Yucca Valley about 10 minutes away with amenities like gas, hotels, and grocery stores, it's about 5 miles on a curvy dirt road from there and you want to make sure you're all set on the fuel front!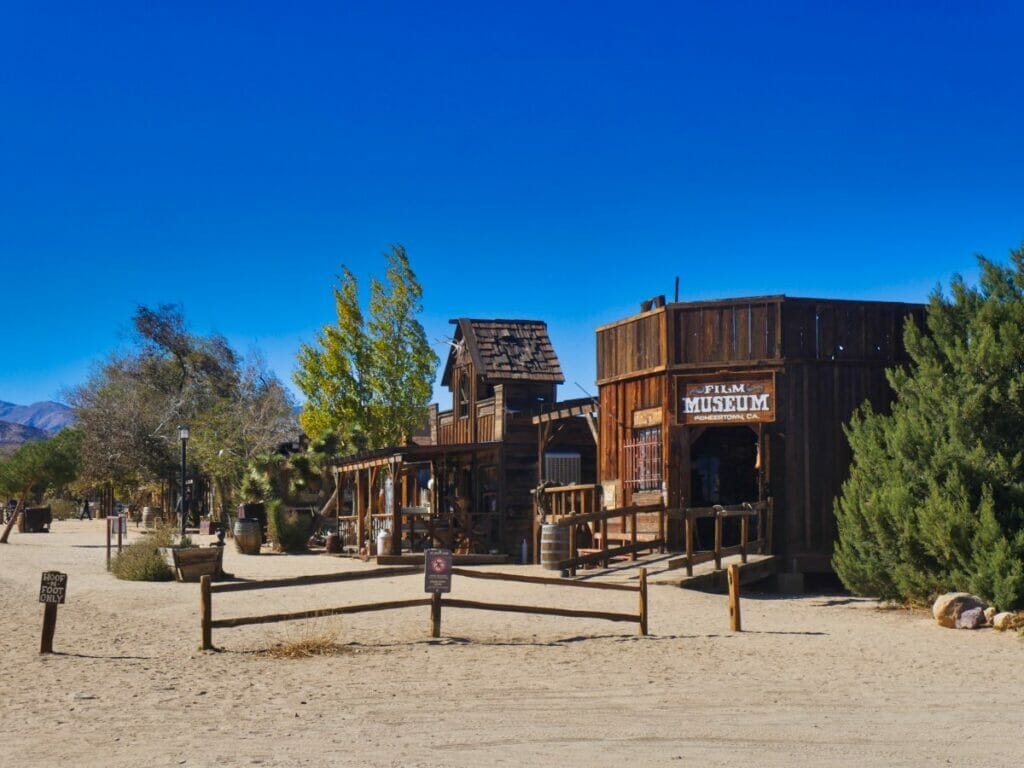 There is parking available, free of charge, and everything in Pioneertown is within walking distance once you park your car.
How Far is Pioneertown from Joshua Tree?
Depending on where you start in Joshua Tree, the Joshua Tree to Pioneertown drive is about 1 hours to 1 and a half hours.
How Far is Pioneertown from Palm Springs?
Pioneertown is only 36 minutes from Palm Springs.
How Far is Pioneertown from Los Angeles?
Pioneertown is 2 hours from Los Angeles.
What to Wear to Pioneertown
Getting dressed for Pioneertown, for most people, is simply a matter of dressing for the dessert.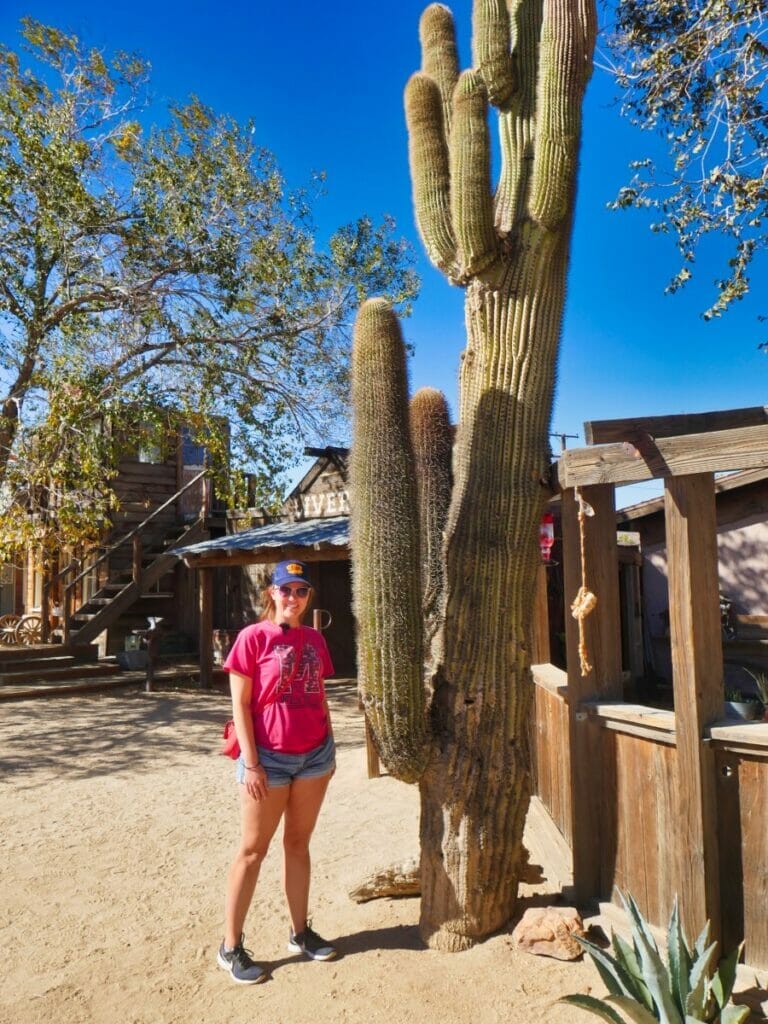 If you want to dress up like a cowboy and wear a cowboy hat and some cowboy boots, you're more than welcome, but for the average visitor, stick to:
closed toed shoes: it's dusty, you're in the desert where rattlesnakes and scorpions also hang out, and you'll just feel more secure wandering around in a pair of good tennis shoes like these ones
shorts and breathable fabrics in the summer months: it's not always shorts weather in the desert, as the winter months can get down to the 40s and 50s, but especially in the summer when you're facing scorching 100 degree days, wear shorts and breathable fabrics
sunglasses: get a pair of sturdy sunglasses like these to keep the glare out of your eyes and take in the atmosphere without squinting the whole time
a wide brimmed hat: keeping the sun off your neck and face can be really important on those hot days, and baseball hats don't always go the distance in helping you cool off. Get a wide brimmed hat like this one (or this is your chance to go for this amazing cowboy hat) to keep the sun from beating down on you.
Pioneertown Hours
Pioneertown's Mane Street is open 24/7, as there's no entrance fee and it's simply a street with some stores and filming facades that is open to the public.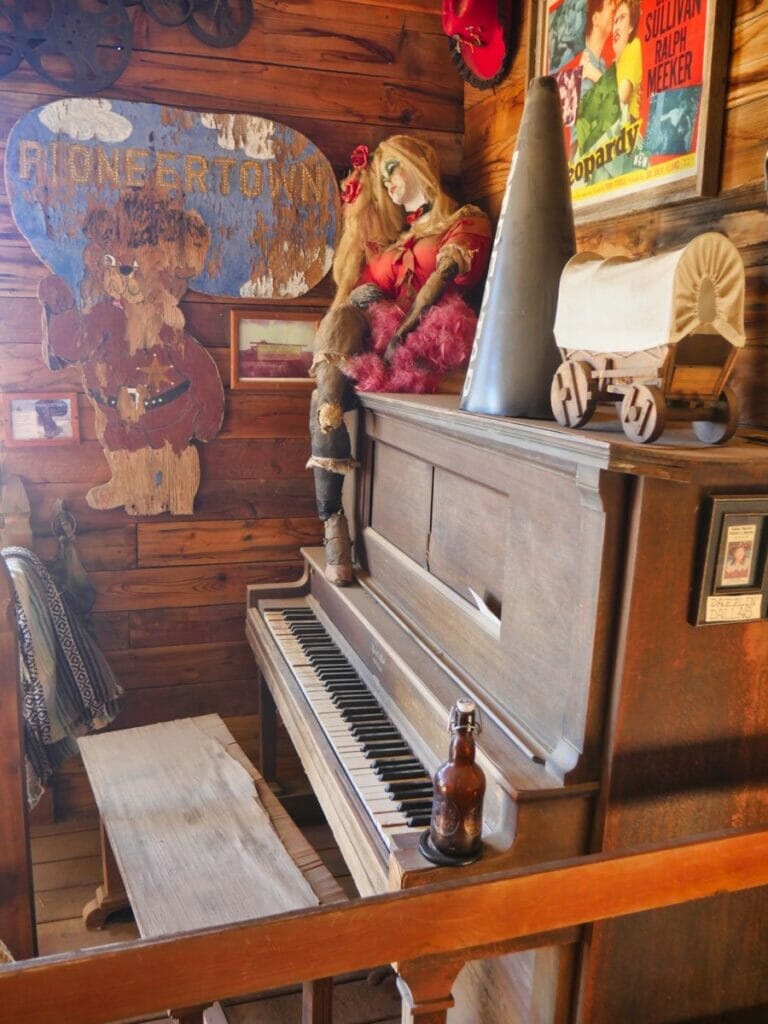 Other attractions, like Pappy & Harriet's Restaurant and the Red Dog Saloon will have their own hours depending on the time of year.
For instance, the Red Dog Saloon, a great place for a drink and bite to eat, opens from Thursday to Monday from 11am to 11pm and for breakfast on Saturdays and Sundays between 9am to 12pm.
If you're visiting on a Monday, Tuesday, or Wednesday, you may find that most things aside from a general store are closed (but it's still a great place to wander around).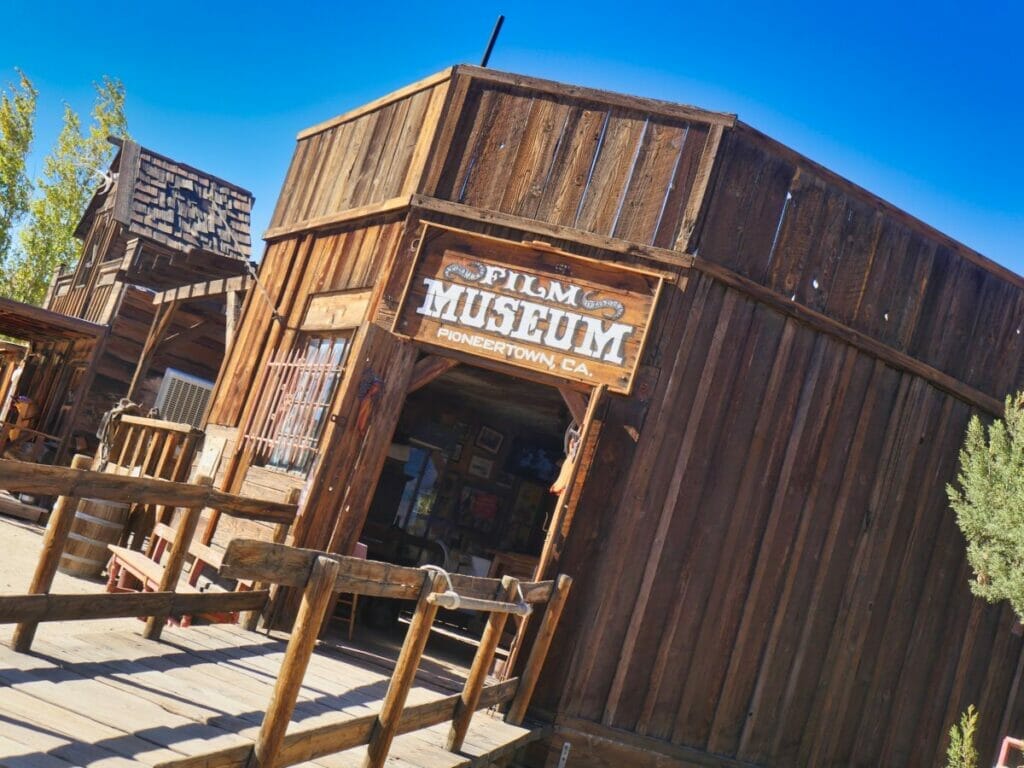 Pioneertown Weather
If you're looking for the sun, Pioneertown has it in spades as, well, you're in the desert.
Rainfall is limited, so you'll notice a very dry climate and when it does heat up in the summer months to the 90s (F) and beyond, that heat will definitely feel like a dry, desert heat rather than a humid ones.
Winter months are pleasant and sunny, with highs in the 60s.
Definitely make sure to bring sunscreen (I prefer this reef safe brand), as well as a wide brimmed hat and a reusable water bottle like this one no matter when you're visiting to make sure you stay hydrated and don't find yourself needing medical attention when there really isn't any around.
Things to Do in Pioneertown
The absolute best place to check out the current operating businesses in Pioneertown is on their website here, as some shops will come and go and definitely have different hours depending on the day of the week.
That being said, here are some of our favorites.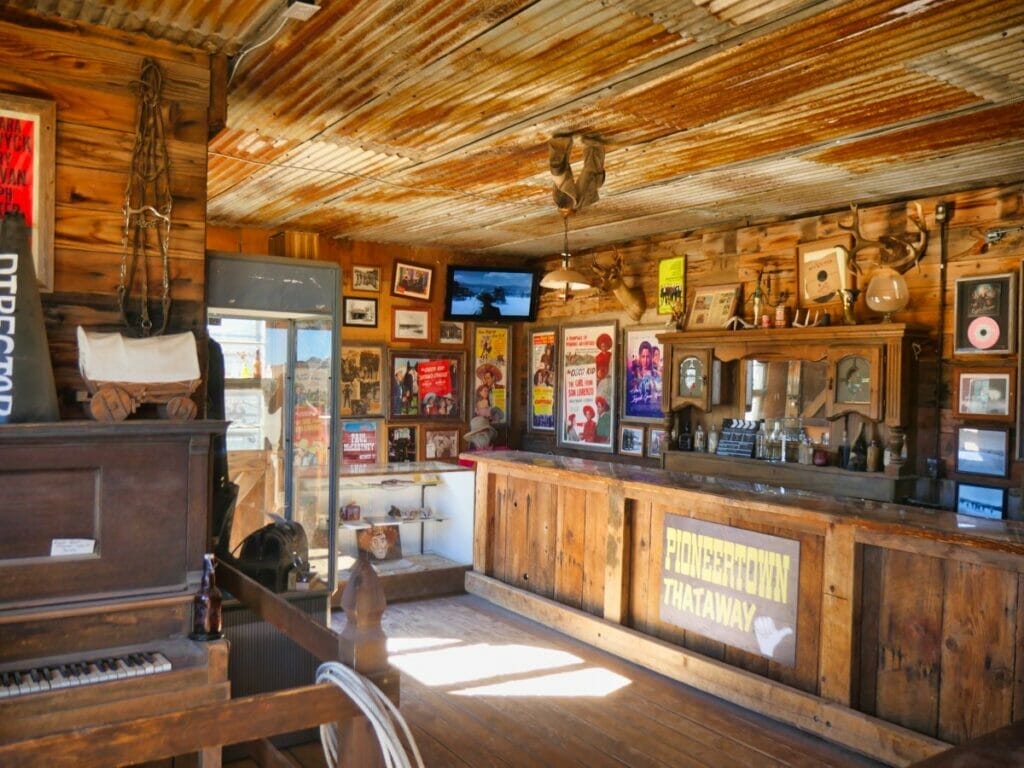 Mane Street
This is the main (get it?) street in Pioneertown and really the heart of it all.
As you walk through it, you're walking through a (fake) western town that's taken straight from the second half of the 1800s.
You'll notice wood frame buildings, wagons, wooden barrels, and you really wouldn't be surprised if a bandit comes around the corner and tries to hold up the place.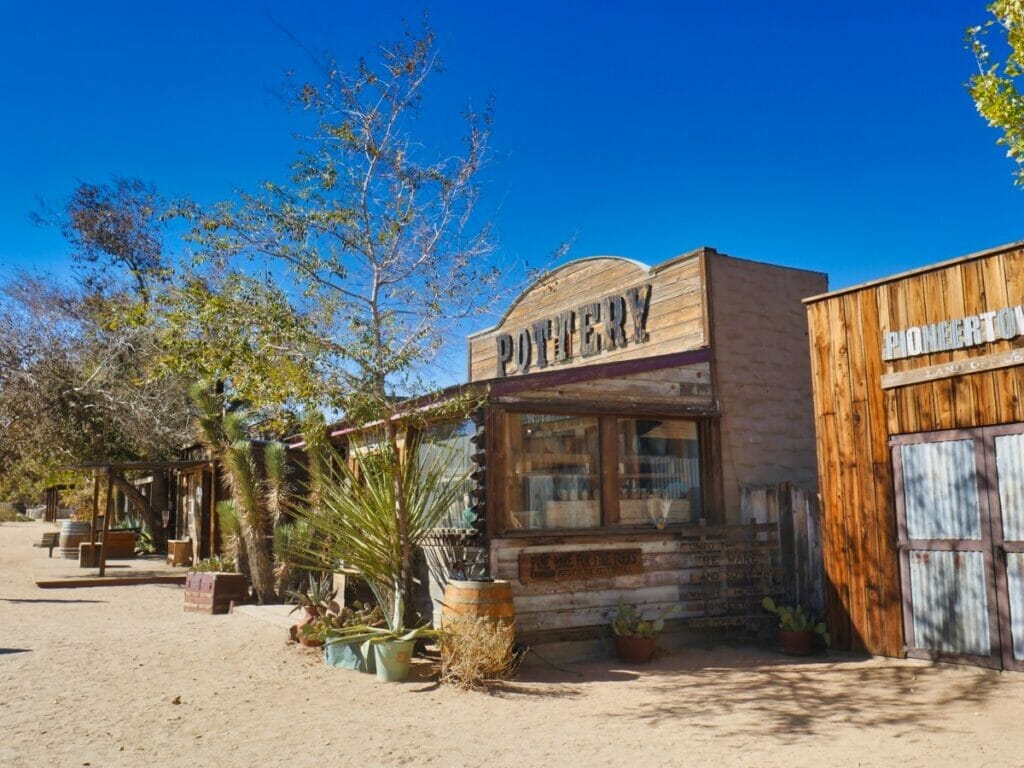 Along this stretch of Pioneertown, which has no barrier to entry and is open to stroll down any time of day, you'll find the Pioneer Film Museum which catalogs the history of the movies, commercials, and music videos filmed on this street.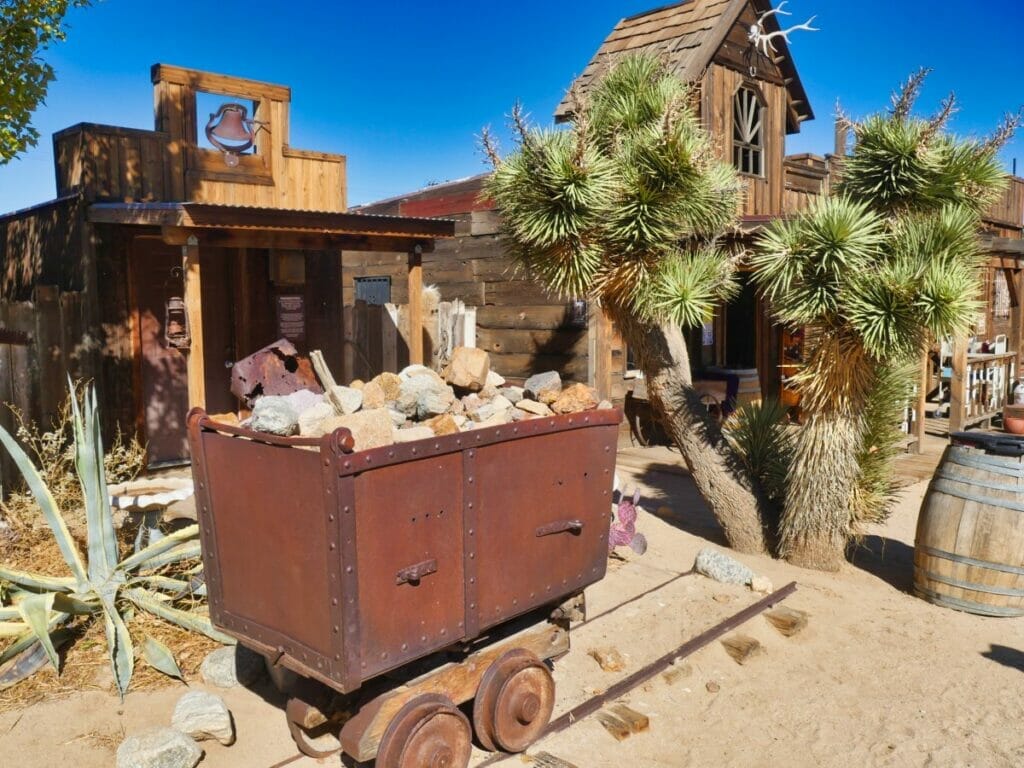 Stop by Chaparrosa Outfiitters to see the beautiful craftwork and check out the Pioneertown General Store with unique treasures and visitor souvenirs from the area.
There are also art studios, The Church in Pioneertown which is a functioning church that offers weekly services, as well as some places to eat which we'll talk about below.
Also on Mane Street are some classic movie facades, which you can't walk through (because they don't really exist past the front), but you can take pictures in front of.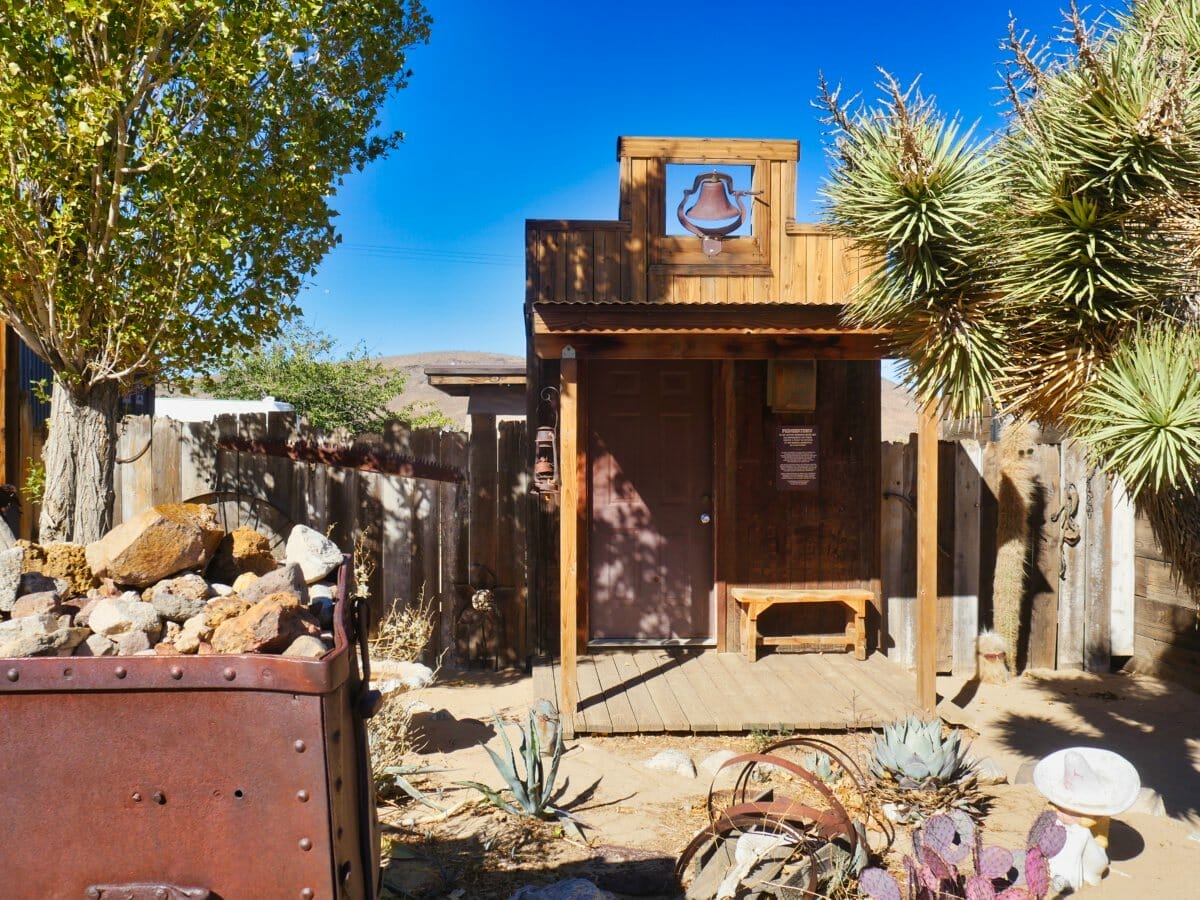 And then there's Pioneertown Post Office, the coolest post office in all of America (in all but temperature).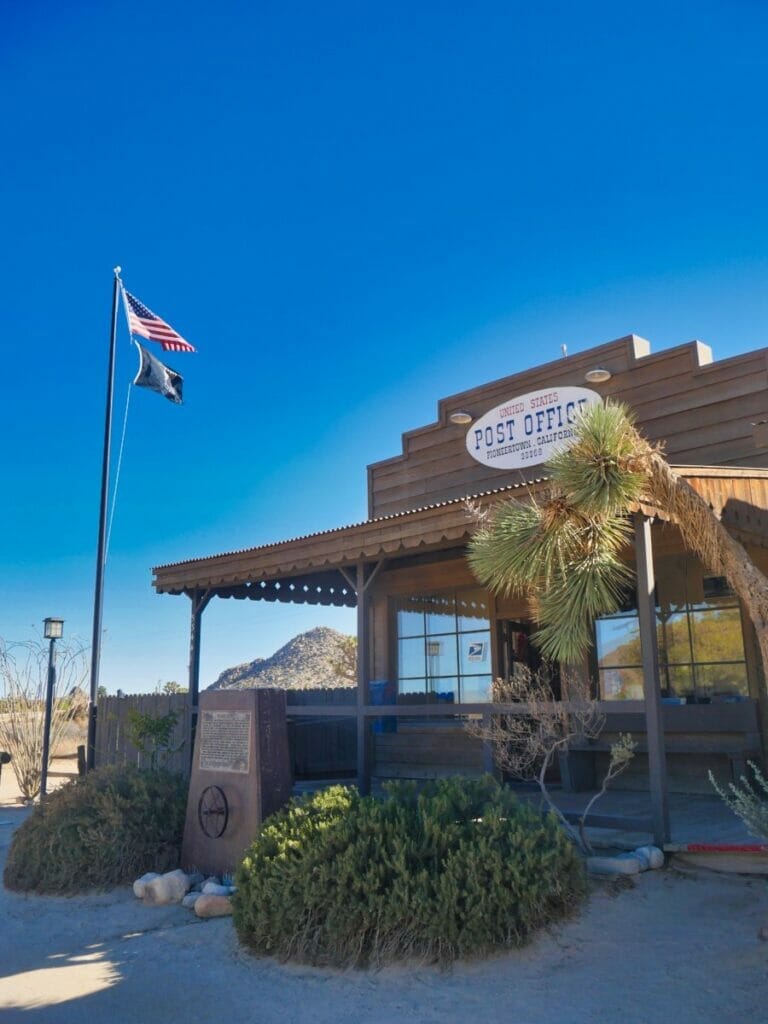 This tiny post office is very much a real USPS location and you can mail a letter or package from Pioneertown!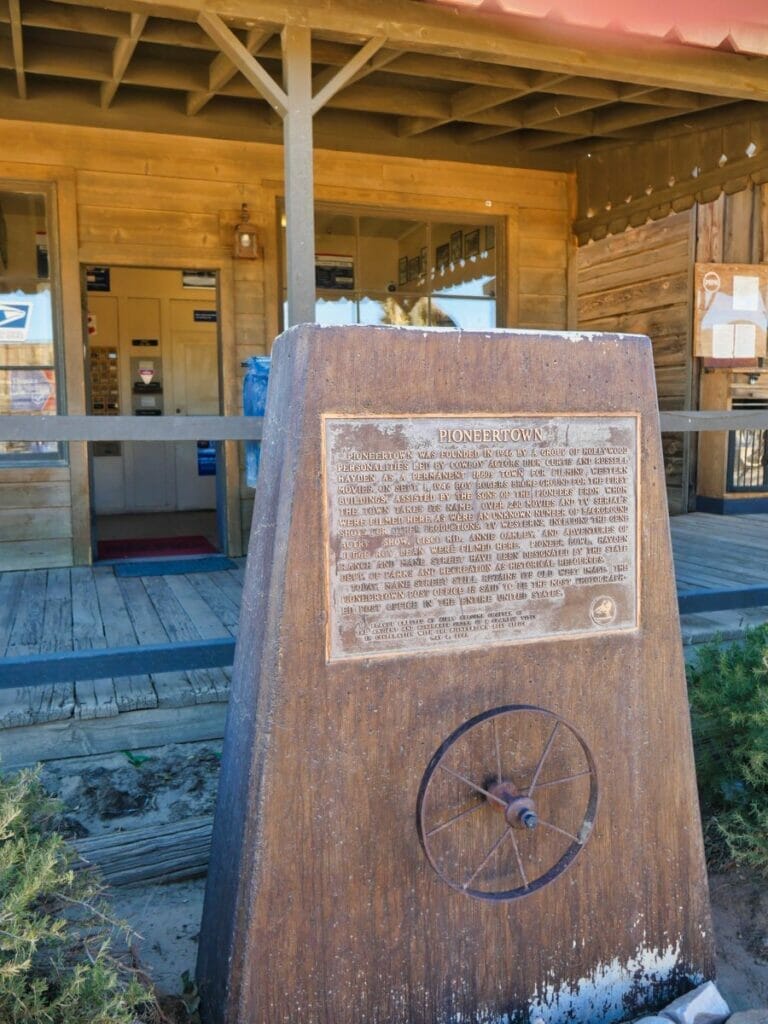 Pioneertown Shops
Pioneertown has a few different shops to choose from, including:
General Mercantile Shop – an art studio and gift shop selling everything from cowboy boots to Pioneertown merch
The Pottery Shop – selling handmade pottery and artwork
The Soap Goat Shop – buy handcraft soaps that smell absolutely amazing, as well as a variety of items made from hand-spun goat wool
The Saddle Shop – a store specializing in saddle work, as well as cowboy accessories and fine leather goods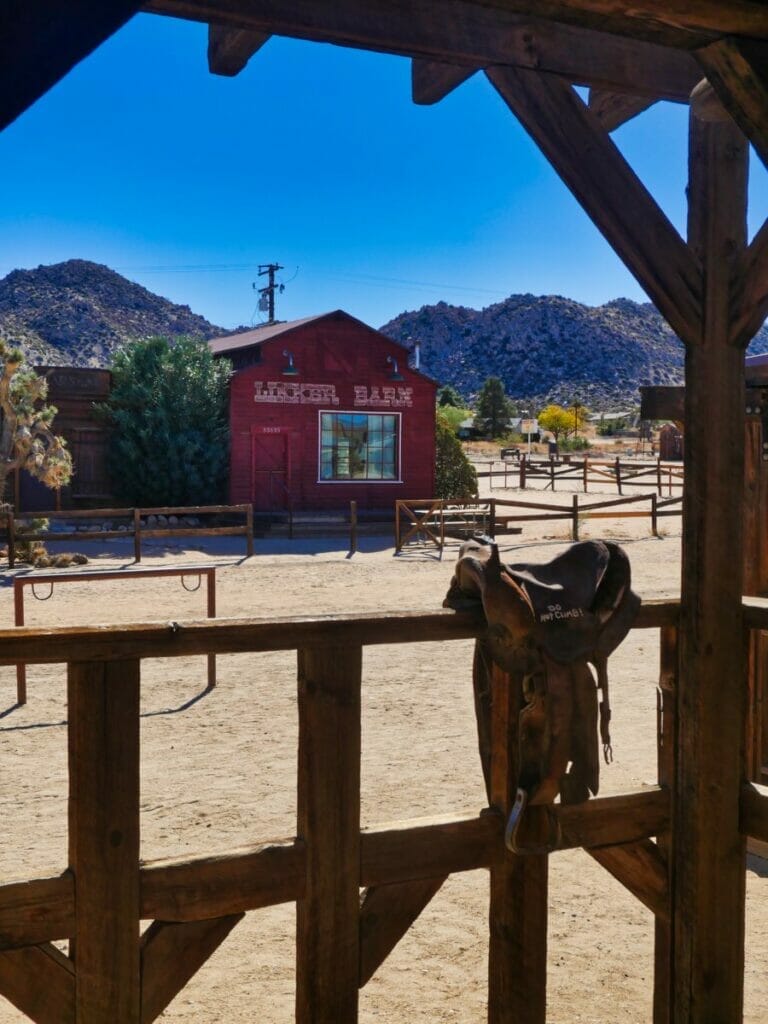 Pioneertown Restaurants
There are two places to get some grub in Pioneertown, and they do have opening hours that change throughout the week so it's always a good idea to get some food in Yucca Valley or bring some snacks as well.
Pappy and Harriet's Pioneertown
There's no better place for BBQ in the desert than Pappy and Harriet's, the only restaurant in Pioneertown.
Stop by for some delicious burgers, ribs, mac and cheese and fries or sing and party the night away during one of their live music nights.
This is a real destination restaurant, casual in looks and atmosphere but iconic in its history and indie vibes.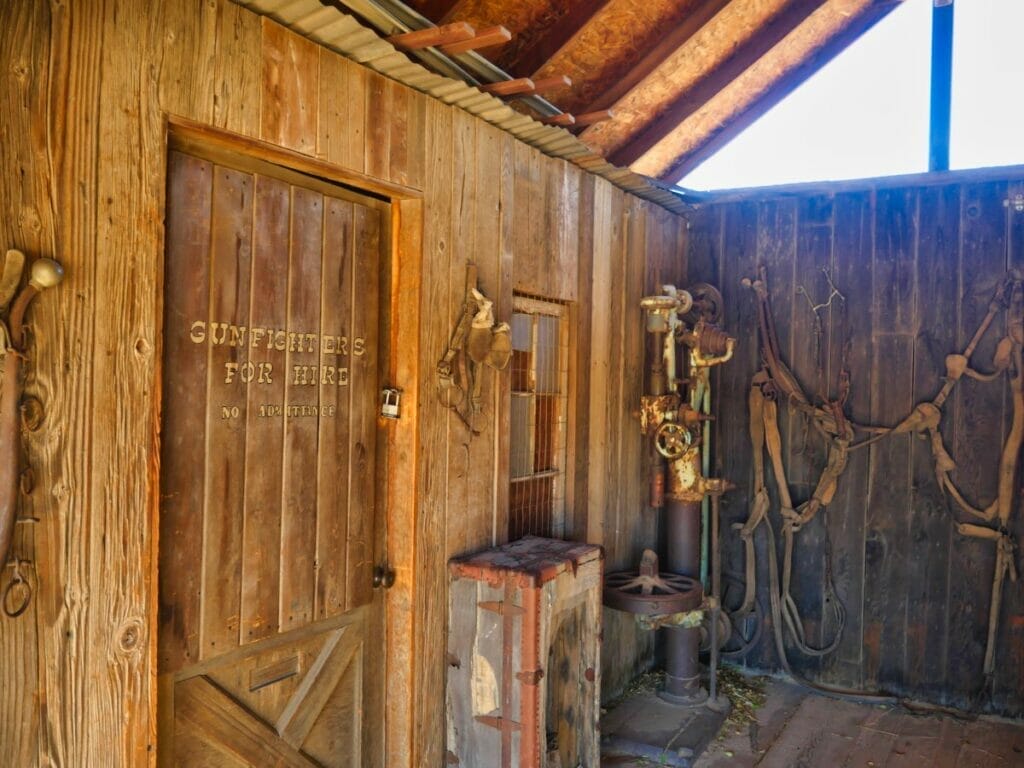 The Red Dog Saloon – the only Pioneertown Bar!
Back in the days of Pioneertown being used frequently for Western movies, the Red Dog Saloon was a favorite among actors and crew members, but today it mostly serves visitors and locals who want to experience its authentic Wild West vibe and delicious corn on the cob.
Choose from a variety of drinks including beer, spirits, and non-alcoholic drinks like coffee and soft drinks.
Where to Stay in Pioneertown
Pioneertown makes it easy to decide where to stay if you want a hotel/motel vibe, because there's one (great) option.
If you're open to an AirBnb type of stay, then there are even more Pioneertown accommodation options.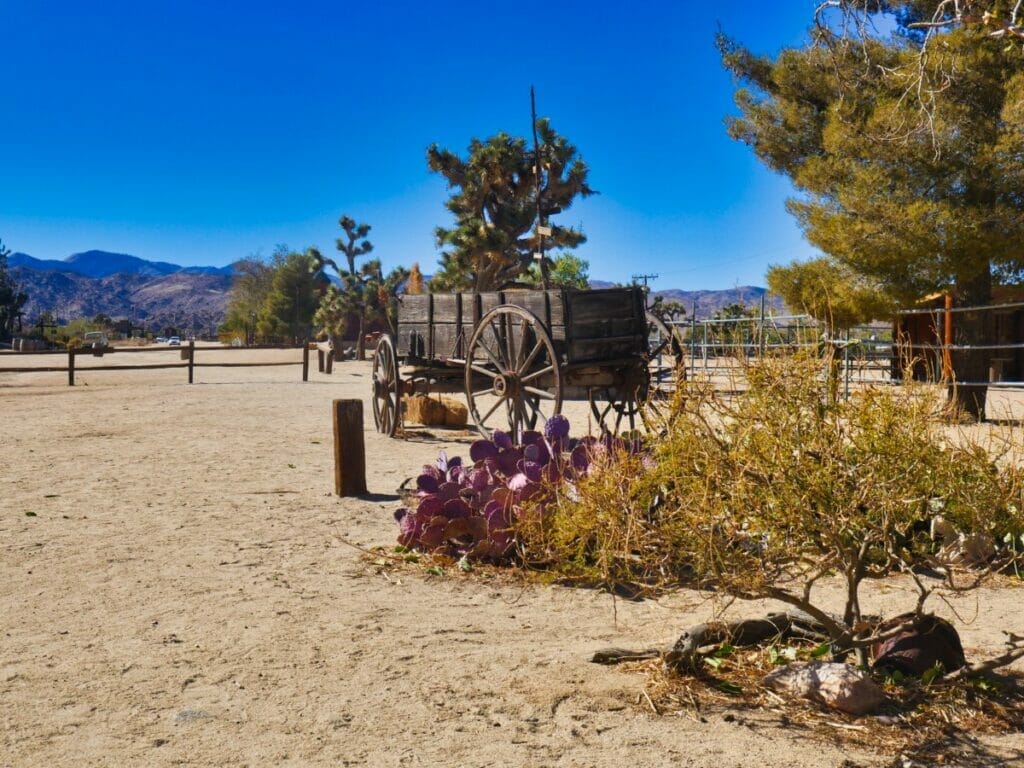 Pioneertown Motel
The Pioneertown Motel is an amazing place to stay in Pioneertown if you want to stay where the stars of the Old Western movies would have stayed and experience the hospitality of the Wild West (as long as you're not an outlaw).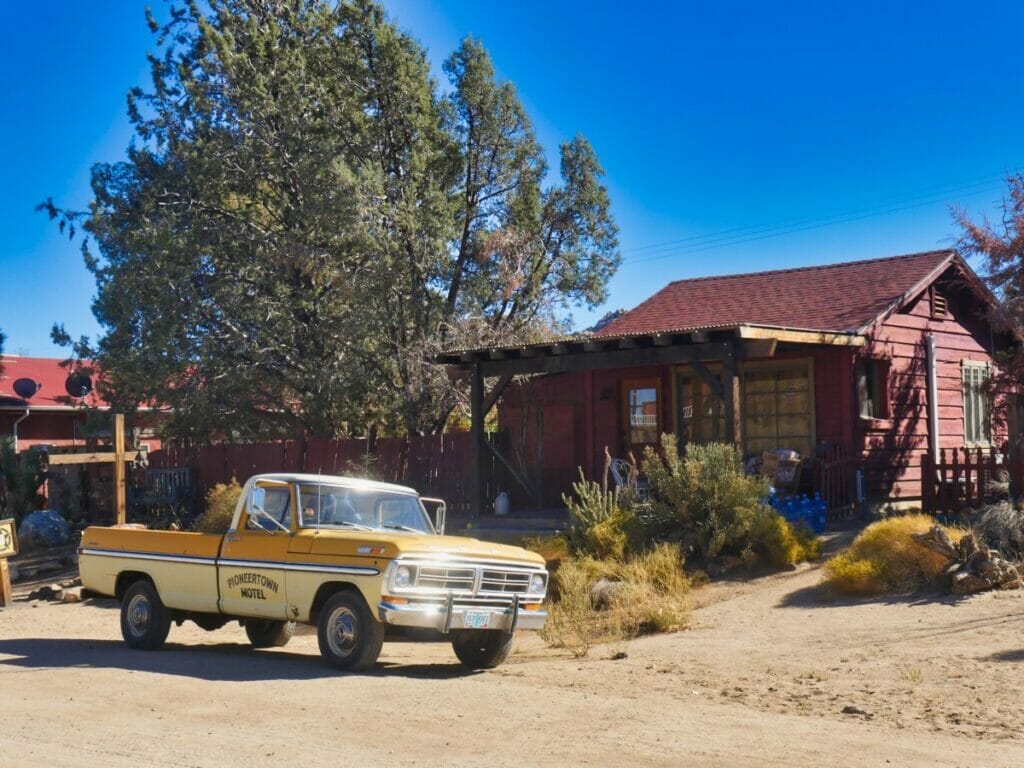 Choose from a variety of wonderfully Western rooms (with a modern twist), including rooms with twin beds, queen beds, king beds, and accessible options for those with mobility issues.
There's a 24 hour lounge, a retail store, event space, and everything you need to have a comfortable stay including camping chairs you can take outside for star gazing and free WiFi.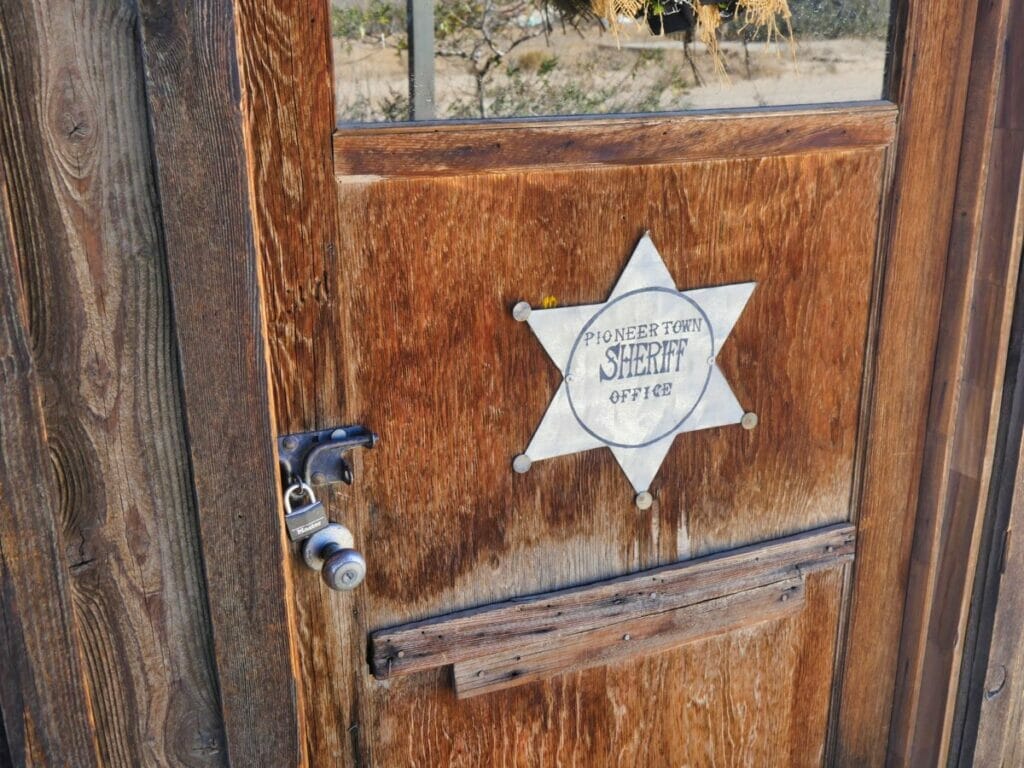 Oh, and don't worry, as with any dessert place that's open year-round, the air-conditioning is strong!
The rooms are rustic in design, but updated in their finishes so feel more like you're staying in an Instagrammable hotel than in a rundown motel from the 1880s.
You can also book their Red Cabin, which is a 2 bedroom cozy cabin that has been recently refurbished (it was meant to be the Land Sale Office in Pioneertown!).
You'll get the whole place to yourself and have absolutely stunning views from the front porch.
Pioneertown AirBnbs
AirBnbs have boomed in Pioneertown, and there are plenty of options when it comes to booking a private room or an entire place to stay.
Here are some of our favorites.
Heaven's Door
This 3-bedroom haven is filled with everything from a private area for hiking to a hot tub to an outdoor shower to hot tubs and a full kitchen as well as outdoor dining areas.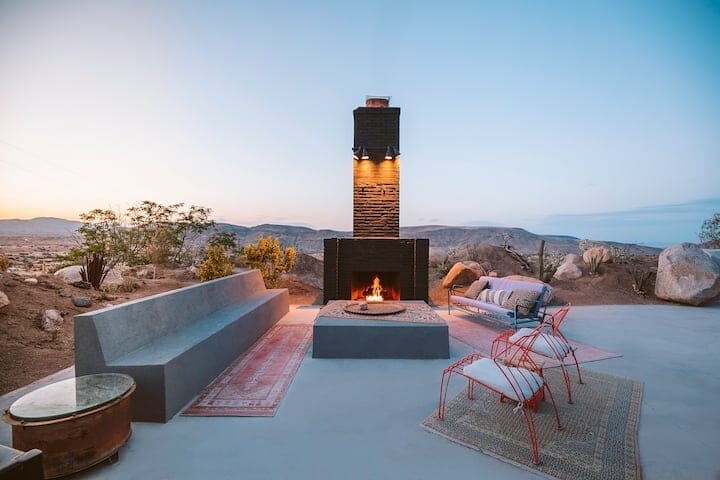 It's basically the ultimate must-do when it comes to luxury in this area and the views are absolutely gorgeous.
Grill those hamburgers while soaking in the night sky and making memories with friends and family.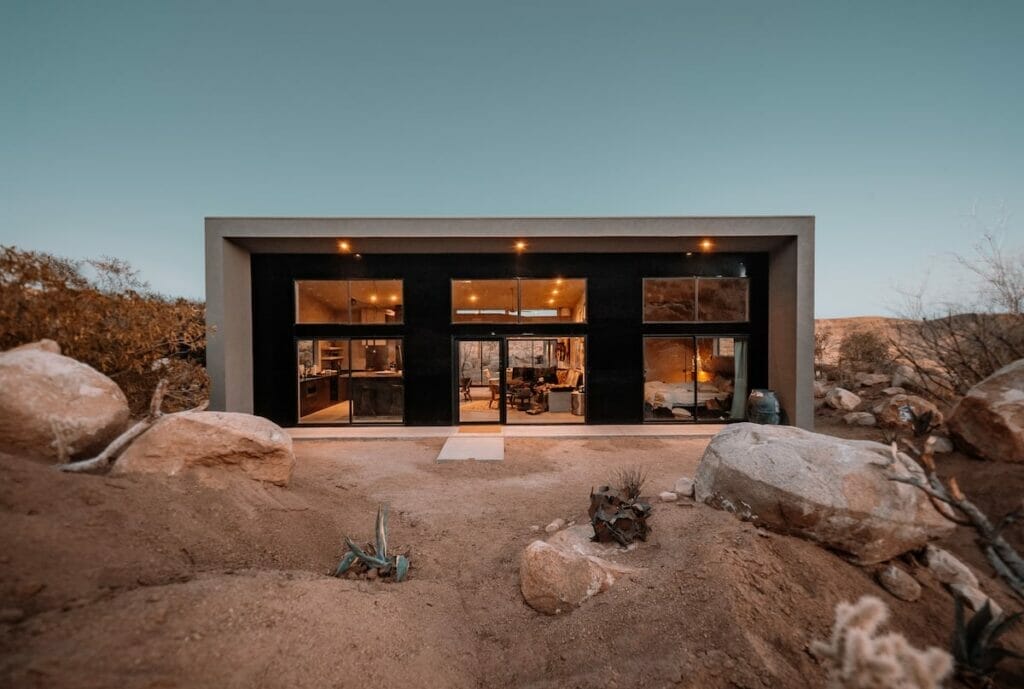 Pioneertown Cabin
This cozy cabin has been lovingly updated and built by a couple who love the feel of their desert retreat.
There's two bedrooms so you can make it a family or friends trip, as well as a beautiful firepit, full amenities like washer/dryer and WiFi and Smart TV, and the outdoor hammocks are a great place to relax.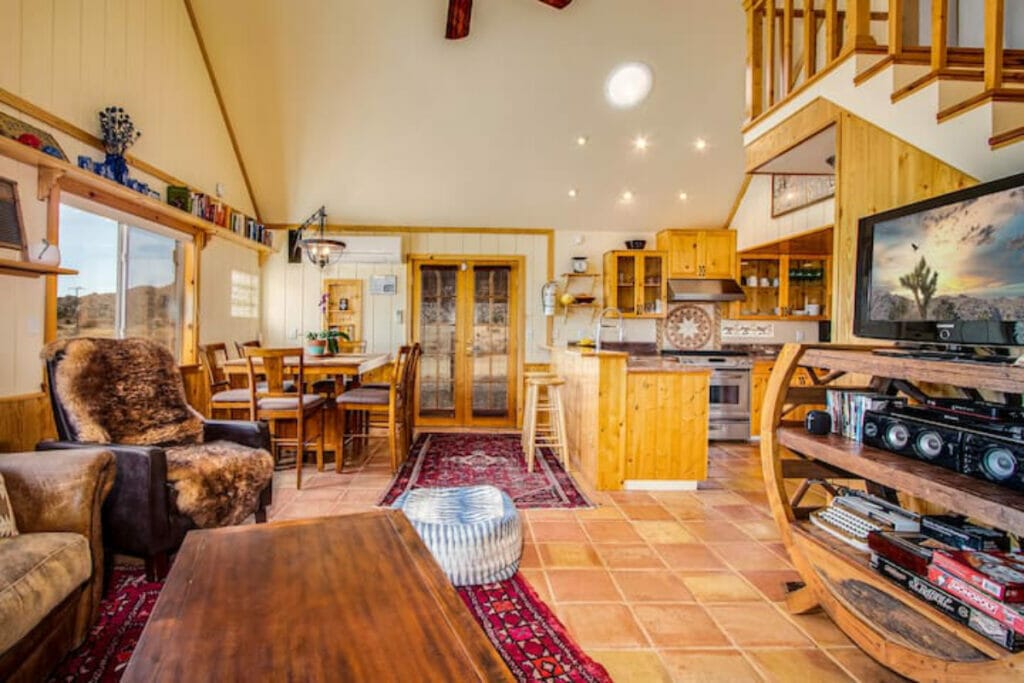 Cozy Camper
If you're looking for something on a budget in Pioneertown, the Cozy Camper is your place. Fitted with a bunk bed to fit 2, as well as an indoor bathroom and a full kitchen, you'll have a great base during your short stay in Pioneertown.
It's walking distance to Mane Street and also has some outdoor areas like a picnic table and propane BBQ.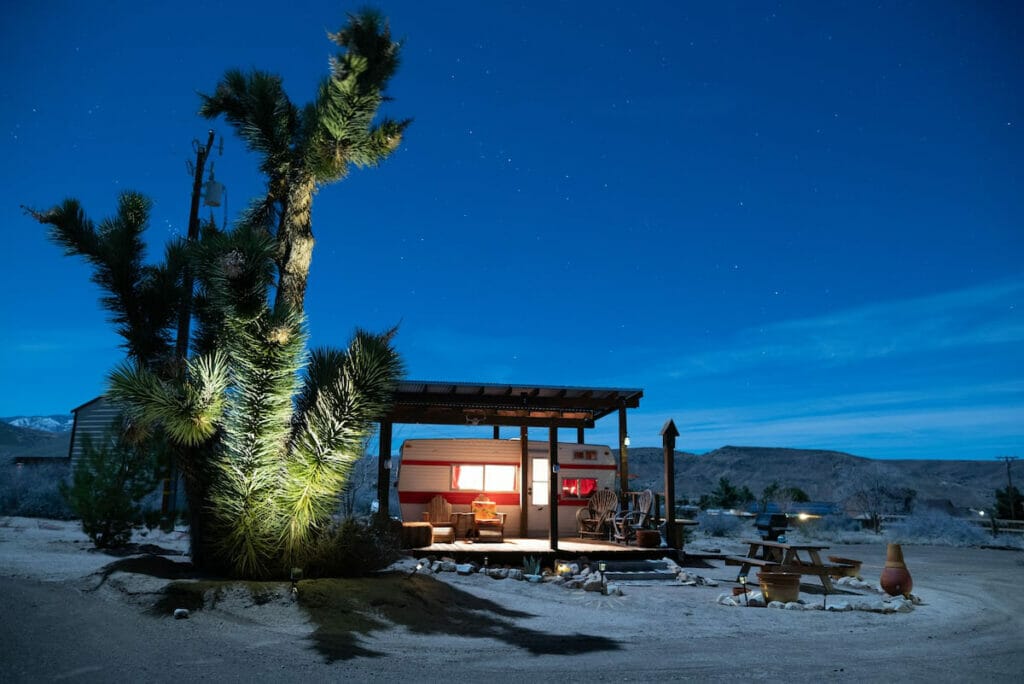 Movies Filmed in Pioneertown
Movies have been filmed in Pioneertown since the 1940s, and it's still used today!
One of the latest movies that used Pioneertown as a set was Ingrid Goes West in 2017.
Back in the day, though, some of the original Western movies and TV shows filmed there are Annie Oakley, The Cisco Kid, and Buffalo Bill, Jr.
Is Pioneertown Worth Visiting?
Absolutely, yes! Pioneertown is one of the best day trips in California, as well as a road trip stop!
Get the All-American Travel Secrets!
Don't miss out on America's hidden gems!