Nicknamed the Ocean State, Rhode Island is packed full of beautiful scenery that can be enjoyed no matter the season.
Boasting a bountiful array of ecological wonders, including lively rivers, stunning beaches, and meadow-spotted forests, this state is a small but mighty place to visit including gorgeous national parks.
This list of the best small towns in Rhode Island contains hidden gems and local favorites.
The perfect destinations for soaking in the gorgeous coastline of the Atlantic Ocean, indulging in deliciously fresh seafood, and taking some time to relax in nature, there are an astonishing number of quaint towns in Rhode Island to explore.
So, pack your bags and get ready to venture through the magnificent landscape and charismatic urban areas that make this state so special.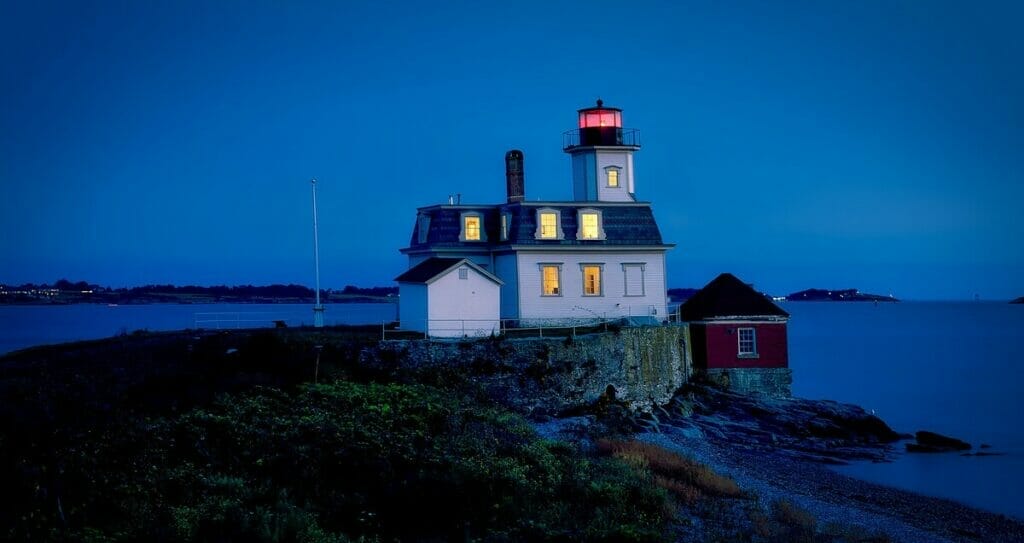 A town that embodies all things New England, Narragansett is known for being a stunning summertime getaway.
Endearingly called 'Gansett' by local residents, it hosts four of the state's most beloved beaches.
This sandy destination may be one of the quaint towns in Rhode Island, but has more than enough coastline for the whole family to enjoy.
Not only is this little town an ocean lover's wonderland, but it is also full of unique architecture and interesting landmarks.
You'll easily get transported back in time by historical sites like The Towers, built in 1883, and the beautiful Point Judith Lighthouse.
Since it's a popular spot for all sorts of tourists, visitors to Narragansett will have no trouble finding every kind of amenity.
2. Westerly: best small towns in Rhode Island to visit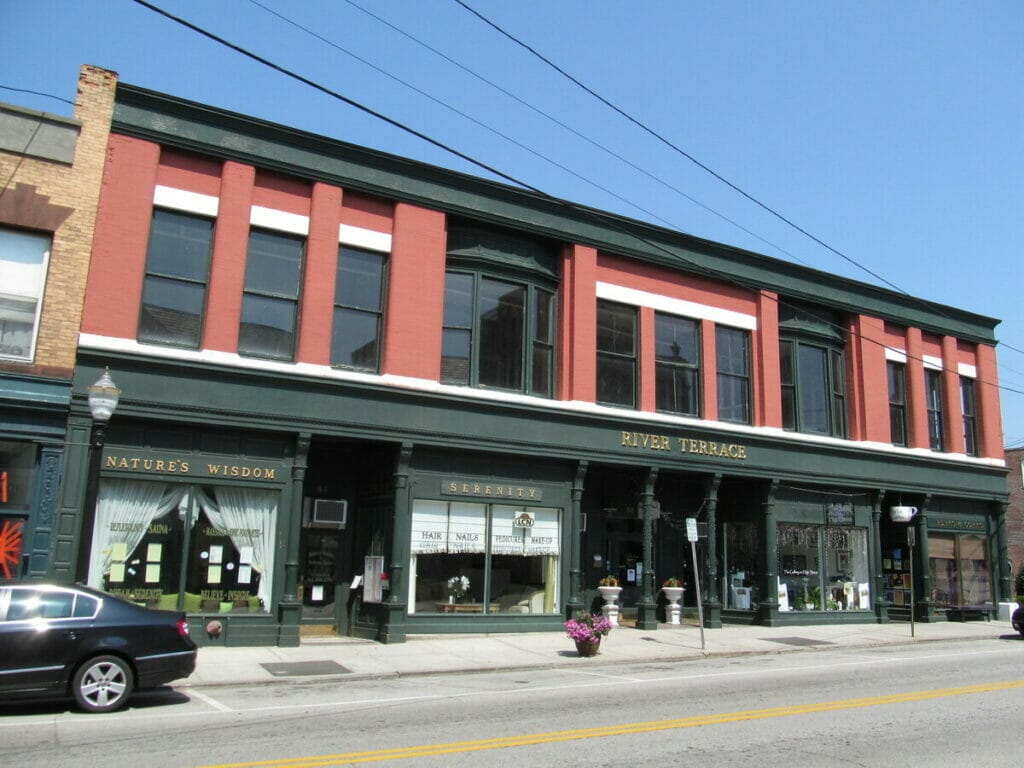 Full of cozy cafes and lovely boutiques, Westerly is another one of the cute towns in Rhode Island.
Located on the southernmost edge of the state, it is an enchanting hidden gem that offers excitement and fun all year round.
With eclectic restaurants, trendy bars, and intriguing shops, all just a short jaunt away from the shoreline, there are endless possibilities for each day you spend here.
If you're visiting in the summer months, hang out at a local cafe and then head to Westerly Town Beach for a day of swimming and spots.
Or, during the fall and winter, check out the abundance of scenic trails and parks.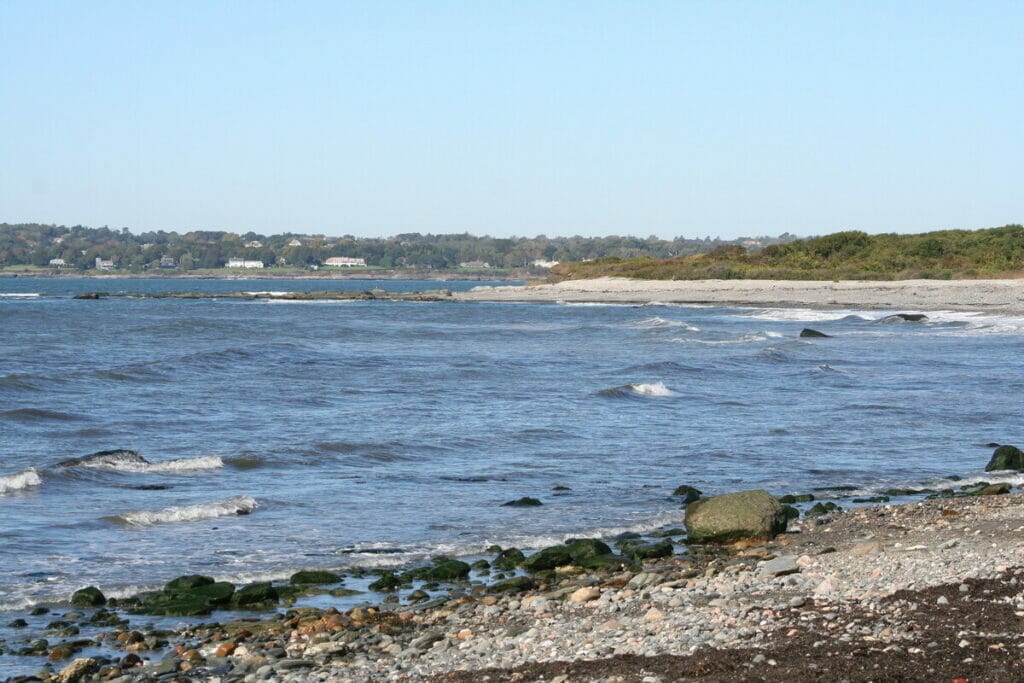 If you're in search of a place to enjoy a laid-back vacation or a relaxing getaway, look no further.
Little Compton is a shoreside town that is nestled between the Atlantic Ocean and the Sakonnet River.
Said by many to be the best small town in Rhode Island to live in, it has a slow-paced and is popular with retirees and families.
With vineyards, beaches, hiking spots, and amazing restaurants, there's something for everyone.
Check out the pristine Simmons Mill Pond or spend the day wandering down the Dundery Brook Trail.
Welcoming during all seasons, why not stay in one of the numerous historical or modernized inns and wake up to gorgeous views of the sea?
4. New Shoreham: cute towns in Rhode Island
Packed to the brim with scenic delights, New Shoreham is a well-kept secret and one of the best little towns in Rhode Island.
Home to the breathtaking Mohegan Bluffs, a cliffside where you can enjoy a scenic hike beside the coast, the historic Southeast Lighthouse, and the 1661 Farm and Gardens, this is a great place to enjoy in summer, spring, or fall.
Though there are approximately just 1,000 permanent residents, around 20,000 visitors flock to this area during peak vacation seasons.
Considering all the adventures you can experience here, this comes as no surprise.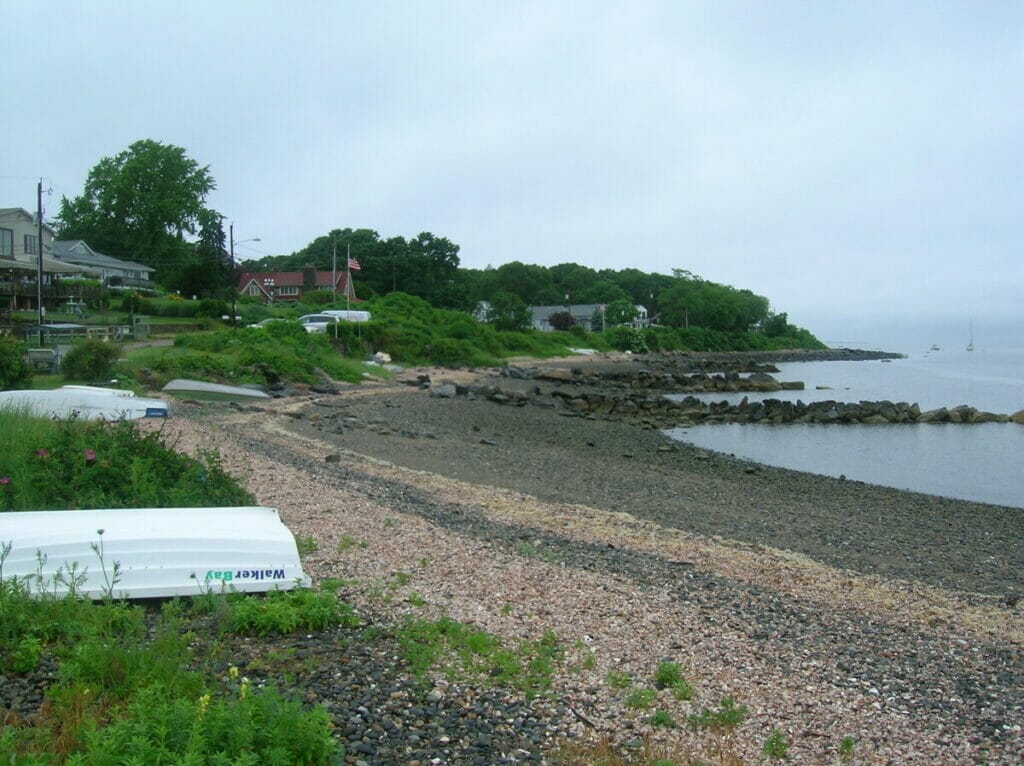 A town with a rich history, North Kingstown was first settled way back in the year 1641. With this in mind, it makes sense that it's full of museums, monuments, and historical buildings that are worth checking out.
Head to the village of Wickford where you can enjoy fresh seafood straight from the harbor.
After you've eaten your fill, you can wander down to the birthplace of Gilbert Stuart, one of the most famous American portraitists, which has since been made into a museum.
If freshly baked goods are up your alley, the Great Harvest Bread Company is a local favorite that makes everything from scratch.
This small town offers a plethora of unique activities and is a place that combines the beautiful Rhode Island landscape with a thriving community of art and culture.
Situated in the middle of Fall River and Aquidneck Island, Tiverton is home to picturesque and pastoral landscapes that includes winding hiking trails, pristine shores, and even wildlife habitats.
Famous for its clam shacks where you can eat delicious seafood, there is no limit to the dining options here.
In Tiverton, you can go fishing and walk along the coast at black-rock Fogland Beach, or you can go learn a thing or two about a certain fluttering critter at the Newport Butterfly Zoo.
You can even go on a Goat Hike at Simmons Farm, where you and your family are able to walk with a friendly goat on a leash.
One of the best small towns in Rhode Island, Hopkinton is a quiet and serene place that is amazing for families.
Perhaps its most attractive quality is the slow and leisurely lifestyle of most residents.
Here you can spend your time destressing by participating in outdoor activities at Wood River or the various ponds around town.
Wind down with an afternoon of fishing, try out kayaking, or hop into a canoe after taking a nature walk through the forest.
There are also loads of local art galleries to peruse if you want to switch it up a bit.
8. Newport: quaint towns in Rhode Island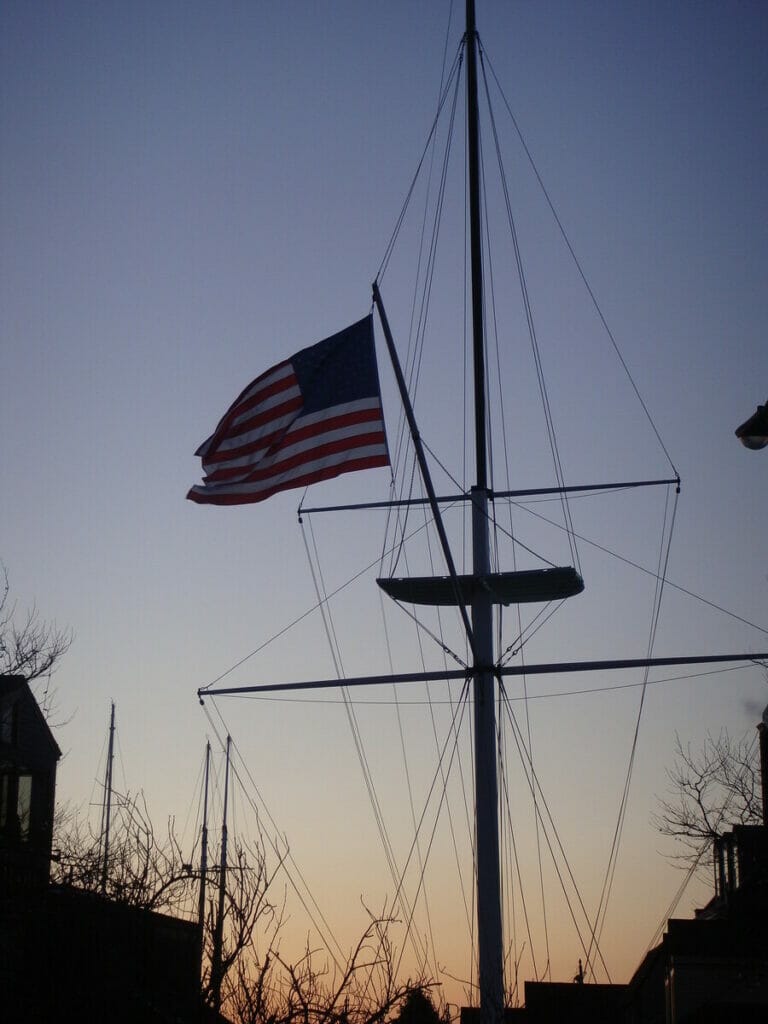 A small town that is on the more bustling side, Newport is a hotspot of lively nightlife, flavorful food, local breweries, and vibrant waterfronts.
In addition to all these trendy attractions, visitors can also enjoy the scenic coastline and beaches that are synonymous with Rhode Island.
Newport is a municipality where you can walk along the ocean on a Cliff Walk in the morning, visit the historical Newport Mansions during the afternoon, and top off the night by relishing in a five-star meal.
With a surplus of ornate architectural buildings, like the Rosecliff museum, The Breakers mansion, and the Marble House mansion, Newport is the epitome of New England.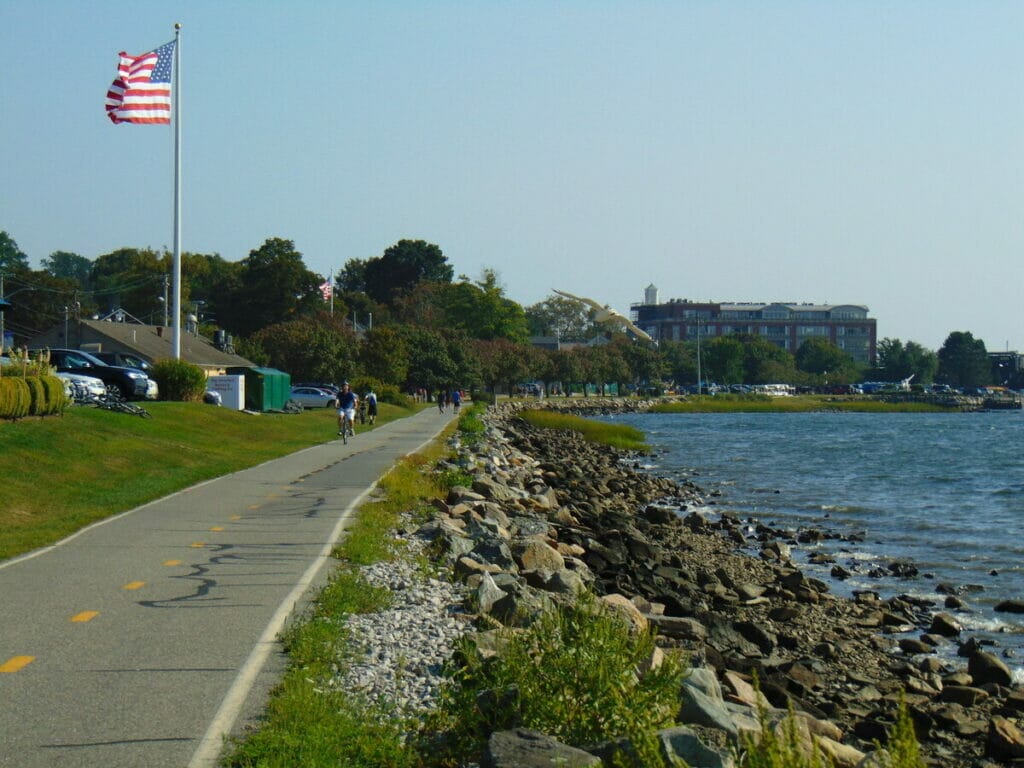 Famous for its beautiful waterfront views, Bristol is a charming Rhode Island town that was named after an English city.
The marvelous parks laced throughout the city are perfect for a summertime picnic after a ride around the East Bay Bike Path, and it is known as one of the most patriotic towns in the country.
With tonnes of historical buildings and sites, art galleries, and independent boutiques, Bristol is a buzzing town that contributes to the boat building, manufacturing, and other marine-related industries.
Take in the clean ocean air down at a harbor-side restaurant and watch the boats sailing across the horizon.
10. South Kingstown: charming towns in Rhode Island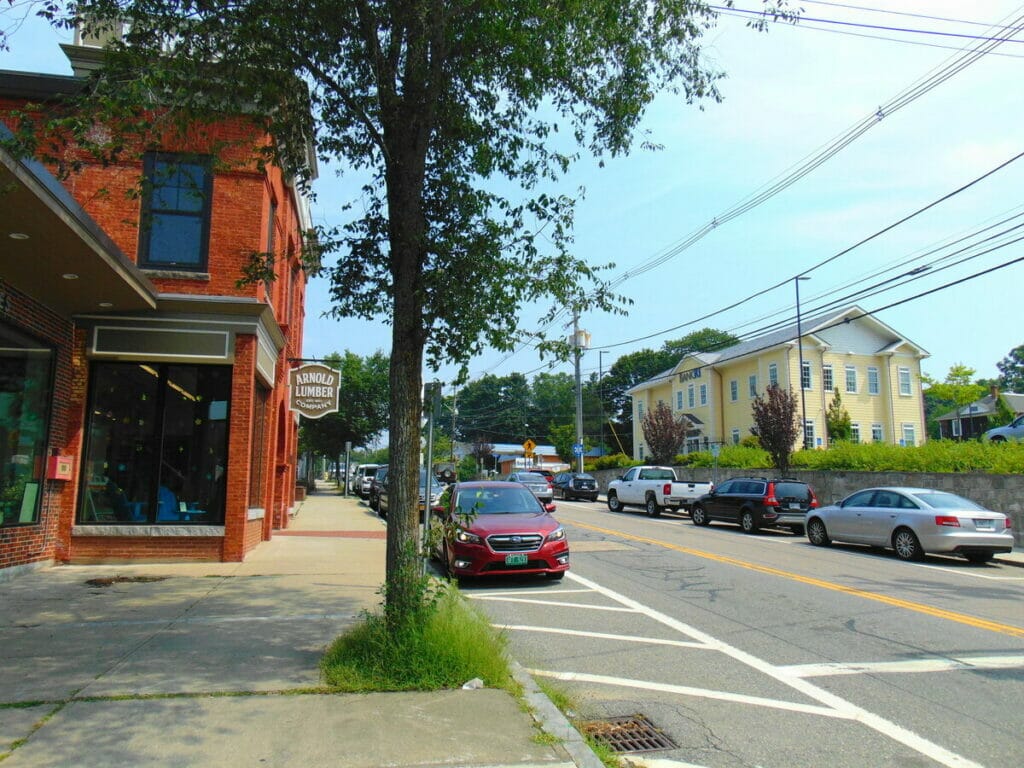 The counterpart to North Kingstown, South Kingstown has retained many of its delightful villages from back in the day.
Considered to be one of the best small towns to lay out at the beach, this town is also a hub of the arts.
If you're traveling with family, Town Beach is the place to be.
Fully facilitate and outfitted with multiple picnic areas, shower and changing rooms, and even a playground, your little ones are sure to make some everlasting memories here.
The area that South Kingstown is situated in is known for producing fresh and delicious oysters.
You don't have to look far to find a beachside patio that serves this local treat.
Middletown is a small town with a great reputation.
The coastline of this area has been weathered by strong waves for so long that spectacular sculptures of rock have formed.
If the site of the unique shore is not breathtaking enough, a visit to the Prescott Farm is another way to get some fresh air with some added education at the same time.
When you've hit your daily quota of outdoor activity, you can head into the town streets to try out some local cuisine and do some shopping at the numerous bars, restaurants, and independent stores.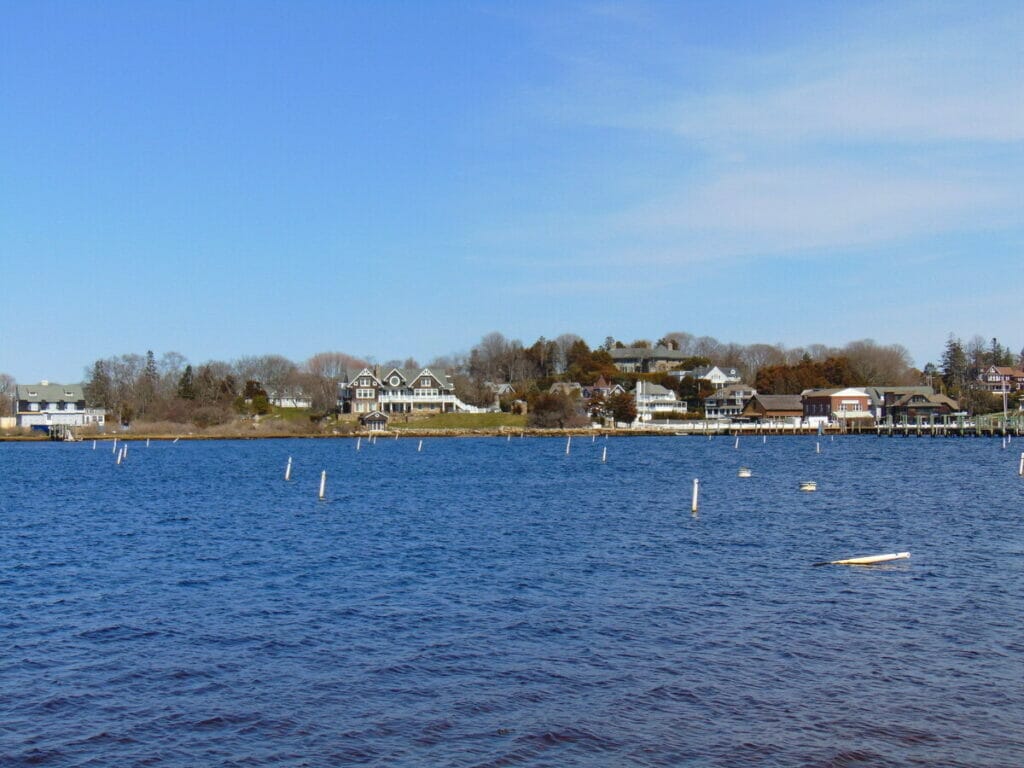 Watch Hill is a favorite destination of Rhode Island locals.
A tiny village nestled in the larger town of Westerly, Watch Hill is home to unique neighborhoods that are loved by tourists and residents alike.
With gorgeous hotels dotted along the seaside, this is definitely one of the most affluent areas in the state.
Beautiful views can be found at every turn, and it is known for the exhilarating Fourth of July parties that take place each year.
If you get tired of lounging at the beach, Napatree Point offers scenic hiking trails that are suitable for fitness lovers and birdwatchers.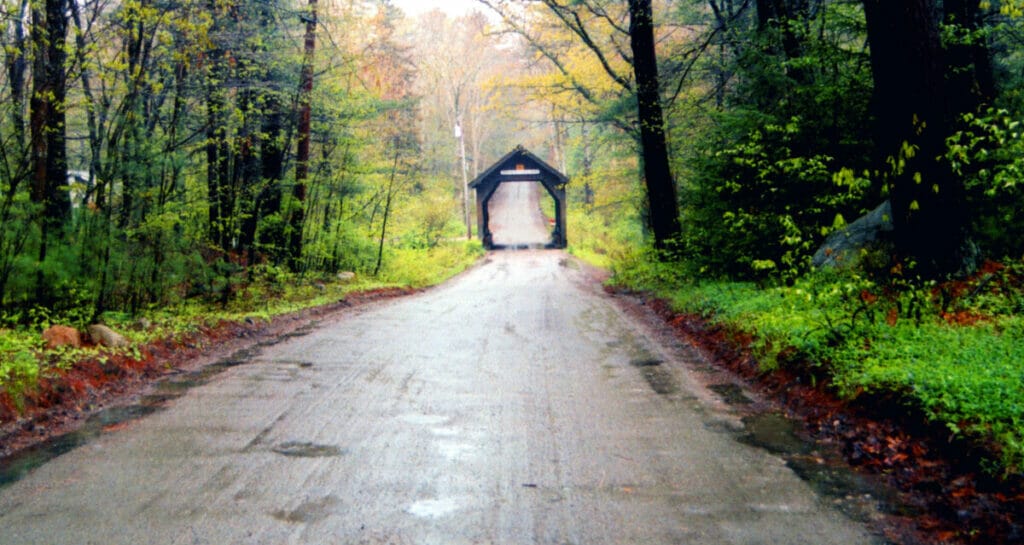 Having earned a reputation as a place full of friendliness, fresh air, and farm animals, Foster is a small town that has a rural feel.
With less than 5,000 residents, this is a great location for a relaxing vacation in the quiet countryside.
Though it may be quiet, you won't be lacking in things to do here.
Visit the Nickle Creek Vineyard to purchase some locally made natural wines or try a wine tasting.
Or, if you're looking to soak in the forest air, take a hike up the trails of Jerimoth Hill.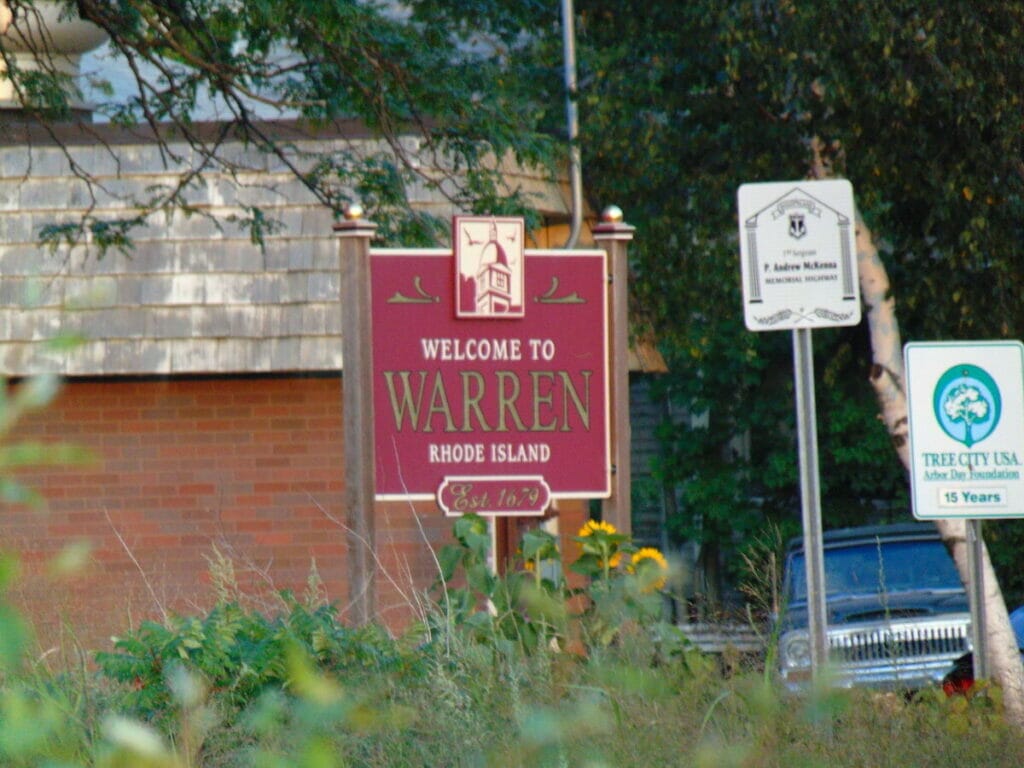 This calm spot in East Rhode Island is a delightful destination to visit during any month of the year.
With a large number of local boutiques, galleries, art exhibitions, top-tier restaurants, and walking or biking trails, Warren is a well-rounded town to enjoy the seaside in.
This little town is one of the oldest in the entire state.
Once a busy waterfront full of workers, it has since developed into an art-focused community that prides itself on its independent stores, services, and goods.
Here, you can indulge in local culture at one of the distinct galleries, as well as ride your bike along the East Bay Bike Path while taking in scenes of the ocean and farmland.
15. East Greenwich: small towns or cities in Rhode Island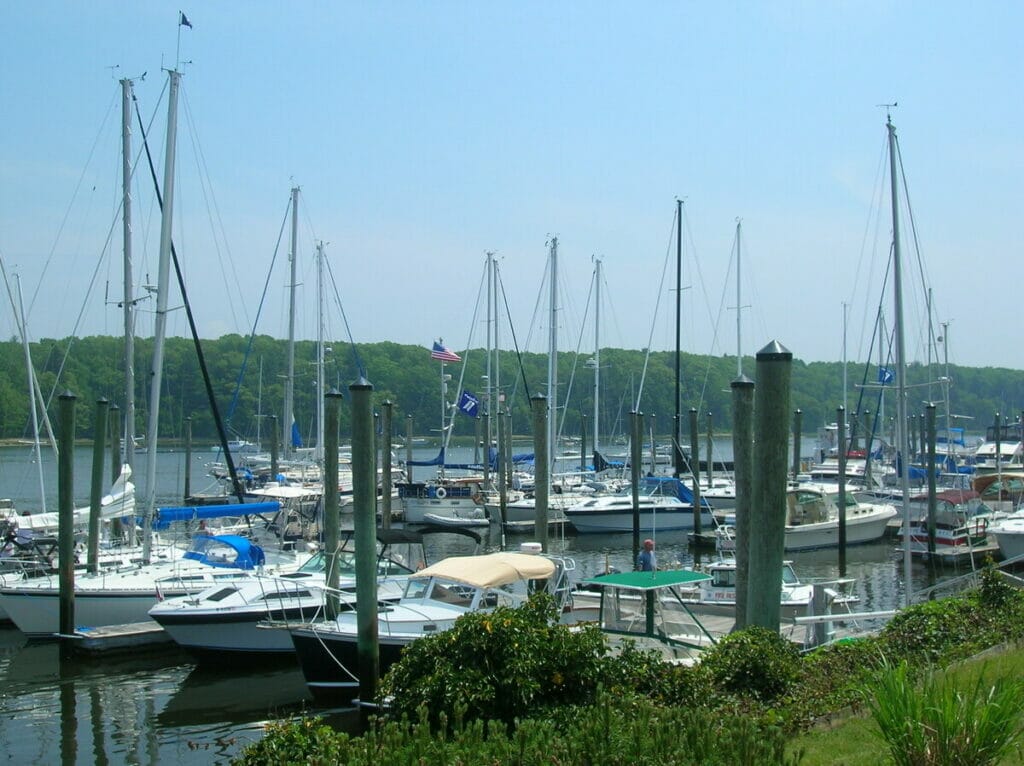 East Greenwich is the most well-to-do town in Rhode Island.
Regarded as one of the best places to live in the state, it is said to have a calm and suburban feel.
Located in the middle of the state, East Greenwich has an adorable Main Street area that is perfect for taking a stroll down.
With lots of unique and highly-rated dining options, it's easy to try out the local specialties and fusion cuisine.
Pair a great meal with some amazing shopping at an array of vintage or artisan stores and you have yourself an ideal afternoon plan.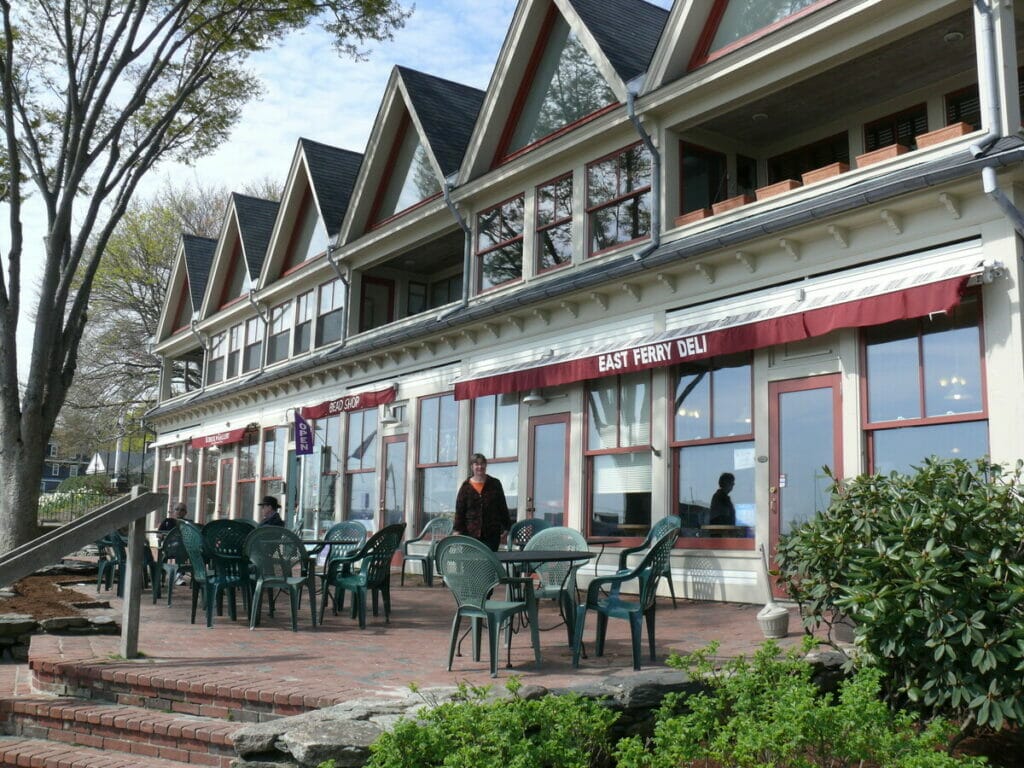 A true hidden gem, Jamestown is a municipality that has history at its core.
The stunning architecture here has been wonderfully preserved, some of it dating back to the 1700s.
Additionally, there are a plethora of other historic sites and significant landmarks, such as the Beavertail Light, a famous lighthouse, the Claiborne Pell Newport Bridge, and the New England Watson Farm.
Spotted with museums, galleries, and lovely parks, Jamestown has numerous multi-use spaces for outdoor recreation and family activities.
Once a coastal defense area, Fort Wetherill State Park is now a public park that has been developed into a spot where visitors can participate in scuba diving, fishing, boating, and hiking at all times of the year.
17. Warwick: Rhode Island small towns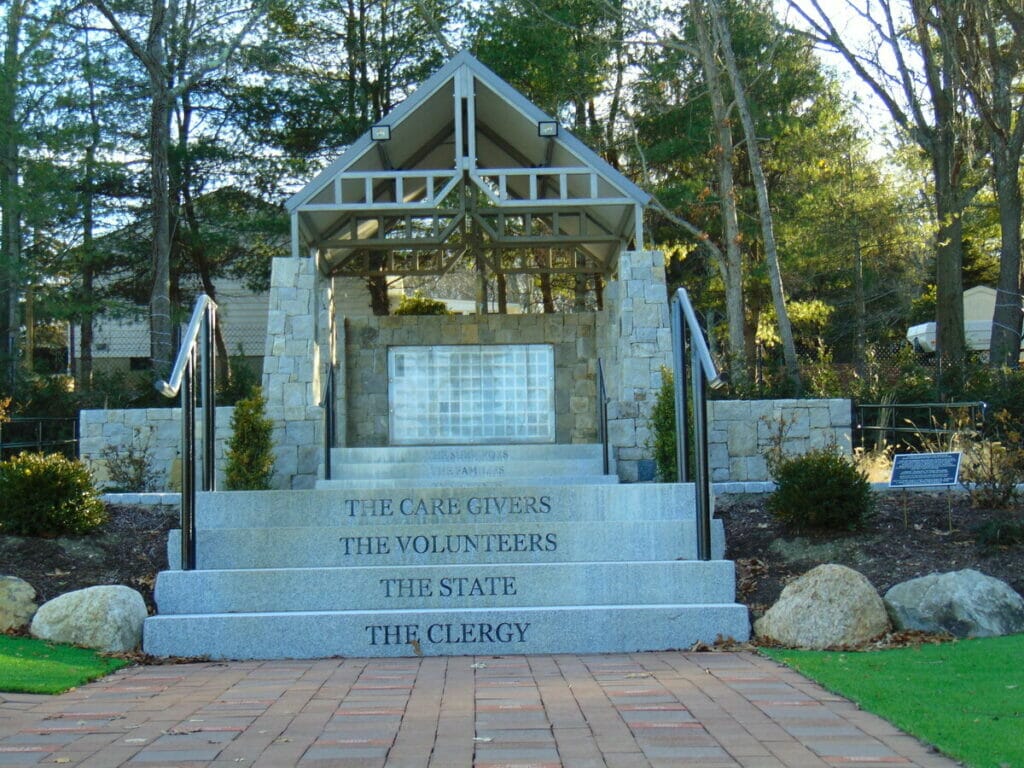 Just outside of Providence, Warwick is known as Rhode Island's shopping capital.
Here you can find numerous large malls, independent shopping districts, and boutiques.
If shopping isn't really your thing, Warwick also offers all sorts of outdoor activities and scenery.
Take a trip over to one of the large golf courses, coast along a bike trail, or get some fresh air at Rocky Point Park.
Many of the parks here have beautiful paths through the woods or along the water, and at some of them, you can fish at accessible piers.
With more than 35 miles of coastline, this little town also has bountiful bays, seasonal festivals on the shore, and multiple beaches to lounge around on.
Hey! Want more ideas on the best small towns in the USA? Check these out!
Pin for Later!
Get the All-American Travel Secrets!
Don't miss out on America's hidden gems!