Located in the north east corner of the United States, the state of Maine is famous for giving us the entertaining works of Stephen King, the calming walks of Acadia National Park and the delicious flavor of blueberries – being the only state to commercially grow them.
In Maine, you'll spot magnificent whales and puffins – unique to this part of the US.
Even the name Maine stands out by being the only one-syllable state.
The capital, Augusta, is brimming with interesting historical sites, but the best small towns in Maine offer an exciting insight into this vibrant part of the world.
Read on as we journey through the easternmost part of the US to discover the most charming towns Maine has to offer.
You won't want to miss this!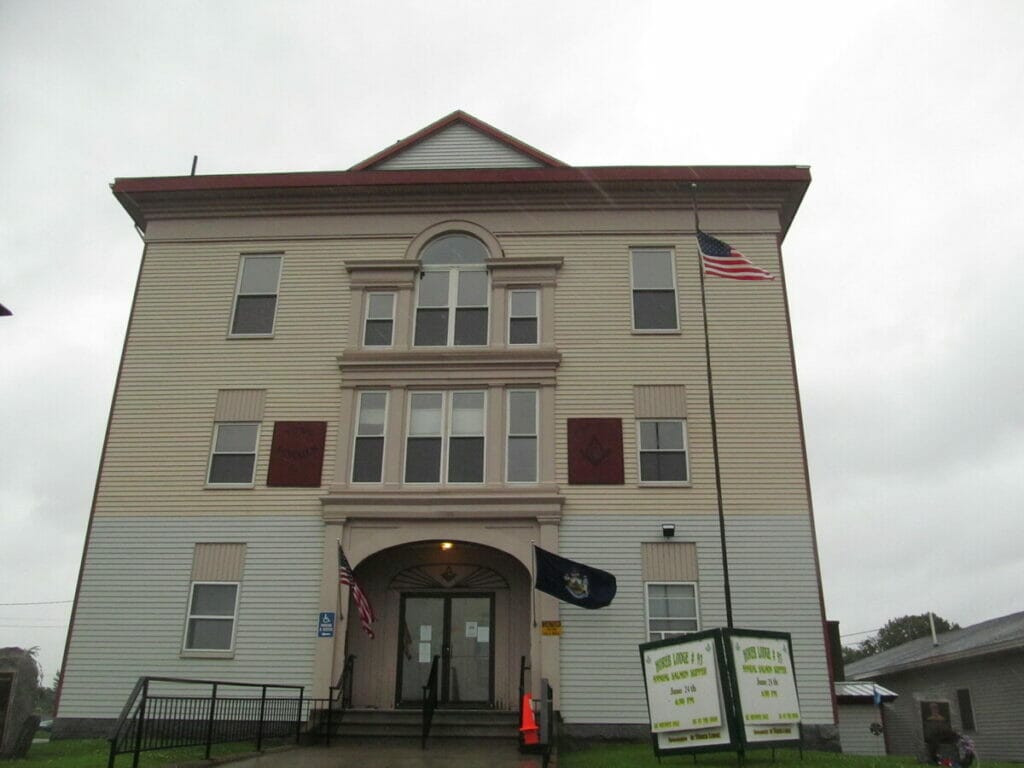 Established in 1829, the town of Lincoln developed around a sawmill on the waterfront. Today, it is home to nearly 5,000 people, as well as welcoming hundreds of tourists each year.
Lincoln boasts Jato Highlands Golf Course, an 18-hole course overlooking beautiful blue waters. It's a perfect spot to spend the day.
The town has many ponds and lakes, including Crooked Pond, Folsom Pond and Upper Long Pond, which look amazing whatever the weather.
Having such a vast water system means that Lincoln is perfect for canoeing and swimming, while the cold snowy winters provide the chance to drive a snowmobile – a unique and fun way to travel.
Keep an eye out for moose, who live within the forests of Lincoln.
Don't forget your camera in case of a sighting!
2. Rockland: best small towns in Maine to visit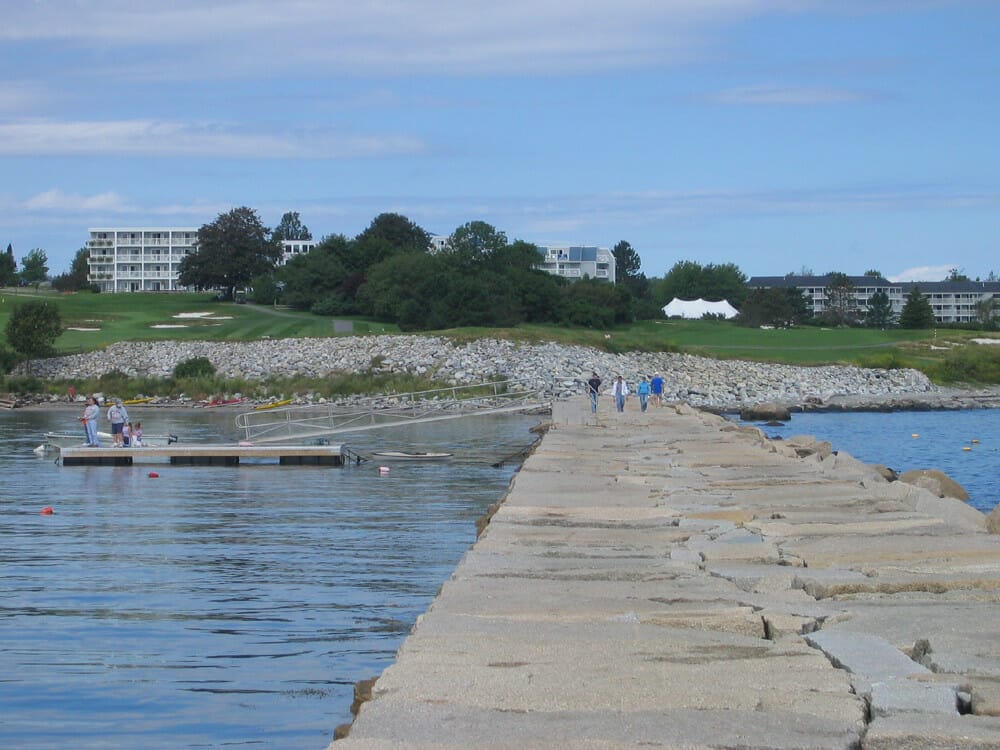 Of all the cute towns in Maine, Rockland stands out from the crowd.
You can take a step out to sea without getting your feet wet by booking a tour of the Rockland Breakwater Lighthouse.
You'll even spot seals from time-to-time as you look across the harbor.
Who in your traveling party will be the first to see one?
After an insightful trip to the lighthouse, visitors to Rockland can enjoy the many art galleries on offer.
Art-lovers will be enthralled by the Farnsworth Art Museum and the Center for Maine Contemporary Art, both rich with cultural assets.
It's safe to say that Maine is the perfect state for those looking to get away from the hustle and bustle.
The quaint towns of Maine offer a chance to relax, find peace and leave the challenges of city life behind.
In the tiny town of Jefferson, you'll find the ultimate retreat – Damariscotta Lake State Park.
It's the perfect picnic spot.
Fancy a dip in the water?
You'll love the golden sandy beaches that Jefferson has to offer.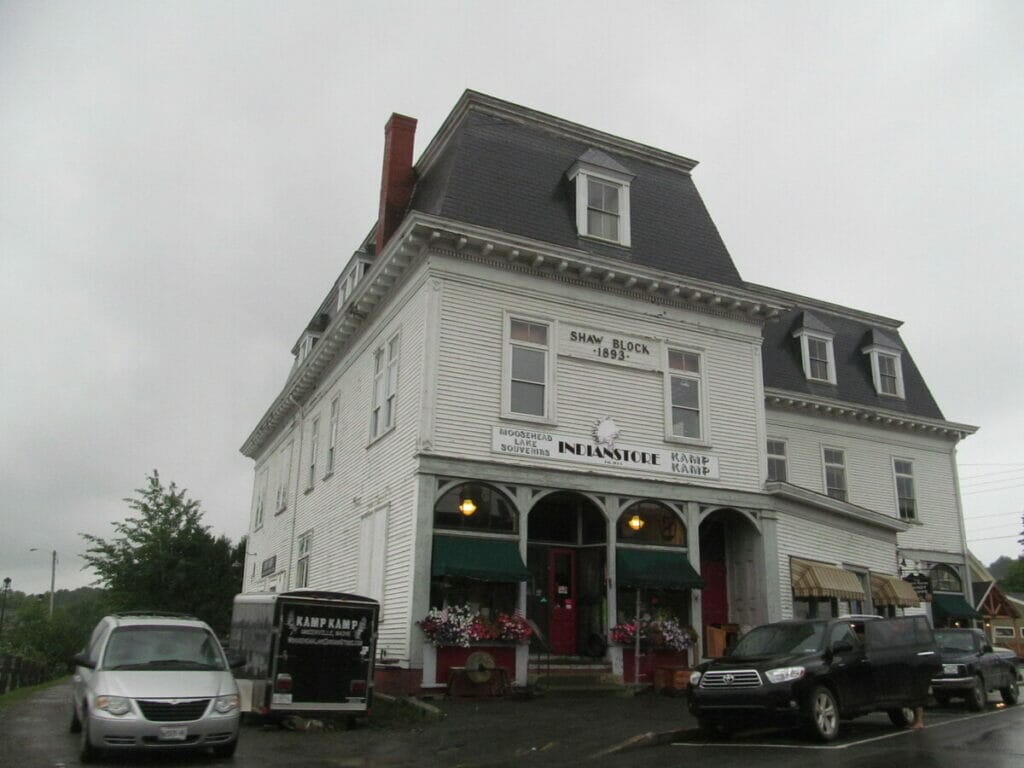 Greenville is a fantastic destination for nature-lovers and sport-enthusiasts alike.
If you're looking for the largest lake in Maine, look no further.
Moosehead Lake is worth a visit, offering walking and rowing opportunities.
This wildlife-rich lake is home to more than 80 tiny islands, each with their own distinct ecosystem and friendly residents.
The Steamboat Katahdin tours are your chance to navigate this outstanding collection of islands.
It's a truly spectacular experience.
Marvel at the sights and wildlife as you're guided around this picturesque lake.
5. Camden: charming towns in Maine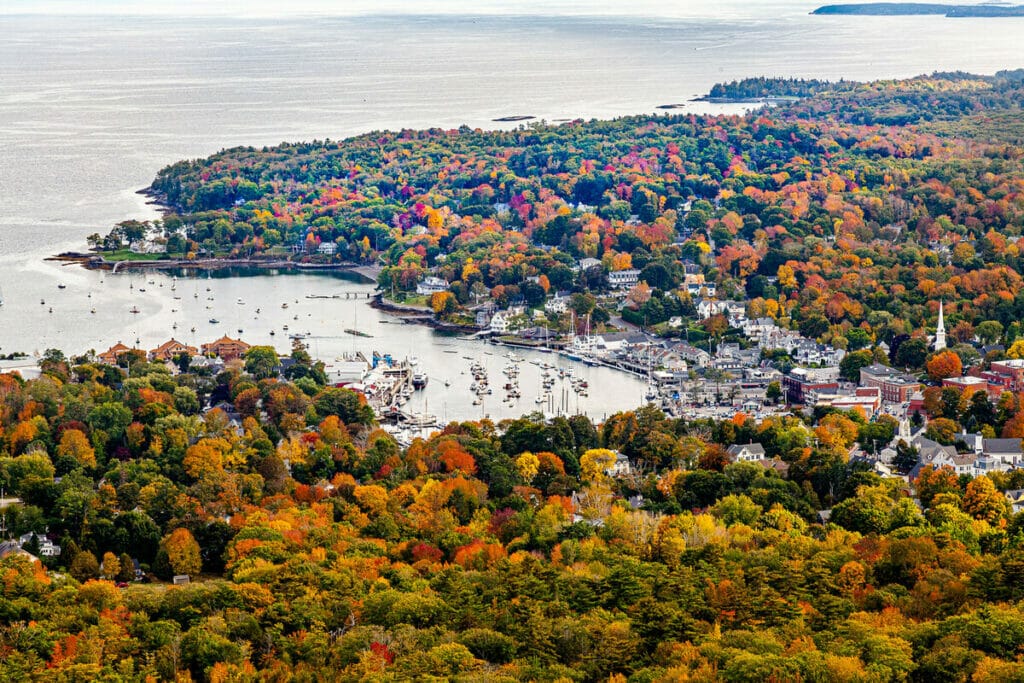 Camden is known by Mainers as the 'Jewel of the Maine Coast', and for good reason.
Alongside beautiful harbor views that need to be seen to be believed, Camden offers shopping districts and museums – perfect for shoppers and history-buffs alike.
Camden's local talent put on Shakespeare plays throughout the year – and the cultural impact of the town doesn't end there.
Multiple films have been made in Camden over the years from Carousel to Casper.
It's no wonder that the population triples in the summer as tourists flock to see this perfect all-American town.

One of the best little towns in Maine is York.
After just one day experiencing its tranquility, you'll understand why writer Mark Twain lived there during the summer months.
It's a still place, offering productivity to those who need it.
York has a lot to offer its visitors, from surfing opportunities to hiking routes around Mount Agamenticus.
Food-lovers will adore the culinary treats on offer, with everything from burgers to ice cream available in this cultural hotspot.
Castine sits at the south of Maine in Hancock County.
It's one of the oldest settlements in Maine, having been founded in 1613, and offers tourists the chance to step back in time.
Given its age, Castine offers many historical points of interest, including Fort Madison – an old fort which promises fantastic views of the waterfront.
Steeped in history, it's no surprise that Castine is one of the best small towns in Maine.

Boothbay Harbor, known to the indigenous Abenaki peoples of the town as Winnegance, is a gorgeous town on the edge of Lincoln County.
After sitting with a bite to eat and watching the boats come into the harbor, you'll find lots of cultural activities to enjoy.
The Opera House is a quintessential American building, hosting regular opera performances that shouldn't be missed.
The nearby Carousel Music Theatre performs songs from the Great American Songbook of the 1940s-1970s – perfect for older members of your traveling group.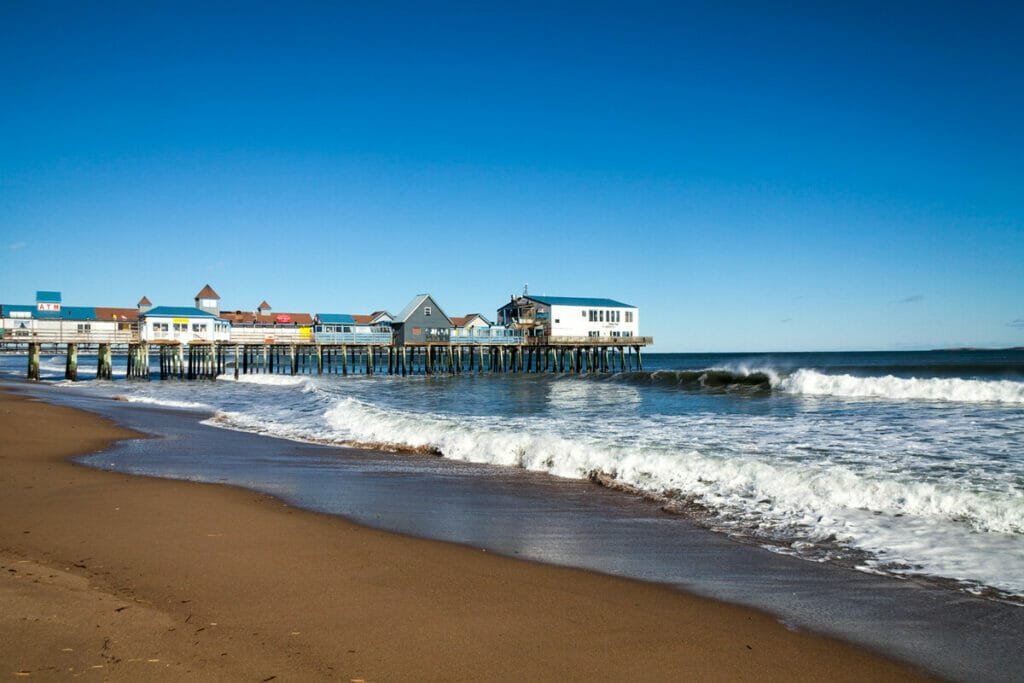 The charming Old Orchard Beach is perhaps the best seaside town Maine has to offer.
Located on the inner side of Saco Bay, this lively town is filled to the brim with quirky souvenir shops – ideal for finding keepsakes to take back home.
What makes these stores so unique?
Old Orchard Beach's shops and restaurants sit along a wooden pier that dates back to 1898.
There really is no other experience like it.
As a classic seaside town, you can expect to find amusement parks, roller coasters, carnival games, an old-fashioned carousel and a ferris wheel – enough to keep the whole family entertained.
Strolling along the 7-mile beach, you'll take in the sights and sounds while meeting the many interesting people who call Old Orchard Beach home.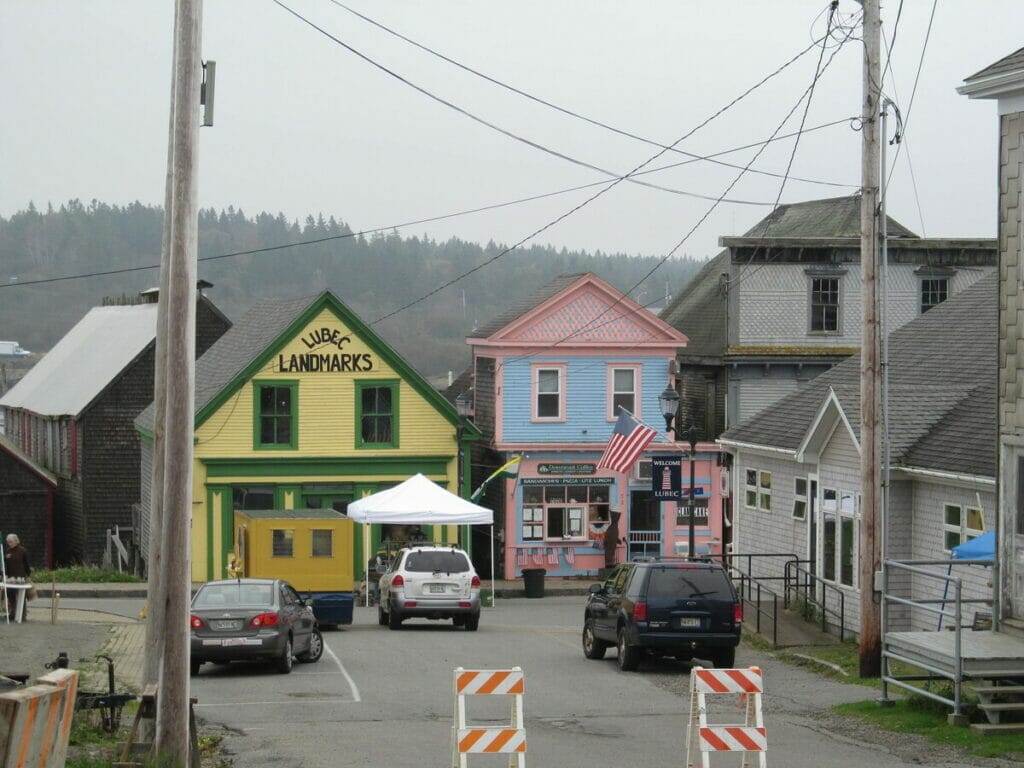 Lubec has all the hallmarks of a classic Maine town – it's on the water, home to a small population and full of interesting things to do and see.
The town is the easternmost part of Maine, making it the furthest east US town you can visit.
Lubec's West Quoddy Head Lighthouse is so picture-perfect, it might as well have been drawn.
With traditional red and white stripes, the lighthouse marks the starting point for Lubec's Bay of Fundy International Marathon – a 10k route along the water and through the forests.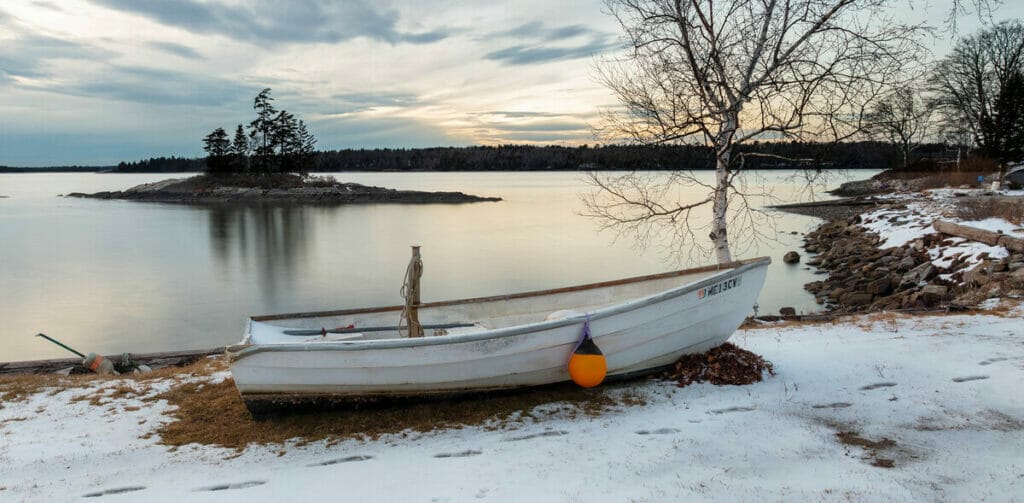 Walking through the cute town in Maine of Harpswell, you'll be led by your nose as you're drawn to the enticing scent of The Dolphin Marina and Restaurant's famous blueberry muffins.
Interested in learning to sail?
Harpswell has you covered.
The Abbot Fletcher Sailing School has classes for beginners and refresher courses for those with experience.
History fans are spoilt for choice, with the Old Meeting House being our favorite.
It's one to tick off your Maine bucket list for sure!
See life through the eyes of earlier Americans as you explore this 17th century marvel which has welcomed thousands of Christians to church services over the years.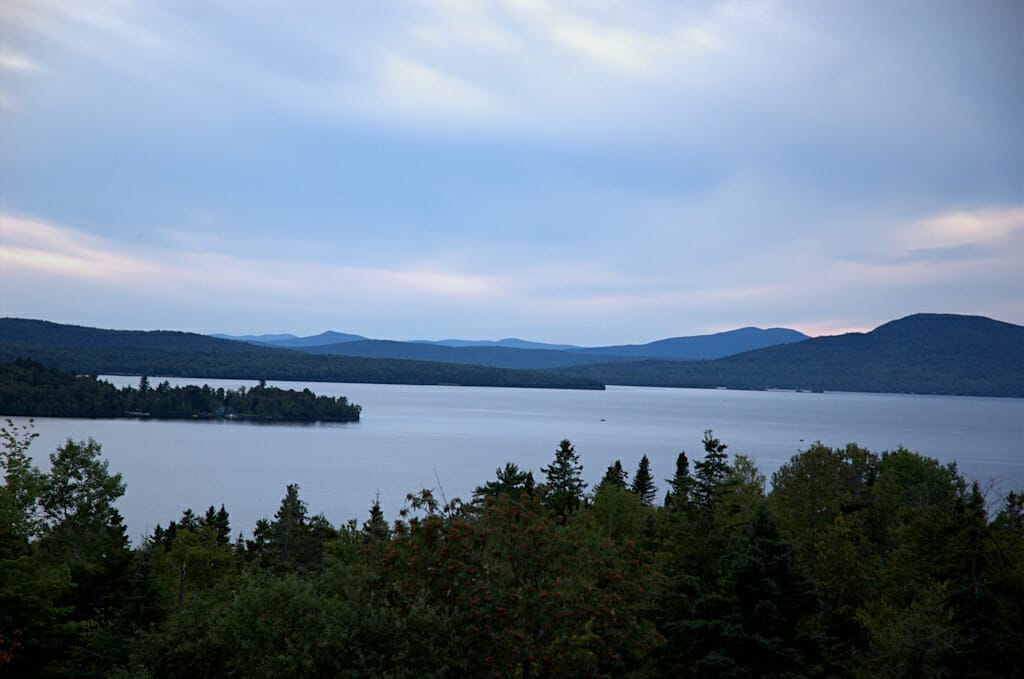 Picture the scene.
You're walking through the forest where dozens of different birds call out to you with their songs.
You realize that here you'll find true peace, in this beautiful town near the border with New Hampshire.
Rangeley is a place not to be missed!
You can even get as high as the birds with the seaplane tour promising stunning views from above.
Don't forget to take a picture of the sign for Mooselookmeguntic.
Could a better community name exist?
The local bowling lanes are at Moose Alley.
We're starting to notice a moose theme here!
In Rangeley, you can even revel in some movie magic, knowing that you're walking in the footsteps of town regulars Kurt Russell and Patrick Dempsey.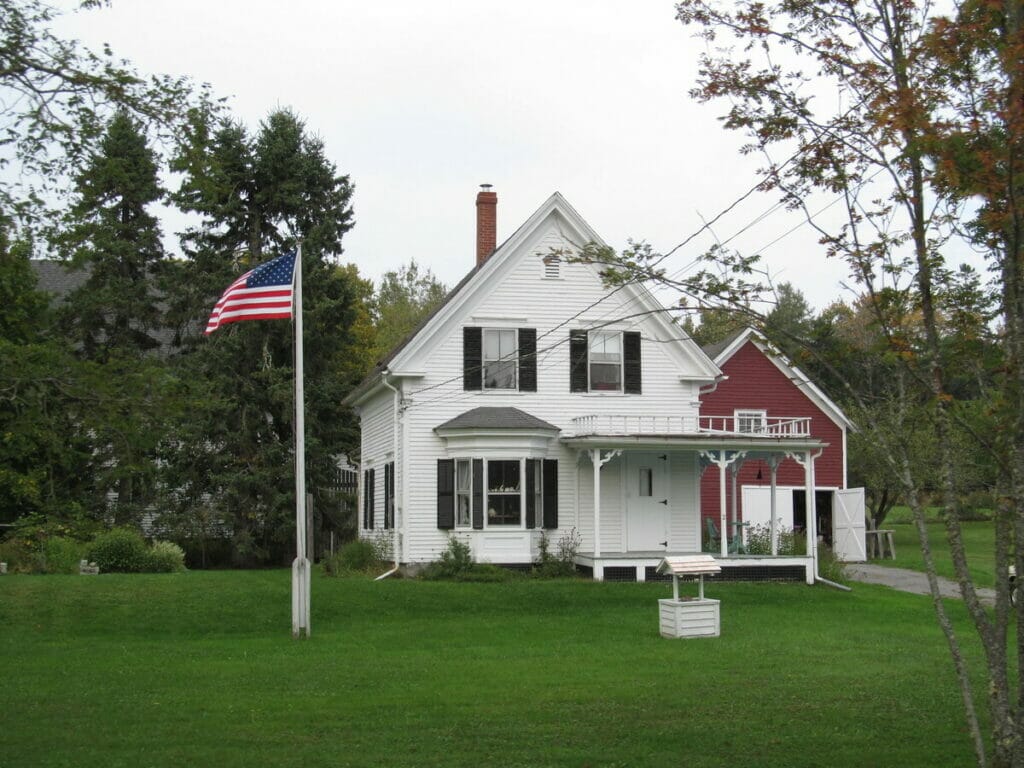 Much of Maine's economy is built on the fishing industry, but no town has better sea-to-table restaurants than Blue Hill, being one of the best small towns or cities in Maine.
One of the best little towns in Maine, Blue Hill offers explorers 4,750 acres of exciting wilderness.
A perfect opportunity to put your phone in your pocket and explore like your ancestors did, with a paper map bought at one of the town's many small shops.
Literary fans will be interested to know that Blue Hill is the setting of Charlotte's Web.
Why not visit in late summer to early fall when you'll be able to revel in the excitement of the annual Blue Hill County Fair.
With tasty milkshakes, high-quality coffee and a range of activities that all the family will enjoy, you won't find a more memorable day out.
Why not try your luck on the tombola stall while you're there?
With just 64 residents on Monhegan, this island in the Gulf of Maine isn't really a town at all – but it's too special not to include it in our list.
Monhegan offers dramatic cliffs and remote houses not unlike those seen across the pond in Ireland.
The island is so beautiful that an art colony developed there hundreds of years ago – as painters come from miles around to capture the glorious landscape.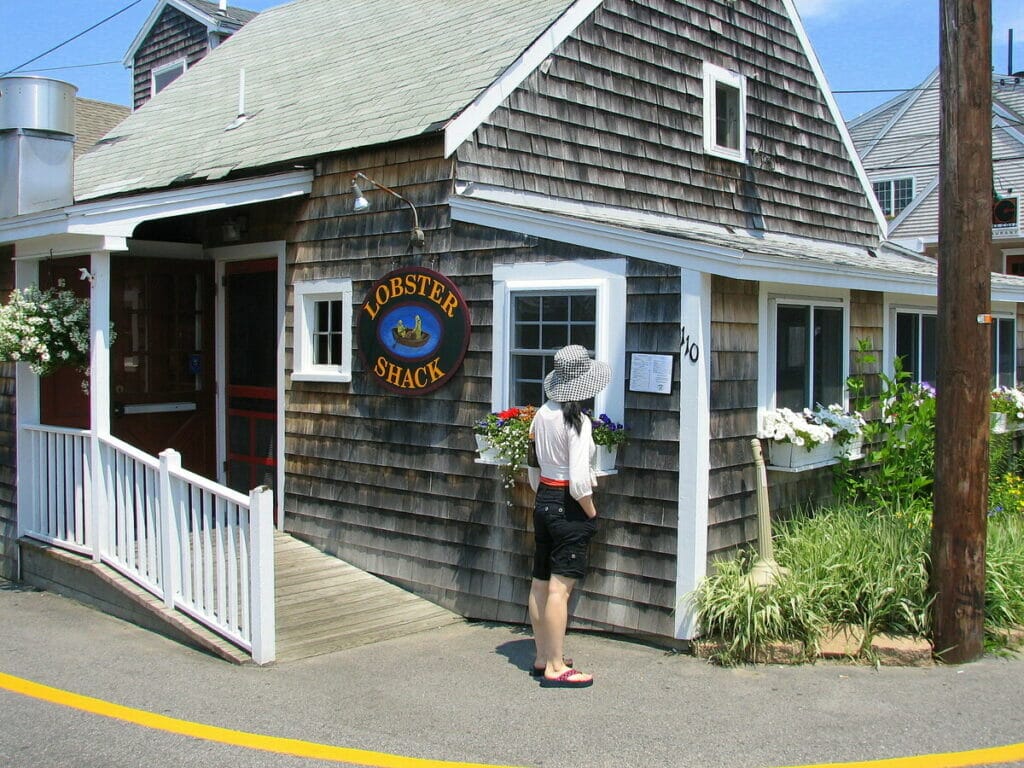 The town of Ogunquit is a scenic haven of beautiful blues and glorious greens.
It sits within expansive forests and stretching seas which promise a lifetime of adventures.
It's the best small town in Maine to live in, literally translating as 'beautiful place by the sea'.
Homes don't come more perfect than this.
Walking along the coast, you'll find boutiques selling local products and bars offering a place to stop and rest your feet accompanied by a tasty tipple.
Ogunquit's Memorial Library is an unbelievable local treasure, housed inside a building with a castle turret structure.
Wiscasset has a little bit of everything in this Maine small town.
The old churches present the town as one where slow living is encouraged, fulfilling the American tradition of localism and community.
Nickels-Sortwell House, built by a ship captain in 1807, is a Federal-style mansion with tours offering stories of life back then.
The building has a beautiful oval skylight and epic staircase.
At the Wiscasset's Antiques Market, you're guaranteed to find a precious item at a great price.
For dark tourists, a visit to the Old Jail guarantees a rare view of the early American criminal justice system.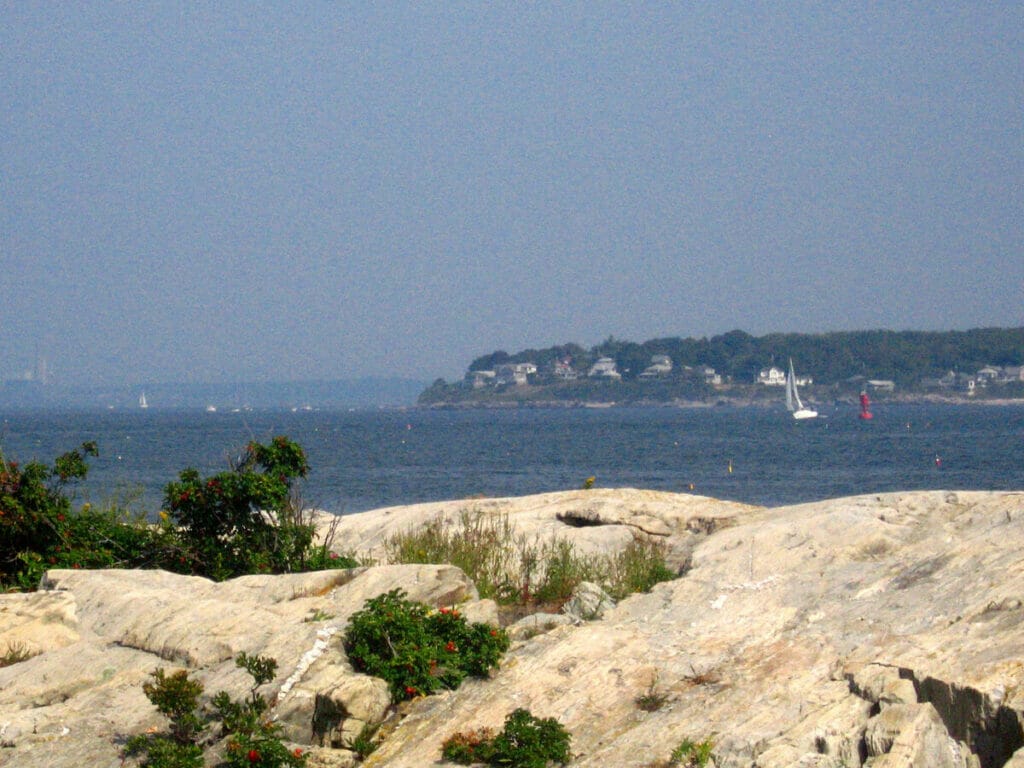 Of all the islands that make up the state of Maine, Peaks Island is the most quaint.
Housing just 927 people, this community has largely shunned the excesses of modern America – favoring a simpler life.
Peaks Island has a lot of World War II history, having housed many army buildings during that period.
You can explore the abandoned structures on foot or by bike.
For an experience like no other, why not pop in to the Umbrella Cover Museum?
It's the only one in the world and encourages you to enjoy the wonder of everyday objects.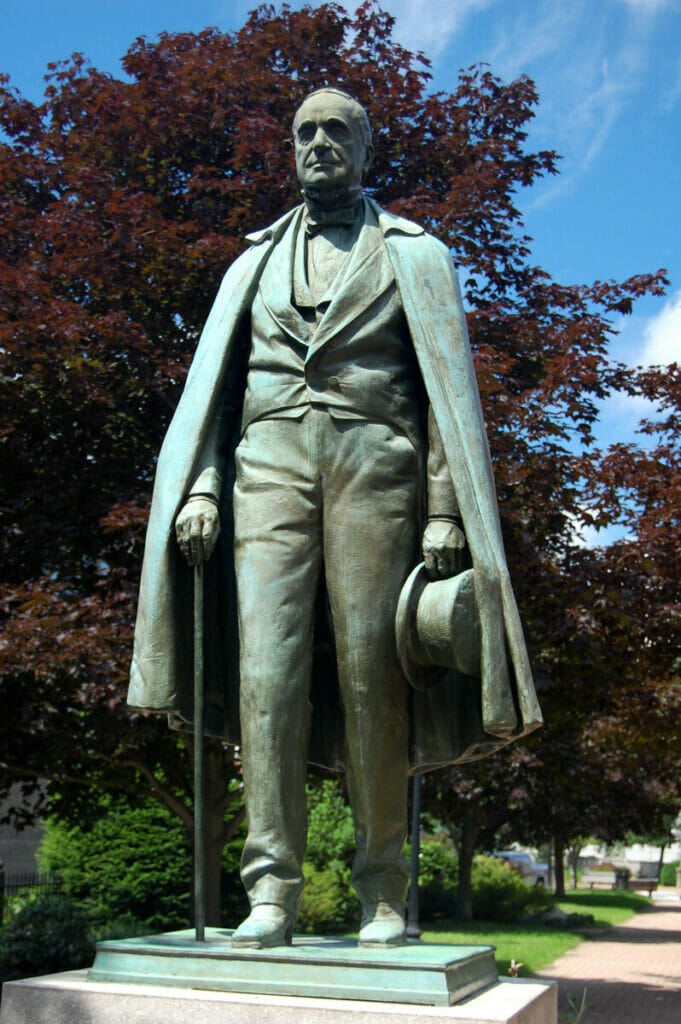 Maine is best known for its seaside towns, but there are plenty of communities inland.
What they lack in sea, they've more than made up for with other gems for tourists to discover.
Bangor is one such inland town.
Visitors can expect to enjoy great food and drink at the Sea Dog Brewing Company, with a late afternoon trip to Treworgy Family Orchards offering ice creams, corn mazes and apple picking.
Bangor also hosts the University of Maine's Museum of Art – a must-visit for those interested in contemporary works.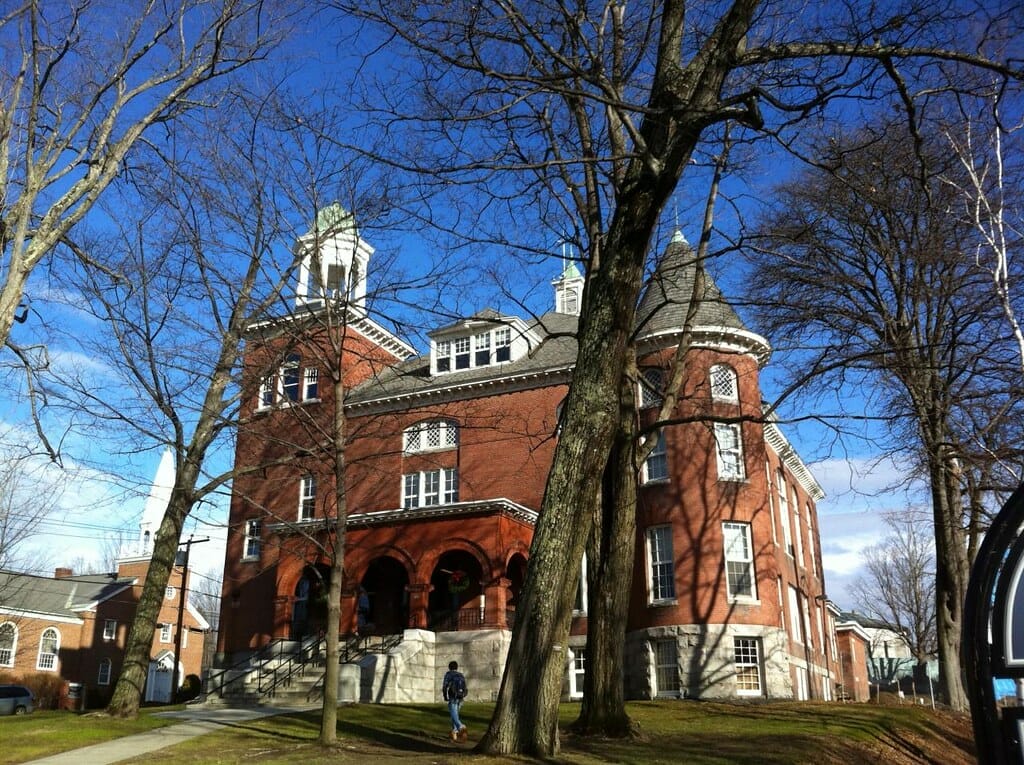 Have you ever wondered which American inventor created the earmuffs?
Probably not, but it was Farmington-born-and-raised Chester Greenwood.
Farmington celebrates Chester Greenwood Day every year on 21st December with a parade and a host of family-friendly activities.
It's a fun way to celebrate this little-known American hero and a must-visit for tourists.
As well as attending the annual celebration, visitors will find the ancient Salmon Ruins, a range of friendly and vibrant independent businesses and the fascinating Farmington museum, which offers a unique insight into life in this quaint town.
Hey! Want more ideas on the best small towns in the USA? Check these out!
Pin for Later!
Get the All-American Travel Secrets!
Don't miss out on America's hidden gems!