Charming downtown districts, friendly communities, and local festivals – there's just something so delightful about visiting small towns in Arkansas!
Add stunning natural beauty to that charm and you have all the best reasons to check out Arkansas' best kept secrets!
Flanked by spectacular scenery and immersed in unique history and culture, Arkansas towns make an ideal location for vacationing!
Discover what makes these areas the best small towns in Arkansas!
Hey! Looking for more amazing Arkansas content? Head here!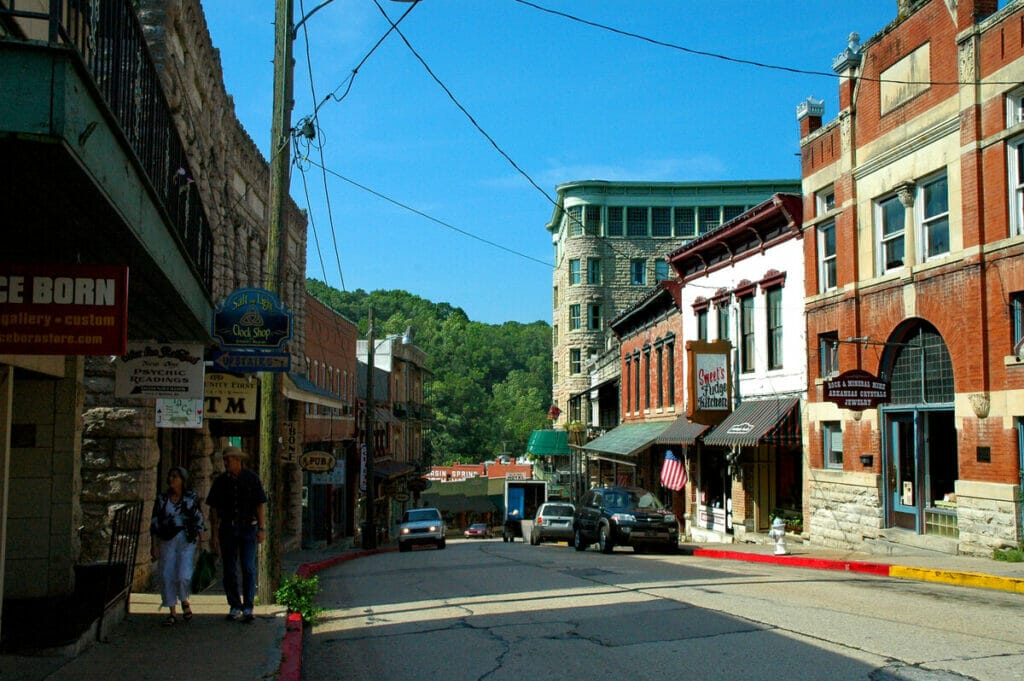 Located in the north edge of Arkansas in the beauty of the Ozark Mountains sits a secluded and peaceful town best known for its well preserved Victorian-era city center.
This cute town in Arkansas charms visitors with its delightful architecture and the natural beauty of lush forests surrounding it.
Over fifty unique shops and galleries make for a shopper's paradise in the walkable downtown area, and foodies will love options ranging from quick and casual to fine dining!
Take a ride through hundreds of miles of forests and hills on Pig Trail, voted one of the top ten motorcycle rides in America!
And, as its name suggests, the town is home to 66 cold springs, many of which can be toured by foot within walking distance of the city center!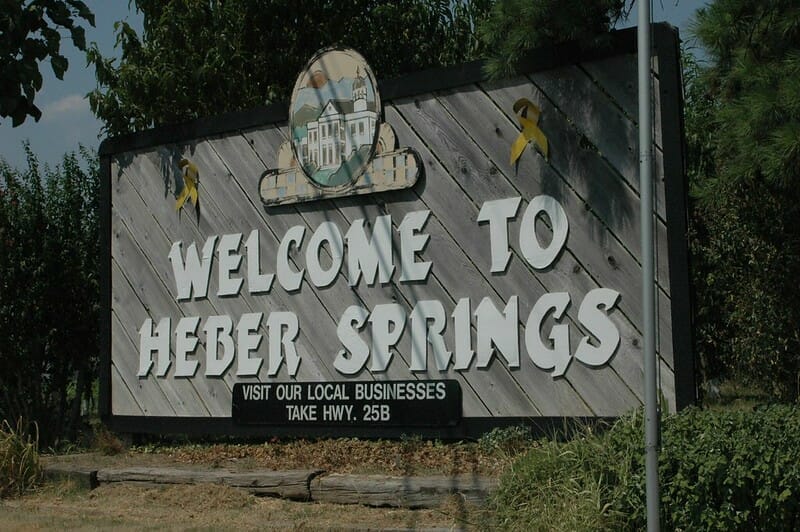 Known mostly for the 31,500 acre Greers Ferry Lake built by the U.S. Corps of Engineers in 1963, Heber Springs is one of the best little towns in Arkansas for camping with cabins and resorts overlooking the town's popular lake.
Fish for trout in the Little Red River, peruse the downtown antique shops or tour the area's mineral springs!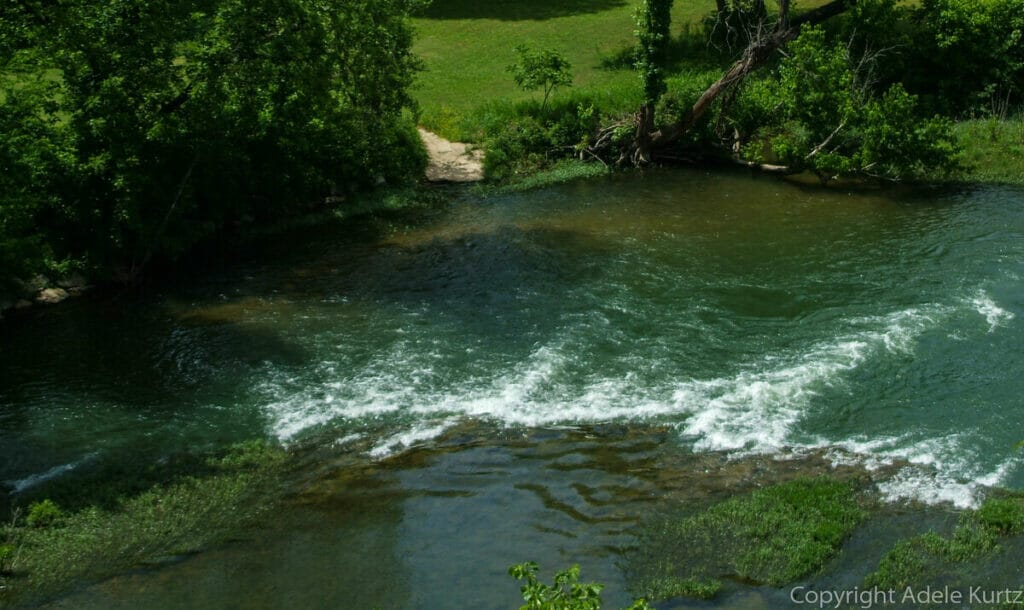 Set among the stunning natural beauty of the Arkansas Ozarks is one of the best little towns in Arkansas for recreation!
A 15,000-acre resort destination dominates this serene locale of only 4,700 full time residents and serves as the state's first recreational community!
Featuring a private beach, six swimming pools, two 18-hole golf courses, nature trails, tennis courts, RV sites, fitness and sports centers, and lakes for boating and fishing, there's nearly no end to the leisure activities here!
As if that weren't enough to pique your interest, the beautiful Southfork River cuts right through the lush hardwood forests of Cherokee Village!
Set at the base of Mount Magazine, Paris is a rural Arkansas town that enjoys the lush natural playground of its surroundings.
Its thriving downtown commercial district has boutiques, shops and restaurants as well as many buildings on the National Register of Historic Places.
The town square comes alive with a farmer's market and festivals in the warmer months, and hosts several biking and motorcycling events, too.
And no town called Paris would be complete without its very own tower!
Don't miss the 25-foot Eiffel Tower photo op on the west side of the town square!
Owing to its rich tradition of preserving traditional folk music and culture, this small town in Arkansas has been dubbed the "Folk Music Capital of the World!"
Music is the soul of this quaint town and vital to its community roots.
Dating back to tradition when locals could be found at a "pickin" at a neighbor's house, today the town square comes alive with local musicians playing music late into the night once the weather gets warm from April-November.
Home to music stores and antique shops, the state's largest craft cooperative is also headquartered in the town's historical downtown area.
Visitors can enjoy a state-of-the-art treetops course with over 30 challenging courses at Ozark Folk Center State Park where the community's musical heritage is preserved.
Nearby is the 50-mile Syllamo Mountain Bike Trail, designated by Outdoor Magazine as one of the Top 20 Outdoor Destinations!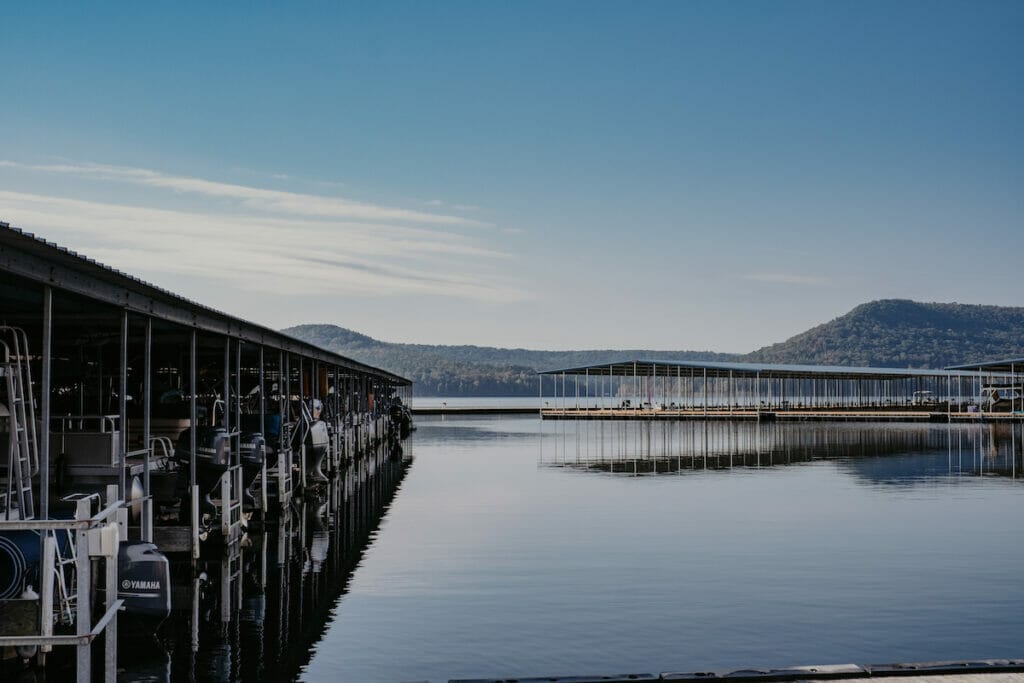 Situated on the shores of Greers Ferry Lake, Fairfield Bay is an outdoor lover's utopia!
Boat, swim and fish in the lake's clear waters, play a round of championship golf and hike Arkansas' only mountain island trail!
Enjoy water activities in the town's marina, hike in a local park, off road on a UTV trail or learn something new at one of the area's historic sites.
Awarded the honor of City of Distinction for its quality of life and friendly community, it's no wonder that Fairfield Bay is one of the best small towns in Arkansas to live in!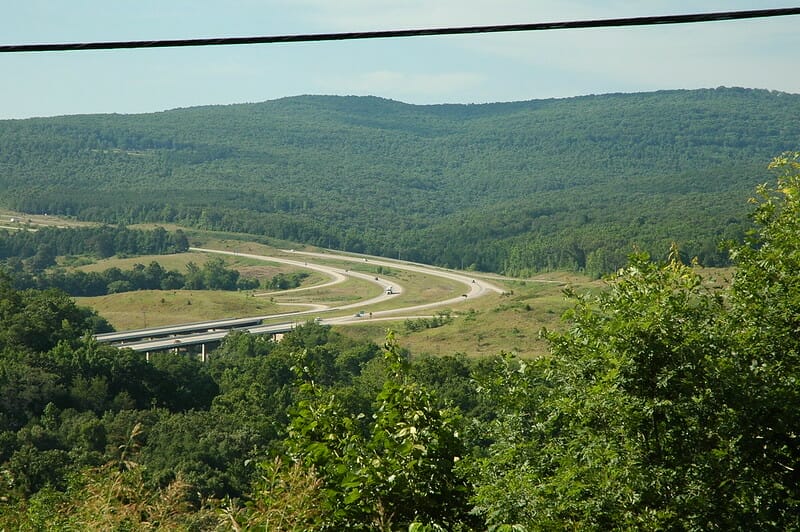 Set on the southern edge of the Ozark Mountains along the Arkansas River in the Arkansas River Valley, Ozark is a popular rest stop for adventurers exploring the Pig Trail Scenic Byway.
Unspoiled mountains, forests, rivers and lakes represent small town living at its best and beckons visitors to relax.
Find plenty of fishing opportunities in Ozark Lake, camp in the riverside Aux Arc Parc (a French play on words, pronounced Ozark!), or enjoy the Arkansas Wine Country just five miles down the road.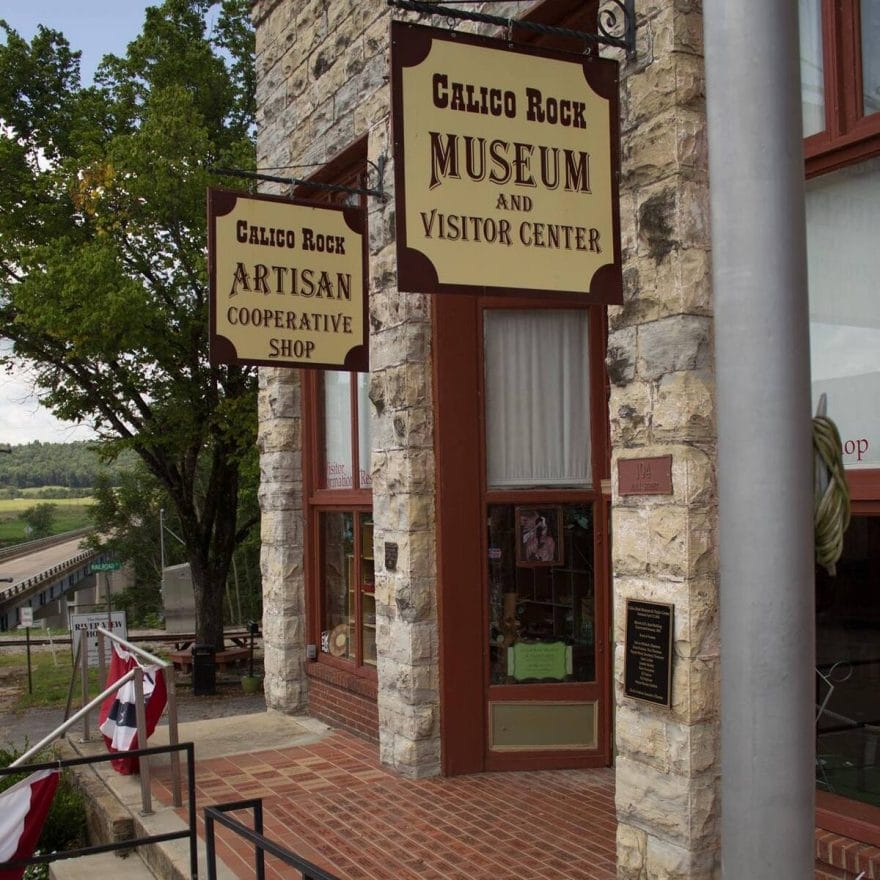 Visit the only town in American with its very own ghost town within city limits!
Calico Rock, deriving its name from the calico-colored bluffs surrounding it, is a small town in north central Arkansas with a boomtown past as a commercial rail and river hub.
Today, remnants of its storied past still stand in the oldest section of the town, where visitors can take a guided walk and view twenty buildings and structures that remain untouched from its earlier days.
Discover more about the town's historic past at the Calico Rock Museum and view works by local artists.
It's a sleepy, homey small town in Arkansas that's worth a visit for those who enjoy a reminder of what used to be.
A perfect family town outside of the big city limits, Elm Springs is one of the best small towns in Arkansas for enjoying a slower pace of life but with everything you need close at hand!
Made up of mom-and-pop stores and thrift shops, Elm Springs is a small business shopper's delight!
Close by is Siloam Springs when you want to patronize more commercial businesses.
Groves of large elm trees and natural springs add scenic beauty to this otherwise unassuming community!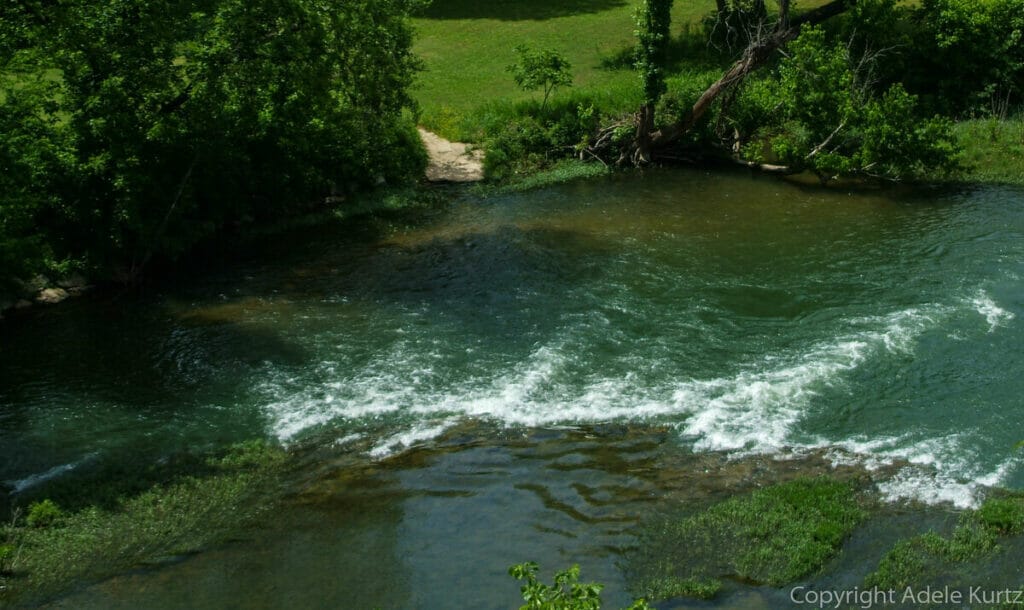 Nestled between the Ozark Mountains and the Arkansas Delta, Mammoth Spring has some of the most beautiful scenery in the South, thanks to is location in the lush foothills of Northern Arkansas.
Mammoth Spring State Park boasts the world's largest spring with nine million gallons of water flowing from it every hour, forming its own 10-acre lake!
Enjoy leisurely hikes in the state park and water activities on Spring River, then finish off the day with shopping and dining in the quaint downtown district!
11. Morrilton: quaint towns in Arkansas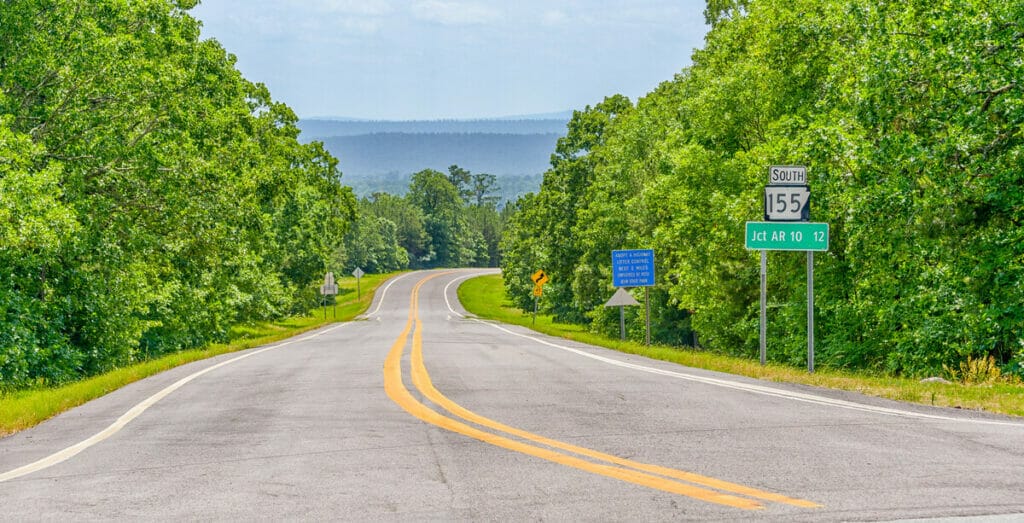 Less than 50 miles northwest of Little Rock, this quaint town in Arkansas nestled inside the Arkansas River Valley is one of the best small towns in Arkansas to live in when you're seeking solitude but want modern conveniences close by!
Considered a scenic, agricultural and residential hub, Morrilton is the perfect place for embracing a rural lifestyle!
Just minutes from Arkansas' flagship state park, Petit Jean State Park, residents here enjoy the outdoors year round!
Close to the Arkansas River and with a train station in town, small town life can be enjoyed in Morrilton with the bigger city attractions close at hand!
12. Flippin: charming towns in Arkansas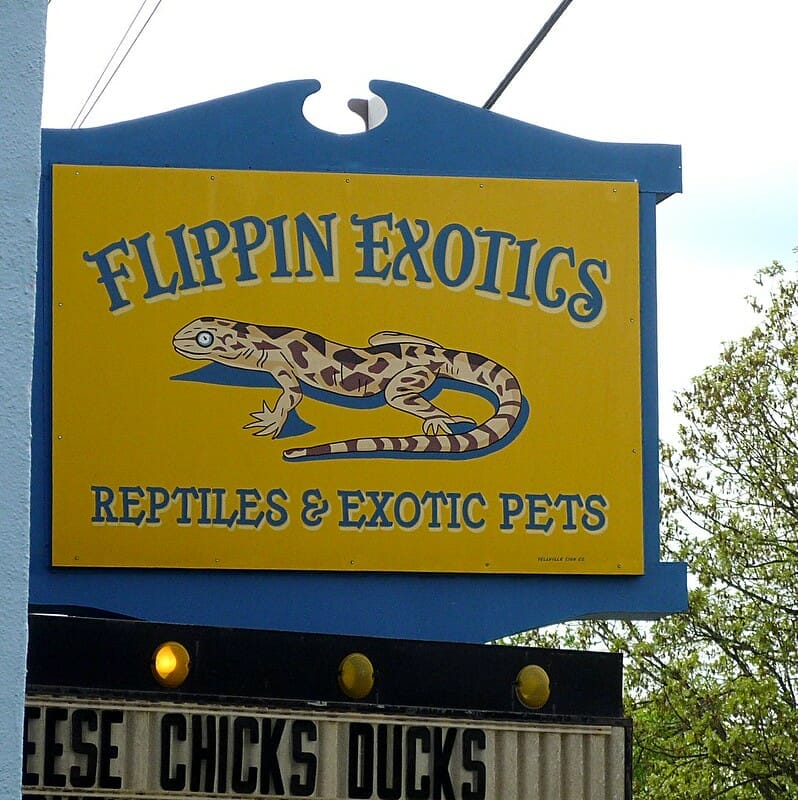 Thanks to its location situated near three rivers to the north, east and south, Flippin is a small town in the Arkansas Ozark Mountains known mostly for its boat manufacturing.
Employing thousands of residents with this and other long-time manufacturing companies, Flippin residents enjoy the small town's stability and all the natural beauty surrounding it.
The nearby lakes draw in tourists, with vacation and fishing resorts lining the outskirts of the town.
A 3-acre town park and a weekly summertime Farmer's Market offer simple enjoyment in this quaint Arkansas town!
13. Bald Knob: best small towns in Arkansas to visit
Where the Arkansas Ozarks meet the Delta, you'll find a little town of just 3,000 people known as the "Strawberry Center of the World!"
Every year the town hosts Home Fest on Mother's Day weekend paying homage to the favorite fruit with events like a strawberry eating contest and a strawberry cake auction!
A carnival, parade, live entertainment and crafts draw locals and visitors to this fun annual event!
Fishing and boating are popular on the 217-acre Bald Knob lake and the White and Red River Lakes nearby!
14. Jasper: small towns or cities in Arkansas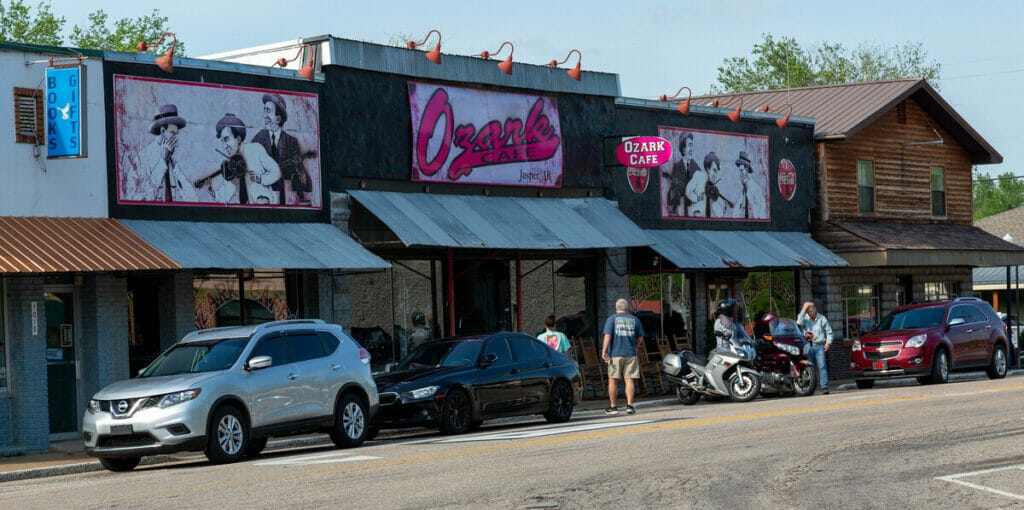 Surrounded by natural beauty where the Buffalo River begins to flow, Jasper is a small town in Arkansas packed with outdoor recreation!
Rock climbing, hunting, fishing, hiking, biking, canoeing, and horseback riding are all popular here, making it a perfect adventure vacation spot!
Don't be surprised if you see free roaming Elk in this neck of the woods as Jasper is part of Newton County, the "Elk Capital of the World!"
Jasper's picturesque downtown features a beautiful courthouse and gazebos where people gather annually to celebrate the reintroduction of Elk to the area during the Buffalo River Elk Festival!
You're sure to catch a spectacular view driving through this little town on the state's first national scenic byway, Arkansas Scenic Byway 7!
15. Sheridan: Arkansas small towns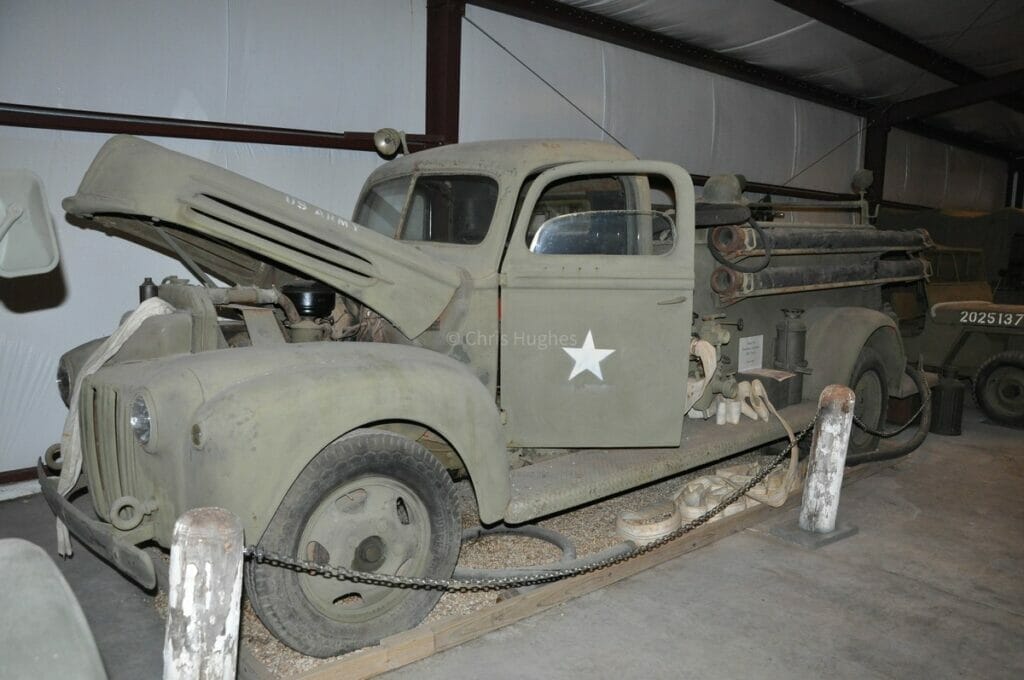 History aficionados will enjoy a visit to this quaint little Arkansas town notable for its role in the Civil War, a portion of which took place just 10 miles from town.
Ironically named after Confederate General Philip Sheridan, the town's history is preserved through interpretive exhibits at the Jenkins Ferry Battleground State Park.
An extensive collection of memorabilia detailing the county's history can be found at the five-acre Grant County Museum and Heritage Square in the heart of downtown.
Towering pines in the region pay homage to the area's timber industry which is celebrated each year on the first weekend of October at Timberfest.
A highlight of the event is the national recognized Arkansas State Lumberjack Competition!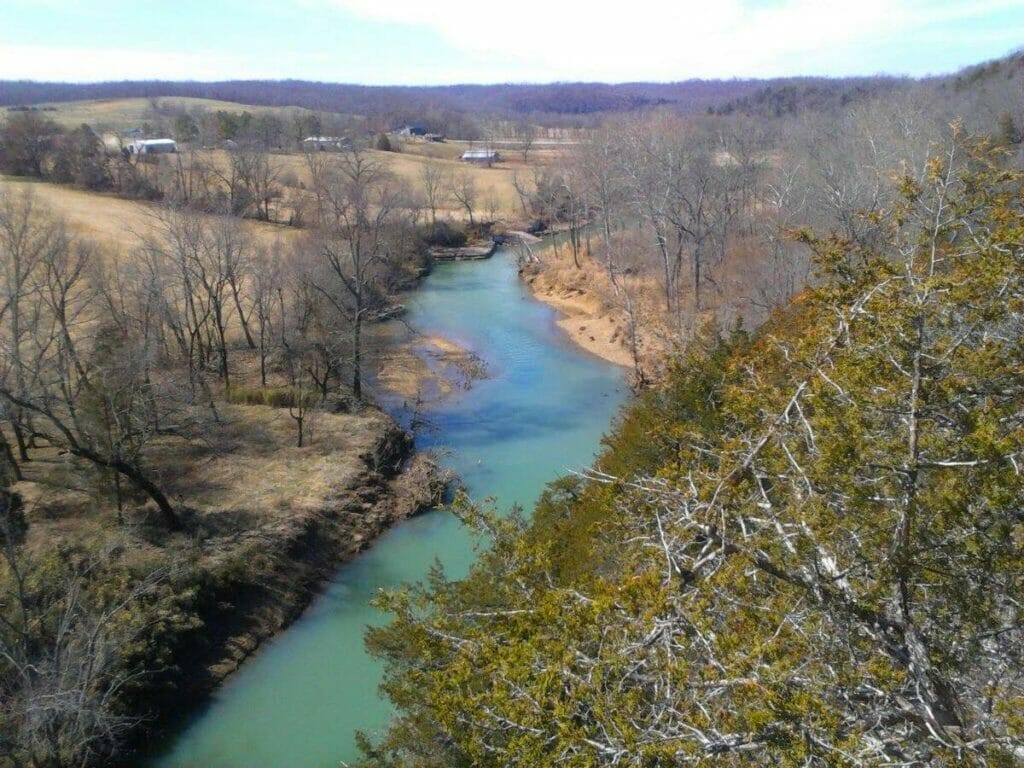 Surrounded by astonishing natural wonders, there's so many beautiful sites to see in Huntsville, Arkansas!
From state parks to waterfalls to hiking trails, this small town is loaded with spots to take in gorgeous panoramic Ozark views!
Float or fish the day away at Withrow Springs State park or enjoy outdoor fun on its tennis court or baseball fields, take a nature walk and go bird watching on King's River Overlook Trail, ascend Whitaker Point Trail to catch a glimpse of "the Crag" rock formation and its huge valley below, or hike out to Triple Falls for a view of the 48 foot tall falls, arguably the most scenic in the state!
It's an outdoor lover's paradise!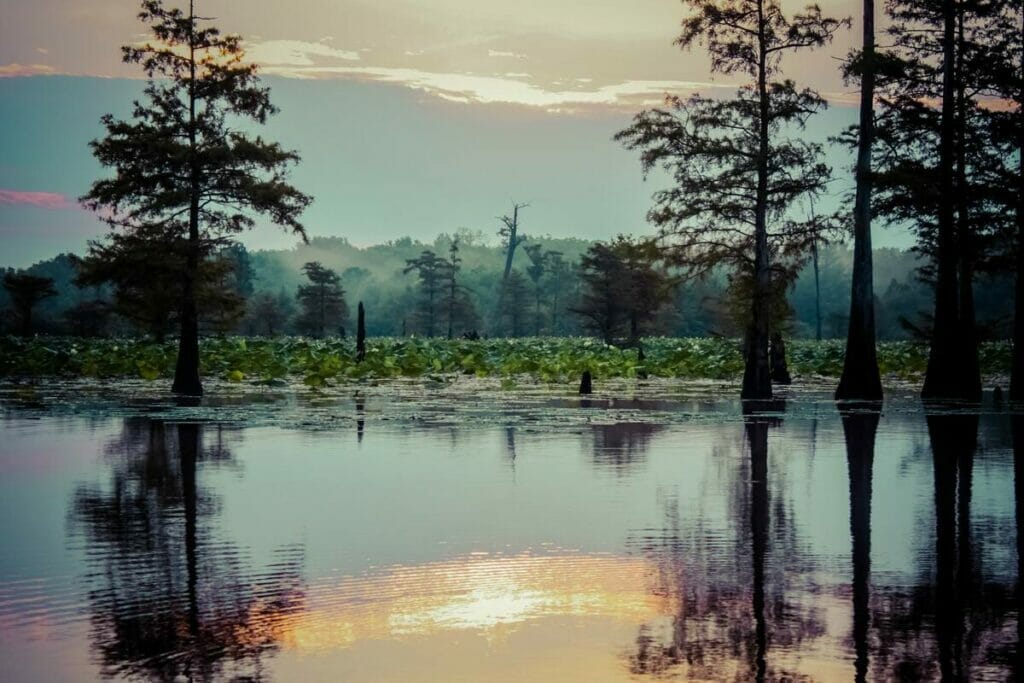 Located just nine miles above the Louisiana state border, Crossett is a lumber mill town whose history is preserved in mill houses that now sit in the town's 110-acre Crossett City Park.
Visitors can tour the structures designed to appear as they would have in the 1930's.
The parks 51-acre pond and 3 mile hiking trail are also popular.
Excellent fishing opportunities abound near Crossett at the Felsenthal National Wildlife Refuge just west of the town, and to the north at Lake Georgia-Pacific.
The town also hosts two major annual events, an August rodeo and an October arts and crafts festival!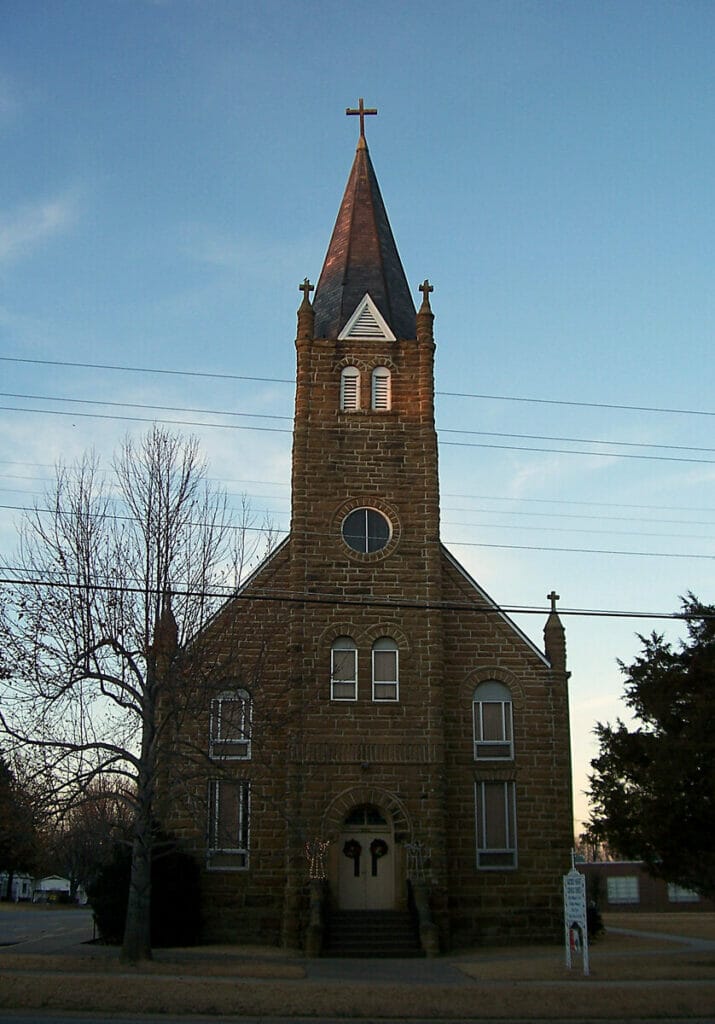 As far as small towns go, there's probably none more ideal for living in and raising a family than Charleston, Arkansas!
Residential at its core, the town has everything you'd want for a growing family!
Its local city park offers play space for kids, pavilions for picnicking and walking trails for leisurely strolls.
Charleston Lake Park is a year round spot for fishing and features an outdoor classroom, RV hookups, swings and trails for laid back summertime activities!
There's also ball fields, a skate park and basketball court, too!
You couldn't find a better small town in Arkansas to live in if you tried!
With a population of just 238 people, Edmonson is the one of the cutest small towns in Arkansas!
Despite its humble population, the town is quite famous as visitors from all over the world come to pay tribute at the gravesite of Albert King, considered one of the most influential master blues guitarists ever!
But just ten miles west of Memphis, this unassuming little town has every modern convenience right at its fingertips!
Pin for Later!
Hey! Want more ideas on the best small towns in the USA? Check these out!
Get the All-American Travel Secrets!
Don't miss out on America's hidden gems!