Boston certainly has its charm, but if you're looking for a unique, quaint destination, check out these charming small towns in Massachusetts!
Whether you're going on a short weekend vacation, a long road trip, or even looking to relocate, Massachusetts has plenty of options when it comes to small towns that are BIG on charm.
From romantic getaways, to family fun, to little-known historical sites and more, here are 19 of the best small towns in Massachusetts!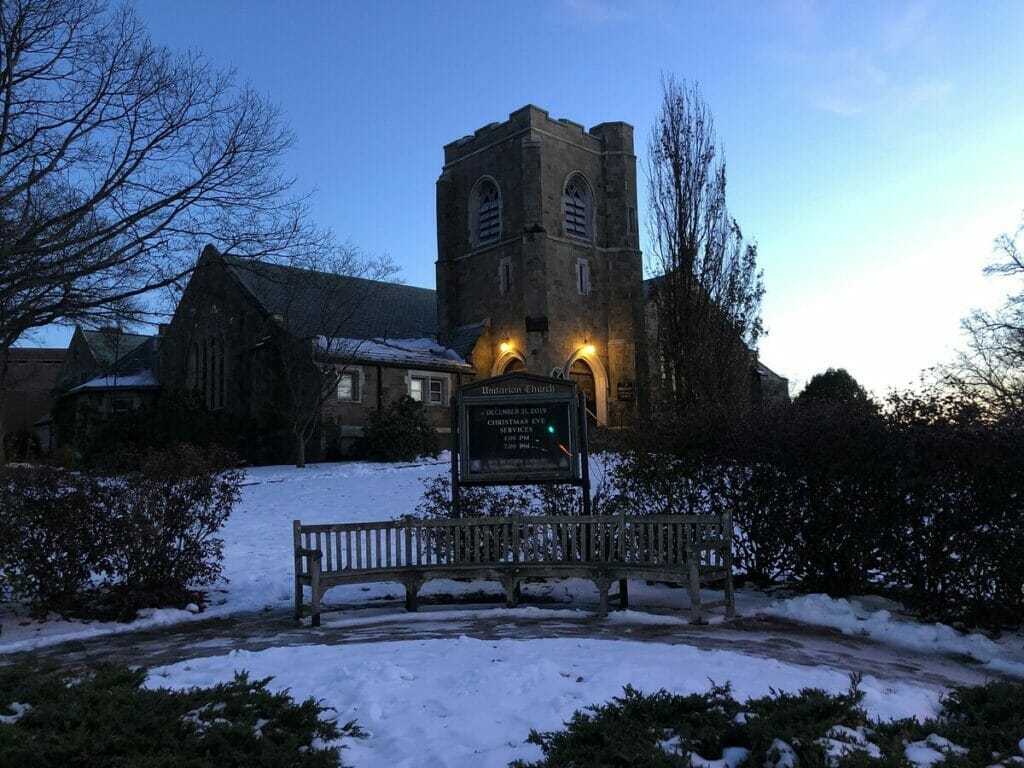 Just 8 miles north of Boston, you'll find the gorgeous Massachusetts town of Winchester.
With a population of just under 23,000, Winchester has plenty of things to do to make it well-worth a visit!
From the clear blue waters of Upper Mystic Lake and the sands of Shannon Beach, to the local shops and eateries in red brick buildings downtown, to an inspiring museum of photography, Winchester has things to do for families, friends, couples, and solo travelers alike.
Step into Book Ends, the charming bookshop that greets you at the start of the town center.
Then, grab a coffee or lunch at the FULLer CUP before heading over to the Griffin Museum of Photography to admire some breathtaking photos!
Like many New England towns, you'll find the most picturesque views in autumn, when the falling leaves paint the streets in beautiful hues of orange and red.
2. Newburyport: cute towns in Massachusetts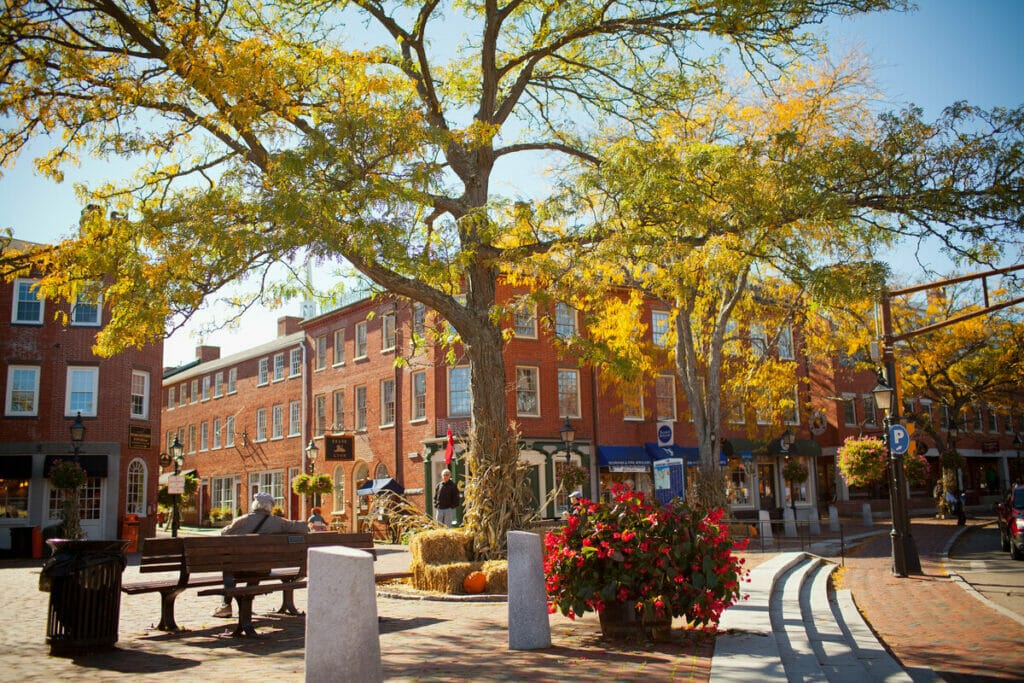 The seaside town of Newburyport has everything a coastal small town needs!
Whether you're looking for shops, food, water, or history, Newburyport has you covered.
Take a harbor tour by boat, kick back and relax at Waterfront Park, or enjoy a meal at the nearby Sea Level Oyster Bar.
History enthusiasts will enjoy the artifacts and ship models at the Custom House Maritime Museum, while those looking for the perfect souvenir or gift will find clothing boutiques, jewelers, antiques, general gifts and even a record shop downtown!
One of the smallest towns in Massachusetts, New Ashford has a population of only 250!
This quaint little town is the perfect place to stay while you're visiting the Mount Greylock State Reservation in Adams, Massachusetts.
The idyllic Greylock Valley Estate in New Ashford is perfect for weddings and other special events, while The Springs is a quirky 2-star motel with 5-star character!
The town of Adams sits proudly to the east of New Ashford, and has a population of just over 8,000.
Visit the Susan B. Anthony Birthplace Museum, grab lunch at Miss Adams Diner, walk or bike along the Ashuwillticook Rail Trail, or explore the lush greenery of the Mount Greylock State Reservation!
Visiting in summer or fall? Be sure to take a weekend ride on a historic train!
4. Middleborough: Massachusetts small towns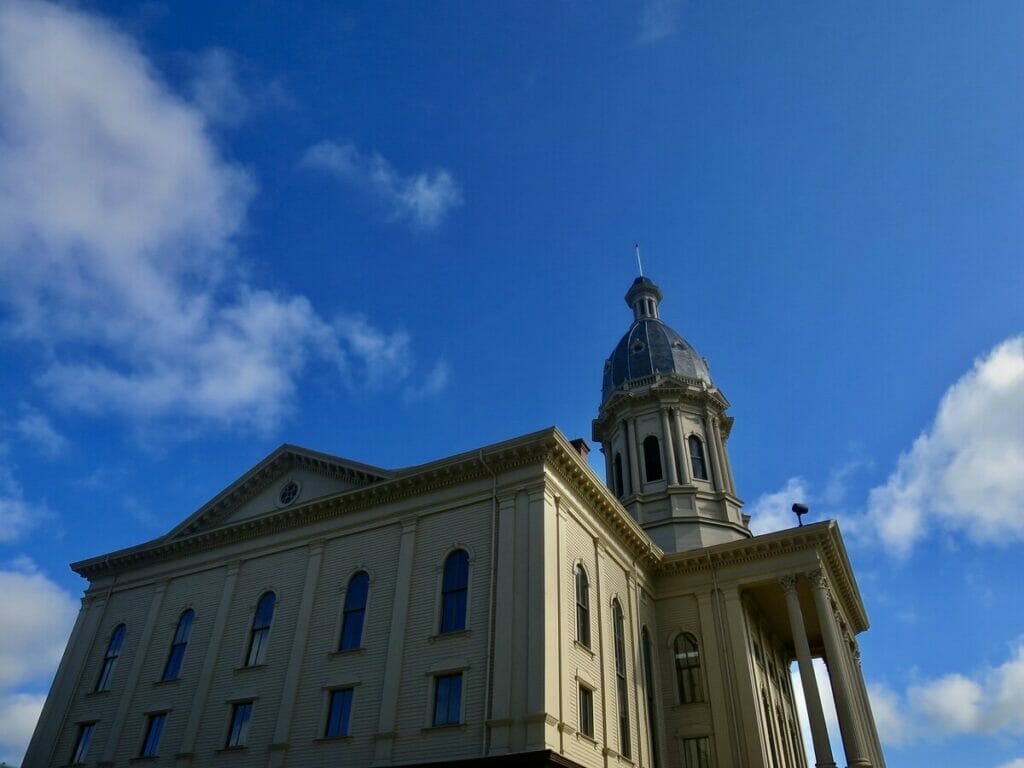 Take a stroll around the gorgeous red brick buildings of downtown Middleborough, where you'll find art, antiques, home goods, spas & salons, and plenty of delicious food from local eateries!
See what's happening at The Alley Theatre, enjoy a scenic picnic at Oliver Mill Park, or step into history at the Robbins Museum of Archaeology (open Saturdays only).
Looking for something a little more action-packed? Head to Capeway Rovers to the east of town for a day of thrills at their off-road race track!
Be sure to get a photo of the beautiful nature mural in the courtyard by the Town Hall Annex!
One of the most quaint towns in Massachusetts, Sheffield's Main Street is lined with lush greenery and gorgeous brick and cobblestone buildings.
Book a quiet stay at Race Brook Lodge, then spend some time antique shopping in town, or head out to Bartholomew's Cobble Reservation for a scenic hike in nature.
Do you believe in aliens? Whether you do or not, you'll get a kick out of the Thom Reed UFO Monument Park, located where the Reed family is said to have had an "off-world incident" in 1969!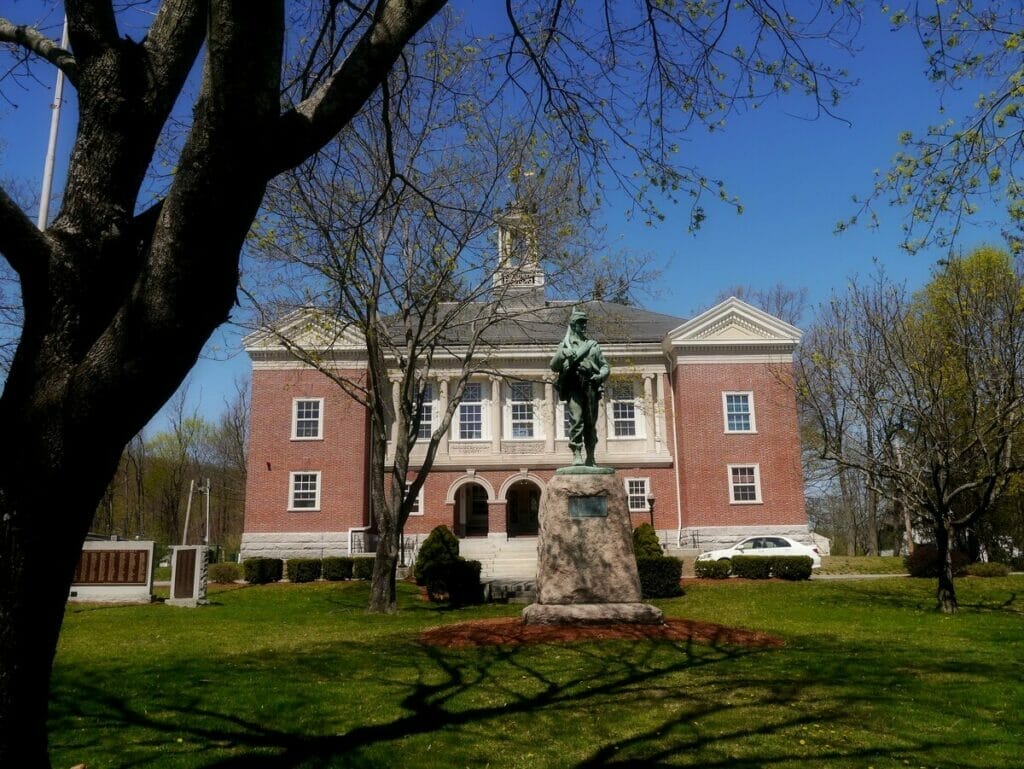 Looking for a romantic getaway in small town Massachusetts?
Look no further than the 18th-century Maguire House Bed & Breakfast in Ashburnham!
Beautiful inside and out during all seasons, you'll marvel at the picturesque grounds and water fountain, cozy antique interiors, and deluxe breakfasts for two!
While you're in Ashburnham, be sure to check out the Frederick Piano Museum, which hosts piano concerts throughout the year.
You'll also enjoy a classic pub dinner at The Tavern on Central, and a breathtaking hike through Ashburnham State Forest!
7. Monson: quaint towns in Massachusetts
Despite its population of only 8,150, there's plenty of art, history, and nature to be found in Monson, MA!
Check out the metal dragon sculpture in front of the House of Art, which is right next to Memorial Hall – an epic Victorian Gothic stone building that's an absolute must-see!
Another building worth visiting is that of the Monson Free Library, which is open Tuesday-Saturday.
Step into history at the Keep Homestead Museum, open seasonally, or immerse yourself in nature at Peaked Mountain Reservation.
Go wine tasting at Queen Bee Vineyard, or opt for a casual dinner at Beth's Family Dining.
On your last day in town, don't forget to stop for breakfast at Mug 'n' Muffin on your way out!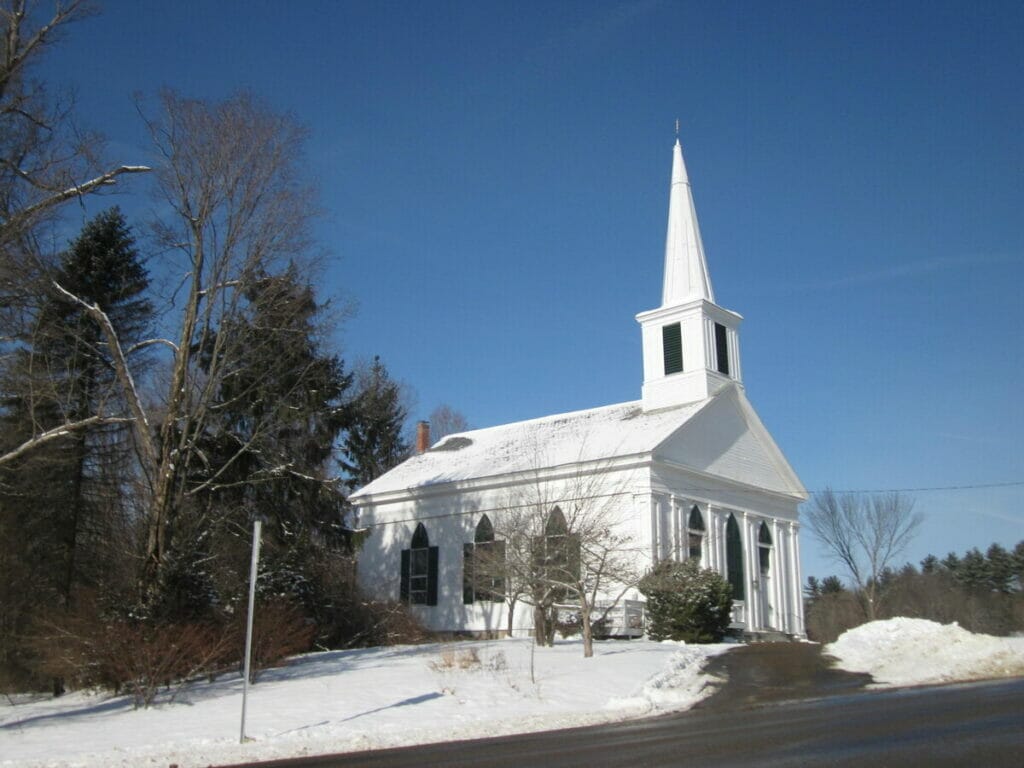 If you're on a road trip through the best little towns in Massachusetts, be sure to plan on passing through Leverett!
While there aren't any hotels to make Leverett an overnight stay, it's worth a day trip to visit The New England Peace Pagoda.
This Buddhist shrine is the perfect place to pause for a moment of reflection, meditation, or simply to take a stroll around the pond and gardens!
For more time in nature, check out the Rattlesnake Gutter Conservation Area.
Then, head over to Leverett Village Co-Op to find some baked goods on the way out of town, or plan on stopping by their market on the second Saturday of the month!
9. Rowley: small towns or cities in Massachusetts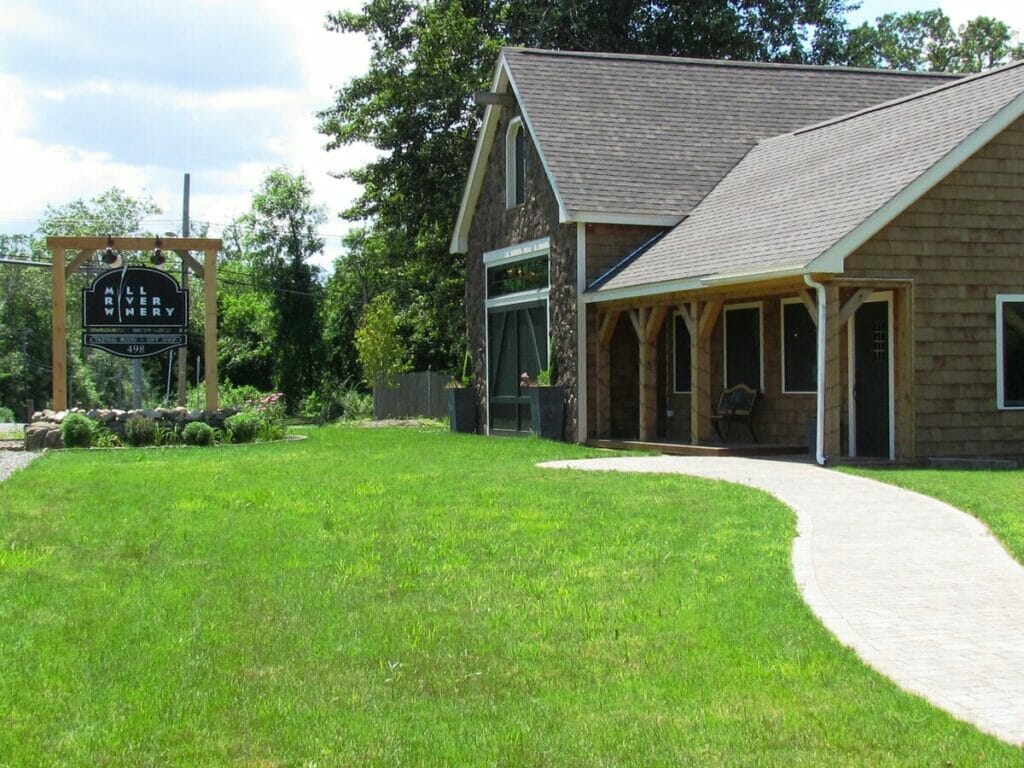 Whether you're looking for a romantic stay at a luxurious inn, an afternoon walking through scenic hiking trails, or wine tasting, Rowley, MA has it all!
Enjoy a few nights at Briar Barn Inn, and don't forget to make use of their boutique spa while you're there!
The inn's restaurant, Grove, is open to the public and features delicious meals with an emphasis on locally sourced, fresh ingredients.
Just a 5-minute drive away is Mill River Winery, where you'll find exquisite wines made by a chemist who really knows her stuff!
For a more casual dining experience, enjoy some comfort food at Agawam Diner – located in a 1954 rail car!
Bradford Tavern, Village Pancake House, and Simard's Place are just a few of the other great dining options in Rowley.
Thirsty for nature?
Take to the trails at Mass Audubon's Rough Meadows Wildlife Sanctuary, or have a picnic in the little park across from the historic Rowley Burial Ground.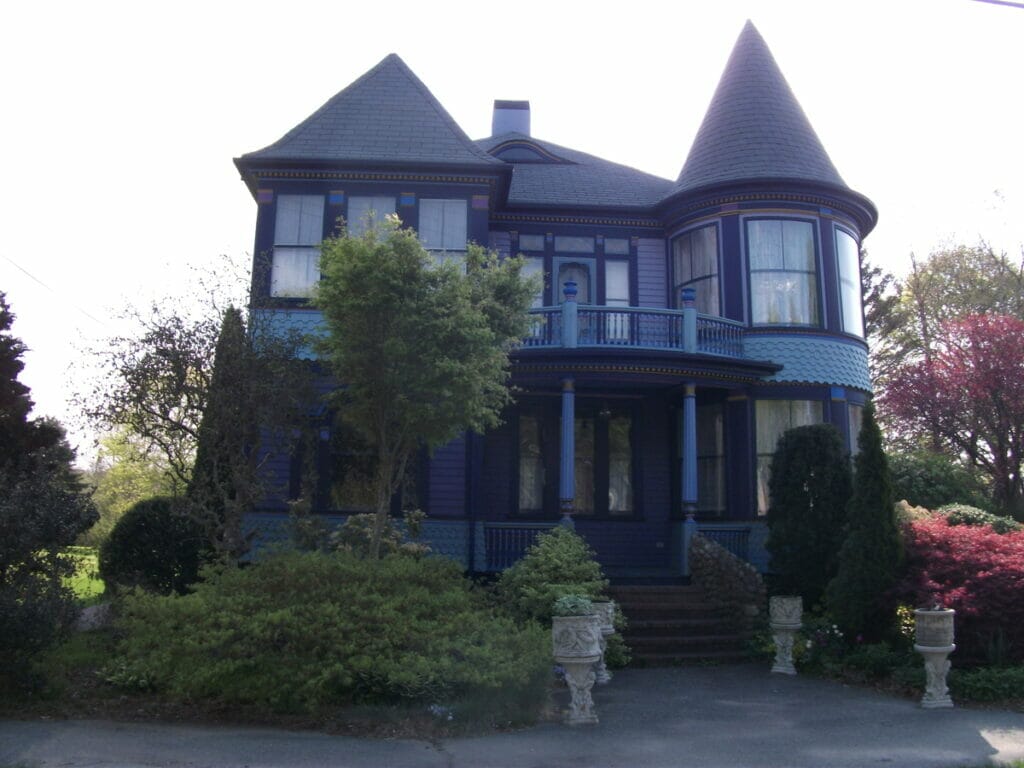 Mattapoisett may only have a population of 6,500, but it's bursting with exciting things to do!
Located on the coast of Massachusetts, this seaside town is home to a beautiful marina, beach, and Neds Point Lighthouse.
Stay at The Inn on Shipyard Park, and enjoy a picnic in the waterfront park itself!
Mattapoisett Museum will enlighten you on the town's history, and the Salty the Seahorse statue along US-6 is the perfect place to snap a few unique vacation photos!
Hiking enthusiasts will enjoy the seaside trails at Nasketucket Bay State Reservation, and the Walrus & Captain cafe and bistro provides an ambient dining experience with live music on Wednesdays and Thursdays.
Planning a beautiful small town Massachusetts wedding, birthday, or other event? Consider Shining Tides, where the green grass, clean sands, and fresh waters will provide the perfect backdrop for your event.
11. Raynham: charming towns in Massachusetts
Need a moment of reflection?
Visit the ​​Wat Nawamintararachutis Meditation Center, a Buddhist temple in Raynham, MA.
If Buddhism isn't your thing, Johnsons Recreational Park is another great place to spend some quiet time, where you'll find park benches looking out onto a serene pond.
You've got no shortage of hotels and inns to stay at in the south of the town, with plenty of familiar shopping and dining options nearby, as well as a flea market that's open on Sundays.
Head north to Broadway for local eateries, like The Milk Bottle, Barrels & Boards, or Crue Brew Brewery.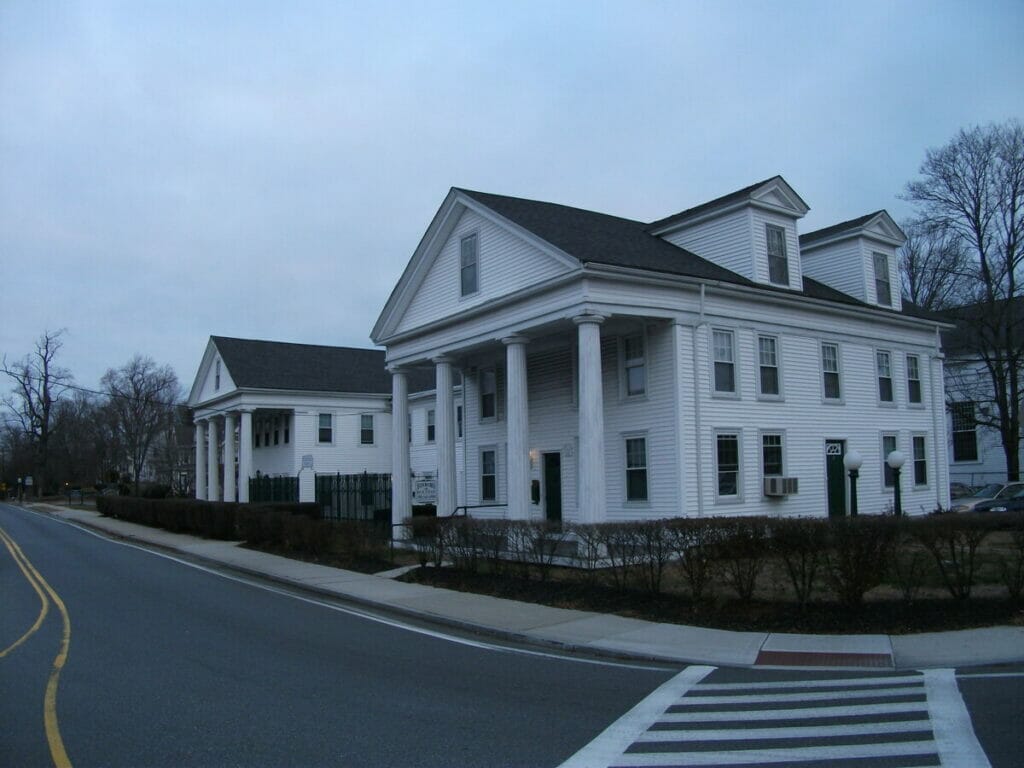 Less than 25 miles from both Boston, MA and Providence, RI, Foxborough is a top contender for one of the best small towns in Massachusetts to live in!
With its diverse shopping and entertainment offerings, natural parks, historic sites, and a sports stadium, it's full of things to do, and it ranks below the Massachusetts average for crime and above average for schools!
The town center features a beautiful green park, surrounded by dozens of shops, eateries, and local services.
Check out The Patriots Hall of Fame, or catch one of their games at Gillette Stadium!
In need of some fresh air?
Take a walk through The Nature Trail and Cranberry Bog, or hike, bike, or go horseback riding through the F. Gilbert Hills State Forest!
The Topsfield Fair in early autumn isn't the only thing that makes this small Massachusetts town worth a visit!
Stop by the historic Parson Capen House (private tours available, remember to book two weeks in advance!), enjoy a game of disc golf at Haverhill Road Conservation Area, or grab a slice at Topsfield House of Pizza downtown!
If you're looking to host an event in small town Massachusetts, Topsfield has plenty of ideal venues, such as The Commons 1854, Peirce Farm at Witch Hill, or Connemara House Farm.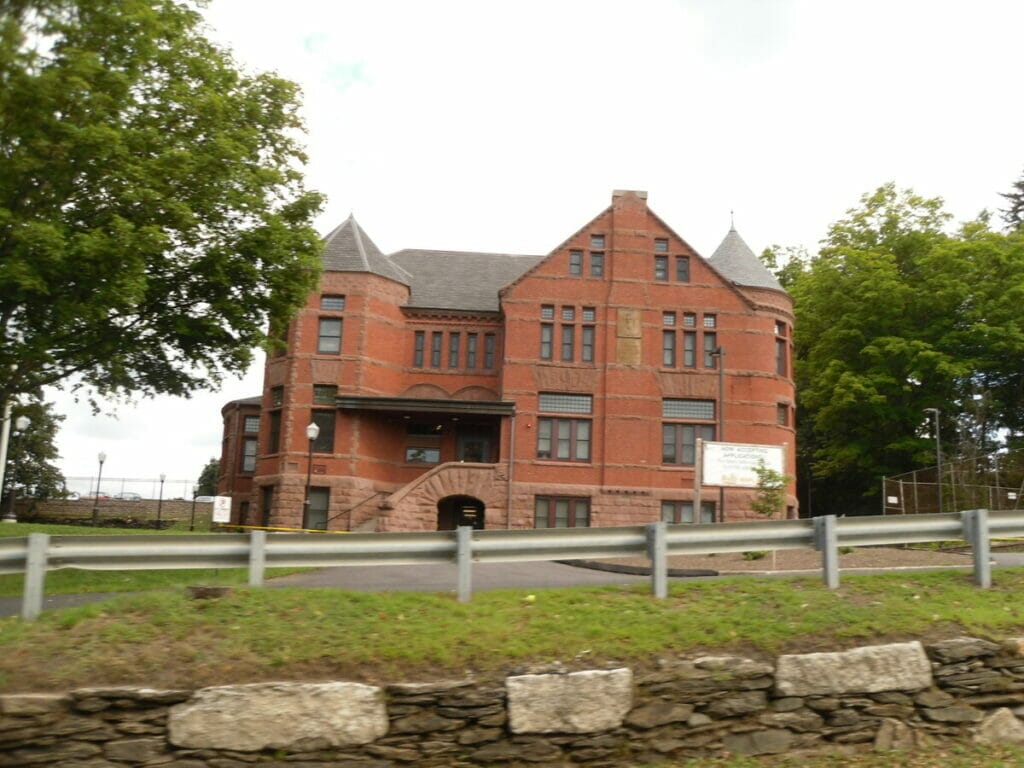 Despite its population of less than 12,000, Spencer, MA is home to a whole forest, making it well-worth a visit!
Go hiking, fishing, or picnicking in Spencer State Forest – be sure to find the small waterfall in the lake!
Wondering what to do in Spencer, MA besides spend a day in the forest?
Why not visit Saint Joseph's Abbey, a monastery in the north of town that has its own gift shop?
Or, check out the town library, housed in a historic red brick building.
Traveling with kids or fun-loving adults? Take them to Bayberry Bowling Center!
If you're planning on staying the night in town, you'll definitely want to book this beautiful lakeside retreat on Airbnb!
Planning a wedding, birthday, or other event? Zukas Hilltop Barn is the perfect venue for an elegant country wedding!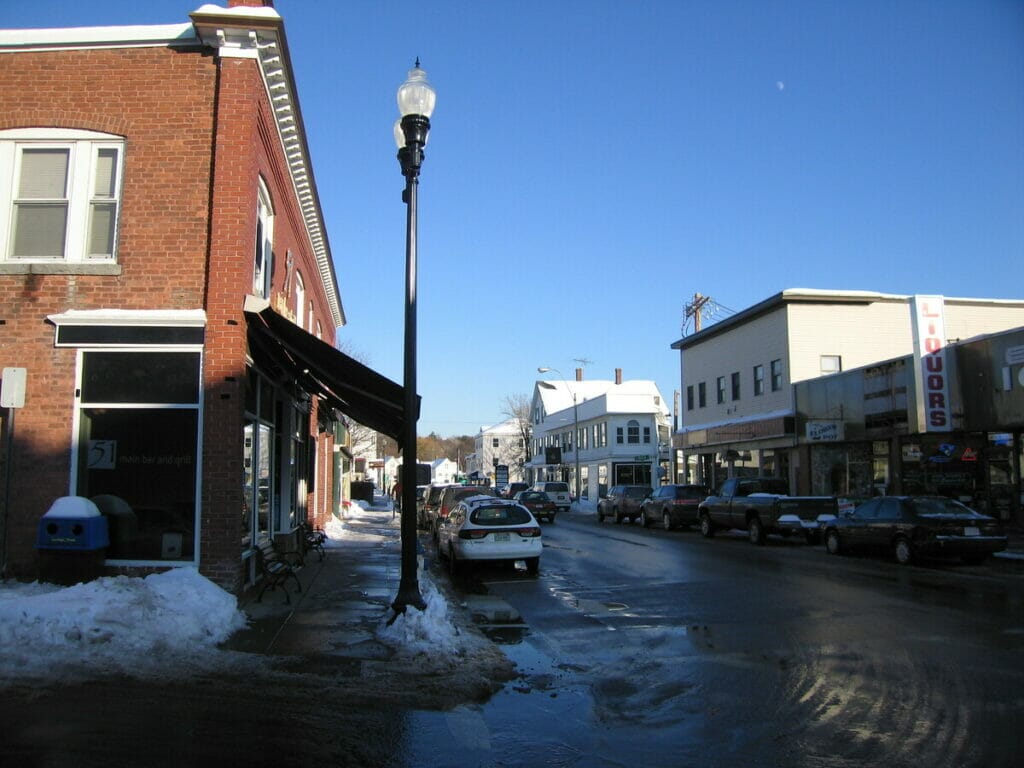 You'll love to shop and eat in downtown Maynard, where you'll find clothing boutiques, toys and collectibles, art, gifts, and more!
Enjoy pad thai for lunch at Siam Village, put together a new outfit from Raspberry Beret, or see the latest blockbusters at Fine Arts Theatre, a restored historic cinema.
The real talk of the town is Sanctuary!
From the outside, Sanctuary looks like just that: a sanctuary.
But within the walls of this old church building, a bright new event center brings life to the town.
At Sanctuary, you'll enjoy a hip bar & lounge, as well as live music, comedy, and other events.
Check their calendar to see what's happening when you're in town!
16. Wayland: best small towns in Massachusetts to visit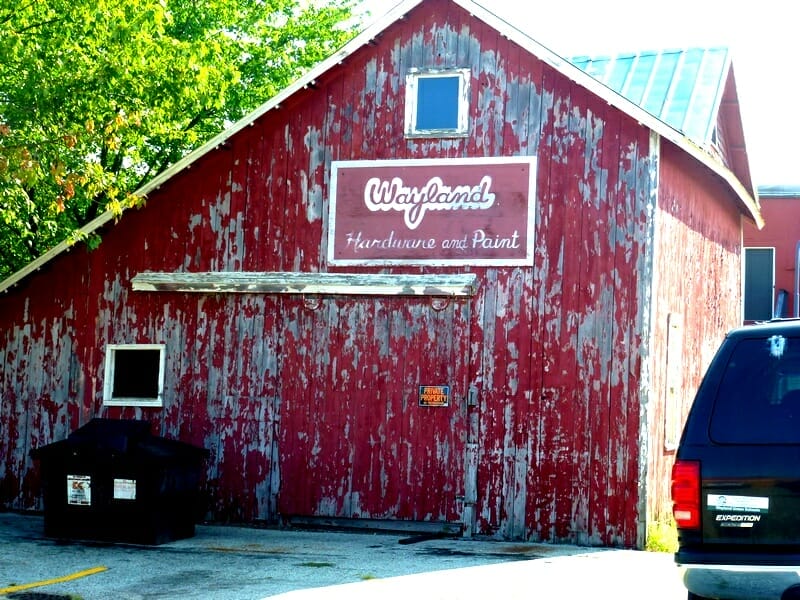 Wayland is one of the only small towns in Massachusetts that has more modern buildings downtown than the brick and cobblestone of many other New England town centers!
If you're sick of seeing red, check out the clean, pastel buildings that house all the shops, eateries, and services in downtown Wayland.
But there's more to do than shop or eat!
Enjoy the public golf course at Wayland Country Club, hike the rustic trails of Hamlen Woods, or go to Dudley Chateau to enjoy a drink at a bar that was made from a ship's hull!
You have got to see the Quabbin Reservoir from the Enfield Lookout in Ware, MA!
Pack a picnic, then drive or hike up to this small but idyllic spot, where you'll see deep blue waters, lush green trees (depending on the season), and maybe even some wildlife!
Grenville Park, in the southeast of town, is another great nature spot in Ware.
Enjoy a scenic stroll, go fishing in the river, or bring your kids to the playground.
In the mood for some shopping?
Head over to Main Street, where you'll find clothes, jewelry, antiques, and plenty of delicious local food!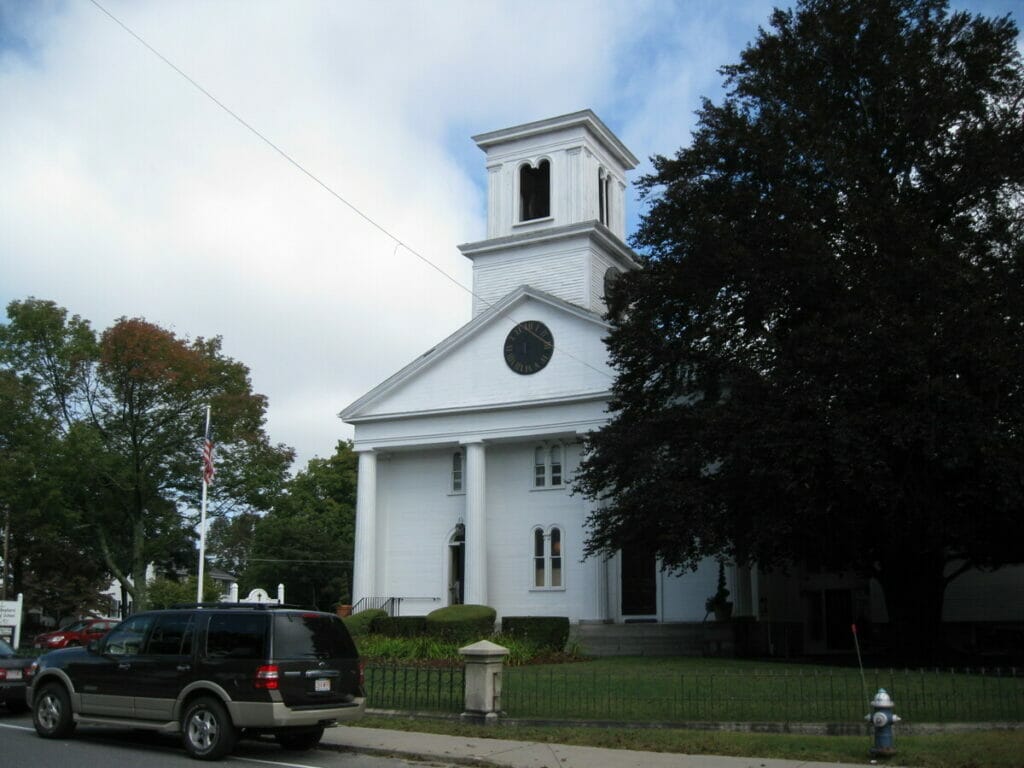 Intrigued by mysticism?
You'll find psychics and metaphysical gifts in Medway!
Visit Sheila Marie Intuitive Arts for a reading, then head over to Enchanted Fox to take home some crystals, incense, books, or other new age items.
Not into the metaphysical?
Families with kids will enjoy an afternoon in Choate Park, where there's a pond, playground & splash pad, and plenty of green space to run around or have a picnic.
You're in for some good old fashioned comfort food at Medway Cafe, and don't forget to try a homemade muffin, bagel, pastry, or sandwich at Muffin House Cafe!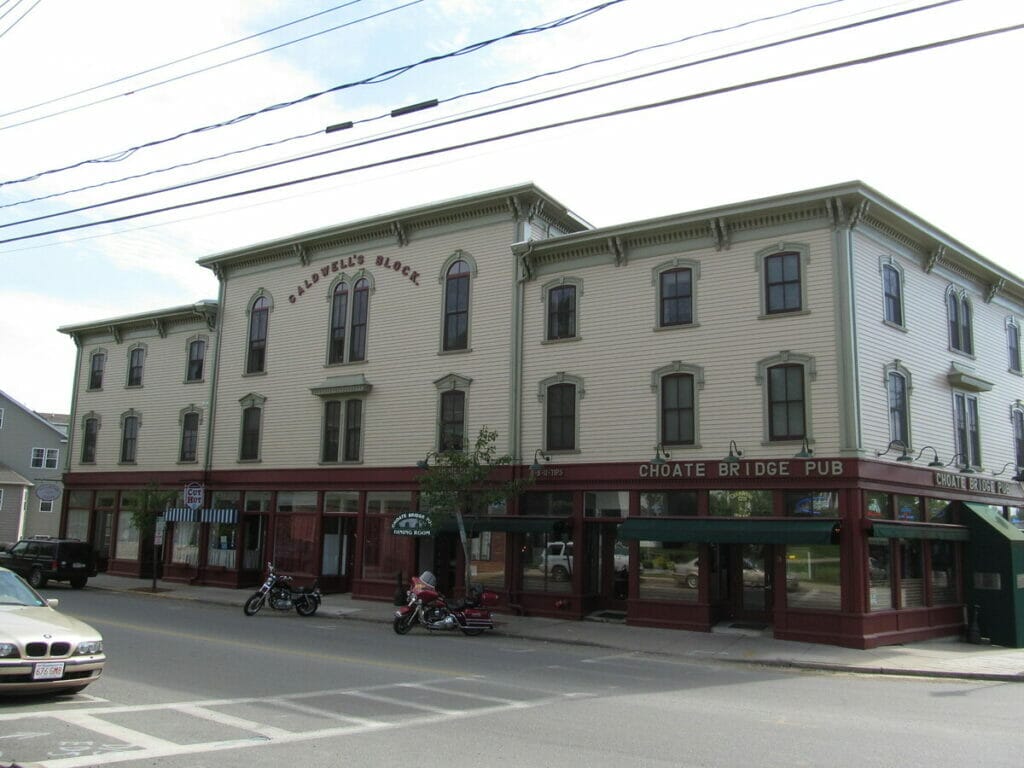 There are plenty of cute towns in Massachusetts, but Ipswich really takes the cake!
Choate Bridge, built in 1764, leads you into the center of town, where you'll find pubs, cafes, shops, and more!
Seafood lovers will be happy to know that Ipswich is famous for its clams. You've got to try the fried clams at Choate Bridge Pub!
Take a tour of Castle Hill on the Crane Estate, a historic house by the sea, where you'll find a stunning mansion, lush gardens, hiking trails, and the perfect picnic spot.
If you're in need of some time spent in nature, Ipswich has you covered. From forests, to beaches, to even a marsh and a wildlife refuge, you'll find breathtaking nature everywhere!
Hey! Want more ideas on the best small towns in the USA? Check these out!
Pin for Later!
Get the All-American Travel Secrets!
Don't miss out on America's hidden gems!