If you've visited Chicago and thought you could mark Illinois off your bucket list, you are not alone.
However, there is so much more to Illinois than just Chicago.
While the Chicagoland area has a lot to offer, consider visiting some of these small towns in Illinois.
These charming Illinois small towns have a lot to offer, including access to beautiful Illinois national parks.
And the best part?
You don't have to worry about rush hour traffic!
Whether you prefer outdoor adventures, historic experiences, or just a quiet downtown stroll, you'll find a town you'll want to visit!
1. Galena: small towns or cities in Illinois
With a strong indigenous influence, this small town in Illinois has a rich history.
Galena was named after a mineral that was found in the mines around this town.
While the population has decreased over the decades, the town still has a lot to offer.
It's located in the part of the US that was never covered by glaciers, so the landscape is much different from other parts of the country.
This makes it great for outdoor activities!
You can go for a stroll in the summer or snowshoe in the winter.
All year round, you can find live music and delicious food.
Go shopping and support local artisans.
Prioritize your health and wellness at one of the spas.
Or learn something new at one of the historic attractions.
Look up the event calendar to plan your trip around the Halloween parade or hot-air balloon festivities.
2. Arcola: cute towns in Illinois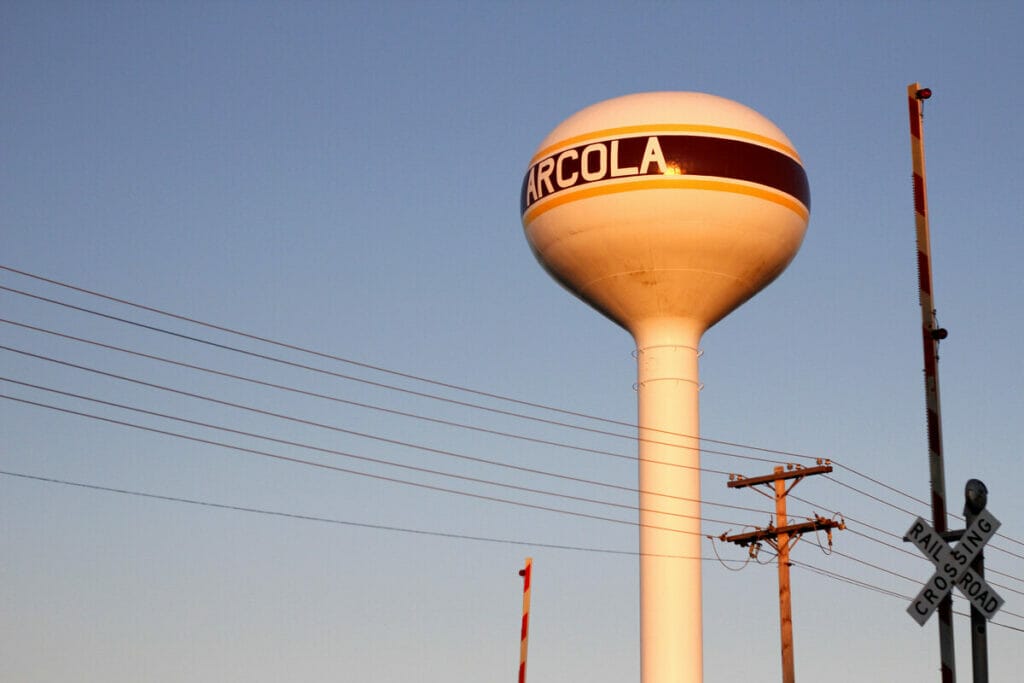 Arcola, the "broom corn capital of the world," is your gateway to Amish country.
You can learn about broomcorn at the Broom Corn Festival.
You can also learn about Amish life and catch a glimpse of the Amish countryside.
Arcola's main claim to fame is Raggedy Ann and Andy.
This is where the creator of those dolls was born!
Make sure you visit the Hippie Memorial, Monticello Railway Museum, or Illinois's first Burger King.
If you love all things outdoors, stop by the Douglas-Hart Nature Center or the Aikman Wildlife Adventure.
You'll be able to see many native plants at the nature center and visit many wild creatures at the wildlife adventure.
3. Nauvoo: best small towns in Illinois to visit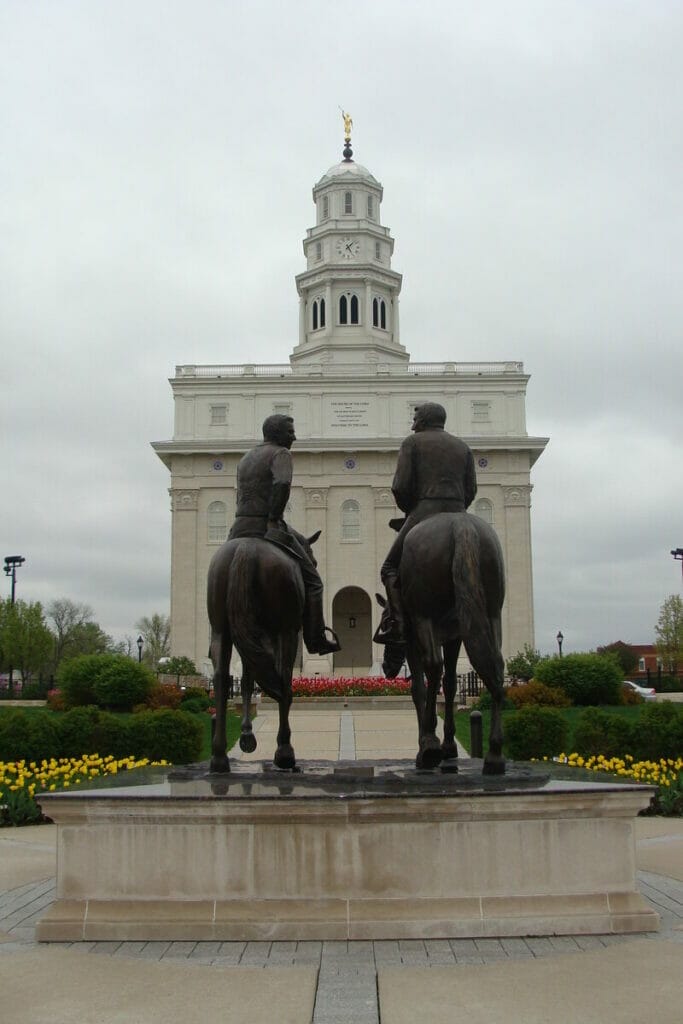 Of all the quaint towns in Illinois, Nauvoo may be one of the cutest.
This small town is rich in arts and culture.
You can take a historical dance lesson or attend a historic-themed ball!
Visit the Quarry Art Gallery or the Temple House Art Gallery, which is actually a registered historic place.
Nauvoo Glassworks is a great place to go to learn about the art of glassblowing.
Nauvoo is also home to many museums.
You could visit the Flood Museum, the Family Search Center, or the Joseph Smith Historic Site.
Learn more about these options at the Tourism Office or the Historic Visitor's Center.
You can even visit one of the museums sponsored by the Historic Society.
They're still participating in archaeological digs to learn even more about their strong history.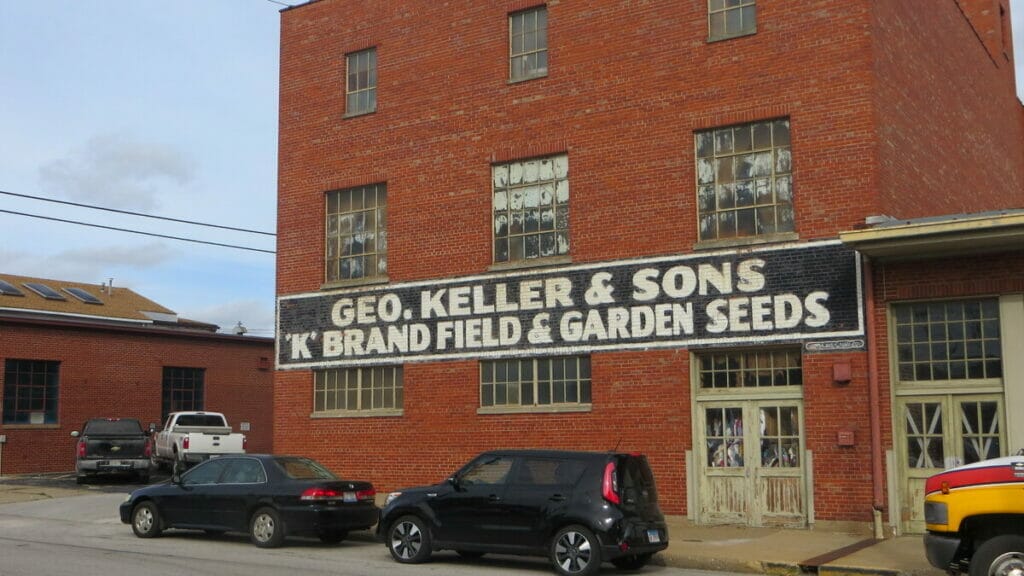 Quincy is a great place for history buffs to visit.
There are actually 12 museums and historic sites you can explore.
You could learn about 1930s agriculture or aerospace.
As you drive around, you'll notice several types of architecture.
According to the experts, you'll find over 30 types of architecture represented.
That's a lot in such a small town!
There are nearly 50 significant buildings you could see on a self-guided driving tour.
There are also many outdoor activities around here.
Since it's located on the Mississippi River, you can even participate in some popular river activities.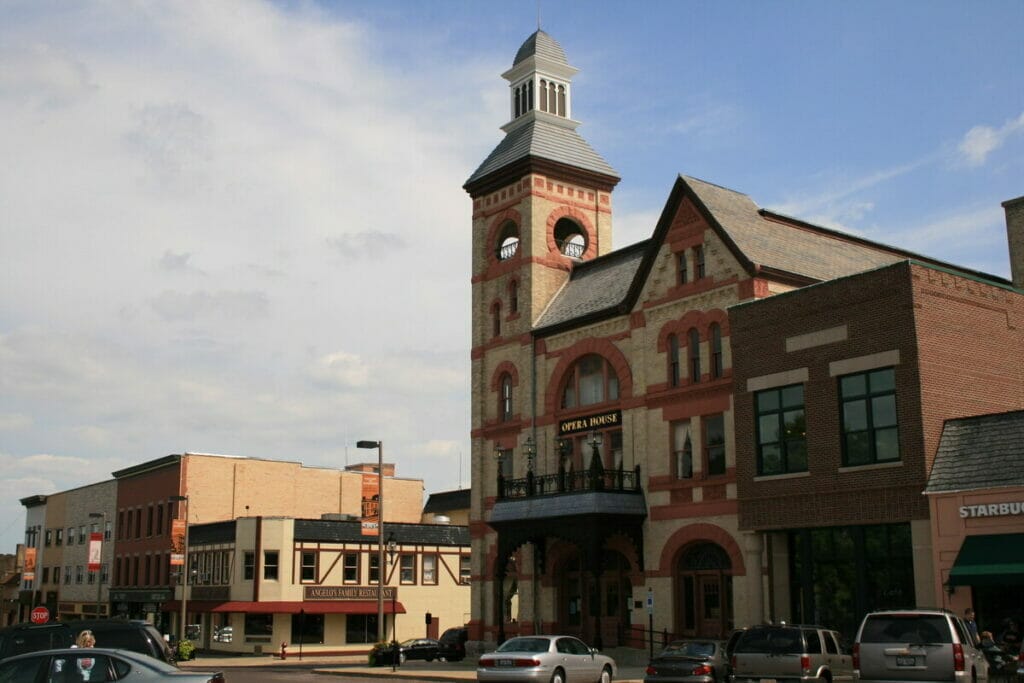 While there are a lot of cute towns in Illinois, Woodstock is probably the one most people have seen.
This is actually where Groundhog Day was filmed, so Woodstock has made it to the big screen!
You can actually visit the annual Groundhog Days festival in February.
You may have also seen Woodstock featured in Planes, Trains, and Automobiles.
There are cool events year-round in Woodstock.
Christmas activities include Cookies and Churros with Santa, the Christmas Tree Walk, and the Santa Hut.
Celebrate Mexican Independence Day or Halloween at one of the many fall events.
If you want to visit during the summer, consider visiting during one of the many festivals or just catching some live music.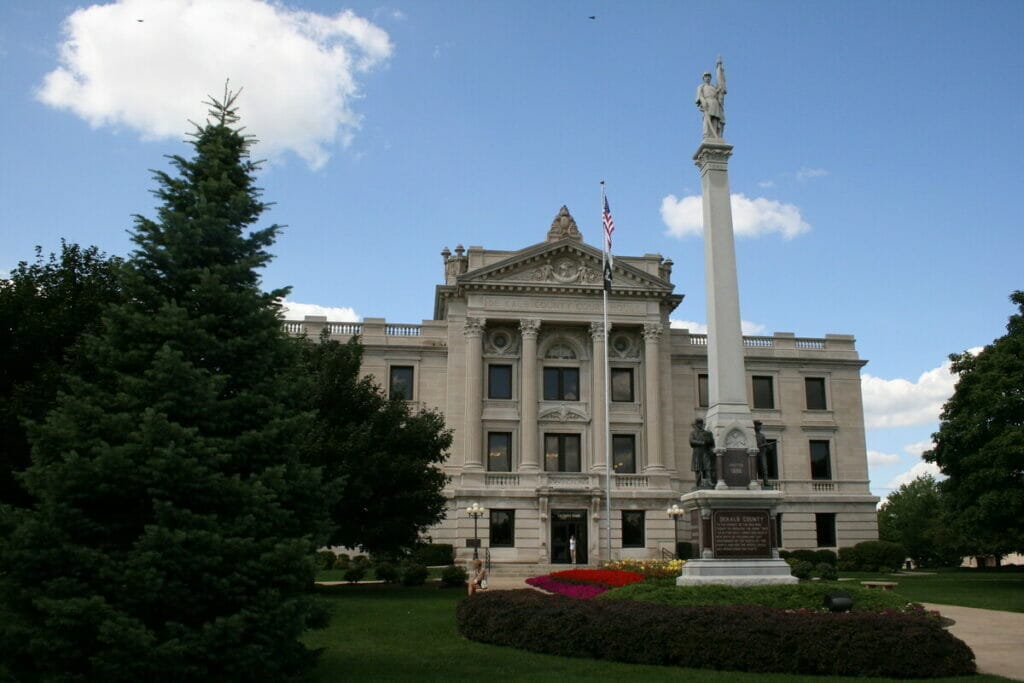 Like most of the towns in this list, Sycamore has a really neat historic downtown district.
What sets it apart from the others on this list is its annual pumpkin festival.
The Sycamore Pumpkin Festival has all the makings of a small-town festival, like a parade, a carnival, and vendors.
It also has pumpkins on display.
People get really into their pumpkin displays and create amazing works of art every fall!
This is the perfect event for anyone who loves all things fall and Halloween!
If you like biking, you can ride your bike around this town.
And be sure to stop by Blue Moon Bikes and check out their Vintage Stingray museum!
There are also many other activities for outdoor adventurers.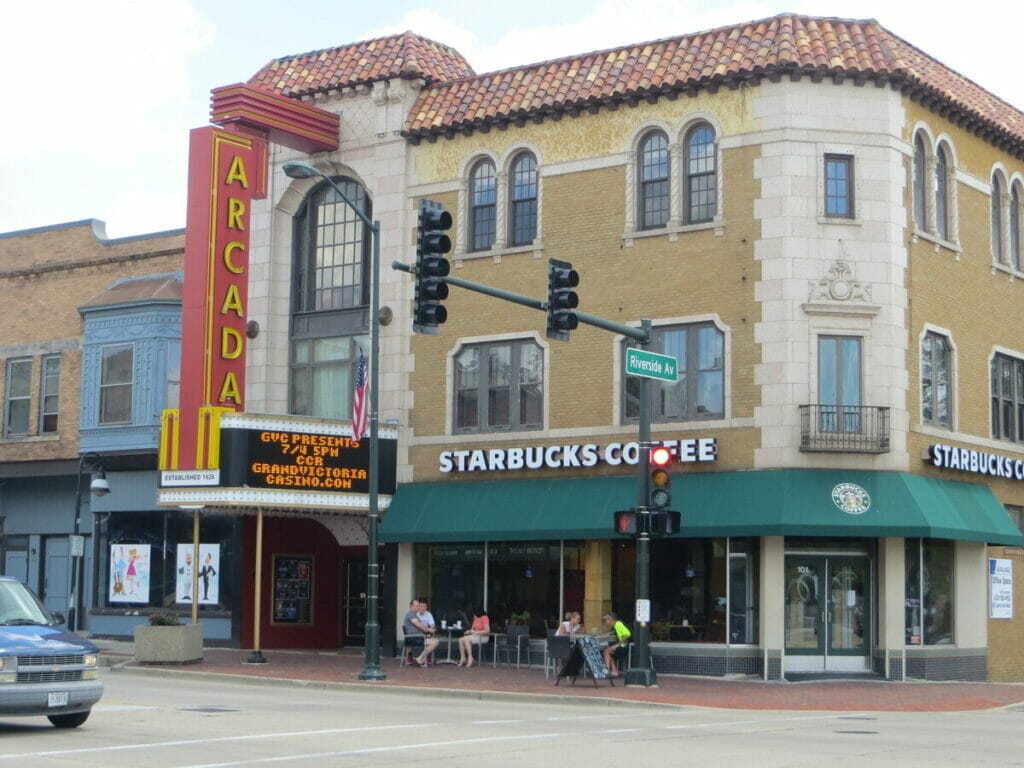 St. Charles is one of the best small towns in Illinois to live in.
Historically, there have been many jobs in St. Charles and that hasn't changed.
Located on the Fox River, this small town has a wide variety of restaurants, activities, and festivals.
Scarecrow Weekend, Jazz Weekend, and Restaurant Week are just a few of the events in St. Charles each year.
With live music, art studios, museums, and public outdoor spaces, you'll always be able to find something enjoyable to do.
As you explore this cute town, you'll learn so many interesting factoids. St. Charles has a rich history that still seeps into the local culture.
A true midwestern small town, Paris is a hidden gem you'll want to visit.
If you spend a weekend here, you'll come across restaurants that the locals absolutely love.
You'll be able to find a few fun things to do, whether it's an event or an outdoor activity.
But what sets Paris apart is its connections to a parallel universe.
Eames Demetrios is a geographer who uses storytelling to connect our world to a parallel world that is quite similar to ours.
He has over 100 installations throughout the world and one is in Paris, Illinois.
This is called the Embassy Row of the Parisian Diaspora.
You can also find a road marker about the Faerie Traces that connect these two worlds.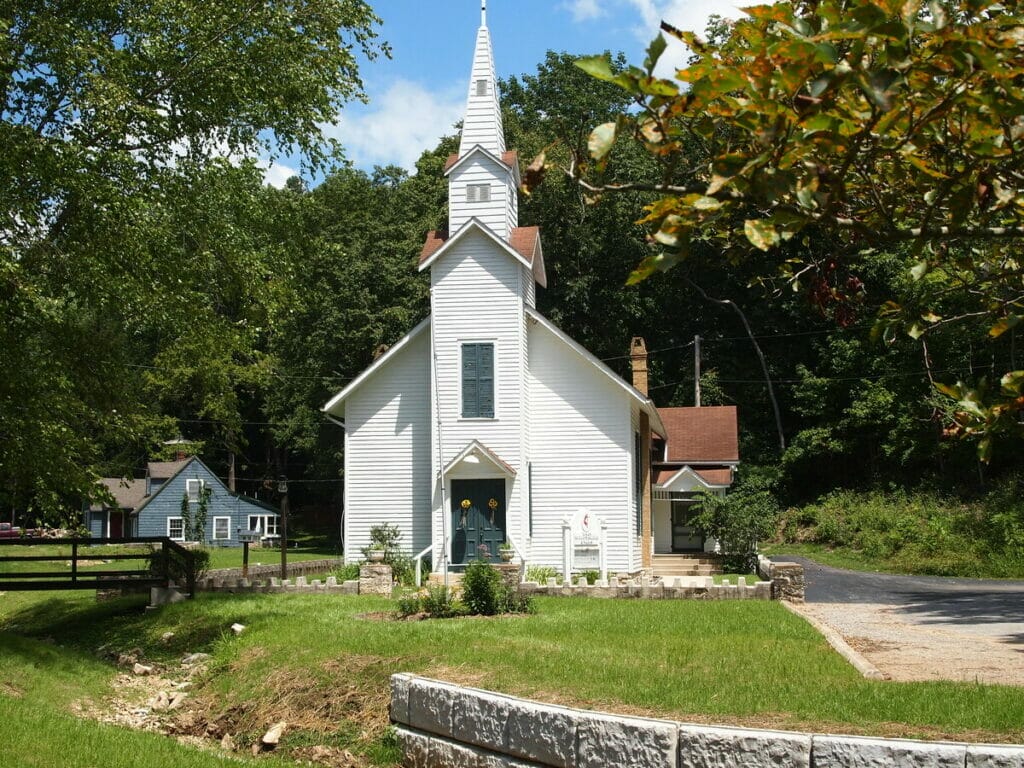 Voted the top scenic spot in Illinois, Elsah is a quaint town located along the Mississippi River.
Not only is the scenery beautiful, but the town is full of history.
Farley's Music Hall, the Elsah Village Civic Center, and the Ice House are examples of historic buildings that you can visit today.
Adventurers may want to go ziplining or horseback riding. Foodies will appreciate the many wineries in the area.
As you meander around this town, you'll notice several types of architecture.
The many buildings represent a wide variety of building styles.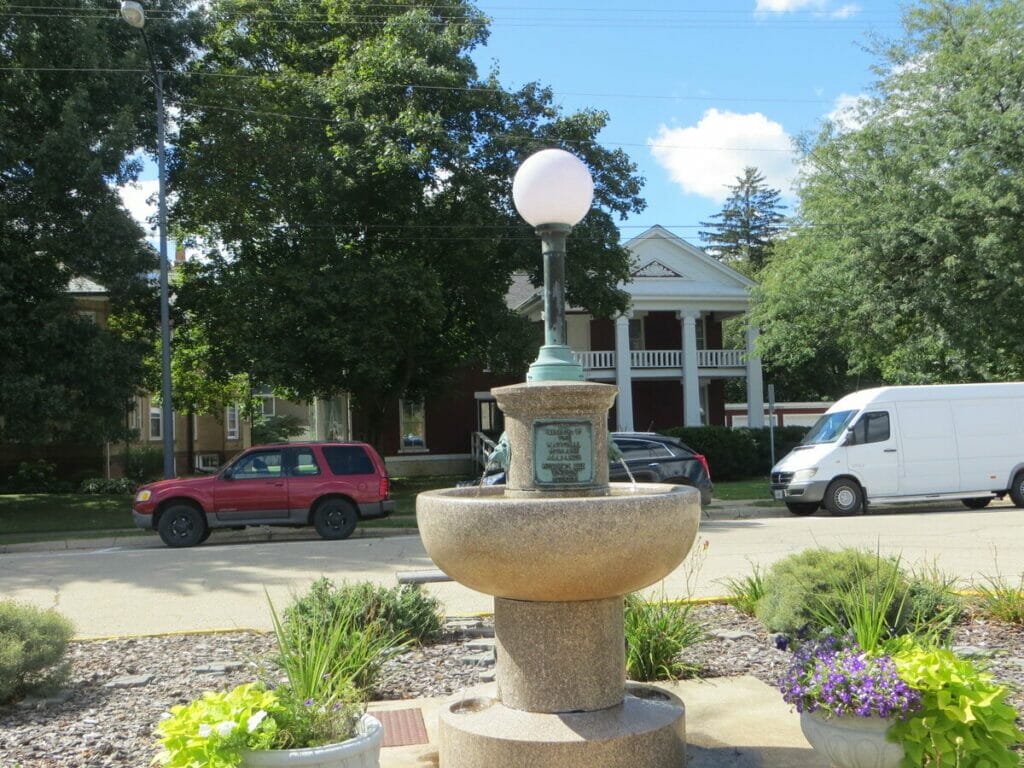 Princeton is a bit upscale for a Midwestern small town.
You can find fancy restaurants and shops here.
This is a bit different from many of the other best small towns in Illinois.
Fortunately, Princeton still has a sense of community among its residents.
With festivals and fairs year round, there are many chances to experience this town.
They even have Shadows of the Blue and Gray, which is a great way to learn about Civil War history.
Princeton is located in Bureau County, which was actually a New England settlement.
Because of that, you'll find hints of New England throughout the town.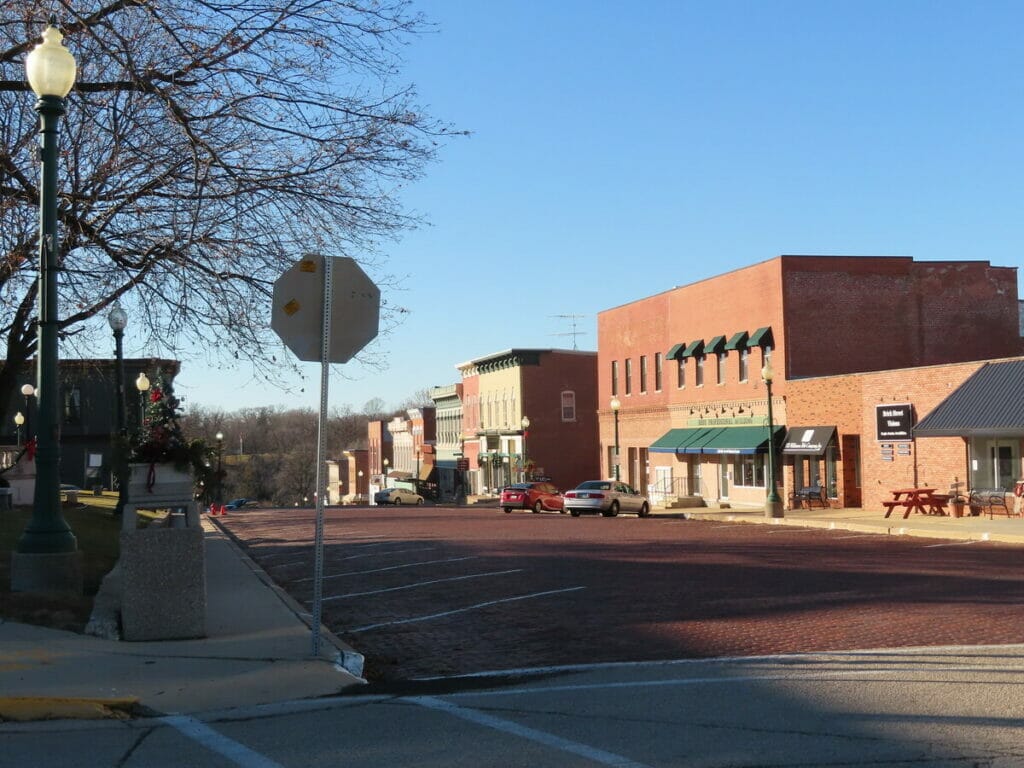 Mount Carroll has a lot of cute places to stay the night.
If you want to plan a trip around a cute B&B, this is a great place to do that!
The Bridgewater Inn and the Inn at Molly's are two historic inns that would make for a cozy trip.
The town hosts many seasonal events throughout the year, including some car shows.
You can often find live music or a show at the Timber Lake Playhouse.
You could also get some fresh air throughout the area!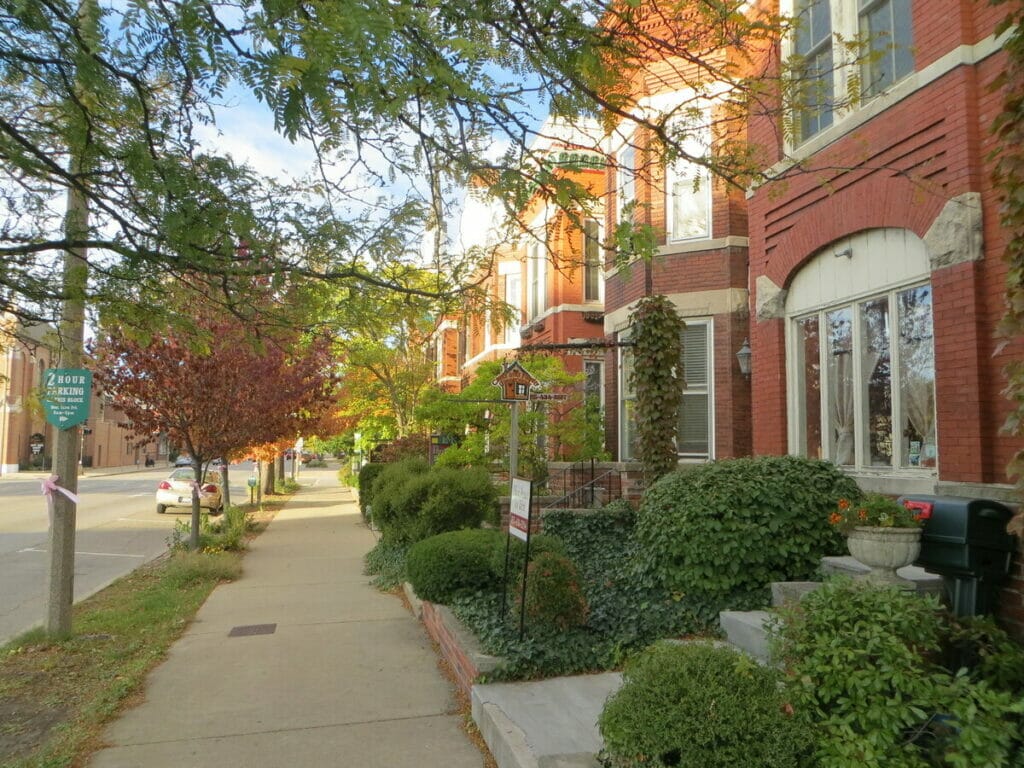 Located near four state parks, Ottawa has a lot to offer for adventurous folks.
If you'd like to explore Starved Rock, Illini, Matthiessen, or Buffalo Rock State Park, you'll be close to Ottawa.
This small town is also home to over a dozen local neighborhood parks.
There's no shortage of outside relaxation spots!
Learn about the town's history by looking at the murals throughout Ottawa.
You can also learn about the 19th century by visiting Reddick Mansion and Gardens.
Ottawa also hosts many fun events.
Whether you like cars, running, kites, or wine, there's an event for you.
There are also many fun family activities, such as Touch A Truck, Kids Fishing Rodeo, and Kids Play Day.
13. Lebanon: quaint towns in Illinois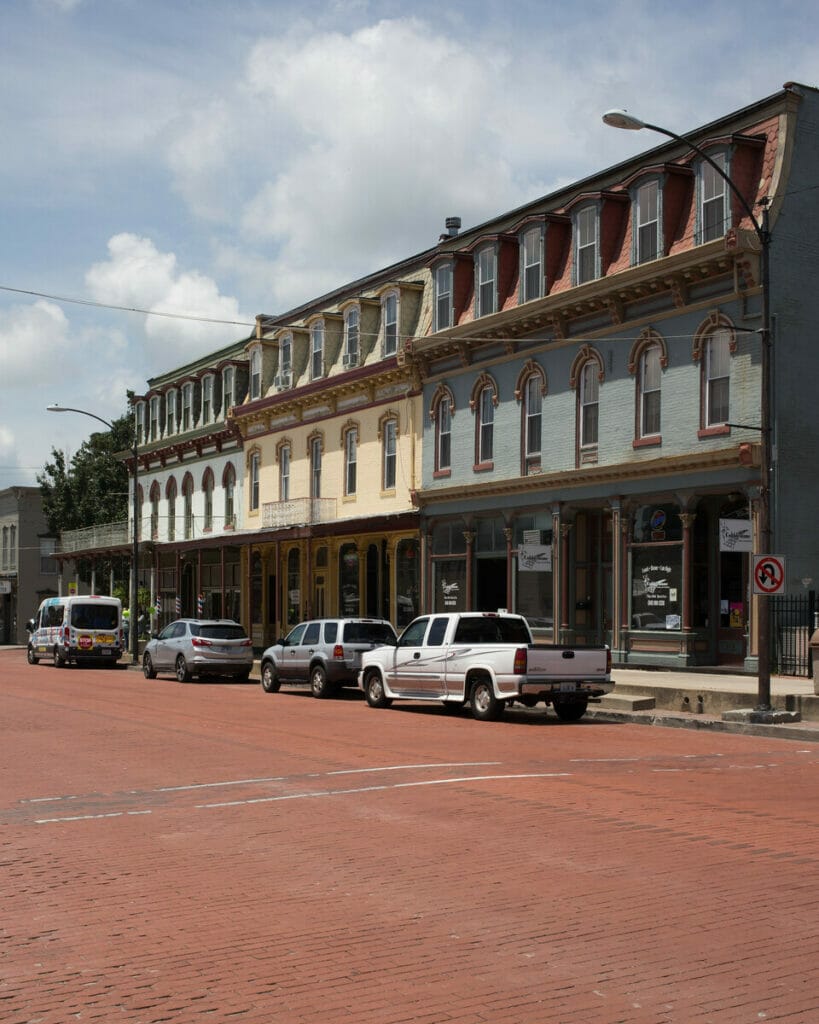 Lebanon is one of the best little towns in Illinois.
Located in "Little Egypt," or southern Illinois, the culture in this area resembles the South.
It's a small college town with a fair share of recreational activities.
There are a few local attractions you must visit here.
For instance, the Mermaid House Hotel was built by a retired sea captain who had seen mermaids at sea.
The Emerald Mound and Village Site is an archaeological dig site.
Then there's the historic district, most of which was built in the 19th century.
Like all artsy college towns, you could also visit an art center or the local playhouse.
Or visit Horner Park and take a stroll.
14. Greenville: Illinois small towns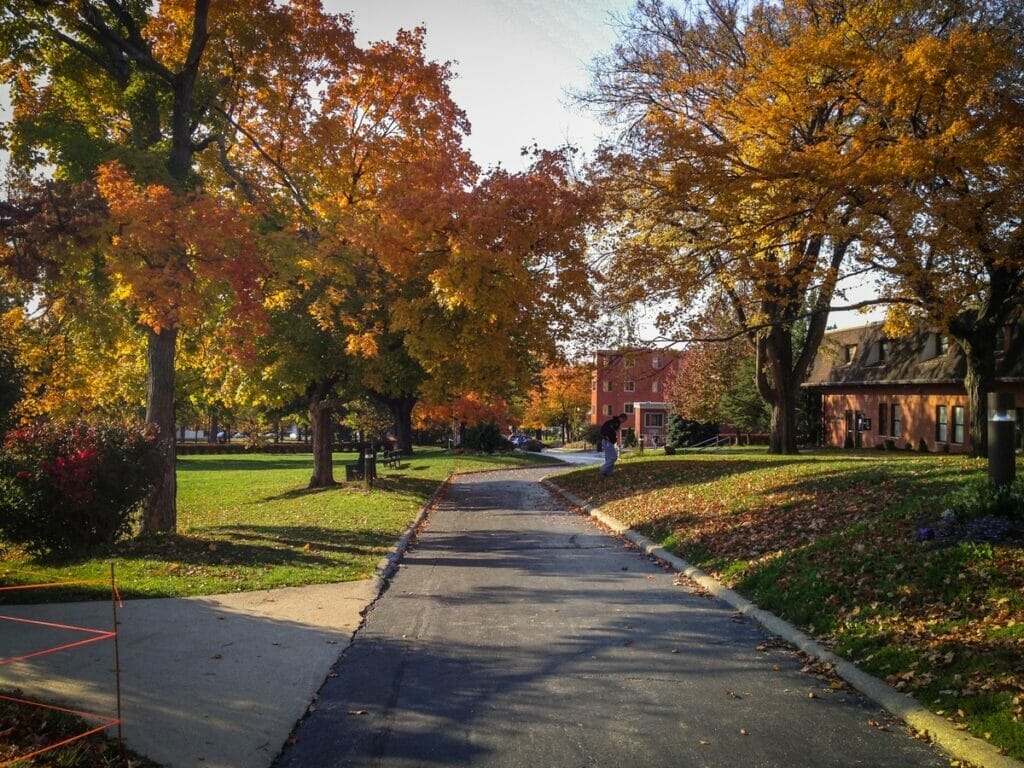 Greenville is another college town in Illinois.
Greenville College is a Christian university and that reflects in the culture.
They actually host AgapeFest, which is a Christian music festival.
A lot of cross-country bikers and hikers will pass through Greenville on their journeys.
This town is also near Governor Bond Lake, which is a great place for water activities!
If you want something a bit more exciting, go to Gateway Skydiving Center.
When you drive around Greenville, you'll find some Sears catalog homes, murals, and monuments.
If you're interested in the history of agriculture, visit the American Farm Heritage Museum and Hills Fort.
If you'd prefer a unique museum of the roadside attraction variety, visit the DeMoulin Museum.
This museum showcases a variety of odd inventions.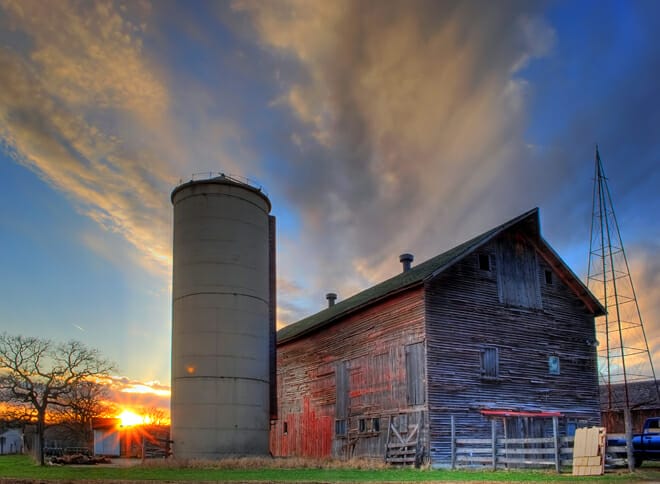 Geneva is an old town with a rich history.
As you drive around this small town, you'll notice a lot of historic buildings and landmarks.
The Fabyan Windmill is an authentic Dutch windmill.
Riverbank Laboratories was built over a hundred years ago and used to have a cryptology team that tried to decode classic works of literature.
The Sacred Heart Seminary Shrine is a building with beautiful mosaics.
Geneva also hosts many festivals and fairs.
Would you be interested in a French Market or Swedish Days Festival?
Do you enjoy live music or Shakespeare in the Park?
Do you want a reason to celebrate wine, cars, or the winter holidays?
You can do all this and more throughout the year when you visit Geneva!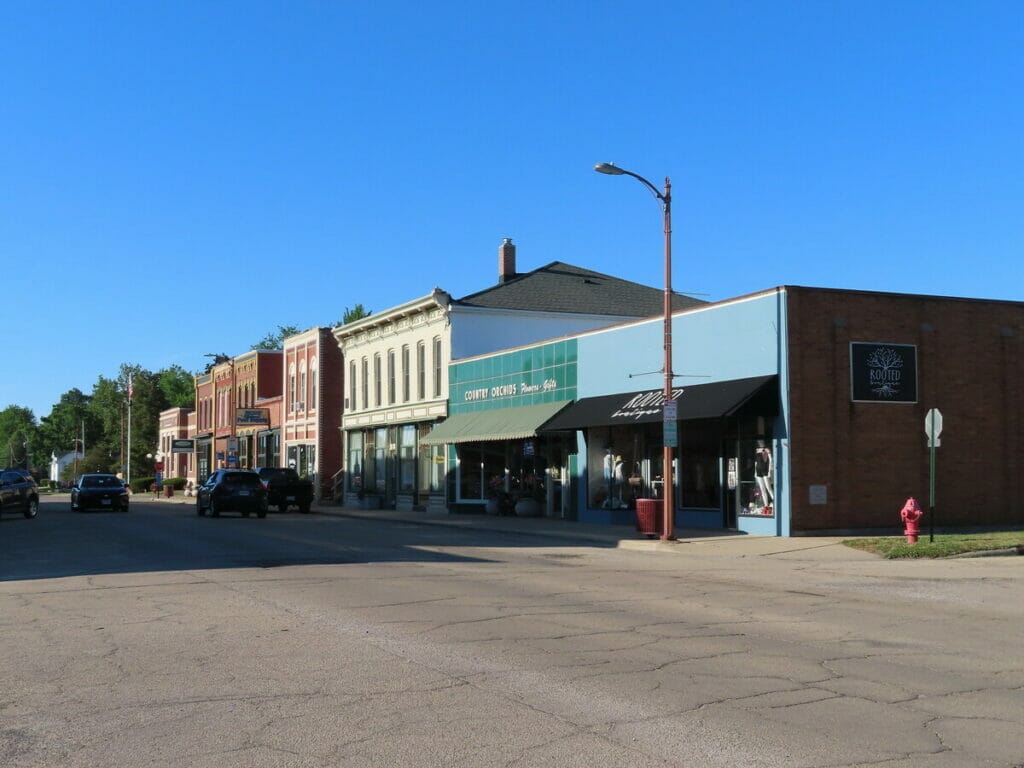 Fulton has a strong Dutch influence.
You can experience this at the Dutch Days Festival every May.
You can also learn about it at the Windmill Cultural Center.
Don't forget to swing by the de Immigrant Windmill.
Heritage Canyon is a nature walk with history embedded throughout the path.
For a more unique outdoor experience, visit the Lock & Dam 13 Recreation Area.
River lovers can go fishing and boating in the river.
Hike along the river if you don't want to get wet.
With more than 5 neighborhood parks, you can definitely find a quiet spot to soak in some sunshine.
Fulton is a part of the Barn Quilt Trail.
Stop by Susan's Calico Creations if you're really into quilting!
Fulton also has some stops along the Illinois Chocolate Trail.
Visit the Sand Prairie or look in the sky for a variety of different birds.
The Catholic cemetery in town is actually where you can find the Ronald Reagan family plot.
17. Elmhurst: charming towns in Illinois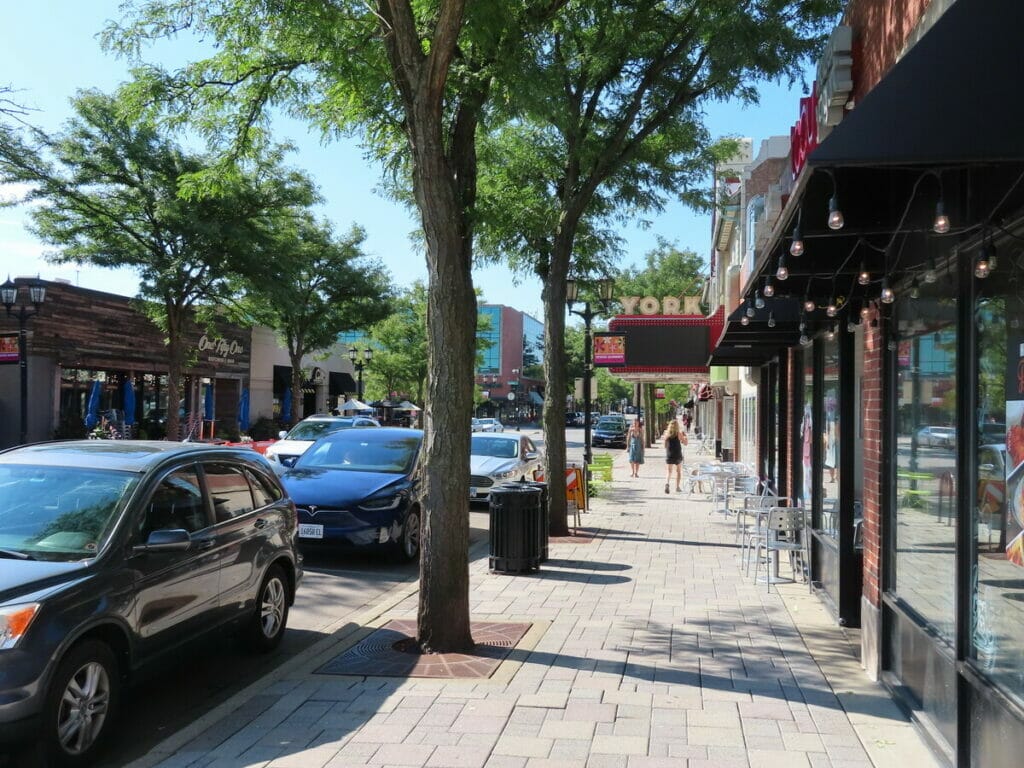 Elmhurst has been home to several factories over the years.
Sunshine Biscuits and Famous Amos cookies are still distributed in this small town!
Be sure to drive around Elmhurst and look for all the monuments throughout this community.
The Millennium Fountain, Sesquicentennial Clock, and the "Once Upon A Time" sculpture are just a few memorials around town.
If you enjoy shopping, you'll be thrilled to find out how many shopping centers Elmhurst has.
Eight major shopping districts offer different types of stores and boutiques.
Hey! Want more ideas on the best small towns in the USA? Check these out!
Pin for Later!
Get the All-American Travel Secrets!
Don't miss out on America's hidden gems!