When you think of New York, the first thing that comes to mind is the hustle and bustle of big metropolitans with throngs of people always in a rush to get somewhere.
But did you know that beyond its five boroughs, the state is home to numerous hidden gems?
From quaint lakeside villages to picturesque historical towns, there's no shortage of places just waiting to be discovered.
So the next time you want a break from your routine, consider taking a trip to one (or more) of these 21 best small towns in New York!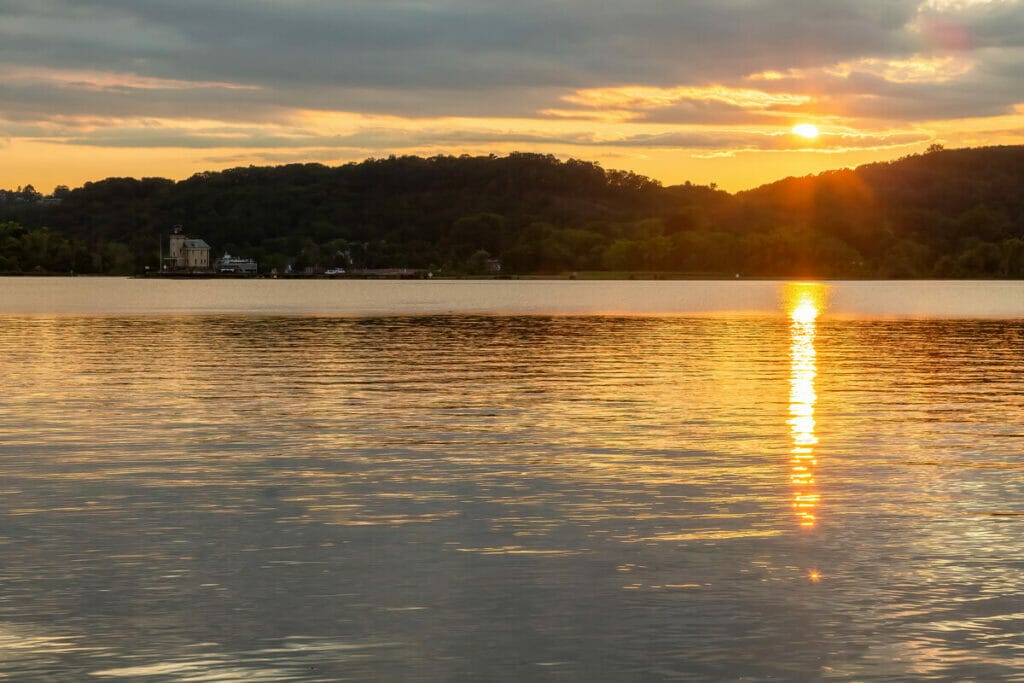 If you love the great outdoors, Rhinebeck should be on top of your list (a 2-hour train ride from Penn Station).
It's perhaps one of the best places for hiking in New York—the one place you should definitely check out is the Ferncliff Forest Preserve.
In addition to miles and miles of trails, there's an observation tower that promises stunning views of the Hudson River (go at sunset to get the best view and some stunning shots for your Instagram!) and of the preserve, too.
And if you love airplanes, make sure you go to the Old Rhinebeck Aerodrome, which is home to antique aircraft, offers biplane (1929 New Standard D-25) rides, and hosts regular airshows.
Other attractions include some of the finest antique and home decor shops and restaurants, and places to camp, meditate or ride fat bikes or mountain bikes!
2. Aurora: quaint towns in New York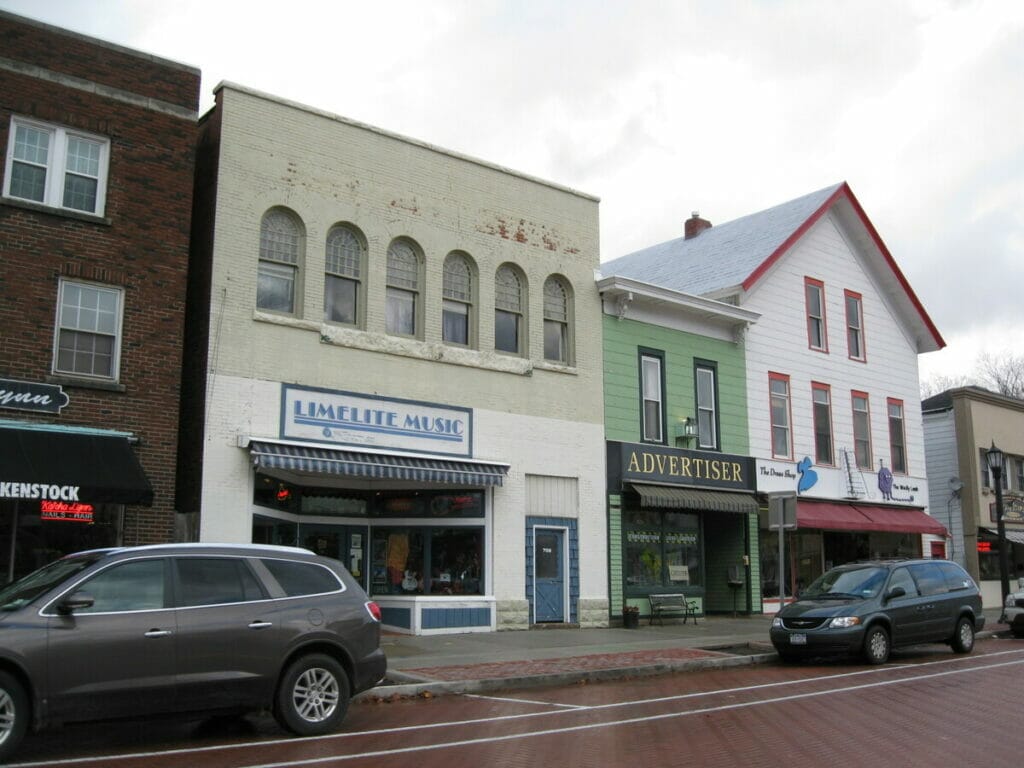 Aurora is truly one of the smallest towns in New York, with a population of fewer than 1000 people!
It's nuzzled right beside Cayuga Lake, which means you should start your mornings enjoying your coffee while taking in the stunning reflection of the lake.
After a slow morning, you can do a number of things: take a painting or pottery class, get on the Cayuga Lake Wine Trail for wine tasting, or just take a bike tour through the town and see the historical buildings, most of which are included in the National Register of Historic Places.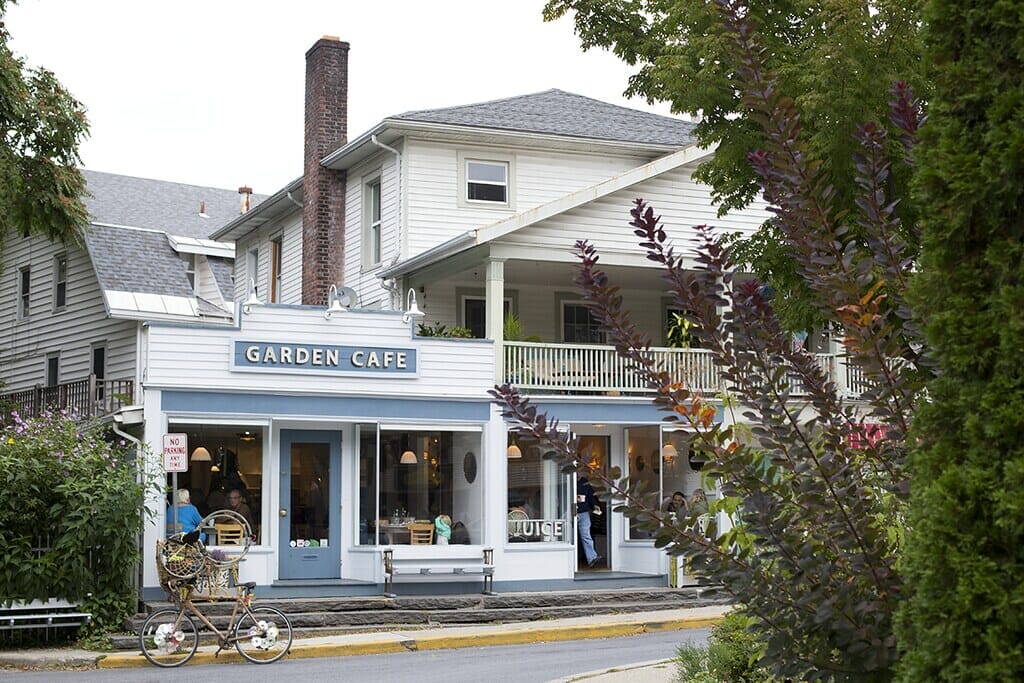 Often mistaken for Bethel, where the iconic music festival took place, Woodstock is one of the best little towns in New York, and has something for everyone.
It's home to the picturesque Kaaterskill Falls if you love hiking and the Karma Triyana Dharmachakra Monastery which offers a free meditation class if you truly want to relax.
If none of these are up your alley, don't worry; head over to Tinker Street, which is truly a music and art galore.
Here, you'll find selling virtually anything you can think of, ranging from jewelry and clothes to even postcards!
4. Tarrytown: charming towns in New York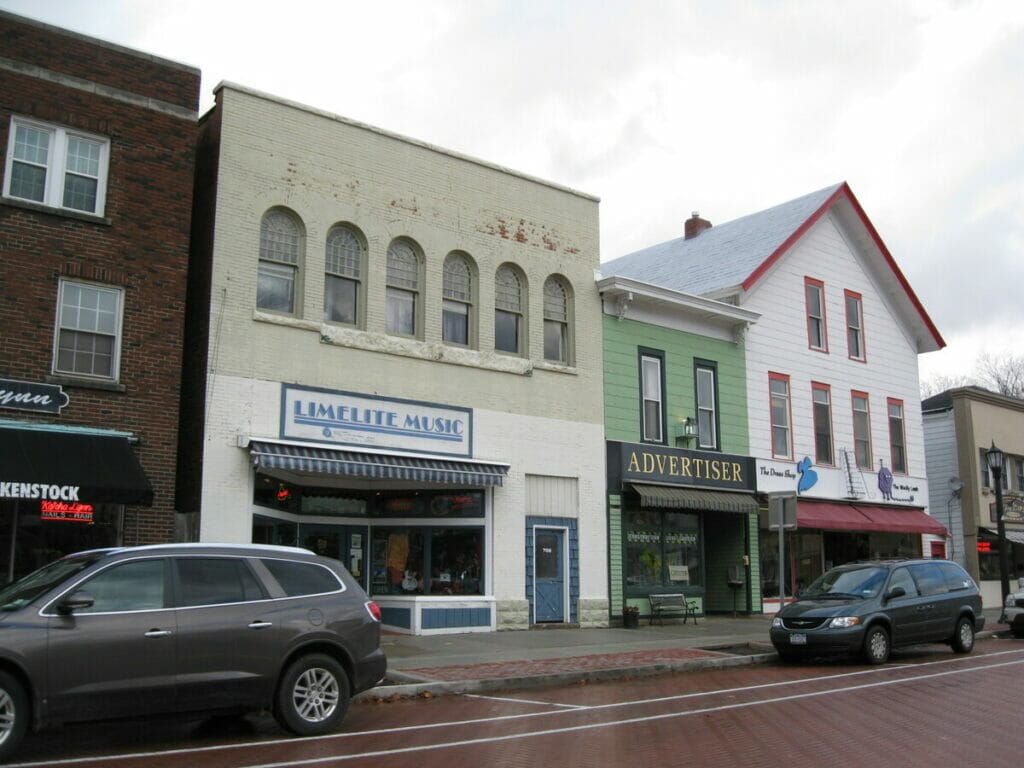 When it comes to quaint towns in New York, Tarrytown tops the list.
There's a lot for you to do here.
You can visit Sunnyside, which was once home to Washington Irving and is nothing short of an architectural masterpiece with its combination of Spanish, Gothic, and Tudor design elements.
Follow that up by visiting the iconic Tarrytown lighthouse and the Tappan Zee Bridge, and end the day with a show at the Music Hall.
If you want a more relaxed day, you can just traipse through the historic streets, explore art galleries, embark on nature trails, or mingle with friendly residents in local coffee shops.
If you're a history buff, you'll love the quaint little town of Greenport.
It's home to many interesting museums, including the East End Seaport Museum, Fireboat Firefighter Museum, and Railroad Museum of Long Island.
Don't forget to visit the camera obscura in Mitchell Park and take a ride on the old-timey Antique Carousel that goes back to 1920!
This town is also a great place for those who just want to soak in the natural country vibe of a small town.
Put your phone away and enjoy the sight of the sailboats bobbing upon the horizon, buy healthy snacks from small farm stands while driving down picturesque roads, or spend time visiting galleries, clean beaches, and vintage shops.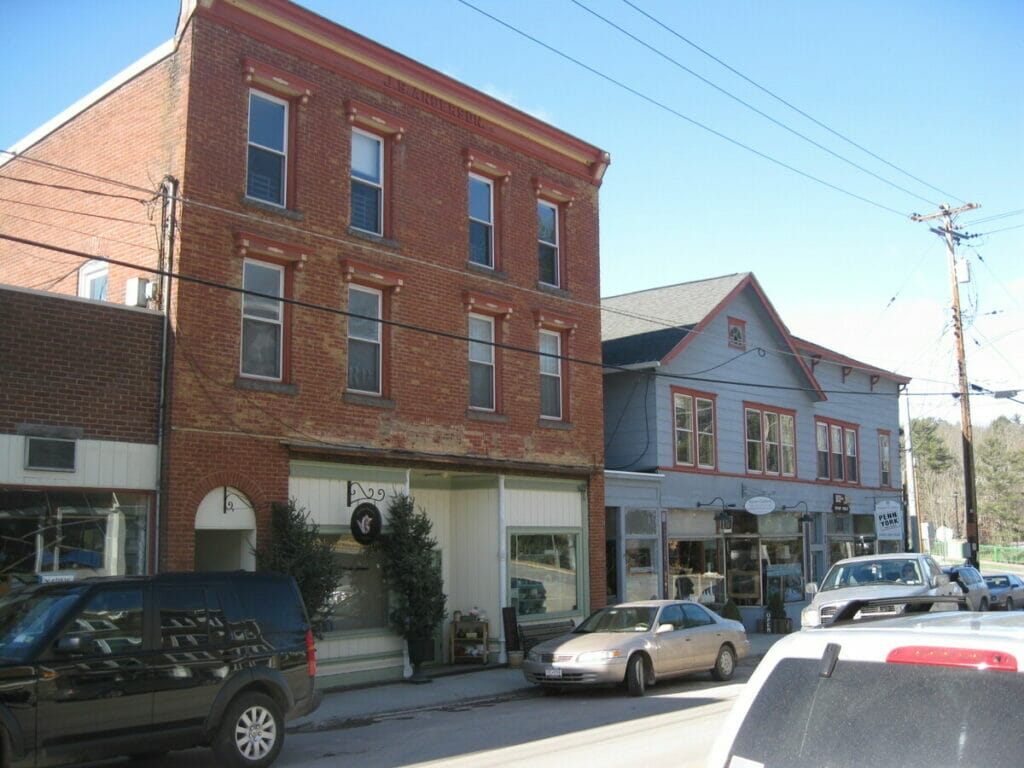 If you love water sports, take a weekend trip to Narrowsburg on the banks of the Delaware River for one of the cutest towns in New York.
The road to the town is pretty scenic, too, with stunning views of the Delaware River.
Let's get the water sports out of the way first: you can kayak, take a float, fish, or go rafting or tubing on the Delaware River.
And after spending a day in the water, head over to Main Street for some shopping and food.
Trumansburg looks something out of a fairytale, with its 215-foot Taughannock Falls, the likes of which you usually find on the back of postcards.
To get the most breathtaking view, make sure you go to the Taughannock Visitor Center and once you have your fill of awe-inspiring and breathtaking views, head back to town and indulge in farm-fresh food.
Spend the rest of the day wandering the streets and marveling at the Greek Revival and Gothic designs in the historic center and window shopping on Main Street.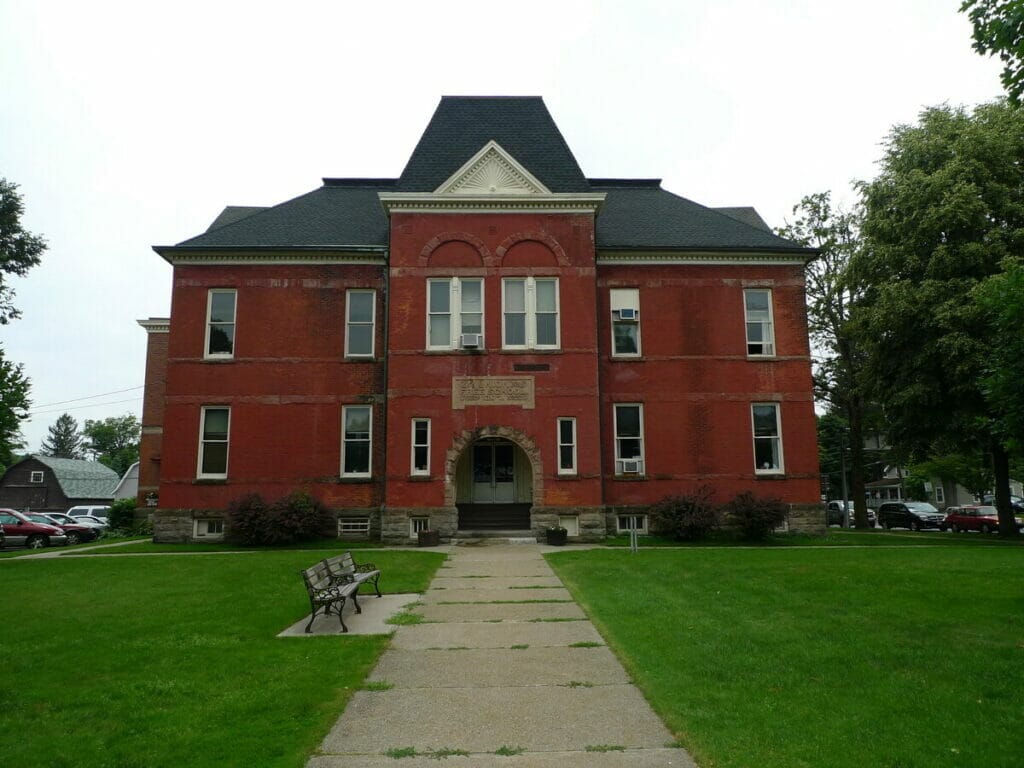 Whether it's summer, fall, or winter, there's always something to do in Ellicottville!
In the summer, you can golf, hike, mountain bike, go fishing, or visit the nearby Griffis Sculpture Park which has almost 250 impressive steel sculptures.
In the winter, take a ride in a horse-drawn sleigh or zip down ski hills at the HoliMont Ski Resort.
The best way to explore this town is on foot, with many places to check out, ranging from bars and local boutiques to impressive restaurants.
And when you're tired of all the walking, you can rejuvenate yourself at the Ellicottville Oasis Spa.
Take a day trip to Beacon if you love art (and vintage clothes).
Start your day by visiting Dia Beacon, a factory-turned-museum for art that spans an area of 300,000+ square feet.
Here, you'll find the work of some of the most popular names in modern art, including Andy Warhol and Louise Bourgeois, along with other contemporary art exhibits.
Once you have your fill of art, spend the rest of the day exploring the Dr. Who-themed restaurant, AfterEden Gallery, vinyl record shops and music shops, local craft breweries, and farm-to-table restaurants.
Or you can just stroll along nature trails and enjoy the captivating hillside surroundings.
10. Skaneateles: best small towns in New York to visit
Think of slow towns untouched by technology depicted in movies, and you get Skaneateles.
With rocking chairs on porches, small businesses, galleries, and eateries lining a main street (East Genesee Street) and lakeside greens, the town really does look something straight out of a movie.
There's a lot to do here: hike to Carpenter Falls, sample delicious wines from local vineyards, go boating, or just take in the stunning Skaneateles Lake from an adorable gazebo in Clift Park.
Once you're done exploring, indulge yourself in wood-fired pizzas or delicious, greasy burgers.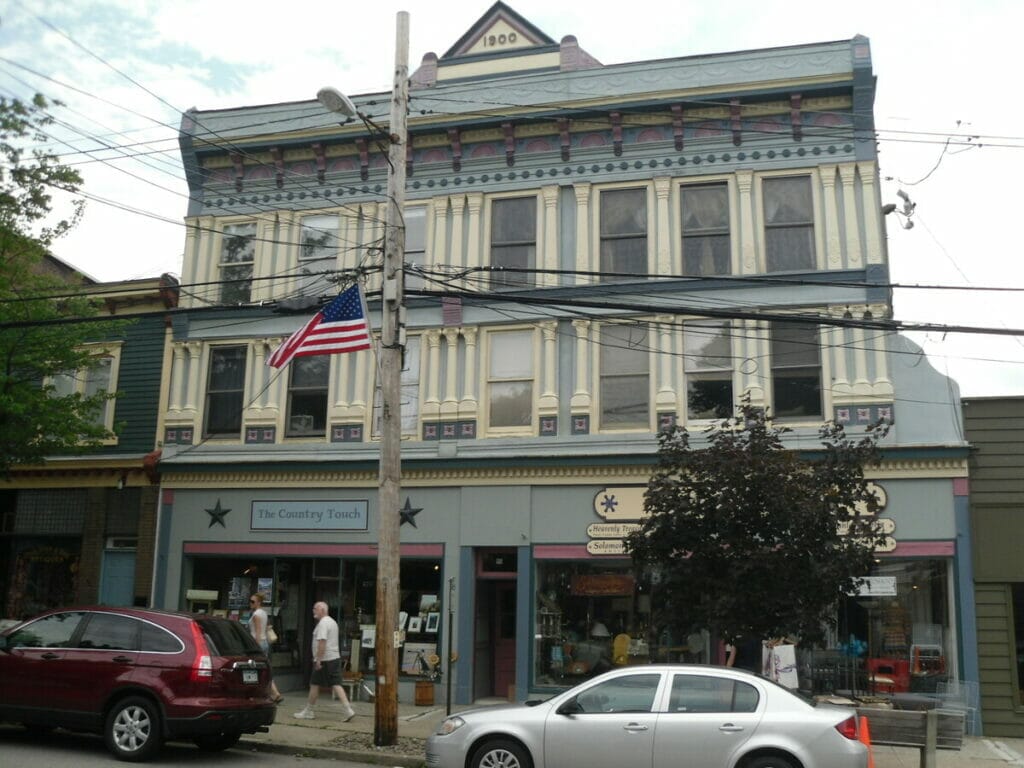 If you're looking for a serene little town in New York, Cold Spring is the place to be.
The 19th-century well-preserved buildings will take you back in time, but that's not all there is.
In this little town, you can hike through the West Point Foundry and Preserve and the Hudson Highlands or walk the 3.7-mile loop to the top of Breakneck Ridge to get an unforgettable view of the Hudson Valley.
Other interesting activities include fishing, swimming, or kayaking along the Hudson River, exploring the history of Boscobel House & Gardens, checking out the Bannerman Castle, and shopping at small boutique stores.
What makes Kingston one of the best small towns in New York is that there's something to do for everyone.
Historic buildings and funky shops line the uptown area, while midtown features a theater along with more shops.
If you love architecture, you absolutely have to check out the Stockade district, which houses old stone houses.
And if you're feeling adventurous, you can head downtown, where you can opt for trolley rides and sightseeing boat tours (the town is set on the Hudson River), visit museums (like the Maritime Museum), check out the music stores and cafés, or go to the Forsyth Nature Center.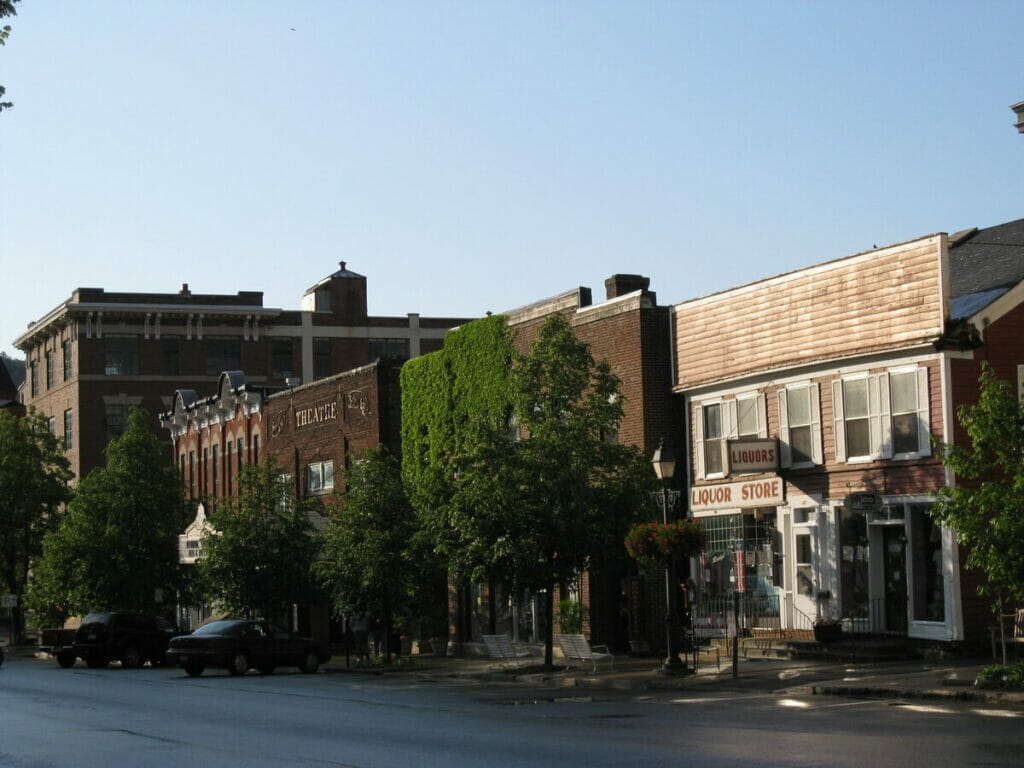 Cooperstown is famous for its National Baseball Hall of Fame, but you'll be surprised by the number of things you can do here.
Since it sits on Otsego Lake, it promises picturesque views of the countryside, the surrounding hills, and the clear blue water.
And if you're up for it, you can go boating, swimming, or fishing, hike in Glimmerglass State Park, or check out Fairy Springs Park.
And if you love museums, you'll have a grand time here.
The town is home to many museums, including the Farmers Museum (the oldest living museum in the country) and the Fenimore Art Museum, and Hyde Hall.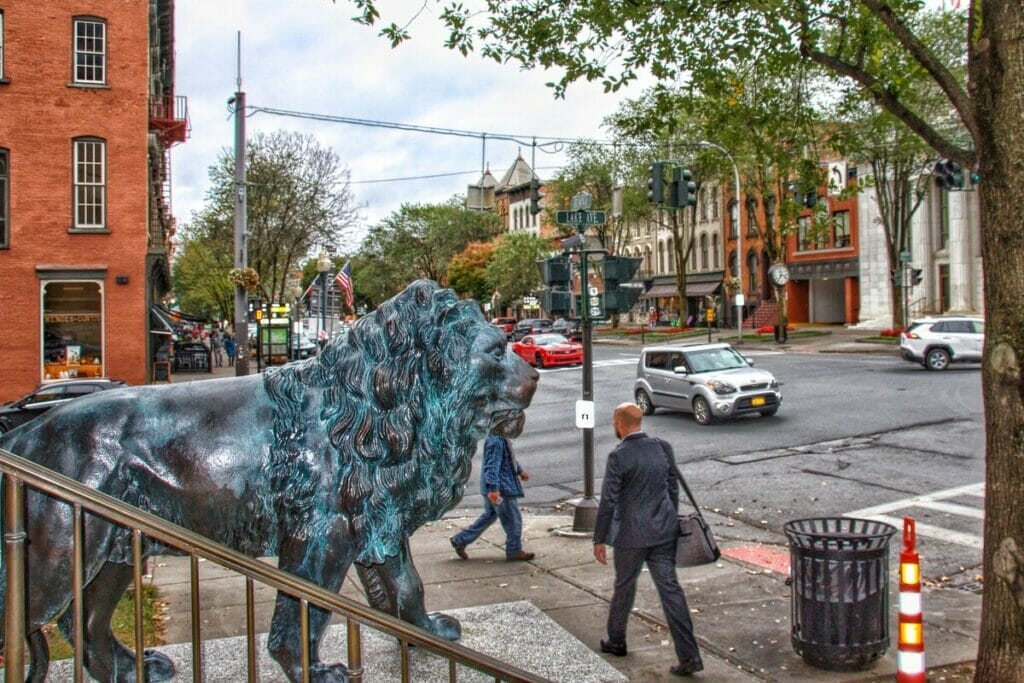 No list of small, cute towns in New York is complete without Saratoga Springs, and rightfully so.
Victorian homes with swings on porches, well-maintained gardens, and lush trees everywhere make this town seem something out of a fairy tale.
But scenic views aren't the only thing the town offers; you can watch a movie in a drive-in theater, visit museums, or go golfing or hiking.
There's also a racing Hall of Fame and a racetrack for horse lovers!
15. Lake Placid: small towns or cities in New York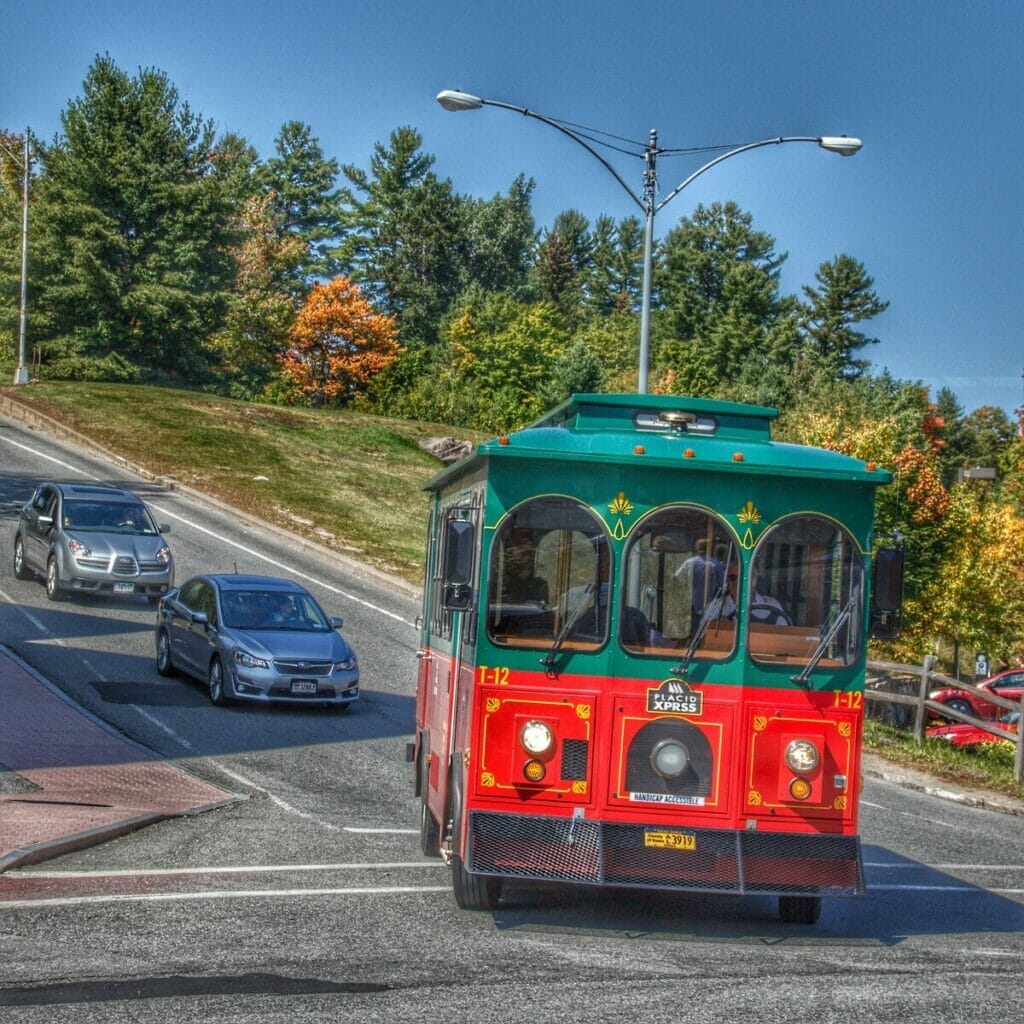 Well-known for hosting the Winter Olympics, Lake Placid in the Adirondacks is great for adventure junkies.
Here, you can take a trip to the stunning Rainbow Falls, hike at Mount Marcy, paddle or skate on Mirror lake, go downhill skiing, or climb Wallface for some remarkable views.
Other activities you can partake in include sailing, swimming, fishing, mountain biking, and even bobsledding!
And if you want to have a relaxing day, hit the downtown for some food and shipping or just wind down by the shore.
This is one of the best small towns in New York to live in, especially because of the diversity it offers.
In fact, it's even a popular vacation spot (in addition to being a college town)!
History buffs can hit Historic Huguenot Street to check out the stone homes built by Huguenot settlers in the 1700s, while outdoor enthusiasts can go hiking at the Mohonk Nature Reserve or spend the afternoon horseback riding and biking on the Wallkill Valley Rail Trail and art lovers can go to the Samuel Dorsky Museum of Art.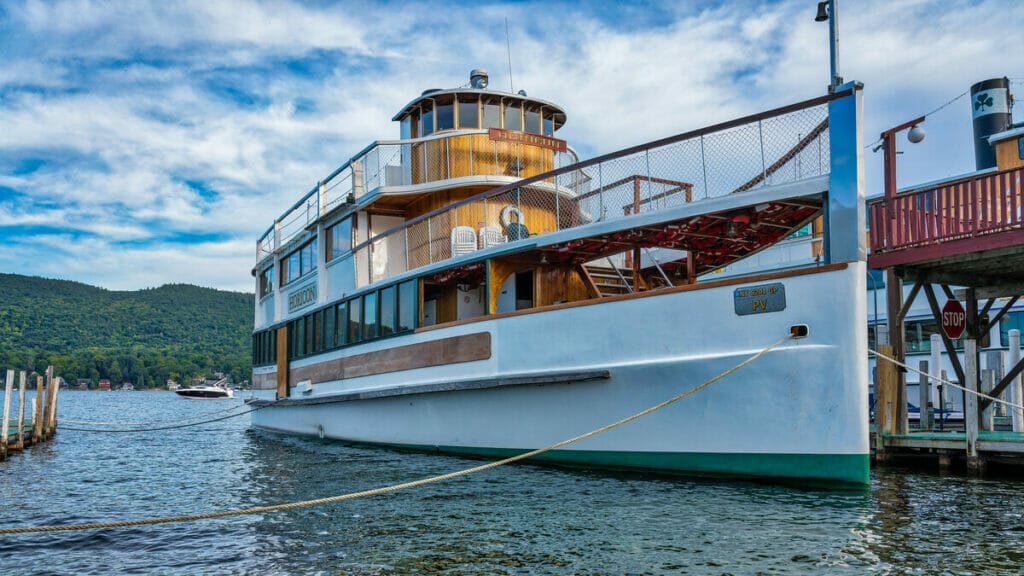 Lake George is also situated in the Adirondacks, which means you get to wake up with awe-inspiring views of the stunning lake and the gorgeous mountains in this New York small town.
Some highlights of the town include the Million Dollar Beach, Great Escape (amusement park), Glens Falls Drive-In (drive-in theater), and numerous islands for campers, such as the Little Gourd Island.
In the summer, beat the heat by going swimming, whitewater rafting or boating, or spend your day horseback riding.
And if you're up for something more adventurous, you can go scuba diving, parasailing, kayaking, or zip lining through an aerial course.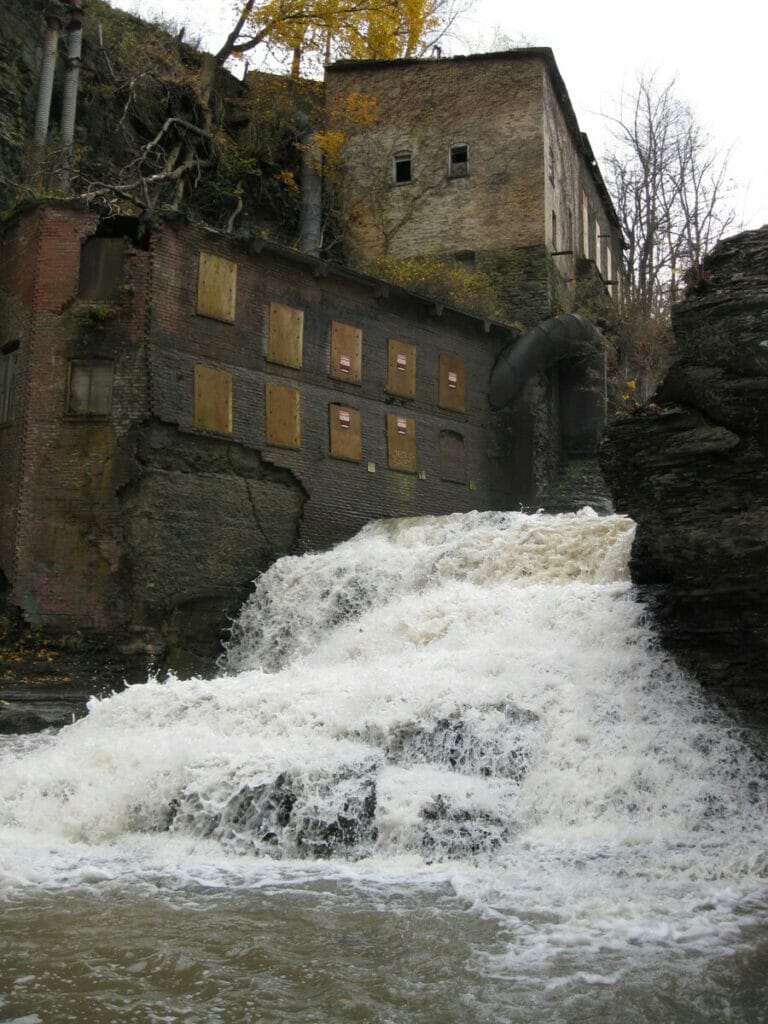 You can hike through the gorges surrounding the villages and take photos of the bewitching waterfalls, including the Ithaca Falls, to fill up your gram!
After a day of activities, head over to Ithaca Commons, which houses eateries, shops, museums, and other outlets to keep you occupied.
And if you have more time to kill, you can just drive to parks like the Taughannock Falls State Park or the Buttermilk Falls State Park.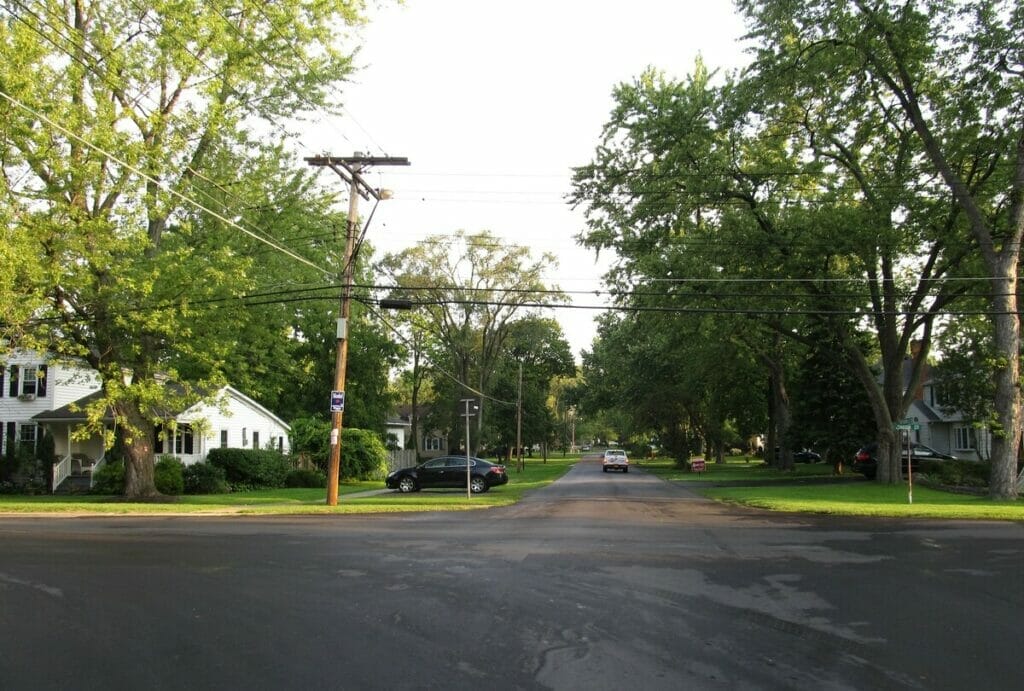 Most people come to Lewiston because of its proximity to Niagara Falls, but it's a great place for those who love history and arts.
One of the most prominent attractions here is the Artpark, which, among other things, houses an amphitheater that hosts numerous events.
You also can't miss Center Street, at the end of which, lies the Niagara River.
And of course, there's no shortage of watersports here, but make sure you at least take a whirlpool jet boat tour that takes you through the Devil's Hole rapids.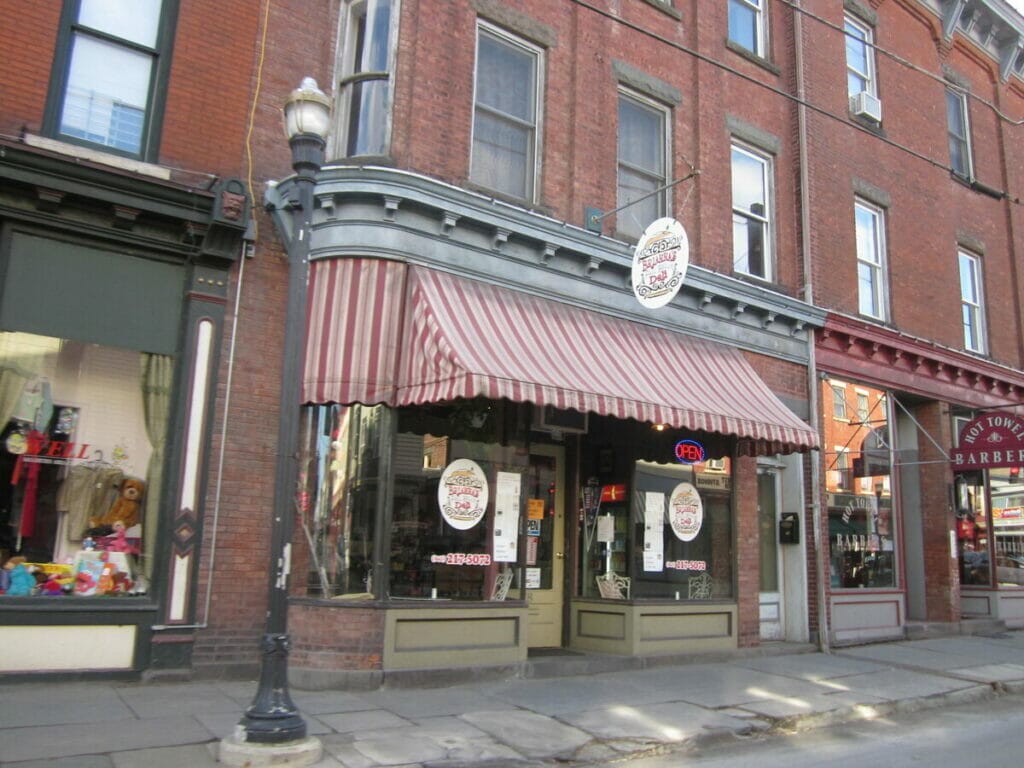 Saugerties is a historic landmark and houses the iconic Saugerties Lighthouse.
The main street is lined with mom-and-pop shops, diners, and antique stores in 19th-century fashion.
While you're here, make sure you go to the Esopus Bend Nature Preserve, the Catskill Animal Sanctuary, and Opus 40, an outdoor sculpture park.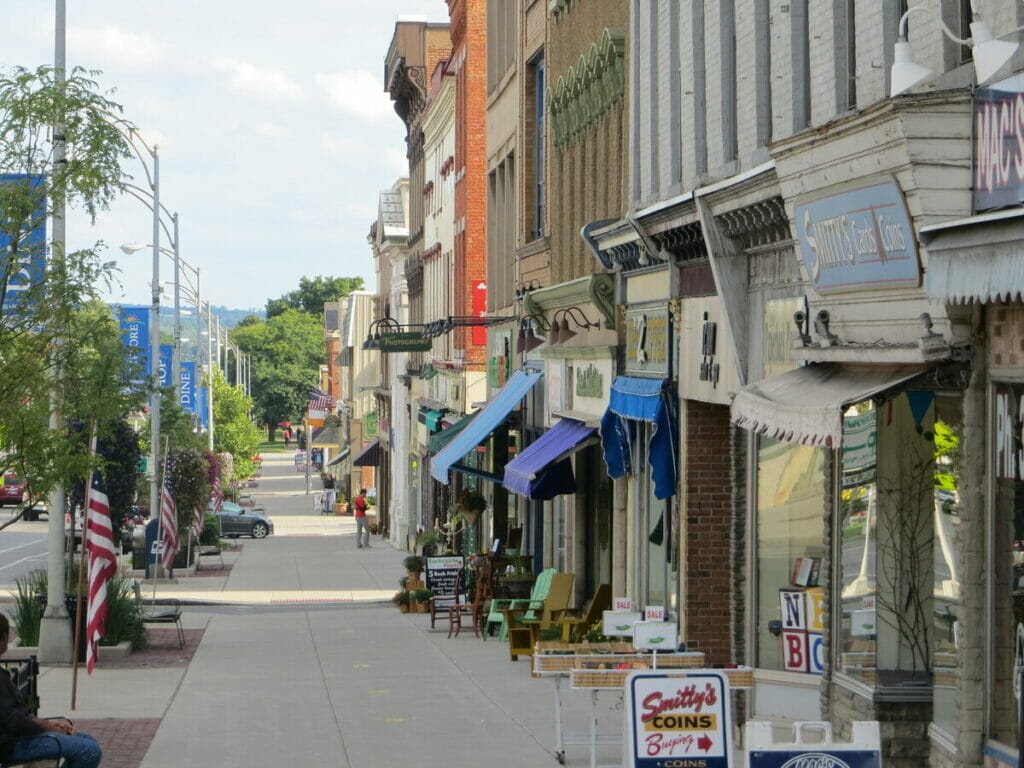 Another picturesque lake town that you should definitely visit is Canandaigua.
Like other lake towns, you can do a bunch of water sports here, like paddleboarding, kayaking, or taking a pontoon boat, or you can have a relaxing day exploring the many local restaurants, art galleries, and bed and breakfasts.
For a little throwback, make sure you check out the Granger Homestead & Carriage Museums (yes, a museum for antique carriages) and the Sonnenberg Gardens & Mansion!
Hey! Want more ideas on the best small towns in the USA? Check these out!
Pin for Later!
Get the All-American Travel Secrets!
Don't miss out on America's hidden gems!