Nestled in the heart of America, South Dakota whispers tales of adventure, wonder, and the raw beauty of nature.
Journey here to discover a land of rolling prairies, mystical valleys, and towering peaks, where ancient landscapes collide with modern marvels.
And let us not forget the best small towns in South Dakota.
Explore the geologic fireworks of the Badlands National Park, where rugged beauty takes your breath away and stirs your soul.
Hike through the majestic and challenging Black Hills, or gaze upon the five-star icon status of Mount Rushmore.
But these landmarks only scratch the surface of what South Dakota has to offer – this state is full of hidden gems.
South Dakota prides itself on more than a handful of charming small towns waiting to be explored.
History buffs will appreciate places like Deadwood and Lead, home to the legendary Wild West, where you can step back in time and relive the days of cowboys and gold rush excitement.
In places like Hill City and Keystone, you can escape the hustle and bustle of modern life and immerse yourself in a simpler time, where friendly locals and stunning scenery are the norm.
From the quaint prairie and towns dotted with frontier history to the shimmering lakes and rushing rivers that offer a chance to reconnect with nature – come, wanderlust traveler, and let South Dakota surprise you!
Deadwood is where the Wild West comes alive.
This historic town is steeped in legends of gunfighters, gold miners, and gamblers.
It offers a unique glimpse into the frontier days of America.
With its narrow, winding streets and historic buildings, Deadwood is a living, breathing museum that takes you back in time.
In addition to that, Deadwood is also the best small town in South Dakota to live in.
You can wander down Main Street and visit the saloons where Wild Bill Hickok and Calamity Jane once raised a glass or take a guided tour to learn about the town's rich history.
And while Deadwood may be known for its wild past, there's more to this charming town than gunslingers and gold.
From scenic hiking trails to world-class gaming and entertainment, the old and the new harmoniously collide at Deadwood.
Whether you're a history buff or simply looking for a unique travel experience, Deadwood is a must-visit destination that will mesmerize you.
2. Lead: cute towns in South Dakota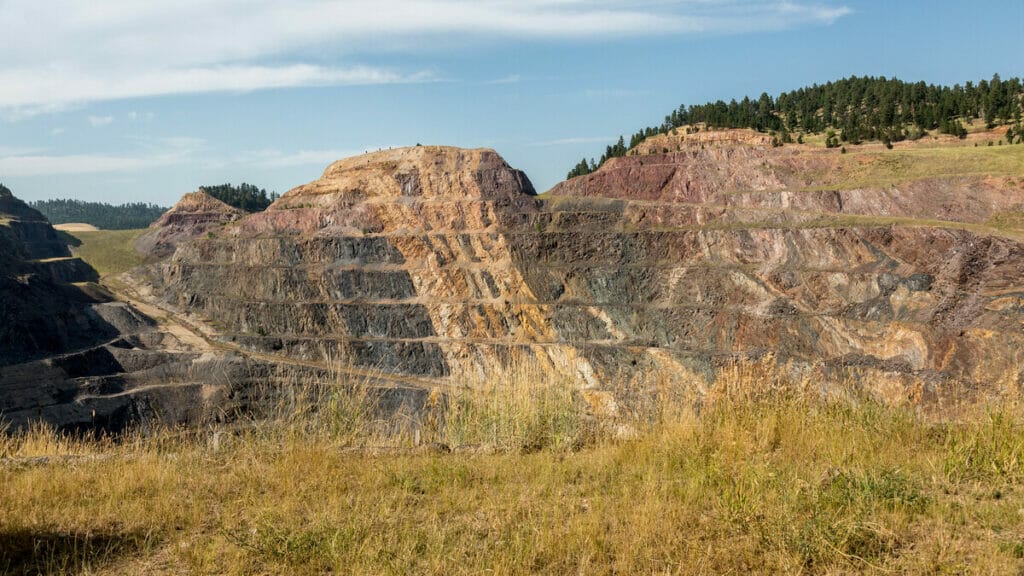 Lead is a town where history and natural beauty meet.
Nestled in the heart of the Black Hills, Lead offers a chance to experience the rugged charm of the frontier days and the splendor of the great outdoors.
The town was founded during the Black Hills Gold Rush and is rich in mining history, which you can explore at the Homestake Mining Company Visitor Center and the Black Hills Mining Museum.
But Lead is not just a history lesson.
It's also a hub for outdoor recreation, with miles of hiking trails, world-class rock climbing, and scenic drives through the rugged hills.
Whether you're passionate about history, enjoy spending time outdoors, or merely seek a unique travel experience, Lead is a place where you can escape the ordinary and immerse yourself in the beauty of the Black Hills.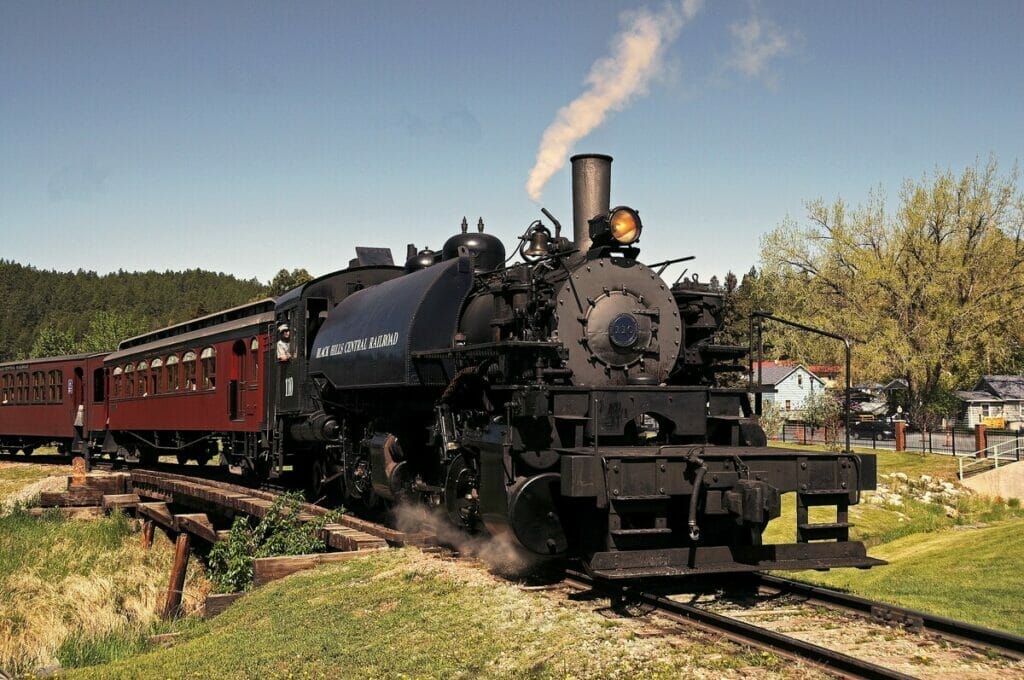 Nestled in the heart of the Black Hills, Hill City is a hub of activity, adventure, and memories waiting to be made.
Surrounded by iconic landmarks such as Mount Rushmore, Crazy Horse Memorial, and Custer State Park, Hill City is the perfect starting point for your Black Hills journey and among the best little towns in South Dakota.
The town's main street is dotted with historic buildings and a vibrant art scene, showcasing galleries and unique shopping experiences.
Whether you're interested in exploring the great outdoors or soaking up the rich history of the area, Hill City offers something for everyone.
Enjoy the scenic 1880 Train, try your hand at gold panning, or delve into the world of the Civilian Conservation Corps Museum.
For those who prefer adrenaline-fueled adventures, the possibilities are endless – lakes, hiking trails, horseback riding, fishing, golfing, and more.
Add to all this the town's lively events calendar, ranging from the Black Hills Film Festival to live music performances, and you'll see why Hill City is a must-visit destination all year round.
4. Keystone: quaint towns in South Dakota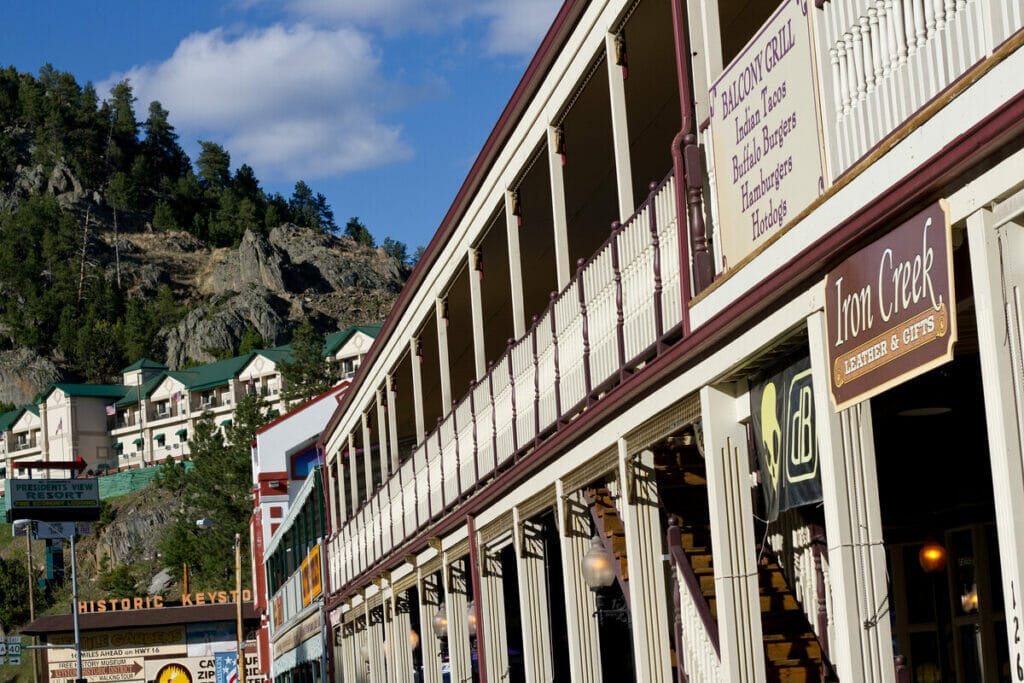 Keystone is a lovely town that captures the essence of the American West.
From the majestic Mount Rushmore, casting its shadow over the town, to the glistening waters of Crazy Horse Lake, Keystone is where nature and history merge into a breathtaking tapestry.
Step back in time as you stroll down Main Street, where historic buildings stand tall alongside modern conveniences, painting a picture of old-fashioned charm.
Here, adventure awaits on every turn – from winding trails in the national forests to thrilling rides in the casinos.
From the endless beauty of the Black Hills to the allure of the Wild West, Keystone is a place where you can indulge in a scoop of ice cream while watching the world go by or immerse yourself in a world of excitement.
Discover why Keystone is one of South Dakota's most beloved and treasured towns!
Whether you opt-in to visit Mount Rushmore, go mini-golfing, or explore the nearby national parks, Keystone is the perfect home base for your vacation.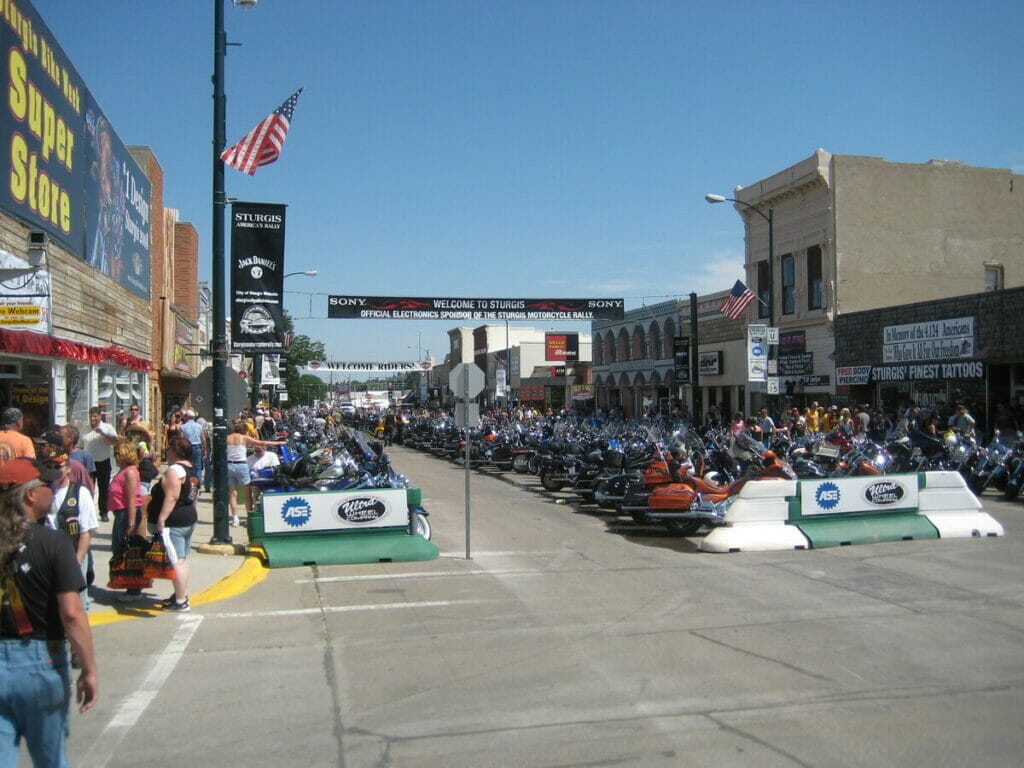 Sturgis has a rich and storied history and is one of the best small towns in South Dakota to visit.
What started as a small gathering of nine participants and 200 spectators in 1938 has now evolved into one of the largest motorcycle rallies in the world.
The City of Sturgis Motorcycle Rally, held every August in the heart of the Black Hills, attracts riders from all corners of the globe, arriving to revel in the thrill of the open road.
It all began with Clarence "Pappy" Hoel and his Jackpine Gypsies Motorcycle Club, who hosted the first race in Sturgis.
Today the event brings together an estimated 739,000 attendees from across the US, Canada, and other international communities.
From South Dakota's governor to entertainment and sports legends, the rally attracts a diverse group of enthusiasts who come to experience history and the unique character of Sturgis.
The charming Main Street, lined with shops and restaurants, and the nearby Black Hills National Forest, with its rolling hills and sparkling streams, offer a wealth of opportunities for exploration and enjoyment.
Whether you're a seasoned rider, or just looking for a taste of the open road, Sturgis is a destination you won't soon forget.
So come discover why this legendary town has captured the hearts of travelers for generations.
Vermillion is a unique and picturesque town, blending elements of history, culture, and natural beauty.
Its Main Street, dotted with historic architecture and charming shops, leads the way to the University of South Dakota's grand spires, a symbol of the town's rich cultural heritage.
Discover the National Music Museum or delve into the area's rich history at the Clay County Historical Society.
With ample opportunities for outdoor adventure, including the rolling hills of the Lewis and Clark Recreation Area and nearby scenic waterways, Vermillion is a place where the past and present collide in a charming and unforgettable way.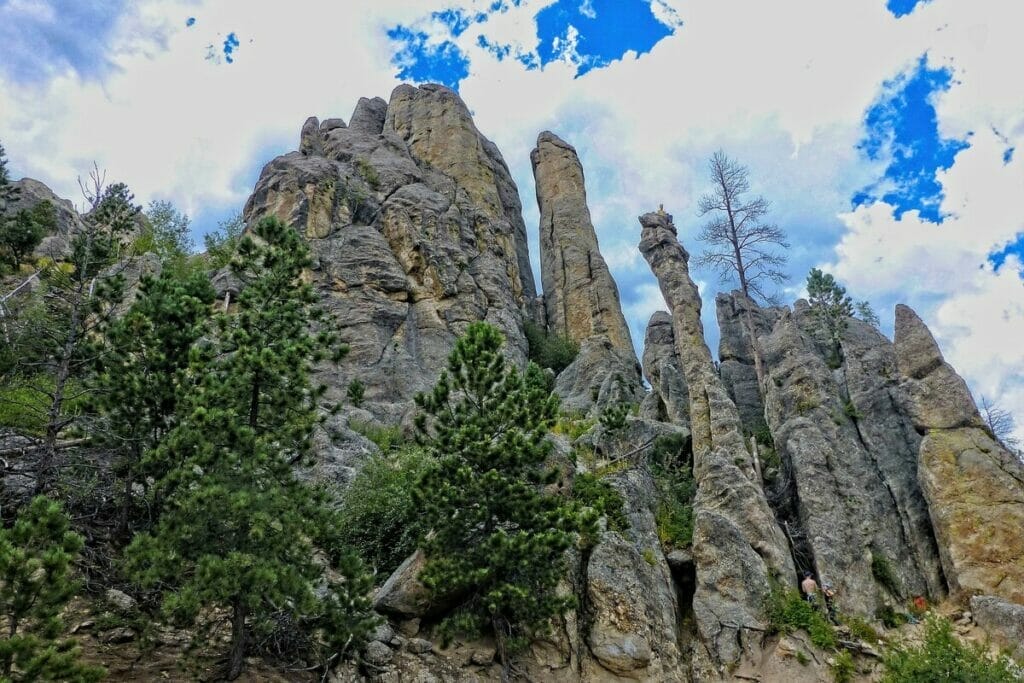 Custer, the oldest town in the Black Hills, has been a welcoming adventure hub for over a century and is a charming town in South Dakota.
From its humble beginnings as a mining town, Custer has transformed into the ideal headquarters for your Black Hills vacation.
Close to popular attractions like Mount Rushmore, Custer State Park, and Crazy Horse Memorial, you'll have easy access to the best of what the Black Hills has to offer.
But Custer isn't just a convenient jumping-off point for your travels – the town is a lively destination with a bustling downtown filled with gift shops, galleries, boutiques, and outstanding South Dakota cuisine.
It definitely tops the list of quaint towns in South Dakota.
Whether you're looking for a fun-sized escape from city life or a peaceful retreat, Custer delivers big-city benefits in a charming and quaint package.
So come and discover why this historic town has been a favorite destination for generations.
Spearfish, located in the northern Black Hills, is a versatile destination for any adventure-seeker.
Its five convenient exits off Interstate 90, combined with a wealth of quality accommodations, make it an ideal base for your Black Hills vacation.
Incorporated in 1888, the community boasts a thriving outdoor recreation scene, a vibrant art and cultural scene, and the presence of Black Hills State University.
Summer brings sunny days and cool evenings, perfect for rock climbing, hiking, and more.
During fall, the town shines with vibrant foliage.
Winters offer a winter wonderland with 350 miles of groomed snowmobile trails, untracked snowshoe trails, ice climbing, and fat bike riding.
No matter the season, Spearfish caters to all your outdoor needs.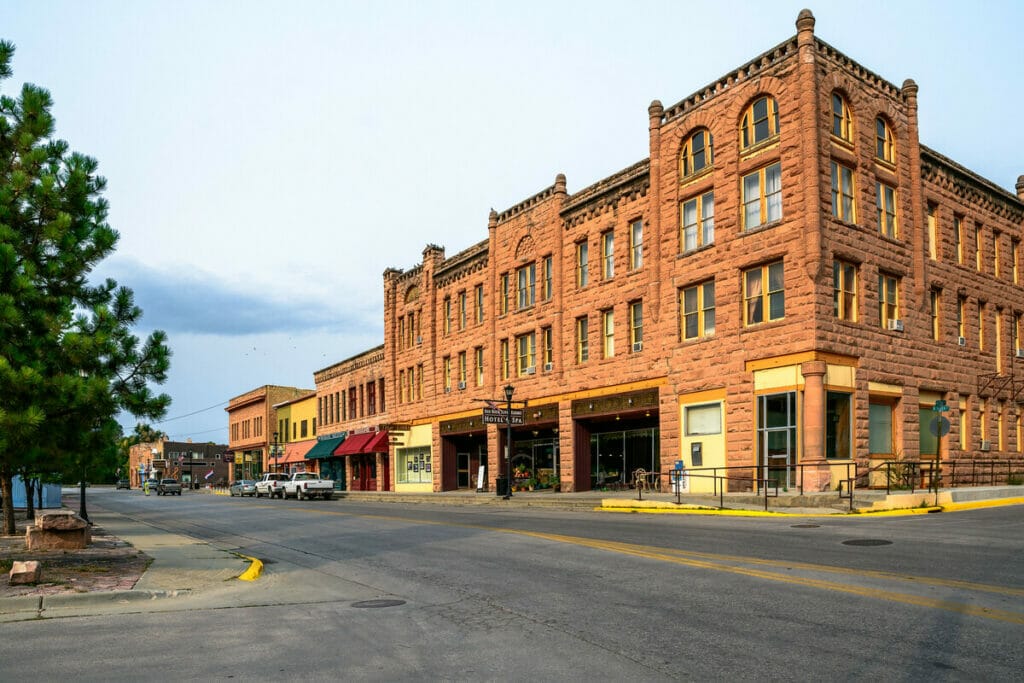 Nestled in the lush landscapes of the southern Black Hills, Hot Springs is a charming oasis that will soothe your soul.
It's also one of the best small towns in South Dakota.
The town got its name from the famous hot springs that flow through it, believed to have healing powers.
Indulge in the warm, mineral-rich waters and let the stress melt away.
For those who crave adventure, hit the trails and discover the beauty of the surrounding hills.
Or take a dip in the historic Evans Plunge, a revitalizing mineral water pool that's been delighting visitors for over a century.
In the heart of Hot Springs, you'll find a quaint downtown filled with unique shops, delightful restaurants, and galleries to explore.
Whether you're looking for a relaxing retreat or an outdoor escapade, Hot Springs has something for everyone!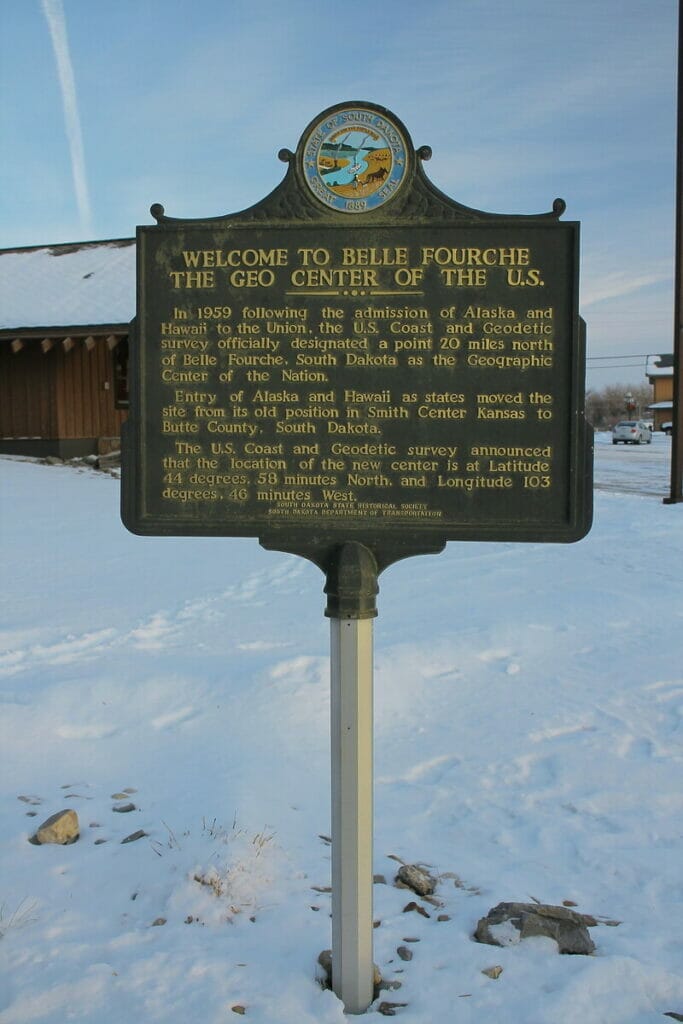 There are many cute towns in South Dakota, and Belle Fourche is not only a quaint and charming town with a rich history and a warm and friendly atmosphere but it also boasts a unique name.
Named after the stunning forks of the Belle Fourche River, the town is surrounded by rolling hills and prairies, making it a perfect destination for outdoor enthusiasts and those seeking a taste of small-town charm.
Explore nearby state parks like Bear Butte State Park and Oahe Downstream Recreation Area, take a scenic drive through the picturesque countryside, or immerse yourself in the town's history at the Belle Fourche Area Chamber and Visitors Bureau.
In the heart of Belle Fourche, sample local cuisine, shop at unique boutiques and join in on the community events and festivals like the Annual Black Hills Roundup Rodeo and the Belle Fourche Fall Festival.
Whether you're seeking an adventure in the great outdoors or a peaceful escape, Belle Fourche is a town where hospitality reigns, and the warm, friendly atmosphere will make you feel right at home.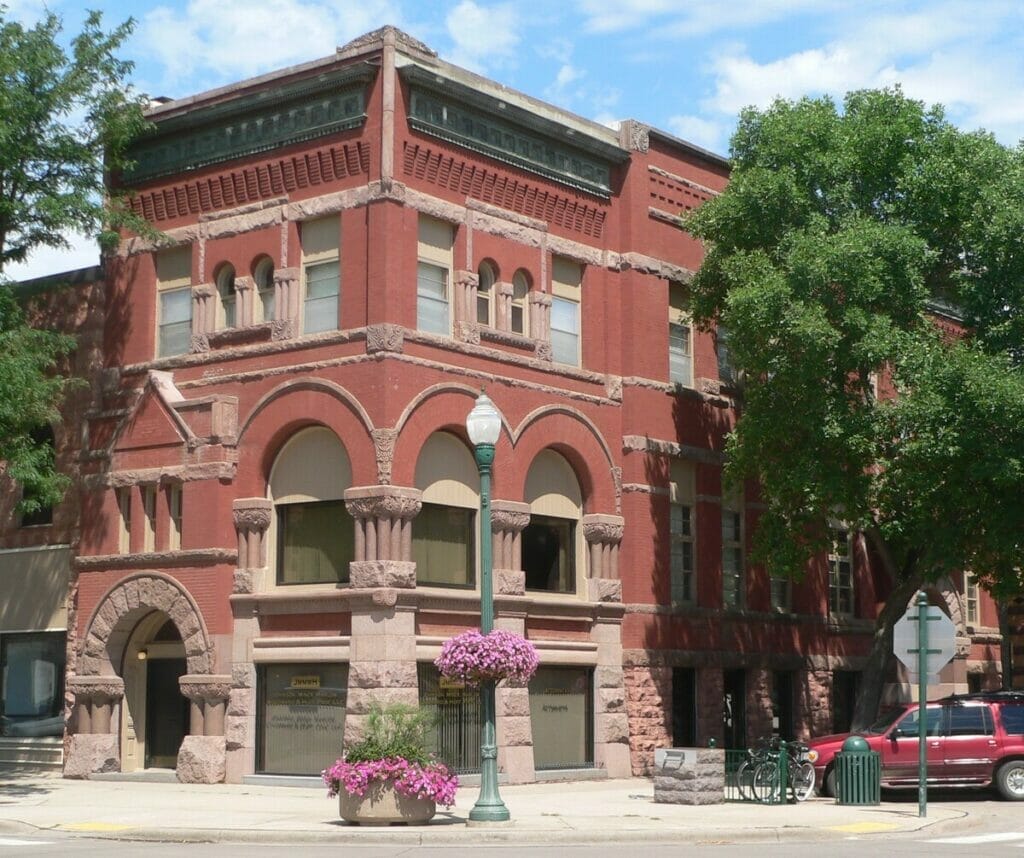 Yankton, located along the banks of the Missouri River in southeastern South Dakota, is a town rich in history and culture and a great example of South Dakota small towns.
The town is known as the birthplace of Dakota Territory and is home to a variety of historic sites and cultural attractions.
Explore the Lewis and Clark Lake and Reservoir, or visit the Dakota Territorial Museum to learn about the area's rich history.
In Yankton, stroll through local parks and gardens, sample local cuisine, or attend events and festivals like the annual Riverboat Days Festival and the Dakota Sioux Casino Powwow.
Whether you're seeking outdoor adventure, cultural experiences, or simply a taste of small-town charm, Yankton is a must-visit destination.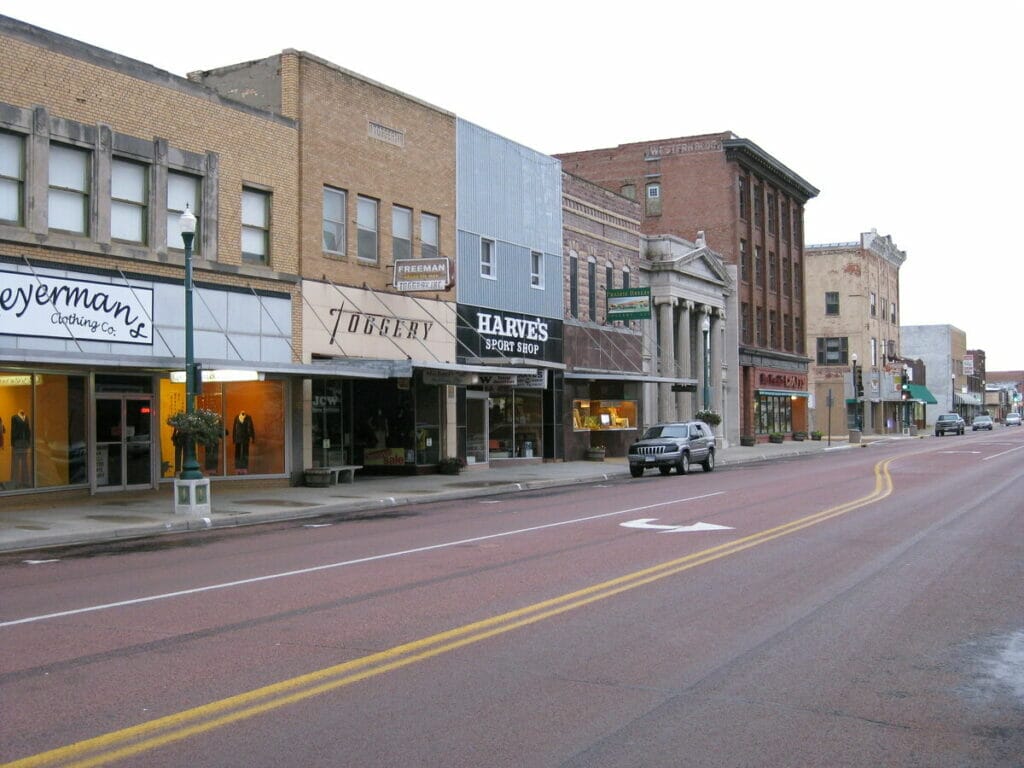 Mitchell, located in the rolling prairies of southeastern South Dakota, is a town steeped in history and filled with natural beauty.
The town is known for its beautiful architecture, including the famous Corn Palace, which is covered in thousands of ears of corn and other grains, making it a unique and fascinating attraction.
Visitors can also explore the nearby Mitchell Prehistoric Indian Village, a National Historic Landmark that provides a glimpse into the lives of the ancient people who once lived in the area.
In Mitchell, you can enjoy local shops, restaurants, and events, or simply take a leisurely stroll through the town's beautiful parks and gardens.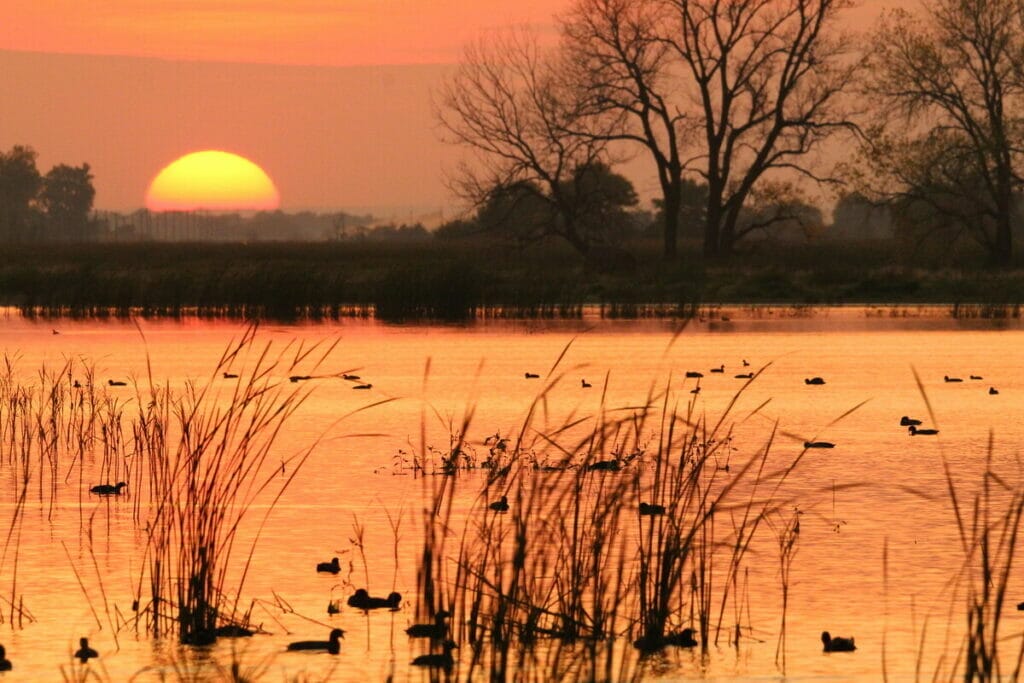 Huron is a town overflowing with natural splendor and cultural wonders.
Here, visitors are greeted with a bustling downtown dotted with local boutiques, delectable dining options, and festive events.
Just a stone's throw away, the shimmering waters of Lake Huron beckon with a world of outdoor opportunities – from boating to fishing and hiking.
Huron also plays host to cultural happenings like the South Dakota State Fair, a showcase of the region's finest in agriculture, art, and music.
Whether you're looking for outdoor thrills, cultural enrichment, or just a touch of small-town magic, Huron is the ultimate destination for your next adventure.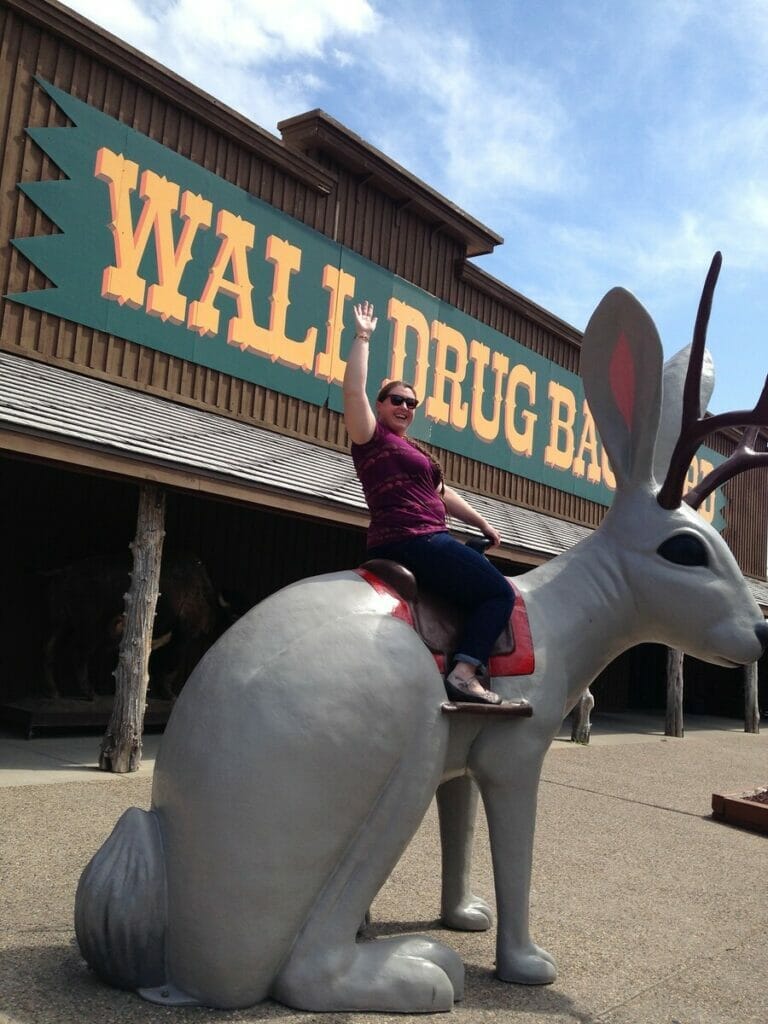 Nestled amidst the rugged beauty of the Badlands, Wall may be small but it certainly packs a punch.
A true gem of the southwestern South Dakota, it's perhaps best known for its legendary attraction, Wall Drug Store – a popular destination drawing curious travelers since the 1930s.
Adventure seekers will find their hearts aflutter at the nearby Badlands National Park, where majestic rock formations stand tall, begging to be explored through hikes and wildlife watching.
Meanwhile, those looking to immerse themselves in small-town charm will love the quaint local shops, eateries, and the annual Wall Summer Arts & Crafts Fair.
Come experience the perfect blend of nature and nostalgia in Wall!
Mobridge invites visitors to step back in time and immerse themselves in its rich cultural heritage.
A stroll through the charming downtown area reveals its proud Native American roots, while a drive along the Missouri River showcases stunning views that have captivated travelers for centuries.
Outdoor enthusiasts will be in their element with plenty of opportunities for fishing, boating, and hiking nearby.
But it's not just about nature, Mobridge also boasts a cultural center that exhibits the art and history of the area, offering a glimpse into the diverse stories that make this town unique.
Whether you're seeking to connect with nature or dive into history, Mobridge promises an experience that is both enriching and unforgettable.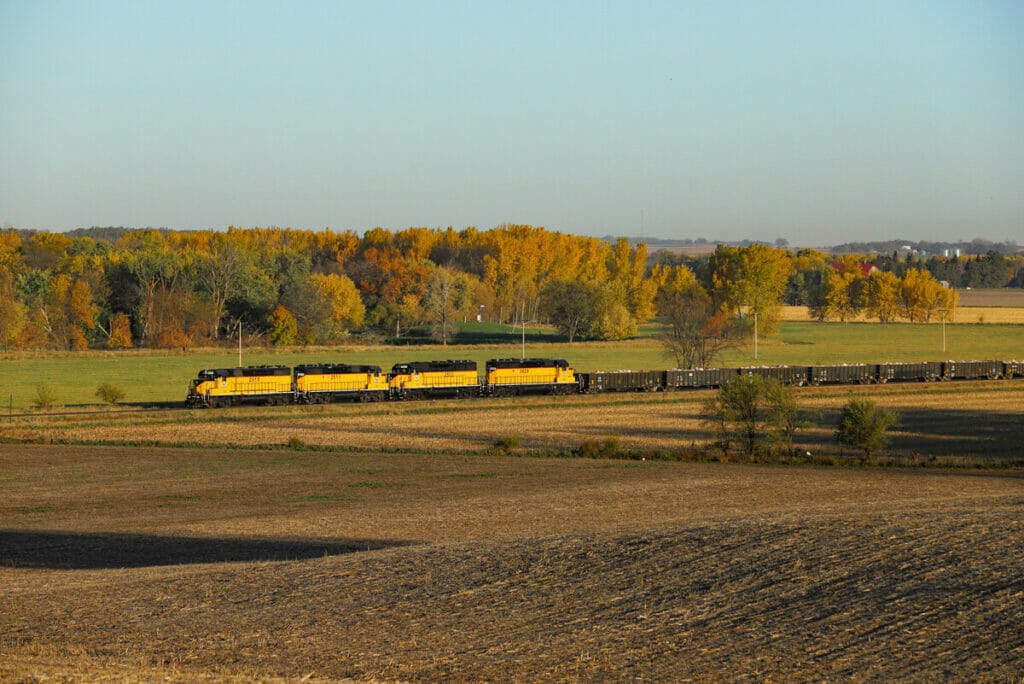 Dell Rapids, a little slice of heaven, is where small-town charm and history come together.
With its beautifully preserved historic buildings and scenic Big Sioux River, this town will take you on a journey back in time.
Meander through the local shops and restaurants, or stroll along the river for a breathtaking view of the countryside.
The Dell Rapids Stoneware Festival, an annual event, is a celebration of the town's heritage and a testament to its creative spirit.
Whether you're seeking to reconnect with nature or delve into charming small-town history, Dell Rapids promises to impress.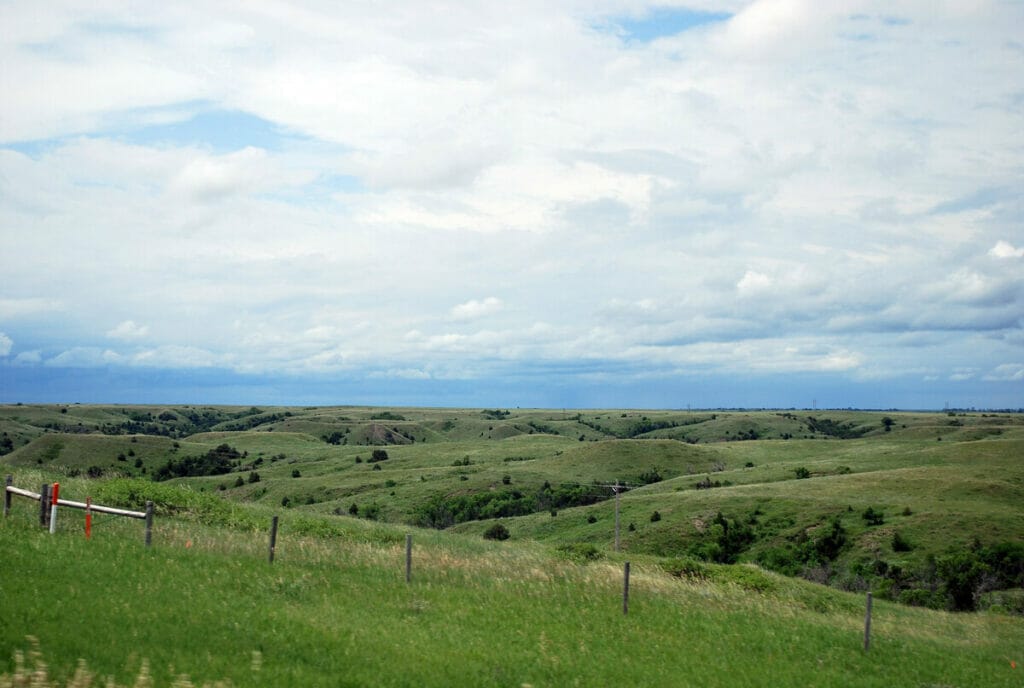 Buffalo Gap, a small town steeped in history and surrounded by breathtaking natural beauty, is a hidden gem waiting to be discovered.
Founded in 1877, Buffalo Gap was once a bustling hub for the railroad, and today it remains a symbol of the old west.
Visitors can explore the town's historic buildings, many of which have stood the test of time despite multiple fires and years of wear.
The town is also the perfect starting point for adventures in the surrounding natural wonders, including the Buffalo Gap National Grasslands, Badlands National Park, and Pine Ridge Indian Reservation.
So if you're looking for a unique and immersive experience, come to Buffalo Gap and step back in time to where the Wild West meets the great outdoors!
Hey! Want more ideas on the best small towns in the USA? Check these out!
Pin for Later!
Get the All-American Travel Secrets!
Don't miss out on America's hidden gems!