When you think about Iowa, you probably think about cornfields.
You wouldn't be wrong.
Iowa is a fairly boring Midwestern state until you stop to explore the small towns in Iowa.
Most of the towns in Iowa are rather small, but that doesn't mean they don't have a lot to offer!
Whether you prefer outdoor adventures, shopping at small businesses, or eating at mom-and-pop restaurants, these small towns in Iowa are for you.
Nestled between the Mississippi and Missouri Rivers, Iowa is home to Red Delicious apples, sliced bread, and the American Gothic house.
Keep reading to learn more about Iowa and the best small towns in Iowa you need to visit!
Hey! Looking for more fabulous Iowa content? Head here!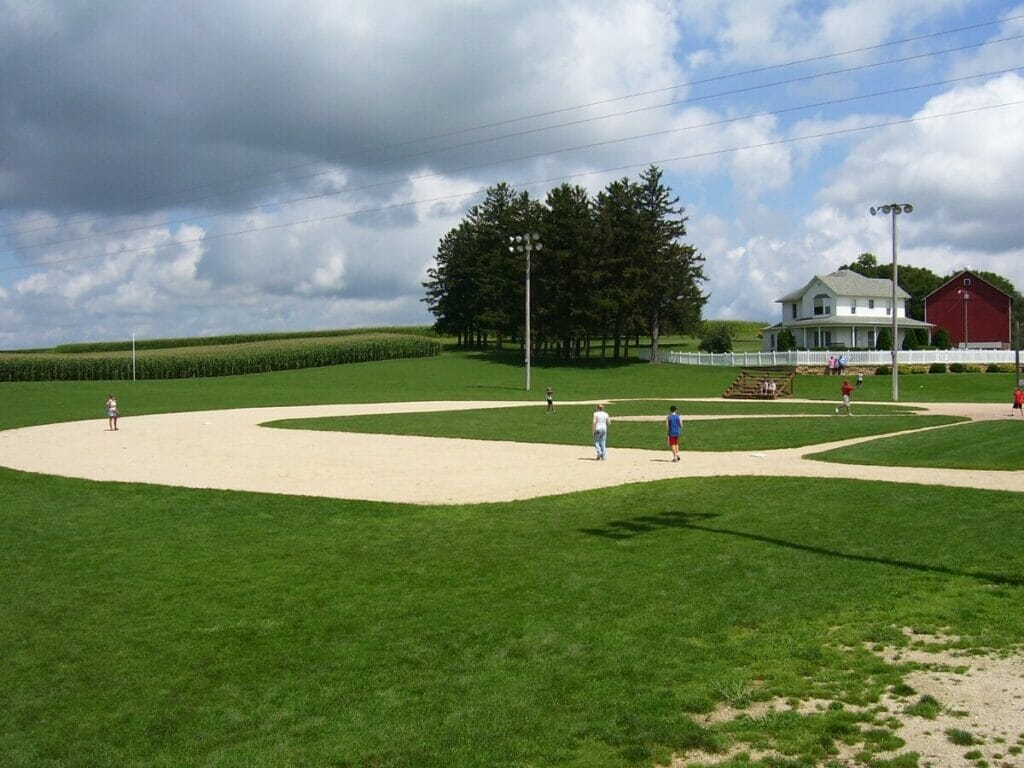 Dyersville is not only known for its cornfields, but it is home to a pretty famous cornfield.
If you've ever watched Field of Dreams, you'll be familiar with the baseball field that is still in a Dyersville cornfield today.
You can watch a game or play catch if you visit!
If baseball isn't your thing, you might be interested to know that this town is actually the "Farm Toy Capital of the World."
You can visit the National Farm Toy Museum and learn about the history of these classic toys.
Since this town is located just outside Dubuque, it's very easy to travel to, making it one of our favorite small towns in Iowa!
2. Amana: cute towns in Iowa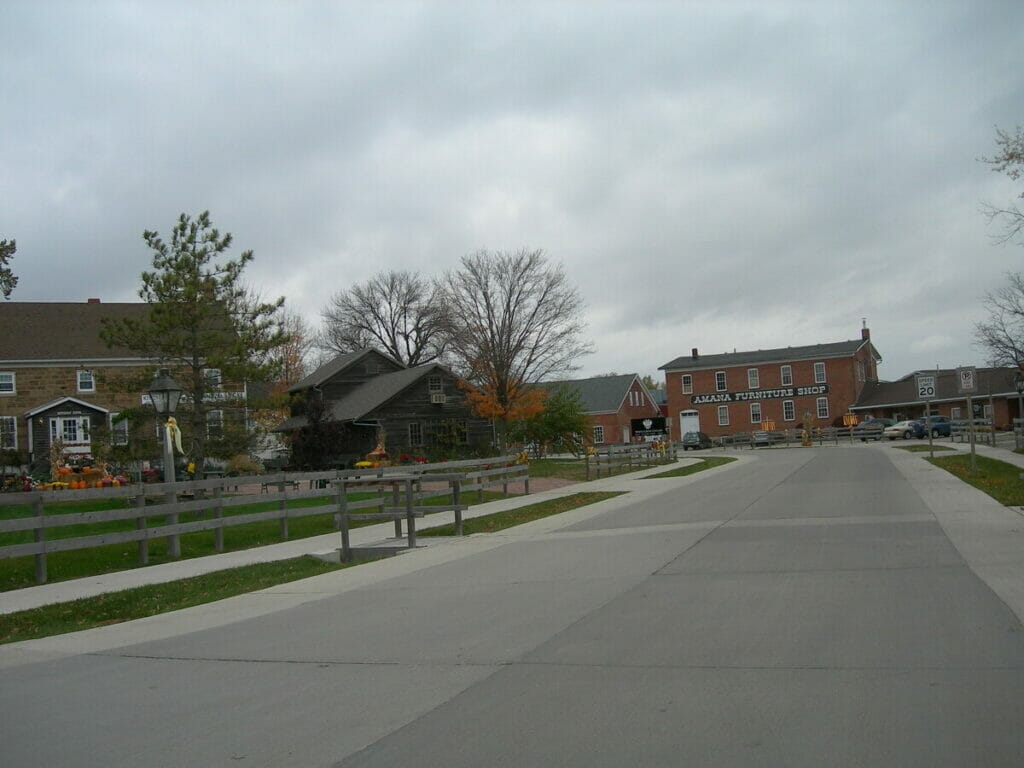 Amana is a "census-designated place."
This means that it's not even technically a town.
We have to include it, though, because it is so charming!
This is actually where you'll find the Amana Colonies, which are historic German communal societies.
While very few people still live here, they are quite the tourist destination.
If you visit these communities, you will find many things to do.
Walk around and explore the historic and old-fashioned shops that will take you back in time.
Grab something to eat or drink at one of the restaurants or wineries.
You can even visit a museum to learn about baseball, barns, or the heritage of Amana.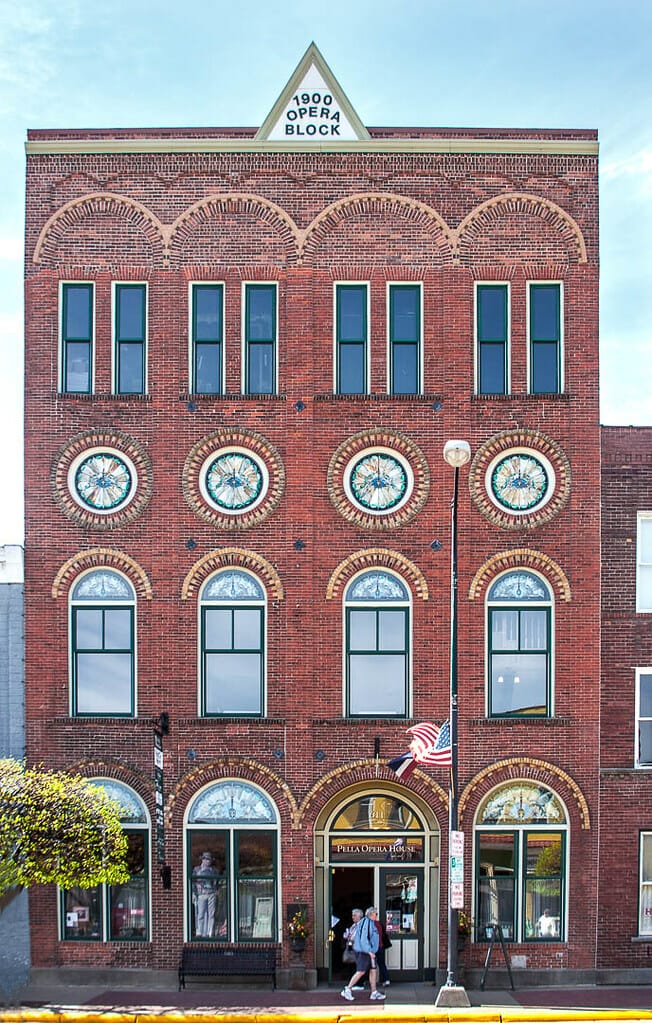 Pella, home to Wyatt Earp, is another one of the cute towns in Iowa.
"America's Dutch Treasure" is a great place to learn about Dutch history and heritage.
Ever since Pella was founded by immigrants from the Netherlands, it has held onto its roots.
You can visit a historic village in addition to the historic downtown district.
Watch the klokkenspel, or carillon clock, as it rings and displays some of the town's history through the figurines that pop out.
Make sure to look for the Dutch windmills, flower gardens, and drawbridge.
The Dutch architecture and beauty in Pella will make you feel as though you've entered the Netherlands.
And we haven't even mentioned all the outdoor activities yet!
There are many chances to go hiking, get in the water, or stroll through a park.
4. McGregor: quaint towns in Iowa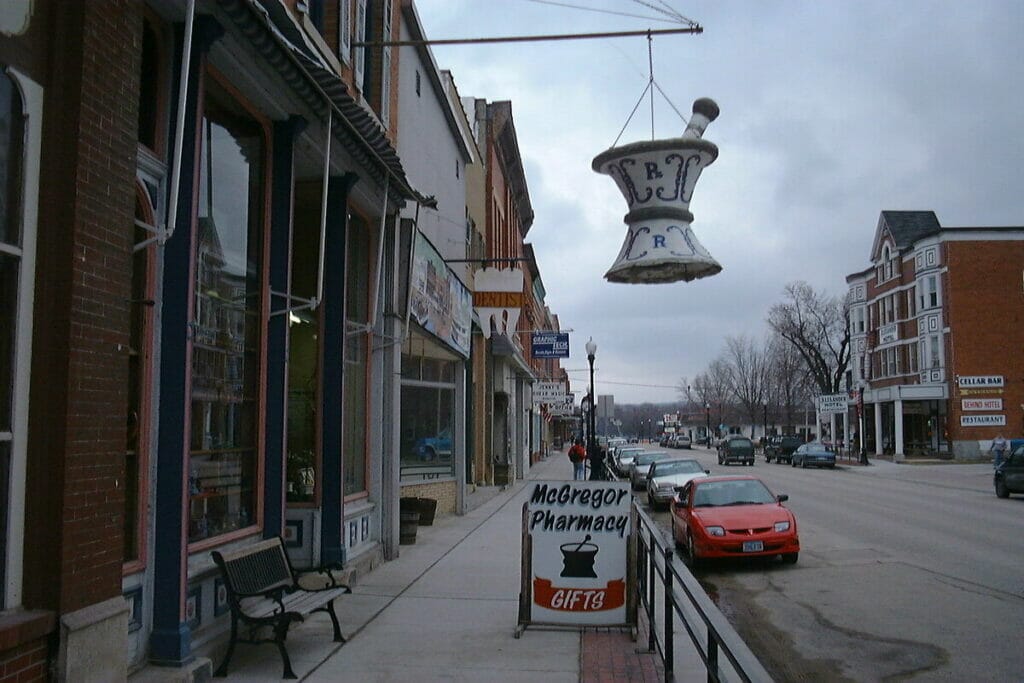 McGregor is located along the Mississippi River.
It's just south of Marquette and north of Pikes Peak State Park.
Because of its location, this town started out as a booming place.
While the population has declined, the quality has not.
McGregor has many shops and restaurants.
You could easily spend a few hours just walking through the town.
Many people like to find a comfy spot to relax and watch the river flow.
There are many scenic bluffs, great for photographers and hikers who welcome a challenge!
There are a few monuments and museums although they are not the main attraction.
If you look at their event calendar, you could plan your trip around one of their fun events.
They have a Halloween festival, Festival of the Trees, and an art festival.
McGregor also hosts the Great River Car & Truck Show & Cruise in addition to the Great River Road Race.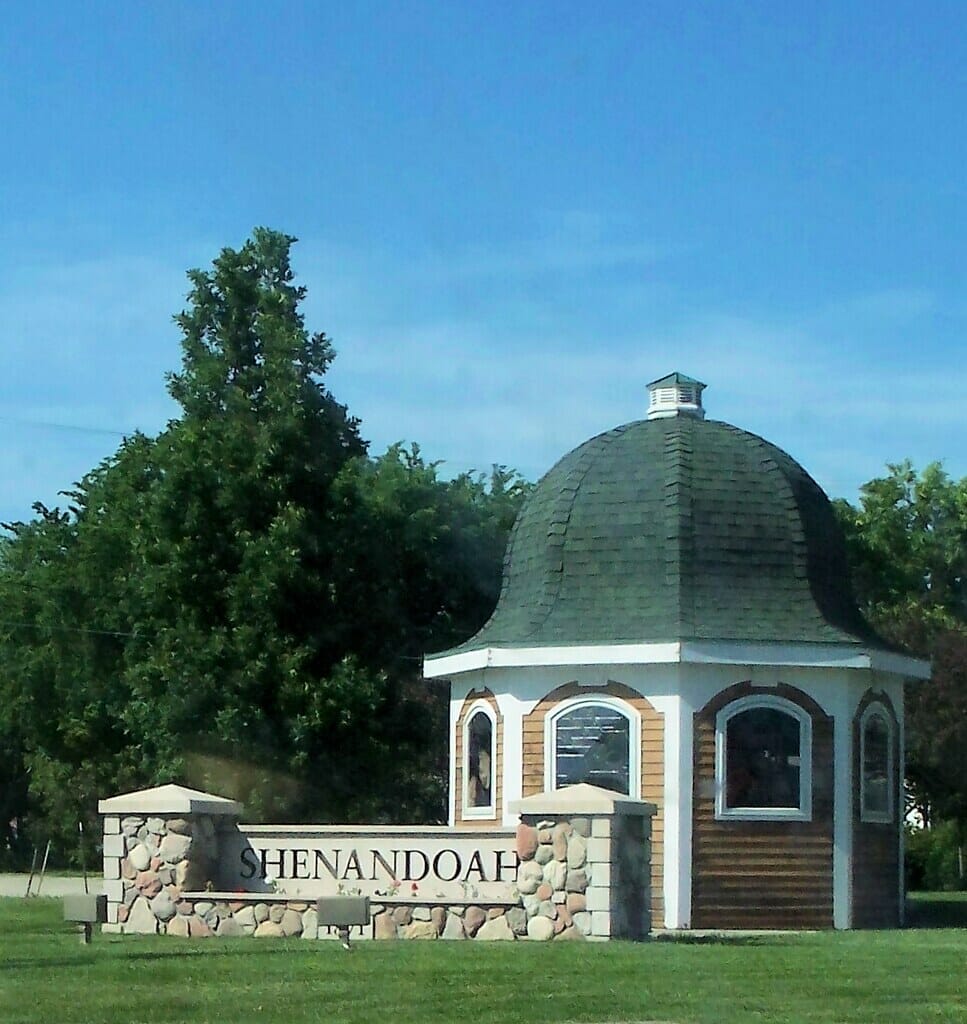 Of all the quaint towns in Iowa, Shenandoah has a special energy.
Home to the Earl May Seed Company, Shenandoah was nicknamed the "seed and nursery center of the world."
These roots run deep as it is still a beautiful garden city.
This small town has 15 public parks.
This is the dream for anyone who loves to relax while out in nature!
Although it is a small town, Shenandoah is quite progressive.
Many entrepreneurs and forward thinkers live here.
I would say that Shenandoah is one of the best small towns in Iowa to live in.
This is especially true for anyone who loves nature and can work remotely.
6. Decorah: charming towns in Iowa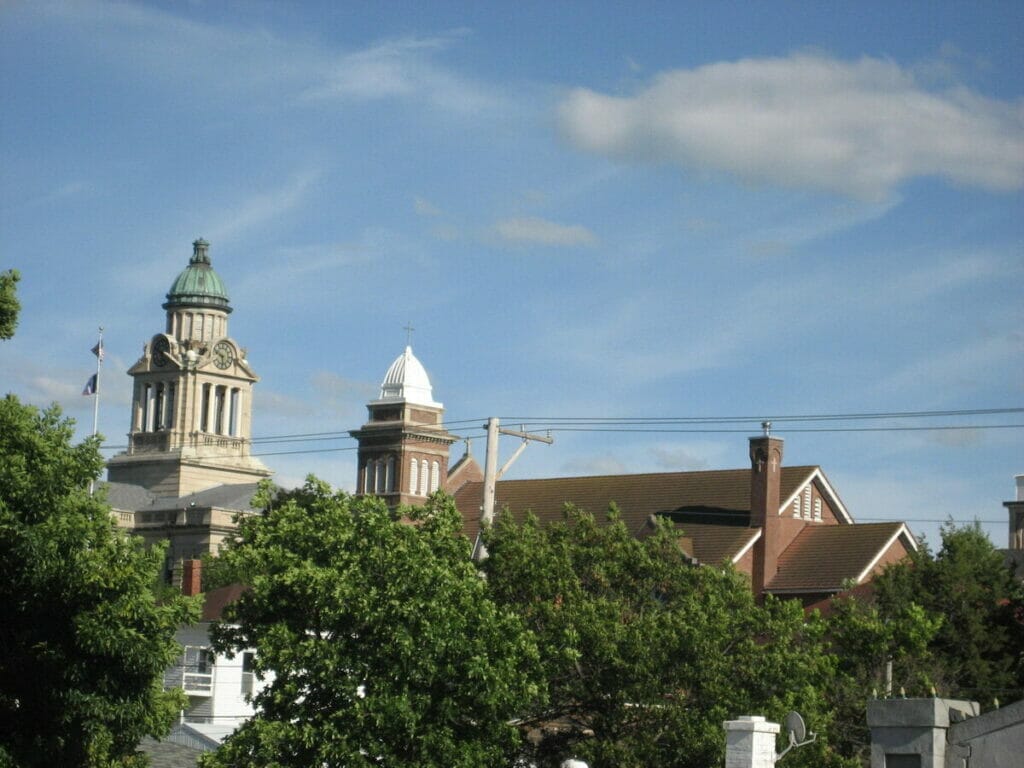 Adventurers, look no further.
Decorah is the perfect place for anyone who craves outdoor experiences.
This part of the United States wasn't really impacted by glaciation.
As you explore this land, you'll notice that it's a bit different from many other places in the Midwest.
The landscape here is perfect for hiking, biking, running, and walking.
There are many trails with diverse scenery.
You'll find springs, prairies, and caves.
For wildlife lovers, visit the fish hatchery or butterfly garden.
Many people also enjoy fishing and bird-watching in Decorah.
Decorah also has a lot to offer when it comes to restaurants, breweries, and wineries.
If you'd rather go shopping or try some artsy indoor activities, you'll have plenty of options.
There really are endless possibilities when visiting this exciting small town in Iowa!
7. Winterset: best small towns in Iowa to visit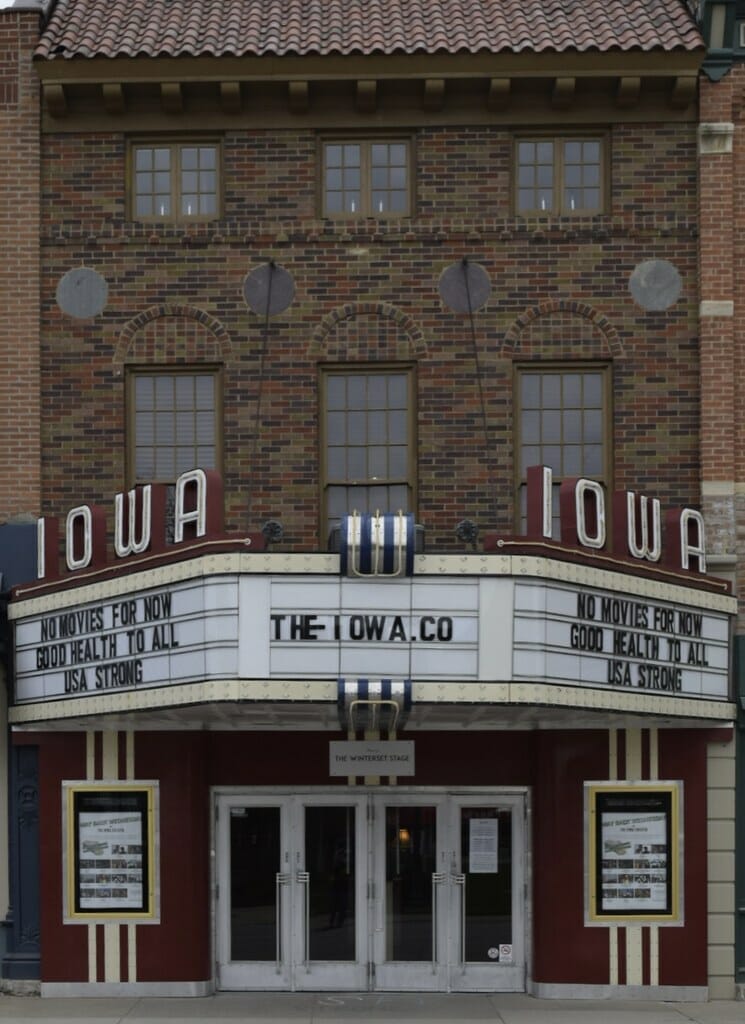 Winterset is a small town with a lot to offer.
Since John Wayne was born in this quiet town, you can visit the John Wayne Birthplace Museum.
You can also visit the Iowa Quilt Museum to learn about the art form of quilts and even learn some techniques at workshops.
Don't forget the Madison County Historical Society which features 14 historic buildings spanning 18 acres.
The Winterset area is known for its covered bridges.
For anyone who likes to take scenic drives to search for covered bridges, this is a great place to find six of the beautiful bridges.
The Cutler-Donahoe Covered Bridge is located in the Winterset City Park.
This park is also home to Clark Tower, which resembles a castle's tower.
You may have even seen this small town on the big screen!
Classic movies such as, Cold Turkey, The Bridges of Madison County, and The Crazies were all filmed in Winterset.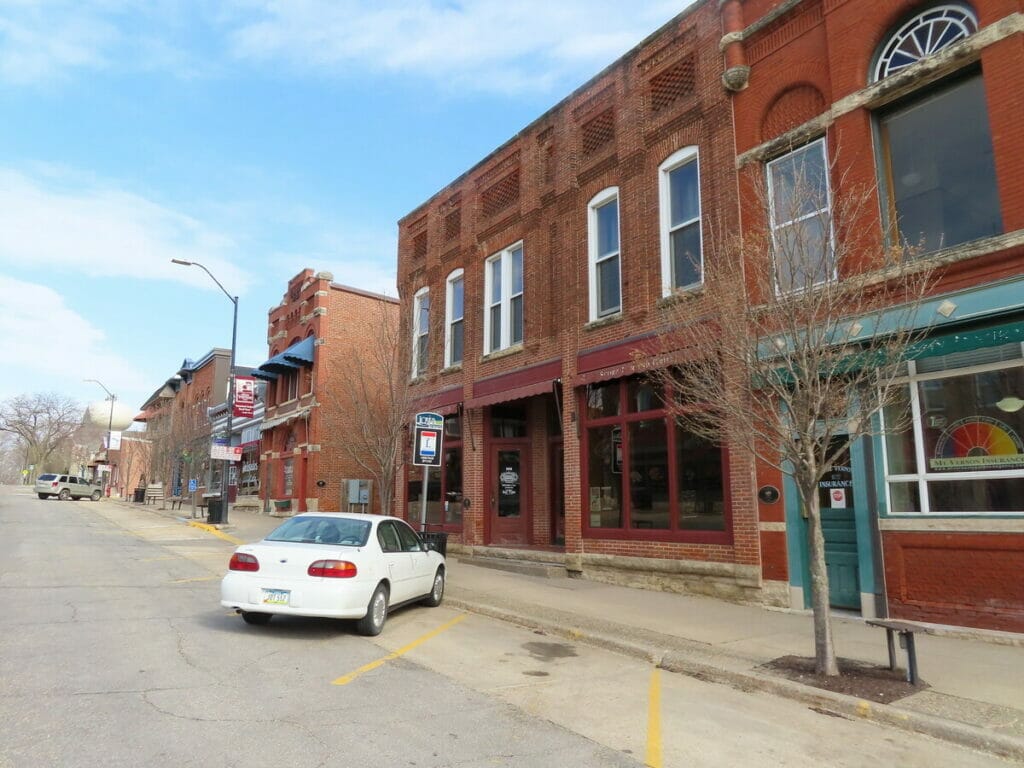 Mount Vernon was a popular rest stop for travelers in the mid-19th century.
Named after George Washington's estate, Mount Vernon was built on a "paha."
Paha is basically a hill made out of loess.
Loess is a sediment that formed after years of wind-blown dust settled.
While this town is quite small, it has a lot to offer.
The shops of Mount Vernon are quite unique and appealing.
Anyone who loves antique shopping will have a variety of antique shops to visit while in Mount Vernon.
There are also specialty shops, such as a toy shop, a stationery shop, and a shop to buy fairy houses!
Whenever you're not shopping, you can admire the houses.
Most of them are Victorian-era homes that are quite amazing to see in the modern-day Midwest.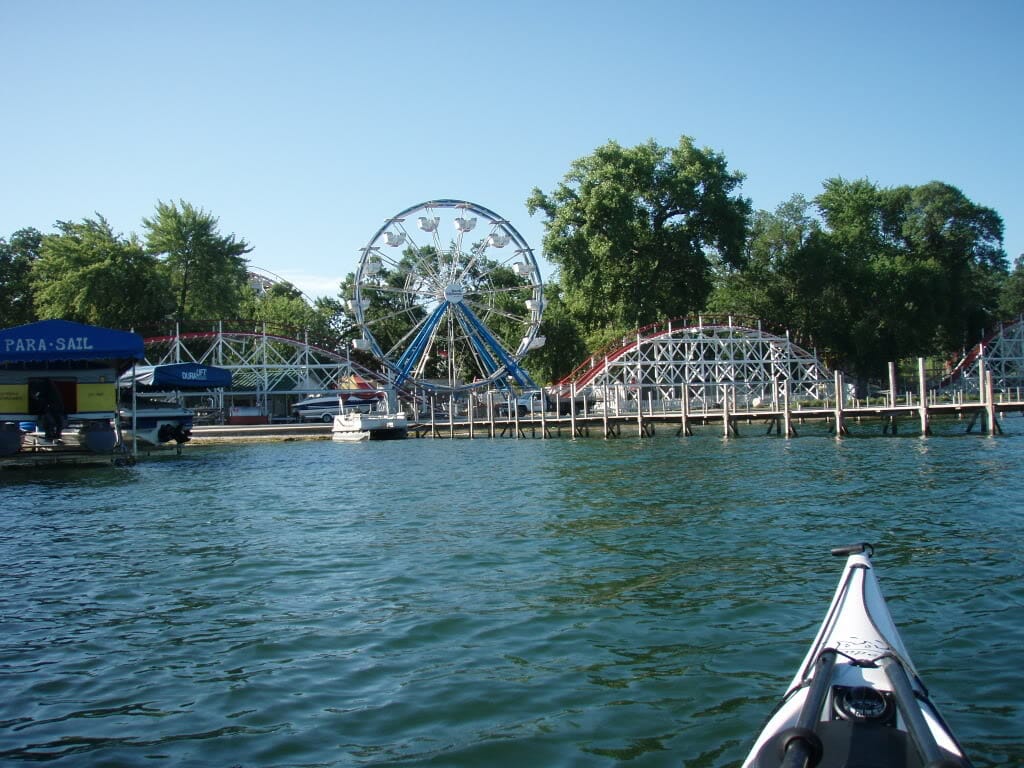 Okoboji has fewer than a thousand residents, but it's attracting more tourists each year.
Okoboji is actually where you can find the Iowa Great Lakes.
The seven lakes span 12,687 acres and offer lots of fun for anyone who enjoys water sports.
Okoboji is a popular summer destination for Midwesterners, and for good reason, too!
This area is home to amusement parks, outdoor attractions, and gorgeous lakes.
It's also a cozy vacation spot in the winter.
Visit the indoor attractions, go ice fishing, or spectate at the Okoboji Winter Games.
The small businesses, especially the restaurants, host events all year long.
No matter when you visit, you'll be able to find live music, dancing, and trivia.
Le Mars is the Ice Cream Capital of the World.
Need I say more?
Since 1913, Wells Enterprises, Inc, has resided in Le Mars.
This company makes Blue Bunny ice cream.
This small town actually makes more ice cream than any city in the world.
As you explore this town, search for the 55 5-foot ice cream cone sculptures that decorate this Le Mars.
Le Mars is home to more than just ice cream.
Visit the shops.
Admire the stained glass church windows.
Take pictures of the alley art.
Try your hand at a round of golf.
This Iowa town is perfect for a quiet weekend getaway.
There is plenty to do without being overwhelming for first-time visitors!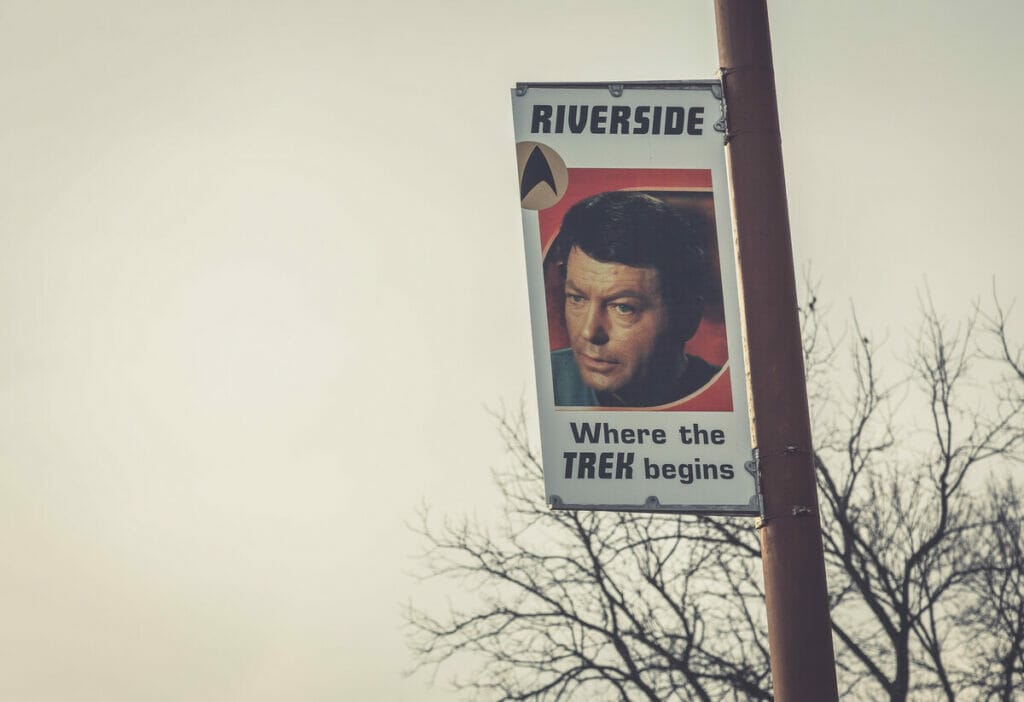 Trekkies already know this, but Riverside is the Future Birthplace of Captain James T. Kirk.
They even have a sign to prove it!
Even if you don't watch Star Trek, you might want to visit this town.
The Voyage Home Riverside History Center is commonly referred to as the "Star Trek Museum."
In addition to Riverside history and a veterans display, the history center is full of Star Trek memorabilia and exhibits.
Visit in June to experience Trekfest.
Aside from its ties to Star Trek, Riverside is a quiet little town.
You can enjoy the local businesses, public parks, and friendly people when you visit.
12. Elk Horn: small towns or cities in Iowa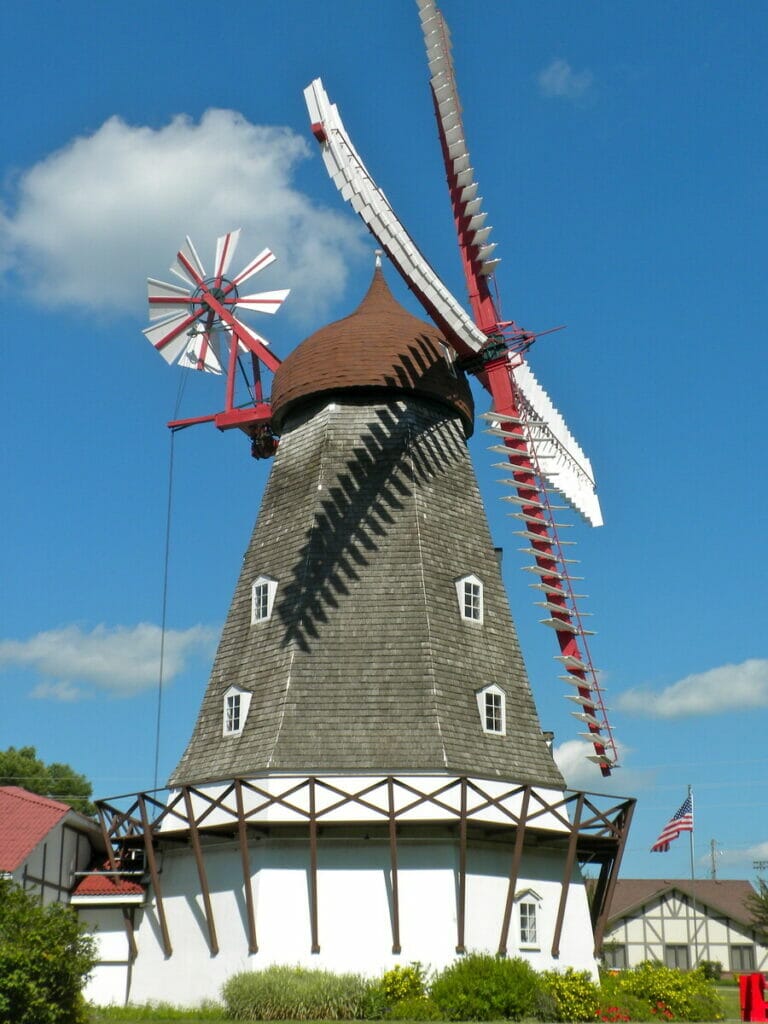 Elk Horn is a great place to go for anyone who wants to experience Denmark without getting a passport.
This town embraces its Danish heritage and is home to the Museum of Danish America.
The visitor's center even has an actual Danish windmill on display.
They deconstructed a windmill in Denmark to transport it to Elk Horn, where the locals rebuilt it.
To get a better idea of what life was like in early Elk Horn history, visit the Bedstemor House.
Nestled along the Western Skies Scenic Byway, Elk Horn is home to many delicious restaurants.
To experience true Elk Horn culture, visit during Tivoli Fest on Memorial Day Weekend.
Get a glimpse of life in Danish America and participate in the festivities!
If you want to get into the Christmas spirit, plan your trip around Julefest in December.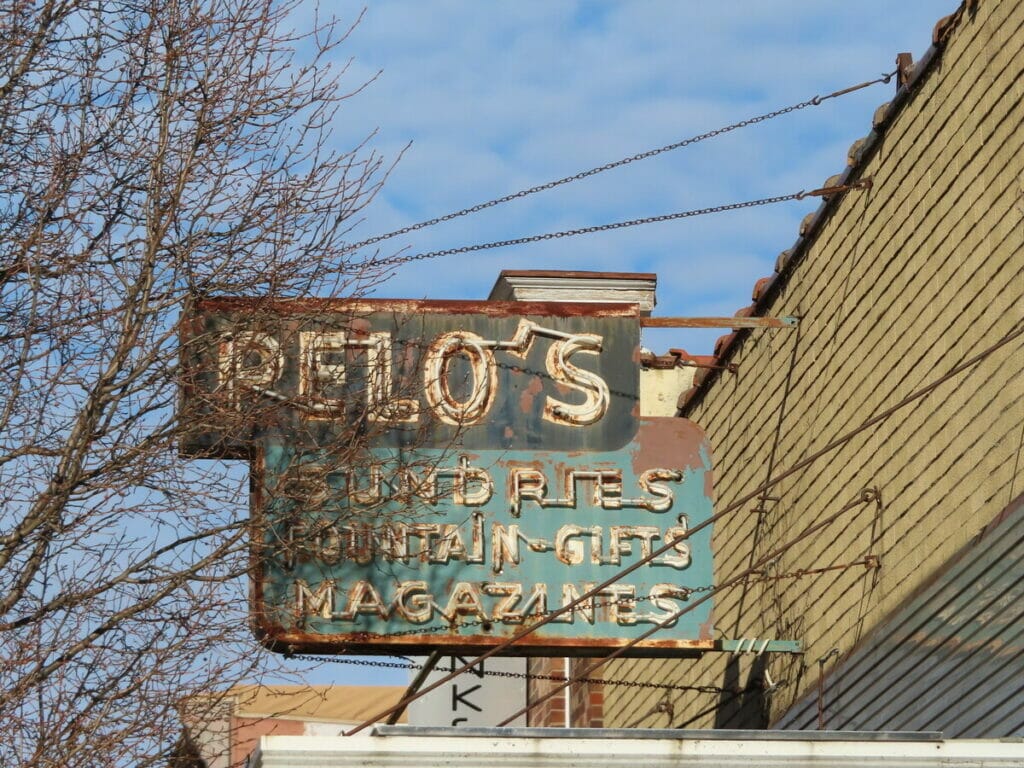 Located just outside the Quad Cities, Le Claire is one of the most well-known small towns in Iowa.
Its first claim to fame was being the birthplace of Buffalo Bill.
Visit the Buffalo Bill Museum and learn about his Wild West Show.
Their more recent claim to fame is that they're home to the TV show American Pickers.
Not only can you visit Antique Archaeology, but you know this is a good region to find some good antiques.
Le Claire is a great place to spot Bald Eagles.
Wildlife photographers will visit this town to get some good shots of these majestic birds.
Visit wineries or distilleries.
Take a cruise on the riverboat.
Try some delicious food.
Or visit Tug Fest.
Tug Fest is an annual tug-of-war event that takes place across the Mississippi River.
The tug-of-war tournament is the main attraction of Tug Fest and should be on everyone's bucket list.
14. Elkader: Iowa small towns
Elkader is an unassuming small town in Iowa, but it has a rich heritage.
You'll see glimpses of Algerian culture when you visit this town.
The Elkader Keystone Bridge crosses the Turkey River and is the largest stone arch bridge west of the Mississippi.
Wilke's, the local grocery store, is the oldest continuously operated grocery store on that side of the Mississippi.
The Turkey River Mall is an old hotel that was converted into a mall of antique shops.
This is definitely worth visiting for anyone who loves finding rare pieces of history!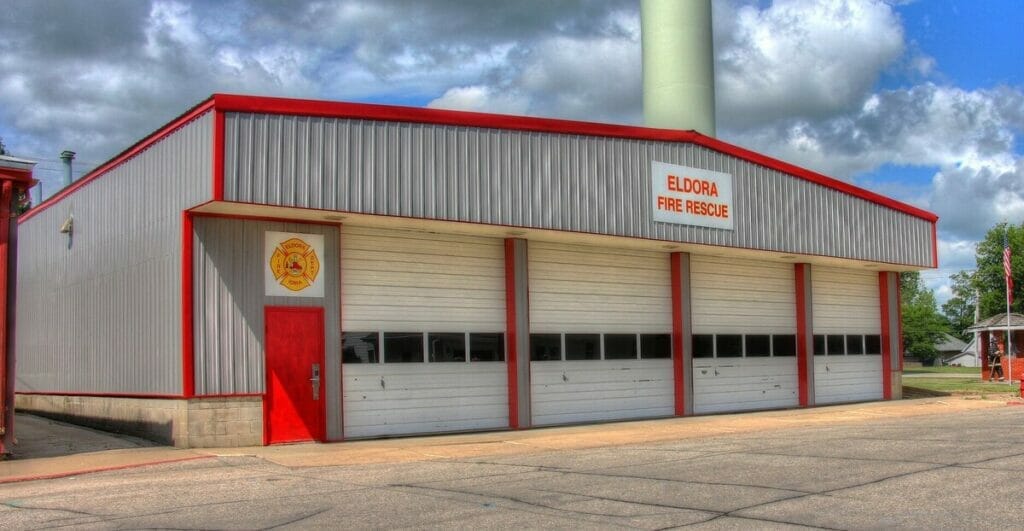 Eldora is the epitome of a quiet little town.
If you prefer the forest to the city, Eldora is a great place to visit.
You can visit Pine Lake State Park, the Fallen Rock Wildlife Area, and the Ziesman Wildlife Area.
If you leave the town limits, you'll find even more relaxing places to explore the outdoors.
If you want to go the museum route, you can stop by the Hardin County Historical Society Museum or the Hardin County Farm Museum.
Both are small museums that will teach you something new!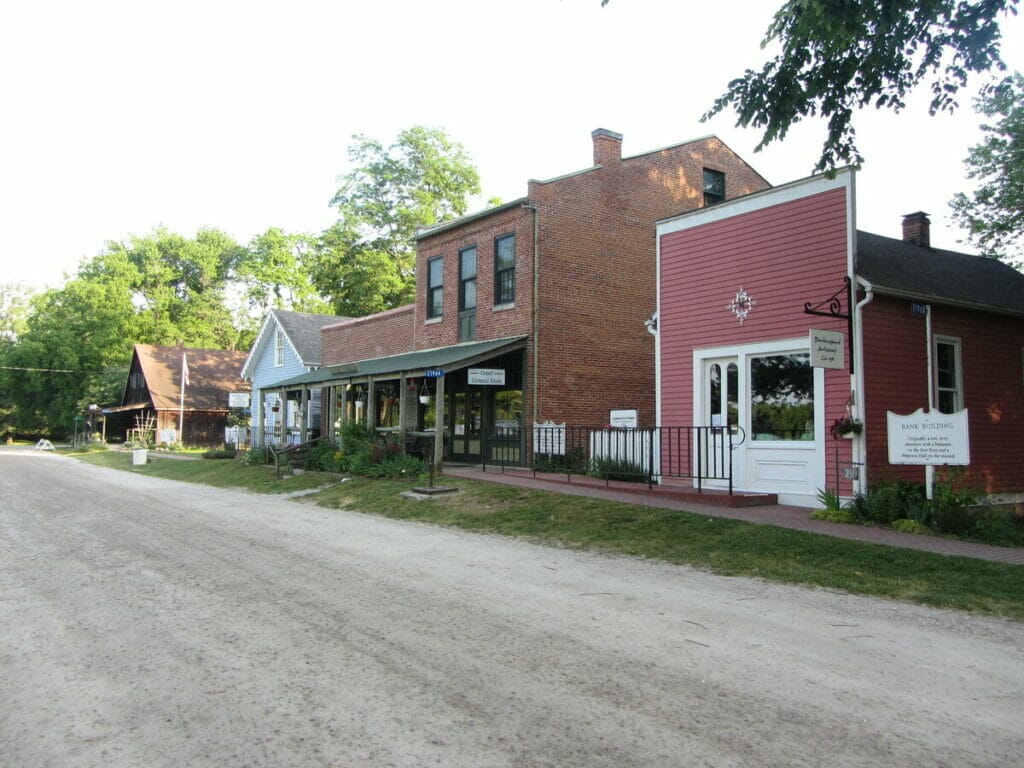 Located on the Des Moines River, Bentonsport was once a hopping town.
Now there are only 40 residents, but people still love to visit.
Many of the buildings are leftover from the 1840s and are still in use.
The architecture is beautiful as you stroll around this town!
In addition to local artisan shops and restaurants, you'll find charming places to stay the night.
It's perfect for a quiet weekend getaway!
You can walk across an old truss bridge or admire the rose garden.
After exploring the historic district, you can go for a hike or rent a kayak.
The surrounding outdoors is just as interesting as the village itself.
Walnut is one of the best small towns in Iowa for anyone who loves antiquing.
And that's saying a lot because Iowa is a great state for people who like to explore antique shops!
Nicknamed "Iowa's Antique City," Walnut has more than just antiques in shops.
The shops themselves are in historic buildings.
Walnut's charm goes way beyond rare antique finds.
The alleyways are decorated with quilts.
You can find vintage-style murals throughout the town.
In addition to the artsy culture of this town, there are some historical attractions, too.
Monroe School #8 is an old country schoolhouse and the Walnut Historical Museum will tell you about local history!
Hey! Want more ideas on the best small towns in the USA? Check these out!
Pin for Later!
Get the All-American Travel Secrets!
Don't miss out on America's hidden gems!