Got Georgia on your mind?
This Southern state is ripe with more than just peaches!
Breathtaking nature spots, charming town centers, and fascinating historical sites are just a few of the things you'll find in the best small towns in Georgia!
Looking for more fabulous Georgia travel guides & content? Head here!
Getting around Georgia
Don't forget that it's much easier to see Georgia by car so you can get around on your own!
Rental cars are perfect if you're flying into the area.
We recommend using Discover Cars price comparison to find the cheapest deals!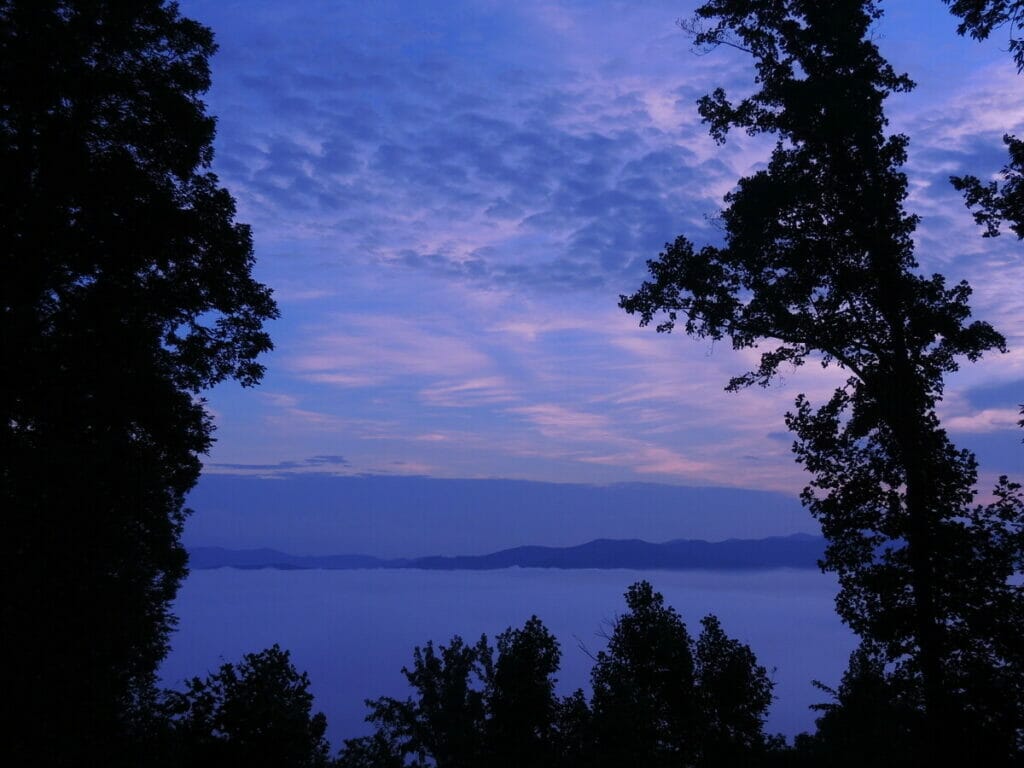 Starting us off, with a population of just over 600, is Blairsville, one of the best little towns in Georgia.
Visit the Union County Historical Courthouse in the center of the town square, then browse the shops downtown while sipping on a mocha from Cabin Coffee Co.
Seasons Inn Motel & Plaza will provide clean, simple rooms for you to stay in right in the center of town.
Across the street, you'll find all-day breakfast at the historic Hole In The Wall diner!
Visit in October for the annual Blairsville Sorghum Festival, which celebrates a type of syrup similar to molasses.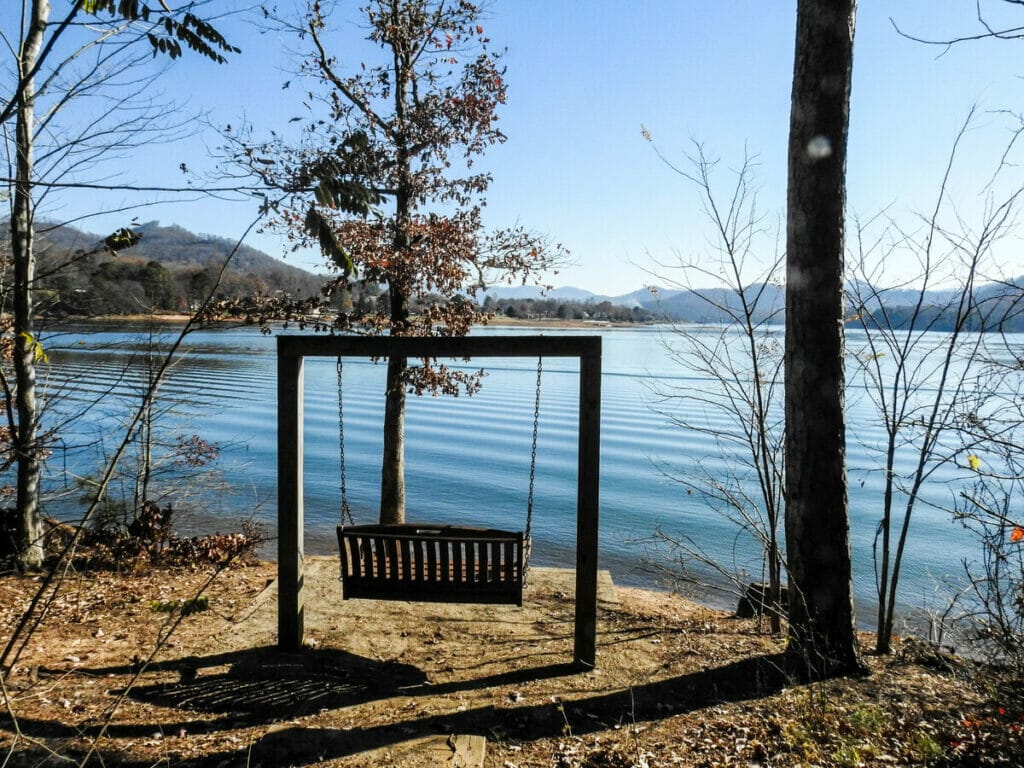 Chatuge Lake makes the charming small town of Hiawassee, GA that much better!
Once you've had enough of the water and the rural charm that Georgia is known for, take a walk through the breathtaking gardens at Towns County Park, or see what's happening at the Georgia Mountain Fairgrounds!
For a scenic lunch, pick up some groceries at Ingles Market and have a picnic in the town square, or dine in at the atmospheric Tilted Cafe.
There are several inns and camping options in Hiawassee, but you're going to want to stay at the elegant Brasstown Valley Resort in Young Harris, which is less than 10 miles away.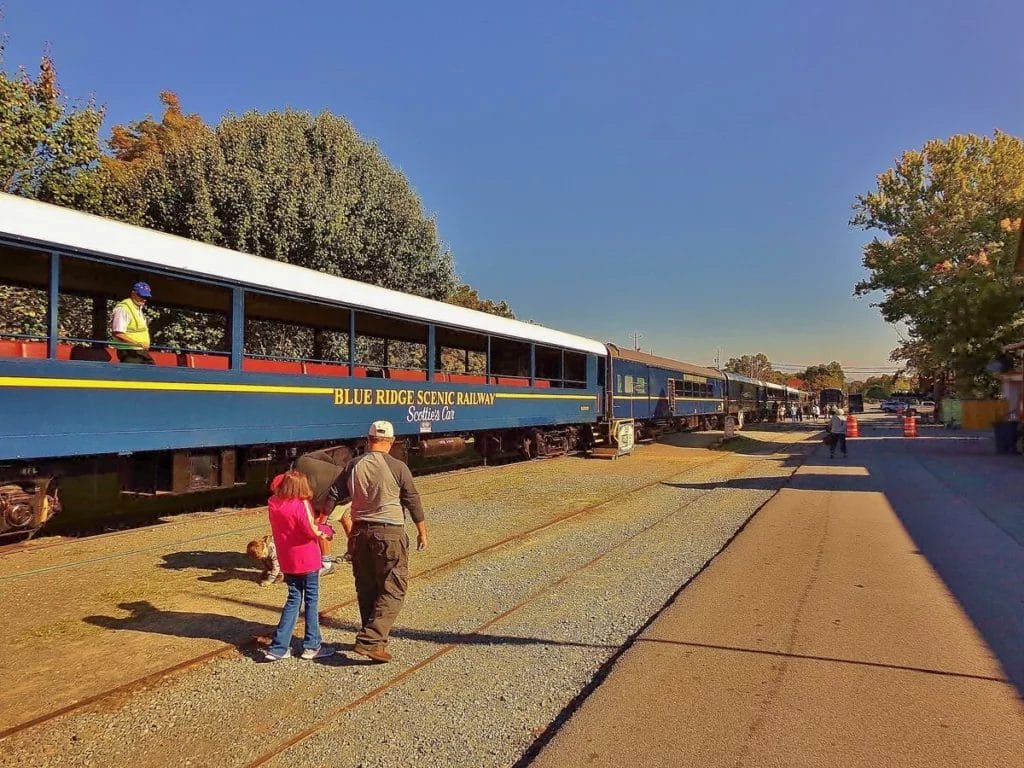 The charming downtown and historic railway of Blue Ridge makes it one of the most quaint towns in Georgia.
Take a breathtaking train ride along the restored Blue Ridge Scenic Railway, which dates all the way back to 1886!
You'll find plenty of boutique, antique, and gift shops to browse in the town center, as well as a wide variety of highly rated restaurants, breweries, and cafes.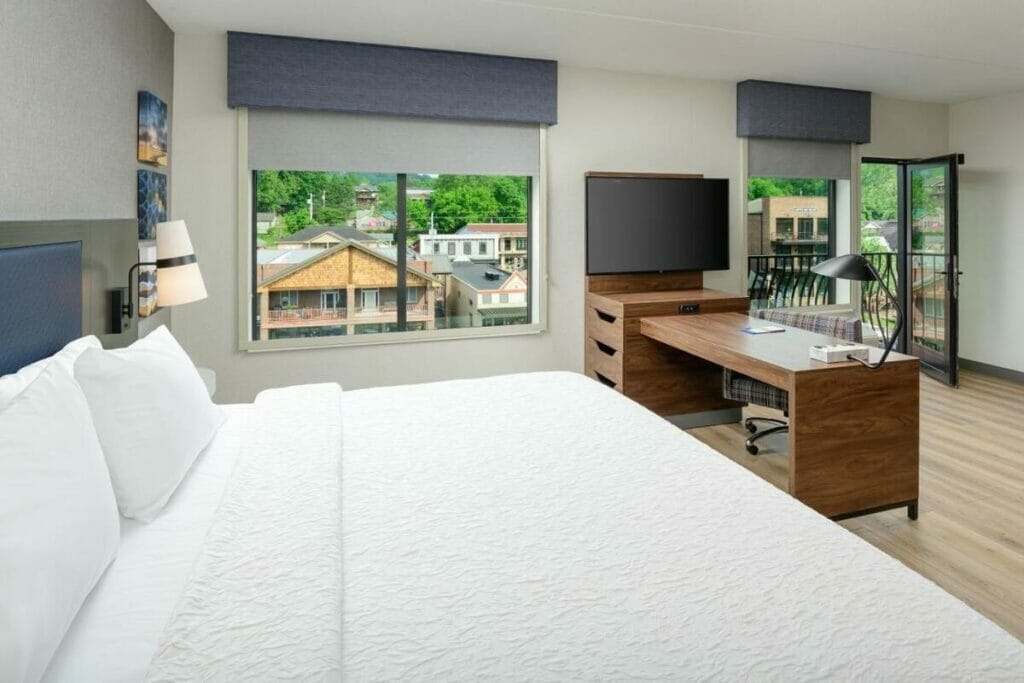 Enjoy a modern stay at Hampton Inn Blue Ridge.
Or cozy up at the Victorian-era Blue Ridge Inn Bed and Breakfast!
In need of some fresh air?
Spend an afternoon at Blue Ridge Lake!
You'll never want to leave the utterly elegant Southern Seasons Inn in Clarksville, GA!
Conveniently located just a short walk from the town center, this charming bed and breakfast is worth the trip to Clarksville in itself!
Be sure to stop by and admire the historic Mauldin House on your way downtown, then browse the shops before enjoying a delicious trout or ribeye steak at The Attic.
In the north of town, hunt for treasure at the Old Clarkesville Mill Antique Mall, then step into the Miles Through Time Automotive Museum next door!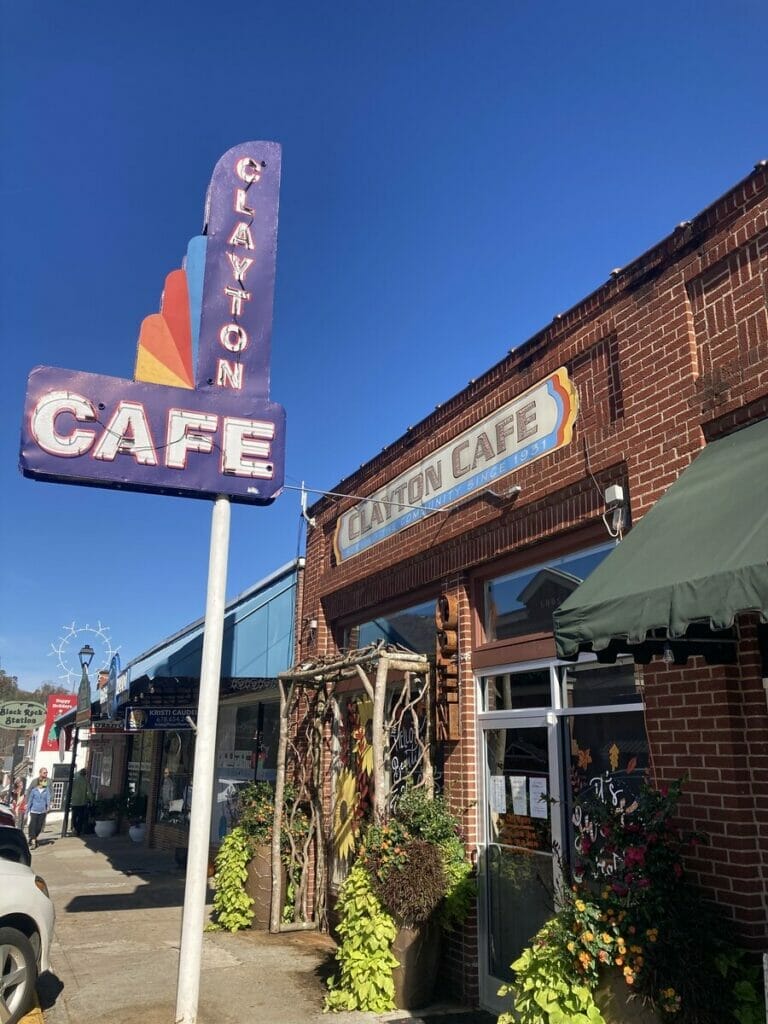 Given its population of only 2,000, you will be amazed at how many boutique, gift, and other specialty shops there are in downtown Clayton!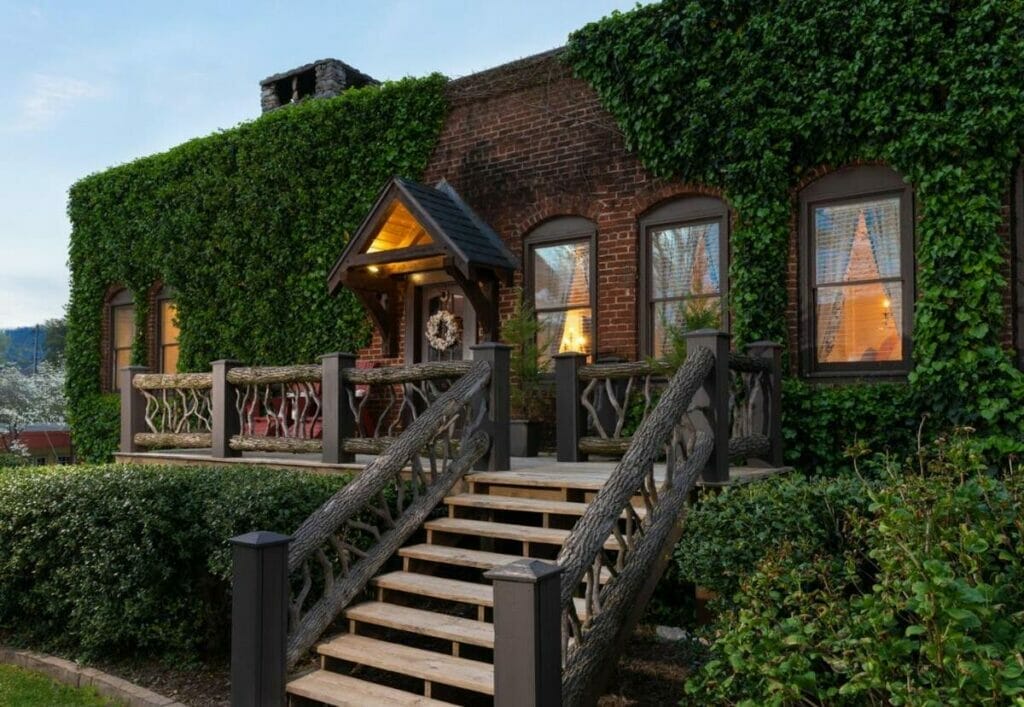 Stay at the White Birch Inn, where gorgeous greenery climbs the red brick building on the outside and rustic but luxurious decor awaits you inside!
You'll want to spend several days in town to enjoy all the offerings from the local eateries, like The Rusty Bike Cafe, Fortify Kitchen and Bar, and Universal Joint… to name a few!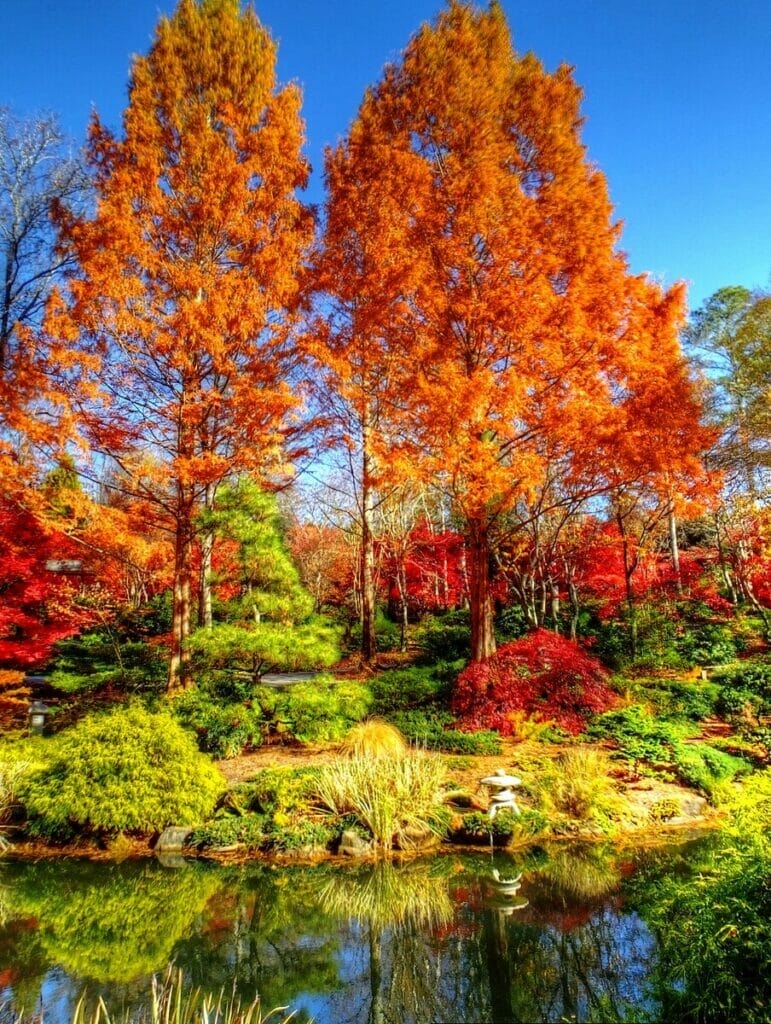 Looking to host an elegant wedding in small town Georgia?
Look no further than Ball Ground!
The Greystone Estate and The Wheeler House are both beautiful event venues located in one of the best small towns in Georgia.
No big events planned?
You'll still love Ball Ground!
If you're a nature enthusiast, you'll be happy to find a breathtaking botanical garden, a park with a pond, and a hunting preserve.
Enjoy a relaxing afternoon of casual wine tasting at Feathers Edge Vineyards, or climb aboard the Ball Ground Burger Bus for some classic American food!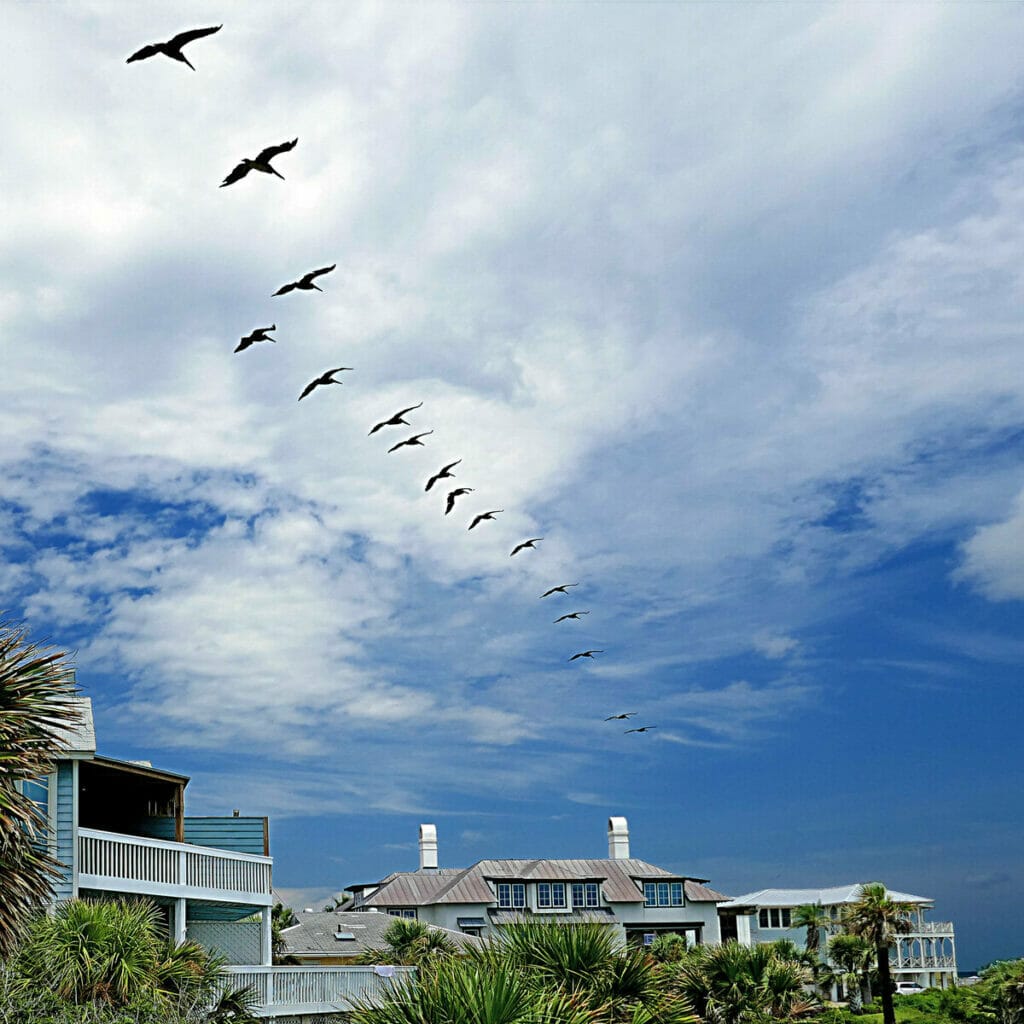 I know what you're thinking: an island?
In Georgia?
Yep!
Visit Tybee Island, where you'll enjoy a summer beach getaway along the Atlantic, complete with clean sands, a fishing pier and pavilion, and a historic lighthouse!
You won't want to skip breakfast at the Breakfast Club, and Sunrise Restaurant down the street is the perfect place to grab lunch or dinner.
Stay at any of the charming inns near the coast, and be prepared for a fun-filled island vacation!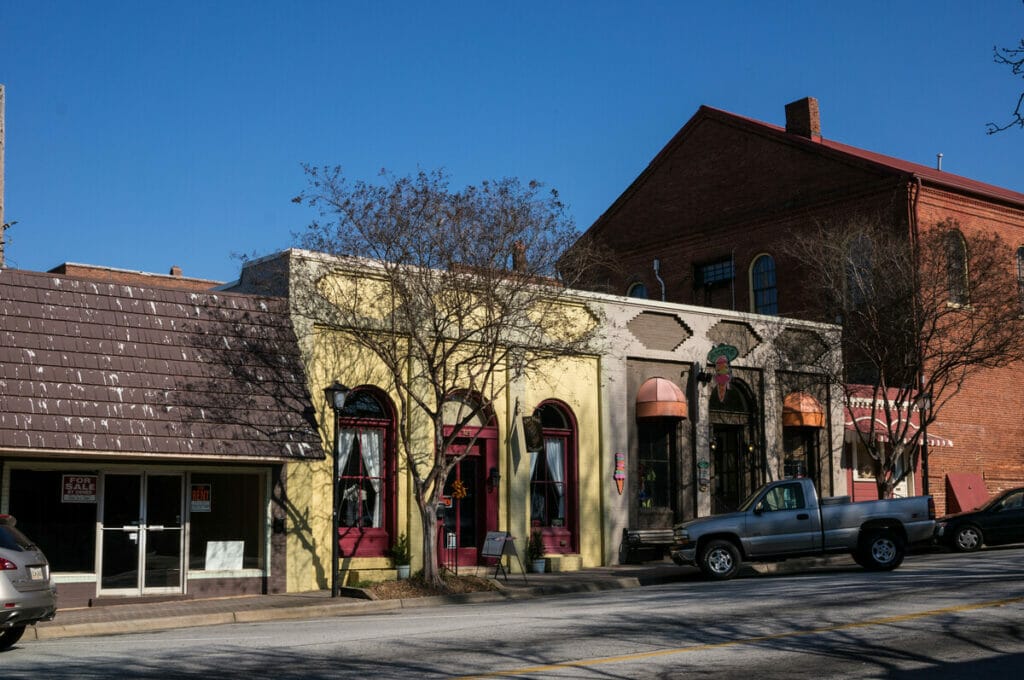 Named for the 4th president of the United States, you'll find references to James Madison all over Madison, GA!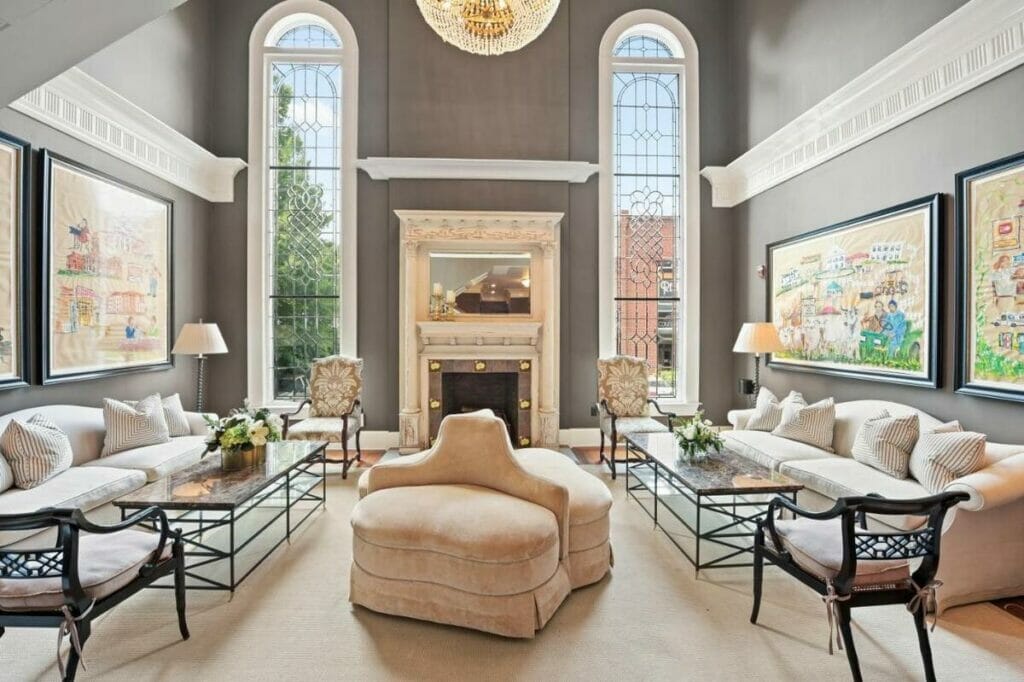 Stay at the James Madison Inn, a beautiful boutique hotel and wedding venue located right in the heart of downtown.
Across the street, you'll find a charming gazebo, an elegant water fountain, and lush landscaping in Madison Town Park.
Plus, there's free wi-fi!
For local history, be sure to stop by the Madison Welcome Center, as well as the Morgan County African-American Museum, and the Rogers House Museum – all conveniently located amongst the shops and eateries downtown!
Visit in April for the Annual Madison Fest, where you'll enjoy art, food, flowers, music, and more!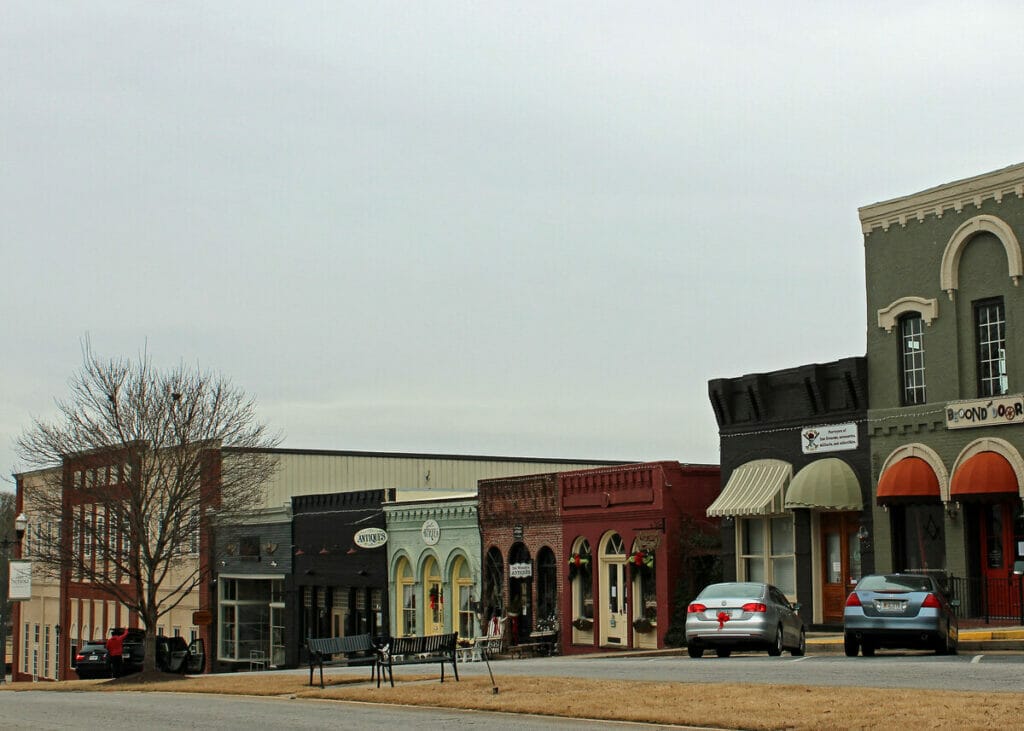 Fans of The Walking Dead will definitely want to pay a visit to Senoia, where The Woodbury Shoppe has all the gifts and collectibles you could ever want from the hit TV series!
There's even a Walking Dead walking tour available, where you can get a behind-the-scenes look from the show and enjoy some fun surprises along the way on this backlot tour!
Not into zombies?
No problem!
You'll still find plenty to do in Senoia, from a look into local history at the Senoia Area Historical Society, to charming little shops and eateries downtown, to a grand stay at The Veranda Historic Inn.
Need some fresh air?
Go for a stroll around the Marimac Lakes, right next to the town library.
Looking for a small town in Georgia, but love shopping at big name retailers?
Locust Grove is home to the Tanger Outlets, where you'll find special deals from your favorite major stores!
Stay at any of the familiar hotel chains near the outlets while you shop 'til you drop in this bustling small town!
For a more low-key vibe, head down US-23 to discover locally adored shops and eateries in the heart of Locust Grove.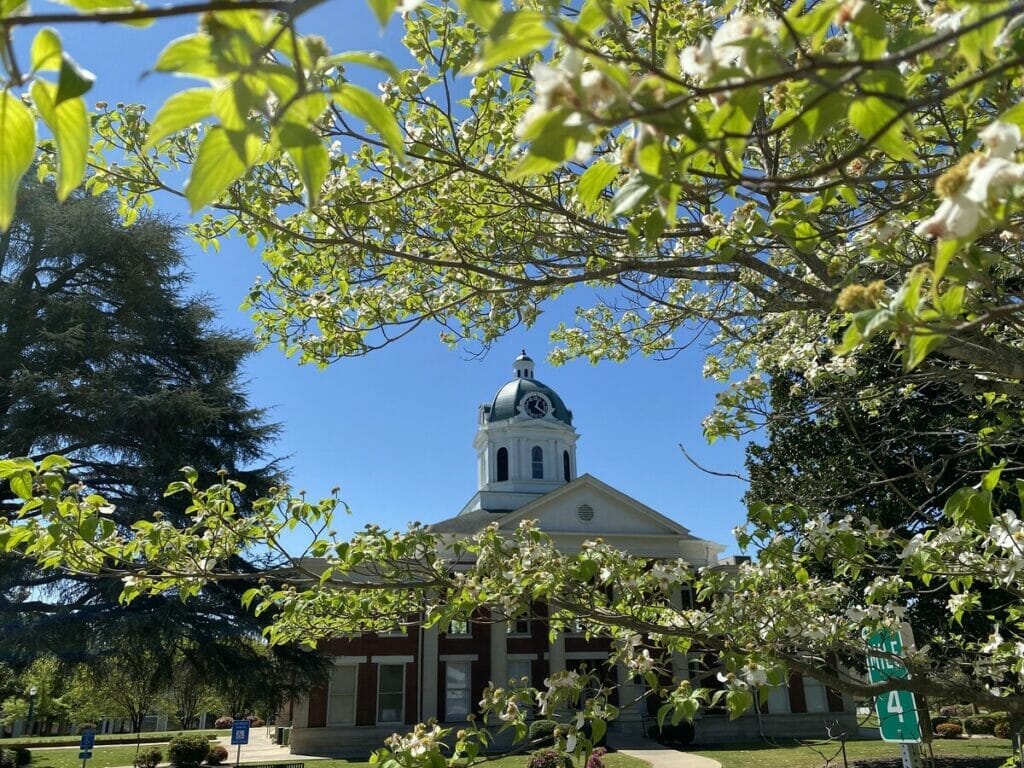 History, nature, entertainment…despite its population of less than 10,000, Toccoa's got it all!
Enjoy a beautiful day in nature at Henderson Falls Park, where you'll find picnic tables, a playground, a covered bridge, a creek, and even a small waterfall!
For a grander waterfall, Toccoa Falls is well worth the price of admission (which you'll purchase from the Toccoa Falls College gift shop).
Love history?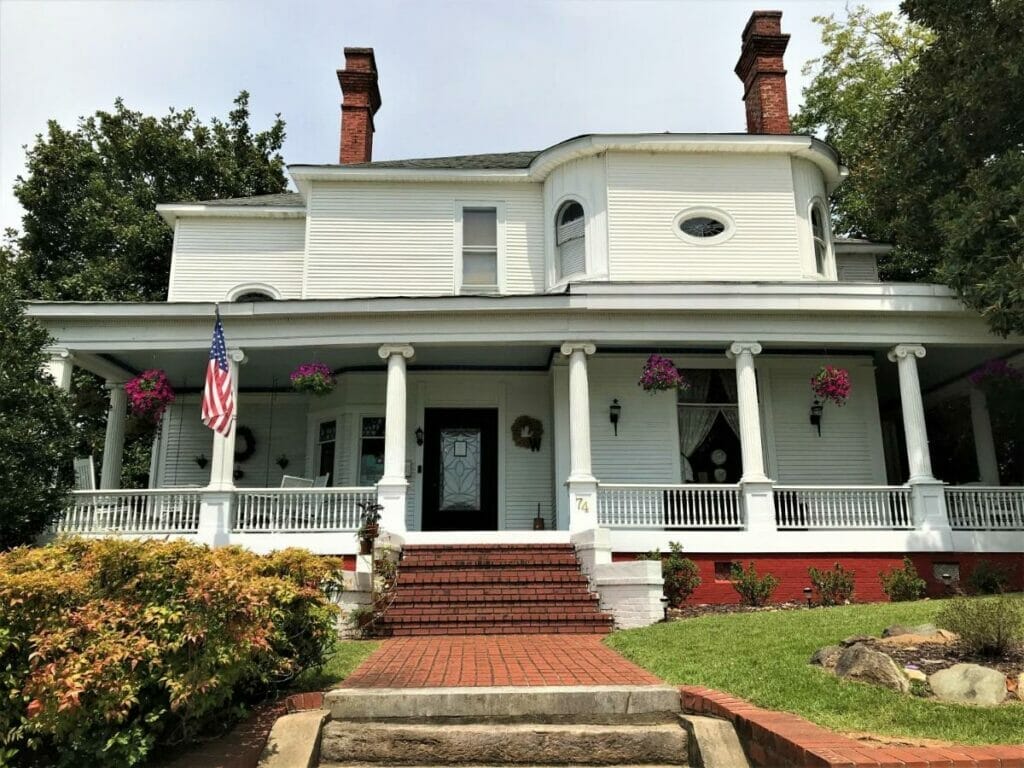 Stay in a restored Victorian mansion at The Simmons-Bond Inn Bed & Breakfast, and spend a few hours at the fascinating Currahee Military Museum!
Be sure to check out The Historic Ritz Theatre, where you'll find music, movies, comedy, and more!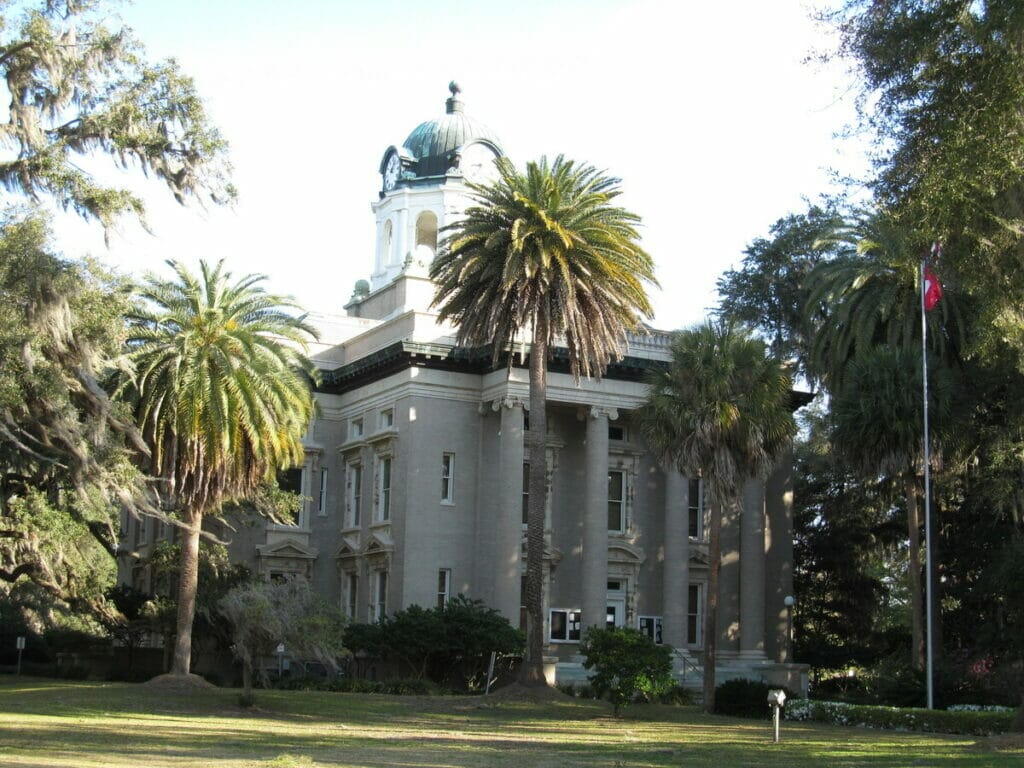 You'll definitely want to visit Brunswick when the weather's nice, so you can go on a walking tour of all the little parks near the town center.
Be sure to snap a few photos in front of Lover's Oak, an old tree in the middle of Albany Street, just a short walk from Halifax Square!
Mary Ross Waterfront Park is particularly lovely, especially on a Tuesday, Thursday, or Saturday when the Farmer's Market is open.
Plan to spend a full afternoon browsing the shops downtown, and don't forget about the marshes on the other side of town!
Marshside Grill will provide the best views of the marsh while you enjoy a delicious seafood dinner!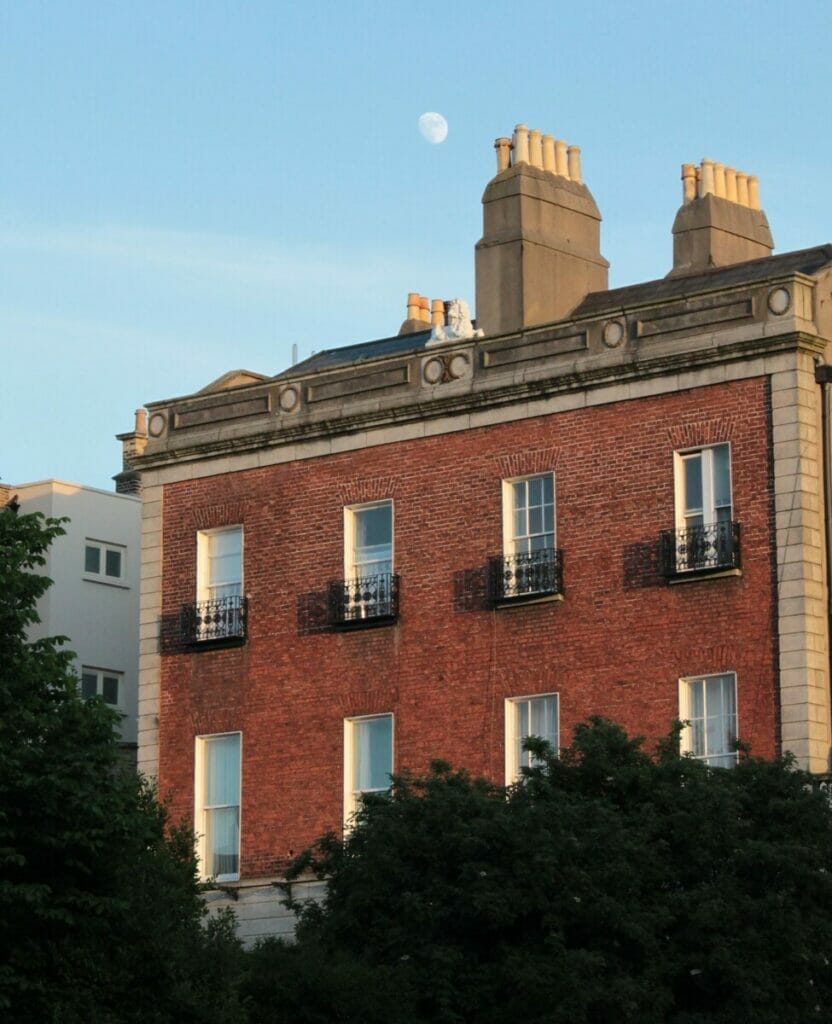 See where Martin Luther King Jr. held his first public speech at First African Baptist Church in Dublin, GA, then check out the adjacent mural and sculpture at the entrance to downtown!
Shop and eat downtown, or head out to the Dublin Mall for big name retailers.
Looking for something fun to do with the family?
Book a lane at the Shamrock Bowling Center!
Planning to stay in Dublin overnight?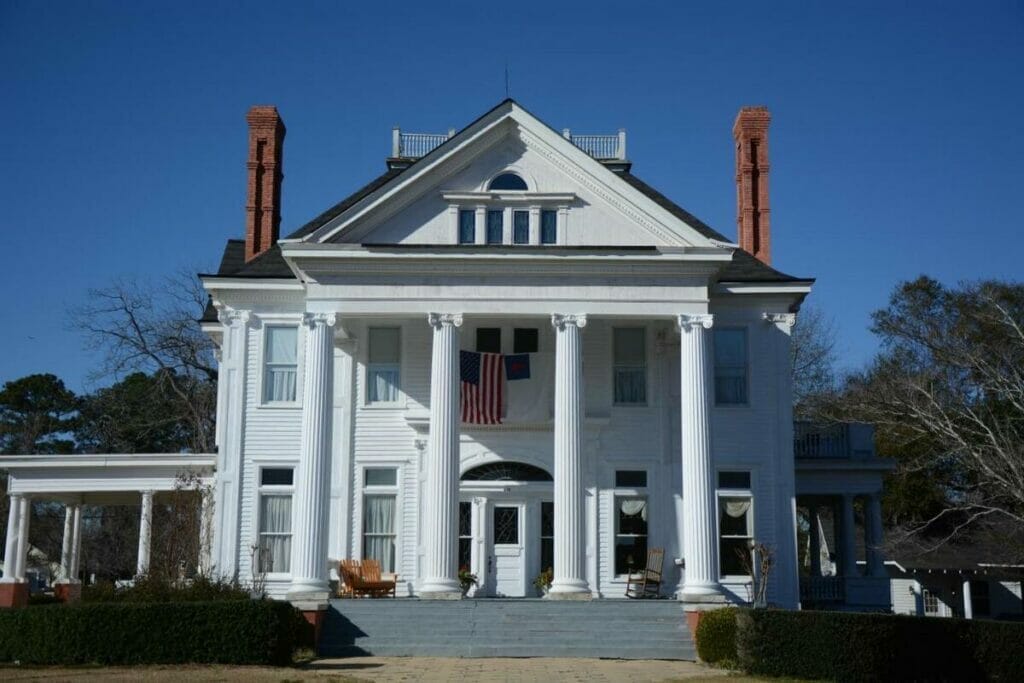 Enjoy a comfortable stay in a Greek Revival-style mansion at the Page House Bed & Breakfast, located right across from the town library.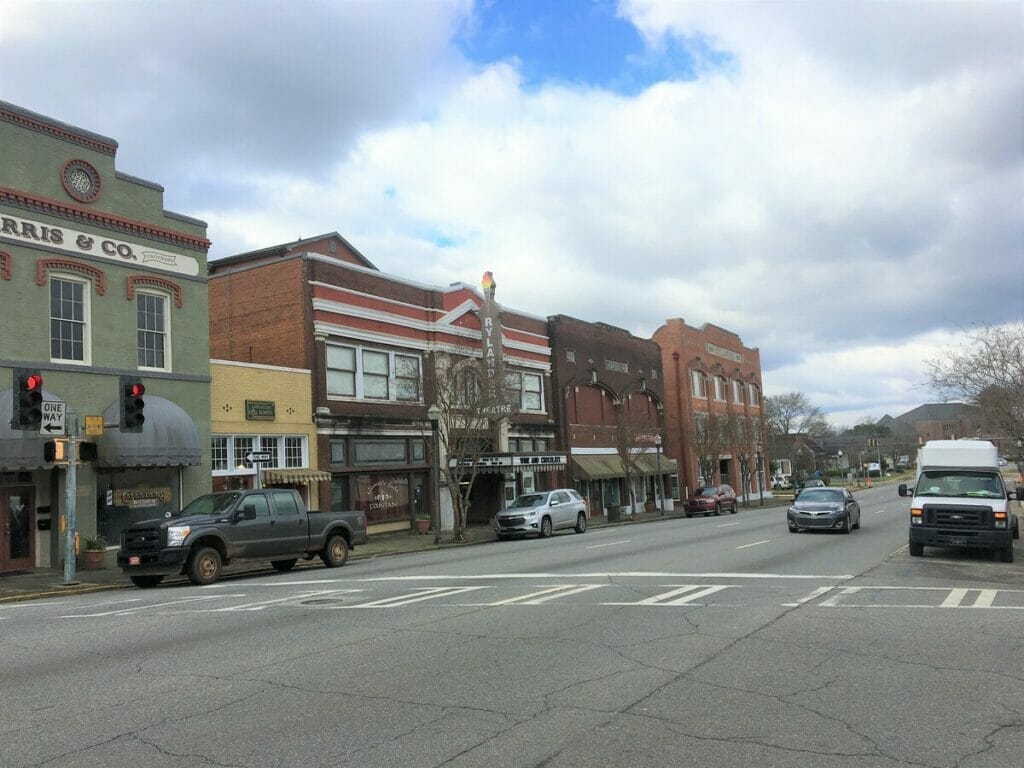 Right in the heart of Americus, GA, is the Windsor Hotel.
This historic hotel is worth a trip to Americus in itself, with its grand Victorian architecture, comfortable rooms, and an elegant restaurant on-site.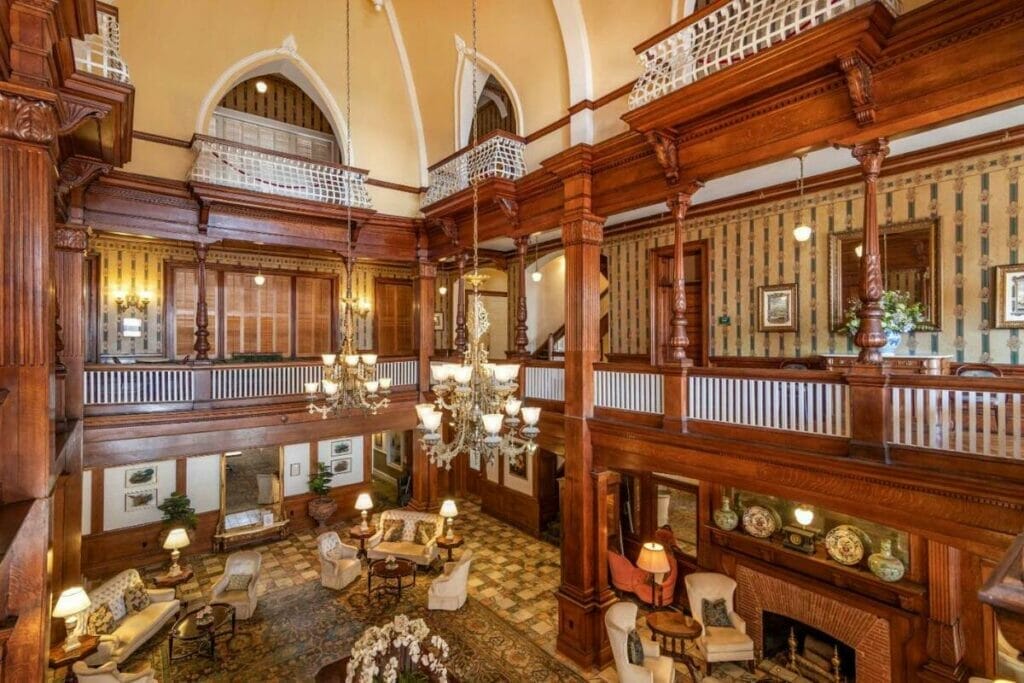 Across the street, you'll enjoy a delicious breakfast at Sweet Georgia Bakery and Cafe.
Pick up a souvenir, do some gift shopping, or put together a new outfit from the shops and boutiques downtown!
Not in the mood for shopping?
Tee up at the Griffin Bell Golf Course, or see a show at the beautifully restored Rylander Theatre!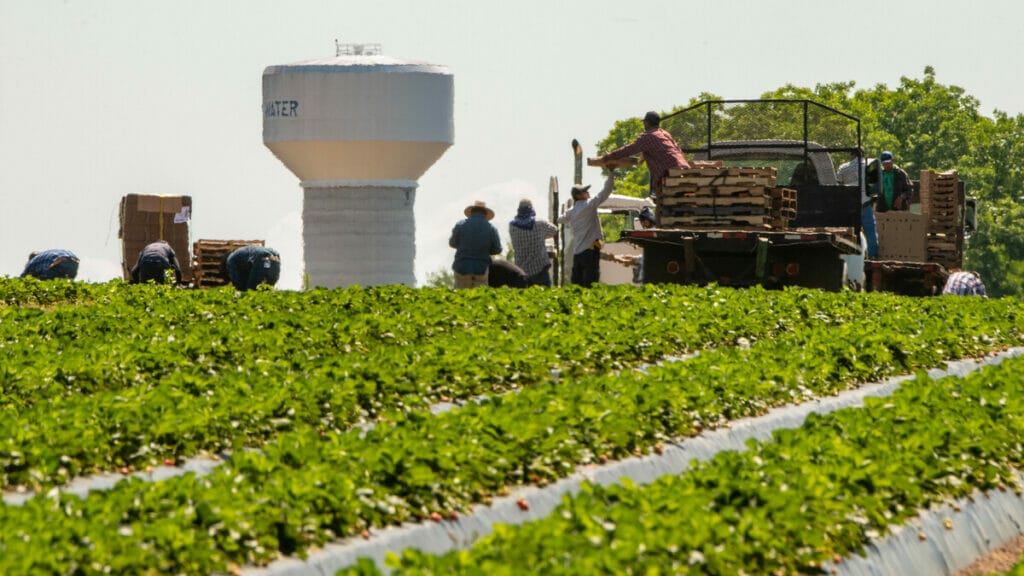 Step into history at the Georgia Museum of Agriculture in Tifton!
This immersive museum will teach you all about the life and culture of 19th-century agrarians.
Get your shopping done at the Tifton Mall, or in the quaint downtown – be sure to grab lunch from the locally adored Shady Lane Drive Inn!
Travelers of all ages will love to visit the Tifton Terminal Railroad Museum (open Fridays and Saturdays), and the tree-filled Fulwood Park is a great place to spend an afternoon in nature.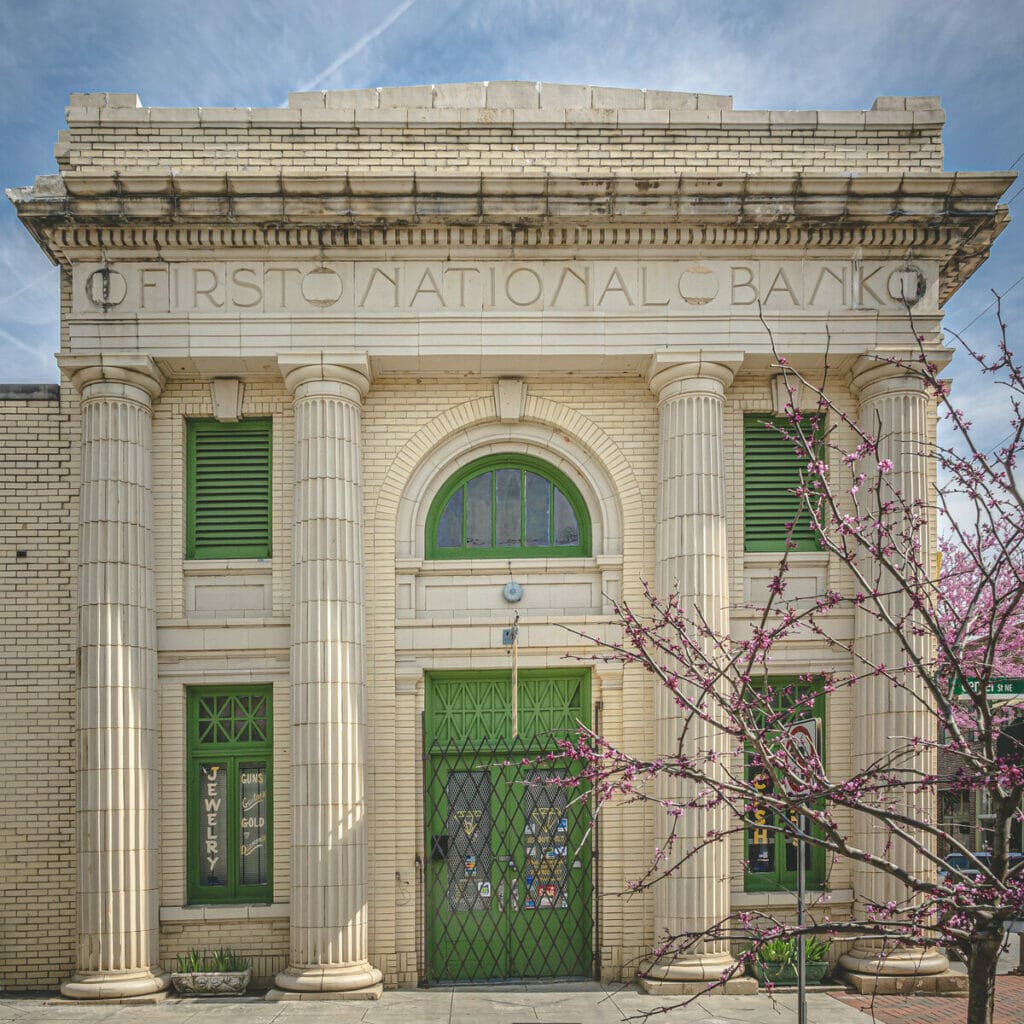 Just outside of Atlanta, Conyers is one of the best small towns in Georgia!
Olde Town Conyers is the main attraction, where you'll find colorful murals, a historic train, and buildings that will make you feel like you're in New Orleans' French Quarter.
You'll savor a delicious Mexican meal from Las Flores, or a classic order of fish and chips from The Celtic Tavern Irish Pub & Restaurant!
Visit during one of the town's big seasonal events, like the St. Patrick's Day Parade, Cherry Blossom Festival, Taste of Spring Festival, Fall Festival, and more!
Right along the border to Florida, you'll have a splash in St. Marys, GA!
The perfect summer destination, St. Marys will keep you cool with their popular Aquatic Center, and you're in for a lovely afternoon at St. Marys Waterfront Park!
Have a picnic at the tables across from the gorgeous water fountain and gazebo, or take a walk along the pier and look out at the sparkling river.
For more aquatic-themed fun, check out the St. Marys Submarine Museum, where you'll look through a real, working periscope!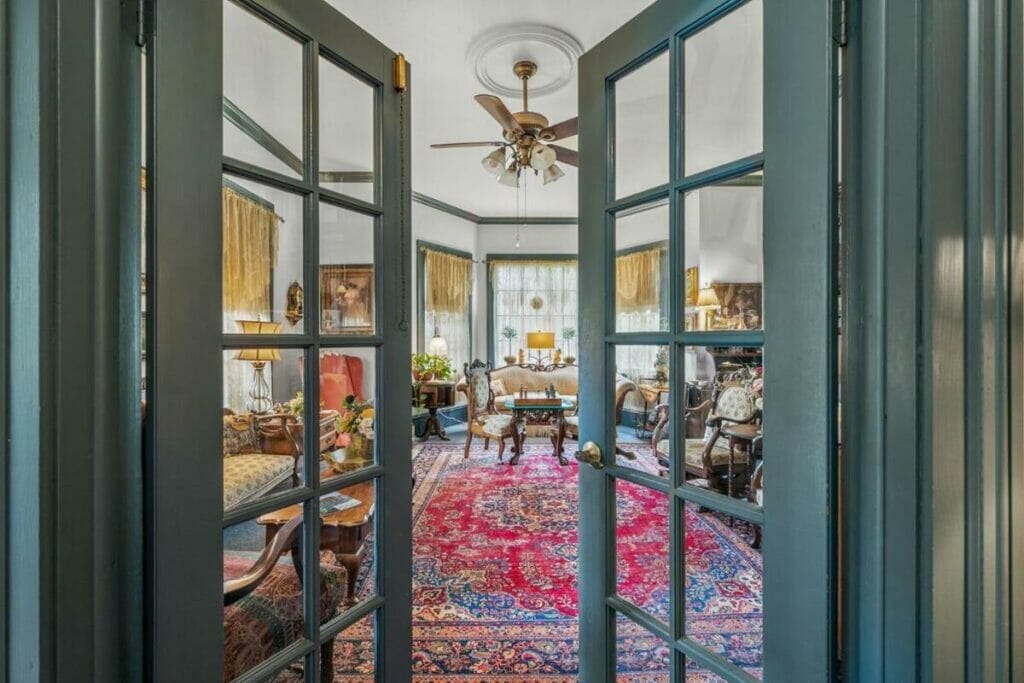 Staying overnight?
Be sure to book a cozy room with lively vintage decor at the Goodbread House!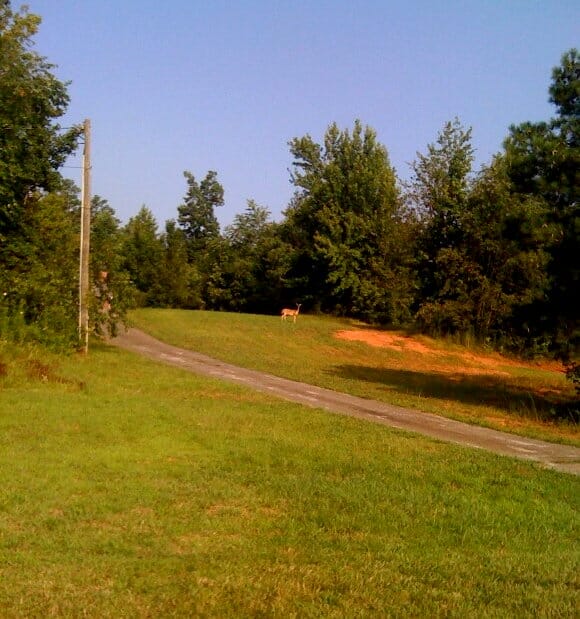 There are a lot of small towns in Georgia with a beautifully traditional aesthetic, but Suwanee is here to shake things up!
In the town center, you'll be greeted with modern art in front of City Hall, and an expansive city park with contemporary landscaping.
You'll find big name retailers in the southeast of town, and several local shops in the town center.
Need a break from it all?
Bask in the great outdoors at the 304-acre George Pierce Park, take a walk around the peaceful Sims Lake Park, or enjoy a game of disc golf at Suwanee Creek Park!
The perfect combination of nature, art, and shopping make Suwanee one of the best small towns in Georgia to live in!
In Sugar Hill, just south of Lake Lanier, you will find arts, culture, and delicious food and drinks from local eateries.
See what's on at The Eagle @ Sugar Hill, a performing arts venue with art deco flair, or The Bowl at Sugar Hill, a lively outdoor venue you'll definitely want to visit in the summer!
The best place to stay in Sugar Hill is this charming Airbnb bungalow, conveniently within walking distance to downtown.
Traveling with kids?
Let them get their energy out on the playground at E.E. Robinson Park!
One of the cutest towns in Georgia is McDonough, whose downtown shops and eateries border a beautifully landscaped town square.
Have a picnic in the square, or enjoy some good ol' fashioned Southern comfort food at GRITZ Family Restaurant.
Curious travelers of all ages will marvel at the replicated historic village in Heritage Park, and the Image Doctor's Camera Museum will teach you all about the history of photography.
Traveling with six people or more?
Work together to conquer the museum's escape room!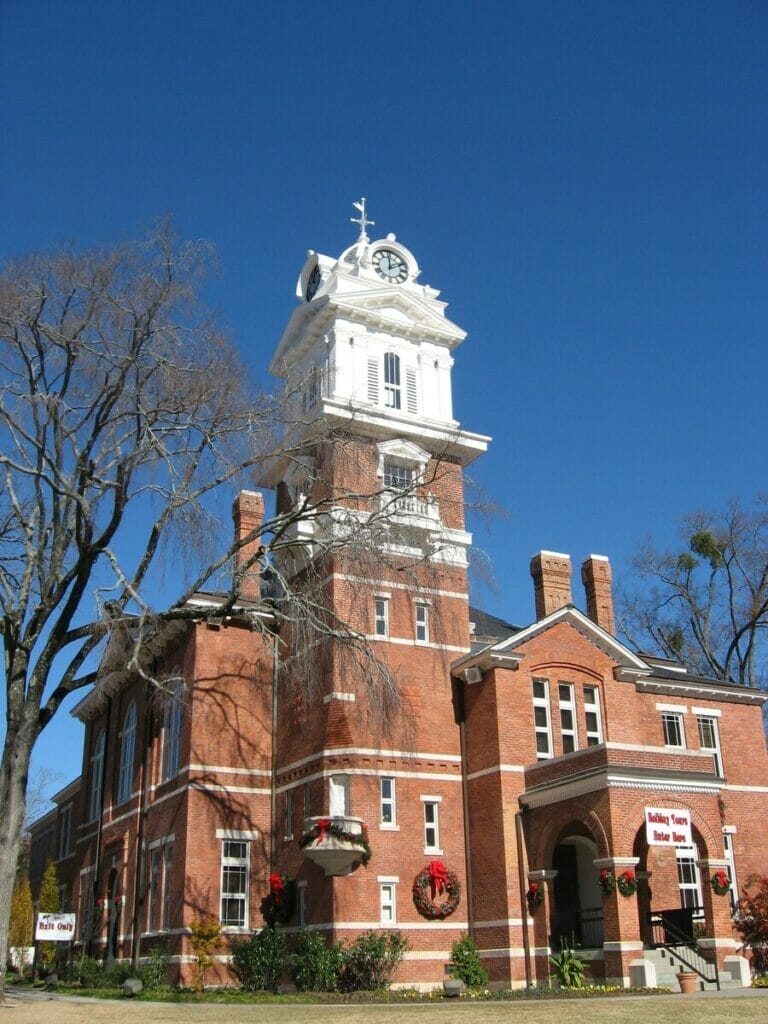 The red brick that graces the sidewalks downtown makes Lawrenceville one of the most elegant destinations in Georgia.
Gwinnett Historic Courthouse, located in a beautiful park in the heart of downtown, is the perfect place to take some vacation photos – especially in spring or summer when the grass and trees are a lively shade of green!
Just over half a mile from downtown, you'll enjoy a tasty Haitian lunch from La Citadelle Bakery, then cross the street to spend an afternoon around the lake in Rhodes Jordan Park.
Rather be indoors?
See what's on at the Aurora Theatre!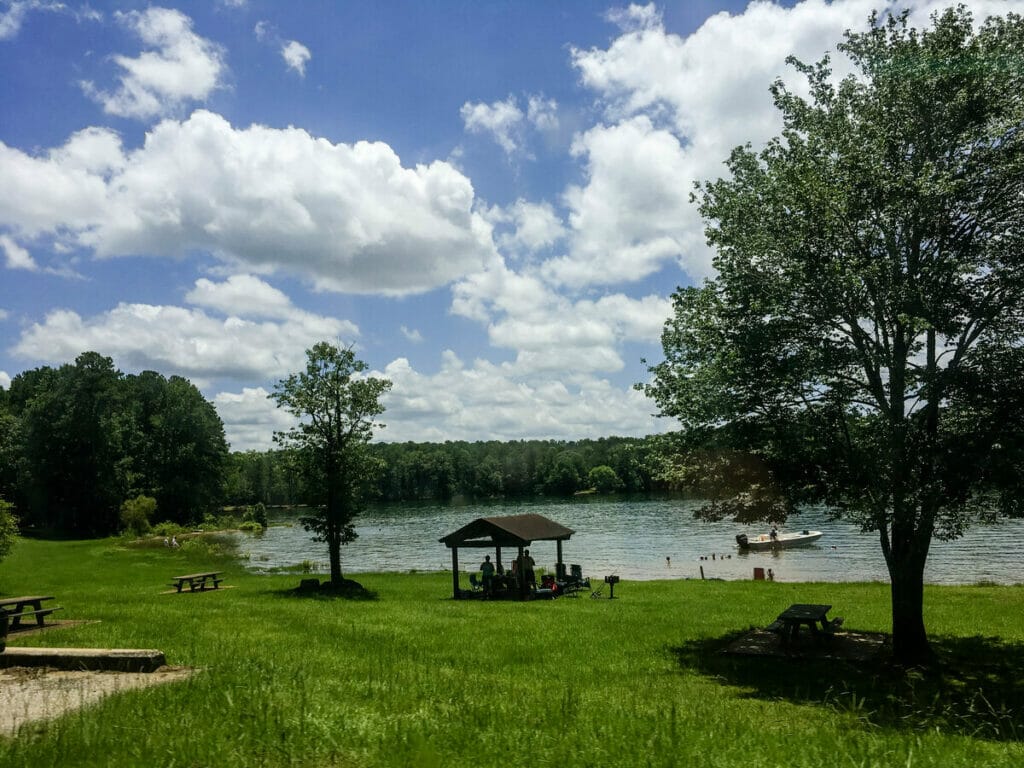 Art and history enthusiasts will love a trip to LaGrange, GA!
Marvel at the local and international art at the LaGrange Art Museum, see what's happening at the Sweetland Amphitheatre in Boyd Park, or spend a quiet afternoon by the fountain in Lafayette Square.
Need somewhere fun to bring the kids?
Book a weekend at Great Wolf Lodge, an indoor waterpark and resort!
Learn about local history at the Legacy Museum On Main, and don't forget to tour the Hills & Dales Estate as well as the Historic Bellevue Mansion!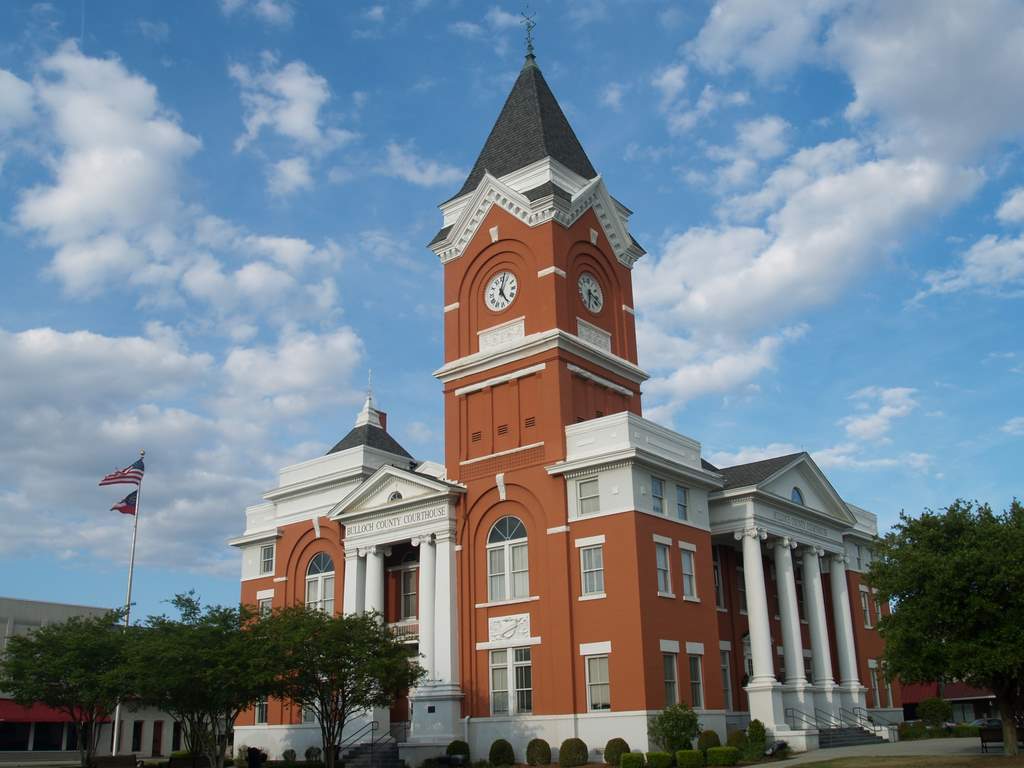 You'll find art, clothes, antiques, and plenty of fine food in downtown Statesboro!
This university town has everything you need, from familiar retailers to local favorites.
Need to spend some time in nature?
Take a scenic walk through the Botanic Garden at Georgia Southern University, cool off at Splash in the Boro Waterpark and Aquatic Center, or walk the paved trails and have a picnic at Mill Creek Regional Park!
Visit Statesboro in October for a fun-filled fair!
Hey! Want more ideas on the best small towns in the USA? Check these out!
Pin for Later!
Get the All-American Travel Secrets!
Don't miss out on America's hidden gems!