You may know that Savannah is the oldest city in the state of Georgia and that it's the birthplace of Juliette Gordon Low – the founder of the Girl Scouts.
But did you know that being so near to the coast, Savannah is bursting with tasty seafood-themed restaurants serving everything from shrimp to signature cocktails?
It's no wonder Savannah attracts millions of visitors every year and is the proud home of nearly 150,000 people.
Read on to discover the best restaurants in Savannah – with a variety of decors, dishes, and drinks.
A taste of southern perfection awaits – the cuisine that Georgia is most known for!
Before we dive in check out more fabulous Georgia content here!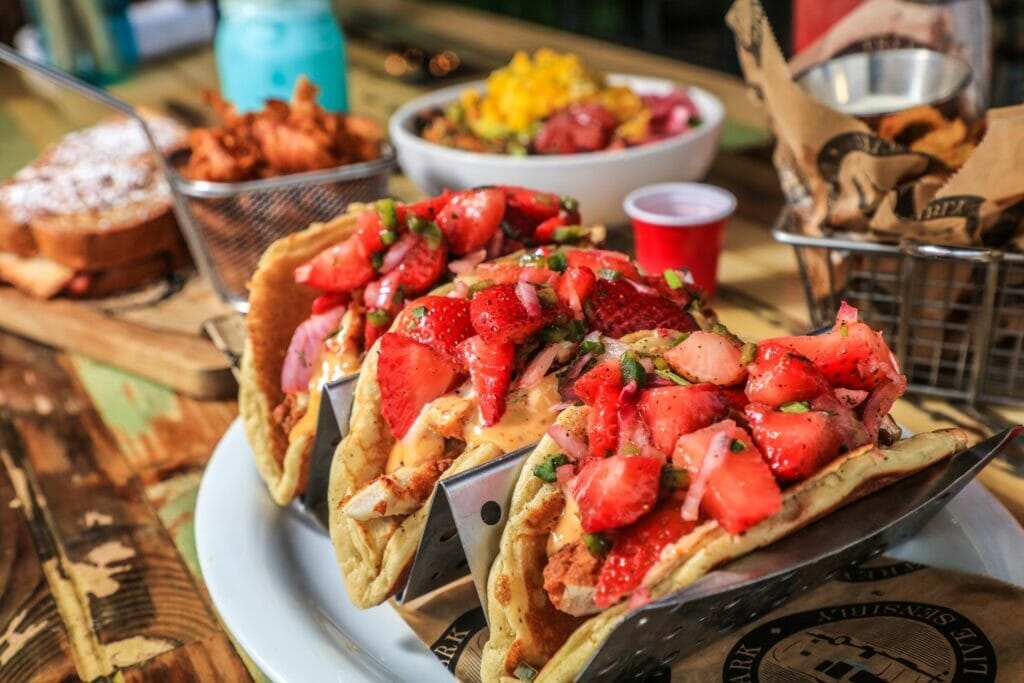 Everyone needs a hip establishment on their to-go list, to keep them young and trendy.
Fortunately, Treylor Park has you covered – promising a fashionable space perfect for the Instagram-generation.
It's one of four locations in the US and boasts a seriously innovative menu.
You won't believe how good Treylor Park's frozen cocktails are until you try them, and their selection of food is simply out-of-this-world.
Highlights on the menu include steak egg rolls and grilled apple pie sandwiches (we don't know how it tastes so good, but it does!).
Sorry Charlie's Oyster Bar & Cocktails is perfect for those green-conscious consumers looking to cut the airmiles of their food.
The seafood served at this enticing establishment is caught locally, making it the ultimate sea-to-table experience.
This restaurant is hugely popular with visitors for its regional Southern flavors and signature rum cocktails.
With unique atmospheres across three different levels, you'll sample delicious delights such as their Casino option – roasted red peppers, jalepeño, bacon, and aged parmesan.
Delicious!
Sports fans rejoice!
Sorry Charlie's shows major sporting fixtures on their large displays – so you won't miss a single minute of the important game.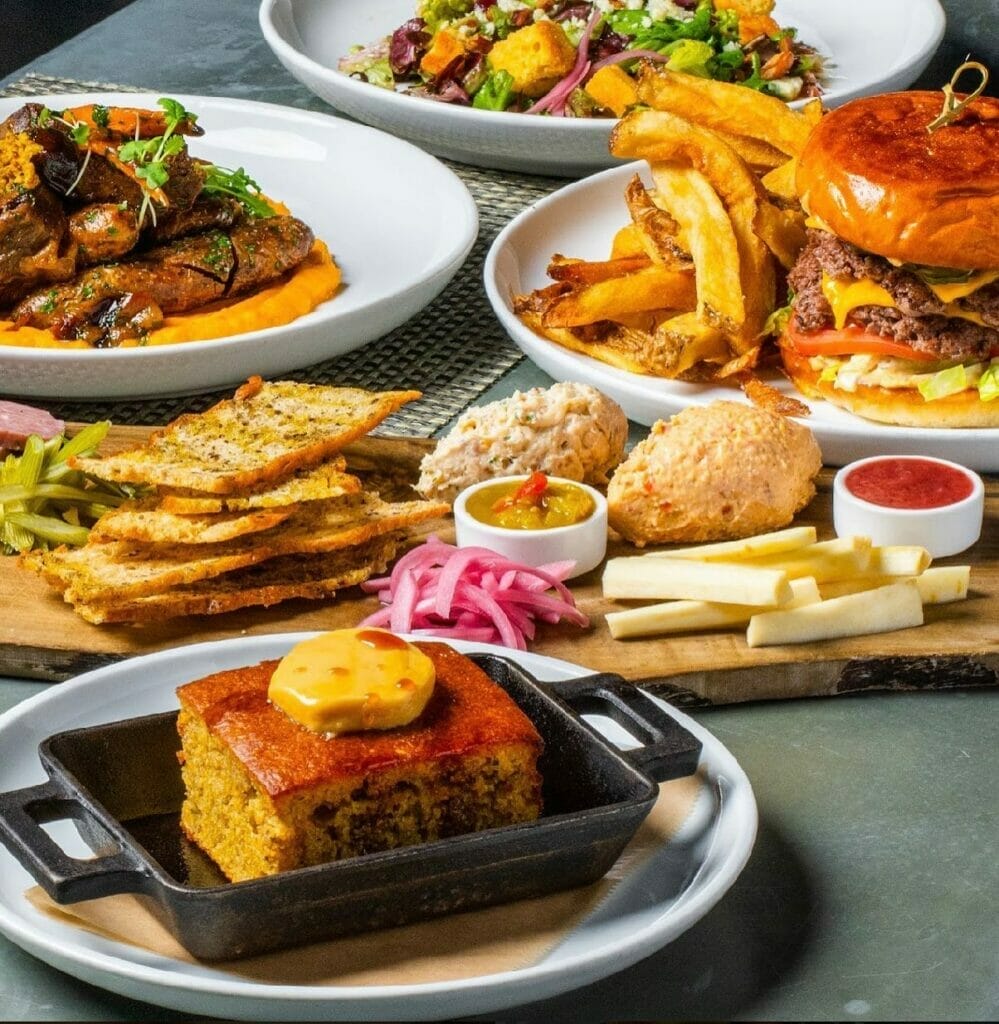 This small gastropub is so popular, you'll need to reserve a table ahead of time to avoid disappointment.
Guests to Cotton & Rye shout about their amazing rainbow trout, served alongside Savannah red rice.
You simply won't find this anywhere else!
Savannah natives will love their authentic home cooking.
They make their bread, pâte, and sausage from scratch – so you can rest assured that there's quality in every stage of the cooking process.
This really is one of Savannah's best restaurants.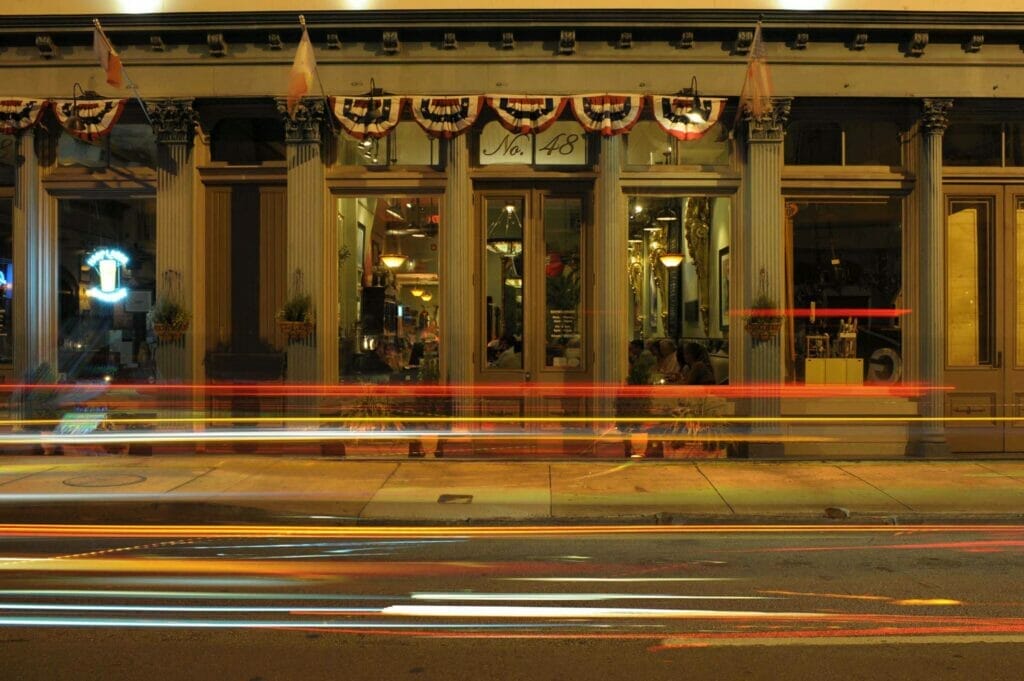 Don't forget to pack your camera for Circa 1875!
This local favorite is so picturesque, you'll pinch yourself just in-case it's a dream.
Designed in a chic Parisian style, expect high-fashion furniture, top-quality décor, and remarkable vintage paintings.
Despite its French design, Circa 1875 is in-keeping with Savannah's proud tradition of serving tasty seafood.
People new to the delights of crab should try their crab croquettes.
They're so good that you'll begrudge having to share them.
Reviews of this downtown restaurant identify attentive waiters, who are happy to recommend their favorite dishes and always provide service with a smile.
Billed as having excellent customer service and a beautiful outdoor area with greenery, arbor, and ivy, The Olde Pink House is a night out not to be missed.
This unique space is best enjoyed in the evening, when you can enjoy their signature spirits.
Shrimp cocktail is a staple dish at The Olde Pink House, and other menu items include the fish of the day sandwich, fish taco, and bacon buttermilk whipped potatoes.
It's an offering so expansive, you'll need to visit more than once.
For a truly special drink, try the The Olde Pink House Pink Lady cocktail – unique to this great establishment.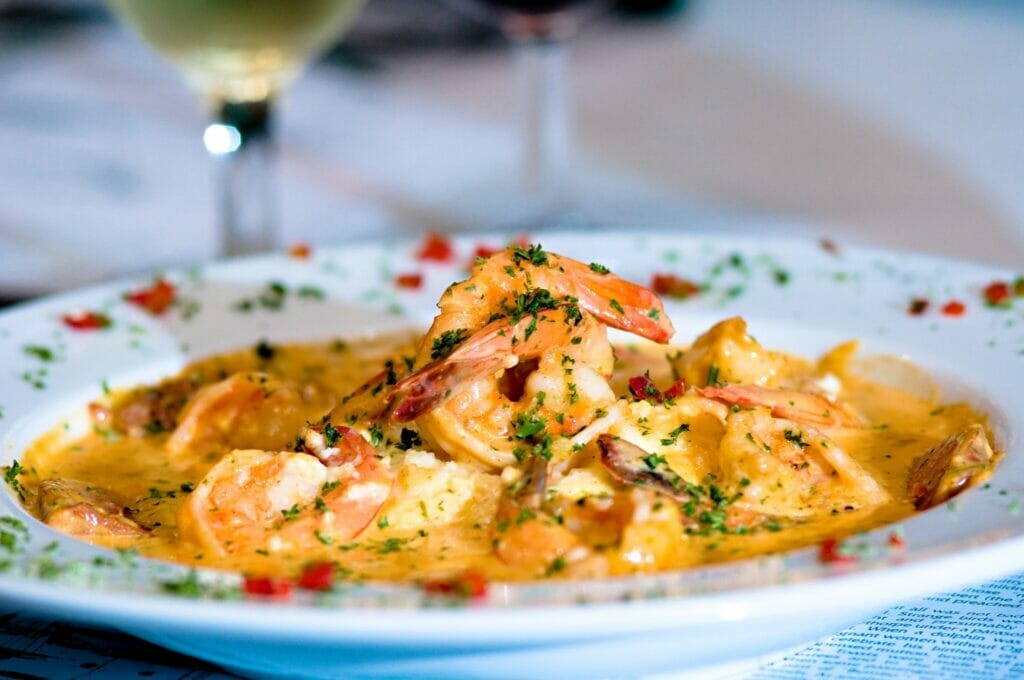 Being the first restaurant on the historic River Street, it's safe to say that Boar's Head Grill and Tavern has learnt a thing or two about providing great experiences.
This family-owned business excels at providing fine dining.
Expect a night of attentive staff who are extremely knowledgeable about their menu.
River Street is such a famous American landmark that it even features in the 2012 video game The Walking Dead.
The food is killer, but hopefully the zombies aren't!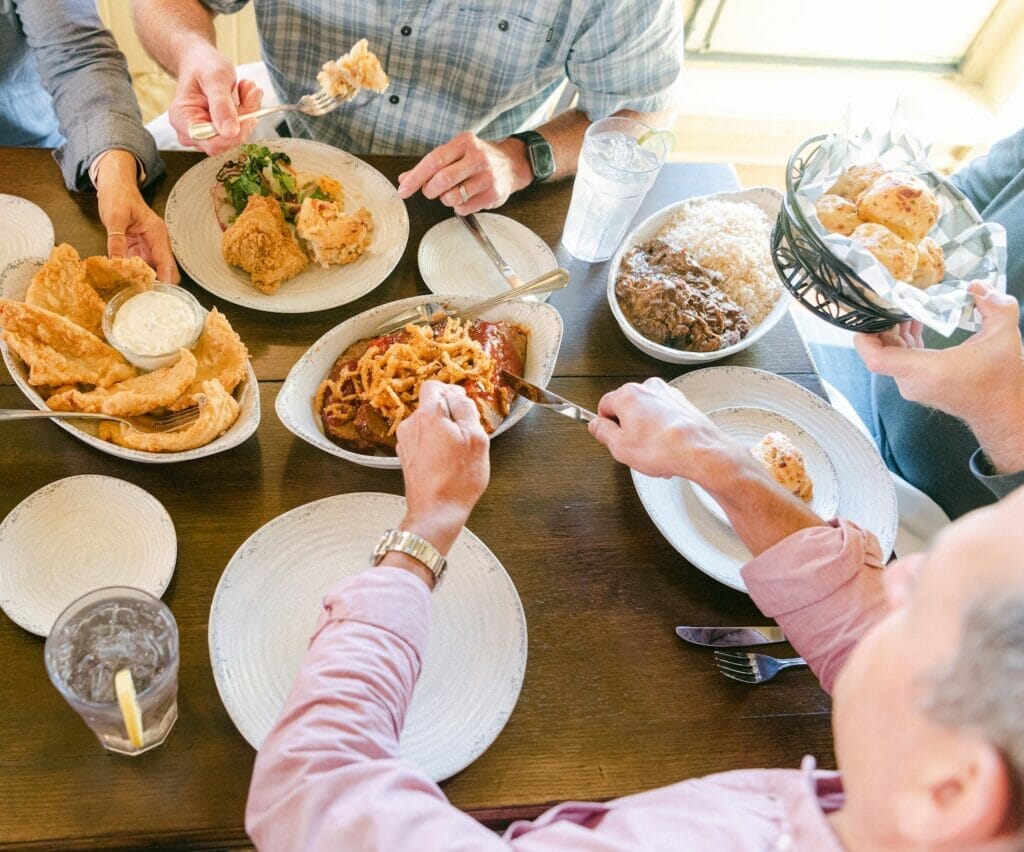 Honey and pear margarita anyone?
You can enjoy this one-of-a-kind drink and many more unique options at The Lady and Sons.
Run by American chef Paula Deen and her sons, this establishment is best-known for its incredible southern-fried chicken.
Look online for a picture if you don't believe us.
Your mouth will water at just the sight! The fresh candied yams and Georgia-fried catfish are a must-try too.
Not only is The Lady and Sons family-friendly, it's also family-run – with something on the menu for even the fussiest member of your party.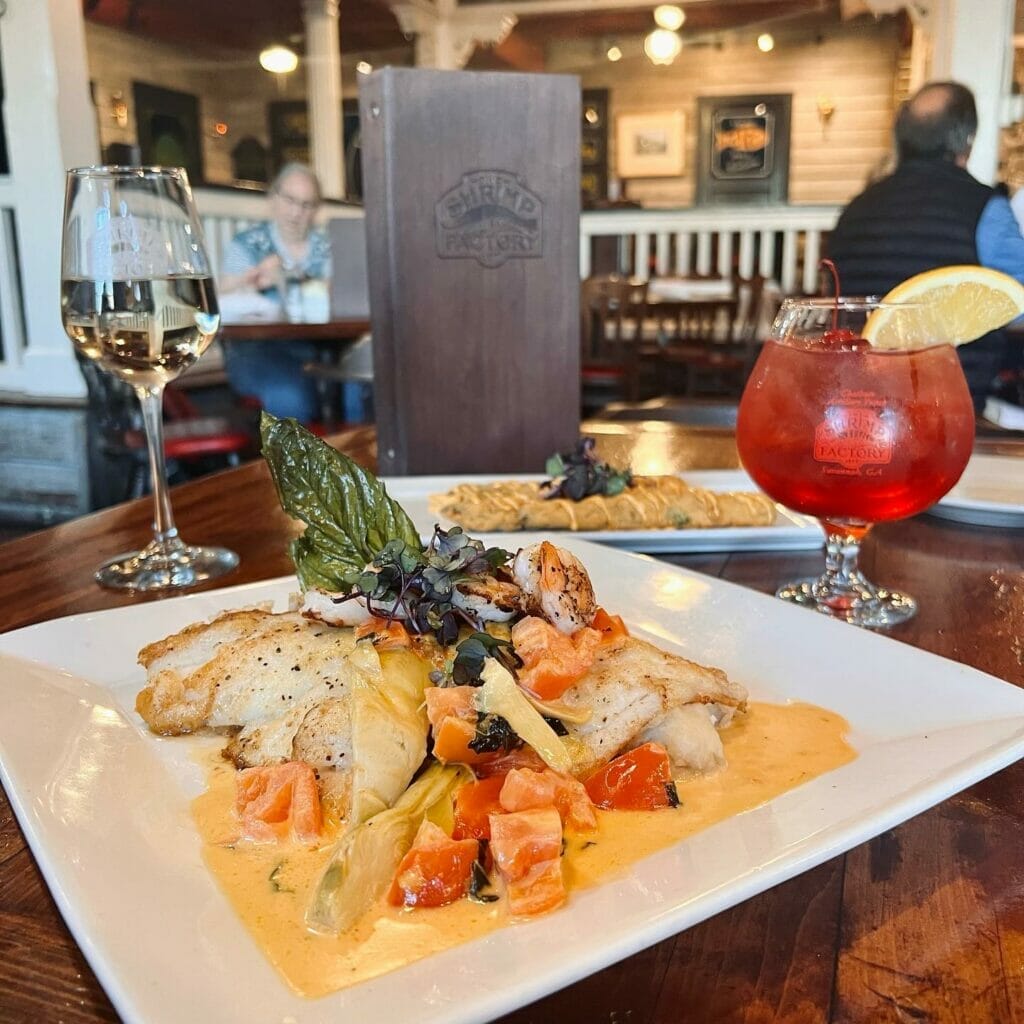 Shrimp is to The Shrimp Factory like yellow taxis are to New York – they're everywhere!
At The Shrimp Factory, there's so much shrimp you'll be spoilt for choice.
It's popular with local shrimp lovers – notable items on the menu include their coconut shrimp starter, shrimp burger, and shrimp tacos.
Worried you'll get bored of shrimp?
No chance!
There are too many varieties and flavors here to allow for repetition.
Other than shrimp, this restaurant's specialty is creating a fun atmosphere.
The Shrimp Factory hosts a packed program of live music events.
Just sit back, tap your feet, and eat shrimp – what could be better?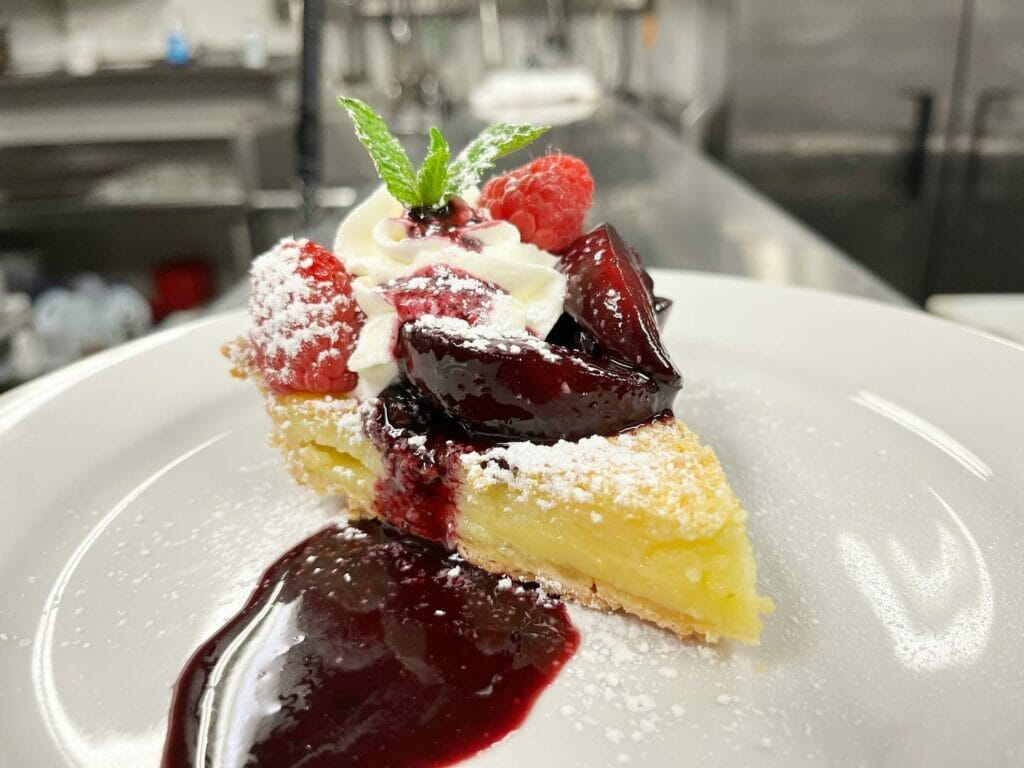 Anyone for alligator?
Founded in 2003, Alligator Soul is a popular date spot that's perfect for a romantic night. It's cozy, affordable and definitely unique.
Did we mention their specialty is alligator? Really, it's alligator!
Not sure where to start on your alligator food journey?
Friendly staff are on hand to help.
Their maple-glazed, caramel popcorn flavored, alligator dish is rich with terrific textures.
For those not interested in trying alligator, other delights are available on their expansive menu including a scrumptious peanut butter pie.
Picture the scene.
You're casually walking in Savannah and you're suddenly pulled along by delicious aromas.
You're being led by your nose to the Rocks on the River – a jewel in Savannah's culinary crown.
This establishment is suitable for families, providing excellent service, a clean venue and a vast amount of high-quality food and drink options.
Seasonal ingredients are appreciated, helping to reduce the restaurant's carbon footprint.
Reviewers share stories of great conversations with staff. Salmon and espresso martini for two please!
11. Your Pie Pizza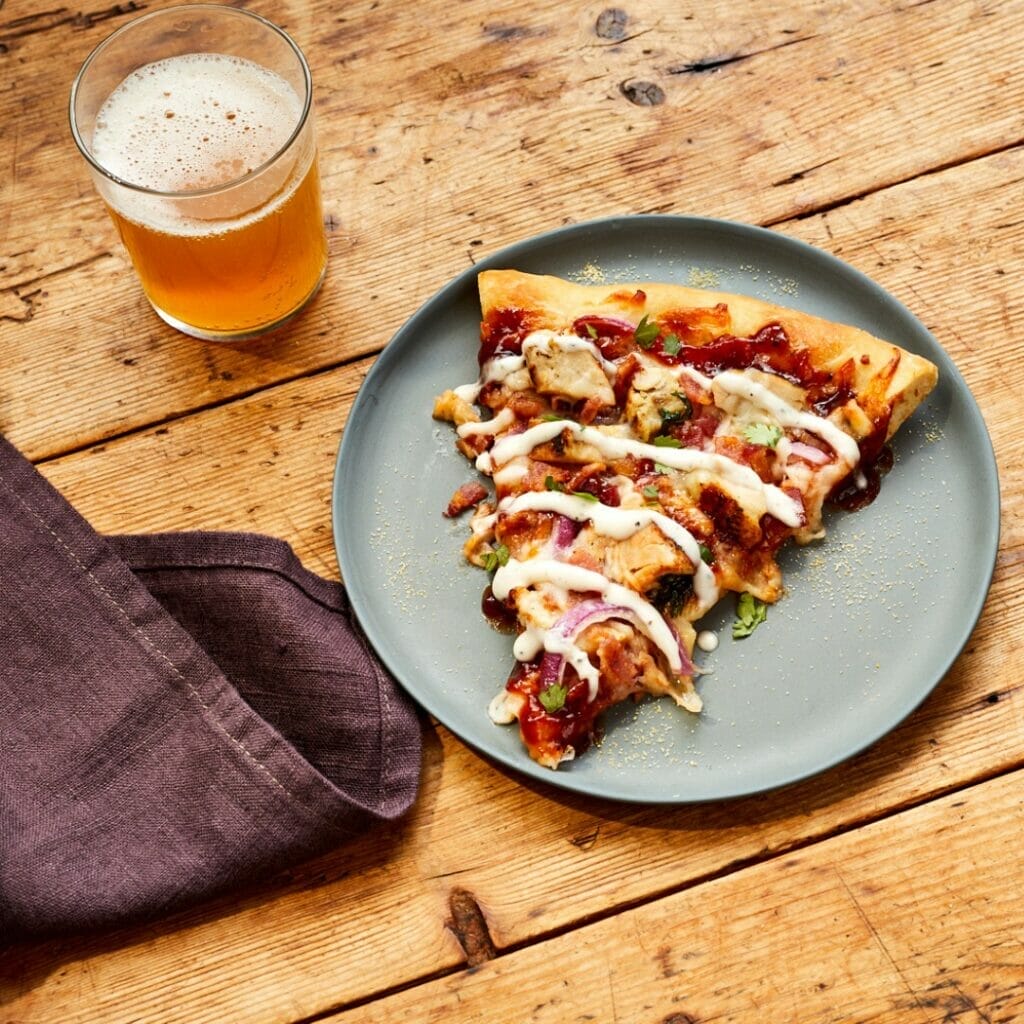 Wondering where to eat in Savannah, Georgia?
Wonder no more.
You may already be familiar with one of Your Pie Pizza's other 69 locations, but did you know there's one in the heart of Savannah?
Sometimes the comfort of familiar food is best and it's reassuring spending money on something you know you love.
Revel in this casual and friendly environment as you enjoy pizzas as big as 14".
Nothing compliments a delicious chicken pesto pizza like a craft beer, and no one knows that better than Your Pie Pizza.
With an amazing range of cans, you won't know which to choose. Luckily, bar staff are on hand with their best recommendations.
The advantage of visiting a chain like Your Pie Pizza is that you can reap the rewards of their loyalty app.
Everytime you spend, you'll be one step closer to your next free treat.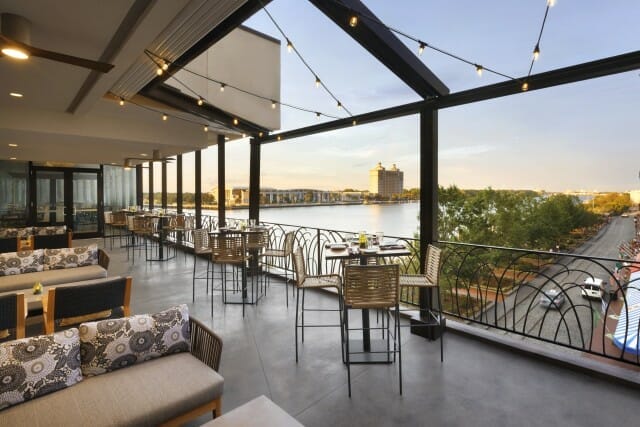 This Savannah favorite is perfect for sightseers and photographers.
Moss + Oak Savannah Eatery is famous for its big glass windows which look out over the Savannah River.
Outdoor seating is available on request and promises a perfect opportunity to people watch and capture the gorgeous Savannah sunset.
Talk about sourcing ingredients from local sources.
Moss + Oak Savannah Eatery uses herbs and spices from their very own rooftop garden in their cocktails.
Their meat and vegetables are supplied by local Georgia farms.
For a taste of New York City, we recommend their NY strip steak.
Ruan Thai Cuisine Savannah appreciates that developing great food is about so much more than just taste.
Visitors to this quaint restaurant will marvel at how well meals are presented on the plate.
It screams Insta-ready!
Plant-based pioneers rejoice!
Thai food is famously great for vegans, and Ruan Thai Cuisine Savannah is no exception.
Helpful waiters are available throughout your visit, who can let you know about their best vegan dishes.
Make sure you visit their website before stopping off for a bite to eat.
There you'll have the opportunity to try your luck at their digital scratch and win competition.
Good luck – we hope you win a great freebie to compliment your visit!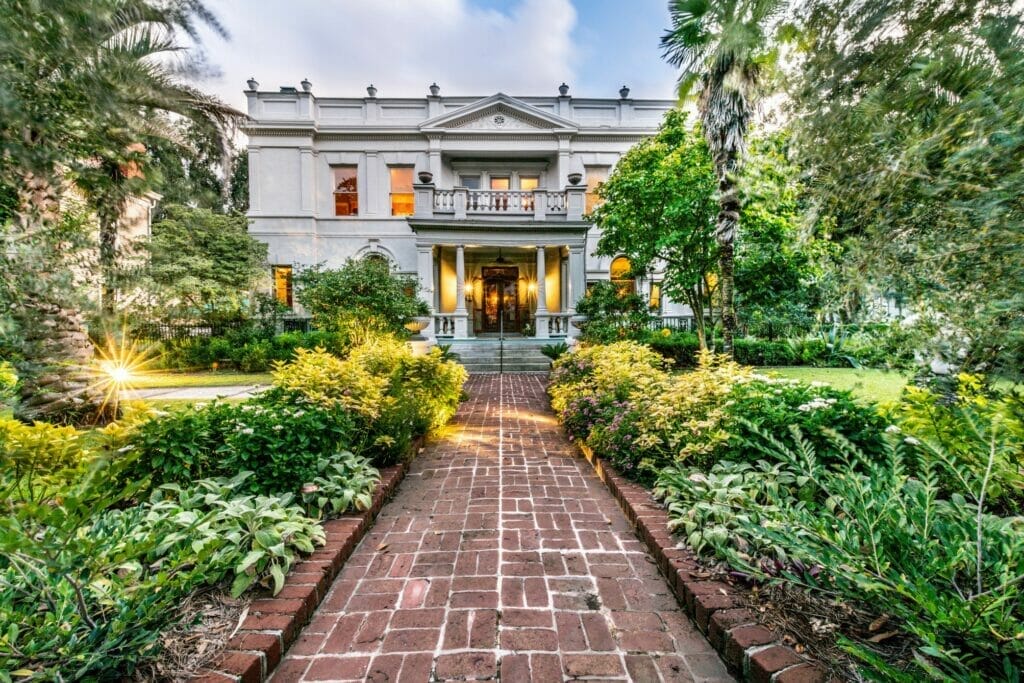 You'll struggle to find Southern hospitality like that on display at Elizabeth's on 37th.
Perhaps the quirkiest restaurant in Savannah, this delightful establishment is housed inside a Victoria mansion.
Become engrossed in extravagant dining rooms, which are decorated with historic Savannah colors, patterns, and original paintings.
If you're looking for a unique dining spot in the heart of the historic downtown area, look no further.
The picturesque entrance is so grand it must be from a movie, and offers a great chance to get a group photo.
Elizabeth's on 37th specialize in seafood, known far and wide for their Half Moon clams simmered in truffle oil.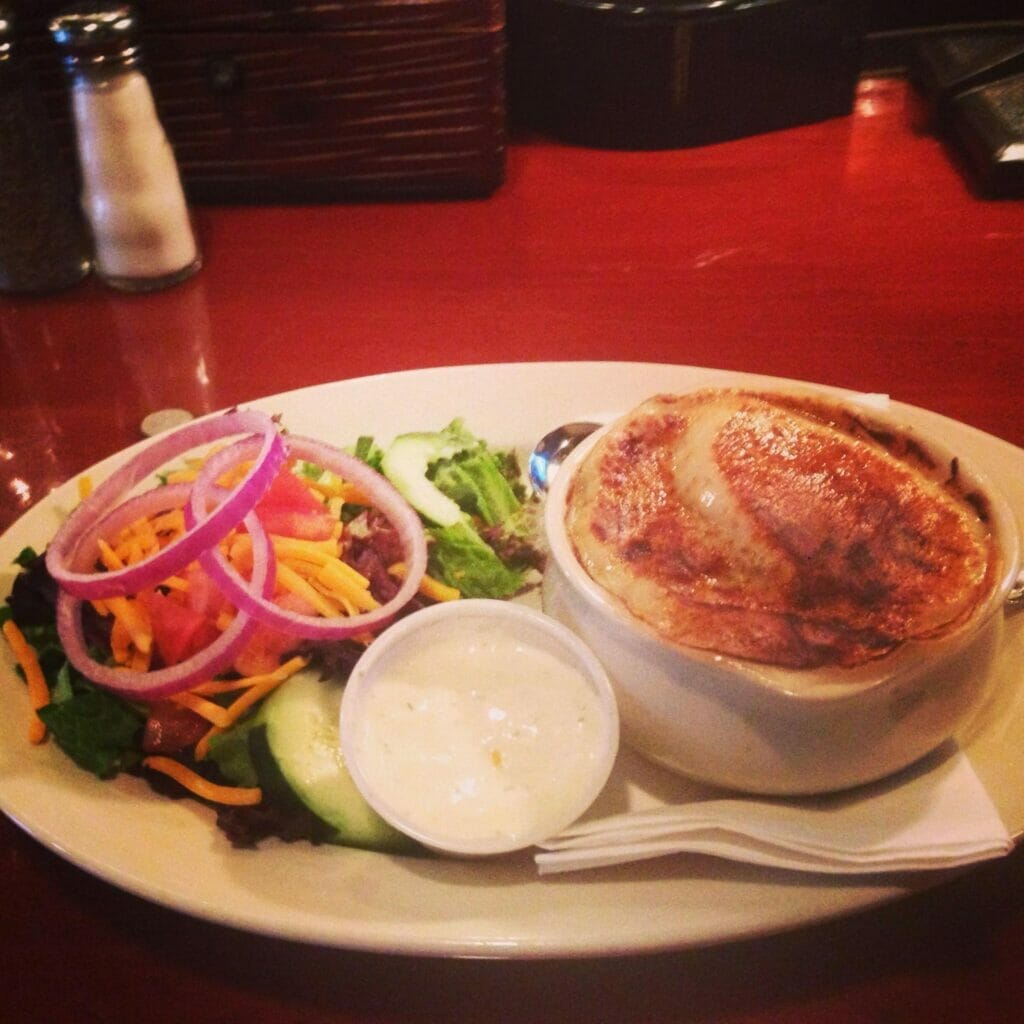 Say "cheers, chaps" over a pint of English ale at Six Pence Pub in Savannah.
One of Savannah's most-desired restaurants, this quintessentially-English establishment is a fun trip across the pond.
It'll feel like a meal and a holiday wrapped into one.
It even has a red telephone box, just like the ones in London!
Six Pence Pub was named one of the 14 best bars in Savannah by Conde Nast Traveler magazine – and deserves its place on our list.
The quaint venue offers punters classic British grub – scotch eggs, Welsh rarebit, ploughman's lunch, and bangers and mash.
We don't know what welsh rarebit is either – but we can't wait to find out.
With best availability on weekdays and sidewalk seating (or pavement seating as the Brits would say), this pub may be the only part of the US who never asked the English to leave.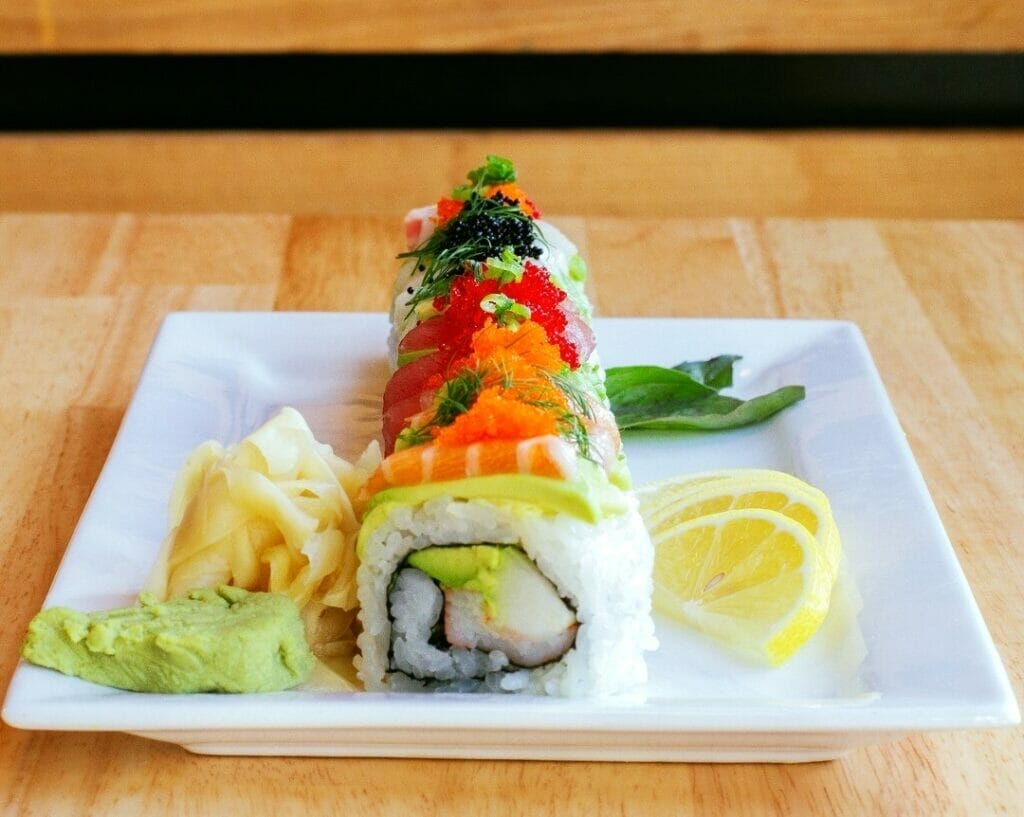 The Vault Kitchen & Market prides itself on selling glorious Asian food within a chic dining spot.
Located inside the historic Bank of America building, this restaurant is famous for its seaweed salad, roasted duck dumplings and mocktails.
Continuing to serve its local community – albeit with meals instead of money, The Vault Kitchen & Market is an experience like no other.
It's also one of the only places in Savannah where you'll find sake – an alcoholic Japanese drink we're confident you'll never forget.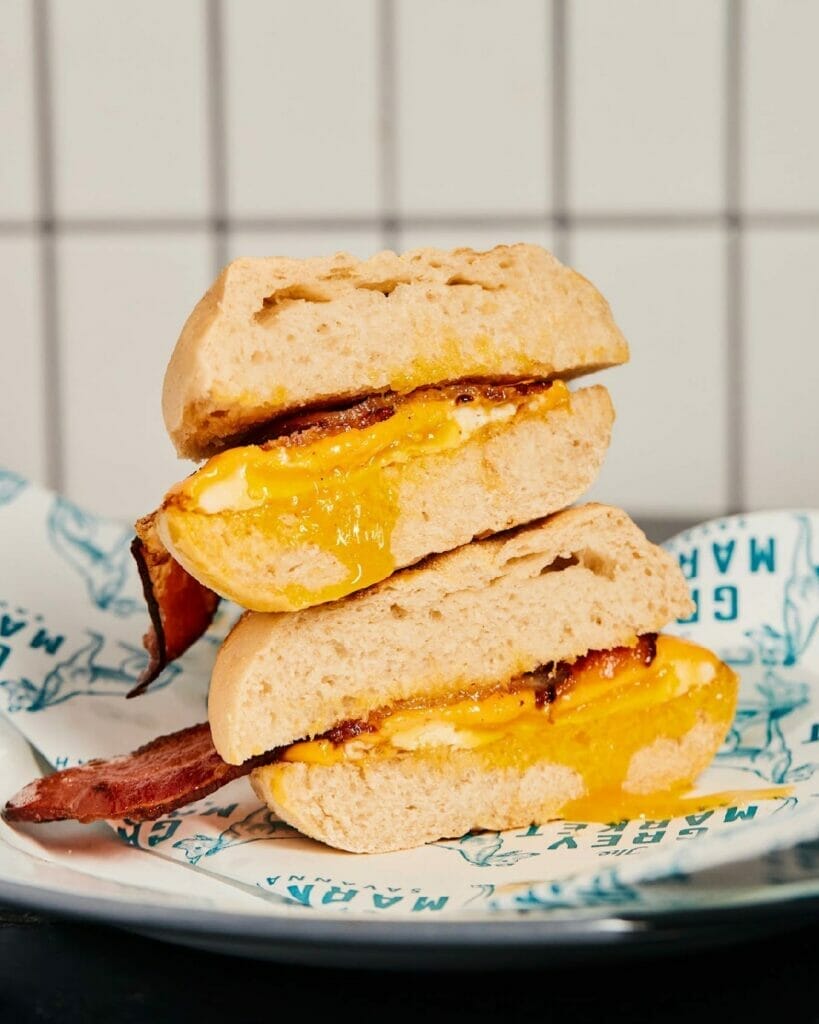 Welcomed by a giant blue dog (a sticker on the window, though an actual giant blue dog would be cool), The Grey Market is perfect for those looking for all-American food.
Expect to find burgers and hot dogs in this artisanal establishment brimming with smiling staff.
The Grey Market knows that nothing washes down delicious food quite like a chilled craft beer – and staff will be happy to help you to discover your new favorite IPA.
They even sell their own merch – that's how confident they are that you'll have a great time.
The Grey Market is described by one reviewer as 6 stars out of 5. High praise indeed!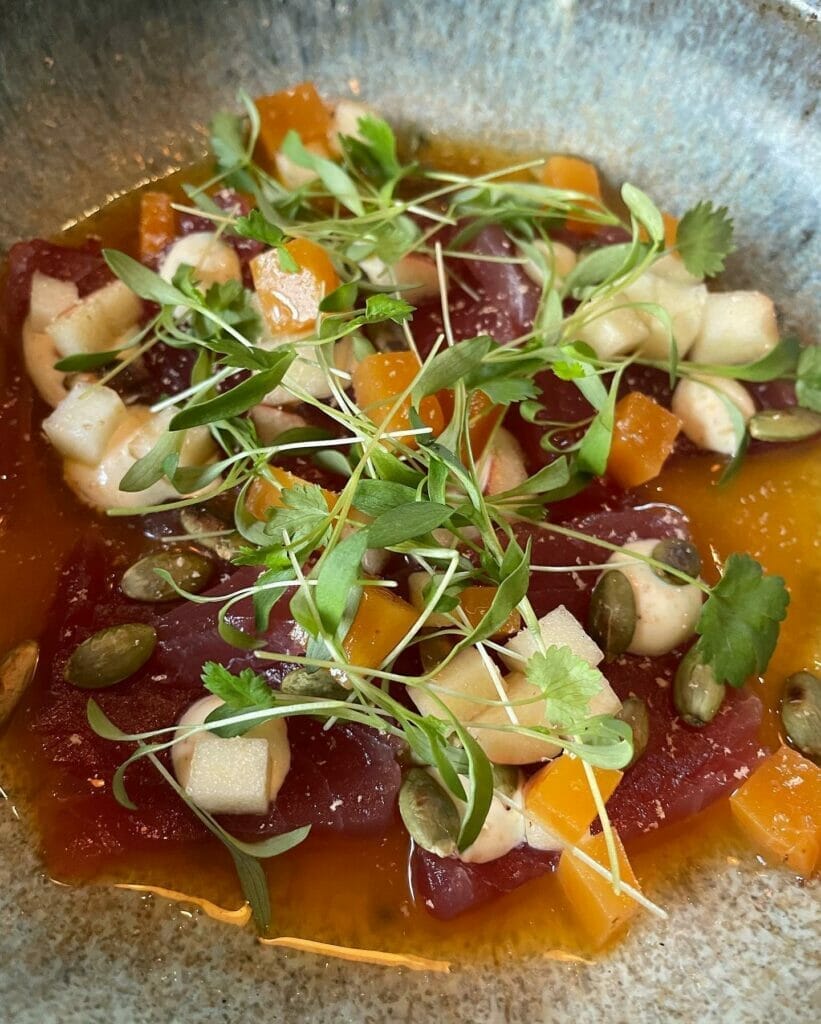 Common Thread is another of the best places to eat in Savannah.
It's an eye-catching house, originally built in 1897, with fascinating architecture and a refined atmosphere.
Vegetarians – you're in luck!
Common Thread has a separate vegetarian menu which includes amazing options such as a smoked beets starter, a creamed collard green main, and a rice porridge dessert.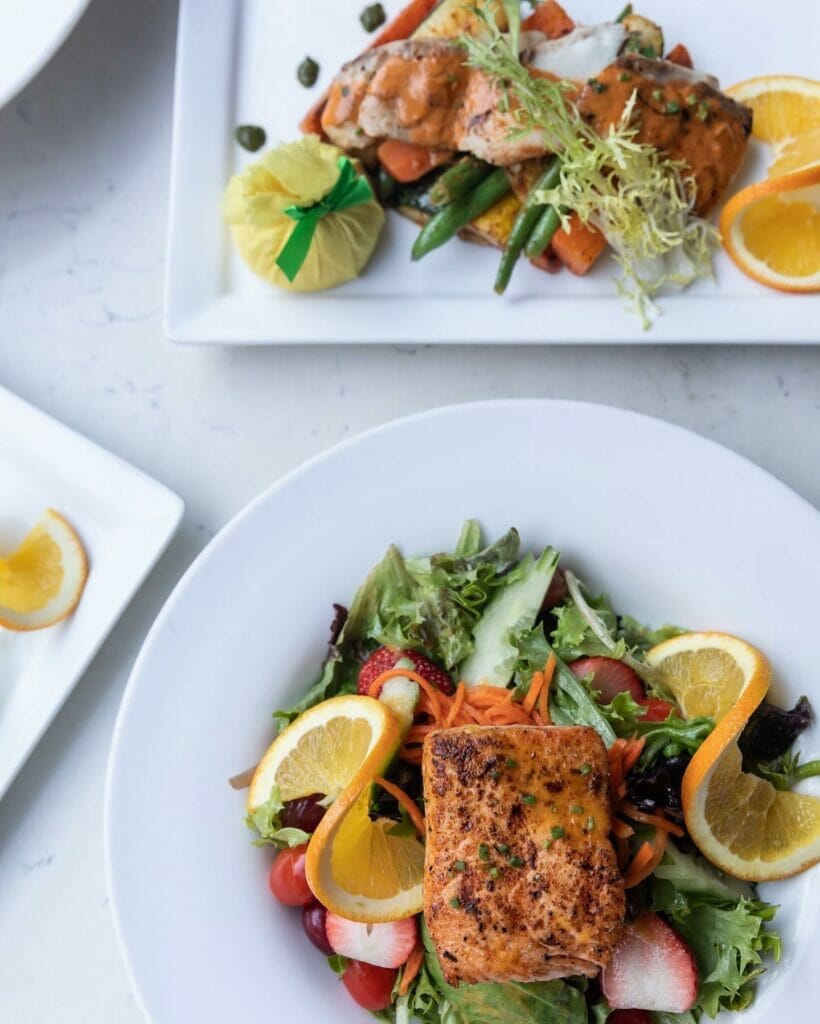 Travel back in time to Chive Sea Bar and Lounge.
Set within a 1920s-style venue, you'll find the best tasting octopus around – not just in Savannah or Georgia, but perhaps the whole of the US.
To compliment the crab soup (served with sherry), try their 22-43 Old Fashioned – a classic cocktail featuring their own personal select Woodford Reserve, bitters, and an unexpected Brazilian twist.
The best food in Savannah awaits visitors of Chive Sea Bar and Lounge.
Hey foodies! Want more of our restaurant guides? Check these out!
Get the All-American Travel Secrets!
Don't miss out on America's hidden gems!