We all love going out for a meal.
Some of us are ardent brunchers, on the hunt for the best bottomless meal this side of noon.
For some, it's all about dinner, whether that's a quick bite from a local favorite or a multi-course tasting menu with a full wine flight!
You'll find whatever you're searching for in the best restaurants in Richmond, Virginia!
Proclaimed by National Geographic as one of the top 10 places to travel for food in the world, you're guaranteed an amazing culinary experience in this Virginian city!
Looking for more locally approved guides? Check these out!
Getting around Richmond
Don't forget that it's much easier to see Richmond by car so you can get around on your own.
Rental cars are perfect if you're flying into the state.
We recommend using Discover Cars price comparison to find the cheapest deals!
Overall Best Restaurants in Richmond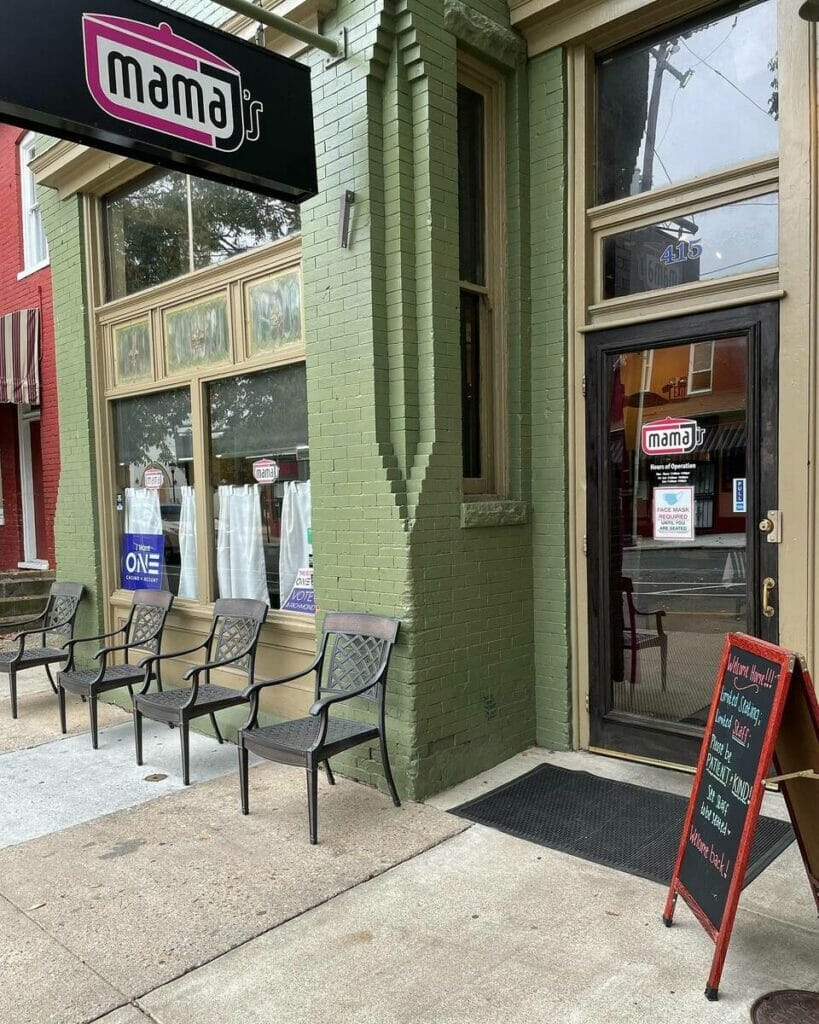 A trip to Richmond wouldn't be complete without visiting Mama J's!
The ultimate in Soul Food, this traditional southern fare at its finest.
Try the pan-fried catfish with a side of collard greens, or fried chicken and mashed potatoes.
You can't beat either the macaroni and cheese or candied yams!
Basically, we're saying order one of everything!
But whatever you order, make sure to leave room for dessert: peach cobbler anyone?
The Jackson Ward staple celebrates the concept of going to your grandma's for Sunday dinner, and you'll certainly feel at home at Mama J's.
This is definitely one of the best places to eat in Richmond.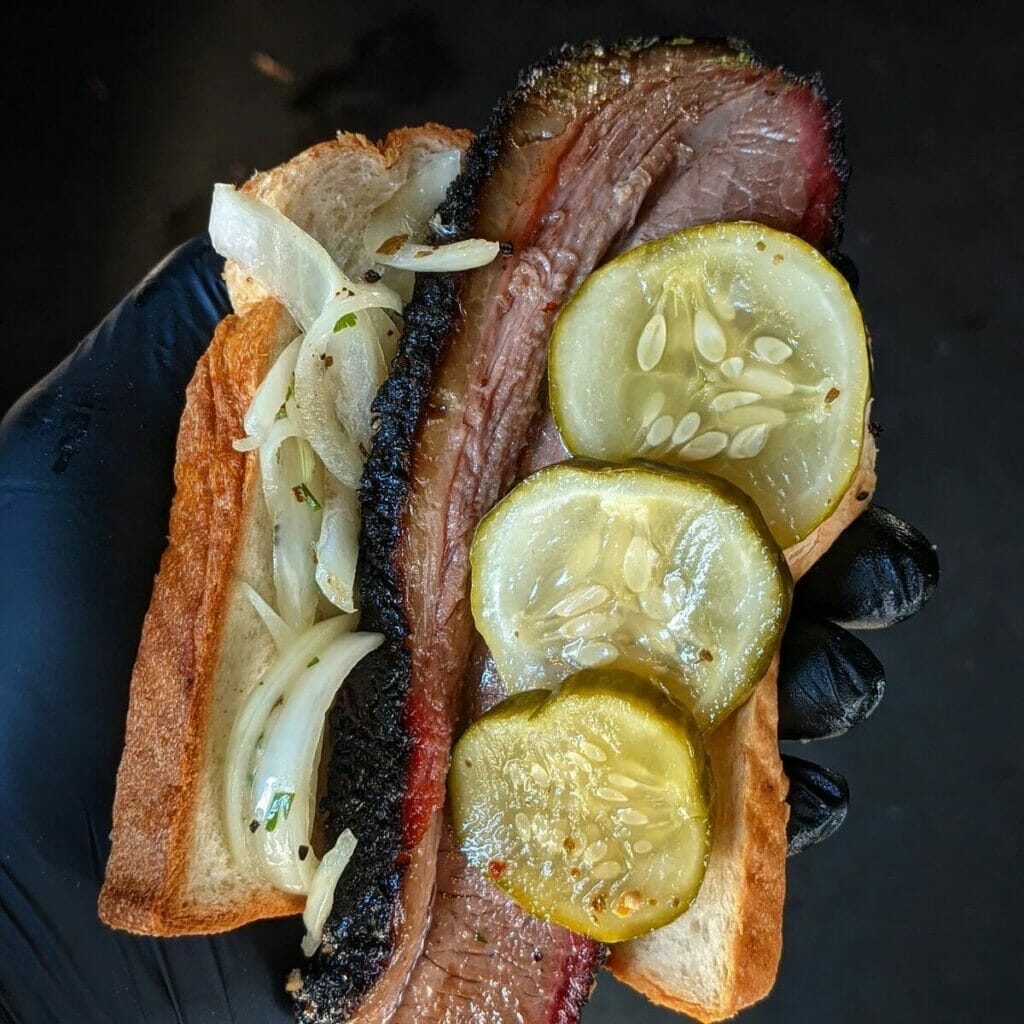 From Soul Food in Jackson Ward right on down to classic BBQ in Scott's Addition.
ZZQ is first come first serve and the doors open at 11 am, so head over to this bustling neighborhood and join the line!
The BBQ that you'll find on the menu is a perfect blend of Central Texas and Central Virginia.
You'll find your classic melt-in-the-mouth brisket as well as ribs, pulled pork, and a selection of sandwiches to get anyone's taste buds tingling!
Visit on a Friday for the pastrami.
We won't say it's life-changing, but you'll definitely be coming back for more!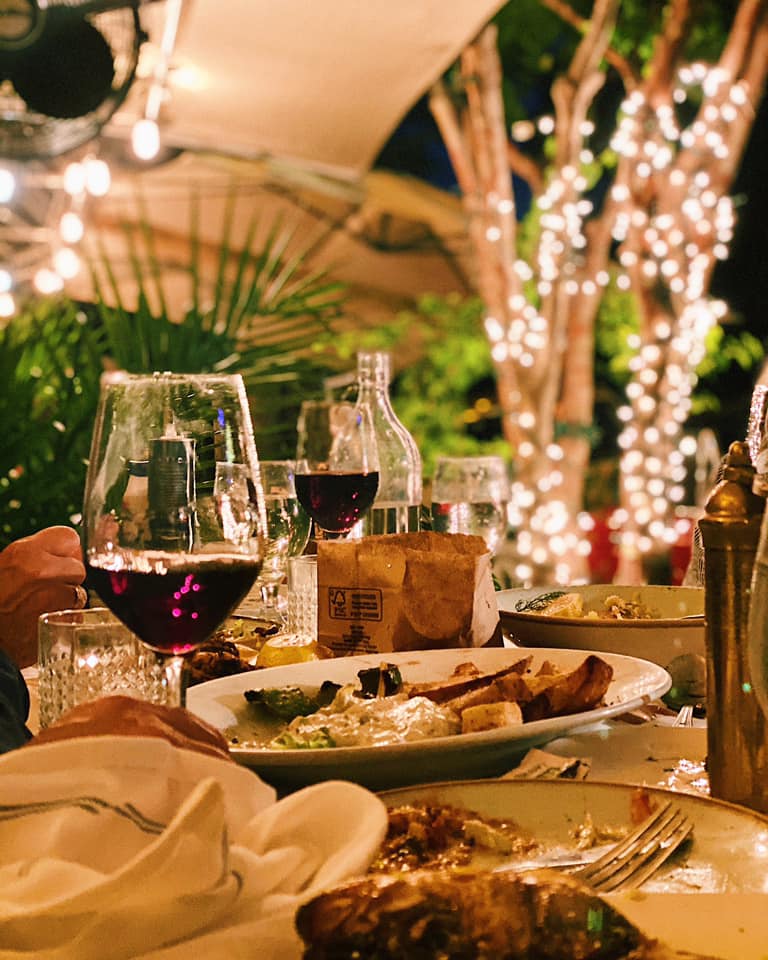 Stella's is another Richmond institution, with every dish a love letter to Greek cuisine.
Stella Dikos emigrated from Greece with her new husband and worked in their restaurant, The Village Café.
In 1983 Stella's own restaurant opened up, and she's been serving stunning Mediterranean dishes ever since.
Where to start with the menu! It reads like a dream, so whatever you fancy get it – you know it will be good!
The Feta Phyllo meze is a favorite of ours – baked feta wrapped in pastry, and drizzled with honey. Perfection!
If you truly can't choose, go for the Pikelia; a sampling of some classic Greek dishes, including pork souvlaki, spanakopita and dolmades.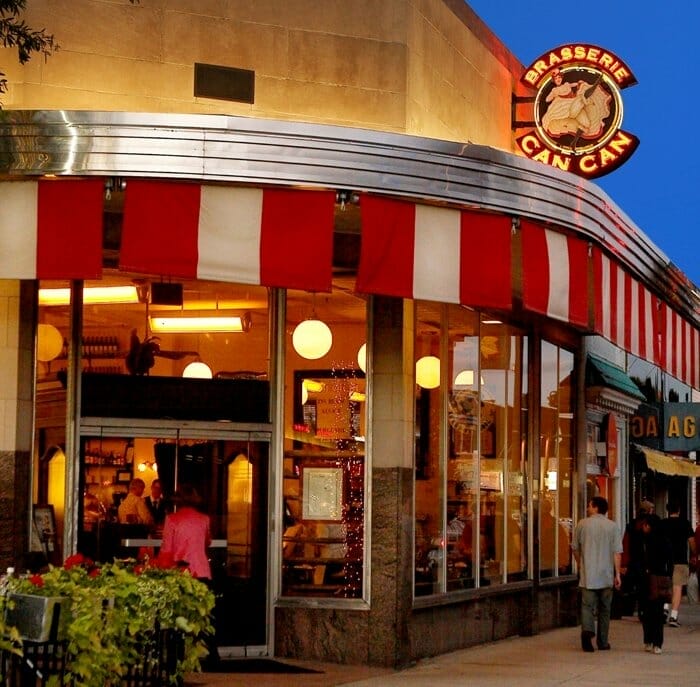 You can't go wrong with a traditional brasserie offering up classic French dishes such as fruits de mer, escargot and onion soup.
The interior of Can Can wouldn't go out of place in any French town, and the menu celebrates that heritage too with everything you'd expect from a French bistro.
Plus a few extras – try the Banh Oui, a Vietnamese-French fusion sandwich that jumps off of the menu!
Can Can is also open for Brunch, with a mix of sweet and savory classics.
Try a Croque Madame, or the Duck Crêpes, duck confit served with blackcurrant jam.
In true French style, oysters are always available.
Our tip: Order a half dozen, a glass of the vin de table, and enjoy the great French pastime of people-watching. Magnifique!
Mexican Restaurants in Richmond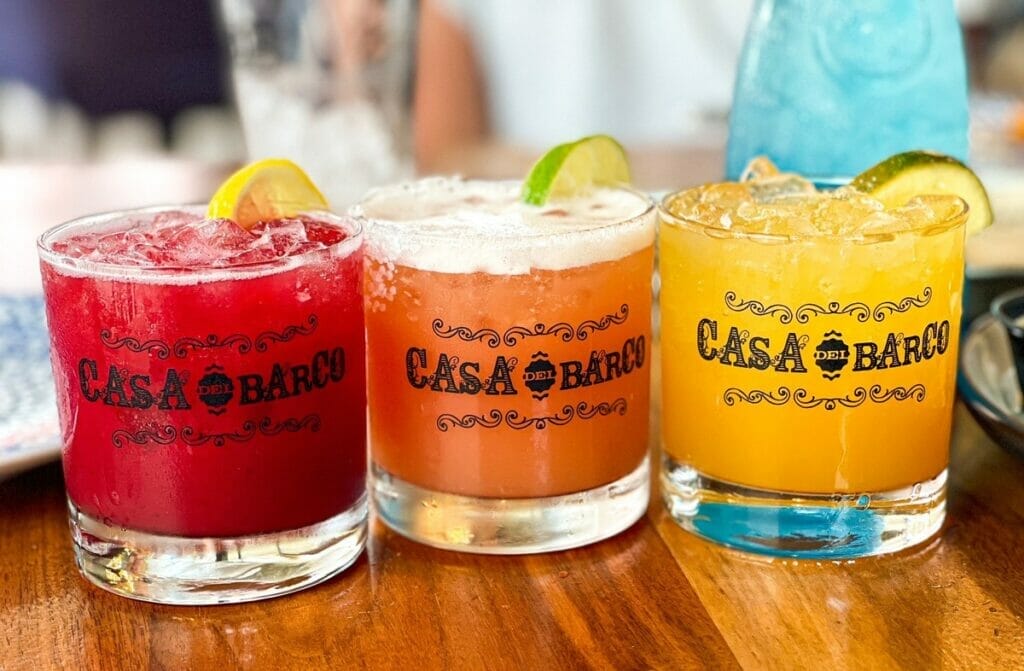 A great way to explore Richmond is the Canal Walk, but what happens if your tummy starts rumbling on the walk?
Answer: you go to Casa del Barco!
Reserve a table on the front patio for some delightful views with your upscale Mexican dishes.
Choosing what to order from the Casa del Barco menu can be a challenge because it all sounds so good!
For a lunchtime pit stop, the Carne Asada Burrito would be a good place to start, or if you're craving tacos order the beer-battered Mahi.
Have we mentioned Casa del Barco's Tequila list?
It's the largest in Central Virginia with over 130 tequilas!
From slammers to sippers, there's guaranteed to be one that you love! Salud!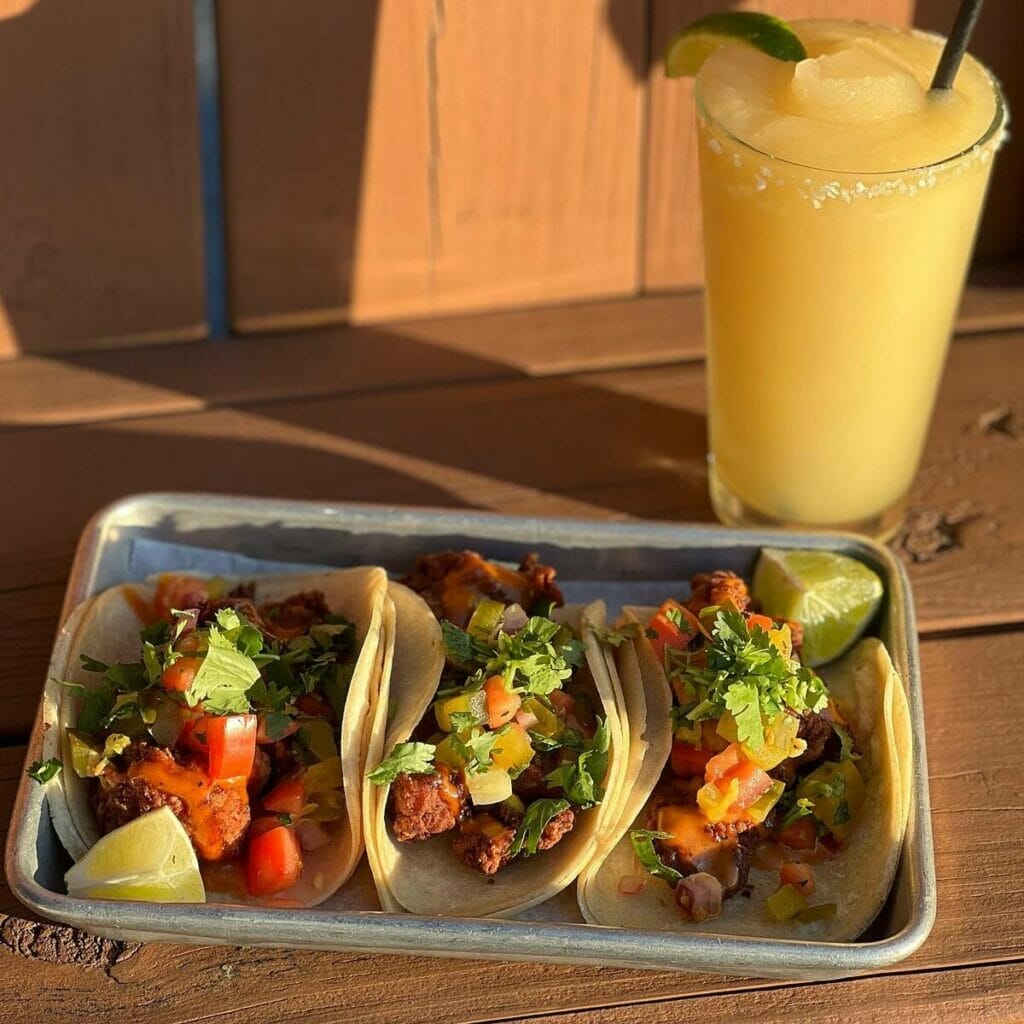 This San Francisco-inspired Mexican is full of attitude, vibes and, most importantly, tacos!
Open from 11 am to 1 am, this is the answer to the question of where to eat in Richmond past midnight!
All of their fillings are available as quesadillas and burritos as well, but it's the corn tortilla tacos that give En Su Boca its excellent reputation.
Carnivores check out the Sloppy Jose, Mexican ground beef with fire-roasted tomato salsa.
Veggies make sure you try the Brussels Sprouts taco – yes, really!
The much-maligned vegetable is served crispy with hot honey, and corn and black bean salsa.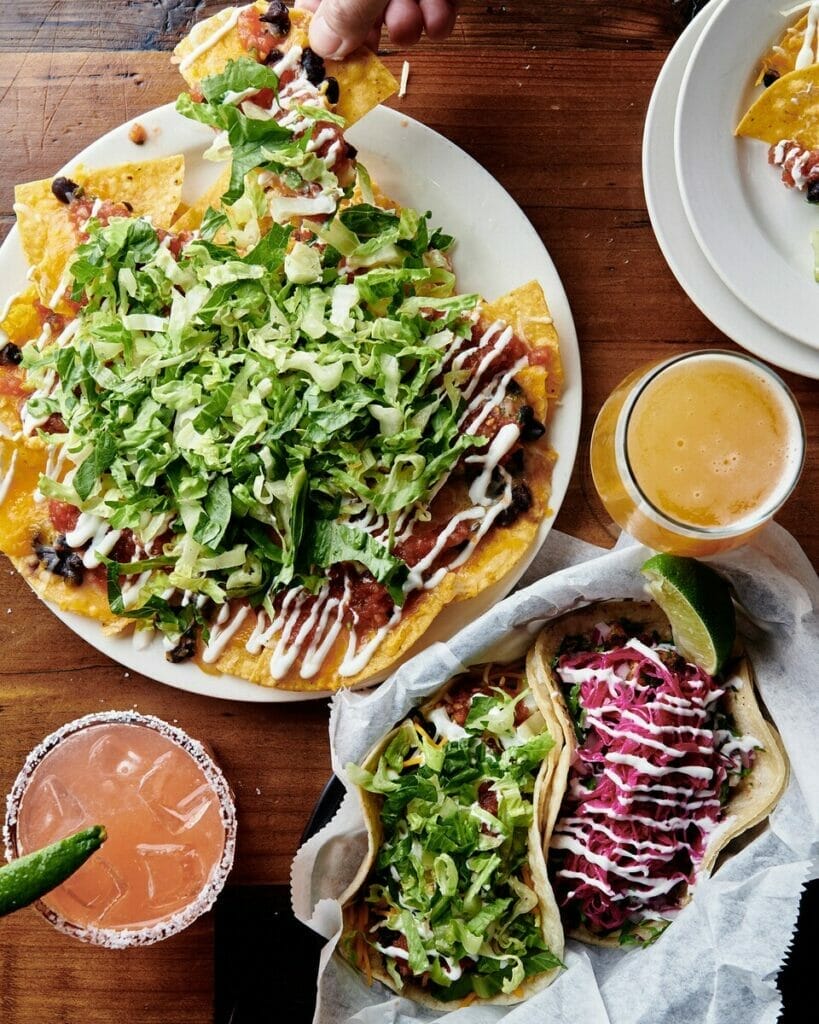 If it's Tacos you're after then look no further than DLB Triple in Scott's Addition.
A great tacos and margs eatery, DLB has a wide selection of taco fillings, including some vegan options.
Choose your tortilla (corn or flour), choose your style (Gringo or Traditional), then choose your filling and you're away!
Visiting with friends? Order the famed nachos to start, they are seriously moreish!
If you like Margaritas make sure you head to DLB on Sunday when the house margs are only $5 all day.
Plus there's karaoke at 10 pm, which should give you enough time to work up some Dutch (or should that be Mexican?) courage!
One of the best Downtown Richmond restaurants, Maya is a favorite with locals craving modern Mexican cuisine.
The food is elegant, locally sourced where possible, and utterly delicious.
Customers rave about the chipotle rub skirt steak, but we dare you not to love the Arroz a la Tumbada.
With pan-seared scallops, shrimp, calamari, and chorizo over saffron guajillo rice and rajas, what's not to love!
This is a restaurant to visit for a special occasion, but the prices make it suitable for a mid-week meal with friends.
The relaxed and intimate atmosphere certainly allows you to relax into the full experience of eating at Maya!
Chinese Restaurants in Richmond
Considered by some to be the greatest Chinese chef in America, Chang has two outposts in Richmond where you can sample his award-winning Szechuan cooking.
The signature dishes are all mouth-watering – the shredded tofu skin, bubble pancakes, crispy pork belly, and bamboo fish are just a few of the reasons you should come here!
With the food being Szechuan, there's a peppery kick to a lot of the dishes, but if you'd prefer something mild the servers are experts at navigating the menu and will happily help you with your order.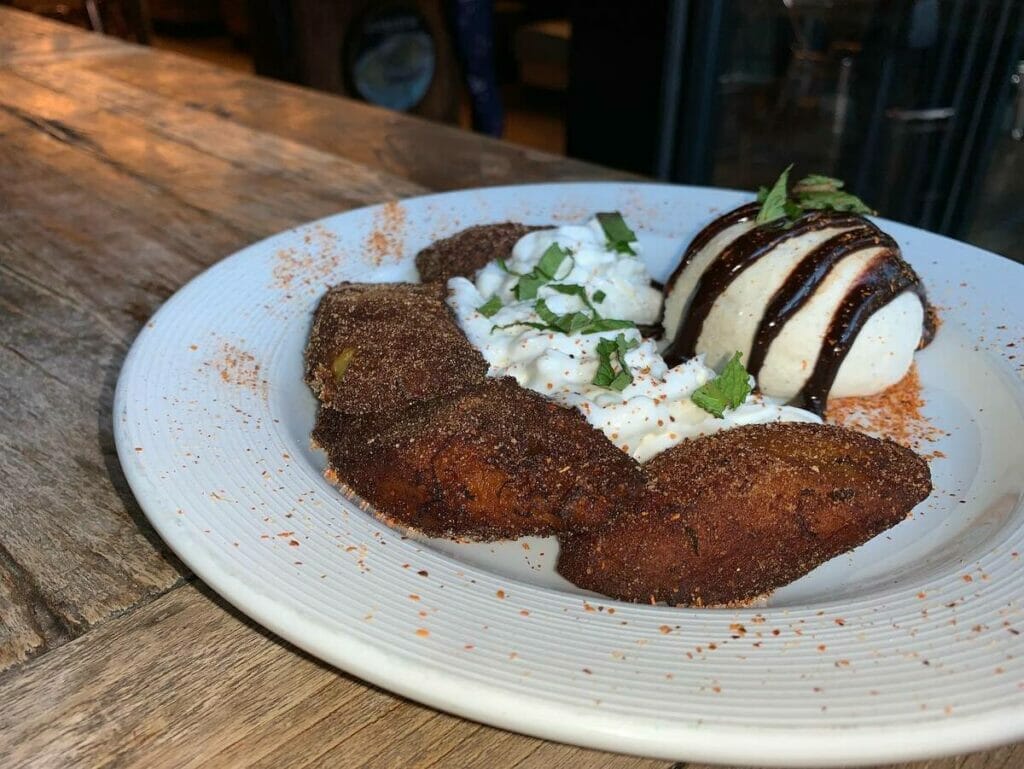 This was a tricky one to place on the list – it's a fusion of Chinese/Mexican!
Affectionately called Mexinese, Wong Gonzalez is Chinese food (and Mexican food!) like you've never had it before.
So what does Mexinese look like?
How does a Fatty Fajita Bao sound?
You get two wok-fried bao buns with chicken, veg and salad, or BBQ pork with cheese, cilantro and cashews.
Or how about Chunjang Fish Tacos, tempura fried whitefish with Korean black bean sauce?
This is fusion food at its most intriguing – and delicious!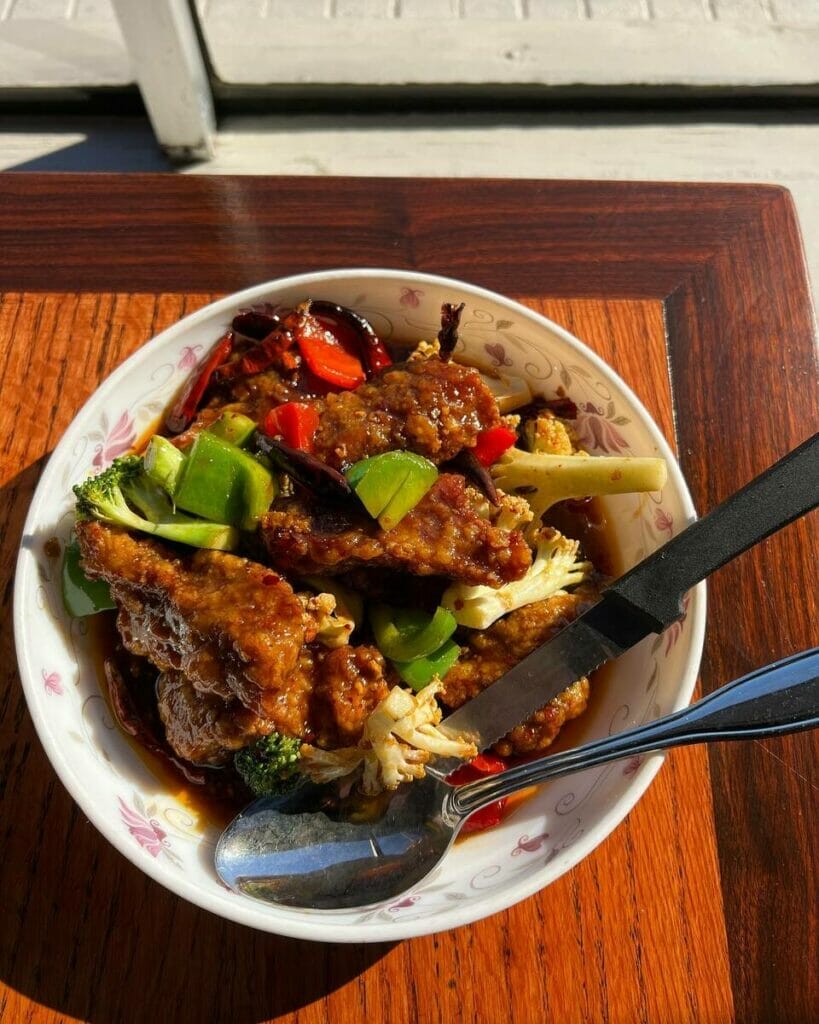 A perfect blend of creativity and tradition, the Cantonese cuisine served at Fat Dragon will leave you wanting more!
Chef Fei Zhao was born and raised in the Guangdong region of China and brings all of his knowledge to Richmond's very own Fat Dragon.
He also works sustainably, aiming to bring the farm-to-table concept to the dishes he cooks.
When you ask people what you should order here, the same dish comes up time and time again – Tangerine Chicken! So, when you go, that should be on your list!
Good news if you're gluten-free – Fat Dragon will substitute soy sauce for the GF Tamari sauce!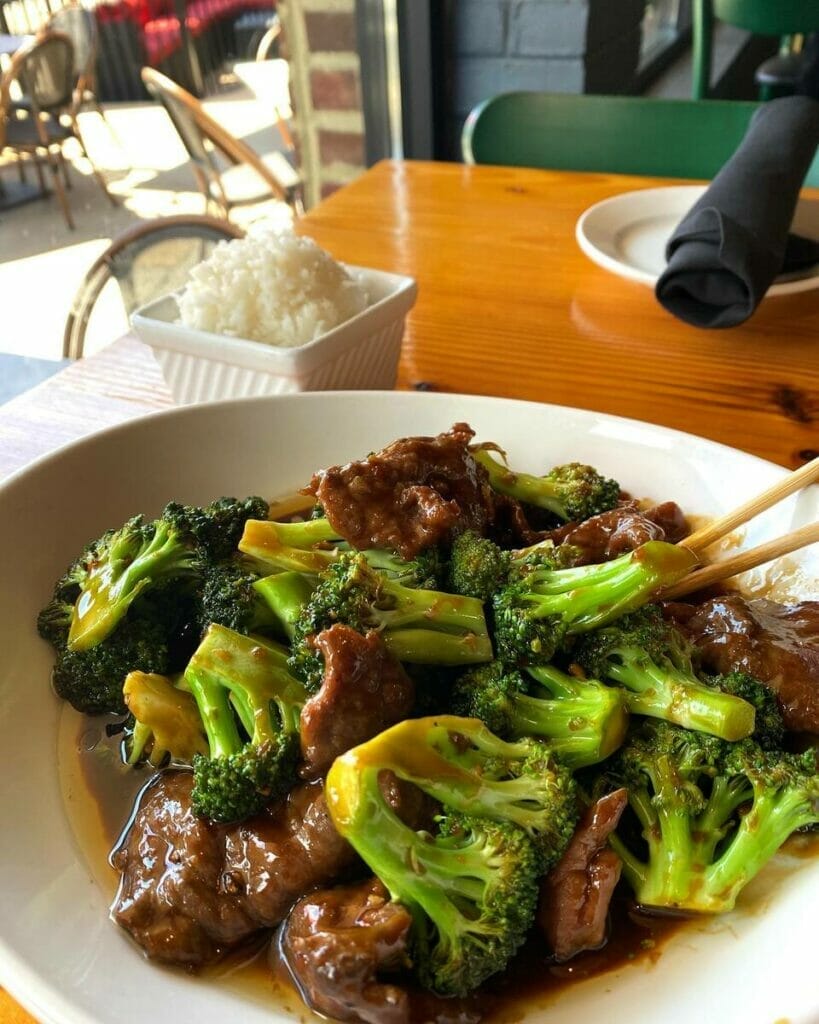 Known In Richmond as a great neighborhood Chinese, Beijing on Grove is a fun night-out destination with Chinese food at its core.
You can grab some of their delicious Cantonese cuisine with a happy-hour cocktail or two.
Go for the chilli dumplings, kimchi fried rice, and the melt-in-the-mouth Crispy Asian Five Spice Ribs!
And for cocktails, try the 'Perfection Takes Thyme', a delicious mix of Bourbon, Honey, Thyme and Ginger Beer.
Best Diners in Richmond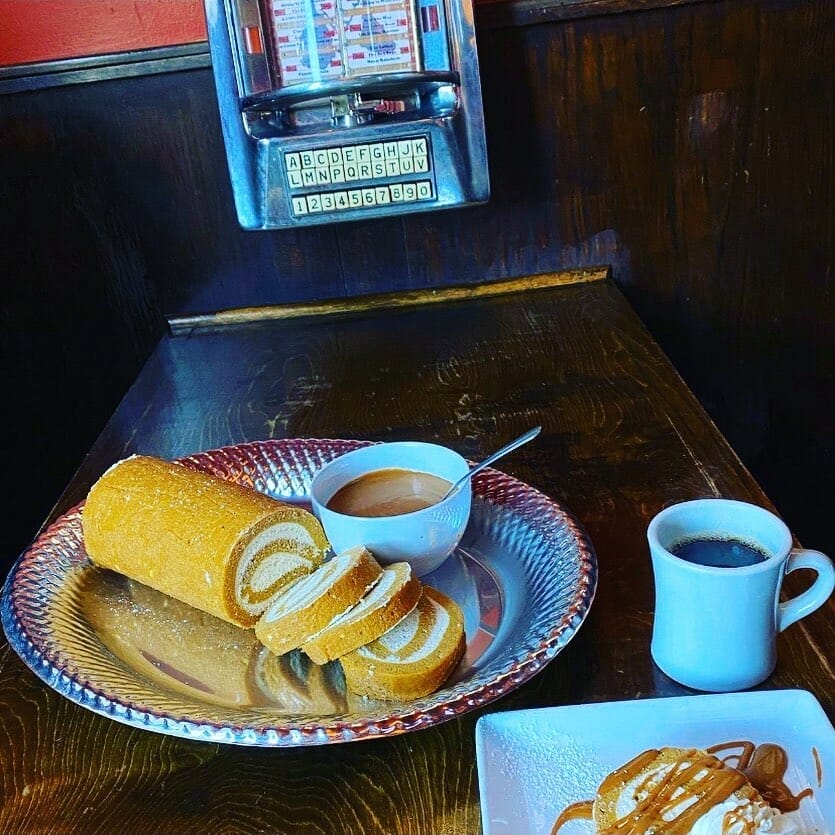 You'll find Millie's on many of the lists of best restaurants in Richmond, Virginia, and with good reason – Millie's is one of the best diners in town!
The owner, Paul Keever, grew up in the UK, and first started Millie's in LA before moving it to Richmond in 1989. Now in 2022, Millie's has been awarded the Open Table Diners' Choice award!
From steak and eggs to shrimp and grits, there are some seriously tasty dishes on offer here.
But if it's your first time at Millie's order the Devil's Mess and a pint of the famous Bloody Mary.
The Devil's Mess is the classic Millie's dish, created by Keever back in LA Millie's, is an open three-egg omelette with spicy Italian sausage, white cheddar, onions, green peppers, garlic, tomatoes and mild curry.
It is classic diner fare and will leave you wanting more!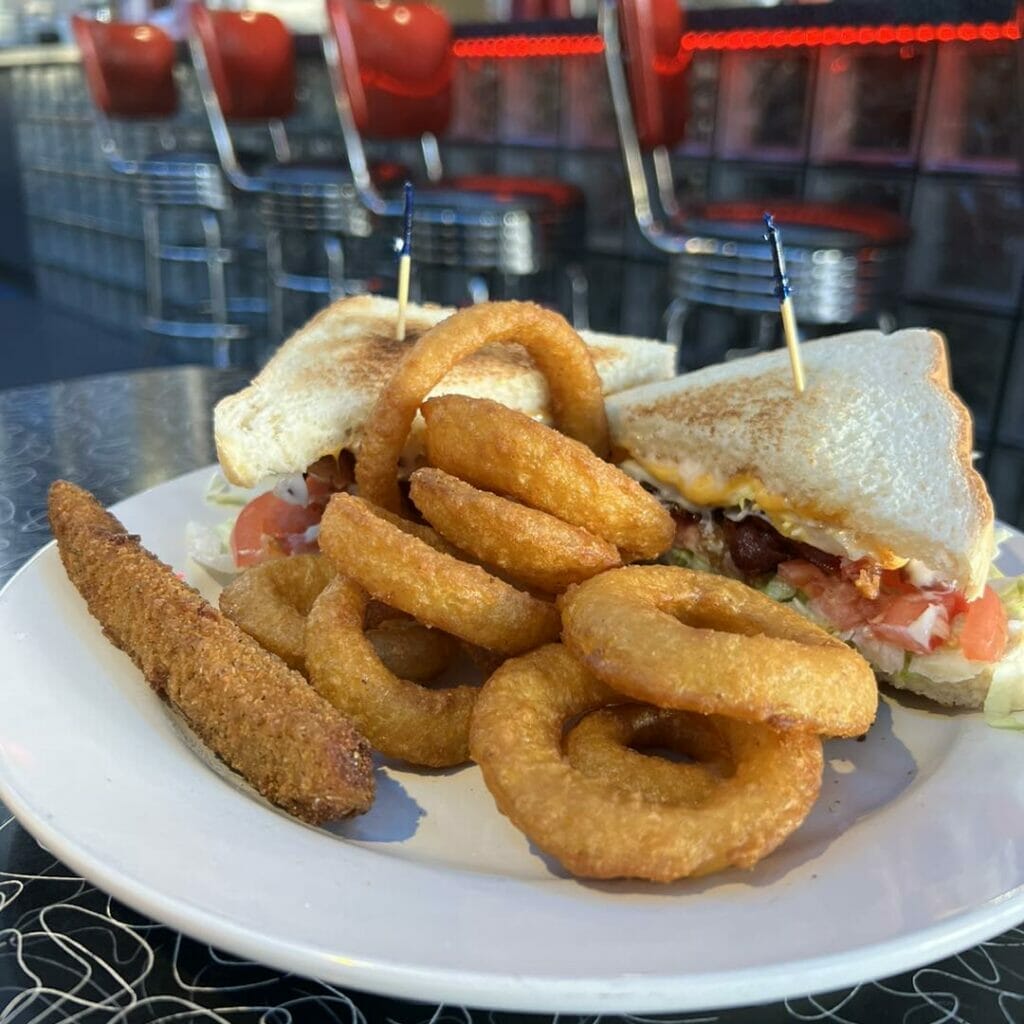 If you're in Carytown and you want a great diner with a twist, head to Galaxy Diner – it's space themed!
Along with some spot-on pun names for their dishes, Galaxy serves up a batch of diner classics.
Burgers, sandwiches, hotdogs and salads are all on the menu, along with milkshakes, pancakes and French toast.
The Trailer Park Pancakes are a local cult classic – peanut butter and banana stuffed French toast served with bacon or sausage and a side of apples or tomatoes.
It's just crazy enough to work!
Pair it with one of their boozy liquid desserts for a match made in the stars!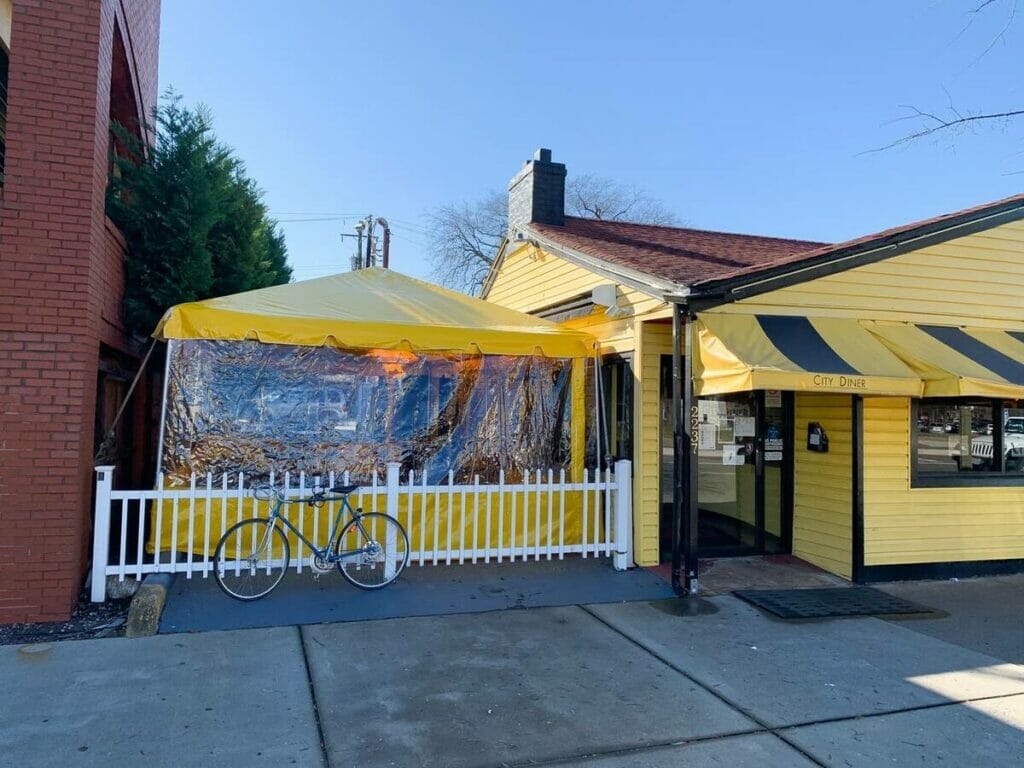 Self-proclaimed as the best diner in the city, City Diner is your traditional diner – service with a smile, hot and strong coffee on tap, and excellent value for money.
Burgers, Reubens, pancakes, and Biscuits and Gravy – everything you could want from a diner menu is right there. But let's talk about the omelettes for a moment.
They are huge!
Packed full of flavor and fillings, with sides included, you may well just have to roll home after a portion!
Best Brunch Restaurants in Richmond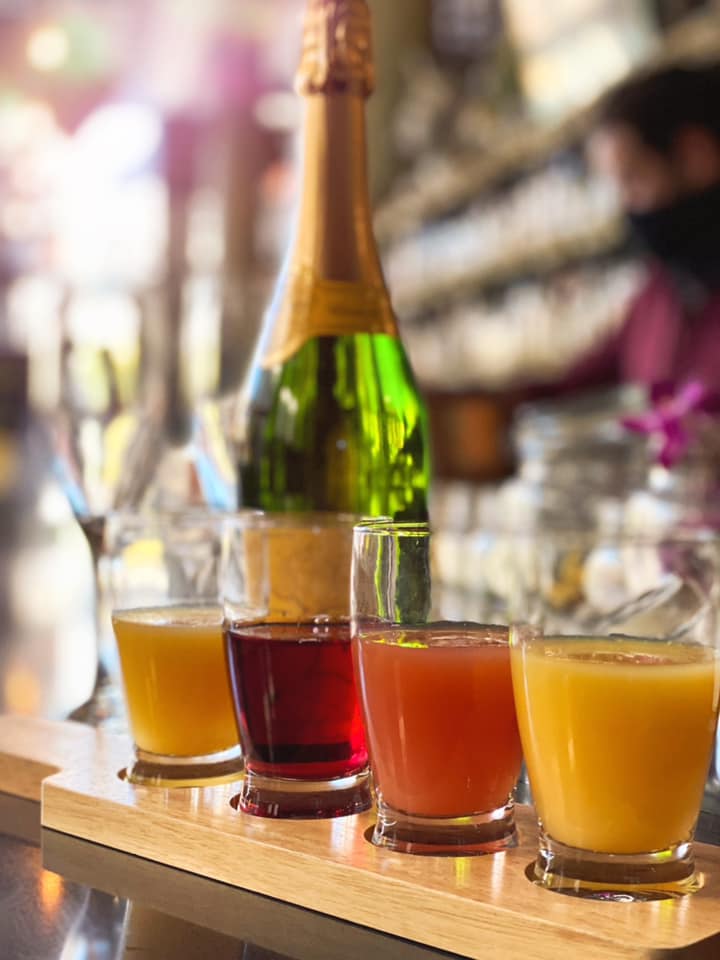 If you like to wash down your brunch with something more grown up than an OJ, pay a visit to Bar Solita!
A Bloody Mary cart tours the restaurant during brunch, or you can order a pitcher of Mimosa – yes please!
Their menu is traditional southern via the Mediterranean, with Harissa Smoked Wings sitting alongside Shrimp and Grits.
Our choice would be the Old Bay Chicken Biscuit, fried chicken with spicy tomato aioli and hot honey with home fries, but we think you could order anything from the menu and go home full and happy!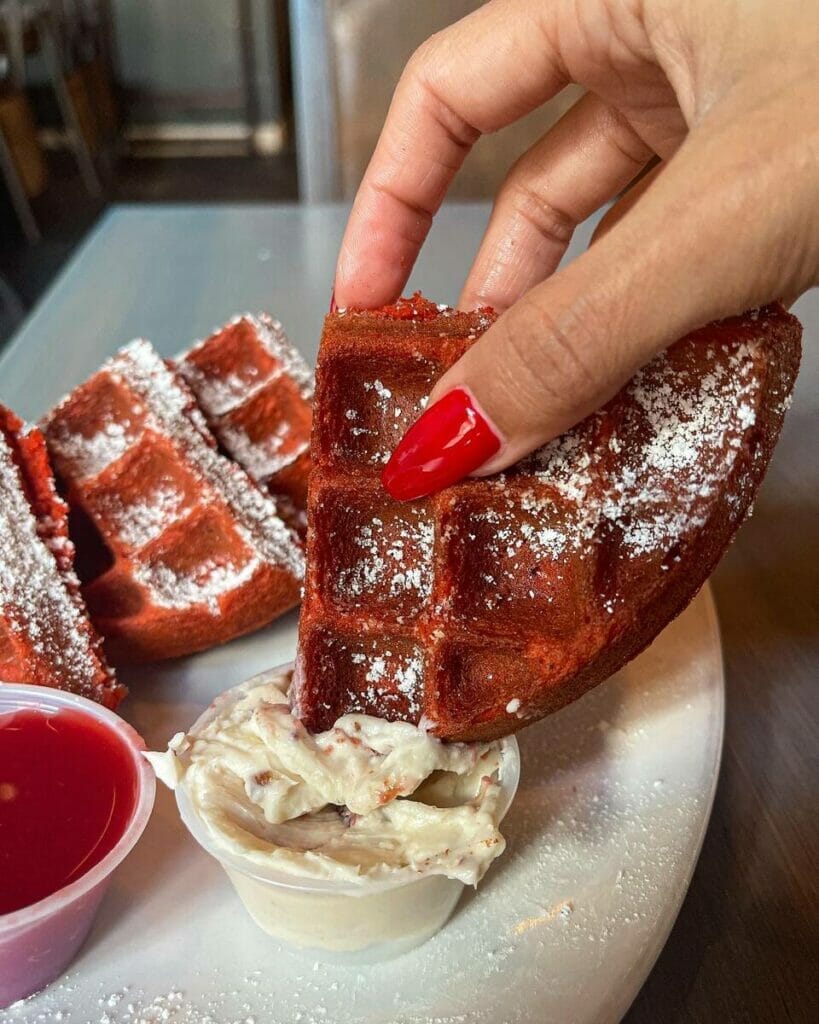 Three words: All. Day. Brunch!
Visit Lulu's from 9 – 3 Tuesday through Sunday, and brunch is what you'll get.
Head to this Shockoe Bottom staple for some cult classics, including Red Velvet Waffle with pecan cream cheese and strawberries; Shockoe Bottom Florentine with ham, spinach, pimento cheese, poached eggs and hollandaise; and Crab Omelette with asparagus and goat cheese.
Make sure you sample one (or two!) of Lulu's fresh spins on the Bloody Mary and Mimosa!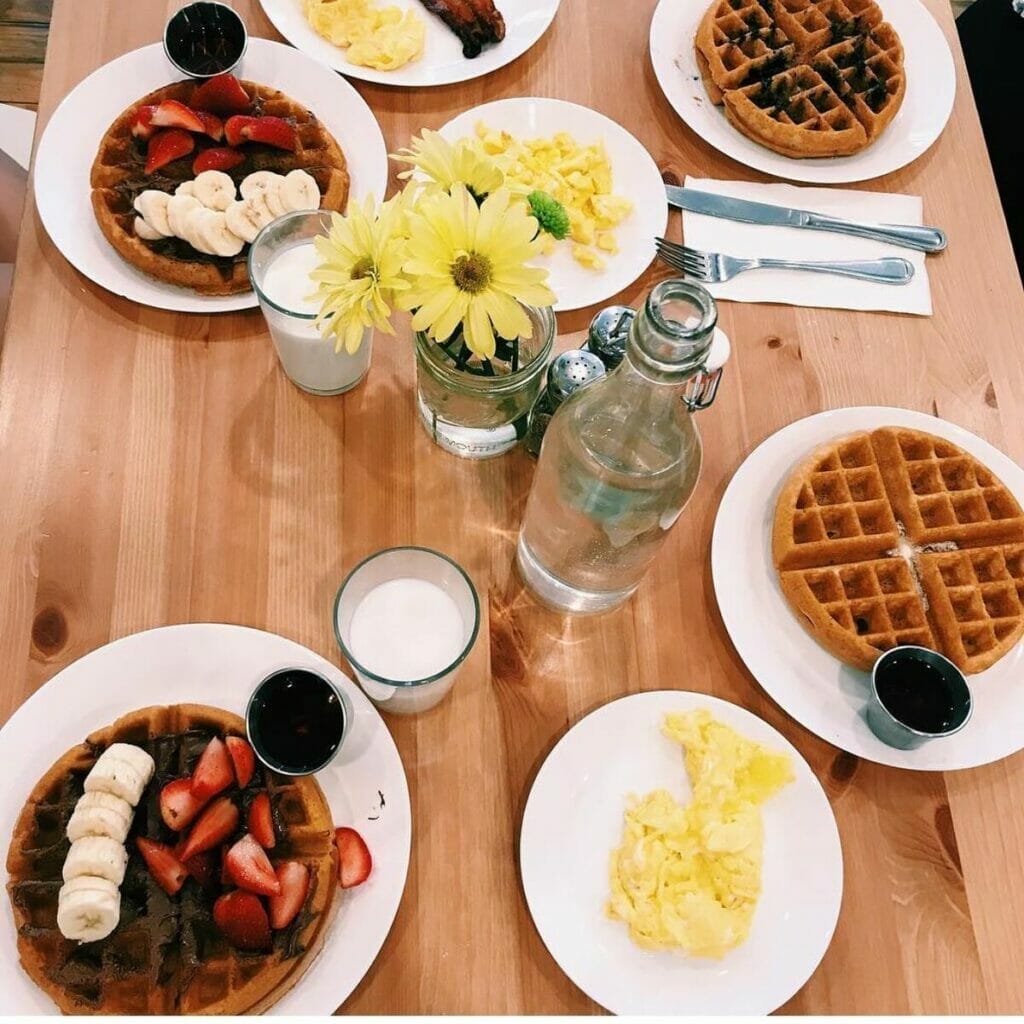 Two things make this Richmond eatery unique: firstly, everything on the menu is gluten-free (rejoice!), and secondly, they only serve breakfast food, chiefly biscuits and waffles!
A great place for brunch if you don't want to be limited by particular hours, head to this Main Street staple with friends for coffee, breakfast and enough energy to start your day the right way!
We'd recommend The Beaut, a biscuit sandwich with egg, cheese, bacon, avocado and a kick of hot sauce.
Or if waffles are making your mouth water, the Lemon Poppyseed or Brown Sugar Pecan are both what breakfast dreams are made of!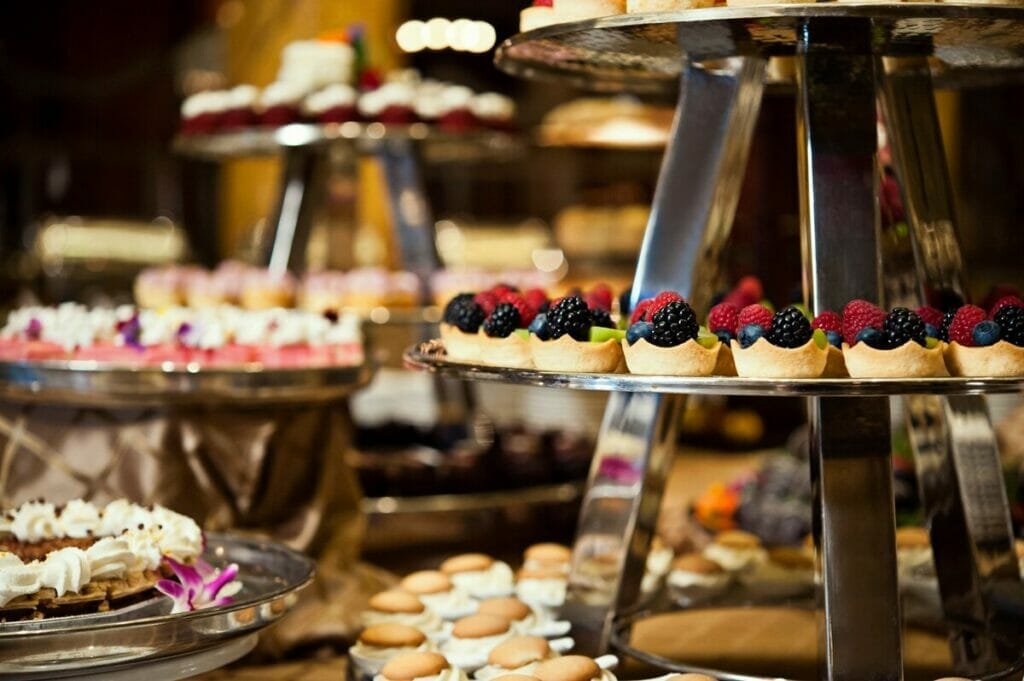 For a special occasion, you can't get a better brunch than Champagne Sunday Brunch at The Jefferson.
The menu is seasonal and so changes each week, but you can be sure to expect made-to-order omelettes, a beautiful selection of seafood, and a selection of savory lunch dishes.
You'll also find classics like French Toast and Benedicts – but with a stylish twist!
This is experience dining rather than your regular weekend treat, so be sure to book well in advance!
Particularly for their holiday brunches, which are so popular they sell out months in advance!
Richmond's Best Italian Restaurants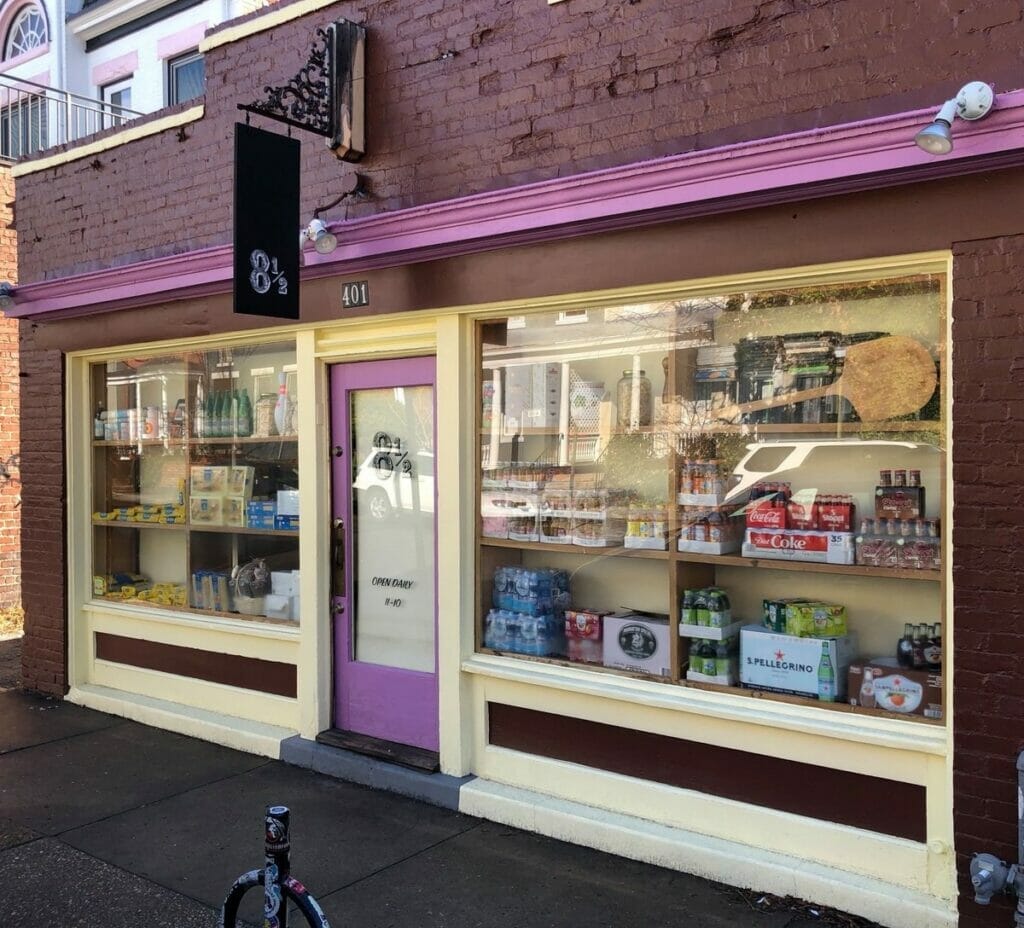 Named for the size of their pizzas, one of Richmond's best takeouts is 8 ½.
They serve both red and white pizzas with a delicious selection of toppings.
Their pasta dishes are mouthwatering too!
There are two locations, The Fan and Church Hill, and both are open until 10 pm.
Vegans, don't fear, there's also a pizza for you with cannellini beans and broccoli!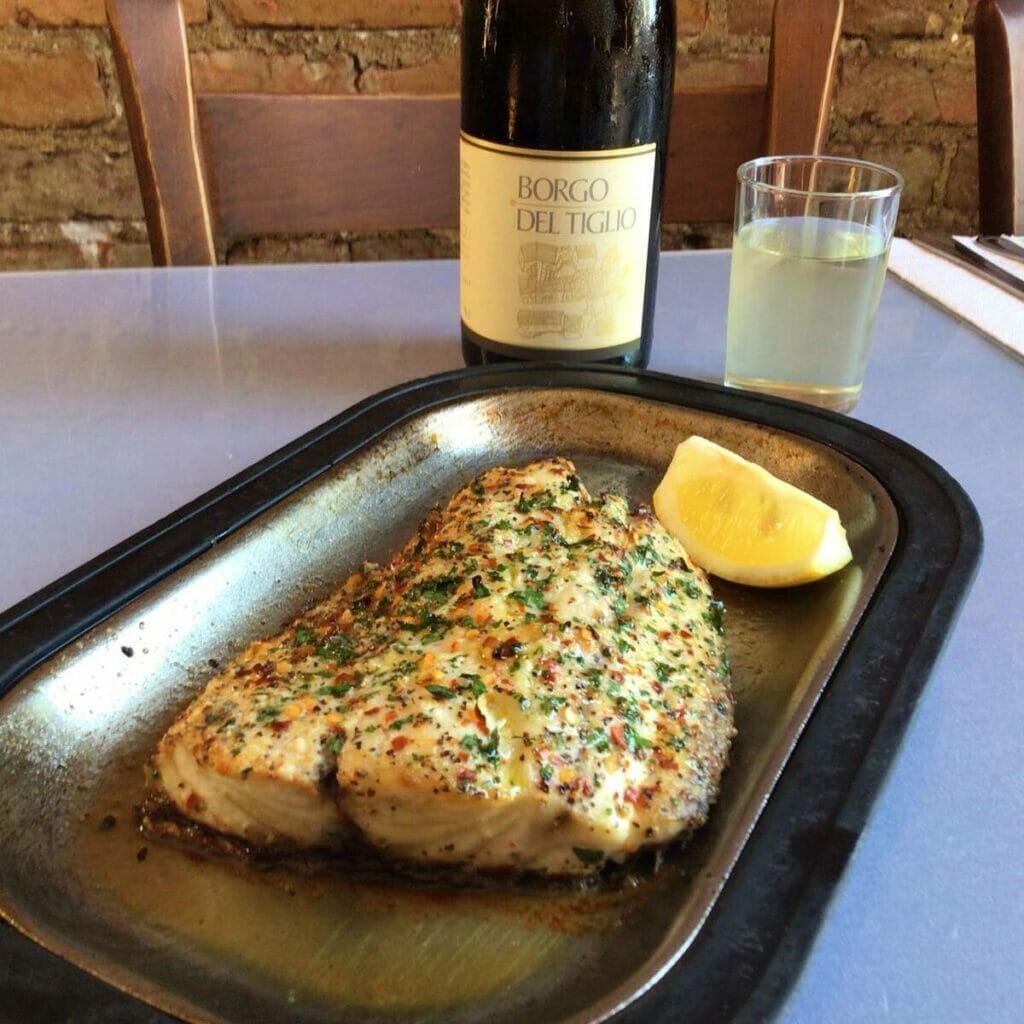 Famed in the area for serving some of the best food in Richmond, Edo's Squid is a traditional neighborhood Italian.
The menu reads as a who's who of Italian favorites, from puttanesca to eggplant parmigiana.
If it's your first visit, it's basically the law to get the squid – it's right there in the name – but whatever you order, you'll be guaranteed a great meal!
Oh, and make sure you save room for dessert; whether you pick cannoli or tiramisu you'll leave with a smile on your face!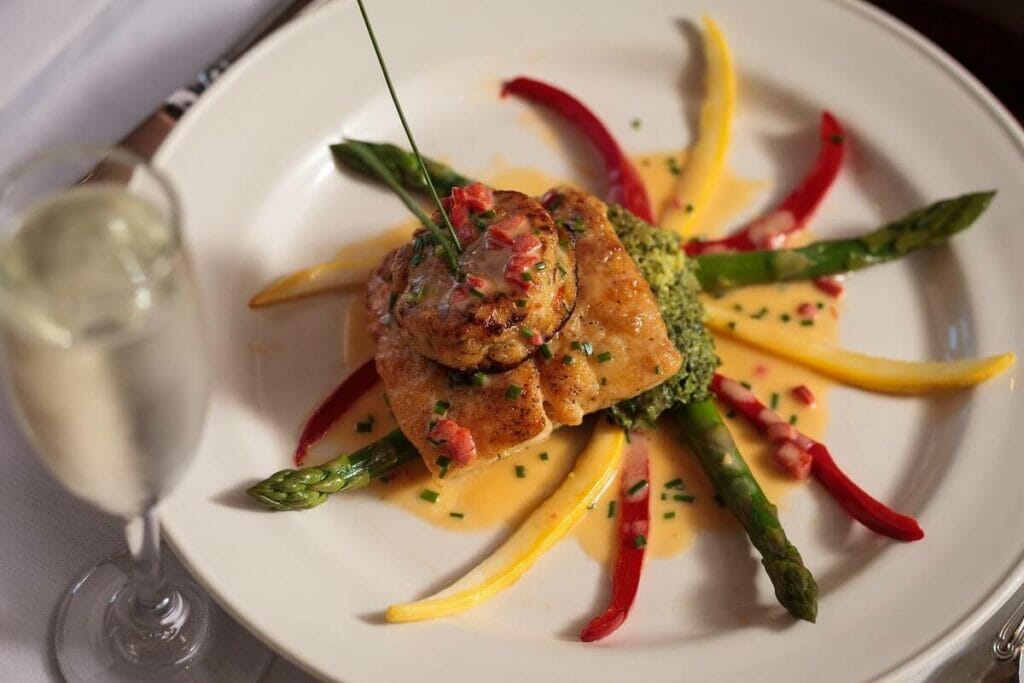 Simply put, this is one of Richmond's best restaurants!
Previously located in Shockoe Bottom, La Grotta moved to the heart of downtown, but still serves up the best of Northern Italian cuisine.
Chef Antonio was born in Italy, so you know you're getting the real deal!
From the beef Carpaccio to the Shrimp and Scallops over polenta, you'll get beautiful food cooked with the care that will transport you to Italy!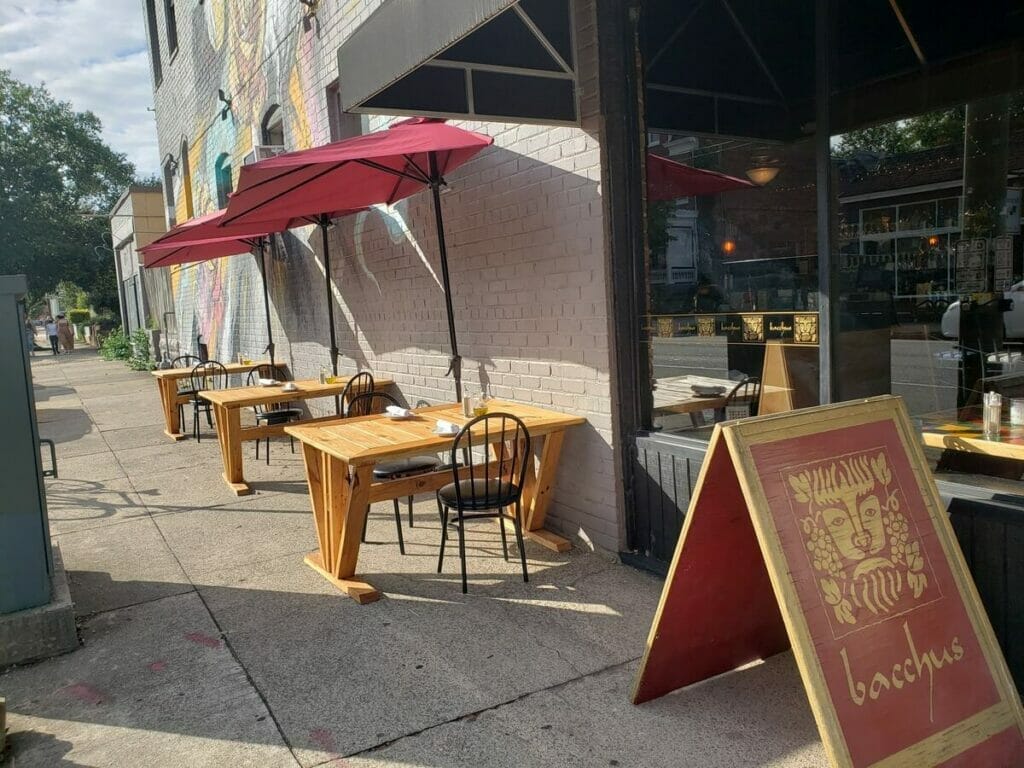 This unassuming restaurant in The Fan is the place in Richmond to get an awesome pasta dish!
The atmosphere is convivial and cosy, and you can get classic Italian dishes alongside some less well-known combinations.
Try the Veal Scallopini or tuck into the fried goat's cheese salad.
But be sure to sample the pasta – there are so many sauces to try, from the family-favorite Carbonara to the indulgent Gorgonzola Cream and Peas.
Restaurants for Families in Richmond, Virginia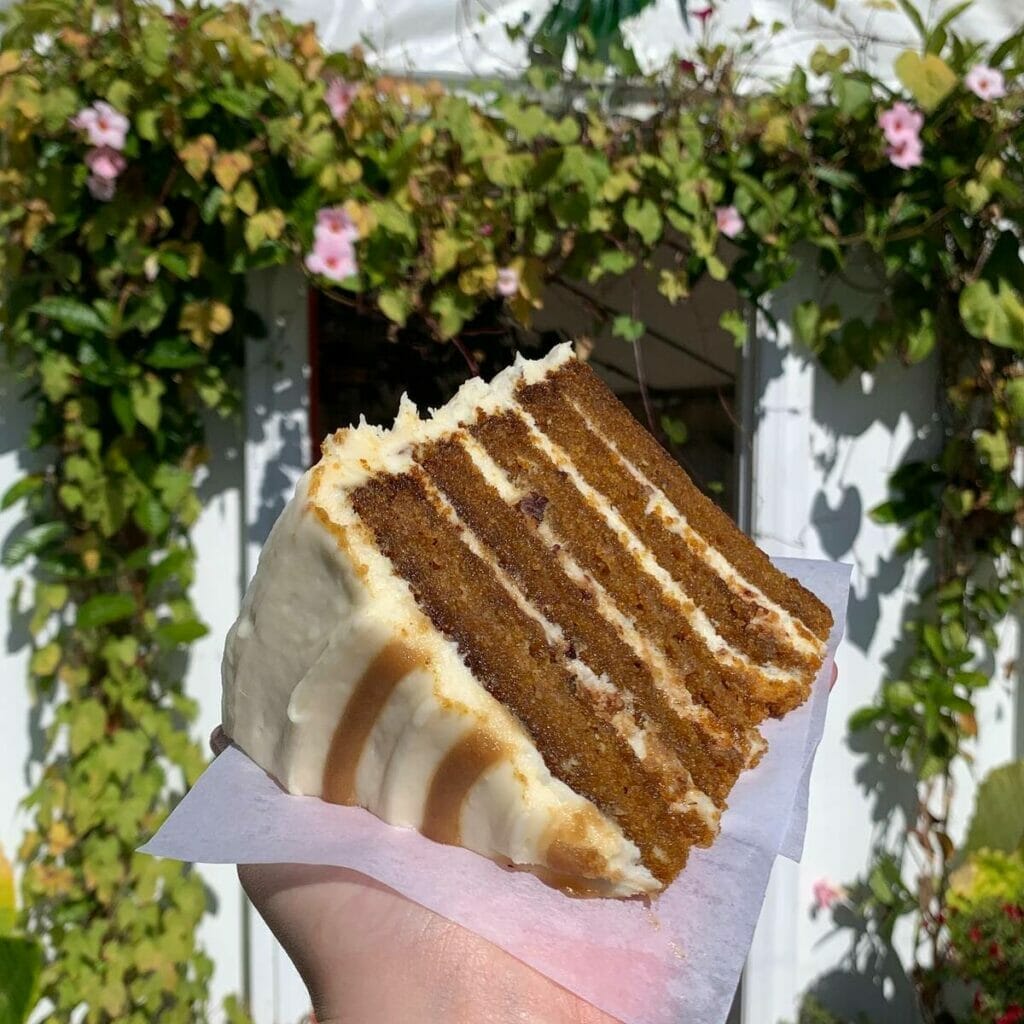 Let's start at the end of the meal!
Shyndigz is Richmond's first dessert-only restaurant and has a takeout option at Shyndigz Market.
With daily specials, gluten-free options and a whole pie menu, your kids are going to be on cloud nine!
Try the Swamp Bar – a peanut butter chip brownie topped with marshmallows, topped with a layer of peanut butter chocolate Rice Crispy!
The classic S'more Bar and Chocolate Chip Cookies are always a family favorite.
The kids will love it – and there are a few local parks nearby for them to run off that sugar high!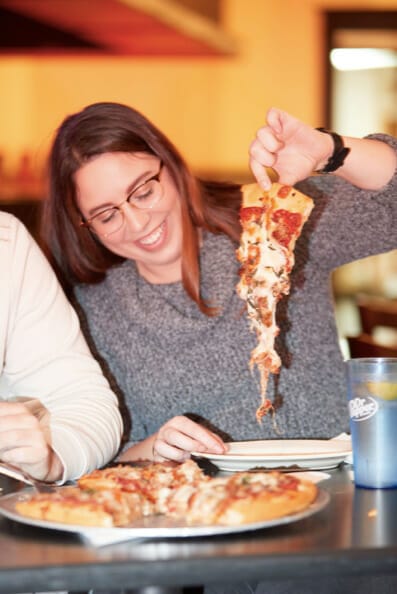 Bottoms Up is a firm family favorite in Richmond.
Serving Italian American classics, the large menu means everyone will find something they love.
There's a kids' menu with grilled cheese, and chicken fingers (and even applesauce for your baby), but it's the pizza that really shines.
The sourdough crust is everything good pizza should be!
Try the Chesapeake, with crabmeat and sweet onions.
The classic Hawaiian will kickstart the age-old debate: pineapple on pizza, yes or no?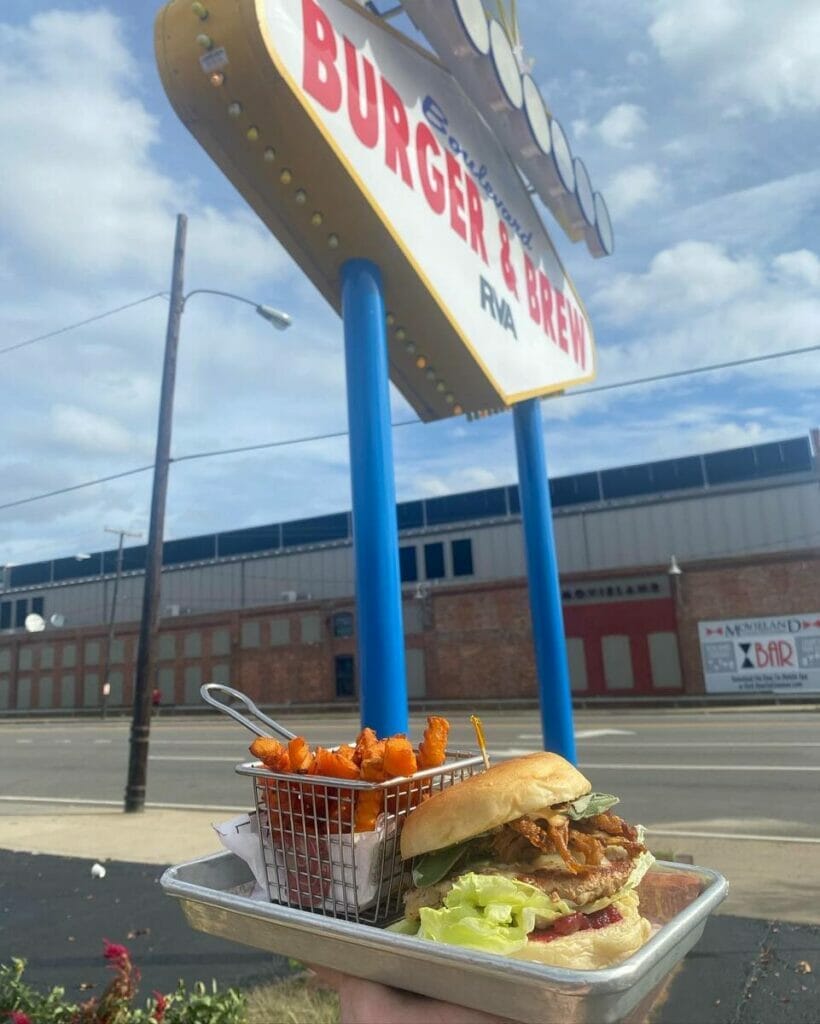 This restaurant is fun for kids and parents alike.
Enjoy their classic burgers, with premium non-GMO patties, alongside a craft brew or a boozy shake!
The kids' menu here is excellent value: sliders, a hot dog or chicken fingers served with fries or tots and a milkshake for $5.95!
The menu for grown-ups is great value too with prices ranging from $8.95 to $14.95.
All of the burgers are available as vegan options, they simply substitute the patty for a black bean, quinoa or Beyond Meat patty.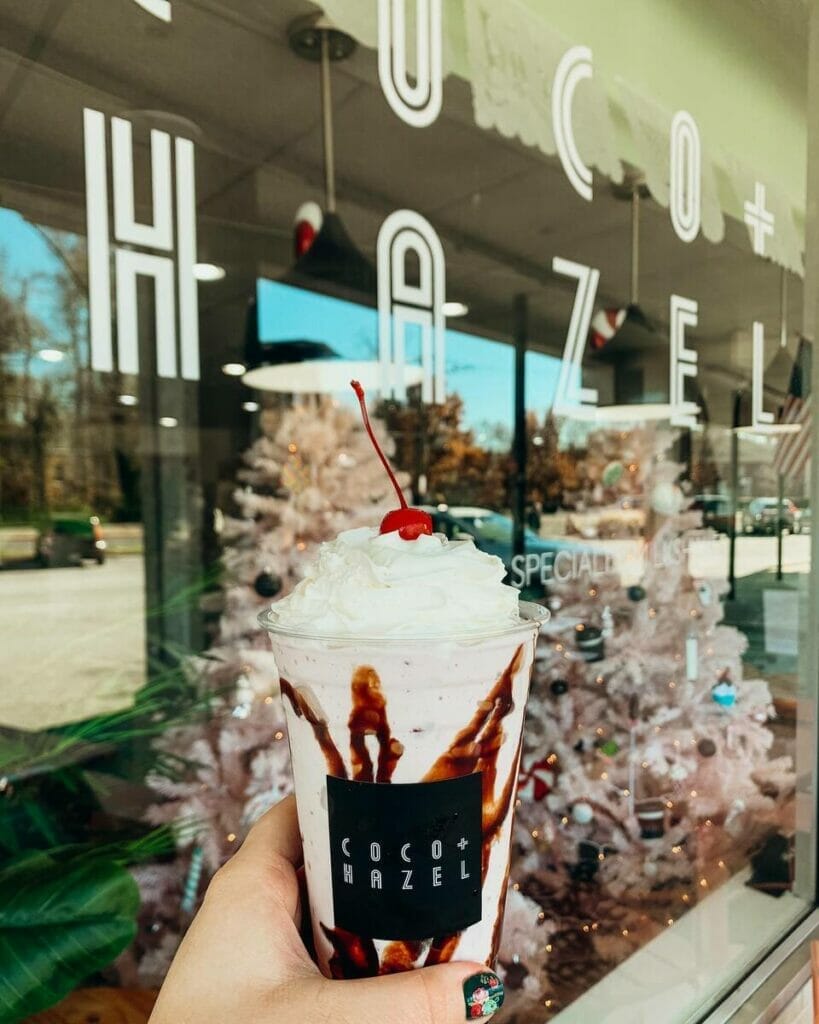 Let's round off the list with something every kid loves – a milkshake!
Or a freakshake to be exact!
Coco + Hazel are renowned for their amazing (and HUGE!) milkshake creations.
There are some great options, and your family will be spoiled for choice!
Kids will love the Cake Shake – a birthday cake milkshake served with whipped cream, rainbow sprinkles, a cherry, and a slice of funfetti cake!
If milkshakes aren't your scene, try one of the ice cream sandwiches.
We love the Churro option!
Hey, foodies! Want more of our city food guides? Check these out!
Pin for Later!
Get the All-American Travel Secrets!
Don't miss out on America's hidden gems!