Old and new meet hand in hand in Williamsburg!
So many of the things to do in Williamsburg, Virginia, are based on the history of America, from the Revolution to the Civil War and beyond.
In fact, it would be a crime not to visit some of the excellent museums and living history exhibits available to you!
But even once you've taken in those sites, there's still plenty of fun to be had in Williamsburg!
Looking for more expert Virginia travel guides? Head here!
How to get around Virginia
Like most of Virginia, one of the best ways to get around is to explore on your own by car!
If you're visiting and need to rent a car to get to your Williamsburg activities, we highly recommend Discover Cars where they find you the best car rental deals from all of the competitors (has saved us so much money!).
Click here to check out Discover Cars!
Where to Stay in Williamsburg
From renovated VRBOs to charming hotels, these are the best places to stay in Williamsburg!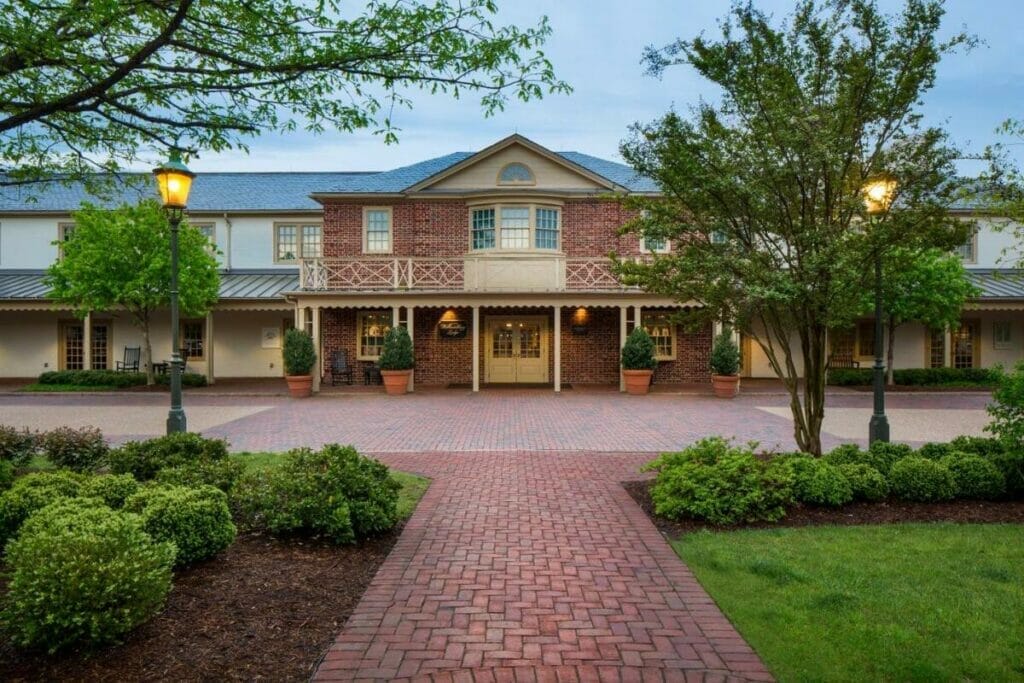 (Hotel) Williamsburg Lodge: Situated in the heart of Williamsburg, this Autograph Collection hotel offers classic American style design. Enjoy the 2 on-site restaurants, spa, pool, and the convenience of historical Williamsburg being within walking distance.
(VRBO) Historical Home: Located only 1 ½ blocks from Williamsburg Virginia Historic District. With 3 bedroom and 3 bathrooms, this home is the perfect place for your charming Williamsburg vacation!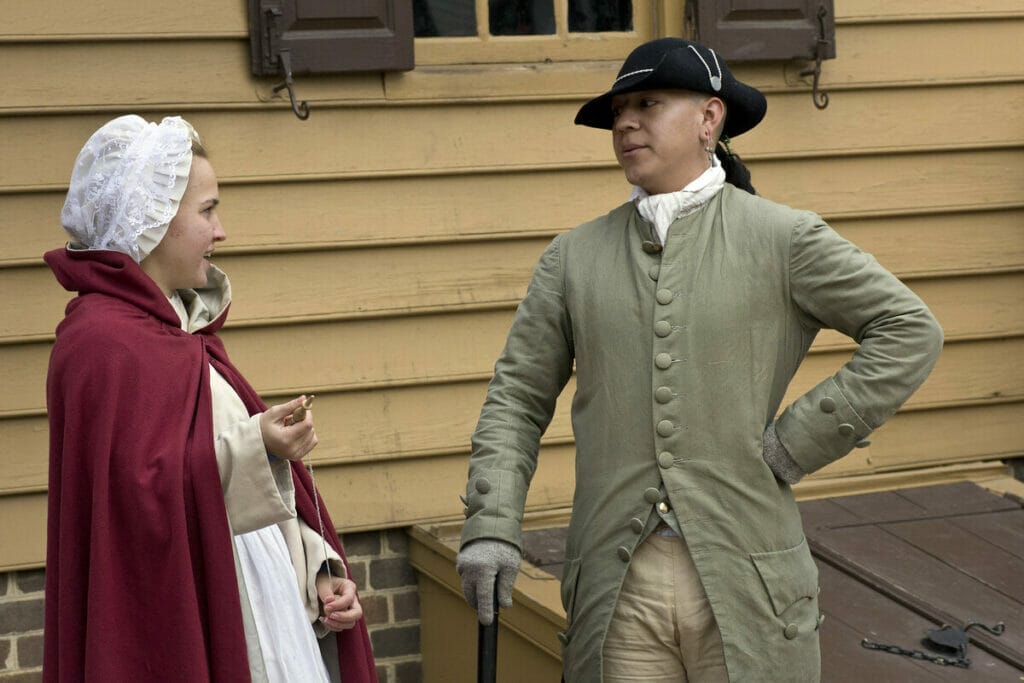 Famous for being the largest Living History Museum in the world, you can't visit Williamsburg without coming to Colonial Williamsburg!
There is a load to see and do here (some of which have their own mentions on our list), from having a chat about the birth of our nation with George Washington, to enjoying your dinner in a tavern frequented by Thomas Jefferson.
Perfect to visit if you're travelling as a family, but also a great bit of Williamsburg sightseeing for a solo visitor too!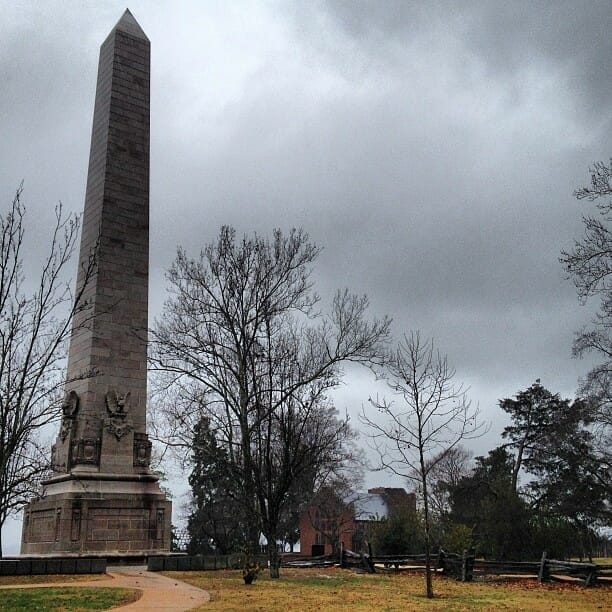 Step back to where it all began – the site of the first permanent British settlement in America.
If you're a budding archaeologist look no further than the ongoing research project and archaeological museum, and be sure to take the tour run by one of the actual archaeologists from the site.
If you're visiting with kids, they might be given the opportunity to help sort through some of the materials excavated from the site!
The visitor center and the museum not only tell the story of the European settlers, but also explore the history of the area's native population.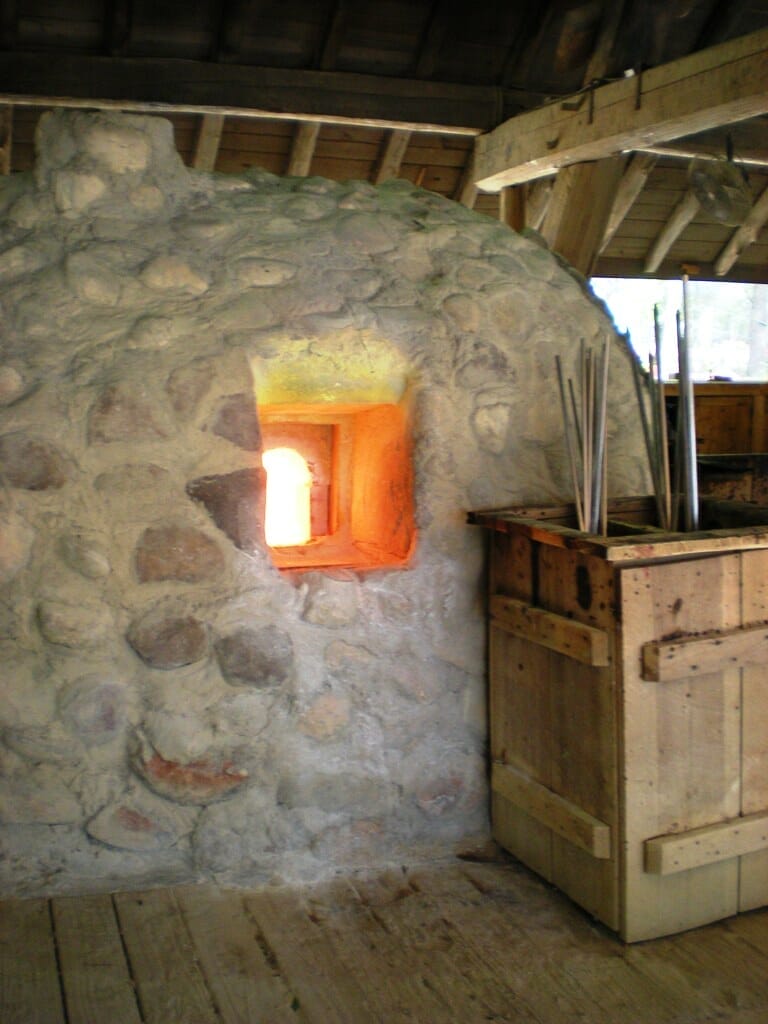 While you're in Historic Jamestowne, make sure to pay a visit to the Jamestown Glasshouse.
Set up in the place where historic remains of the glass furnaces were found, there are now skilled artisans demonstrating the original glassblowing techniques in the reconstructed glassworks.
And of course, you can visit the shop and take home some unique glass artwork!
Stay on Jamestown Island and visit the Jamestown Settlement, a museum and living history reconstruction of the lives of 17th-century Virginians.
Visit the authentic replicas of a Powhatan Native American Village, the three ships of the settlers, and James Fort.
Fascinating for any history lover, if you're visiting with family be sure to check out the interactive demonstrations and exhibits – kids will love them!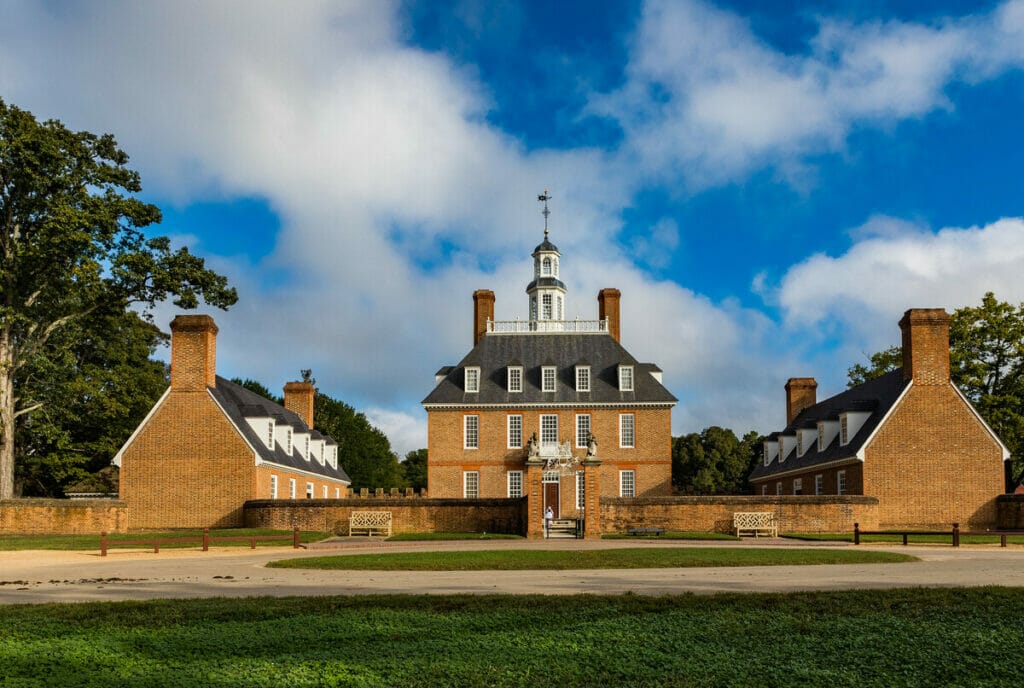 When you visit Colonial Williamsburg, the Governor's Palace is a must-visit.
One of the most popular things to do in Williamsburg, the replica of the original estate is the perfect way to see how high society lived in post-revolution Virginia.
Explore inside for stunning décor and period weaponry, then head outside to the formal gardens – including a maze!
Be sure to stop in at the kitchens – there are very often traditional cooking and brewing demonstrations to feast your eyes on!
When you're in Colonial Williamsburg, pay a visit to the home of John D. Rockefeller and Abby Aldrich Rockefeller.
After all, without the funding of the Rockefellers Colonial Williamsburg wouldn't exist!
Take a tour to see the 18th-century white frame house where the Rockefellers lived whilst in Williamsburg in the 1930s.
Inside, take a look at the ornate furnishings and art that were once used by the Rockefeller family.
Make sure to check out the beautiful gardens – the flowers are a picture in Spring and Summer!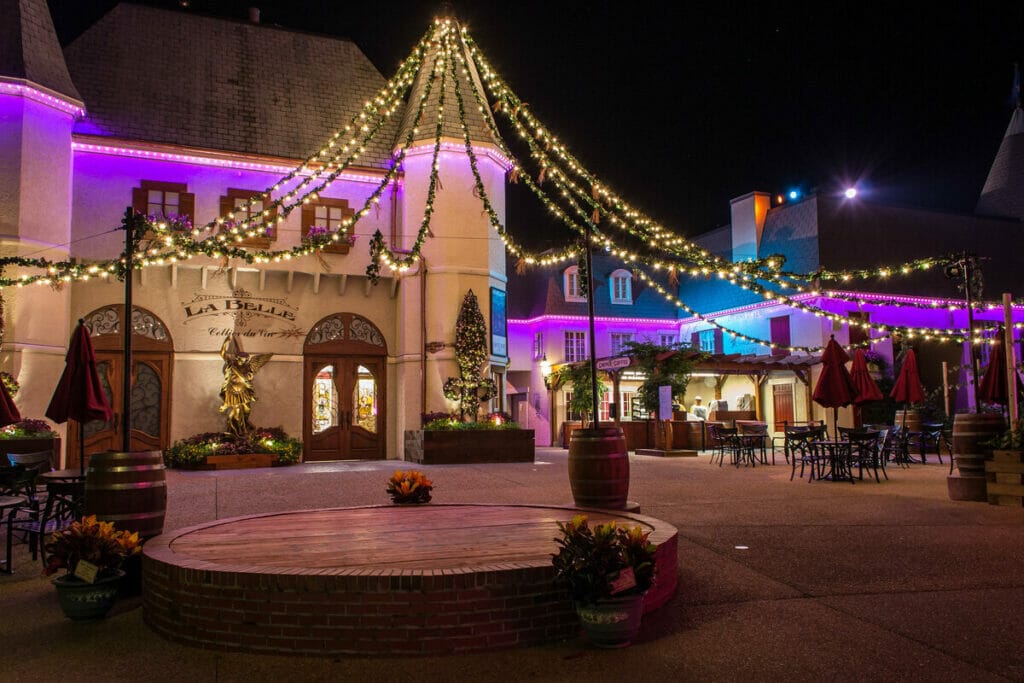 And now for something completely different!
Busch Gardens is about as far from the colonial past as you can get – though there is a European theme at play here.
Great if you're visiting the area with kids, or if you're a thrill seeker, Busch Gardens is packed full of rollercoasters, rides, animals, and Broadway-esque shows.
Adrenaline junkie?
Go on the 195-foot Alpengeist roller coaster – it's one of the world's tallest!
Prefer something a little more gentle?
Head to Highland Stables and meet the farm animals there, or Wolf Haven to learn about our wolfish friends.
This is seriously one of the best things to do in Williamsburg, Virginia!
Be sure to book your tickets in advance to skip long lines and fast track yourself to the fun and thrills!
If you're looking for fun things to do in Williamsburg in summer, this is one for you!
A great mix of water park and resort, Water Country USA has slides, rides and places to chill out too.
There's even miniature gold – with a watery surprise!
If you're also visiting Busch Gardens, make sure you pick up a combo ticket for the best value!
9. Haunted Williamsburg
Do you believe in ghosts?
If the answer is no, you might change your mind after this spooktastic walking tour around Colonial Williamsburg!
Take a candlelit journey through the historic town, accompanied by a costumed storyteller who will fill you in on all the ghostly goings-on Williamsburg has seen over the years!
There are other ghost tours in Williamsburg (apparently it's quite a haunted place!) such as this Boos and Booze Haunted Pub Crawl.
On this tour you'll visit 3-4 of the most popular hotspots whilst enjoying lovely libations!
There are a number of walking tours around historic Williamsburg, but the one dedicated solely to African American history is fascinating and well worth your time.
Did you know that in the 18th-century, African Americans made up half of Williamsburg's population?
Head out on this walking tour to find out about their lives – as freedmen, enslaved, skilled craftsmen and up and coming businessmen.
The tour lasts 1.5 hours and you're guaranteed to find out a lot of American history that isn't taught in schools.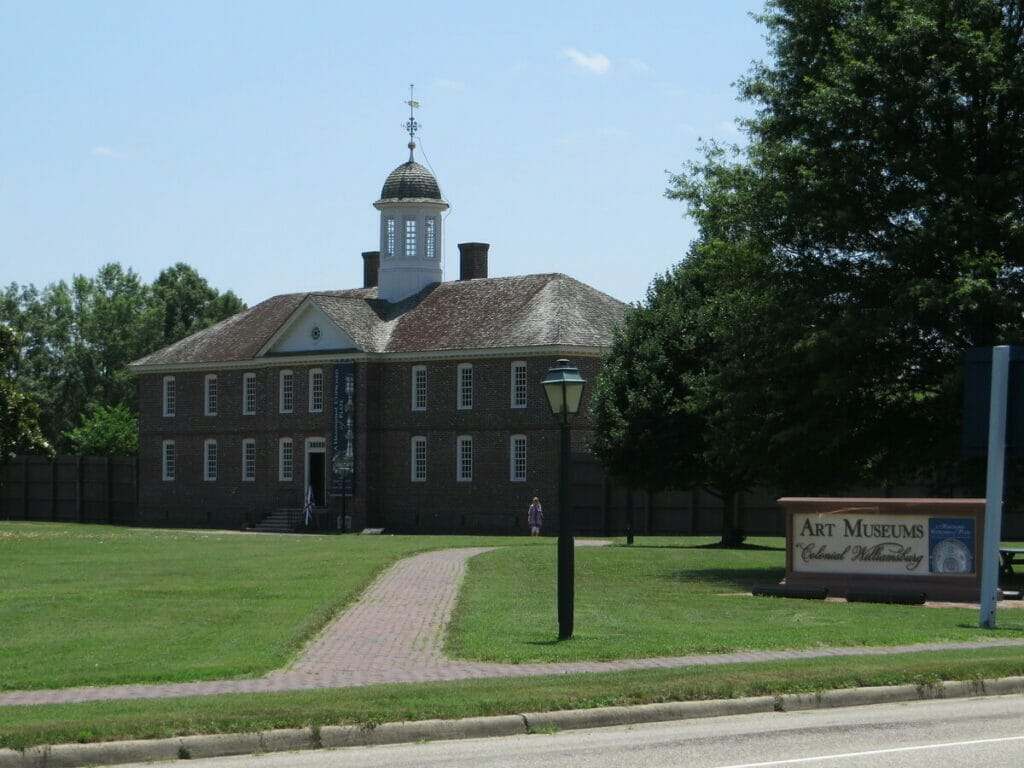 When you're in Williamsburg, you'll see the Rockefeller name crop up a lot.
One place is this brilliant museum that pays homage to the longstanding American tradition of Folk Art.
It's one of the best things to do in Williamsburg, Virginia, and whether you like art, history, Americana, or all three you'll be delighted with what you find in this museum!
You're spoiled for choice of things to see, with sculptures, quilts, needlecraft, woodcarving and more – all created by non-professional artists.
Combine your visit here with a trip to the next place on our list…
Housed in the same building as the Folk Art Museum, is the Decorative Arts Museum.
This is much more your traditional art museum, focusing on antique arts from bygone centuries.
There's something for everyone in here, from a magnificent furniture collection to a collection of stunning silverware from Colonial Williamsburg.
If you're visiting with a little one who loves their dolls, check out the dollhouse collection!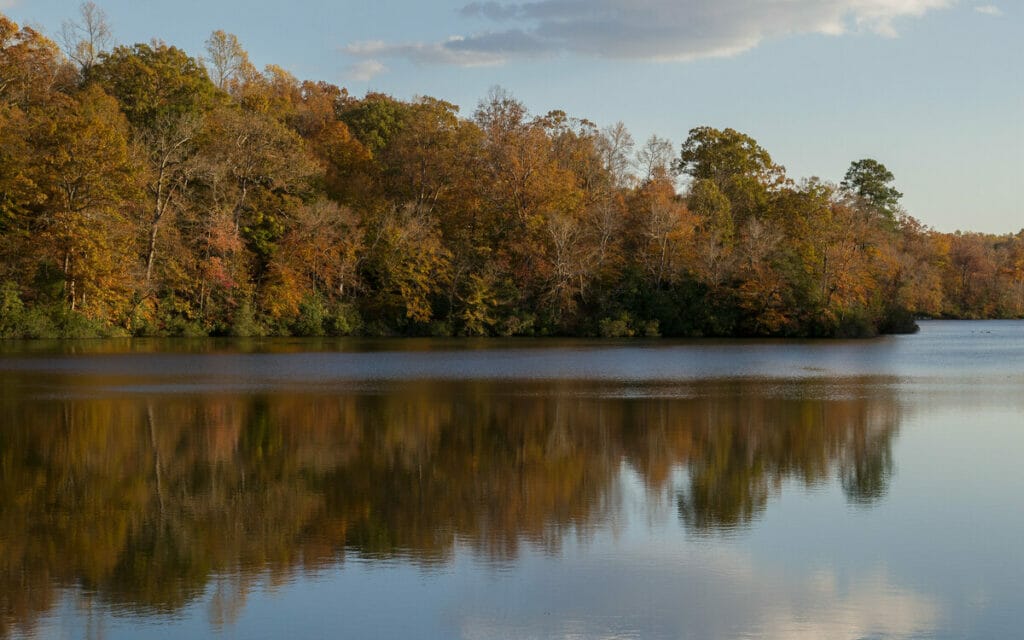 Take a drive down this beautiful 23-mile stretch of road, which links Williamsburg, Jamestown and Yorktown – the 'historic triangle' of Virginia.
Located in the Colonial National Historical Park there are plenty of pull-offs where you can take in the scenery, stop for a picnic, or even enjoy a spot of fishing!
If you're feeling spry and up for a challenge, hire a bike and cycle it!
If you want to get away from it all, perhaps for a romantic weekend for two, the Williamsburg Winery is a great place to come.
More than just your typical vineyard, you can stay in the hotel, wander the gardens, or have a wonderful food and wine experience in one of the two restaurants.
If you're paying a flying visit to the winery, indulge in a wine-tasting flight (pick from reserve wine or fine wine).
The pavilion overlooking the gardens is a popular spot to sit and take in the stunning scenery with a glass of something refreshing!
It just seems rude to visit a city without visiting the hometown brewery, and for Williamsburg, that's AleWerks!
If you're a fan of beer, this is one of the best things to do in Williamsburg Virginia!
The brewery opened in 2006 and runs daily 40-minute tours culminating in a tasting in the taproom.
You'll see AleWerks brews around most of the bars in town, so it's great to be able to go direct to the source and find out how it gets made!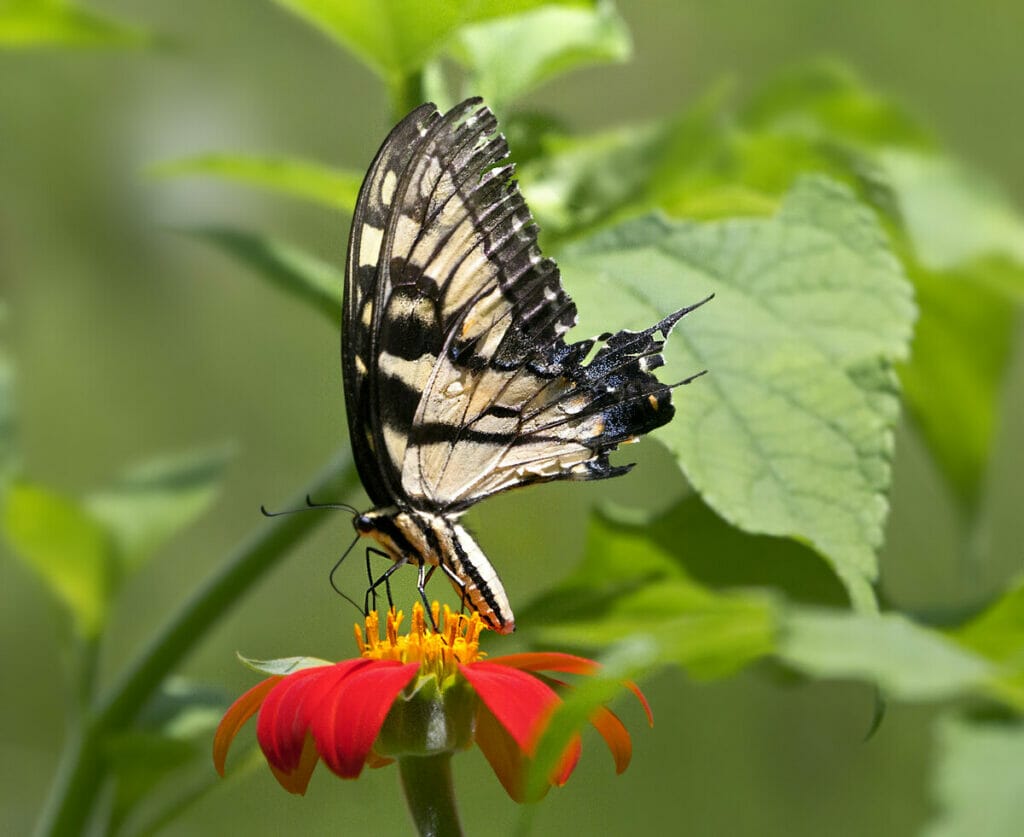 Like so many places in and around Williamsburg, Freedom Park is the site of some pretty impressive history.
It's the site of the Battle of Spencer's Ordinary during the Revolutionary War, and there's a 17th-century settlement that's helping archaeologists understand the early colonial period.
Freedom Park was also one of the earliest Free Black Settlements in the nation.
Once you've explored the history of the park, grab a bike and get cycling!
There are 20 miles of bike trails in the park, so it's a great way to explore the gorgeous scenery.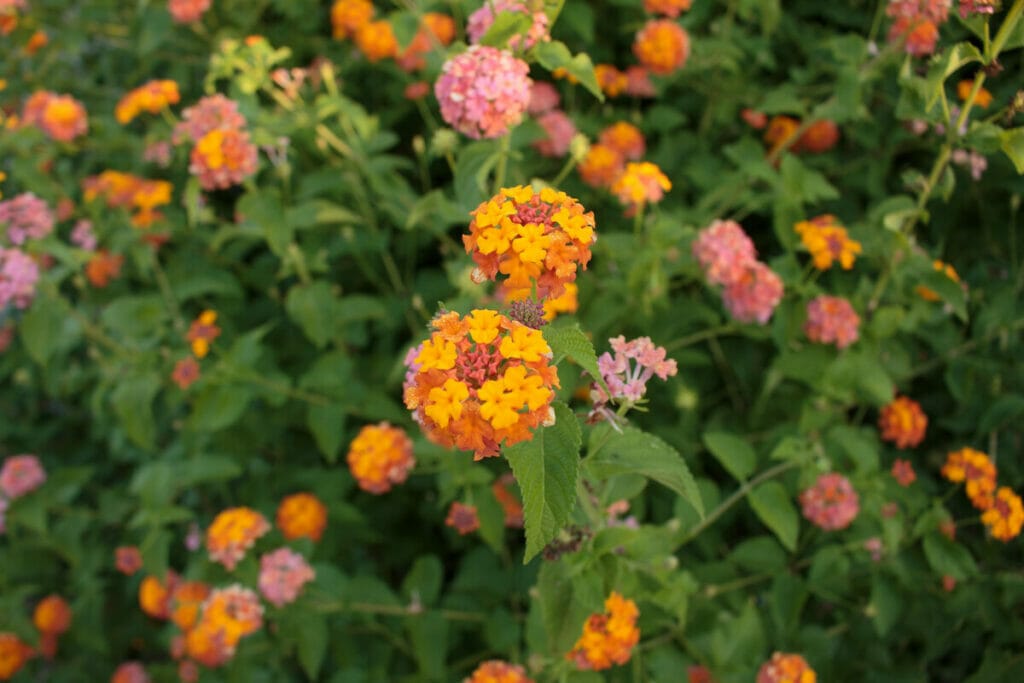 While you're visiting Freedom Park stop in at the Botanical Garden.
There are over 800 species of native vegetation to see in this small but perfectly formed little gem.
If you're looking for somewhere to unwind after all that sightseeing, the Botanical Garden should be high on your list of things to see in Williamsburg.
Enjoy the peaceful atmosphere in the herb garden, and watch the butterflies and other pollinators make the most of the flowers in the butterfly garden.
There's even a butterfly festival in August, so if you're visiting then you know where to go!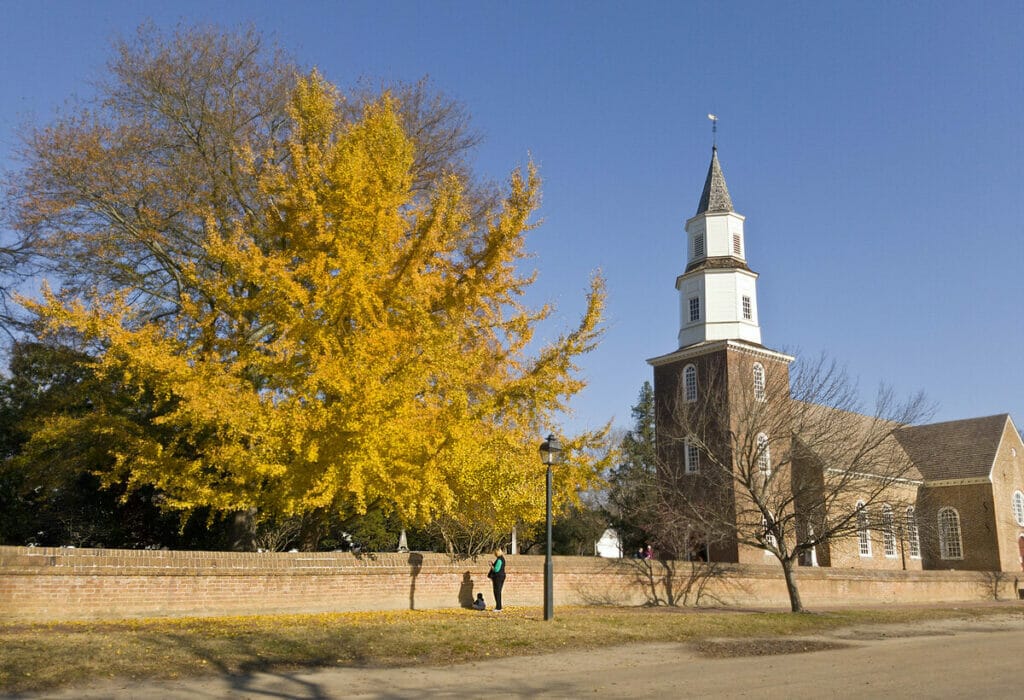 A truly historic church, Bruton Parish has seen a whole lot of American history play out – and welcomed a fair few famous faces too!
With services attended by George Washington, Thomas Jefferson, James Madison and more, the church dates back to 1715.
The interior of the current church is an exact replica of the original chapel, and the bell that rings out today to welcome worshippers is the same one that peeled when the Declaration of Independence was signed.
There are often candlelit concerts here, so check the schedule and get ready for a very atmospheric evening.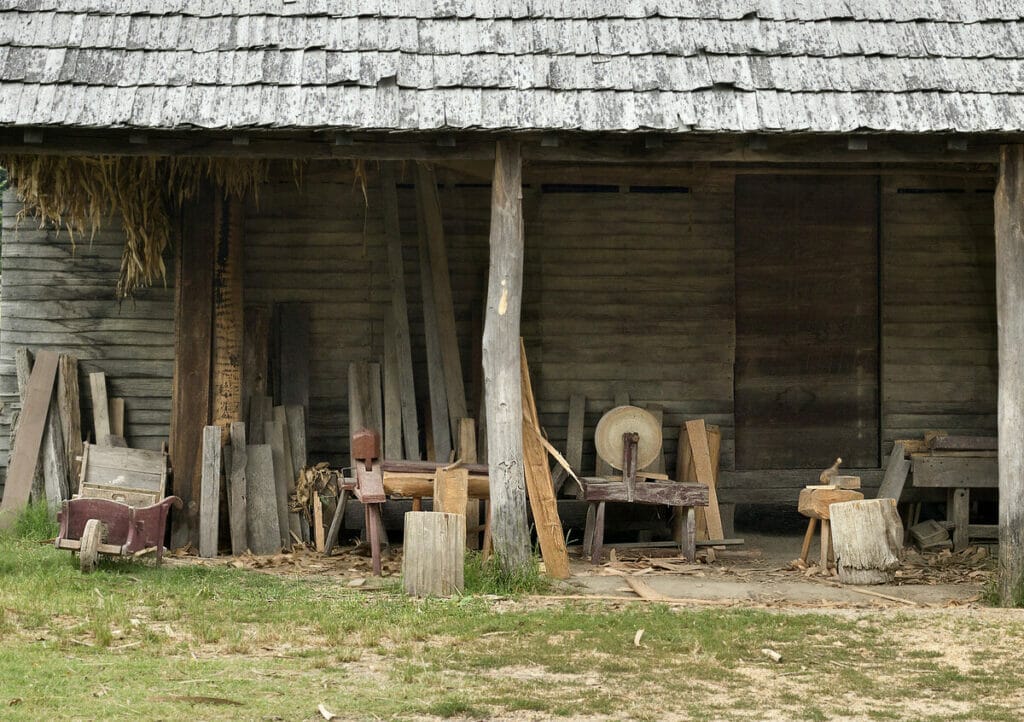 Although this is in the heart of Colonial Williamsburg, Great Hopes Plantation isn't as frequently visited as some of the other landmarks, but it's seriously one of the best things to do in Williamsburg, Virginia.
Located between the Visitor Center and Governor's Palace, the plantation aims to show how life was lived for the ordinary folk in 18th-century Williamsburg.
Most people worked on small plantations like Great Hopes, and many were enslaved people.
You can visit Great Hopes to see a representation of the type of lifestyle these people would have lived.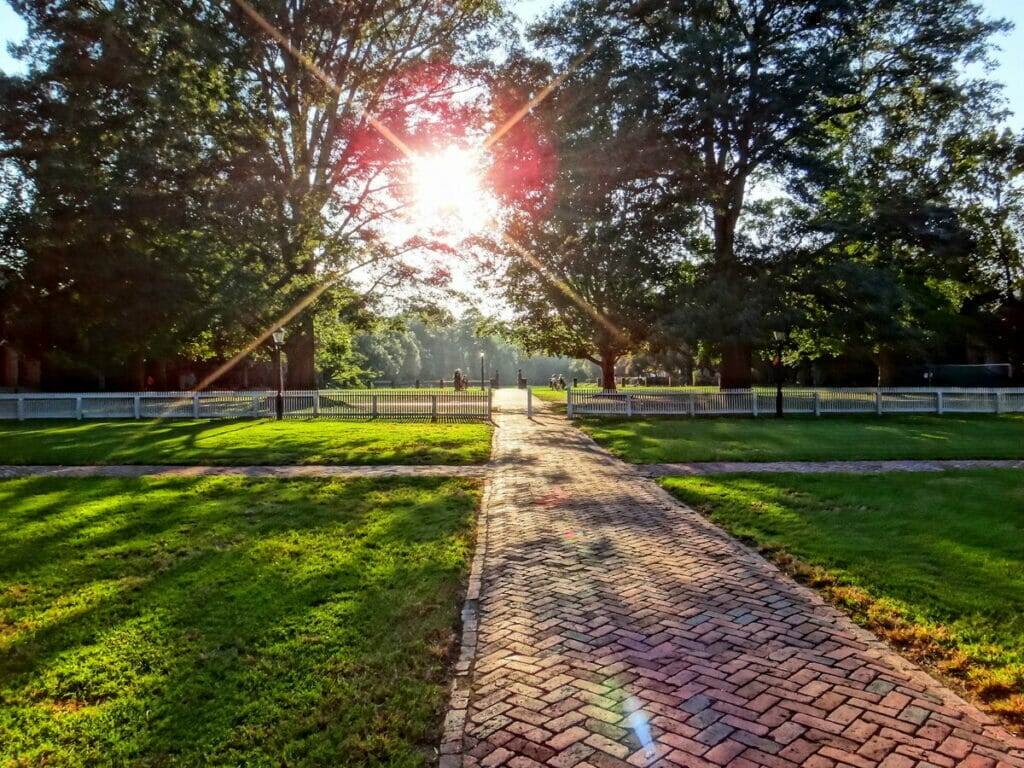 The oldest college in the US is the extremely well-known Harvard, but the second oldest?
Ask most people outside of America and they probably won't have heard of the prestigious College of William and Mary.
It has some pretty impressive alumni too – Washington and Jefferson both took classes here!
Visit the Wren Building, the oldest active educational building in the US and a great example of colonial architecture.
Take a student-led tour of the campus for all the history and college stories, and check out the sculptures dotted around the campus!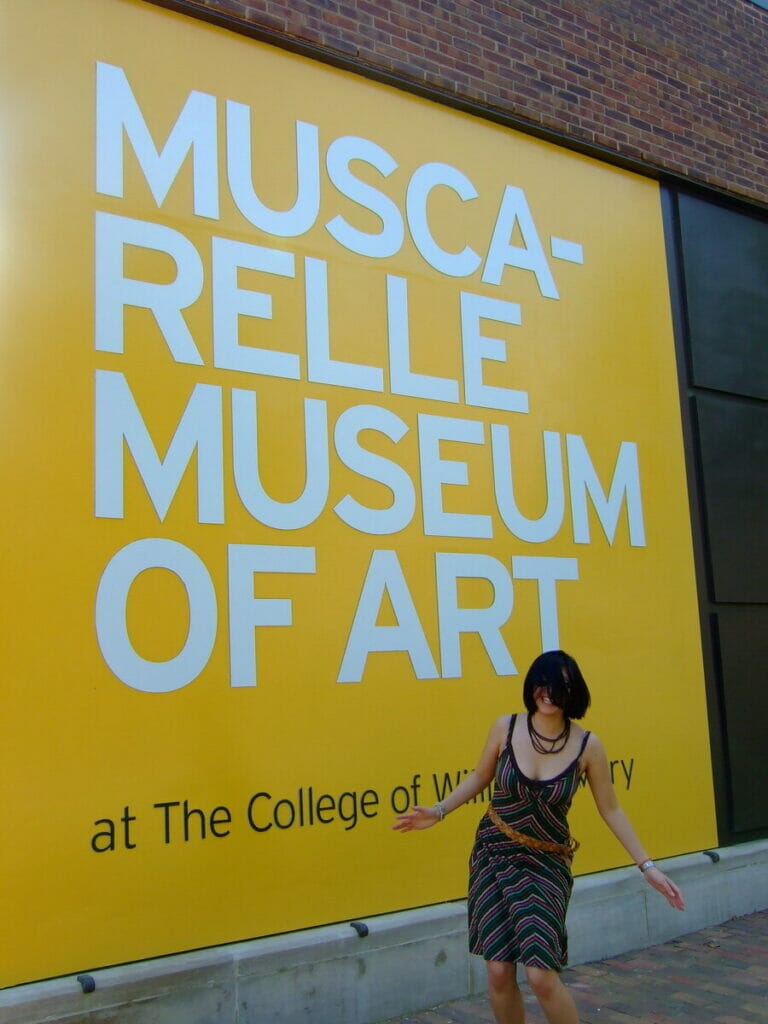 While you're on campus, you have to visit Muscarelle Museum of Art – it's one of the best things to do in Williamsburg, Virginia!
All of the items on display had been gifted to the college, and the museum was finally created in 1983 to house this precious collection.
If you're an art lover, there's bound to be something in their impressive collection that catches your eye, from 17th-century masterpieces to works by modern artists like Picasso and Matisse they have it all!

Continuing on our tour of cultural Williamsburg things to do, take in a show at the Kimball Theatre!
Movies, concerts, plays – the Kimball has it all.
Check the schedule to see what's showing when you come to town.
It might be an indie movie, or perhaps a concert performed by students from the College of William and Mary, or even a poetry reading.
The theatre is a stalwart of the Williamsburg arts scene, and the local community takes great pride in what they offer, so head over and see what you think!
Who doesn't love a spot of retail therapy?
Williamsburg is obviously best known for its history, but if members of your party need something a bit different to do then this is a good place to start!
Choose from more than 130 stores, ranging from mall favorites to designer names. All at bargain prices!
Particularly great for families travelling with teens, or if you want stuff to do in Williamsburg that takes a break from the norm.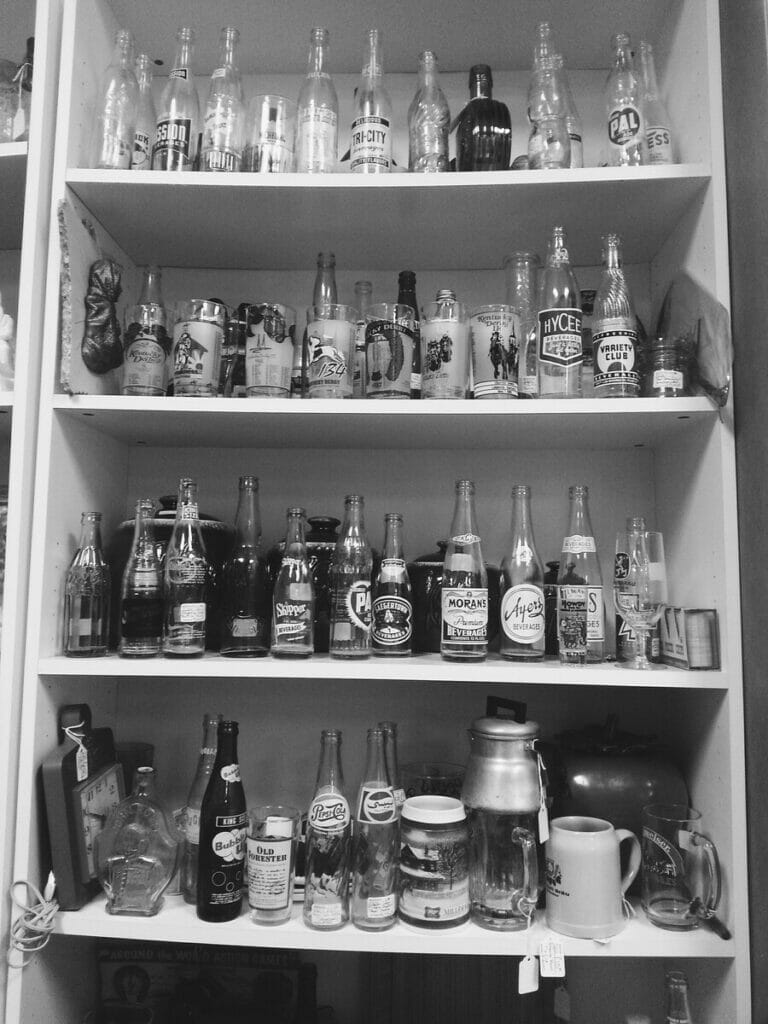 If you prefer your shopping to be a bit on the older side, then head over to the Antiques Mall.
At over 45,000 sq feet, the mall is a warren of wonderful antiquities and collectables.
Glassware and weaponry sit alongside toys, vinyl and furniture – whatever you're after chances are there will be some at the Antiques Mall!
Even if you aren't a treasure hunter, it's awesome to just visit and soak up the atmosphere.
Plus there's somewhere to grab some food – La Petite Tea Room.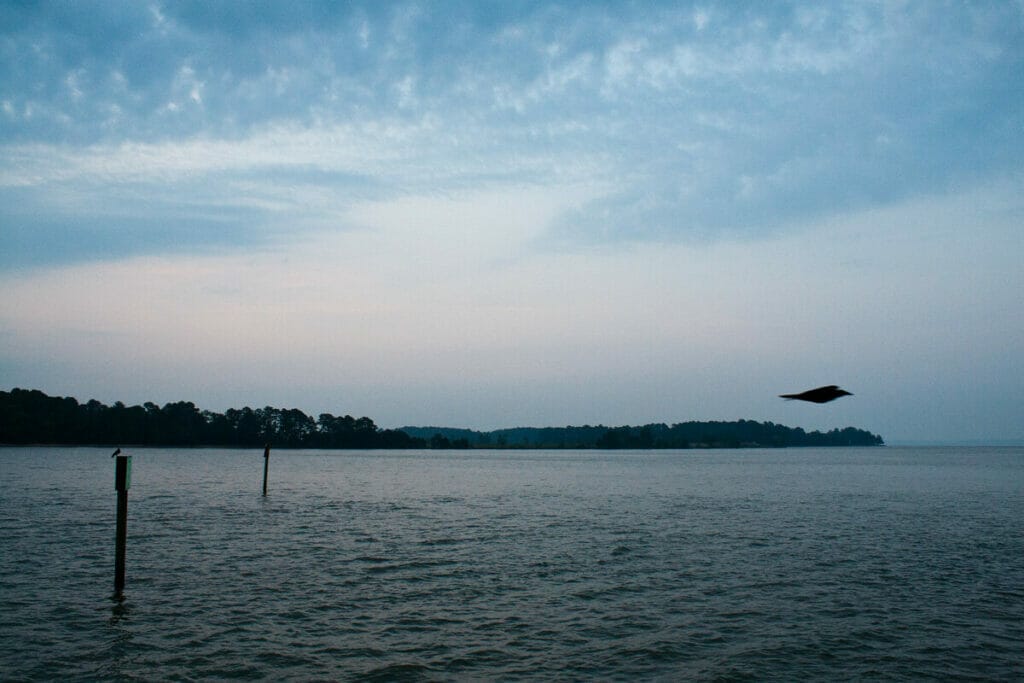 According to locals and visitors alike, one of the best Williamsburg activities is to spend some time on the James River.
What better way to do that – and to experience local Williamsburg life – than to take a trip on the ferry!
The ferry runs 24/7 and each journey lasts for 20 minutes, and best of all it's free!
Enjoy the scenery on the river, and have a day trip across the other side of the James before returning to Williamsburg for your evening.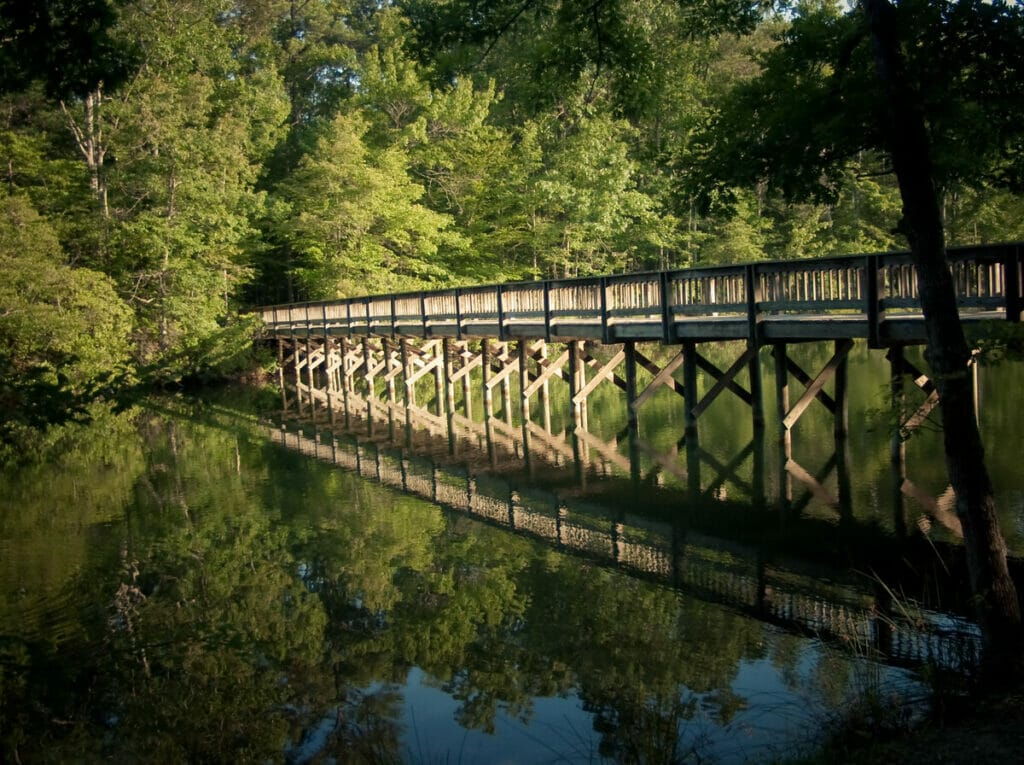 Speaking of water activities, Waller Mill Park has them in abundance!
The park has a reservoir, with enough space that you can hire a canoe or kayak, or bring your rods to fish.
There are plenty of hiking trails over the nearly 3-acre park, so make sure you have suitable shoes.
Come in the fall and you'll be guaranteed some stunning foliage!
If you're visiting with little ones, there are playparks and even a 9-hole disc golf course!
Why don't you hire a pavilion with a grill for the day and enjoy a BBQ picnic on your trip!
One of the oldest restored buildings in Colonial Williamsburg, the Everard House will make you feel like you've stepped back to 1773!
There are of course multiple restored houses to explore in Williamsburg, but the Everard House has a nice little brick of the American Dream built into it – its owner, Thomas Everard, started his life as an apprentice, but rose to become a leader of the community.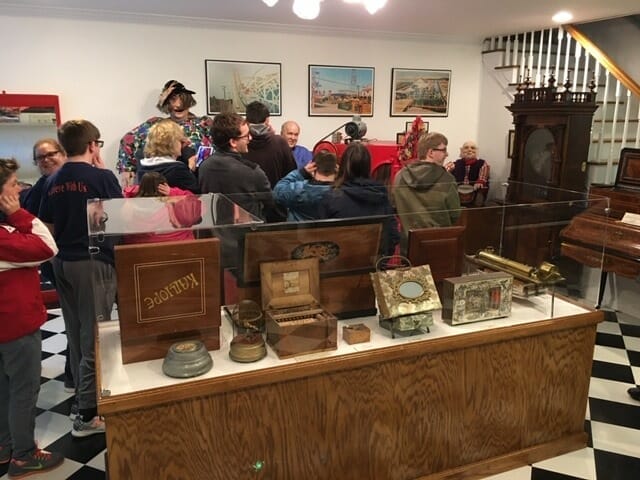 This quirky museum is worth a visit when you're visiting town!
Celebrating musical Virginians and lots of musical memorabilia, you won't forget a visit to this small but fascinating museum.
You can see musical artifacts from Ella Fitzgerald, Patsy Cline, Wayne Newton and Pharrell Williams!
Make your way through the collections of music boxes, amusement park attractions and vintage instruments. Like we said, quirky – but not to be missed!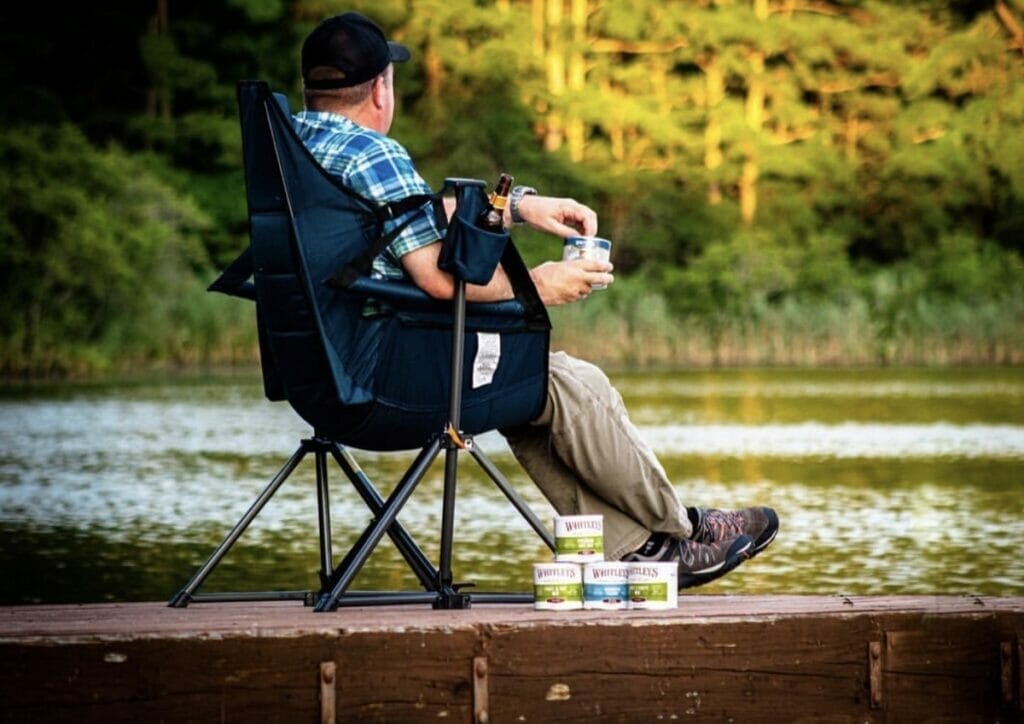 Check lists best of thing to do in Williamsburg, Virginia and Whitley's is bound to come up.
For over 30 years they've been producing home-cooked peanuts renowned for their crunchiness!
If you want a sweet or savory treat, or perhaps a souvenir for friends back home, Whitley's is the place to be.
Try the butter toffee peanuts for a deliciously moreish snack, or tickle your tastebuds with the fiery wasabi ginger mix!
If you're anything like us, you won't be able to leave with just the one flavor!
There aren't many cities where you know you can bike around without any worries, but Williamsburg is one of those places!
From designated biking areas to amazing park trails, there are rides whatever your biking ability. You can even cycle around Colonial Williamsburg!
But we're talking specifically about the Jamestown Bike Trail – a 3 or 5-mile loop around Jamestown Island.
Why this particular route? It's as close as you'll get to seeing the area as the first settlers would have. And we think that's pretty cool!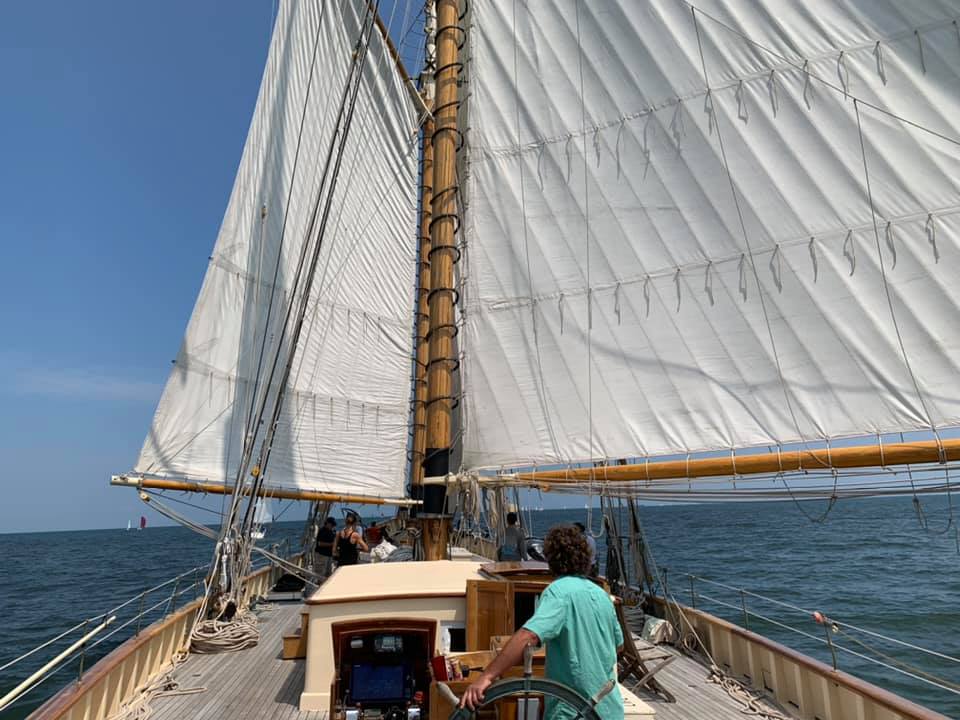 Ok, so it isn't in Williamsburg, but just a short drive away is Yorktown and the York River, where you can join the crew of a historic schooner and have your very own sailing adventure!
If you want to find out more about the Revolution, view battle sites and hear stories about the war, then this is a truly fun way to do it!
The whole family will love this awesome activity – there are even special prate cruises with kids in mind!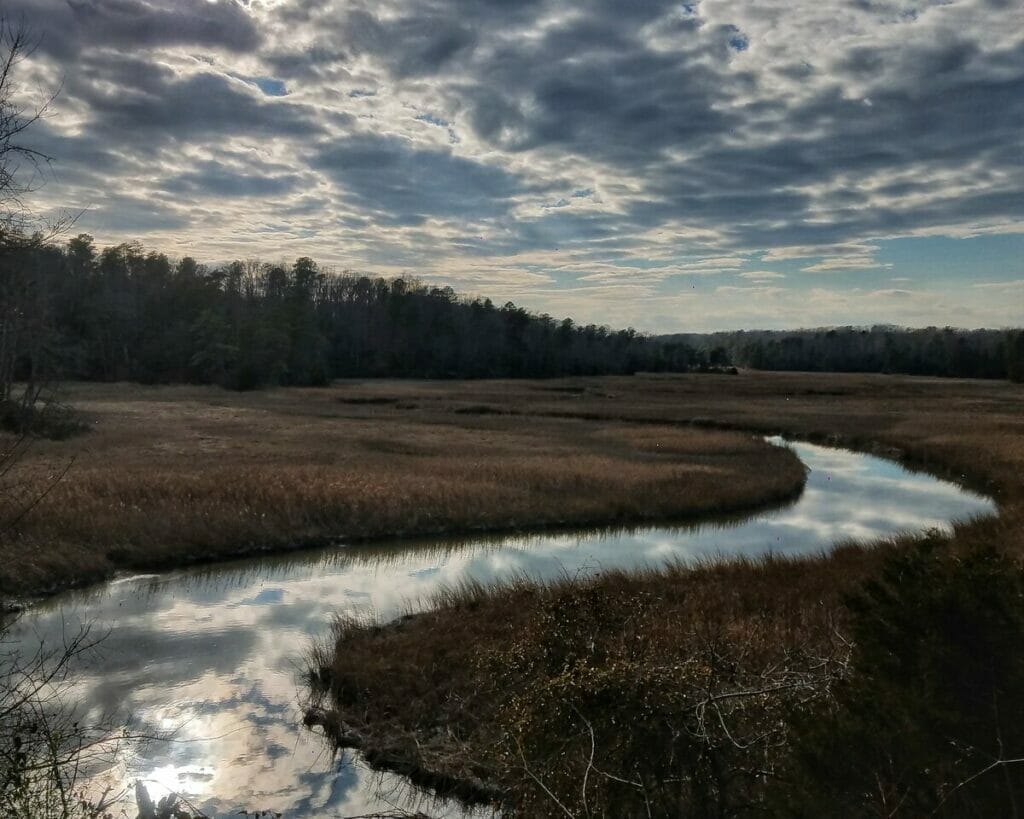 Let's stay outdoors for some fun in York River State Park!
There are loads of things to do here, from hiking and biking to horseback riding and water activities.
The mix of salt and fresh waters in this estuary create a really rich environment for nature to thrive – you'll almost definitely spot something to get excited about!
There are ranger-led talks for kids, and the famous Fossil Beach will give everyone a chance to get closer to the past!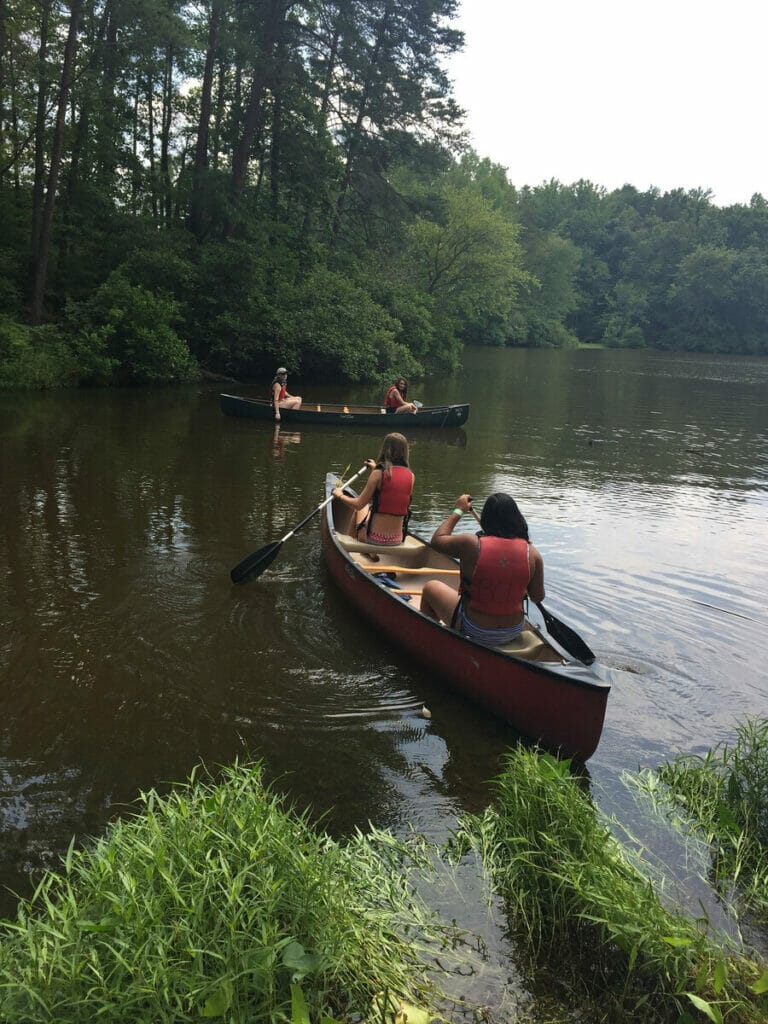 For more nature than you can shake a stick at, head to Powhatan Creek Park is one the best things to do in Williamsburg Virginia!
This stunning waterway will give you views of Historic Jamestown and beautiful tidal marshes, all in the same trip.
Hire a canoe or kayak and paddle along this amazingly biodiverse creek.
You can even bring your four-legged friend – unlike a lot of parks, Powhatan Creek is dog-friendly!
Pin for Later!
Get the All-American Travel Secrets!
Don't miss out on America's hidden gems!