Everyone loves a trip to the beach!
Virginia doesn't have a huge amount of coastline, but what it lacks in mileage, it more than makes up for with quality!
From party beaches to family-friendly activity beaches, watersport havens to wildlife retreats, you're really spoiled for choice!
Take a trip through our pick of the best beaches in Virginia!
Hey! Looking for more expert Virginia guides? Check these out!
What to Pack for the Beach
After years of the beach bum life, here are some of the must-packs that people don't think about!
Getting to the Beach
Don't forget that it's much easier to see Virginia and the beaches by car so you can get around on your own.
Rental cars are perfect if you're flying into the area!
We recommend using Discover Cars price comparison to find the cheapest deals.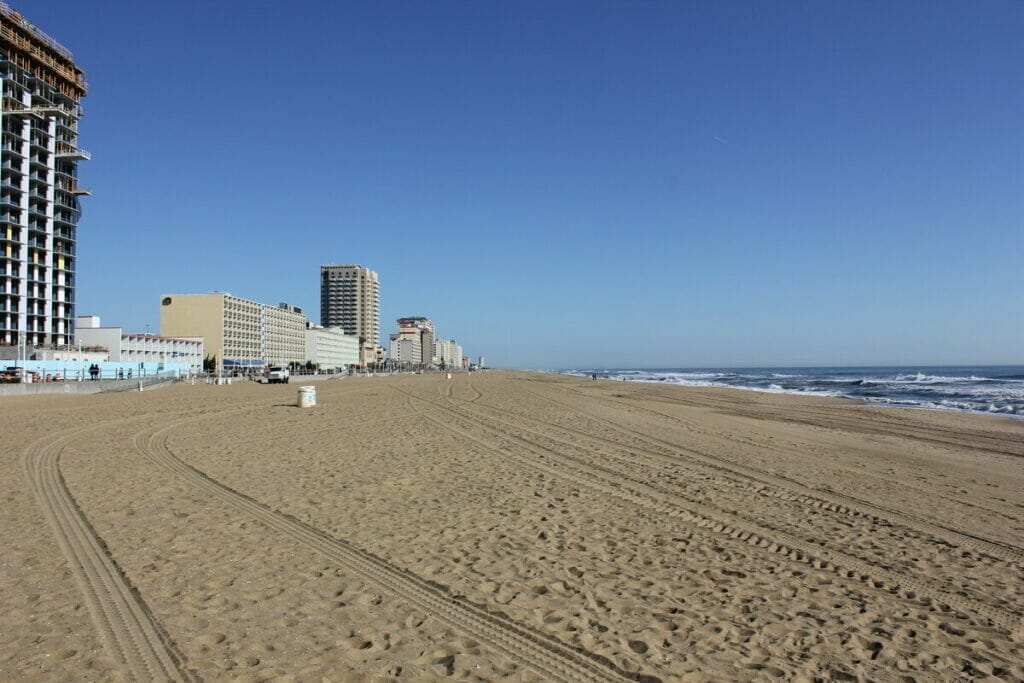 Well, we have to start with Virginia Beach right?
It's top of the list of famous beaches in Virginia, and with good reason.
It's the perfect beach if you want a little bit of everything.
It's family-friendly and packed full of entertainment outside of sunbathing and splashing in the waves.
Walk along the three-mile boardwalk and watch the surfers at play, or grab a bite to eat at one of the beachfront restaurants.
The downside of Virginia Beach being so famous?
It can get busy!
So, top tip: head down early in the morning and catch the sunrise.
You won't be disappointed!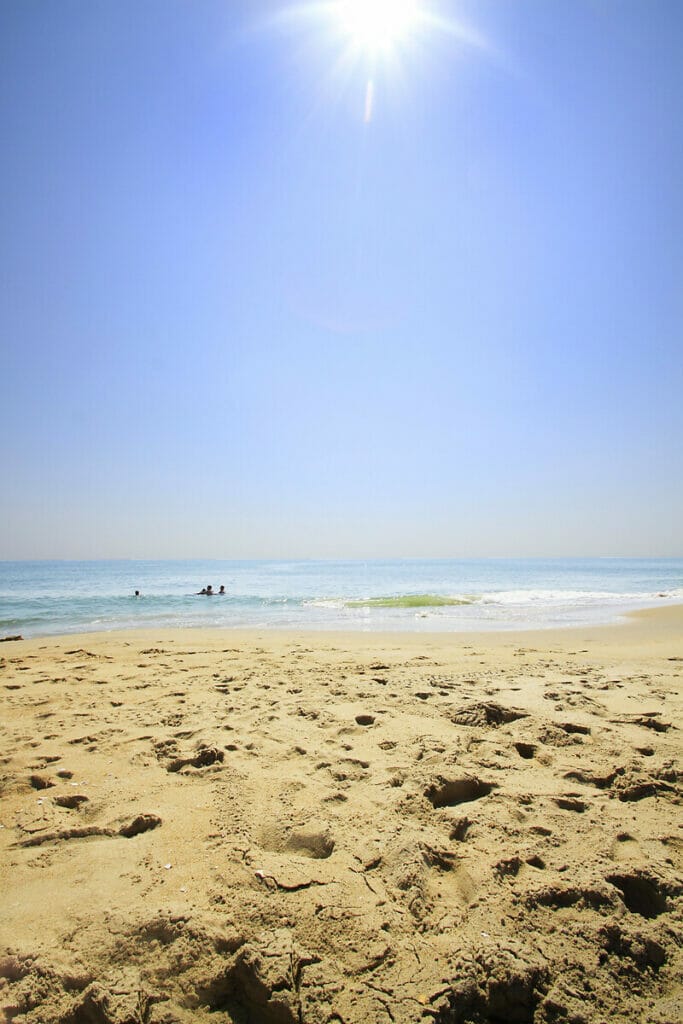 Within reach by car of the amenities of Virginia Beach, but minus the crowds is Sandbridge Beach, a 4.5-mile stretch of Atlantic shoreline.
Popular with locals looking to escape the hustle and bustle of the main stretch of Virginia Beach, the sandy stretch of shore is covered by lifeguards so you can swim in safety.
While you won't find restaurants and cafes, the charm of Sandbridge lies in its seclusion.
Plus the quiet means you're more likely to see some wildlife on your trip to the beach! Who doesn't love to watch dolphins playing in the waves!
Otherwise known as Chesapeake Beach, this is another local favorite.
Busy on holidays and weekends, this is the perfect place to unwind mid-week.
It's a dog-friendly beach, so bring your four-legged friend for a splash in the waves!
A great place for water sports, join in with the other paddleboarders and kite surfers, before relaxing on the sandy beach.
Talking of sand – this is perfect for making sandcastles!
Bring your kids and have a sandcastle-building competition, or take a walk down the 2-mile stretch of shoreline and enjoy one of the best beaches in Virginia.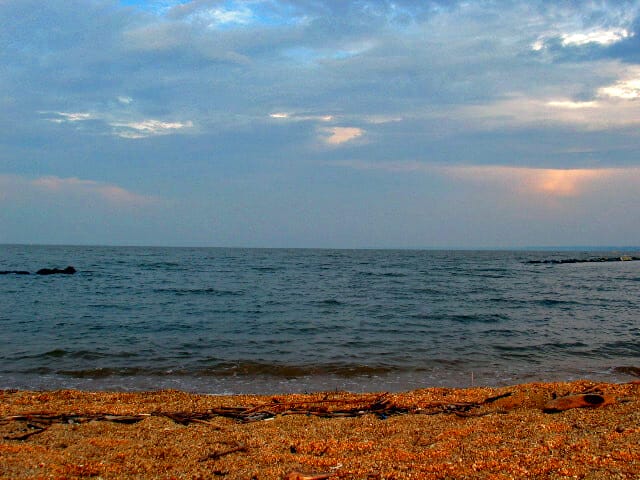 The beach for the town of the same name, Colonial Beach has small-town charm by the bucketful!
The beachfront is on the Potomac River, and it's the second-biggest stretch of sandy shore in Virginia.
However, this gorgeous beach only just qualifies for our list of best Virginia beaches – step into the water and you're officially in Maryland!
Walk along the boardwalk, take your kids to the playground, or take advantage of the fishing pier and try to land your dinner!
Or if you want a break from the sand, head into town to explore the local museum.
Its proximity to Washington DC has made the beach popular for weekends away from the capital for a century now, so pay a visit and add your name to the roster!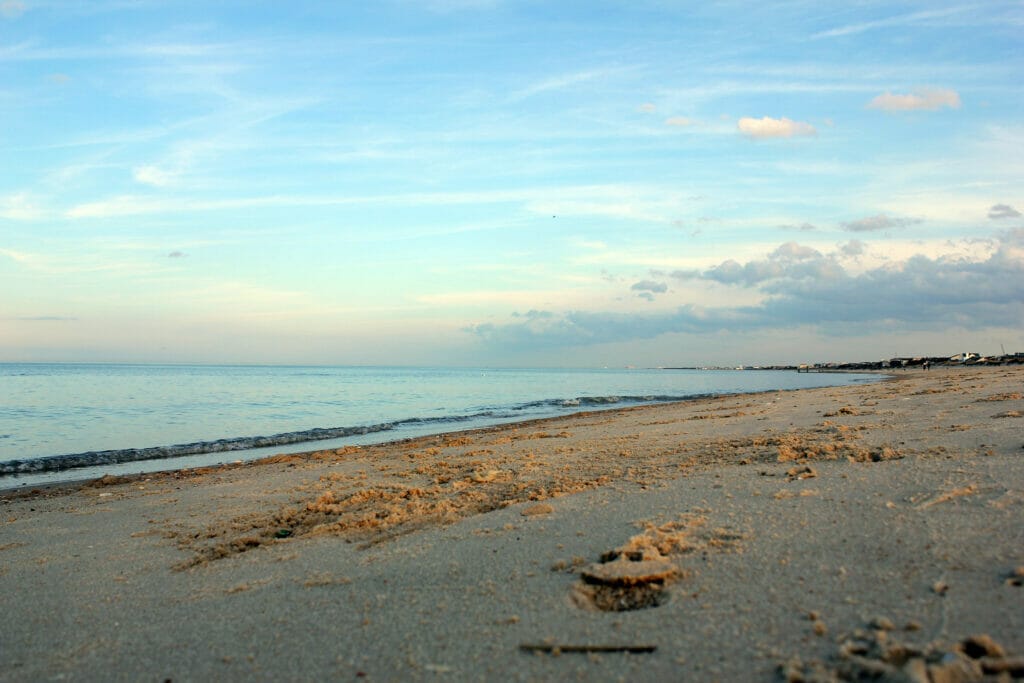 This 7.5-mile stretch of shoreline is actually a series of beaches up in Norfolk.
The beauty of this is that you're guaranteed to find something to entertain you at Ocean View!
Check out the long fishing pier – even if you don't fish, it's extremely instagrammable and great for people-watching!
Unlike some of the more secluded beaches on our list, Ocean View offers a bounty of restaurants, parking facilities, and amenities to make your trip to the beach as comfortable as possible.
The water itself is calm, so you and your family can swim and play worry-free in the shallows.
If you're looking for beautiful beaches in Virginia, look no further than this hidden gem.
Jamestown Beach is close to Historic Jamestowne, so it's a great way to spend an afternoon after a busy morning exploring the history of the nation!
There's an access fee of $10 for non-residents, but it's worth it to access the beachfront park with its concessions, grills, shaded areas, and pristine sands.
Rent a kayak and head out onto the calm water, and stick around to watch the sunset from this secluded and beautiful beach.
Head out to Virginia's Eastern Shore for what may well be the cleanest beach in Virginia – Cape Charles Beach.
The white sands and clear blue water look like something from a dream, and the quiet and unspoiled beach makes it seem like a paradise!
Despite being one of the lesser-known beaches in the state, there are still facilities here.
Take advantage during your visit and hire a kayak or paddleboard to explore the calm waters.
Or stroll along the shorefront to the piers and see if you can spot any of the local waterfowl.
Be sure to check out the old town of Cape Charles too.
You can even make a weekend trip of it!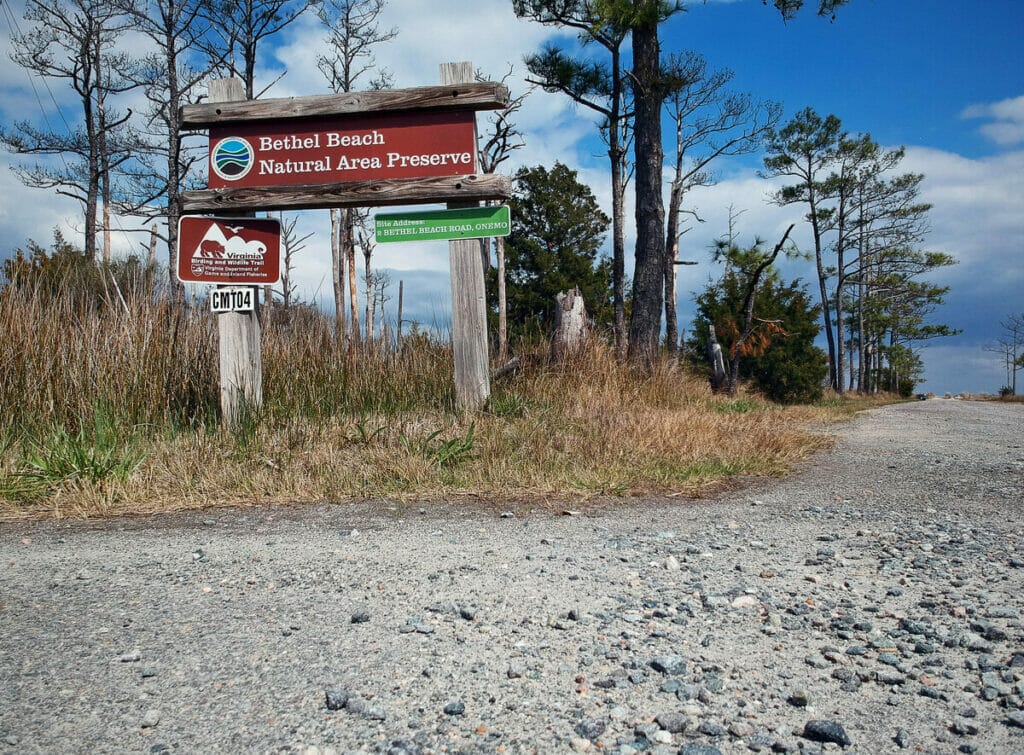 Talking of waterfowl, if bird spotting is your thing then Bethel Beach is a great place to add to your 'must visit' list!
It's part of a Natural Area Preserve stretching for 105 acres.
There are dunes, salt marshes, an ever changing coastline, and of course birds.
There are 185 species of native and migrating birds to be spotted!
One thing to keep in mind is that Bethel Beach is seriously remote.
There aren't any facilities or amenities such as restrooms or trash cans, so bring your water and take your trash home with you.
The unspoiled beauty of this natural beach is worth it.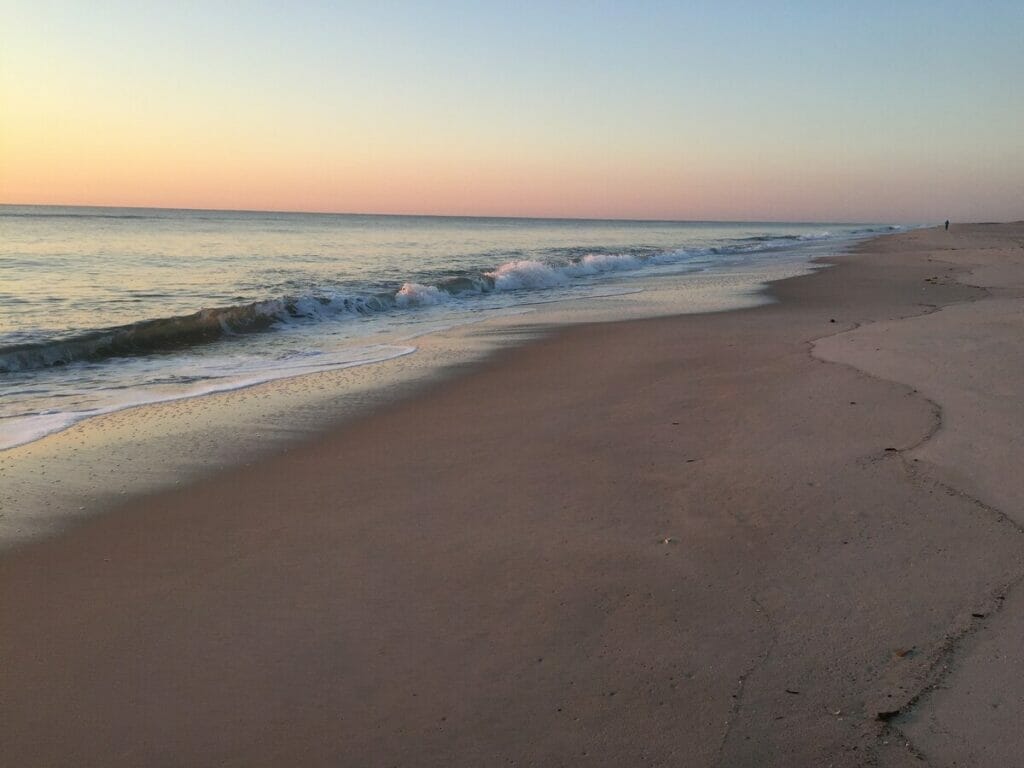 Consistently making the lists of the top Virginia beaches, Assateague Island and its neighboring Chincoteague Island are home to some stunning scenery and fantastic wildlife.
Probably most famous for the wild horses that roam the islands, you're pretty much guaranteed an encounter with Misty of Chincoteague and friends!
Be sure to check out the historic Assateague Lighthouse too – it's very picturesque.
Just like Bethel Beach, you'll be very much back to basics here, but that's all part of the charm.
Bring a picnic and soak in the sun on white sands.
You don't get closer to peace than this!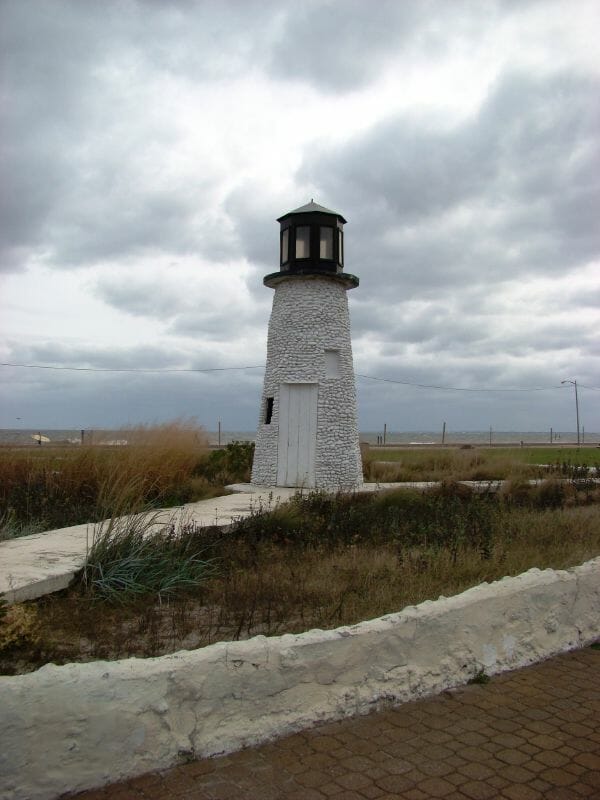 With stunning views over the Chesapeake Bay, lifeguards watching out for you, and a beach shop, Buckroe has a lot to offer its visitors.
Previously a fishing camp for Virginia's early settlers, Buckroe is still popular with people looking for a catch of the day – the pier is always busy, and renowned for its good fishing!
There's also a pavilion where you can catch concerts and outdoor movies in the summer!
Perfect for a trip with your family!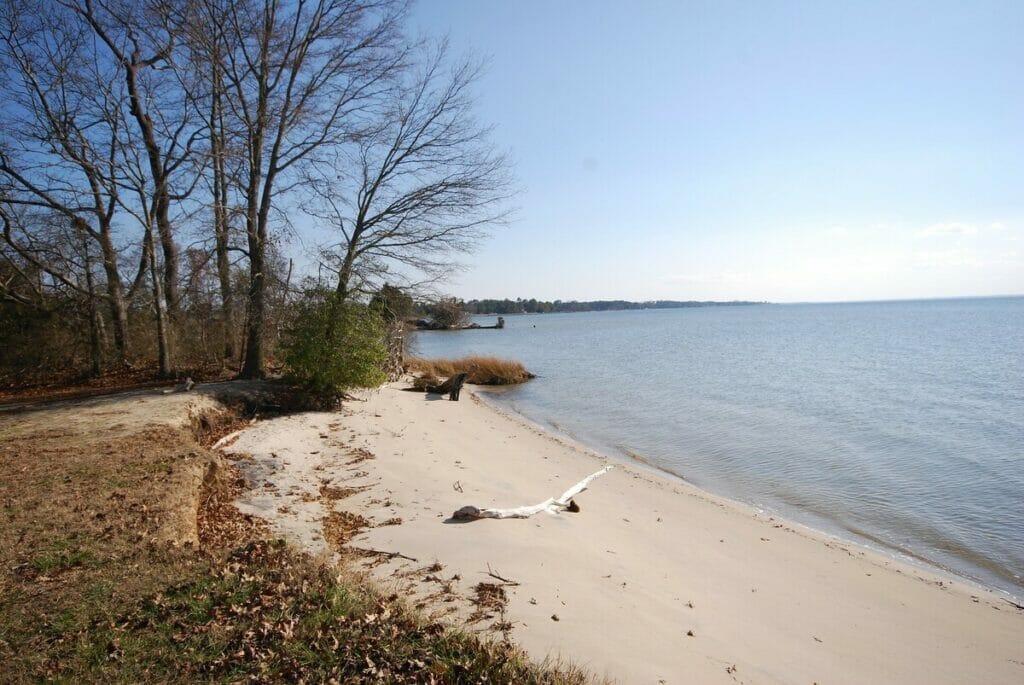 Pack up a picnic or get takeout from some of the amazing Richmond eateries, and head down to Belle Isle Historic Park for some sunbathing on the huge rocks.
Swimming isn't advised because of the strong river rapids, but if you're feeling adventurous then you can go white water rafting!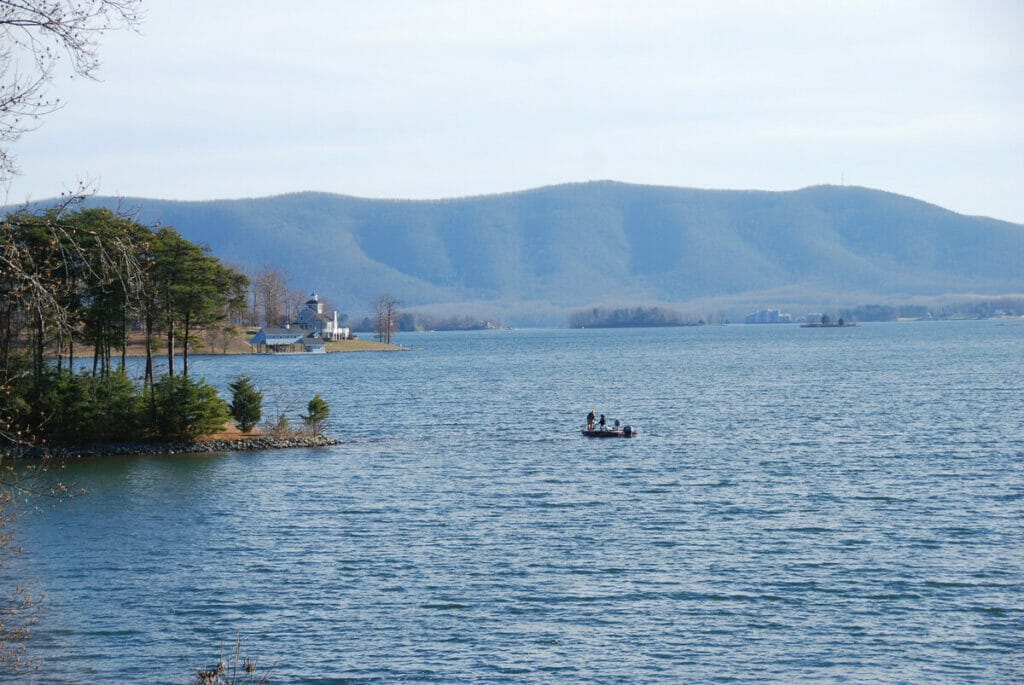 A few in-shore beaches for you now.
First up, Smith Mountain Lake – the second largest Virginian lake.
It's a freshwater lake, so if you or your kids aren't fond of salt spray, this is ideal.
There are several jetties and piers for fishing, but the water is also great for swimming and water sports, including wakeboarding, paddle boarding, and parasailing!
If you like to hike, then grab your boots and head out on the trails around the lake in the foothills of the Blue Ridge Mountains.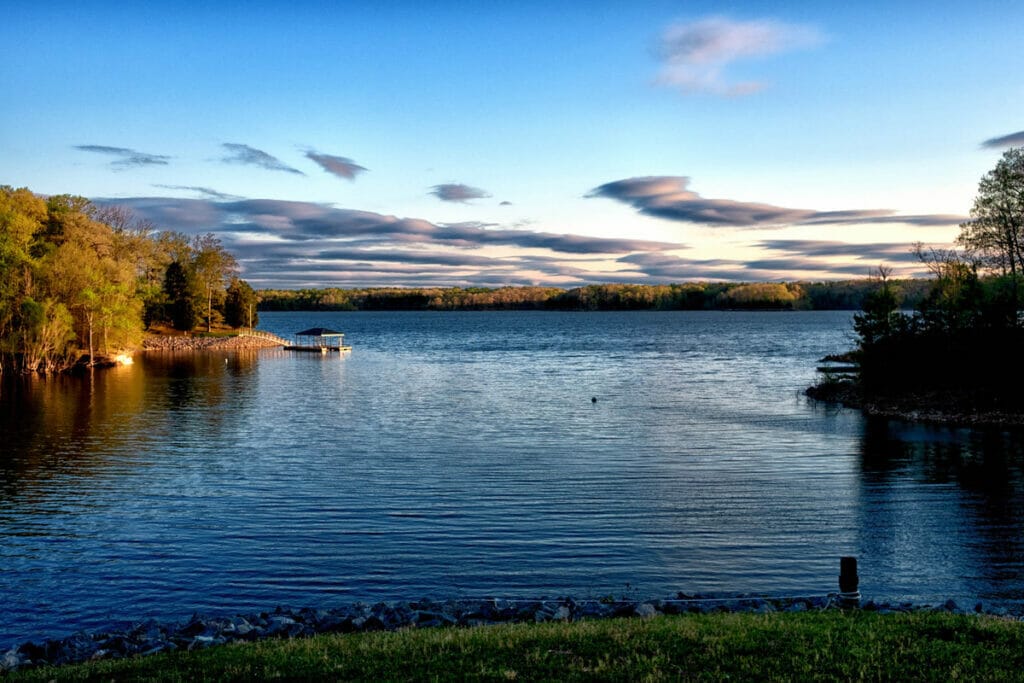 On to the biggest lake in Virginia, and with over 800 miles of shoreline, Kerr Lake has enough beach to go around!
Great for swimming and water sports, Kerr is a hive of activity.
However, there are plenty of little coves tucked away if you want somewhere a little quieter for fishing or just relaxing!
Our tip: take a tent and pitch up at one of the many water-adjacent camping parks!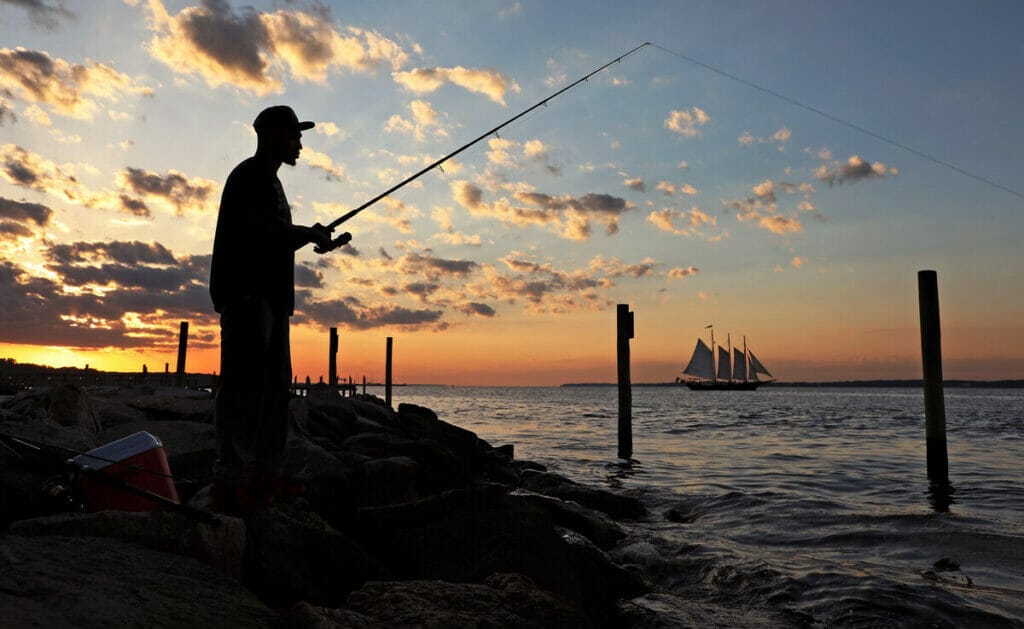 On your trip to Historic Yorktown take a break from the history tours, and head to the small but perfectly formed beach!
There's a shuttle bus from the town, so even if you don't fancy swimming it's worth the trip just to look out over the York River.
Rent a kayak and explore on the water, or rent a bike and explore on the land – either way, the views are great!
Best of all it's an accessible beach, with a Mobi-Mat and Mobi Chair making a trip to the beach possible for everyone.
Plus the fishing pier is fully accessible too!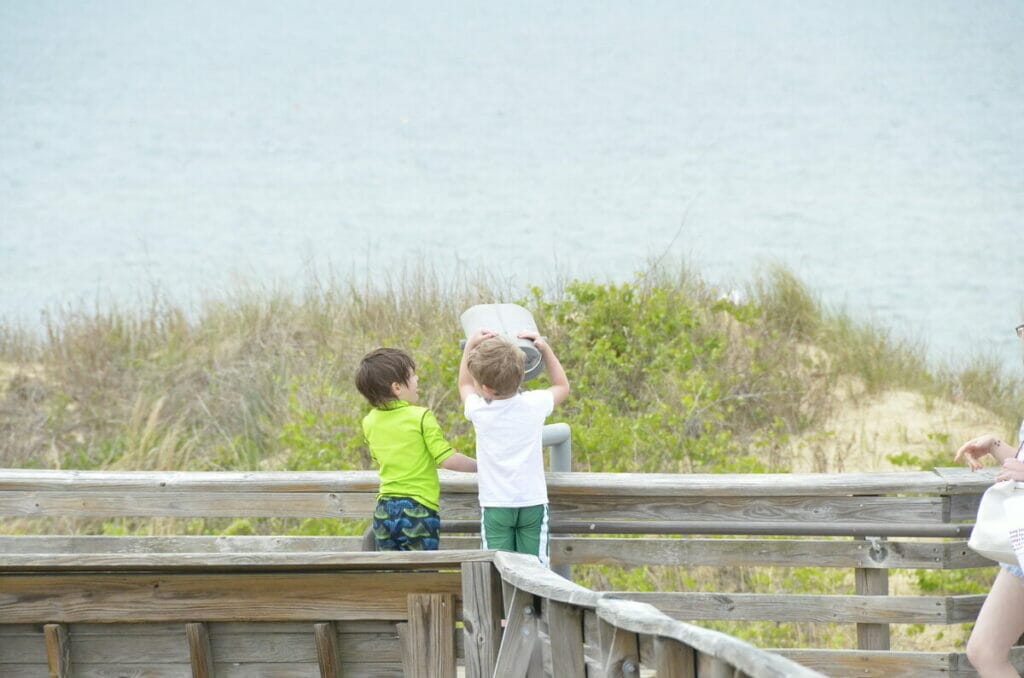 This is the most visited state park in Virginia, partly for its gorgeous views and partly for its history – as the name suggests, this is where English colonists first landed in 1607!
This beach is great for families because of its calm waters, and dunes that are perfect for make-believe adventures!
Take one of the many hikes through the state park and end up at the beach for a swim to cool off.
Then relax on the shore and soak up the history along with some rays!
At Croatan Beach, you'll find pretty much the opposite of calm waters!
It's one of the best beaches to visit in Virginia for surfing!
The East Coast Surfing Championships have been held here for decades, and the beach is always teeming with surfers!
If you're a newbie hoping for a lesson or a pro looking for a new shoreline to explore, Croatan is the beach for you.
Running alongside the Potomac River, this small stretch of beach is a great base for exploring the wider state park.
From hiking to fishing, camping to boat rentals, there are so many activities to choose from.
If you're visiting with family, take the kids hunting for fossils in the river – ancient shark teeth are frequently found here!
One of the really nice beaches in Virginia, North End Beach is popular with locals, particularly those with four-legged friends as it's dog-friendly!
Quiet, and mainly unspoiled by tourist traps, head out for a walk along the shore.
Be sure to visit the two historic lighthouses, which date back to 1792 and 1881.
You can tour them both, and they're worth the trip for the views!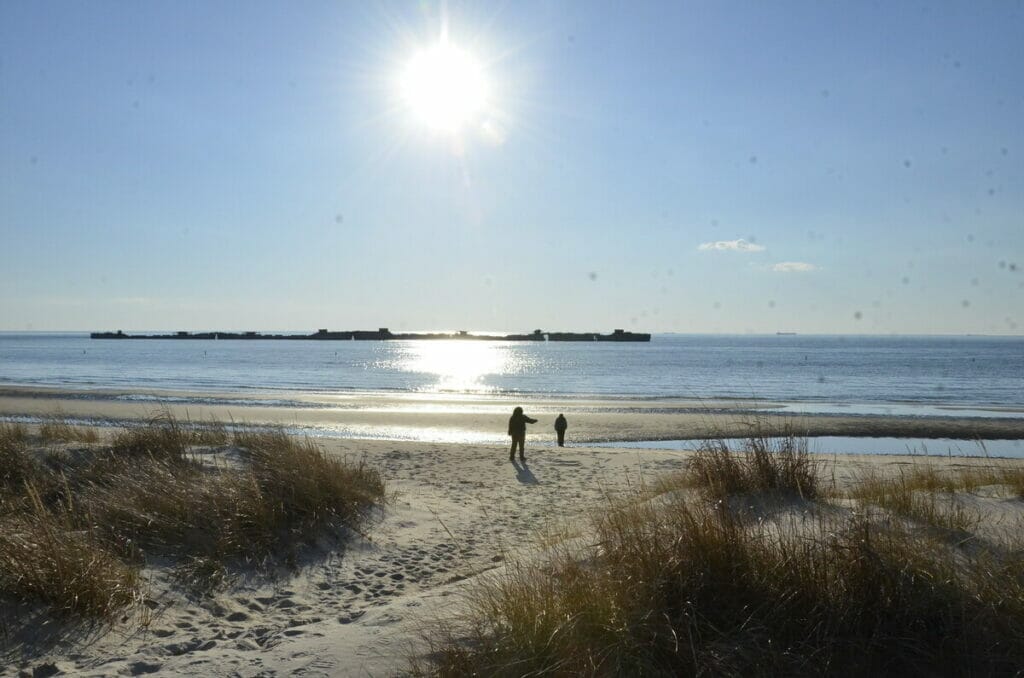 A great place to access the Chesapeake Bay, Kiptopeke is awesome for birdwatching and hiking, as well as being a chilled-out place to spend the day!
Bring your rods and see what you can catch off the fishing pier, or enjoy the playground with your kids.
You can camp here or rent a wooden cabin if you want to extend your visit.
No matter whom you're visiting with, everyone will enjoy the slower pace of this hidden gem.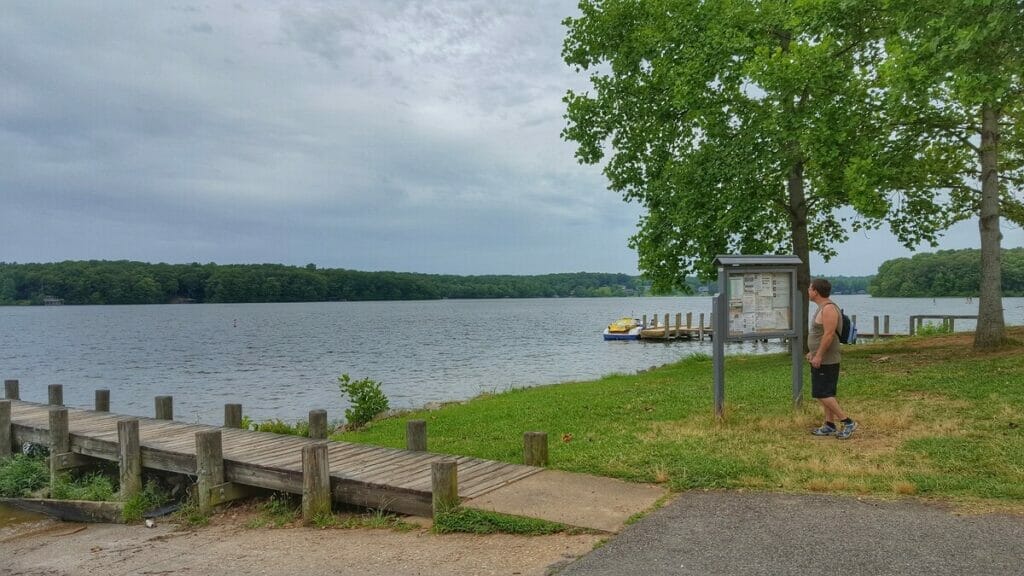 White sand, blue water – you'd almost think you were by the ocean!
Lake Anna is the third-largest lake in Virginia, and with its pristine water and sand is the ideal place to swim without going to the coast.
There are an array of water sports on offer, so try your hand at water skiing and wakeboarding, or rent a boat and head out on the lake for the day!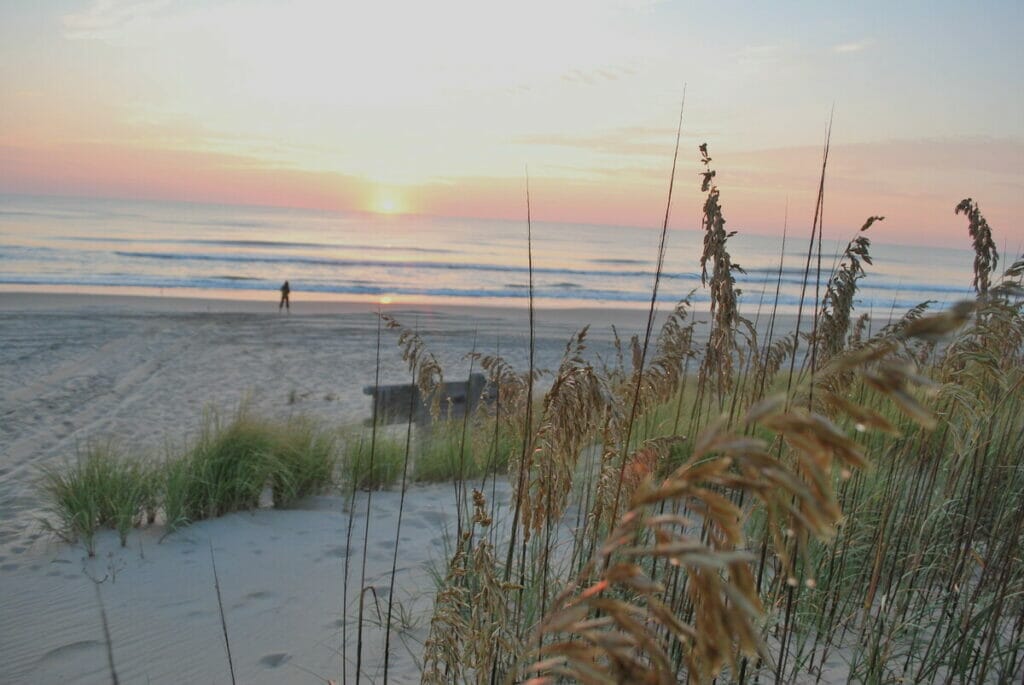 This isn't a beach for tourists!
Remote, and self-described as 'primitive', the beaches at False Cape State Park are picturesque and back-to-basics!
Bring your food and water with you, and have fun beachcombing or watch out for the wildlife in this undeveloped spot of Virginia.
Take a guided kayak tour, or hike through the trails or along the 6-mile pristine beach.
If you want to get away from it all, look no further!
Pin for Later!
Get the All-American Travel Secrets!
Don't miss out on America's hidden gems!