Is there anything worse than being on vacation, pulling back the drapes and seeing grey skies?
Well, when you're in Richmond, Virginia, don't worry because there are activities for every age group to keep the rainy-day blues at bay!
Museums are an obvious win when the sun isn't shining, and Richmond has plenty.
Or perhaps a bit of comfort food and drink might be on the menu?
Whatever you fancy, here is our pick of the best indoor activities in Richmond!
If you're looking for a more general guide of the best things to do in Richmond, head here!
If you need an epic list of the best restaurants in Richmond head here!
Hey! Looking for more locally approved Virginia content? Head here!
How to get around Virginia
Like most of Virginia, one of the best ways to get around Richmond is to explore on your own by car (especially in rainy weather)!
While there is public transportation, Richmond is very much a driving city.
If you're visiting and need to rent a car to get to your Richmond activities, we highly recommend Discover Cars where they find you the best car rental deals from all of the competitors (has saved us so much money!).
Click here to check out Discover Cars!
Okay everyone grab their favorite Richmond print and let's get going!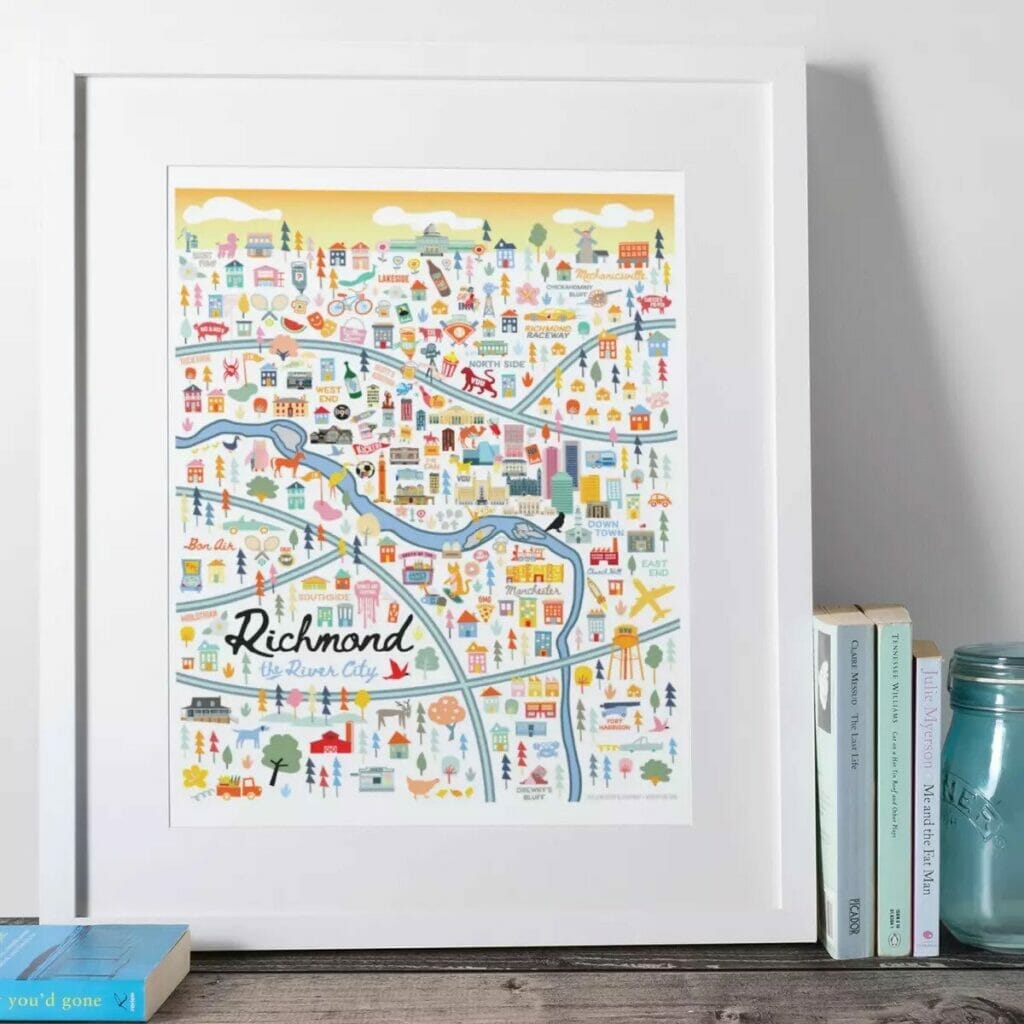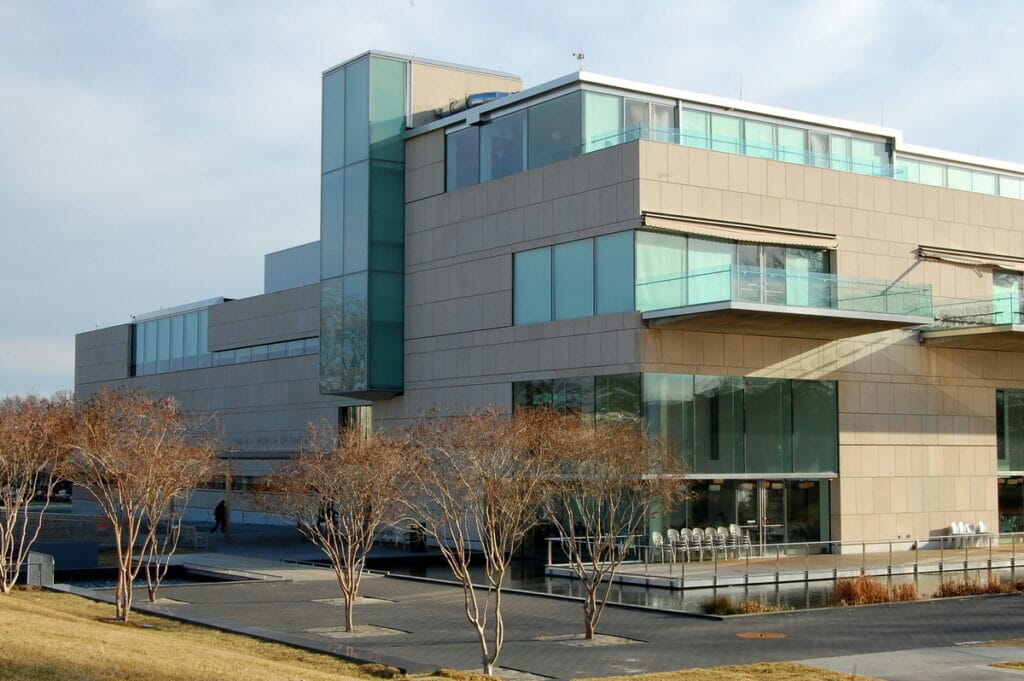 A visit to Richmond in any weather wouldn't be complete without checking out the world-renowned Museum of Fine Arts.
From Art Deco design to Picasso paintings, wonder at the stunning collections – including five Imperial Fabergé eggs!
You can either take yourself around the museum or book a guided tour to get the inside scoop on their permanent and special exhibitions.
If you're travelling with kids, the museum offers some excellent facilities for them.
Try the family gallery hunt, or visit the art education wing to take part in some hands-on art projects and interactive exhibitions!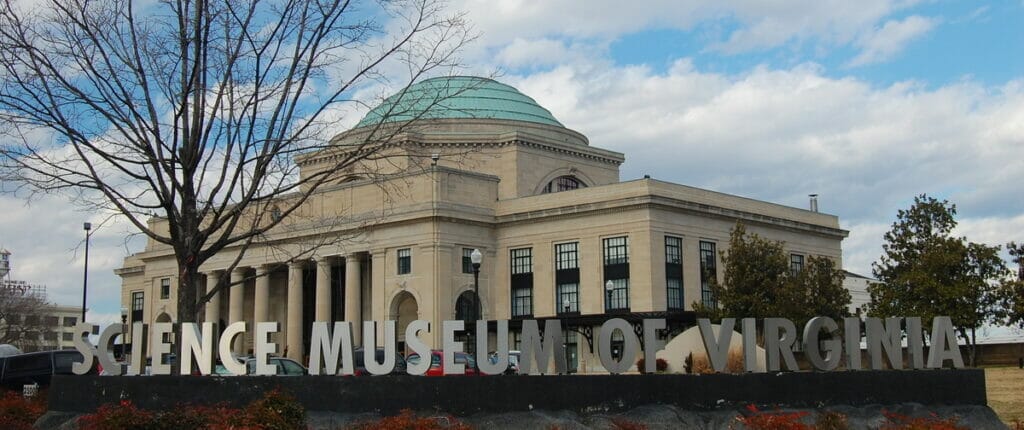 Suggest a trip to a science museum to most people; chances are you won't get a resounding YES vote from them.
But if that museum happens to be the Science Museum of Virginia, you might find the response is a little different!
Visit this fun and educational museum, with or without kids – it's full of exciting exhibits for all ages!
Race a cheetah, play air hockey against a robot, and check out the unusual animals; there's no shortage of things to do.
Make sure you check out The Dome – a truly immersive experience that will take you all over the universe!
Right next door to the Science Museum is this little gem of a museum, perfect if you're looking for things to do in Richmond in the rain (or sun for that matter!)
This is such a fun museum if you're visiting with a young family.
Kids can get up close and personal with the exhibitions – most of them are interactive, so there are no 'don't touch that' moments!
Popular favorites with little ones are the Art Studio and the play Hospital.
There's also an outdoor playground and splash pad if there's a break in the weather!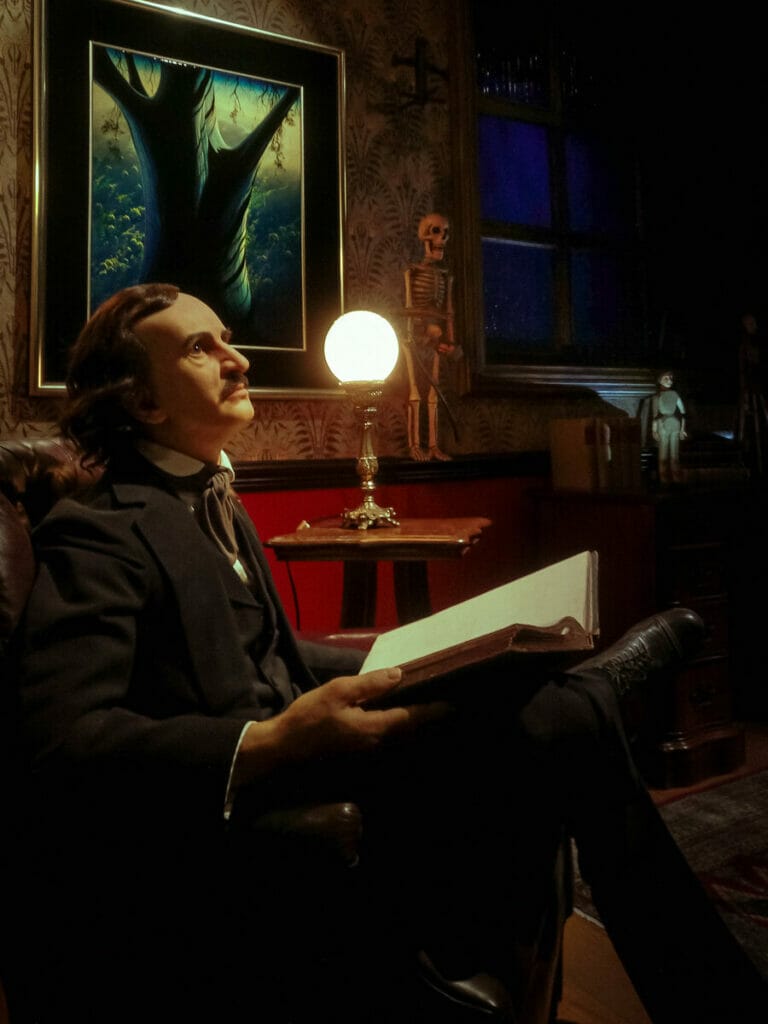 If you fancy something a little more gothic than happy children playing house, a trip to the Edgar Allan Poe Museum might be more up your street.
This little museum houses the world's largest collection of Poe memorabilia and artifacts, paying homage to the great American writer.
Take a self-guided tour around this quirky museum.
Highlights are the little courtyard garden and the Poe Shrine – oh, and be sure to pay a visit to the resident black cats! Just don't look under the floorboards…
Otherwise known as the Museum of Richmond, The Valentine collects and displays the city's past and present in the historic Wickham House.
The collection of textiles, objects, art and photos covers the long history of settled Virginia.
Visit for the permanent artifacts, and for the special exhibitions which vary in theme from celebrating Richmond's open spaces to exploring stories of Black hair experience.
Whatever the weather when you visit, be sure to check out their collection of Neon Signs – delightfully kitschy memorabilia from Richmond's stores!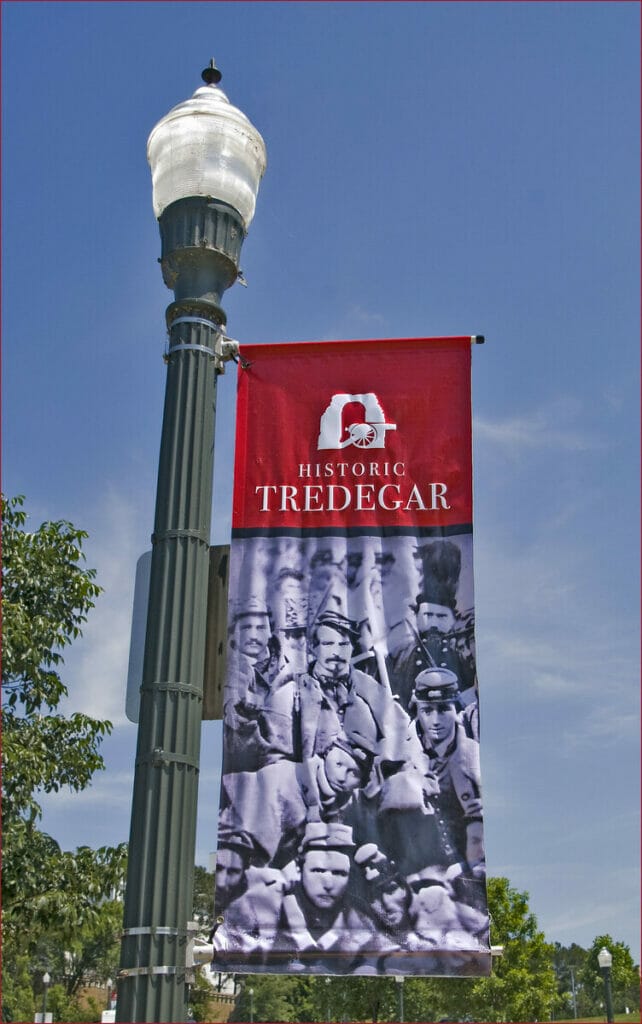 Visit Historic Tredegar if your idea of fun on a rainy day is a little bit of historical knowledge.
The museum and visitor center are housed in Tredegar Ironworks, the heart of industrial production in the confederacy.
Like many Civil War exhibits, the museum has transformed in recent years to better reflect the experience of all of the people caught up in the war.
Take a self-guided tour through the museum and ironworks and learn how the war affected soldiers and civilians from both the Confederacy and Union, and the African American participants, both enslaved and free.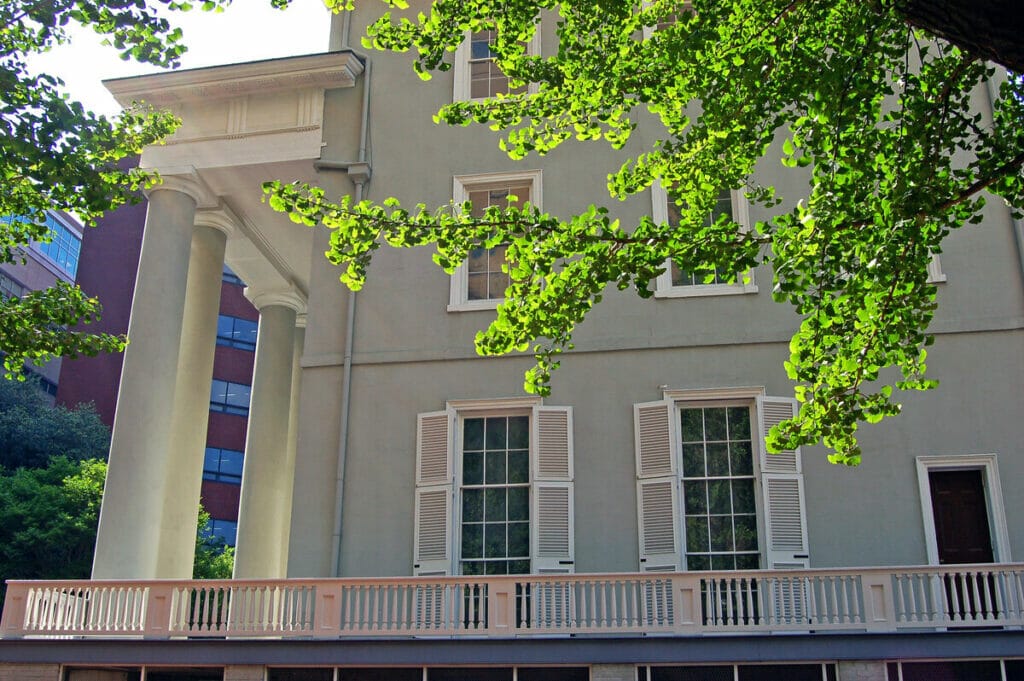 Located in the Court End neighborhood of Richmond, the White House of the Confederacy is a good place to visit hand in hand with the American Civil War Museum.
Take a tour of this impressive building, the former home of Confederate President Jefferson Davis during the Civil War.
Reserve a place on a tour and explore the lives of people who lived and worked here during one of the most important eras in American history.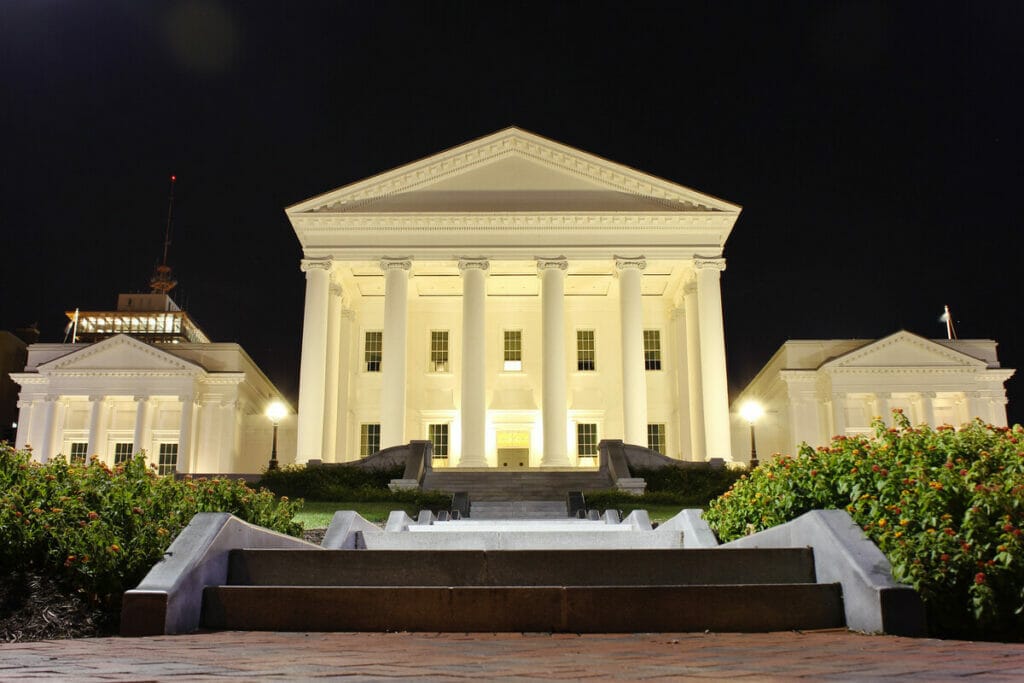 Just down the street is the impressive Virginia Capitol.
Designed by none other than Thomas Jefferson, it was home to Virginia's General Assembly.
It was also home to the Confederate Congress during the Civil War.
For a rainy-day activity, take a one-hour tour of the building – the tour guides are extremely knowledgeable, so it's a must for any history buffs out there!
If the rain clears up, head out into the extensive grounds of Capitol Square where you'll find monuments to Virginians of note, past and present!
9. Vintage Shopping
If the rainy day has got you down and you need some retail therapy, look no further than Richmond's excellent selection of Vintage stores!
Try Bygones, voted Richmond's best vintage store, for the OG in vintage clothing and accessories.
Head down the street to Halcyon for a little something for a special occasion!
Or head to Cee Blues, who specialise in American-made fashion.
Helpfully a lot of them are in the Carytown district, but if you're closer to the university campus be sure to check out Blue Bones Vintage and their awesome collection of pre-loved denim and flannels!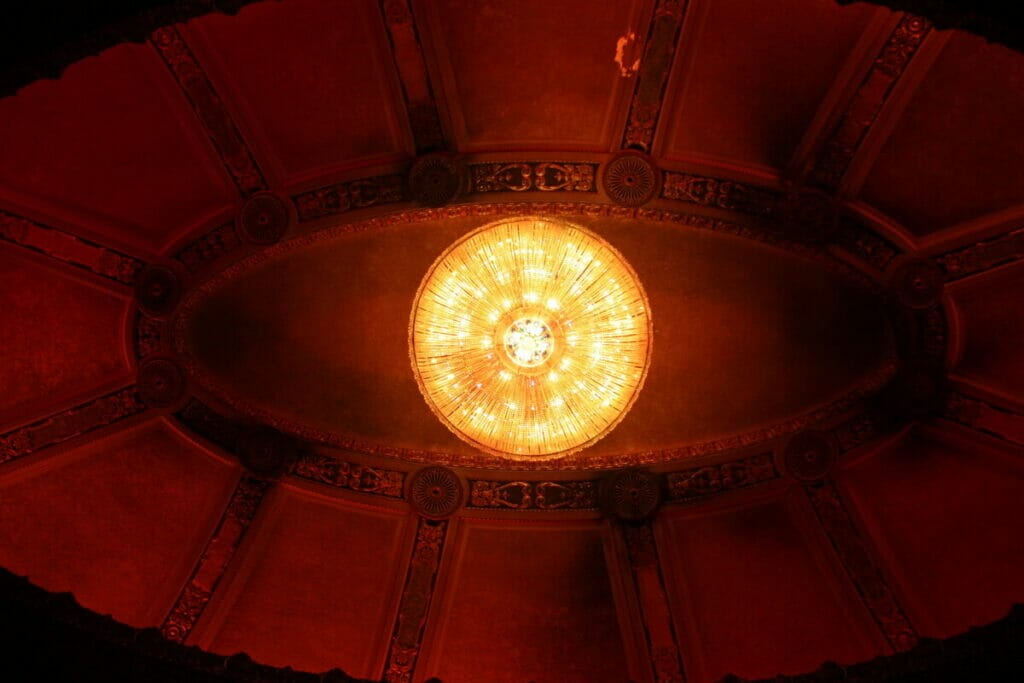 If you're anything like us, a real rainy-day treat involves movies and popcorn!
But if you're on vacation, sitting in a hotel with Netflix might not hit the spot.
So, head to the Byrd Theatre!
The historic Byrd Theatre has been screening movies since the Golden Age of Hollywood, and still maintains the glamor and style of the opulent 1920s.
Be sure to take note of the Wurlitzer theatre organ; originally used to make the sound effects for silent movies it is now played on Saturdays by the house organist!
Catch a matinee or an evening show – the prices have gone up a little since the original price of 50 cents for a ticket in 1923, but it's still a very affordable trip out!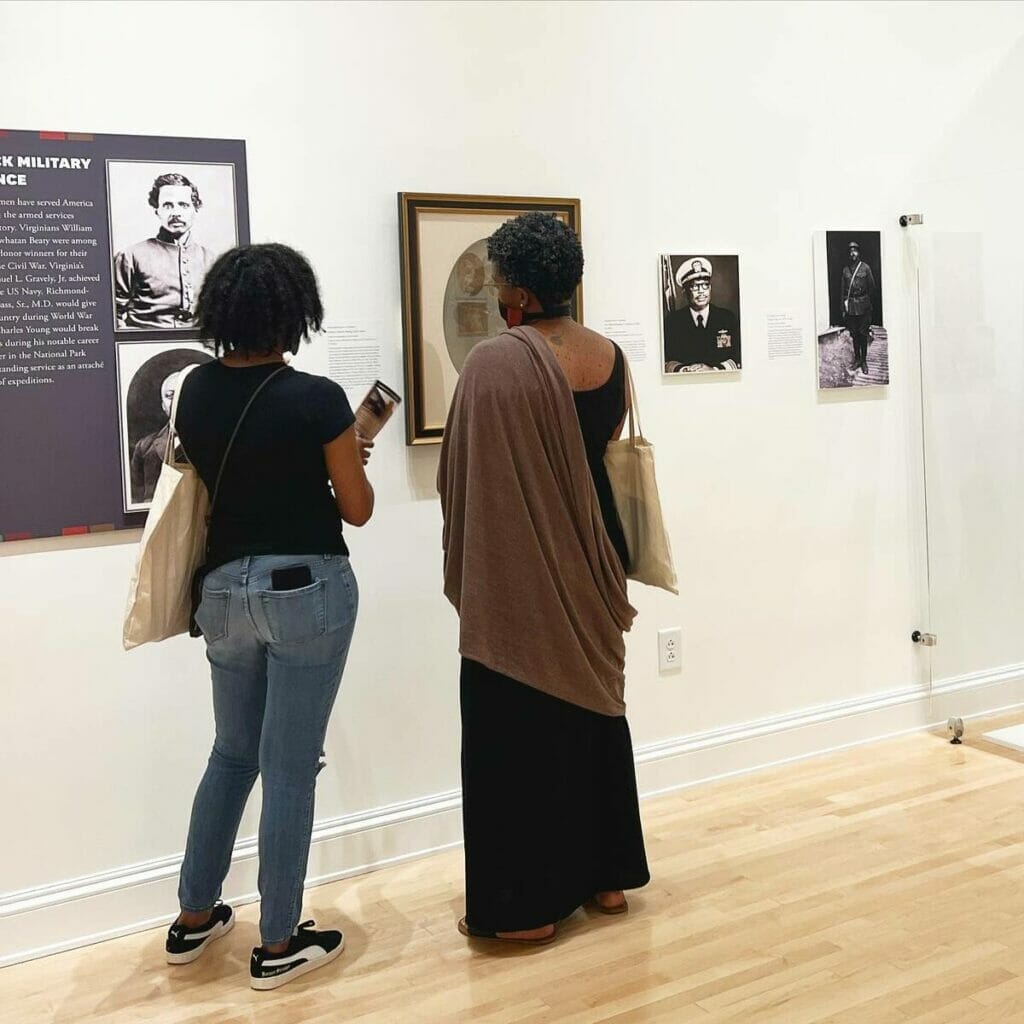 This small museum holds a lot of history.
Visit to explore the untold stories of inspirational black people and African Americans in Virginia.
There are often special exhibitions to check out.
At the time of writing the exhibitions range from 'Blacks in the Military' to 'The Black Press'.
The museum is located in Jackson Ward, an area once known as 'Black Wall Street' when it was the heart of African American life in Richmond.
If the weather clears up, do take a walk around this historic district – there are loads of locations to visit for food, shopping and more!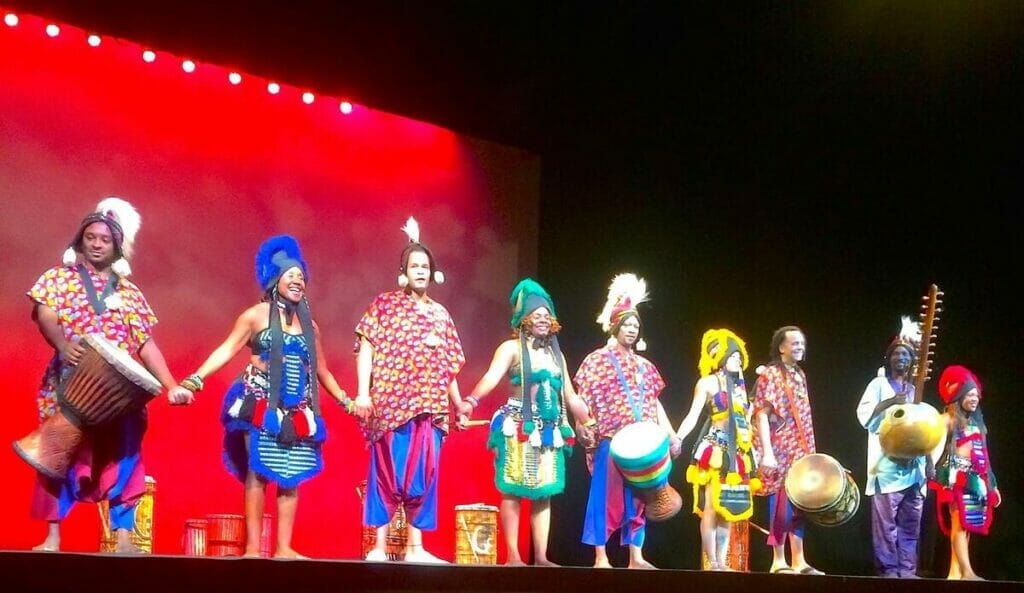 One of the great Richmond indoor activities is a trip to the Elegba Folklore Society.
Described as a "year-round, lively celebration of African and African American culture", there's something for everyone to enjoy at this vibrant and informative venue.
The gallery at the cultural center is packed full of fine art, crafts and artifacts from African and African American cultures.
There's a lot to see here, and there's also a shop to browse around.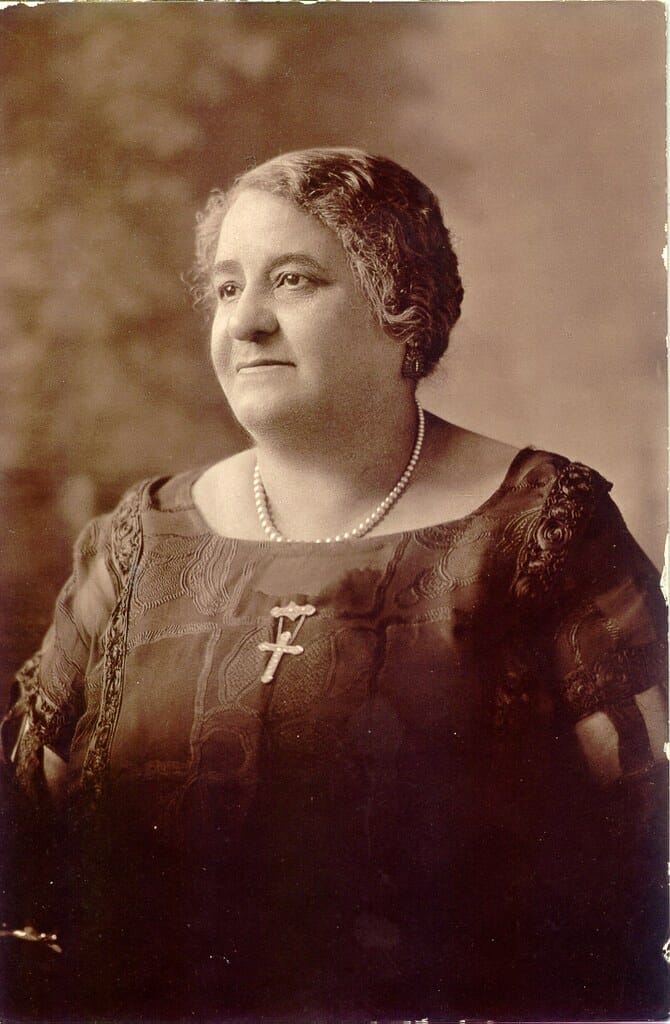 Staying in Jackson Ward, take a visit here to pay homage to African American entrepreneur Maggie L. Walker.
A pioneering member of Richmond society, Walker devoted her life to the civil rights movement and the financial empowerment of the Black community.
Her home has been preserved and stands as in memorial to that cause.
On a rainy day, head down to the Visitor Center to get a spot on one of the tours. You'll learn a lot about the life of one of the true icons of twentieth-century Virginia.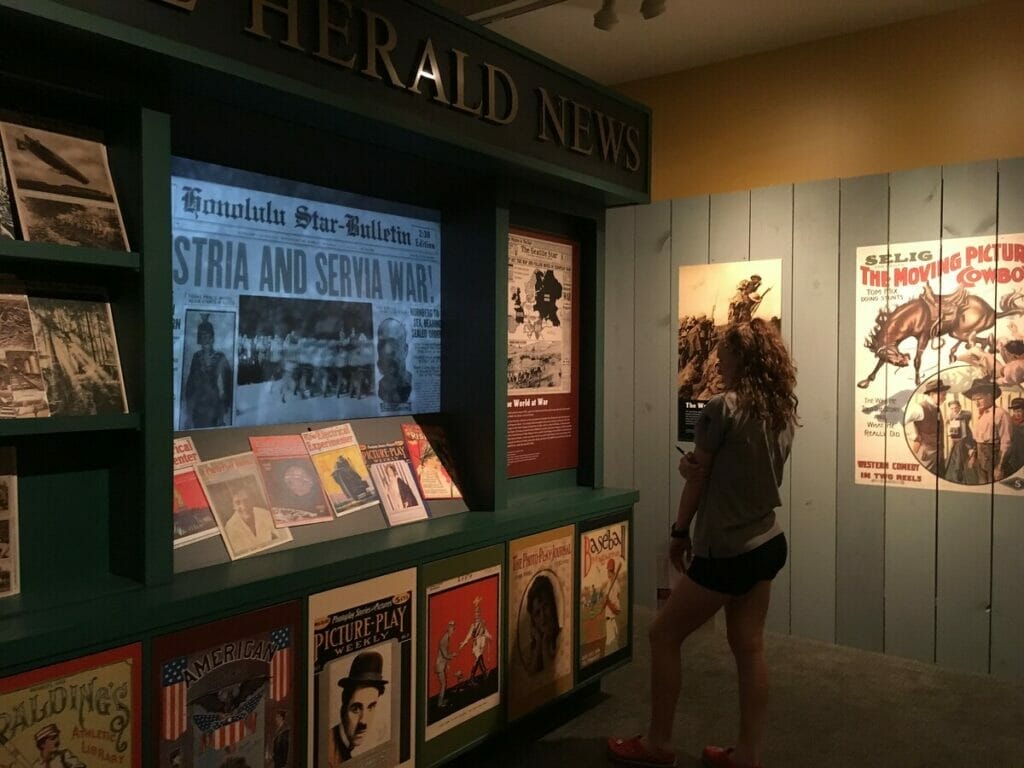 Part history museum and part research library, this impressive museum in Richmond explores the rich history of Virginia.
The museum has been recently renovated, so feels modern and refreshed.
There are permanent exhibitions, such as The Story of Virginia, but also rotating and travelling exhibitions that highlight lesser-known individuals or moments in Virginian history.
Well worth a visit!
If you want brunch with a twist Godfrey's is THE place to go in Richmond!
Book a table for a Sunday morning – rain or shine – and you're guaranteed a lot of fun!
Famous on the LGBTQ+ Virginian circuit, Godfrey's is an institution known for its excellent drinks, food and, of course, drag!
We recommend the Banana Stuffed French Toast for an indulgent treat!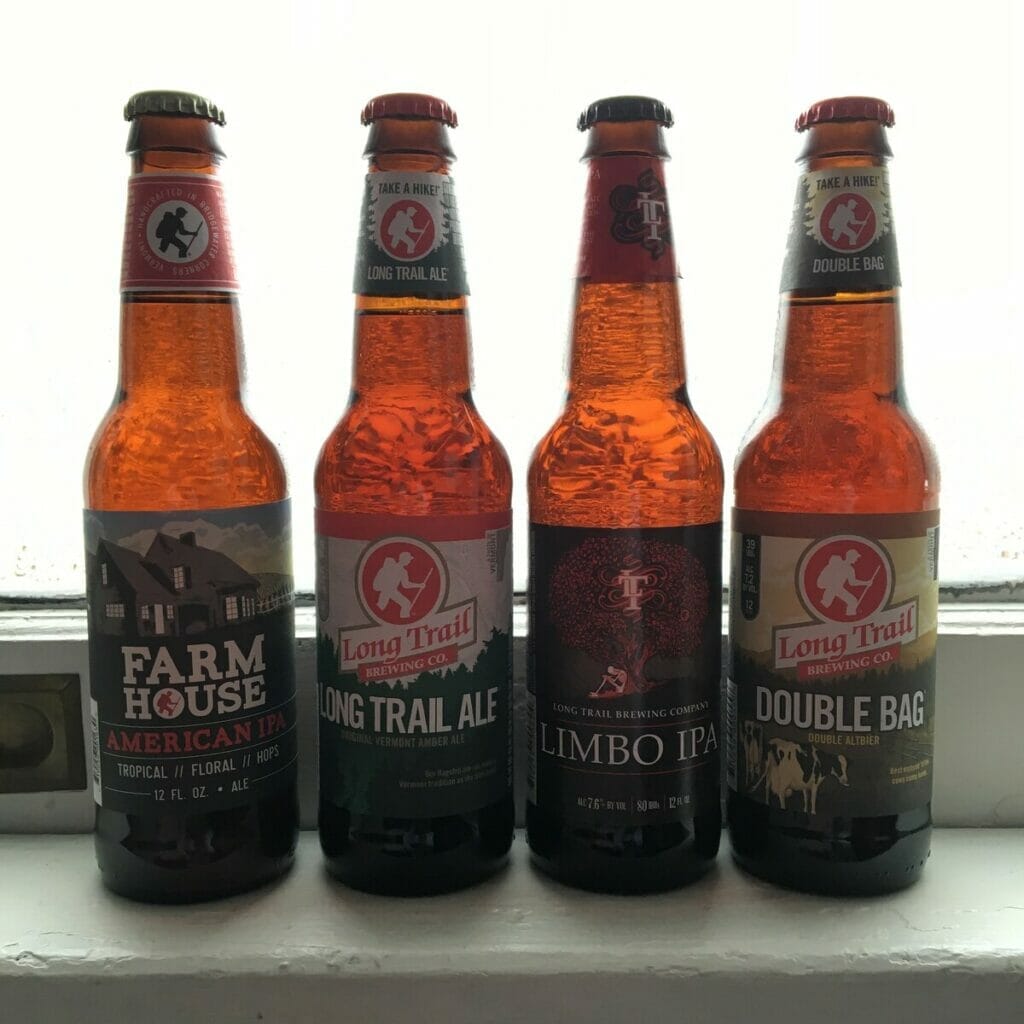 Richmond is becoming famous for its craft beer scene, and now there's a trail you can follow to sample all the best brews!
There are 30 to choose from – we don't suggest you hit them all in one day!
There's Mekong, which was named America's Best Beer Bar.
Then The Veil Brewing Co., which was named one the most hyped breweries in the country!
You can download a map (printable or digital) and check them off the list as you visit.
And if you visit five craft breweries and get your map stamped by them you get free Richmond beer merch – win-win!
17. Grab a Hot Drink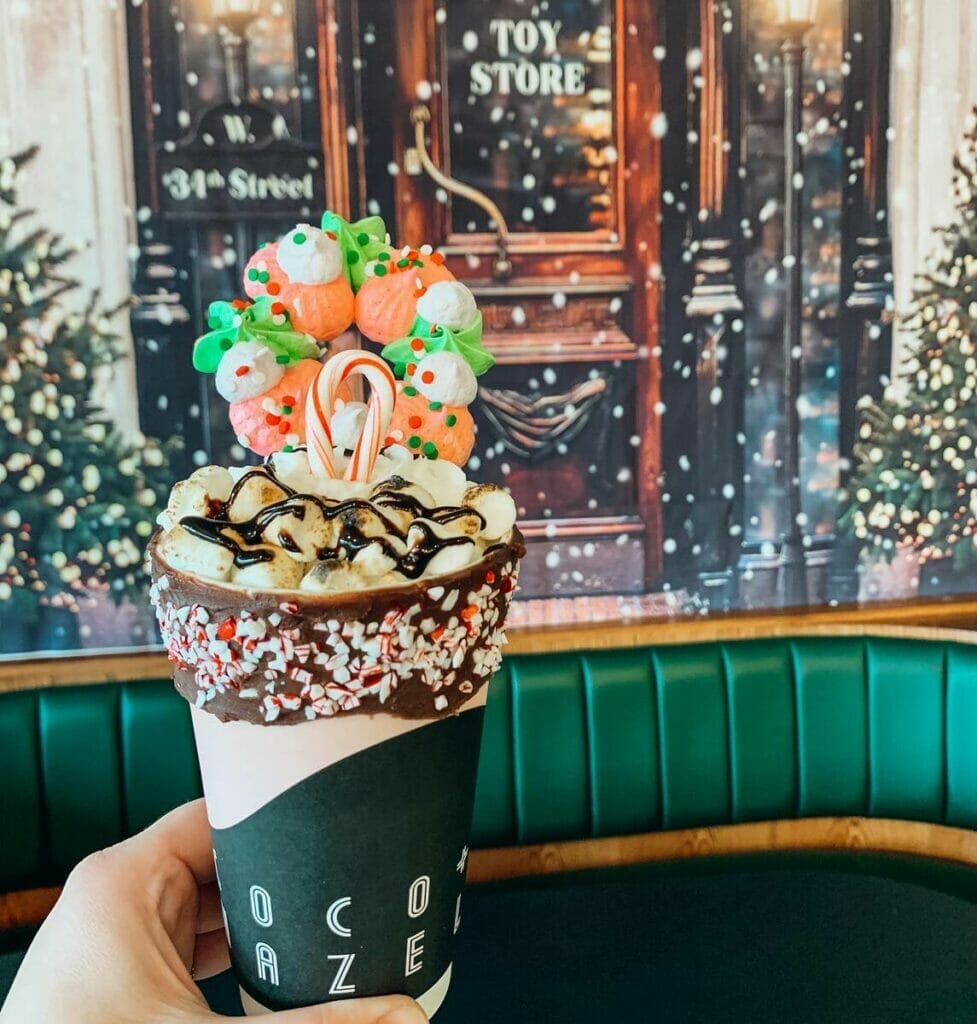 Sometimes on a rainy day, all you want to do is snuggle up with a cup of something cosy and a good book.
Luckily for us, there are plenty of independent coffee houses, making grabbing a hot drink one of the best indoor things to do in Richmond.
Visit Lily Pad Café, overlooking the James River, for cosy hot cocoa with toasted marshmallows.
Or for a naughty treat, head to Coco + Hazel for their Loaded Hot Chocolate – think cocoa topped with cream, sauce, brownies, the works!
Perhaps you prefer your beverages a little more caffeinated, in which case Roastology in Carytown is a great option.
They have all the usual suspects, from cold brew to drip coffee, plus some seasonal extras.
Brown Butter Latte anyone?
Yum!
Pin for Later!
Get the All-American Travel Secrets!
Don't miss out on America's hidden gems!