Whether you're looking for a city excursion to a historic area or a relaxing weekend in the middle of seemingly nowhere, the best USA weekend getaways all have something in common: fun.
These are the best weekend trips to take in the US, places that you can see in 2 days and still feel like you had an experience to remember, including getaways in some of the most beautiful states in the US.
Choosing weekend getaways in the US isn't always easy, because it's hard to know what deserves just a day trip and what deserves a full week-long stay, but weekend travelers everywhere will fall in love with this list of where to go in the US for the weekend.
So book your flights (Spirit Airlines offers some cheap ones), grab a hotel or AirBnb, and let's start dreaming!
Pin for later!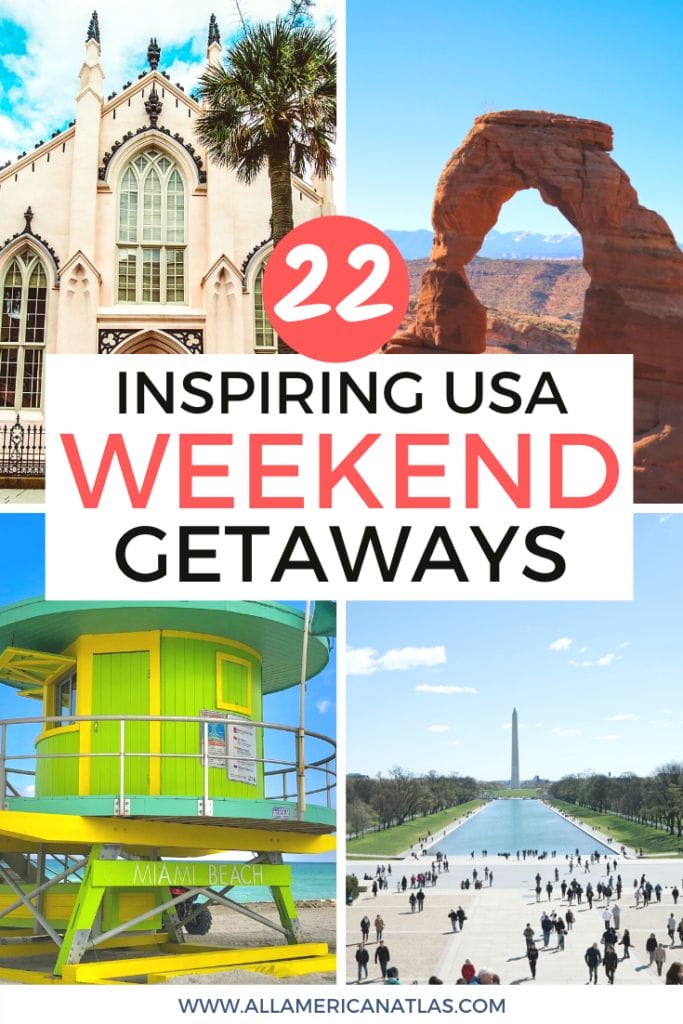 1. Washington D.C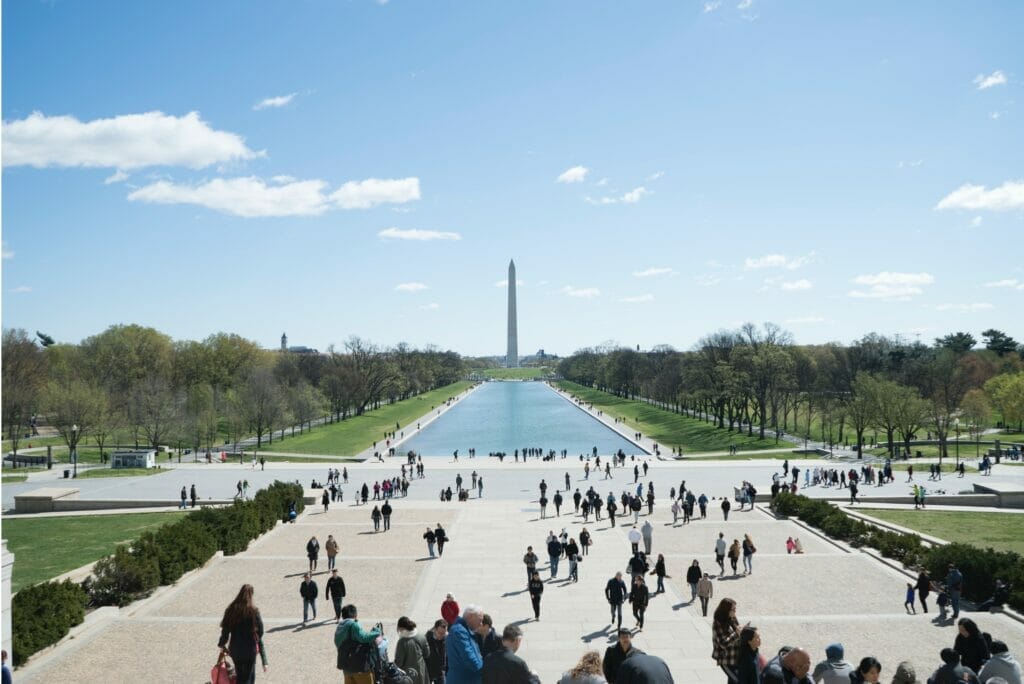 Washington DC is a great place for a weekend getaway (check out the best tour here so you can make the most of your time).
If you love having a variety of things to explore, DC will not disappoint.
There is history, art, and architecture everywhere you turn.
There are so many things to do in Washington DC.
Check out any of the 17 Smithsonian museums.
This includes the famous National Air and Space Museum, National Museum of Natural History, as well as galleries, and the National Zoo.
If you love museums you are set for the entire weekend!
 However, after spending a day in a museum visiting the National Monuments at night is the perfect way to enjoy your time.
The Washington Monument, Jefferson Memorial, and Lincoln Memorial are incredible sights to see.
There are some fabulous restaurants located in DC.
The oval room is a must if you want to rub shoulders with a congressman or woman.
Don't forget to stop by Georgetown Cupcakes for a fabulous treat.
One benefit of Washington DC is the fact that you do not need a car.
The metro system is fabulous.
It is safe and will get you everywhere you need to go.
Contribution by Lisa from Planning Away
2. Moab, Utah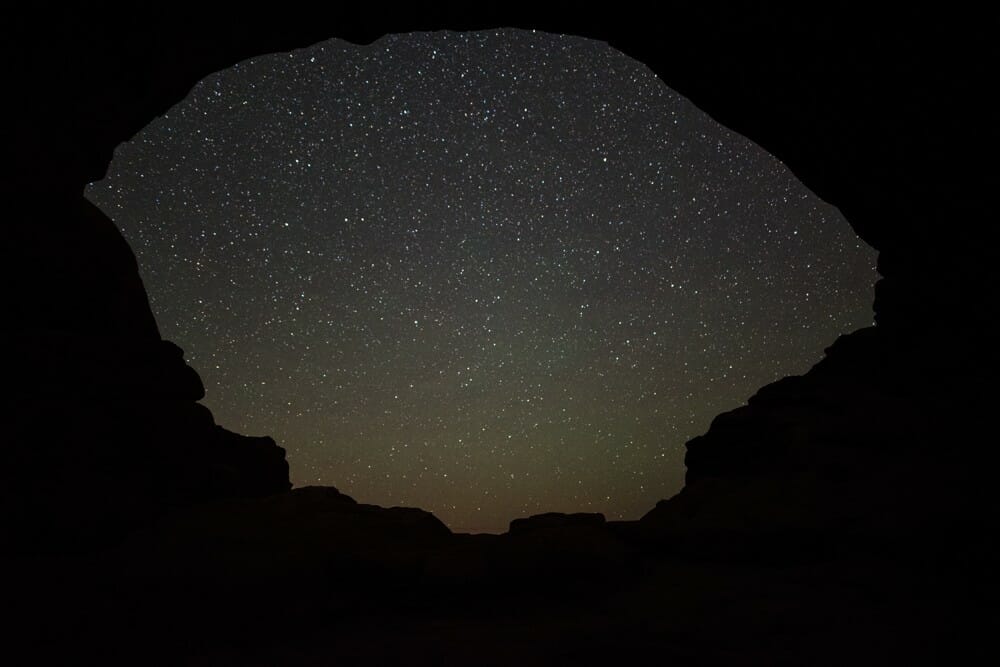 If you love the outdoors, then a weekend getaway to Moab, Utah should be on your bucket list – check out this tour to make the most of your time.
Moab is the perfect home base location for exploring and photographing Arches and Canyonlands National Parks and Dead Horse Point State Park.
The landscape at these three parks features amazing rock formations where you can enjoy world-class hiking and biking trails.
There are even more outdoor activities to do in Moab once you're done visiting the parks like hiking, rock climbing, biking, river rafting, paddleboarding, and 4×4 off road driving.
You can do guided adventure tours, or strike out on your own.
The Moab area is well known for its dark skies.
The two national parks and one state park are designated as International Dark Sky Parks.
Be sure to plan an evening where you drive away from the city a bit and look up!
After a full day of outdoor fun, you'll find restaurants offering a variety of food in Moab.
The famous places to eat there include Moab Diner, Moab Brewery, Zax and Jailhouse Cafe.
It won't be hard to find a place to stay in Moab.
There are all types of lodging options from budget-friendly hotels to higher-priced resorts as well vacation rentals, a hostel, campgrounds and RV parks.
The affordability and location close to the national parks makes the Holiday Inn Express Hotel & Suites in Moab a popular accommodation.
If outdoor adventure is your idea of an awesome weekend getaway, then Moab, Utah is the place to go!

Contribution by Jamie from Photo Jeepers
3. Salt Lake City, Utah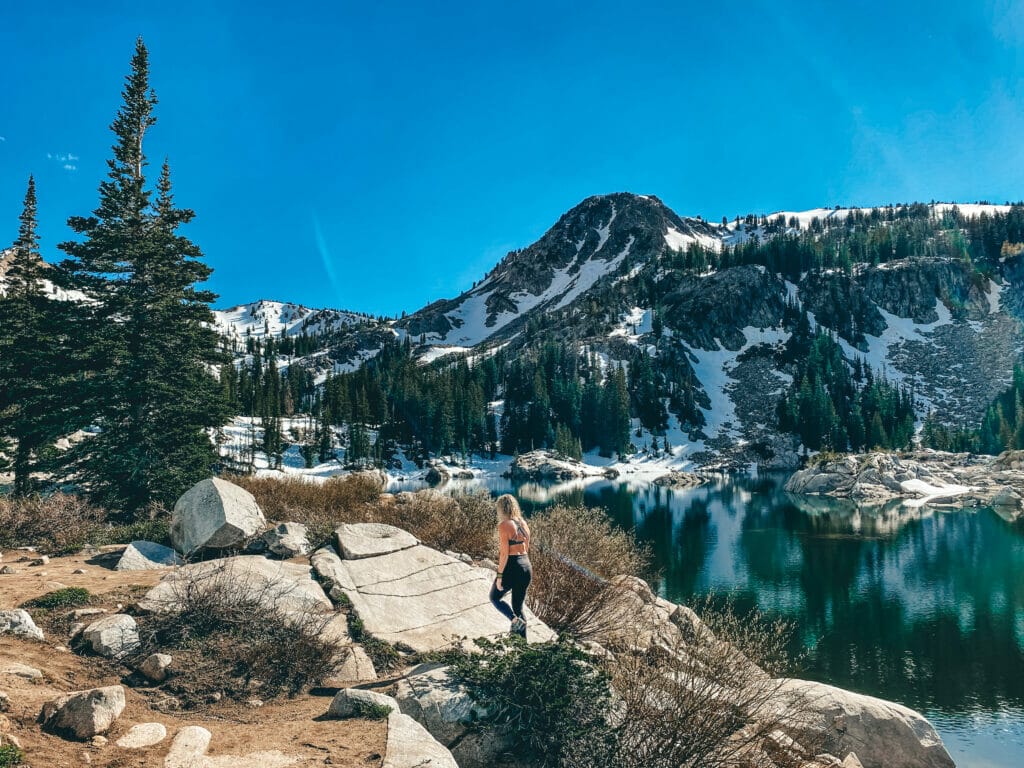 Looking for the perfect weekend getaway destination in the USA?
Look no further than a visit to Salt Lake City, Utah (check out the best Salt Lake City tour here to make the most of your time).
With a large, conveniently located, Delta-hub airport, there are many direct flights to get you to Salt Lake City for a quick trip. Salt Lake City has plenty of convenient hotel and Airbnb options.
And while there is reliable public transportation, it is best to rent a car to maximize your time if you are only in town for the weekend.
There are many things to do in and around Salt Lake City.
If you are coming in the summer, consider visiting one of many Farmers Markets or checking out these Salt Lake City hiking trails.
Go for a scenic drive in one of the many canyons surrounding the city if hiking is not your thing but you want to experience some of the beautiful nature.
You can also take the Snowbird tram to the top of the mountains of Little Cottonwood Canyon for a birds-eye view.
In the winter, you could ski, snowboard, snowshoe, go snow tubing, or go snowmobiling all within an hour of the city.
The nearby town of Midway offers the chance to see ice castles in the winter and soak in an underground hot spring crater.
Year-round, consider visiting the Great Salt Lake, Temple Square, or going shopping.
Salt Lake City, Utah is a great place to visit for the weekend.
It is an outdoor lover's paradise and has many activities located within an hour of the airport so you can spend more time doing fun activities and less time in transit.
Contribution by Andrea Cannon at BeaUTAHful World
4. Seattle, Washington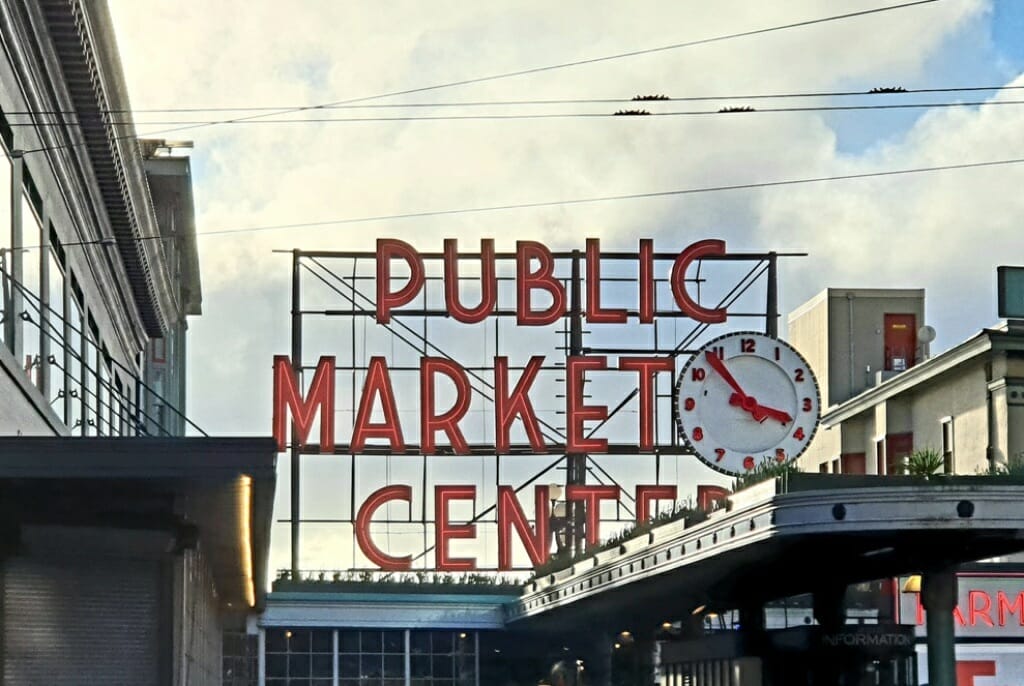 Seattle is the largest city in Washington State and is surrounded by water, mountains, and forests.
It is the perfect place for a weekend getaway, especially in the summer months – check out the best Seattle tour here to make the most of your time.
There is much to see and do – apart from the headquarters of Amazon and Microsoft and the very first Starbucks!
The Space Needle was built for the 1962 World Fair and has an observation deck at 158 meters and a popular restaurant at 152 meters.
Next door is the Experience Music Project (EMP) – a music museum with a very lively bar.
Other fun places include Pikes Place Farmers' Market which overlooks the coast and has some great fish and fruit stalls
If you like hiking, there are great trails to the Snoqualmie Falls, just out of town.
The falls have an impressive 82-meter drop that is best viewed from the observation deck.
In contrast, the Japanese Gardens, near Madison Park are absolutely stunning and the perfect place to walk.
Gasworks Park is interesting as it incorporates structures from the original cooling plant.
For fun, why not rent a boat or canoe to explore Green Lake.
Whilst you are on holiday what better than enjoying dinner somewhere special like Wild Ginger and then enjoy good jazz at the Triple Door Jazz Club next door.
If you have something to celebrate, El Gouchois is a really good steakhouse.
Contribution by Chrysoula from Travel Passionate
5. Charleston, South Carolina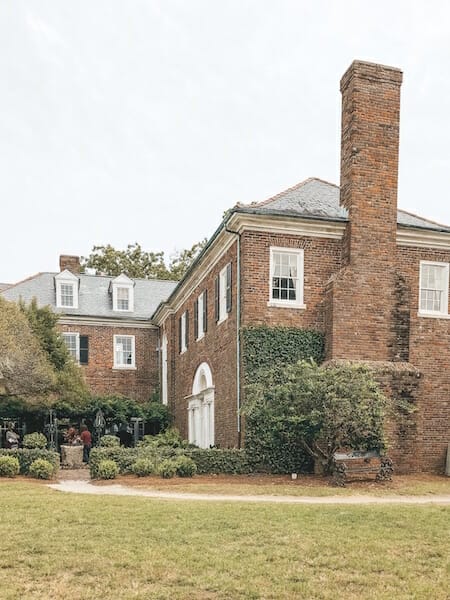 Charleston, South Carolina, is the perfect spot for a weekend getaway – check out the best Charleston tour here to make sure you make the most of your time.
With so many historical sights to see downtown, top-notch restaurants and delicious southern food to enjoy, and unforgettable day trips from Charleston, you'll find plenty to keep you busy during a weekend in the Holy City.
Since Charleston is a quaint, walkable city, it's an ideal location for a weekend trip.
The day trips from the Charleston area are only 30-45 minutes from Downtown Charleston, and many of them are located close to each other.
The proximity makes it easy to cover a lot of territory in one day so that you can see the best of Charleston during your weekend getaway!
Here are some of the top things to do during your weekend in Charleston:
See where the Civil War started at Fort Sumter National Monument.
Stroll through Waterfront Park and relax by the Pineapple Fountain.
Take a photo at historic Rainbow Row.
Visit Boone Hall Plantation to learn more about Charleston's history and admire the beautiful architecture & scenery.
Relax on one of Charleston's beaches—Kiawah Island, Folly Beach, and Sullivan's Island are popular choices!
Stay at The Vendue or Mills House for a comfortable stay in the heart of Charleston.
Don't miss these fantastic places to eat during your trip to Charleston!
Order chicken and waffles for breakfast at Poogan's Porch.
Enjoy a modern take on the traditional southern fare at Husk or Fig.
Grab a drink at The Vendue or Prohibition.
Savor a sweet treat at Jeni's Ice Cream!
Contribution by Brittany from Travel by Brit
6. Santa Fe, New Mexico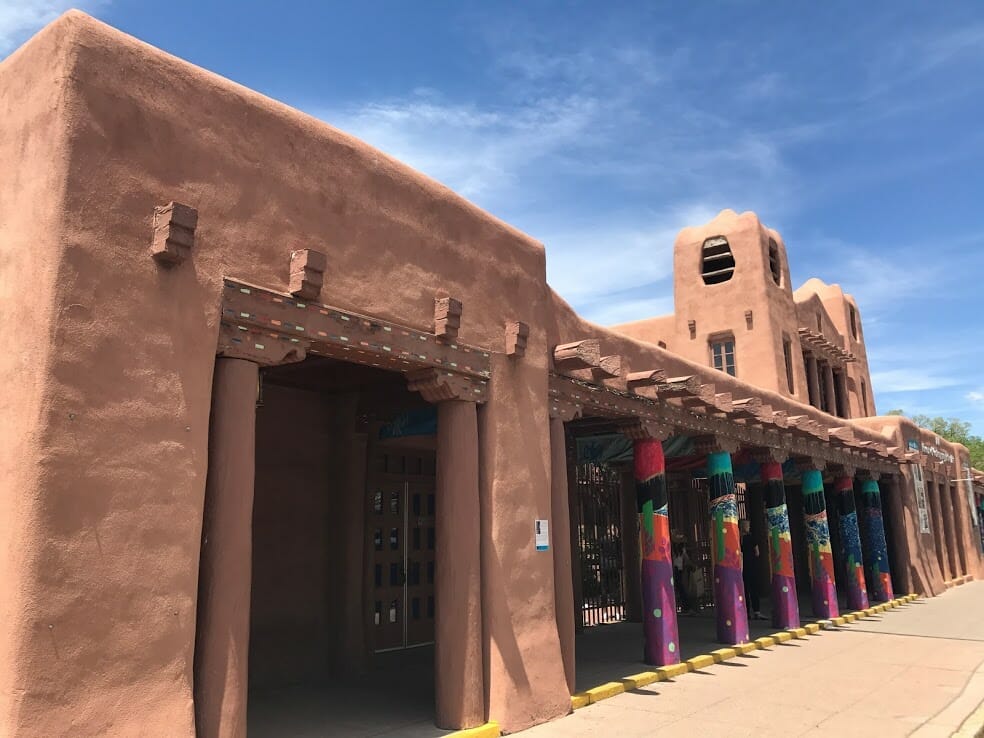 History, art, and hiking can all be enjoyed during an exciting weekend trip to Santa Fe (check out the best Santa Fe tour here to make the most of your time).
Located 1-hour north of Albuquerque International Airport, Santa Fe is accessible from anywhere in the United States.
Once in Albuquerque choose between renting a car or utilizing the Rail Runner train which travels between both cities a few times a day.
Renting a car provides more flexibility and the opportunity to hike at a few spots on the way to Santa Fe.
The Kasha Katuwe Tent Rocks National Monument is a family friendly hike with easy terrain and stunning views.
Another short hiking option is La Cieneguilla Petroglyphs.
If opting to travel by Rail Runner, start your weekend by exploring the Santa Fe Railyard.
Home to great food, brews, and the Santa Fe Farmers Market (open every Saturday).
Next head downtown, with a stop at the New Mexico State Capitol.
The only round State Capitol building, designed after the Zia symbol found on the New Mexico state flag.
There is a lot of history to be discovered in Santa Fe including the oldest church in the United States, the oldest public building in the United States, and a miraculous stairway found inside the Loretta Chapel.
The Santa Fe Plaza is the heart of downtown and always buzzing with community gatherings and events.
Finally, Santa Fe offers a range of art options including the IAIA Museum of Contemporary Native Arts and the Georgia O'Keeffe museum.
The most unique art experience in Santa Fe is an interactive experience called Meow Wolf. Arrive early and plan to spend several hours exploring the strange exhibits and discovering the storyline.
Some of the best food and drink in New Mexico can be found in Santa Fe, so be sure to fill your weekend with plenty of hatch green chile, sopapillas, and wine.
Contribution by Meg from Have Toothbrush, Will Travel
7. Boston, Massachusetts
History fans looking for a weekend getaway in the USA should consider Boston, a charming city with a relaxed vibe and one of America's most beautiful cities.
Boston is a fantastic place to explore on foot. Check out this Boston tour to make the most of your time.
Exploring the Freedom Trail, visiting museums and enjoying the waterfront can easily be done in two or three days.
Home to Harvard University and the impressive Institute of Contemporary Art, Boston also has lovely parks, and Boston Harbor is great for a boat trip.
You can quickly fill up your itinerary with museums, such as the Paul S. Russell Museum, Fine Arts Museum, and the Mapparium.
Wandering around the streets of Boston, it's easy to imagine you are somewhere in Europe.
Boston is the place to eat seafood and is home to excellent restaurants and bars.
Make sure to taste the clam chowder at Ye Old Union Oyster House.
Ask for the 'Kennedy booth' where JFK once dined. Faneuil Hall, a historic spot that is now a marketplace of food stalls, shops, restaurants, and bars is a fun place to wander around for yummy treats and buy souvenirs.
If you're looking for an action-packed few days, Boston is perfect because there are plenty of things to do in Boston at night as well as during the day.
The city is compact and safe to move around after dark.
Boston is perfect for a short stay because it is an easy city to get around using the subway, buses and railway.
The best months of year to visit for beautiful photographs are around April and May when the spring blooms in parks and green spaces are enchanting or October and November for fall foliage.
Contribution by Christina from Travel 2 Next
8. Amelia Island, Florida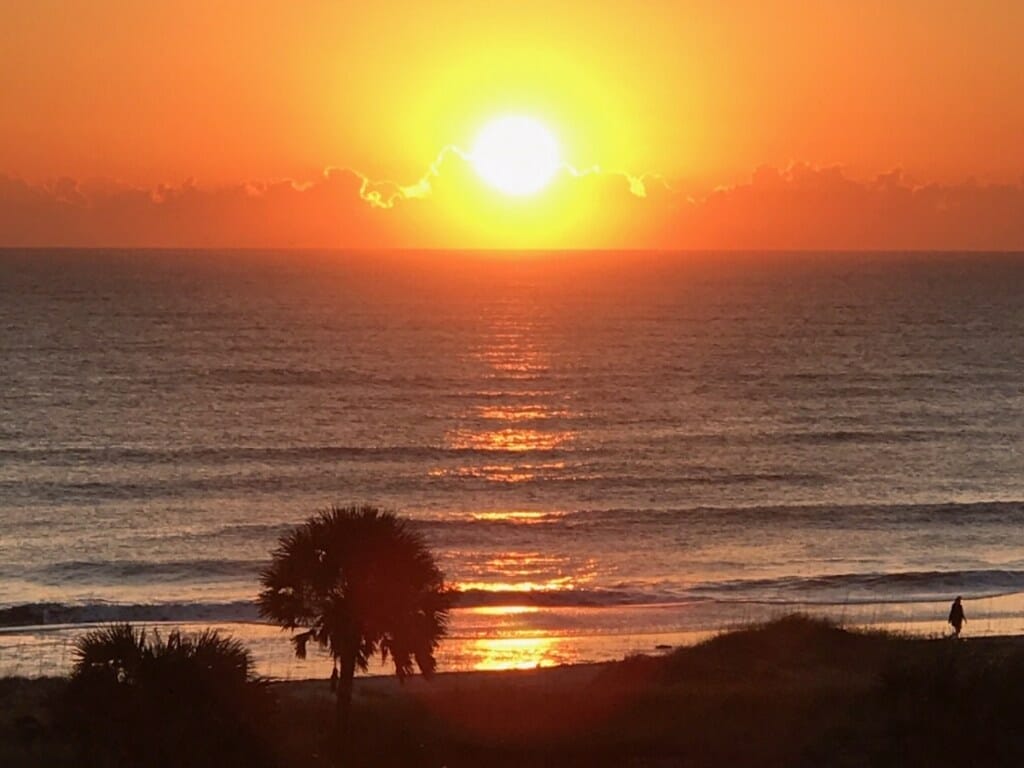 Amelia Island is the perfect weekend break away.
It's somewhere to visit and relax, see the sights and just feel like you're away from the world for a couple of days.
Named after the daughter of King George II, Princess Amelia, this lovely Floridian island is two hours north of Orlando but feels a world away.
Made for a timeless vacation (Florida in the winter is awesome!) and a chance to relax and enjoy outdoor pursuits the beaches here are one of the top reasons to visit.
With 13 miles of beautiful beaches it's an ideal place to enjoy beach time without the crowds of many of the busier resorts in the state.
There are some great activities here to enjoy too from horse riding and golf to mountain biking.
The Fort Clinch State Park has 1400 acres of parkland and beaches to enjoy.
There's a fantastic farmers market in the downtown area which is perfect for picking up local produce and wonderful meals.
If the weather takes turn then head to the state's oldest lighthouse which was built in 1838 and perfect to explore.
The Maritime Museum of Amelia Island and the Amelia Island Museum of History are also fantastic places to visit to learn more about the history of this interesting island, particularly the former which is run by real treasure hunters who can tell you all about their finds over the years.
There are some fantastic family resorts in Florida here on the island so it's a great place to come and stay for a few days and really relax.
Contribution by Nichola from Family Hotel Expert
9. Nashville, Tennessee

Nashville is a great city for a weekend getaway due to its food scene, music nightlife, sports arenas, and overall ambiance.
Check out this best Nashville tour to make the most of your time.
There are plenty of things to do during your weekend in Nashville, but here are some options that are perfect for a couple of days in Music City.
If you are a country music fan, then Nashville is the place to visit.
It is considered the birthplace of country music and tourists can visit famous locations such as the RCA Recording Studios, the Grand Ole Opry, and Ryman Auditorium.
At night, head on over to Broadway's bars and lounges to grab a few drinks and listen to country music or cover bands.
During the day, you could visit the Vanderbilt University campus, take a tour of the Hermitage, Andrew Jackson's home, or stroll around the Parthenon, a replica of the temple in Athens.
The Belle Meade Plantation is another place to stop to soak in some history, and if you enjoy a glass of wine, a visit to Arrington Vineyards, owned by famous country duo Brooks & Dunn, is the perfect way to spend the afternoon.
If you're a sports fan and the home team is in town, you could catch a Tennessee Titans football game or a Nashville Predators hockey game.
Another thing Nashville is known for is being a "foodie city".
With many gastropubs, farm to table restaurants, and popular brunch spots, this city will not leave you hungry.
There are many Southern food options and variations of their signature hot chicken, barbeque, and biscuits at restaurants around the city.
A weekend getaway in Nashville is perfect for those who would like to kick back, eat, drink, listen to music, and enjoy some well-earned rest and relaxation or good ole' fashioned fun.
Contribution by Margie from DQ Family Travel
10. Zion National Park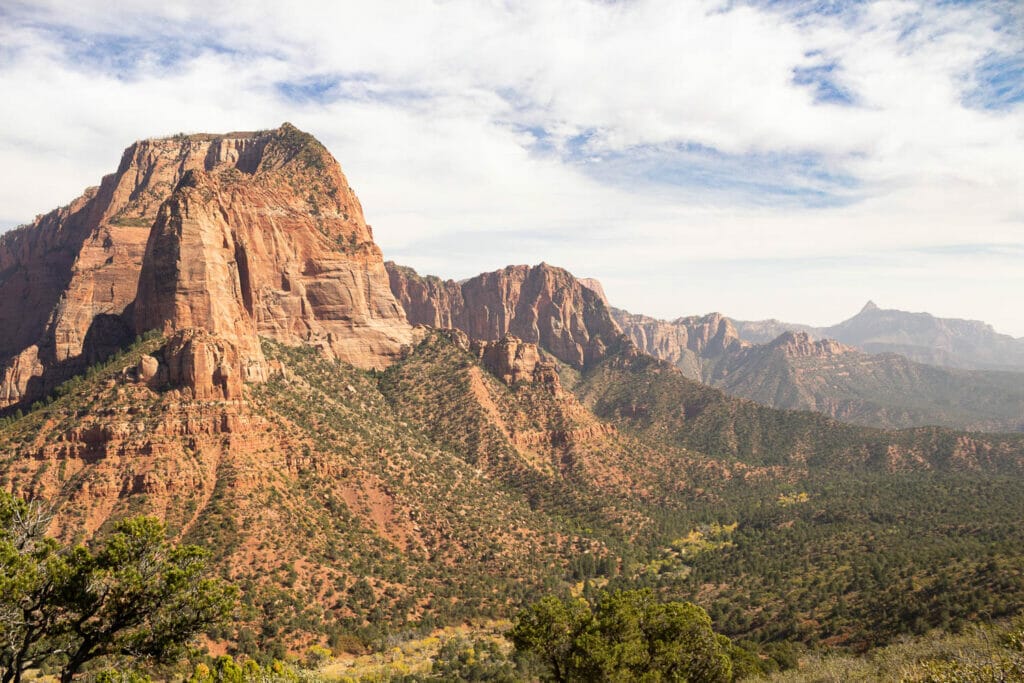 Zion National Park is one of the most stunning national parks in the country, and is perfect for a weekend trip.
Located in southern Utah, less than a 3-hour drive from Las Vegas, Zion is made up of red rock canyons and spectacular vistas.
Check out the best Zion National Park tour here.
Some of the most epic hikes in the US are located at Zion, making this park a must visit destination!
Even with only 2 or 3 days in the park, you can still see some of the best that Zion has to offer.
Start your adventure in Zion by hiking The Narrows, an epic hike through where you'll be surrounded by canyon walls a thousand feet tall and a river 30 feet wide.
For stunning vistas, check out Angels Landing – a strenuous, adrenaline pumping hike that rewards you with epic views.
One of the easiest hikes in the park is the Canyon Overlook trail, a short, one-mile round trip hike with outstanding views of Zion's red rock scenery and greenery.
Due to its sheer natural beauty and close proximity both to Las Vegas and Southern California, Zion is popular and crowds can, especially during the peak summer months.
To beat the crowds, head over to the Kolob Canyons.
This side of the park has crimson red canyons, and almost no people.
It's definitely worth the trek.
When planning your trip, check out this 2-day itinerary for Zion National Park to know the best things to do, where to stay, and tips to make the most of your visit to Zion!
Contribution by Ale from Sea Salt & Fog
11. Fort Lauderdale, Florida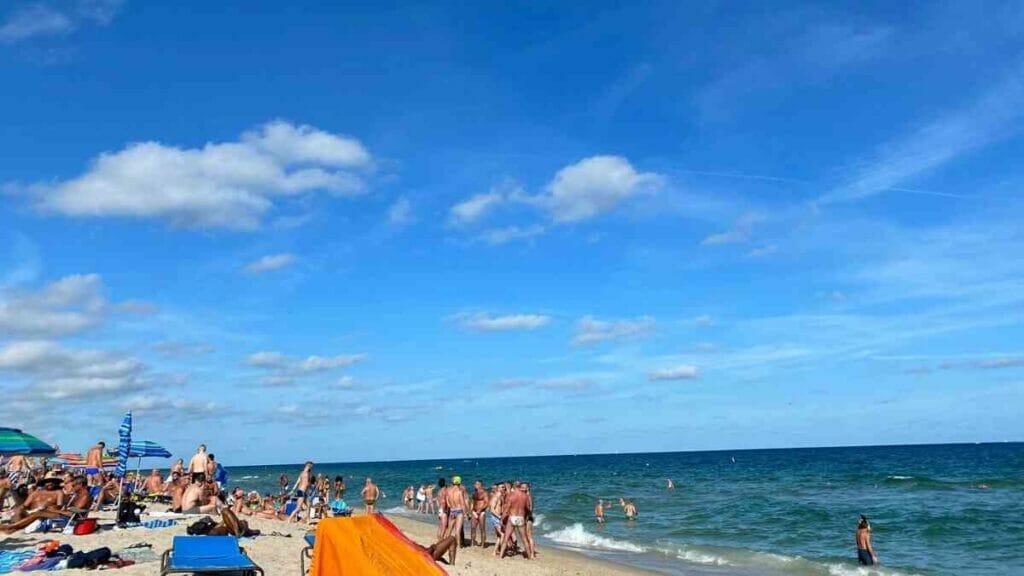 One of the best American destinations for a weekend trip is Fort Lauderdale, Florida (check out the best tour here to make the most of your time).
It's well-serviced by discount airlines, making it an affordable getaway to plan.
The year-round warm weather also makes it among the best choices for a few days of leisure.
In Fort Lauderdale, you can spend your days relaxing on the white sand and splashing around in the clear waters of the Atlantic Ocean.
Most hotels and resorts also have pools for those who prefer to soak without the sand of the beach.
There are other ways to have fun on the water in Fort Lauderdale, like by booking a boat ride through the intercoastal waterway that weaves through the city.
A sunset cruise makes any weekend getaway unforgettable. Fort Lauderdale is also loaded with delicious seafood restaurants and beach bars to enjoy the nightlife.
LGBTQ+ travelers can head to Sebastian Street Beach or Wilton Manors, the adjacent village, to enjoy gay Fort Lauderdale.
It's a vibrant part of town with an active community and plenty of gay-owned businesses.
Visitors also love to shop on The Strip, Fort Lauderdale's oceanfront promenade.
The Strip is full of high-end boutiques and seaside restaurants.
A natural oasis in the city of Fort Lauderdale is the lush Hugh Taylor Birch State Park, a 180-acre state park that's just a short walk from the beach and full of hiking trails and picnic spots.
Contribution by Derek and Mike from Robe Trotting
12. Roanoke, Virginia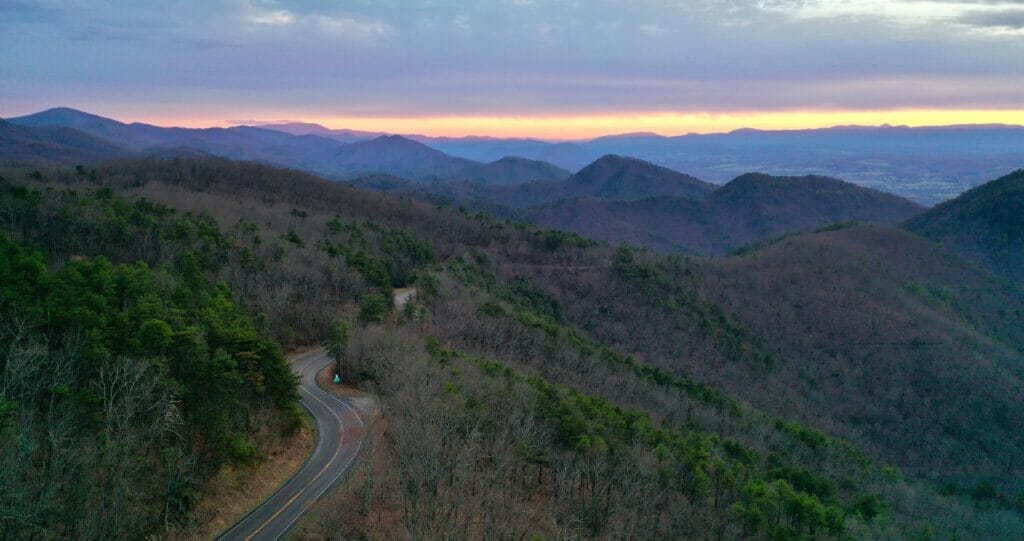 Set in the heart of Virginia's Blue Ridge Mountains, Roanoke sparkles as a weekend destination, particularly for outdoor enthusiasts (check out the best Roanoke tour here to make the most of your time).
Conquer single-track mountain bike trails at Carvins Cove Natural Reserve or tackle the Roanoke Star hike to the world's largest man-made star that stands 100 feet tall.
The overlook wows with gram-worthy views across the Roanoke Valley.
A drive along the iconic Blue Ridge Parkway, which skirts to the east of downtown, is a must-do while in Roanoke.
In spring, colorful wildflowers and flowering shrubs, like rhododendrons and mountain laurel, stun motorists on the scenic byway. Stop in the Blue Ridge Parkway Visitor Center at milepost 115 to explore topographical area maps and browse regional crafts and souvenirs in the gift shop.
In downtown Roanoke, plan to stop in Center in the Square, which is home to popular attractions like the Harrison Museum of African American Culture, the Roanoke Pinball Museum and the Science Museum of Western Virginia.
Take the elevator to the sixth-floor rooftop to see a koi pond and to savor all the views of the majestic Blue Ridge Mountains.
Famished?
Take a seat at Texas Tavern, a classic 10-stool diner in Roanoke.
This longtime cash-only landmark serves up burgers and chili bowls for less than $2 each.
Order the Cheesy Western, a burger topped with a fried egg, cheese, pickles and sweet relish.
Stay the weekend in-town at the centrally-located Hampton Inn & Suites Roanoke Downtown.
Before you return home, get your fill at Scratch Biscuit Company.
The buttery, made-from-scratch biscuits are heavenly, but they also serve up eggs, pancakes and hash browns.
Contributed by Erin from Go Hike Virginia
13. Boulder, Colorado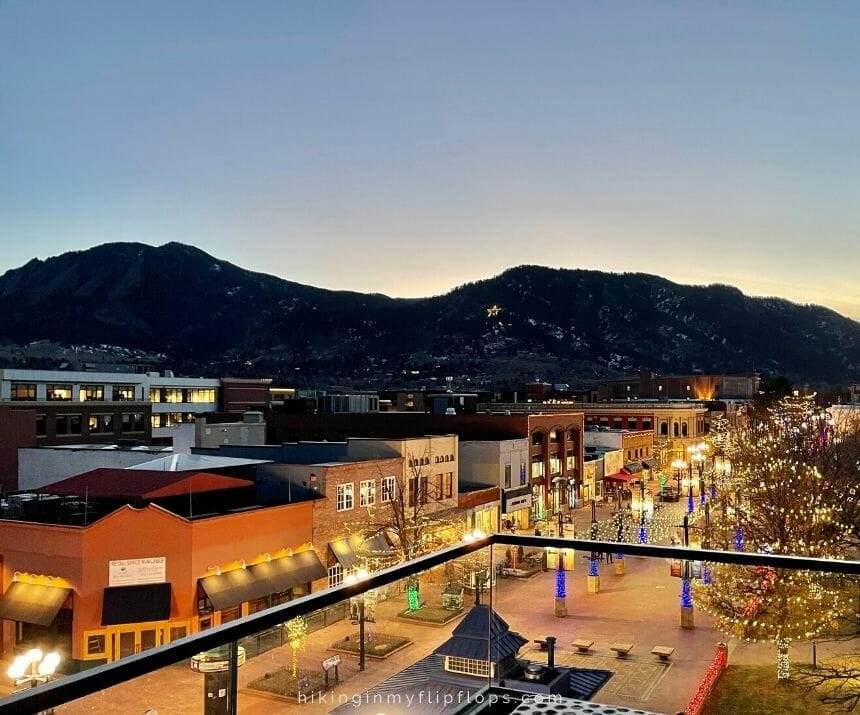 A weekend getaway to Boulder is all about the outdoors, the arts, and food.
Check out the best Boulder tour here to make the most of your time.
Experience the very best of Boulder on one of the 150+ miles of trails, exploring around town for sculptures and murals, and eating your way through locally-owned, award-winning restaurants.
The Colorado Chautauqua National Monument is right in town and the launch point for many of the best hikes.
Spend the afternoon ascending the mountain trails where you are rewarded at the top with gorgeous views of the Indian Peaks Wilderness to the west and Boulder city views to the east.
For those looking for a little less active way to spend their time away, take a stroll along any section of the Boulder Creek Path.
The 17-mile, multi-use path runs along the Boulder Creek, a popular spot for tubing, fishing, and toe-dipping.
Keep the activity going with a self-guided walking tour of 38 murals through the city, or the Public Art Walking Tour that includes both sculptures and murals.
Art museums in downtown Boulder and on the University of Colorado campus are good options for those "indoorsy" days.
Between all the walking, exploring, and hiking, make a stop into any of Boulder's incredible restaurants.
We love to fuel up with a big breakfast at The Buff, snack on house-made steamy buns from Zoe Ma Ma, and to bring the kids out for Boulder's best pizza or burgers at Southern Sun, where we can try the latest brews from Mountain Sun Brewing.
We think the best spot of all is historic Pearl Street. Four of the blocks are closed to traffic, making a family-friendly space for shopping, eating, and watching street performers.
And it's one of the best places to pick up some souvenirs from your Boulder getaway!
Contribution by Kiersten from Hiking in my Flip Flops
14. Steinbeck Country, California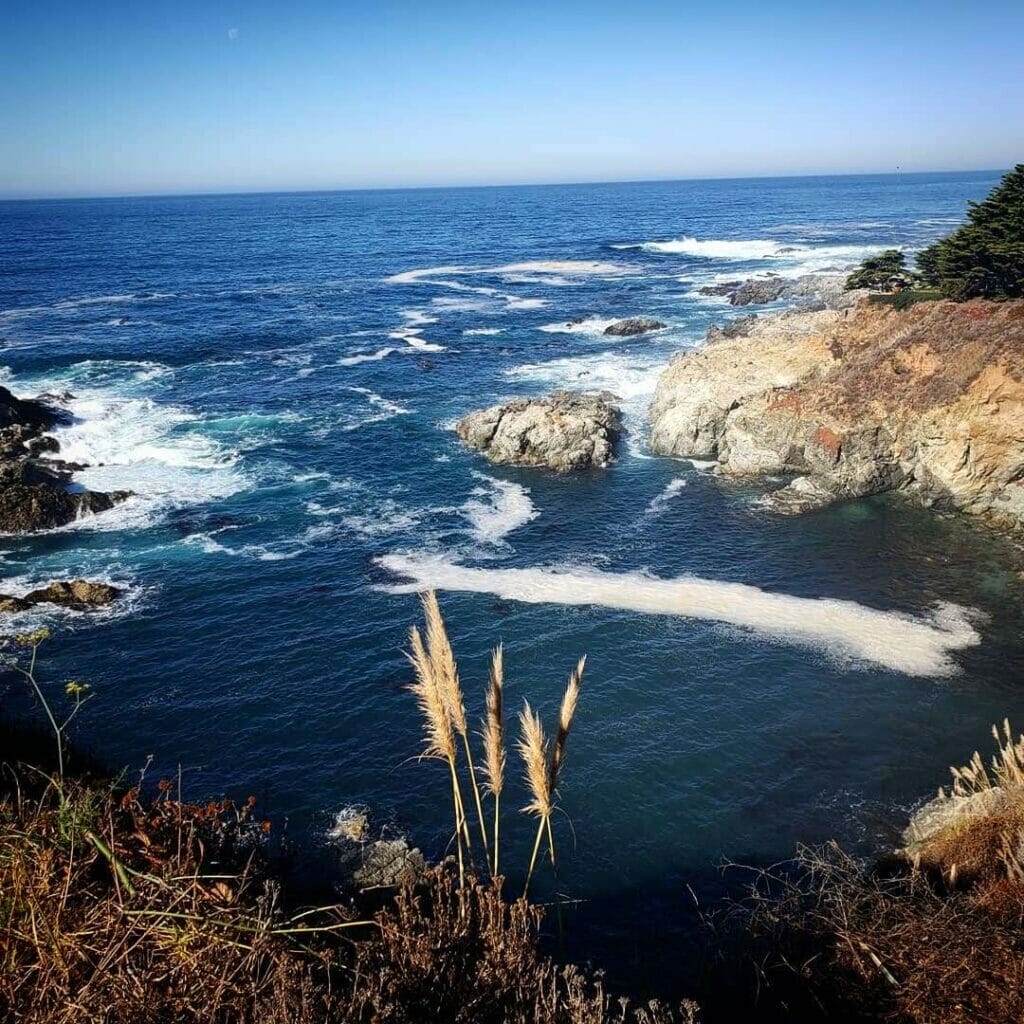 When you visit Steinbeck Country, you get all the beautiful variety that is California.
Born in 1902 in Salinas, California, Pulitzer Prize winning author John Steinbeck's writings and their strong sense of place allow people from all around the world to immerse themselves in the wonderful Central Coast.
To start your exploration, ground yourself in Pacific Grove where Steinbeck's father had a summer home.
Use it as a jumping off point for an amazing day on Cannery Row in Monterey.
You can stop by actual sites featured in Steinbeck's novels.
The Worker Shacks along a pedestrian path on Bruce Ariss Way give a window into the lives of sardine packers who used to populate this working wharf.
Drive out on Hwy 1 southbound and enjoy the iconic Big Sur area, where Steinbeck's mother was a teacher before getting married.
You can drive to Julia Pfeiffer Burns State Park and walk an easy trail to McWay Falls, one of the most photographed waterfalls in the world.
Heading back toward Carmel be sure to stop at Point Lobos State Reserve, a favorite of Steinbeck and his sister.
After an afternoon along this stretch of the Pacific, you can see how Steinbeck was inspired to write "Flight" from his many visits to the gorgeous coastline.
On another day head inland to Salinas to visit Steinbeck's Victorian styled family home and the National Steinbeck Center.
Further south on Hwy 101 you'll find the town of Soledad, the setting for his novel Of Mice and Men and gateway to Pinnacles National Park.
Enjoy a beautiful hike toward ancient red rock spires.
Return to Pacific Grove by driving along the River Road Wine Trail and end the day by indulging in a pit stop at any one of the seven wineries along the route.
Contribution by Michelle from Silvas Travel Tribe
15. San Antonio, Texas
For a weekend getaway, you can't find a better spot than San Antonio, Texas.
Check out the best San Antonio tour here to make the most of your time.
In the heart of Texas Hill Country, you're surrounded by rolling hills, sparkling rivers, and beautiful, clear lakes.
Whether you enjoy nature, history, or shopping, you'll find everything you need for a perfect weekend in San Antonio.
Stay at Hotel Emma in the Pearl Brewery district, a converted brewery that retains many of the brewery features, or Hyatt Hill Country Resort for a family-friendly resort, complete with a pool and lazy river.
Walk along the Riverwalk and enjoy the many shops and restaurants along the river's edge, or take a boat tour to learn the history of San Antonio and the Riverwalk.
When you're done, head to the Alamo to learn about the famous battle in the war for Texas Independence that cost the brave defenders their lives.
Just down the road, you'll find the Buckhorn Museum, full of Texas Rangers paraphernalia and even a replica of San Antonio from the 18 and 1900's – including Bonnie & Clyde's bullet-ridden car!
Don't forget to take the elevator up to the top of Tower of the Americas to get a view of San Antonio and the surrounding area from 750 feet up!
The Tower is located in a beautiful park you can explore, as well.
Head downtown to explore the beautiful Japanese Gardens, complete with interconnecting ponds, bridges, and waterfalls.
Right next to the Japanese Gardens, you'll find Breckenridge Park, a beautiful park with the San Antonio river winding through.
You can explore the trails, or take a train ride through the park to see all the sights.
San Antonio is a beautiful place to spend the weekend.
Check out this post for more things to do in San Antonio.
Contribution by Yocheved from Texas Wanderers
16. Manchester, Vermont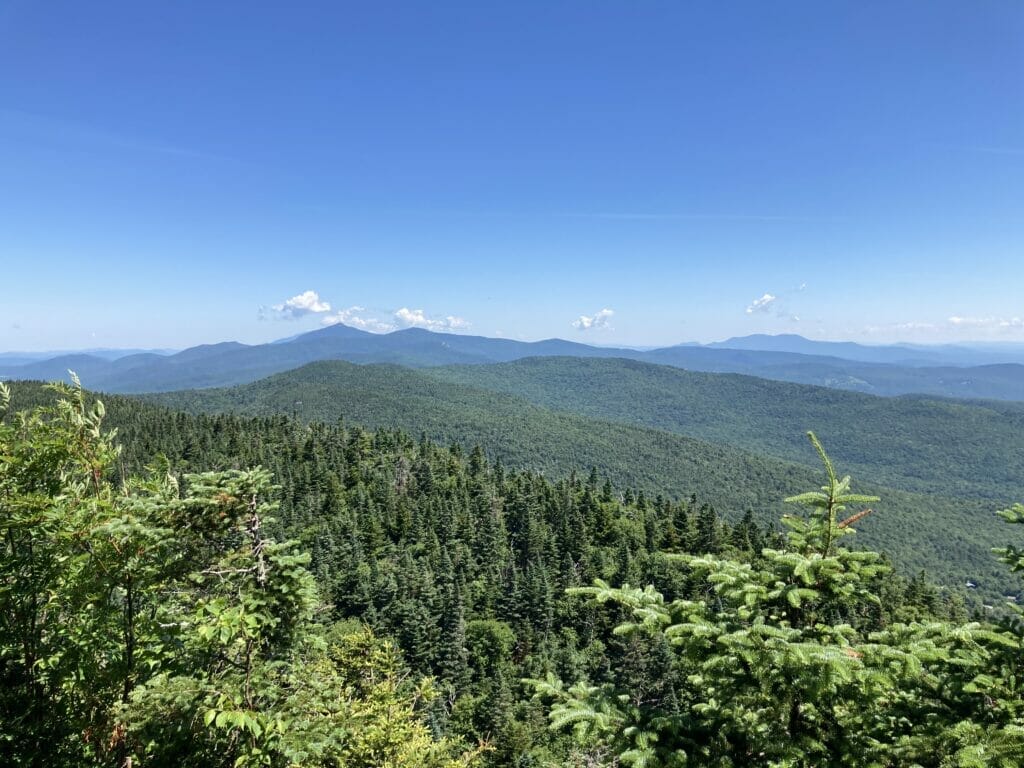 The little town of Manchester Vermont in the perfect spot for a weekend getaway.
Surrounded by the Green Mountains of Vermont and the Taconic Mountains of New York this is a great spot for nature lovers and has a surprising number of amazing restaurants.
When it comes to things to do in Manchester Vermont, you need to get outside.
Manchester is a designated Appalachian Trail Town, so I always encourage people to jump on the AT and at least do the hike up to the summit of Bromley Mountain.
With 360 degree views, I think it's the best hike in the area, and as a local, I've done a lot of hikes.
Another great spot to explore is Hildene, The Lincoln Family Home.
Abraham Lincoln's only surviving son, Robert built a summer home in Manchester, Vermont.
The house is open to visitors and has many original pieces inside.
If it is on display and not on tour, you might even get to see 1 of 3 remaining stovepipe hats belonging to Abraham Lincoln.
Take a walk on over 12 miles of hiking trails to the Goat Dairy to see how they make cheese right on the property.
If you go in March or April you'll get to meet all the baby goats born each year.
For all the foodies out there are 2 restaurants that you can't miss while in town.
The first is my personal favorite, the Ye Olde Tavern.
In operation as an Inn since 1790 and once a stop on the underground railroad this restaurant offers casual fine dining.
The cranberry fritters and maple butter that come with every meal are a delight and don't skip dessert (It's different every night)!
My other restaurant recommendation is the Copper Grouse at the Taconic Hotel.
It's open for breakfast, lunch, and dinner and offers a wide range of class New England comfort food.
Try my favorite, the Vermont Wagyu Burger.
Contribution by Retha from The Roaming Nanny
17. Santa Barbara, California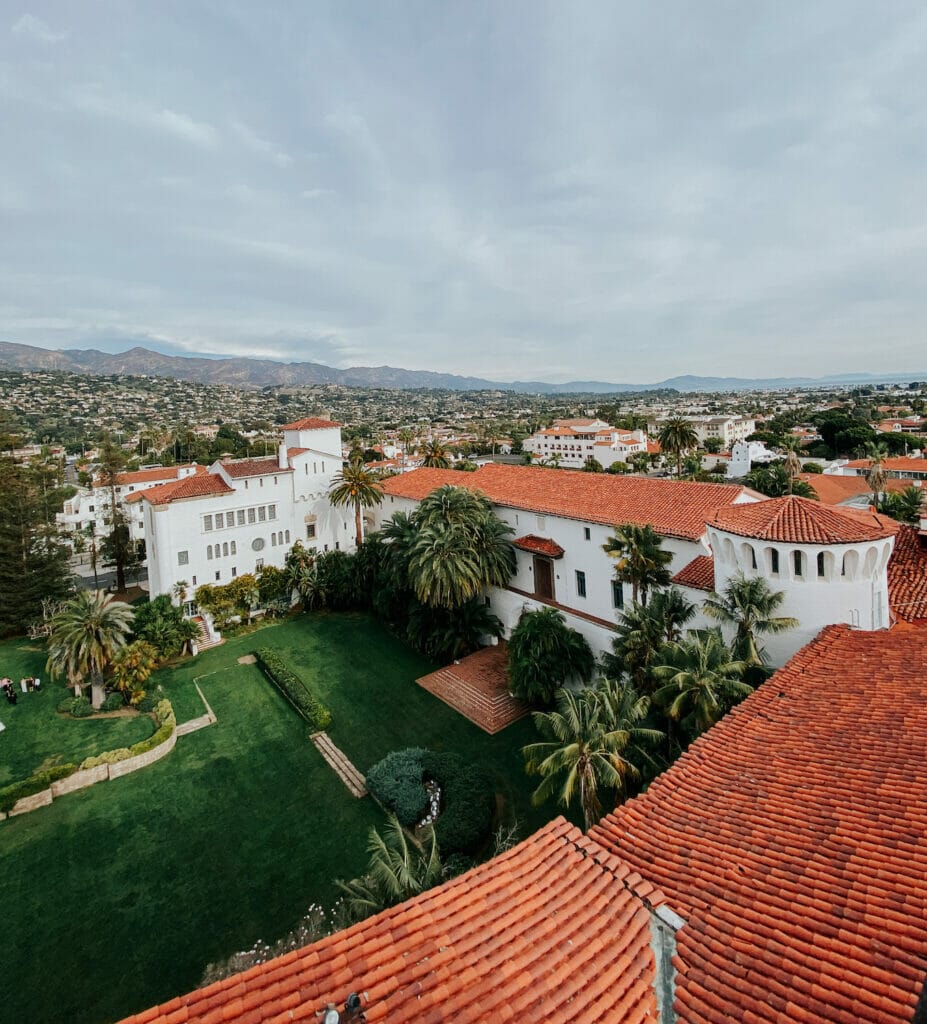 Santa Barbara, dubbed "The American Riviera", is a perfect weekend getaway from Northern or Southern California.
Check out this awesome tour to make the most of your time.
Located less than 2hrs from Los Angeles, Santa Barbara has a semi-Mediterranean climate and is ideal to visit anytime of the year.
It is a beach town with breathtaking Spanish colonial architecture, a lively downtown and some of the best Mexican restaurants in California.
Start by exploring one of the oldest missions in California, the Santa Barbara Mission.
The mission consists of a museum, gardens and a church.
A self guided tour is available and is highly recommended.
Another must visit place in Santa Barbara is the Courthouse and the clock tower.
The Courthouse, considered one of the most beautiful courthouses in the US, is a must visit for beautiful architecture.
Climb the clock tower for some of the best views of Santa Barbara and the ocean.
If you love nature, pay a visit to Santa Barbara botanical gardens.
Other attractions in Santa Barbara include Stearn's Wharf, one of the oldest piers in CA and a great place to grab seafood.
Also take a stroll along State Street, a lively downtown full of inviting bars and restaurants.
Butterfly beach and Montecito are also great places to visit on your getaway to Santa Barbara.
Los Agaves, East Beach Tacos, Santo Mezcal and Caje Coffee roasters are some of the best places to eat in Santa Barbara.
If you have a day to spare, take a trip to Solvang, a beautiful Danish town less than an hour away from Santa Barbara.
Contribution by Aswani from A Charming Escape.
18. Oahu, Hawaii
Hawaii is an awesome place to spend a few days soaking in the sun.
Check out this awesome cruise to make the most of your time in Oahu.
Our favourite Island for a shorter getaway is Oahu, it's the perfect place to spend a long weekend.
The island is relatively small so it's easy to get around and it is jam packed with cool things to do.
The North Shore is a great place to stay and I recommend the town of Haleiwa as a home base.
It's a quaint little surf town with some cool boutique shops, great food and is home to friendly, laid-back locals. It also provides easy access to the rest of the island.
The North Shore is home to some of the best waves in the world and going to Banzai Pipeline and Waimea Bay to watch some of the local pro's surf is one of the highlights.
Make your way further up the coast and stop at Turtle Bay, which as the name suggests is home to many local turtles.
The turtles come up on the sand to bake in the sun and you can see them (from a safe distance) several times throughout the day.
Another one of the best things to do in Oahu is to visit Kualoa Regional Park which features in the original Jurassic Park films.
The rugged mountains set right by the beach are stunning.
There are plenty of other cool places to visit and endless good food meaning you can make it an action packed few days of adventure on the beautiful island of Oahu.
Contribution by Luke from Wild about BC
19. Asheville, North Carolina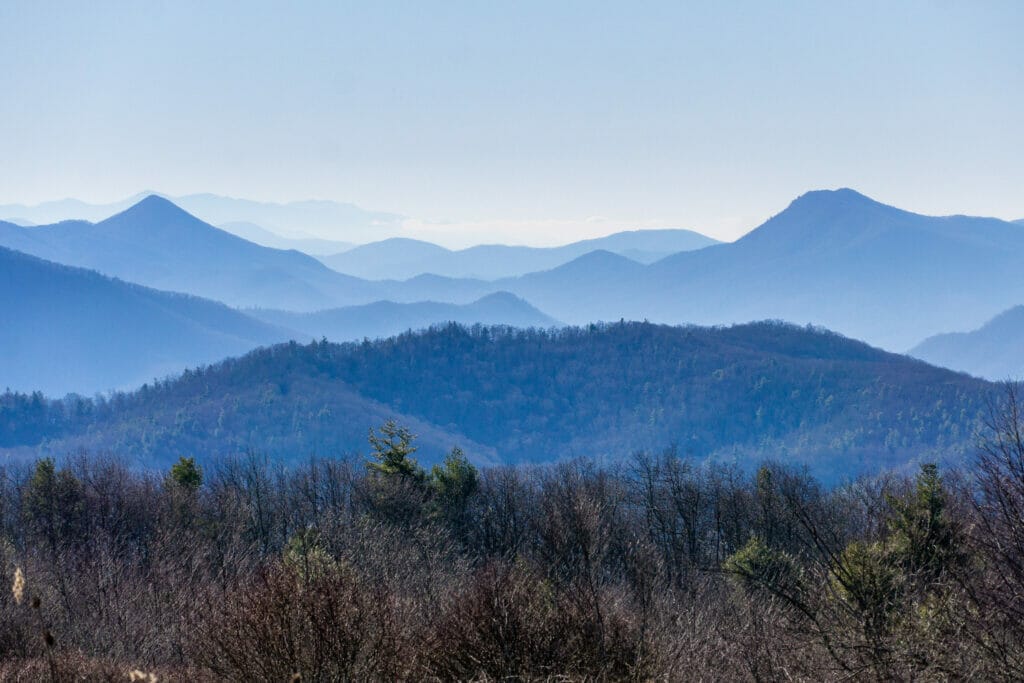 Asheville, North Carolina is a great weekend destination.
Go on a tour like this one to make the most of your time.
This funky little mountain town has a thriving arts scene and outdoor adventures galore.
Plus it's one of the best foodie and craft beer destinations in the US!
Plan your weekend in Asheville around the food.
For breakfast, don't miss Sunny Point Cafe (and expect to wait an hour or more for a table – it's worth it).
Biscuit Head, Taco Billy, Early Girl, The Rhu, and 67 Biltmore are other great options.
After breakfast, head out for a hike or a drive on the Blue Ridge Parkway.
Locals' favorite hiking spot in Asheville is Black Balsam Knob, about an hour from downtown.
Trail options range from one mile to multi day backpacking trips.
If you can time your hike for sunrise or sunset, even better!
Back in town, hit up a brewery or two.
You have over 30 options!
Bhramari and Highland are essential stops, but Twin Leaf and One World are local favorites that get far less tourist traffic.
When you're ready for dinner, try Cúrate for spanish tapas and a super-hip atmosphere, Rhubarb for truly amazing farm-to-table cuisine (if they have anything with foraged mushrooms on special, go for that!), Buxton Hall for the world's best chicken sandwich, or Chai Pani for Indian street food-inspired dishes.
Finally, spend half a day wandering around the River Arts District. Galleries usually open from mid-morning to mid-afternoon on Saturday's (although hours vary widely by gallery).
There's lots of cool street art around the train tracks as well.
Asheville has hundreds of hotels at all price points.
If you can swing it budget-wise, the best places to stay are the collection of small B&B's on Chestnut Street and Montfort Ave. Cheaper lodging that's still super-close to downtown can be found on Tunnel Rd.
Contribution by Carrie from Planes, Trains, and Tuktuks
20. Adirondack Mountains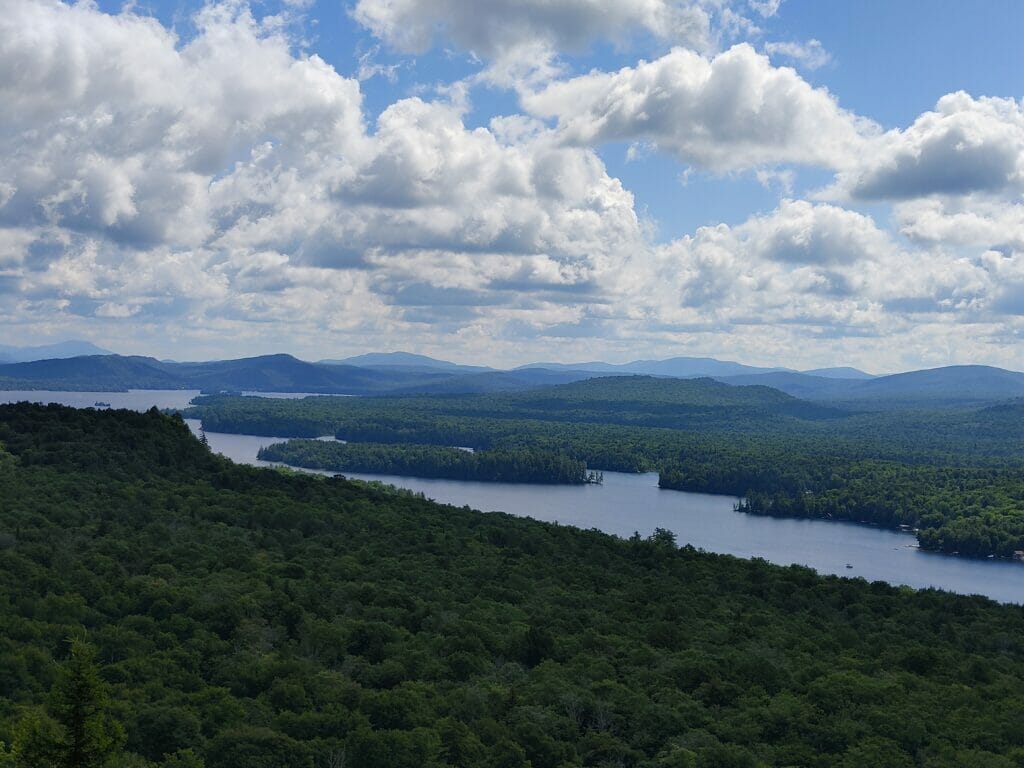 The Adirondack Mountains of New York State encompass 6 million acres and a good portion of Northern New York.
If you are looking for some outdoor adventure, you are sure to find it within the Adirondack Park, whether it be hiking, water sports, finding stunning mountain views, or even just relaxing along a waterfront.
For a 2-3 day trip to the Adirondacks, Old Forge is the perfect area to set as your home base.
Old Forge offers plenty of activities and is within driving distance of many nearby towns.
In Old Forge, you can enjoy a visit to NY's largest water park in the summer, a hike up Bald Mountain or Rocky Mountain, a ride on the McCauley Mountain Scenic Chairlift, a scenic Rail Bike Adventure, a scenic train ride aboard the Adirondack Scenic Railroad, and white water rafting on Moose River.
Another great option for a home base in the Adirondacks is Lake Placid.
Lake Placid is home to the winter olympics of 1932 and 1980 and visitors can enjoy touring the Lake Placid Olympic Center, riding to the top of the Olympic Ski Jump, and trying their hand at bobsledding.
Lake Placid is also home to Whiteface Mountain, which can be reached via car along Veteran's Memorial Highway or if you prefer you can hike to the top.
If you are visiting with kids (or even without!), be sure to make a stop at the Wild Center, where you can experience a walk among the treetops.
While there are plenty of hotel options, and even luxury stay options, camping is perhaps one of the best ways to fully get the Adirondack Experience.
You can find camping at the Old Forge Camping Resort if you choose to make Old Forge your home base or the ADK Wilderness Campground in Lake Placid.
Contribution by Melissa from Navigation Junkie
21. Philadelphia, Pennsylvania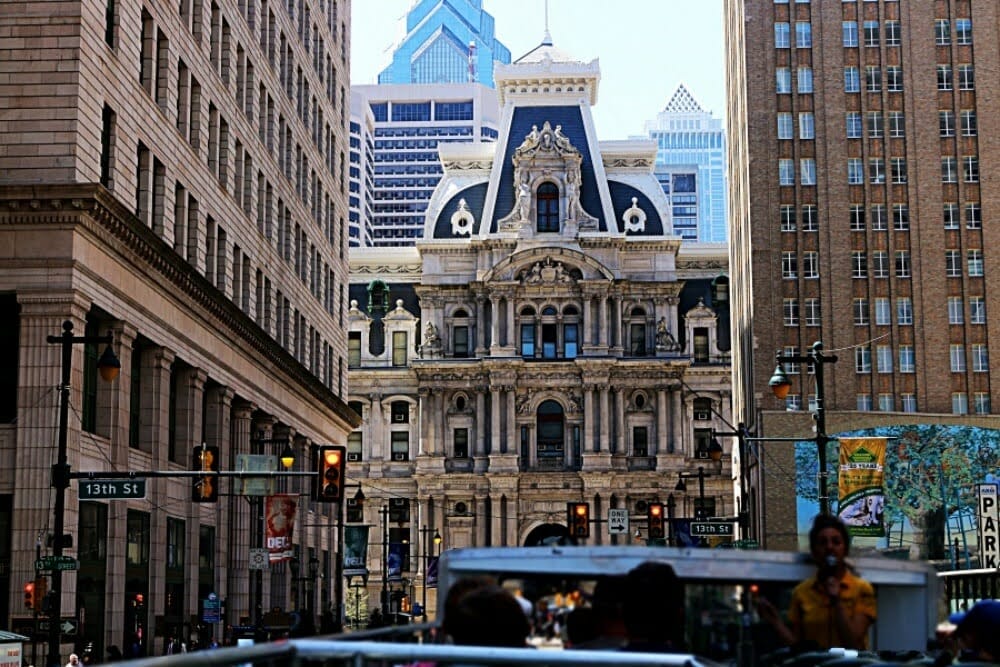 Mid-way between New York and Washington D.C., Philadelphia is often overlooked as a destination for a great city adventure.
However, if you get excited about a city full of history and great food, a weekend in Philadelphia is for you.
Check out the best Philadelphia tour here to make the most of your time.
Even though Philadelphia was the first capital of the United States, we had not expected the extent of the amazing history, and the passion for that history, that we were about to witness in the city of Brotherly Love.
Marvel at The Liberty Bell, an iconic symbol of American independence, located in the Liberty Bell Center in Independence National Historic Park.
Though tickets are no required to see the Liberty Bell, there can be some big crowds.
See where the Declaration of Independence and the Constitution were debated and signed.
Again, tickets are free, but must be reserved.
Wander around the former Eastern State Penitentiary, where Notorious criminals such as Al Capone and Willie Sutton served time.
Operational from 1829 to 1971, it is now a U.S. Historical Landmark.
The Benjamin Franklin Museum explores the life and legacy of Philadelphia's most famous citizen.
The museum was incredibly well thought-out and interactive.
And, of course, taking a run up the famous Rocky Steps (the steps that lead to the Philadelphia Art Museum), while playing the Rocky theme song on your cell phone, is a must-do.
If you like wandering markets, Reading Terminal Market is one of America's oldest and largest public markets, featuring over 80 different food vendors.
Travel back in time as you wander charming cobblestoned streets, learn about the lives of early Philadelphians, and admire the small and colourful homes in Elfreth's Alley, too.
For an easy and stress-free way to get around the city to all of the major landmarks and attractions, get a Philadelphia CityPass and take advantage of the hop-on hop-off bus tour.
And, of course, it isn't a trip to Philly without devouring a delicious Philly Cheesesteak.
You'll find several popular locations around Philadelphia.
Asking a handful of people where to go for the best Philly Cheesesteak will get you many different answers.
We ended up at Sonny's and enjoyed every last bite.
Contribution by Debbie from World Adventurists
22. Catskills
If you're coming from New York (or even if you're not) and just want to take a break from your busy life, the Catskills is a great weekend destination that will surely take your breath away.
In just a three-hour drive from the city, you'll find yourself in a whole new environment surrounded by beautiful nature.
Sure, no one will blame you if you prefer to be lazy all weekend just to enjoy your time away from work, but the Catskills has so much to offer, you wouldn't want to miss out on all the fun activities you can do.
The mountainous region in southeastern New York is an excellent place for cycling, with trails that are suitable for all levels.
Get your adrenaline pumping as you marvel at the scenic views when you pass through the biking trails.
Hiking is also one of the popular things to do in the Catskills. In fact, a few days of adventure in the fantastic hiking trails will make for a super memorable experience.
These trails cover both public and private lands and will take you to breathtaking waterfalls.
Adventure may be the name of the game when you visit the Catskills, but that doesn't mean you can't go low-key on your weekend escape.
If you would like to do some soul-searching, be on a mindful journey to self-discovery, enjoy a relaxing retreat in your hotel or a cozy, dreamy log cabin.
On the other hand, if you'd rather ditch the comfortable accommodations and savor the vast wilderness, camp under the night skies instead!
Whether you want the thrill of outdoor adventure or just some downtime for yourself (or even with your loved ones) the Catskills has everything you need.
Contribution by Lucile from Lucile HR
23. New Orleans, Louisiana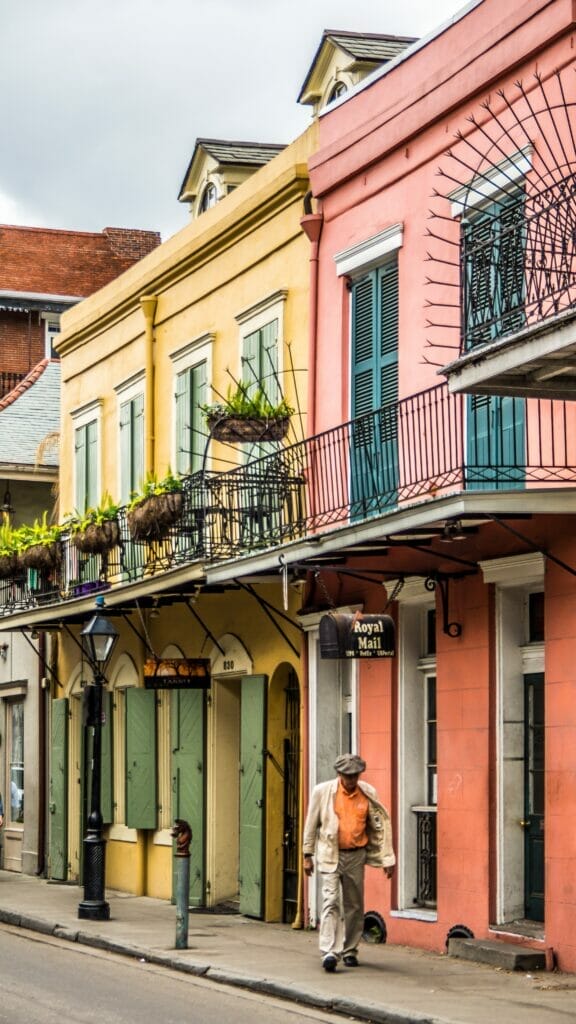 If you are looking for a fun weekend getaway in the USA, look no further than the city of New Orleans.
Check out the best New Orleans tour here to make the most of your trip.
Known as the Crescent City, New Orleans is one of the most diverse and interesting places to visit in the USA.
It has a history and culture that is incredibly unique to this part of the world.
New Orleans makes the perfect 2 or 3 day trip as it is easy to navigate and get around the city.
There are many sights and things to do during your weekend in New Orleans.
The French quarter is arguably it's biggest attraction, this quaint section of town is full of historic buildings and eateries.
Bourbon Street is where you'll want to head for nightlife, while Royal Street is quieter and full of antique shops, and Frenchman Street features some of the best Jazz Clubs in New Orleans.
New Orleans is home to some of the best food with many restaurants featuring a traditional menu with Cajun and Creole dishes.
The Gumbo Shop is one of the best restaurants in New Orleans and their Gumbo is to die for.
Or opt for something a little different such as the alligator sausage or crab cakes.
Beignets are a New Orleans staple and you cannot visit without trying one!
These fluffy sweet French donuts can be found at either Cafe Du Monde or Café Beignet.
The Garden District is a short cable car journey from the French Quarter, this part of town is full of gingerbread style houses and home to some of New Orleans' spookiest graveyards.
If you've got extra time, consider a day trip from the city, a swamp tour is a quintessential New Orleans experience.
The Hotel Royal, located in the French Quarter, is the perfect place to stay in New Orleans as it is within walking distance of many coffee shops, restaurants and attractions.
It's also in a quieter section of the French Quarter so getting a good nights sleep won't be a problem!
Contribution by Rachael from A City Girl Outside
24. Portland, Oregon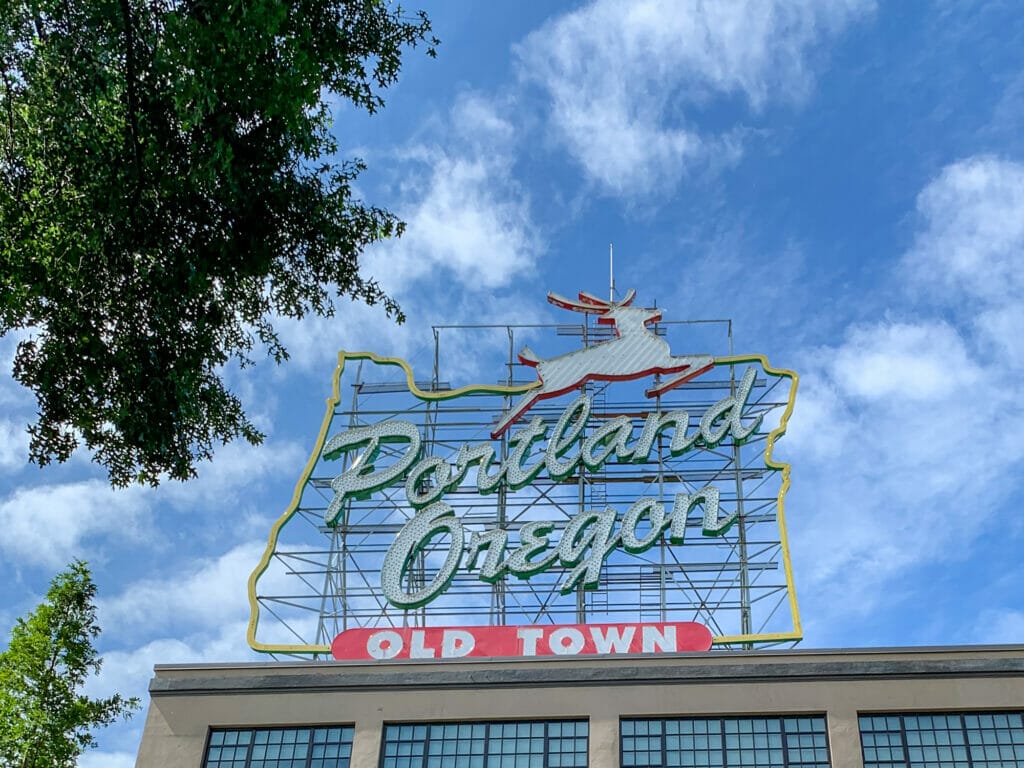 Portland, Oregon, a medium-sized city in the Pacific Northwest, is the perfect size for a weekend getaway.
It's small enough to explore in a weekend, but has enough things to do, see, and most importantly, eat and drink, to keep you busy and have you dreaming of your return trip on the plane ride home.
Check out this Portland tour to make the most of your short time.
The best way to spend a weekend in Portland, Oregon, is to eat and drink your way through the city.
You'll experience one of the best food and drink scenes on the west coast, especially when it comes to affordable food and food carts, and find yourself right in the middle of all the natural beauty that Oregon has to offer.
And donuts.
Lots of donuts of all shapes, sizes, and flavors.
To decide for yourself who makes the best donuts in Portland, there are three spots that you shouldn't miss.
They are Blue Star Donuts for their wide range of artisanal donuts (prepare to pay $3 a pop), Voodoo Donuts for the novelty donuts like the "Oh Captain, My Captain" which is crusted with Cap'n Crunch, and Pip's Original for made-to-order donut holes and incredible chai,
If a weekend full of donuts isn't your thing, Portland still has you covered.
Head to Toro Bravo or Han Oak for dinner, or the food cart pod at Prost! to eat at a food cart, which is a must-do while you're in town.
When in Rome, right?
For a little post-donut exercise, walk from downtown Portland up to the International Rose Test Garden, which is home to over 10,000 roses and has great views of the city and Mt. Hood.
Or, if you have a car, make your way into the scenic Columbia River Gorge to explore one of the many gorgeous waterfalls, like world-famous Multnomah Falls, a 611-foot tall waterfall that is just 30 minutes outside of downtown Portland.
While you're in Portland, you're definitely going to want to make a stop at Powell's Books, one of the largest independent bookstores on the West Coast.
You could probably spend your entire weekend browsing the shelves full of books ranging in topic from historical accounts to epic fantasy and sci-fi sagas to find your next book to read.
Contribution by Matt from Wheatless Wanderlust
25. Bend, Oregon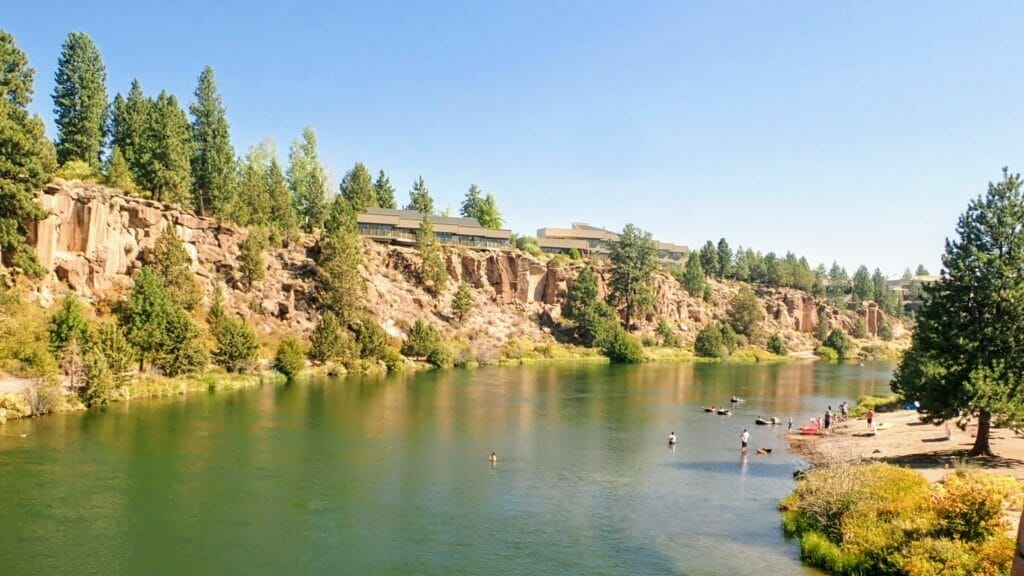 Bend, Oregon is a beloved getaway destination about three hours' drive south of Portland or east of Eugene.
Check out the best Bend tours here to make the most of your time here.
Best known for its relaxed atmosphere and outdoorsy vibes, Bend straddles the Deschutes River as it runs through high desert on the edge of the Cascade mountains.
Visitors come to enjoy the extensive outdoor recreation options as well as restaurants, breweries, and grassy riverside parks in town.
Mountain biking is one of the most popular outdoor activities in Bend, and the world class trail network just outside of town offers fun for both beginners and experienced riders.
Short hikes like Tumalo Falls are accessible for all levels, and in summer the nearby Three Sisters Wilderness draws hikers and backpackers looking for more challenging alpine adventures.
Wintertime visitors can go sledding or snowshoeing at nearby snow parks, or skiing at Mt. Bachelor.
Within town, the inviting Deschutes River is irresistible on hot summer days.
Rent a paddle board, kayak, or innertube, or just relax by the shore.
A lively restaurant and brewery scene awaits at the end of a fun day.
Bend has numerous places to stay, from budget motels to Airbnbs to campgrounds.
Though you could have fun for weeks in Bend, a weekend getaway is a perfect way to quickly recharge in a beautiful setting.
Contribution by Alissa of Exploring Wild
Get the All-American Travel Secrets!
Don't miss out on America's hidden gems!