Whether you're an American looking for some local travel destinations or a foreign traveler hoping to find the most beautiful states in the US, these are the top picks for the most gorgeous, jaw-dropping states in America.
From the mountains of North Carolina to the beaches of Florida to the history of Massachusetts, each of these states has plenty going for it that should skyrocket them to the top of your itinerary.
Enjoy this guide to the most beautiful states in the USA!
1. Oregon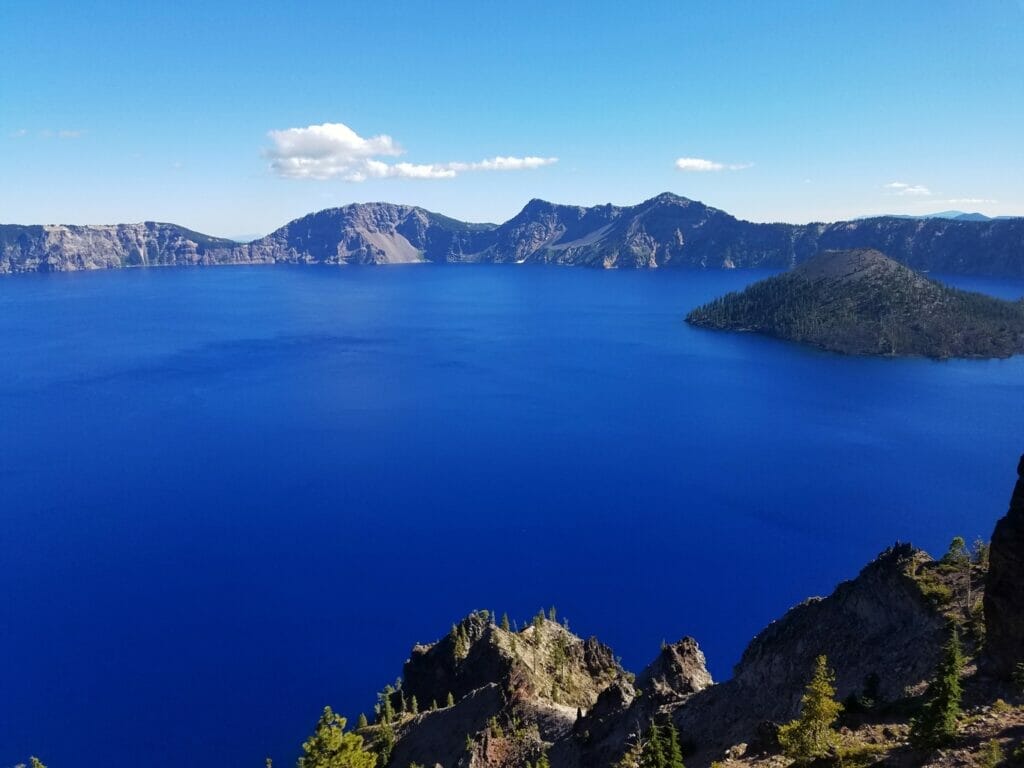 There are few places in the world with the diverse natural beauty of Oregon.
In the heart of the Pacific Northwest, Oregon is one of the most beautiful states in the United States.
The fantastic beauty of Oregon is unique and unlike any other place.
Oregon boasts one of the most beautiful coastlines in the world.
The 364-mile Pacific Ocean coastline is (by law) entirely accessible to the public and features dramatic cliffs, bizarre rock formations, enormous beaches and even miles of otherworldly dunes.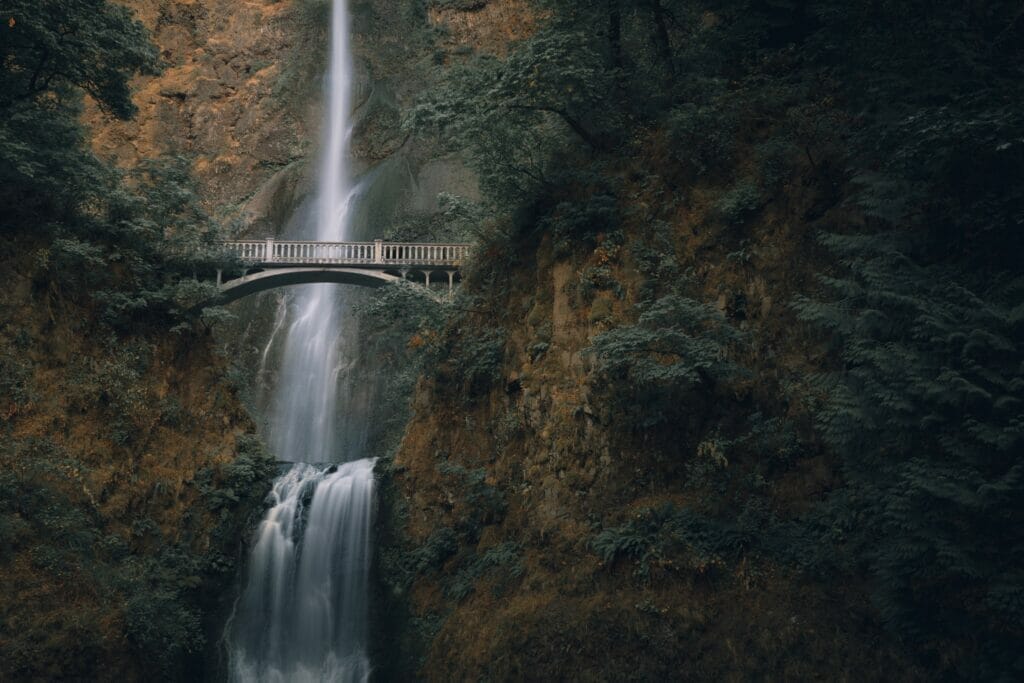 The Oregon Coast is also home to incredible wildlife like sea lions, seals, whales, otters and more.
The Cascade Range spans the entire north-south length of Oregon, and is home to several sleeping volcanoes.
The most notable, Mount Mazama, is home to Crater Lake National Park and one of the most striking scenes in the world.
Farther north in the Cascade Range is Mount Hood, a towering peak visible from Portland (50 miles away) as long as it's not raining.
Hood is popular for snow sports, hiking and other outdoor fun.
Beyond the Cascades (to the east) is largely flat land, much of it high desert.
The change in environment on either side of the mountains is drastic – green and wet on the west, dry and earthy on the east.
The Columbia River Gorge is an incredible sight to behold.
It has several beautiful waterfalls, thousands of miles of hiking trails, unique weather phenomena and even vineyards.
These are just a few of the magnificent features of the beautiful state of Oregon.
From east to west, north to south and everywhere in between, Oregon has a diverse and unique landscape unlike anywhere else.
Written by John from The Hangry Backpacker
2. South Carolina
South Carolina is a beautiful southern state with so much diversity to offer.
Here in South Carolina, you can find beach towns, countryside, mountains, and citylife.
I've personally lived in South Carolina for 5 years and personally love exploring different areas of the state.
For starters, South Carolina is home to one of the top destinations in the USA- Charleston, SC. Charleston is continuously voted number one place to visit year after year and it is easy to see why.
This coastal city has unique culture, history, and charm.
You can spend a weekend here exploring King Street, The Markets, Rainbow Row, and more!
South Carolina is also home to beautiful beach towns like Hilton Head Island. Hilton Head is a vacation paradise. It is only 12×5 miles large but the perfect place to relax with your toes in the sand and a drink in hand!
Finally, South Carolina offers you the "big city feel" in Columbia, SC.
This is a mix of college town (go Gamecocks), state capitol, and city-life.
There are so many beautiful nooks of Columbia to explore like The Vista and Five Points
Written by Lisa from Wanderlust with Lisa
3. Colorado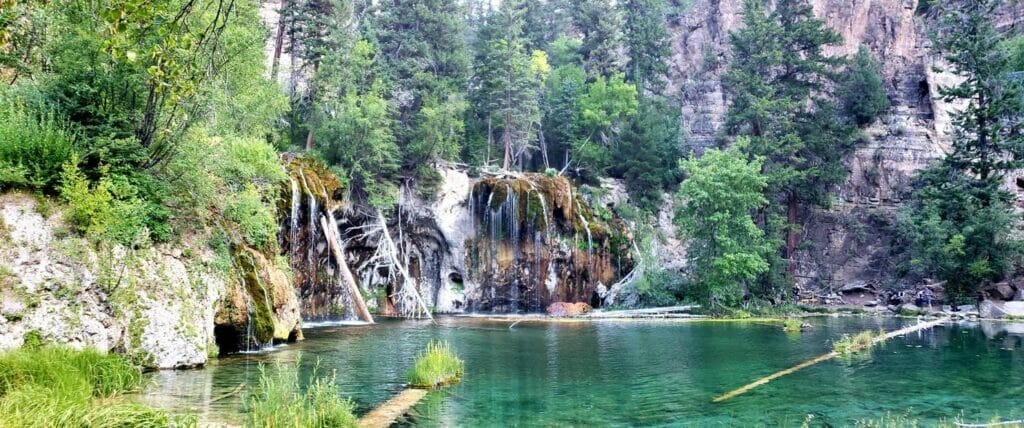 Colorado is an outdoor enthusiast's dream state.
The majestic Rocky Mountains running from north to south in the western part of the state create an incredible backdrop of gorgeous vistas.
With multiple national parks, hiking trails, alpine lakes and more to discover, there is a multitude of ways to explore one of the most beautiful states in the US.
Most visitors to Colorado will find themselves based in the capital city of Denver.
It's a transportation hub and close to many of the most beautiful attractions in Colorado.
And since Colorado is a year-round travel destination, the best time to travel to Denver isn't limited to only warmer months!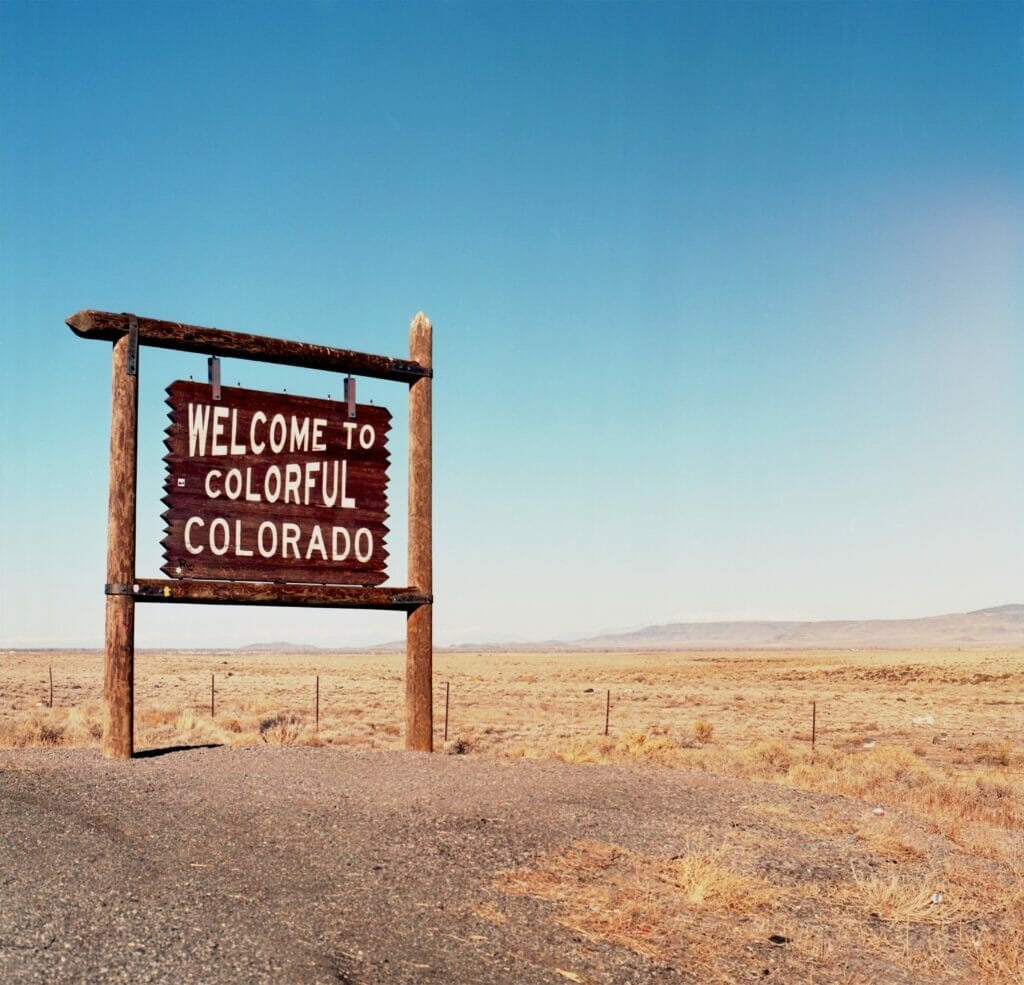 The mountains and surrounding landscapes are bustling with activities no matter what season you visit.
Over four million visitors to Colorado especially love the scenery in Rocky Mountain National Park's 400+ square miles of mountain beauty.
This incredible park is only a 90-minute drive northwest of Denver.
Here you can explore over 350 miles of hiking trails, 147 lakes, 77 mountain peaks higher than 12,000 feet, multiple scenic drives, and the opportunity to view a variety of wildlife.
Nearby, fans of "The Shining" will appreciate a stop in Estes Park, Colorado.
Not only is it a quaint mountain town worth exploring, but the nearby Stanley Hotel was prominently featured in the horror film.
The views of the hotel over the lake are incredible, and the spooky history will keep you on your toes.
And finally, be sure and check out one of Denver's most beloved hikes in the state: Hanging Lake.
It's a short (but intense) hike to the most incredible lake and waterfall tucked in the mountains among the trees.
And finally, a stop in nearby Glenwood Springs for a soak in the natural hot springs will help revive your tired muscles.
Written by Kara from Destination: Live Life
4. Hawaii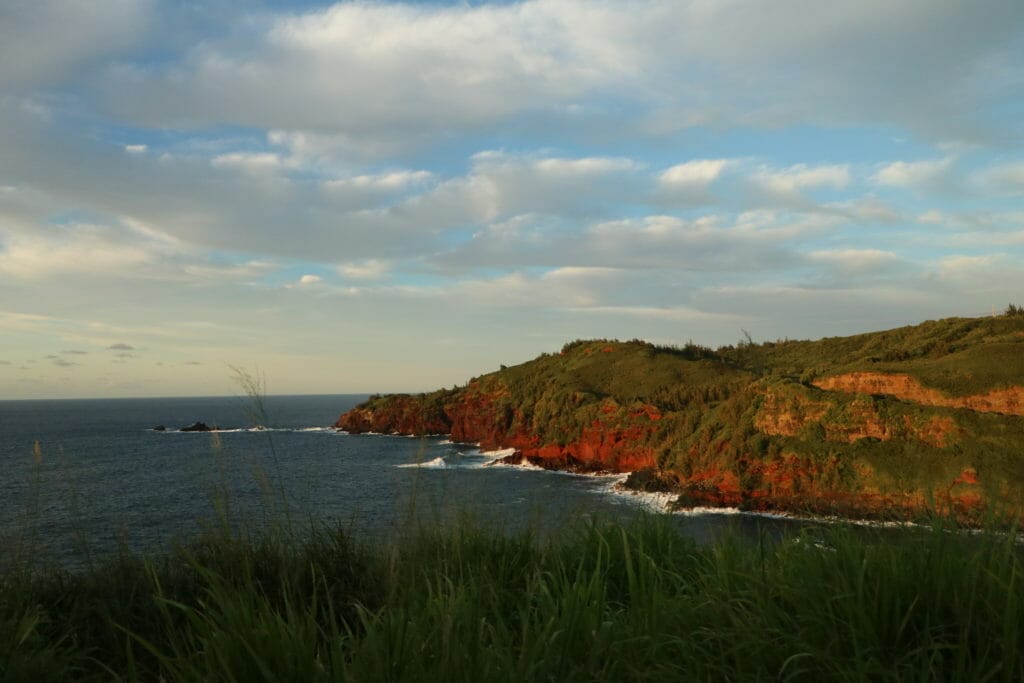 After visiting Maui, there is no doubt in my mind that Hawaii is the most beautiful state in the union.
In less than an hour you can go from snorkeling with sea turtles right off the beach to hiking a mountain with panoramic ocean and valley views.
With many islands each featuring scenic beaches and trails like this, you cannot top the beauty of Hawaii.
In Maui alone, the island is 727 square miles of enchanting sights.
On the west side you have the Mountain Summit Pu'u Kukui as a backdrop to the beaches of Lahaina.
From here you can hike through Iao Valley State Park or spend the night in a beachside tentalow at Camp Olowalu.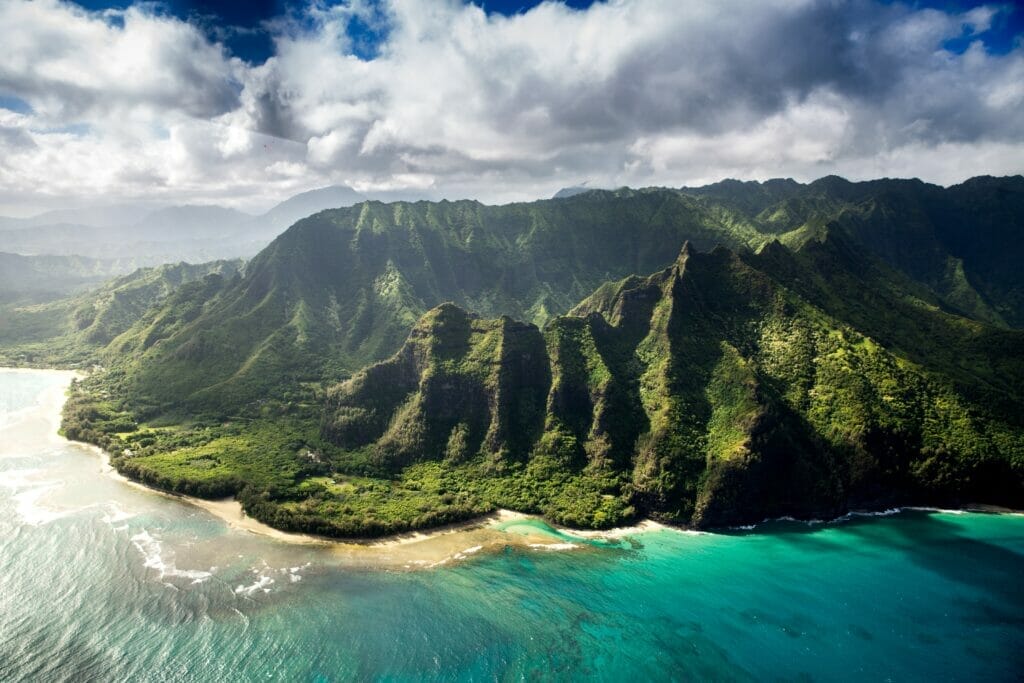 South of there are the most amazing beaches I have seen anywhere in the world at Wailea.
Though there are reefs to snorkel along the beach, you would be remiss not to go for a charter to the Molokini Crater.
This famous dive spot provides 300 feet of visibility filled with breathtaking views.
Over in upcountry, you can get a taste of the rural Hawaiian life literally, at a serene lavender farm where you can try honeys, jams, and teas infused with the local lavender.
For the more adventurous, you can drive up the dormant volcano and see snow.
Though the east part of Maui is an adventure to get to, you can't discuss the beauty of Hawaii without mentioning Hana.
The road to get here is filled with sights of waterfalls, rainbow eucalyptus trees and black sand beaches.
I would be hard pressed to think of another place on Earth that holds as many beauties as Maui and this is only one of the four major islands of Hawaii!
There is no doubt that Hawaii is the most beautiful state in the nation.
Written by Amy from the Florida Travel Girl
5. Washington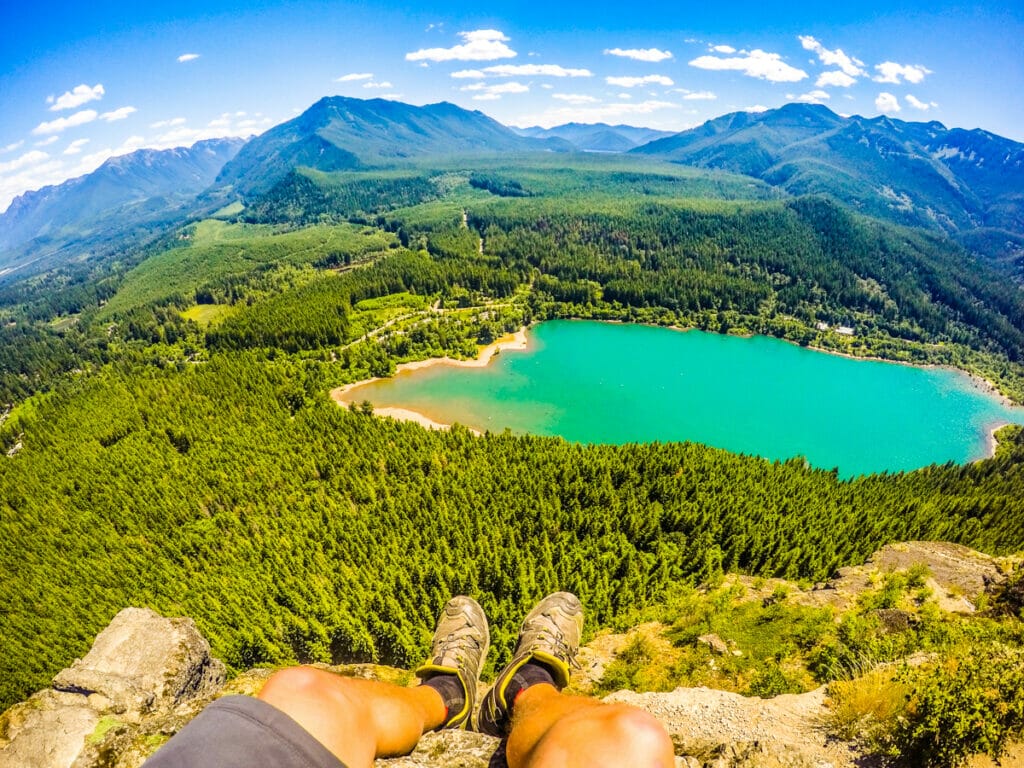 Washington state has a nickname, they call it the evergreen state.
The reason is there is so much nature in the state that stays green all year long.
With so much nature obviously comes some truly beautiful and unique landscapes to explore and document including three national parks.
The state is really divided into sections, each with their own landscapes and climates.
Eastern Washington is very dry and hot in the summer and has an abundance of orchards, vineyards, cattle ranches and lakes to see.
The cascade mountain range in the center of the state offers skiing, mountain biking, picturesque towns like Leavenworth and some of the best hiking in the world among peaks like Mt. Rainier.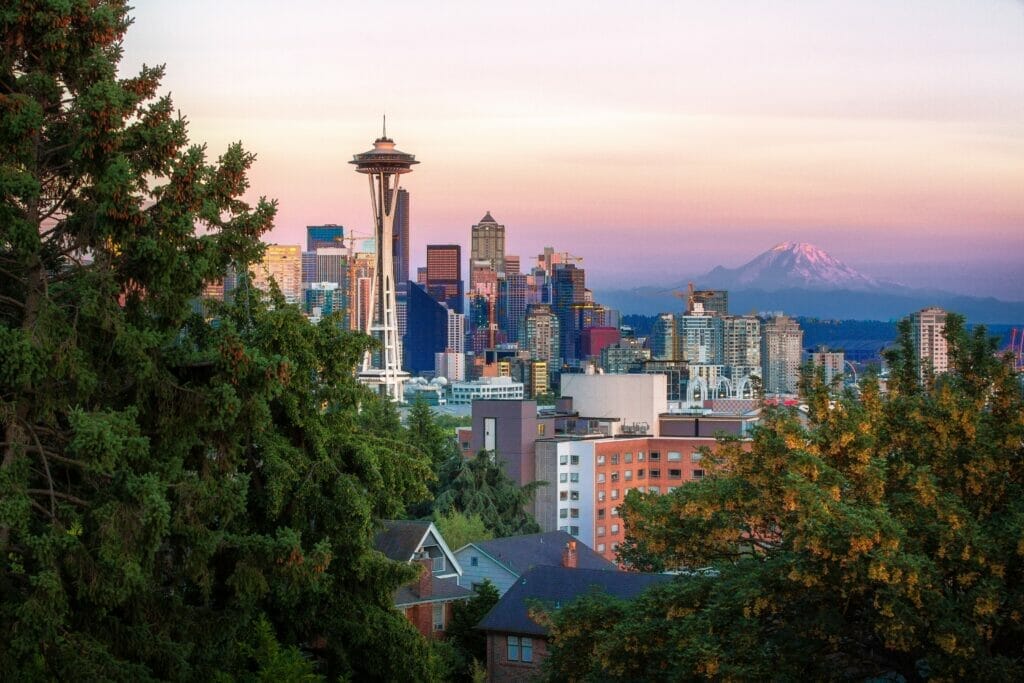 Most of the main cities of the state run along an area west of the cascades called Puget Sound.
This is where you also find the San Juan Islands with their unique ferry towns and daily whale sightings.
West of Puget Sound is the world renown Olympic Peninsula with its glorious rocky coastlines and the Olympic National Park which includes the Olympic Mountain range and Hoh Rain Forest.
You could easily spend two weeks just on the peninsula and still not see everything.
As a big fan of hiking and mountains, I tend to do a lot of adventuring in the Cascades when I am in Washington.
I will usually find a unique glamping spot to base myself from and head to the mountains during the day.
Some of my favorite hikes for views are Rattlesnake Ledge, Mt. Pilchuck Lookout and Mailbox Peak.
Written by Nathan from All About Glamping
6. North Carolina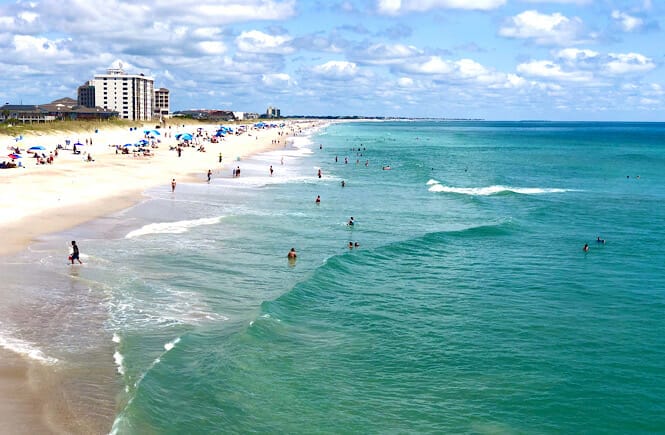 If you're seeking the most picturesque destinations in the USA, North Carolina has got to be on your list!
Mountain lover?
Consider taking a road trip down the Blue Ridge Parkway. Stop in the lovely towns of Asheville, Banner Elk, Chimney Rock, and Boone to see everything from epic landscapes to waterfalls to gorges.
Don't miss out on a visit to The Biltmore Estate, the country's largest private residence owned by the Vanderbilt family.
You'll also find a thriving foodie and art scene and some of the area's best craft breweries.
But for the most amazing views, get into nature and explore Grandfather Mountain, Pisgah National Forest, and the Great Smoky Mountains National Park.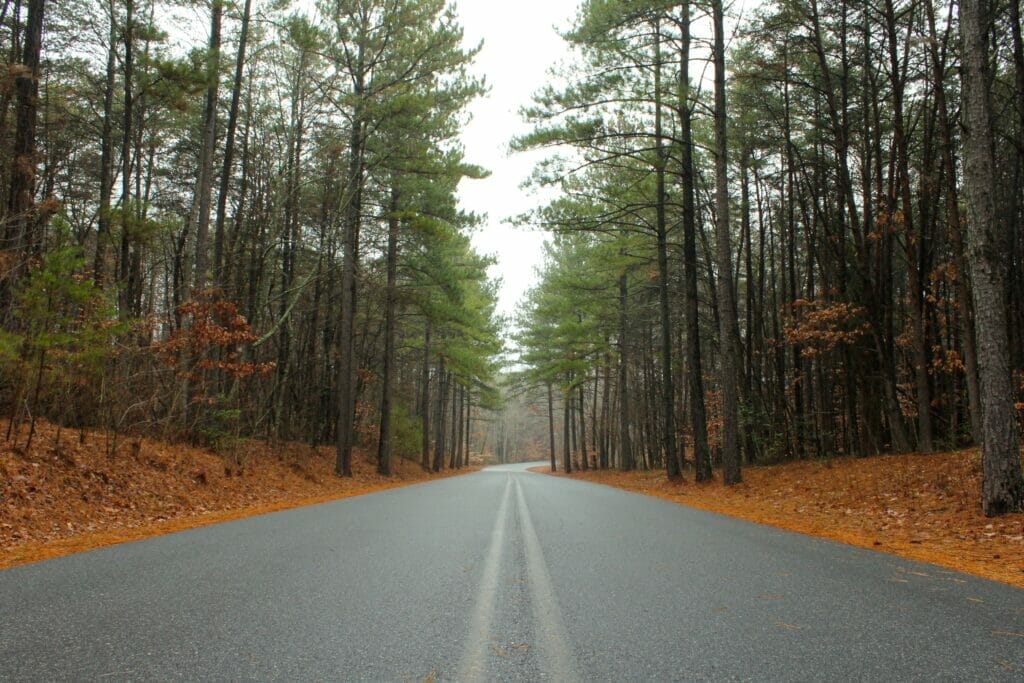 Beach calling your name?
Head east to some of the country's most beautiful beaches.
The Outer Banks gets all the credit, but you'll find adorable small towns and more all along the North Carolina coast.
Some of our favorite lesser known NC beach towns are Oak Island, Wilmington, Carolina Beach, and Duck.
Get your history fix at the Wright Brothers Memorial, go light house hunting, or just soak up the sun during your visit.
Want a little more action?
Try your hand at surfing, kayaking, or parasailing along the coast.
Make sure to make your reservations early regardless which North Carolina coast you plan to visit.
The mountains are very popular late summer and for leaf peeping in the fall while the beaches draw heavy crowds during the summer months.
From the mountains to the sea, there are so many beautiful places to visit in North Carolina.
Written by Julie from More than Main Street
7. Idaho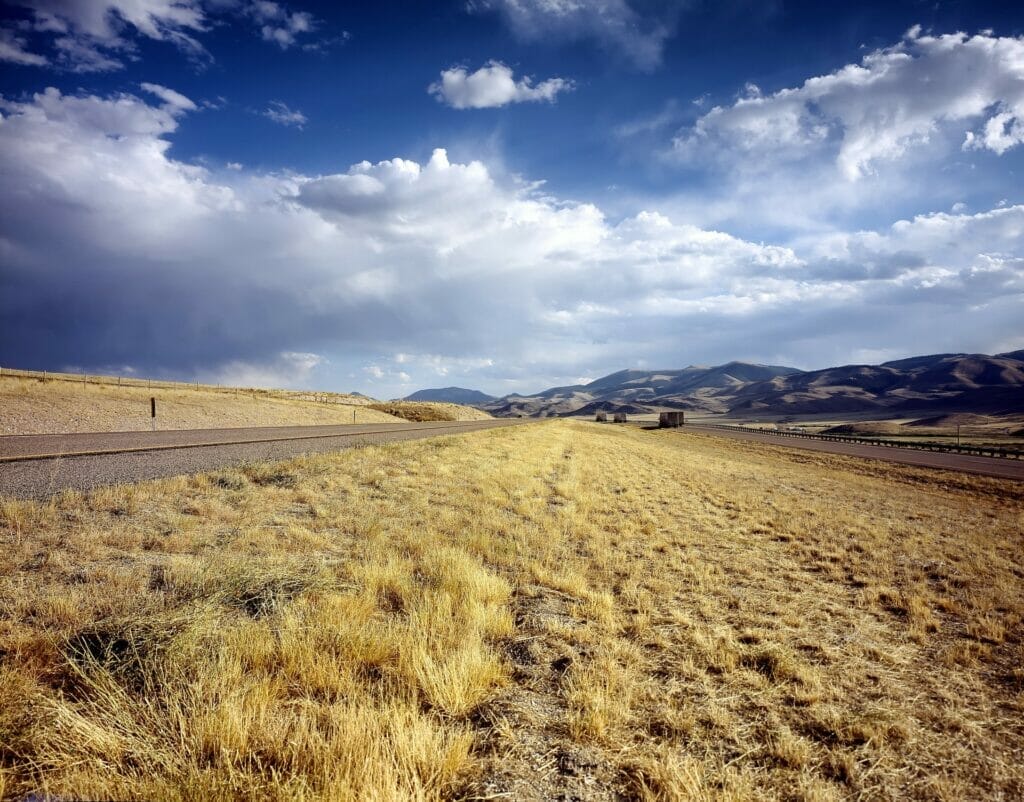 Contrary to popular belief, Idaho is much more than potatoes and deserts.
That being said, yes they know what to do with their potatoes.
And the deserts and the sagebrush, they are pretty in their own right.
But Idaho is such a beautiful state. While working in the United States, I got the chance to live in Idaho and fell in love with it right away.
For anyone who loves the outdoors, camping, adventurous thrill-seeking, fishing, or mother nature, the untouched beauty of this state is simply incredible.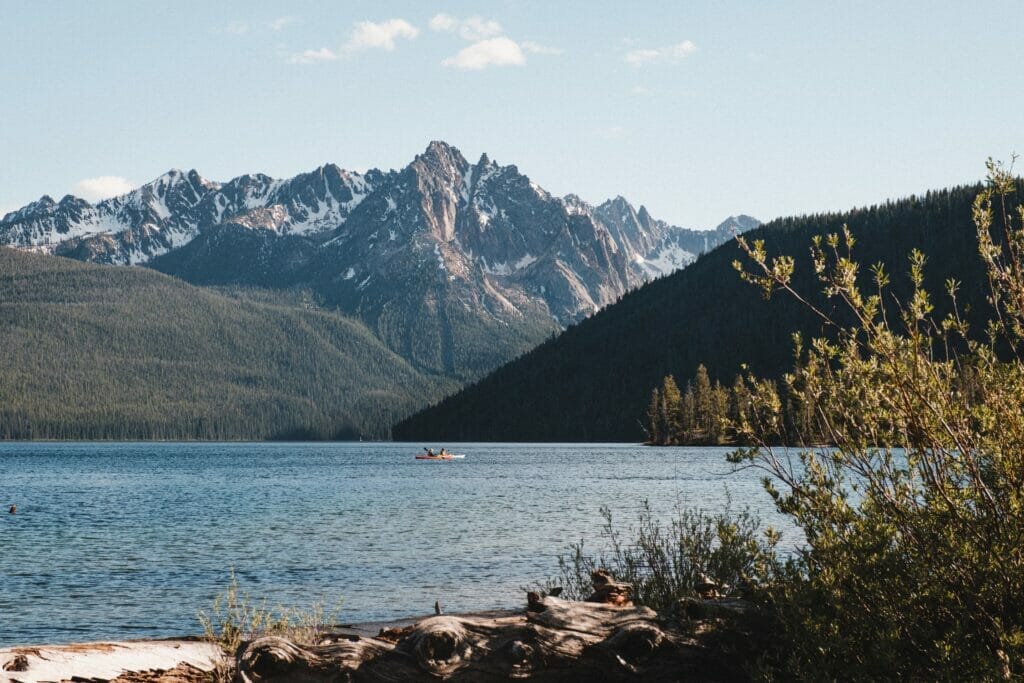 Idaho has got 30 diverse state parks.
So if you are ever in the mood for a road trip, you won't be disappointed.
You can drive to the Craters of the moon to gaze at the dark skies.
In Bruneau Dunes State Park, and sandboard on the tallest freestanding sand dunes in North America.
And have a stellar camping experience in Bear Lakes park or Farragut park.
Another great thing about Idaho is its natural hot springs.
There are a multitude of hot springs here and there, where you can soak in all the while being surrounded by beautiful wilderness.
Want a more urban hot springs experience?
Drive to Idaho city or Stanley where you can be in your own private tub while enjoying some local wine or craft beer.
While Boise is such a wonderful place to live, owing to no traffic and its affordability, Idaho has many more towns worth visiting.
Love skiing?
How about a weekend in the resort town of McCall?
Go for a trip to Pocatello for its museums, nearby hiking trails, and the beautiful old town.
And, how can I forget how friendly the Idahoans are. That is part of Idaho's beauty.
Written by Deb from the Visa Project
8. Tennessee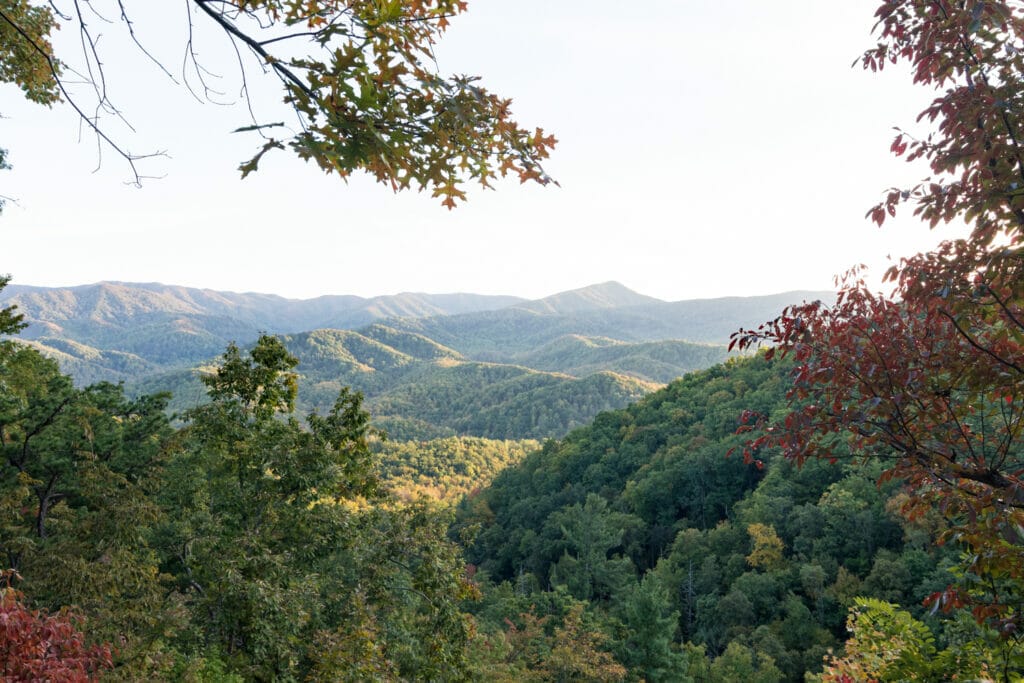 Growing up in Tennessee I didn't realize how beautiful the state actually was until I started traveling the world.
Eastern Tennessee is particularly stunning as it is home to the Great Smoky Mountains National Park which encompasses over 500,000 acres of the Appalachian Mountain range.
You'll find hundreds of miles of hiking trails in the Smoky Mountains that take in sweeping views, cascading waterfalls, and peaceful mountain valleys.
And while you're in the Smokies, don't miss Cades Cove.
This beautiful little valley is the most popular destination in the National Park, attracting over 2 million visitors a year.
Make sure you go early in the morning so you can avoid traffic and increases your chances of spotting deer and black bear.
Heading to the West, the foothills of the Appalachian Mountain range give way to flatter terrain and Central Tennessee is home to the Cumberland Plateau.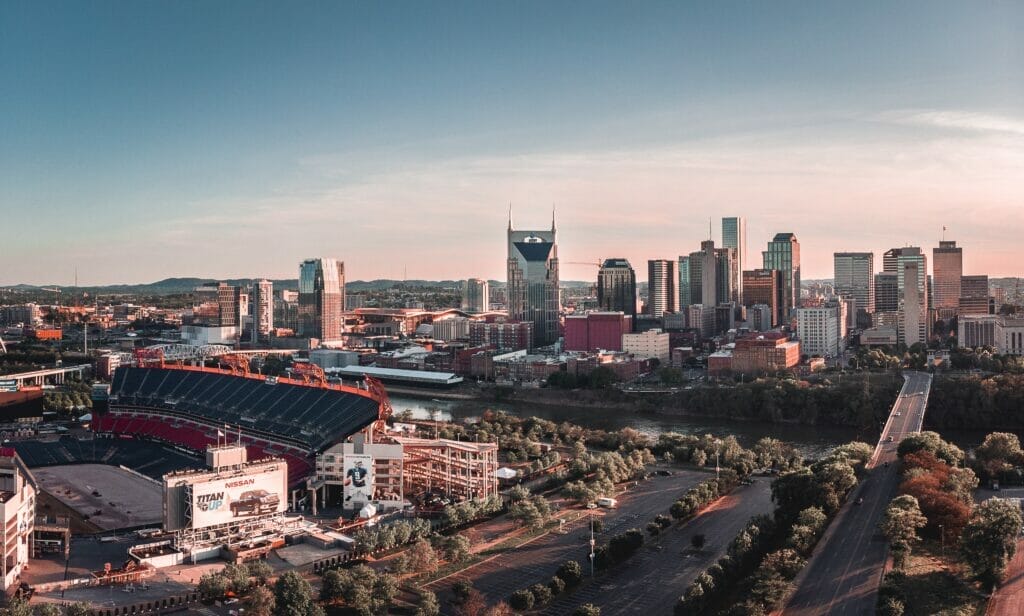 Here the massive limestone plateau has been eroded by rivers resulting in extensive cave systems and beautiful cascading waterfalls – make sure to check out the scenic Obed River Preserve and Laurel Falls.
And if you're a fan of spelunking then you must visit the Lost Sea, just outside of the town of Sweetwater. It's the largest underground lake in the USA!
Finally, at the western border of Tennessee, you'll find the mighty Mississippi River.
You'd be remiss to not take a riverboat ride on this historic waterway.
And while Memphis is not the most beautiful spot in the state, you'll definitely want to visit Beale Street which is the birthplace of blues, and Graceland, the grandiose home of Elvis Presley.
Written by Nick from Wandering Wheatleys
9. Vermont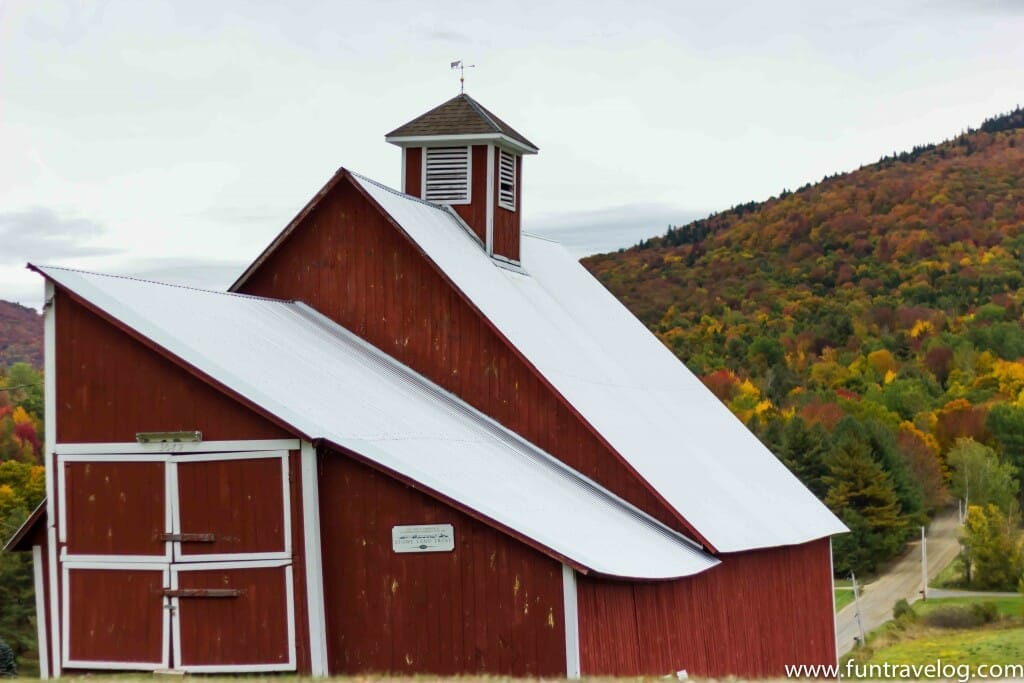 With its rolling hills, farms, and charming towns Vermont is by far one of the most beautiful states in the United States. Plan a Vermont fall foliage road trip, and you'll know why.
Located in the northeast kingdom of the country, Vermont is easily accessible from Boston or New York through a two-three hour drive.
You could even fly into Burlington, one of the state's largest towns, which has an airport.
Bordering the stunning Lake Champlain, Burlington is a must-visit town known for its culinary scene.
Another beautiful place, and known as one of America's most beautiful villages, is Woodstock.
Small cafes, boutiques, and art galleries dot the center of this village.
Leaf peepers also make a stop in the village of Stowe – the white church in the village is hugely photographed amidst the dazzling background of orange and yellow leaves in the fall. Stowe is a busy area in the fall.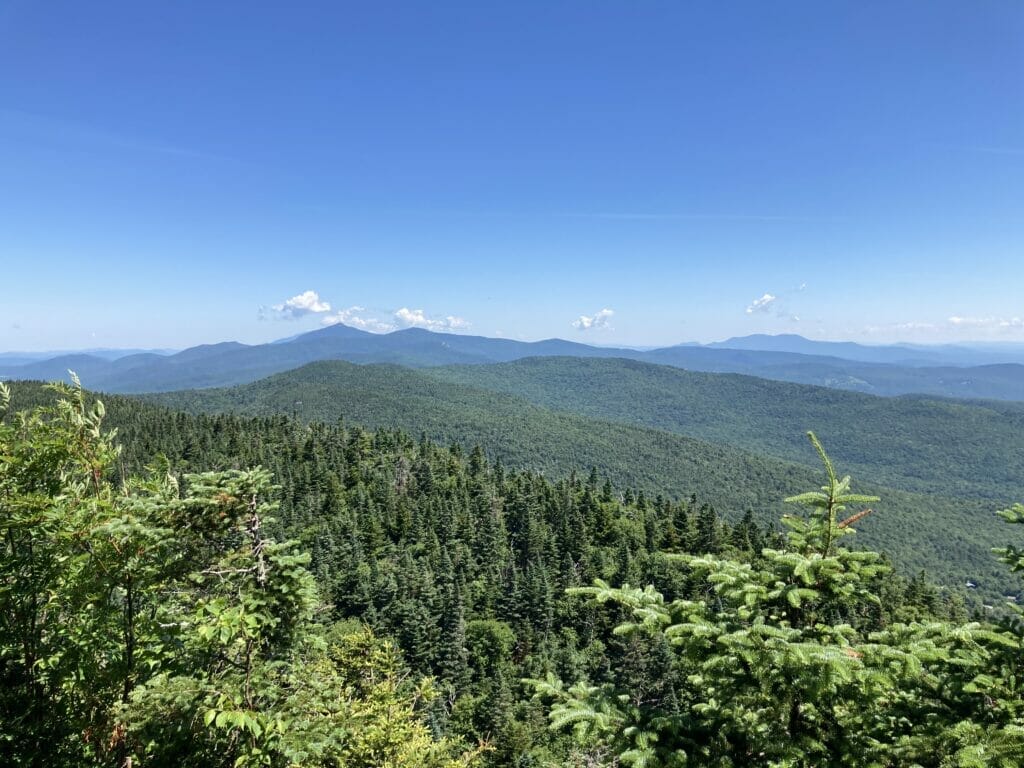 It is close to some of the most scenic byways in Vermont.
In the summers and fall, you could also drive up to the top of Mount Equinox or take the scenic route to Smugglers Notch.
While you're driving around, do stop by and admire the iconic wooden covered bridges, which are signature to the state.
There are a few corn mazes, and many lakes and state parks in the area too.
To see life on a working dairy farm, visit Billings Farm.
Pick up locally made maple syrup from Sugarbush Cheese & Maple Farm and don't miss out on the cheese from the town of Grafton.
Written by Supriya from Fun Travelog
10. Utah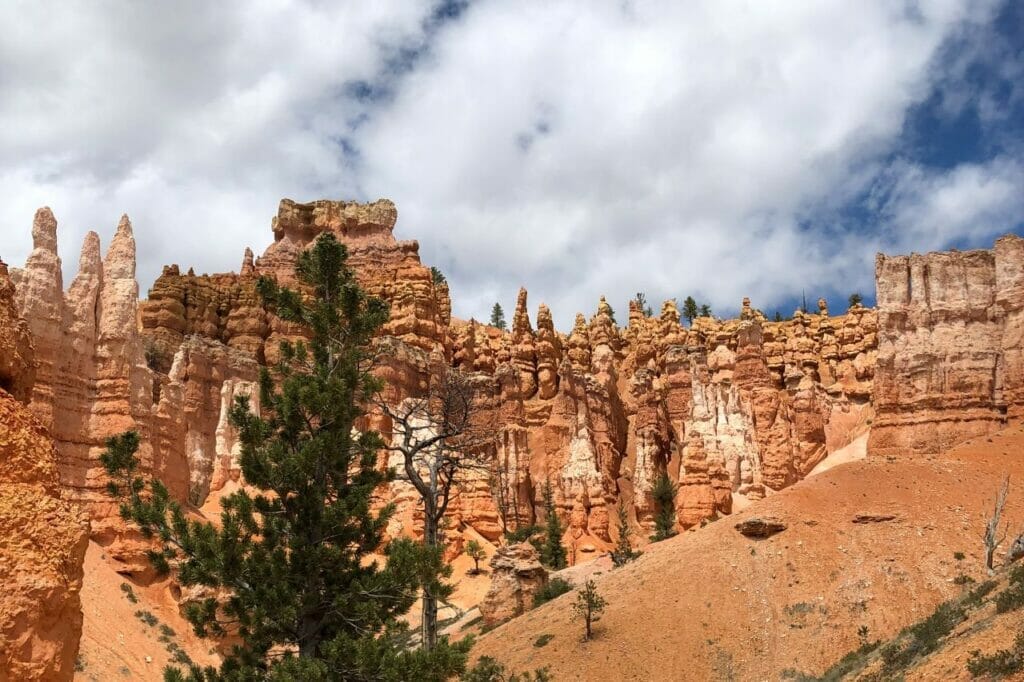 For outdoor lovers, Utah is packed with national and state parks and is one of the prettiest and most diverse states in the country.
From the fantastic ski resorts in the north to incredible canyons and rock formations in the south, Utah has it all.
Utah's "Mighty 5" national parks, Zion National Park, Bryce Canyon, Arches, Canyonlands, and Capitol Reef, are probably the most popular attractions in the state, and for good reason.
Scattered across the southern end of the state, when you're thinking of an epic Southwest road trip, the views at these national parks are probably what you're imagining.
With everything from short easy paths to back country trails, this area is a hiker's dream.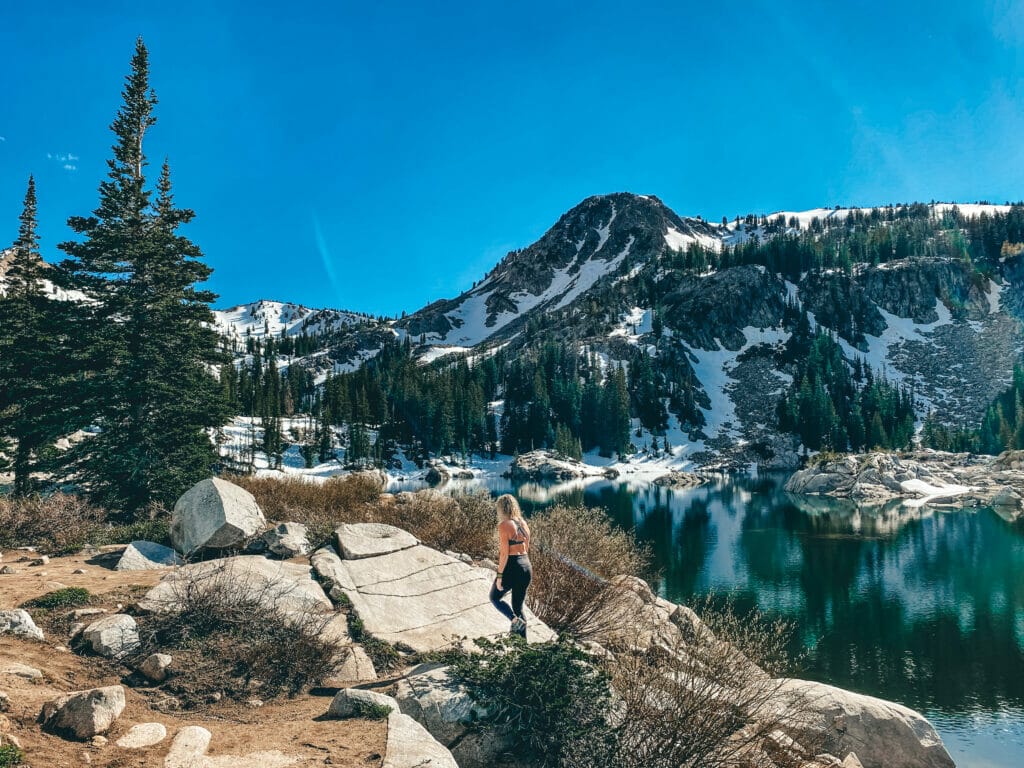 Hiking amongst the delicate sandstone arches at Arches National Park or the otherworldly hoodoo rock spires at Bryce Canyon should be on everyone's bucket list.
In addition to all of the national parks in the area, there are some incredible state parks and national monuments.
The area around Kanab isn't quite as busy as the parks of the Mighty 5, but packs quite a punch with hiking access to slot canyons like Buckskin Gulch, the longest slot canyon in North American, and Coral Pink Sand Dunes where the dunes rise up like mountains just waiting to be explored by foot, dune buggy, or even sandboard.
Looking for something other than gorgeous desert landscapes?
Well Utah has that too!
The northern end of the state is home to unique locations like the Great Salt Lake and the Bonneville Salt Flats, as well as the ski resort town of Park City.
With something new to explore around every corner, a road trip is the best way to see as many of the sights of Utah as possible. And, bonus, even the driving in Utah is beautiful!
Written by Kristin from That Traveling Family
11. Florida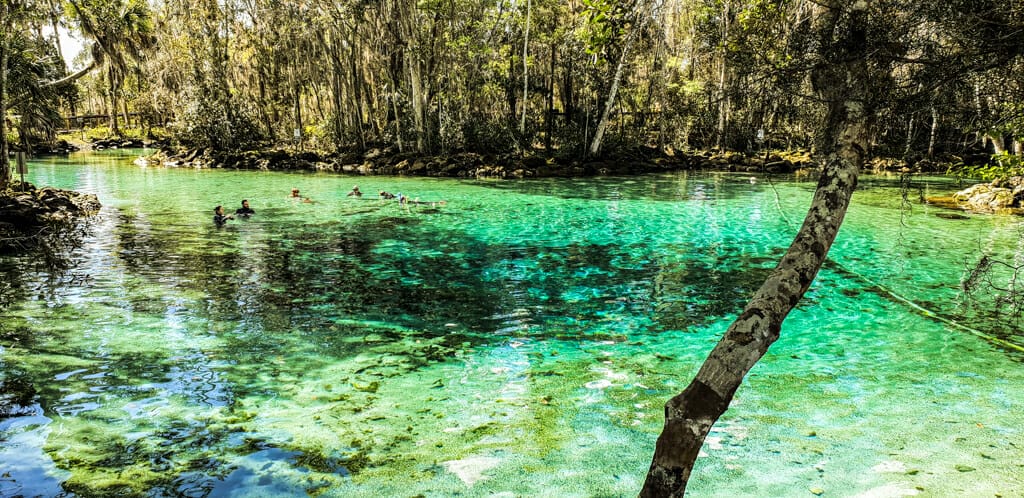 The sunshine state is known for its beautiful white sandy beaches, warm weather and of course, theme parks!
There is no shortage of things to do in Florida, which is why it's definitely one of the best states in the USA!
If you love cities and culture, Miami and Tampa should be at the top of your bucket list.
You will find architectural gems, street art, shopping centres.
You will also find a very strong Cuban influence in districts such as Little Havana or Ybor City.
They are great places to grab a Cuban sandwich and a delicious coffee!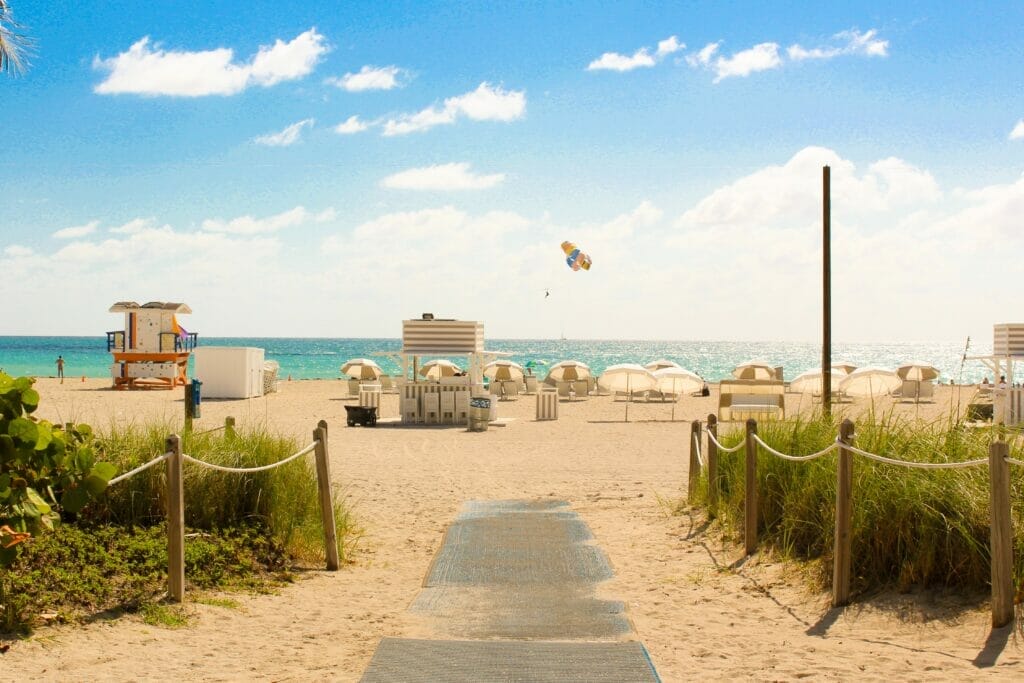 Then, of course, we need to mention the beaches!
Florida is home to some of the best beaches in North America. St Pete Beach, Clearwater Beach and Sarasota are particularly popular!
There are also loads of hidden gems in Florida and that's what makes this state truly amazing.
There are many springs all around central Florida, making it a great destination for people who love nature, swimming and kayaking.
The wildlife is also a reason to visit Florida.
If you head to the Everglades and take an Everglades airboat tour, you will discover hundreds of alligators and crocodiles!
You can explore the wetlands on board an airspeed boat which is a very cool thing to do!
On Big Pine Key, you will get to see beautiful wild deer.
But the star in Florida is the manatee!
You can find them in so many places! A very popular destination to swim with Manatees is Crystal River.
Finally, Florida is a great destination for people who love water sports. Kayaking, paddling, boating, fishing…anything you'd like, you can have it!
You can go all year round but the best time to go is winter.
If you love some warm weather and want to escape the snow, it's the place for you!
Written by Pauline from Beeloved City
12. Georgia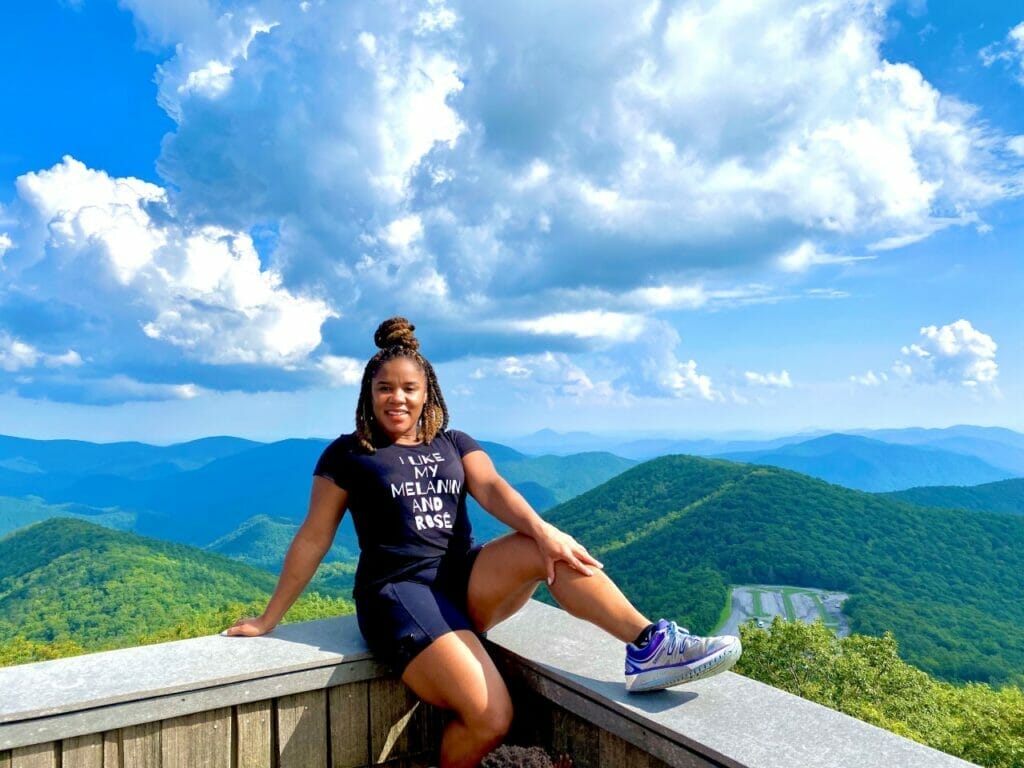 When one thinks of the most beautiful state in America, Georgia probably does not come to mind.
However, Blue Ridge and the surrounding area will debunk this thought.
This gem of a town is located in northern Georgia, perfectly nestled on the Georgia, North Carolina, and Tennessee border.
It's about a ninety minute drive from Atlanta, two and a half hours from Charlotte, and three hours from Knoxville.
Its beauty features the Chattahoochee National Forest, the Appalachian Trail, the Ocoee River, trout streams, waterfalls, and more.
Similarly, the charm and quaintness of Blue Ridge is unmatched, filled with delicious restaurants, craft breweries, wineries, orchards, and upscale shops and galleries.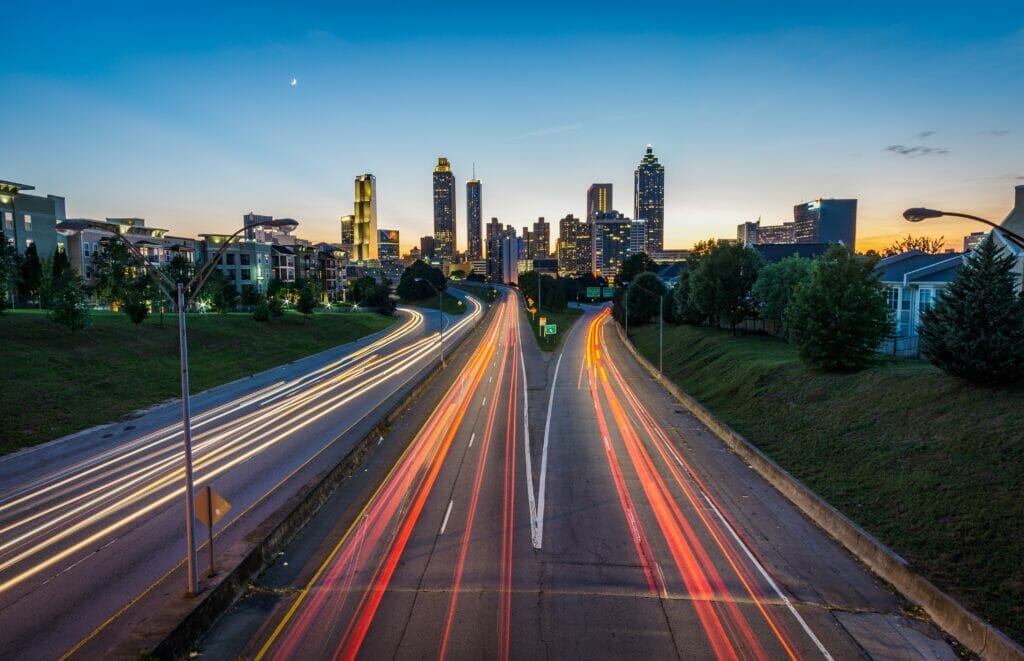 No wonder Blue Ridge was ranked by Southern Living Magazine as one of "2020 South's Best Mountain Towns."
Brasstown Bald, the highest point in Georgia, is a must visit when in this area.
Located about one hour from Blue Ridge, Brasstown beautifully displays the intersection of Georgia, Tennessee, North Carolina, and South Carolina.
The 360 degree view offered at the observatory deck is breathtaking, making it hard to believe that you're in Georgia.
The trail up to the observatory deck is not a long one, slightly over one half of a mile.
But don't let its short distance fool you because it's rather steep. The observation deck is recorded at 4,784 feet above sea level.
Similar to the beauty of Brasstown Bald, Morganton Point Beach – just fifteen minutes from downtown Blue Ridge – offers you the beauty of Lake Blue Ridge with the mountains as a perfect backdrop.
Here you are able to kayak, hike, or simply enjoy the beauty of your surroundings.
Gems like Brasstown Bald and Morganton Point Beach are scattered throughout Blue Ridge and its surrounding area.
Written by Marquita from Marquita's Travels
13. Massachusetts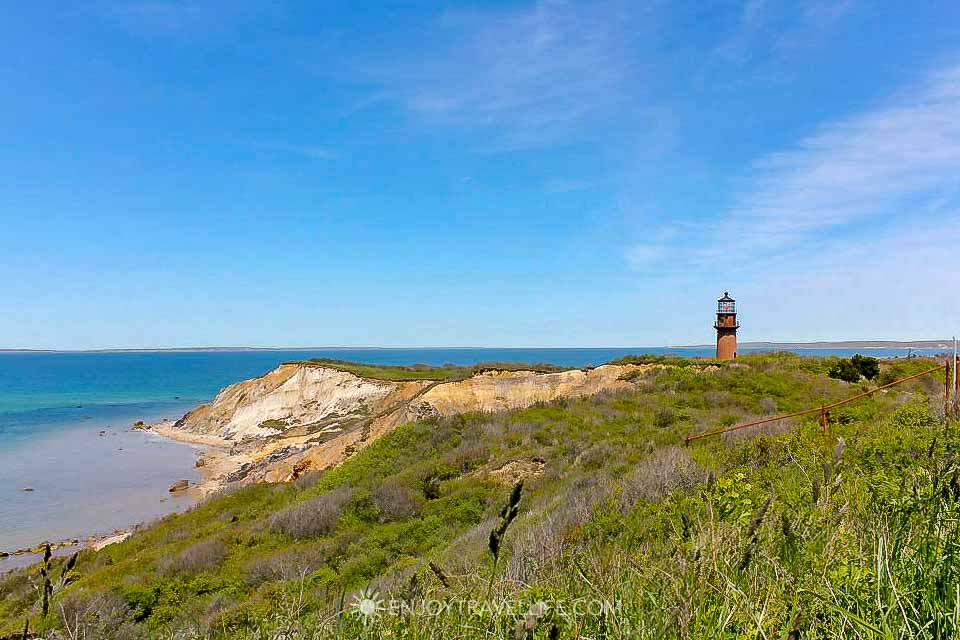 Massachusetts is one of the most vibrant, diverse, and beautiful New England states.
You'll find it offers incredible scenic beauty including a vast seashore, charming historic villages, rich city life, and breathtaking mountains.

When you visit Massachusetts, be sure to spend some time in Cape Cod and the Islands (Martha's Vineyard and Nantucket), where you'll enjoy miles of deep blue seashore and the Cape's casual-luxury vibe.
"Down the Cape" is where many Massachusetts locals love to spend summer weekends—with good reason!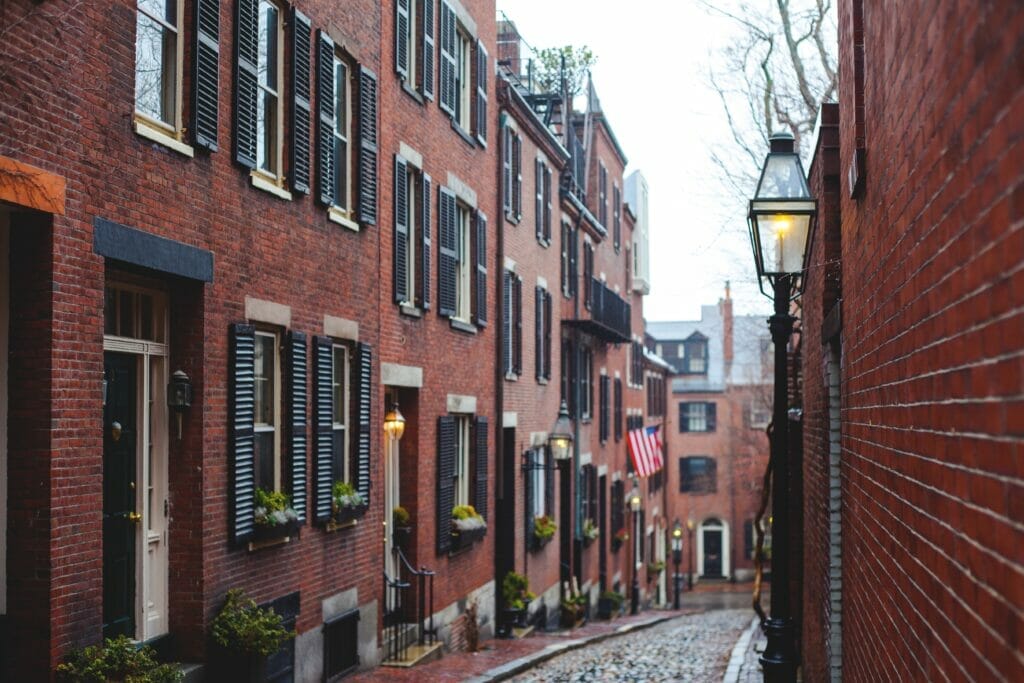 There's plenty to see from the Bourne Bridge to the tip of Provincetown.
What many visitors don't know is that it's an excellent choice for the off-season, too.

Then, there are the Berkshires of Western Massachusetts.
Here, you'll find rolling hills and bucolic pastures.
It's the go-to destination for scenic bi-ways and gorgeous fall foliage.
In addition, you could plan a whole day around cultural experiences.
Check out the Norman Rockwell Museum in Stockbridge, or take in a music performance at Tanglewood in Lenox.
And if it's mountains you love, The Appalachian Trail crosses the highest point in Massachusetts atop Mount Greylock in Adams.

Of course, you can't go to Massachusetts without visiting its capital, Boston, home to the Red Sox.
You'll discover this historic city at the heart of the American Revolution is filled with historic landmarks.
Among them, there's Old North Church, Paul Revere House, and the Boston Tea Party Ships.
So, The Freedom Trail is a great way to explore Boston by foot.
You'll see all these things and beautiful scenic harbor views along the way.

Finally, take the ride north to Salem.
Even though it's most popular around Halloween time (and so fun!), there's a lot more than witchcraft to explore in this charming seaside town.

Give yourself plenty of time when you visit beautiful Massachusetts; it's an underrated destination.
As you can imagine, each of these experiences is worthy of a mini-vacation of its own.
Written by Jackie from Enjoy Travel Life
14. Maine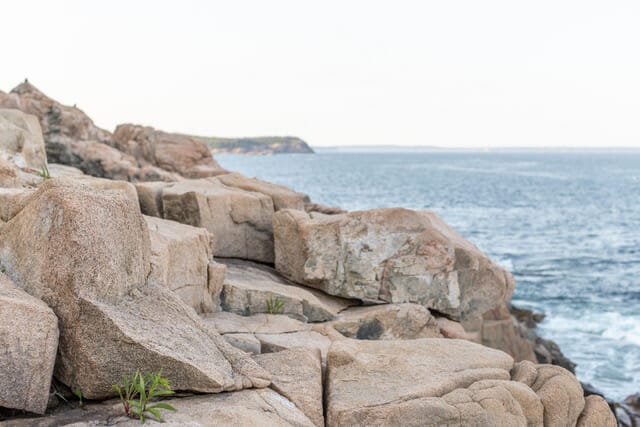 It could not be easier to express what makes Maine a beautiful state.
As someone who frequently plays tourist in this region, I truly think it's one of the most gorgeous and perhaps underrated places on earth.
You only need to visit once in the summer or fall and you will instantly be in love.
In summer, the coastlines are hard to beat.
Sailing and fishing are popular among locals and tourists alike, and it is easy to see why. People want to be out on the water.
They set out to view the coastlines from offshore and watch the sunset over the many secluded harbors.
They pack picnic lunches and wine and spend the day with close friends.
I love spending time in little towns like Camden, Rockland and Bar Harbor in the summer, where this lifestyle abounds.
Fall in Maine is, of course, legendary.
There's nothing quite like the changing leaves in varying shades of reds, yellows and oranges viewed from above or driving through a canopy.
The world is more quiet.
The air is crisp.
A blanket of fallen leaves line hiking trails in the woods.
It is a photographer's paradise.
I particularly love Acadia National Park for fall hiking.
The trails give you a nice mix of mountain views and forest canopies.
If you'd like to read more about Maine, and why I love it so much, check out my post on The Best Maine Vacation Itinerary.
Written by Hillary from Hillary Newman Photography
15. Rhode Island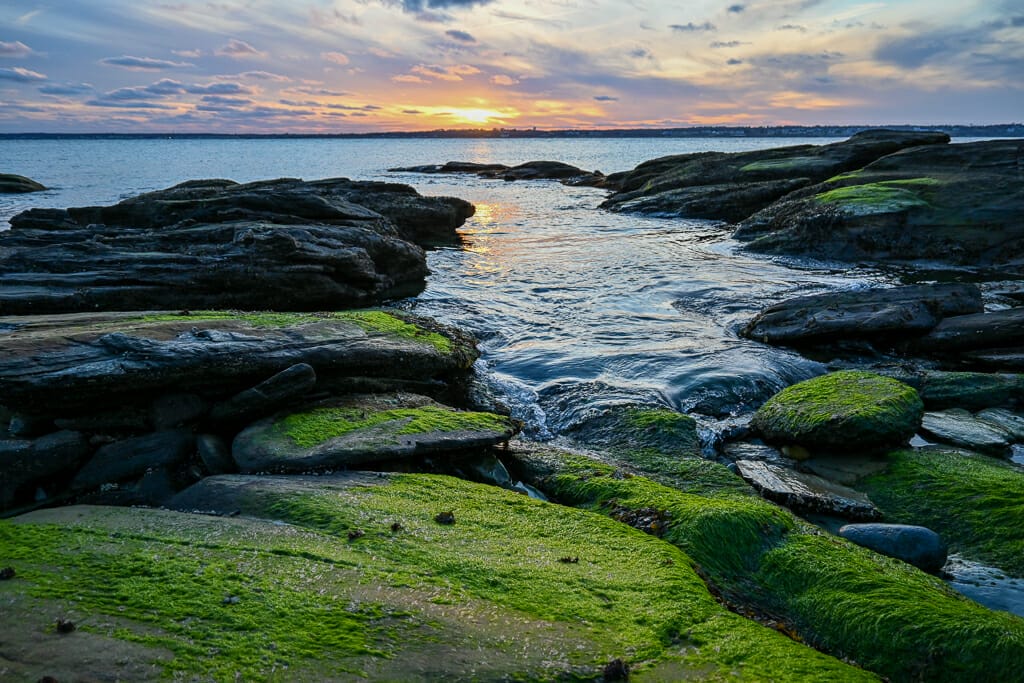 What Rhode Island lacks for in size, it more than makes up for with beauty.
It has a capital city built on canals, colonial villages, and an obscene amount of coastline considering its size.
Within a two hour drive, you can see opulent, cliff front mansions of the US' original elite in Newport, the long sandy beaches of Narragansett, and the forests of western Rhode Island.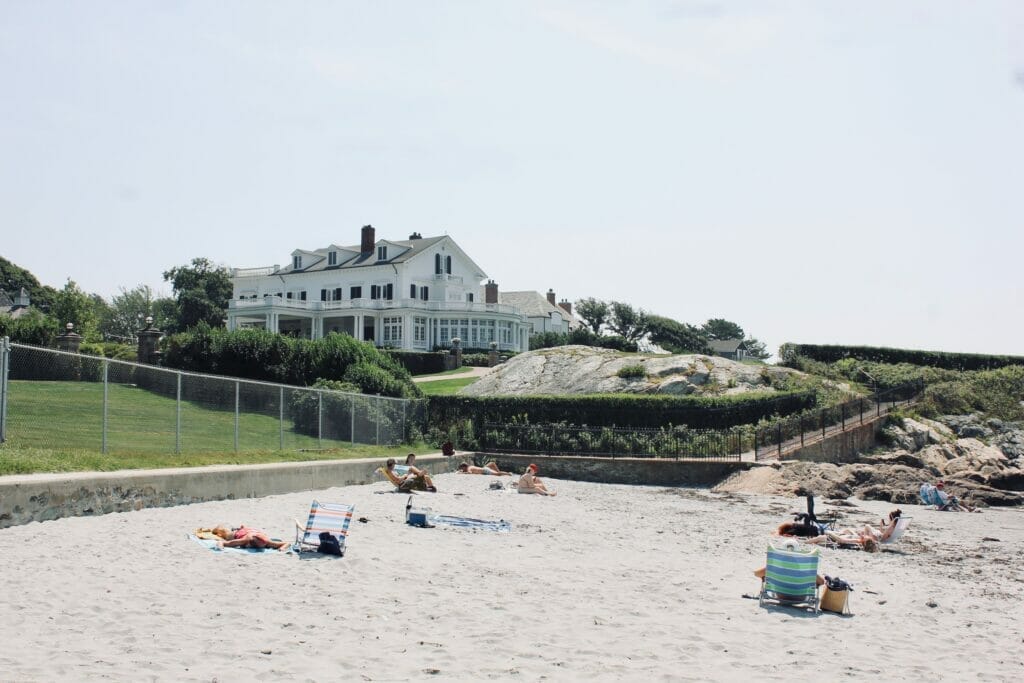 If you take a little more time, visit the classic New England island, Block Island, with its gorgeous lighthouses and famous Mohegan Bluffs. Rhode Island is a state that you shouldn't miss.
Written by Jamie Italiane of The Daily Adventures of Me and Adventures in New England
16. Virginia
Nestled on the East coast and classed as the first of the southern states, Virginia is an incredibly beautiful and diverse state.
In the east of VA, you'll find the coastal region with beautiful beaches and large metropolitan areas.
As you move inland from the coast, the land gets swampy and large swamps cover areas of the land.
Move a little further inland and the Appalachian mountains coarse through the state to the southwestern tip.
Along with stunning geography, Virginia is rich in history and was the first landing spot of British Colonialists.
When it comes to exploring the raw beauty of Virginia, a trip to Shenandoah National Park is a must.
The long narrow park stretches across the state in the Blue Ridge Mountains.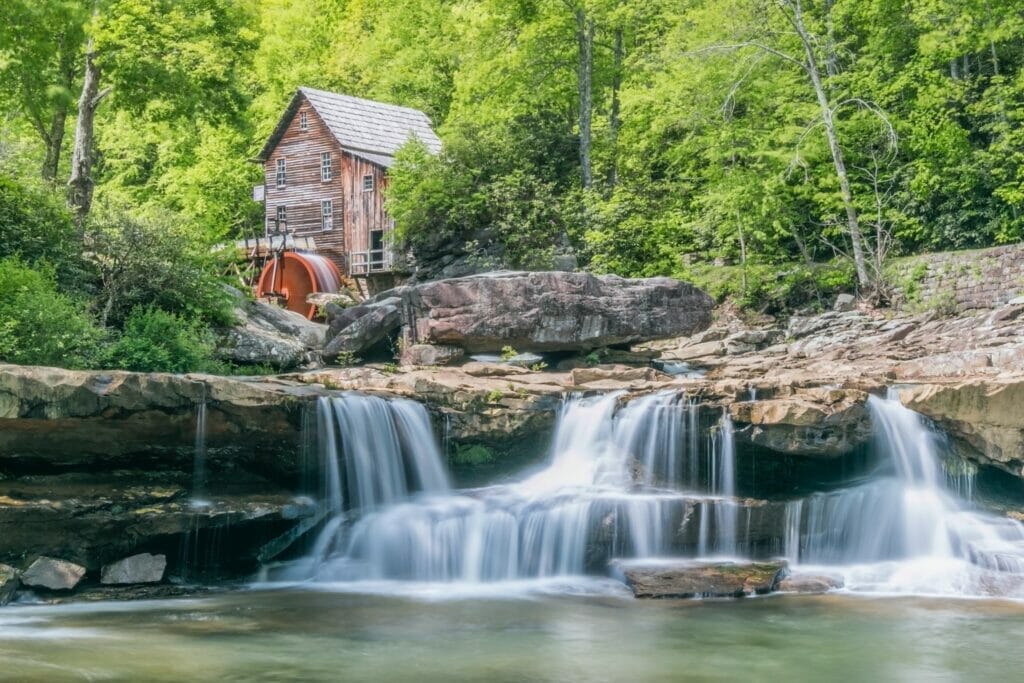 Skyline Drive traverses the top of the park and stretches the entire distance, with amazing vantage points that look out over the Shenandoah Valley.
To the south of the state is Great Dismal Swamp state park, an amazing park with incredible biodiversity.
Throughout the park, you'll find awesome hiking trails and raised walks that take you above the swamps.
Keep an eye out for the wildlife in a park as you might be lucky enough to see a black bear bounding through the swamp.
At First Landing State Park, you can learn all about the starting point of Modern American history before heading north to the historical triangle where you can visit Jamestown, Colonial Williamsburg, and Yorktown, three of the most important settlements in US history.
Written by Megan from Virginia Travel Tips
17. Pennsylvania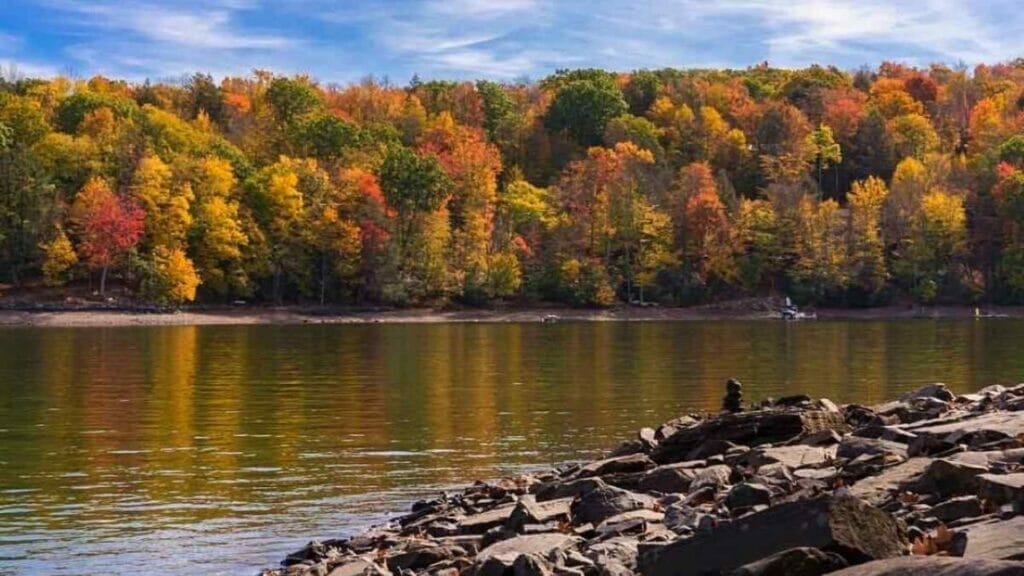 The state of Pennsylvania is bookended by two great American cities: Philadelphia and Pittsburgh.
When you visit the state, these cities make great stops and are full of history, brilliant architecture and street art.
Some of the most beautiful attractions in Philadelphia are the Philadelphia Museum of Art, the Schuylkill River Trail and Independence Hall.
Walking around in Philadelphia's Old City is incredible and it's one of the most beautiful neighborhoods in the country.
In Pittsburgh, visitors should head to Mount Washington for the most gorgeous views of the city and rivers that define it.
Natural beauty is found all over the state of Pennsylvania.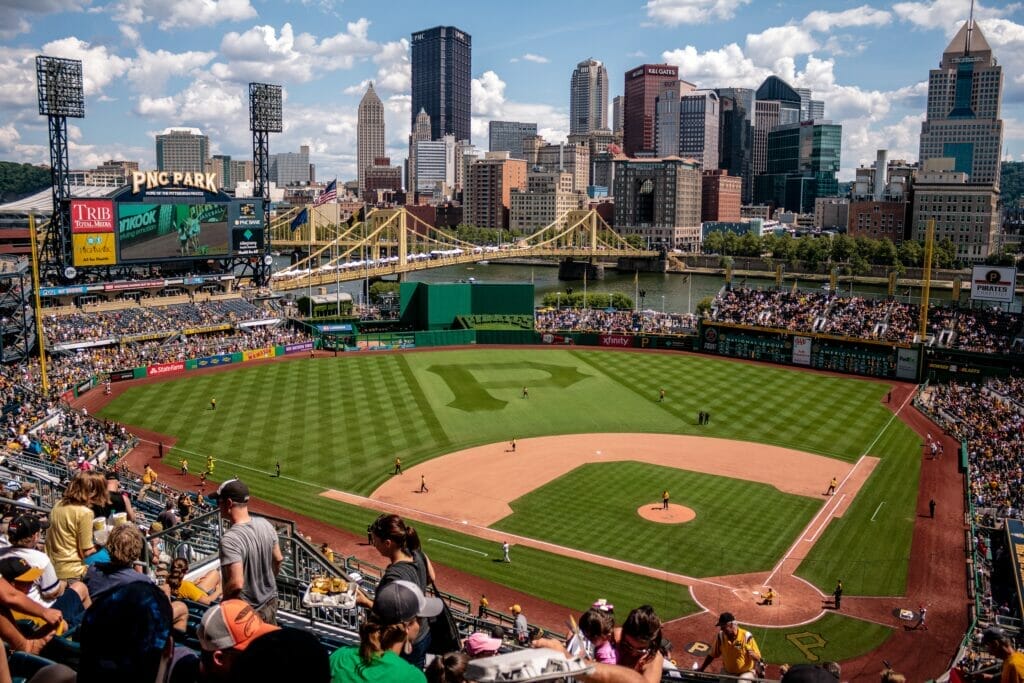 Visitors love to explore Lake Erie and the glacial lakes found in the Pocono Mountains.
There are majestic waterfalls and hiking trails in the state as well. Resica Falls, Bushkill Falls and the waterfalls of Ricketts Glen State Park should be on anyone's list for natural attractions in the state.
These are also some of the best places for fall foliage in the Poconos.
Another must-visit place of beauty is central Pennsylvania.
It's a rural, agricultural region and home to the Amish community settlements.
The Pennsylvania Dutch community is fascinating and the area is one of the prettiest in the state. In central Pennsylvania, visitors can also experience the beauty of the Appalachian Mountains.
The mountain has a long trail system and beautiful natural attractions.
Written by Derek from Robe Trotting
18. Maryland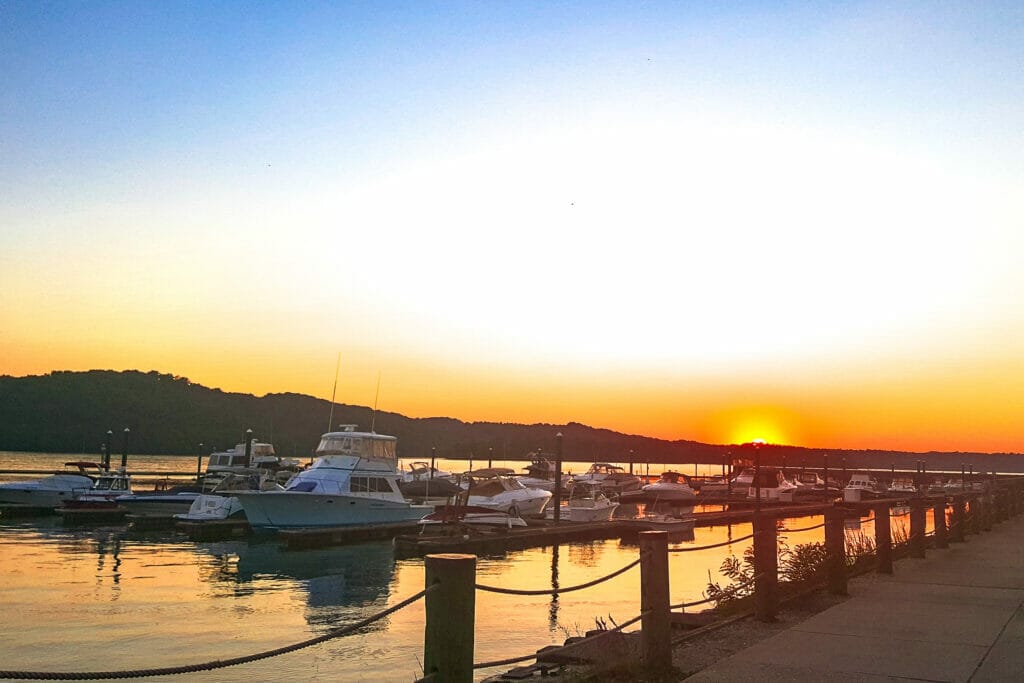 Much of the state of Maryland borders on the Chesapeake Bay.
But this picturesque state offers something for everyone: history, adventure, mountains, beaches, cityscapes, and rolling hills.
The Upper Chesapeake Bay region may be lesser known than the Eastern Shore but this area offers something for everyone.
Located in the Northeast corner of the state, this area offers the best of both rural and bay life.
The Upper Chesapeake has significant farmland with u-pick orchards, wineries, hiking trails, and horseback riding.
If you prefer spending time on the water, you can find an abundance of that as well.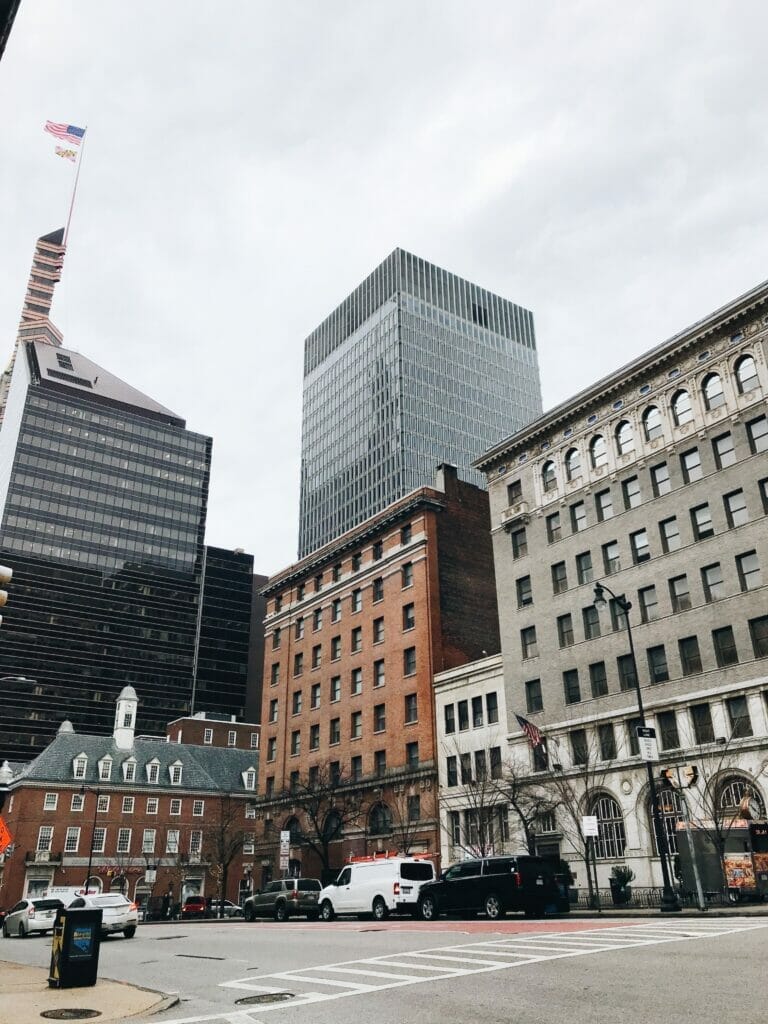 There is plenty of kayaking, crabbing, and fishing too.
If the Upper Chesapeake appeals to you then you may want to check out, Charles County Maryland, located in southern Maryland just 30 miles from Washington.
This region offers a rich colonial, maritime, and civil war history.
And outdoorsy types will find plenty of opportunities to union with nature.
You won't want to miss the Mallows Bay Marine Sanctuary and the "Ghost" Fleet.
A visit to the state capital of Annapolis combines maritime history and heritage with city life. Annapolis is known as the "Sailing Capital of the U.S." is home to the US Naval Academy.
This scenic town has it all, a quaint downtown, an awesome food scene, and all things nautical.
And don't forget the State House.
If you feel the need to dip your toes in the Atlantic Ocean, head to Ocean City.
This family-friendly beach town offers carnival-style rides, loads of dining options, nightlife, beachfront resorts, and more.
Obviously, for lovers of the beach and bay-life, Maryland is the perfect US destination.
However, if you love the mountains or are a skier, the state can satisfy you too.
Visit the western part of the state where you will find mountains, ski resorts, and a slower pace.
Written by Susan from Gen X Traveler
Pin for later!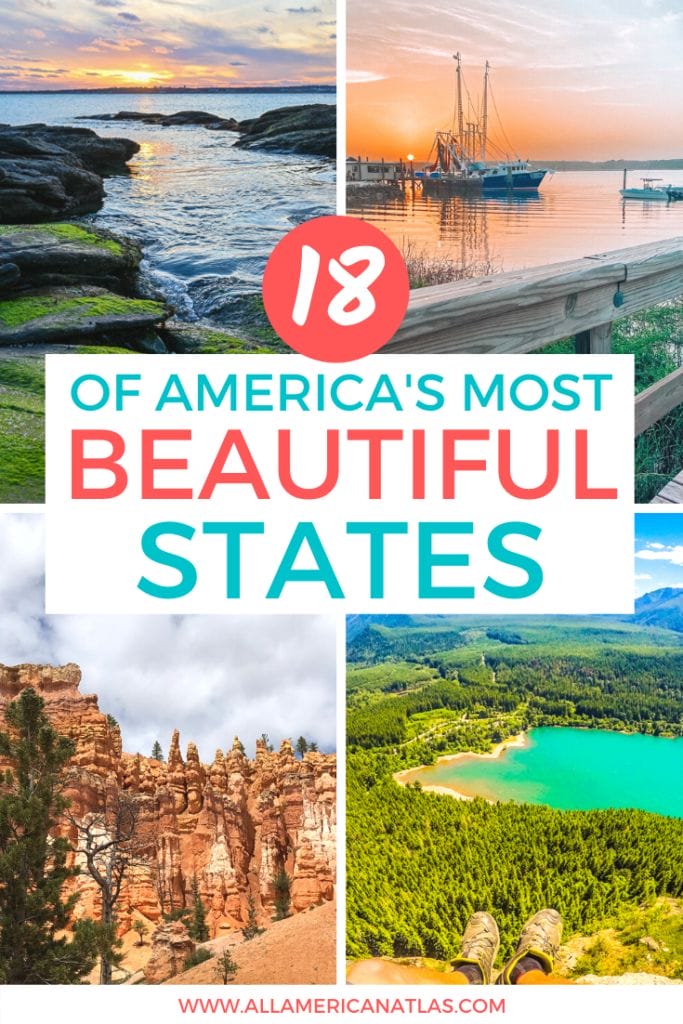 Get the All-American Travel Secrets!
Don't miss out on America's hidden gems!