Traveling to Orlando with kids is a popular way to see this magical city.
And finding Orlando attractions for kids?
Way easier than navigating a flight or long car ride with your kids, that's for sure!
This is a city that caters to families, so when you're looking for kid's activities in Orlando or family-friendly things to do in Orlando so the adults aren't bored, you're going to find it in spades.
From world class theme parks to local attractions to nature walks (yes, Orlando has some nature), this is the ultimate guide to experiencing Orlando with your little ones.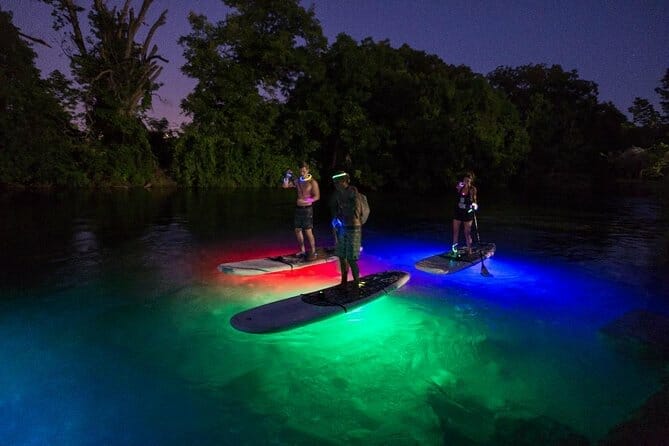 If you have teenagers in tow, check out the best things to do in Orlando with teens as well.
What to Bring to Orlando
If you're not used to the Orlando heat, here are just a few suggestions on what to make sure you have with you, almost year-round.
Getting around Orlando
Don't forget that it's much easier to see Orlando by car so you can get around on your own.
Rental cars are perfect if you're flying into the area.
We recommend using Discover Cars price comparison to find the cheapest deals.
Where to Stay in Orlando
Budget: Splashing Out ($250+ per night)
Orlando is full of luxury hotels to choose from, and while more obvious options might be the Ritz Orlando, the Waldorf Astoria is at a bit of a cheaper price point (though not cheap, this is still a splash out) and offers some spectacular amenities.
Firstly, it's set on over 400 acres, and in addition to plush rooms that will rival any resort you've stayed in, there is also a full golf course, 2 swimming pools, kid's clubs, a lazy river, an on-site spa AND free transportation to the Disney parks.
Oh, also there are 12 restaurants, so, there you go, decision made!
Budget: Mid-Range ($150-$250 per night)
I've stayed in this hotel so many times, I've lost count – and every single time, I want to stay forever.
The Wyndham Bonnet Creek is a great mid-range option with spacious rooms, beautiful pools, a lakeside location with plenty of recreational opportunities for kids and adults alike, and some rooms even have Disney fireworks views.
Relax by the fire pit in the evening, or put on your plush robe and check out the spa. The location is top notch, the price is reasonable for Orlando, and the memories you'll make here will last a lifetime.
Budget: Uh…on one! ($150 or less per night)
If you'd rather spend your vacation money on things to do in Orlando while still being comfortable and happy at your resort, Hilton at Tuscany Village is for you.
The whole resort is sleek and modern, with awesome views from many of the balconies and well-designed outdoor pools (yes, this is Orlando, even the cheaper hotels have a pool!)
Choose from studios or suites, and appreciate the great location that makes you a 4 minute walk from the Outlets and a less than 10 minute drive from Disney, SeaWorld, Universal, and other Orlando attractions.
Best Things to Do in Orlando with Kids
With so many things to do in Orlando, I had to narrow it down if you just want the absolute best things to do in Orlando with kids.
They're all theme parks, because that's what Orlando's good at, but we'll talk about some non theme park options below (including some awesome Orlando sightseeing tours).
You can't really talk about Orlando without talking about Disney World, and you can't talk about Disney World for kids without talking about the Magic Kingdom.
With Cinderella's Castle towering high over Main Street and so many kid-friendly rides like Dumbo, Pirates of the Caribbean, Jungle Cruise and…well, basically all of them, this is the number one best thing to do in Orlando with kids.
Get everybody in their Mickey hats, book yourself lunch or dinner at the Be Our Guest restaurant to dine in the Beast's castle and immerse yourself in a fairytale, and enjoy a day watching your kids smile and laugh in a park made just for them (okay, not just for them, Magic Kingdom for adults is great too, but you know what I mean).
If you can only choose one Disney park on your trip to Orlando with the children, this is it.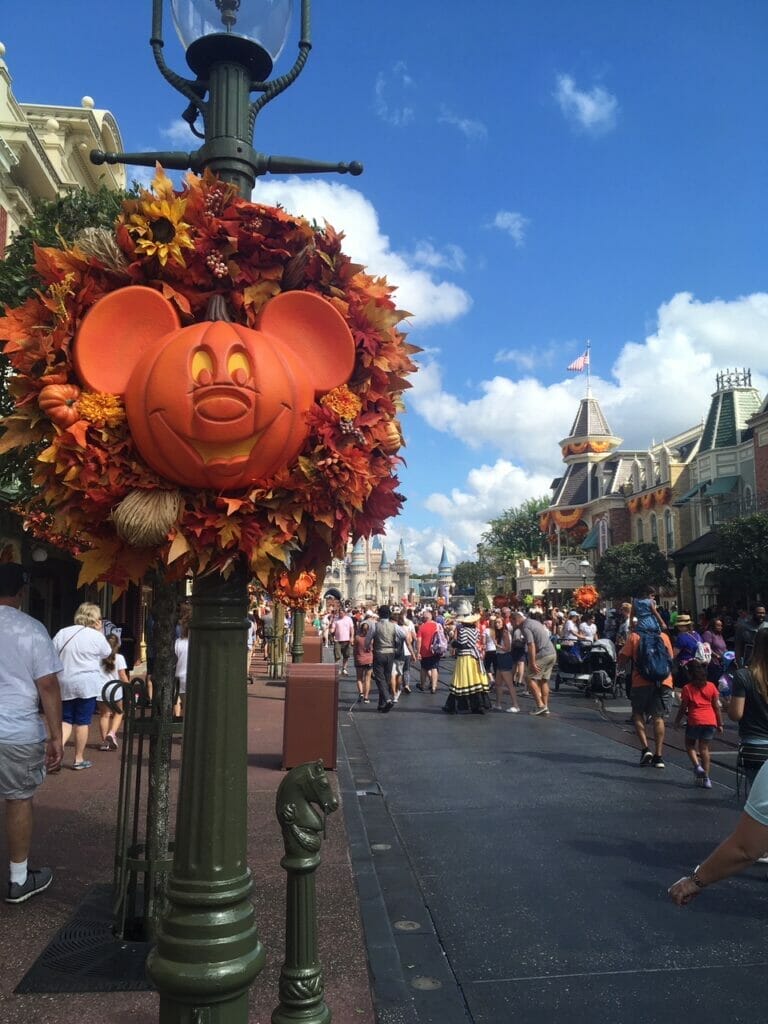 2. Animal Kingdom
Another Disney park that captures a kid's interest easily is Animal Kingdom.
Here, the animal world comes to life, both literally and figuratively, as you go on daring safaris across the Kilimanjaro, ride high with banshees on Flights of Passage, and enjoy world class musicals like Finding Nemo and the Festival of the Lion King.
There are plenty of animal exhibits to explore if you just need some chill out time and don't want to wait in rides, and Dinoland USA is a popular spot for kids to meet their favorite characters and enjoy some time at the kid's playplace.
The park is large, more peaceful than the other Disney parks, and really made for the whole family.
Adventurous kids can go on Expedition Everest, a high speed rollercoaster, or you can spend the day drawing different Disney characters at an expert animator class.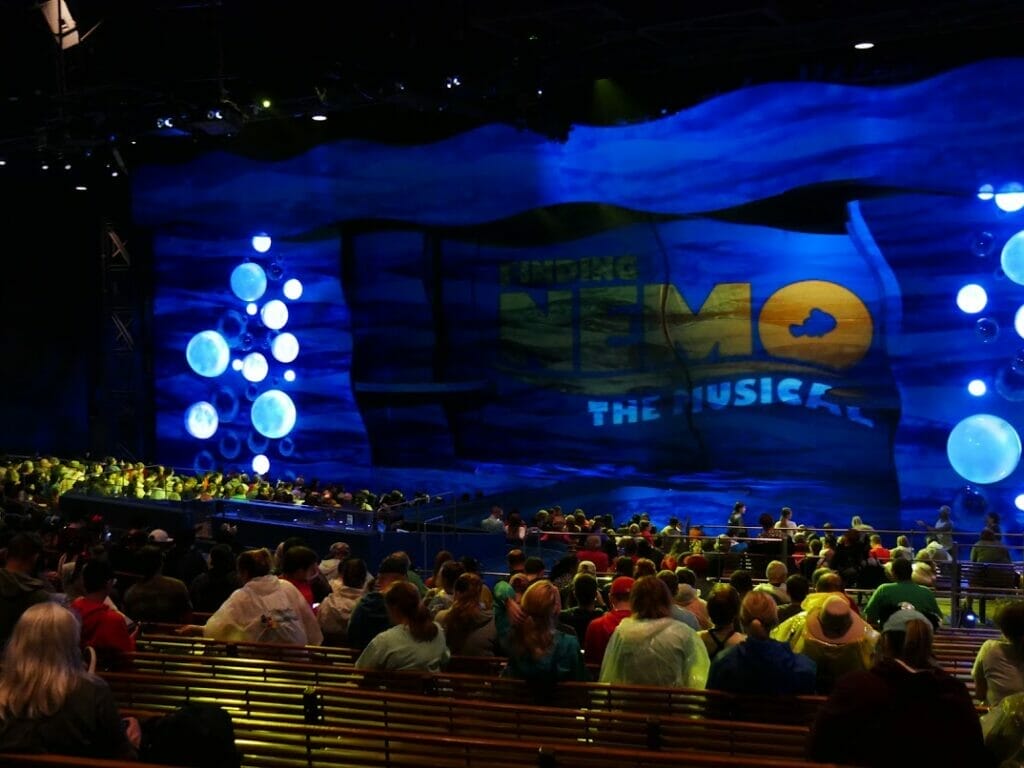 3. Islands of Adventure
Of the two Universal parks, Islands of Adventure is the best one for kids of all ages because of the abundance of kid's playplaces.
Not only do you have the entire Seuss world, with a Seuss themed carousel and Cat in the Hat ride, but you've got lots of areas where the kids can run wild under your watchful eye.
The Seuss themed playground is absolutely enchanting for kids with a lack of straight lines and its whimsical colors, while Camp Jurassic is great for dino lovers as they burn off some energy on obstacles courses and digging for bones.
And don't forget Me Ship, the Olive, where kids can squirt water cannons at innocent passerbys (all part of the theme park fun).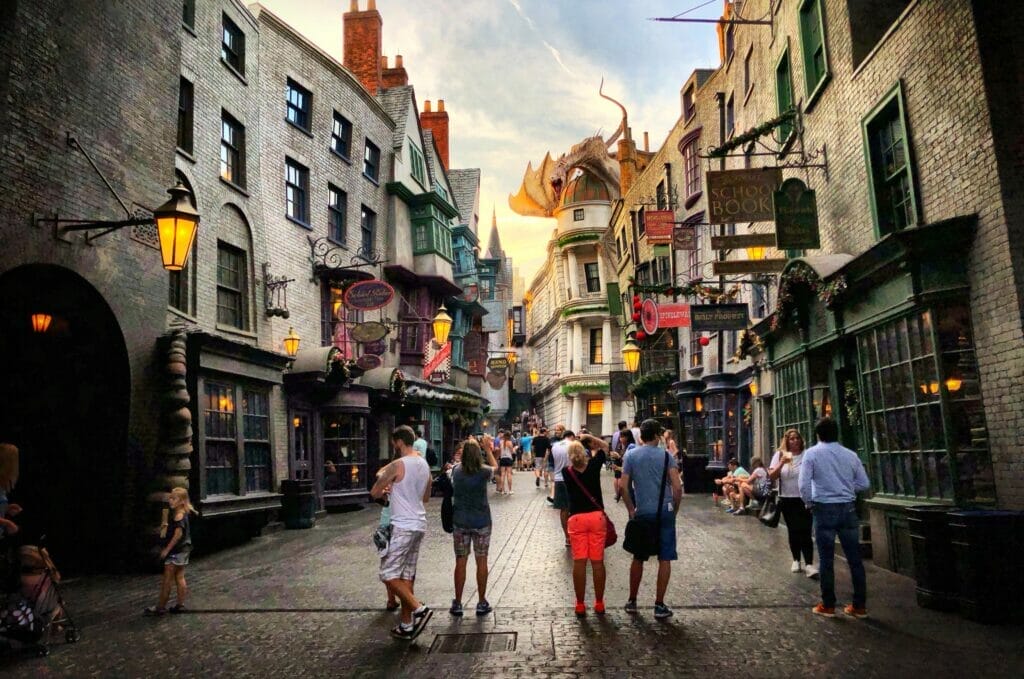 4. Hollywood Studios
My other Disney pick for parks that are great for kids is Hollywood Studios.
From Mickey and Minnie's Runaway Railroad, taking you through colorful animated scenes as you go on a wild adventure with your favorite mice, to the impressive Galaxy's Edge which features all of your favorite Star Wars characters and the ability to build your own droid or lightsaber, every child can find something to get excited about here.
In particular, Toy Story Land is a well-themed and kid-friendly land with a family-friendly rollercoaster, Slinky Dog Dash, that's not too intense and perfect for a child's first brave attempt at a coaster.
You've also got Toy Story Mania, where you get shrunk to the size of a toy and play games in Andy's rooms, as well as the Alien Swirling Saucers which is just old-fashioned theme park fun as you whirl around and around and around and around and…mom, don't be sick.
With shows like Frozen and Indiana Jones, there's enough to fill a whole day with kids here even if they're not going on rides like the Tower of Tower.
Free Things to Do in Orlando with Kids
If you don't want to spend any money on your day out in Orlando with children, check out these options for free things to do and places to visit with kids in Orlando where you can just soak in the atmosphere.
5. Farmer's Markets
From the Winter Park Farmer's Markets to the Farmer's Markets in downtown Orlando on the weekends, the weather in Florida means it's pretty much always a good day to get outside and roam around these bustling hives of activities.
You don't need to buy anything, just pack a lunch, show up, and enjoy the day and see if you can score yourself any free samples.
Disney's shopping and entertainment district doesn't require any entry fee, and I say it's a great thing to do in Orlando with kids because of all the things you can do without paying a cent.
During the holidays, wander through the Disney Springs Christmas Tree Trail to see beautiful trees decorated with unique Disney decorations, then head over to the splash pad where the kids can jump and play in the water spouts to their heart's content.
Watch the amphibicars go by on the lake (floating cars, who knew?) and let them play at the playplace at the LEGO store.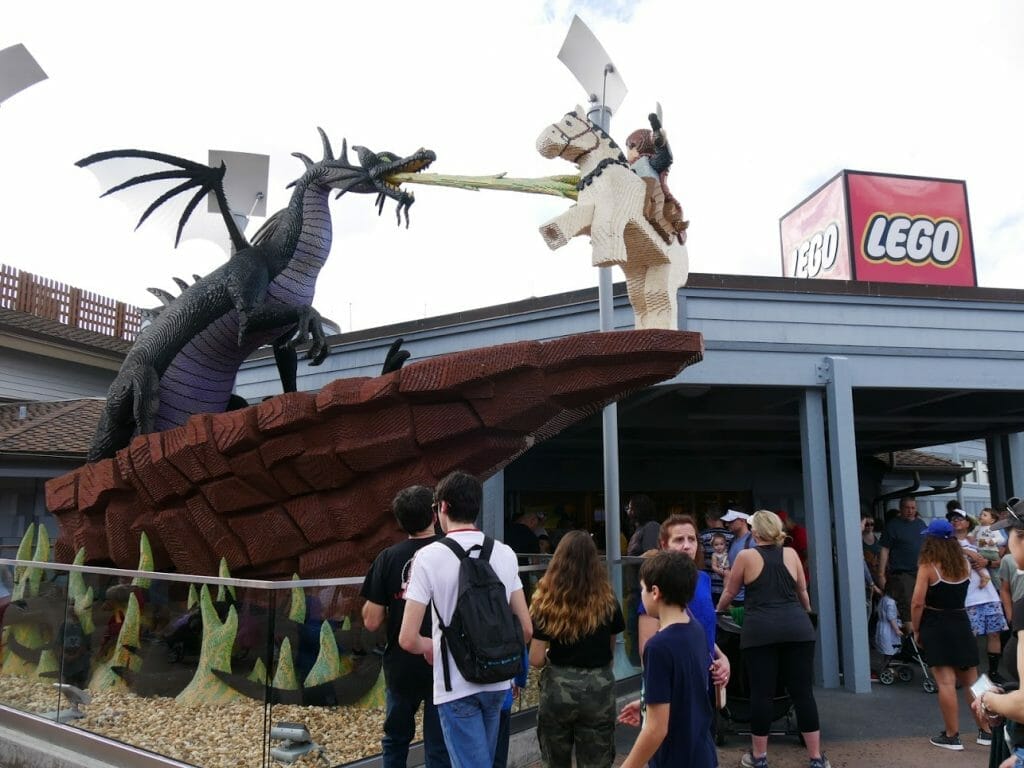 Things to Do in Orlando with Kids Besides Disney
Disney not your thing?
No problem.
These options will get you out of the Disney bubble and into other parts of Orlando.
7. ICON Park
ICON Park is a thriving entertainment district in Orlando that features the Orlando Wheel, which gives you fantastic views of the skyline, as well as popular attractions like the Sea Life Aquarium.
There are tons of shops and restaurants to enjoy, as well as arcades if you want to give the kids a few dollars and let them stay occupied for an hour or so.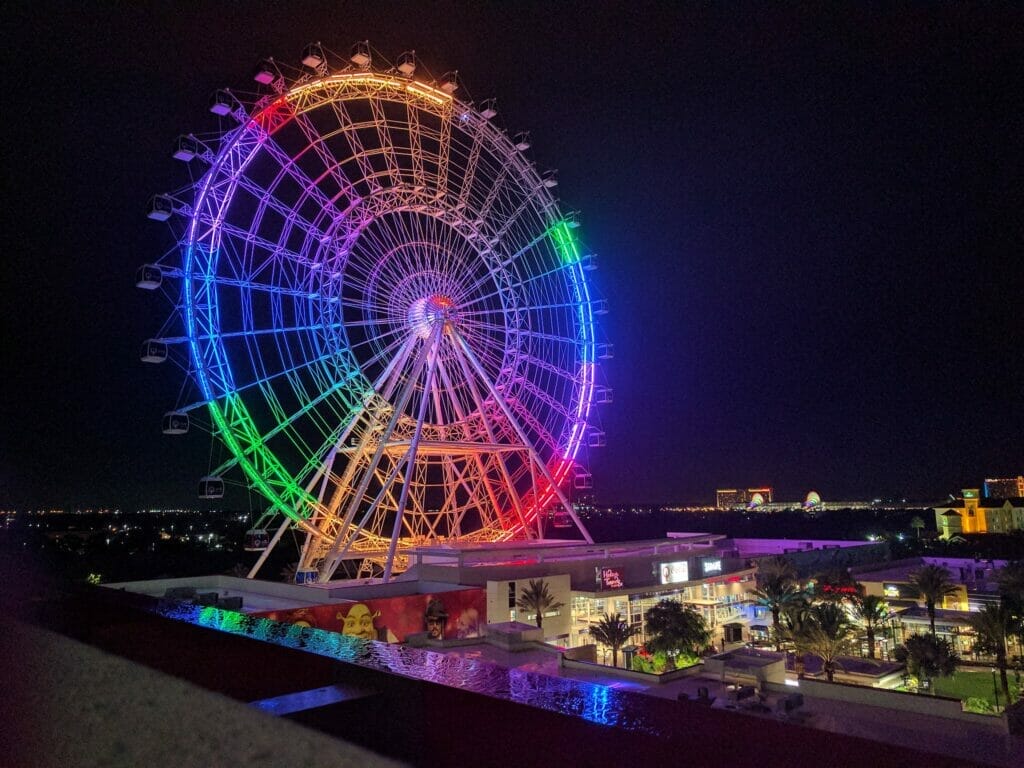 8. Discovery Cove
One of the most unique things to do in Orlando with kids is technically a theme park, but unlike anywhere you've ever been.
Discovery Cove features the opportunity to swim with dolphins, snorkel with colorful fish, and enjoy a lazy day in a beautifully themed tropical paradise.
Hand feed tropical birds, get up close to exotic animals, and enjoy a day lazing about on white sandy beaches.
The kids will love the lazy river, and food is included so you don't have to worry about packing anything.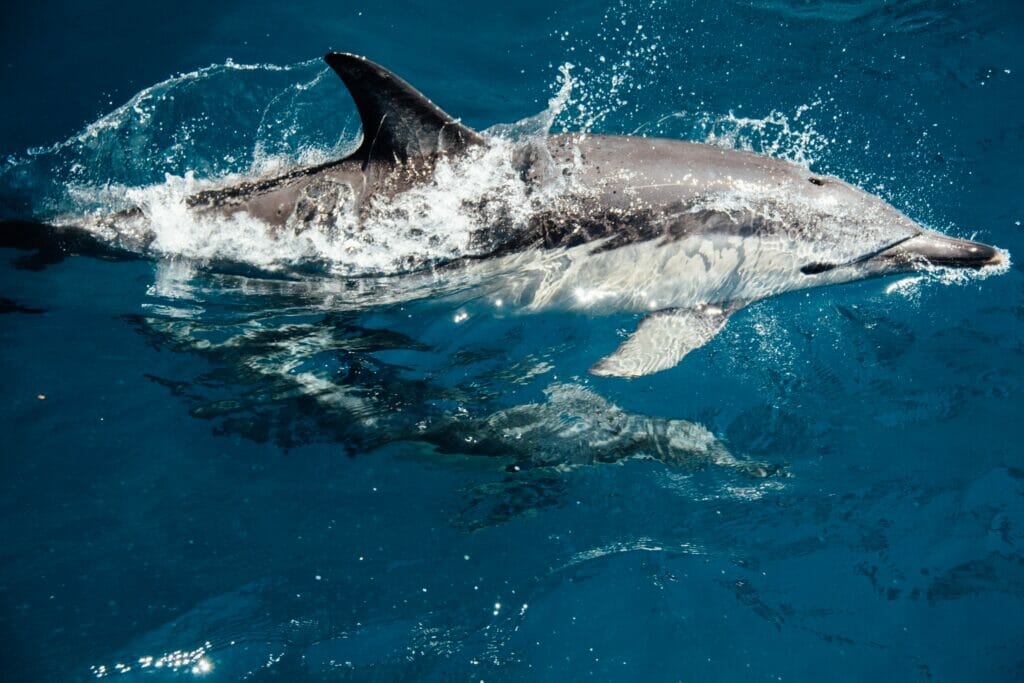 9. Gatorland
One of Orlando's hidden gems, Gatorland is a fantastic option if you want to get outside the Disney parks and see something different.
Of course there are alligators, and plenty of them, but you can also get up close to other Florida wildlife, attend alligator shows to see keepers interact with the animals, take a ride on the zipline which takes you over gator infested waters (don't look down!) and take a spin on the Gatorland train.
There is also a kid-friendly splashpad if you want to bring their bathing suits and take some time in the afternoon to cool off, as well as walking trails that take you through natural Florida swamp to show the kids a different side to Florida.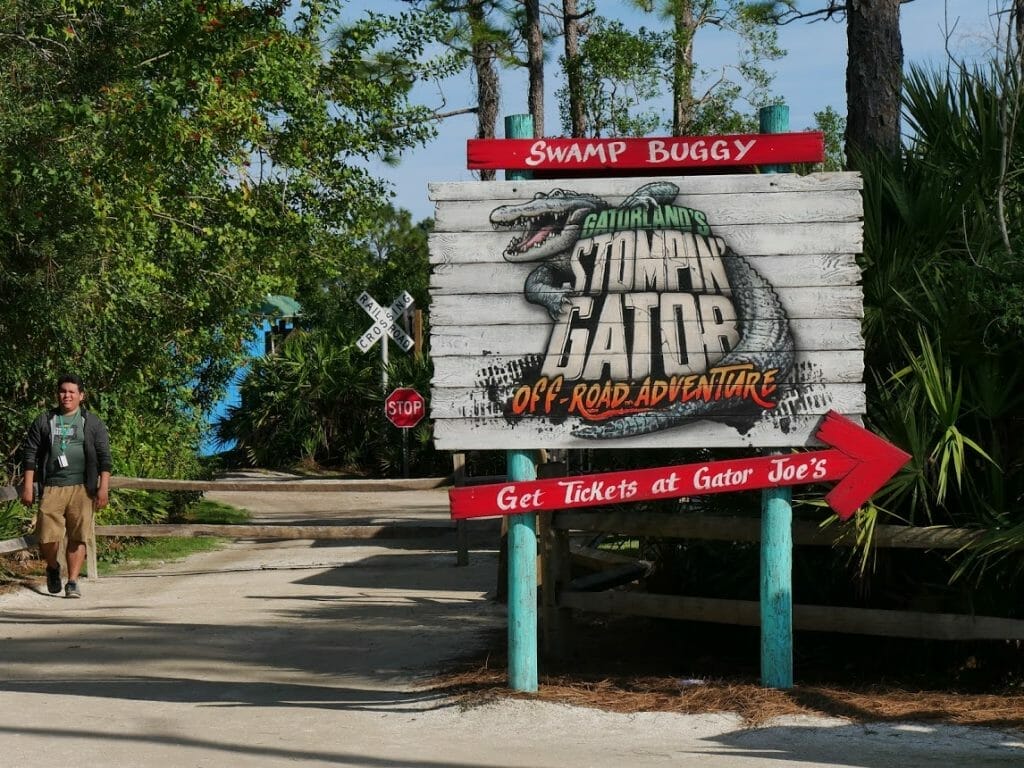 Fun Things to Do in Orlando with Kids
Want to see your child's face light up during your trip?
Here are some of fun things to do in Orlando with kids that are sure to bring out your inner child as well.
10. Wonderworks
Just by looking at Wonderworks from the outside, you'll know you're in store for something fun.
Walk inside this upside down house and you'll find yourself in a world of wacky and interactive exhibits featuring awesome ways to experiment with light, sound, projections, building, and everything in between.
From laying down on a bed or nails to hurricane strength wind generators, Wonderworks allows your kids to learn about the world around them while also just plain having fun.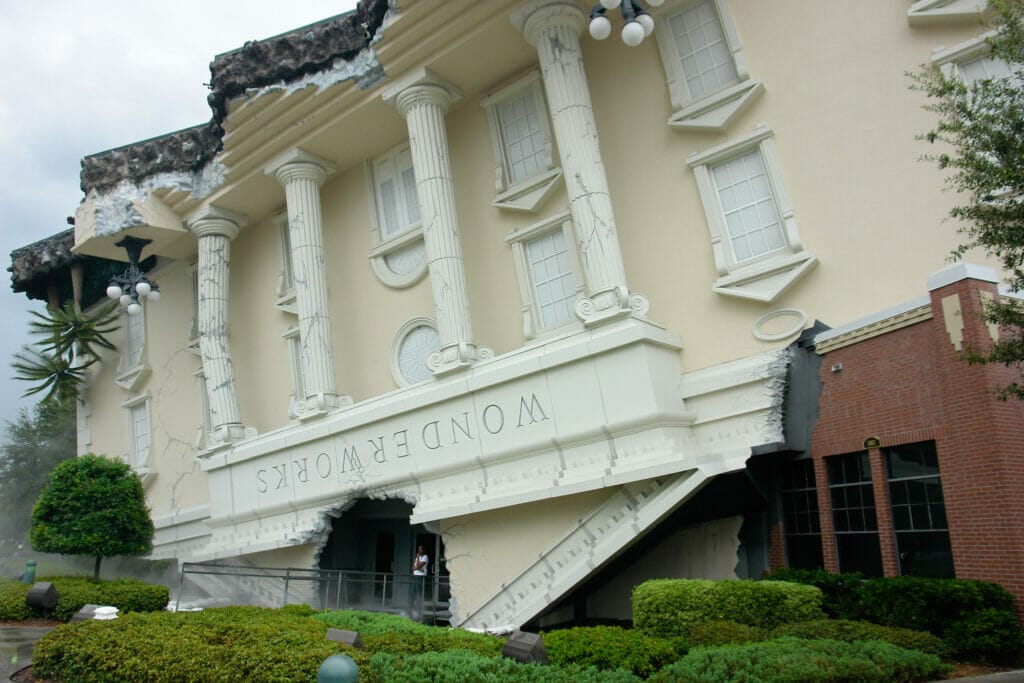 11. Dinner Theater
The dinner theater options in Orlando are seemingly endless, so you don't even have to pick just one.
For instance, check out Disney's Spirit of Aloha Dinner show featuring a luau themed atmosphere and exotic activities like fire dancing, or try the Sleuths Dinner show where you spend the evening trying to solve the "whodunnit" mystery.
Wonderworks also has a fantastic magic-themed dinner show, or you can stick to a classic by attending Medieval Times, where you can eat with your hands and watch knights jousting in the most exciting jousting tournament since the actual Medieval times!
12. Orlando Science Center
Of course a science center in Orlando is going to be incredibly kid-friendly.
From interactive exhibits featuring the human body to ways to test gravity and learn about physics using building blocks, this is a family-friendly place to go with lots of color, activity, and IMAX shows to keep the kids busy.
You can also visit the wildlife section of the center to get up close to baby alligators and other creatures like snakes and spiders.
Young kids will adore the science town built just for them, where they can play at the water table, try their hand at harvesting orange, or engage in other types of interactive play that mean they won't ever want to leave.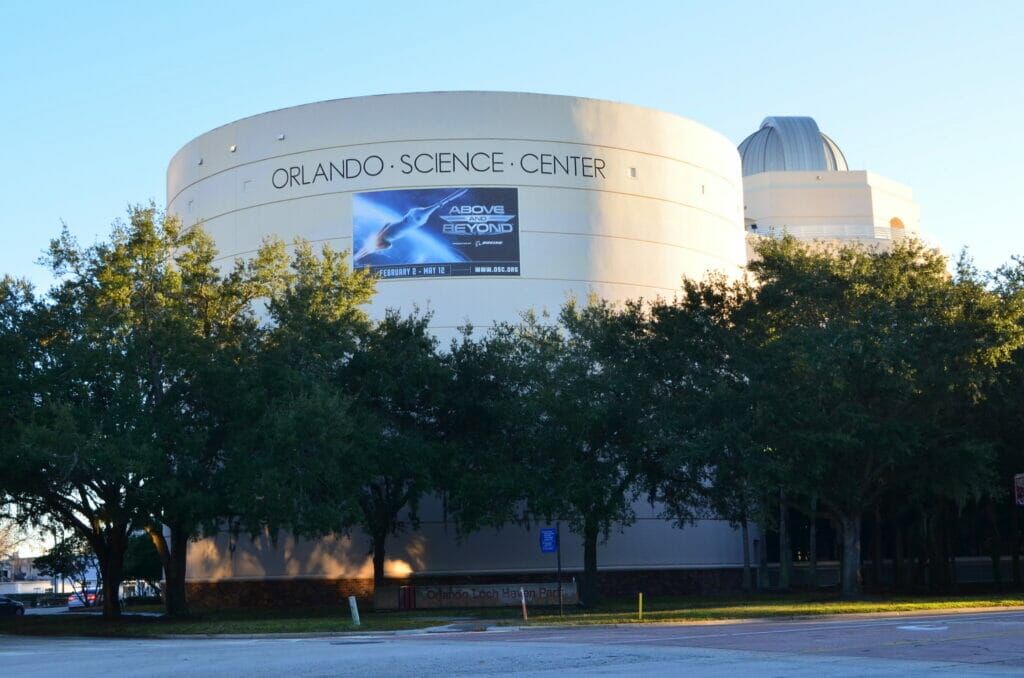 13. Typhoon Lagoon
Disney's tropical themed water park, Typhoon Lagoon is a great option for kids because of the excellent wave pool, beautiful lazy river, and the one-of-a-kind "Crush N Grusher" water rollercoasters.
There are multiple options that you have when it comes to water parks in Orlando, including Blizzard Beach, Disney's snow-themed water park, Aquatica, Seaworld's water park, and Volcano Bay which is Universal's water park.
Wherever you end up, make sure to load up on the sunscreen and enjoy a refreshing day slipping and sliding and rafting down thrilling coasters and enjoying relaxing lunches under the umbrellas in the sand.
Cheap Things to Do in Orlando with Kids
If you're trying to see Orlando on a budget, these cheap kid-friendly options are for you.
14. Ride the Swan Boats at Lake Eola
Lake Eola is one of the most popular gathering places in Orlando as it's surrounded by shops and restaurants and has a relaxing atmosphere.
Not only can you take the kids for a stroll around the lake, but you can ride on the swan boats through the lake which will keep them busy and not hurt your wallet too much.
There are often Groupons or other discounts for riding the boats (you have to paddle yourself!) and for a really quintessential Orlando experience, try to ride them at sunset.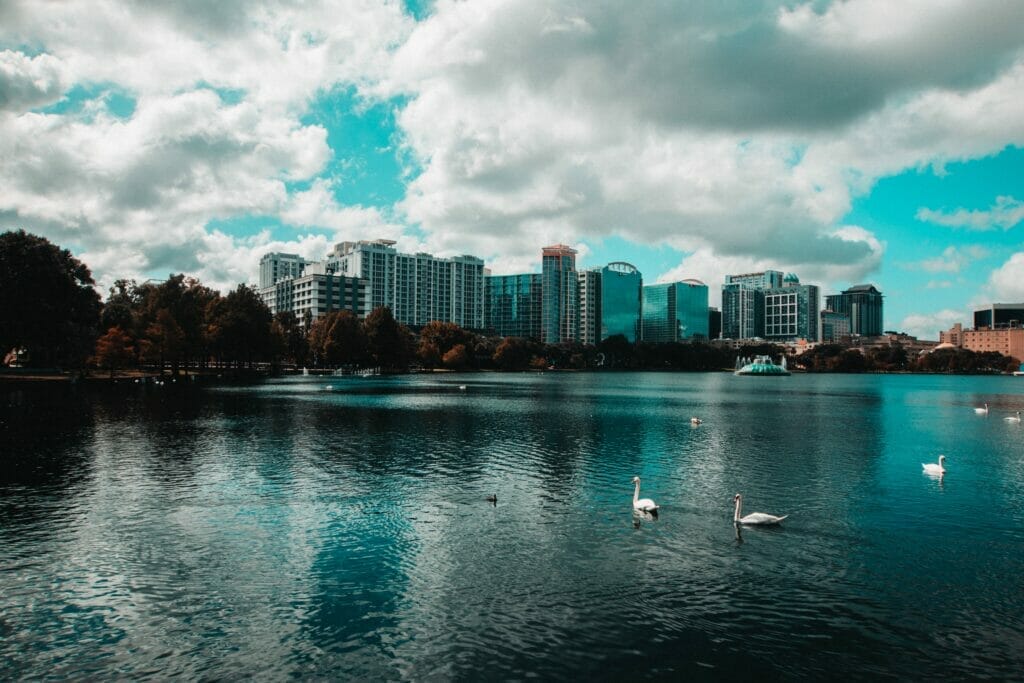 15. Fun Spot America
If you want to visit an amusement park but not pay Disney prices, Fun Spot America is an old-fashioned amusement park with rollercoasters, bumper cars, and lots of other popular attractions.
This is the kind of place you walk around eating cotton candy and trying your hand at knocking down a row of milk bottles for a prize.
When you need some fresh air and to get away from the hustle and bustle of the rest of Orlando, Leu Gardens is a great option.
There are plenty of places for the kids to run around and get some space, and this is a great way to spend one of those perfect 75 degree days with a light breeze that Orlando tends to get in the winter months.
17. Pirate's Cove Mini Golf
There are plenty of places to play mini golf in Orlando, and what better way to spend a cheaper day out with the kids than taking on well-themed and interactive putt putt golf courses?
One of the most popular courses is Pirate's Cove, featuring a pirate ship, plenty of "ahoy there!s" and twisting and turning holes that mean you can spend quite a few hours making your way around without spending a fortune.
Things to Do in Orlando with Toddlers
Orlando has plenty to do for toddlers, and you can find more about the options in my guide to Orlando with toddlers.
18. Crayola Experience
Visit the Crayola Experience with toddlers to let them engage in a creative world of play and art, including lots of art projects they can take part in, centers where they can paint, draw, and even act out characters.
It's vibrant, it's colorful, and there's even a full colorful playground for them to let off some steam in between doing art projects.
Plan to spend about 3 to 4 hours here – there's a lot to see!
19. SeaWorld Orlando
Of all the theme parks in Orlando, SeaWorld is the best for toddlers because of the interactive Sesame Street playplace!
In between learning about dolphins, penguins, fish and other marine life, toddlers can see characters from their favorite show walking down the street at Sesame Place.
Things to Do in Orlando with a Baby
While your baby might not be able to take in the sights and sounds in the same way as everyone else, here are two very different options of what to do in Orlando with an infant!
This free natural attraction in Orlando is great to visit with a baby in a stroller, as you can enjoy some peace and quiet or talk to a friend as you walk.
You'll keep them in constant motion which can soothe them into the nap you need them to take, and it's just a nice way to get out in Orlando and see some natural sites.
21. Universal Studios Florida
Of the two universal parks, I recommend Universal Studios Florida for those with babies because of the time you can spend in a playplace called Barney's backyard.
This area was meant for young children to get to explore the world around them in a safe and peaceful setting, so you'll hear wind chimes, find lots of places to climb on, and be able to let your baby crawl around in this indoor area without worrying if theme park passerbys will accidentally step on them!
What else should I not miss in Orlando?
If you're visiting Orlando soon, here's a very brief rundown of a few of my other favorites to make sure you don't miss anything!
Hey! Want more Orlando content? Check out these guides!
Get the All-American Travel Secrets!
Don't miss out on America's hidden gems!