Visiting Orlando with toddlers is a ton of fun, but it can be hard to know what's age appropriate for them.
Some parks, like Islands of Adventure, are mostly geared towards an older crowd who can go on rollercoasters and the other thrill rides.
Other options, like shopping at the outlets, isn't exactly something a toddler is interested in.
In this massive list of things to do in Orlando with toddlers, I'll talk through some of the best parks and days out with toddlers in Orlando rounded up from my 18 years of living in Orlando.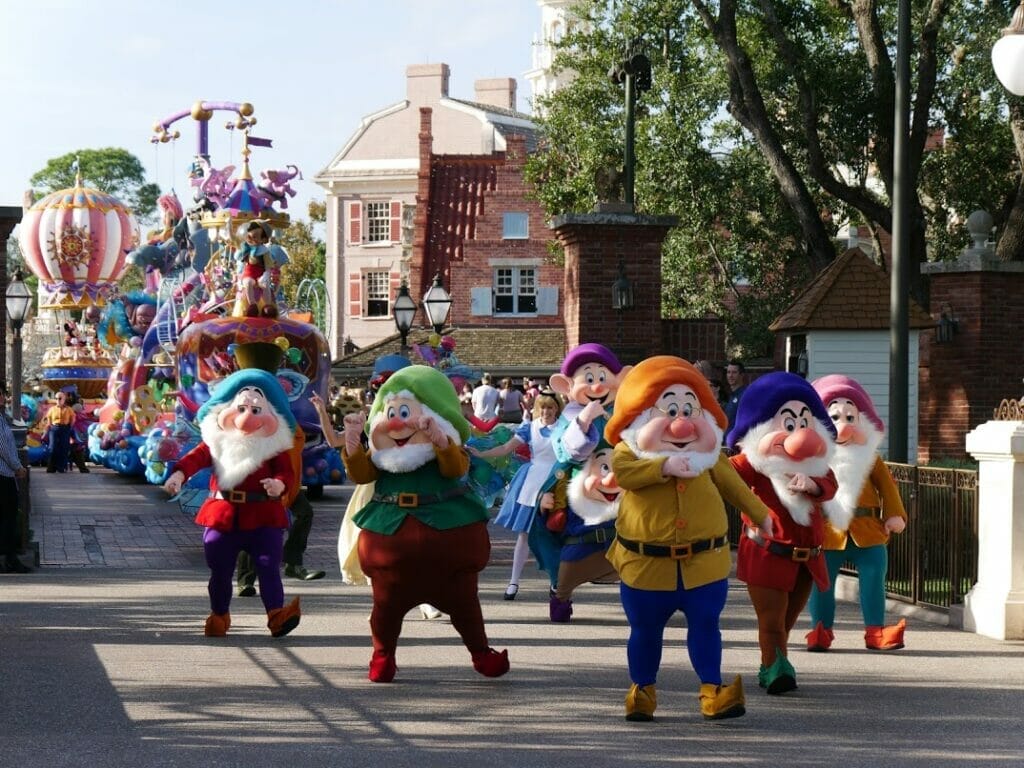 Getting around Orlando
Don't forget that it's much easier to see Orlando by car so you can get around on your own.
Rental cars are perfect if you're flying into the area.
We recommend using Discover Cars price comparison to find the cheapest deals.
What to Bring to Orlando
If you're not used to the Orlando heat, here are just a few suggestions on what to make sure you have with you, almost year-round.
Where to Stay in Orlando
Budget: Splashing Out ($250+ per night)
Orlando is full of luxury hotels to choose from, and while more obvious options might be the Ritz Orlando, the Waldorf Astoria is at a bit of a cheaper price point (though not cheap, this is still a splash out) and offers some spectacular amenities.
Firstly, it's set on over 400 acres, and in addition to plush rooms that will rival any resort you've stayed in, there is also a full golf course, 2 swimming pools, kid's clubs, a lazy river, an on-site spa AND free transportation to the Disney parks.
Oh, also there are 12 restaurants, so, there you go, decision made!
Budget: Mid-Range ($150-$250 per night)
I've stayed in this hotel so many times, I've lost count – and every single time, I want to stay forever.
The Wyndham Bonnet Creek is a great mid-range option with spacious rooms, beautiful pools, a lakeside location with plenty of recreational opportunities for kids and adults alike, and some rooms even have Disney fireworks views.
Relax by the fire pit in the evening, or put on your plush robe and check out the spa. The location is top notch, the price is reasonable for Orlando, and the memories you'll make here will last a lifetime.
Budget: Uh…on one! ($150 or less per night)
If you'd rather spend your vacation money on things to do in Orlando while still being comfortable and happy at your resort, Hilton at Tuscany Village is for you.
The whole resort is sleek and modern, with awesome views from many of the balconies and well-designed outdoor pools (yes, this is Orlando, even the cheaper hotels have a pool!)
Choose from studios or suites, and appreciate the great location that makes you a 4 minute walk from the Outlets and a less than 10 minute drive from Disney, SeaWorld, Universal, and other Orlando attractions.
Legoland is the toddler's ultimate paradise in Orlando.
The vast majority of the park was designed just for them.
From kid-friendly LEGO themed shows to a toddler-specific Duplo section where they can take a ride on a train track around farm animals, you can easily spend a whole day with a toddler here.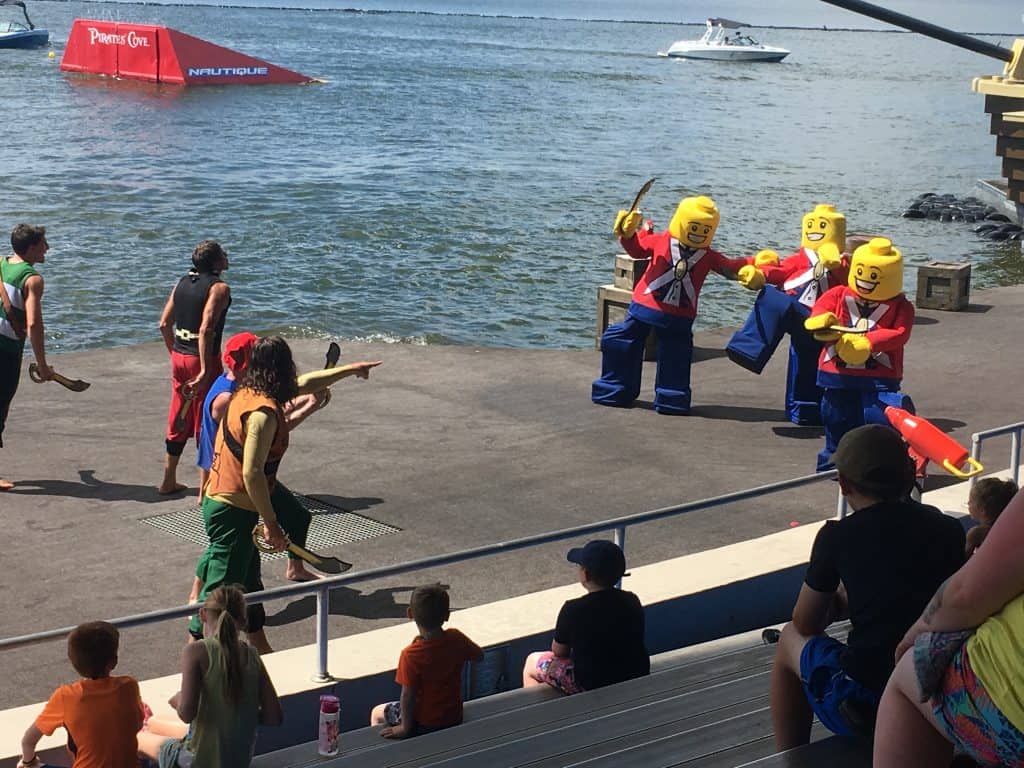 There are some rollercoasters that are only suitable for people of a certain height, but there are plenty more rides that the toddler can go on with ease.
You can bring your own food into the park if your kid is picky, or you can get food in the park at their adorably themed quick service places or sit-down restaurants.
I particularly love the two-storey Merry-go-round for toddlers, as well as the LEGO city that they can wander around and feel like giants.
Stay at LEGOLand Florida's hotel for even more fun!
2. SeaWorld
From dolphins to orcas to manta rays, SeaWorld is a great option for families with toddlers as you can have a full day without going on any of the major thrill rides.
In addition to checking out the animals and seeing the shows, your toddlers can also stroll down Sesame Street at the Sesame Street playland at SeaWorld Orlando.
This is an interactive play area that they'll fall in love with, featuring their favorite Sesame Street characters and letting them explore inside the world of Sesame Street with a parent's supervision.
3. Magic Kingdom
Disney World is always a great idea no matter your age, but particular parks are more toddler-friendly than others.
Magic Kingdom is perhaps the most toddler friendly, with plenty of engaging parades and shows with their favorite Disney characters.
As far as rides, most are acceptable for toddlers to ride, including the spinning teacups, Buzz Lightyear's Space Ranger Spin, the Winnie the Pooh ride, Peter Pan, and the list goes on.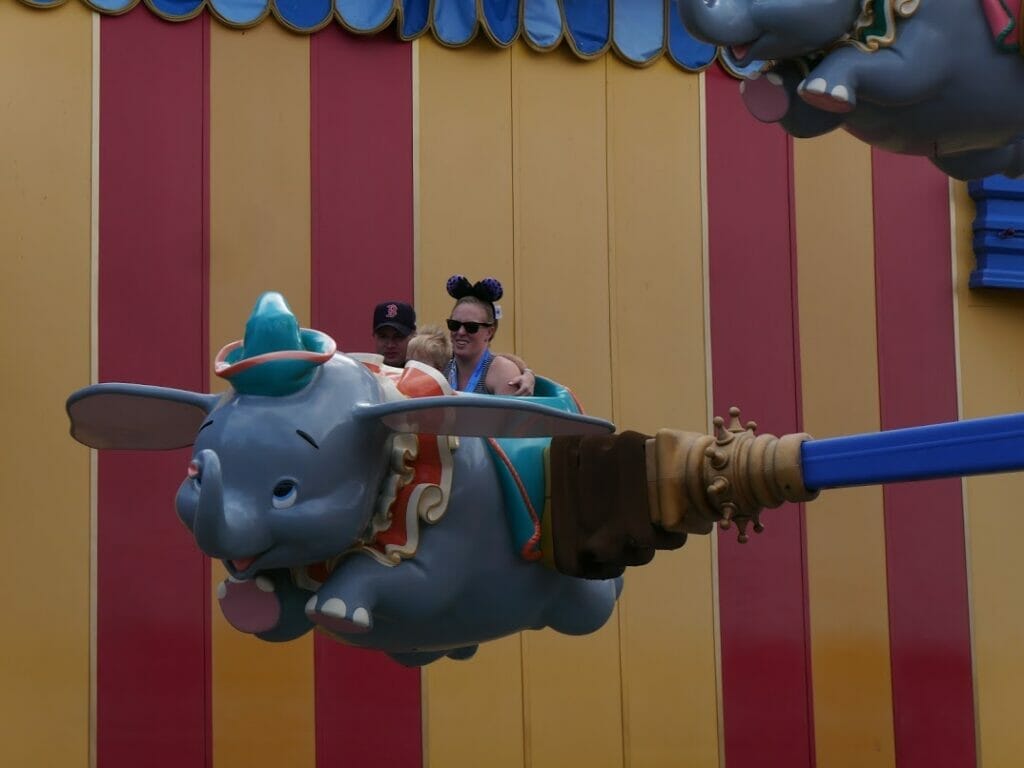 This is a true fantasyland for toddlers, and they can enjoy their day getting up close to Donald Duck at the Philharmagic show, meeting princesses at their dedicated meet and greets, and having a great time on iconic rides like the Jungle Cruise.
If there are rides that your toddler can't go on due to fear or height requirements, Disney allows a rider swap system so that the adults can still go on it one-by-one while the other watches the toddler without having to stand in line again.
If you need some time to just run around, head over to Tom Sawyer's Island, the ultimate playplace where play and exploration is actively encouraged.
4. Animal Kingdom
Another fun thing to do in Orlando with toddlers is to go to Animal Kingdom.
Animal Kingdom does have a few thrill rides, like Expedition Everest, that aren't suitable for toddlers, but most of the park is open to them including the animal shows and the wonderful Kilimanjaro Safari ride that takes you through the savannas to see the animals in their habitats.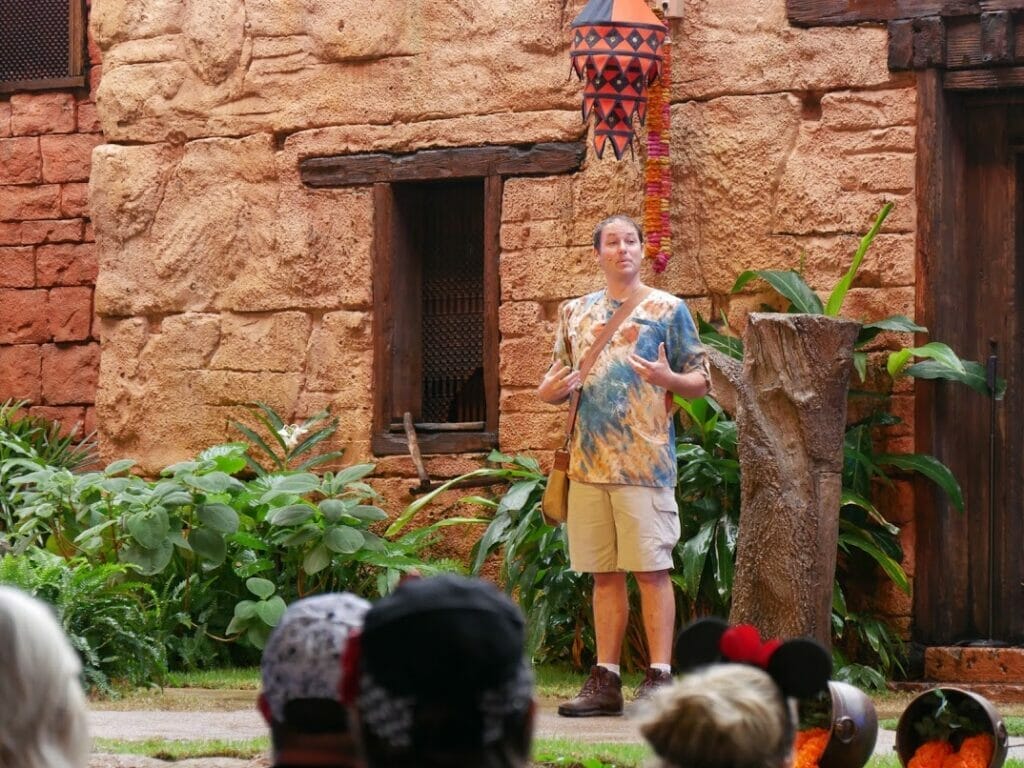 They will also love the fun to be had and characters to be met at Dinoland, as well as the evening show, Rivers of Light, which doesn't have fireworks but instead light projections and calming music – perfect for the more nervous toddler!
5. Barney's Backyard at Universal Orlando
Often, people think Universal Orlando isn't great for toddlers, but have I got news for you!
Universal Orlando is actually one of the best places to go with toddlers who love Barney, as they can explore the Barney's Backyard area which is one of the best kid's playplaces in all of Orlando.
There are climbing structures, characters, colorful interactive games and a lot more.
The rest of Universal Orlando is also great to explore as a family, as the kids will still appreciate the fun theming around the park even if they can't go on the thrill rides.
6. Animal Kingdom Lodge
Why would I want to visit a hotel in Orlando with my toddler, you might ask.
Well! Animal Kingdom Lodge is no normal hotel.
Firstly, it's free to visit as a day guest, so there is no entry fee, and secondly, you can watch animals free range roaming on the savannas.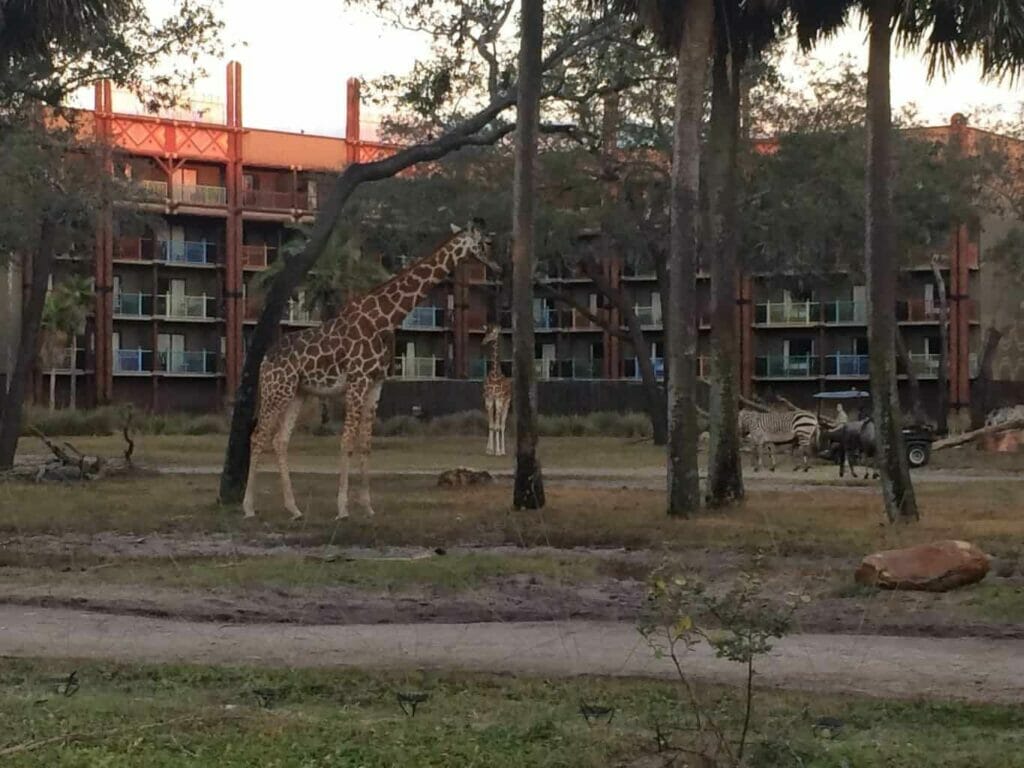 At a hotel.
In Orlando.
There are daily feeding opportunities, games, animal-themed kid's educational talks, cookie decorating, the list goes on.
All free, and all designed with the family in mind.
You can get there by driving and parking yourself or by taking Disney transportation from one of the Disney parks or Disney Springs.
7. Orlando Science Museum
The Orlando Science Museum has plenty to do for the whole family, so it's also a great thing to do in Orlando with teenagers, but did you know that it has an entire KidsTown specifically geared towards toddlers (and any child up to age 7?)
In this area, the kids can get their brains engaged in play areas doing everything from putting on theater shows to picking oranges to playing with light and sound.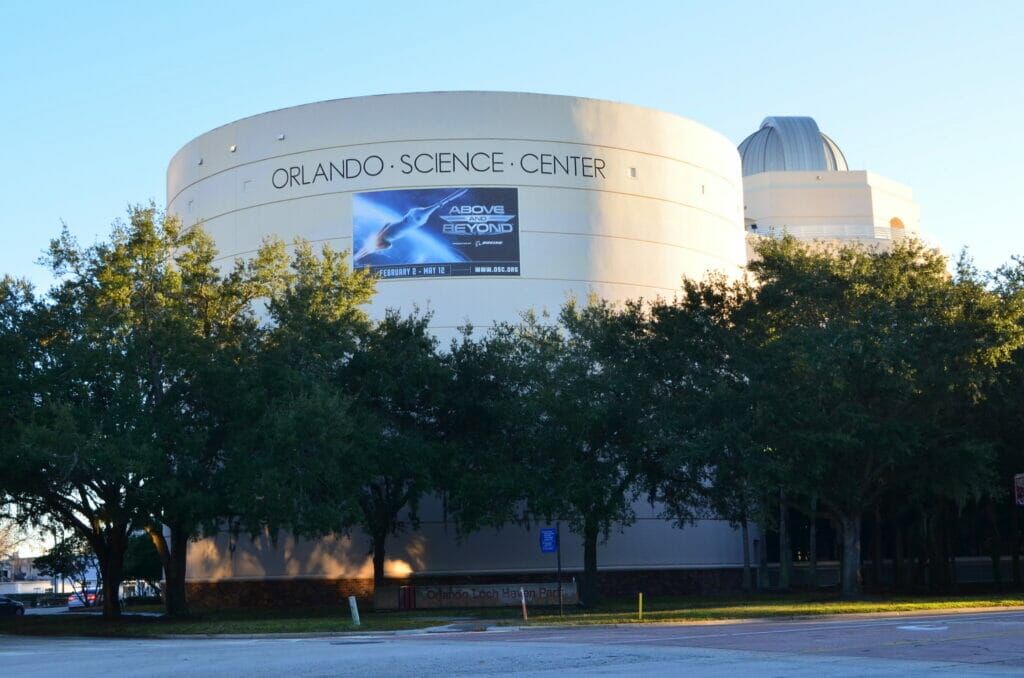 A love for science is born here!
There are also regular story times and activities for kids to sign your toddler up for at the museum.
8. Gatorland
Ready for some gator spotting?
Gatorland is a great place in Orlando for toddlers interested in animals as you can see the gator shows, feed the alligators, and see the other native Florida animals that make Gatorland so special.
The other part of Gatorland that makes it rock for toddlers is the water and splash play area.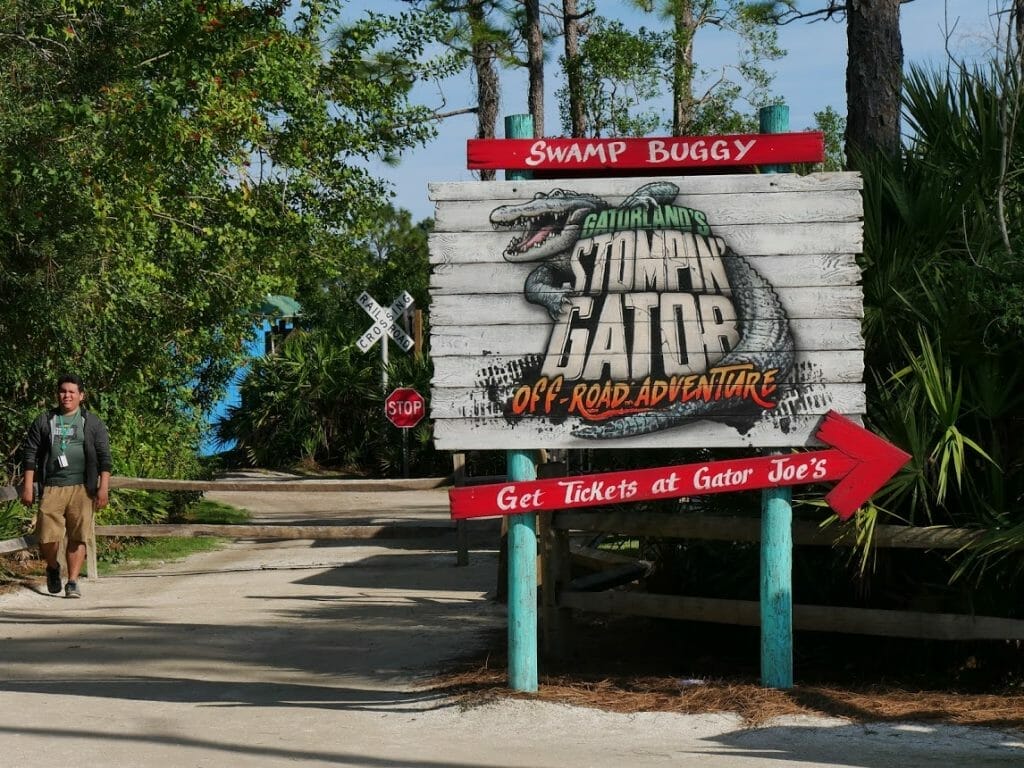 It's incredibly fun for kids, well-designed, and a great way to spend the afternoon after you spend the morning exploring the rest of the park.
There is also an awesome and historic train that goes around Gatorland your toddler will love to ride.
9. Central Florida Zoo
From cougars to black bears to donkeys to giraffes, the Central Florida Zoo is filled with animals from all over the world in an effort to help your toddler learn about conservation and the animals we share the world with.
This zoo is particularly child-friendly, with options like face painting and an entire animal-themed splash park that you can use if you bring your swimsuits.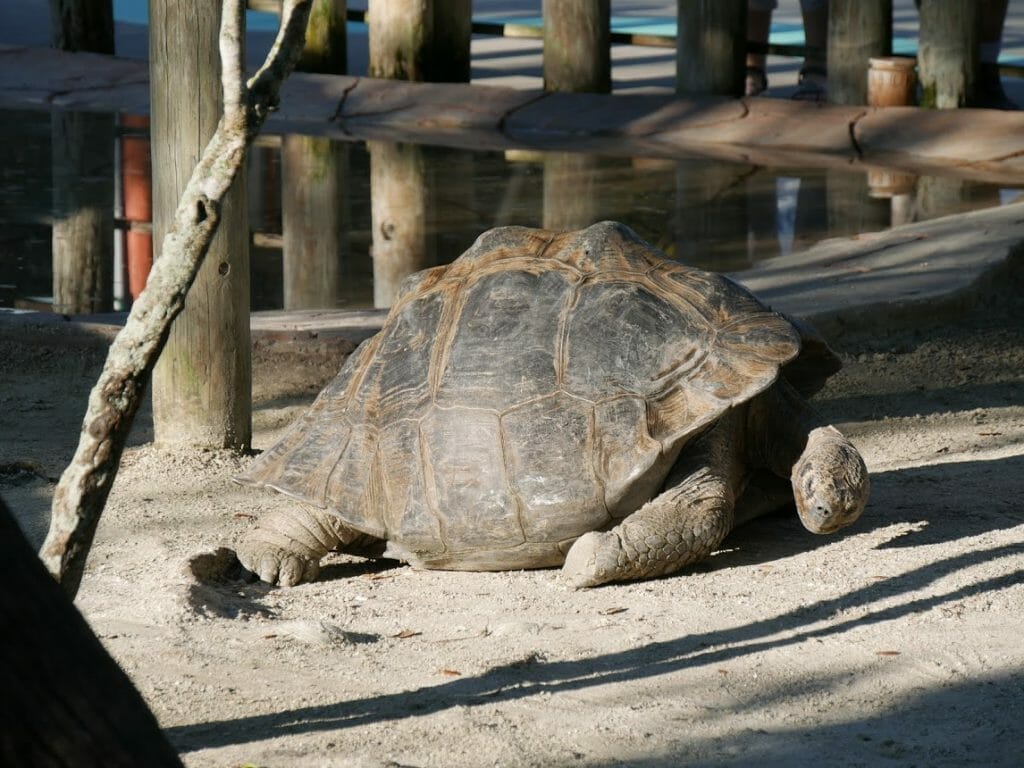 The Central Florida Zoo is one of the best things to do in Orlando with animal loving toddlers, and the engaged and interactive zookeepers will make sure to answer any of their questions or help them get as good a view of the animals as possible.
10. Crayola Experience
One of the best things to do with your toddlers in Orlando no matter what they're into is the Crayola Experience.
This interactive, Crayola-inspired activity center is one of the most unusual things to do in Orlando and a fantastic way to get your creativity going and let your toddler explore and engage with their own ideas and colors.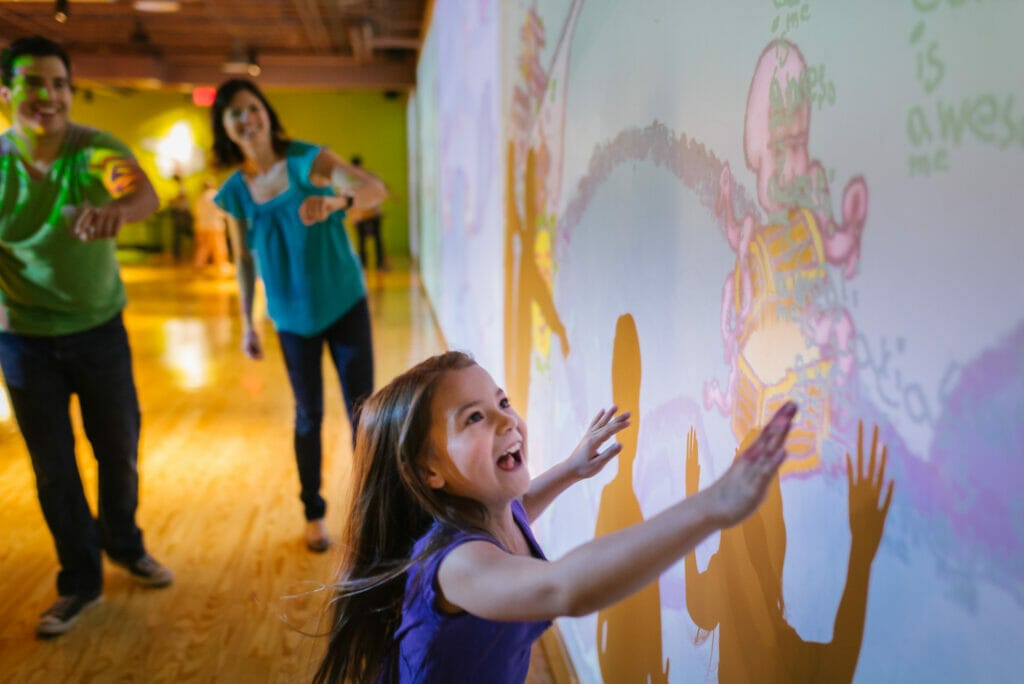 You can do everything from meet crayon characters to play on the crayon-inspired playground to seeing how crayons are made at the factory show.
There are also activity labs which combine colors and lights and sound, as well as the chance to make art of all kinds including crayon drip art and painting.
11. Aquatica or Water Parks
Did you know that water parks in Orlando are toddler friendly?
From SeaWorld's aquatica to Disney's Blizzard Beach, each has a dedicated and large splash pad for the little ones, as well as plenty of life jackets to go around.
Toddlers can go with you on the lazy river, enjoy the milder slides, and spend hours in the splash pad areas for a great day out at the water parks.
12. Disney Springs
There is a ton in Disney Springs for your toddler, so add this to your list of what to do in Orlando with toddlers – for free!
You can simply walk around with them and let them design their own LEGO creations at the LEGO store building area, or you can plan a full day including lunch at Rainforest Cafe and then getting them a prince or princess makeover at Bippiti Boppiti Boutique.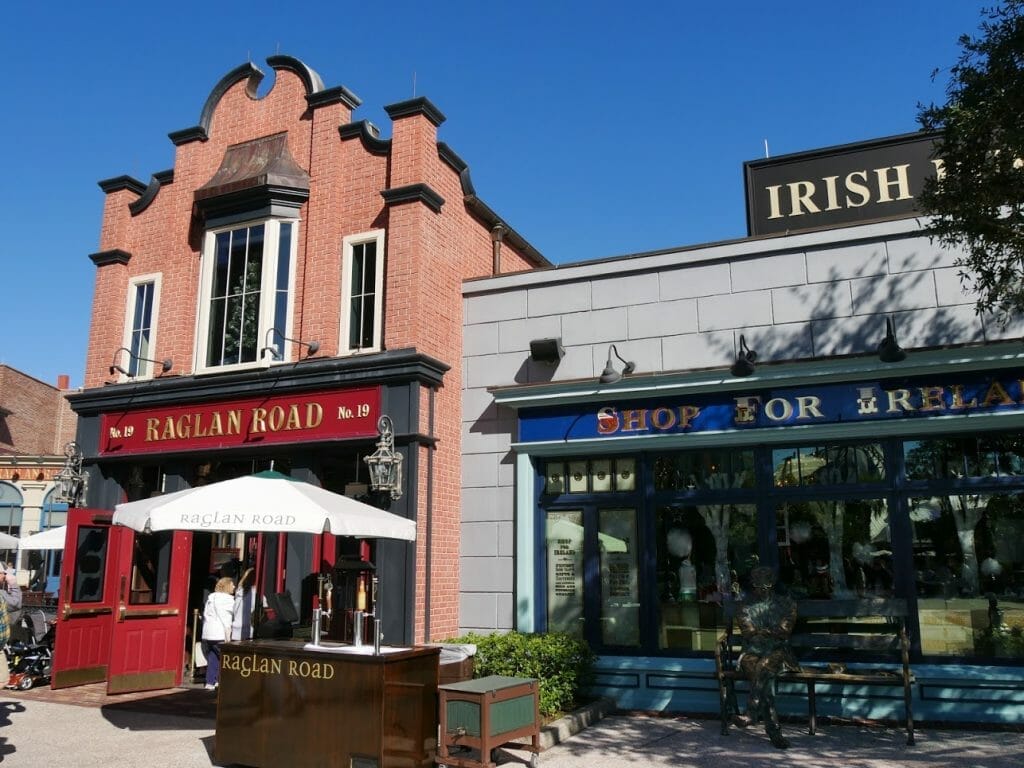 Many view Disney Springs as just a shopping and eating district, but there is plenty to hold a toddler's interest if you plan your trip right (check out this list of things to do in Disney Springs for more ideas).
13. Ride on the Orlando Eye
The Orlando Eye is a giant wheel that slowly rotates around like a Ferris Wheel, just with an enclosed capsule and smoother ride.
Toddlers and kids of all ages are more than welcome on the eye, and you can get some amazing views over Orlando.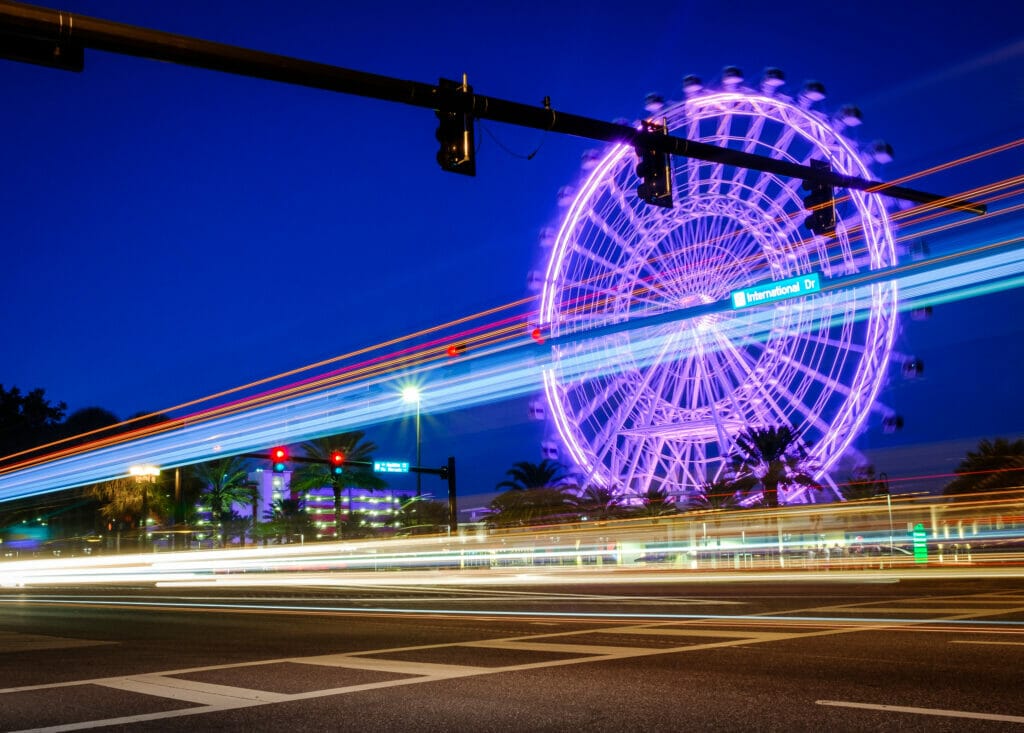 The capsule is air conditioned and moves slowly so if you and your toddler need a bit of a break while still being able to do some sightseeing.
Get the Orlando Pass to ride the Wheel for free in combination with plenty of other attractions.
Leu Gardens is one of the most romantic things to do in Orlando, taking a stroll around the beautiful gardens, so what makes it good for toddlers?
While you can obviously walk around the gardens with your toddlers to get them some fresh air and learning about nature, Leu Gardens also hold regular events including movie nights and toddler times that are put on specifically for the youngest in your family.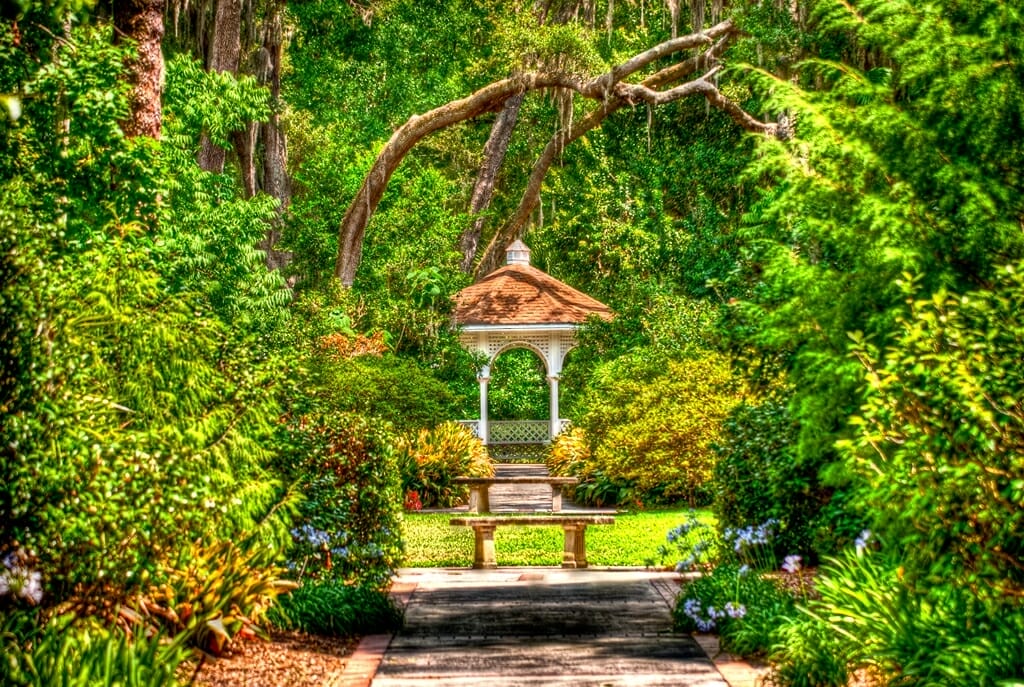 From stories to age-appropriate education and play, Leu Gardens is a great place for toddlers when they've got activities on.
15. SEA Life Orlando Aquarium
If you don't have a full day to spend at SeaWorld, try the Orlando Aquarium (get entrance included with the GO Orlando Pass, the cheapest way!)
Filled with colorful displays, plenty of sea creatures, and lots of interactive experiences, this is the best place to spend some time with toddlers for underwater creature lovers.
Dive shows will keep them entertained, while the 360 degree tunnel surrounded by swimming sea creatures above, below, and to the sides of you, will make for some memorable photo ops!
What else should I not miss in Orlando?
If you're visiting Orlando soon, here's a very brief rundown of a few of my other favorites to make sure you don't miss anything!
Get the All-American Travel Secrets!
Don't miss out on America's hidden gems!