If you're planning a trip to Orlando, you might want to check out unique and unusual things to do in Orlando that differ from the norm of the Magic Kingdom and Universal Orlando.
When I was searching for other lists of unique things to do in Orlando, I was struck by how many on the list weren't actually in Orlando.
Sure, Florida has a lot of awesome beaches and things to do like the Kennedy Space Center, but they're not in Orlando!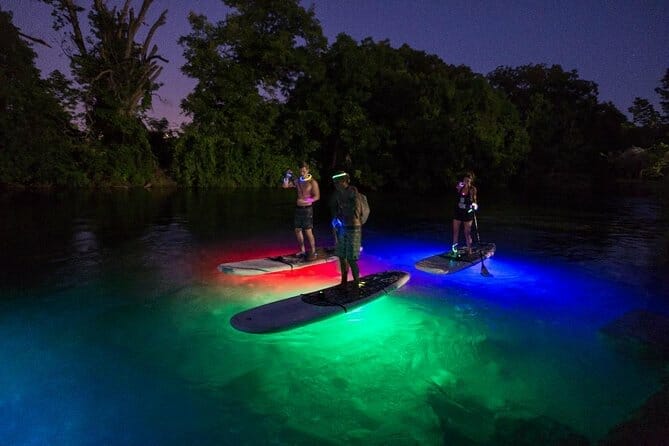 This list of unique things to do in Orlando are all actually in Orlando or very nearby, not an hour's drive away.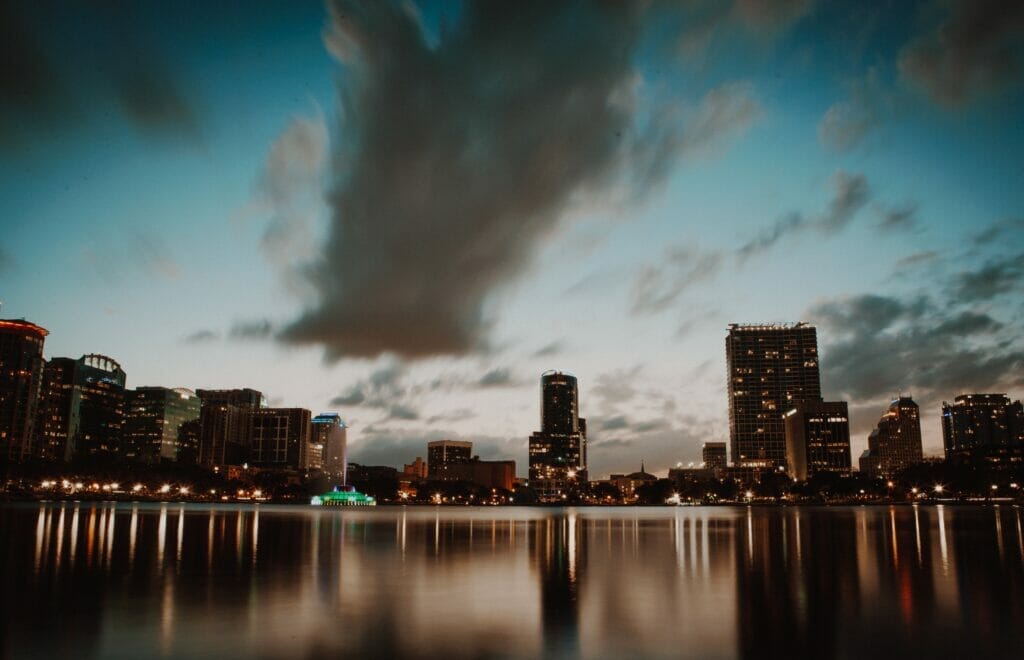 I have also included some things that take place on theme park property that you might not have heard of – if you want things to in Orlando besides the theme parks, I've got a whole guide on that as well.
Okay, so here goes!
The most unique things to do in Orlando for all ages!
Getting around Orlando
Don't forget that it's much easier to see Orlando by car so you can get around on your own.
Rental cars are perfect if you're flying into the area.
We recommend using Discover Cars price comparison to find the cheapest deals.
What to Bring to Orlando
If you're not used to the Orlando heat, here are just a few suggestions on what to make sure you have with you, almost year-round.
Where to Stay in Orlando
Budget: Splashing Out ($250+ per night)
Orlando is full of luxury hotels to choose from, and while more obvious options might be the Ritz Orlando, the Waldorf Astoria is at a bit of a cheaper price point (though not cheap, this is still a splash out) and offers some spectacular amenities.
Firstly, it's set on over 400 acres, and in addition to plush rooms that will rival any resort you've stayed in, there is also a full golf course, 2 swimming pools, kid's clubs, a lazy river, an on-site spa AND free transportation to the Disney parks.
Oh, also there are 12 restaurants, so, there you go, decision made!
Budget: Mid-Range ($150-$250 per night)
I've stayed in this hotel so many times, I've lost count – and every single time, I want to stay forever.
The Wyndham Bonnet Creek is a great mid-range option with spacious rooms, beautiful pools, a lakeside location with plenty of recreational opportunities for kids and adults alike, and some rooms even have Disney fireworks views.
Relax by the fire pit in the evening, or put on your plush robe and check out the spa. The location is top notch, the price is reasonable for Orlando, and the memories you'll make here will last a lifetime.
Budget: Uh…on one! ($150 or less per night)
If you'd rather spend your vacation money on things to do in Orlando while still being comfortable and happy at your resort, Hilton at Tuscany Village is for you.
The whole resort is sleek and modern, with awesome views from many of the balconies and well-designed outdoor pools (yes, this is Orlando, even the cheaper hotels have a pool!)
Choose from studios or suites, and appreciate the great location that makes you a 4 minute walk from the Outlets and a less than 10 minute drive from Disney, SeaWorld, Universal, and other Orlando attractions.
1. Orlando StarFlyer
Okay, adrenaline junkies.
You're going to test your nerves on the StarFlyer, the world's tallest swing ride.
You'll sit in your seat next to your friend or family member and be strapped in as you go up to 60 miles per hour (yes, 60) around and around the flyer, while getting great views of International Drive.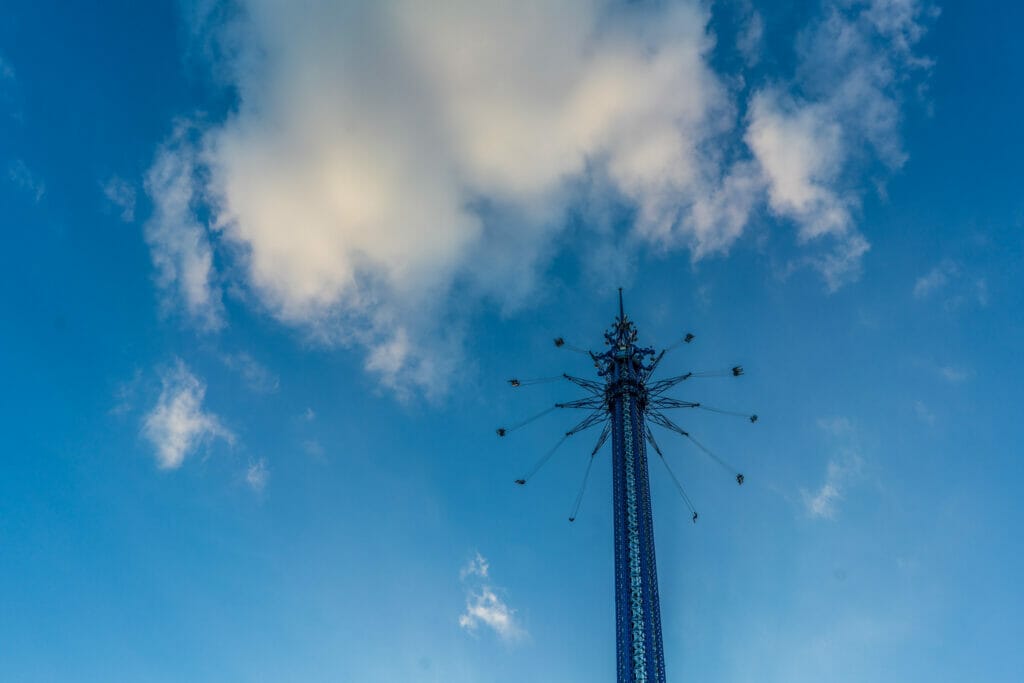 At nighttime, the StarFlyer lights up for an even more incredible experience.
You'll also be able to see the Orlando ICON Wheel, a rotating Ferris Wheel type collection of viewing pods.
Wave hello!
2. Go on a Safari at Animal Kingdom Lodge
At Disney World's Animal Kingdom Lodge, you can take a safari on the savanna to see the beautiful animals that roam around the open area.
Conservation experts will tell you all about the animals, as well as guide you to your evening meal afterwards.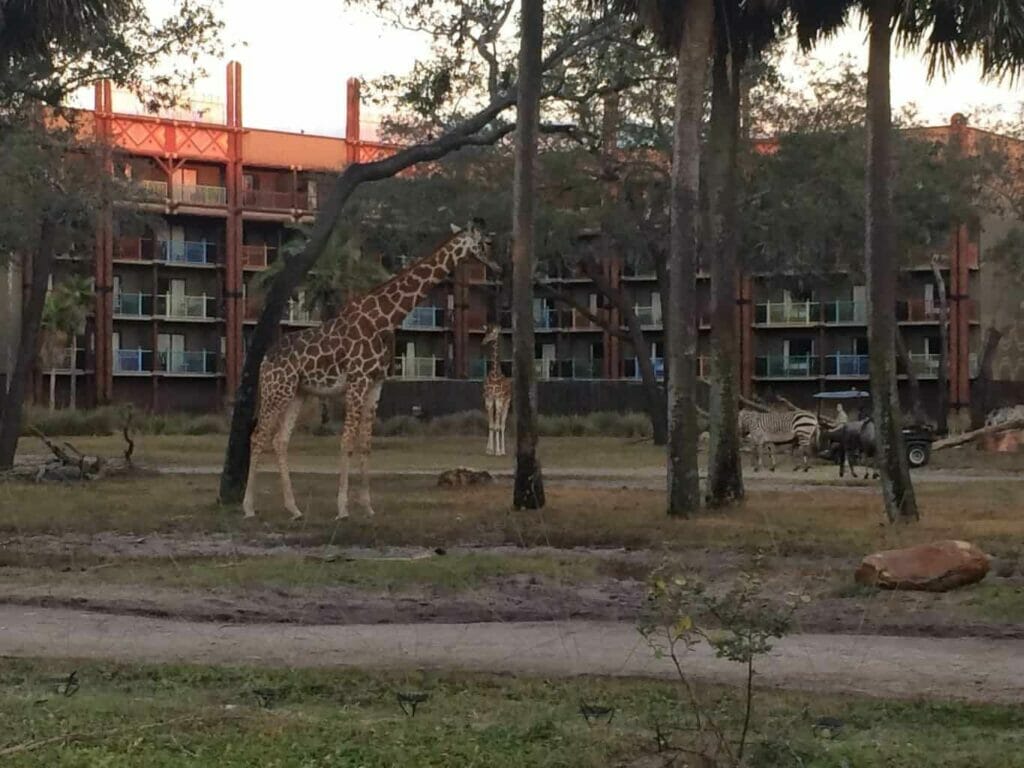 There are multiple options for these safaris, but a popular one is the "sunset safari," as the animals tend to be more active around sunset and it's a really nice atmosphere to be in the safari truck exploring as the sun goes down.
Animal Kingdom Lodge, in general, is one of the best hotels at Disney World for couples and a chance to experience something different in Orlando.
3. Swim with Dolphins at Discovery Cove
Discovery Cove should be on your list of unique things to do in Orlando because, unlike SeaWorld which is more about looking at the animals, Discovery Cove is all about interacting with them.
You can swim with dolphins under the watchful eye of an expert trainer and learn about these intelligent and beautiful creatures.
In fact, all of Discovery Cove is a hidden gem in Orlando.
There's also snorkeling and other animal feeding experiences you can get involved in.
Or you can bring your family and just enjoy the day sitting out on the beaches and enjoying unlimited food and drinks.
4. Learn Wakeboarding at Orlando Watersports Complex
Want to get active?
One of the most unique things to do in Orlando is to learn how to wakeboard at the Orlando Watersports Complex.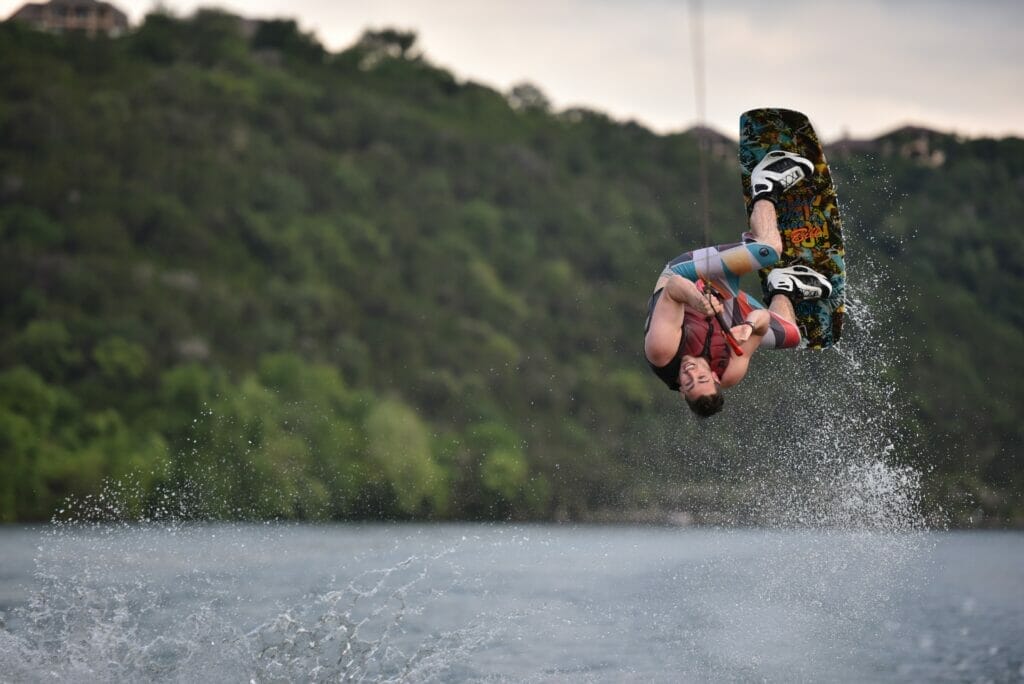 You can choose from a variety of types of lessons and wakeboarding, but even beginners are welcome here to try it out.
They also host regular competitions and summer camps if you're looking for something for the kids to do on a more regular basis.
5. Visit the Tibet-Butler Preserve
Orlando isn't always known for being the place to go for nature and wildlife, but you can find a hidden gem in Orlando at the Tibet-Butler Preserve.
It's one of the most unique things to do in Orlando for nature lovers, as you can explore the nature center, butterfly garden, and miles of walking trails that take you around the boardwalk and through the natural habitats.
Keep an eye out for american alligators, river otters, armadillos, and rare birds like bald eagles and eastern screech owls.
This is Orlando scaled back to what it once was – swamps, marshes, and scrub safe for the animals in Florida to live in.
6. Go on a Fireworks Cruise
For a unique way to see Disney fireworks without going into a park, why not book a fireworks cruise?
These cruises will take you out on the Disney waterways at fireworks time, complete with food and drinks, and you'll get the sound piped in as well as a wonderful views of the fireworks lighting up the sky.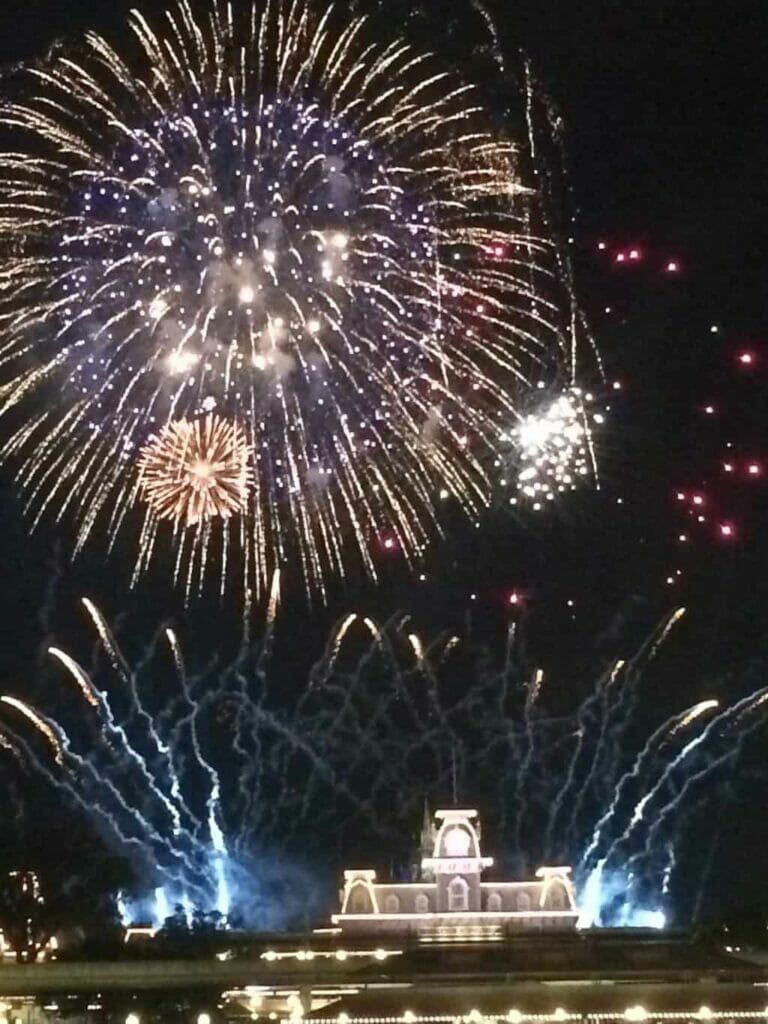 There's really no reason to stand side by side with thousands of your closest strangers on Main Street.
Hop on board a cruise and exprience Disney magic in the comfort of your own boat.
7. See the Orange County Regional History Center
While many know Orlando as a huge tourist destination with a lack of culture, that's not strictly true.
The area has a rich history of citrus groves, business, and a variety of people from around the world that turned it into what it is today.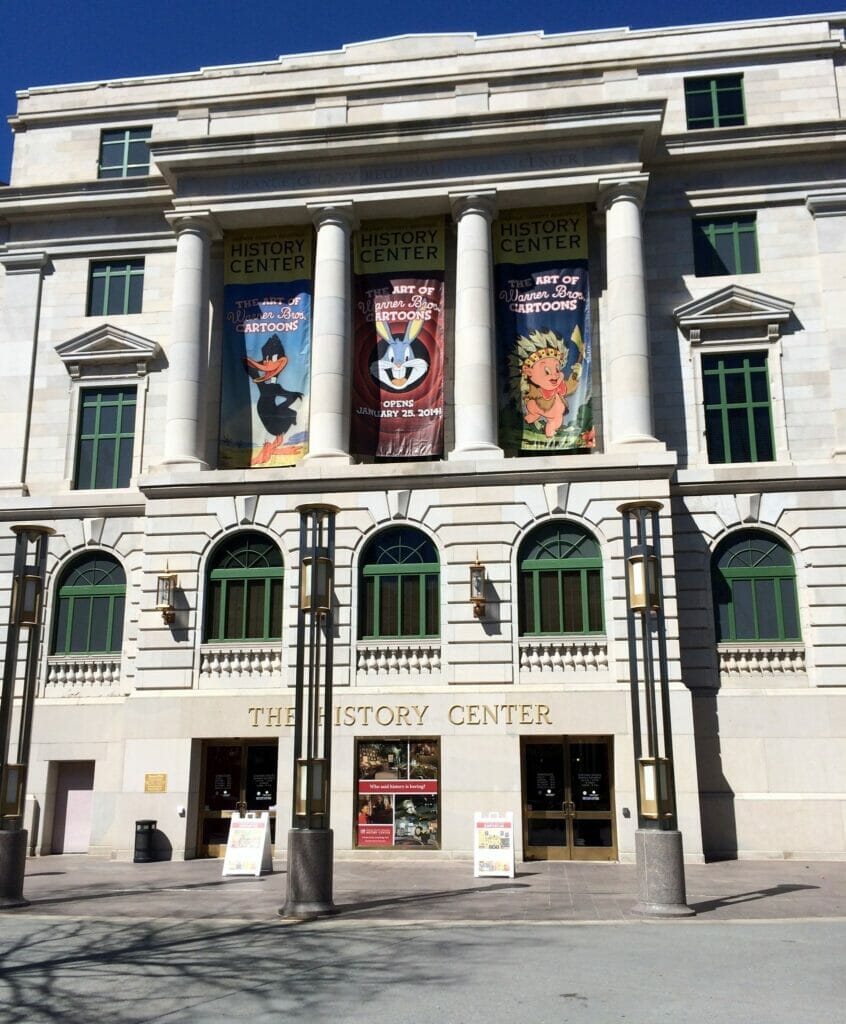 The best place to learn about this history is the Orange County Regional History Center in Downtown Orlando, which has four floors of exhibits taking you through everything including the cattle and citrus history to the African American history in the area to Central Florida's role in aviation history.
This is a colorful and interactive museum that combines what Orlando knows about entertainment with the culture of the area – you won't be bored!
8. Spend the Morning at the Orlando Farmers Market
What better place to meet local people and support unique Orlando businesses than the Orlando Farmer's Market?
This gathering place is open on Sundays and has everything from produce to clothing to incense to baked goods.
It takes place in Lake Eola Park, one of the icons of Orlando's local scene, and all are welcome to come and explore the foods, plants, arts and crafts, drinks, and more.
The Farmer's Market has been going since 1987, and every year it has grown into something even bigger with live entertainment and themed days to enjoy.
Pets are welcome and there's a nice beer garden to sit in to soak in the rays and enjoy time with friends.
9. Go on a Behind the Seeds Tour at Epcot
Visit Epcot, Disney's most educational theme park, and go on a "Behind the Seeds" tour.
This takes you through Epcot's greenhouses to see the plant growing techniques that are used on site to grow food served across Disney restaurants.
You'll also learn about fish farming, aqua farming, and other innovative technologies being tested out at Epcot which can be rolled out to communities trying to grow food in hostile climates or in more eco-friendly ways.
The tour only costs just over $20 per person, but it's a great behind-the-scenes experience that not many people know about.
Don't forget to check out other Orlando tours outside of the parks.
10. Orlando Brewing Company
Orlando Brewing Company was founded on the principle of making the highest quality ales and lagers, and they take great pride in following the German Purity Law of 1516 which means that their brews have no additives (except, of course, the few per year that are a part of the "Violator Series").
This is a fantastic place to hang out in the taproom or to take one of their free tours which help explain the brewing process and take you behind-the-scenes in the process.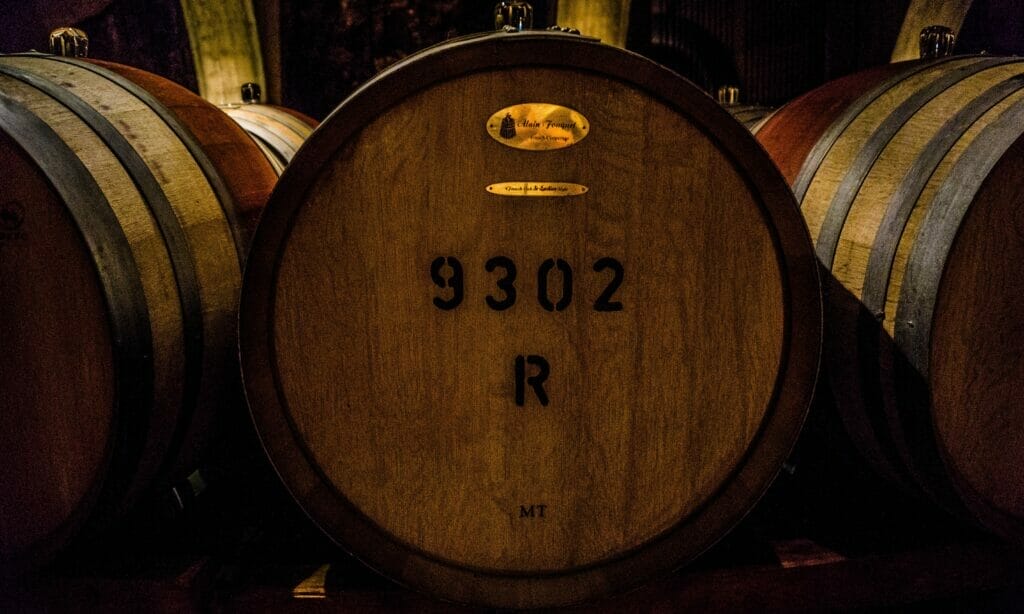 While Florida was slower to the craft brew scene than some other states, the Orlando Brewing Company led the way and continues to trailblaze.
11. See a Show at the Orlando Shakespeare Theater
For some fantastic local theater, Orlando Shakespeare Theater is the best place to go.
From Shakespeare classics like a Midsummer Night's Dream to Little Shop of Horrors to a children's series featuring plays on fairy tales and classics like Charlotte's Web, there is always something wonderful to see here.
If you want to see the real Orlando, the one outside of the theme parks where locals work, hang out and build the culture of the city, this is the place to do it.
12. Go Horseback Riding at Tri-Circle-D Ranch
Did you know you can go horseback riding at Disney World of all places?
At Disney's Fort Wilderness Campground, you can go on guided horseback rides through the Disney wilderness with expert guides.
This is a fantastic way to get some fresh air and explore a side of Disney World that you probably haven't seen before.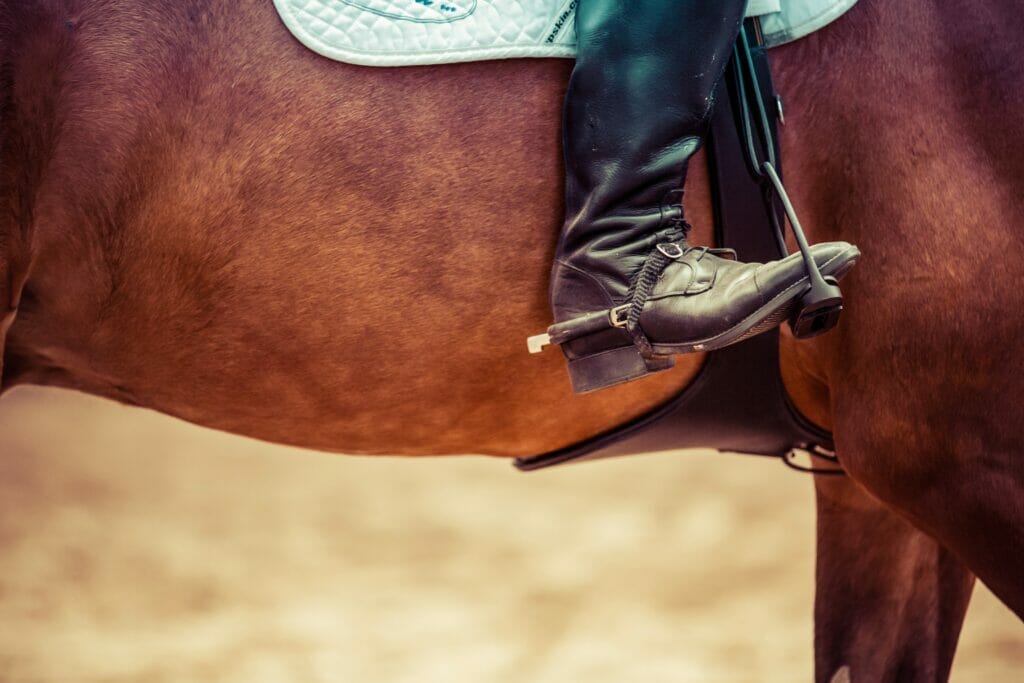 Afterwards, have dinner at the buffet on-site or head over to Wilderness Lodge, the adjacent resort, to eat at Whispering Canyon or see the Geyser go off at regular intervals.
13. Visit the Orlando Fire Museum
You might not have heard about this unique museum in Orlando, the Orlando Fire Museum, but you should definitely add it to your Orlando bucketlist.
Maintained by volunteers of retired and active duty firefighters, the museum has everything from restored fire engines from the early 1900s to historic firefighting equipment and gear.
This is a real labor of love from the firefighting community in Orlando, and they host regular events like storytime for the kids where you can experience this museum in a new way and get your kids involved in learning about this part of Orlando's history.
14. See a Movie at the Enzian Theater
Let's say you are ready to experience something different culturally in Orlando.
Where do you go?
Skip the Regal Cinemas and AMC and head straight for the Ezian Theater.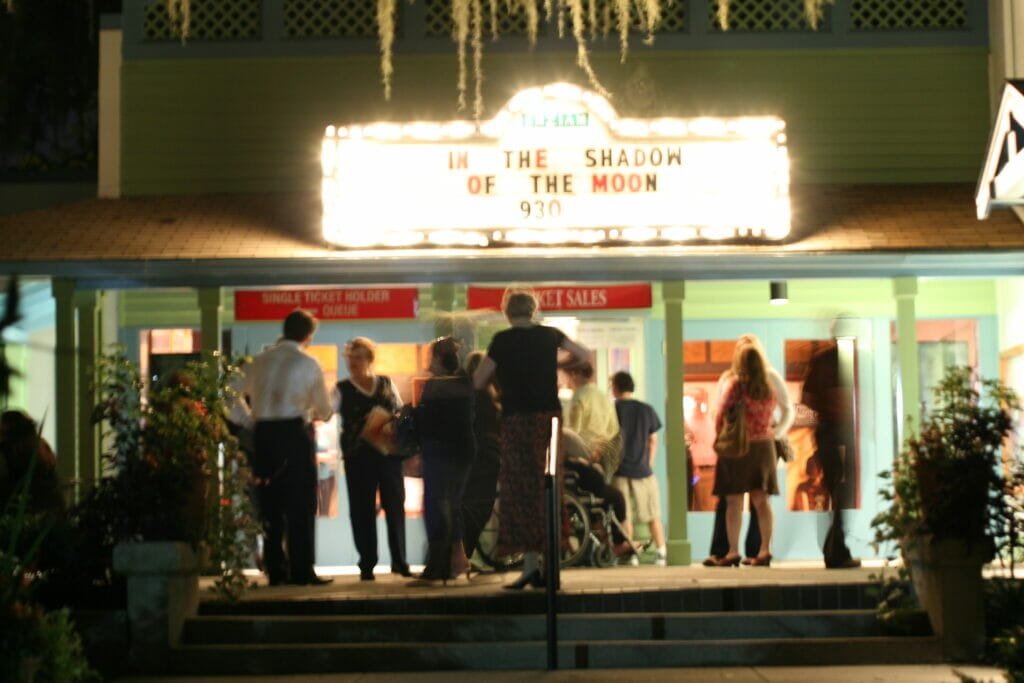 This arthouse independent theater is unique in that it offers the chance to enjoy dinner while watching a movie, and the movies it plays range from old classics to new indie flicks.
This is a cultural icon of Orlando and a huge local hangout spot.
It can also be one of the most romantic things to do in Orlando.
15. Ride in an Amphibicar in Disney Springs
It's a car, it's a boat, no it's an …amphibicar!
Launching from the Boathouse, these fun modes of transportation look like cars, but are also boats that float throughout the Disney Springs waterways.
You'll have your own skipper who will take you around seeing the sights of Disney Springs, and from the shore, it'll look like you're in a retro car, not a boat.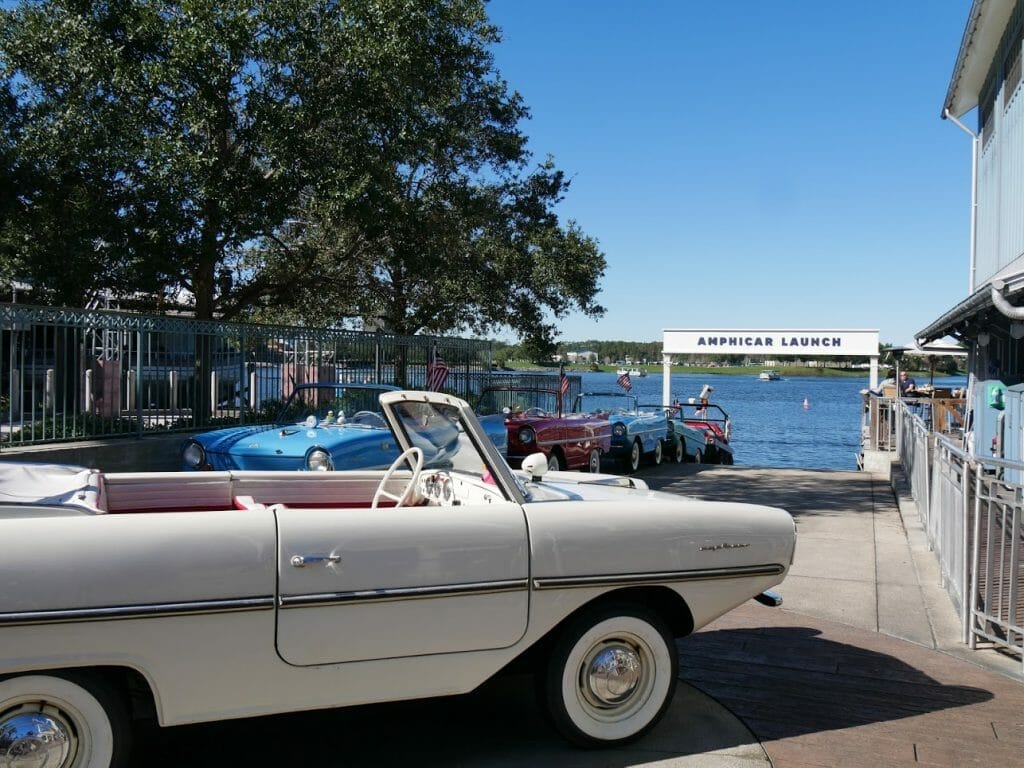 This is a unique Orlando experience for families who have "done it all" at Disney and are hoping to do something different next time around.
Finish it off with a meal at the Boathouse, one of the best restaurants at Disney Springs, and you'll be happy you did.
16. Go Ice Skating at RDV Sportsplex
Orlando may be one of the hottest destinations in the USA, but that doesn't mean you can't cool down with some ice skating.
The RDV Sportsplex Ice Den has olympic sized ice rinks where they host regular public skating sessions complete with skate rental and music.
Go at night for a disco themed event, or stick to a weekend day for an all-ages skate.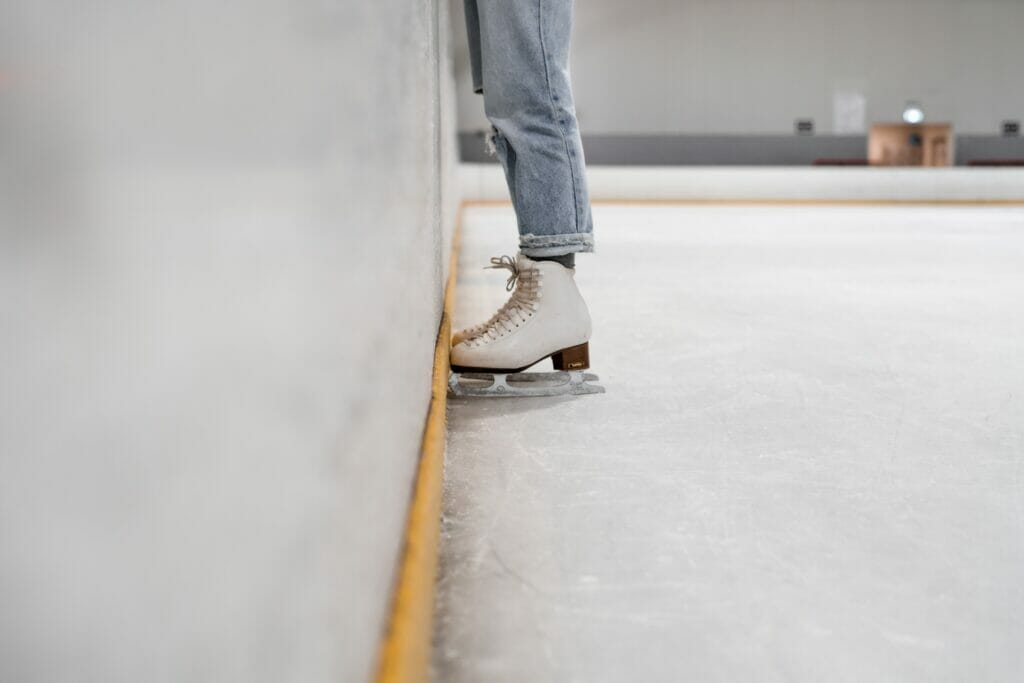 You don't have to be good on skates to enjoy time with family and friends here – just hang onto the side until you're ready to practice your moves in the middle of the ice.
Oh, and did I mention it's so cool in there you're going to want to take a jacket?
Bliss for a hot summer's day and one of the best things to do in Orlando with toddlers.
17. Take a Sunrise Hot Air Balloon Ride
Ever wanted to see the expanse of Orlando at sunrise?
Florida sunrises are heavenly, and there's no better way to see them than from the sky.
You'll meet at Showcase of Citrus in Clermon in the early morning, and then be taken up in a hot air balloon to see the sunrise over Walt Disney World, the orange groves, the swamps, and Universal Studios.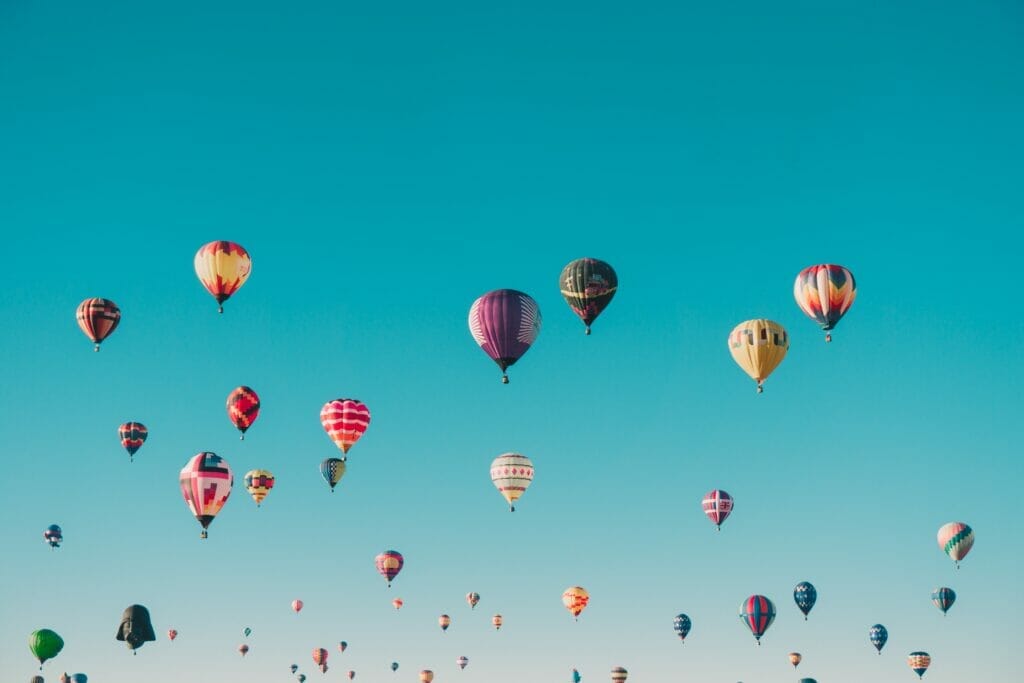 Experienced pilots will teach you about hot air ballon flight and how the balloons are inflated, and you'll celebrate at the end with some morning mimosas or other beverages.
The Orlando Sunrise Hot-Air Balloon staff put safety as a top priority and provide a once in a lifetime experience for so many Orlando visitors.
Got teens?
This is one of the best things to do for teens in Orlando to give them a thrill!
18. Hold a Gator at Gatorland
Despite Gatorland being one of Orlando's original parks, it doesn't get the same foot traffic or advertising as Disney and Universal.
However, what you'll find here is a hidden gem in Orlando that will really take you back to the state's history as a swamp.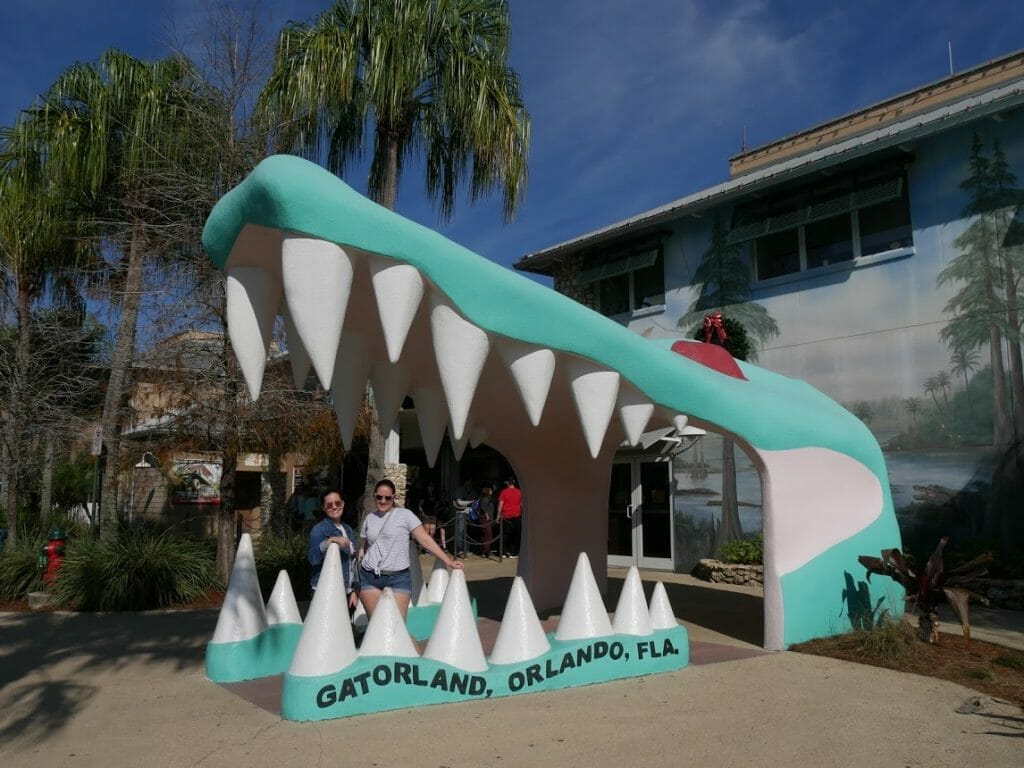 With plenty of gators to learn about, including gator feeding times and albino gators, you can spend the whole day just immersed in Gatorland, or you can take advantage of their other opportunities including ziplining over gator infested waters (yes, seriously) and taking a train ride around the park.
There are also natural swamps for you to explore on foot, as well as a kid's mini water park so they can cool off during the hottest parts of the day.
19. Visit the Tupperware Confidence Center
Oh yes, an entire museum dedicated to Tupperware!
The Tupperwater Confidence Center and Museum has displays from historic Tupperware items, as well as the story of the company and a Tupperware shop where you can buy new products for your kitchen.
Tupperware is such an iconic American brand, and kitchen organizers everywhere will love this unique trip to a Tupperware-dedicated exhibit in Orlando.
What else should I not miss in Orlando?
If you're visiting Orlando soon, here's a very brief rundown of a few of my other favorites to make sure you don't miss anything!
Hey! Want more Orlando content? Check out these guides!
Get the All-American Travel Secrets!
Don't miss out on America's hidden gems!