So you're heading to Orlando with your family or friends and you're wondering, "what else is there to do in Orlando other than Theme Parks?"
Or perhaps you're thinking a little further afield and asking yourself, "what can I do near Orlando that isn't a theme park?"
Or perhaps you're a big-thinker thinking state-sized, asking yourself "what else can I do in Florida other than Theme Parks?"
Well, you've come to the right place!
If you are heading to Disney World and staying at a resort (maybe you need my guide on getting upgraded at Disney World resorts, but I digress), don't forget that there are other things to do besides the parks – you can head to Disney Springs, Disney's own food and shopping mini-town, or you could play a game of golf on one of its golf courses.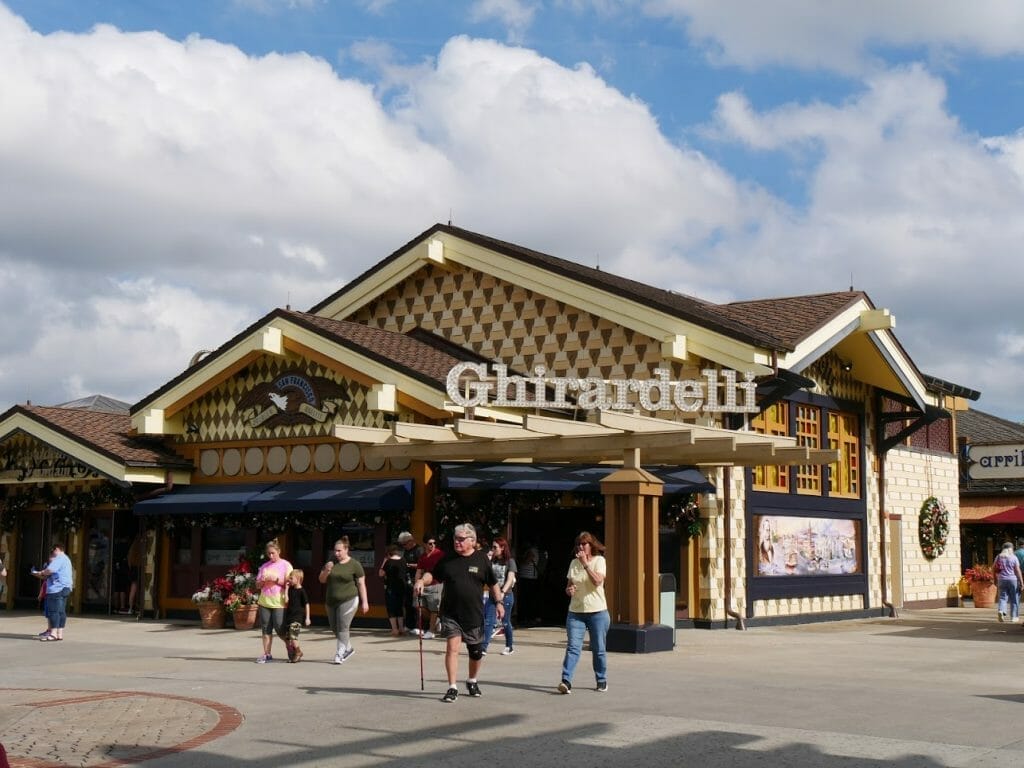 If you are going to Universal, you could also check out its CityWalk area, which is full of shops and restaurants and the great Blue Man Group show.
But if you're looking to escape Disney and Universal while in Orlando, trust me – as a born and raised Orlando girl – there are plenty of other things you can do while you are there.
One thing to bear in mind with Orlando, and the US in general, is that public transportation is not great, especially if you are used to UK and European public transport that can get you pretty much anywhere!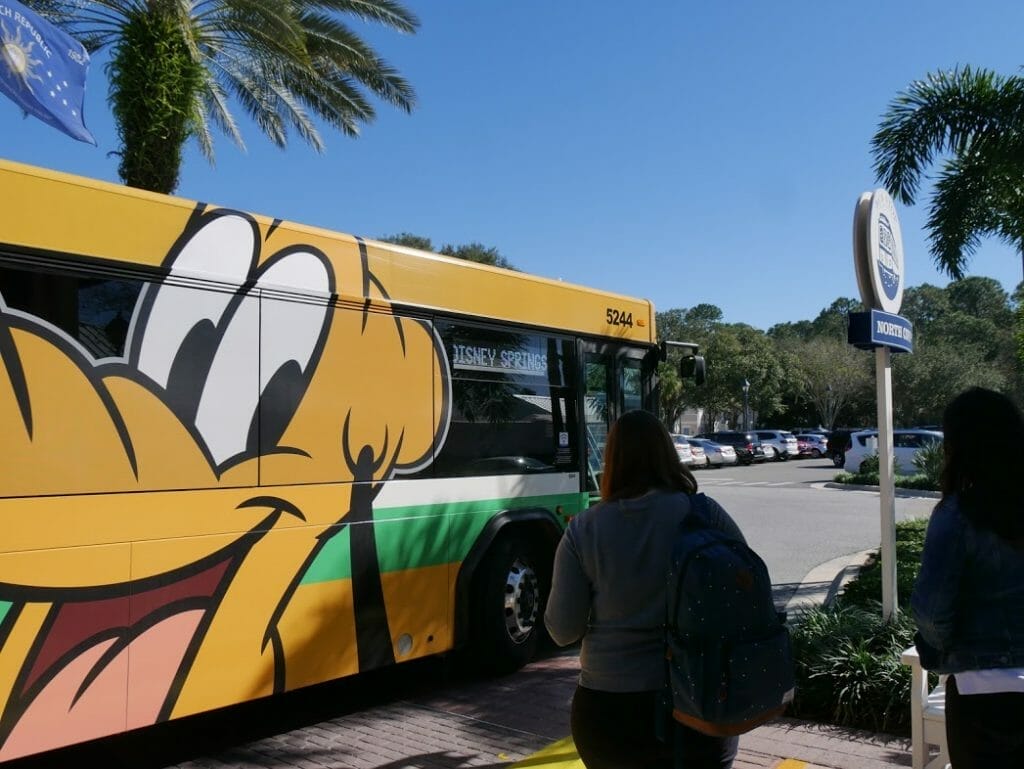 So you may want to rent a car for your time in Orlando.
Anyway, on to my list of things to do in Orlando other than theme parks.
Getting around Orlando
Don't forget that it's much easier to see Orlando by car so you can get around on your own.
Rental cars are perfect if you're flying into the area.
We recommend using Discover Cars price comparison to find the cheapest deals.
What to Bring to Orlando
If you're not used to the Orlando heat, here are just a few suggestions on what to make sure you have with you, almost year-round.
Where to Stay in Orlando
Budget: Splashing Out ($250+ per night)
Orlando is full of luxury hotels to choose from, and while more obvious options might be the Ritz Orlando, the Waldorf Astoria is at a bit of a cheaper price point (though not cheap, this is still a splash out) and offers some spectacular amenities.
Firstly, it's set on over 400 acres, and in addition to plush rooms that will rival any resort you've stayed in, there is also a full golf course, 2 swimming pools, kid's clubs, a lazy river, an on-site spa AND free transportation to the Disney parks.
Oh, also there are 12 restaurants, so, there you go, decision made!
Budget: Mid-Range ($150-$250 per night)
I've stayed in this hotel so many times, I've lost count – and every single time, I want to stay forever.
The Wyndham Bonnet Creek is a great mid-range option with spacious rooms, beautiful pools, a lakeside location with plenty of recreational opportunities for kids and adults alike, and some rooms even have Disney fireworks views.
Relax by the fire pit in the evening, or put on your plush robe and check out the spa. The location is top notch, the price is reasonable for Orlando, and the memories you'll make here will last a lifetime.
Budget: Uh…on one! ($150 or less per night)
If you'd rather spend your vacation money on things to do in Orlando while still being comfortable and happy at your resort, Hilton at Tuscany Village is for you.
The whole resort is sleek and modern, with awesome views from many of the balconies and well-designed outdoor pools (yes, this is Orlando, even the cheaper hotels have a pool!)
Choose from studios or suites, and appreciate the great location that makes you a 4 minute walk from the Outlets and a less than 10 minute drive from Disney, SeaWorld, Universal, and other Orlando attractions.
Located about one hour from Orlando, Kennedy Space Center is a must-see if you're heading to Florida and genuinely one of the best things to do in Orlando besides theme parks.
In fact, it is one of my husband's favorite destinations whenever we head out there.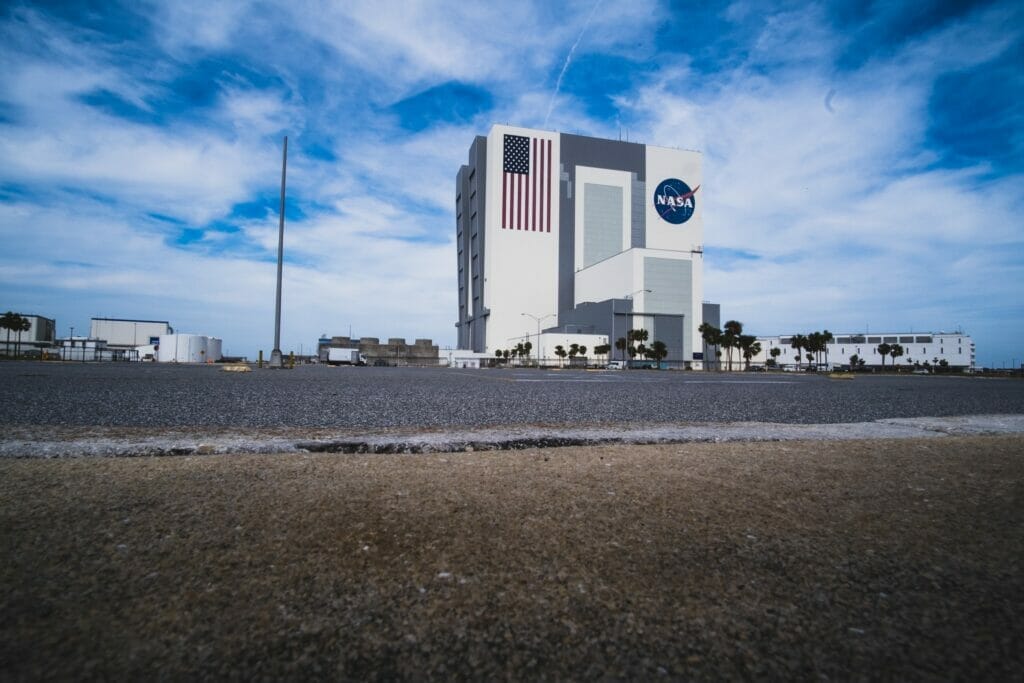 Home of NASA and the famous shuttle launches, Kennedy Space Center was originally open to the public in 1963 in the form of a self-guided tour.
Visitors could drive through Cape Canaveral Air Force Station along a set route, and an estimated 100,000 people went the first year it was open.
In fact, by 1964, an estimated 250,000 self-guided cars went around the site.
It became so popular, that in 1965, $2million was spent on building a visitor center.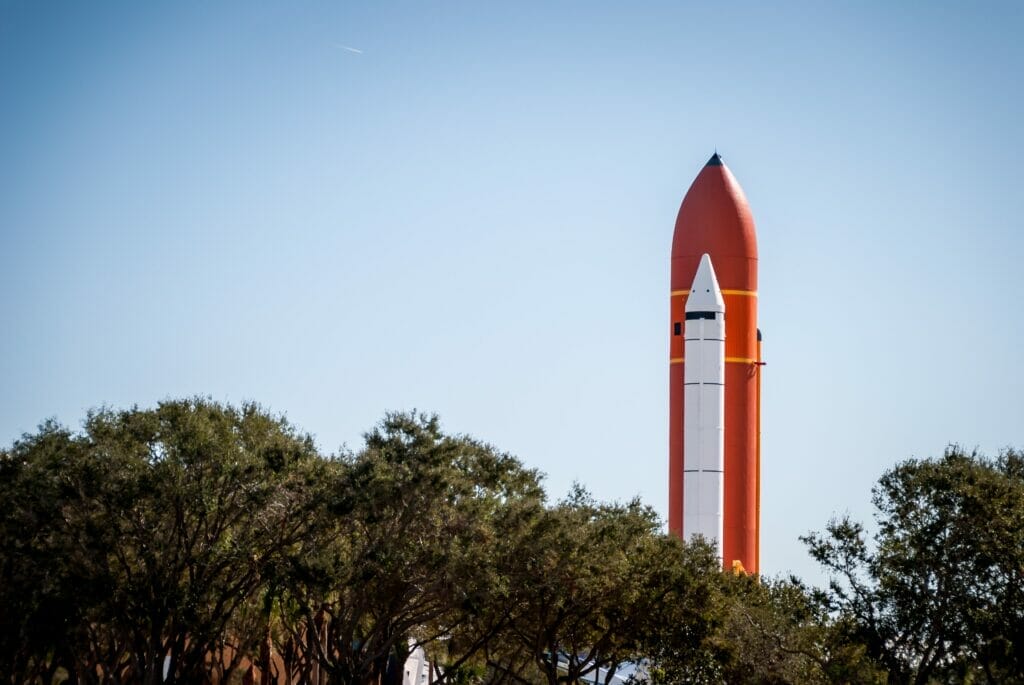 This was opened in 1967.
By 1969, 1 million people visited the center, and it currently gets around 1.7 million visitors per year.
Presently, Kennedy Space Center has displays, exhibits, actual spacecraft that you can get up-close-and-personal to, talks from real-life astronauts, two IMAX theaters, and a really great bus tour around the site.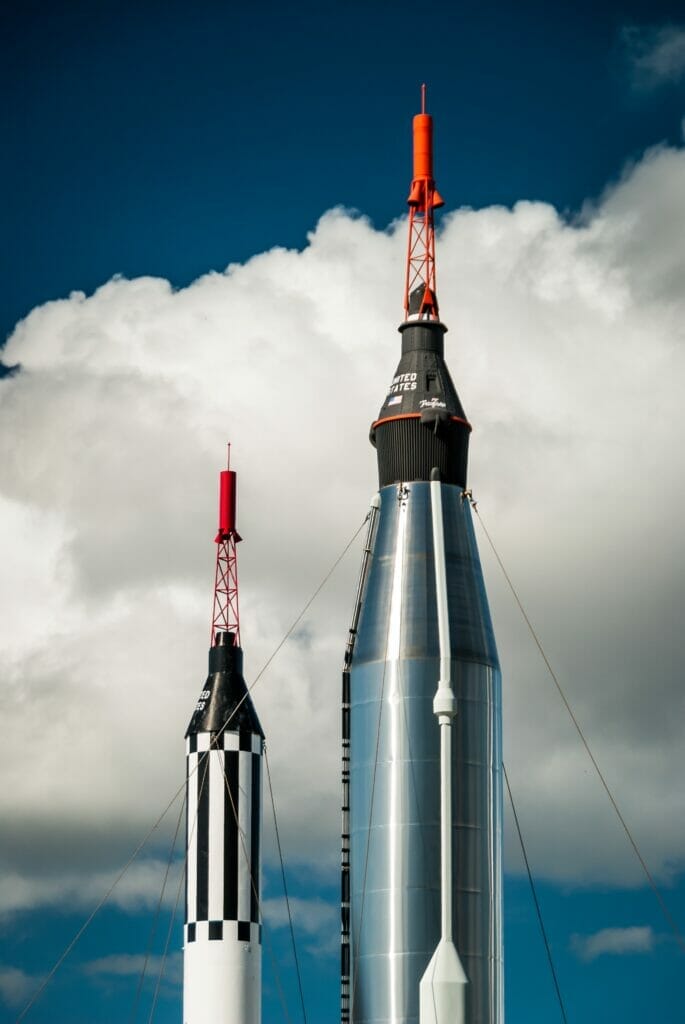 Talking of the bus tour, this takes you to the Apollo/Saturn V Center, where there is a HUGE spacecraft that runs along the full length of the building.
It's somewhat hard to take it in from a picture, but trust me when I say it's awesome in person.
You can also see other historical craft around the site – something you can't see in many parts of the world.
One of my favorite things about Kennedy Space Center is how helpful and knowledgeable the staff are about the Center, NASA, and Space in general.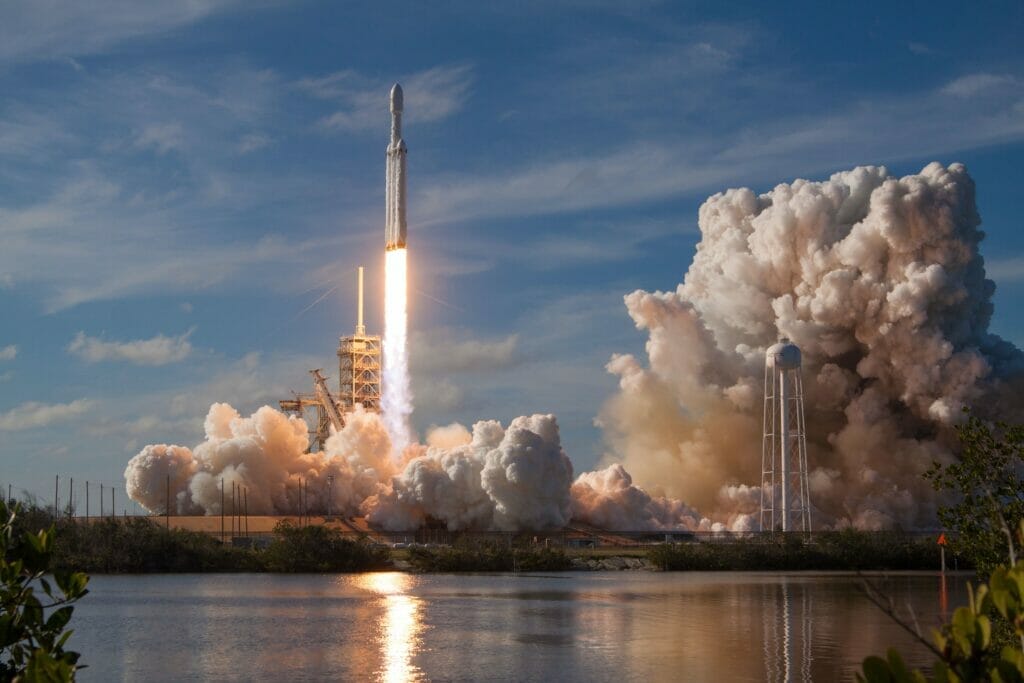 Many of the staff who work there used to work for NASA in one role or another, and will happily talk to you for as long as you like about their experiences or answer any questions you have.
The talk that happens each day from a real NASA astronaut is also great if you want to know more about NASA and Space and have the opportunity to ask questions.
If you do go, be sure to check out "Space Shuttle Atlantis", which lets you get right up close to the Space Shuttle Atlantis.
You can go so close to it you can almost touch it, and you can see the scars from its trips all over its body.
One last thing you must look in to if you want to go – check if and when there is a launch happening!
And, yes, you can go and watch! You can see details on the Kennedy Space Center website, but a couple of things to bear in mind –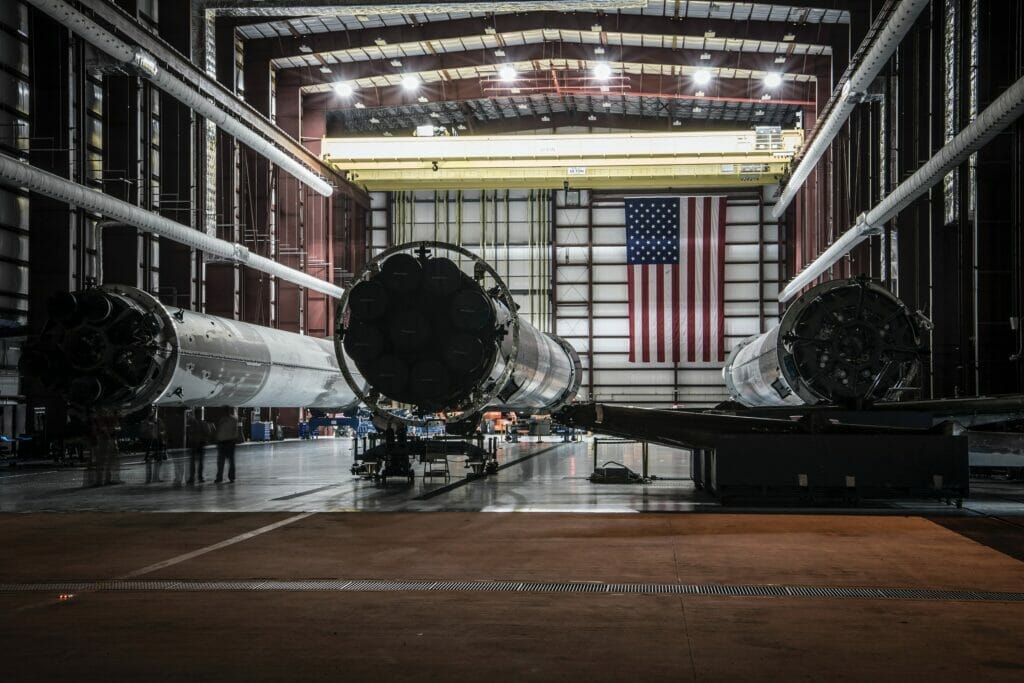 1. Launches can and do get canceled and moved, so don't plan too strictly around a launch.
I have seen launches be moved from one day to another to another to another for weeks on end.
And 2. If you do go to watch a launch, go early to be sure to get a good viewing spot!
2. Catch an Orlando Magic game
Those of you who are sports fans will already know about the Orlando Magic, I am sure.
Those of you who aren't sports fans or have never watched a basketball game because they don't really do them in your country (cough, cough, England), then you really should check out an Orlando Magic game.
Okay, okay, they might not be the best team in the world, but if you are a tourist or never been to a game, it will certainly be an entertaining watch and give you something to do in Orlando outside of the theme parks.
And it's pretty much guaranteed never to be sold out, so you will almost certainly be able to get ticket (in fact, the best way is to get the GO Orlando pass which includes certain games).
Hurrah!
A bit of history on The Orlando Magic: they are a member of the National Basketball Association, and part of its Eastern Conference Southeast Division.
It was set up in 9189 and some of its most famous players throughout history include Tracy McGrady, Dwight Howard, Shaquille O'Neal, Vince Carter and Penny Hardaway.
The team has (as of 2019) been to the playoffs 14 times and to the NBA finals twice.
Located right in the city of Orlando, the Amway Center, where The Orlando Magic play, is very easily accessible.
One of my favorite things about an Orlando Magic game is the atmosphere.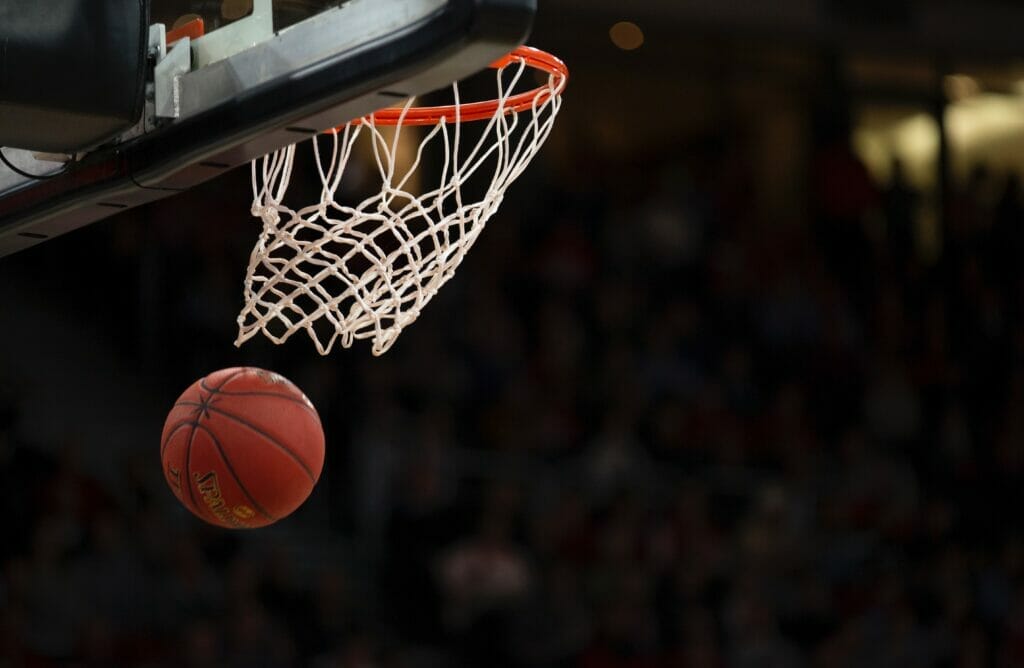 When you go to a game and everyone stands for the national anthem it almost always brings a tear to your eye.
When The Magic finally take the lead after being down for most of the game, you can't help but rally behind them, even as a non-sports fan.
And when the kiss cam comes on and you see a guy so far in the friend-zone try to kiss a girl who has gone with him purely for the entertainment and not for any romantic sense, you feel the cringe throughout the arena.
Another fun little thing, if you've never been to a sports game in America, is that they often have little mini-games while you are there.
They might pull you out on to the court to shoot a half-court shot for $10,000, they might shoot t-shirts out in to the audience with shirt guns, and often the game will be sponsored by a food outlet like Chick-Fil-A, who might offer a free sandwich to anyone with a ticket if The Magic get at least five 3-point shots.
There is always something for the crowd to get behind.
3. I-Drive
I-Drive (International Drive) in Orlando is a strip of Orlando that caters for tourists looking to do something else other than Disney.
It is chock full of attractions, restaurants, hotels and shows, and there really is something for everyone.
I-Drive is home to such attractions as The Titanic Artifact Exhibition, The Escape Game, Ripleys Believe It or Not!, Madame Tussauds, the ICON Ferris Wheel, movie theatres, the Skeletons museum, Sea Life Aquarium, multiple adventure golf games, iFly skydiving simulator, WonderWorks, outlet shopping stores, and the Convention Center.
The best way to experience these attractions is to get the GO Orlando pass, which will make each ticket much cheaper!
Those of you keeping tabs on the geography of Orlando, I-Drive can be found right next to Universal.
It is a very short distance from Islands of Adventure and the Resort.
As for me, my favourite attractions are the adventure golf games!
I love a good game of adventure golf, as it's something they tend not to do in the UK.
They call it "mini golf" or sometimes "crazy golf".
It is mini, but it's never really that crazy in the UK.
Maybe a route or two to choose from on each hole.
Not like American adventure golf, where your golf ball could set off a pyrotechnic display, where the theming often comes close to outdoing Disney, or where an alligator may end up eating your ball!
I am also a fan of WonderWorks, famous for its upside-down building.
WonderWorks is an exhibit and interactive experience center.
It has such things as a glow-in-the-dark ropes course, a laser-tag arena, an earthquake experience, a hurricane experience, virtual sports games, and more.
There is a lot to do there, and it does down especially well with kids.
My husband is a fan of Titanic: The Artifact Exhibition.
But then, he loves anything to do with The Titanic.
Although personally I didn't find it as good as the Titanic Exhibit in Belfast, this still has a lot to offer.
It features over 300 artifacts, as well as full-size recreations of parts of the ship like the Grand Staircase, made famous in the James Cameron movie, and the Veranda Cafe.
4. St Augustine
Okay, so I know this is a little further afield than you might be expecting at 1 hour 45 minutes away from Orlando, but it deserves being on this list of what to do inFlorida besides Disney World.
St Augustine was founded in 1565 by Spanish explorers, and it is the oldest continuously inhabited European-established settlement in the US.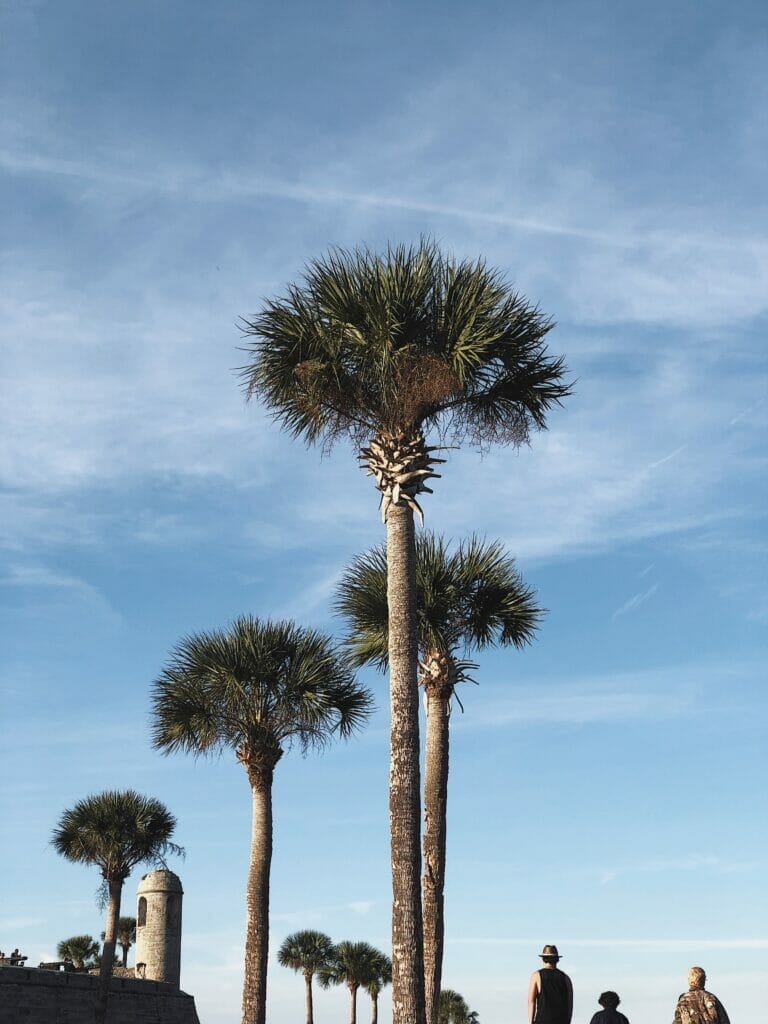 It is not a huge town by any means, only having a population of around 14,000 people.
But what it does have is a lot history, culture and charm, as well as a beautiful sea front and fort that you can explore.
It may not be up there with castles like Dover Castle, but it is one of the best that us Americans have!
And, heck, it was invaded by pirates, too!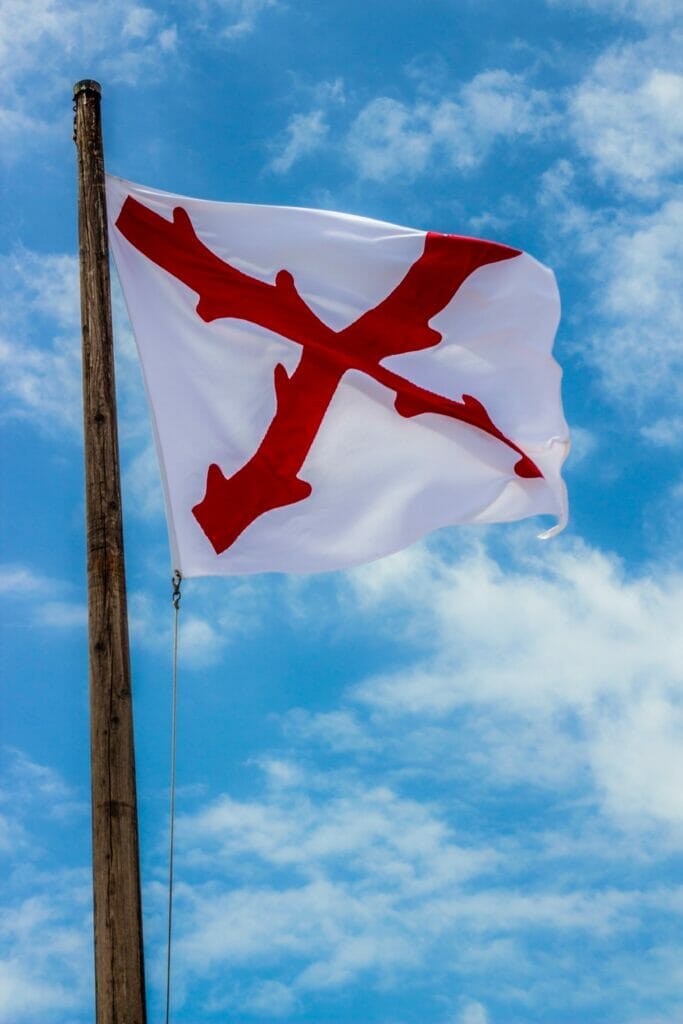 St Augustine has museums and art galleries and shops, such as the Metalartz Gallery and the Pasta fine art gallery.
There are historic sites such as the aforementioned fort and an old jail. You can even do a sightseeing tour and a haunted walk.
This hop-on, hop-off sightseeing tour is the best way to see the city.
One of the best things about St Augustine has to be the restaurants.
There are just so many to choose from.
And, given that it is by the sea, there are great selections for you seafood lovers out there
5. Beaches
I get it.
You come to Florida, and you expect sun.
If you go somewhere sunny, you really want beaches.
And you're in luck, because Orlando is only a short journey from a number of beaches!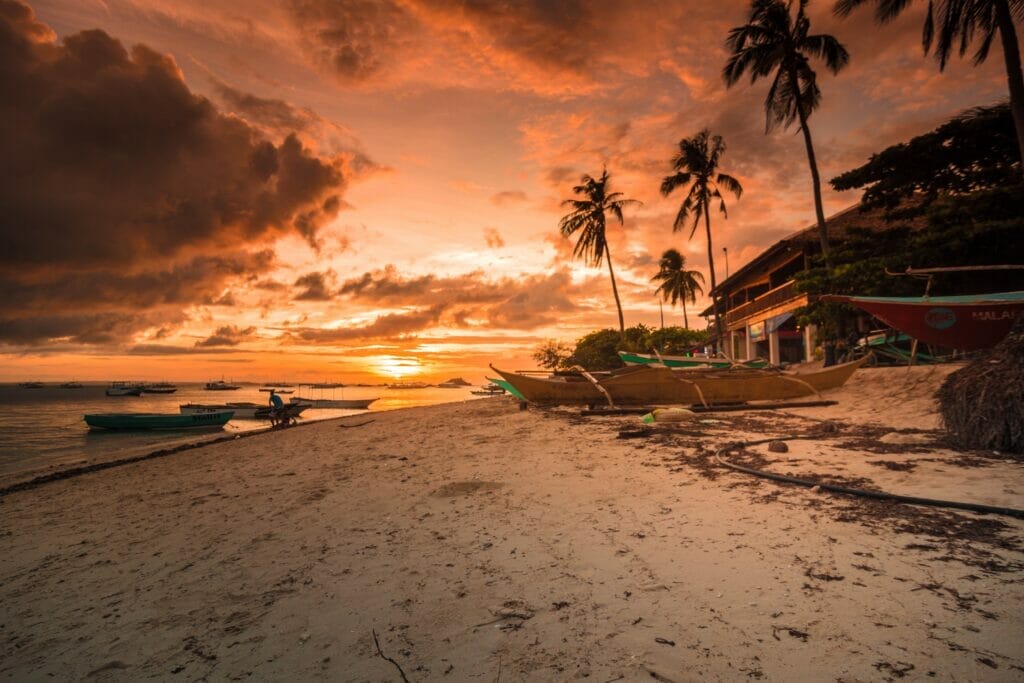 Again, you will want a car for these because of America's rather poor public transport infrastructure.
But if you can get a car, you can get to a beach, either on the Atlantic Ocean side or the Gulf of Mexico side of the state.
This could be a welcome break from the theme parks and entertainment venues in Orlando, as you sit back and relax in the sand and listen to the waves lapping.
Get on a jet ski, paddle out on a paddle board, or simply sit and bake.
Whatever you choose, you will have a great time!
Cocoa Beach
One hour from Orlando is Cocoa Beach, my most frequently visited beach when I am home in Florida.
Its landscape is relatively unspoiled, and its pace is quite slow, so you feel you can relax whilst there.
Cocoa Beach is also a great place to learn to surf, as was done by world famous surfer, Kelly Slater.
While at Cocoa Beach, you can also go deep sea fishing or partake in water sports.
It's not, however, known for its diving, if you are a keen scuba diver.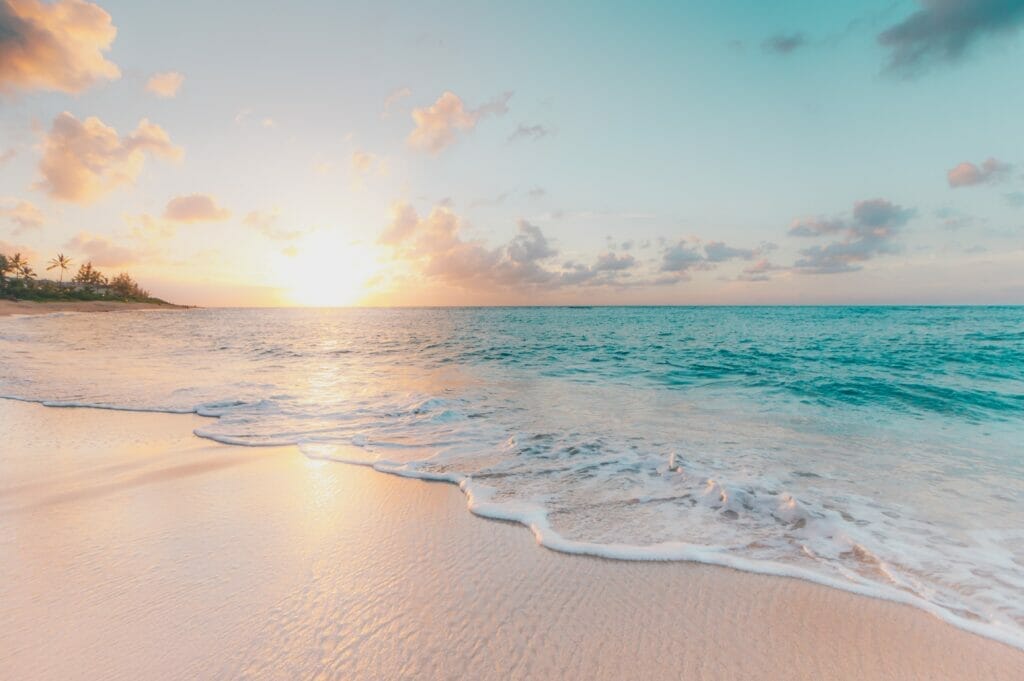 Daytona Beach
Also an hour from Orlando is Daytona Beach.
It features a long boardwalk, with a lively and fun atmosphere.
There is a funfair, arcade games and many restaurants and cafes.
And, what was that? 23 miles of white sand beaches?
Perfect for finding a spot away from other people, although it can get busy at weekends due to the numerous activities to do there.
Activities on offer include fhishing, paddleboarding, surfing, water sports such as jet skiing, parasailing, dolphin-watching, and even a historic river cruise.
While there, you may also be able to catch the Daytona 500 at the Daytona International Speedway.
For those of you that don't know, the Daytona 500 is the most prestigious race in NASCAR.
Although I've never pretended to understand NASCAR, it is definitely a true American experience if you are visiting from abroad!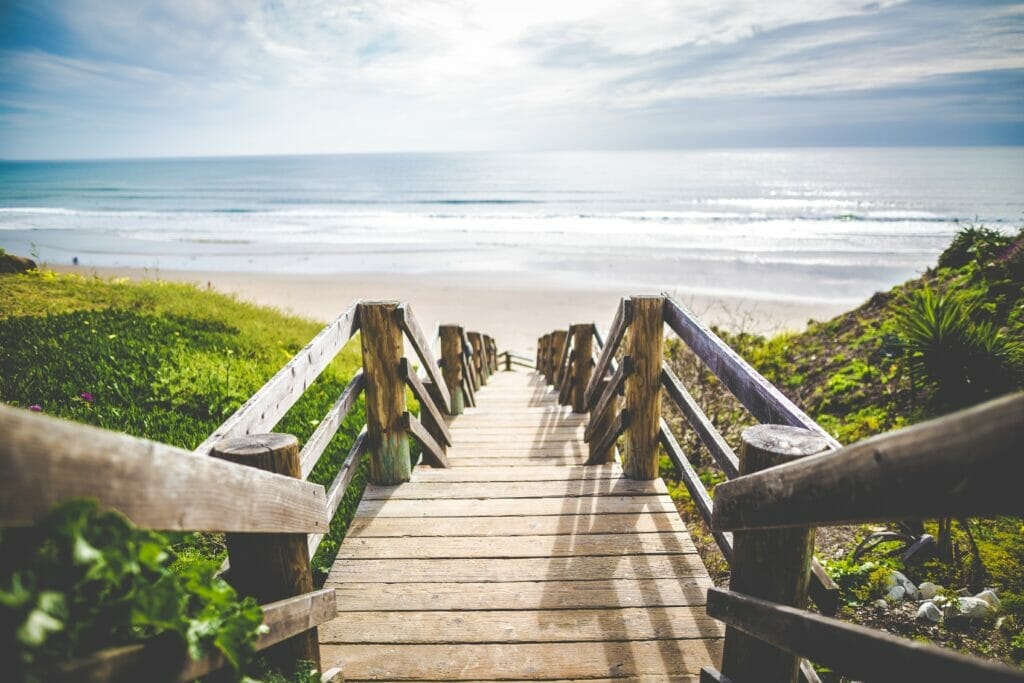 Canaveral National Seashore
Again, one hour from Orlando, is the Canaveral National Seashore.
As a wildlife sanctuary, it is home to many endangered species, including sea turtles.
There is a more relaxed atmosphere here than at Daytona Beach, but there are still activities on offer, such as: horse riding, kayaking, boating, fishing, and surfing.
One thing to bear in mind is that Canaveral National Seashore has no food and drink vendors, as it is a natural beach.
So remember to bring your own packed lunch, plenty of water, and copious amounts of sunscreen!
There are no set eating areas, so you are free to eat on the beach.
Just remember to clear up after yourself!
A note to consider: each end of the beach is designated as a nudist area.
This is legal, and police do patrol the area, but if that is not your kind of thing, perhaps stick to the sections in the middle!
Lastly, you can actually camp at Klondike Beach, but will need a permit, which can be sought through www.recreation.gov .
6. Wild Florida Airboats and Gator Park
Last, but certainly not least, is Wild Florida (get cheap tickets here).
Roughly 45 minutes from Orlando, Wild Florida Airboats and Gator Park is a hidden gem near Orlando.
In their own words, their aim is "to provide an unforgettable Everglades experience that promotes a connection with animals while inspiring education and conservation".
Inside the Gator Park, you can get up close and personal with over 200 native and exotic animals.
While there, we saw deer, an albino alligator, and, my favorite, Sloths!
They also have lemurs, bobcats, and zebras, to name a few.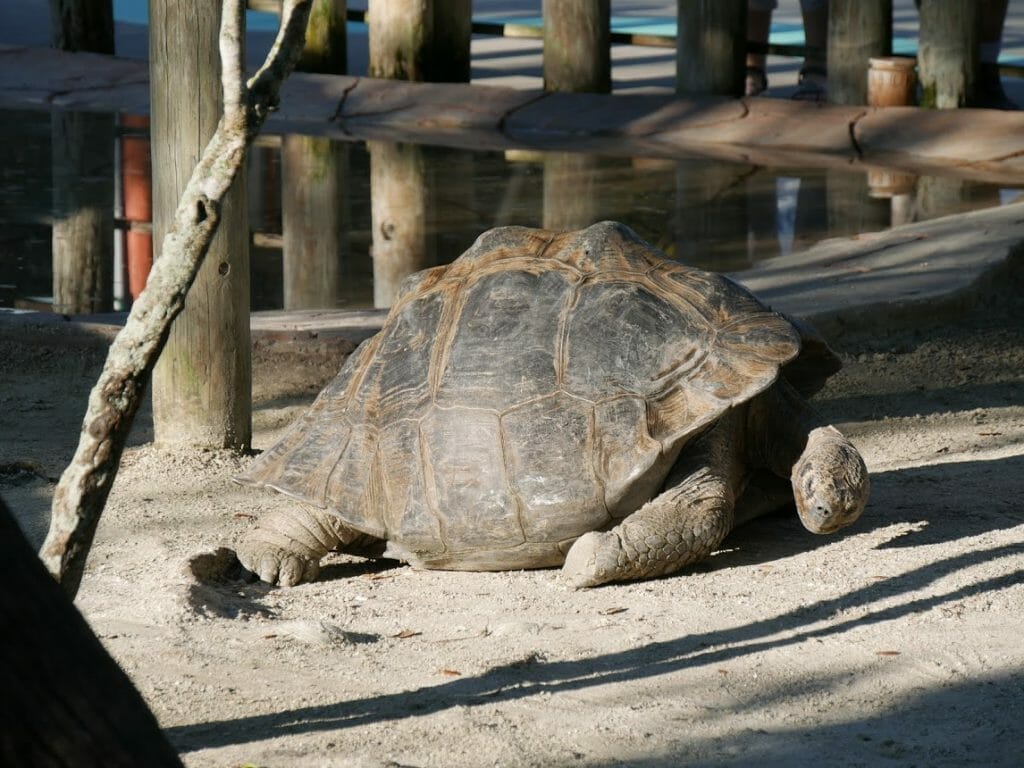 On offer here are also airboat tours.
You can get out in to the fresh air through the nature reserve, seeing wildlife in their natural habitat.
Finally, one great thing they have on offer is animal encounters. Here you can not only pet certain animals, but also feed them!
We had an amazing Sloth encounter experience, which you can read about here, but they also offer alligator experiences (including the aforementioned albino alligator!), porcupine experiences and ring-tailed lemur experiences.
If you are open to Florida wildlife, you should also check out our Gatorland review as this is another great option for families in Orlando.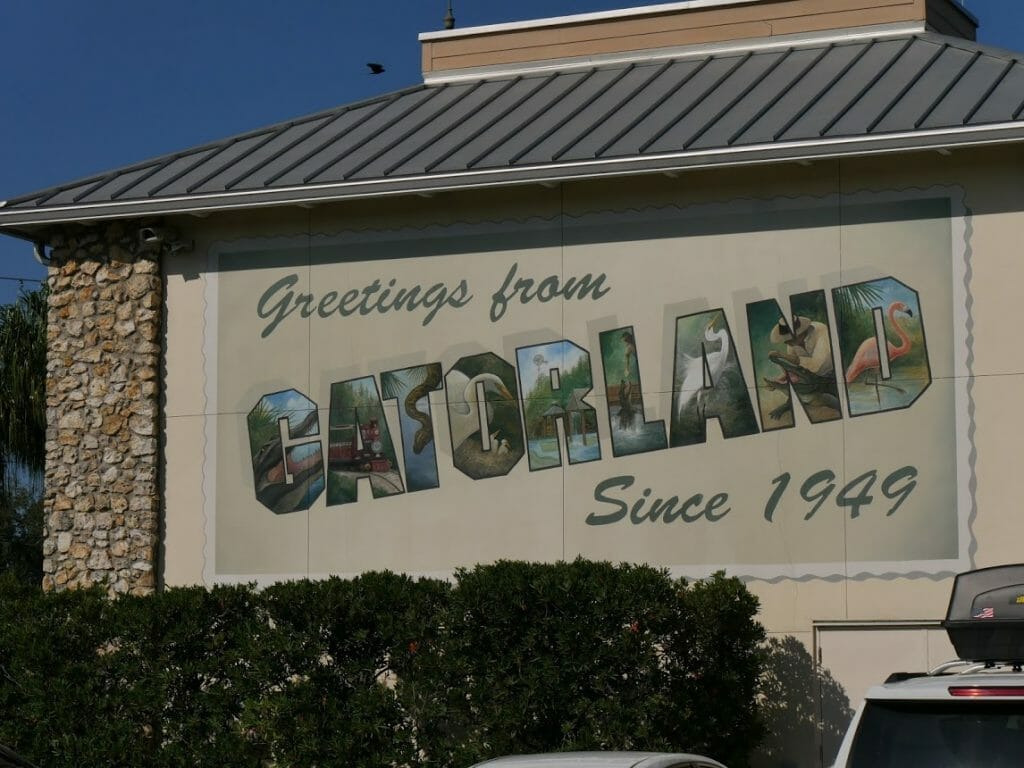 So there you have it!
There are just some other options you have of things to do in Orlando besides theme parks.
Orlando really does have a great deal to offer other than Disney and Universal, so do hire yourself a car and get out and experience other magical adventures.
If you're traveling with just adults, check out this list of the best things to do in Orlando for adults for plenty more options on how to keep yourselves occupied.
Do you have any other favorite things to do in Orlando? Let me know in the comments and share your experiences with fellow readers!
Get the All-American Travel Secrets!
Don't miss out on America's hidden gems!