So you're heading to Orlando with your family or friends and you're wondering, "what else is there to do in Orlando other than Theme Parks?"
Or perhaps you're thinking a little further afield and asking yourself, "what can I do near Orlando that isn't a theme park?"
Well, you've come to the right place!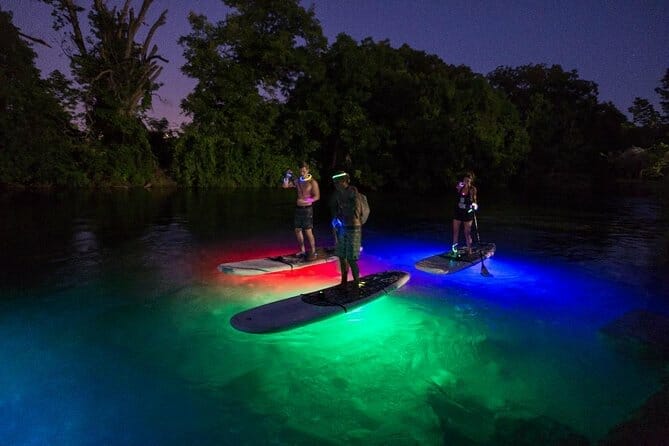 If you are heading to Disney World and staying at a resort (be sure to check out our guide on getting upgraded at Disney World resorts!), don't forget that there are other things to do during your time at Disney besides the parks.
For example, you can head to Disney Springs – Disney's own food and shopping mini-town.
And at Universal, there's the CityWalk!
We'll take a closer look at some of these exciting theme-park-adjacent offerings later, but there are still plenty more family-friendly things to do in Orlando besides theme parks altogether!
Let's dive into this exciting list of things to do in Orlando other than theme parks!
Getting Around Orlando
One thing to bear in mind with Orlando, and the US in general, is that public transportation is not great – especially if you're used to UK and European public transport that can get you pretty much anywhere!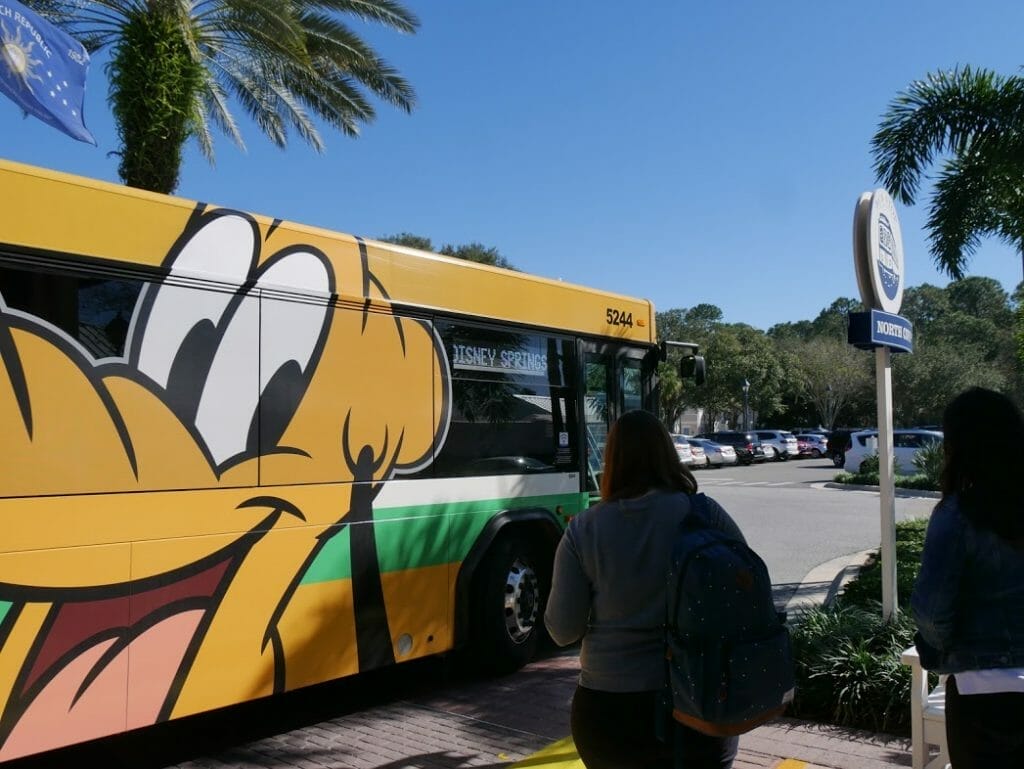 So you may want to rent a car for your time in Orlando.
It's much easier to see Orlando by car, so you can get around on your own schedule (and not have to worry about tired toddlers screaming on the bus).
Rental cars are perfect if you're flying into the area.
We recommend using Discover Cars price comparison to find the cheapest deals.
What to Bring to Orlando
If you're not used to the Orlando heat, here are just a few suggestions on what to make sure you have with you, almost year-round.
Where to Stay in Orlando
Budget: Splashing Out ($250+ per night)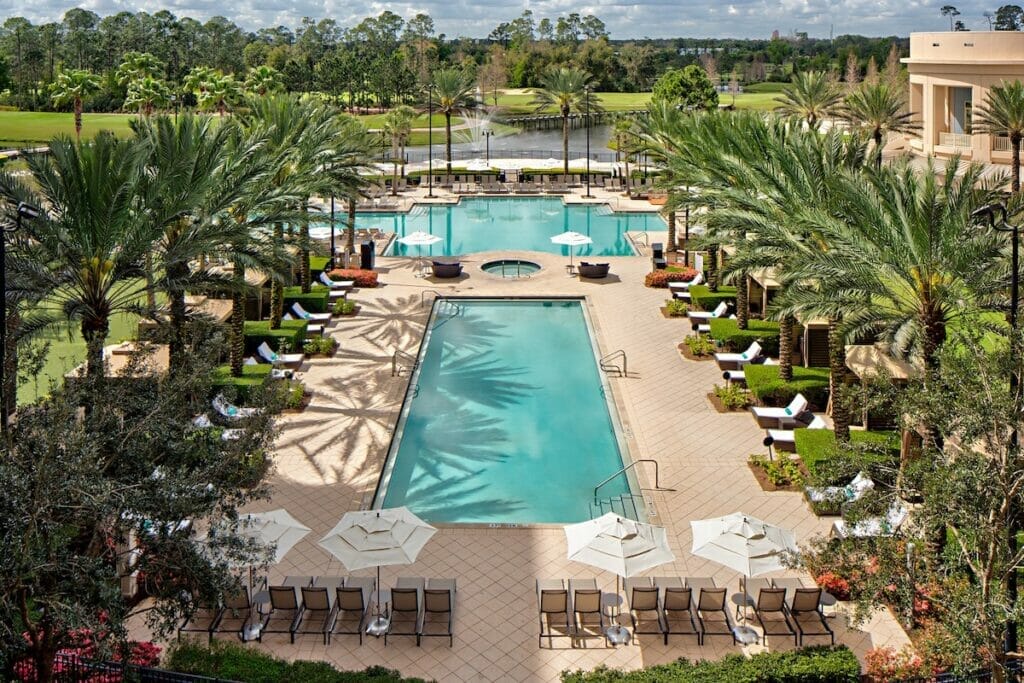 Orlando is full of luxury hotels to choose from, and while more obvious options might be the Ritz Orlando, the Waldorf Astoria is at a bit of a cheaper price point (though not cheap, this is still a splash out) and offers some spectacular amenities.
Firstly, it's set on over 400 acres, and in addition to plush rooms that will rival any resort you've stayed in, there is also a full golf course, 2 swimming pools, kid's clubs, a lazy river, an on-site spa AND free transportation to the Disney parks!
Oh, also there are 12 excellent restaurants to choose from, so, there you go, decision made!
Budget: Mid-Range ($150-$250 per night)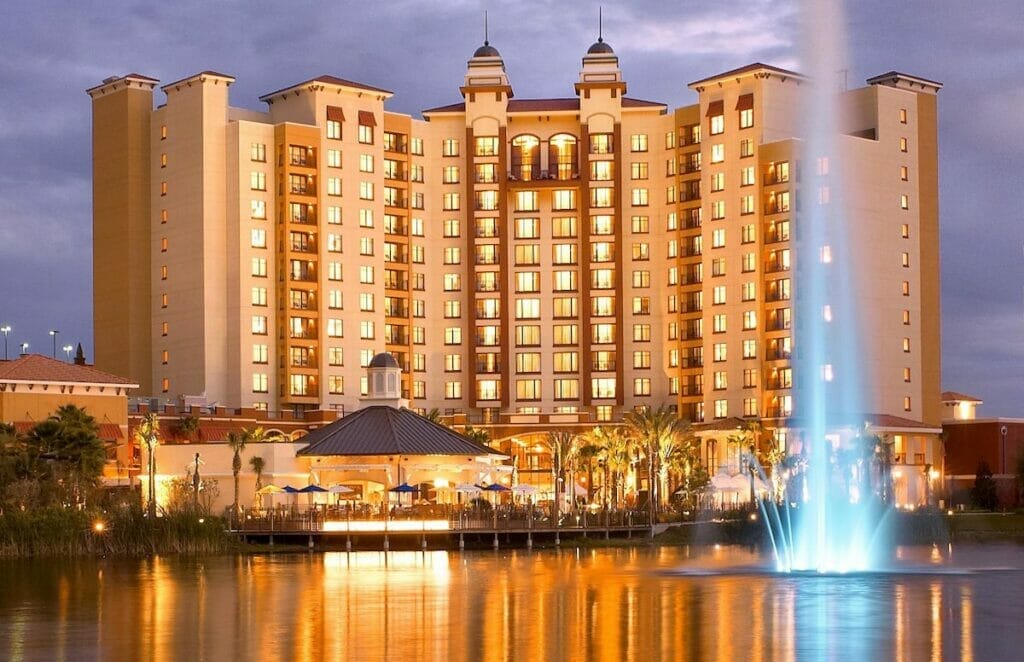 I've stayed in this hotel so many times, I've lost count – and every single time, I want to stay forever.
The Wyndham Bonnet Creek is a great mid-range option with spacious rooms, beautiful pools, a lakeside location with plenty of recreational opportunities for kids and adults alike, and some rooms even have Disney fireworks views!
Relax by the fire pit in the evening, or put on your plush robe and check out the spa.
The location is top notch, the price is reasonable for Orlando, and the memories you'll make here will last a lifetime.
Budget: Uh…on one! ($150 or less per night)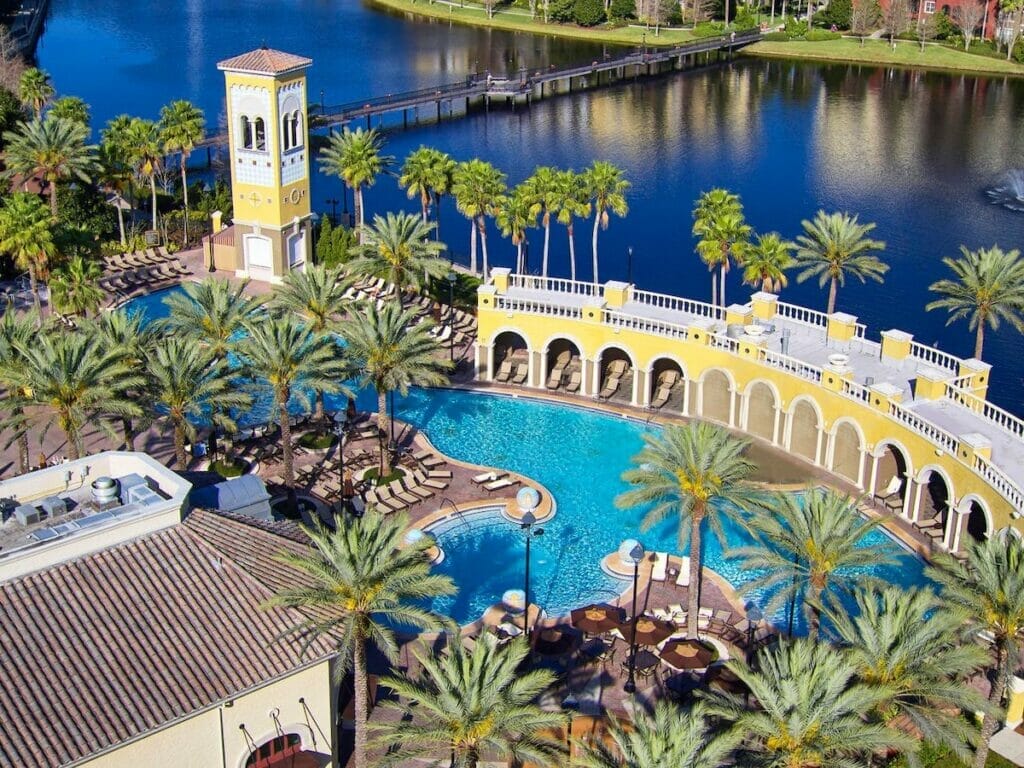 If you'd rather spend your vacation money on things to do in Orlando while still being comfortable and happy at your resort, Hilton at Tuscany Village is for you.
The whole resort is sleek and modern, with awesome views from many of the balconies and well-designed outdoor pools.
(Yes, this is Orlando, even the cheaper hotels have a pool!)
Choose from studios or suites, and appreciate the great location that makes you a 4 minute walk from the Outlets and a less than 10 minute drive from Disney, SeaWorld, Universal, and other Orlando attractions.
Fun Things to Do in Orlando Besides Theme Parks
1. I-Drive
Get ready for a thrilling family adventure along International Drive (I-Drive) in Orlando!
This bustling stretch is a one-stop destination for endless entertainment and excitement.
Discover a myriad of family-friendly attractions, from indoor go-karting and mini-golf to immersive escape rooms and interactive arcades!
Kids will love meeting their favorite celebrities at Madame Tussauds Orlando, or exploring marine life at SEA LIFE Orlando Aquarium.
The best way to experience these attractions is to get the GO Orlando pass, which will make each ticket much cheaper.
And to take a break from walking, hop aboard the I-Ride Trolley (an unlimited day pass is just $6 per person).
With a diverse selection of dining options and unique shopping experiences, I-Drive ensures a full day of non-stop fun for the entire family!
2. Ride The Wheel at ICON Park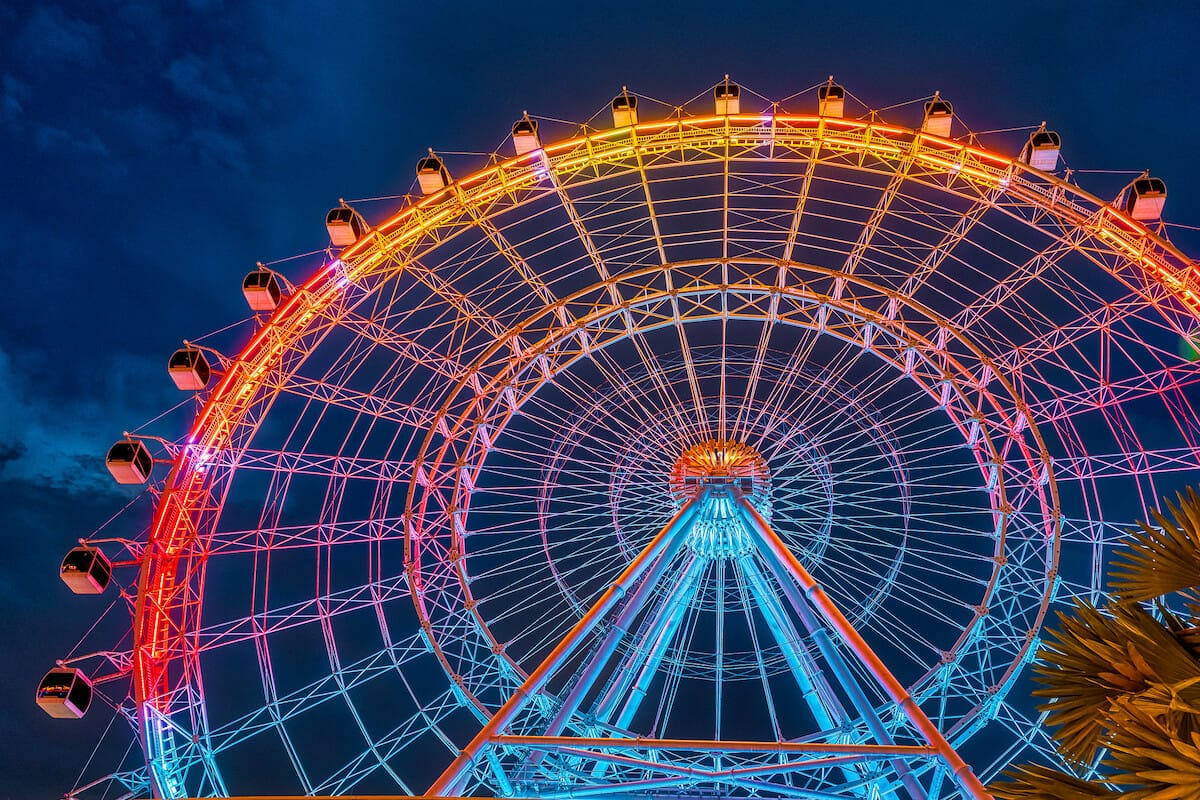 Located across from I-Drive on Universal Boulevard, The Wheel at ICON Park is an Orlando attraction in itself!
This iconic observation wheel stands tall in the heart of Orlando, offering panoramic views of the city's skyline and attractions.
Bring your loved ones on a journey to new heights as you soar above the bustling streets below.
From the comfort of your spacious capsule, witness breathtaking vistas and capture unforgettable moments together.
The Wheel provides an enchanting experience during the day and becomes a dazzling spectacle at night with its vibrant LED light display.
Don't miss this chance to create cherished memories with your family as you take a magical spin on The Wheel at ICON Park!
3. Dezerland Park Orlando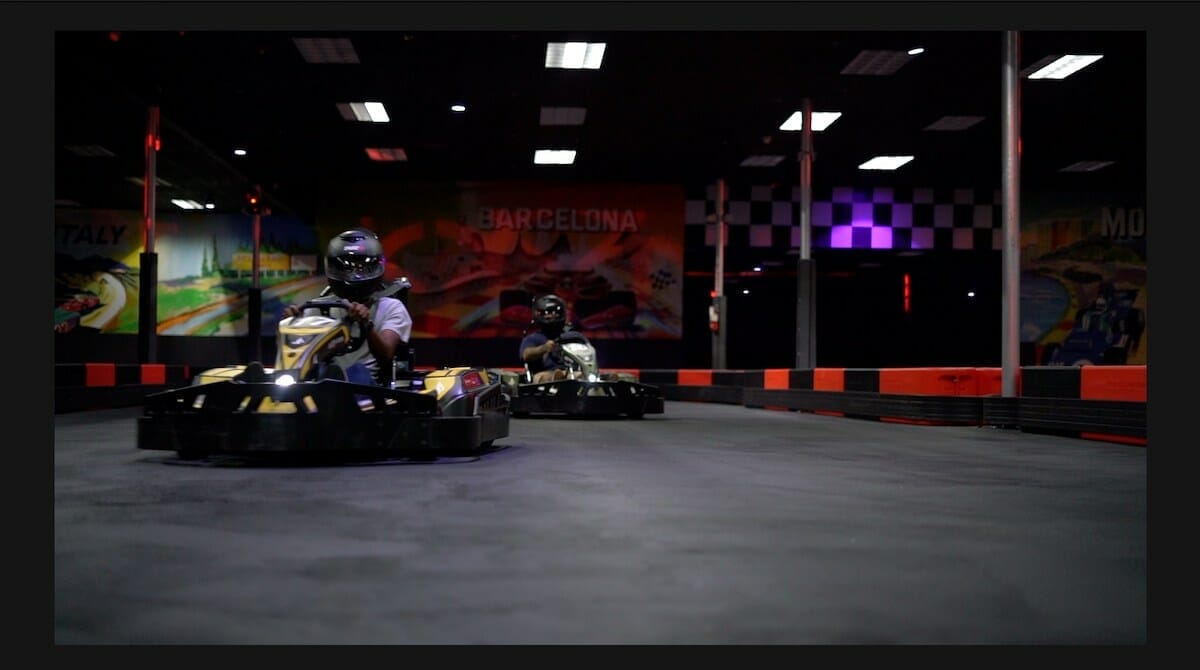 Get ready for an action-packed day at Dezerland Park, the ultimate family fun destination in Orlando!
This thrilling recreation center offers an array of exciting attractions for all ages.
Race against friends and family on the adrenaline-pumping go-kart tracks, or challenge yourselves on the exhilarating bumper cars.
Kids will have a blast exploring the interactive arcade filled with both classic and modern games.
Try your hand at axe throwing, play shooting with BB guns, or defeating the opposing team at laser tag.
With its diverse range of activities and attractions, Dezerland Park guarantees an unforgettable day of adventure and excitement for the whole family!
4. Astro Skate of Orlando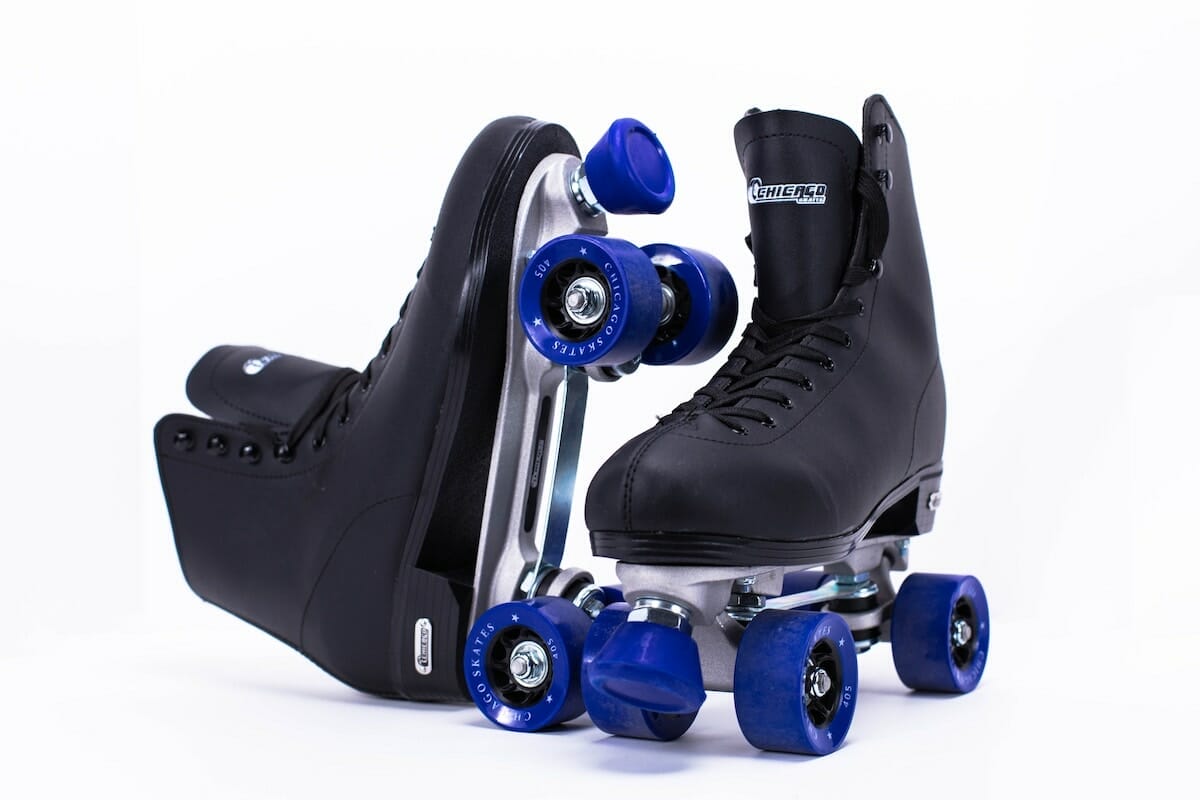 Get ready to roll and groove at Astro Skate Orlando, the ultimate family-friendly roller skating rink!
Bring your own skates or rent them on-site, then glide along the smooth, polished floor and zoom around this space-themed rink.
Astro Skate offers an exciting atmosphere where kids and adults can enjoy hours of fun and exercise together.
Whether you're a seasoned skater or a beginner, Astro Skate has something for everyone – including skate lessons!
Join in on their fun-themed skate nights, or spend some time in the arcade or bounce houses.
Hungry? Enjoy a pizza with the family, or grab a quick snack at the snack bar to refuel your energy.
With its vibrant lights and energetic music, Astro Skate Orlando promises a roller-skating experience that'll keep the whole family smiling and moving!
5. Congo River Golf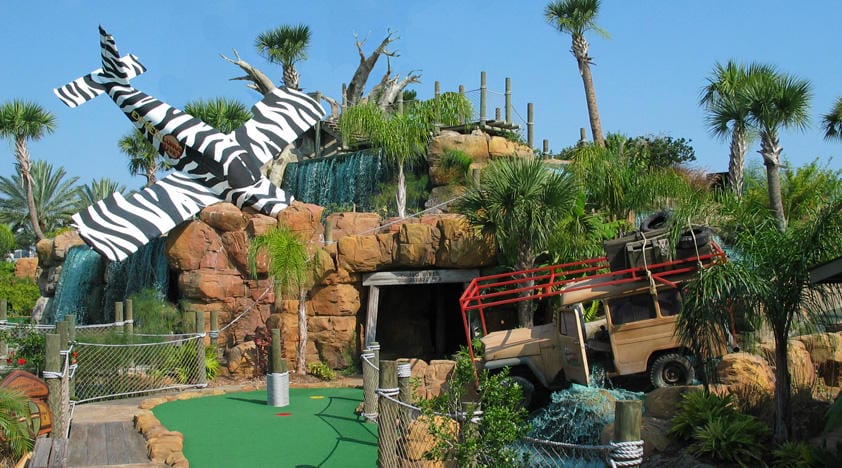 Gather your family and friends for a jungle-themed golfing experience like no other at Congo River Golf.
Navigate through lush landscapes, cascading waterfalls, and mysterious caves as you putt your way to victory at either of their two Orlando locations.
Kids will be delighted to immerse themselves in this themed attraction and feel as though they're really exploring a safari adventure!
Brave souls will want to feed the live gators, and the indoor arcade is always around for those who need a break from the Orlando sun.
Explore the immersive world of Congo River Golf in Orlando, where the fun never stops and the excitement is boundless.
With its captivating design and interactive elements, this mini-golf oasis guarantees a delightful day of friendly competition and laughter for all ages!
6. Crayola Experience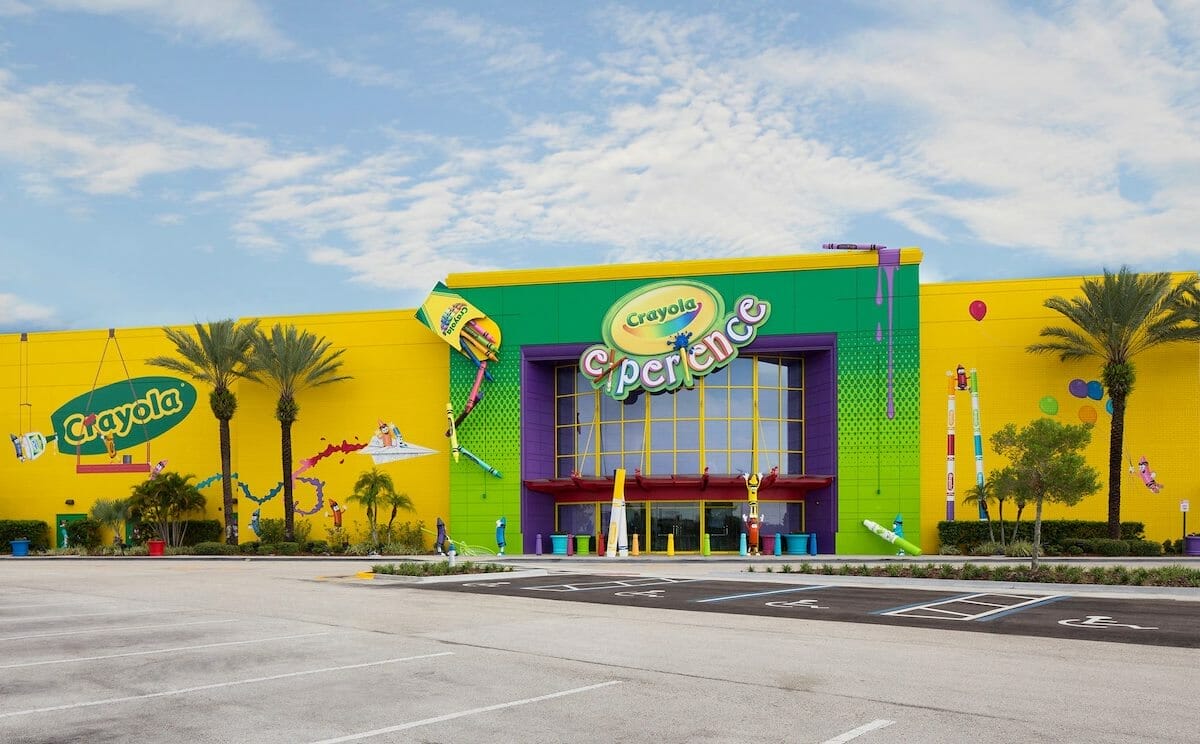 Get ready for a colorful time like never before at the Crayola Experience in Orlando!
Step into a world of vibrant imagination and creativity that is sure to stoke your family's artistic spirits.
With over 25 color-related attractions, you can easily plan on spending a few hours here.
Visitors of all ages will unleash their inner artist as they create masterpieces with melted crayons, design personalized crayon labels, or even bring coloring pages to life on a massive digital screen!
Got some high-energy little ones with you? Let them go wild on the 2-story playground, or run around on the interactive Stomp and Play floor!
Dive into the wacky world of Crayola and embark on a journey of fun, learning, and endless inspiration.
It's a one-of-a-kind family experience that will leave you with colorful memories to cherish forever!
7. Orlando Shakespeare Theater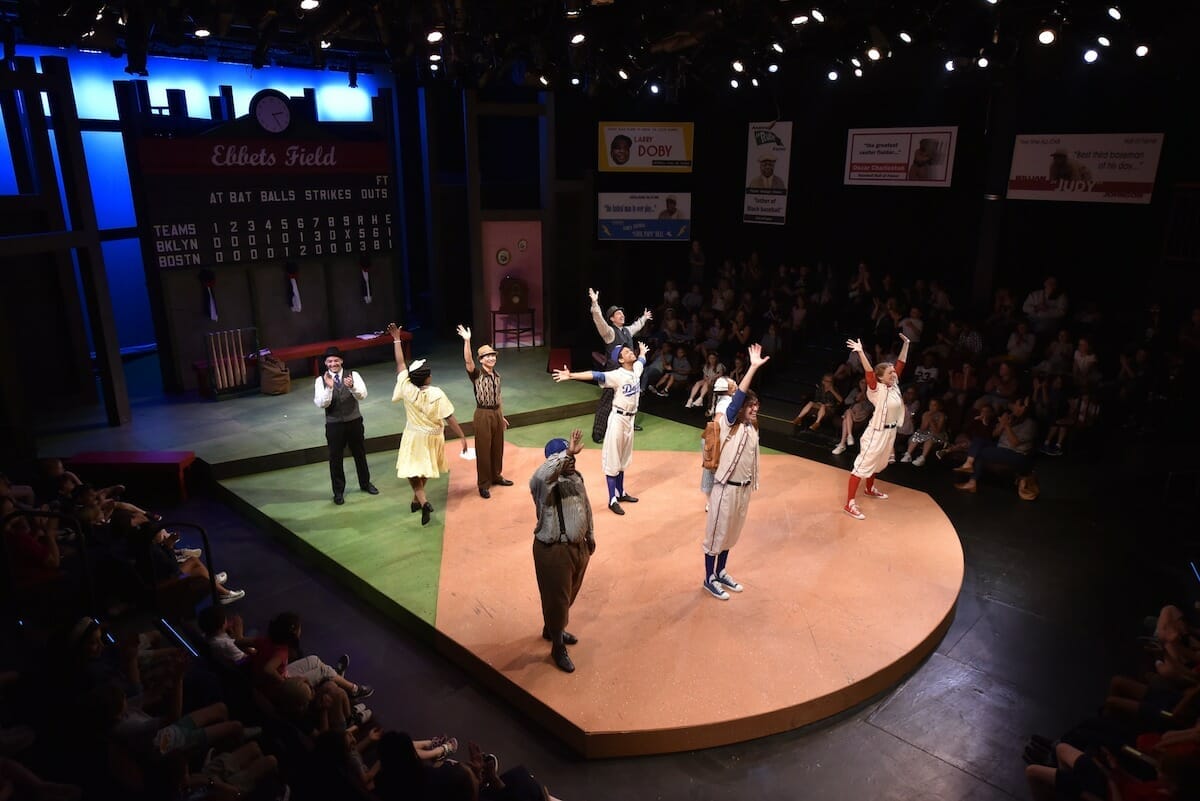 Theme parks are known for being immersive experiences, but if you're looking for family-friendly things to do in Orlando besides theme parks, try the theater!
What's more immersive than watching captivating performances come to life on stage?
Orlando Shakespeare Theater, affectionately known as Orlando Shakes, is a cultural gem that is sure to shake things up with a magical experience for young ones through their delightful Children's Series.
Watch your favorite stories unfold before your eyes, filled with colorful characters and enchanting tales.
From fairytales to adventurous journeys, the Orlando Shakespeare Theater ignites young minds with the joy of live performances.
Treat your family to an unforgettable outing where the world of imagination and creativity awaits, creating cherished memories for all ages!
8. Go on a Scavenger Hunt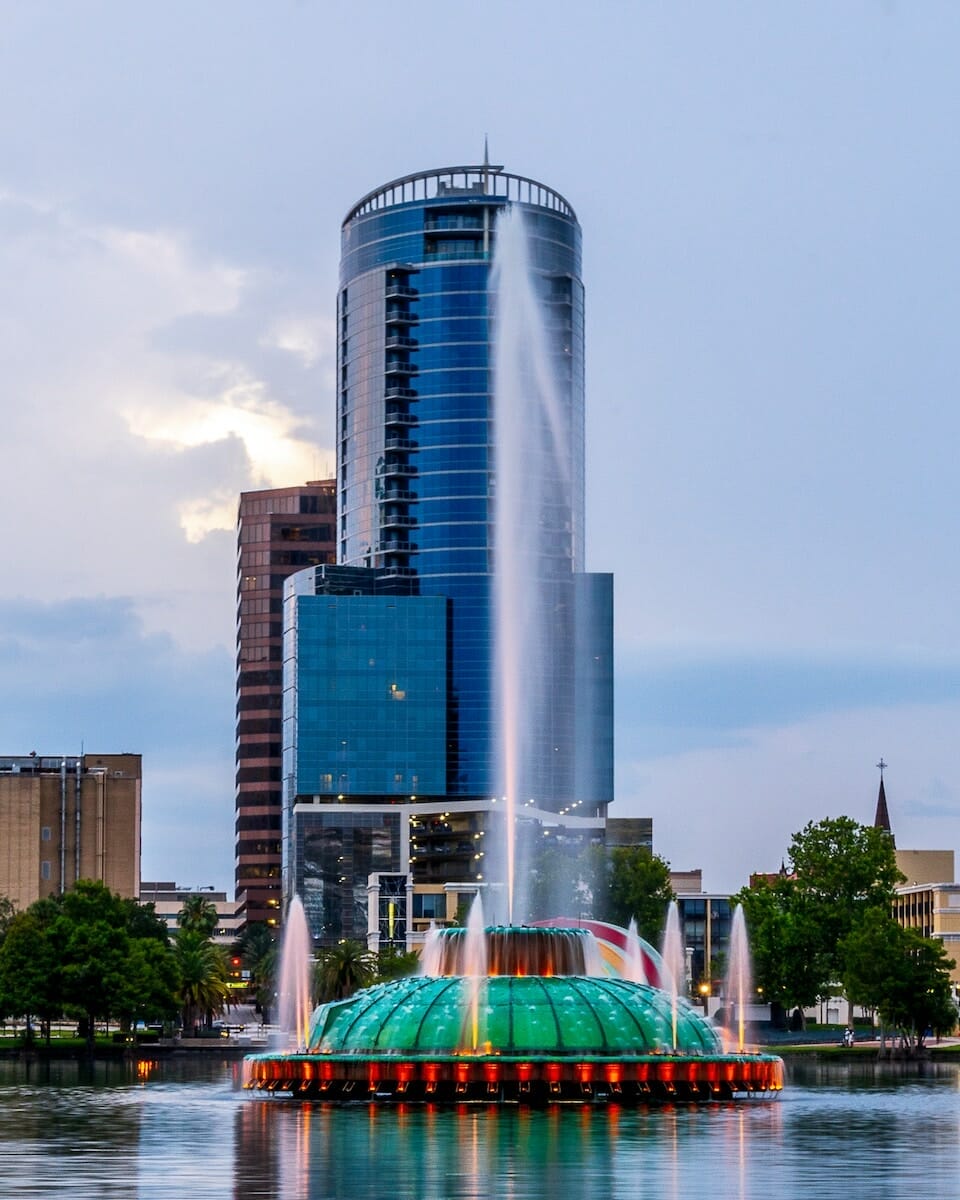 Explore Orlando like never before on a family-friendly scavenger hunt!
Make your way through the city as you discover points of interest, artwork, and… zombies?
That's right, this zombie scavenger tour in Orlando will test your survival skills as you follow the self-guided path and use clues to find items that will help your team make it through the zombie apocalypse!
Looking for something a little more laid back?
Spend a couple of hours roaming around Lake Eola and stoking your creativity along the way on the Orlando Self-Guided Scavenger Hunt of Lake Eola's Art Scene.
Note: You'll need a working smartphone with a GPS to complete these self-guided scavenger hunts – and a good pair of walking shoes!
9. Madame Tussauds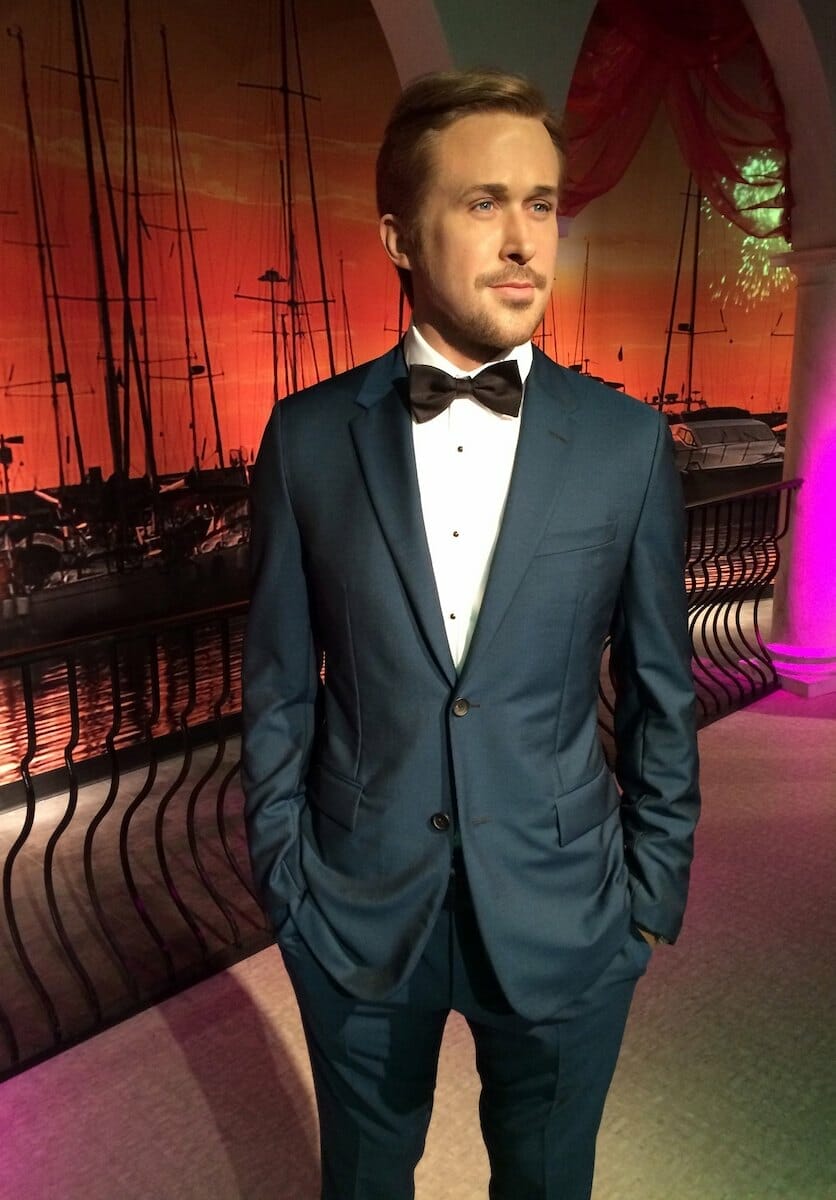 Whether it's your youngest's favorite superhero, your teen's celebrity crush, or your own favorite musician, you and the fam can take selfies with the world's most famous at Madame Tussauds!
…Er, sort of.
The wax figures at this iconic Orlando attraction will have the rest of your social circle doing double-takes when you post pictures of yourself with the likes of Dwayne "The Rock" Johnson, Wonder Woman, Zendaya, and more!
Are you a big history enthusiast?
Pose with some of the world's most famous historical figures, like Martin Luther King Jr., Abraham Lincoln, and astronaut Neil Armstrong – the perfect photo op after a visit to the Kennedy Space Center!
10. Amway Center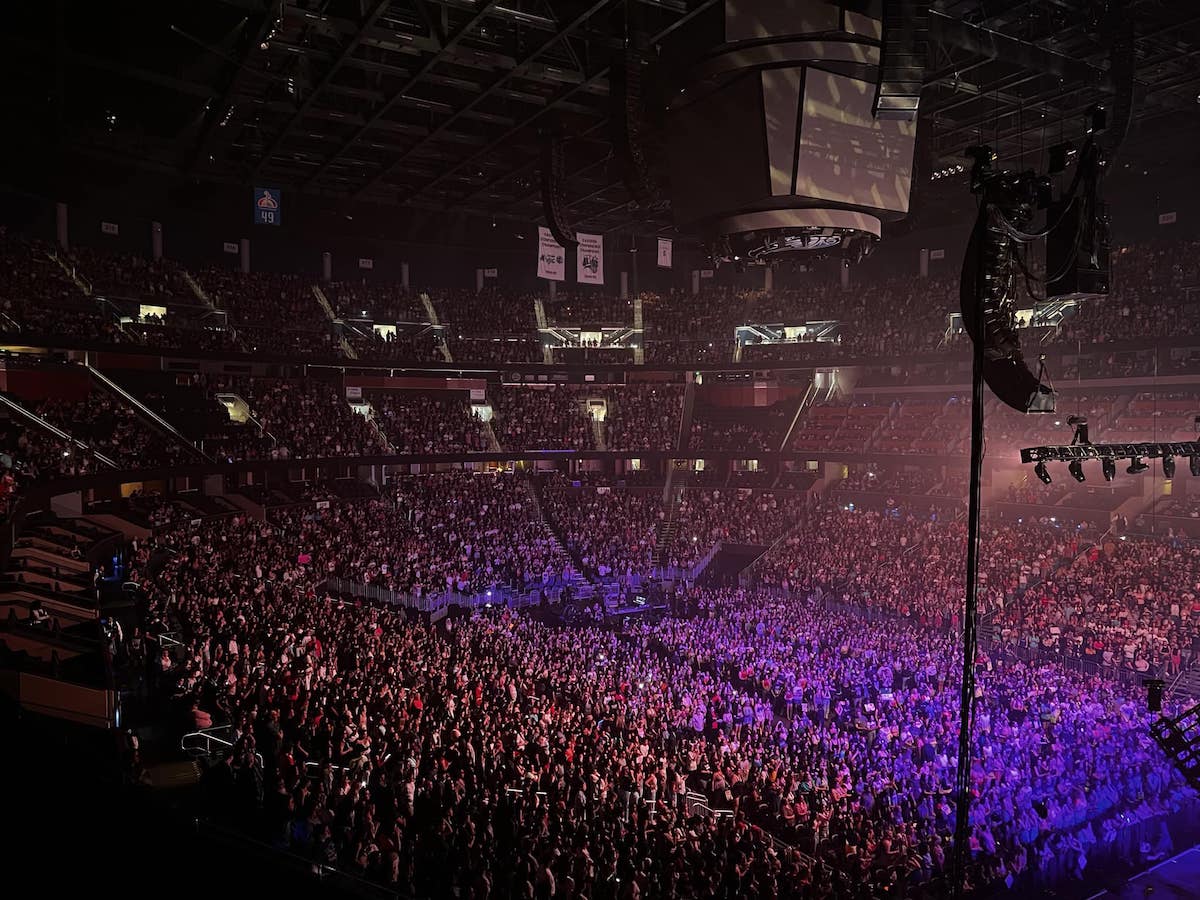 Experience the thrill of Orlando's NBA team, the Orlando Magic, in action!
Catching an Orlando Magic game is a slam dunk of entertainment for sports enthusiasts visiting the city.
Join the energetic crowd at the Amway Center and soak up the electric atmosphere as you cheer on the team.
Okay, okay, they might not be the best team in the world, but if you are a tourist or have never been to a game, it will certainly be an entertaining watch and give you something to do in Orlando outside of the theme parks!
And it's pretty much guaranteed never to be sold out, so you will almost certainly be able to get tickets (in fact, the best way is to get the GO Orlando pass, which includes certain games).
Make lasting memories with family and friends while enjoying a quintessential Orlando sports experience that will have you shouting "Go Magic!"
Not into basketball?
See what concerts or other events are happening at the Amway Center when you're in town!
11. Exploria Stadium

Catch the excitement of soccer at Exploria Stadium, located in downtown Orlando.
This dedicated soccer arena is where the action happens for both Orlando City SC, a Major League Soccer team, and the Orlando Pride, which competes in the National Women's Soccer League.
Experience the energy of the game and enjoy the camaraderie of fellow fans as you immerse yourself in the world of soccer at this vibrant stadium.
You'll want to get there early to snag a few pics of the stadium's unique purple seats before they start to fill in, and don't forget to wear purple to support the home teams!
12. Orlando Watersports Complex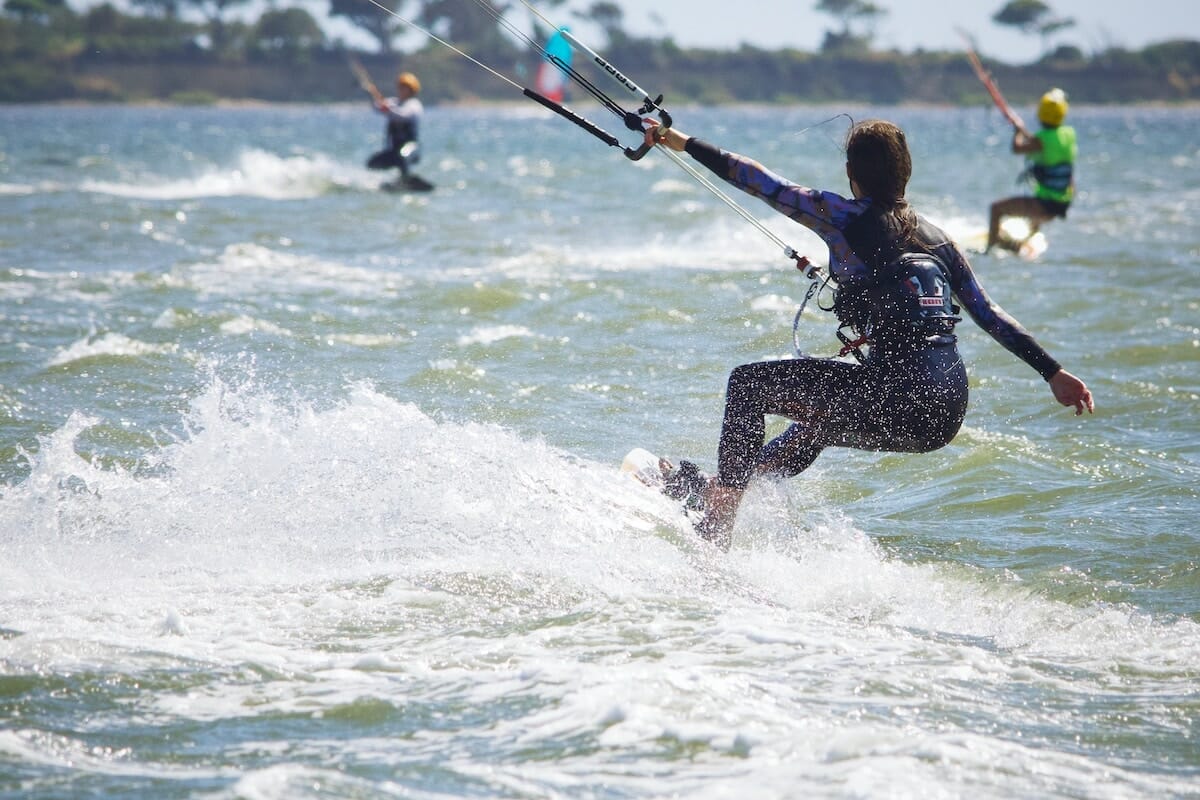 If you want to avoid theme parks but still crave excitement, head to Orlando Watersports Complex.
This hidden gem offers a thrilling escape from the typical tourist scene – especially on a hot summer day!
The complex features a range of water activities like wakeboarding, waterskiing, and even an aquapark with an inflatable water obstacle course.
Whether you're a pro or a beginner, you can enjoy the lake's warm waters and the adrenaline rush of skimming across the surface.
It's a fantastic way to make a splash and create lasting memories while enjoying a different side of Orlando's recreational offerings!
Note: While this is indeed a family-friendly outing, it is required for everyone to be able to swim with a life jacket!
13. Go to an Arcade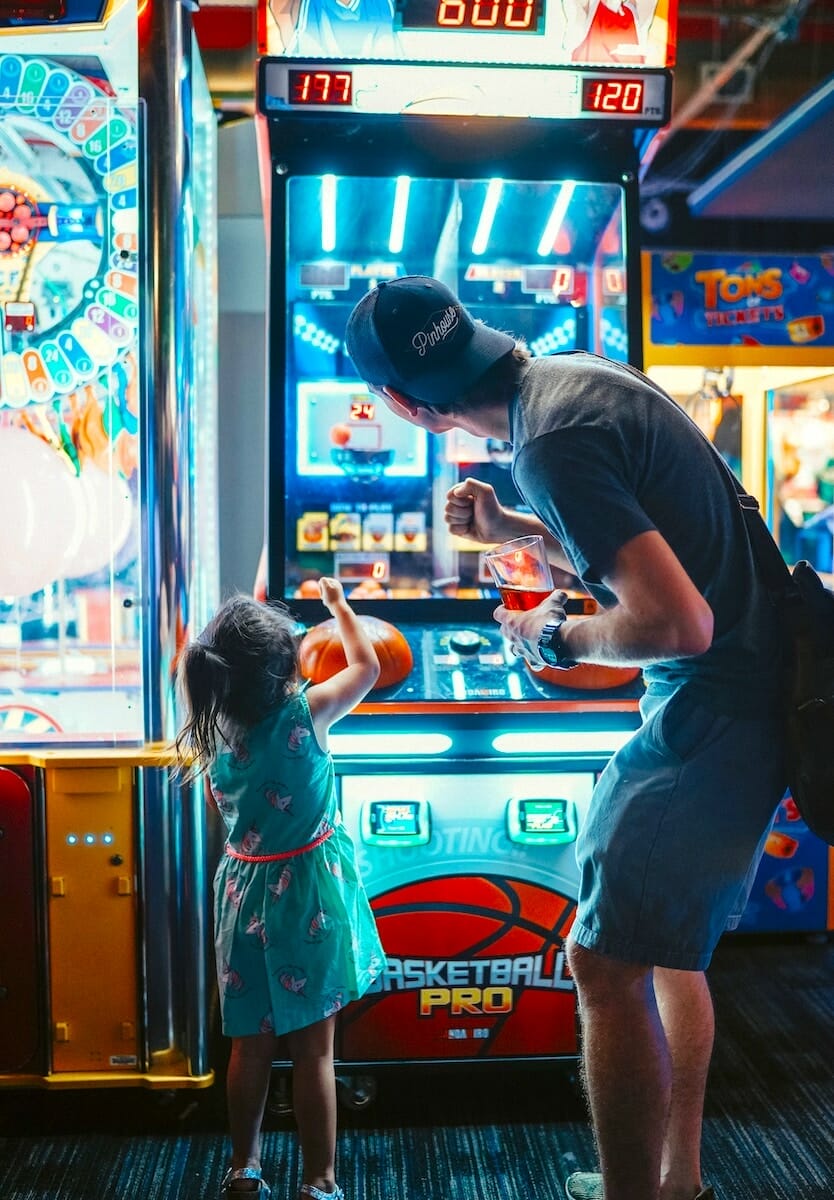 There are tons of great arcades to visit if you're looking for family-friendly things to do in Orlando besides theme parks!
Whether you're a seasoned gamer, a parent looking to show your kids how to properly throw a skeeball, or you're just looking for a lively time in a colorful place, these spots have something for everyone.
Check out In The Game at ICON Park for brightly-colored arcade games and a mirror maze, or head over to Main Event for more games, billiards, bowling, and even a ropes course!
Dezerland Park, as we mentioned earlier in the article, brings the brilliant combination of arcade gaming and a unique car museum, along with bowling, laser tag, go-karts, bumper cars, and more!
From retro to cutting-edge, these arcades offer a fantastic opportunity to challenge your skills, compete with friends and family, and enjoy some carefree gaming moments.
Adventurous Things to Do in Orlando for Families
Is your family full of adventurous spirit?
Check out these 6 things to do in Orlando besides theme parks that will prove you don't need to ride a roller coaster in order to get an adrenaline rush!
14. Indoor Skydiving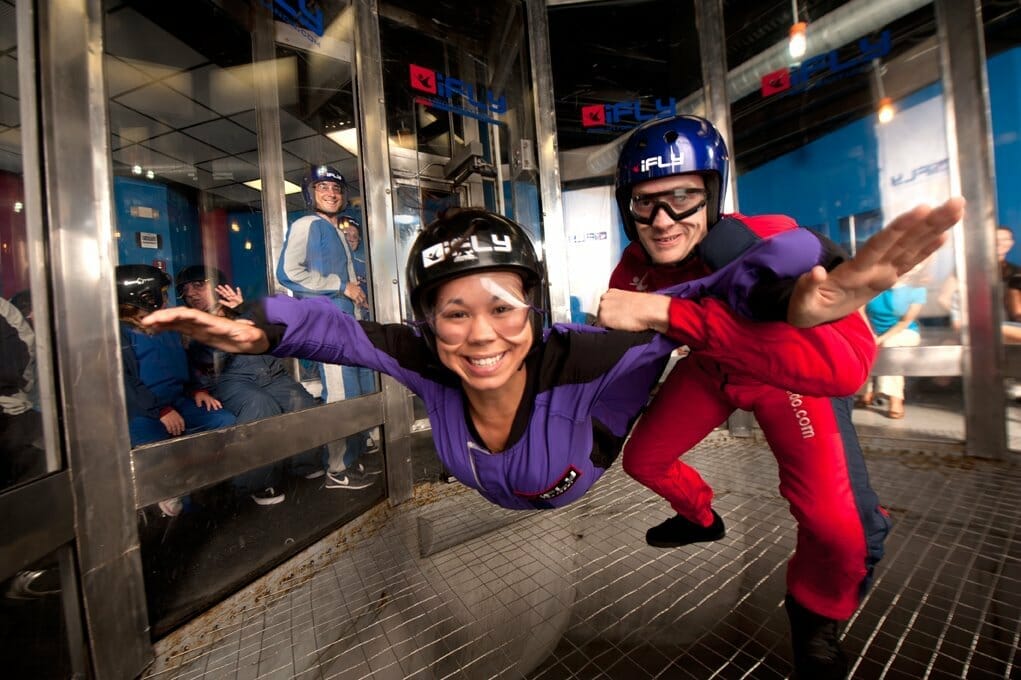 For a thrilling family adventure in Orlando, look no further than indoor skydiving at iFly.
Experience the sensation of free-falling without jumping out of an actual airplane!
This is easily one of the most fun indoor things to do in Orlando, and it's available for ages 3 and up, offering a safe and controlled adventure for the whole family.
Feel the rush of wind as you float in the vertical wind tunnel, guided by professional instructors.
It's a unique way to bond with your family, create lasting memories, and conquer the excitement of skydiving without the extreme heights.
Soar like a bird and enjoy the adrenaline-packed experience of indoor skydiving at iFly Orlando!
15. Aiguille Rock Climbing Center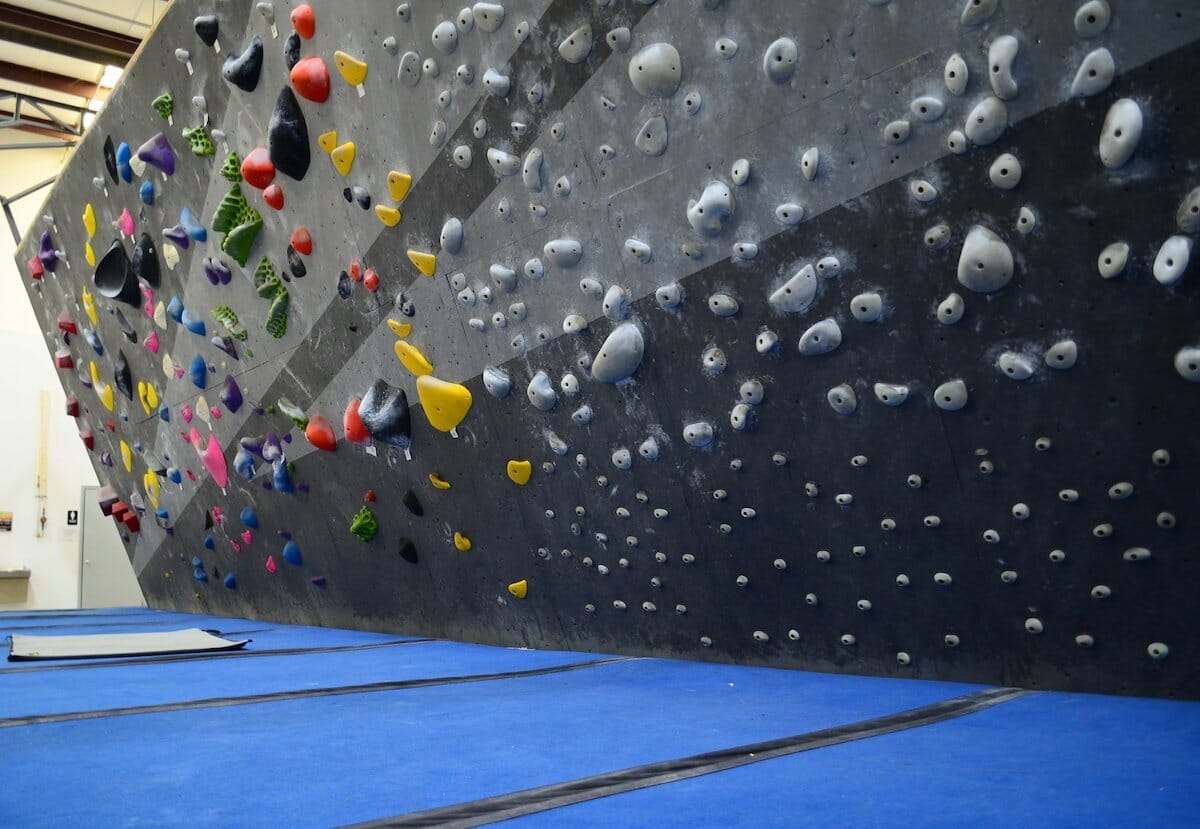 If the sensation of falling isn't your thing, try climbing to new heights at Aiguille Rock Climbing Center!
This family-friendly attraction near Orlando is just 15 miles north of the city, and is considered one of the best climbing centers in the Orlando area.
Climbers can be as young as five years old (with a minimum 25lb weight), making this a great choice for active families with energetic kids.
Forgot your closed-toed shoes? Don't worry, you can rent some climbing shoes at the center!
Free climb on the shorter walls, or follow an instructor and learn how to belay as you reach new heights!
16. Tree Trek Adventure Park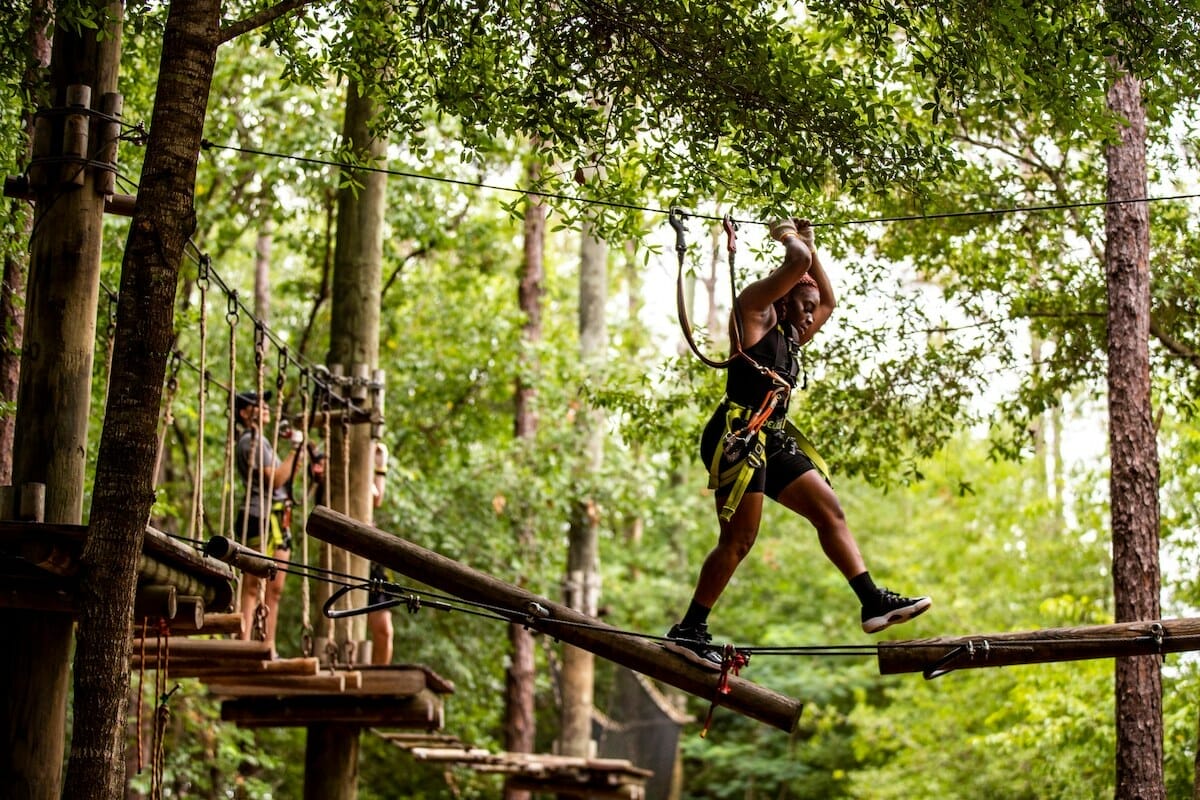 For families with kids aged 7 and up, Tree Trek Adventure Park is a great place to embark on a thrilling outdoor challenge.
Nestled in a scenic natural setting just outside of Orlando, this park offers an array of treetop obstacle courses that include zip lines, swinging logs, trapeze swings, and more!
It's an opportunity for kids to unleash their inner adventurers while navigating through the courses at their own pace.
With safety as a priority, professional guides provide instructions and gear, ensuring a secure and exciting experience.
Whether you're looking for a fun day out or an unforgettable family bonding adventure, Tree Trek Adventure Park promises an exhilarating journey among the treetops!
17. Go to an Escape Room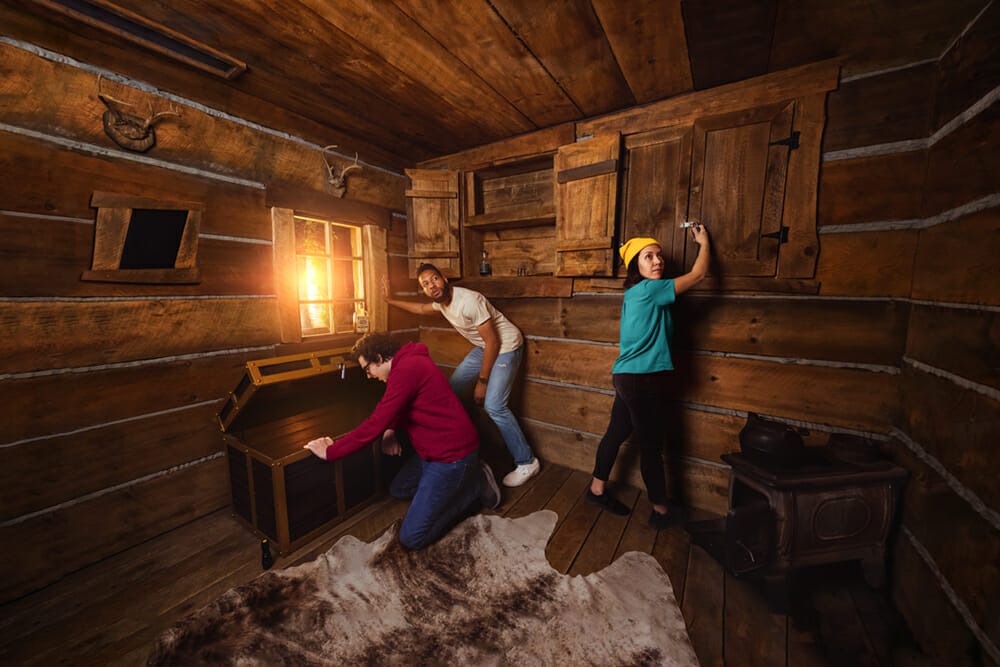 Looking for a unique family activity in Orlando?
Dive into the world of puzzle-solving and adventure at some of the city's best escape rooms!
At The Escape Game Orlando, immerse yourselves in interactive scenarios like "Prison Break" or "Gold Rush", putting your teamwork and problem-solving skills to the test.
For a mix of mystery and magic, try The Great Escape Room Orlando, featuring themes like "The President's Bunker" and "Mountain Top Murders".
Feeling imaginative? Lockbusters Escape Game offers even more unique options, where you can go on a treasure-hunting "Pirate Adventure", or survive the haunted "Cremlocke Manor".
Many of these games will be best suited for families with teens, rather than younger players, but most of them will allow children to join – just be sure not to pick one too scary!
18. Hot Air Balloon Ride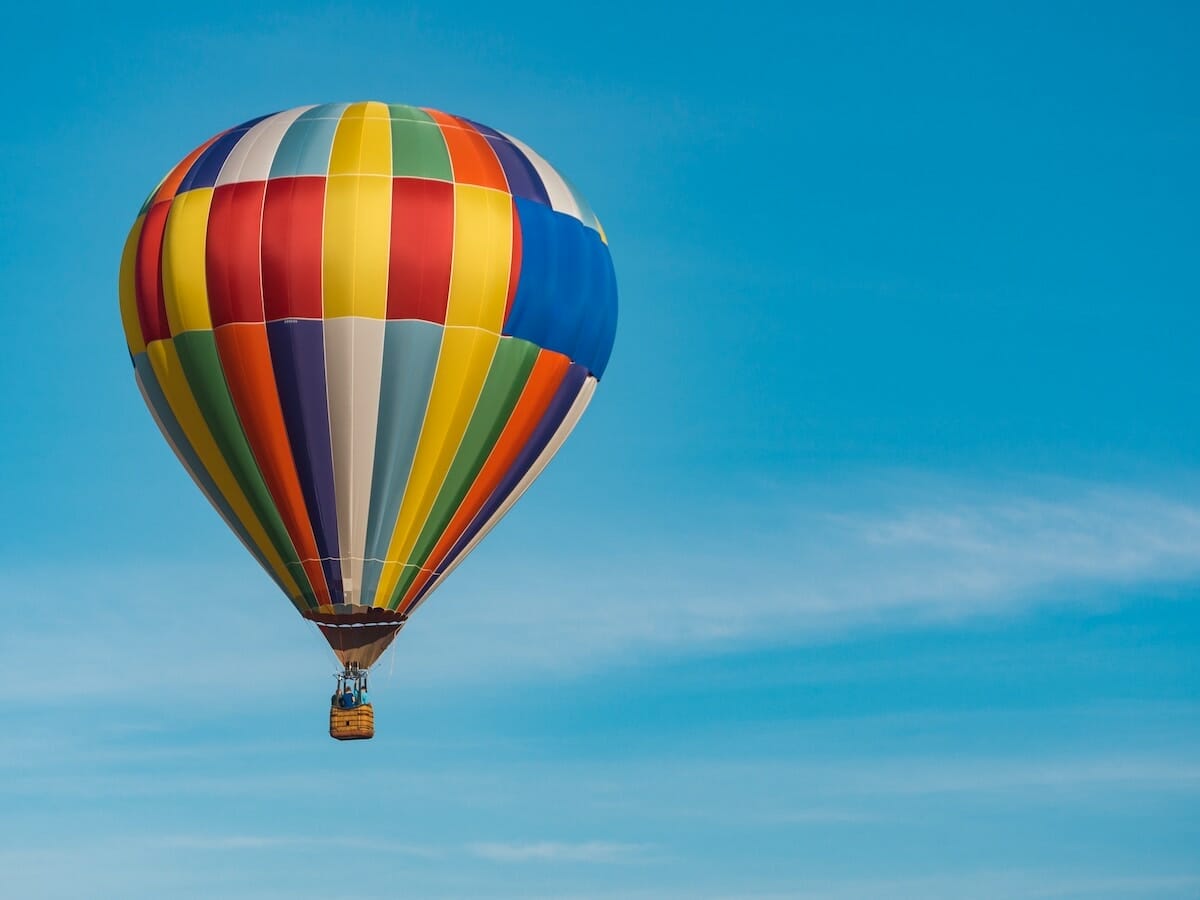 See Orlando from above on a breathtaking hot air balloon ride!
This might be one of the more expensive family-friendly activities in Orlando, but considering the price of theme park tickets these days, it just about evens out.
Take your family on a memorable journey as you drift over picturesque landscapes, soaking in stunning views of the city and its surroundings.
While theme parks are often crowded and chaotic, a hot air balloon ride offers a unique and tranquil experience that's worth the investment.
So take to the skies, where the memories you create and the perspective you gain will undoubtedly make it a remarkable family outing that everyone will treasure!
19. Orlando Paintball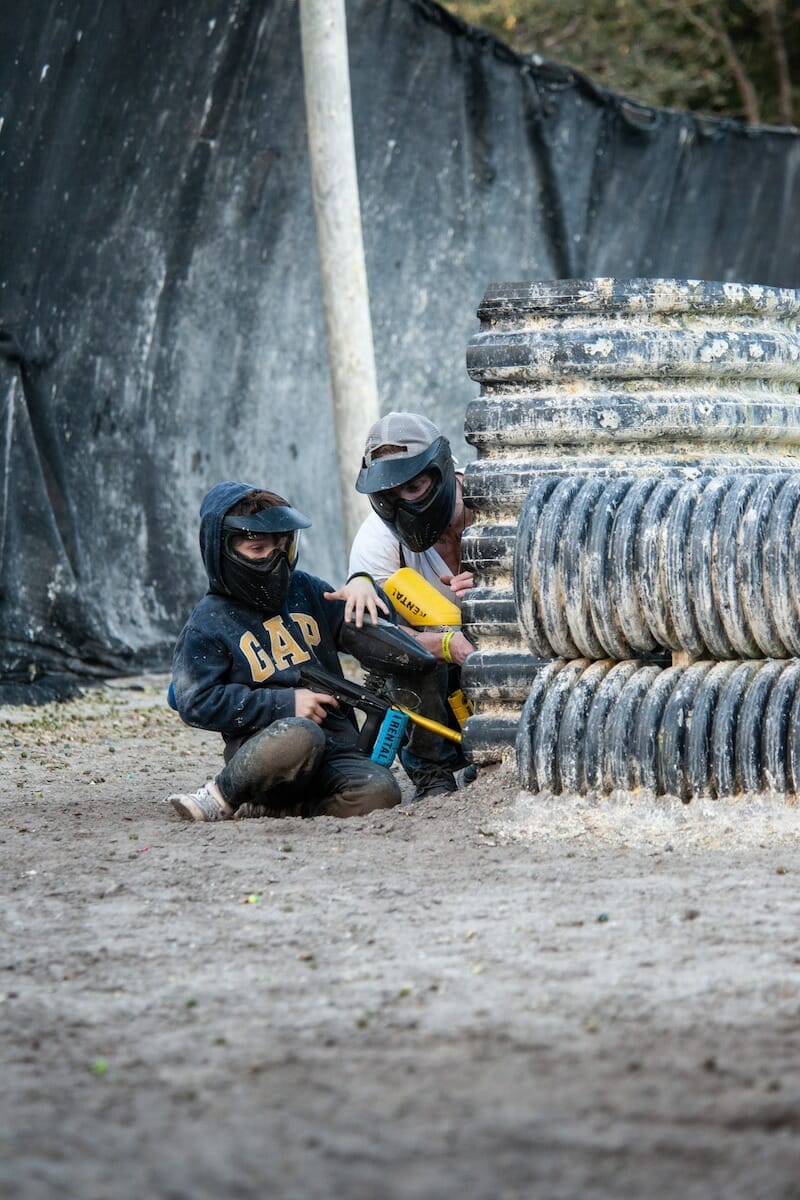 Looking for fun things to do in Orlando with kids aged 10 and up?
Team up with each other (or against each other) and play a game of paintball!
Orlando Paintball has eight different courses, both indoor and outdoor, where you can gear up, aim, and blast people with bursts of colorful paint.
You'll be winding through the courses and seeking the perfect vantage point in the various forts, trenches, tunnels, and more.
Oh, and we can't forget to mention that every player gets a free slice of pizza while they're there!
They're open from noon to midnight, making this a great activity if you're in search of family-friendly things to do in Orlando at night.
Not enthused about being covered in paint?
Opt for their laser tag course at Battleground Orlando!
Best Animal Attractions in Orlando for Families
Got an animal lover in the family?
Stoke their curiosity by exploring some of the best animal attractions in Orlando!
From the farm, to the swamp, to animals from across the globe, there are plenty of exciting animal experiences to be had in Orlando.
20. Exotic Animal Experience
You can see a ton of exotic animals at any city zoo, but what if you had the chance to meet them up close?
At the Exotic Animal Experience in Orlando, you can do just that!
This 7-acre facility is privately owned, and the animals have been raised to be comfortable with human interaction.
Have a family experience that will create memories to last a lifetime as you encounter sloths, kangaroos, monkeys, and more!
The Exotic Animal Experience is, first and foremost, concerned with promoting the conservation of animals and nature.
This is a great opportunity to not only introduce your young ones to animals they've likely never seen, but to instill a sense of respect for these species, many of which are endangered.
Being that care for the animals is top priority, visits are only available on Saturday mornings and must be scheduled – so be sure to plan ahead and book this popular attraction in advance!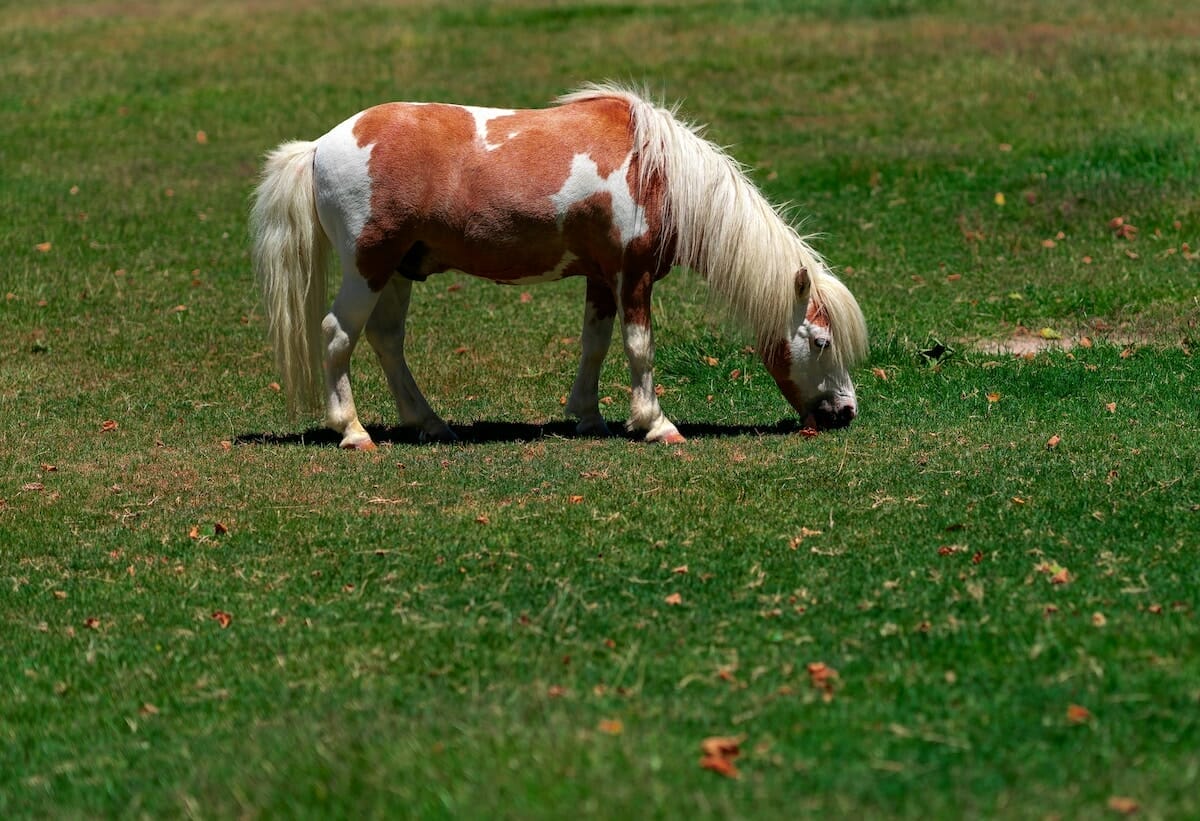 In Winter Garden, about 25 minutes outside of Orlando by car, you'll find the enchanting world of SOUL Haven Ranch – a place where the bond between humans and horses knows no bounds.
Gather your family for an unforgettable adventure where you'll be greeted by the gentle presence of miniature horses.
For one whole hour, you'll connect with a miniature horse of your choosing.
Get hands-on as you brush the horse from the tip of its mane to the sweep of its tail, and learn to care for their hooves as you discover intriguing facts about these majestic creatures.
Take a leisurely walk along the West Orange Trail, accompanied by your expertly trained miniature horse, or challenge yourself with exciting obstacles at the Training Center.
An experience brimming with unconditional love and creating cherished memories, SOUL Haven Ranch invites families to explore, connect with, and be moved by the magic of horses.
22. Wild Florida Airboats and Gator Park
Just 40 miles south of Orlando, Wild Florida Airboats and Gator Park awaits!
If you're looking to venture into the wild heart of Florida with your family, this is definitely one of the best things to do near Orlando for nature-lovers.
Embark on an exhilarating airboat ride through the expansive Everglades, experiencing the rush of wind as you skim across the water.
Keep your eyes peeled for the iconic alligators and diverse other wildlife that call this ecosystem home!
If you dare, enter the exciting Gator Park, where up-close educational encounters with these incredible reptiles await.
Also check out our Gatorland review, which is another great option for families in Orlando!
From feeding live gators, to hugging a sloth (check out our review of this once-in-a-lifetime experience!), to (carefully) petting a porcupine, every section of this Florida attraction promises an adventure!
With several hours worth of things to do and even a restaurant onsite, Wild Florida offers a full day of the untamed beauty of Florida's wilderness.
23. Central Florida Zoo and Botanical Gardens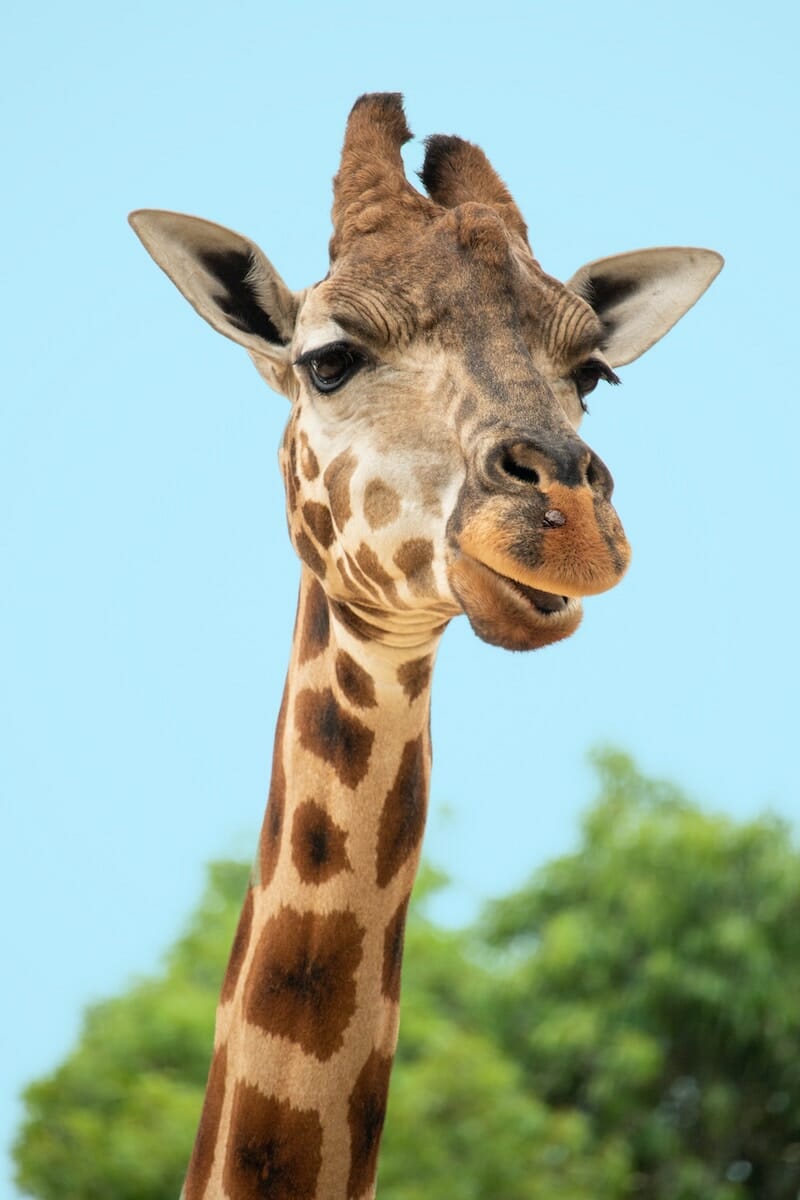 Escape the ordinary and dive into the natural wonders of the animal kingdom at the Central Florida Zoo and Botanical Gardens, just 20 miles from Orlando!
This family-friendly haven invites you to explore a diverse world of animals and lush plant life.
Wander through lush gardens, where a dazzling array of flora creates a picturesque backdrop for your family vacation photos!
Encounter a variety of fascinating animals as you stroll through the well-designed exhibits.
But don't just look – learn, as you engage in educational presentations and interactive encounters that bring you closer to the animal kingdom!
You can even get up close to giraffes as you feed them from the palm of your hand (an unmissable and affordable experience at just $6 a person!), or pay $30 for the unique chance to meet a rhino up close.
With engaging exhibits, breathtaking train rides, thrilling zip lines, and plenty of opportunities to connect with nature, the Central Florida Zoo and Botanical Gardens promises an enchanting day for the whole family.
Outdoor Things to Do in Orlando With Kids
Beyond animal encounters, there are even more family-friendly things to do in the Orlando area outdoors!
Water activities are especially popular in this coastal state, whether you're kicking back on a relaxing cruise or making waves on a jet ski.
Check out these 5 outdoor things to do in and around Orlando!
24. Go Paddleboarding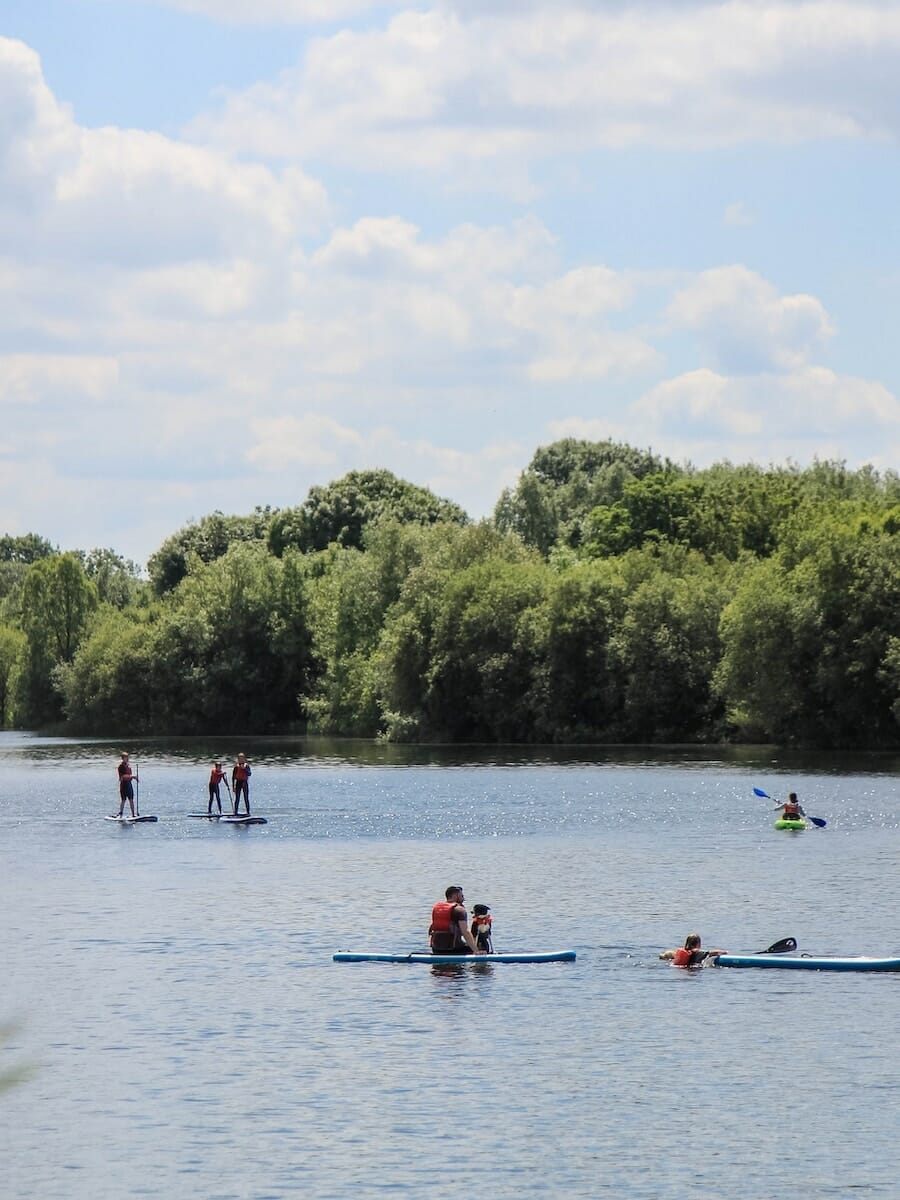 Paddleboarding is a popular aquatic activity in Florida, and there are plenty of opportunities to do it around Orlando!
Winter Park has an excellent paddleboarding scene, where you'll find yourself paddling around the Chain of Lakes.
Your booking includes equipment and instruction, so even beginners can enjoy an hour on the clean, clear waters and enjoy the scenery.
Lakeside trees and gardens will make this refreshing activity even more memorable, and you might even spot some local wildlife!
Paddleboarders must be at least 13 years old and able to swim, and you'll all be equipped with a personal flotation device.
Traveling with little ones?
Kids are welcome to sit on their parent or guardian's board, so the whole family can enjoy this activity together!
25. Go Snorkeling / Scuba Diving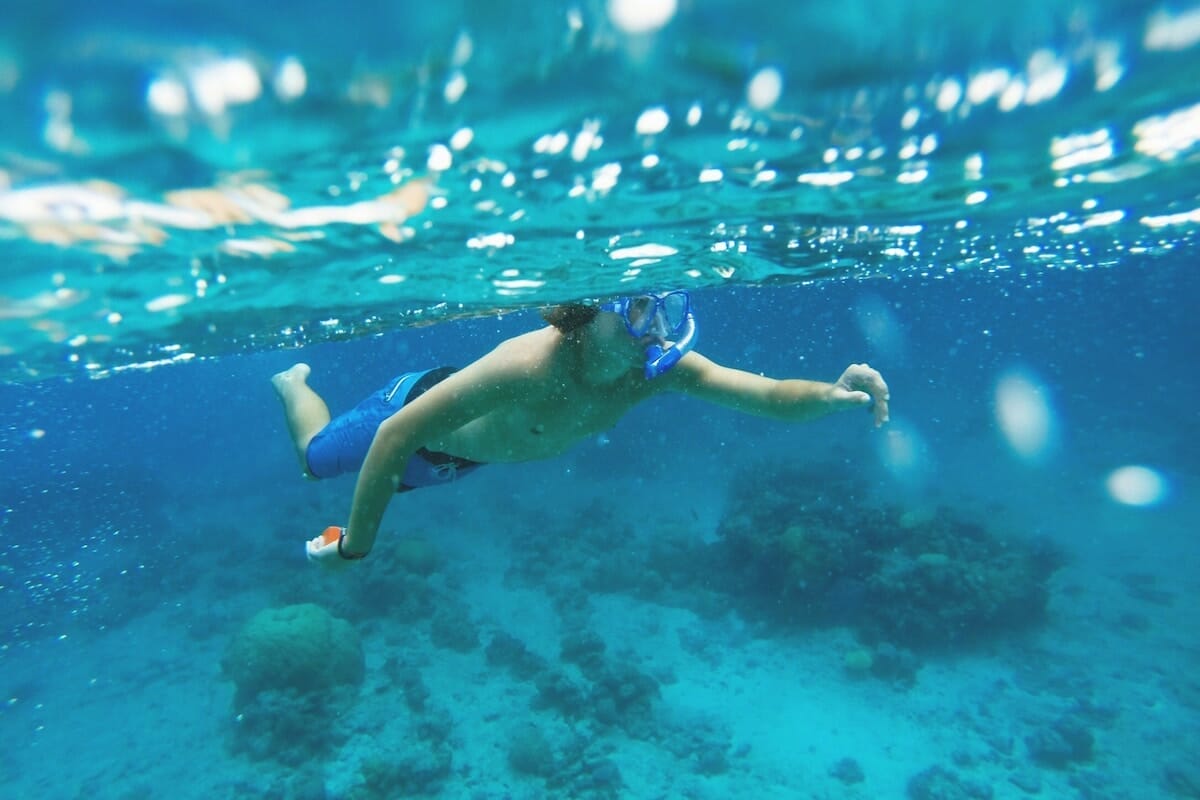 If paddling above the water isn't immersive enough for you, go for a dive!
Whether you're snorkeling in shallow waters or diving deep with scuba equipment, you'll find a ton of opportunities to explore Florida waters near Orlando.
New divers will want to train with professionals, like Ranger Rick's Discovery Scuba course, while seasoned divers can head straight for the depths of Florida's southeast coast with American Divers!
Keep in mind that scuba diving requires training, and most diving centers will require you to have a certificate to join their trips.
So if it's your first time, don't expect to be exploring the depths of the ocean if you've only got a day or two available for classes – you'll probably be limited to swimming pools for a while!
Snorkeling, on the other hand, you can jump right into.
Check out this unique opportunity to go snorkeling alongside manatees in Crystal River – with convenient roundtrip transportation from Orlando!
26. Go on a Cruise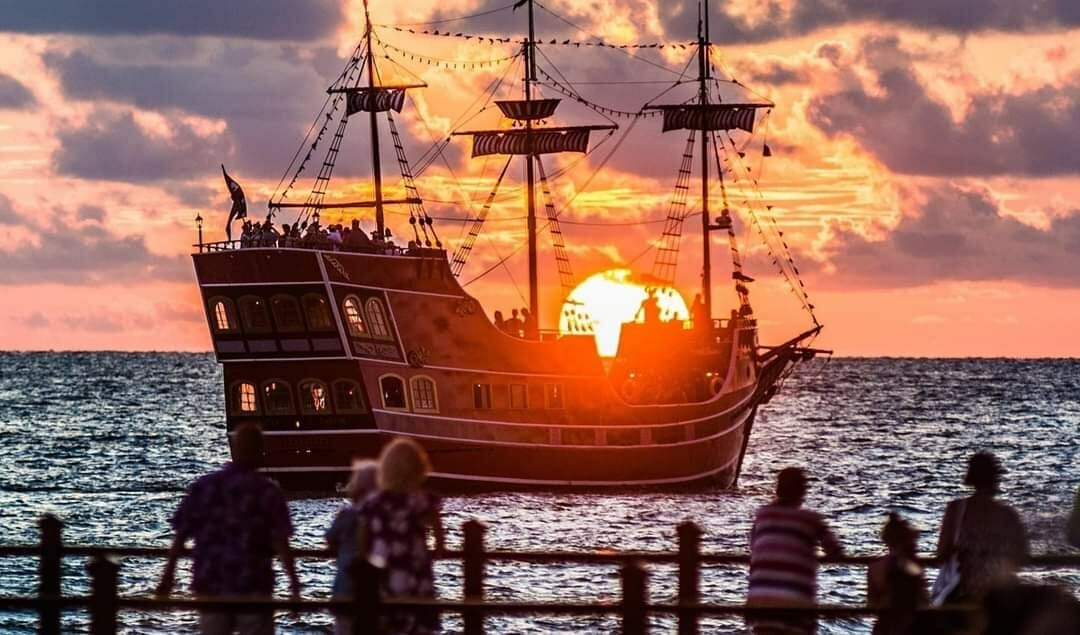 Another great outdoor excursion from Orlando is to hop aboard a relaxing, family-friendly cruise!
If you're looking for a Disney experience near Orlando without going to the theme parks, they have cruises that start in Port Canaveral and provide a fun-filled weekend trip to destinations like the Bahamas.
Of course, those cruises are quite an investment – but they'll make memories that'll last a lifetime!
If you've only got a day to spare, and are looking for something a little more budget friendly, check out this Clearwater Beach Pirate Cruise Adventure with Lunch & Transport From Orlando!
You'll depart Orlando in the morning and arrive in Clearwater Beach for a 2-hour cruise on a pirate ship, where you'll enjoy a ton of family fun, as well as time on the beach itself.
27. Go Jet Skiing
Jet skiing near Orlando, Florida is a great family experience for anyone aged 4 and up!
Book this jet skiing experience and make a splash together as you ride on sleek jet skis in Davenport, just under an hour from Orlando.
Safety gear and expert instructors will be provided with your booking, so you can have peace of mind and just focus on having a blast with your family.
Whether you're eager to speed around the lake or simply enjoy the scenery as you ride at a slower pace, you're sure to create lasting memories with this exhilarating experience.
28. Bioluminescence Kayak Tour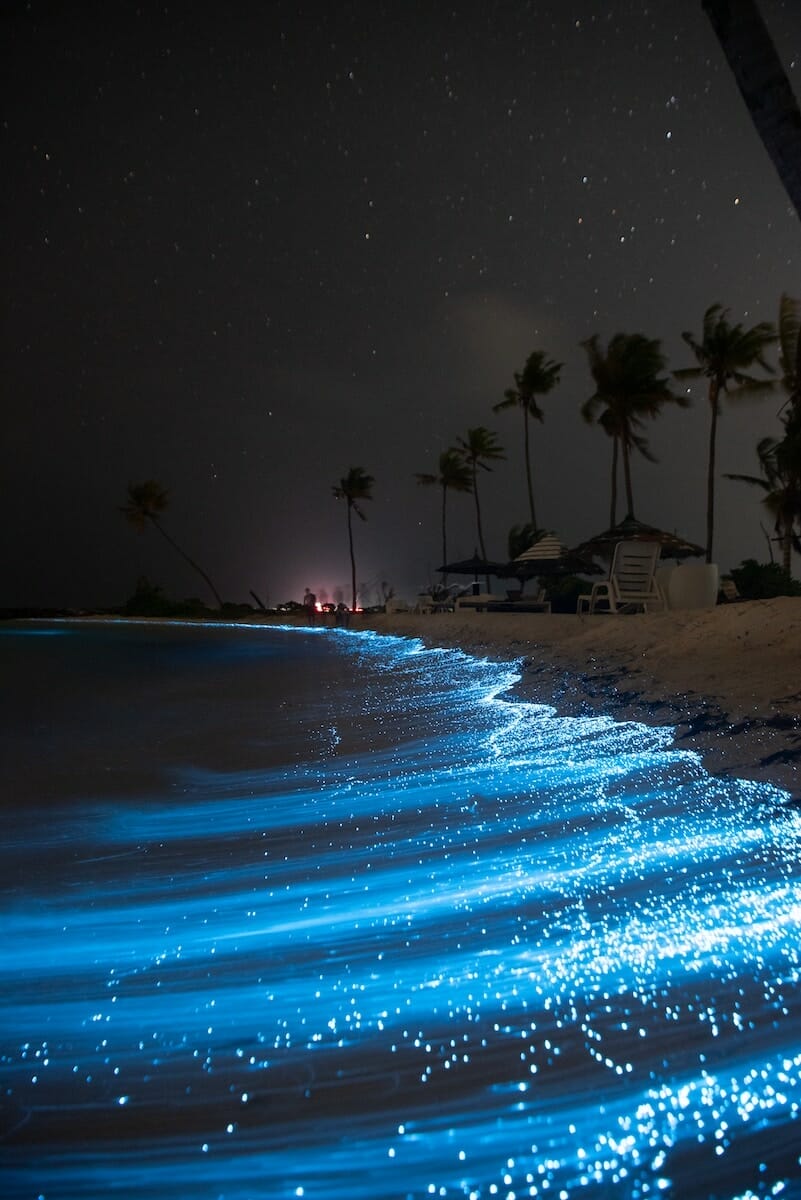 Kayaking in Florida is a great family outing in itself, but this unique experience takes it up a notch!
On this bioluminescence kayak tour, you'll be in awe as you explore the glowing waters of Banana River, an otherworldly lagoon located just an hour from Orlando.
The dinoflagellates, single-celled organisms that live in water, light up an ethereal shade of glowing blue whenever the water moves around them.
So, as you paddle your kayaks on this magical river, you'll watch the water seem to come alive with each small splash.
Provided in your tour are the kayaks themselves, all necessary paddling gear, expert guides, and free bottled water (because as beautiful as the glowing water looks, you can't drink it – even if the kids are convinced it'll give them superpowers).
Top Tip: Since this is an evening activity and Florida bugs can be pesky little suckers, you might want to bring insect repellent to keep your family mosquito-free!
Family-Friendly Beaches Near Orlando, Florida
Okay, jet skis and kayaks are cool… but what if you just want to kick back on a Florida beach and soak up some sun with the family?
We've got some of the best beaches near Orlando for families listed below – check 'em out!
29. Cocoa Beach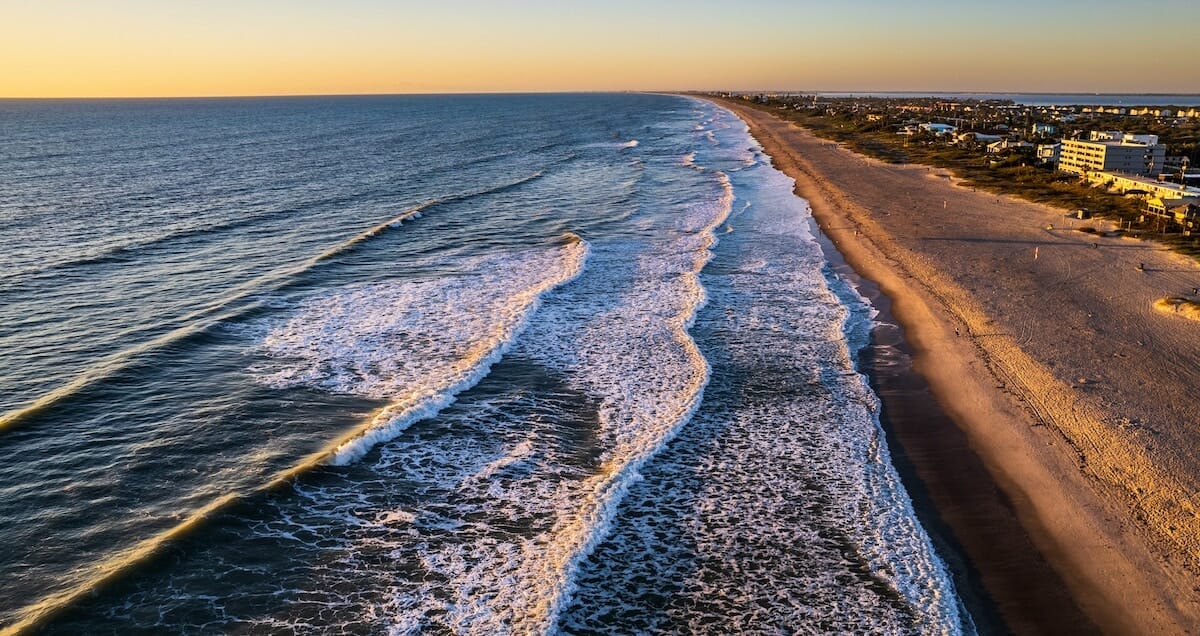 One hour from Orlando is Cocoa Beach, easily one of the best beaches on the east coast of Florida, especially for families.
Its landscape is relatively unspoiled, and its pace is quite slow, so you feel you can relax while you're there.
But if you're feeling more energetic than laid back, Cocoa Beach is also a great place to learn to surf!
Kids will enjoy building sand castles with the clean, soft sand, and there are plenty of local eateries near the shore for a tasty snack or a full meal.
30. Daytona Beach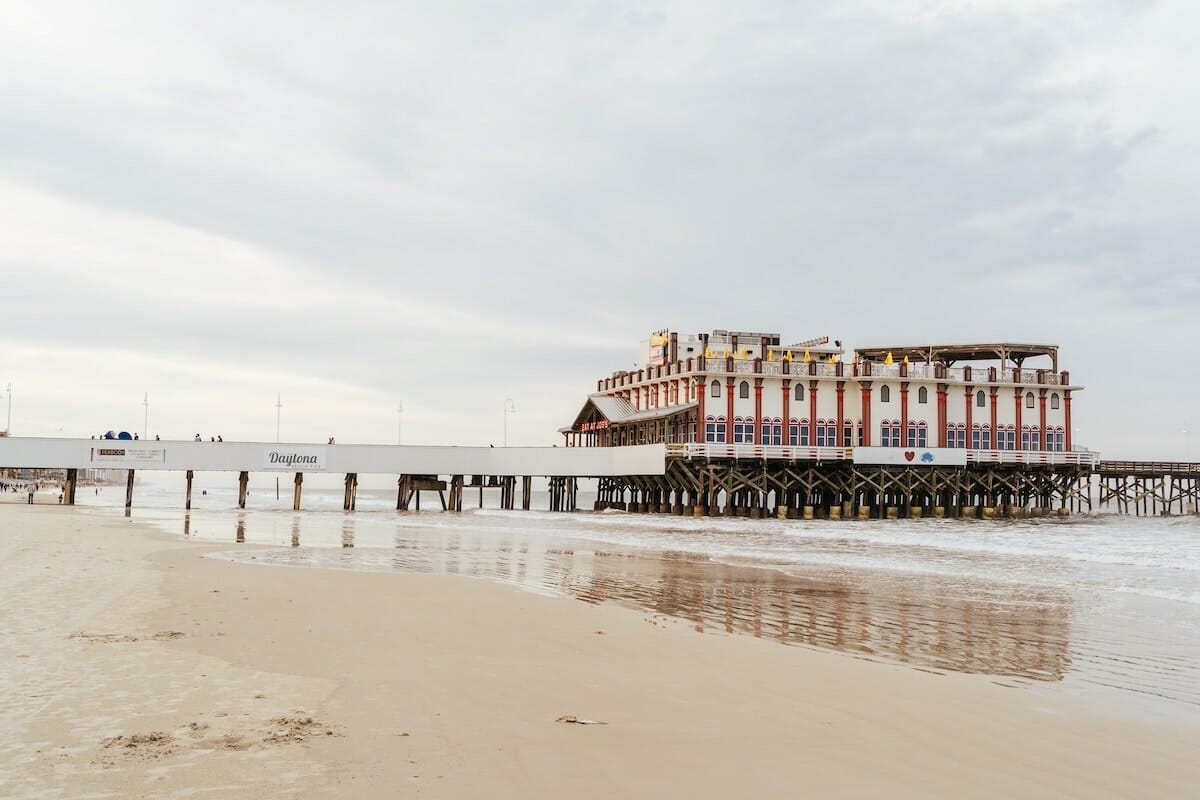 Also an hour from Orlando is Daytona Beach.
It features a long boardwalk, with a lively and fun atmosphere.
You and your family will have a blast at the funfair, playing arcade games, and chowing down at any of the many restaurants and cafes.
And, of course, don't forget the 23 miles of white sand beaches!
Perfect for finding a spot away from other people, although it can get busy at weekends due to the numerous activities to do there.
Activities on offer include fishing, paddleboarding, surfing, water sports such as jet skiing, parasailing, dolphin-watching, and even a historic river cruise.
While there, you may also be able to catch the Daytona 500 at the Daytona International Speedway!
31. Canaveral National Seashore
Again, one hour from Orlando, is the Canaveral National Seashore.
As a wildlife sanctuary, it is home to many endangered species, including sea turtles.
There is a more relaxed atmosphere here than at Daytona Beach, but there are still activities on offer, such as: horse riding, kayaking, boating, fishing, and surfing.
One thing to bear in mind is that Canaveral National Seashore has no food and drink vendors, as it is a natural beach.
So remember to bring your own packed lunch, plenty of water, and copious amounts of sunscreen!
There are no designated eating areas, so you are free to set up a picnic on the beach itself.
Just remember to clean up after yourself!
Note: Each end of the beach is designated as a nudist area. If that is not your kind of thing, perhaps stick to the sections in the middle!
32. Mary McLeod Bethune Beach Park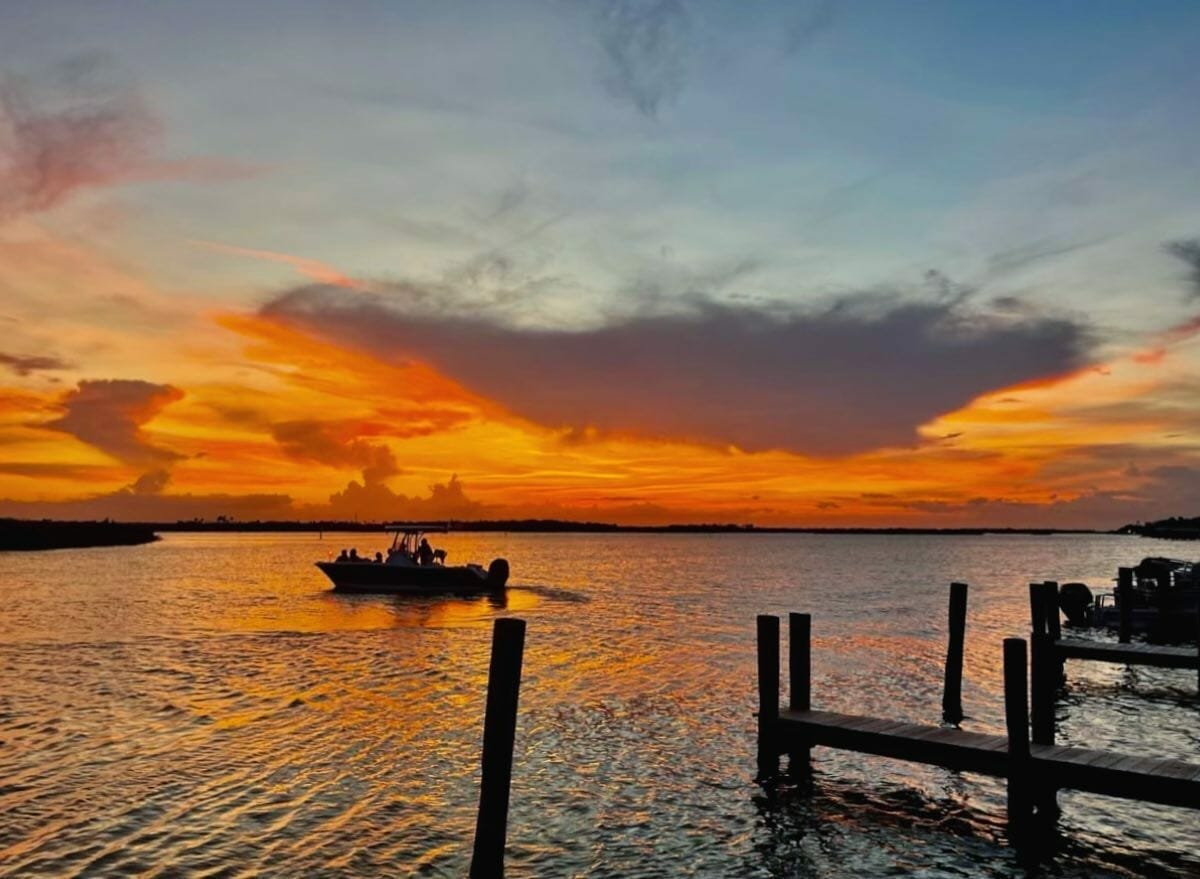 Just an hour away from Orlando, in New Smyrna Beach, you'll find Mary McLeod Bethune Beach Park.
This gorgeous, family-friendly beach is nestled between both the ocean and the river, bringing you a diverse offering of aquatic fun!
On the ocean side, you'll find picnic pavilions, showers and restrooms, and plenty of sand to kick back and relax on.
By the river, your family can enjoy a game of tennis, basketball, volleyball, or pickleball, as well as a playground.
Rent a kayak or paddleboard from JB's Fish Camp, and enjoy a delicious seafood dinner at their riverfront restaurant.
This is also a great place to spot manatees and dolphins, so keep an eye open!
Named for Mary McLeod Bethune, civil rights activist and founder of Bethune-Cookman University in Daytona Beach, this may be one of the most underrated beaches on Florida's coast!
Best Parks in Orlando
If you're looking for the best parks in Orlando (besides the theme parks, that is), you're in luck!
There are several great parks to bring your kids to in Orlando, with playgrounds and shaded areas you can enjoy free of charge.
33. Lake Eola Park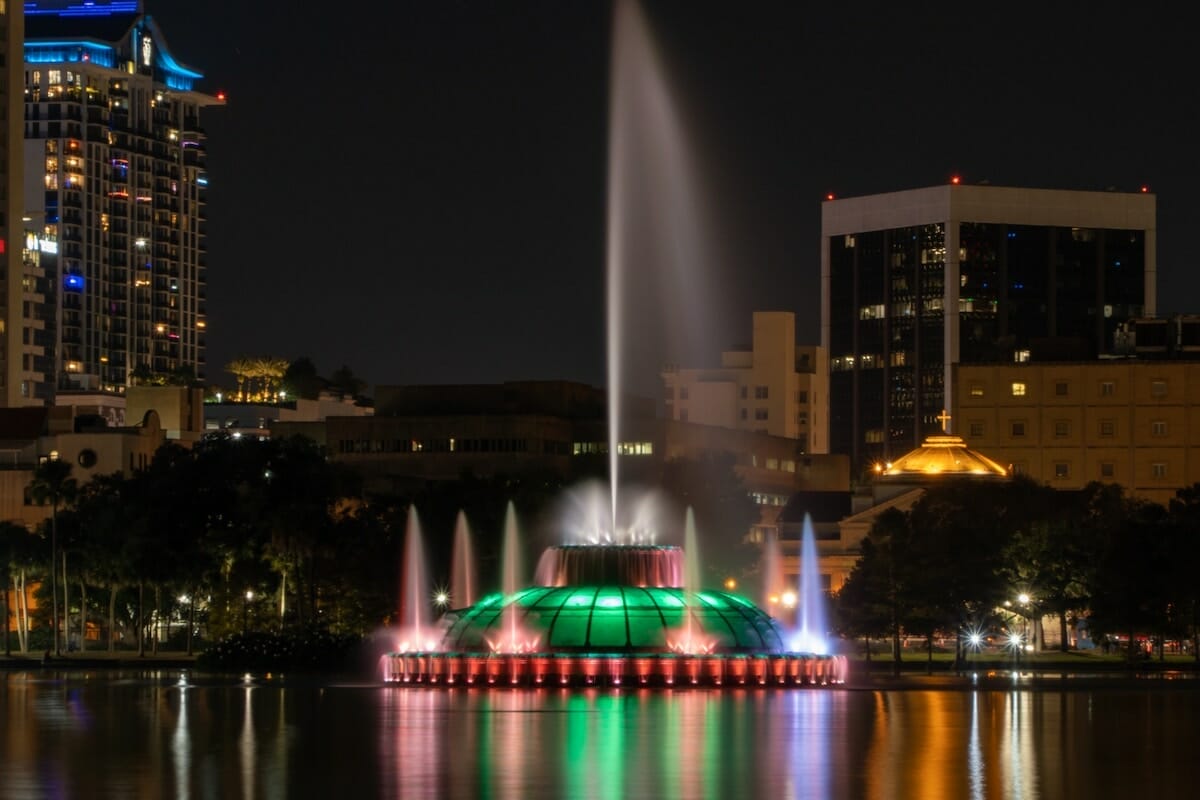 Experience the vibrant heart of downtown Orlando at Lake Eola Park, a beloved oasis for families.
This iconic park is centered around a picturesque lake, where you can rent swan boats and glide across the water with your loved ones.
Take leisurely strolls along the scenic pathways, enjoying the serene views and lush greenery.
Let the kids run wild in the playground, complete with climbing structures and swings.
Don't miss the chance to feed the resident swans and ducks, or have a family picnic on the grassy lawns!
With its beauty, tranquility, and a playground for the little ones, Lake Eola Park offers an ideal retreat for families to connect, unwind, and create lasting memories in the heart of the city.
34. Cypress Grove Park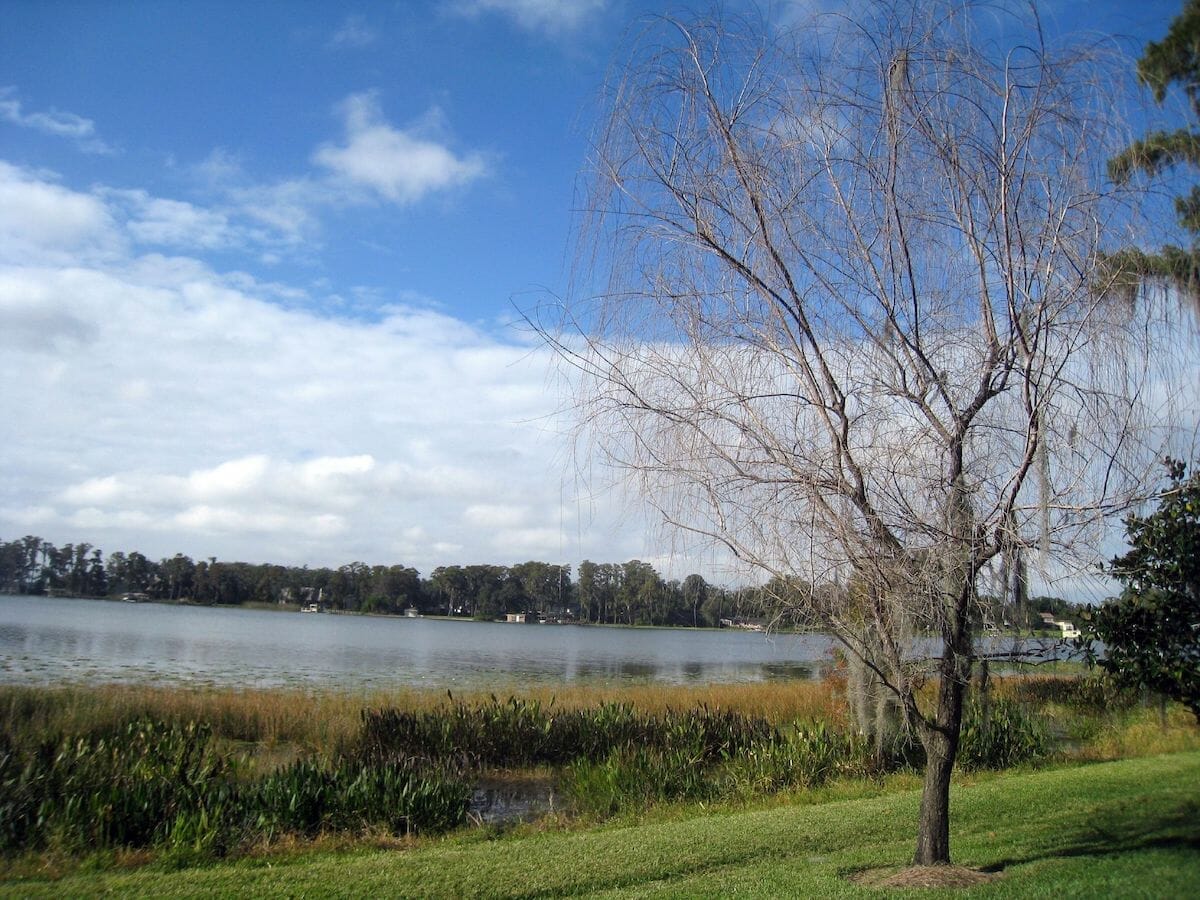 Roam the 90 acres of Cypress Grove Park to discover natural beauty in Orlando!
Nestled right across from the breathtaking Lake Jessamine, this huge park offers some relief from the hustle and bustle of Orlando's more populated spots.
Take a leisurely stroll along the paved trails, taking in the lush greenery that surrounds you.
Or, have a seat on one of the benches across from the playground while your young ones get their energy out!
Hungry? Spread a blanket over the green lawns, or head across the street from the main park area to enjoy lunch at one of the picnic tables by the lake.
The Cypress Grove Estate House, a breathtaking 1920s mansion on the lakefront, hosts many weddings and events throughout the year – be sure to admire this historic building when you pass by!
35. Mathews Park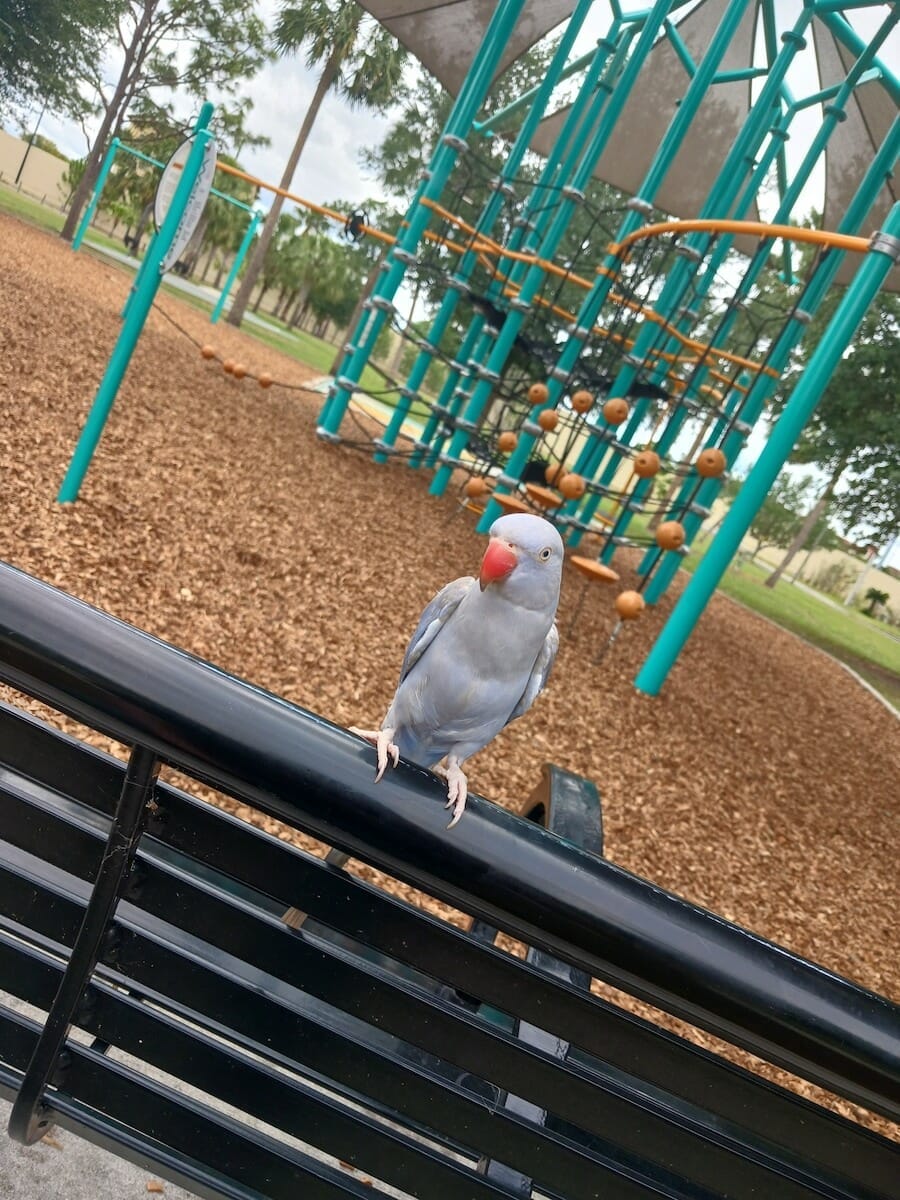 If your kids have just hit a sugar rush and need a place to go wild, take them to Mathews Park!
This moderately-sized city park in Orlando features a super unique play area, featuring a jungle gym that your young ones will love to climb all over.
The play areas are shaded, providing some relief from the Florida sun, and there's even a chance to get creative with the musical instruments in the park!
Encourage your kids to explore their musical side as they play with chimes, drums, and a xylophone at this fun city park.
36. Barber Park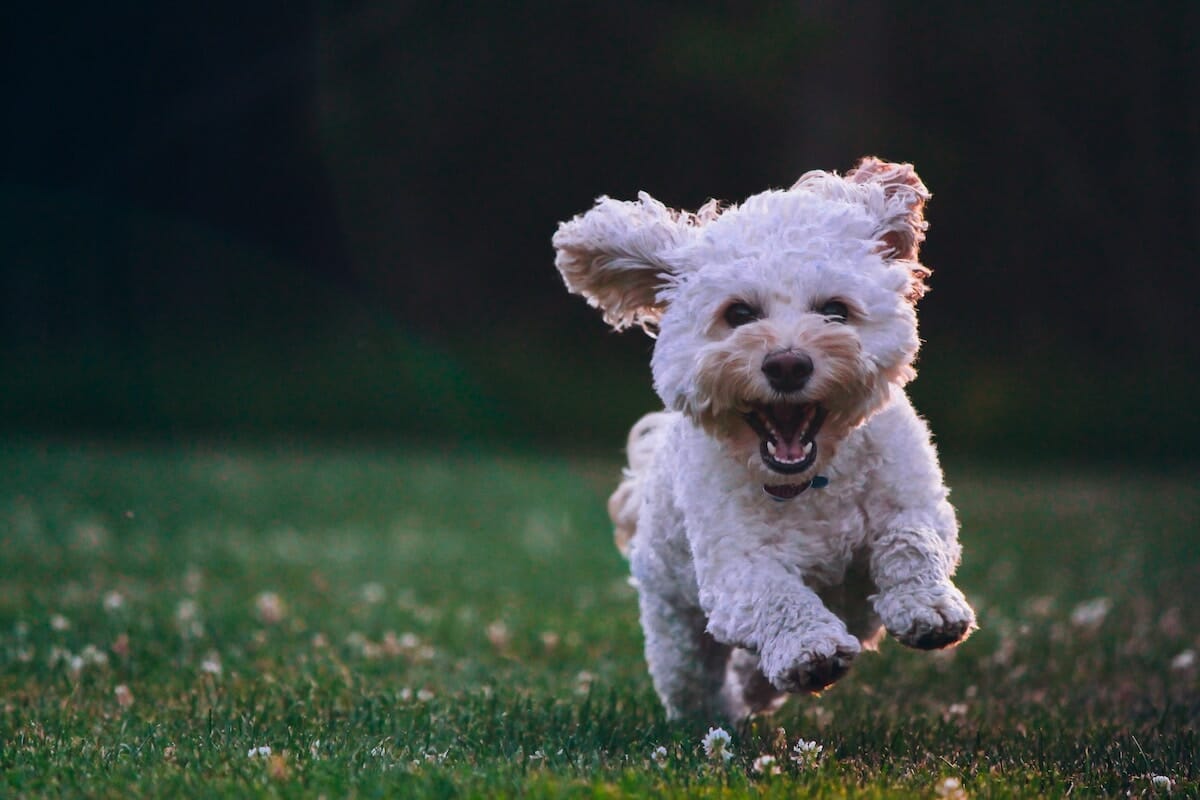 Enjoy an afternoon on the waterfront at Barber Park in Orlando, FL!
Located right along the shore of Lake George, this is an excellent place to go if your family has brought a furry friend along for the trip.
Let your dog run free at the dog park, which has plenty of room for even the biggest dogs to play and features several obstacles they can jump through!
Kids will have a blast at the park's playground, or you can have them join the family for a game of basketball.
Need to cool down?
The park's splash pad is just the place, and the covered roller rink is a great way to stay active while staying out of the sun (just remember to bring your own skates)!
37. Central Winds Park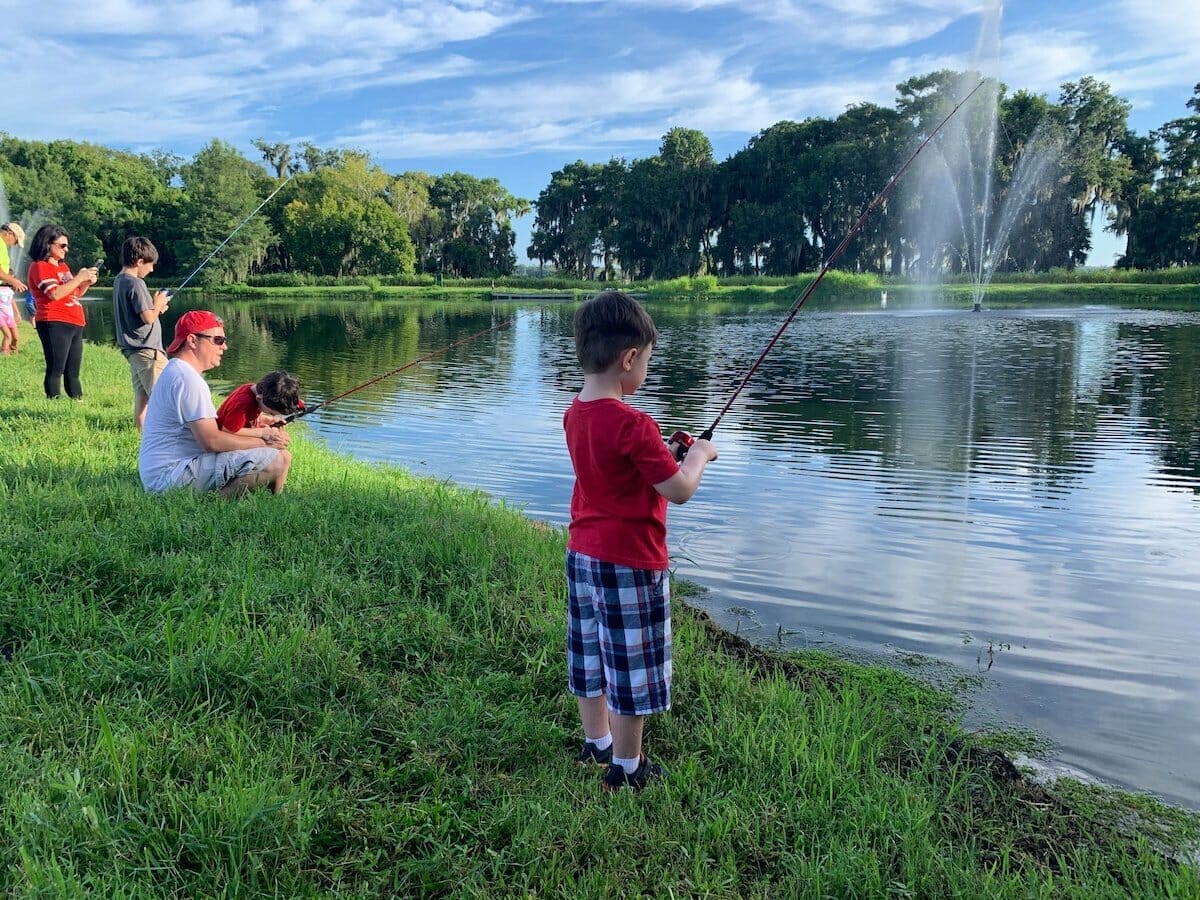 Central Winds Park is technically not in Orlando, but it's considered by many locals to be the best park in the Orlando area.
Located in Winter Springs, about a half hour's drive from downtown Orlando, Central Winds Park welcomes you with palm trees, playgrounds, ponds, and more!
You'll find a few soccer fields and other sporting areas here, but baseball is the name of the game, with a whole center dedicated to teaching kids America's classic pastime.
The water fountains in the pond are gorgeous, and provide a scenic background for a family picnic, plus you can enjoy fishing there.
But if you want to really immerse yourself in nature, you ought to venture into the wooded area by the lake!
Best Museums in Orlando
Some of the best museums in Florida are located in (or near) Orlando!
Whether you're looking to learn, reflect, be amazed, or all of the above, these Orlando museums are sure to meet your family's needs.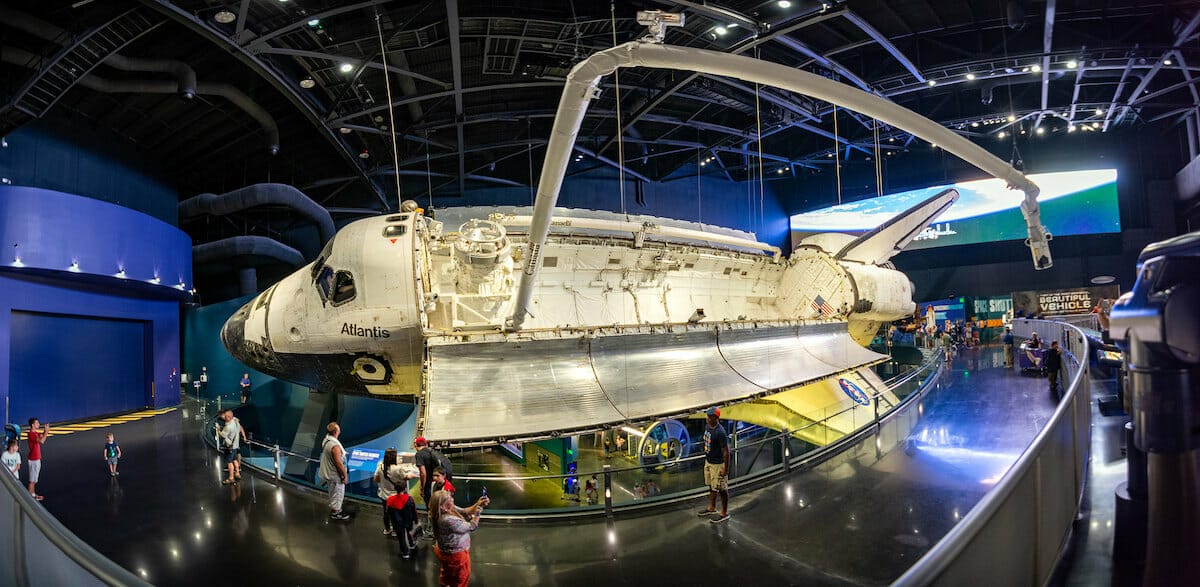 Get ready for an out-of-this-world family adventure not too far from Orlando!
All you've got to do is head east to the Kennedy Space Center, located on Florida's Space Coast – just about an hour's drive from Orlando.
Have you ever dreamed of touching a Moon rock or meeting a real astronaut?
At Kennedy Space Center, kids and adults alike can experience the thrill of space exploration!
Blast off with the eight-and-a-half-minute Shuttle Launch Experience®, a simulated liftoff to Earth's orbit, or climb aboard the Kennedy Space Center Bus Tour to pass by restricted areas and learn how NASA uses them to further our astronomical discoveries.
It's an educational and inspiring journey that will leave your family with memories that are truly out of this world, so don't miss the chance to reach for the stars at the Kennedy Space Center!
39. Orlando Science Center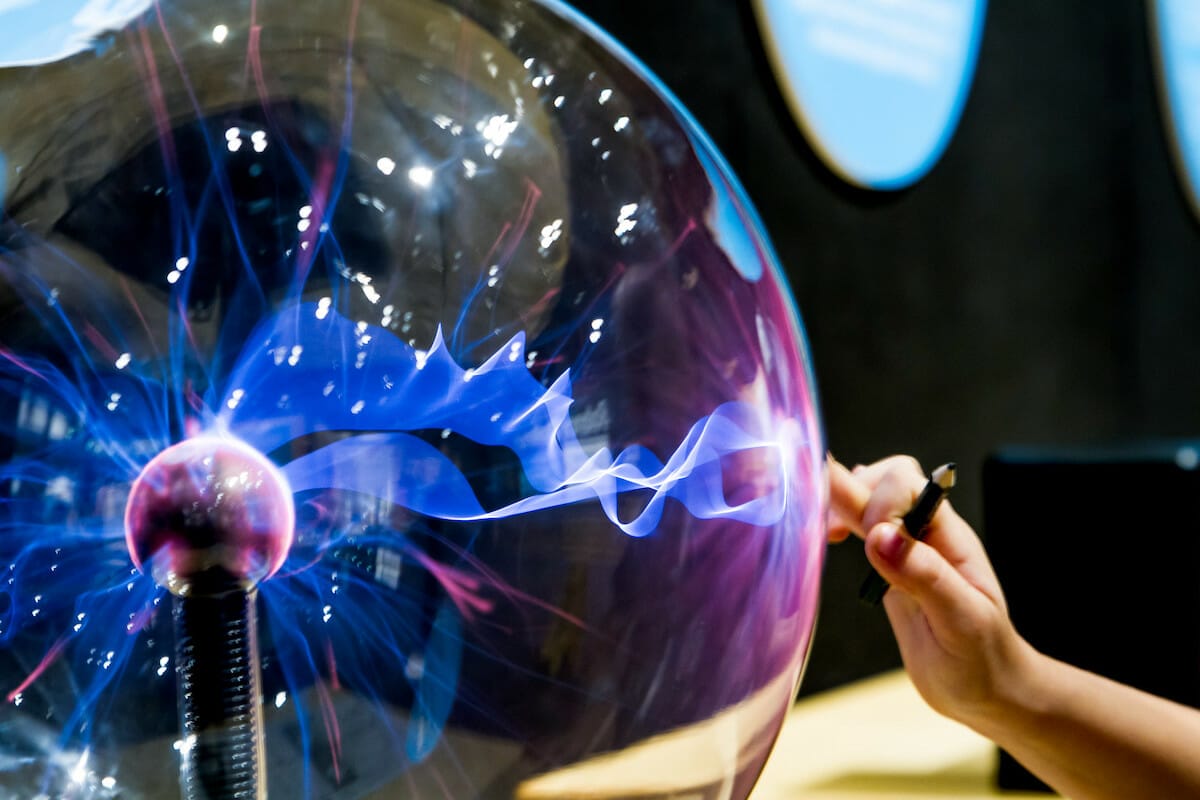 Looking for family-friendly things to do in Orlando besides theme parks?
How about a journey into the realm of science at the Orlando Science Center?
With captivating exhibits, mesmerizing planetarium shows, and hands-on experiments, it's the perfect destination for curious minds of all ages.
Explore the wonders of the universe, delve into the mysteries of the natural world, and spark your family's love for science.
Kids will be delighted as they unearth fossils in the DinoDigs exhibit – who knows, your little explorer might even be encouraged to grow up and pursue archaeology after a trip to this exciting museum!
Step away from the ordinary and embrace an extraordinary day of discovery and fun at the Orlando Science Center!
40. Orlando Museum of Art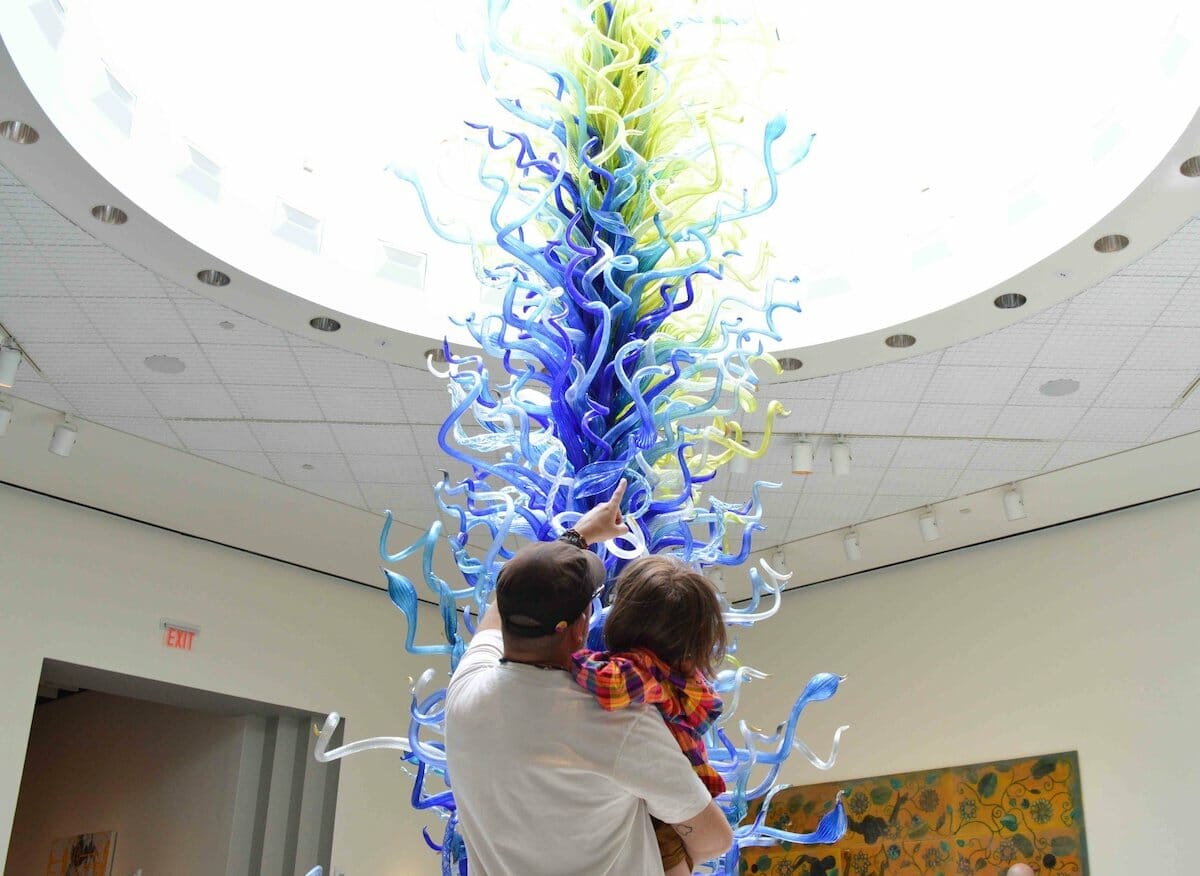 Take your family on a cultural adventure to the Orlando Museum of Art.
Dive into a world of creativity as you explore captivating exhibits and fascinating collections that are sure to astound all ages.
It's a perfect family-friendly outing where you can admire stunning artworks, spark imagination, and maybe even inspire the next Picasso in your clan!
Plus, it's a fantastic opportunity for quality family time and creating lasting memories.
So, when you're looking for a break from the roller coasters, don't miss this art-filled experience that's both enriching and fun!
41. Mennello Museum of American Art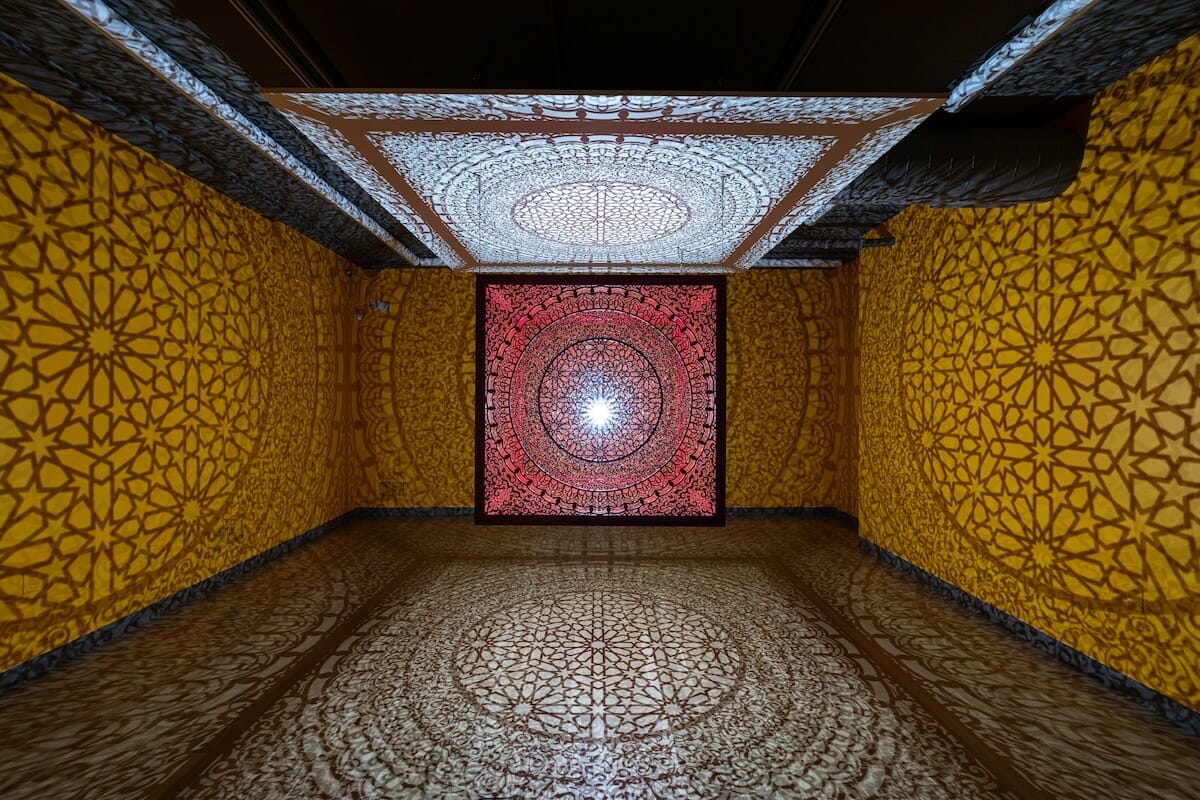 Explore American art at the Mennello Museum, located in beautiful Loch Haven Park, just minutes from downtown Orlando.
This intimate museum is a hidden gem, showcasing a diverse collection of American art, with a particular emphasis on folk art and modernism.
Families visiting the Mennello Museum can admire a range of artworks, participate in interactive exhibits, and even enjoy the scenic beauty of Lake Formosa, which surrounds the museum.
Visit on the second Sunday of the month for Free Family Funday!
During this special monthly event, kids will appreciate the engaging displays and creative activities that make art come to life!
With its welcoming atmosphere and engaging programs, the Mennello Museum of American Art offers a fantastic opportunity for families to appreciate art together!
42. Central Florida Railroad Museum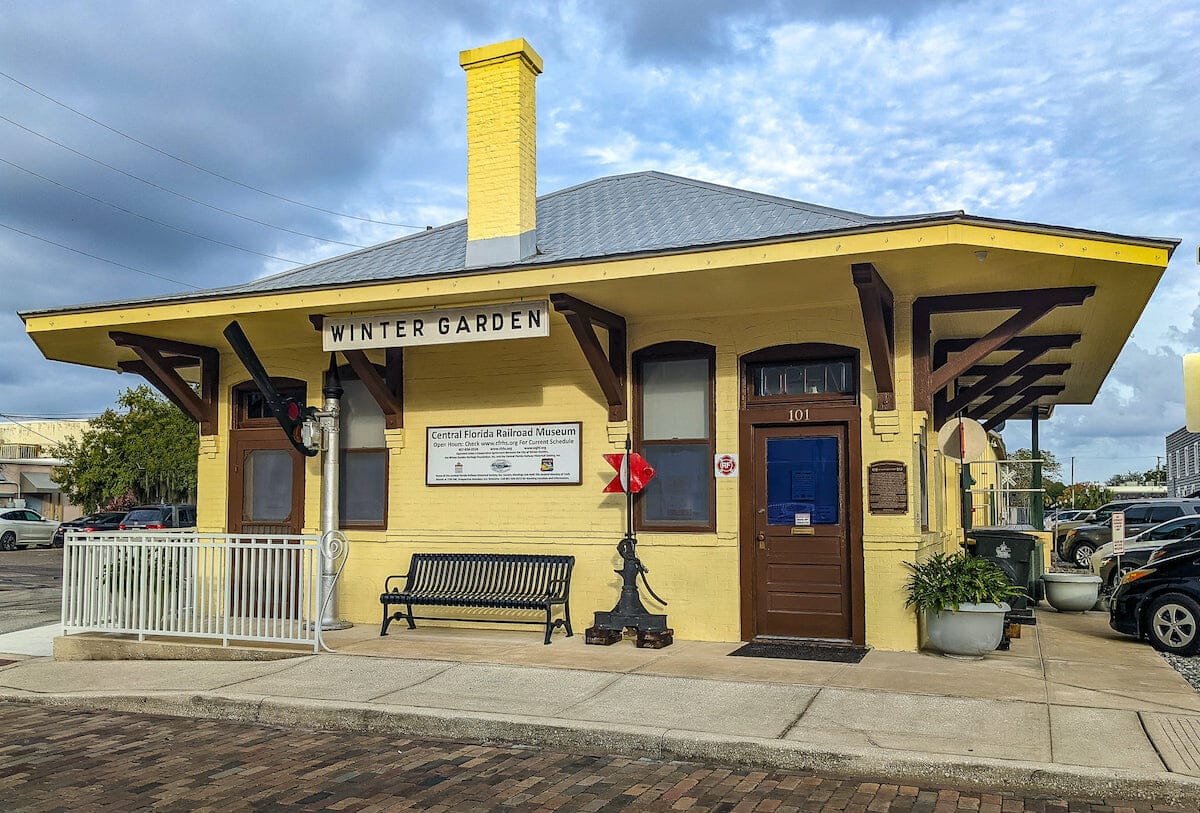 Visit the Central Florida Railroad Museum, just a short drive from Orlando.
Nestled in the charming town of Winter Garden, this museum offers a fascinating journey through the history of railways.
Explore a myriad of railroad artifacts that transport you to a bygone era—all while enjoying free admission!
While it's not in Orlando itself, the Central Florida Railroad Museum is well worth the trip for families interested in trains and local history.
You'll discover the vital role that railroads played in shaping Central Florida's development.
This informative and family-friendly museum promises an engaging experience for all ages, making it an excellent day trip option from Orlando.
While you're in the area, be sure to check out the utterly charming downtown and enjoy a pastry and latte from Rosallie Le French Cafe.
All aboard for a memorable adventure in Winter Garden!
43. Orlando Fire Museum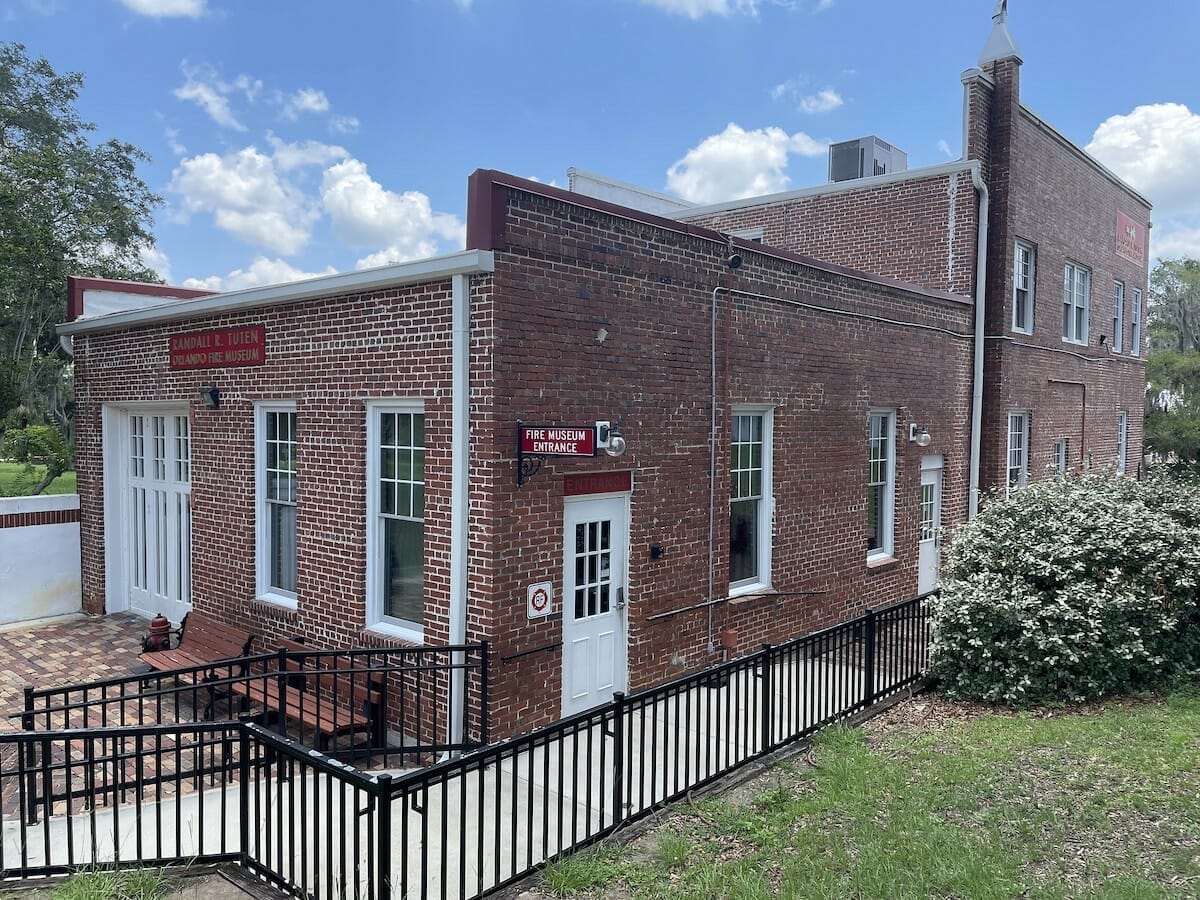 Step into the past and explore the rich history of firefighting at the Orlando Fire Museum.
This hidden gem offers an engaging and educational experience for families, located in a classic red brick firehouse.
Discover vintage fire trucks, historic equipment, and memorabilia that showcase the brave firefighters who have served the Orlando community for generations.
Kids will love getting up close to the impressive fire engines, and parents will appreciate the museum's dedication to preserving the city's firefighting heritage.
The Orlando Fire Museum is an excellent place for families to learn about the heroic efforts of firefighters while enjoying a unique and interactive outing.
Be sure to call ahead to schedule a tour; you don't want to miss this opportunity to appreciate the courage and history of Orlando's fire service!
44. Museum of Illusions Orlando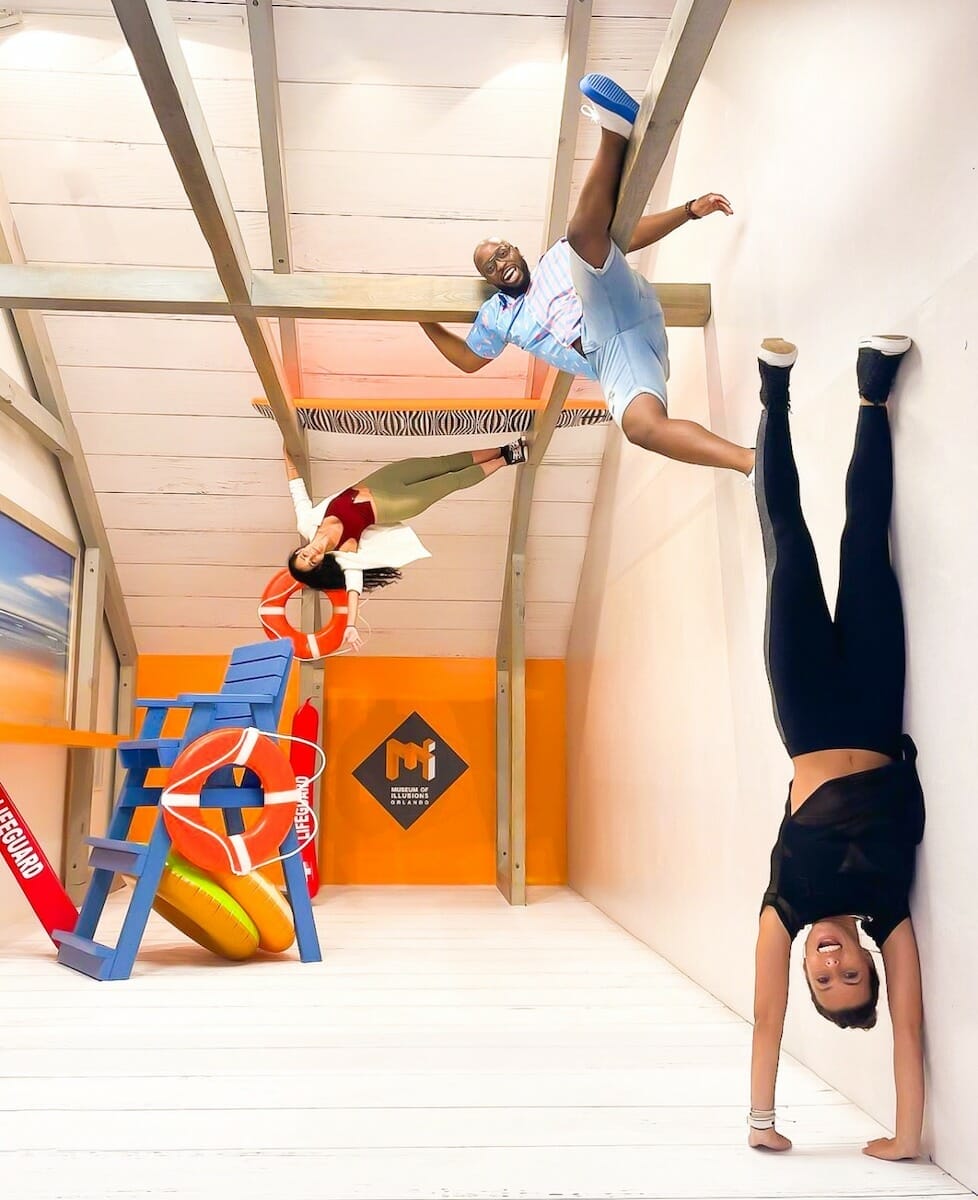 Prepare to be mesmerized at the Museum of Illusions in Orlando!
This captivating attraction offers a unique experience that challenges your perception and leaves you in awe.
It's not your typical museum; instead, it's an interactive wonderland where you can immerse yourself in mind-boggling optical illusions, puzzles, and brain-teasing exhibits.
Explore rooms that will make you and your family feel like you're defying gravity, shrinking, or growing.
The Museum of Illusions is the perfect place for families to have fun together while exploring the fascinating world of visual tricks and brain games.
You'll discover firsthand how your mind can play tricks on you, making it a memorable and educational experience for all ages.
45. WonderWorks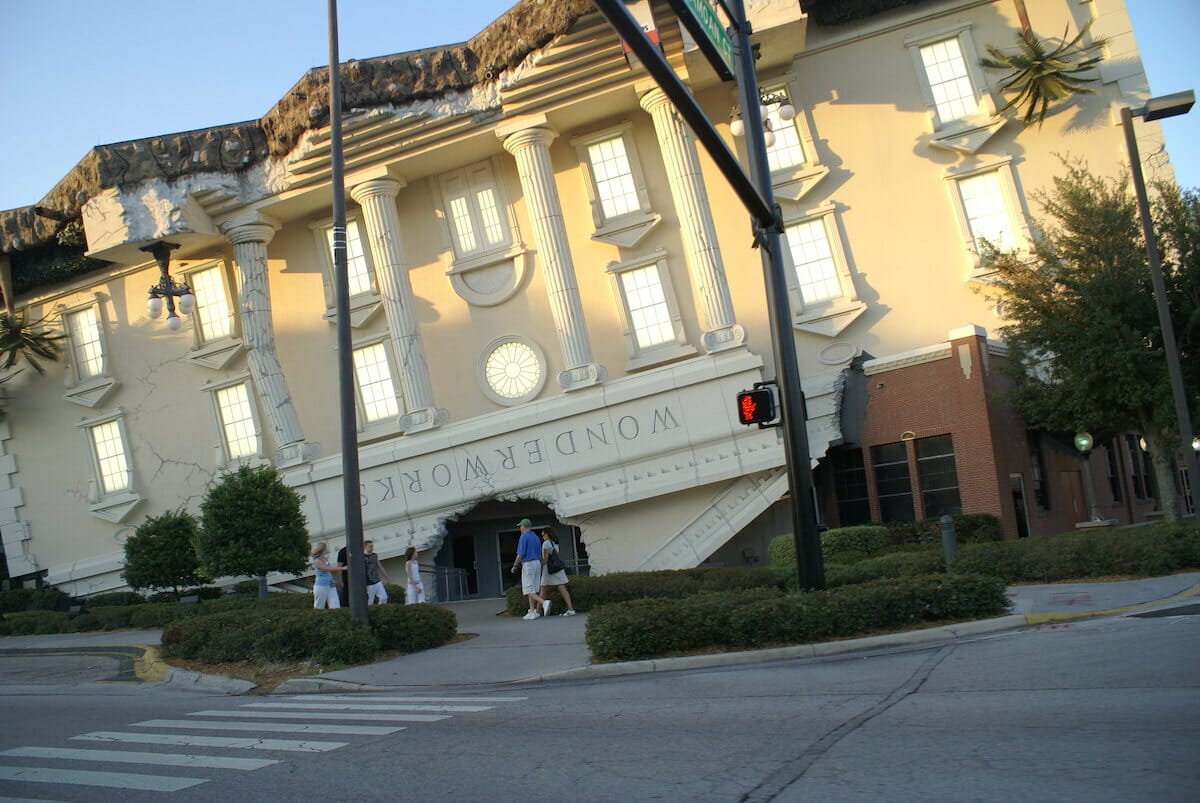 Step into the world of wonder at WonderWorks, an "amusement park for the mind" in Orlando.
While not a traditional museum, this family-friendly attraction sparks curiosity and imagination in all ages.
Located along the International Drive, your kids will be yanking you in the direction of this fascinating place as soon as they lay eyes on the attention-grabbing upside-down mansion that houses it!
With over 100 interactive exhibits, WonderWorks combines education and entertainment seamlessly.
Challenge your family's minds and senses with mind-bending optical illusions, exciting hands-on activities, and a fun yet educational Extreme Weather Zone.
It's a fantastic place to encourage learning through play, making science and discovery an unforgettable adventure for kids and adults alike!
46. Chocolate Kingdom's Factory Adventure Tour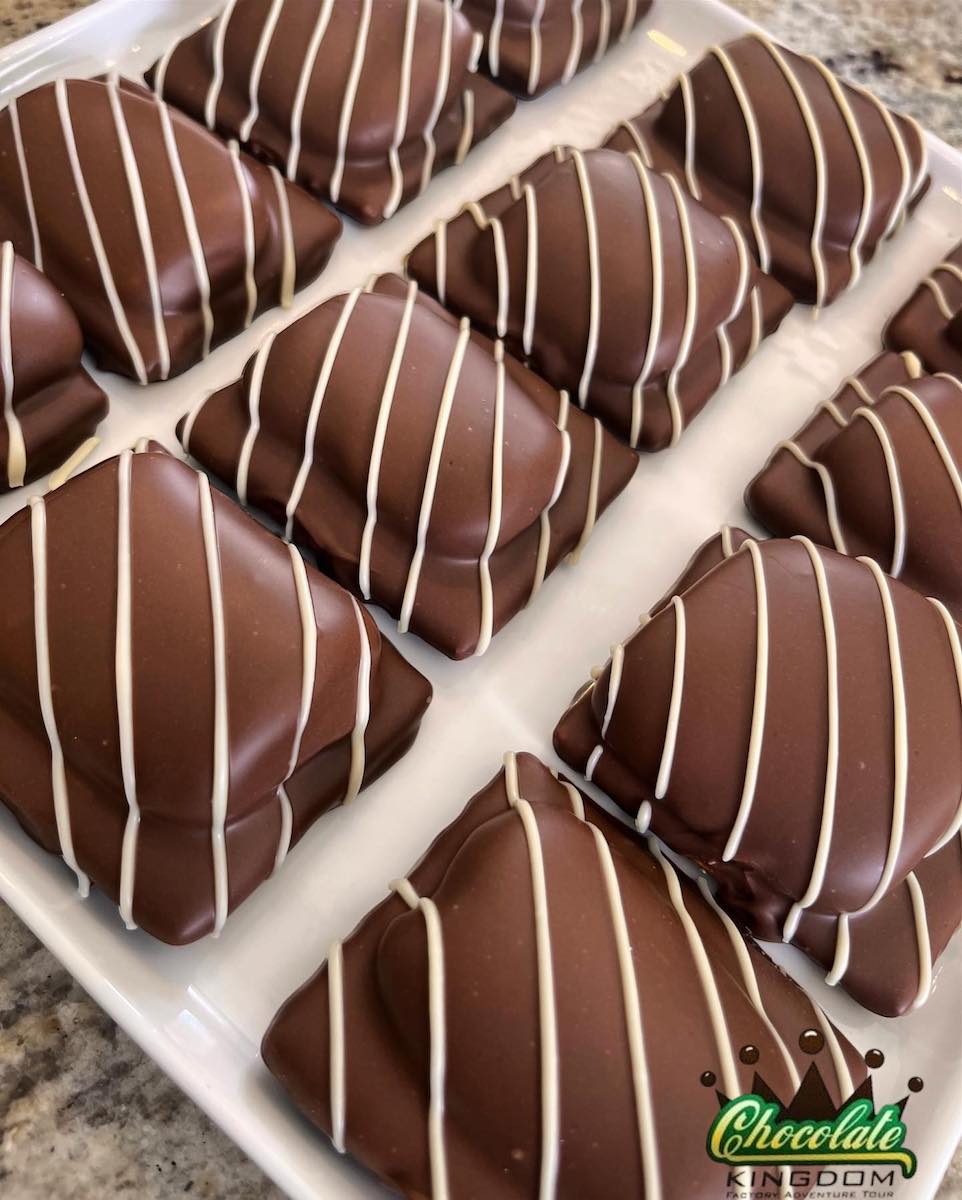 Explore the sweet side of Orlando at Chocolate Kingdom, where the Factory Adventure Tour offers a deliciously sweet experience for families.
Discover the magical journey of chocolate, from bean to bar, as you embark on an interactive tour and enjoy tasty samples throughout!
Learn about the chocolate-making process, with fun facts and immersive exhibits that will captivate both young and old.
You'll witness chocolate creation in action and even have the chance to customize your own chocolate bar (at an additional cost)!
The Factory Adventure Tour at Chocolate Kingdom is a unique and delicious way to spend quality family time in Orlando – and the gift shop is the perfect place to find a tasty souvenir to take home!
47. Titanic Artifact Exhibition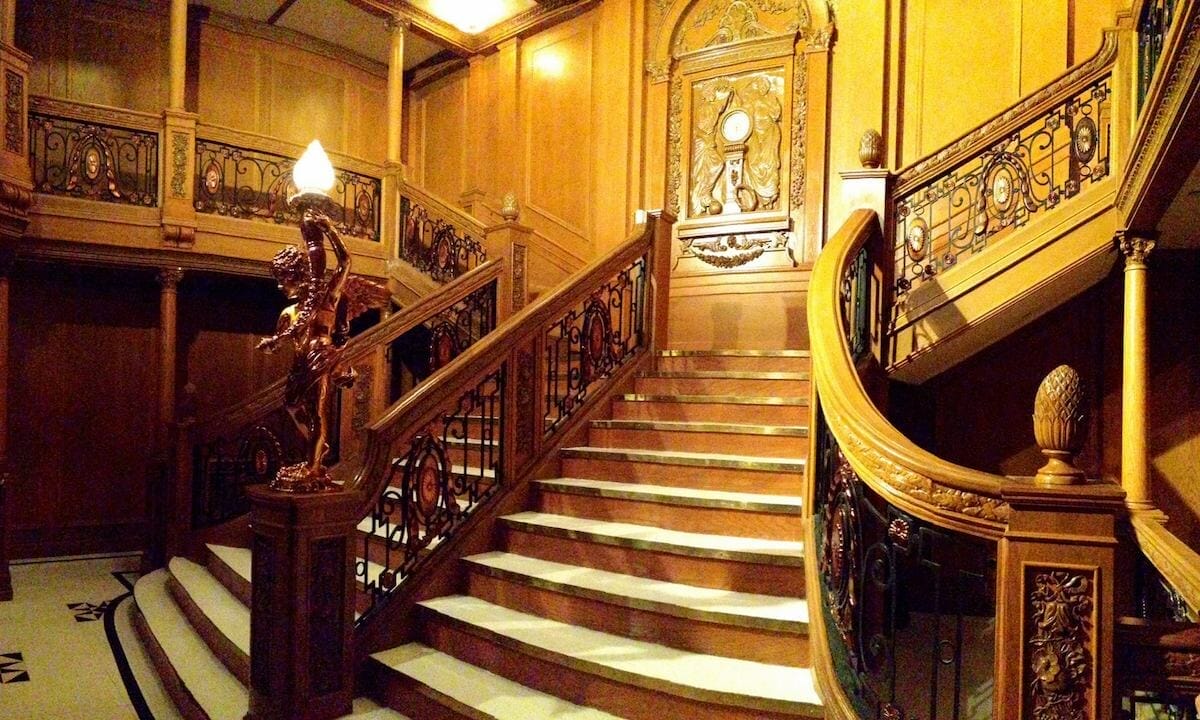 Experience a captivating journey back in time at the Titanic Artifact Exhibition!
Explore 17 galleries filled with over 100 newly added artifacts recovered from the famous shipwreck site.
Step into full-scale recreations of the Grand Staircase, First Class Cabin, Verandah Café, and more, bringing the history of the Titanic to life.
Walk along the Promenade Deck, feeling the Atlantic breeze and stargazing, just as the passengers did on that fateful night.
With actors in period costumes sharing stories and an extensive Underwater Room showcasing 400 artifacts, this interactive museum promises an unforgettable and immersive experience for the whole family.
Fun Places to Eat in Orlando With Kids
There are a ton of fun activities in Orlando for families, but what about when mealtime rolls around?
Whether you've got picky eaters on your hands, you're craving some interesting atmosphere, or even looking for family-friendly entertainment during dinner, there are plenty of places to eat in Orlando for families!
48. See a dinner show with pirates!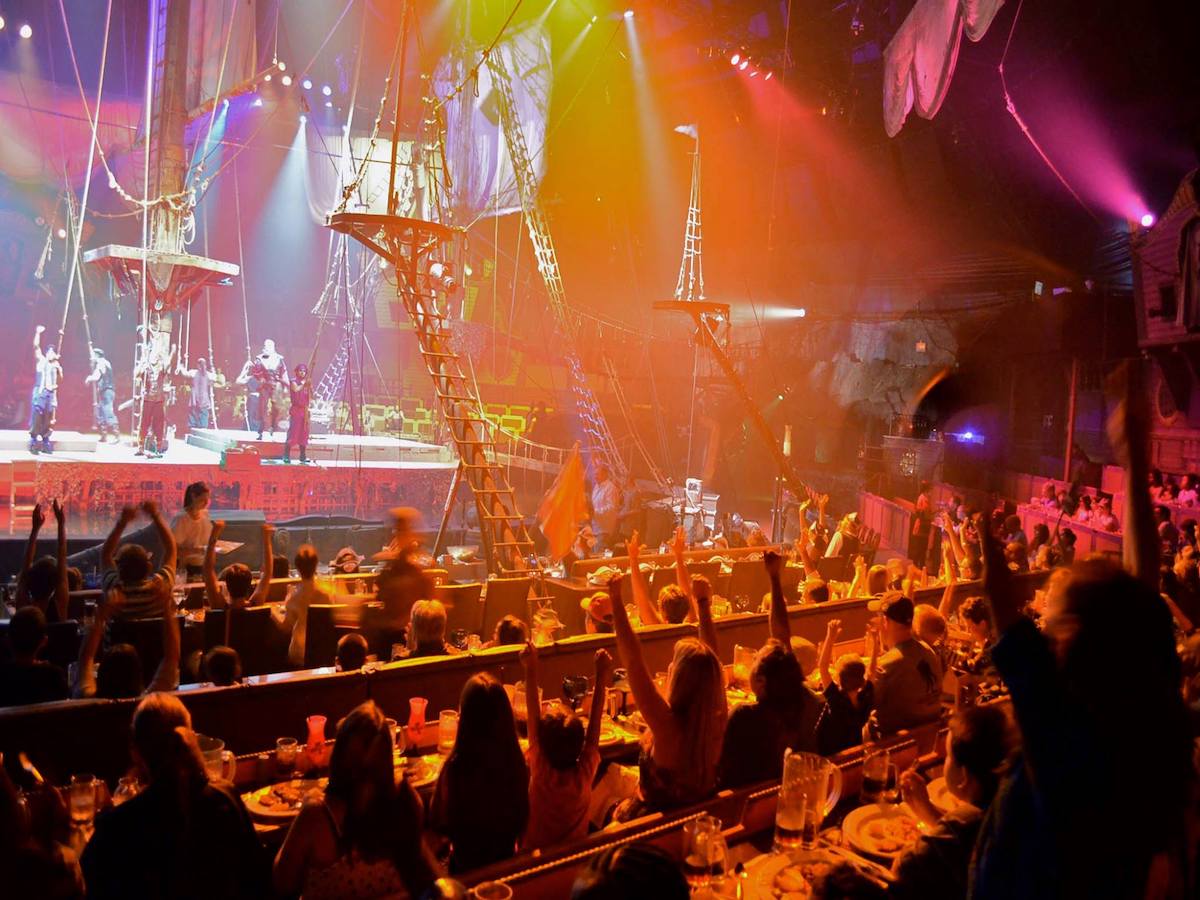 Ahoy there, mateys!
Get ready for a rip-roaring good time at this pirate-themed dinner theater in Orlando!
Hop aboard an impressive 18th-century Spanish galleon replica and let your imagination sail on an unforgettable adventure.
Feast on a scrumptious 3-course meal with unlimited soft drinks as you witness an action-packed show filled with songs, laughs, and pyrotechnics.
The kids will be in awe as they watch the dastardly Captain Sebastian the Black and his rowdy crew face off against the brave Benjamin Blue and the lovely Princess Anita.
You'll all be part of the fun as the audience gets in on the action!
After the show, stick around for the Pirates Bash Dance Party, where you can dance, take pictures, and meet the lively characters.
Bring the whole family and be ready to hoist the anchor for an evening of swashbuckling fun!
49. …Or medieval knights!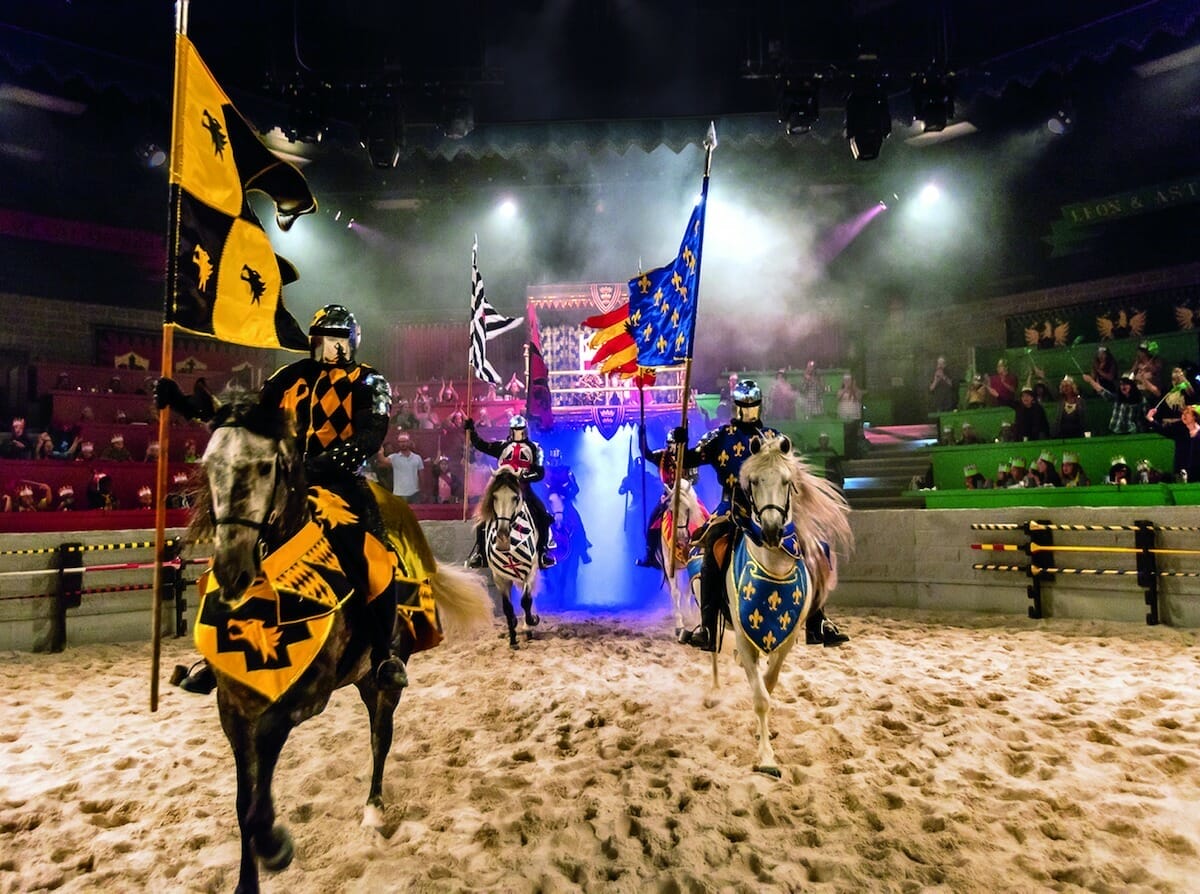 Step into an enchanting world at Medieval Times Dinner & Tournament, an unforgettable family dining experience located just outside Orlando in Kissimmee, FL.
Transport your family to an 11th-century European castle and enjoy a 4-course feast with no utensils – just like in medieval times!
Watch an action-packed live show featuring jousting, sword fights, horsemanship, and falconry as you enjoy a hearty meal in a setting like no other!
The menu includes garlic bread, tomato bisque soup, oven-roasted chicken, and more, with vegetarian options available (and, of course, dessert!).
Enjoy free parking and access to the Medieval Life Village and Museum as part of this package deal!
50. Keke's Breakfast Cafe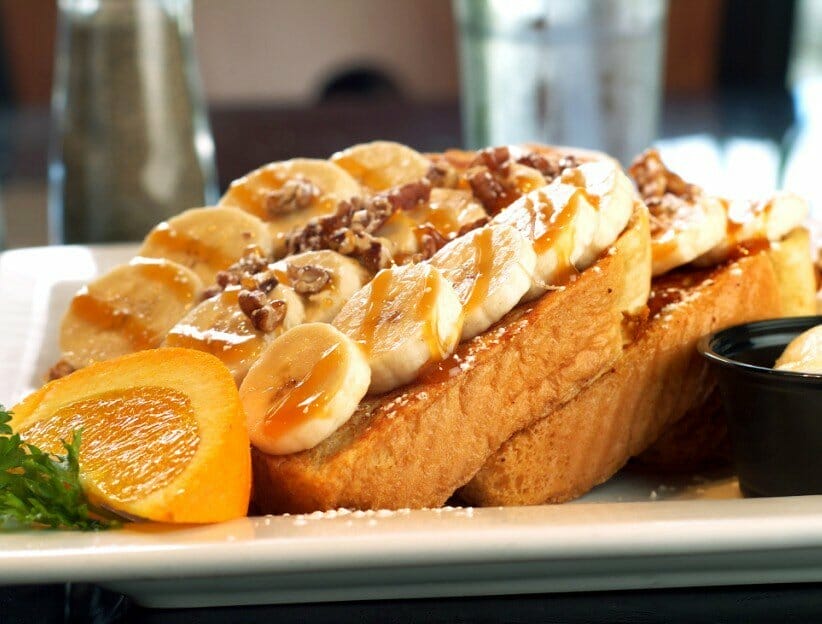 Looking for the best place for breakfast in Orlando for families?
Rise and shine and head over to Keke's Breakfast Cafe!
This Florida chain has a handful of locations in Orlando, with the most popular one nestled in a nice little shopping center on Dr Phillips Boulevard.
Stop in for breakfast as early as 7:00 AM, and enjoy a delicious meal in a comfortable booth with the family.
Whether you're craving sweet, savory, or a little of both, Keke's has got you covered!
Try one of their mouthwatering waffles, or opt for an omelet with home fries!
Can't decide on just one thing?
Create your own combo and satisfy those cravings in one delicious meal!
51. T-Rex Cafe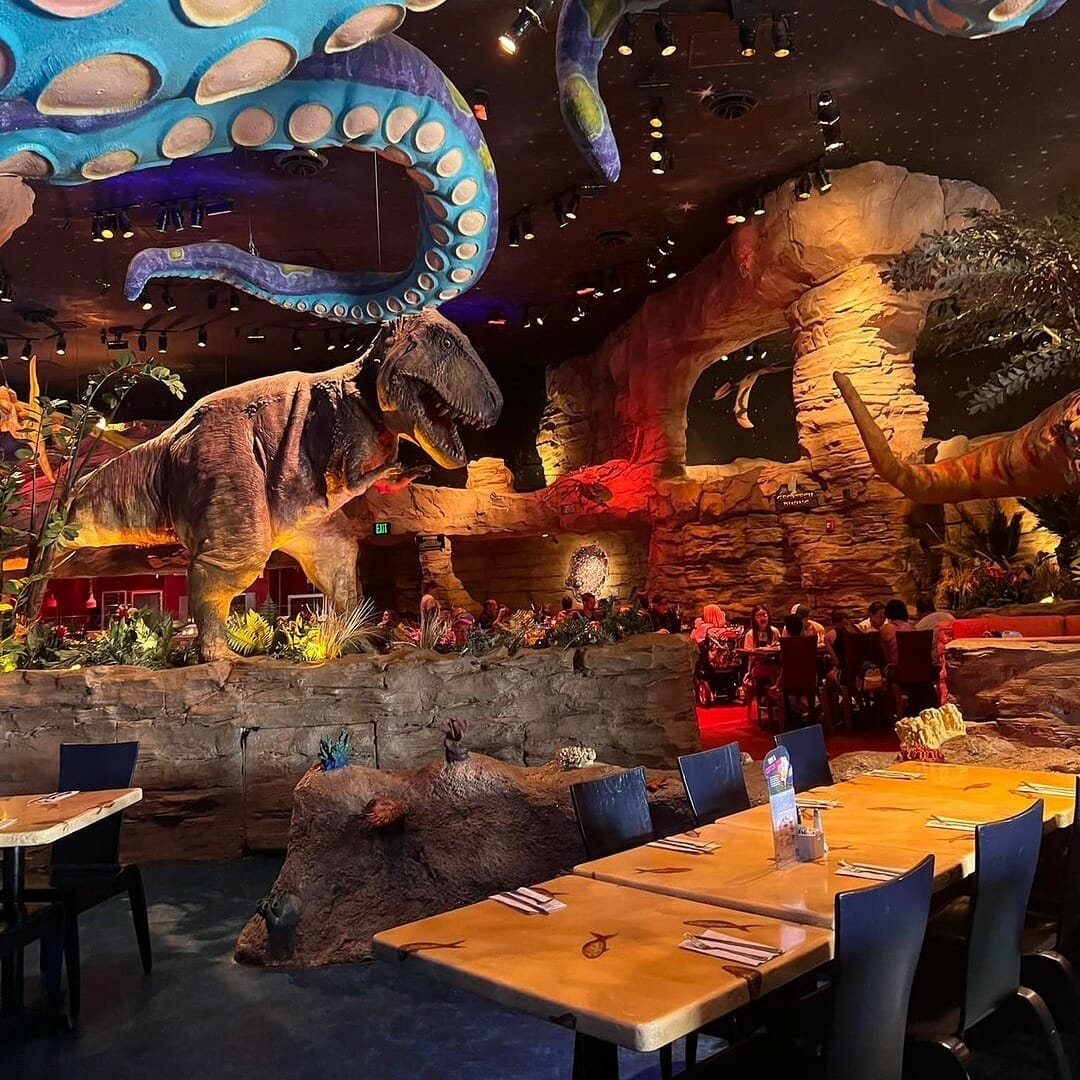 Embark on a prehistoric adventure right in the heart of Disney Springs at T-Rex Cafe!
This family-friendly restaurant takes you back in time to the age of dinosaurs, offering a dining experience like no other.
From the moment you step inside, you'll be transported to a world filled with life-size animatronic dinosaurs, simulated meteor showers, and an enormous octopus looming over the underwater-themed bar!
The extensive menu features a variety of delicious dishes for all ages, including kids' favorites and specialty cocktails for the grown-ups.
With its immersive theming and exciting atmosphere, T-Rex Cafe guarantees a memorable dining experience for the whole family.
It's free to enter Disney Springs, but due to the popularity of restaurants in this area, it's recommended to make a reservation in advance!
52. Rainforest Cafe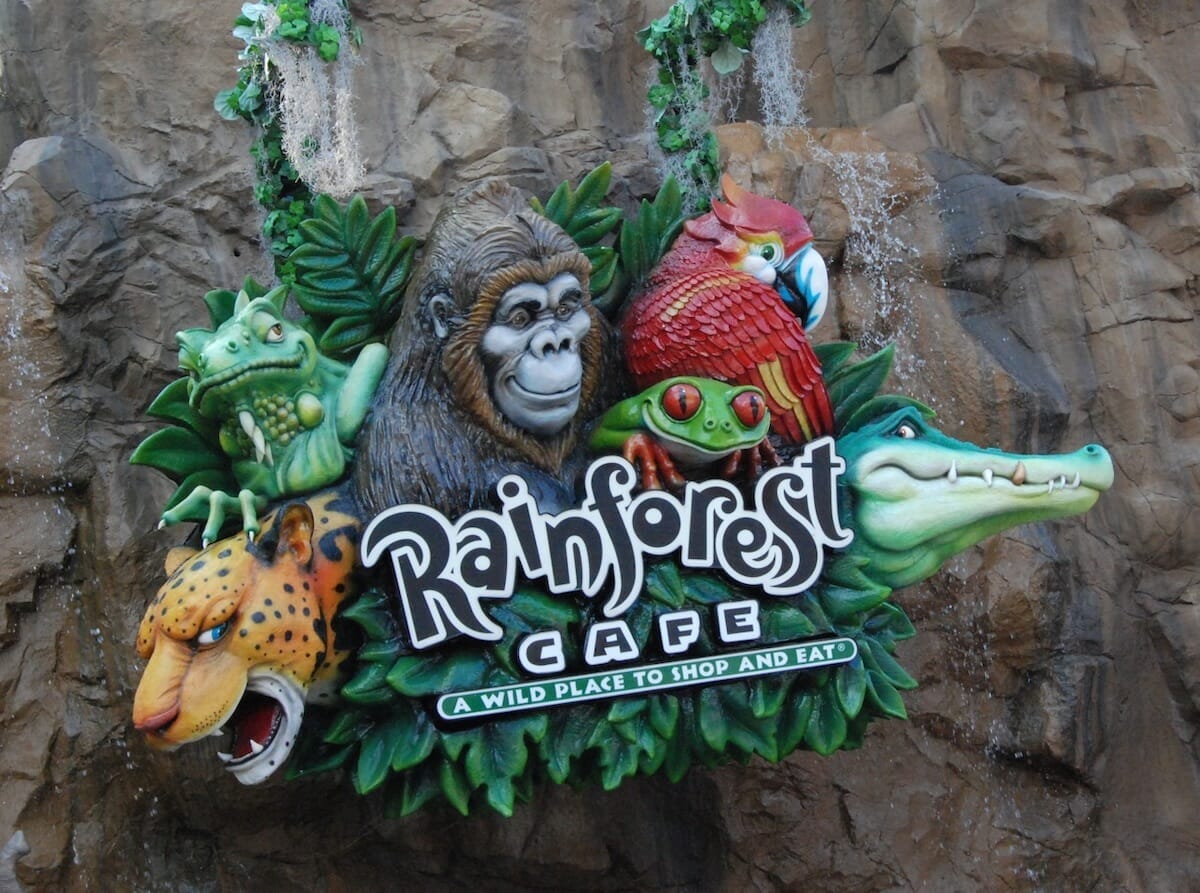 Step into a world of adventure and dining at Rainforest Cafe, a family-friendly restaurant that brings the rainforest to life!
Located in Disney Springs, this immersive dining experience is a hit with kids and adults alike.
As you step inside, you'll be surrounded by lush foliage, animated wildlife, and the sights and sounds of the jungle.
Enjoy a diverse menu that caters to all tastes, from hearty entrees to delectable desserts.
Kids will be mesmerized by the animatronic animals and interactive elements, making every meal here an unforgettable journey through the rainforest!
53. Antojitos Authentic Mexican Food
Did you know that one of the best places to get Mexican food in Orlando is located right along the lively Universal CityWalk?
Antojitos Authentic Mexican Food is an excellent place to bring your family for a delicious lunch or dinner!
The colorful building will definitely catch your eye as you approach this popular restaurant, and the fun atmosphere continues as you step inside.
Immerse yourself in a world of color and music as you enjoy the live mariachi band on select evenings, and be sure to opt for the colorful outdoor seating if the weather's nice!
Whether you're in the mood for tacos, burritos, quesadillas, or any other authentic Mexican dishes, you'll be in the right place here!
Top Tip: This popular spot can fill up at meal times, so it's recommended to get a reservation to ensure you get a table!
54. Hard Rock Cafe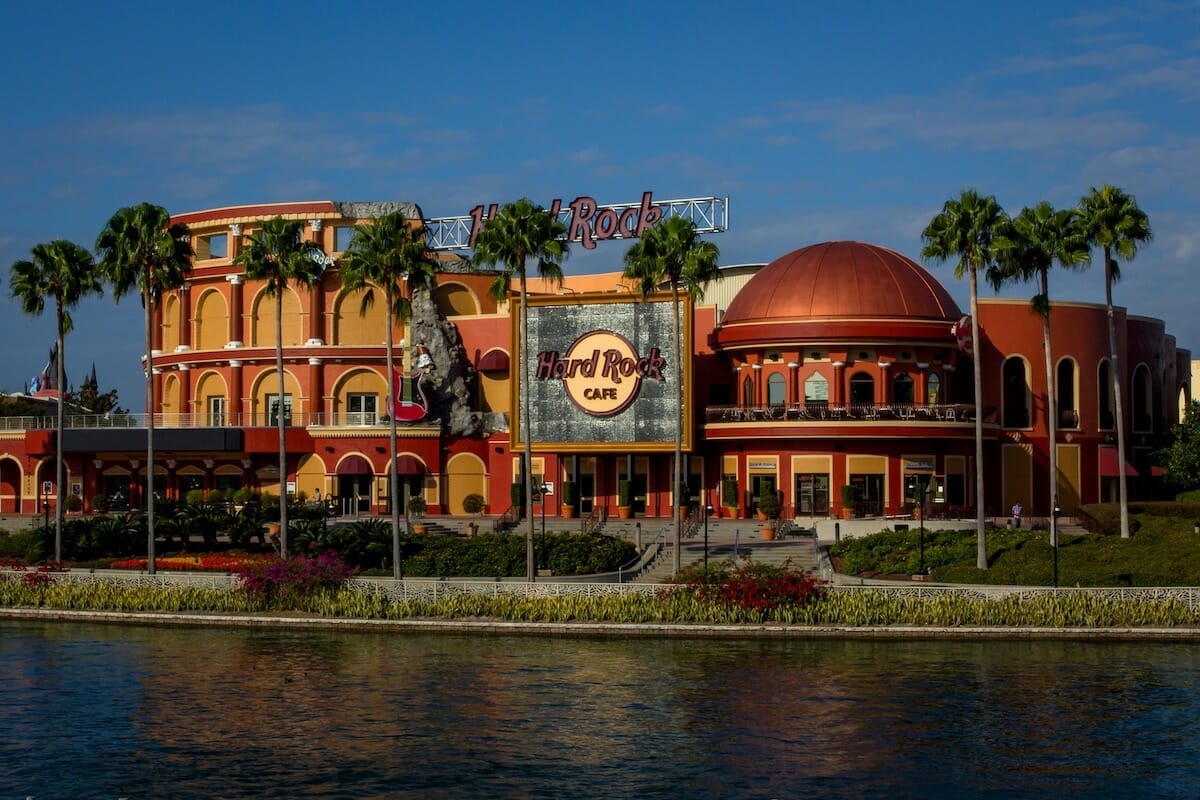 Rock out with your family at the Hard Rock Cafe in Universal CityWalk Orlando!
This iconic restaurant is a haven for music enthusiasts of all ages – and don't worry, you don't have to pay to get into the Universal CityWalk.
At the Hard Rock Cafe, you'll be surrounded by rock memorabilia, from guitars once played by legendary artists, to iconic costumes, to nostalgic photos.
The menu is filled with mouthwatering American classics, including juicy burgers, savory steaks, and delicious desserts.
Kids will love the children's menu tailored just for them, with burgers, chicken tenders, pizza, and more!
Soak in the rock 'n' roll atmosphere while enjoying a great meal, and don't forget to check out the connected shop for awesome souvenirs.
This is a dining experience in Orlando that'll leave you singing!
55. El Palacio Buffet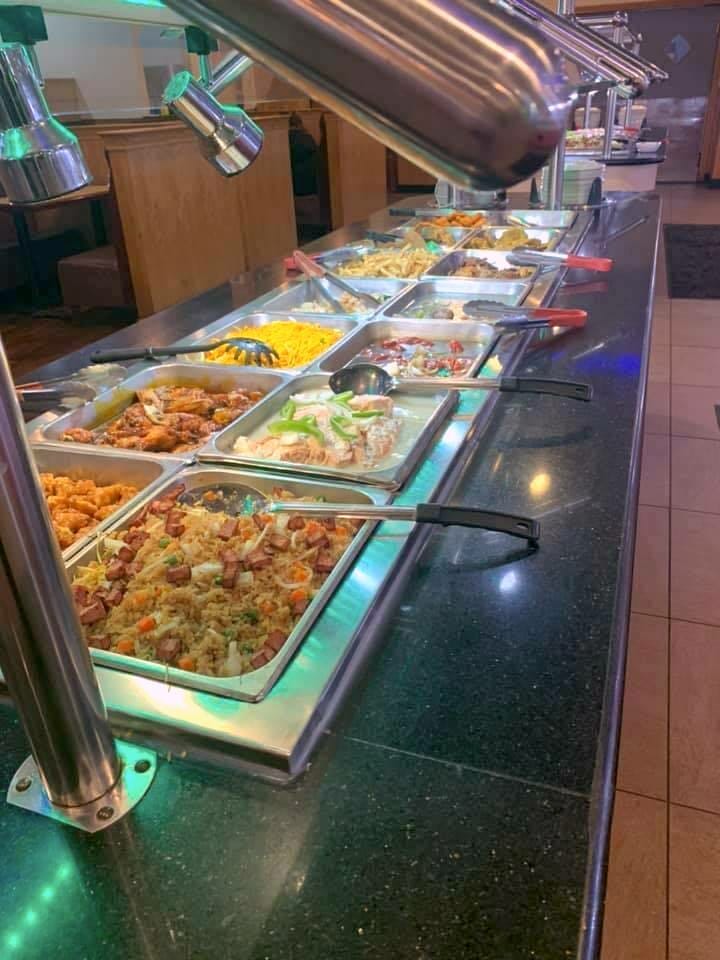 Kids love buffets, and they'll revel in their choice of delicious Latin American and Chinese food at El Palacio Buffet in Orlando!
Located next to a bowling alley just a mile from The Florida Mall, you'll be free from the chaos of theme park dining at this no-frills establishment.
You may not get the atmosphere of the restaurants in Disney Springs or Universal CityWalk, but your family will revel in the choices of diverse cuisine offered here.
Fill up your plate with fried rice, vegetable rolls, and sushi, as well as oxtails, chicken, and even Creole dishes!
With a myriad of tasty food from around the globe, even families with picky eaters are sure to find something here to satisfy everyone.
Fun Shopping Centers in Orlando for Families
Shopping is a fun part of any vacation, and there are plenty of spots to get your shopping on in Orlando!
From finding the perfect souvenirs, to putting together a new outfit, to venturing into stores that will keep your young ones entertained, check out these great Orlando shopping centers for families!
56. Disney Springs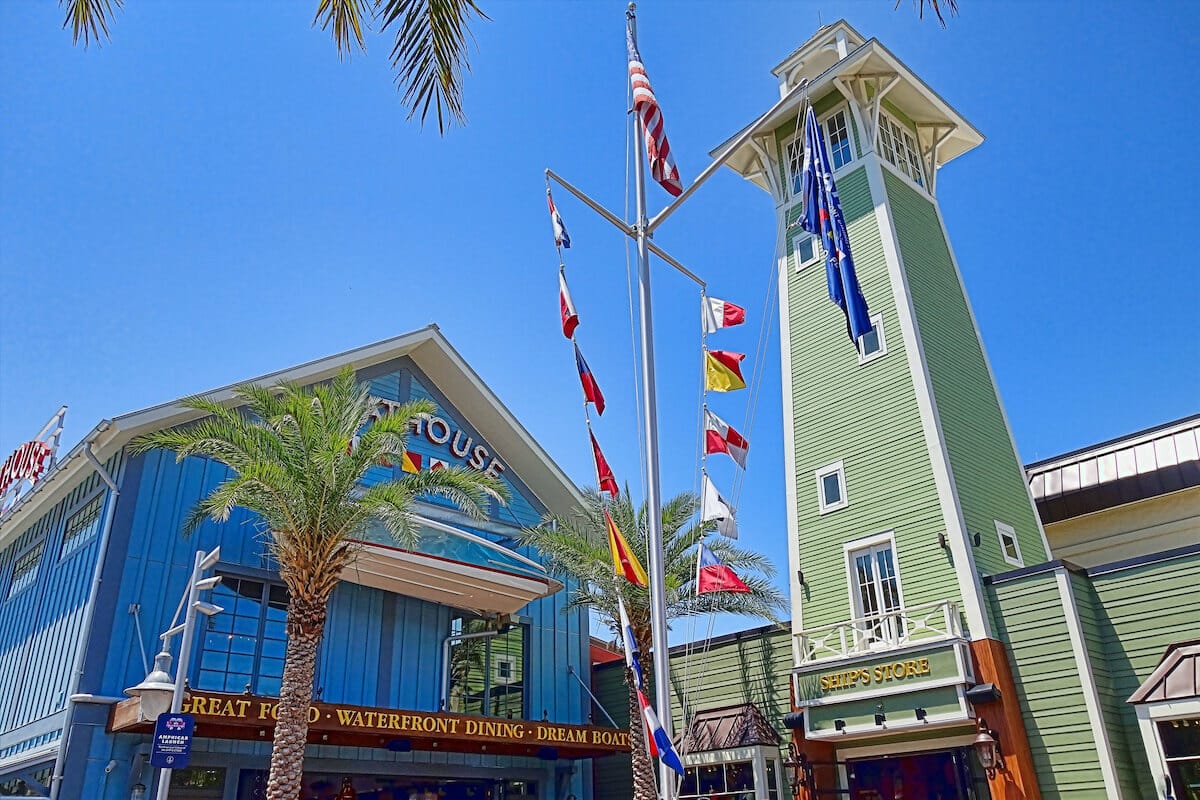 Looking for a sprinkle of Disney magic without the theme park ticket?
Look no further than Disney Springs!
This vibrant and lively entertainment district offers a taste of the Disney experience without the need for admission.
Stroll through charming streets filled with shops, restaurants, and entertainment galore.
Let your taste buds dance at the variety of dining options, from classic American cuisine to international flavors.
Catch a captivating live performance or explore unique boutiques, and don't forget to take a few family photos on the carousel!
Kids will adore the LEGO Store and the World of Disney, while adults can relax at watering holes like Jock Lindsey's Hangar Bar.
Disney Springs is the perfect way to add a dash of enchantment to your Orlando adventure without breaking the bank!
57. Universal CityWalk Orlando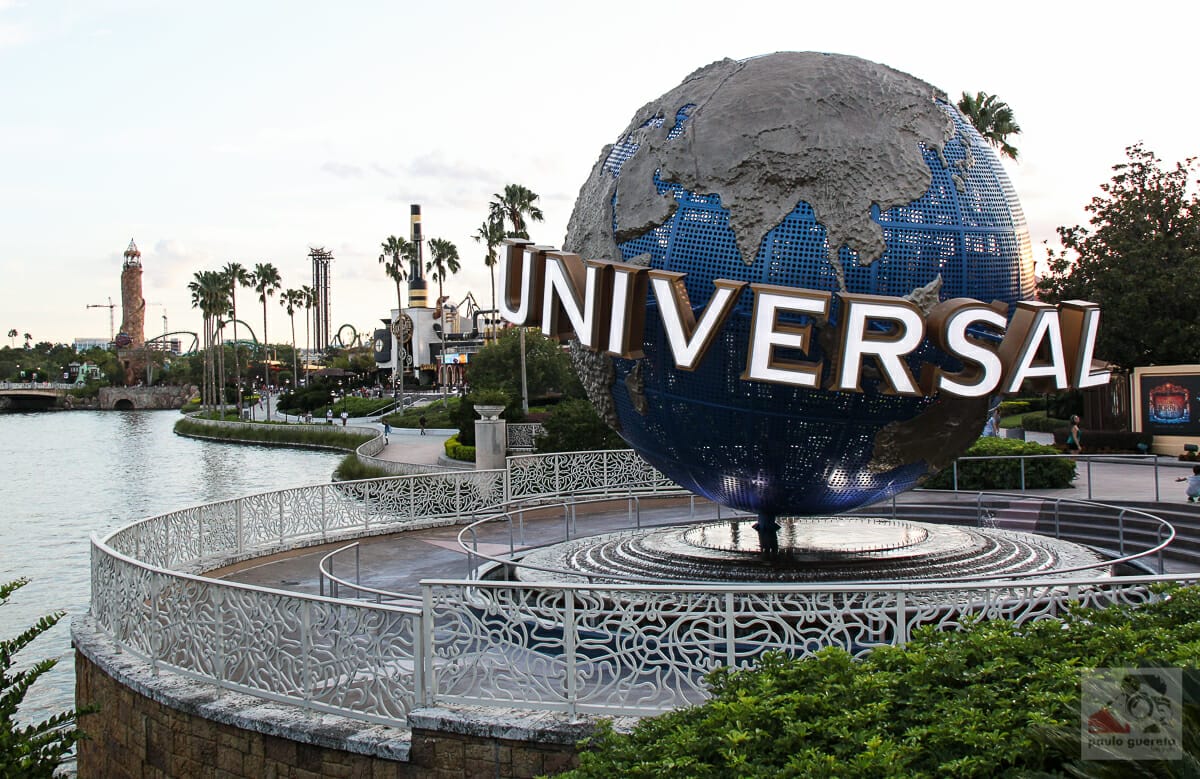 If Disney isn't your thing, but you still want a taste of the Orlando theme parks without paying those hefty admission prices, check out Universal CityWalk!
This lively destination offers a dynamic mix of restaurants, shops, and entertainment venues, making it an ideal spot for families seeking fun outside the theme parks.
See a movie at Universal Cinemark, get some souvenirs at the Universal Studios Store, or grab a meal or a quick snack at one of the many eateries on offer!
For an immersive dining experience, have lunch or dinner at Margaritaville – a fun (and yes, family-friendly) restaurant themed after Jimmy Buffett's hit song.
Or, of course, there's the Hard Rock Cafe!
You'll definitely want to take a few family photos amidst all the unique shopping and dining attractions, and don't forget to get one in front of the iconic Universal globe!
58. The Florida Mall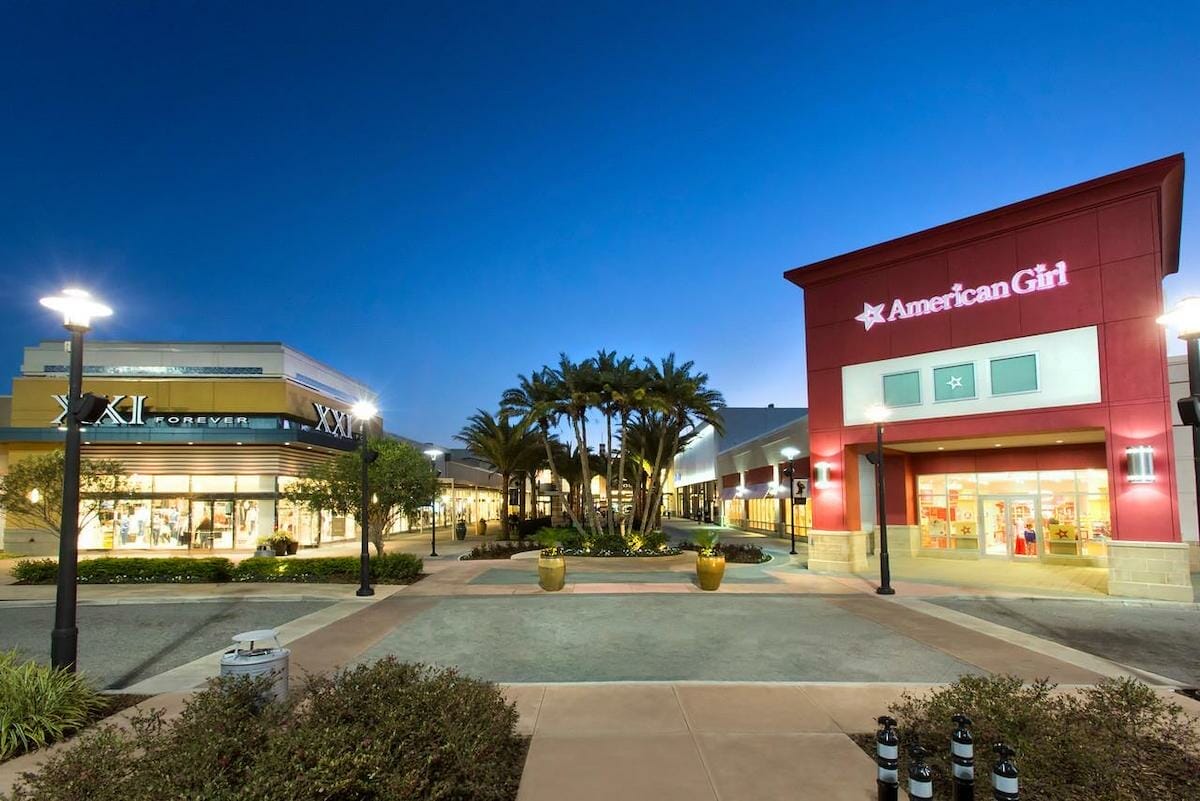 Ready for a shopping extravaganza?
Head on over to The Florida Mall, where you'll find something for everyone in the family!
This massive shopping paradise is packed with a wide array of stores and exciting attractions.
Kids will love exploring the American Girl store and creating their own furry friend at Build-A-Bear.
Watch their creativity come alive at the Crayola store, and let them unleash their inner gamers at Game Park.
With over 250 stores, you'll discover the latest fashion trends, electronics, and much more.
Don't forget to refuel at the food court and grab some delicious treats!
The Florida Mall is a must-visit destination for families looking for endless fun and fantastic shopping options in Orlando.
59. The Mall at Millenia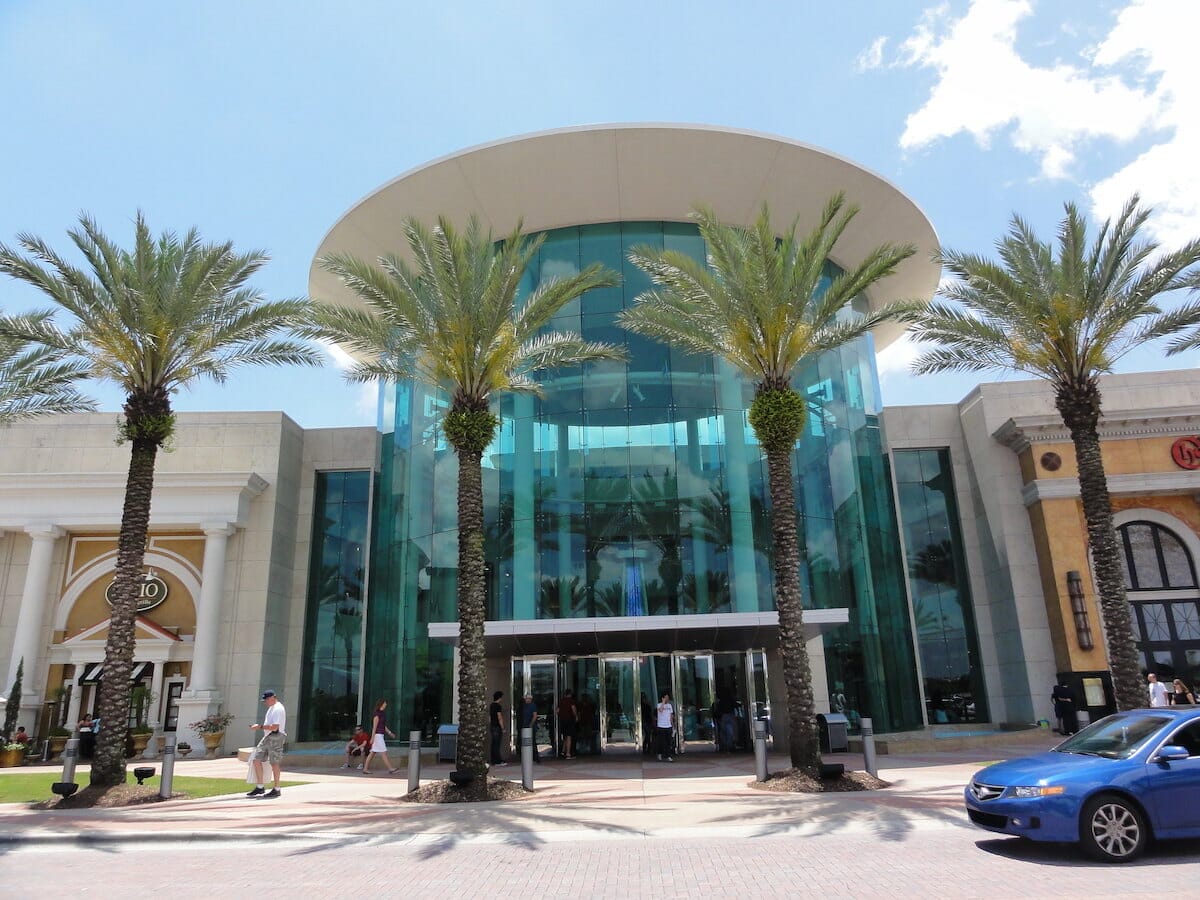 Another one of the best shopping malls in Orlando is The Mall at Millenia.
There, you'll indulge in a world of high-end brands and exquisite boutiques, offering everything from fashion to home decor.
Located right off of I-4, the glass ceilings of the main part of the mall lend themselves to a bright and clean shopping experience.
Immerse yourself in the elegant ambiance as you explore the latest trends and dine in the diverse food court.
With a range of dining options, you can savor delicious meals while taking a break from shopping.
The Mall at Millenia offers a sophisticated atmosphere perfect for a day of leisurely shopping and either casual or upscale dining.
Whether you're searching for designer fashion or simply want to enjoy a stylish day out, this destination promises a premium retail experience for the whole family.
60. Orlando Vineland Premium Outlets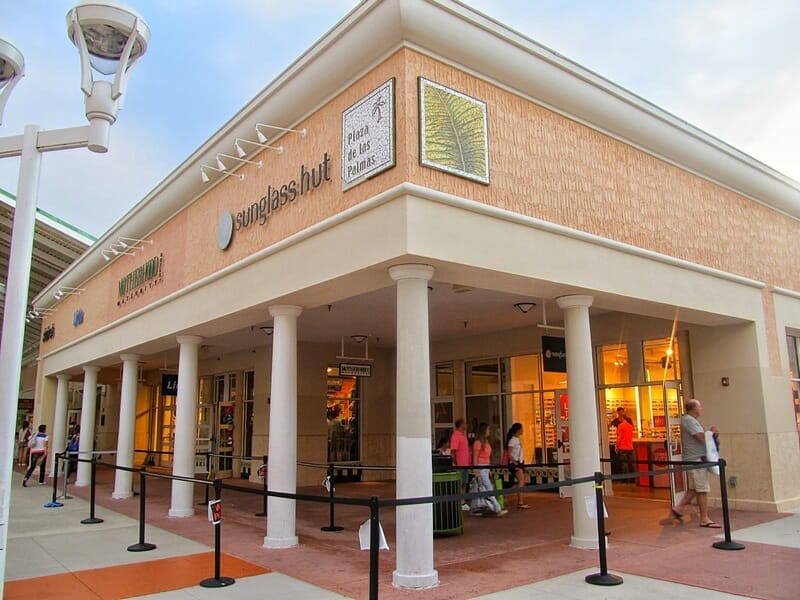 Discover shopping and dining excitement at the Orlando Vineland Premium Outlets.
With an array of high-end brands and designer stores, it's a shopper's paradise where you can find great deals on fashion, accessories, and more.
After indulging in retail therapy, refuel at the unique Ford's Garage restaurant!
Step into a car enthusiast's dream as you dine amidst vintage Ford vehicles and car-themed decor.
There, you'll enjoy delicious comfort food and refreshing beverages in an ambiance that's perfect for families and friends.
Top Tip: Ford's Garage can get pretty busy, so you might want to plan ahead and make a reservation to ensure you get to dine at this unique spot!
Whether you're hunting for stylish finds or seeking a memorable dining experience, the Orlando Vineland Premium Outlets offers a blend of shopping and indulgence.
Festivals and Events for Families in Orlando
Looking for fun things to do in Orlando throughout the year?
This bustling city is full of exciting festivals and events for families to enjoy no matter the season!
We've listed several of them below, but be sure to check the City of Orlando events calendar to find out what else is happening during your travels!
61. Central Florida Fair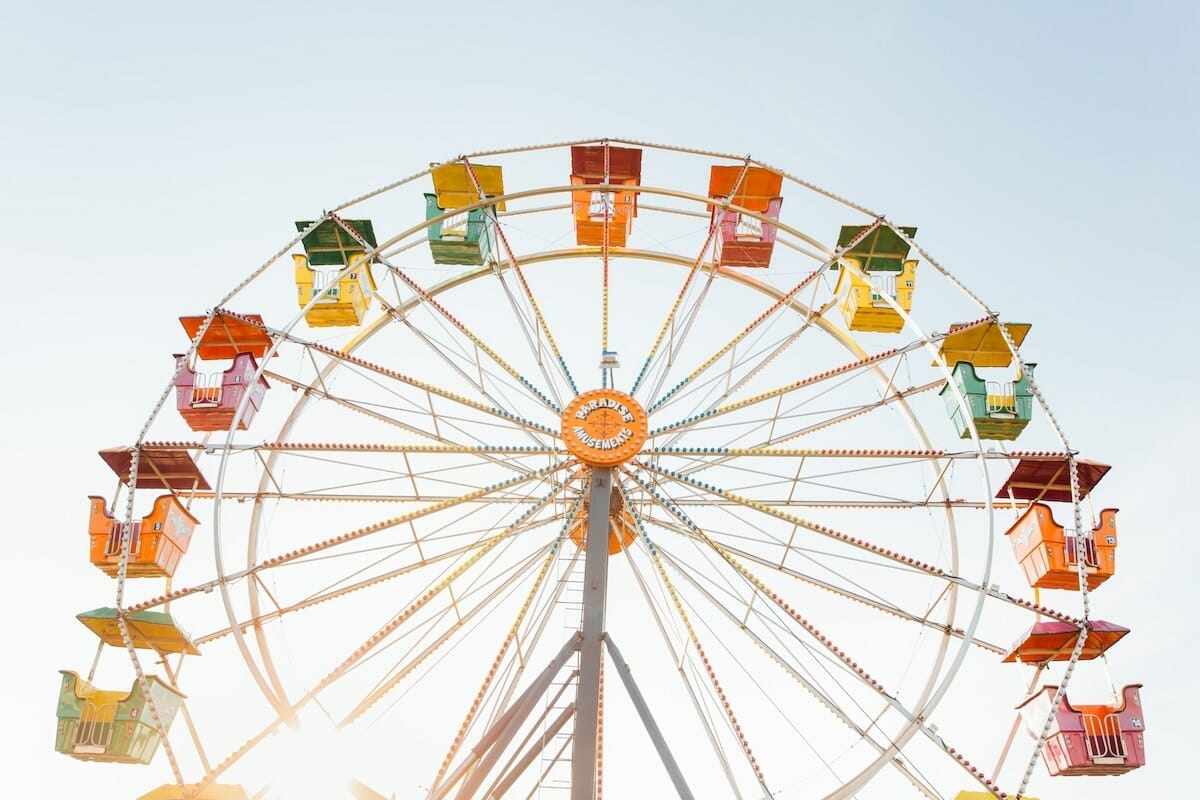 One of the biggest annual events in Florida is the Central Florida Fair!
From thrilling rides and classic carnival games to mouthwatering food and live entertainment, the fair offers something for everyone in the family.
Watch as your kids' faces light up when they ride the Ferris wheel, and enjoy the laughter and cheers as they try to win the biggest prize at the carnival games.
Indulge in the diverse food options, from classic cotton candy or funnel cake to savory options like hot dogs or BBQ.
Happening in late winter every year (when the sun still shines but isn't too hot), the Central Florida Fair is a perfect way to create cherished memories and celebrate the spirit of community together!
62. Orlando Fringe Festival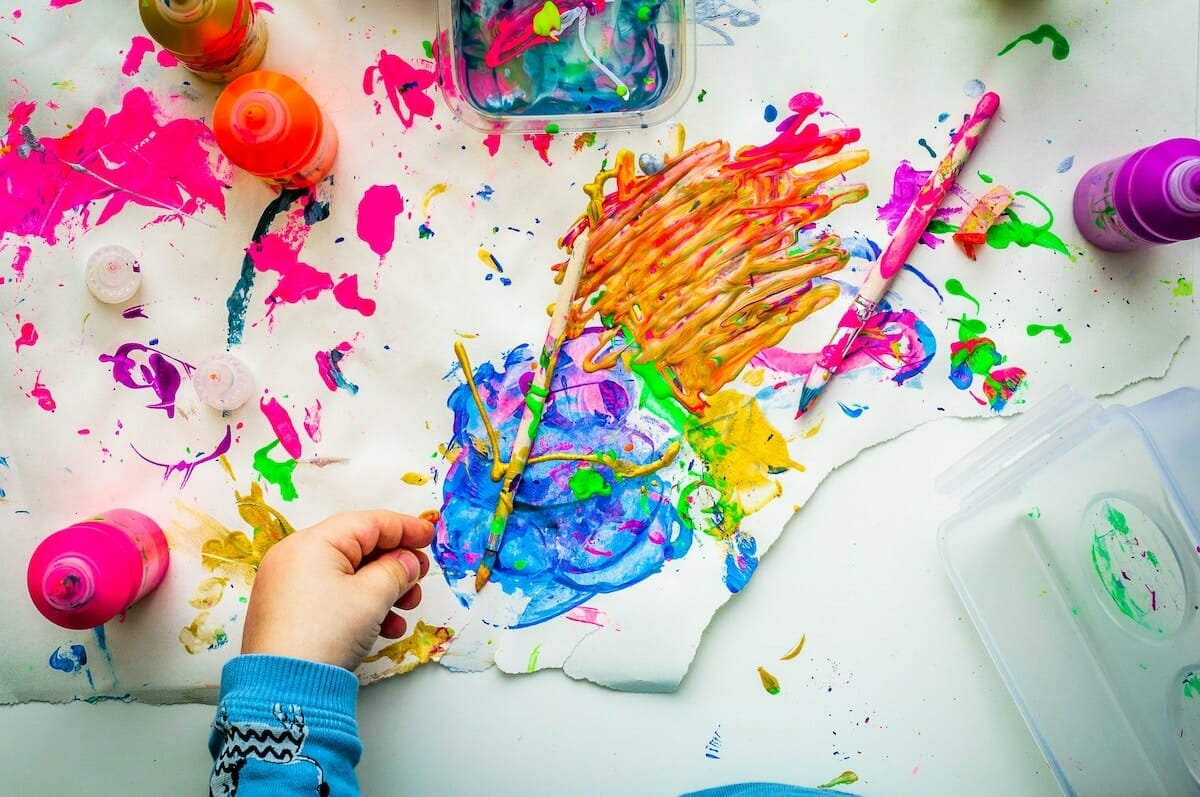 While the main part of the Orlando Fringe Festival tends to be more adult-oriented, there's a whole family-friendly world of wonder to experience during their Kids Fringe!
Stoke your young ones' creativity at this free event, where they'll participate in immersive activities centered around the arts.
Saturdays and Sundays during the regular Orlando Fringe Festival, the Kids Fringe area will entertain with live performances, arts & crafts, workshops, and more!
Games, art installations, and live music make this event a blast for the whole family.
And, of course, the older members of the family can venture into the main festival area if they're curious about this independent theater's unique performances!
63. Magical Dining Month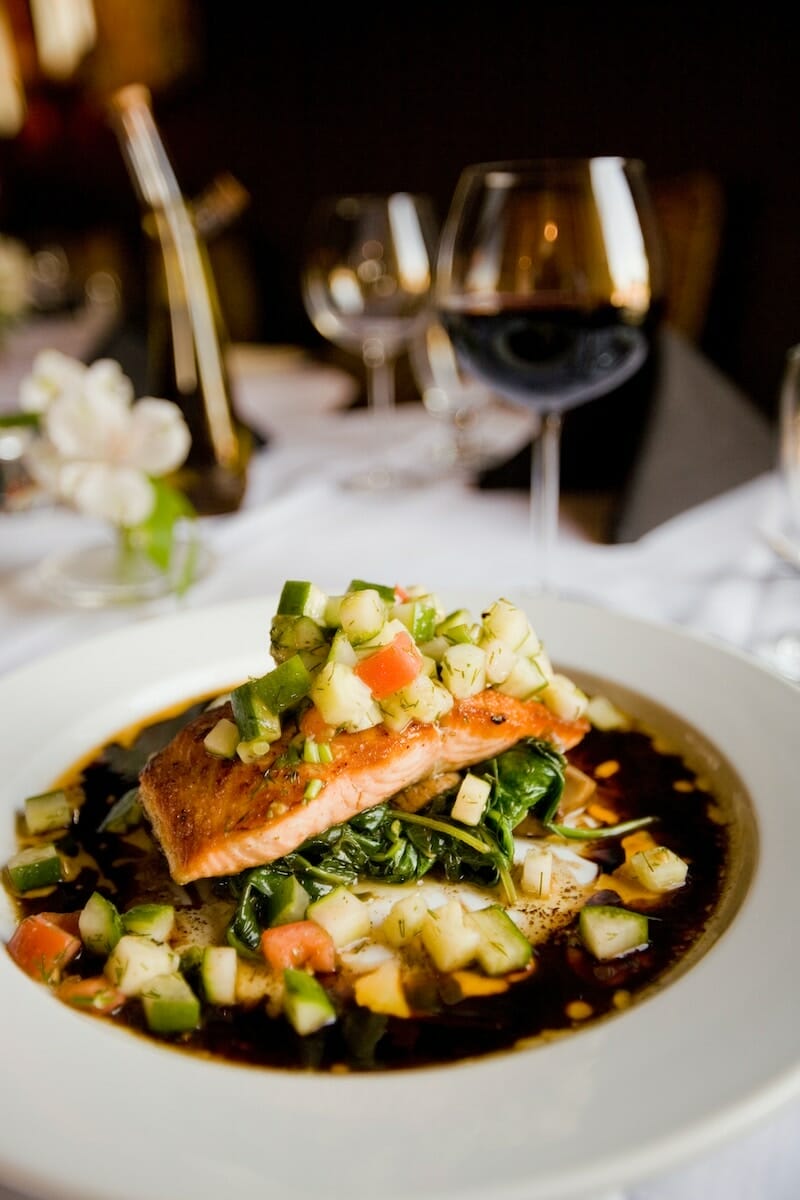 During Magical Dining Month, you can enjoy an extravagant family meal at one of Orlando's best restaurants – and help charity while you're at it!
One great dining experience can really make a family vacation stand out, and there's no better time to have one in Orlando than during this charity event.
Spanning about a month and a half in the summer, Magical Dining Month brings you the ultimate fine dining experience.
Participating restaurants in Orlando will serve you a delicious three-course meal at a fixed price (as of 2023, meals are either $40 or $60 per person).
Savor the culinary delights as you enjoy an appetizer, entree, and dessert with your family.
Be sure to bring your appetite; each person dining will have to have their own meal as there are no split plates allowed!
A portion of the cost of each meal will go directly to support local nonprofits, so you can enjoy a good meal and know you're also helping people in need.
64. Hot Air Balloon Festivals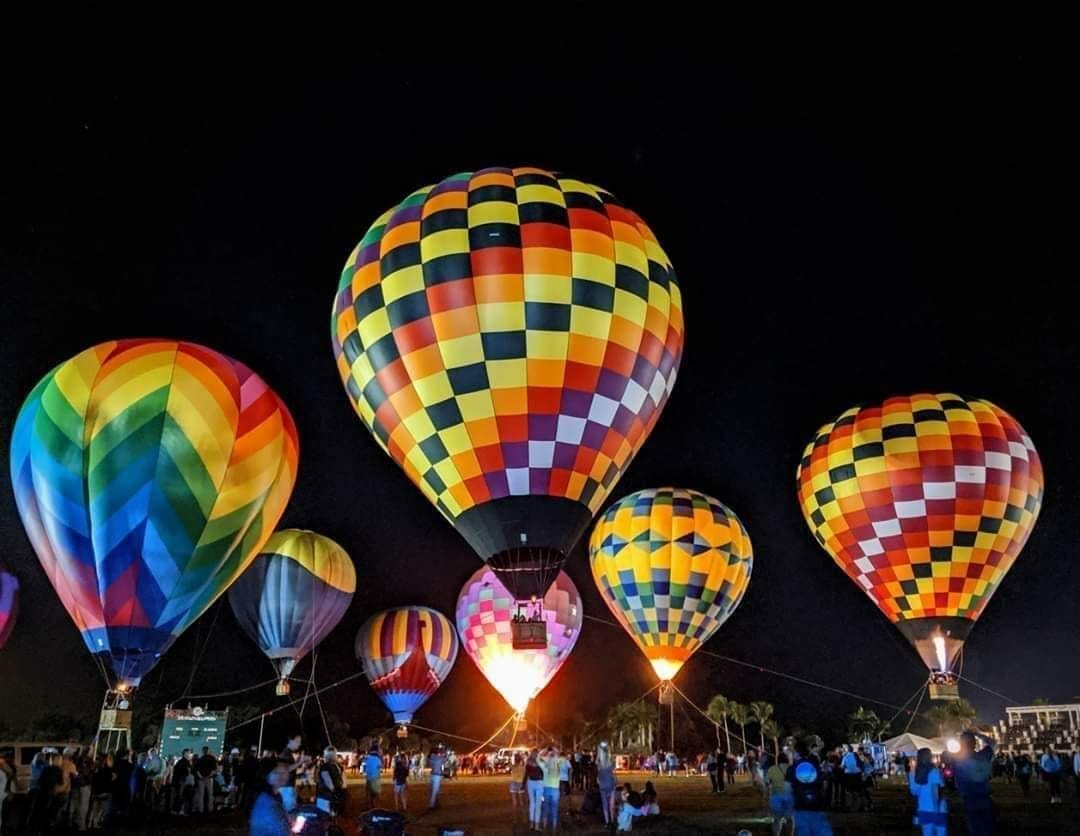 There have been a few different hot air balloon festivals in and around Orlando over the years, and any of them would be an excellent choice for some family fun.
At these exciting events, colorful balloons abound, brightening the area and filling every attendee with wonder.
Blue Jacket Park's Orlando Balloon Glow is especially mesmerizing, where lighted balloons fill the park with a warm glow in the evening.
Beyond the balloons, you'll often see retail vendors and food trucks, making this a full day of fun for the whole family!
You may even have the chance to pay extra and take a ride in one of the balloons – a sure way to create lasting memories.
Dates and locations of hot air balloon festivals in Orlando vary, so be sure to do a quick Google search to find out when and where the next one takes place!
Family-Friendly Things to Do Near Orlando
Orlando is full of magical experiences for the whole family to enjoy, but there's also a ton of fun to be had in the surrounding area!
If you're up for a day trip, here are some family-friendly things to do near Orlando.
65. Visit the town of Celebration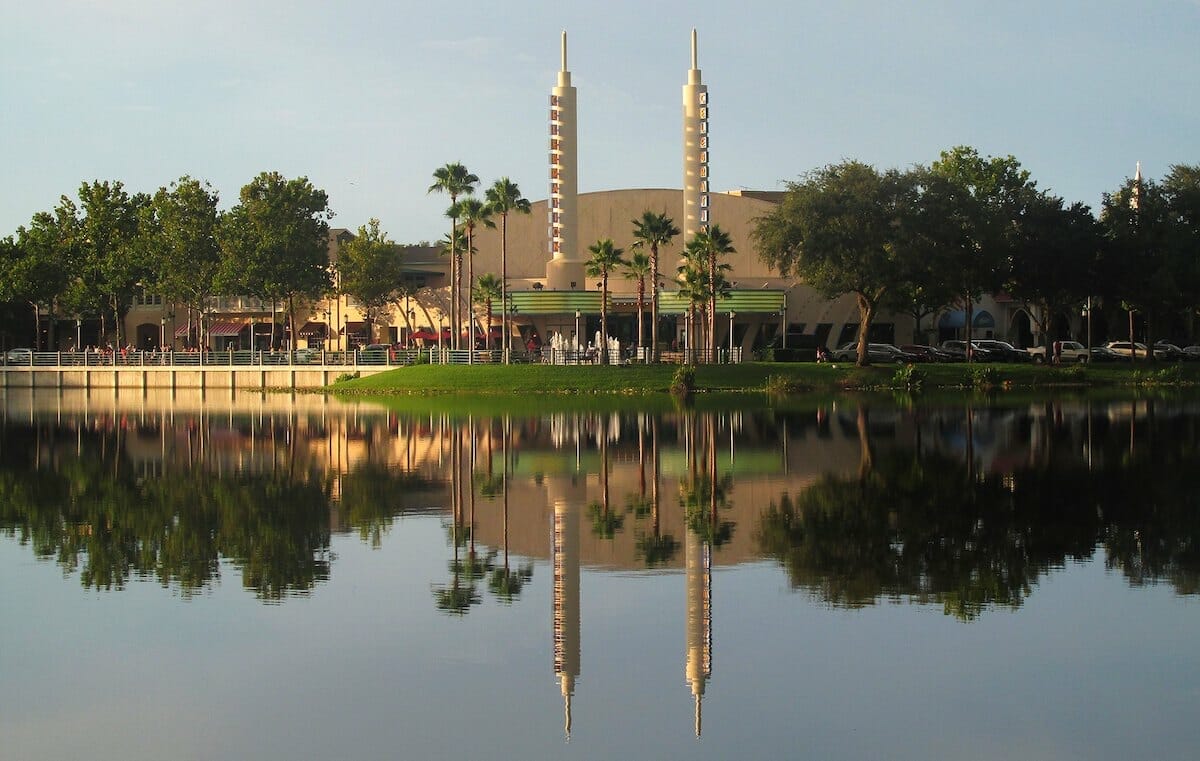 Create magical memories with your family in the charming town of Celebration, just a stone's throw away from Orlando!
This picturesque community was created by Disney and exudes a timeless small-town charm – perfect for a family day trip.
Stroll along the quaint streets, admiring the nostalgic architecture and friendly atmosphere.
Spend an afternoon in Celebration Lakeside Park, which offers scenic spots for picnics and leisurely walks.
Kids will delight in the splash pad during the summer heat, and the playgrounds are a great way to ensure they get their energy out before leaving town.
If you don't have a picnic in the park, head downtown for lunch at a local eatery, or treat yourselves to ice cream at Kilwins.
There's nothing like a satisfying scoop (or two!) of ice cream while you sit or walk along the scenic lakefront promenade, ideal for relaxing and soaking in the serene ambiance.
66. Visit St Augustine
This may be a little further afield than you might be expecting at 1 hour 45 minutes away from Orlando, but it deserves being on this list of what to do in Florida besides Disney World.
St Augustine was founded in 1565 by Spanish explorers, and it is the oldest continuously inhabited European-established settlement in the US.
There, you'll find a ton of history, culture, and charm, as well as a beautiful sea front and fort that you can explore.
St Augustine has museums and art galleries and shops, and the historic sites such as a fort and an old jail are definitely worth a visit.
You can even do a sightseeing tour and a haunted walk!
This hop-on, hop-off sightseeing tour is the best way to see the city.
67. Fort Christmas Historical Park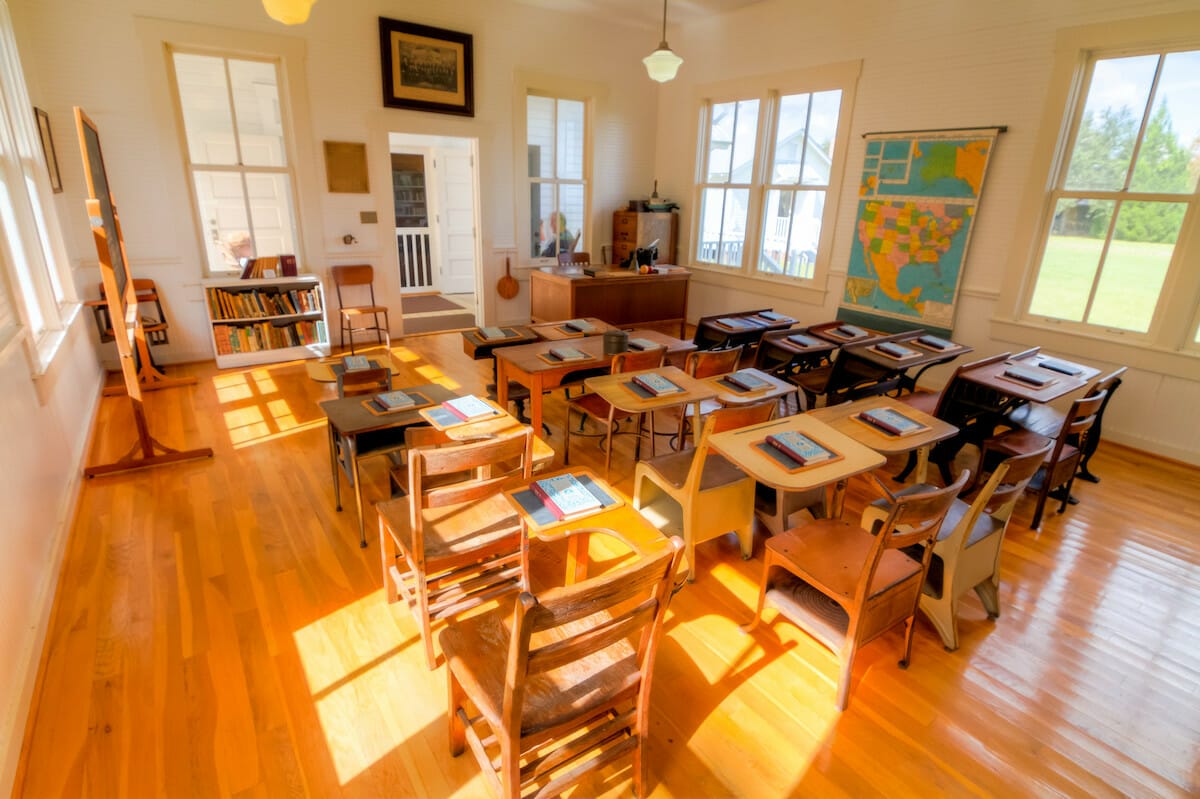 Step back in time with your family at Fort Christmas Historical Park, a hidden gem just 25 miles from Orlando!
This captivating park offers a glimpse into Florida's past with its full-size replica of an 1800s fort as well as authentic pioneer homes, a schoolhouse, lunchroom, and more.
Pack a picnic and eat under one of the pavilions, then discover the rich history of the region as you explore the exhibits and artifacts.
Curious kids will love learning about frontier life, but there's also a playground for the ones who just need to get their energy out!
Immerse yourselves in history and make lasting memories at Fort Christmas Historical Park—a truly unique and educational family outing.
Best Outdoor Activities Near Orlando
Florida is full of natural wonders, so you'll have no trouble finding outdoor activities near Orlando for you and your family to enjoy!
For some fresh air and rejuvenation, check out these outdoor things to do near Orlando.
68. Wekiwa Springs State Park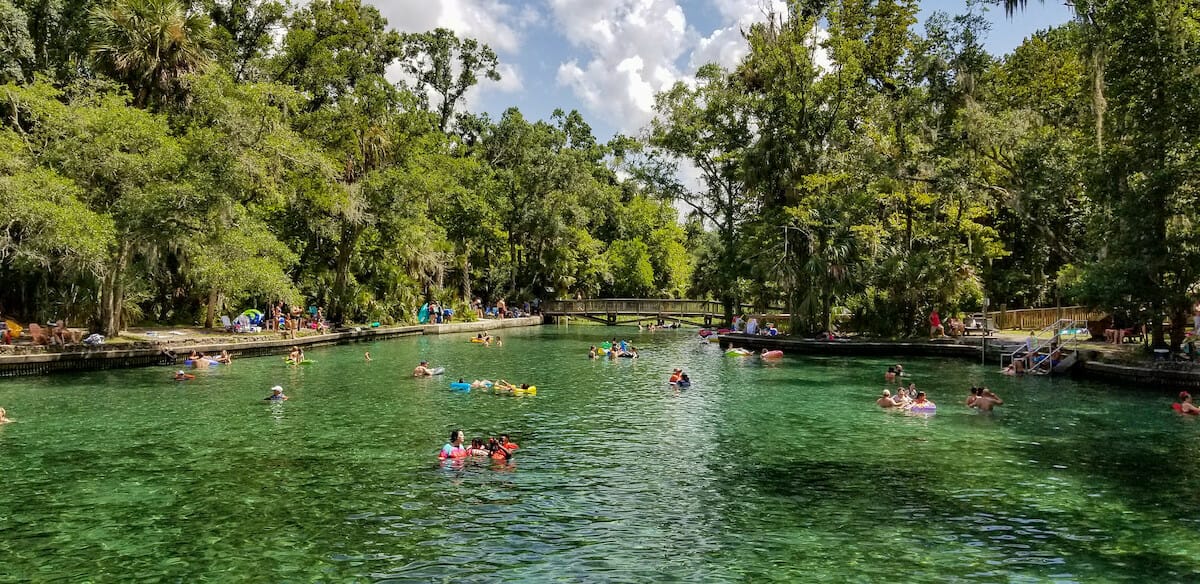 If you're looking for family-friendly state parks near Orlando, Florida, this is the place for you!
Wekiwa Springs State Park will have you traversing winding trails through lush forests, offering glimpses of native wildlife along the way.
Take a refreshing dip in the crystal-clear waters of the spring, or rent canoes and paddle along the serene Wekiva River.
The park provides the perfect backdrop for a family picnic, with shady spots and breathtaking vistas to enjoy.
Adventurous souls can indulge in hiking, biking, or even horseback riding through the captivating landscape.
Create cherished memories and connect with nature at Wekiwa Springs State Park— an ideal family retreat for endless outdoor exploration.
69. Blue Spring State Park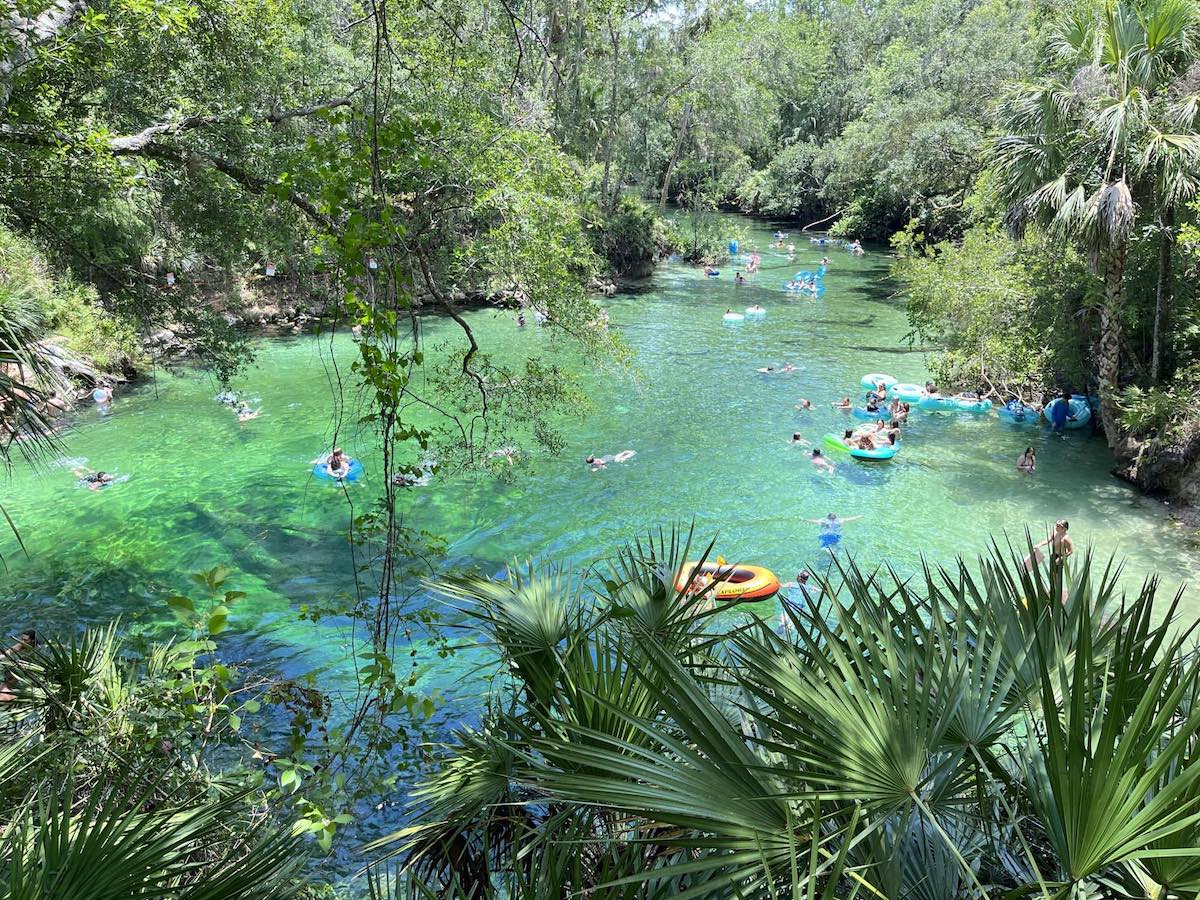 Embark on a family adventure at Blue Spring State Park, a natural gem located near Orlando!
Spend the day amidst nature's wonders, as the park offers a plethora of activities for everyone.
Enjoy hiking trails through lush landscapes and have your camera ready to capture native wildlife along the way.
Witness the majestic manatees as they make their home in the cool blue waters, but don't forget to watch out for gators!
Forgot to pack a picnic? Stop by the park's shop for lunch, and browse for unique souvenirs.
Let the kids splash and play in the refreshing waters, and don't forget your snorkeling gear for underwater exploration!
Blue Spring State Park guarantees an unforgettable day of outdoor fun and bonding with your loved ones.
70. Lake Apopka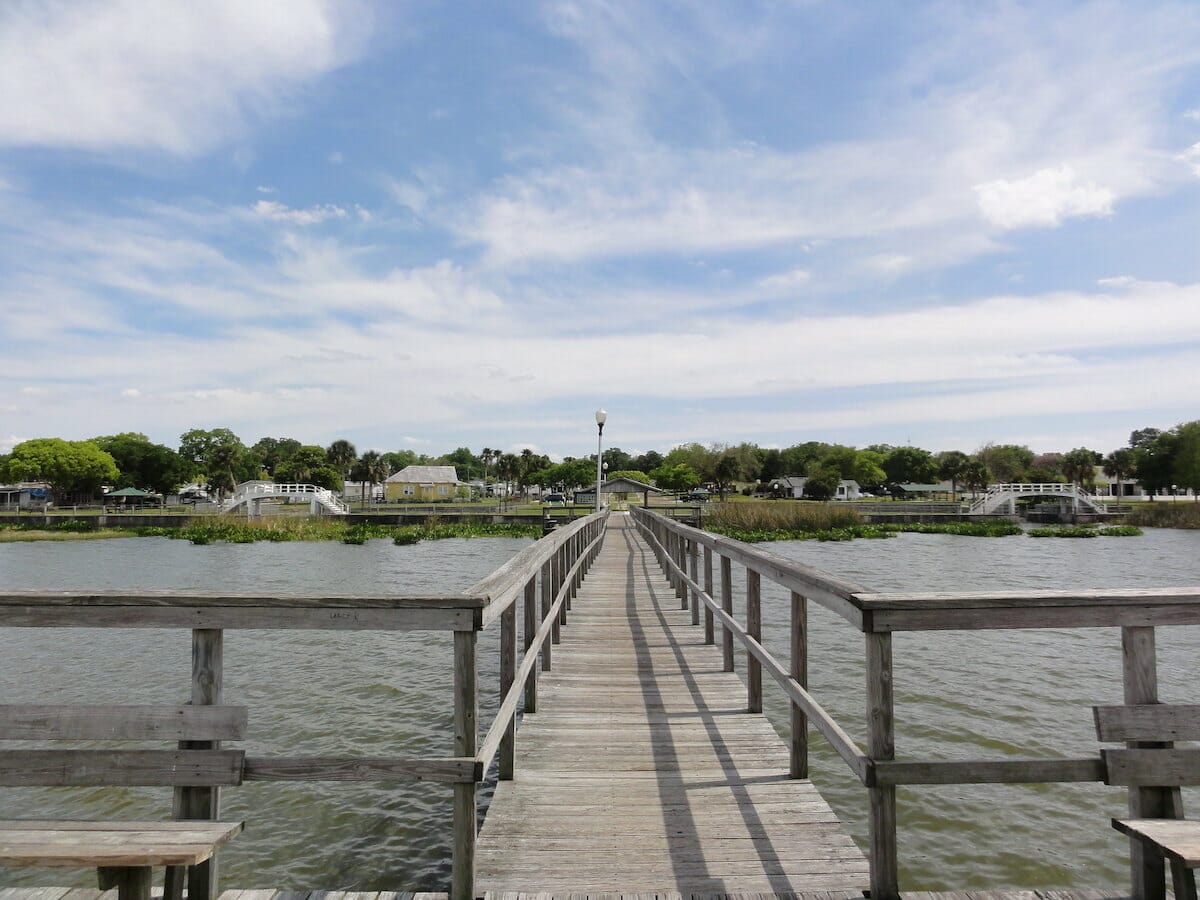 Lake Apopka, located just 30 miles outside of Orlando, is a great place for nature-loving families to explore the great outdoors!
Walk through the marsh at the nature preserve along the north shore, spend a couple of hours on the loop trail that circles the lake, or see it all from above at the observation tower!
Young ones will be thrilled to possibly spot otters in the lake – but keep an eye out for alligators, too!
Newton Park, located along the south shore of the lake, has a playground and a covered picnic pavilion, as well as a fishing pier.
Not so sure about being out in the Florida heat?
Stay in your car and turn the air conditioner on as you cruise through the Lake Apopka Wildlife Drive!
71. Mead Botanical Garden
The picturesque Mead Botanical Garden in Winter Park is a popular venue for outdoor weddings, but it's a great place to visit with the family, too!
It's free to enter, and spans 47 acres of breathtaking nature.
Walk along the scenic hiking trails, admire the creek and pond, take a stroll through the butterfly garden, or look up at the towering pine trees.
Keep an eye out for local wildlife, including birds, squirrels, rabbits, turtles, and more, and see how many different types of flowers you can identify in the gardens!
72. Kraft Azalea Garden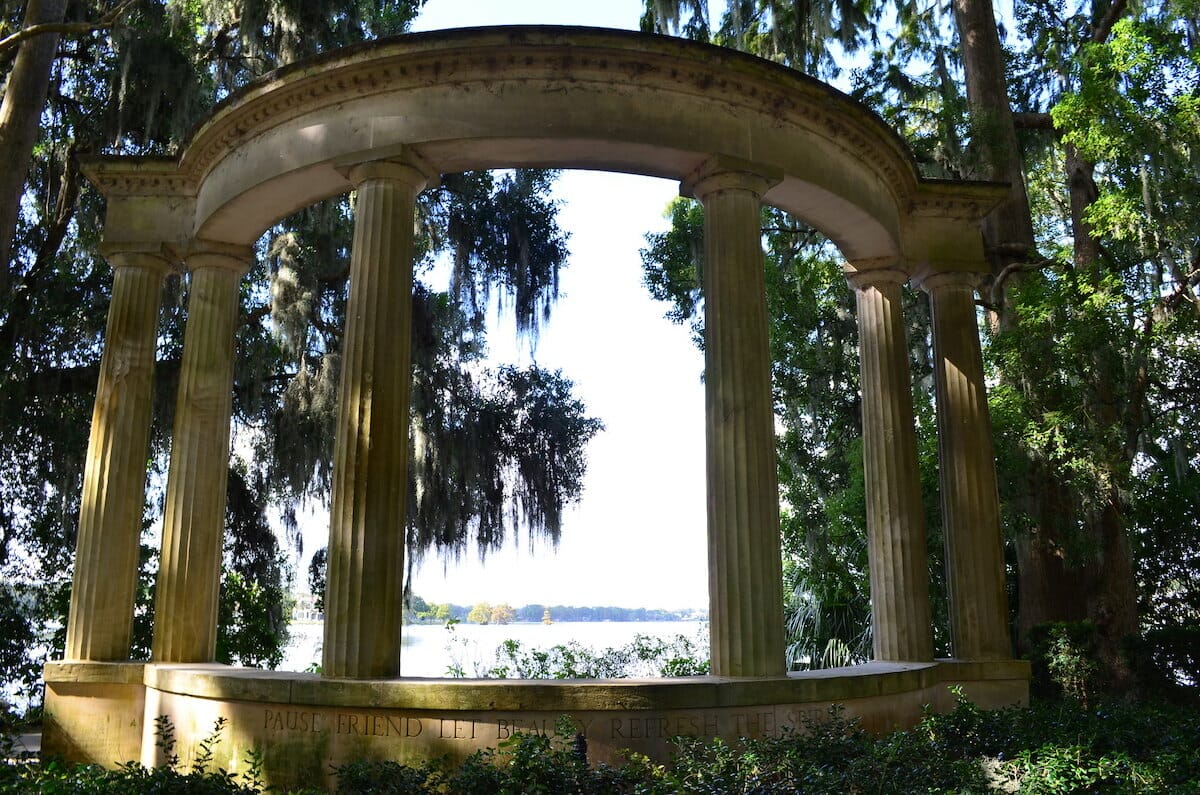 Looking for the best place to have a family picnic in the Orlando area?
Kraft Azalea Garden in Winter Park is the perfect location!
Just a short drive from the big city, this lakeside park and garden is full of cypress trees and grassy areas, and is home to a beautiful monument.
Bring a good camera, because you'll want to take a ton of pictures in front of the Exedra monument, which looks like something out of Ancient Rome.
With the shade from the trees and the beautiful green grass, it's no wonder that this park is a popular destination for picnics!
73. Stanley Pond Adventure Farm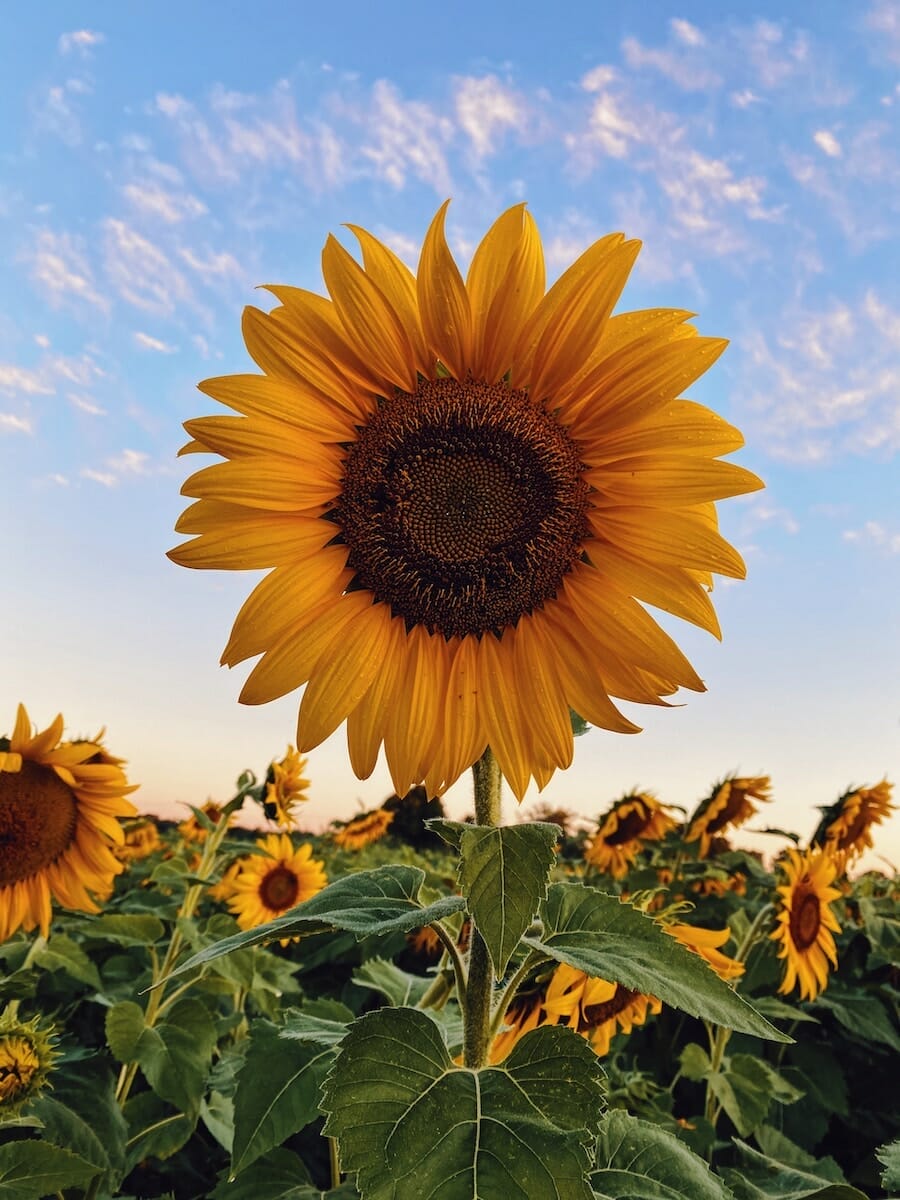 Experience farm fun at Stanley Pond Adventure Farm!
This family-friendly destination in the Orlando area offers an exciting array of activities for all ages.
From picking sunflowers to bouncing on a giant jumping pad to racing on tricycles, there's something for everyone.
Enjoy fishing, cornhole, and a splash pad, creating unforgettable memories together as a family.
Discover the charm of farm life while savoring quality moments at this delightful destination, just 30 miles from Orlando!
Be sure to plan your visit for the weekend, since that's when all the fun happens – and bring a good camera for some great photo ops in the fields of flowers!
---
So there you have it!
There are a TON of other options for things to do in Orlando besides theme parks, as we've just explored!
Orlando really does have a great deal to offer other than Disney and Universal, so you can make the most of your Orlando trip and experience other magical adventures.
If you're traveling with just adults, check out this list of the best things to do in Orlando for adults for plenty more options on how to keep yourselves occupied.
Do you have any other favorite things to do in Orlando?
Let us know in the comments and share your tips and experiences with fellow readers!
What else should I not miss in Orlando?
If you're visiting Orlando soon, here's a very brief rundown of a few of my other favorites to make sure you don't miss anything!
Hey! Want more Orlando content? Check out these guides!
Get the All-American Travel Secrets!
Don't miss out on America's hidden gems!